Can we all just agree that gold is a neutral? You can wear it every day and with basically anything! It's also perfect for special occasions and holidays and parties!! You just really can't go wrong.
Gold nails are the perfect way to add some sparkle to your style. And there are so many ways to design them, whether we're talking solid gold or just tiny touches of gold.
Check out these 31 gold designs for your next manicure.
Many of the designs below use Olive and June nail polish colors. Use this Olive and June link and the code jenb20 for 20% off your order of any of their systems.
Simple Gold Nail Designs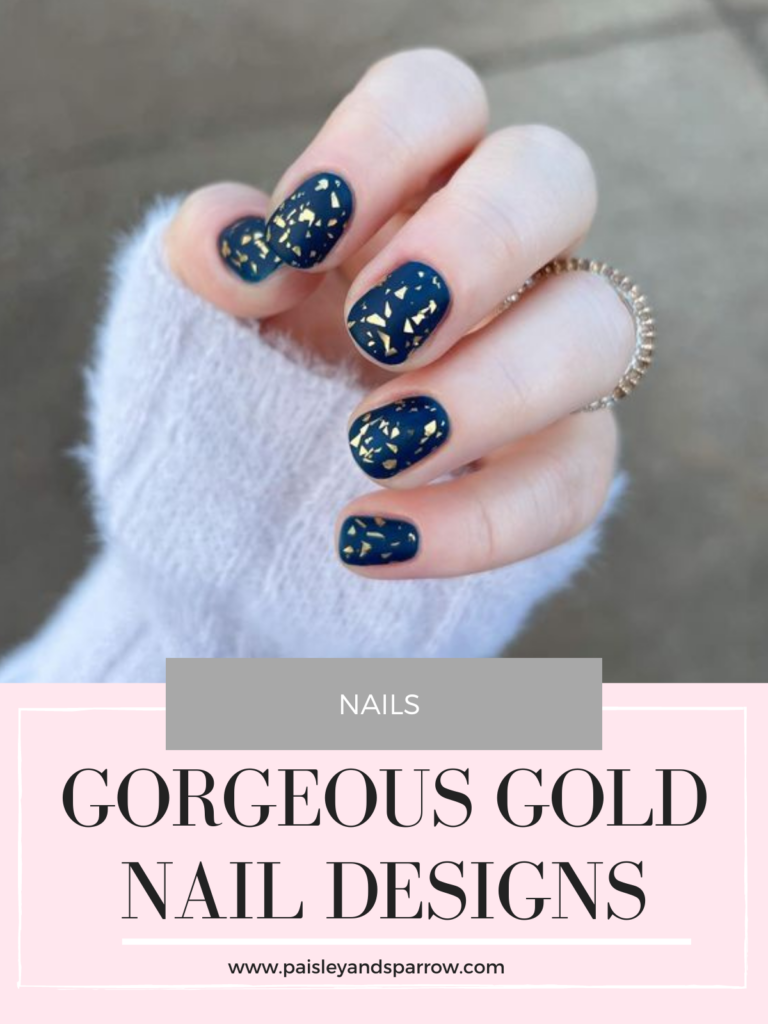 Paisley + Sparrow is a participant in the Amazon Services LLC Associates Program. This post may include affiliate links which means I may earn a small commission if you shop using the links below at no additional cost to you. 
1. Pot of Gold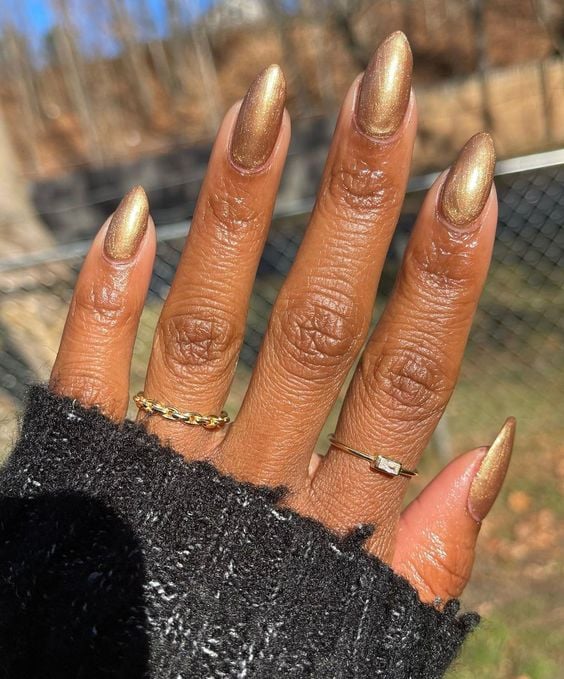 Image via @lecame.shesaw.shepainted
Go shimmery and simple with solid gold nail polish. It makes even an everyday outfit look a little special!
2. Gold Cuff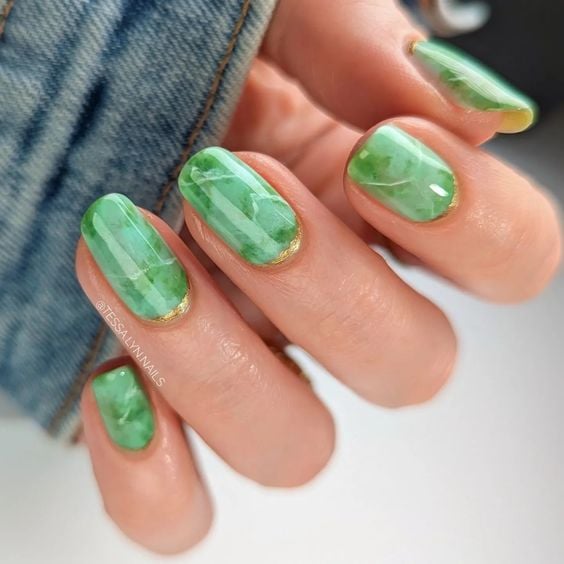 Image via @tessa.lyn.nails
Create this jadeite marble nails look by layering polishes. Dab colors and create fine white lines and then add a coat of a sheer polish in between layers. This one takes a little bit of patience while you wait for the layers to dry! The gold arches really round out this perfect mani.
3. Gold Water Marble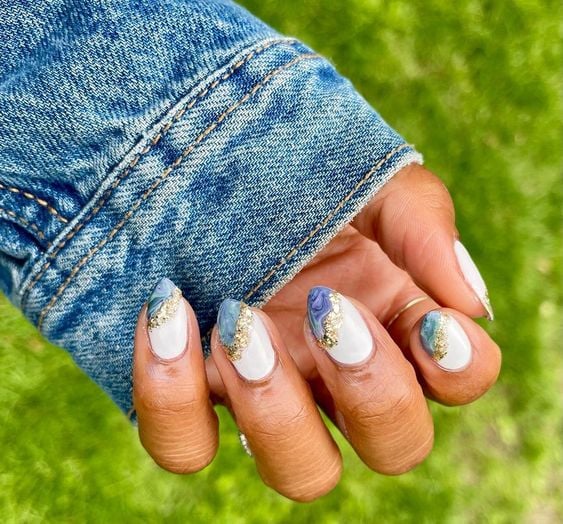 Image via @lecame.shesaw.shepainted
Not quite french tips, these sideways marbled tips create a unique look that will wow your friends. Paint a white base, use the water marble technique on the tips, and then add some glimmery gold glitter in between the two!
4. Glitter Gold Tips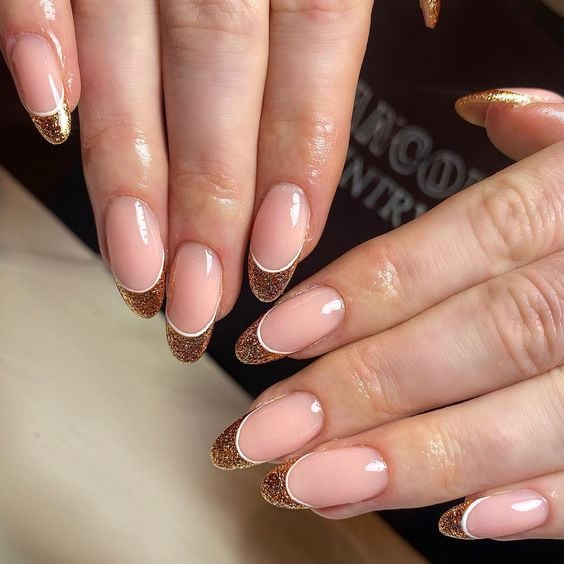 Image via @illustrated_nails
Take a classic french manicure from mid to amazing! This dark gold glitter makes a big impact and really pops with the fine white line underneath.
5. Gold Showers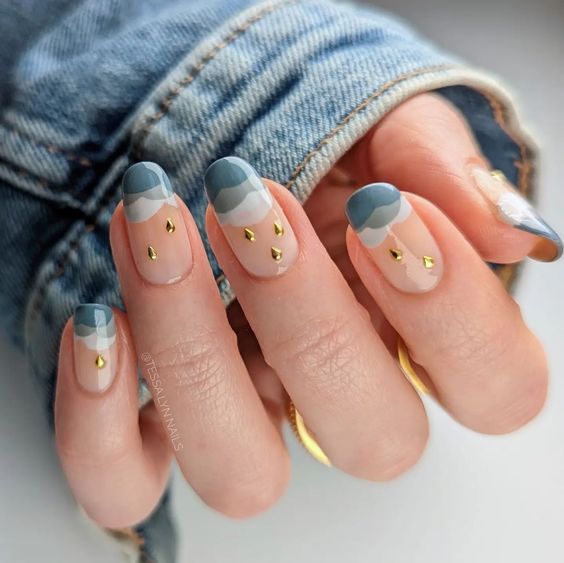 Image via @tessa.lyn.nails
Give your manicure different textures by applying raised gold embellishments. These gorgeous little raindrops are made from gold rhinestones.
6. Gold Record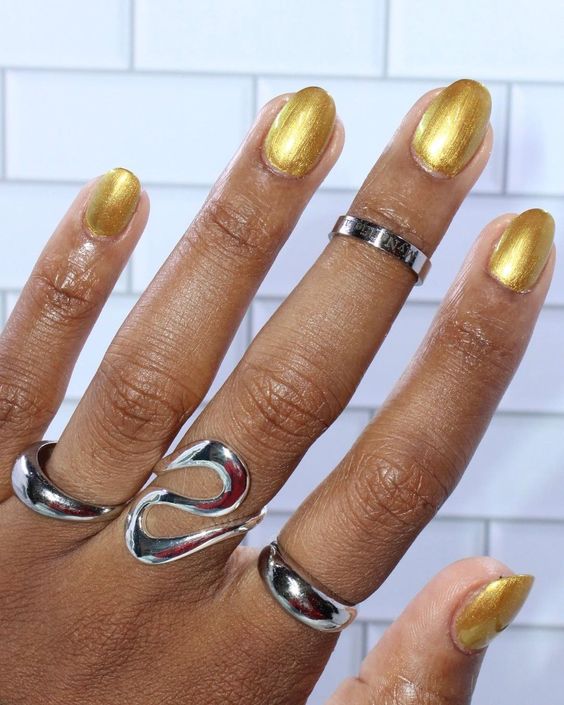 Image via @mynailfielife
This gold color is next level. It's got first-place written all over it — it was inspired by a gold record, so it's capturing the feeling of gold medals, trophies, and breaking records.
@orly NASA collection: Golden Record!
7. Monstera and Gold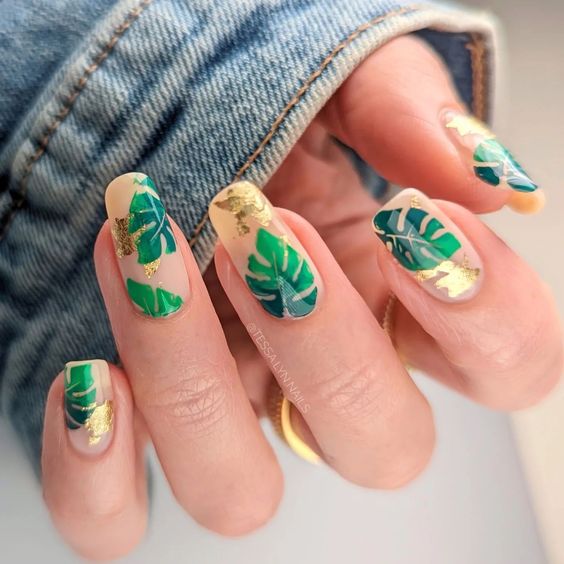 Image via @tessa.lyn.nails
Where are my crazy plant ladies?! I love this cute monstera manicure — houseplants can be part of your style just as much as they can be part of your home! The big gold flakes elevate the look.
8. Brown And Gold Nude Swirls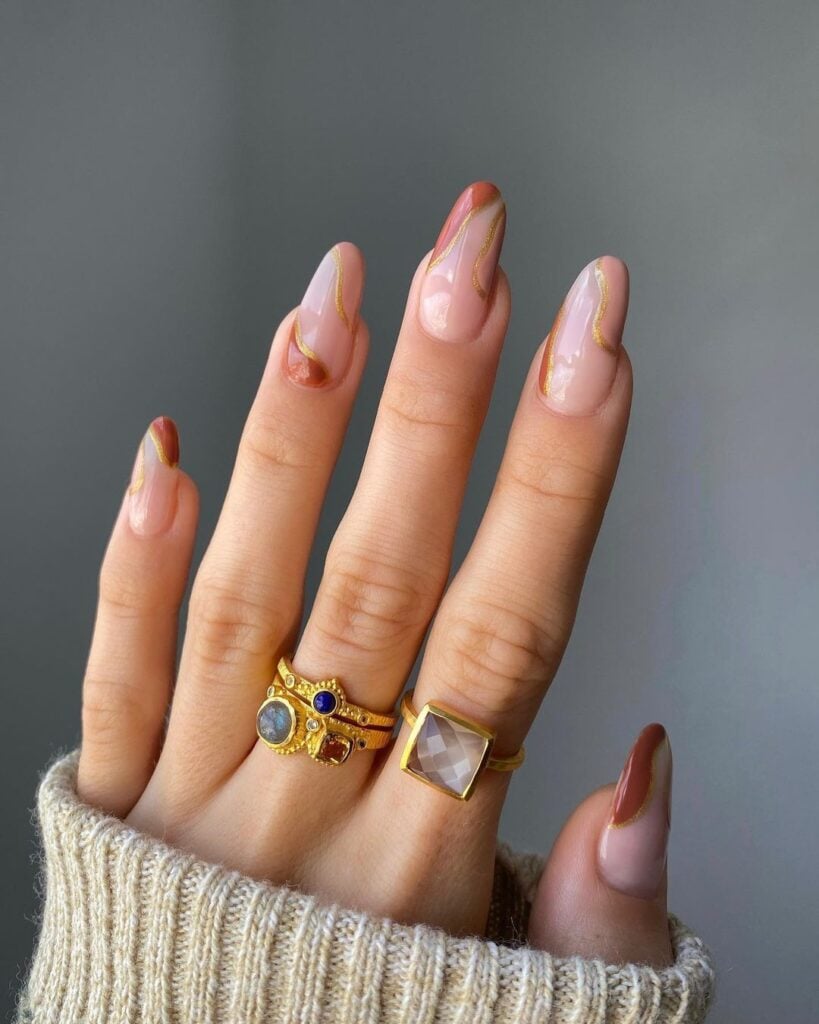 What a gorgeous color combo for the fall season! These nudes and browns with the gold outline feels sophisticated while still being a little bit funky.
Check out other amazing nude nails designs!
9. Pink and Gold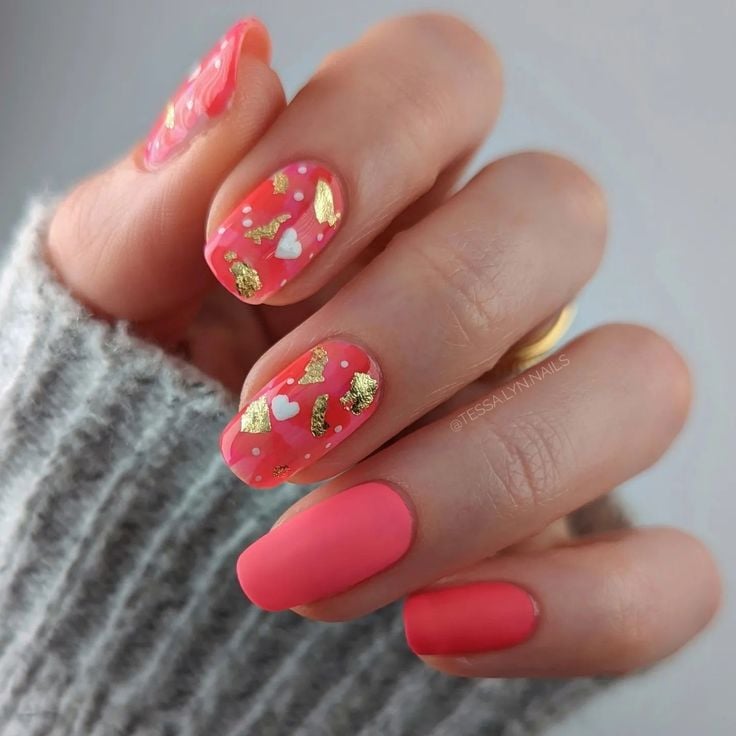 Image via @tessa.lyn.nails
You can't go wrong with gold foil designs. Do a simple design on some of your nails and then take it up a notch by adding some gold leaf! Making some of the set matte nails will give it a professional feel.
10. White Tips with Gold Accents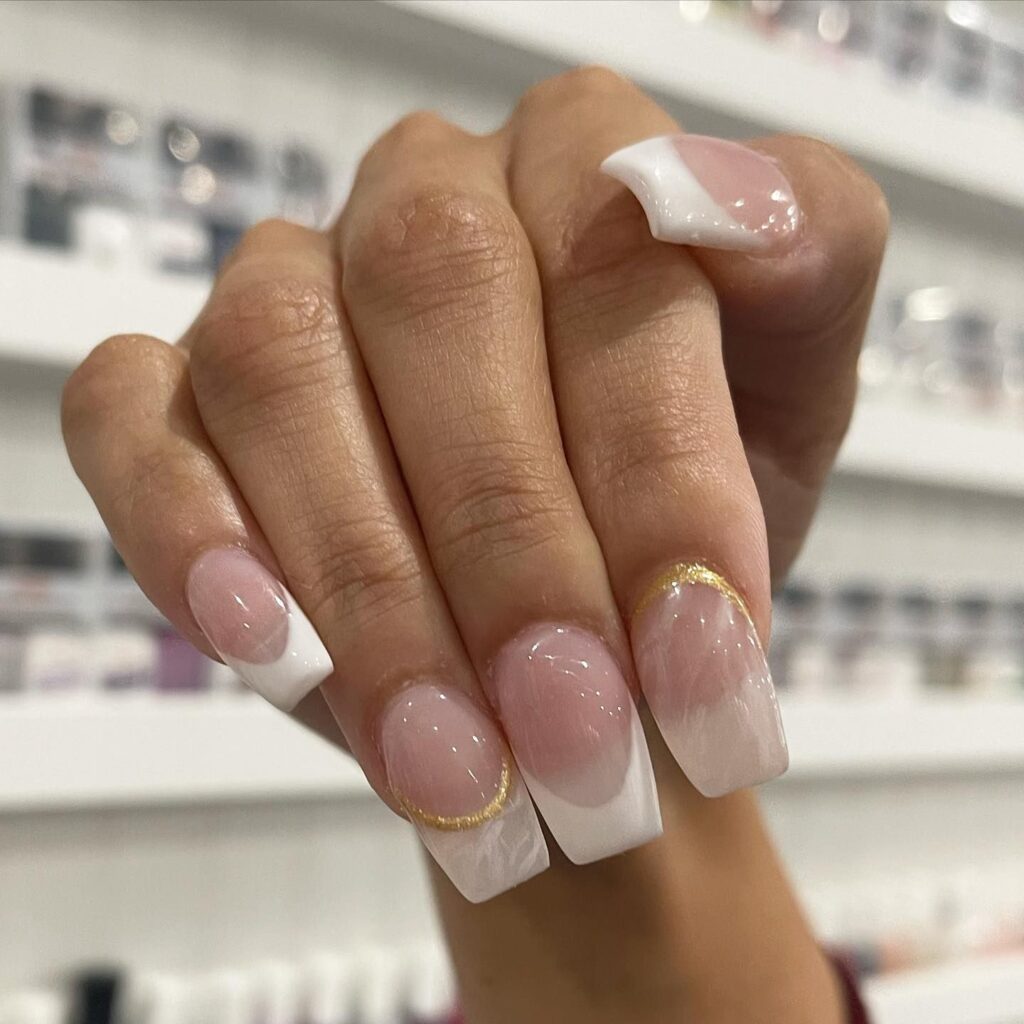 I love this dressed-up French manicure. It's perfect for a special occasion or your everyday look.
Find even more white french tip nail ideas!
11. Sunshine Nails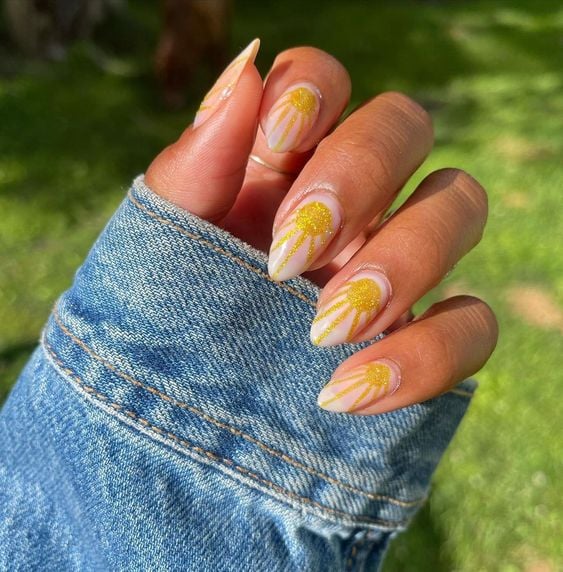 If you want something a little different than solid gold glitter nails, go sunny! These easy gold suns are so fun and sure to brighten your day whenever you look at them.
12. Evil Eyes + Gold Flecks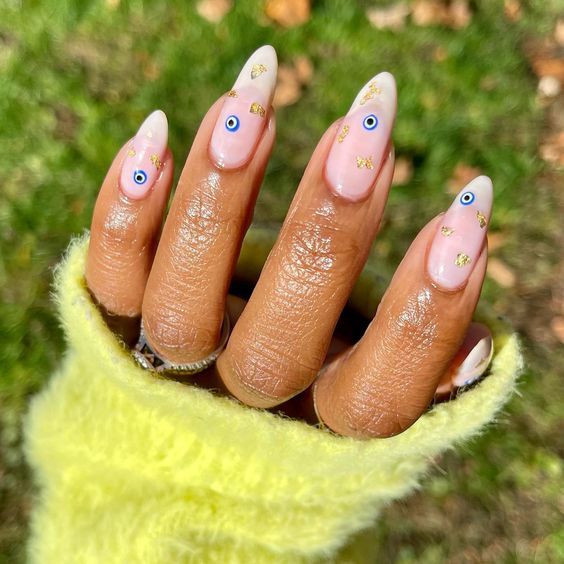 Dress up any small design by adding some gold foil to it. These evil eyes are on trend and a little funky, perfect for short or long nails.
Colors: Olive and June – CCT (base), E&M, HD & Can't Lose
Love Olive and June? Use this link and the code jenb20 for 20% off your order of any of their systems.
13. Pink and Gold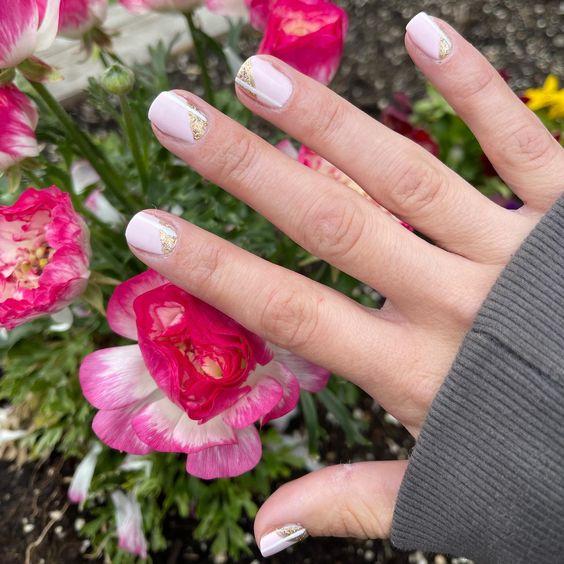 You don't need intricate designs to get a wow factor on your next mani. Let a metallic gold polish do all the heavy lifting.
Choose a light pink shade for the base, and then paint a shimmery gold on the corner of each nail. Mix it up a little by changing which corner you paint on the accent nails.
14. Daisy Nails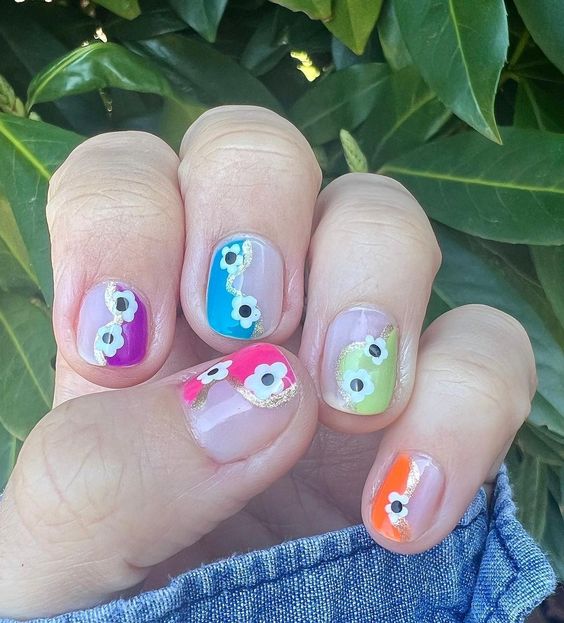 Gold goes just as well with bright fun nail colors as it does with sophisticated dark colors. This manicure proves that! Use neon hues to create a wavy backdrop with a shimmery gold outline. Use a dotting tool or Q-tip to create the easy flowers on top.
15. Gold Flecked Seashell Art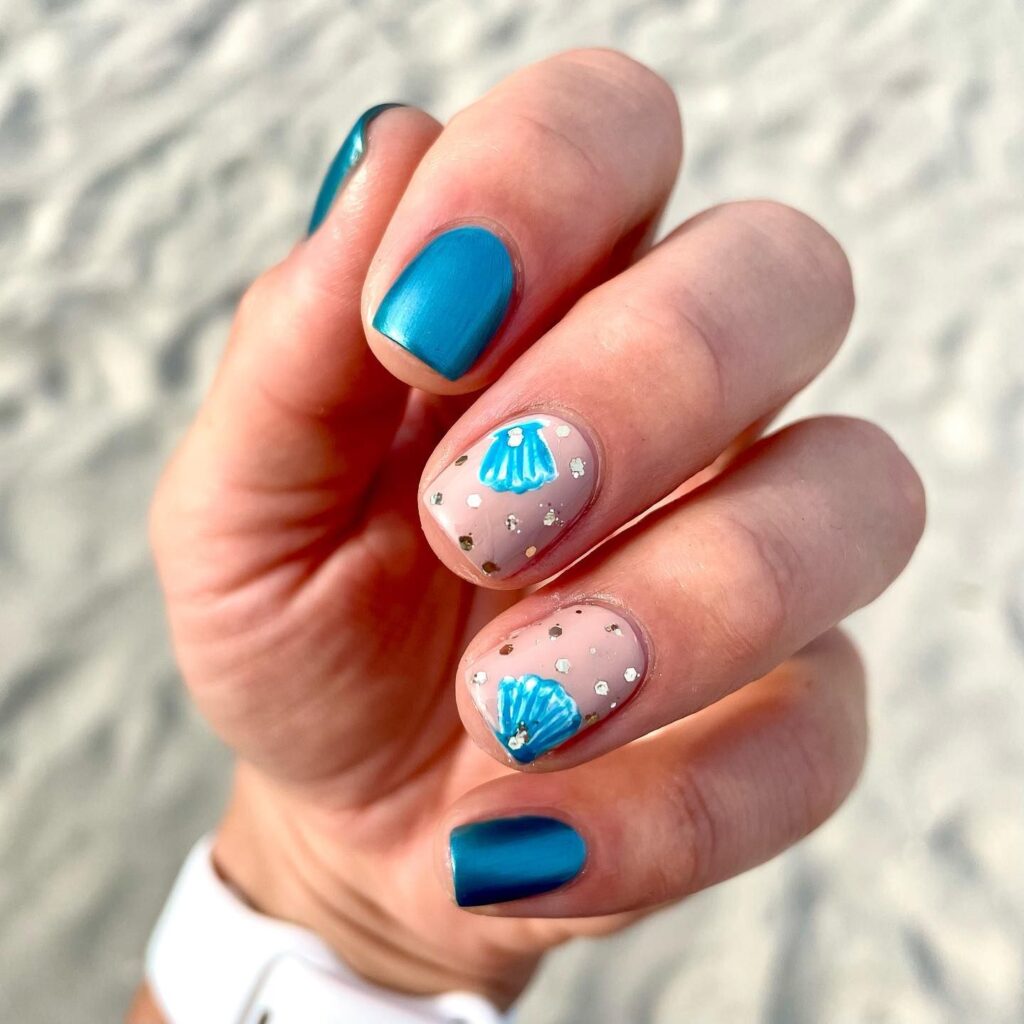 A shell manicure is the perfect choice for your next beach vacation! Add a little glimmer with a metallic shade of gold on top to make polka dots.
Love blue nails? Here's more shades of blue nail ideas!
16. Matte Blue & Gold Mani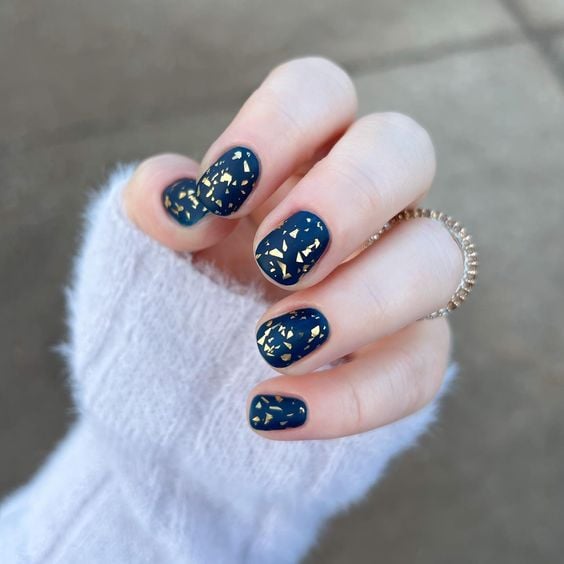 Image via @mani.of.the.moment
Gold flakes on top of a rich navy gives your overall look a touch of luxury. The matte look plus the sparkle of the gold is just *chef's kiss*.
17. Navy and Gold Fleck Tip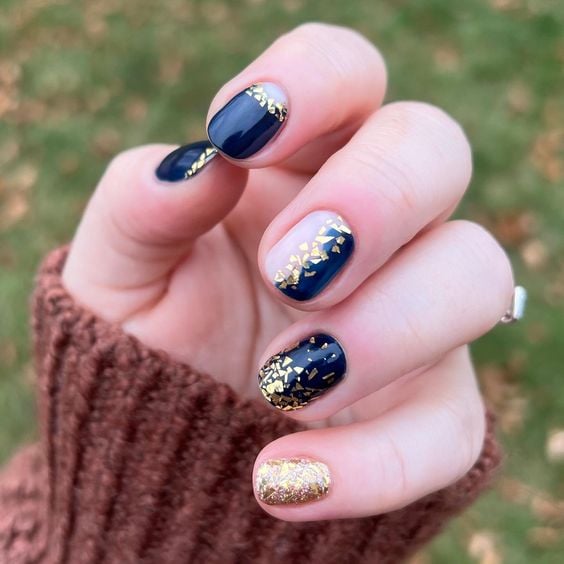 Image via @mani.of.the.moment
You don't have to stick with one design for your nail set; there are lots of different ways to arrange midnight blue and chunky gold glitter. You can even layer fine gold glitter underneath chunky glitter for a special sparkle.
Colors: Olive & June – Make a Res, CCT, OBVI, OJBH, Is it Too Much?, and a tiny bit of Matte Top Coat
18. Green & Gold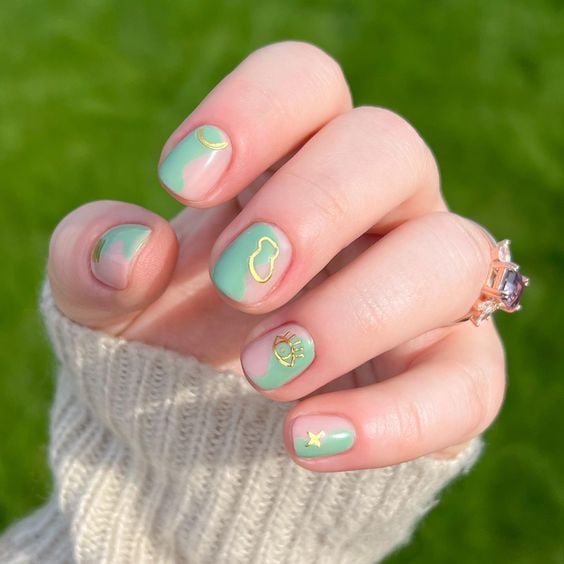 Image via @mani.of.the.moment
This sticker manicure looks much harder than it is and looks great on short nails! Mint green with a different gold design on each finger is the perfect color combination and just the right amount of shine.
Colors: Olive & June The Queen Takes Her Tea with Milk, Cucumber Sandwich and Deco Miami Golden Hour Stickers
19. Marble Blue and Gold Nails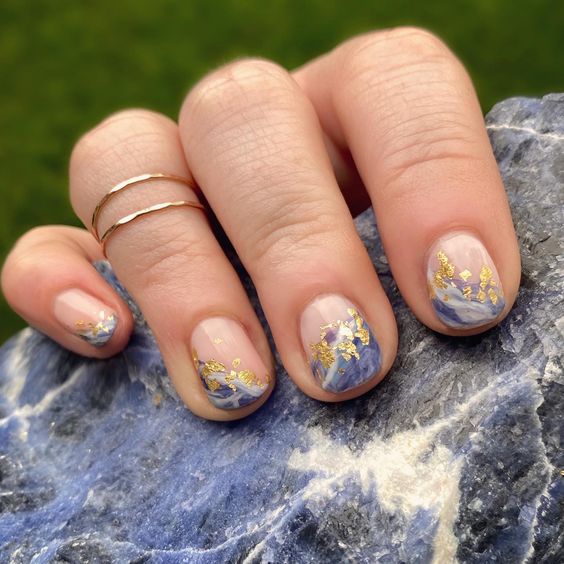 Image via @mani.of.the.moment
If you're looking for a gold marble look, try this swirly blue and white design accented with gold flakes. The pattern and bit of sparkle reminds me of some kind of gem or mineral!
Colors: Olive & June CCT, OMG, HD, Yes Please, Cloudy Skies, and Angelfish swirled with SGT + gold leaf accents
20. Iridescent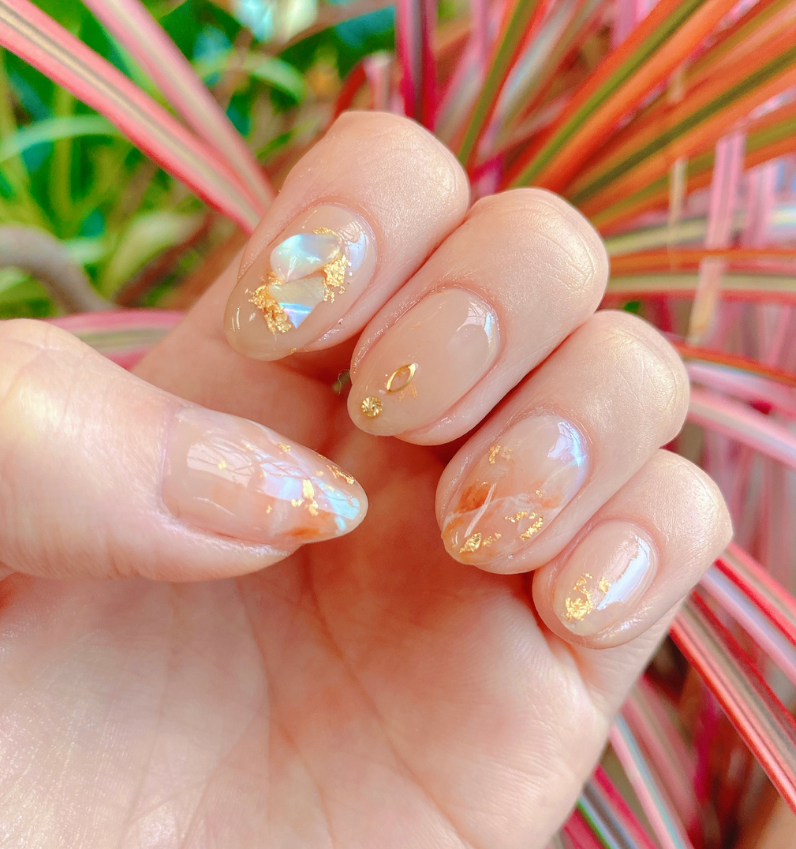 A little bit can go a long way when it comes to gold sparkle. I love this high-gloss top coat combined with a small amount of gold flake and some gold stickers to create a fairly neutral manicure that pops.
21. Glitter and White Swirl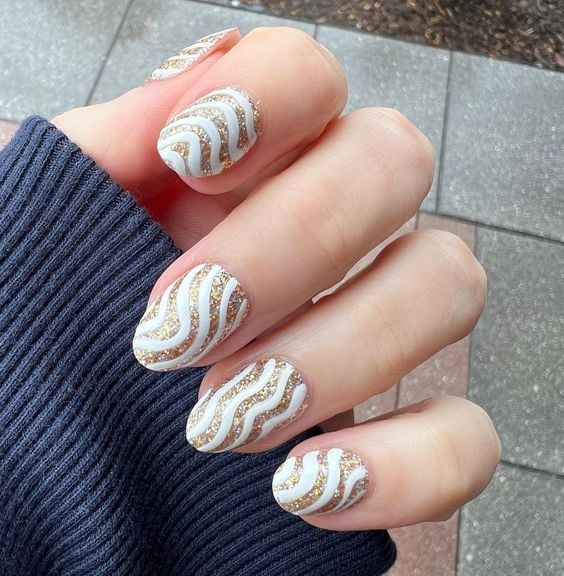 Image via @always.manicured
Break up solid glitter nails with wavy white and gold stripes! It really draws the eye to your mani and is perfect for a party.
22. Neutral Glitter Flowers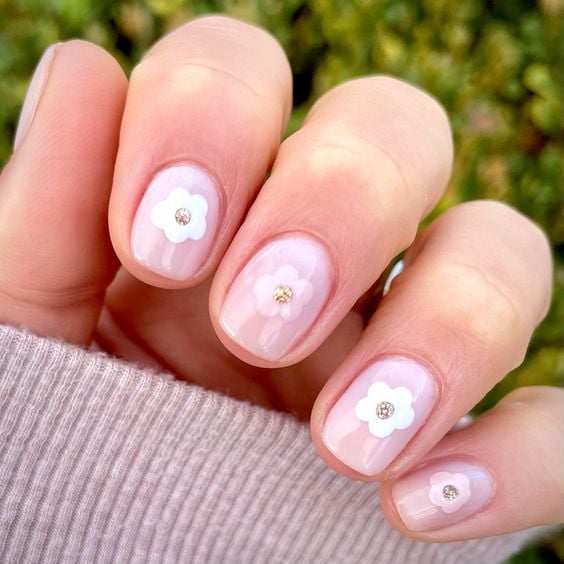 This is taking me back to Limited Too! times. You can make these simple flowers with a dotting tool or even a Q-tip, then add a sparkly center to take this mani up a notch.
Colors by Olive and June: CCT, HD, Point Dume, Sundance Shimmer, Obvi
23. Sea Inspired Gold Nails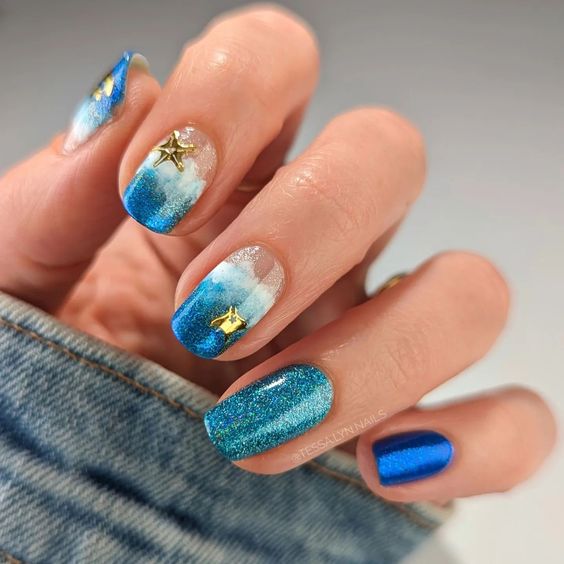 Image via @tessa.lyn.nails
My favorite nail trick is to use nail stickers to make my at-home manicure look like I got it done professionally. Try your hand at creating some waves crashing against the beach, and then add some gold sea creatures to complete the effect.
24. Cappuccino Marble Gold Nails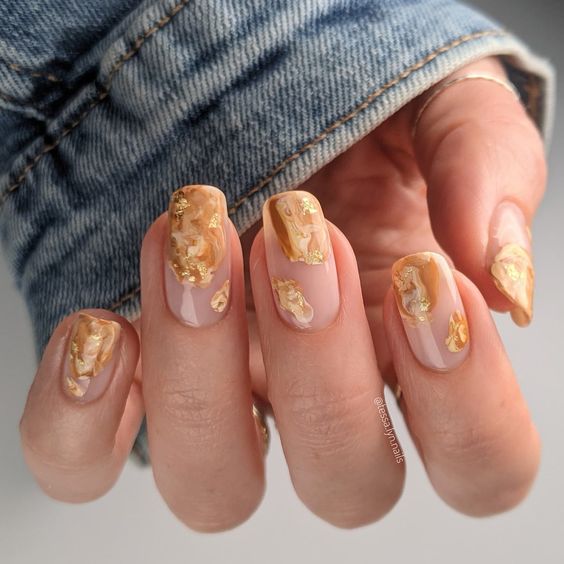 Image via @tessa.lyn.nails
You know I love coffee, and this mani is giving me major cappuccino vibes! Use your marbling skills with a rich caramel color with a few gold flakes to achieve this look.
25. North Star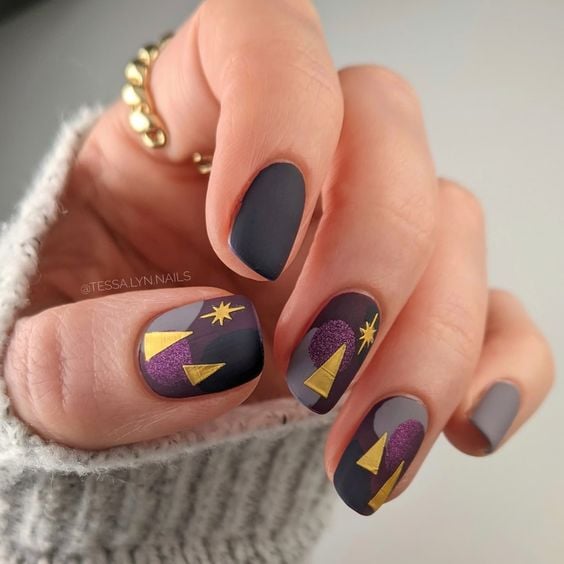 Image via @tessa.lyn.nails
Play with different finishes with matte polish, shimmery polish and glitter polish — all on the same nail! The deep purples and gray make these nails perfect for fall and winter. They'd even be perfect for a different take on a Christmas manicure if you don't want to go classic red and green.
26. Gold Foil Hearts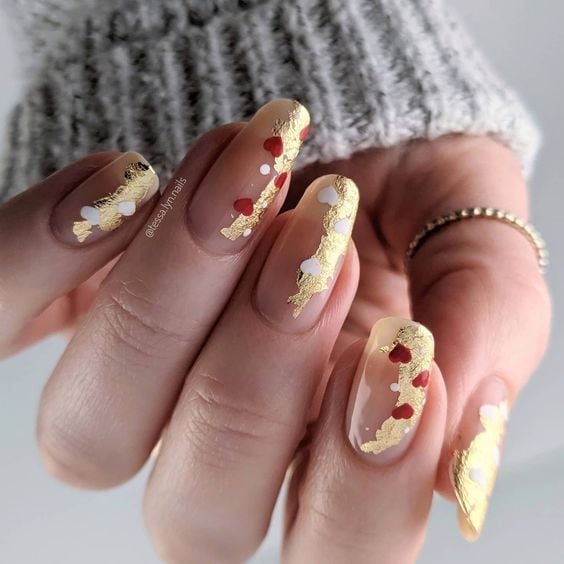 Image via @tessa.lyn.nails
You can make a bold statement without much color if you use big swaths of gold leaf. While the hearts and polka dots are a cute touch on this manicure, you could do any small designs or even no other design at all!
27. Gold Butterflies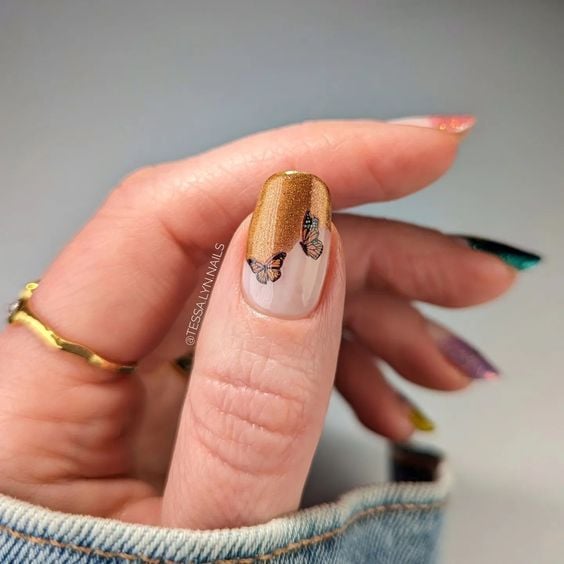 Image via @tessa.lyn.nails
Make gold just one of the glitter shades you use on a colorful set of nails. Tiny monarch butterfly stickers really add something special.
28. Golden Sunset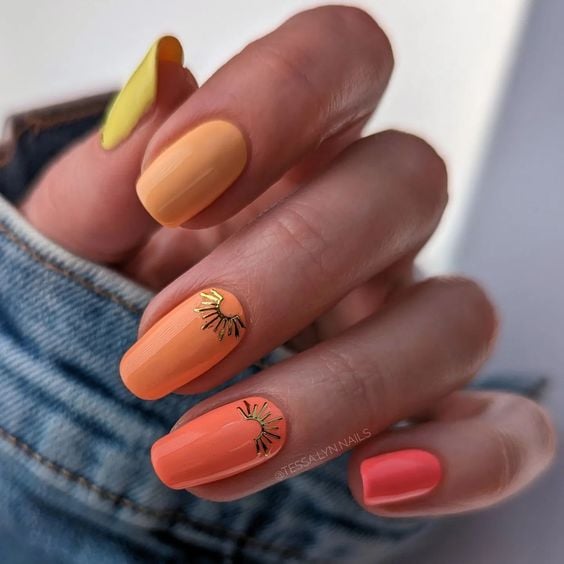 Image via @tessa.lyn.nails
Paint a glowy ombre sunset on your nails, then add a little bit of shine with gold sun stickers. Great for summer or anytime you need a little sunshine in your life!
29. Shamrock Abstract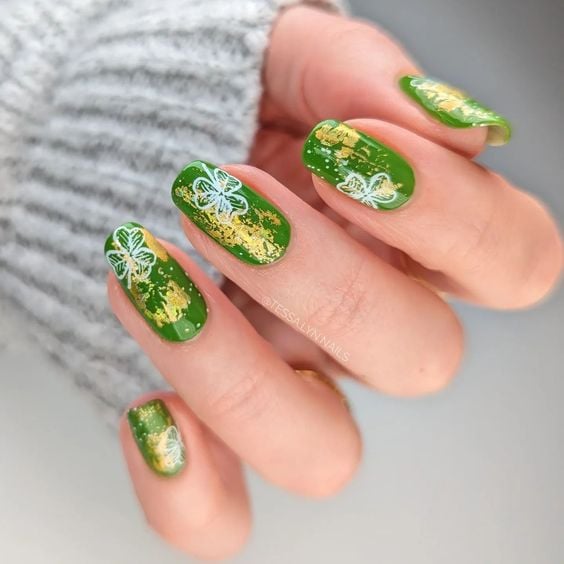 Image via @tessa.lyn.nails
You're in luck! Green and gold are the perfect combination for St. Patrick's Day! Clovers, green, and a pot of gold — what more could you want?
30. Glittering Forest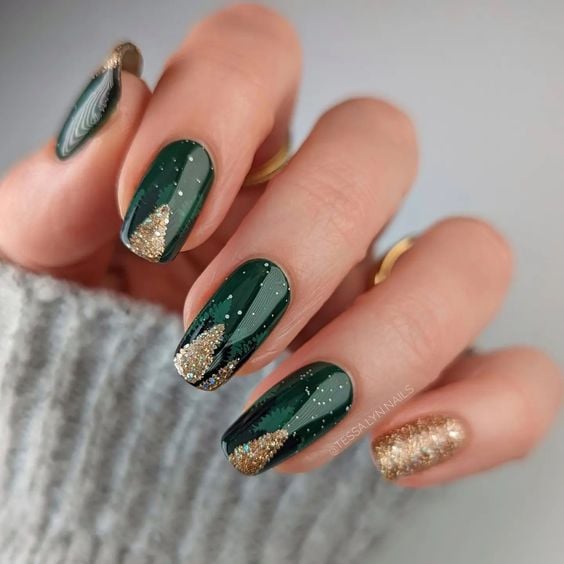 Image via @tessa.lyn.nails
What a gorgeous design for the holidays! Gold glitter against the deep green gives the impression of a beautifully lit tree.
31. Maroon and Gold Nails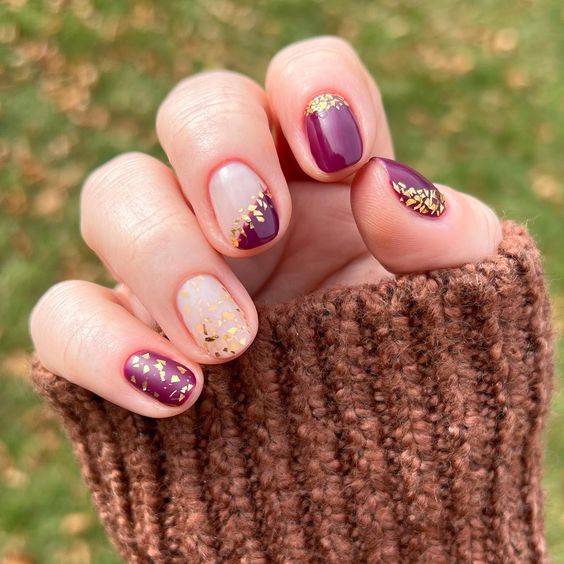 Image via @mani.of.the.moment
You can use any of your favorite colors with some chunky gold glitter to create a unique look! This Olive and June gold flake polish is such a show-stopper, you can't go wrong.
Colors: Olive & June – Make a Res, Plaza, CCT, Is it Too Much?, and a tiny bit of Matte Top Coat
Have you tried Olive and June yet? Read my Olive and June Review or my blog post on how to use a manicure system at home!
And I've got lots more nail ideas if you need inspiration! Try neon nail ideas or hot pink styles.