Pink (and especially hot pink!) is all the rage right now, thanks in no small part to the Barbie movie! Have you caught the hot pink fever?
Whether you love a head-to-toe pink outfit or just want to try out some pink accents, a hot pink manicure is the perfect place to start! Try one of these 22 pink nails ideas or use them as inspiration for your own creation.
Love Olive and June? Use this link and the code jenb20 for 20% off your order of any of their systems.
22 Hot Pink Nail Design Ideas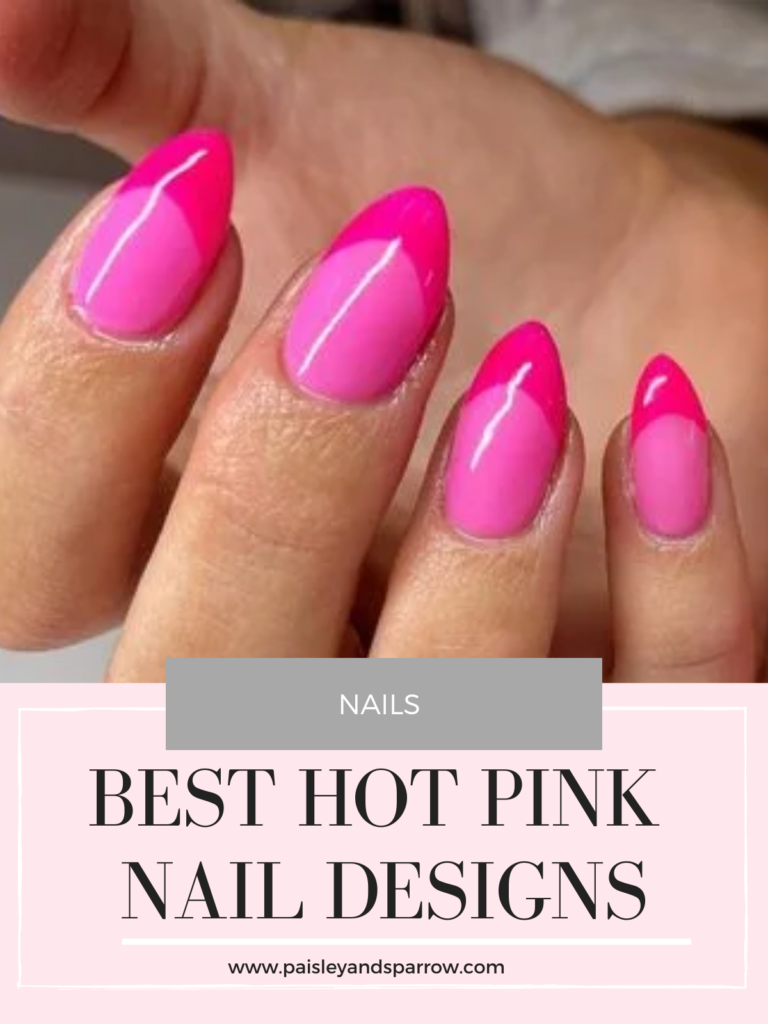 Paisley + Sparrow is a participant in the Amazon Services LLC Associates Program. This post may include affiliate links which means I may earn a small commission if you shop using the links below at no additional cost to you. 
1. Pink on Pink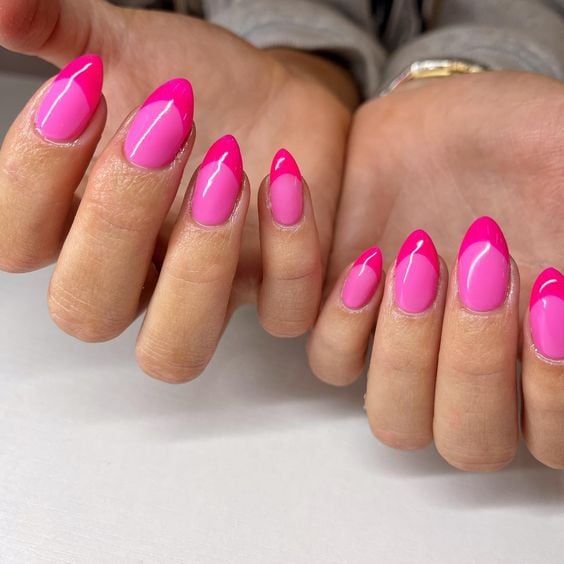 Image via @nailsby.hails
Pink on pink! Got two shades of hot pink in your collection? Go for an extra pink French manicure.
While you could of course try this on short nails, I love the way it looks on a longer nail length and almond shape nails.
2. Matte Hot Pink Nails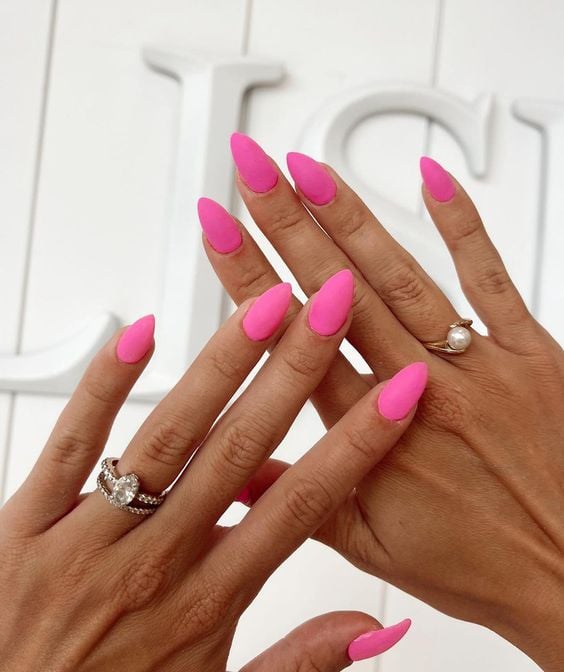 Image via @nailsby.hails
Pick your favorite nail shape and your favorite shade of pink, and you're set for these matte pink nails! To get the matte look, you can buy a matte top coat, or you can DIY your own matte nail polish by mixing a tiny bit of baking powder or cornstarch with some of your nail polish.
3. Hot Pink Daisy Tips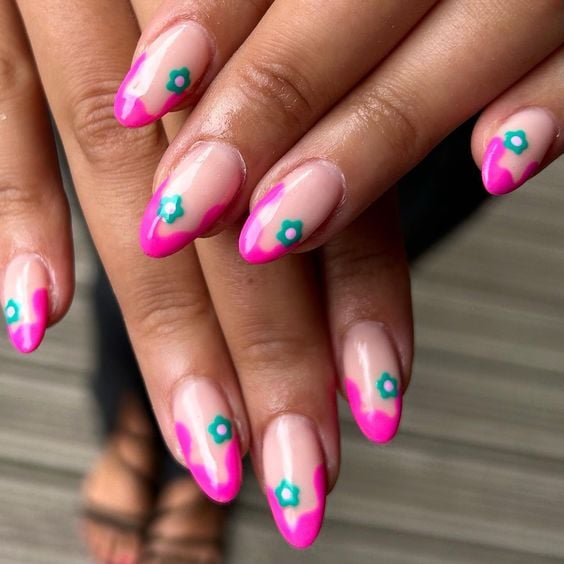 Image via @illustrated_nails
Have some fun with your pink French tips, and go wavy instead of straight across. These pink squiggles are so fun — they remind me of a lava lamp! Add in a little flower on each under the pink tips for a funky retro look.
4. Hot Pink Flecks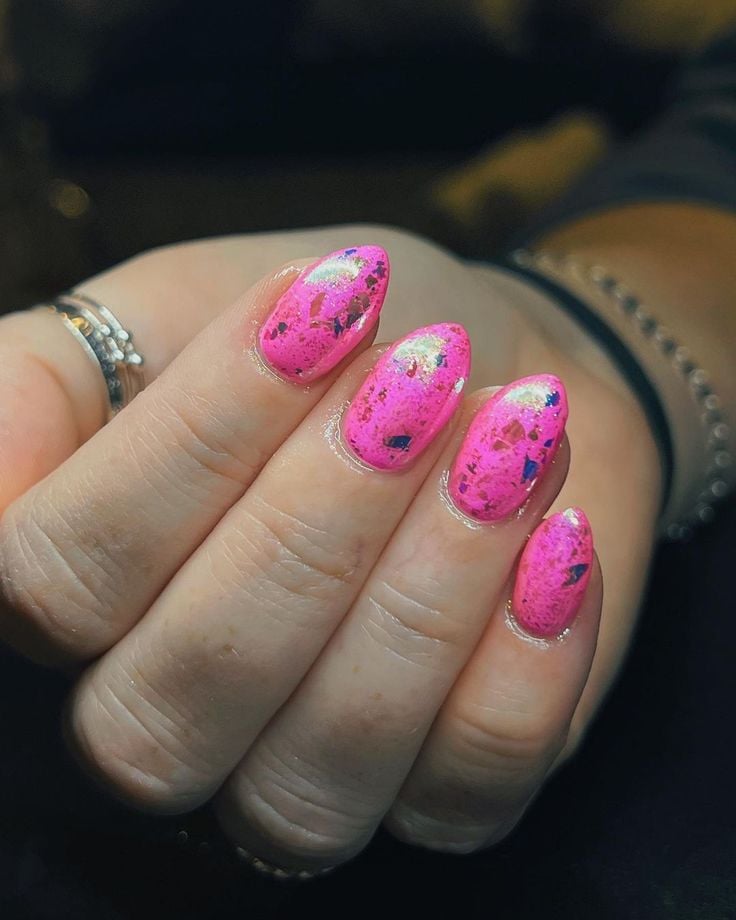 Image via @estheticsbyjayde
Hot pink is a perfect base for a sparkly flake polish, like this one from Luxapolish. Apply a little for a bit of a terrazzo look, or layer it on for full-on glitter fun.
5. Squiggle Hearts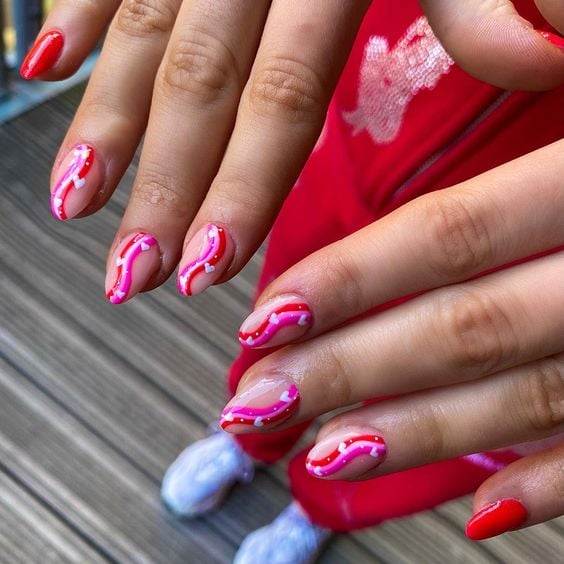 Image via @illustrated_nails
Love is in the air and on your fingernails! This is a simple design to pull off, even for beginners. Grab your favorite shades of pink and red, make the wavy lines, then use a dotting tool or toothpick to make the small dots and tiny heart designs.
6. Trippy Pink Neon Swirls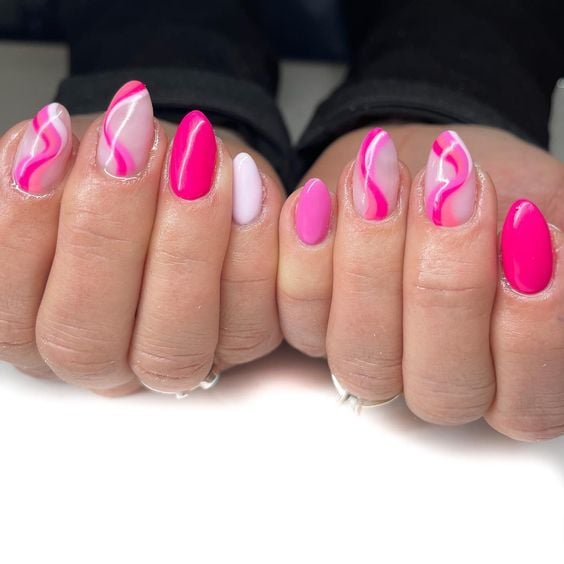 Image via @nailsby.hails
Combine pale pink, medium pink and hot pink shades in these Barbie-vibes pink swirls. Mix up which fingers you do for the accent nail design and solid nails on each hand to make it a little unexpected.
7. Neon Pink Crocodile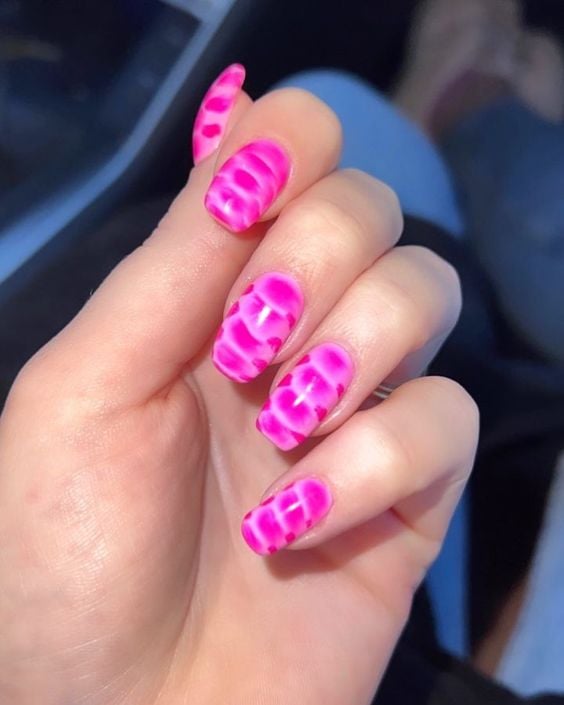 Image via @nailsby.hails
Love crocodile prints, but not into the browns or greens color combination for your fingernails? Do this animal print in whatever color you want! There are no rules for your manicure.
Try out different colors, including a bright pink nail color. Bloom gel makes this unique nail art so simple and gives your nails a bit of depth!
8. Pink Splatter with Smiley Faces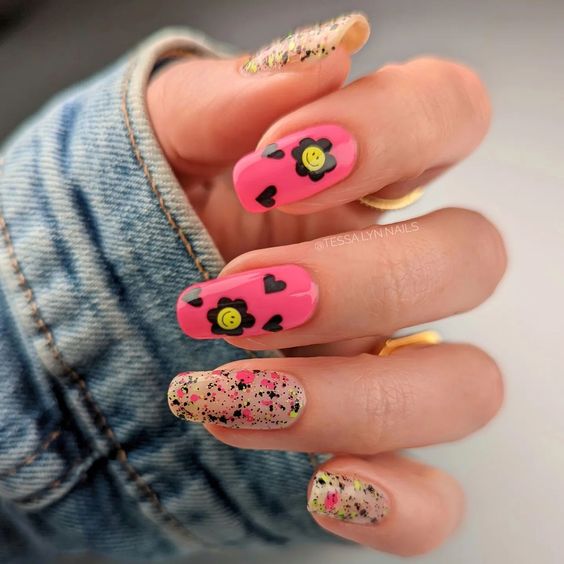 Image via @tessa.lyn.nails
Don't worry! Be happy with this pink and neon color smiley and splatter manicure. You can get the perfect splatter by putting some nail polish on the end of a straw and then blowing through the other end.
9. Pink Red Nails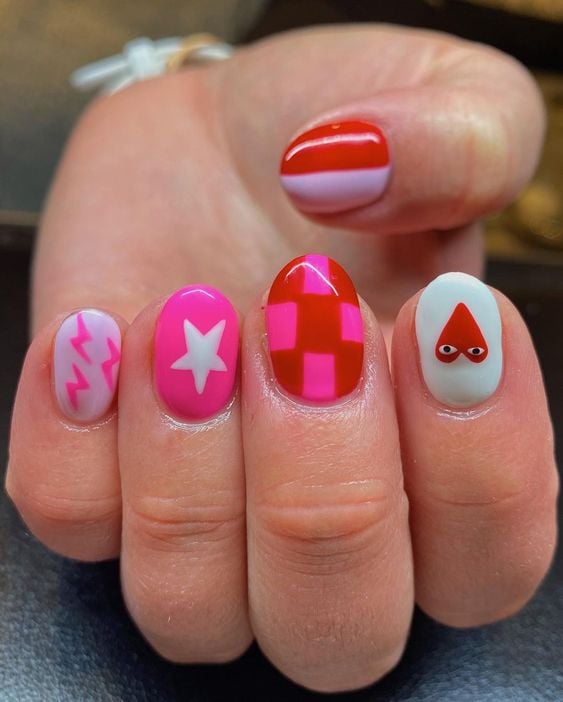 Image via @estheticsbyjayde
Why stick with just one idea when you can make each nail different? You can copy this pink and red manicure, or just use it for inspiration and paint whatever you can think of.
10. XO Flowers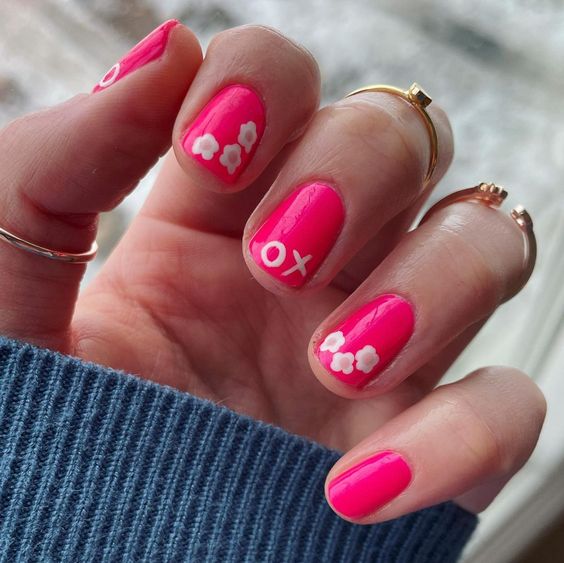 image by emjpolished
This sweet pink manicure works on all nail lengths, but I love how it looks on shorter nails! The little white flowers pop against the hot pink nail polish. Both the flowers and XOXO are easy to do with a dotting tool!
11. Cactus Nails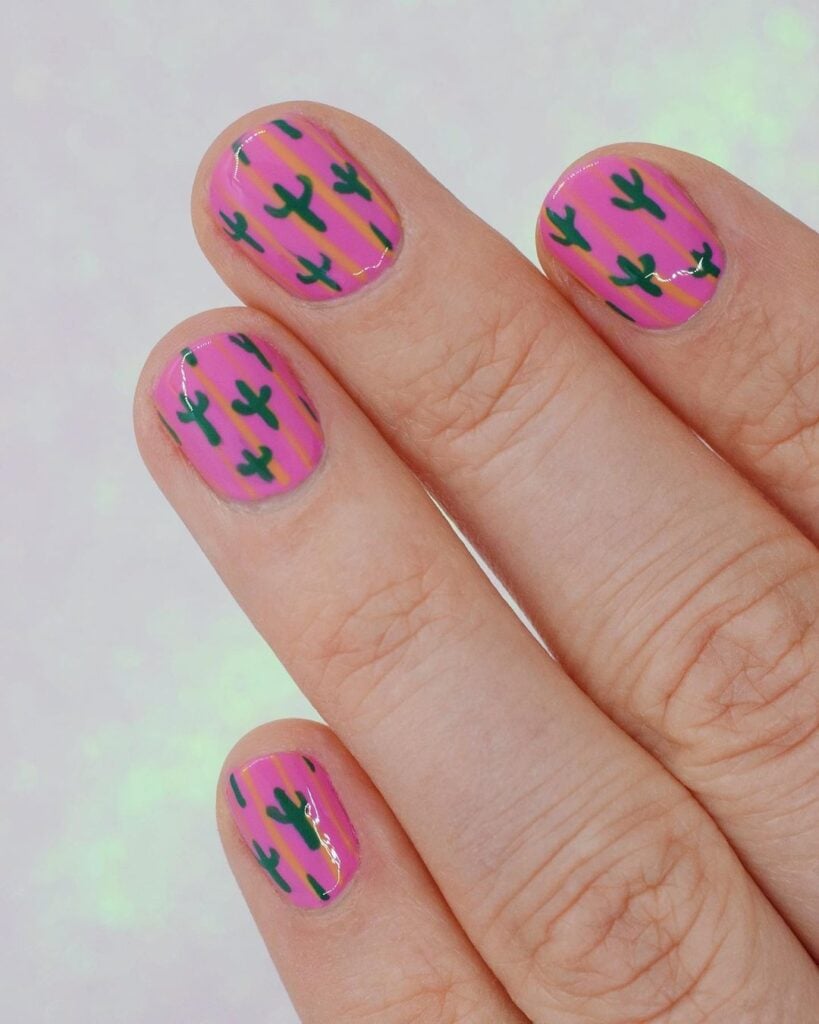 You can use hot pink in all kinds of different designs! Neon pink nails make a funky sunset for a desert scene, perfect for your next set of summer nails.
12. Hot Pink with Pink Flowers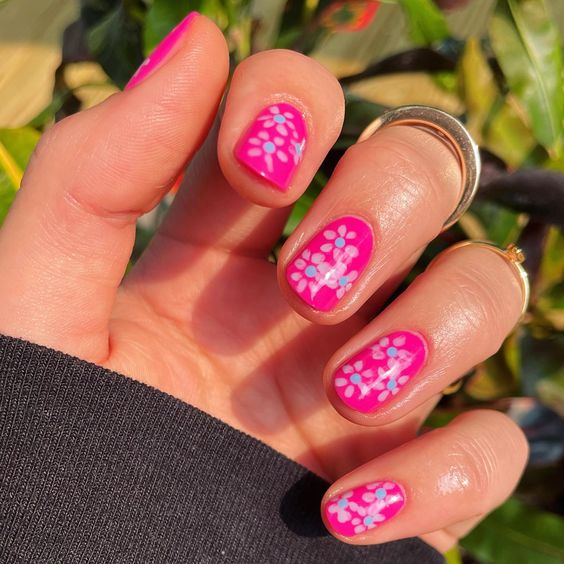 Image via @emjpolished
You can't mess these bright pink nails up! This cute design is so easy to do, even if you're a beginner. You can use a dotting tool or even just the nail brush.
13. Light Hot Pink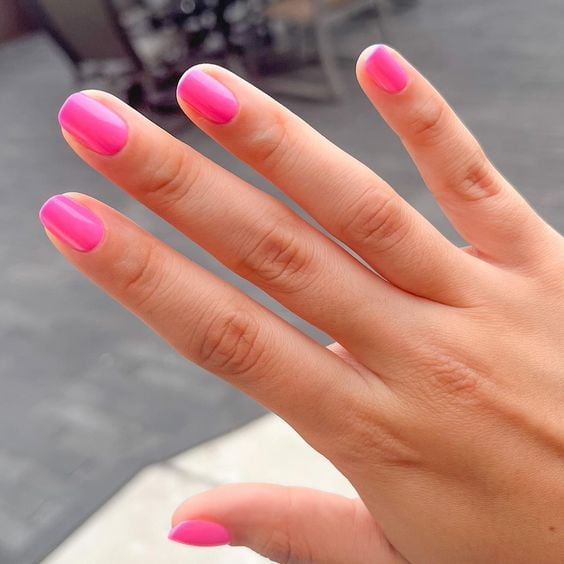 Image via @nailfies.by.lexi
This is such a gorgeous pink color! These Neon Flamingo press-ons from Olive and June are quick, easy and give you that bright pink manicure you're looking for.
14. Pink Glitter Dots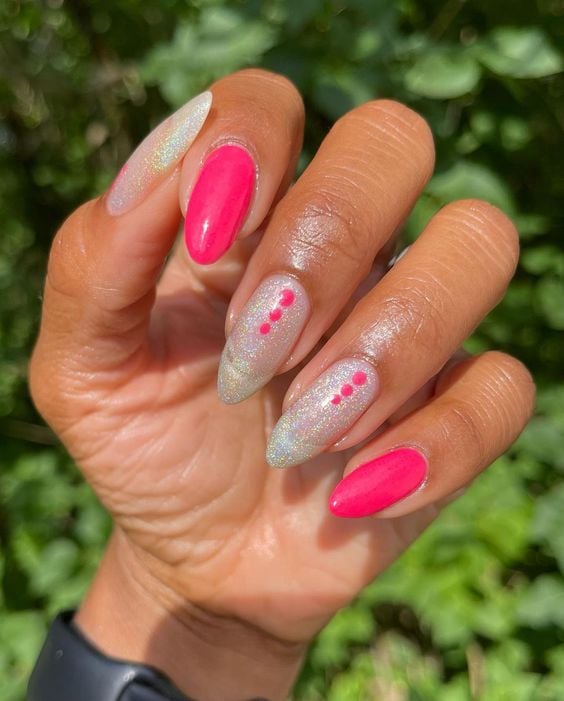 Image via @lecame.shesaw.shepainted
I love the combo of silver glitter and pink polish! Paint some pink accent dots on the silver nails to make the mani cohesive.
Kaleidoscope & Haute Pink by @pinkchawkulit
15. Glitter Pink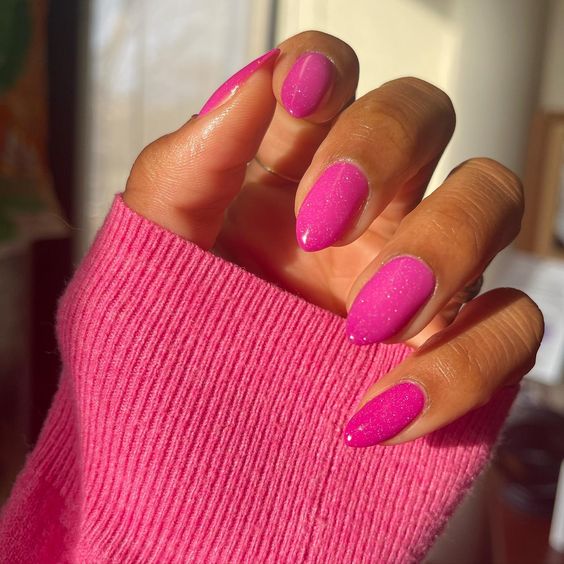 Image via @lecame.shesaw.shepainted
These pink glitter nails are actually a thermal nail polish, so they change to light pink when the temperature changes! Such a fun option for any pink lover.
16. Pink with Blue Shimmer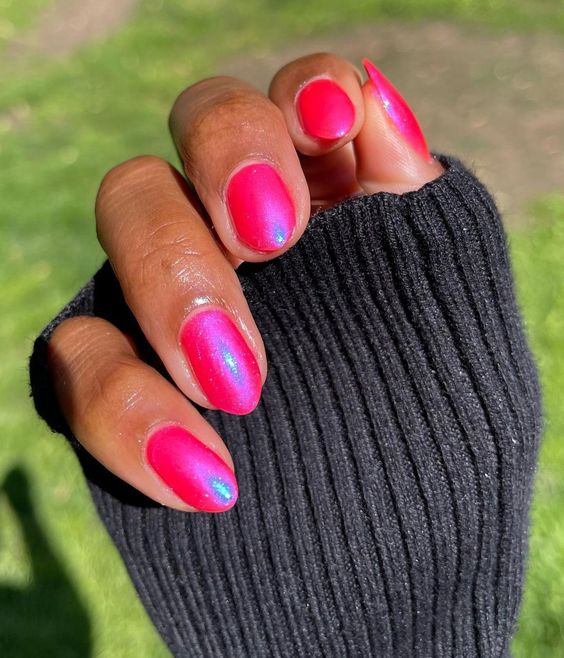 Image via @lecame.shesaw.shepainted
If you want your overall look to have a bit of a surprise, try this bright pink with a flash of blue! You don't have to choose between these bright colors, and the shimmer is unmatched.
Polish: @crowandopal
Color: A/S/L
17. Pink Tips and Dots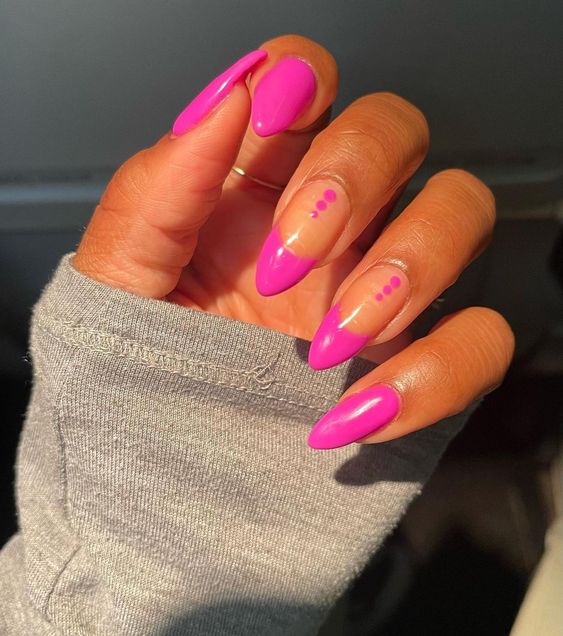 Image via @lecame.shesaw.shepainted
You can't go wrong with a hot pink french tip. Add some polka dots to give it a little extra interest!
Gel Polish: @aokitec
Color: A21156*
Base: @didierlab_usa Fiber Base Gel Glass*
18. Solid Pink Nails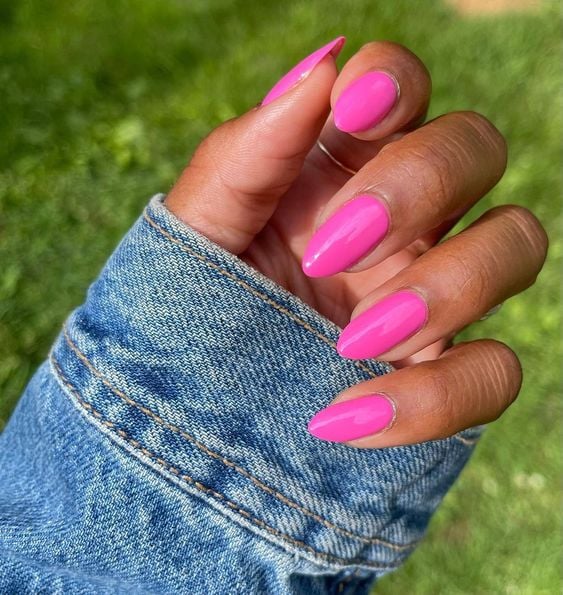 Image via @lecame.shesaw.shepainted
The perfect pink nail polish doesn't exi…
Use this candy colored polish for the best hot pink nails for anyone who loves a solid mani. This color stands on its own.
Polish: @iscreamnails
Color: Sickly Sweet*
19. Solid Hot Pink Nails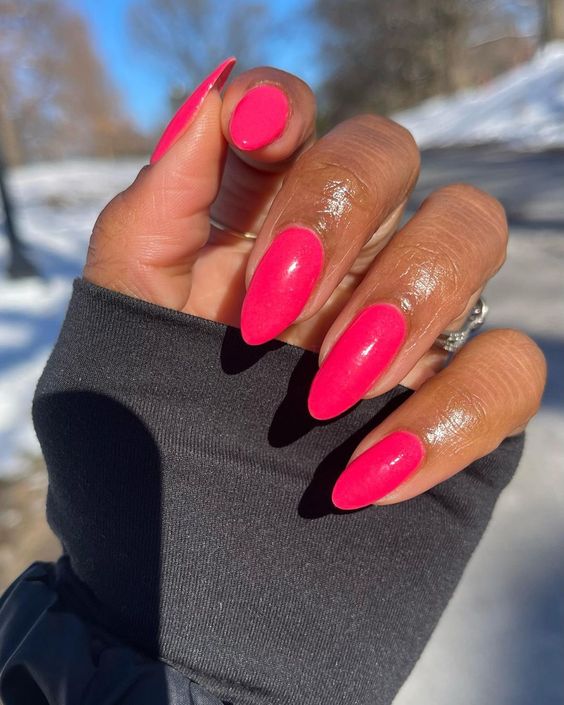 Image via @lecame.shesaw.shepainted
This reddish hot pink polish on long nails provides that perfect pop of color to a simple outfit. You'll definitely catch some eyes with this one.
20. Wild Orchid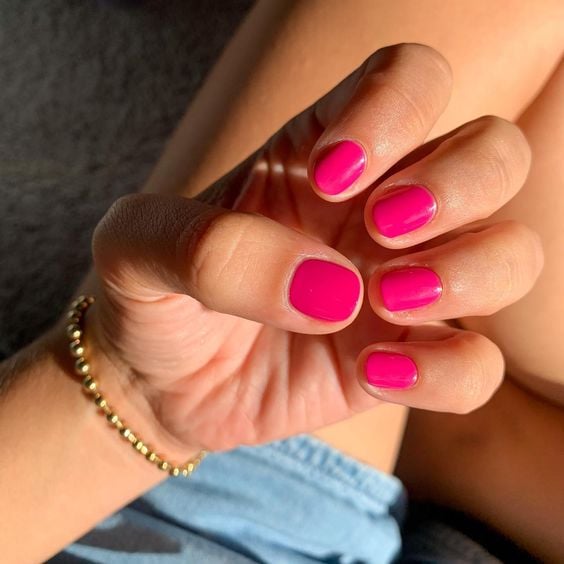 Image via @nailfies.by.lexi
Get your short nails in on the fun! Choose a vibrant hue of pink like this Wild Orchid shade from Olive and June, and you've got a look!
Olive and June – Wild Orchid
21. Blue with Pink Flowers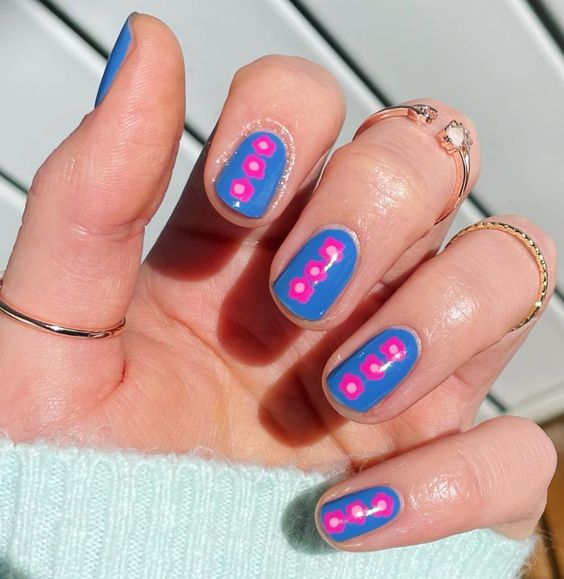 Image via @emjpolished
Use hot pink as an eye-catching accent on your nails. I love this purple nail design — it's a little bit retro and super easy to pull off!
22. Neon Flames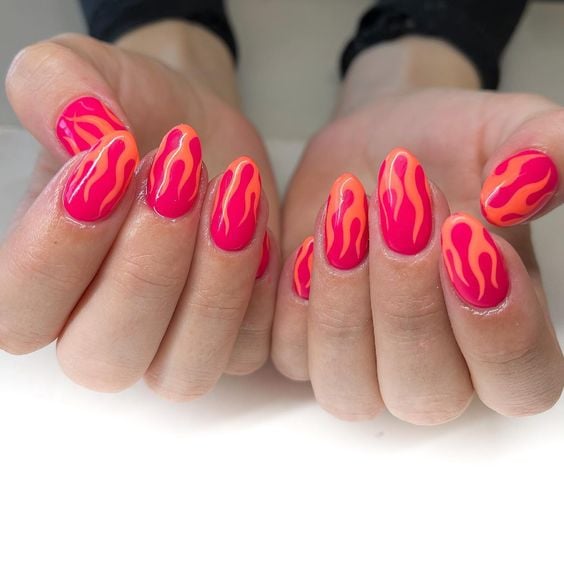 Image via @nailsby.hails
You don't have to go feminine with your hot pink design! Grab your neon pinks and oranges to make this edgy flame design.
Find more manicure inspiration: