It's time to paint your nails, but what color do you choose? While there's always the fun pinks or reds, nude nail designs are always classic and can be worn all year round.
Nude can be simple and subtle or it can make a big statement. That's what you'll see in this post!
From solid nude nail designs to florals, hearts, gems and everything in between, here's 35 of the best nude nail designs to consider for your next manicure.
Many of the designs below are from Olive and June. Find my Olive and June review here (along with a coupon code)!
37 Nude Nail Designs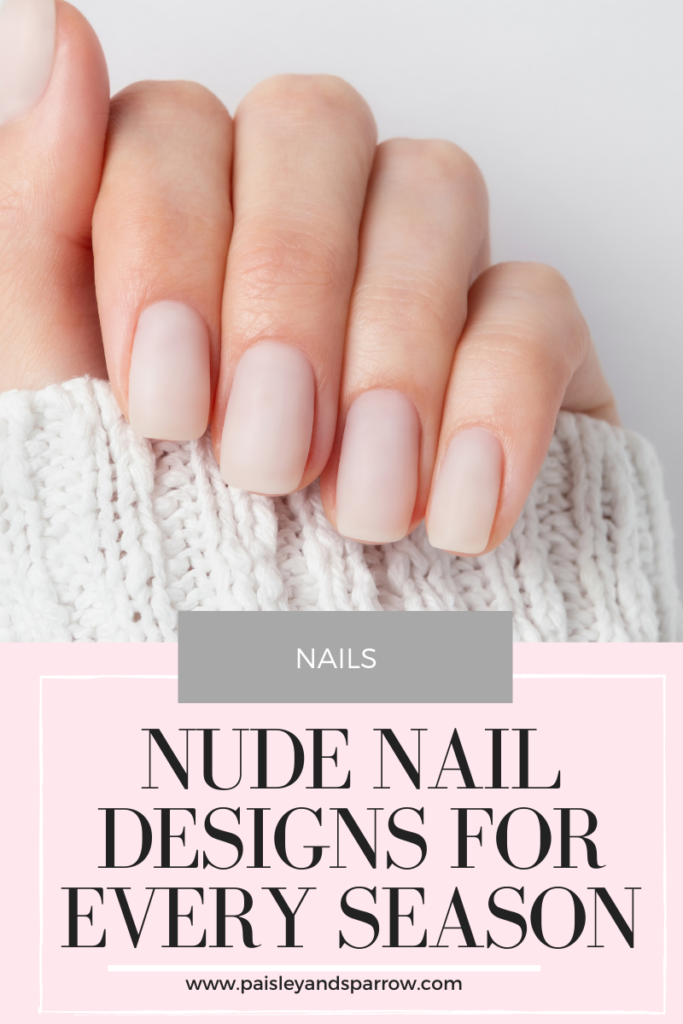 1. Solid Pink Nude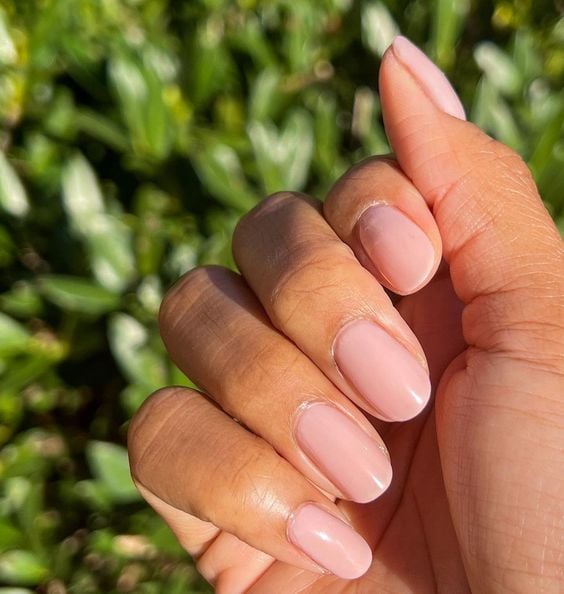 These nails have a pinkish hue that look great on everyone! I love the shape of these nails as well.
Color: Olive & June – The Queen Takes Her Tea With Milk
2. Classic Nude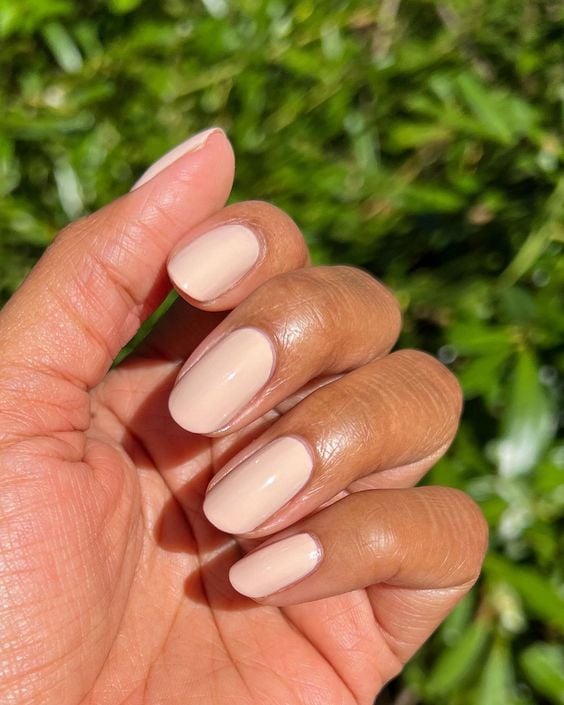 It doesn't get much more "nude" than this! This color is a lighter shade will go with literally any outfit you choose to wear!
Color: Olive & June – Cable Knit
3. Lavender Grey Nude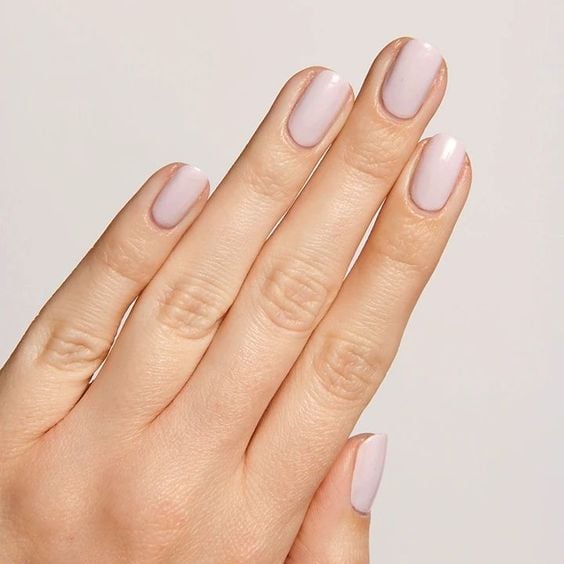 If you are wanting a hint of purple but want to stay with a neutral nail color this color is perfect for you! I love that you can't quite tell if it is purple or gray!
Color: Olive & June -TT Color
4. Nude Ombre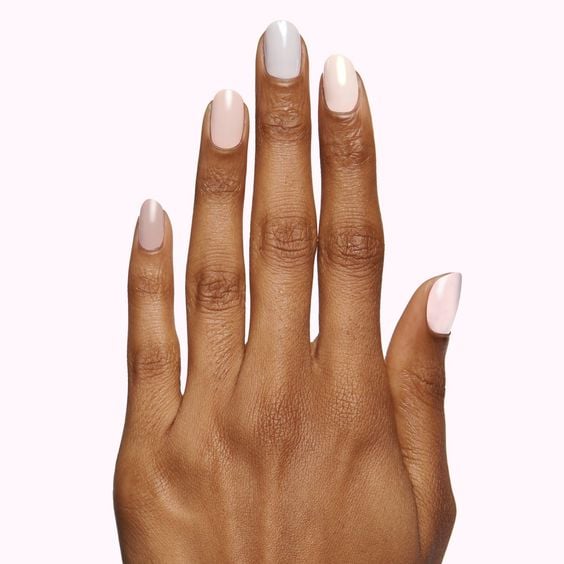 This is one of my favorite ombre options – neutral colors that range from pink to gray/purple! These colors would be great on their own – and they all work amazing together.
Color: Olive and June – Cozy Cardigan
5. Neutral Ombre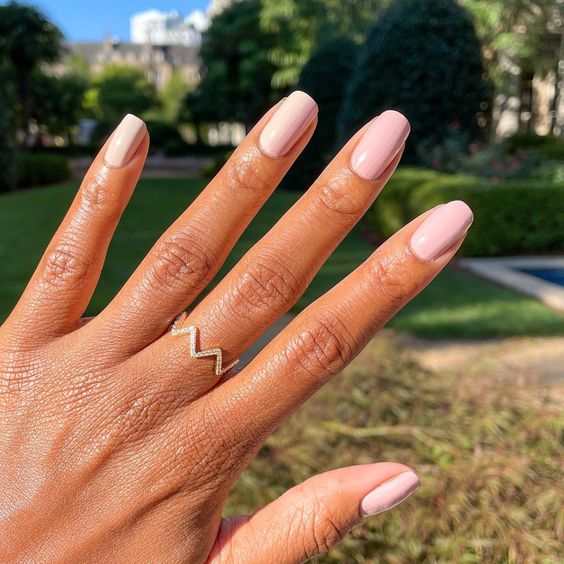 Want to try your hand at ombre but not sure you're into it? The most easy way is with nude colors! These two neutral shades are perfect for testing the ombre waters without getting crazy.
Color: Olive and June -Chemistry and Study Hall
6. Jewel Nails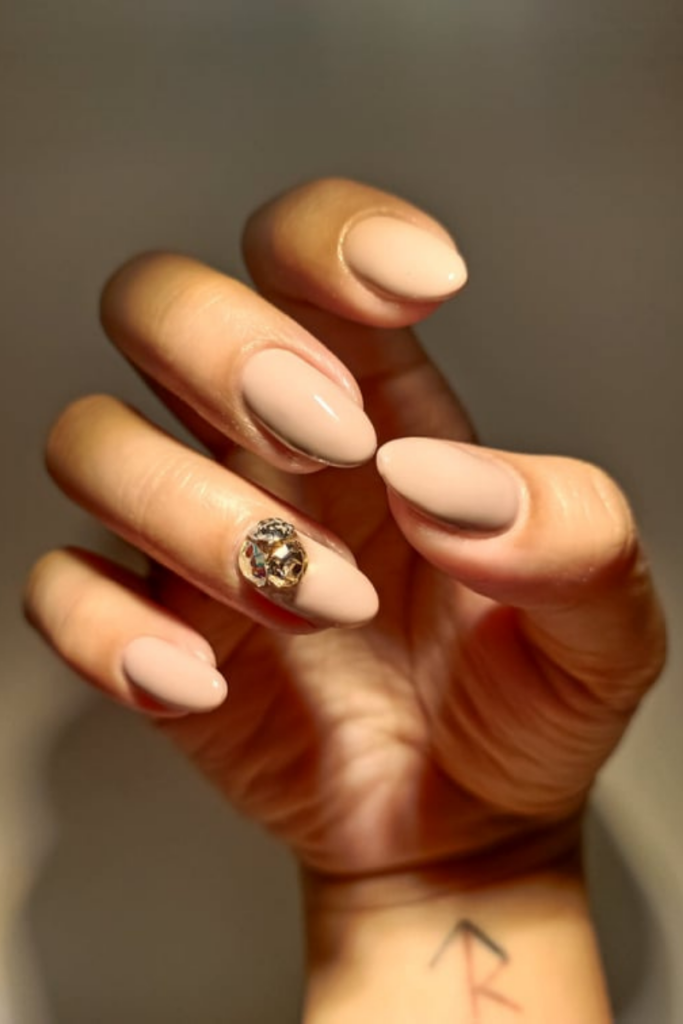 If you are the type that loves statement jewelry, consider statement nails! Adding a jewel to your nail gives a pop of surprise to your neutral nails.
7. Nude Nails with Colored Hearts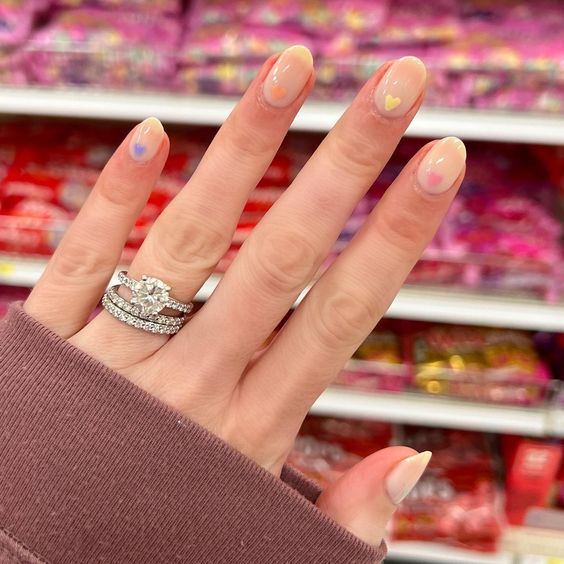 These nails are so fun! Choose a neutral base and some five fun accent colors. Use the accent colors to add a small heart at the base of your nails. These are perfect for Valentine's Day!
8. Heart Line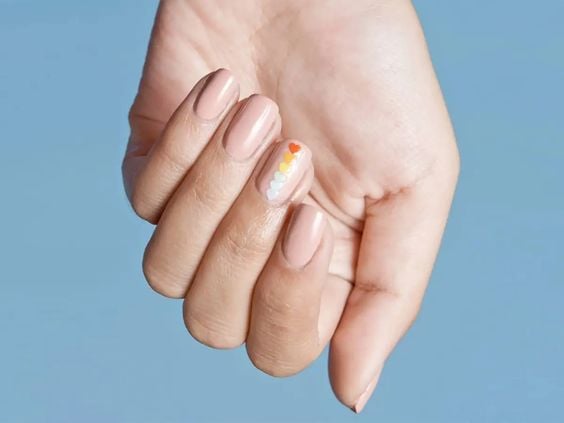 Go easy with nail stickers! Paint your colors your favorite nude shade, and then add 5 heart nail stickers in a row on one of your nails!
This is a perfect option for short nails! Fine 50+ other short nails designs here!
Color: Olive and June
9. Nude Color Block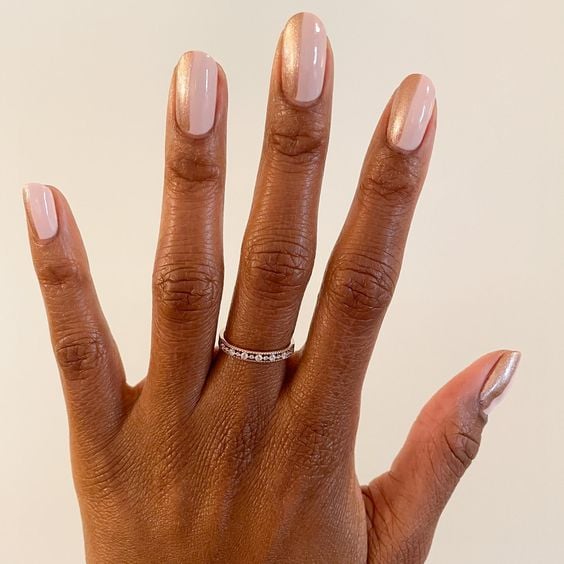 Go halfsies on your nails! Pick two complementary nude tones and do half of your nail the lighter color and the other half a darker color. These are easier than it may appear – try it!
Colors: Olive and June GH and OJSM
10. Nude with Lines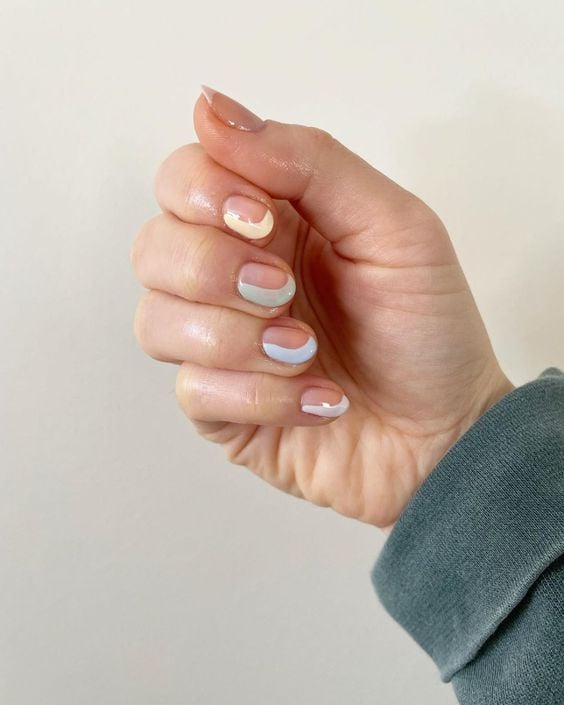 Another fun way to do a color block style is this one! A curved line gives the standard straight line in a color block pattern a completely different look! These short nails can be done in any number of color combinations or just one uniform color!
Colors: Olive and June: Thumb to pinky: point dume, JLR, KMC, BP and TT. (Perfectionist CCT for the negative space)
11. Black and Blue Nails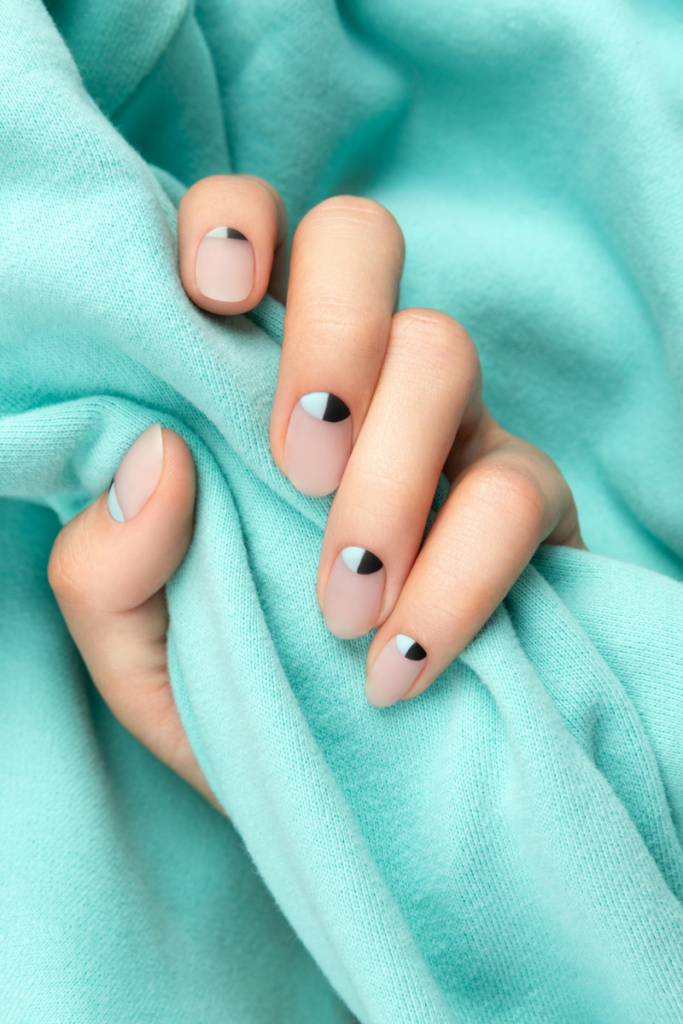 Here is another fun option for a design at the base of your nails. Paint your nails a neutral color. Then add a semi-circle of two brighter colors at the bottom of your nails.
12. Half Outline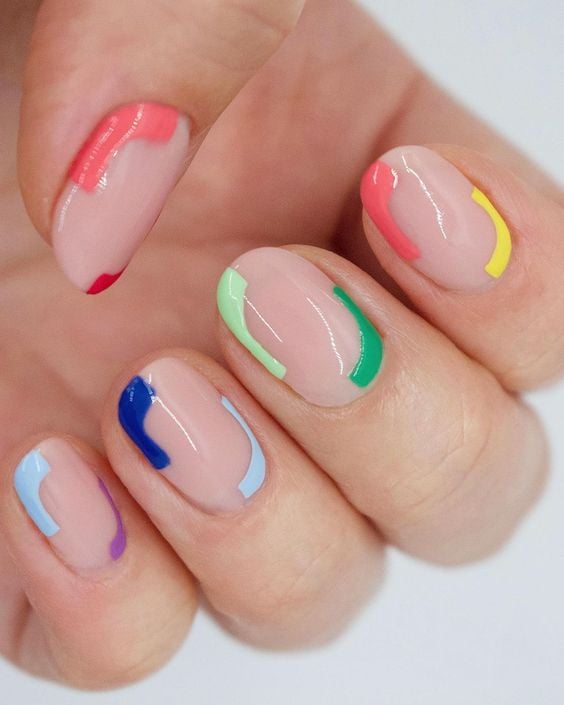 Add the colors of the rainbow with this rainbow mani! Paint the edges of your nails rainbow colors starting with red at your thumb and ending with violet on your pinky!
Colors use: Entire @miniluxe Summer Fun collection
13. Negative Spaces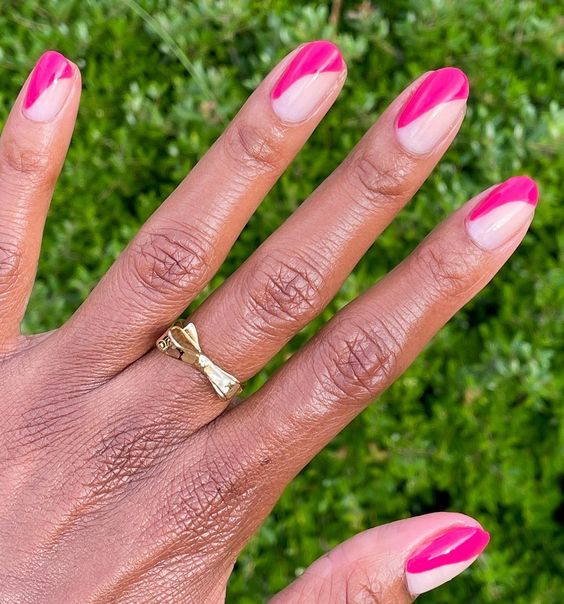 This is similar to the half and half colors above. This style uses a nude shade for one color and a brighter shade for the complementary color! Add a fun curve to jazz things up.
Color: Olive and June CCT + XOXO
14. Marble Nails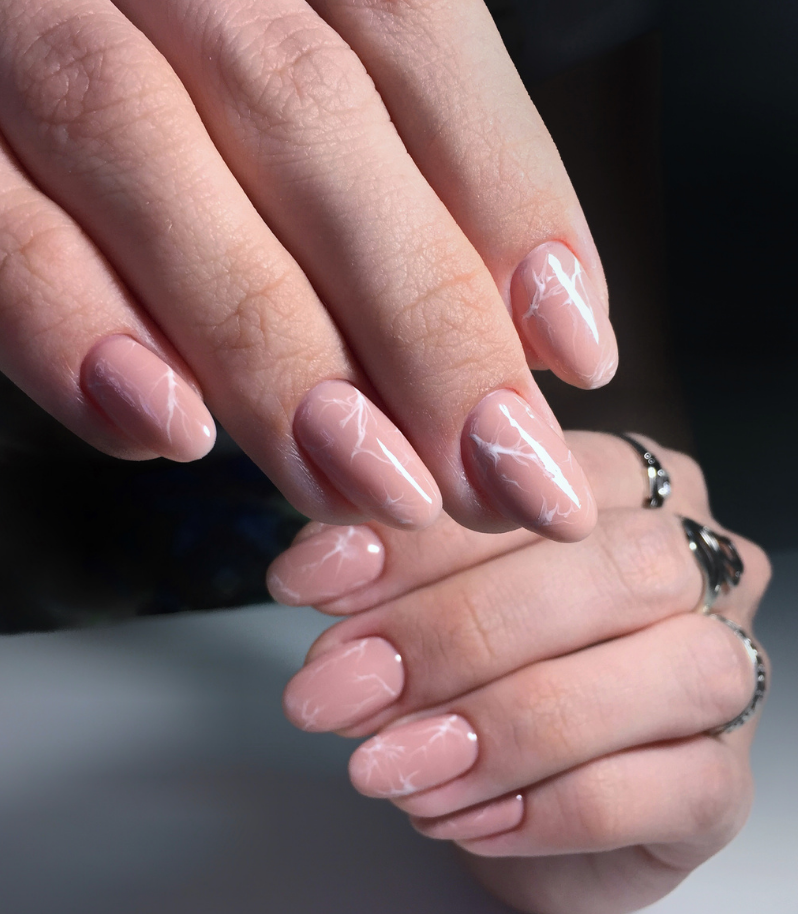 If you really love nude and neutral nails but want something more fun, this marble design is perfect for you! Pick your favorite nude color for the base – just make sure it isn't too light. Then use a white color to add marbling with some nail tools or even a toothpick.
15. Floral Tips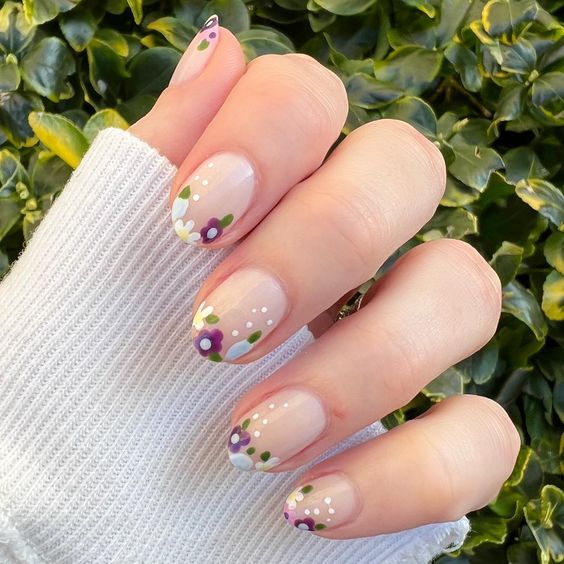 This manicure is perfect for spring! Bright colored flowers at the tops of your nails pop on the nude nail polish!
Check out other floral design nail ideas here!
16. Glitter Nails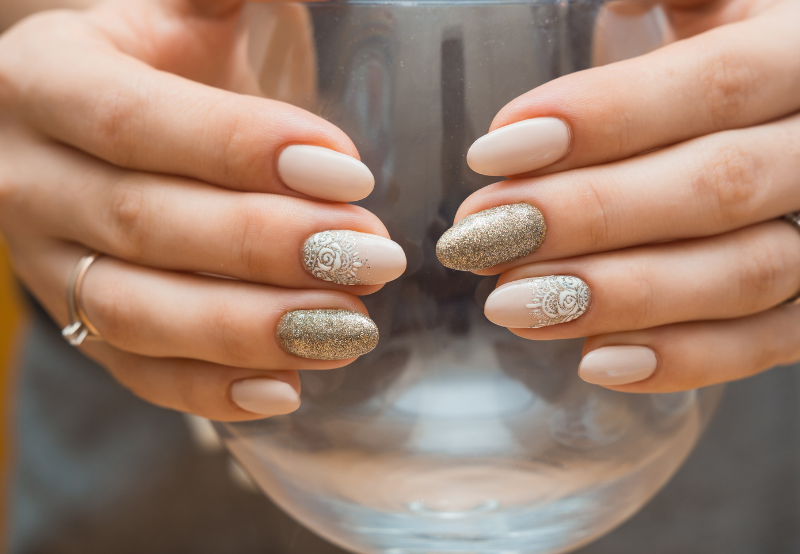 Did you ever consider glitter polish to be nude? It can be! Nude nail polish with accent nails of a glittery polish add some fun without being too bright!
17. Press On French Tip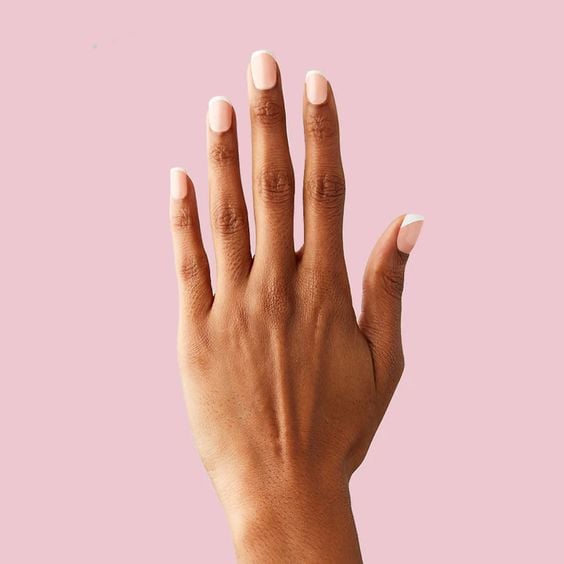 Fun fact – you don't actually HAVE to paint your nails to get beautiful short nails! These french nails are created with press ons! I've used Olive and June press on nails and love them!
Nails: Olive and June
Find my full review of Olive and June press on nails here!
18. Star Accent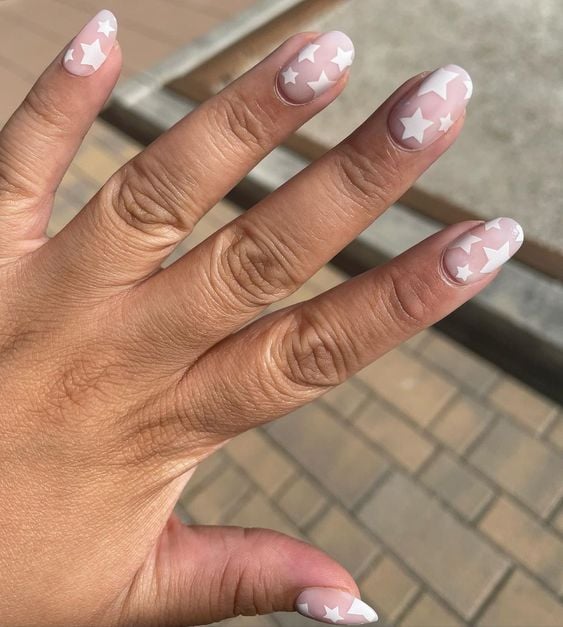 Olive and June Press on nails for the win! These nude based nails with white starts are so fun! A great manicure for the 4th of July!
Nails: Olive and June again!
19. Iridescent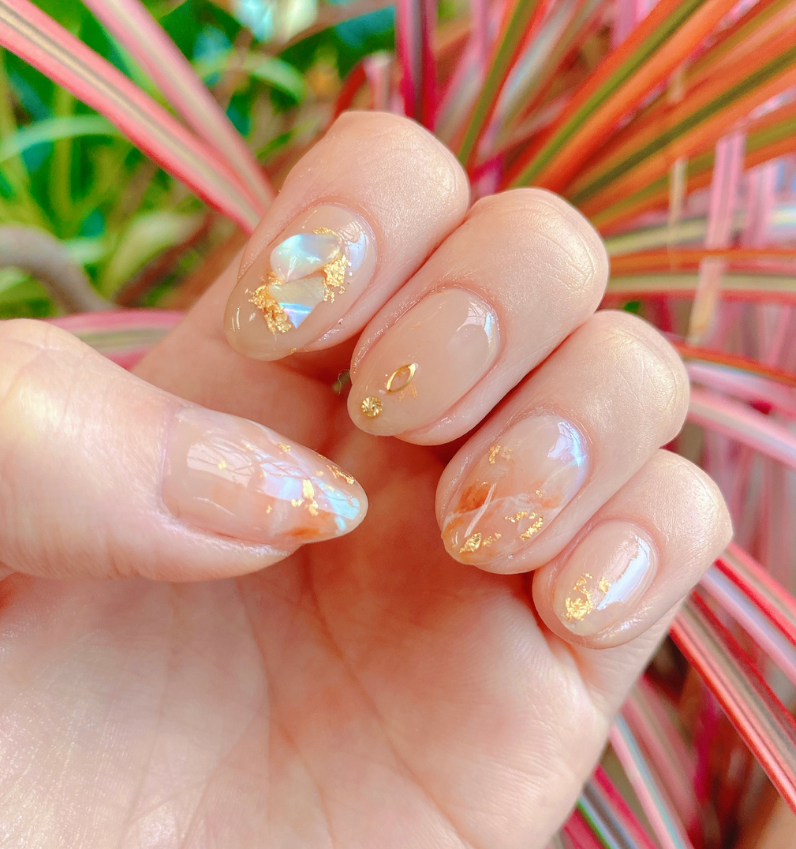 I can't stop looking at these! These iridescent nails with gold and red shades mixed in are so pretty. You will get non stop compliments on these pretty nails!
20. Nude and White Mani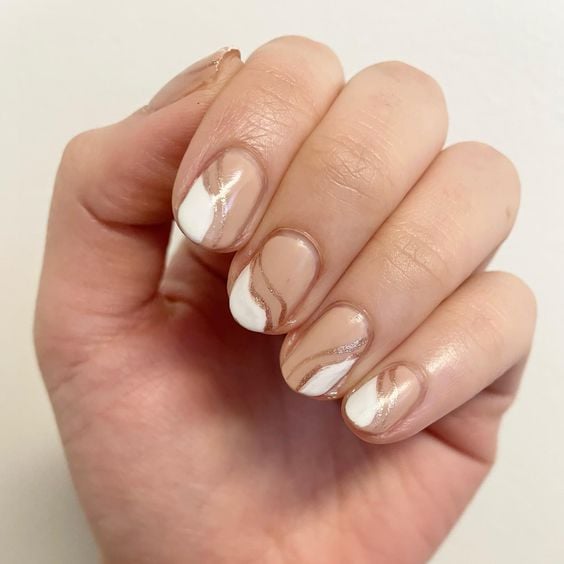 This manicure uses three colors to create a color block style design that you will love! You can keep with the white accent to stay with neutral tones or use a brighter color!
Color: Olive and June base: CHM, accents: HD, OJSM
21. Ombre Nails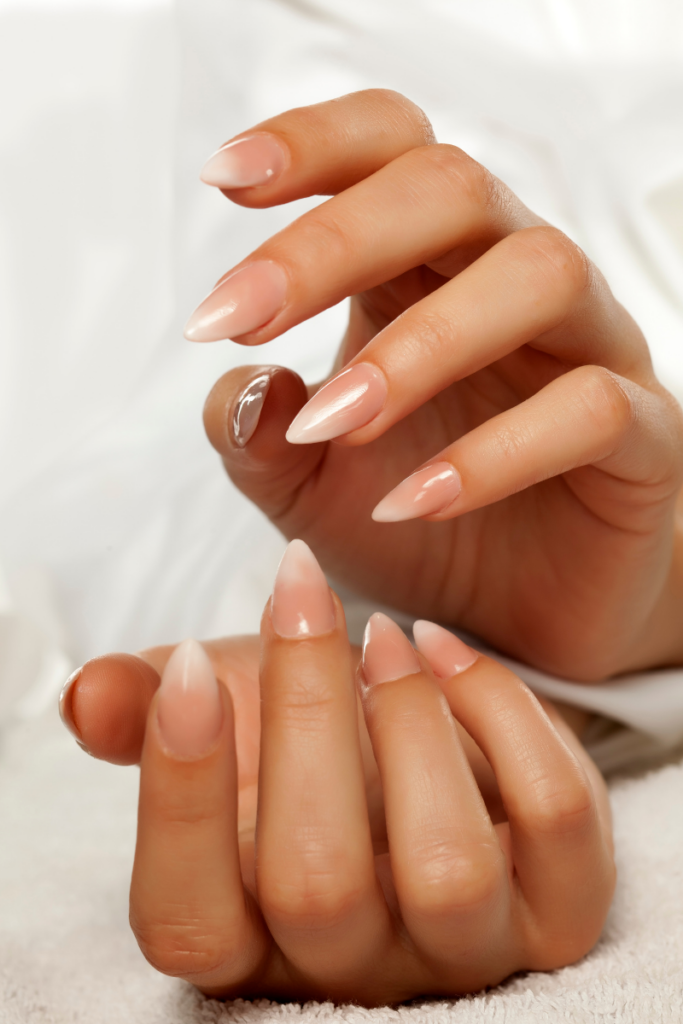 These ombre nails are gorgeous! The neutral pink blends seamlessly into the white creating a smooth, calm nail design.
Love this nail shape? Me too! Here's 11 different nail shapes to try!
22. Dot Nails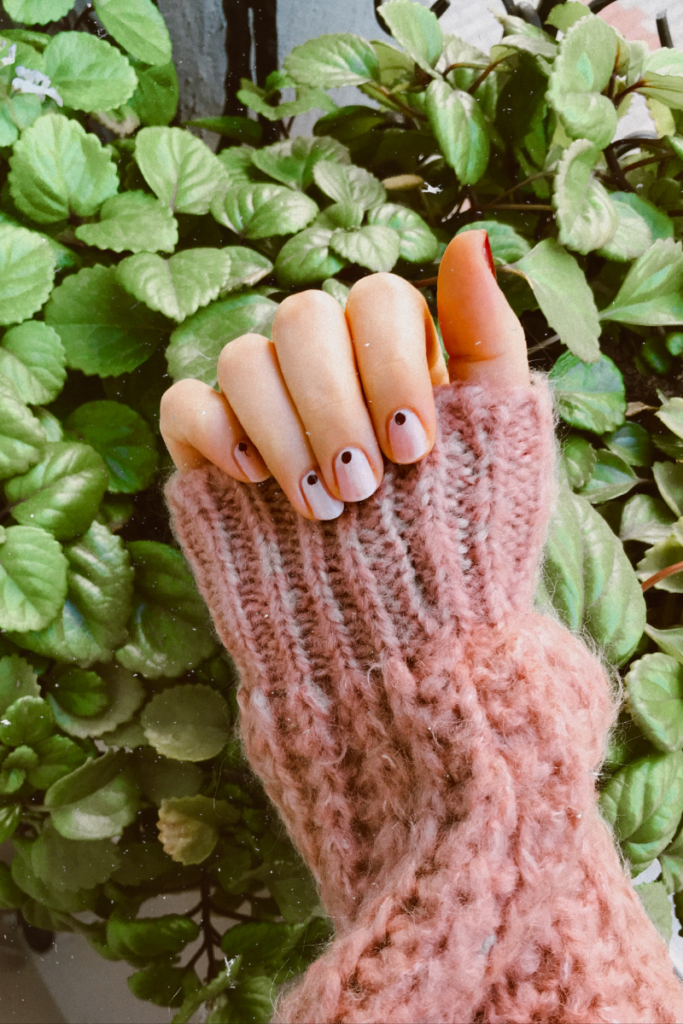 It doesn't get easier than this for a DIY manicure! Paint your nails your favorite nude shade and put a dot of your favorite accent color at the base! You can use a q-tip, a nail design tool, toothpick, or even try it with the brush itself.
23. Polka Dot French Tip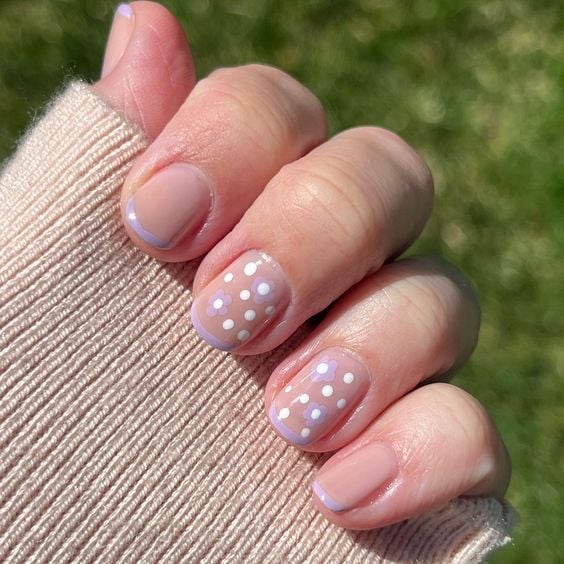 Once you feel confident with polka dots and french tips and flowers, take them to the next level and combine them! Start by painting your nails a neutral color. Next paint your french tip with a different color.
Add polka dots with a third color that pops. Around a few of the dots add fun abstract flowers.
Colors: Olive and June: The Queen Takes Her Tea With Milk, You're Invited, HD
24. French Tip with Silver Glitter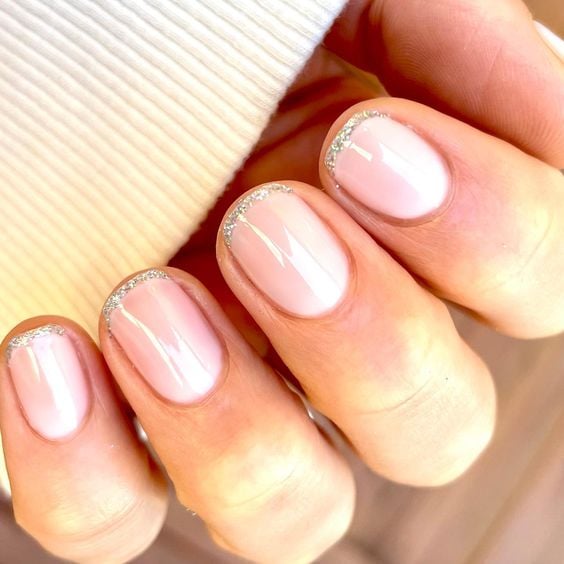 The perfect french tip twist! This beautiful manicure could be worn for your wedding, shower or even New Year's Eve! This is made with just 2 colors.
Colors: Olive and June: two coats CCT plus one coat BEB with Exclamation Point
*Check out classic white french tip nails here!
25. French Tips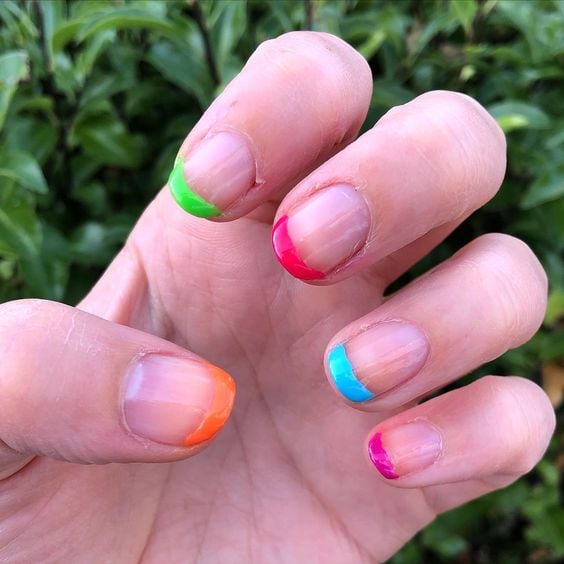 Another twist on a French Tip is this one! Give it a rainbow vibe with colorful tips over a neutral base.
Colors: Olive and June: You're A 10, Lime Fizz, Cherry Crush, Mega Babe Blue, Wild Orchid
26. Nude Nails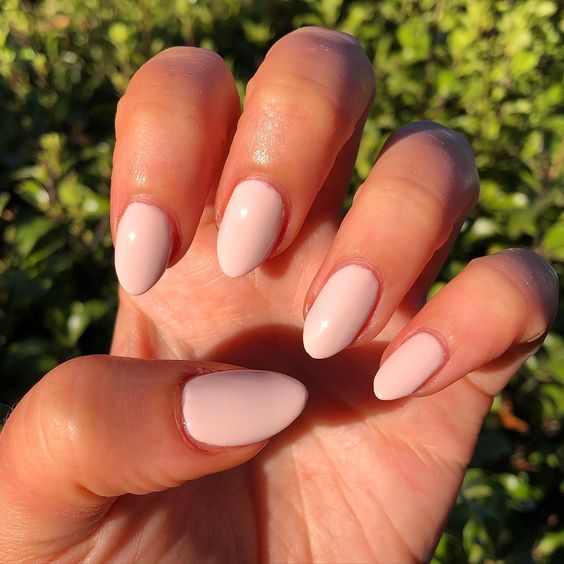 Simple, elegant, and to the point. You can never go wrong with a nude nail polish on all ten fingers!
Color: Olive and June Point Dume
27. Outline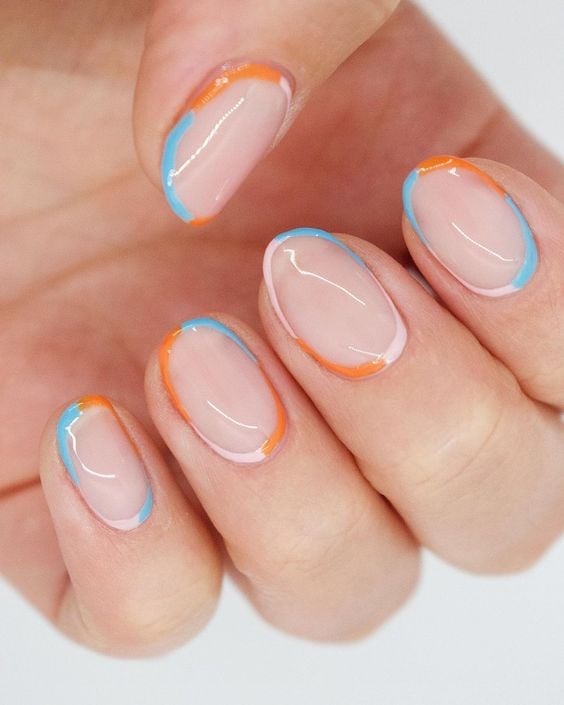 This gorgeous manicure from @karanailedit is incredibly unique way to paint your nails! A solid base on each nail along with three coordinating colors is used for this mani. This is a great option for short nails since it's just outlining your natural nail!
Colors: Olive and June
28. Simple Flowers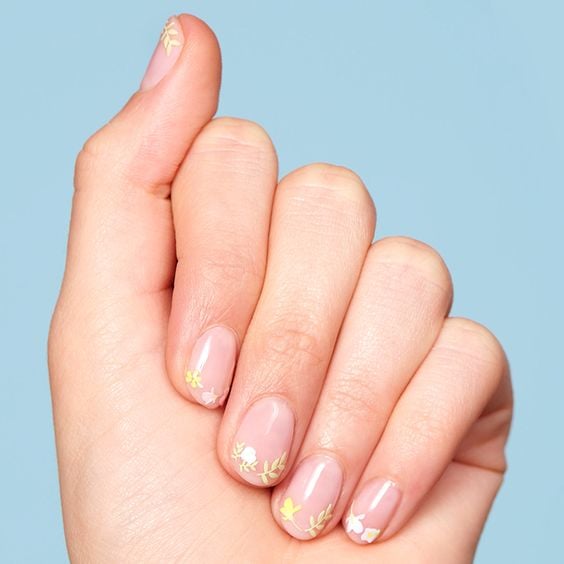 Another sticker art that's perfect for summer is this one! Whether you put these on a neutral baes like this one or on a colorful base, you can create a variety of different manis!
Color: Olive and June Stickers
29. Nude and Blue Nails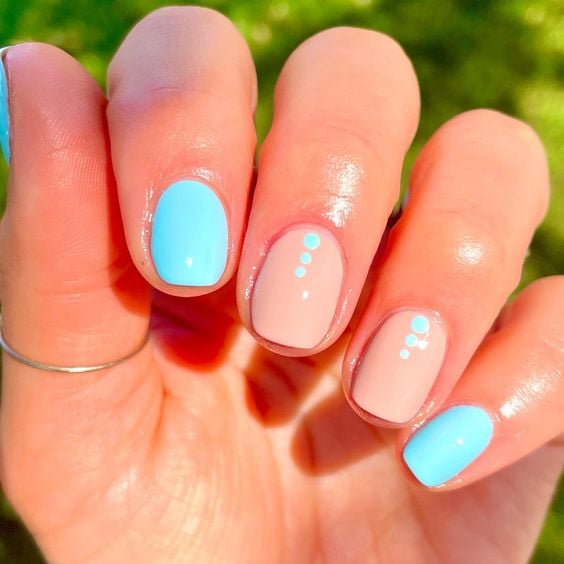 Heading to the ocean? Paint some of your nails a nude shade and add dots from the color you used on the accent nails!
*Find other blue nail designs here!
Colors:  Huella Beauty (use code paisleysparrow for a discount!) – Blush with Emotion and Blued to You
30. Star Nails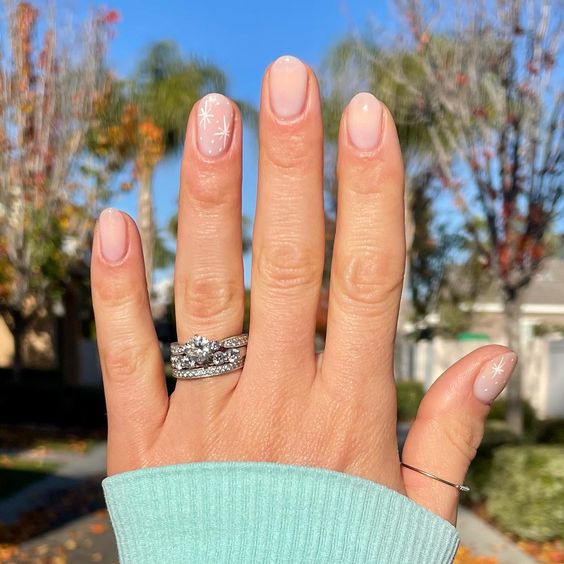 These gorgeous star nails are amazing. Use white nail polish to create a star design on your thumb and ring finger. Add some simple dots around the stars and you have a beautiful manicure.
Color: Olive and June base:3 coats BEB Stars: HD
31. Nude Nails with Hearts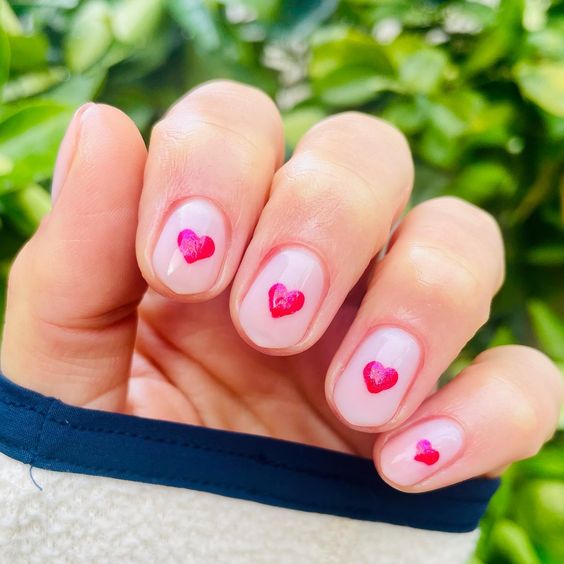 Here is another fun heart design that is perfect for Valentines Day or an anniversary celebration! Paint your nails a neutral color for the base and then add a simple heart in the middle of each nail.
Color: Olive and June CCT and Ruby Shimmer
32. Polish with Glitter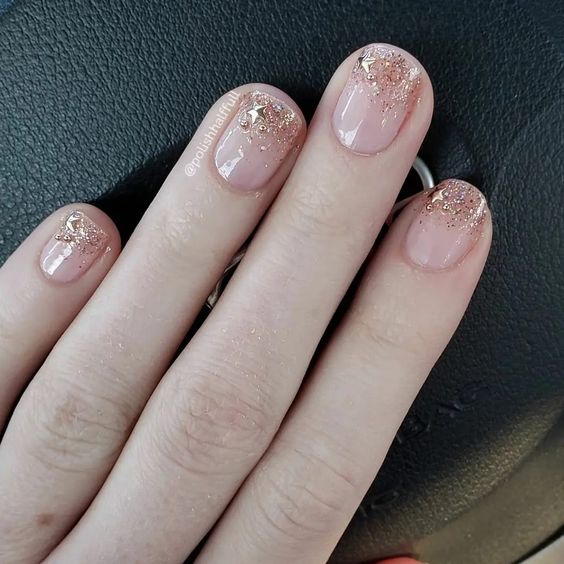 Here is another fun glitter option to add to your nude nail base! Add glitter just to the top half of your nails and allow the base to show throw.
33. Summer Nails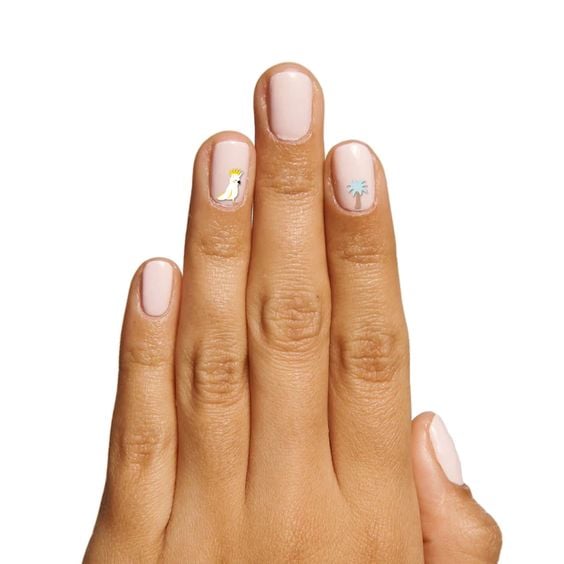 For a fun summer manicure add colorful palm trees to your nails! These are easier than you may think! Add a dot of color to the base of your nail, spread it out with a toothpick, and then add a little stem in brown. You can do it!
Color and stickers: Olive and June
34. Abstract Black and White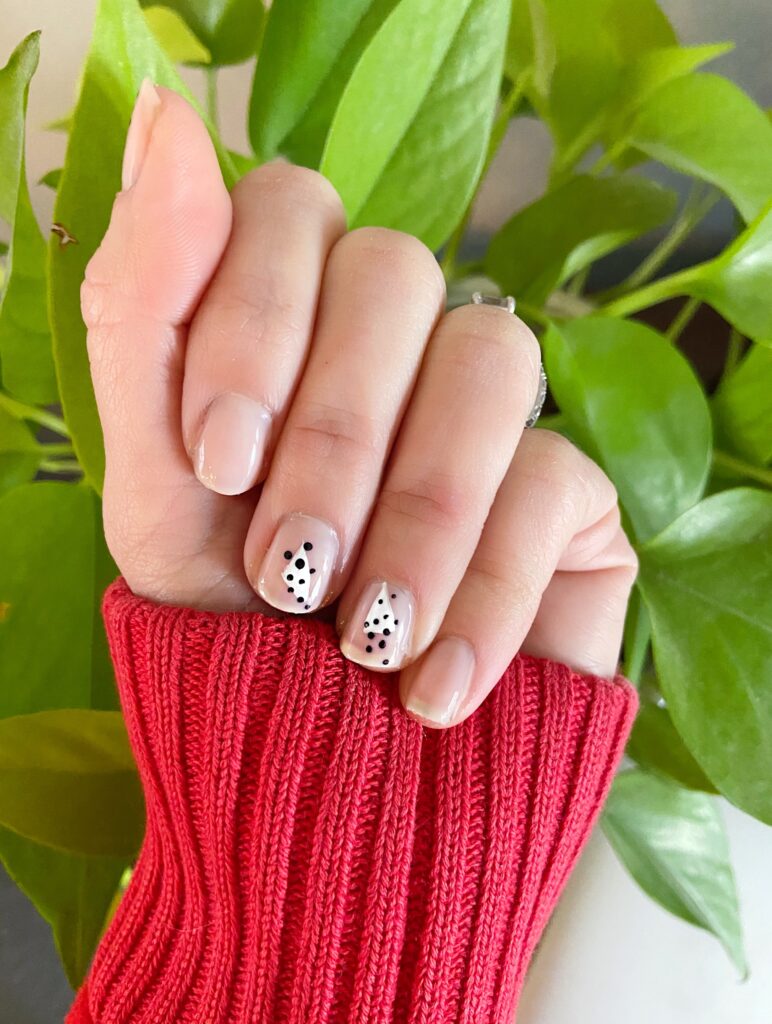 You can never go wrong with a classic black and white manicure! Start with a neutral nail color. Add a simple triangle accent and top it off with black dots!
Check out other Short Nail designs!
35. Black Heart Accent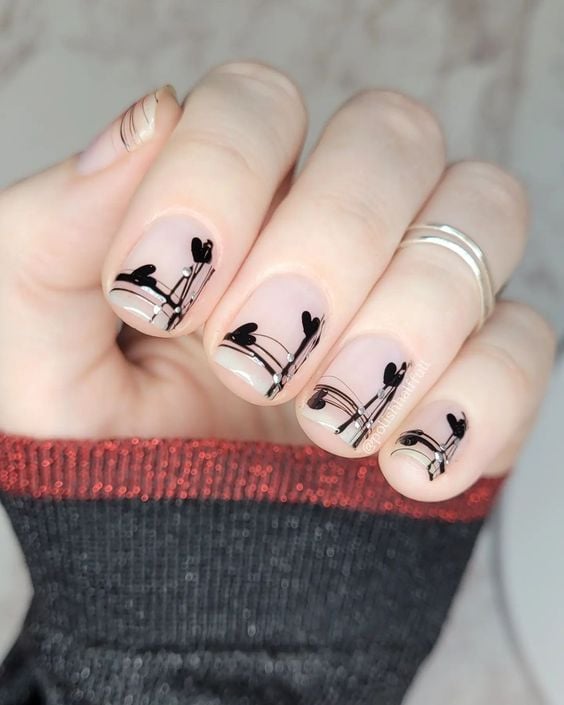 Here is a fancy manicure using all neutral colors but definitely creates a stand out design! This would be a fun manicure to have when attending a wedding or other more formal event.
36. Nude to Brown Ombre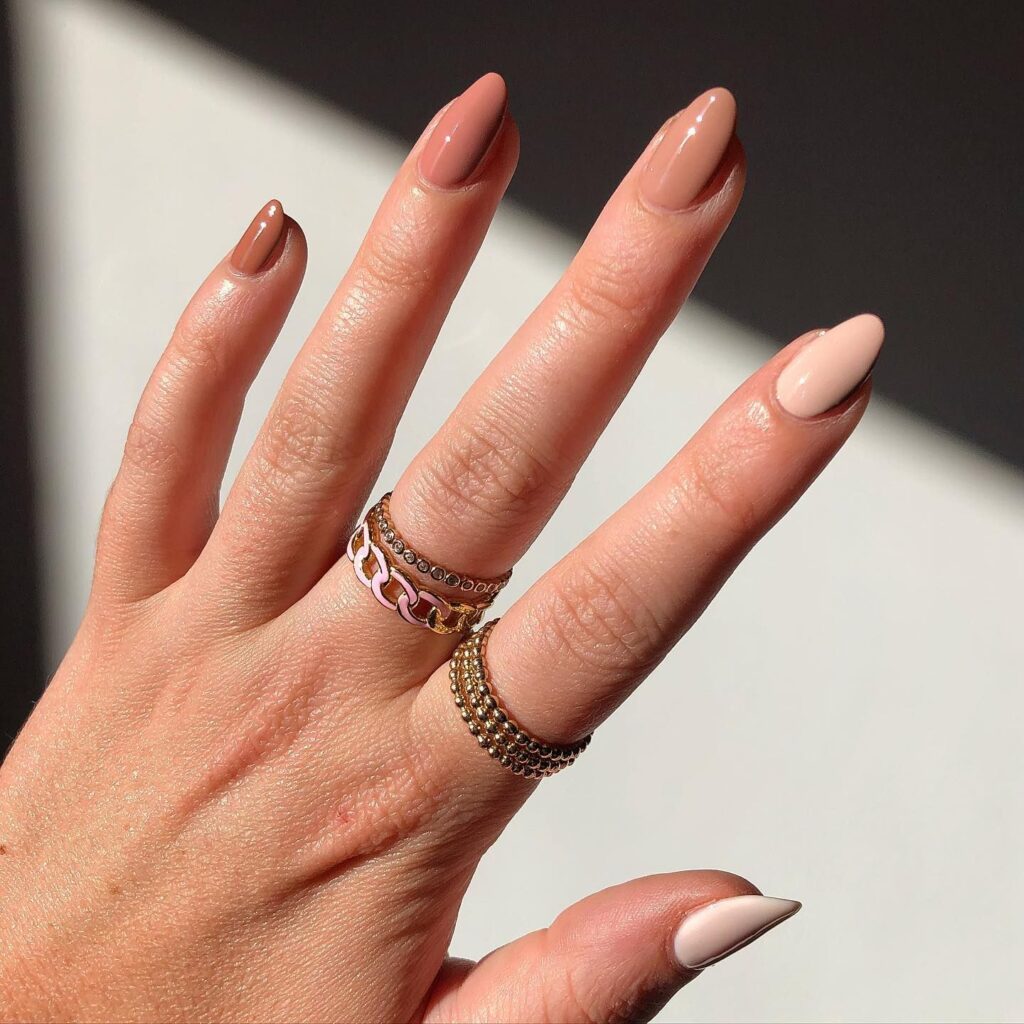 If you're a neutral queen or just want to let your outfit do the talking, this chic brown ombre is perfect. You can pick shades that have a slight pink or red hue if you are worried about your brown looking too drab.
Ombre is an easy way to create the most beautiful nails!
*Find more brown nail ideas here!
37. Brown And Gold Nude Swirls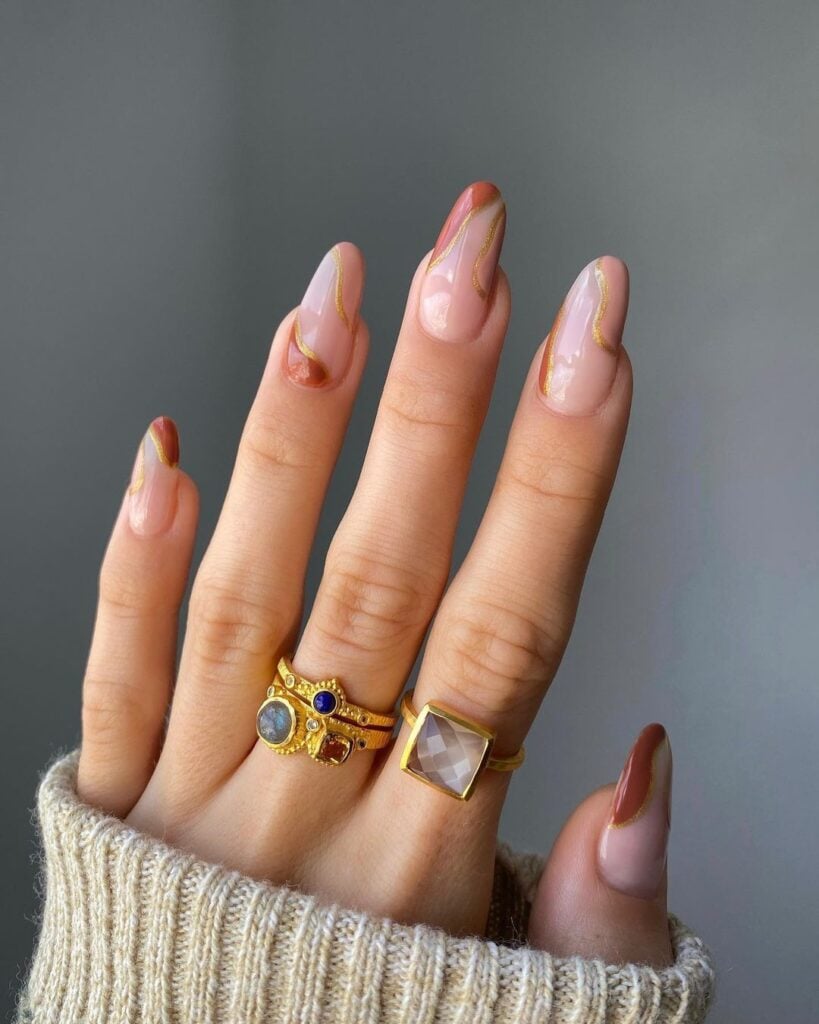 This nude nail design gets a bit of an upgrade with light brown and gold swirls intermixed. This is a great neutral nail design for an everyday look.
With so many fun nude nail designs the only question left is how to choose which one to do! If you decide to do these at home, be sure to get a manicure system! They make a world of difference in the perfect at home mani!
Want a full review of Olive and June nail polish? Head here!
Looking for nail ideas? Try these:
And try out one of these different nail shapes while you're at it!