Feeling blue? Paint your nails a pretty shade of blue to give your fingers a little pop and your mood a little boost every time you see them.
Blue can be the perfect nail polish color for any season — bright and cheery for spring and summer, and dark and cool for fall and winter!
If you're looking for a little inspiration, here are the best blue nail colors.
Many of the nail colors below are from Olive and June. Read my Olive and June review here along with an Olive and June discount code.
Without further ado, let's bring on the blue!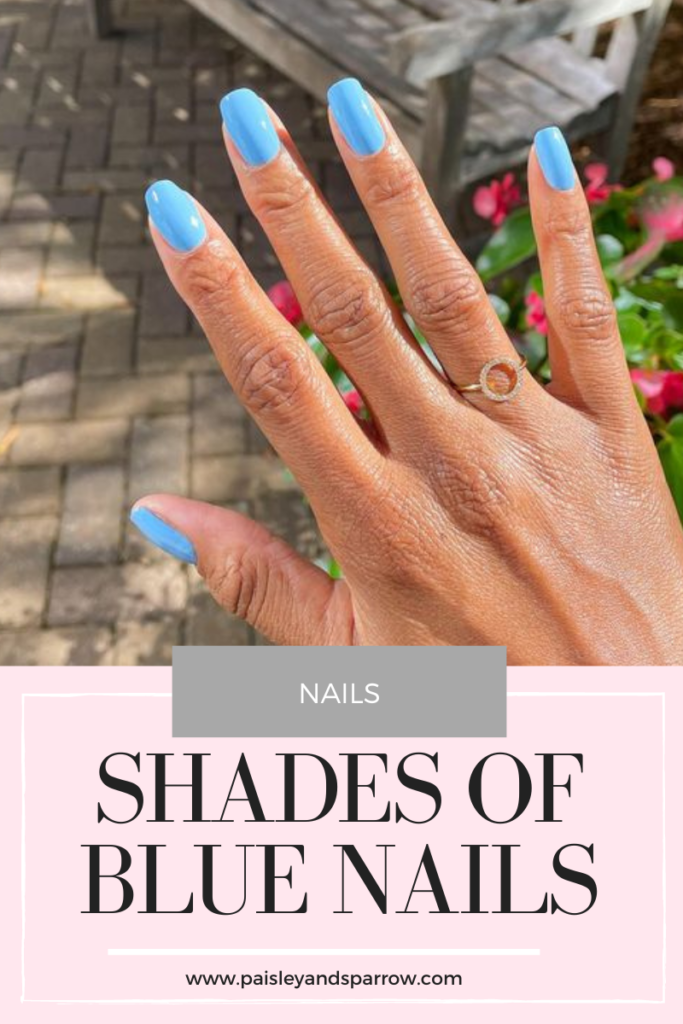 1. Olive and June Boost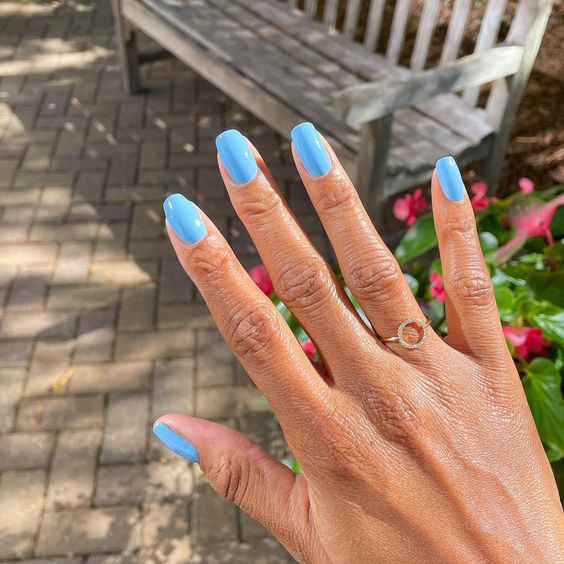 This Olive and June shade gives me blue-sky feelings! A bright blue can make any outfit pop.
Color: Olive and June Boost
2. Boost With Iridescent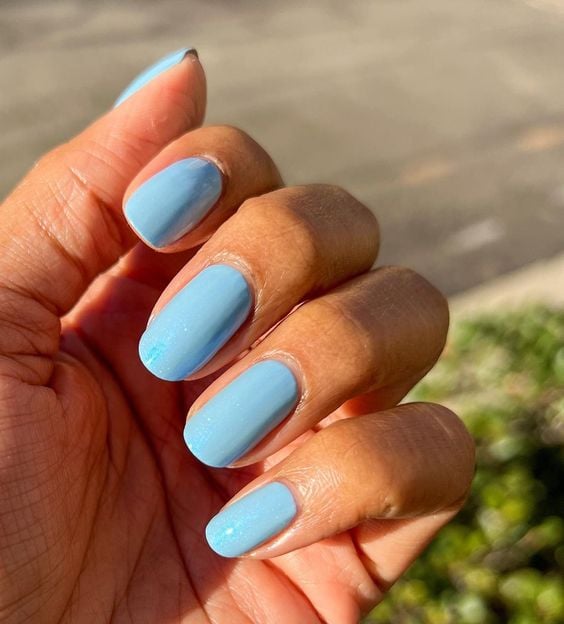 Add a little shimmer to your blue manicure for some extra glam.
Colors: Olive and June Boost and Pink Goldfish
3. CNH and Goldfish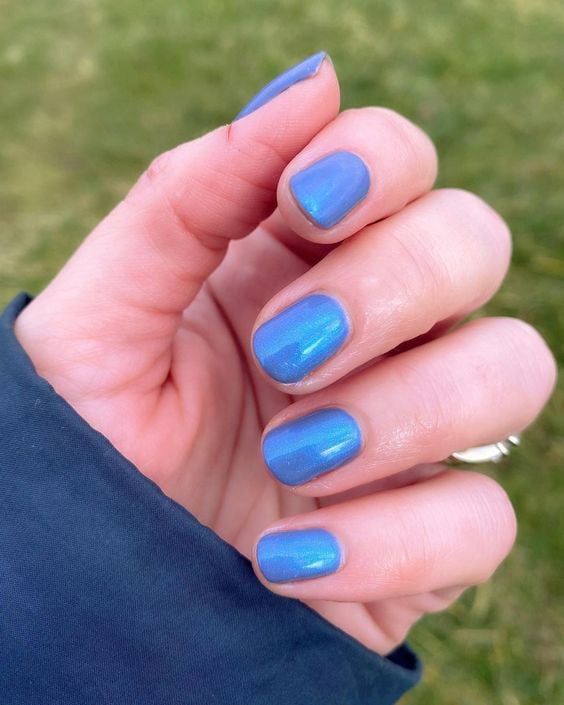 These classic blue jean colored fingernails go with anything.
Colors: Olive and June CNH and Pink Goldfish
4. OMG Blue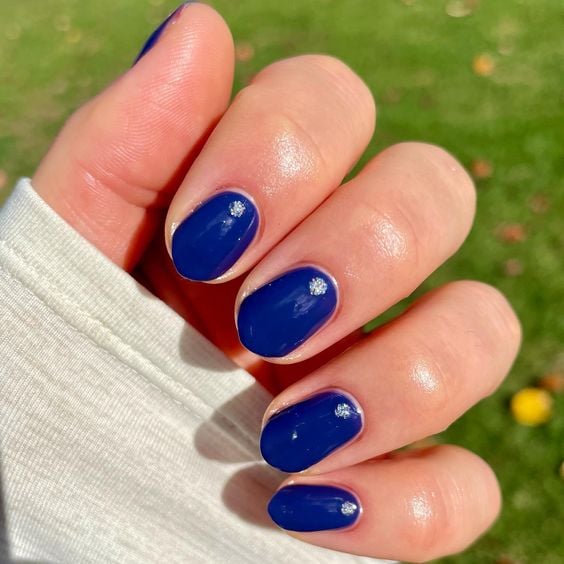 I love this style for the winter! Deep blue with small sparkly dots give me the feeling of a snowy night.
Colors: Olive and June OMG and Exclamation Point
5. Blue Sparkles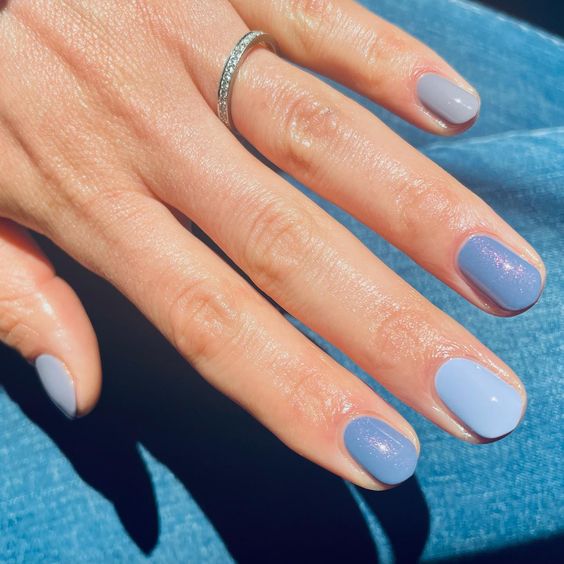 You don't have to settle for just one shade of blue on your fingers. Paint the whole sky with light blues and grays!
Colors from Olive and June: Lunar (pinky, thumb)
Cactus flower (ring, pointer)
Lilac (middle)
6. Nude and Blue Nails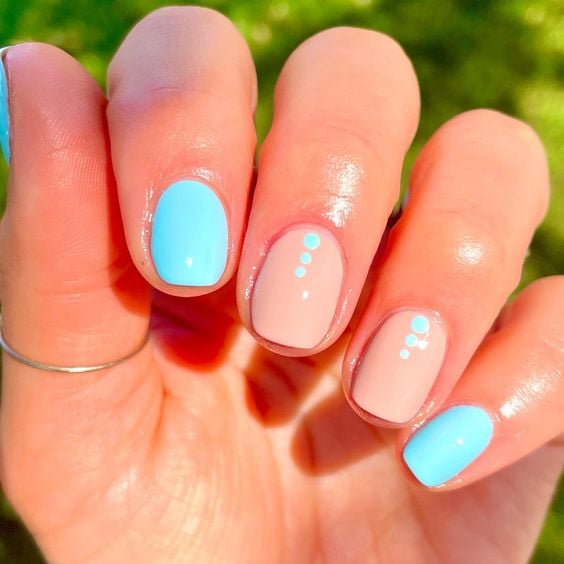 Heading to the ocean? Paint some of your nails a nude shade and add dots from the color you used on the accent nails!
Colors: Huella Beauty (use code paisleysparrow for a discount!) – Blush with Emotion and Blued to You
7. Blue Tips With Butterflies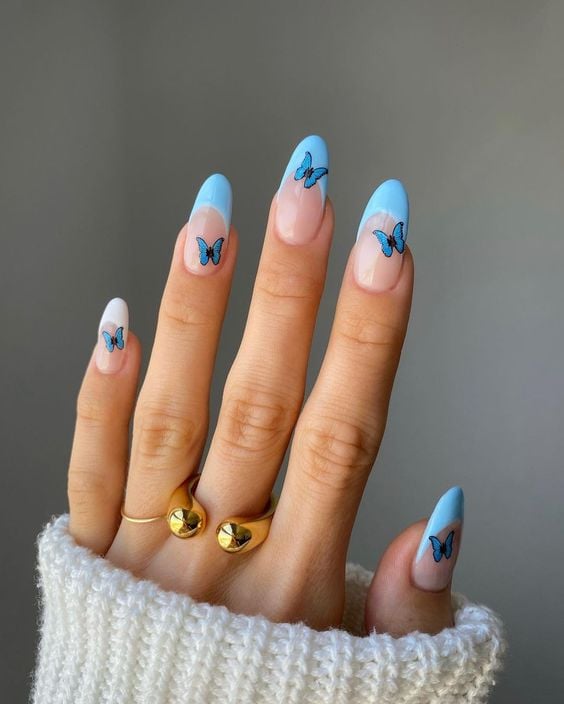 Stickers can take any manicure to the next level, like these pretty blue butterflies. Add them to a blue French manicure for an easy but professional looking style.
Decals from Deco Miami
Colors: Le Mini Macaron Blue Vanilla
8. Blue Dots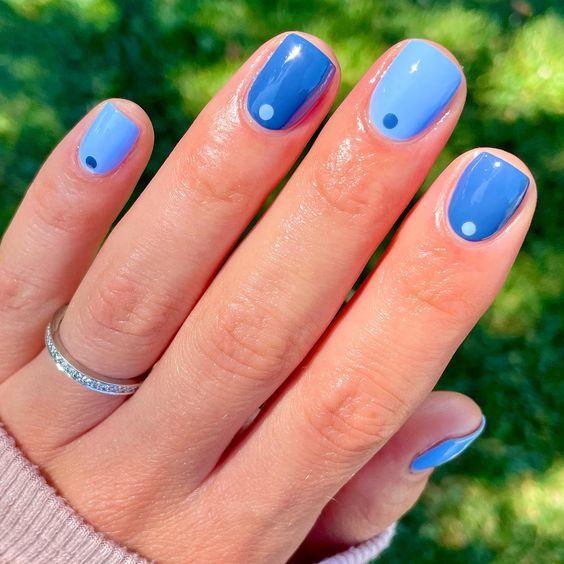 Bring two different blue shades together by alternating the base color on each finger and using the other color to make a dot. It's quick and easy, especially if you have a dotting tool.
Colors: Cornflower by Olive Ave Polish and Gotta Bounce by Orly
9. Blue Tips With Daisy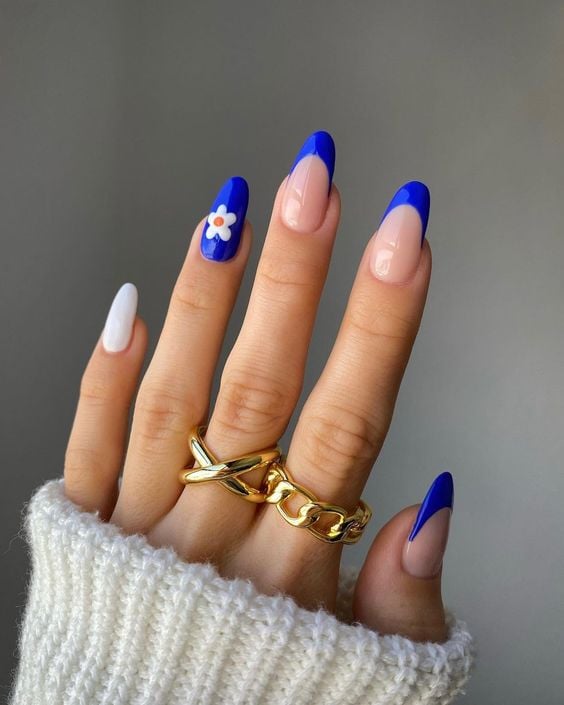 This vibrant blue make flowers edgy. And it's so simple to get the effect.
Create a blue french tip, paint one nail a solid blue with one simple flower, then use the color of the flower for the last nail. You can do this with short or long fingernails.
Colors from Le Mini Macaron: Blue Raspberry, Papaya Sorbet, Milkshake, Creme Brûlée
10. No. 31 Morning Dew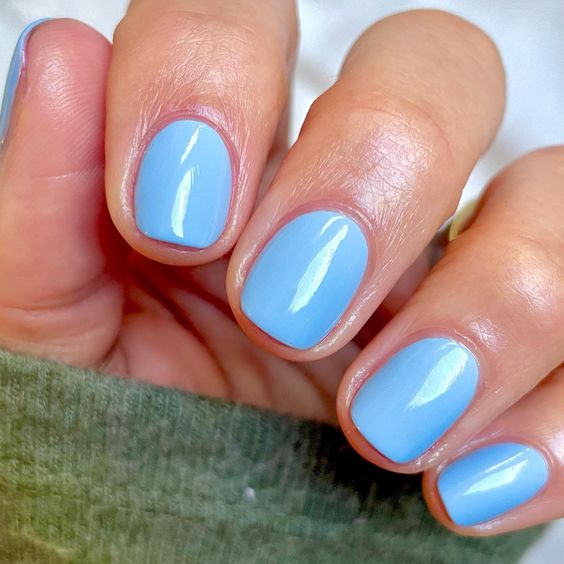 This sweet light blue feels perfect for winter or spring!
Color: No. 31 Morning Dew* by Terra Beauty Bar
11. Blue Iris Nails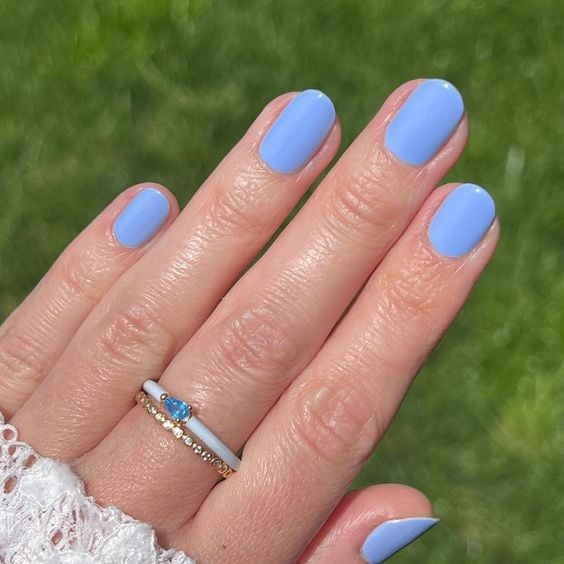 Go with a shade of blue that has a slightly more purple hue for a fresh spring look!
Color: Blue Iris from Olive and June
12. Blue Fire Nails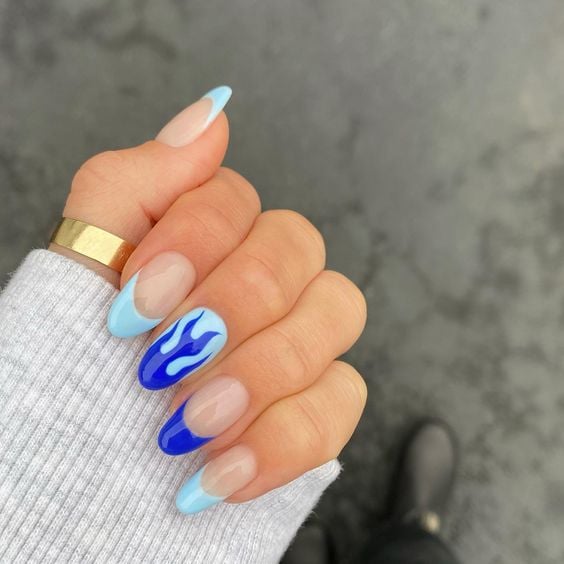 You can style blue nails to be a sweet look or an edgy look. This blue flame mani is the latter, with a bold, cool design on one nail.
If you love bright color nails like these, find more neon manicure ideas here!
13. Essie Bikini So Teeny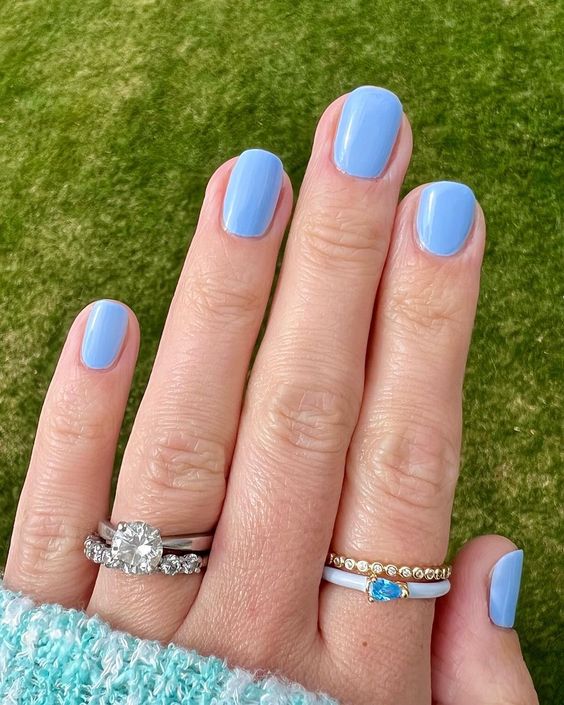 If you love pastels, don't forget about blue! I light blue can brighten up any look.
Color: Essie Bikini So Teeny
14. Blueberry Smash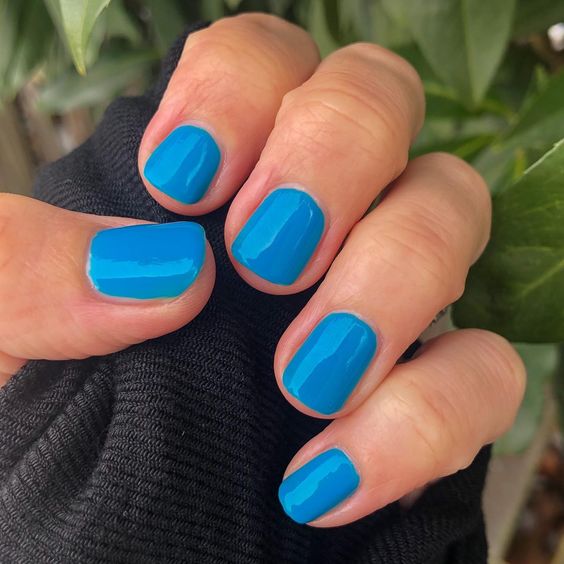 This bright blue is so fun! Perfect for pairing with lots of other bright colors, or as the pop of color with a monochrome outfit.
Color: Olive and June Blueberry Smash
15. Blue Ombre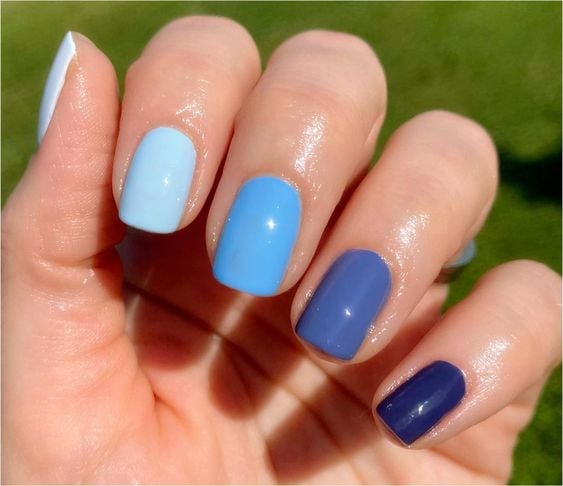 I will never get sick of ombre, and this blue ombre means you get to use ALL the pretty shades of blue in your collection!
Colors: Olive and June Angelfish, Honest & True, Boost, CNH and OMG
16. Tile Art to Warm Your Heart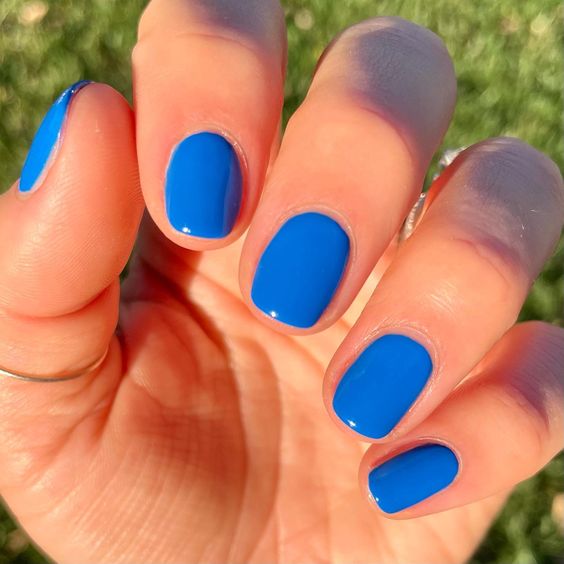 Make your fingers a work of art with this beautiful bold blue inspired by mosaic tiles in Lisbon!
Color: Tile Art to Warm Your Heart by OPI
17. Blue Ombre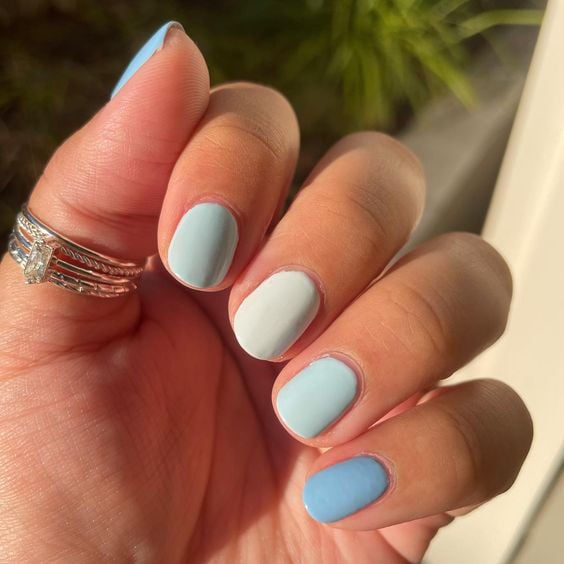 Manis don't always have to be hard and complicated with nail art brushes or intricate details! A blue ombre mani with each nail a different color is not only on trend and chic but also super easy!
All you need is the colors! Simply paint each nail a different shade of blue!
Colors from Olive and June: Boost, Honest and True, Angelfish
18. Blue Lines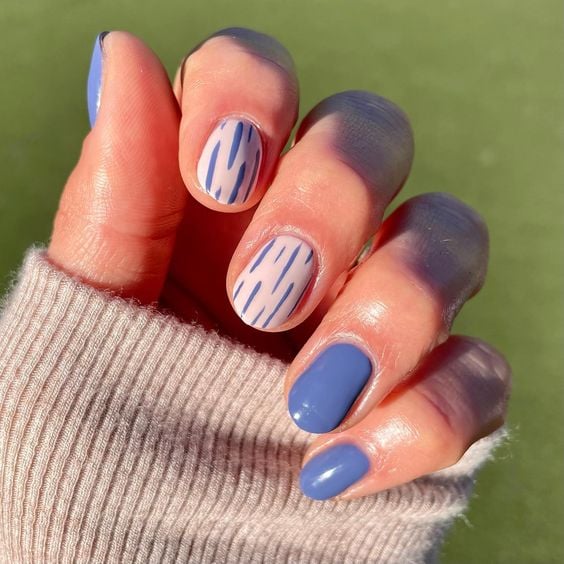 You can recreate this cool manicure without any special nail tools! Paint the stripes on with the nail polish brush or a toothpick.
Colors: Olive and June CNH and Pointe Dume
19. Blue Flowers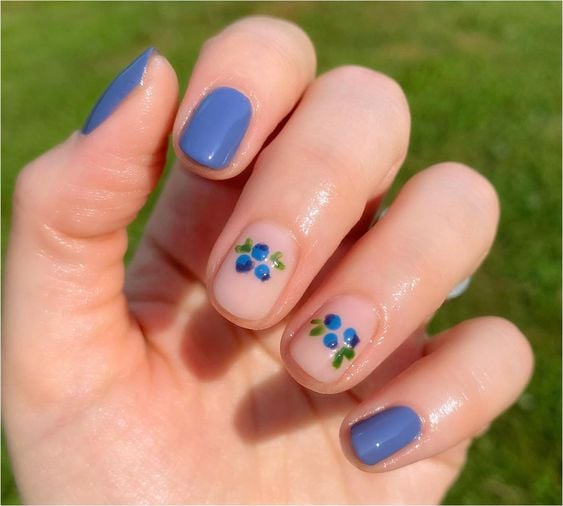 These tiny abstract flowers are perfect for when you don't have much time. Three dots, a tiny accent of a darker color on each, and then a little V of green for the leaves are all you need!
Colors by Olive and June: Blueberry Smash, CNH, OMG!, Geometry
20. CNH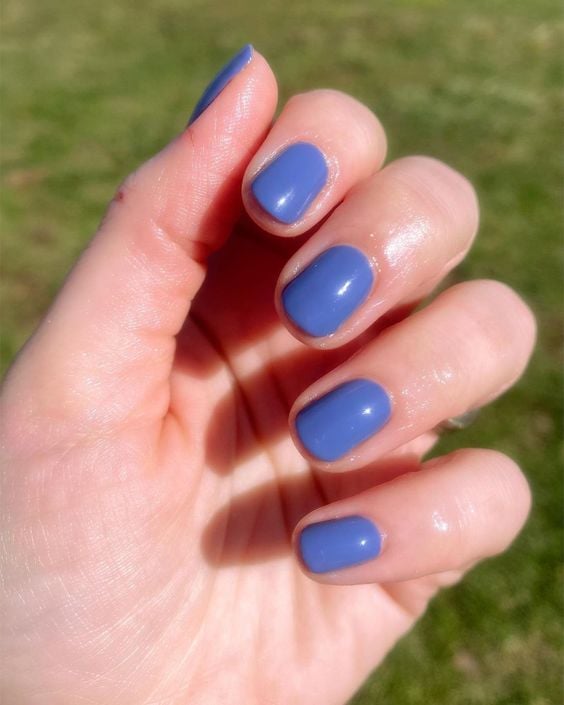 Color: Olive and June CNH
21. Dolphin Blue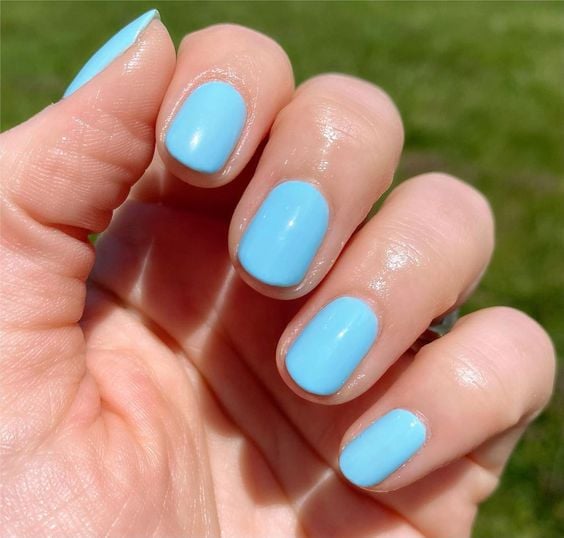 Color: Olive and June Dolphin Blue
22. Blue Abstract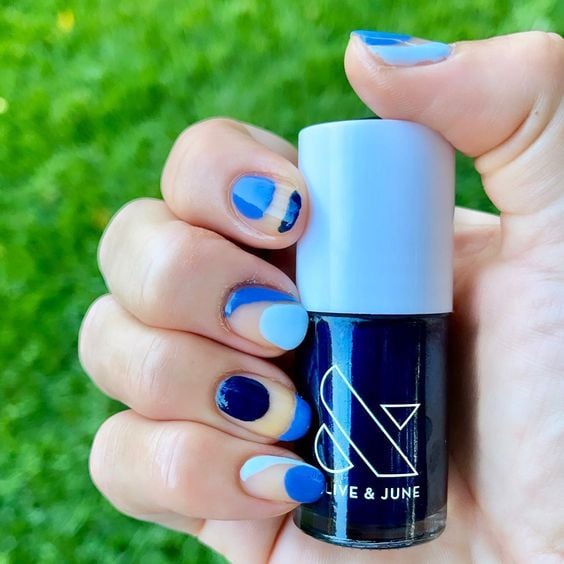 Go abstract with your favorite blue hues! Mix and match colors and designs however you like.
23. Blue Stripes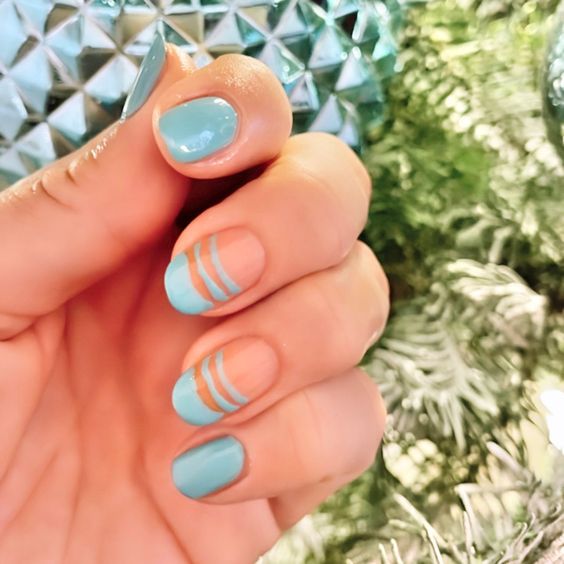 Somewhere between a solid nail and a French manicure is this striped design! Make two thin stripes on a couple or all of your fingers for a preppy look.
24. Morning Dew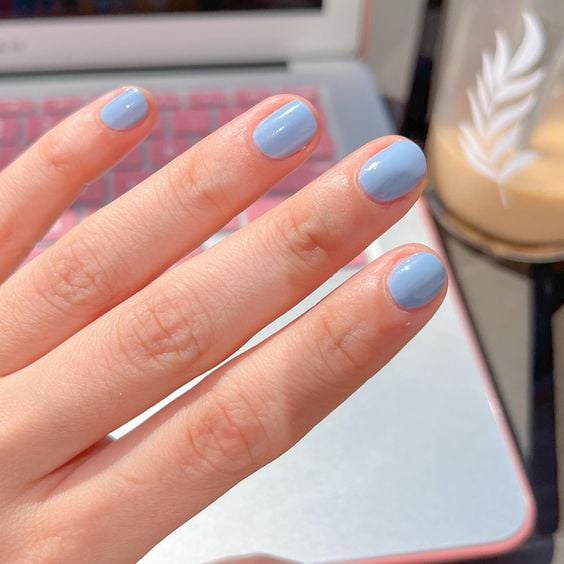 What a perfect color for engagement or wedding events — your nails can be your something blue!
Color: Morning Dew by Terra Beauty Bar
25. Social Studies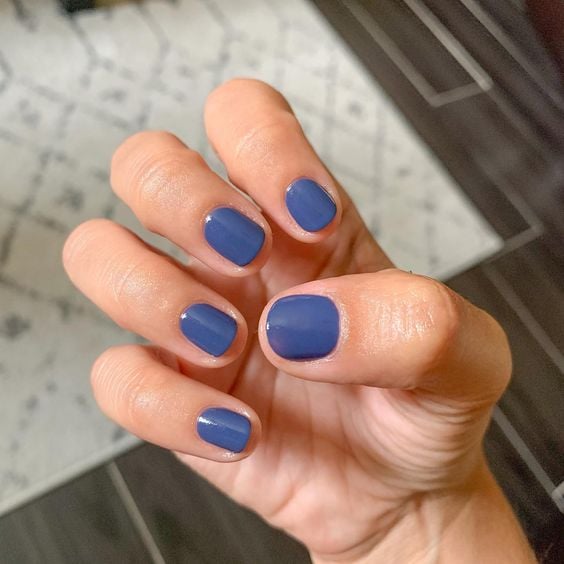 This rich blue can be dressed up or down! I love that it's not quite a traditional navy — it has a little more personality than that!
Color: Olive and June Social Studies
26. Megababe Blue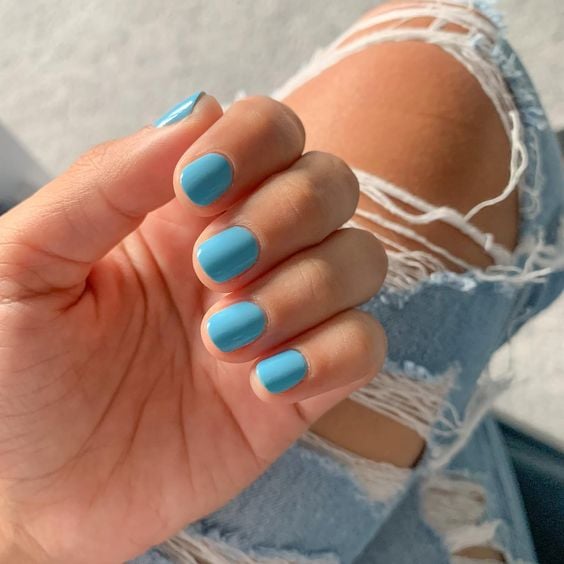 This electric blue screams beach trip! It's bright, fun and a great color for summer.
Color: Olive and June Megababe Blue
27. Snowflake Blue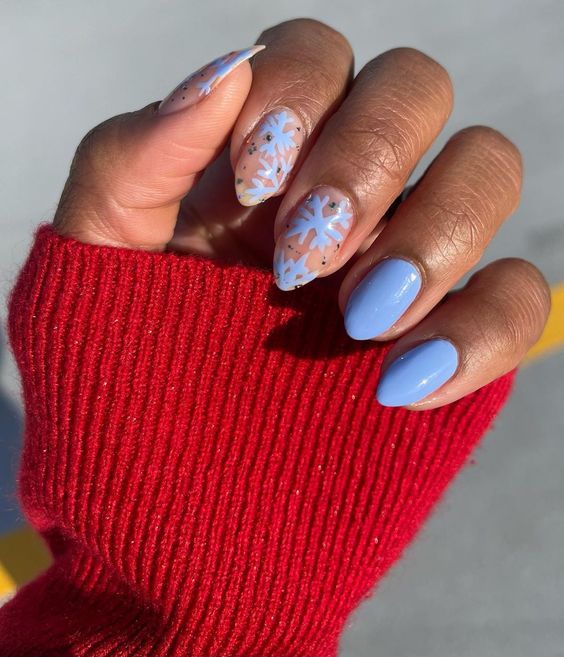 It's a winter wonderland at your fingertips — you just need a periwinkle blue and a little glitter!
Colors XXVZ Nails: Funfetti Confetti* and Periwinkle Pride*
28. Sky Blue Background with White Daisies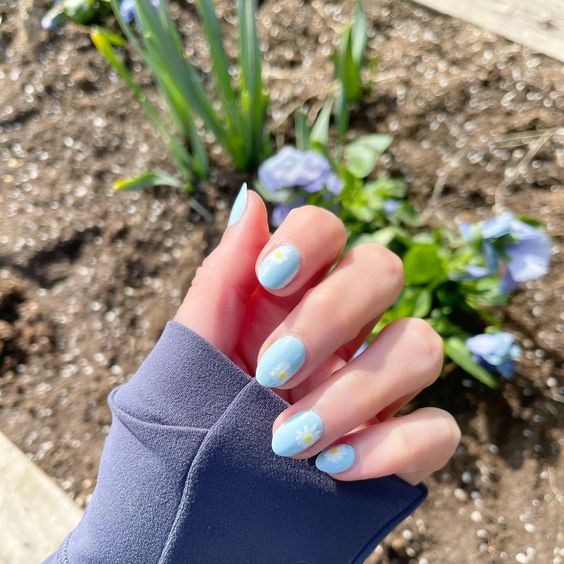 You're sure to cheer up when you see this blue-sky and daisy manicure. It's so easy but an instant mood-lifter (and it'll add a little extra something to your outfit)!
Colors by Olive and June: Honest & True, HD, Bright & Focused
29. Blue Base Flowers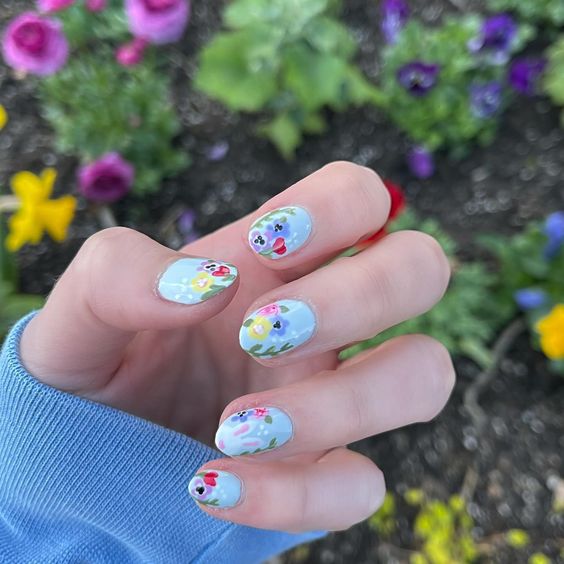 A great springtime manicure, these fingernails feel like a full garden on your hand (complete with a bunny in this case!). Practice different flower shapes to get the complete garden effect.
Colors by Olive and June: Angelfish Base
30. Blue and White Watercolor Flowers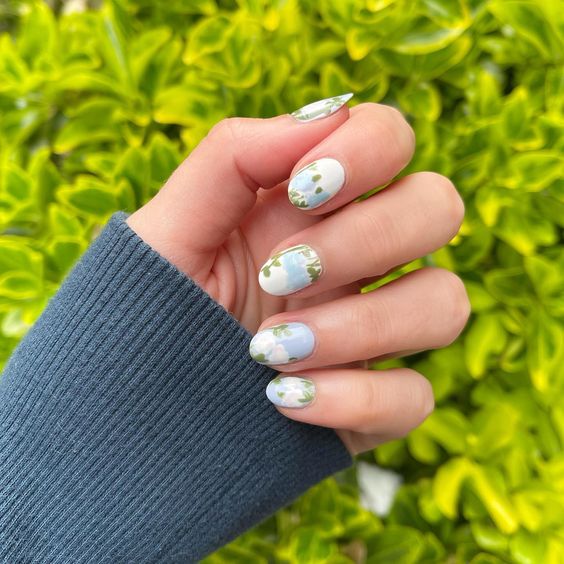 This design keeps it interesting by switching up which color is used for the base and which is used for the flowers on some of the nails! You don't have to be very exact with the floral shapes to get a beautiful effect.
31. Raincloud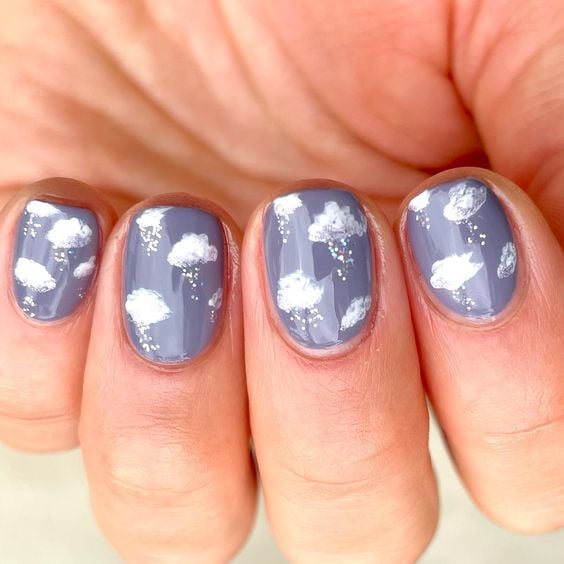 April showers bring May flowers so why not embrace the rainstorms with these fun cloud nails? Paint your nails a solid color and let the dry completely. Add the clouds and the rain and you're set!
Colors Base: lunar by Olive Ave Polish, Clouds: HD by  Olive and June, Cloud accent: every cloud has a sparkle lining by Huella Beauty (use code paisleysparrow for a discount!), Rain: exclamation point by Olive and June
32. Mini Lines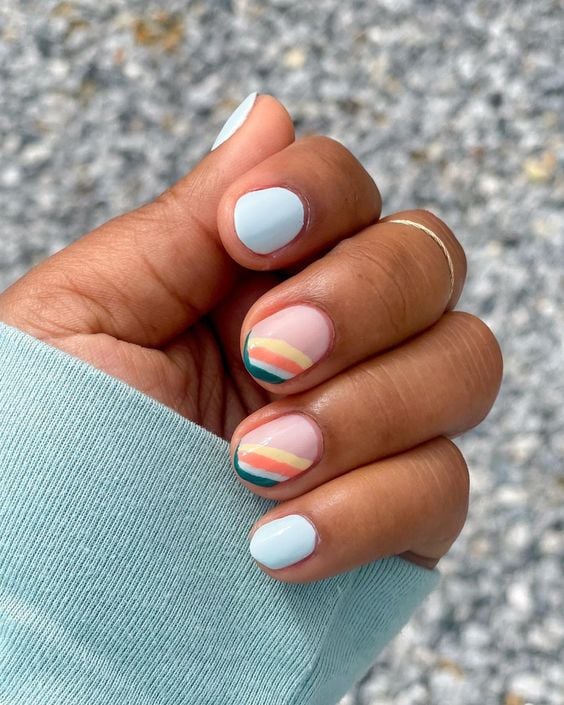 Lines are always a fun way to add some style to your nails! One trick for keeping this cohesive is to have one of the lines be the same color as your solid color nails. The color combination is endless!
Colors from Olive and June: Besties, Angelfish, glow and JLR
Want a full review of Olive and June nail polish along with a 20% of discount code? Head here!
Looking for nail ideas? Try these:
And try out one of these different nail shapes while you're at it!