Flower nail designs are great for any time of the year, but especially in the spring and summer when the flowers are in full bloom! If you're looking for some fresh flower nail designs for special occasions or just an everyday look, you're in luck!
Whether you're a beginner or have a lot of experience doing floral nail art, you're sure to find some ideas to try on your fingernails this season. Even simple flowers can look chic!
Many of the designs below use Olive and June nail polish colors. Use this link and the code jenb20 for 20% off your order of any of their systems.
50+ Best Flower Nail Designs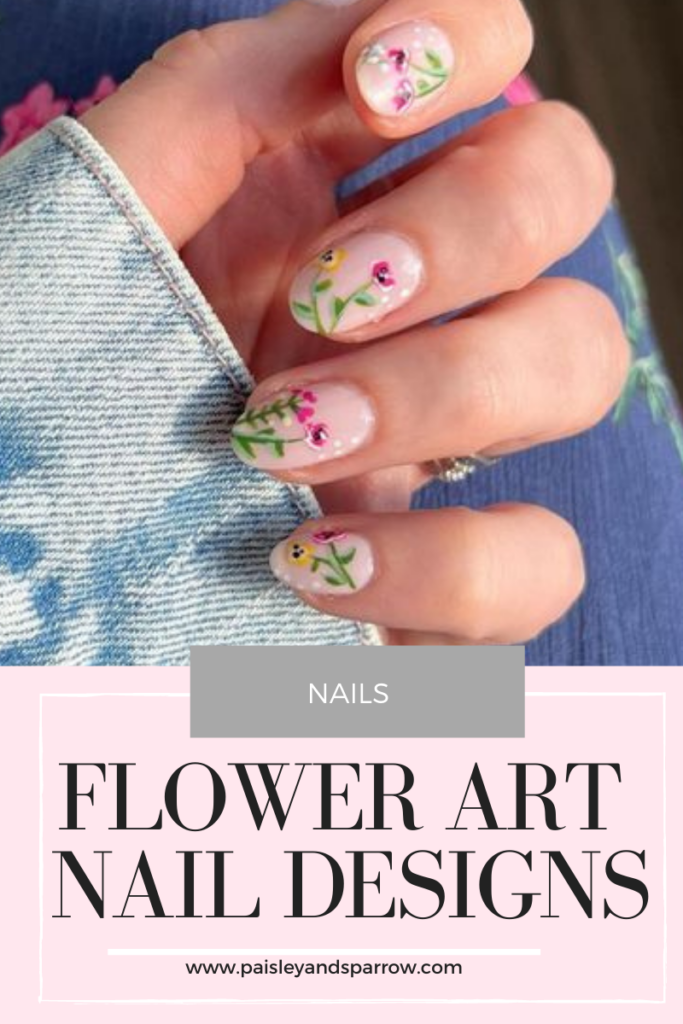 1. Pink Flowers on Neutral Base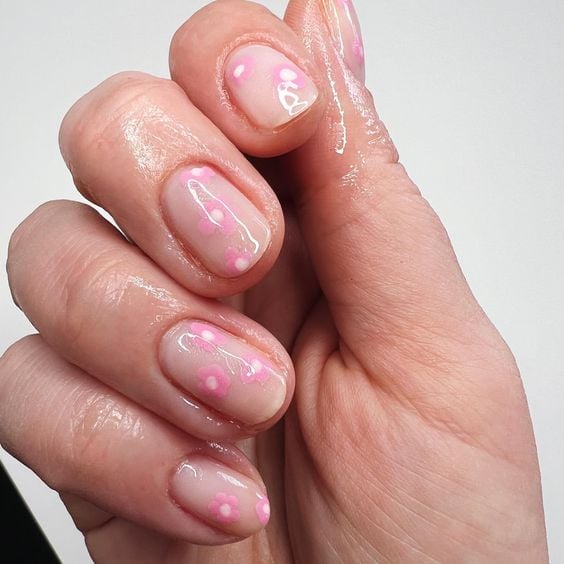 The most subtle splash of flowers on a neutral base is the perfect way to try out flower art! Start with a neutral base coat, add dots for the center flowers and smaller dots around the center dot to complete your flowers.
2. Flower Art in Rich Colors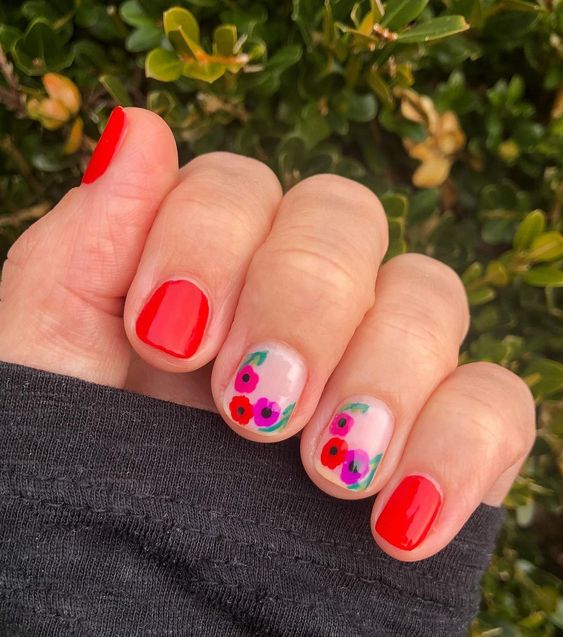 Try out a flower mani with a style like this with bright colors! Don't get too hung up on the perfection of each petal, rather just get the flower idea across.
Choose one solid color for the center and three coordinating colors for the flowers. Add a touch of green leaves and you've got yourself the perfect floral mani!
Nail polish colors from Olive and June: Base: CV (red), BEB (sheer white)
Art: CV, Grape Soda, Wild Orchid, Besties, WKF, E&M
3. Tiny Flower Rows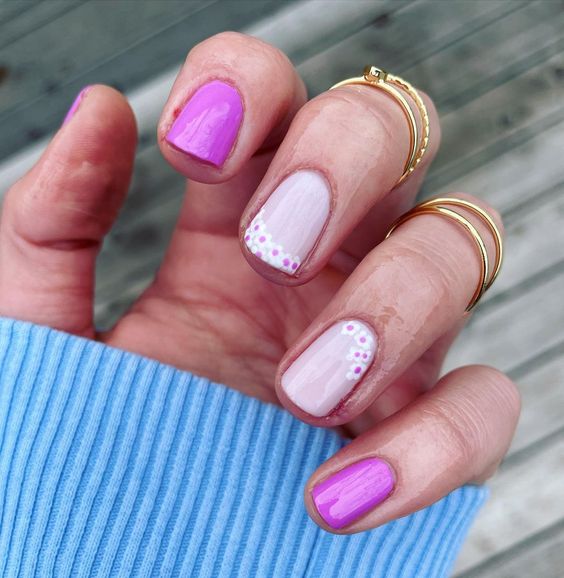 image via emjpolished
As you get comfortable doing flowers, try adding more! A cluster of flowers at the base of your nail and at the tip of your nail creates a beautiful manicure.
Nail polish colors from Olive and June: Jam, Please, Strawberry Scone and HD
4. Vintage Flowers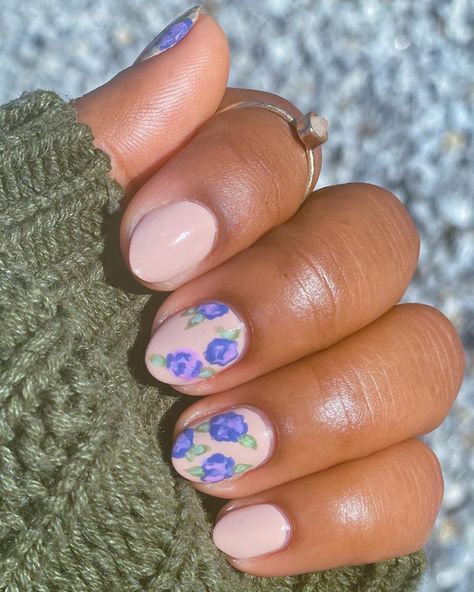 One of the most advanced manis on this list is this one! These beautiful watercolor inspired vintage nails are perfect for afternoon tea or a day at a flower garden!
5. Easy Flowers on a Vine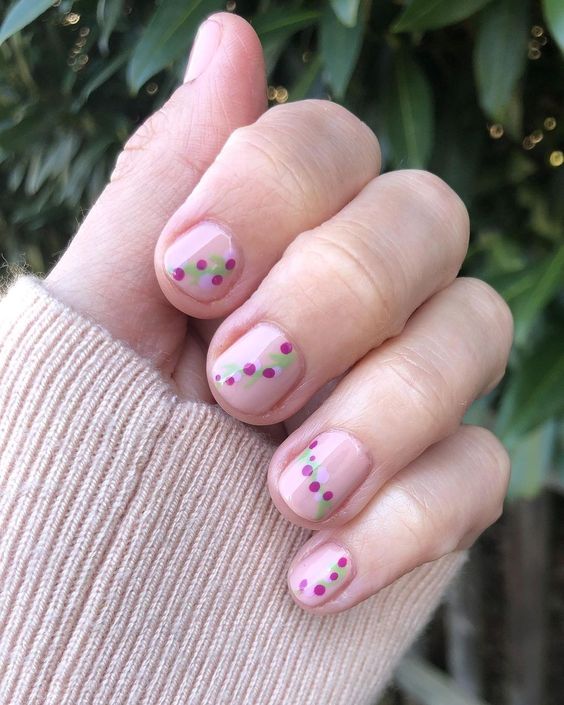 Another adorable manicure for short nails is a combination of lines and dots! This simple manicure is made with one solid neutral color as the base, one thin line down the middle with dots on both sides of it. It will give the illusion of a vine of flowers!
Colors used from Olive and June: The Queen Take Her Tea With Milk, Jam, Please, You're Invited, Cucumber Sandwich
6. Polka Dot Flowers With French Tip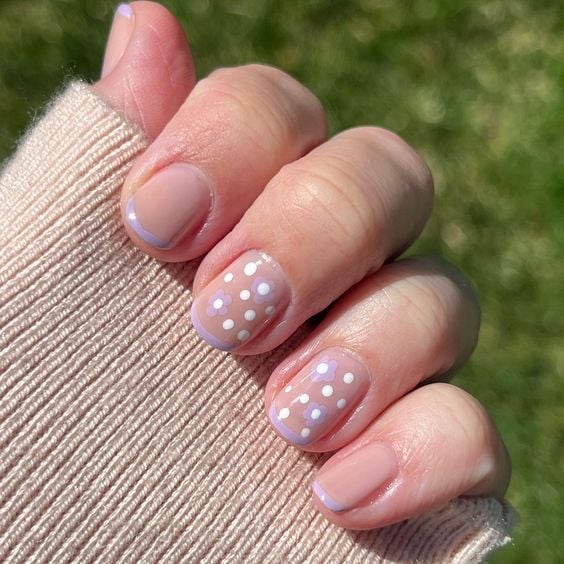 Once you feel confident with polka dots and french tips and flowers, take them to the next level and combine them! Start by painting your nails a neutral color.
Next paint your french tip with a different color. Add polka dots with a third color that pops. Around a few of the dots add fun abstract flowers.
Colors from Olive and June: The Queen Takes Her Tea With Milk, You're Invited, HD
7. Daisy Nails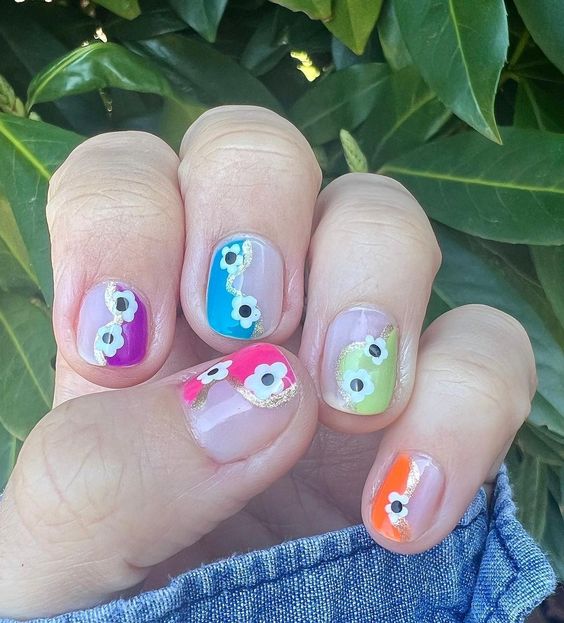 If you've mastered color block nails, take it up a notch with gold AND flowers! Start with adding a thin gold line in the middle of your color block (and no, it doesn't have to be a straight line!). Once that's dry add your flowers!
Colors from Olive and June: Base: 2 coats BEB (white sheer)
Art, thumb to pinky: Hot Strawberry, Grape Soda, Blueberry Smash, Energize, Orange Wedge, HD (white), E&M (black), OJPAS (gold shimmer)
8. Blooms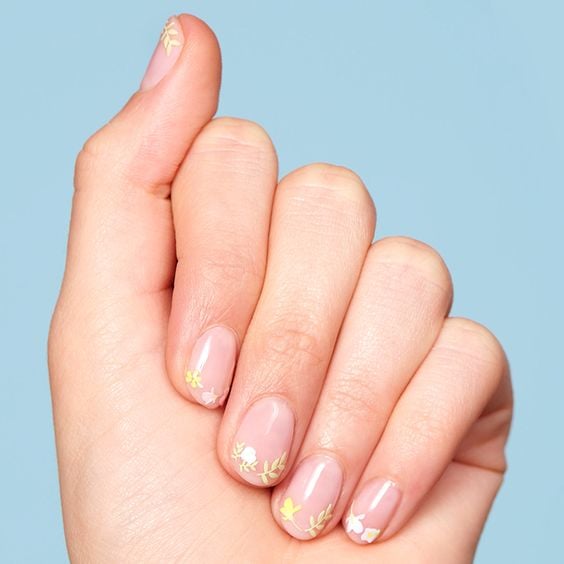 Another sticker art that's perfect for summer is this one! Whether you put these on a neutral base like this one or on a colorful base, you can create a variety of different manis!
Stickers from Olive and June
9. Flower Crown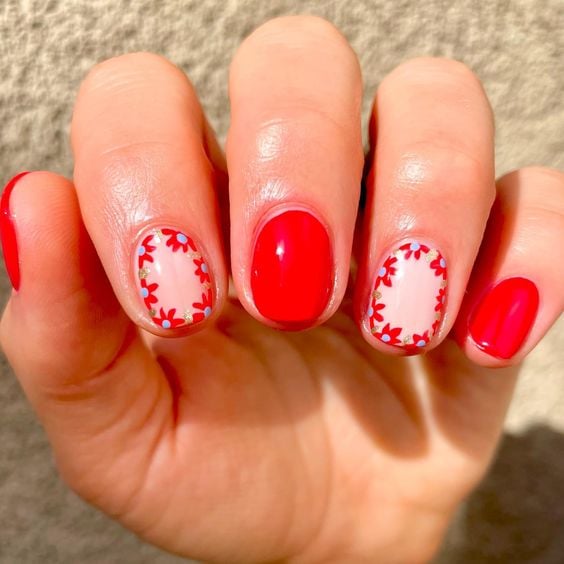 As you get a handle on flowers, try different things! This fun flower crown is a unique and beautiful way to add a crown on your nails.
Keep it cohesive by painting the petals of the flowers and the solid color nails the same color! This is another great idea for short or long nails!
All colors by Terra Beauty Bars : No. 30 Pitanga Red, No. 9 Creamy Sheer Beige, No. 28 Super Gold Foil Shimmer, No. 31 Morning Dew
10. Red and Peach Flowers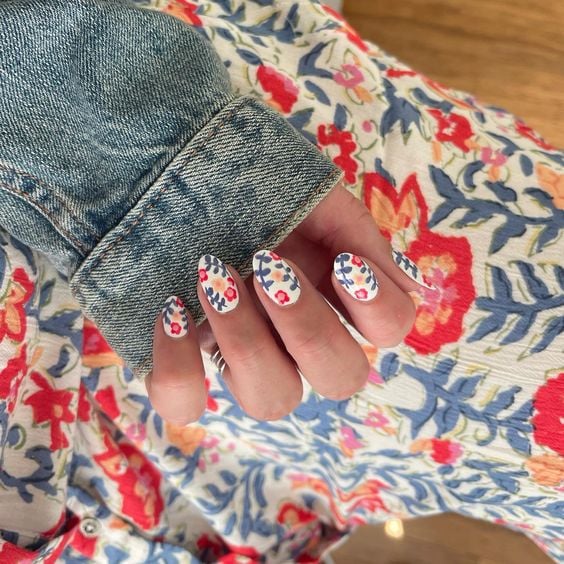 Take inspiration from your favorite floral fabrics! Whether you just use the same color scheme or copy it exactly, you already know you love the look!
Having white nails as the background really makes the flowers and blue leafy stems pop, just like on the dress.
Colors from Olive and June: HD, Hibiscus, CNH, BI, JM
11. Orange and Navy Flower Nails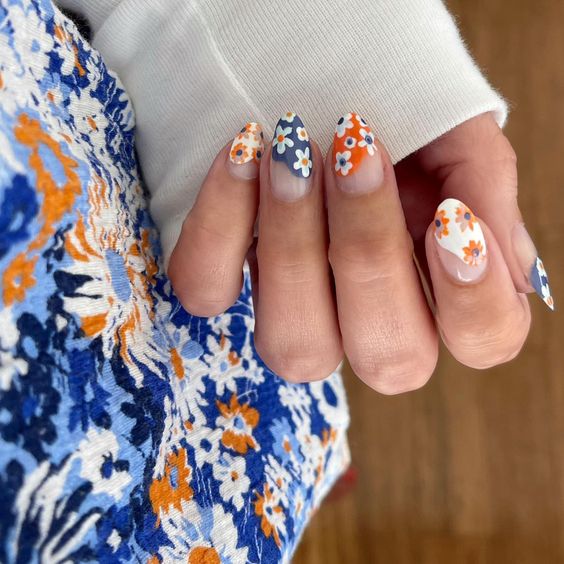 Switch up which color you use as the base and the flowers on each nail. This gives you a fresh but coordinated look.
Add extra interest by painting half the nail instead of the whole thing (this also saves you effort painting more flowers!).
Colors from Olive and June: You're a 10, HD, Honest & True, CNH
12. Navy and Orange Flower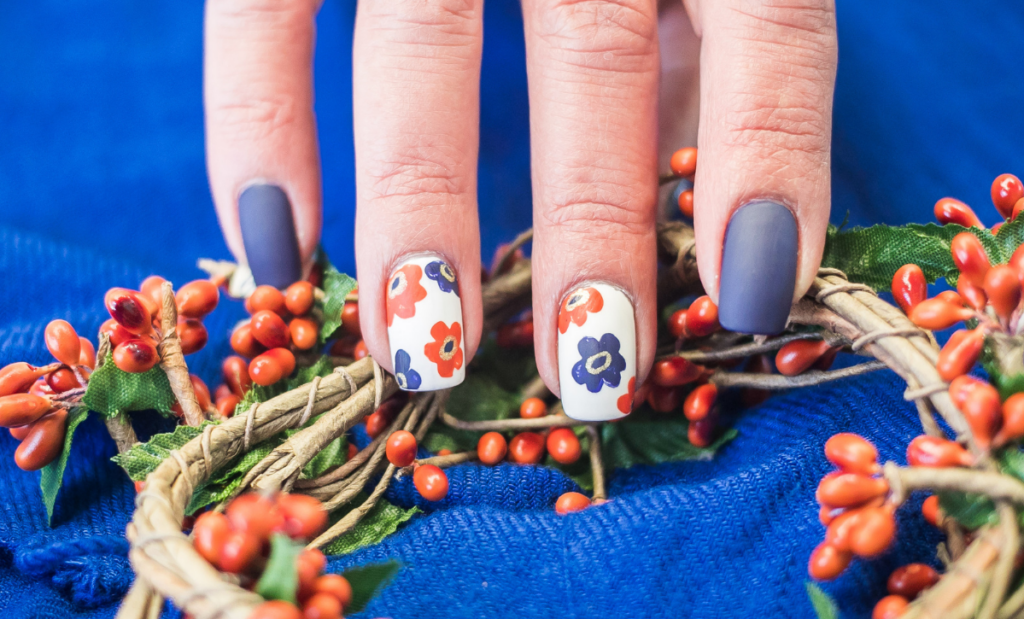 A dark matte nail lets your flower designs on the accent nails really grab attention! Stick with dark on the solid nails and a white background on the flower nails to make them stand out.
Make one of the colors of the flowers match the dark nails to tie it all together.
13. Pink and White Flower Nails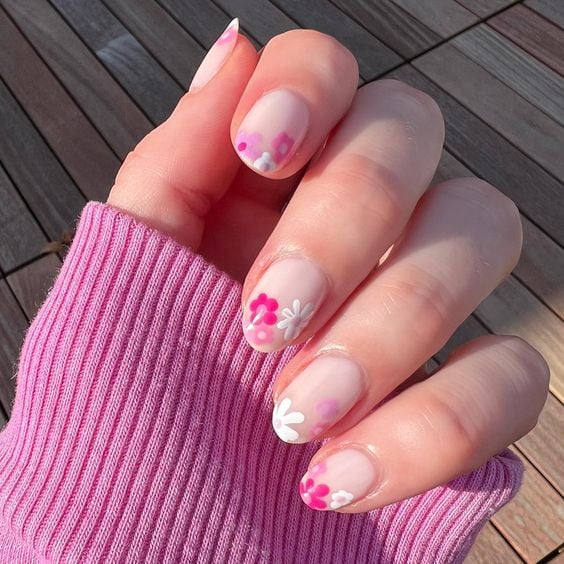 Pink and white make a sweet spring manicure. Vary the size and shape of the petals on your flowers; make some flowers with short and round petals and others with long petals.
It's perfect for a sheer pink base like seen here or even a more nude base.
Colors from Olive and June: Wild Orchid, HD, Cockatoo, Fierce & Loving, EC, CCT
14. Checkered Flowers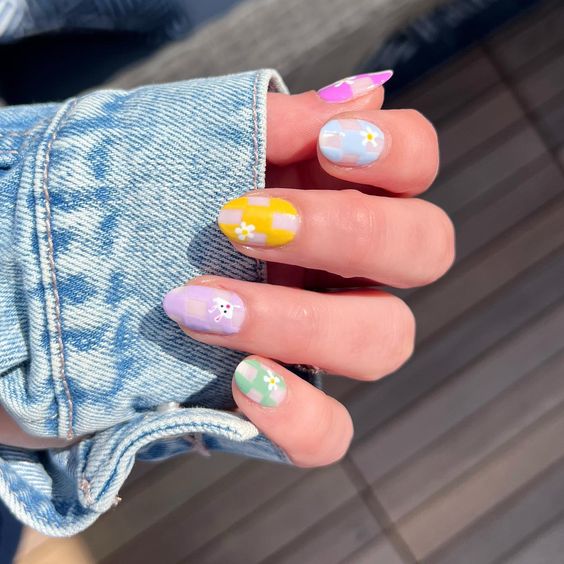 This colorful manicure takes a little more precision than some of the others, but it has a big impact! Start with a light base, then once it dries, paint the checkerboard on each finger in whatever colors you like best.
Last, add a little flower (or even a bunny!) to each one.
Colors by Olive and June: Strawberry Scone, Cucumber Sandwich, You're Invited, Golden Afternoon, BP, Jam Please
15. Fiesta Flower Nails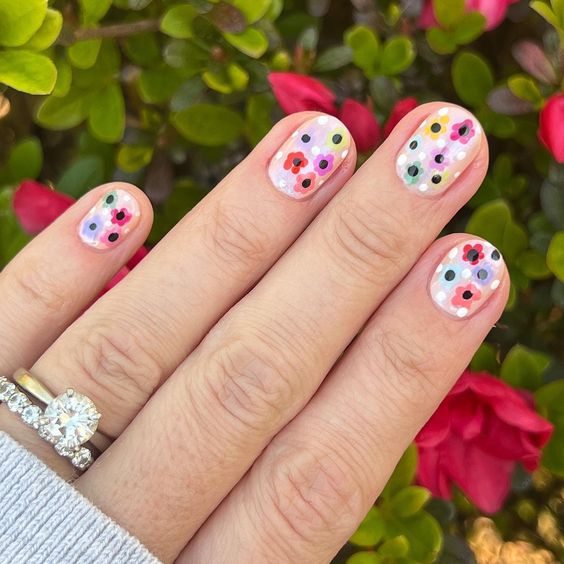 It's a party on your nails with this colorful flower manicure! This is such a simple design if you just have a dotting tool. You could even amp up the color explosion even more with a bright backdrop, but this light neutral one is lovely too.
Colors by Olive and June: Base: BI, Pink Goldfish
Art: Wild Orchid, Cucumber Sandwich, Bold & Unshaken, Stinson Sunset, You're Invited, Grateful and Kind, Energize, Pink Sands, Jam Please, Honest and True, Hibiscus, Fierce & Loving, Lava, Golden Afternoon, HD, E&M
16. Olive and June Box Flowers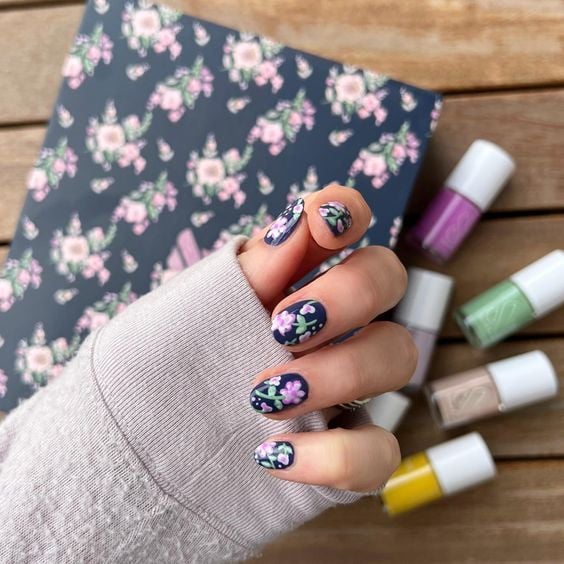 Inspiration can come from anywhere — including your Olive and June box! It's no surprise; they have great taste. Layer colors to get more depth in your flower and leaves.
*Find more about this collection here!
17. Multi Color Flowers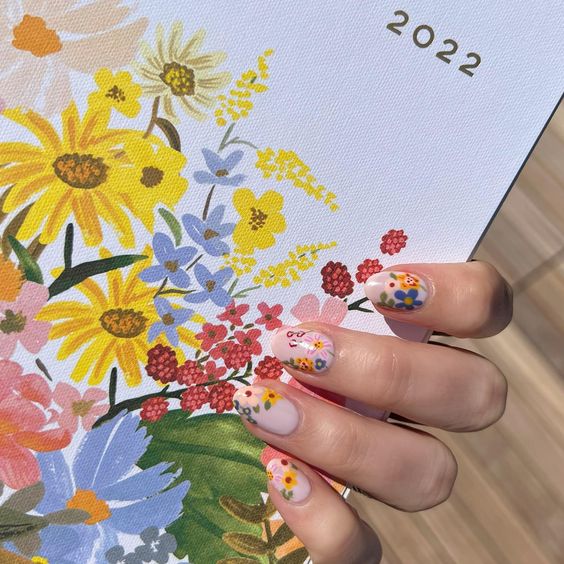 You'll need a steady hand and great nail art tools for this gorgeous floral design. Or just a great nail artist you love! Vary the placement on the nail and type of flower to make it look more organic like wildflowers.
18. Blue Tips With Daisy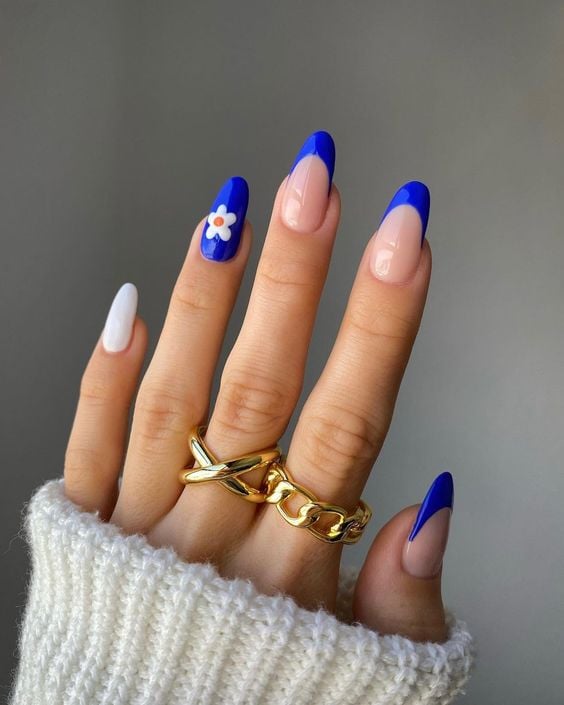 This vibrant blue make flowers edgy. And it's so simple to get the effect.
Create a blue french tip, paint one nail a solid blue with one simple flower, then use the color of the flower for the last nail. You can do this with short or long fingernails.
Colors from Le Mini Macaron: Blue Raspberry, Papaya Sorbet, Milkshake, Creme Brûlée
19. Floral Tips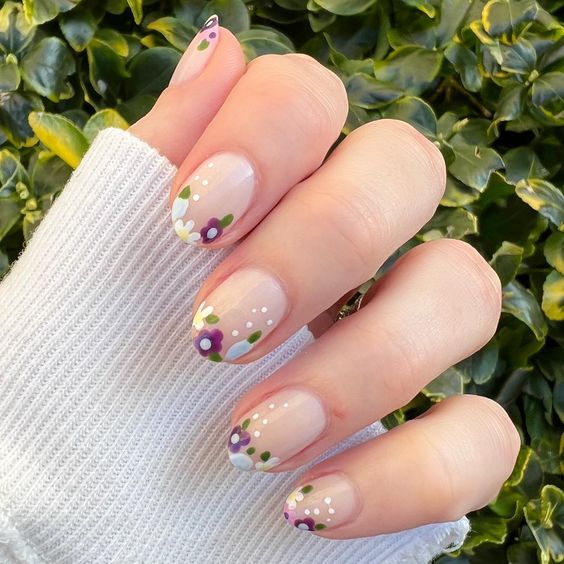 This manicure is perfect for spring! Bright colored flowers at the tops of your nails pop on the nude nail polish!
20. Neutral Base Flowers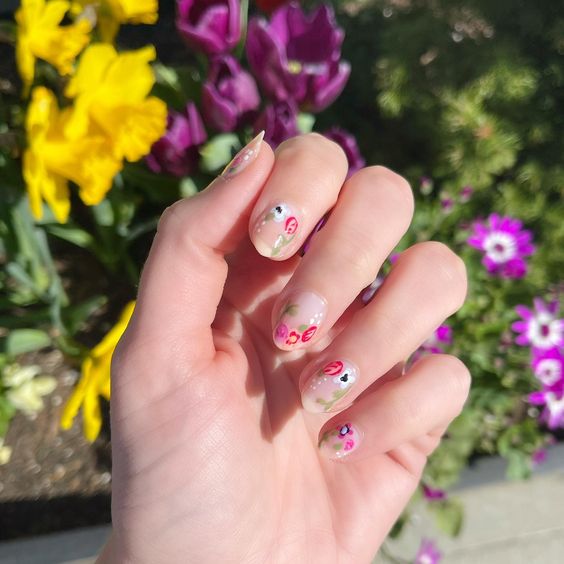 Let the flowers do the talking with a nude backdrop! Pick a few different types of flowers and arrange them in different combinations on each nail.
21. Floral French Tips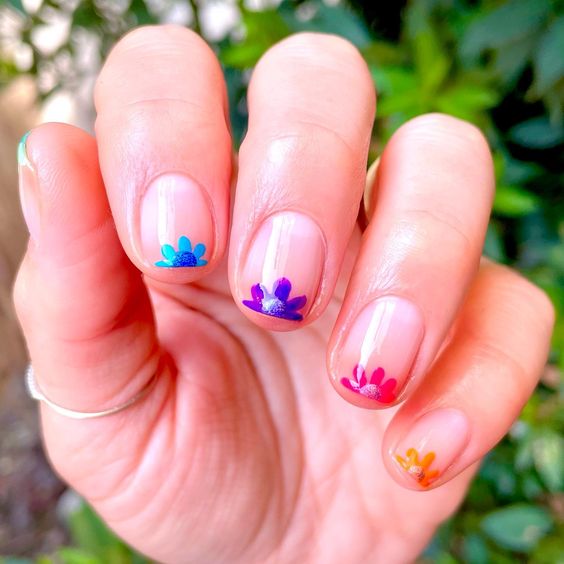 This manicure screams "summer" to me! It's simple enough to paint on before a pool party but vibrant and fun.
Colors by Color Club Nail Lacquer: It's All in the Attitude, Star Light, Star Bright, Seas the Day, What a Gem, Island Vibes, Under Pressure, Jackie Oh!, Miss Bliss, Jamaican Me Crazy, Cosmic Fate
Sheer Base: (The Queen Takes Her Tea With Milk) by Olive and June
22. French Tip with Flower Accents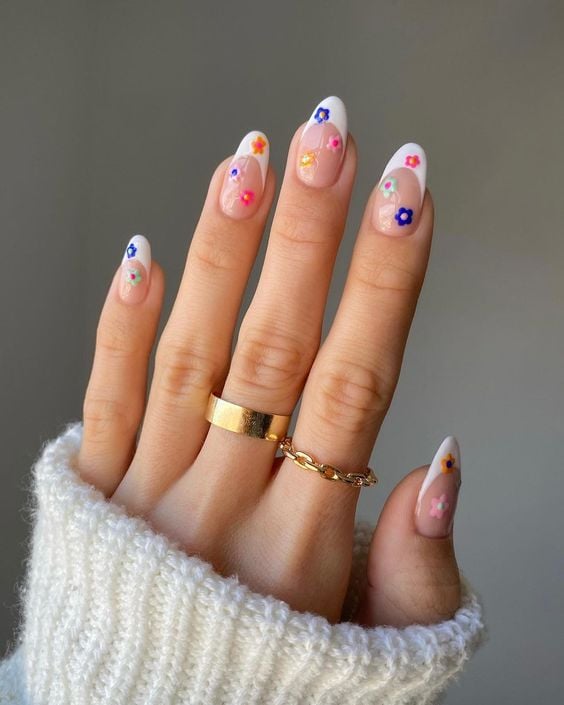 Give yourself a bit of a retro vibe with these '70s style colorful flowers. A classic French manicure in white is the perfect backdrop.
23. Flowers with Stems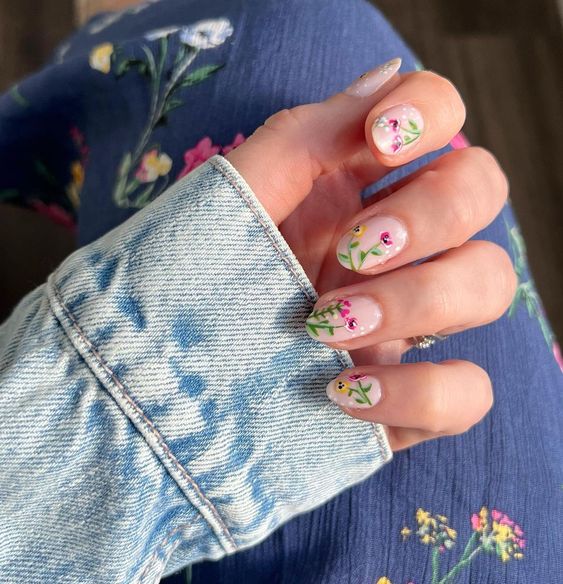 Don't forget a little greenery with your florals! Two shades of green make these pansies pop.
Pro Tip: Pansies are a great flower to paint yourself because they're basically a blob with 3 black dots. Just make sure you have very small tipped dotting tools!
24. Neutral Flowers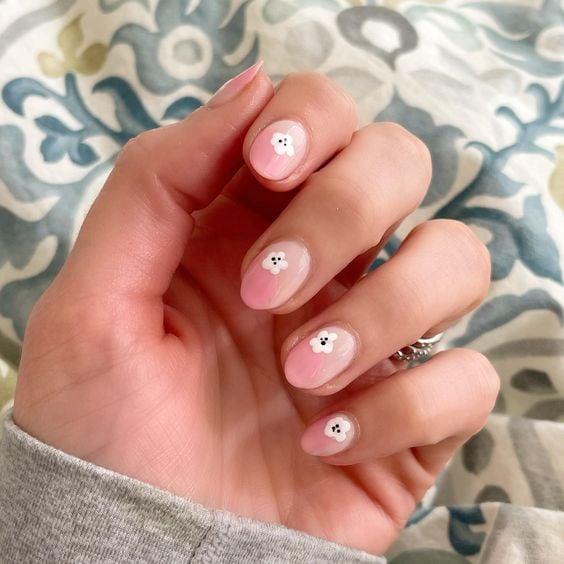 Image via @always.manicured
These nails feel chic and modern with their neutral color palette. If you're not in the mood for bright florals, you can still have a sweet white flower on a nude and pink background.
Colors by Olive and June: CCT, JM, HD, E+M
25. Neutral Glitter Flowers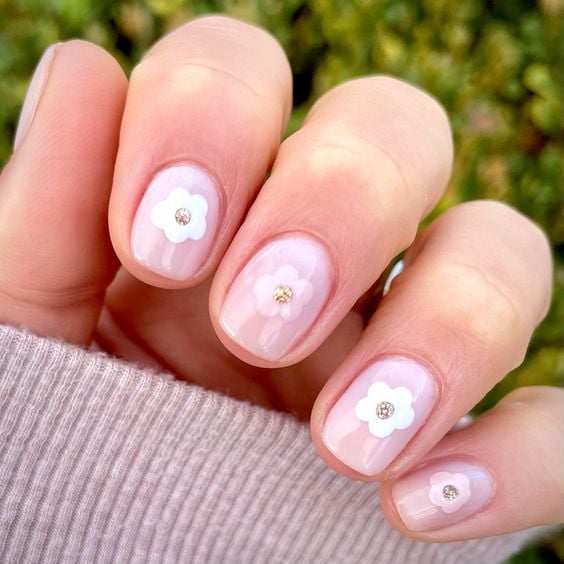 The star of this set of nails is the glittery middle of the flowers! It's a dot of Sundance Shimmer and a dot of Obvi. This manicure is inspired by Marc Jacobs Daisy perfume.
Colors by Olive and June: CCT, HD, Point Dume, Sundance Shimmer, Obvi
26. White Daisies with Sky Blue Background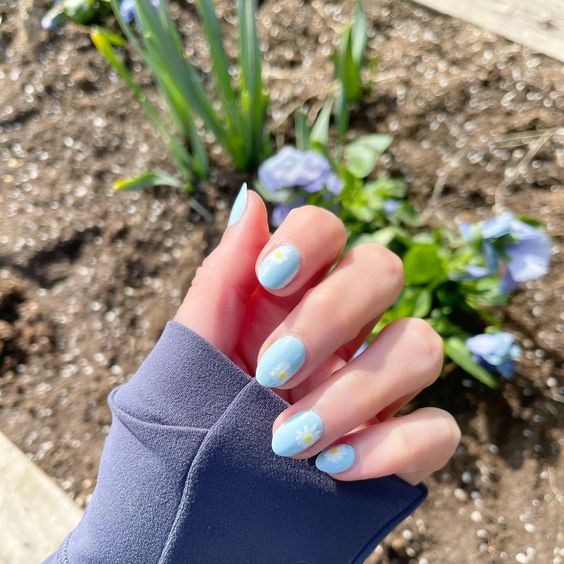 You're sure to cheer up when you see this blue-sky and daisy manicure. It's so easy but an instant mood-lifter (and it'll add a little extra something to your outfit)!
Colors by Olive and June: Honest & True, HD, Bright & Focused
27. White and Yellow Daisies on Nude Nails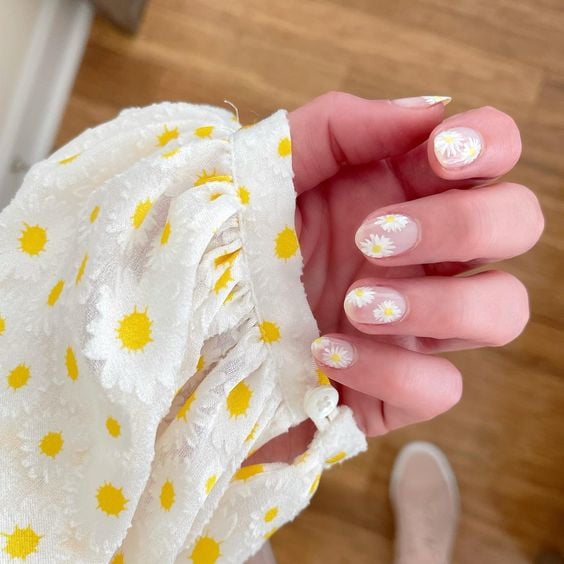 "Don't you think daisies are the friendliest flower?" This You've Got Mail quote is spot on — and these fingernails feel oh so friendly! Use a nude sheer polish so you don't detract from the beautiful full daisies.
28. Pink, Red and White Flowers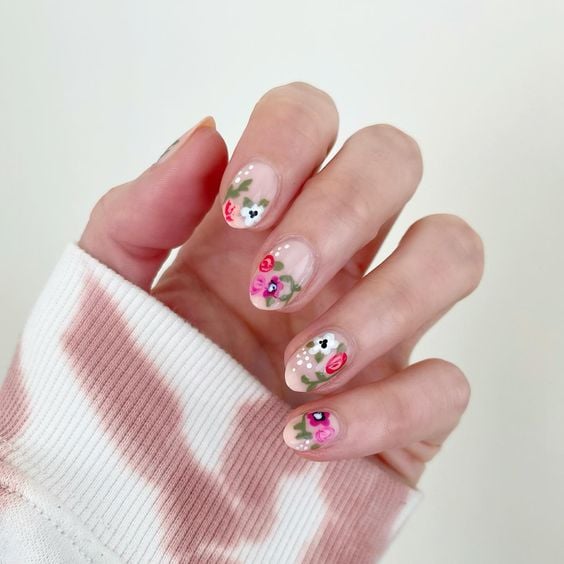 Give your beautiful flowers a little something extra with some well placed white dots. If you paint a floral and feel like it's a little plain, just try adding dots in different places and see what a difference it makes.
29. Blue Base Flowers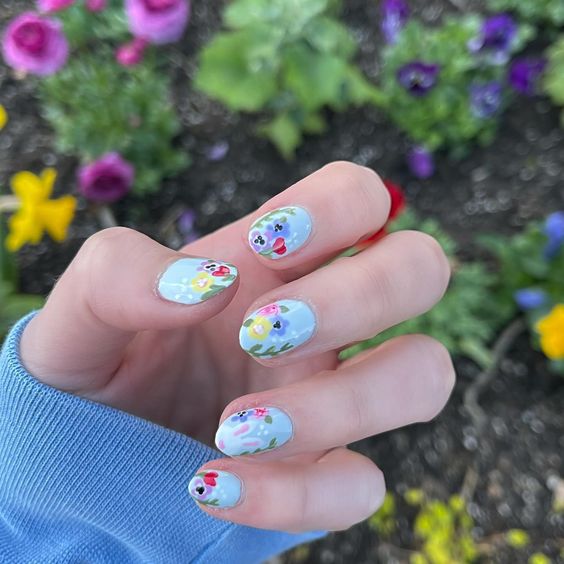 A great springtime manicure, these blue nails with pink, purple and yellow flowers feel like a full garden on your hand (complete with a bunny in this case!). Practice different flower shapes to get the complete garden effect.
Colors by Olive and June: Angelfish Base
30. Plaid Flowers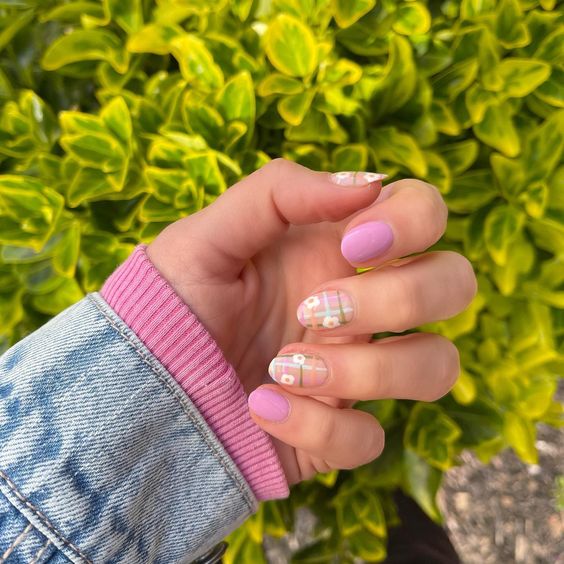 Image via @always.manicured
Once you've done easy flowers on a solid base a few times, you might be looking to level up your manicure. Try a colorful plaid as a base. Since the pattern is a little busy, don't paint every nail with plaid; leave a couple solid.
Colors by Olive and June: Fierce & Loving, Wild & Free, Honest & True, WKF, HD
Base: EC, CHM, CCT
31. Blue and White Watercolor Flowers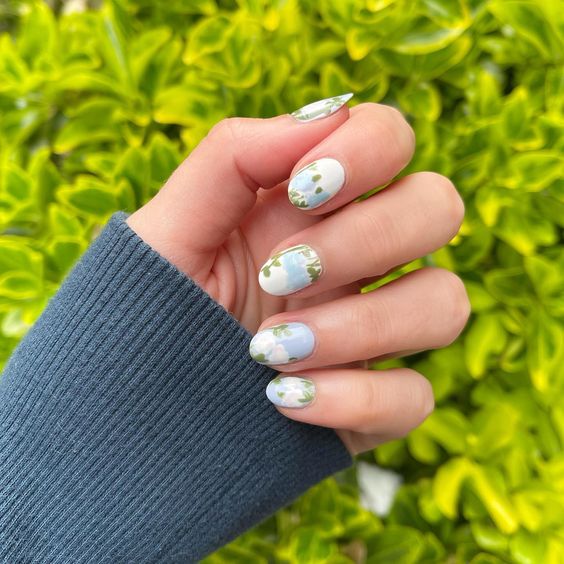 This design keeps it interesting by switching up which color is used for the base and which is used for the flowers on some of the nails! You don't have to be very exact with the floral shapes to get a beautiful effect.
32. Lavender Flower Nails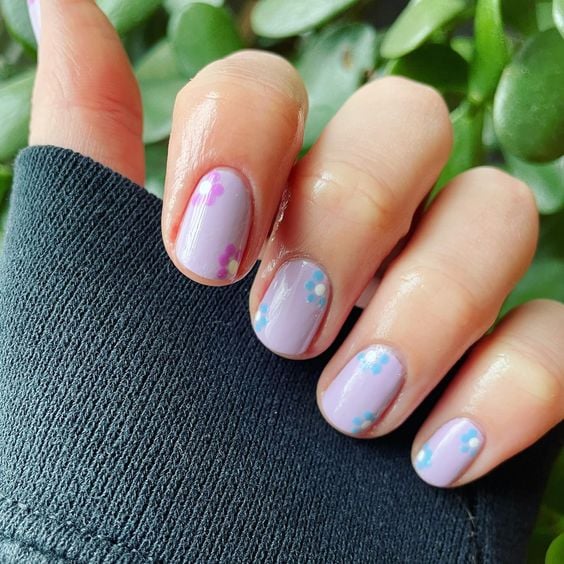 You can be done with this manicure in a flash! Paint your base layer and let it dry, then you can do all the dots at once since they aren't touching. Super simple and super quick!
Colors by Olive and June: Base: You're Invited
Flowers: HD, Boost, Jam Please
33. Rifle Paper Co. Inspired Flowers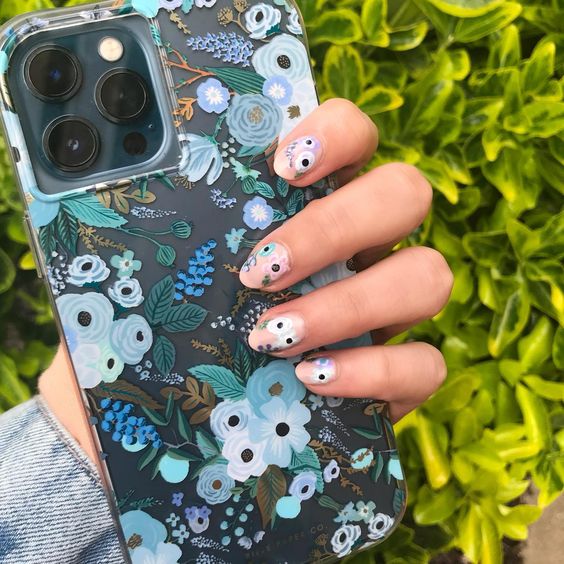 If any brand knows how to do the prettiest floral designs, it's Rifle Paper Co.! Take inspiration from the colors and flower shapes from any of their patterns, and you're sure to get a super cute result!
34. Mama and Mini Flowers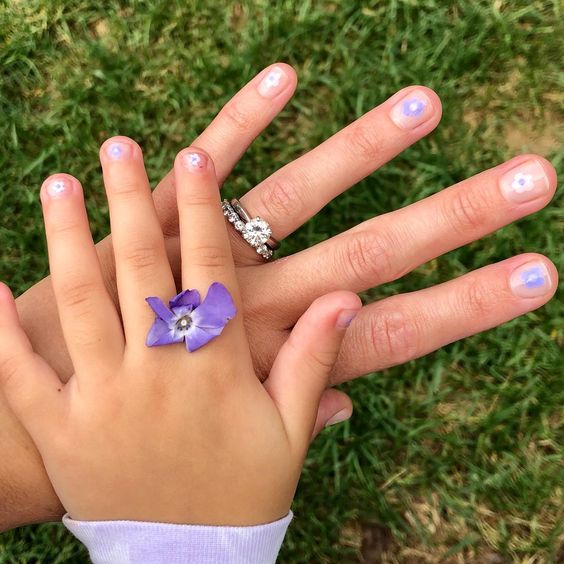 For a design that will fit on grown-up nails as well as on the small nails of a child, go with a super simple single flower on each nail. Vary which color you use for the petals and for the center.
Colors by Olive and June: CCT, TT, Bold & Unshaken
35. Orange Flower Nails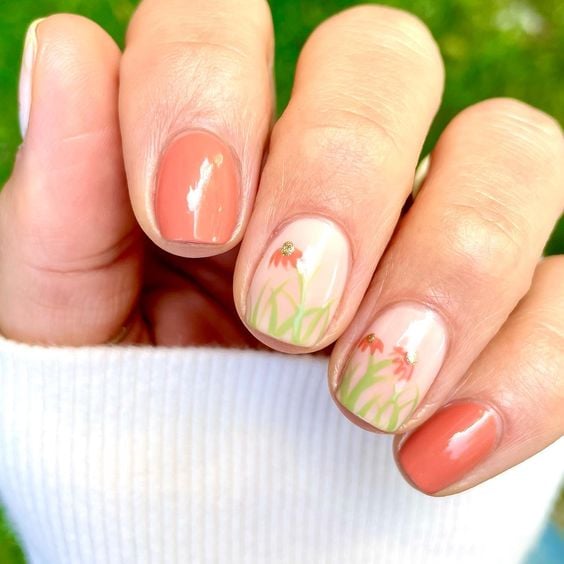 These sweet little flowers have just the right amount of sparkle. A dot of shimmer polish will add something special to any floral manicure. These cuties are seen from the side, and the green grass makes the flowers stand out.
All colors* by Terra Beauty Bars:
No. 32 TERRAcotta
No. 9 Creamy Sheer Beige
No. 24 Sage Green
No. 28 Super Gold Foil Shimmer
36. Pink Base With White Flowers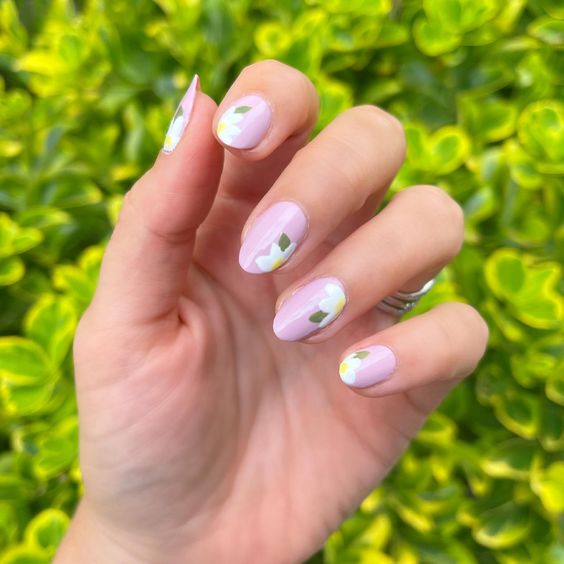 A pretty pink is the perfect backdrop for some large white flowers. But you don't need to include the entire flower. Mix it up and paint half the flower on different parts of each nail.
Colors by Olive and June: Cockatoo, HD, Bright & Focused, WKF
37. Purple Watercolor Flowers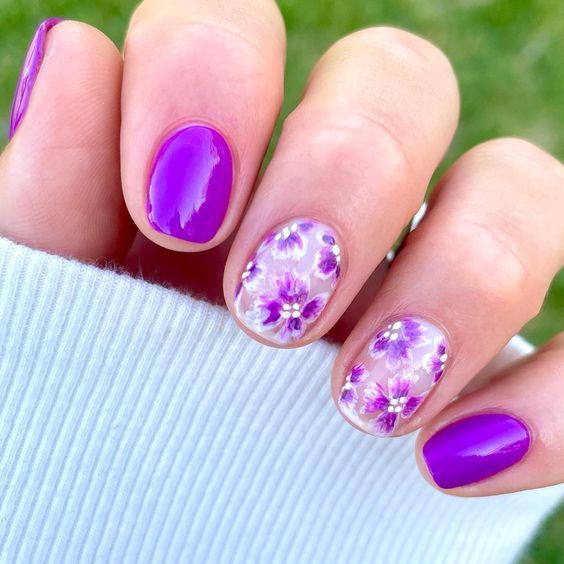 If you've mastered a lot of nail art techniques, you might be ready for this detailed flower. This design requires a bit of blending, so you'll definitely want some tools. Take your time and don't be afraid to wipe it clean to start over!
Colors by Olive and June: Grape Soda, TT, My Favorite Color
38. Orange and Peach Daisy Nails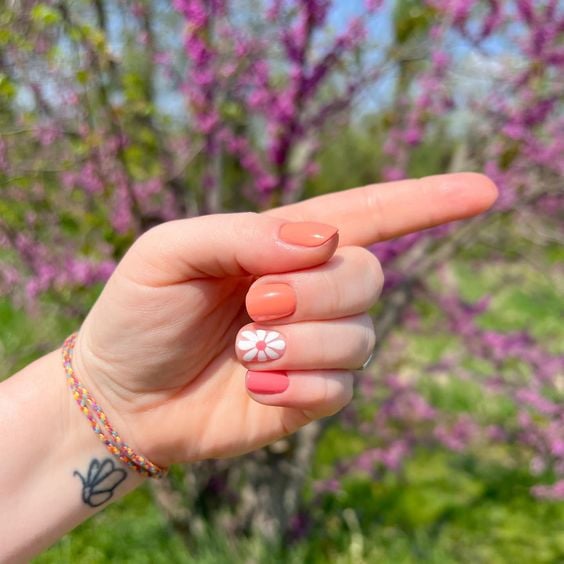 One big flower is all you need when the flower is as pretty as this one! Use bright orange and peach for a summertime feeling and then paint a large daisy on your ring fingernail.
Colors by Olive and June: Glow, Stinson Sunset, and HD mani
39. Small Colorful Flowers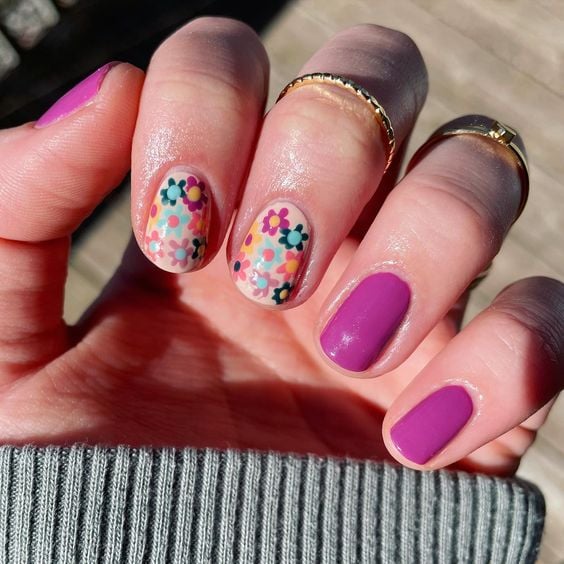 You don't have to pick just one color for your floral design. Choose all your favorite polish colors, and mix and match them on a bunch of flowers on one nail. It's the best rainbow bouquet!
Colors by Olive and June: TLG
Flower Base: Cable Knit
Stinson Sunset, Citrus Squeeze, Lawn Games, Into the Trees, TLG, World Lit
40. Orange, Blue and Pink Flowers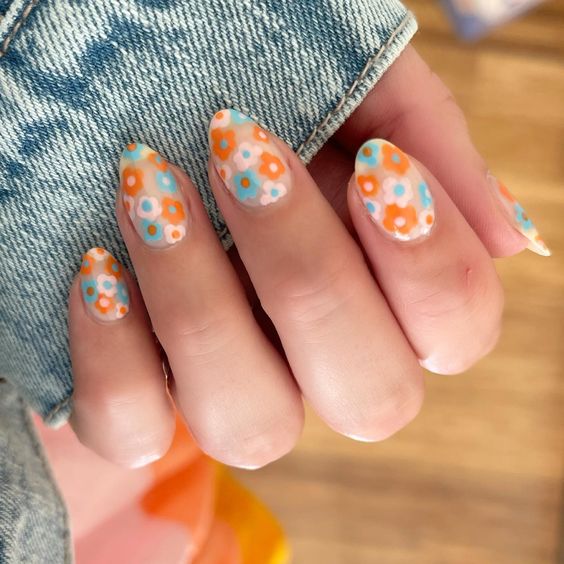 Choose three colors and use them to paint a few flowers of each color on each nail. Then dot the middle of each flower with the other two colors. It creates such a fun coordinated look no matter what colors you choose!
Colors by Olive and June: You're a 10, Megababe Blue, Rosy Tips
41. Yellow Tulips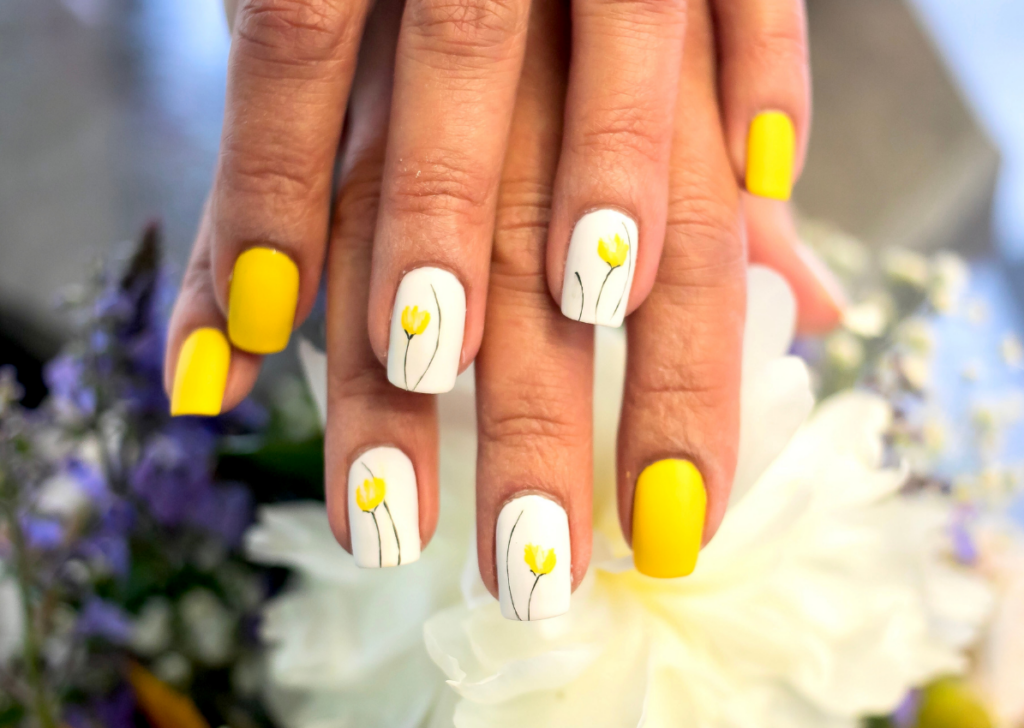 These delicate tulips are bright, cheery and simple! You'll need a very thin nail tool to create such a fine line for the stem, but it's an otherwise easy design.
If you love these white nails, check out a whole slew of White Nail designs!
42. Blue Flowers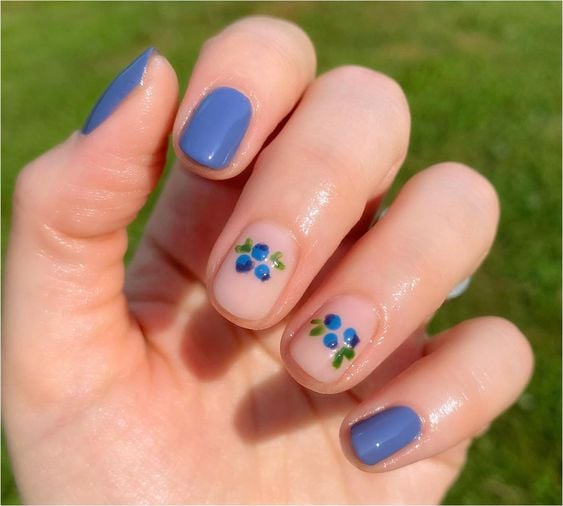 These tiny abstract flowers are perfect for when you don't have much time. Three dots, a tiny accent of a darker color on each, and then a little V of green for the leaves are all you need!
Colors by Olive and June: Blueberry Smash, CNH, OMG!, Geometry
If you want more blue nail inspiration, check out all of these different shades of blue nail colors!
43. White and Navy Daisy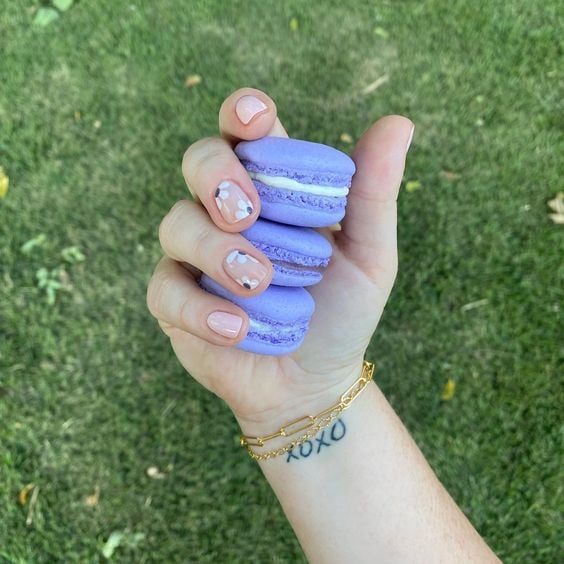 Paint just a few white petals from the corners of your nails with a dot of navy for a subtle floral style. It's simple and won't draw too much attention if you need something more professional but still want something a little fun and summery.
Colors by Olive and June: SCL & BEB with LGH & Art Class nail art
44. Polka Dot Flowers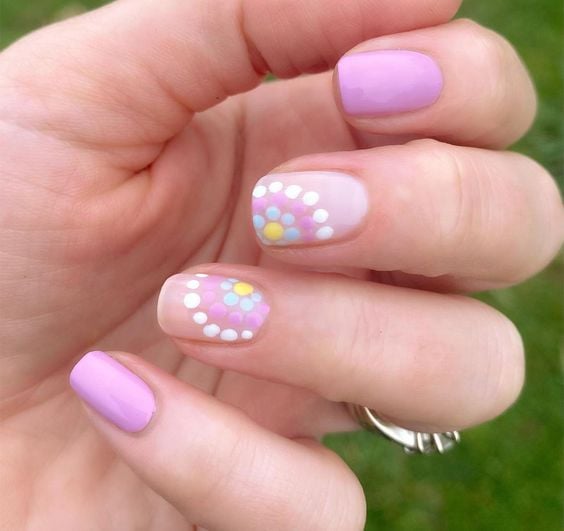 If you've got a dotting tool, you're basically done with this look! Choose whatever colors you like (though yellow in the middle will help it look more like a flower) and choose to do a few rings of dots or go all the way to the edge!
Colors by Olive and June: Fierce & Loving, Honest & True, Bright & Focused, HD, BEB, CCT
45. Easter Bouquet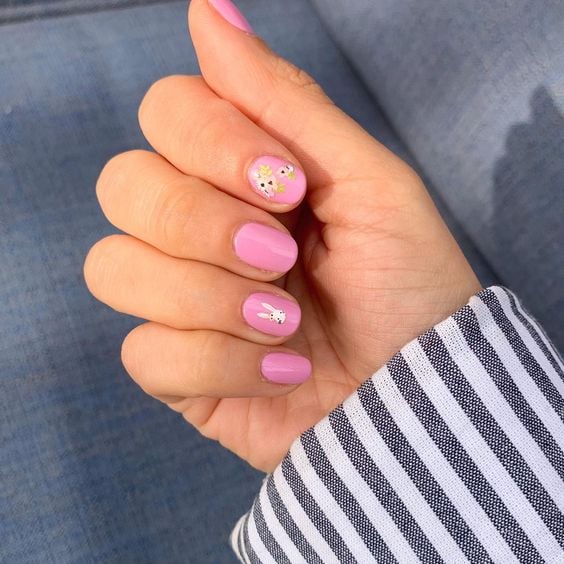 A bright pink base makes a pretty backdrop for flowers on one nail and a sweet, easy bunny on another! These are nail stickers (which makes it so so easy!), but you can try to paint them yourself too. If your flowers look a little more like blobs than flowers: add some leaves to pull it all together.
Color by Olive and June: Fierce & Loving
46. Hawaiian Flower Nails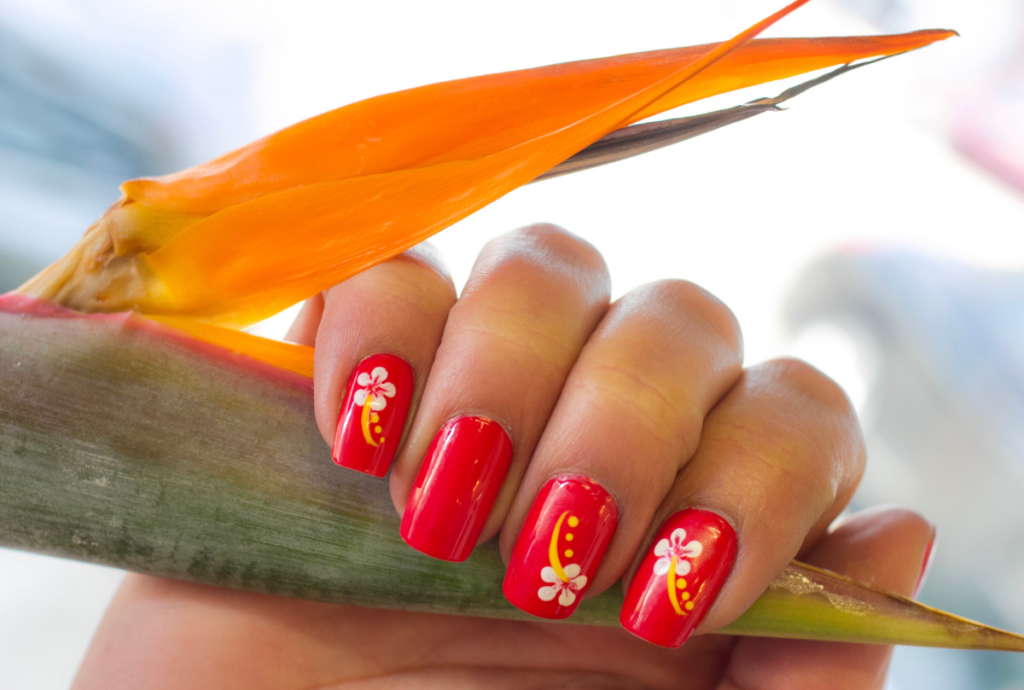 This manicure has vacation written all over it! The red background makes the yellow-orange stems and white flowers pop. Use a nail tool to create some negative space in the middle of the flower to make it look like a hibiscus for the Hawaiian flower look.
47. Bold Blooms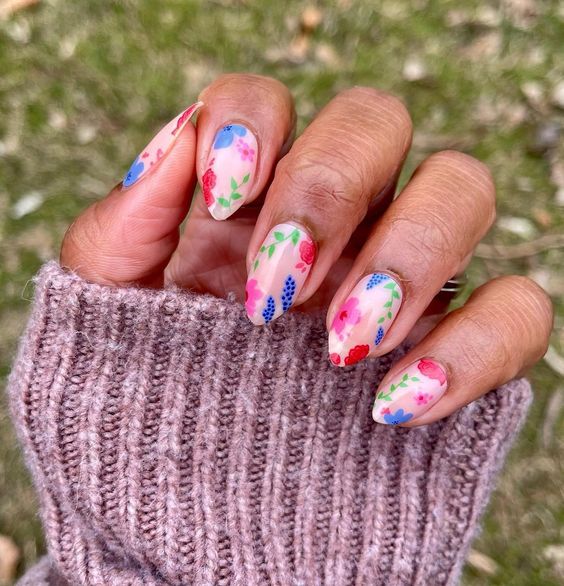 The easy answer for all of you who are wondering how to get the perfect florals (especially on your dominant hand!): stick-on gels! These gorgeous flowers are from ManiMe and are an intricate design that you can get with a really simple at-home application!
48. Purple Flowers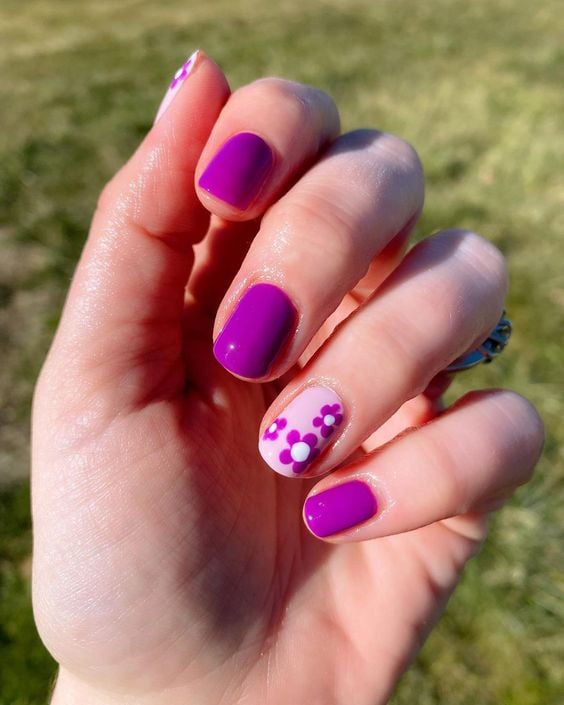 It's OK if you don't know exactly what you want to do when you start painting your flowers! Start with one simple flower and then keep adding until you like the look.
These bright purple flowers next to bright purple solid nails look pulled together without being complicated.
If you love bright nails check out these bright neon nails here!
Colors by Olive and June: Grape Soda and Cockatoo
49. Easter Inspired Flowers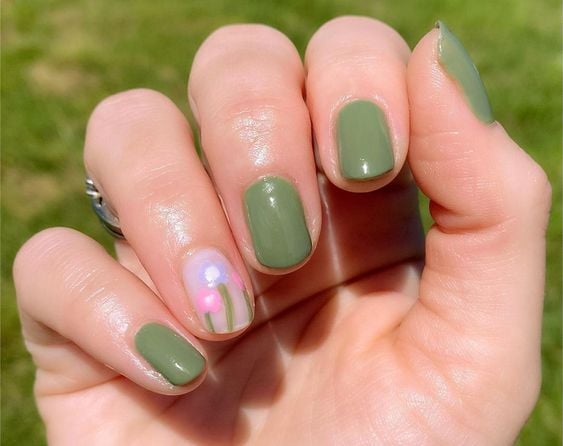 Don't forget that green nails are a great choice for your solid nails! Every flower needs its greenery! These sweet simple flowers are perfect for spring time and don't take much expertise to pull off.
Colors by Olive and June: WKF, Lilac Flutterby, Rosie Flamingo, LHG
50. Pink, White and Yellow Flower Mani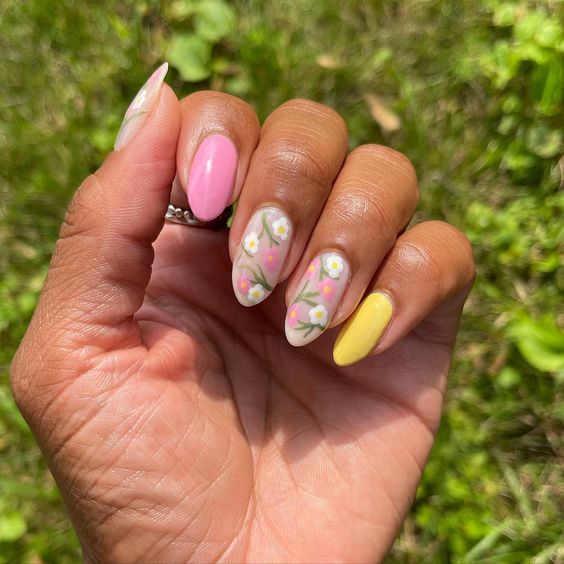 If you're stuck in a mani rut, try different solid colors on your fingernails surrounding the floral designs. It coordinates without being matchy matchy. For the flower nails, paint your simple flowers and then connect them with green stems for a garden look.
51. Brown Flower Accent Nail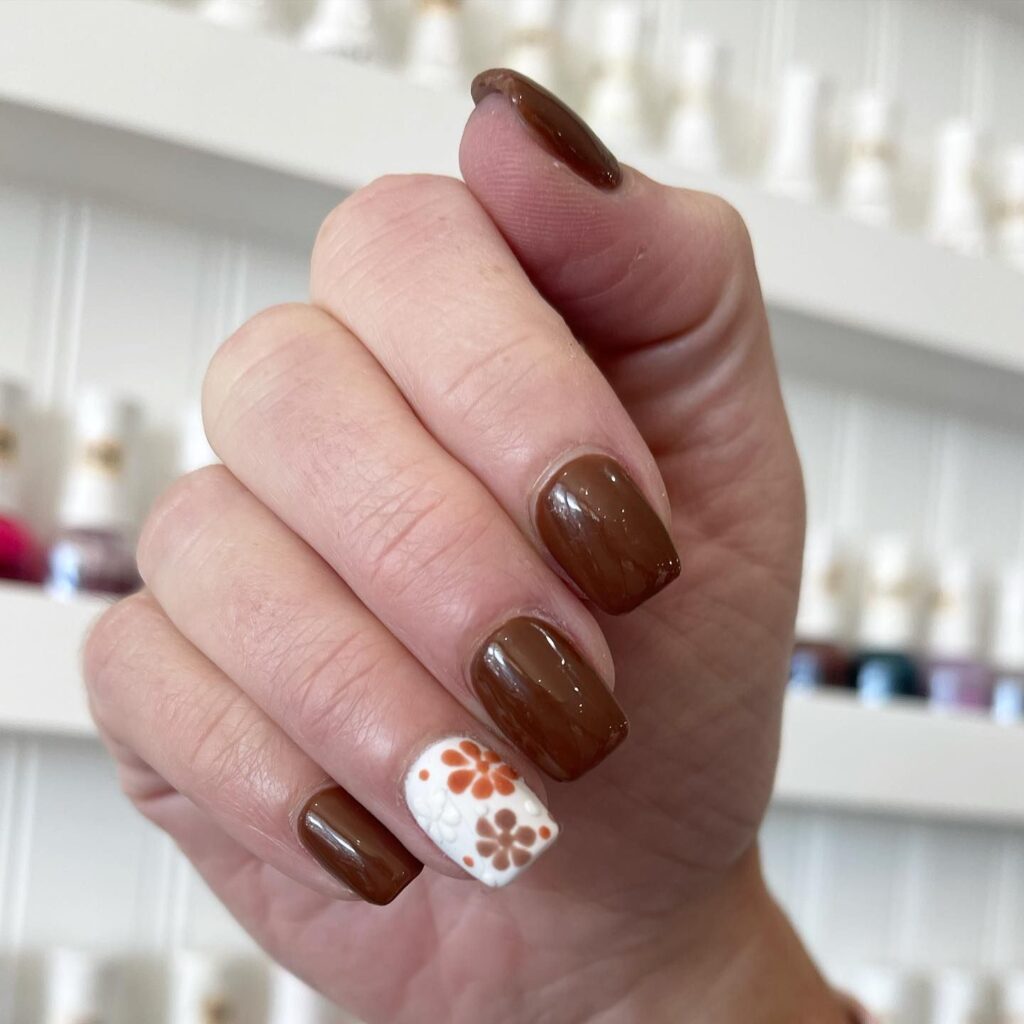 If you're looking for a more retro look, this is a great option! I love the 70s style flowers in tan, brown and white.
*Find more brown nail designs here!
52. Flowers, Clouds and Rainbows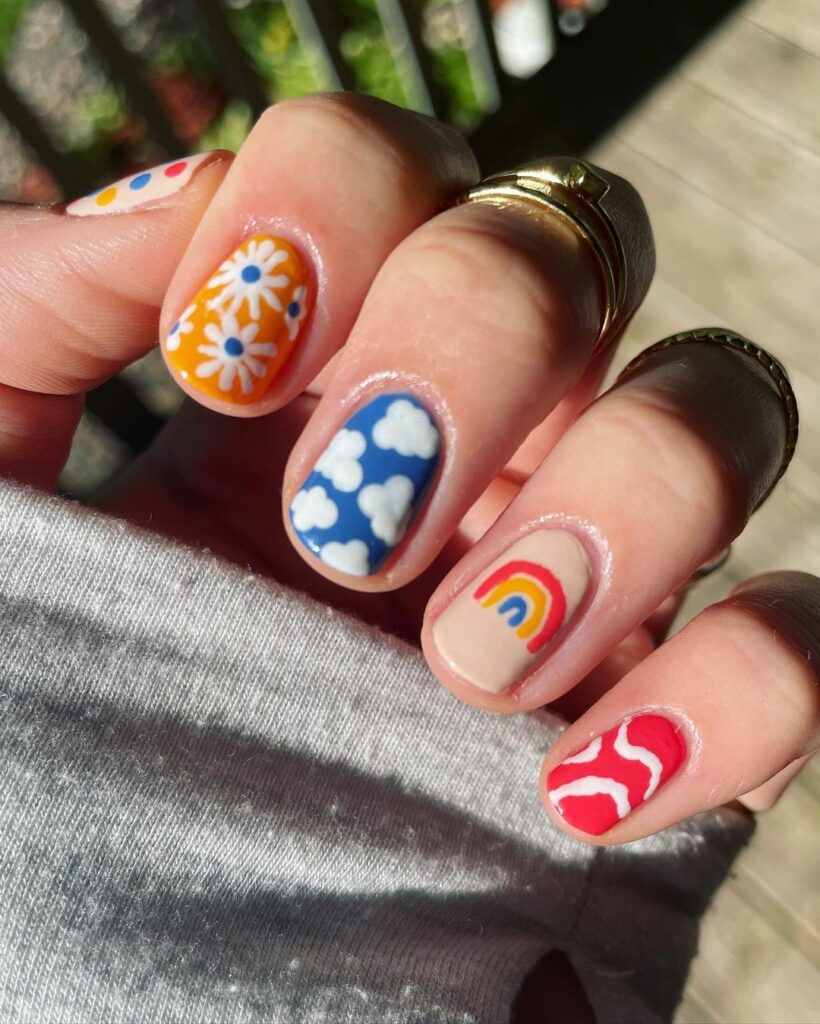 What goes better with bright blue skies than rainbows and flowers? This funky retro mix of nails is so much fun, and you can do it with whatever color scheme you want.
Find more cloud nails here!
Don't forget, use this Olive and June link and the code jenb20 for 20% off your order of any of their systems!
Want a full review of Olive and June nail polish? Head here!
Looking for nail ideas? Try these:
And try out one of these different nail shapes while you're at it!