Do you wear your heart on your sleeve? How about on your nails!
Heart designs create sweet and romantic manicures and can add something special to an otherwise plain set of fingernails.
If you'd like some inspiration, here are some of the best heart nail designs you could ask for!
Many of the designs below use Olive and June nail polish colors. Use this link and the code jenb20 for 20% off your order of any of their systems.
Heart Nail Designs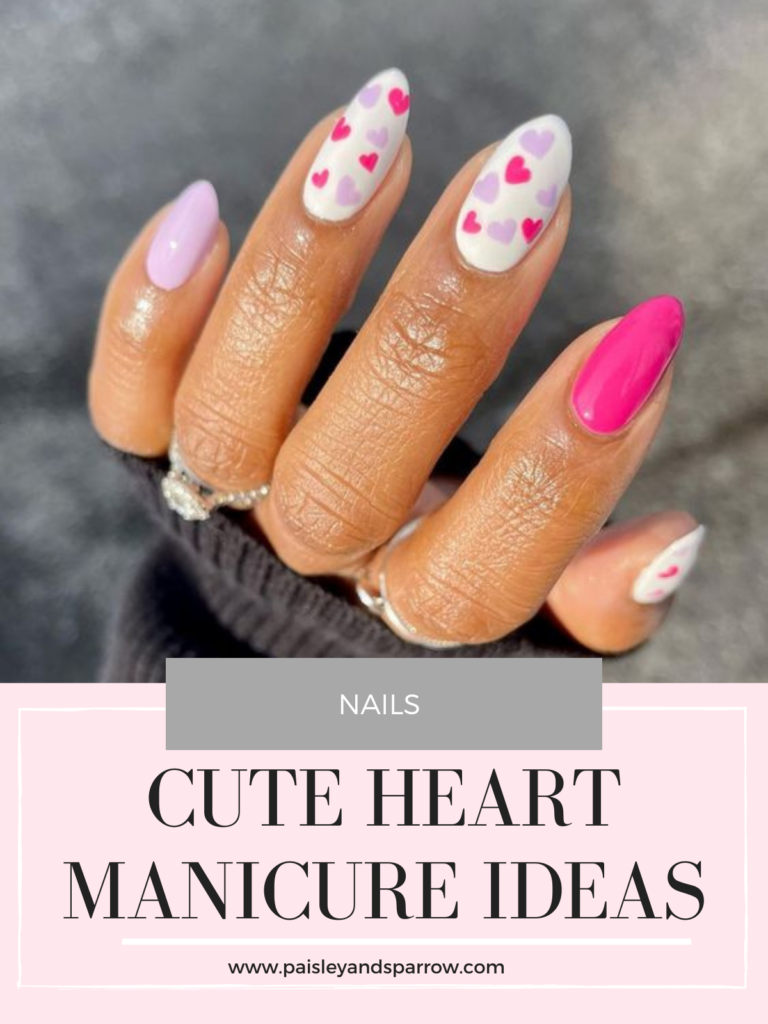 Paisley + Sparrow is a participant in the Amazon Services LLC Associates Program. This post may include affiliate links which means I may earn a small commission if you shop using the links below at no additional cost to you. 
1. Color Block Heart Art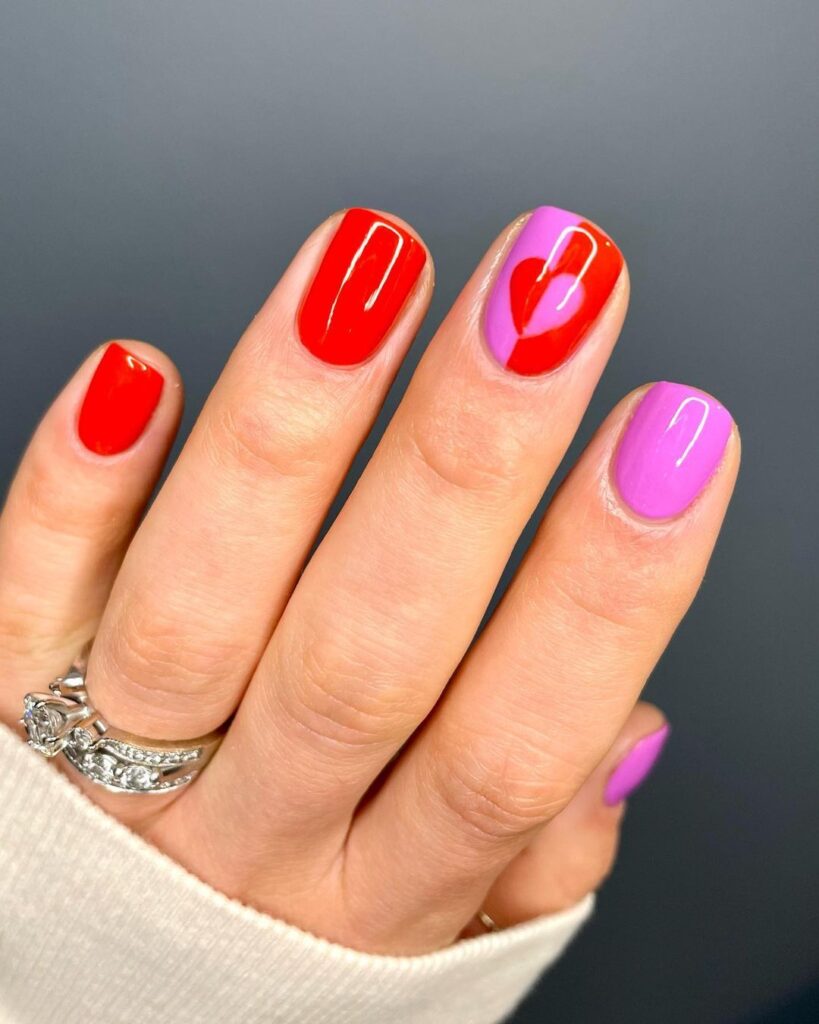 I love this accent nail on the middle finger! And while the red and pink polish are the perfect choice for a classic heart vibe or Valentine's Day nail designs, you can choose different shades to fit your personal favorite color palette.
Colors Used: Olive and June Lava and Jam, Please
2. Glitter Hearts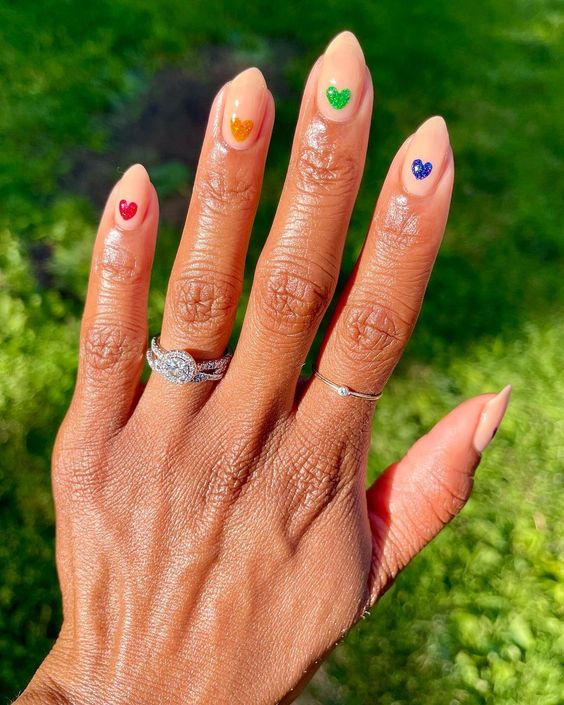 Rainbow and glitter — what more do you need?! These cute hearts are painted on a nude base for fun but simple nails!
3. Floating Hearts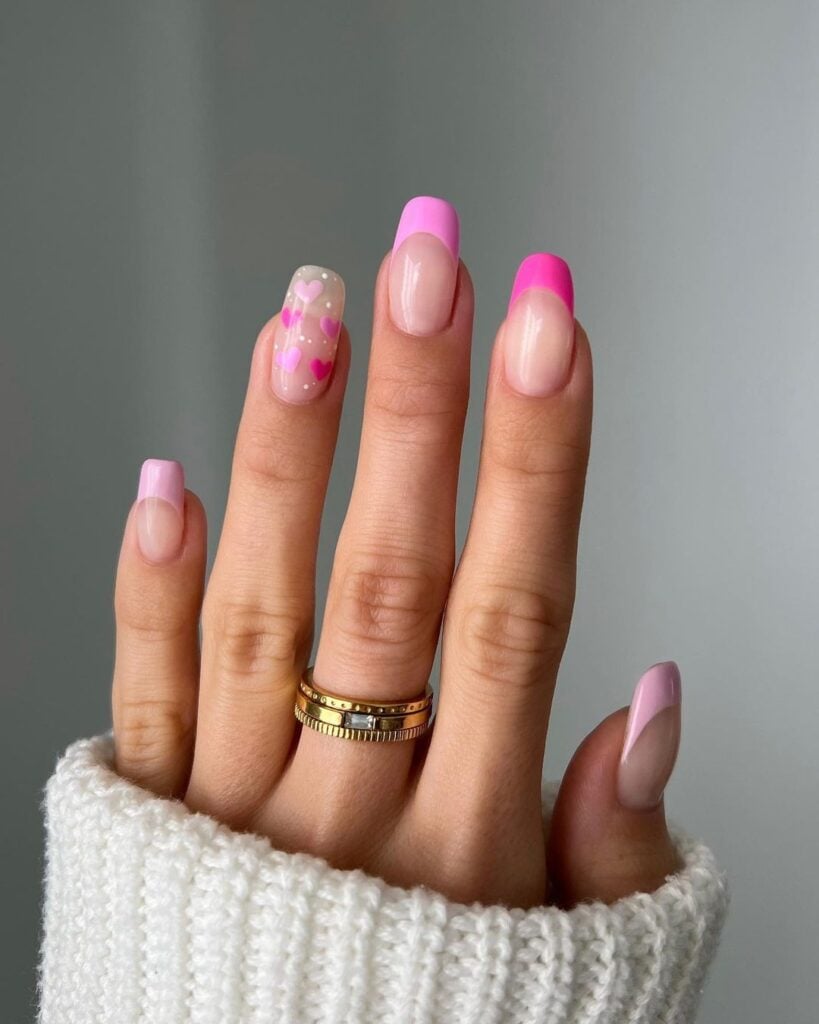 Pink french tips in different shades are the perfect complement to an accent ring finger with tiny pink hearts. Add some small dots for a fun way to make your nails pop.
4. Dark Red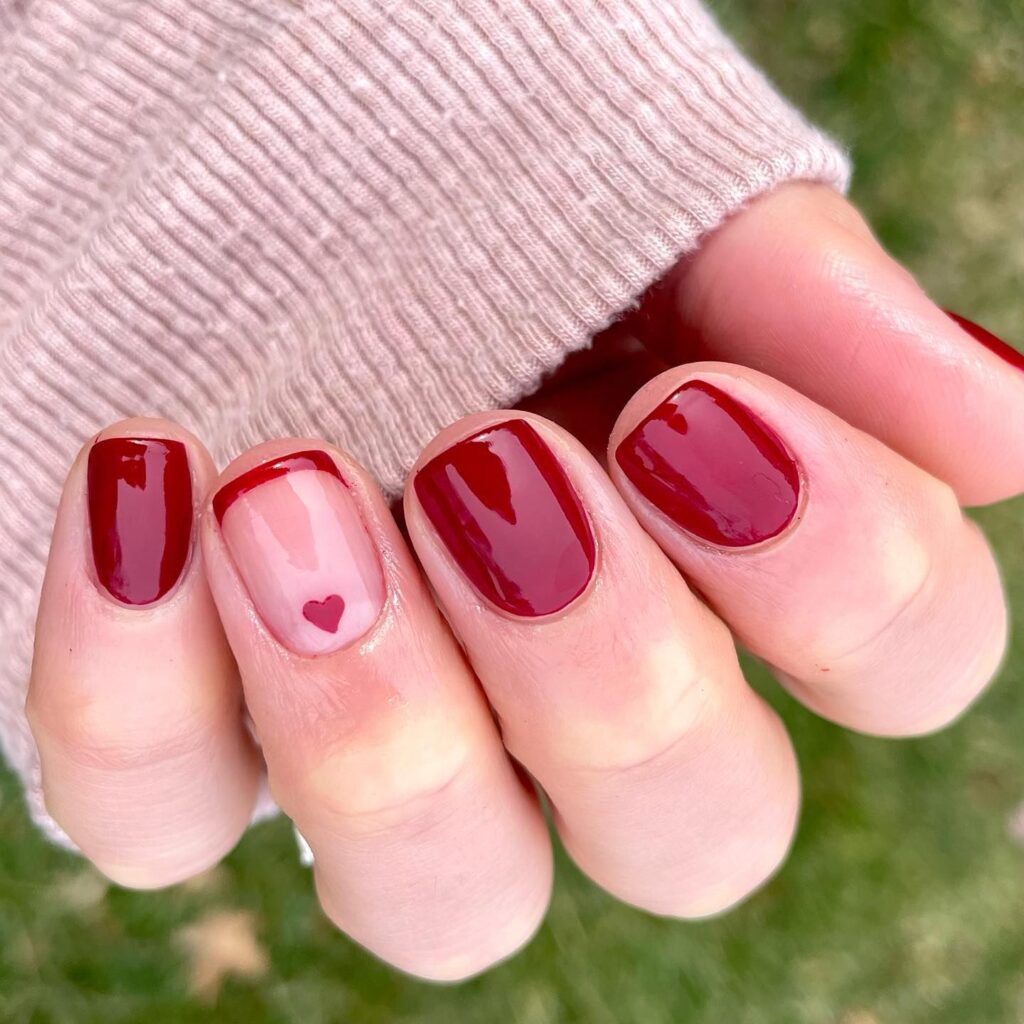 Take a classic red manicure to the next level with a pretty heart and french tip in the same red nail polish on one nail. This is an easy one for those of us who do our own manicures.
Colors Used: Manucurist, Dark Pansy
5. Color Block Heart Tips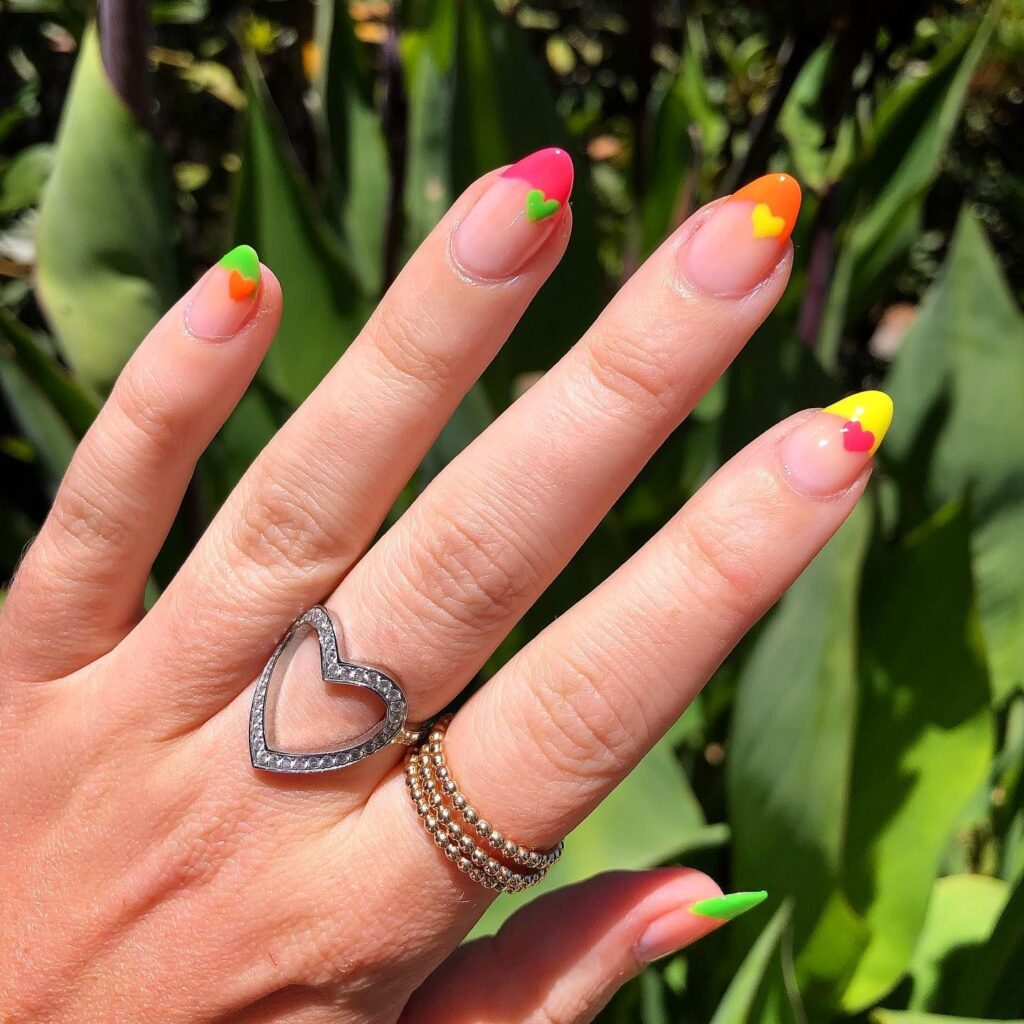 Maybe red isn't your color! You can do great heart designs in bright hues (or whatever suits your mood) with this twist on a classic french manicure. I love this option for summer time!
Colors Used: Olive and June Orange Wedge, Lime Fizz, Lemony Lemon, Hot Strawberry, BEB
6. Heart in a Box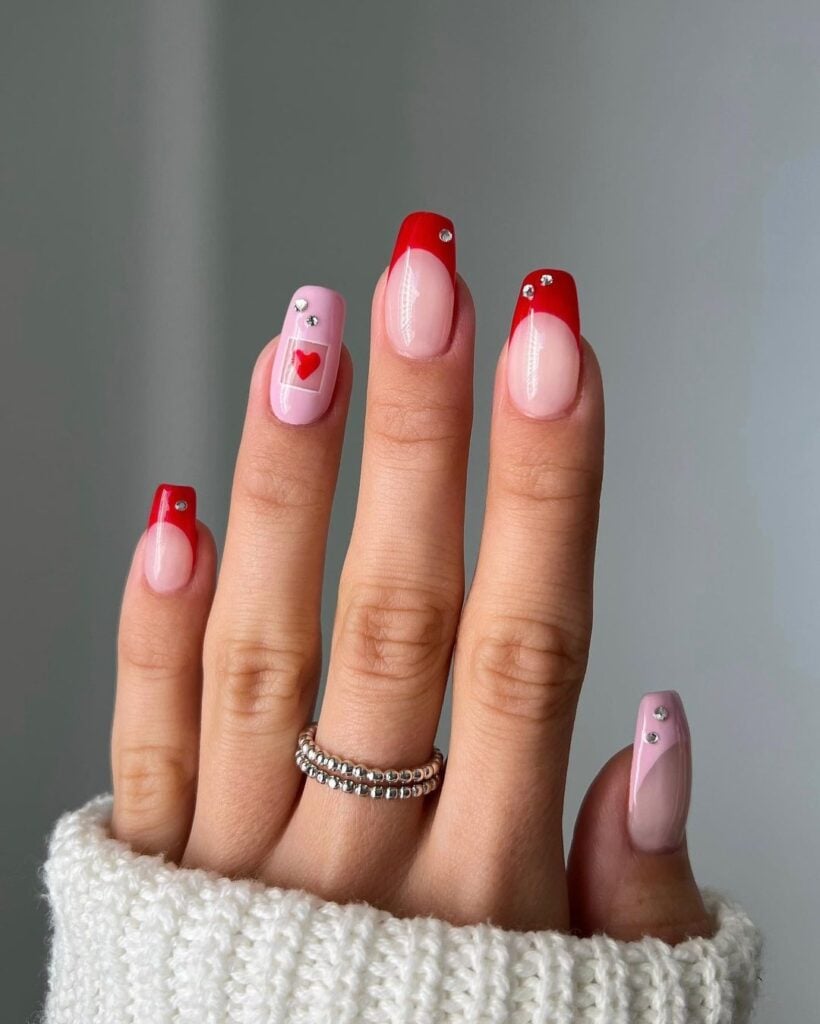 Wear your heart in a frame! These gorgeous nails are adorned with rhinestones and red and pink tips. What really adds something extra is the framed box with the heart shape in the center.
7. Heart Cut Out Nails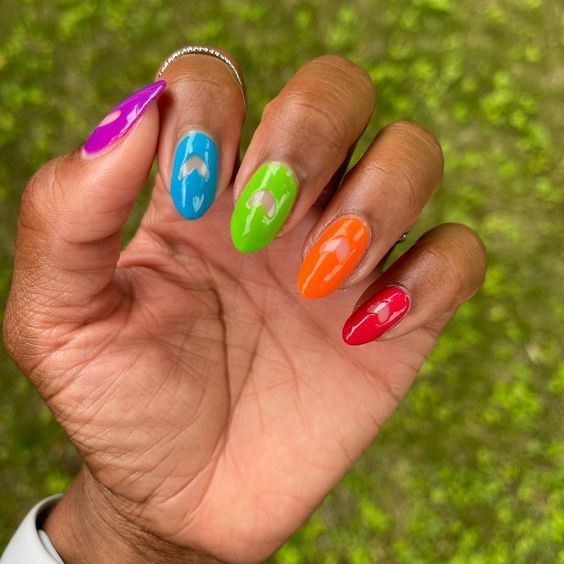 Create a heart in the negative space for a unique look! You can use more classic heart or Valentines Day colors for this style of mani, but the bright rainbow makes it even more surprising.
8. Black White Heart Nails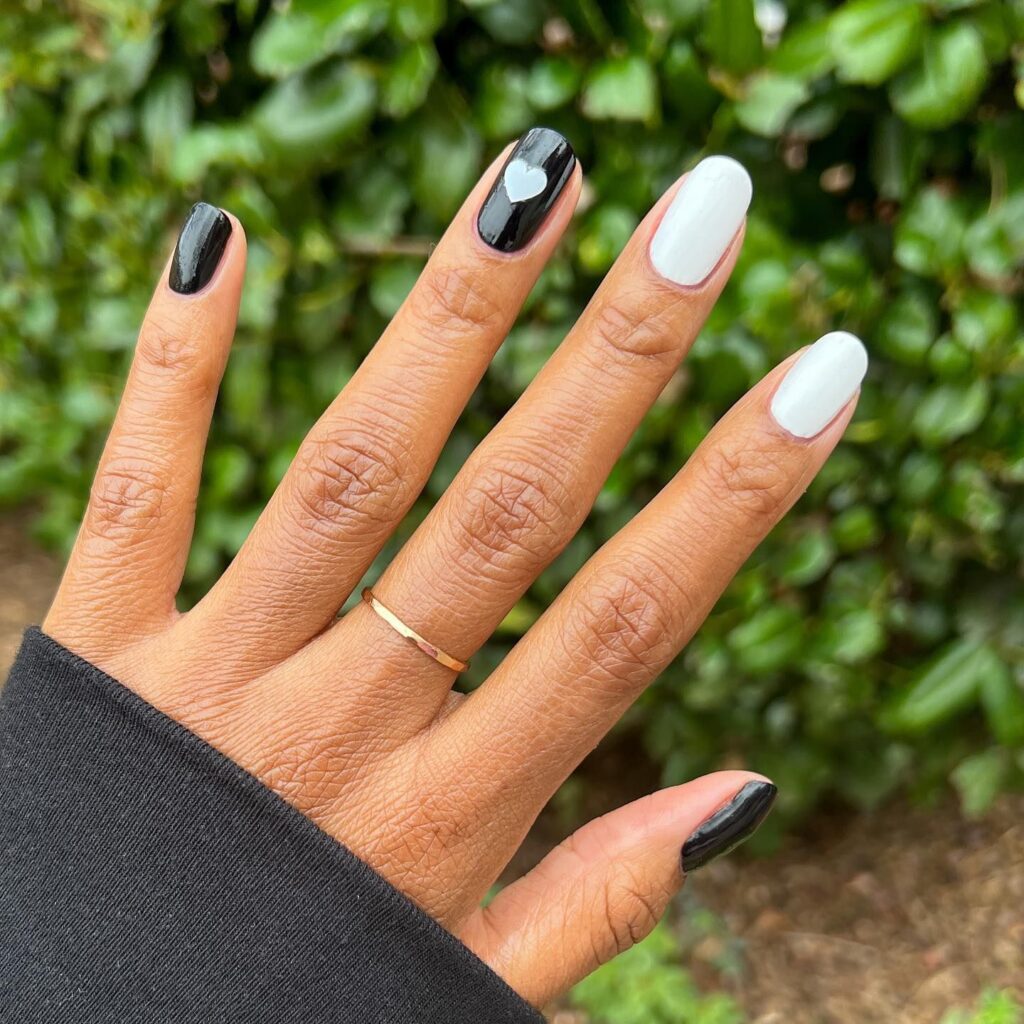 Go for a more neutral black and white if that's your style. It doesn't make the heart any less romantic! Remember: if you can't freehand your hearts, nail decals are your new best friend.
Colors: Olive and June HD, E+M, and hearts sticker
9. Pink, Purple and White Hearts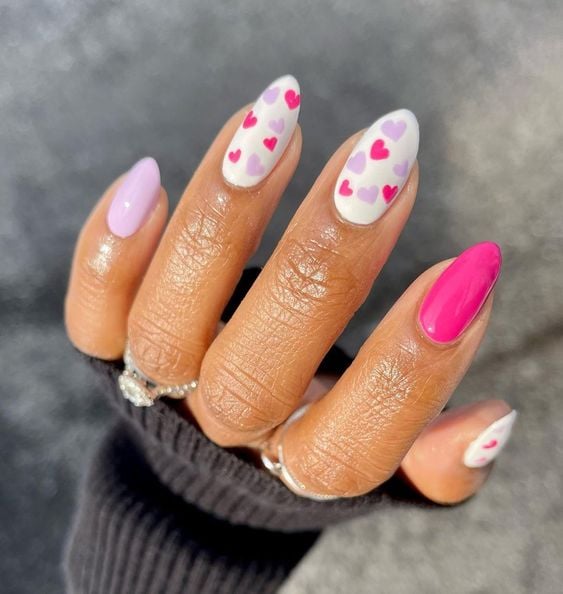 Give yourself a sweet manicure with these tiny pink and purple hearts. Paint your solid nails the same colors as the hearts to pull the whole look together.
10. Black Heart With Gems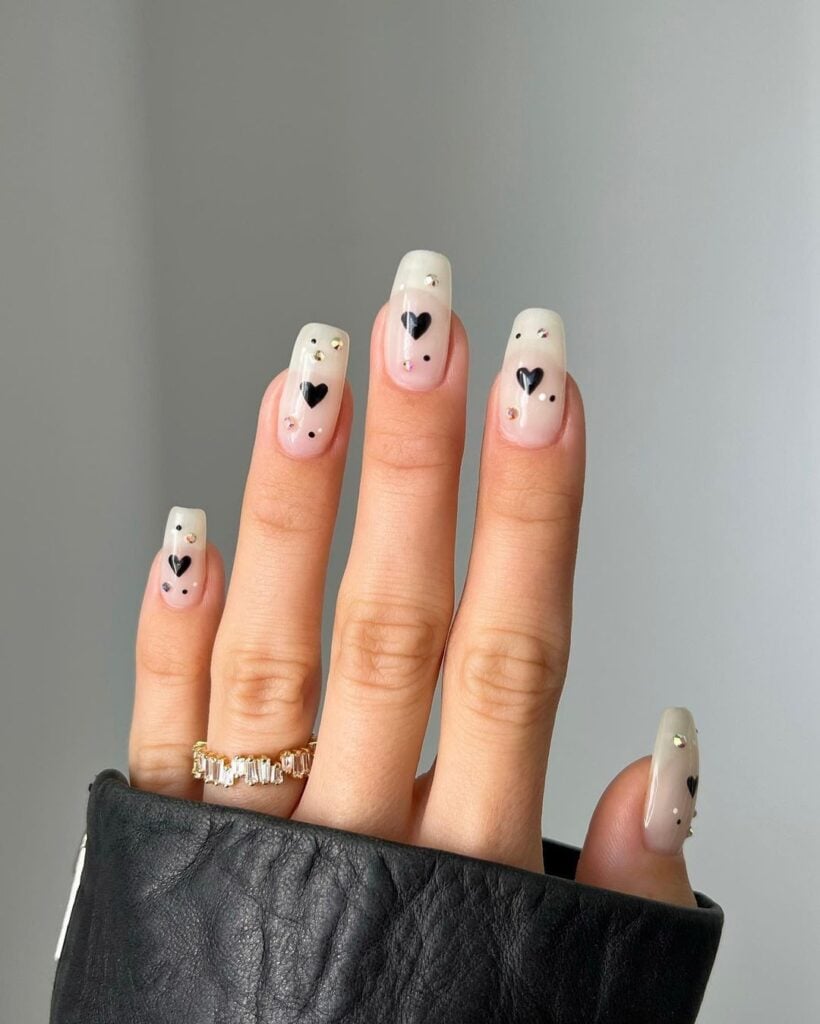 Gems, polka dots and a black and white color palette give this heart manicure a little bit of edge or glam. Perfect with your leather jacket, for a concert or with any black outfit.
11. All Red With Pink & Red Heart Accent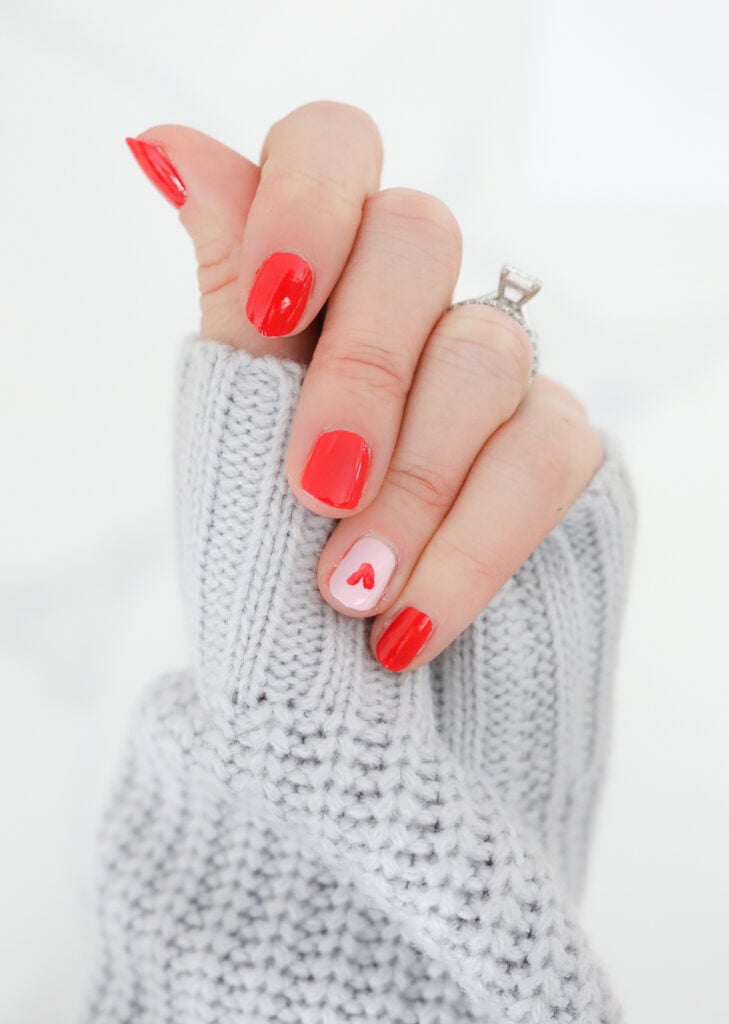 If you're a beginner at heart nail art, feel free to practice on paper before trying it on your nail. And keep the mani simple — just create a heart on one fingernail to start.
The best way I've found to make the perfect heart is to dip a round dotting tool in your polish and create three dots in a triangle shape. Then connect all the dots!
Just be sure to have enough polish on the dots that you can connect all 3 together.
When they're dry, finish with a top coat!
12. Pink & Red Heart Valentine's Nails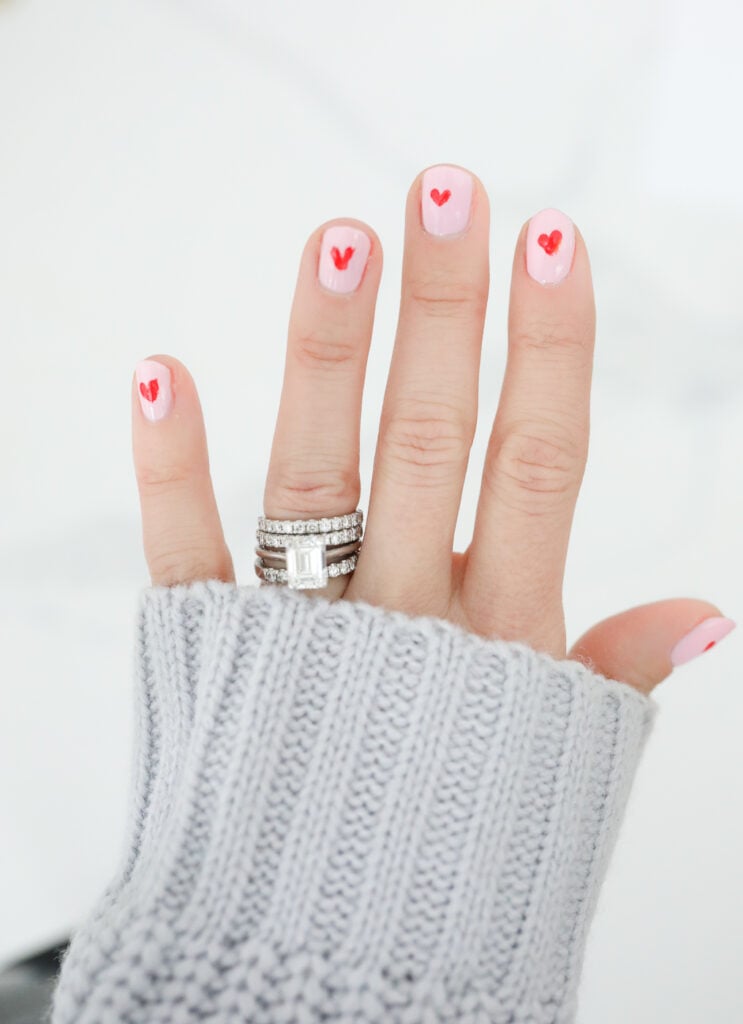 Once you've gotten the hang of creating hearts, paint one on each fingernail! It's perfect for Valentine's Day, an anniversary, or just because you feel like it.
13. Nude Nails with Colored Hearts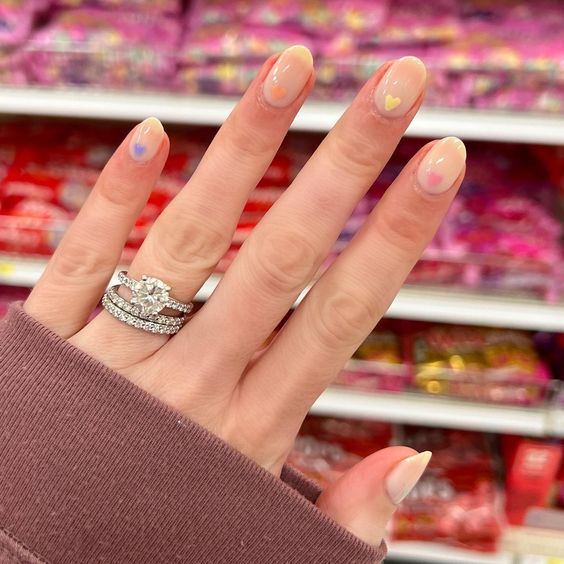 These nails can be customized to any outfit or season! Choose a neutral base and five fun nail colors to add a small heart at the base of your nails. If you don't have nail art tools, you can use the end of a bobby pin!
14. White Iridescent Tips with White Heart Accent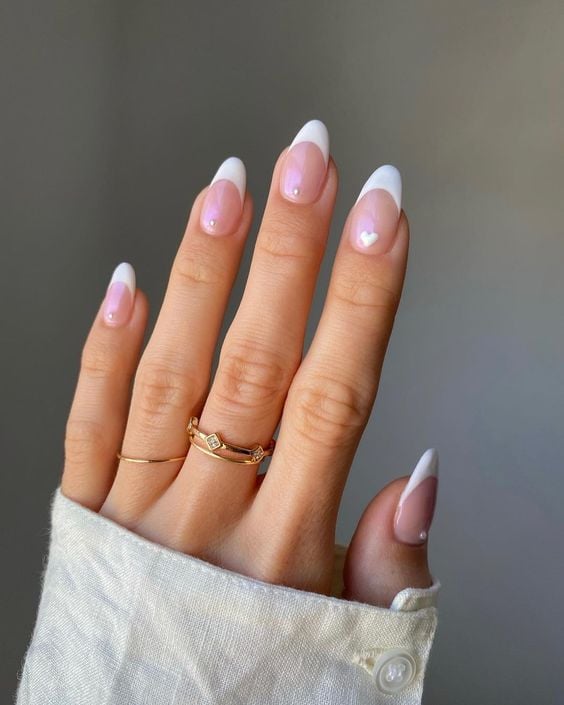 Make your French manicure a little more delicate with small dots or a tiny heart at the base of each nail. A pearly top coat is the perfect cherry on top.
Colors Used: Le Mini Macaron Pearlescence
15. Heart Line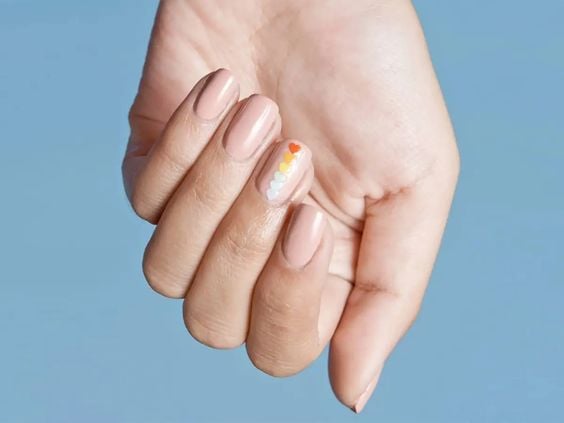 If you have tiny heart nail stickers, stack them on top of each other for an easy but graphically appealing manicure.
This is a perfect option for short nails — you can use the right amount of stickers for your nail length! Find 50+ other short nails designs here!
Colors Used: Olive and June nail stickers
16. Black French Tip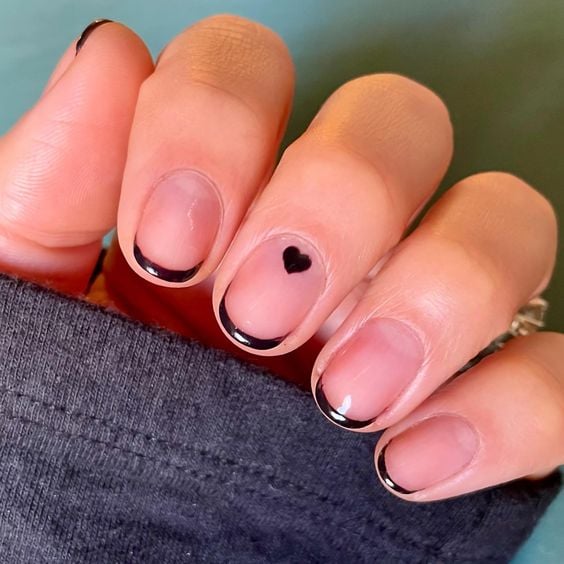 This short nail design proves that you can do a darling french tip without much length AND that you don't need to stick with white or light colors!
Colors Used: Olive and June SD and SGT
17. Nude Nails with Hearts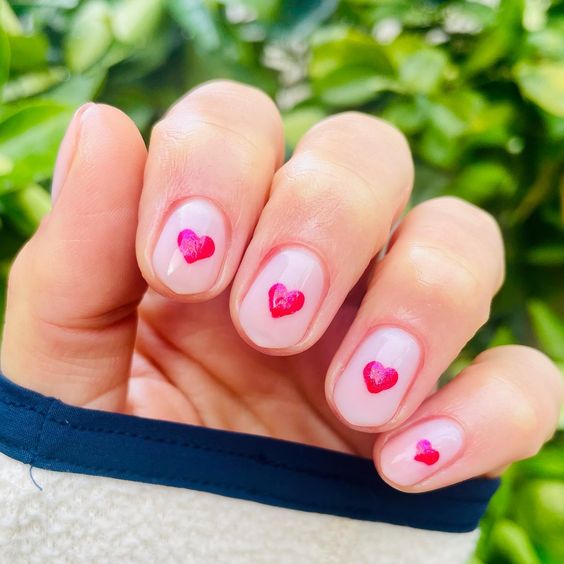 Red is basically a neutral, right? Because I think this simple heart manicure goes with everything!
Colors Used: Olive and June CCT and Ruby Shimmer
18. Black Hearts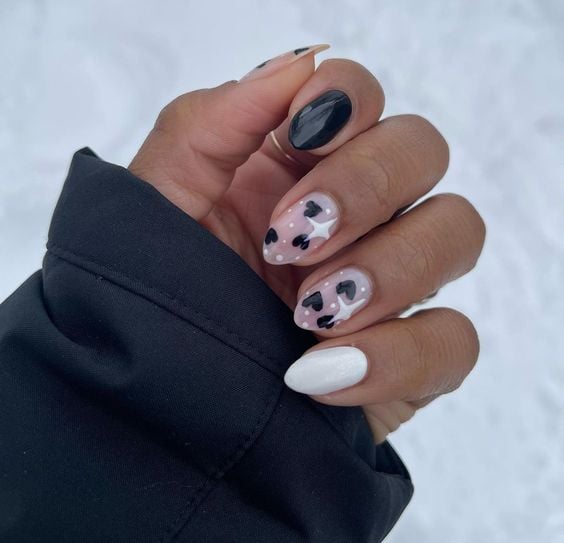 Image via @lecame.shesaw.shepainted
Who says hearts have to be for Valentine's Day? This heart design is giving me major winter vibes! Little white dots and a starburst evoke a quiet snowy night.
19. Heart Accent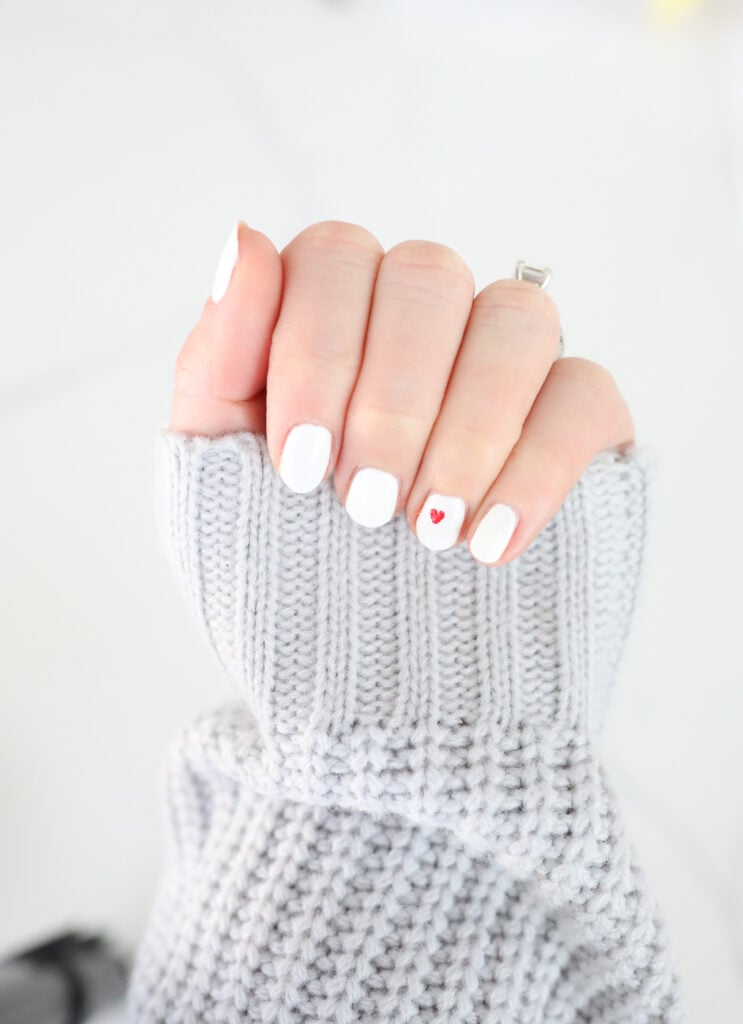 You don't need a giant heart on your nails to have an impact. Even a tiny heart on an accent nail stands out if you paint your base white.
Colors Used: Olive and June HD (white) and ES (red)
20. Black Heart Accent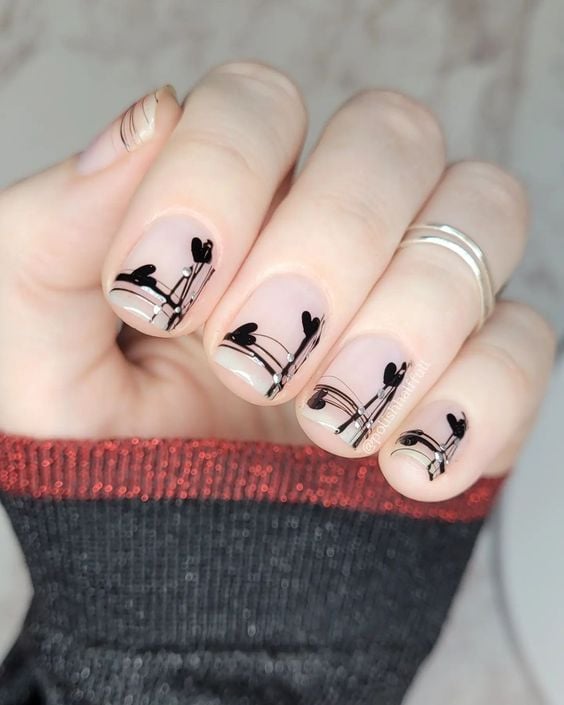 This abstract design is easy to do freehand because you don't have to worry about doing it perfectly! Paint messy stripes in both directions on top of a neutral base. Add some hearts and small metallic dots to complete the look.
21. Black Solids and Mini Hearts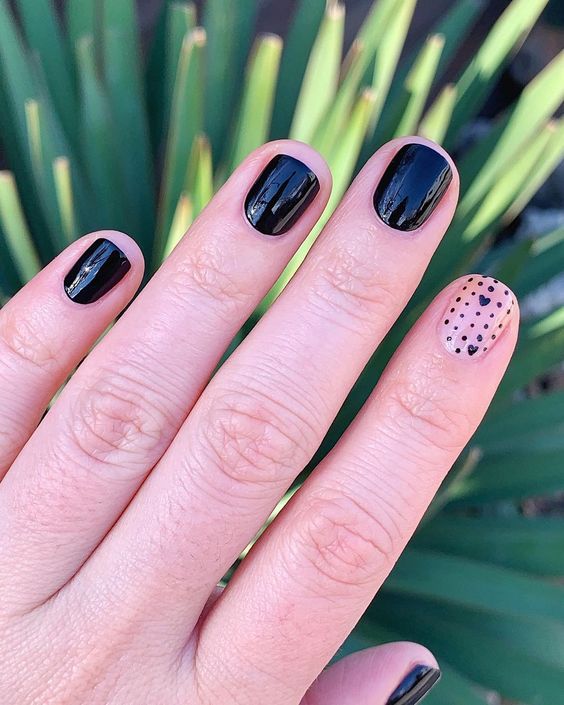 Image via karanailedit
Make a black manicure a little lighter with these teeny tiny dots and hearts on an accent nail. It brings something delicate and cute to your nails!
Colors Used: Olive & June E+M
22. Black Heart Tips and Accent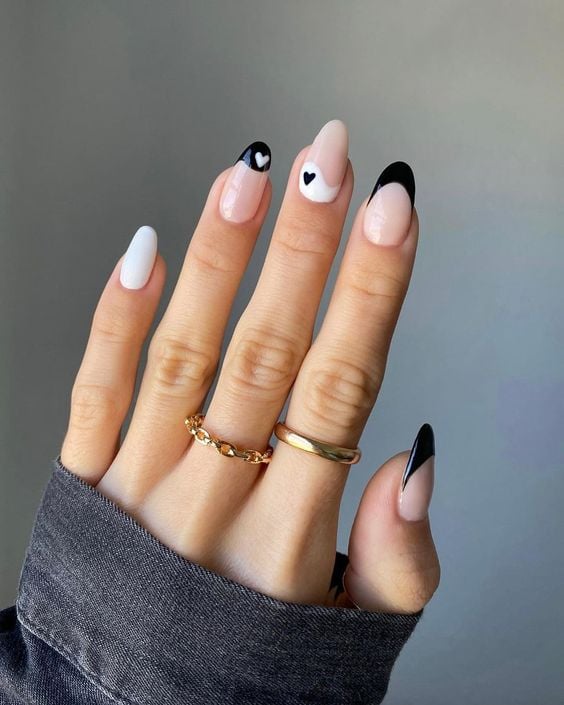 Image via @nailsbysmf
Make some waves! I love how these wavy nails switch between black and white and also switch placement from top to bottom! The contrasting hearts draw your eye to this fun design.
Colors Used: Le Mini Macaron licorice and milkshake.
Still looking for nail inspiration? Try one of these posts: