There's nothing like the summer months to make you want to wear some red, white and blue! Add some patriotic flair to any outfit with some themed fingernails.
Here is a roundup of the best manicure inspiration for Memorial Day, Fourth of July, the Olympics and any day you feel like being a little patriotic!
Many of the designs below are from Olive and June. Find my review of Olive & June here!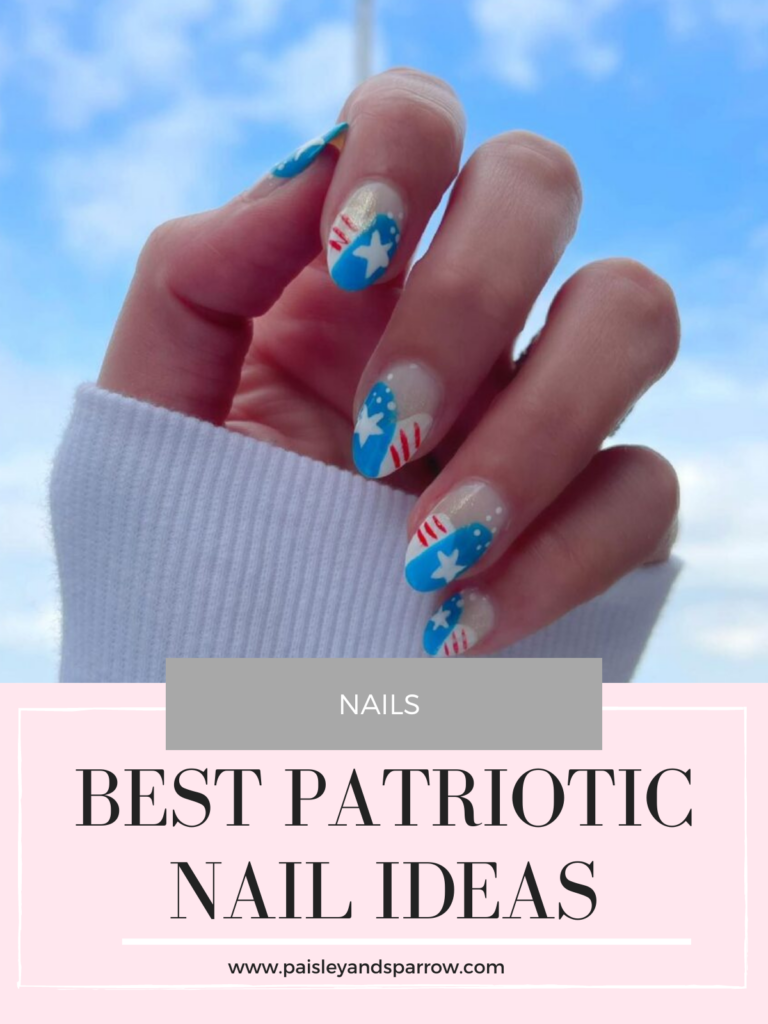 Patriotic Nail Art Designs
1. Patriotic Sparkle Nails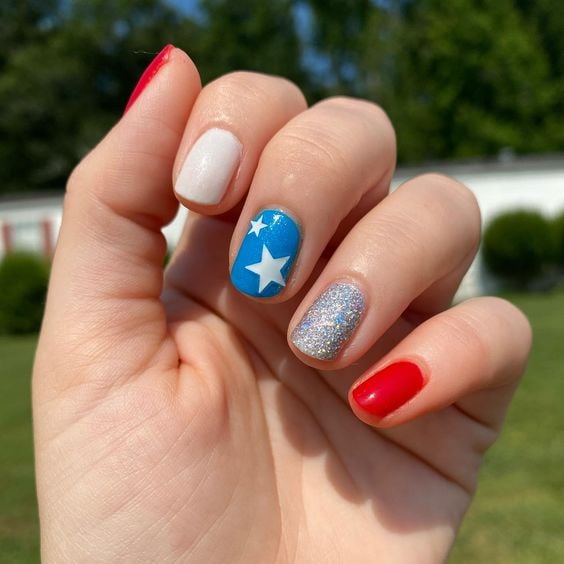 Red, white, blue and glitter! You can't go wrong with the colors of the American flag! Add a little sparkle to your mani with a glitter polish accent nail on your ring finger.
2. Shooting Stars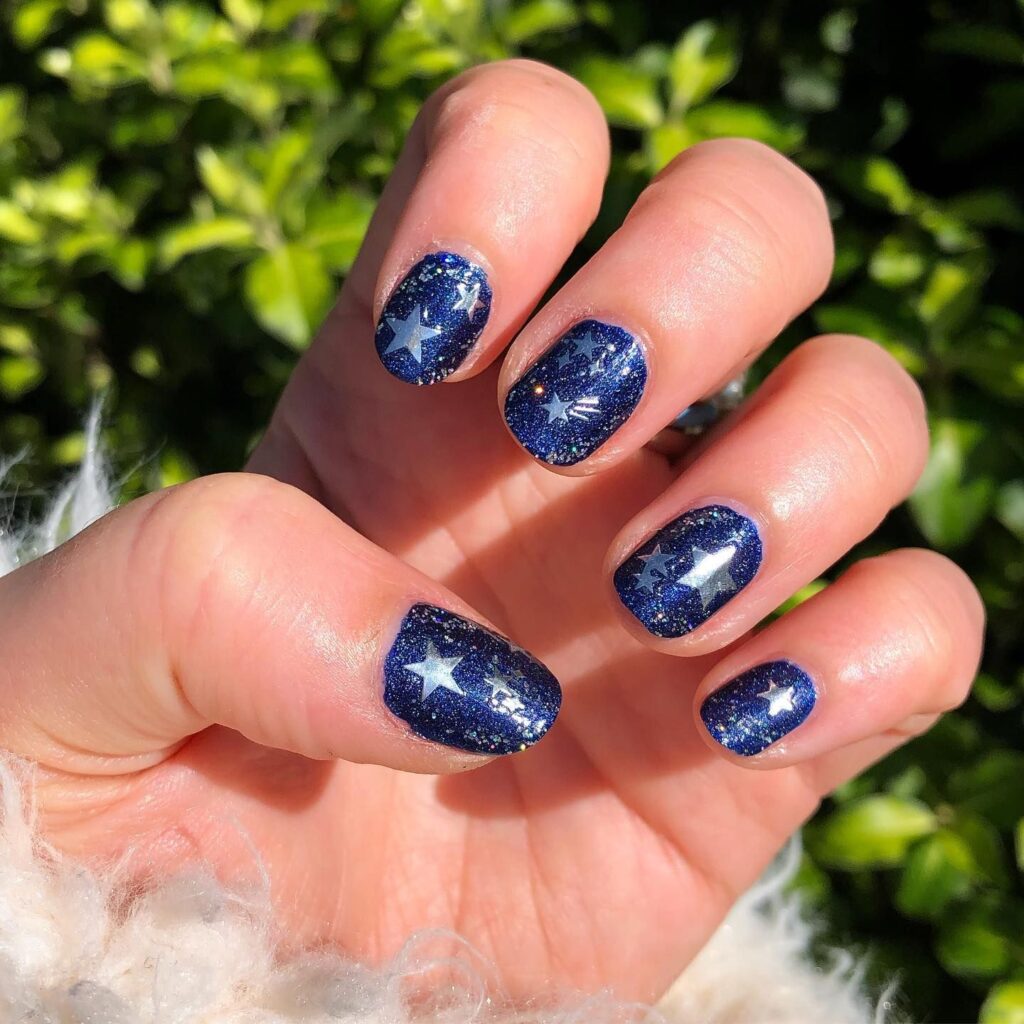 You don't have to include all the colors to get a patriotic feeling. The midnight blue polish with stars still evokes the idea of the American flag while being subtle about it.
Tip: Get crisp clean stars on your manicure by using nail stickers! They come in all kinds of sizes and finishes, and can really take your nails up a notch.
*Find more blue nail designs here!
3. Red White and Blue Star Tips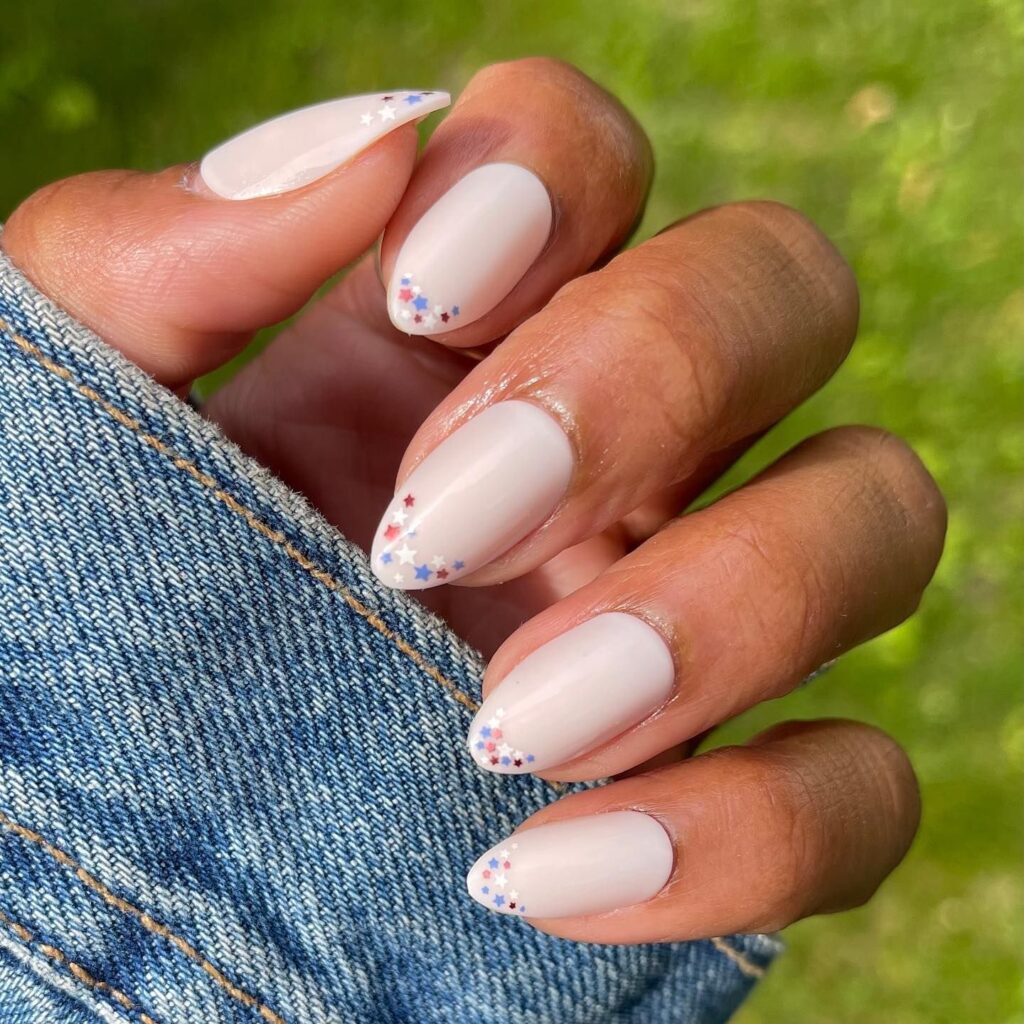 You can pick a subtle design that will go with anything. Try lighter blues, pinks, and deeper reds, and smaller star or dot designs.
4. Simple Star Nails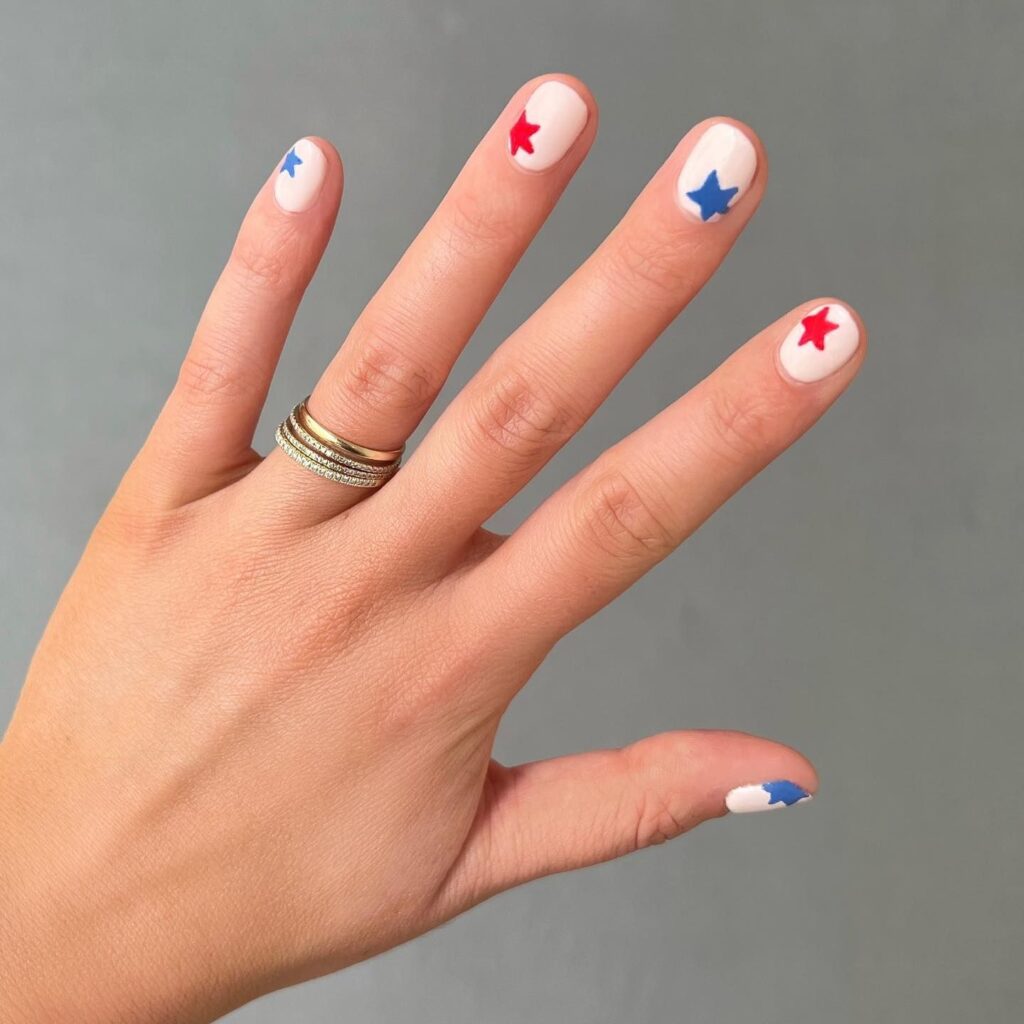 Try a white base with just one star on each finger. Don't worry; they don't need to be perfect! With the colors, it's obvious what you're painting.
5. Silver and White Stars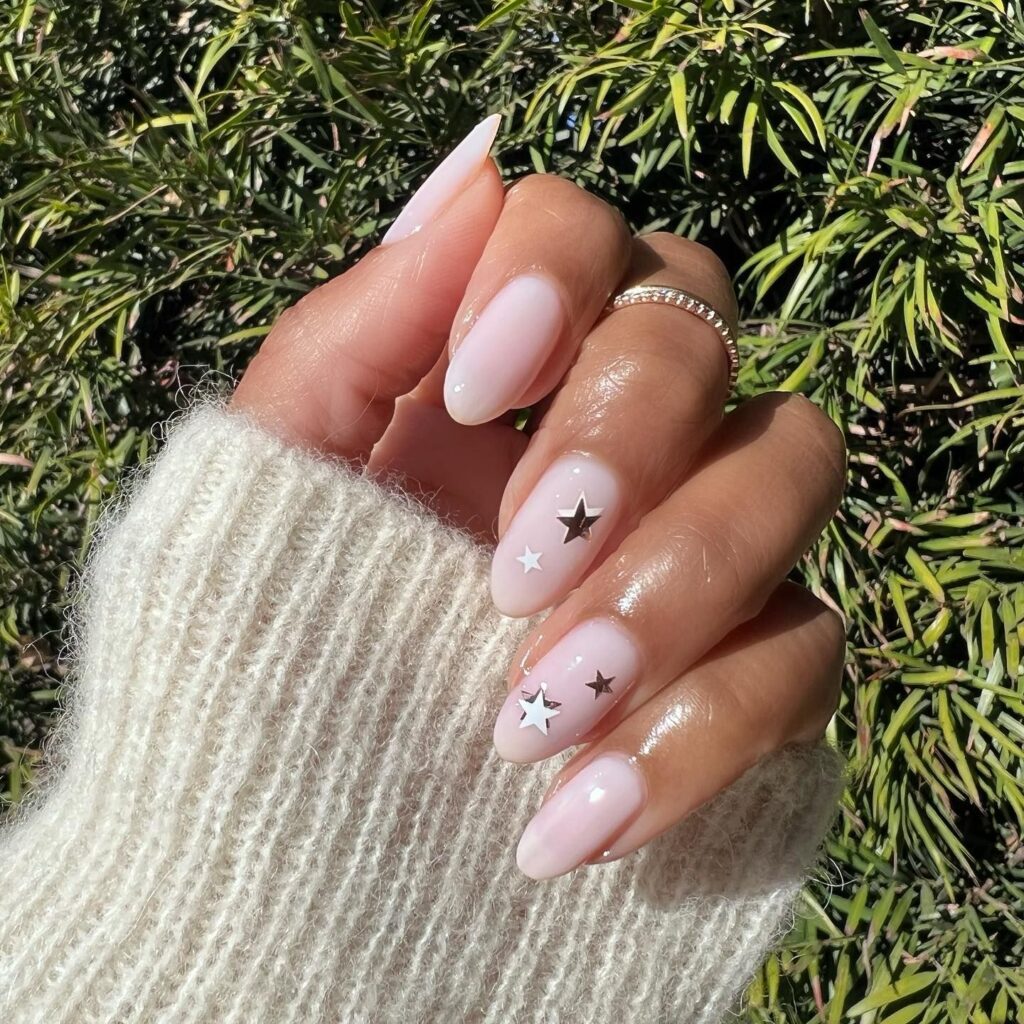 I love this neutral take on patriotic nails. Paint a light base and use silver and white stickers to complete the look. Simple, quick, and perfect for any time of year.
6. Star Decal Nails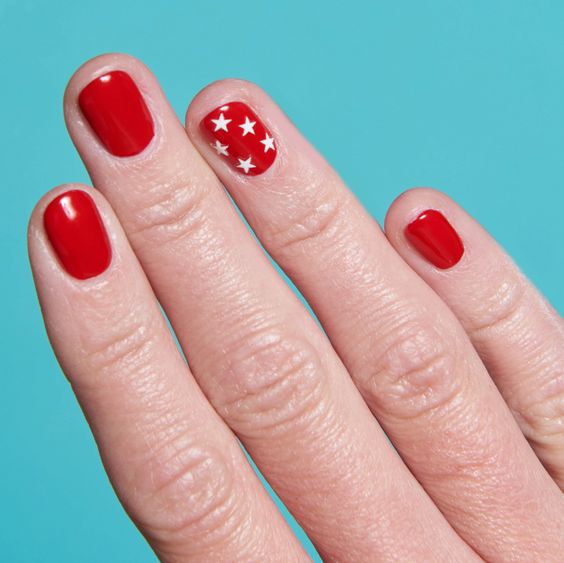 Red is perfect for Fourth of July nails, and definitely makes a statement if you're looking for something slightly more bold!
This is a great way to get festive nails even if you have short nails! Paint your favorite red as the bast and then add star stickers to one nail (or a few nails). Seal it in with your top coat and that's it!
Stickers from Olive and June
7. Red White And Blue Ready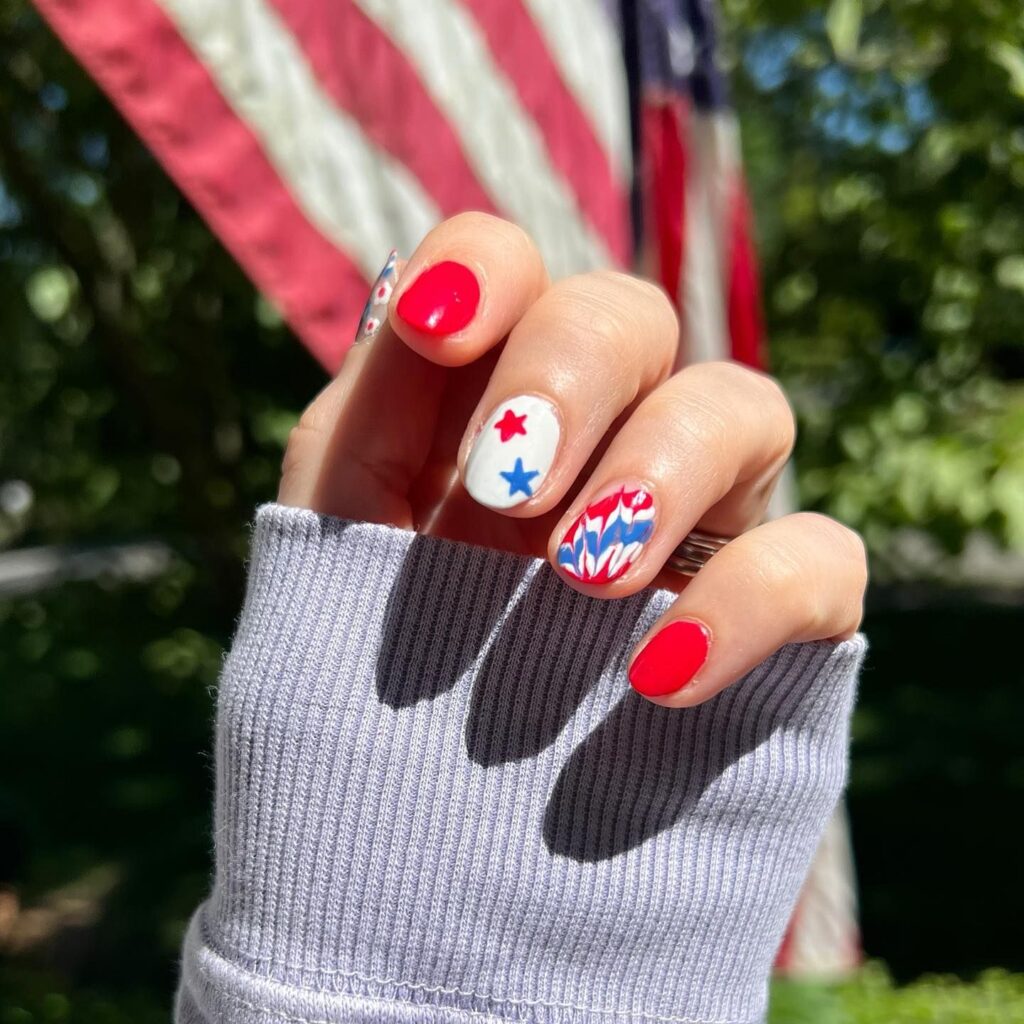 You don't need a lot of skill to get the wow factor. This accent nail looks a bit like Fourth of July bunting or tie-dye in patriotic colors.
Paint red, white and blue stripes; then while they're still wet, use a toothpick or tool to drag the polish.
Colors: Olive and June Blue Canoe, Hibiscus and HD
8. Blue Ombre Tips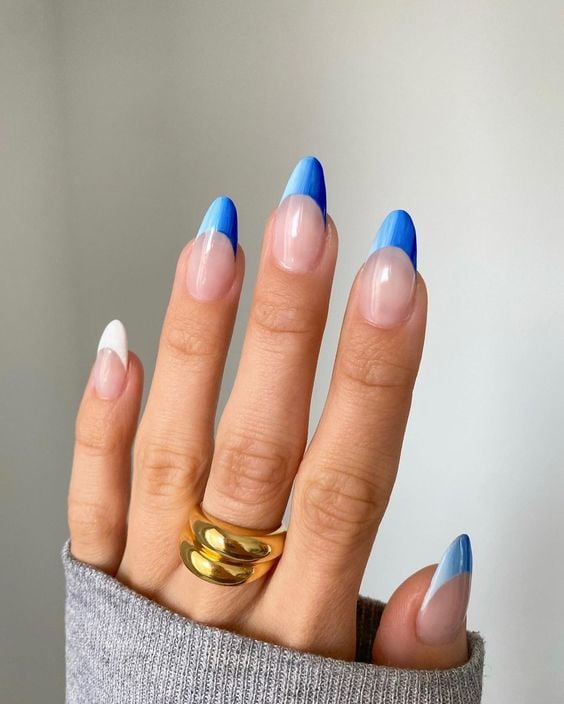 Image via @nailsbysmf
I love a twist on a classic white French tip! If you have long nails, this is a great way to get a festive look without going full on patriotic design. Do an ombre with white and blue (or white and red) for a chic seasonal mani.
9. Abstract Flag Nails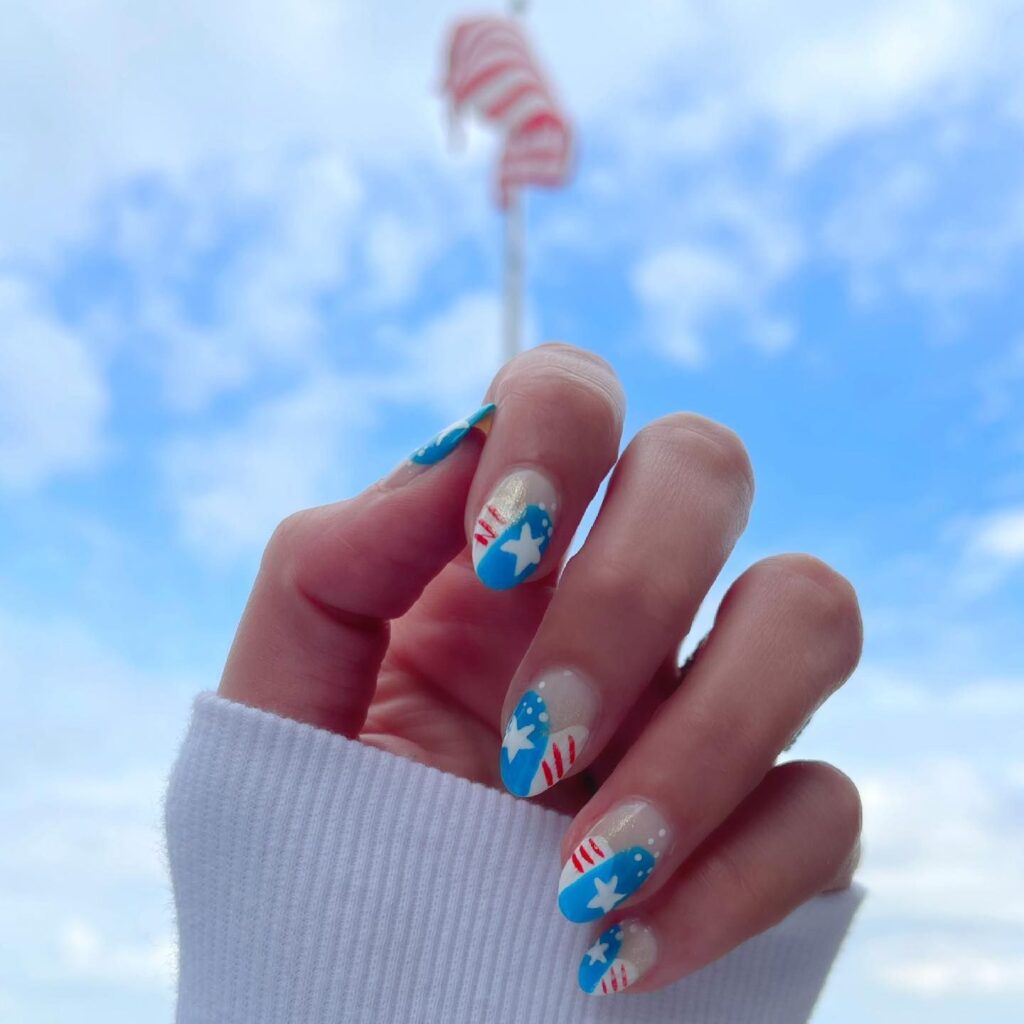 You don't have to try to fit the whole flag on your fingernails. Go with an abstract representation with a few red stripes, a star and some polka dots.
Overlap blue nail polish and white nail polish on the tips, add red stripes on the white polish and a white star on the blue polish. Use a dotting tool to add the white dots! Bonus that this one looks like a heart!
10. All Red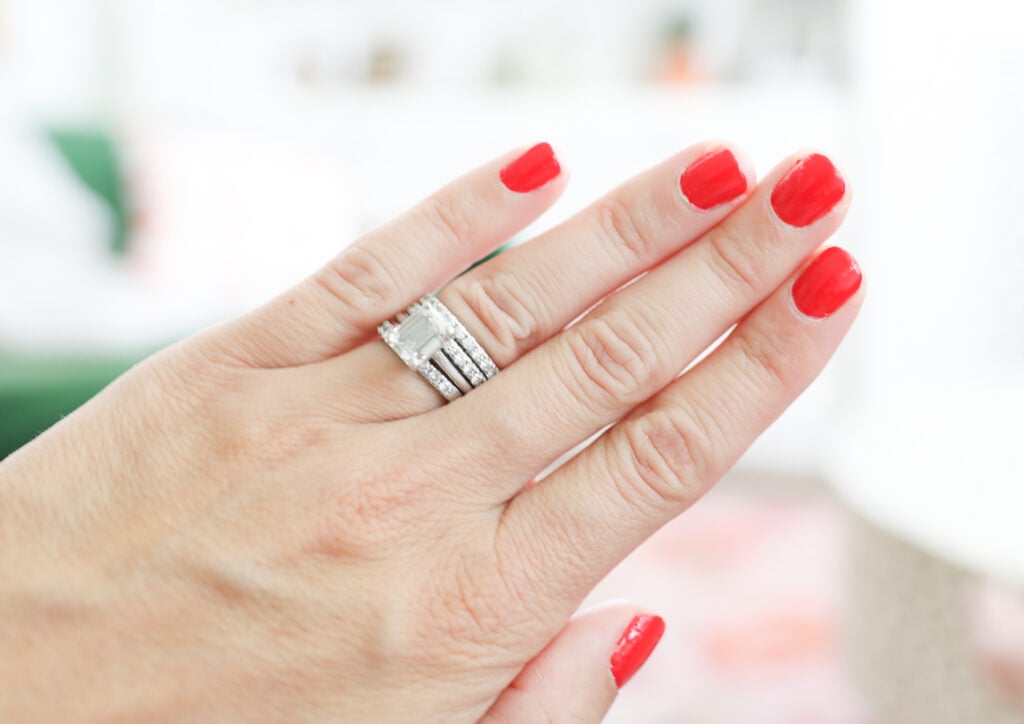 Keep it simple! This is one of the easiest ways to get patriotic nails and is perfect for pairing with blue outfits!
If you're out of time to get your nails fancy for your Memorial Day weekend plans or a Fourth of July party, swipe on your favorite shade of red before you head out.
Color: ES from Olive and June
11. Star Accent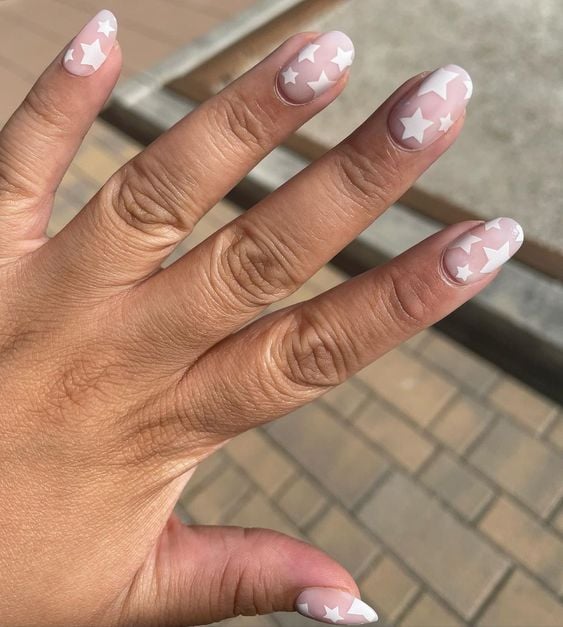 Olive and June Press on nails are the best for getting a cute mani with no smudges! These are truly easy 4th of July nails!
These nude based nails with white stars can be done in a flash and are perfect for patriotic holidays.
Nails: Olive and June again!
12. Large Single Stars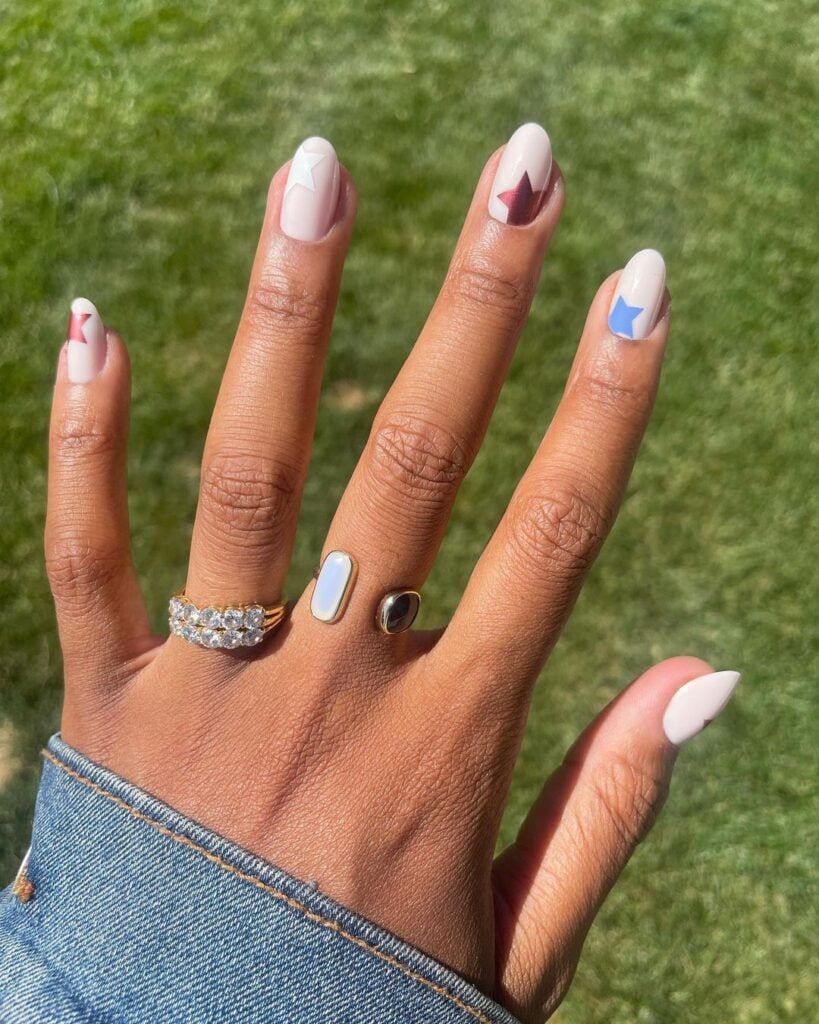 You can make your red, white and blue shades fit your personal style! Use a shade of white nail polish as your base coat.
If you don't want to go bright (or just don't have any in your nail polish collection), use deeper or lighter shades. With the star motif, it'll still fit the theme.
13. American Flag Accent Nail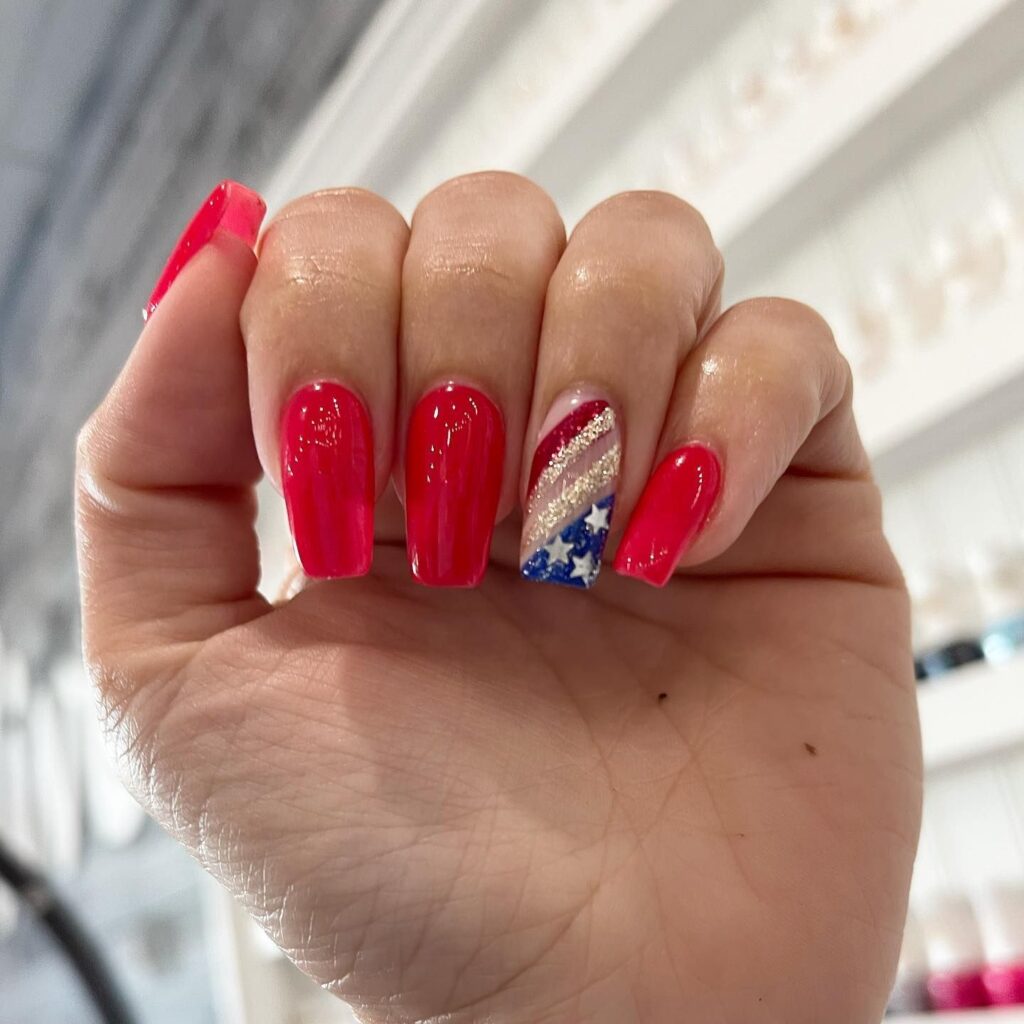 Put some stars and stripes on an accent nail! Simply make the white stripes with some glitter nail polish and the stars with stickers! Easy to do but such a fun manicure!
14. Black Tips With Stars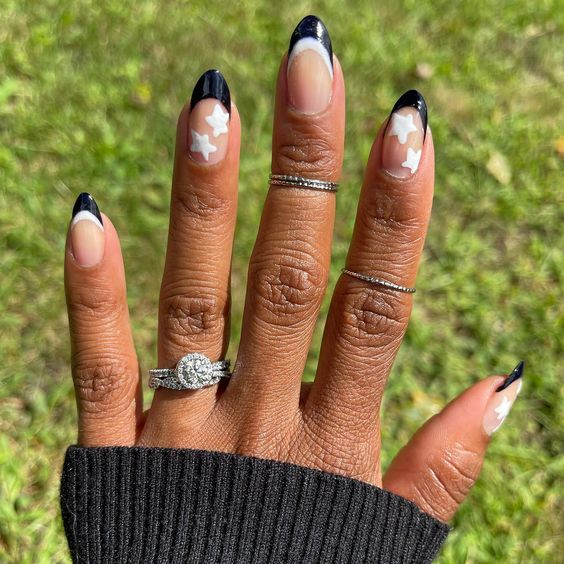 Image via @lecame.shesaw.shepainted
Stars scream patriotic no matter the color scheme you're using. If you're more of a black and white girl than a red, white and blue girl, you don't have to stray from your favorite color palette. Just do a chic black French tip and add some stars.
Colors used: Olive and June E+M, HD and Stellar
15. Red & Silver Glitter 4th of July Nails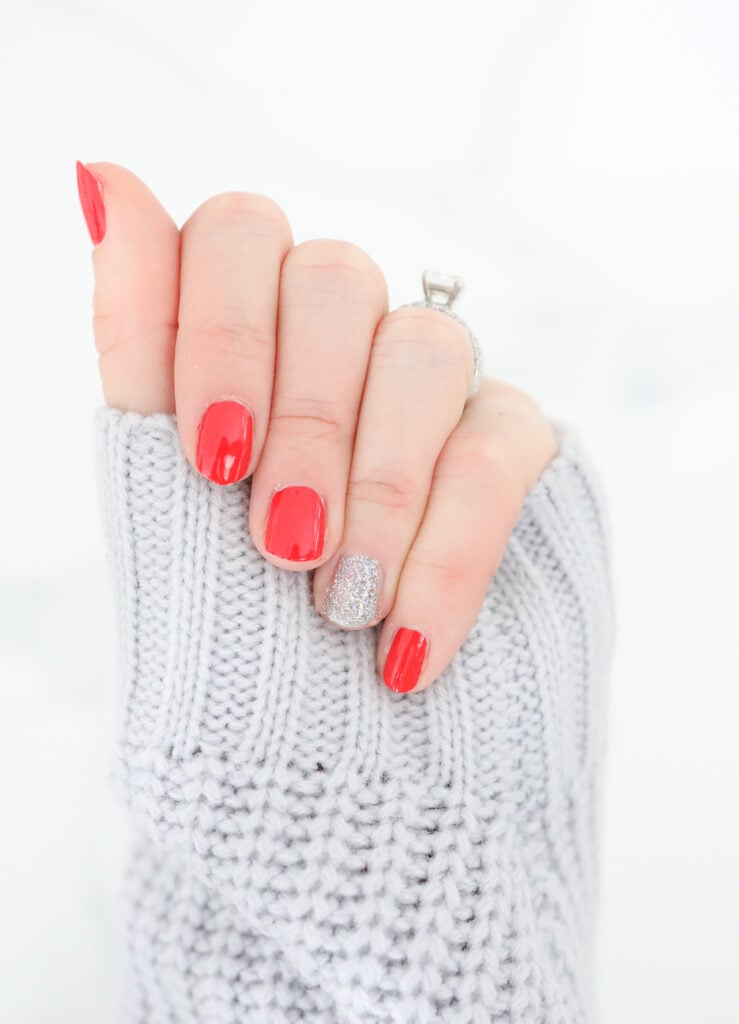 Fourth of July manicures need a little sparkle — just like fireworks! Go with a solid mani in red or blue and then add a glitter accent nail.
The red is ES and the glitter is Exclamation Point (probably one of the best glitter polishes I've ever used!) from Olive and June.
16. Red White and Blue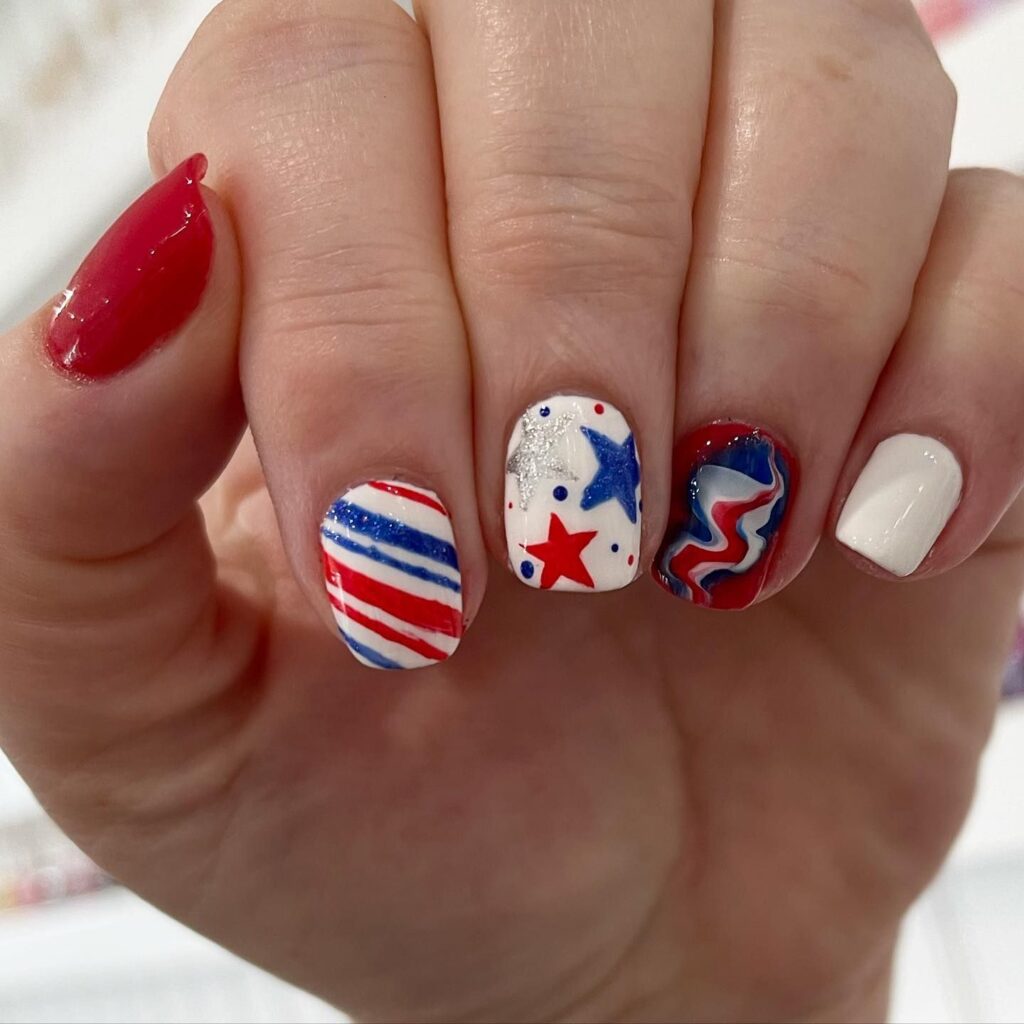 There are so many fun patriotic manicures you could do; why try just one? By mixing and matching the designs on your nails, you don't have to choose your favorite.
You can do as many or as few designs as you want — just paint the other nails solid red, white or blue!
17. Accent Nail Star Thumb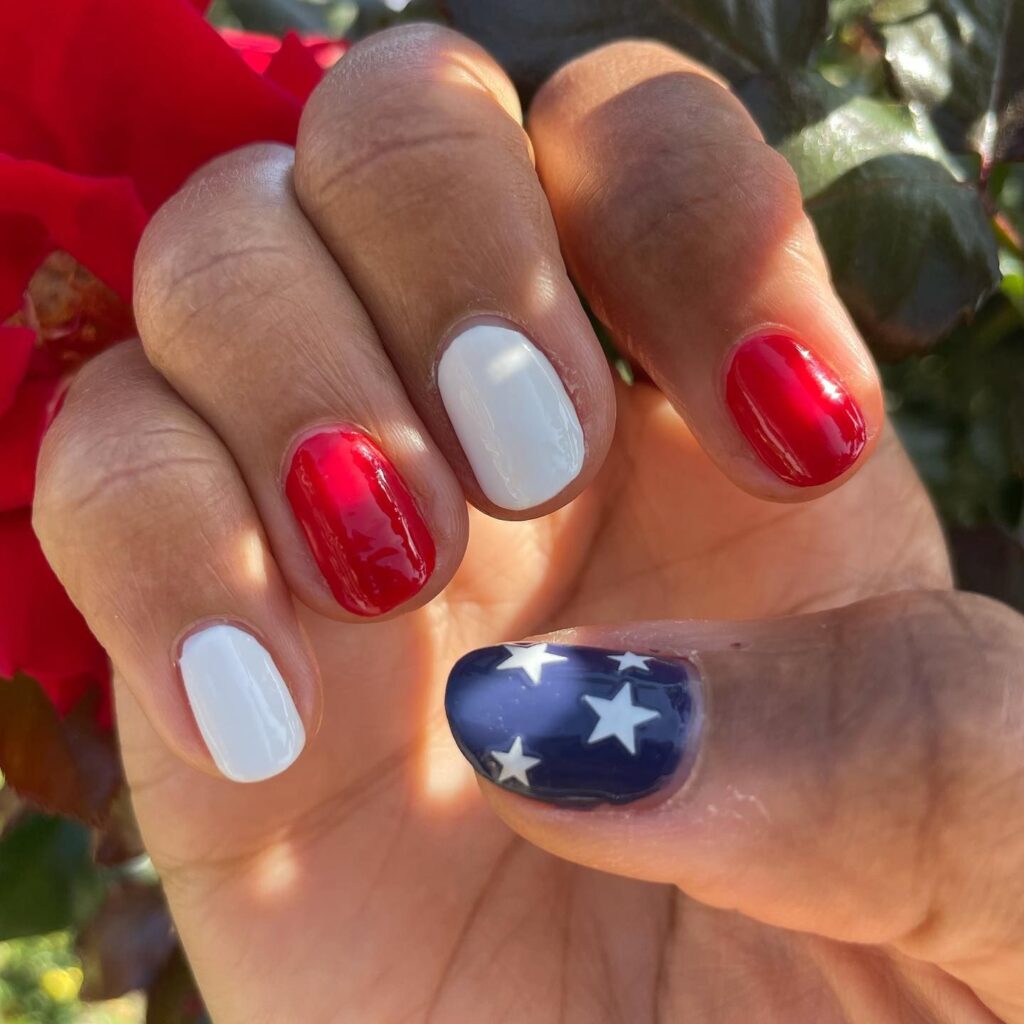 This adorable mani with the stars on the thumb looks like American flag nails, with the stars on one side and stripes on the other. When you wave, the flag will be waving too!
I hope you loved all of these fun patriotic nail designs! Want even more? Head to my 4th of July nails here!
Interested in Olive and June? Read my Olive and June Review or my blog post on how to use a manicure system at home!
Looking for more nail design ideas? Try these: