If you've been around my part of the internet for any period of time, you know I'm slightly obsessed with the nail polish brand Olive & June.
From the fierce CEO of Olive & June, Sarah Gibson Tuttle otherwise known as SGT, to their ever changing palette of colors to their constant innovation and introduction of new products, it's no wonder I'm in love with them!
I've been using a variety of O&J products for 3+ years now. I've always loved painting my nails so when I discovered their line of nail polish and tips for the perfect at home mani, I was hooked.
But today we're not going to talk about their polish – you can find that review here!
Today, we're going to talk about one of their newest products – Olive and June Press On Nails!
For those of you who want a foolproof manicure in minutes, this is for you!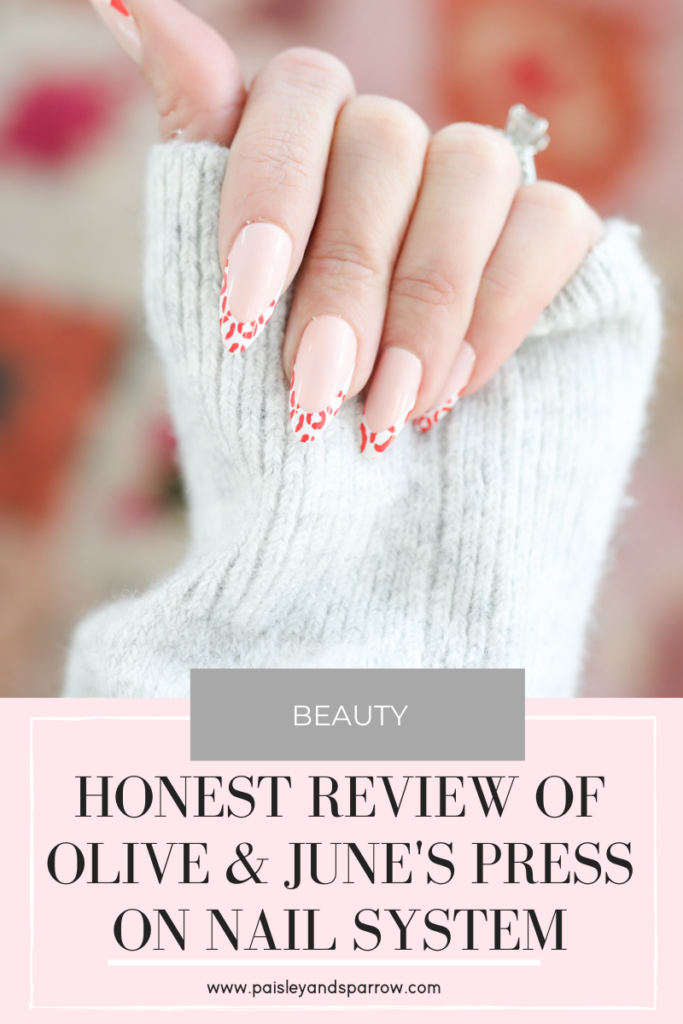 This post contains affiliate links.
*I was gifted the Press On System but all thoughts are my own!
Olive and June History
Olive and June was started in 2013 by Sarah Gibson Tuttle, a former JP Morgan equity sales trader in New York. She moved out to California for a better work life balance. (As someone who's married to a former hedge fund guy who quit for a better work life balance, I totally get this!)
When SGT moved out to LA she couldn't find a nail salon she like so that's what led her to start Olive & June! She loved everything about Los Angeles except the fact that she didn't have a spot to get her nails done!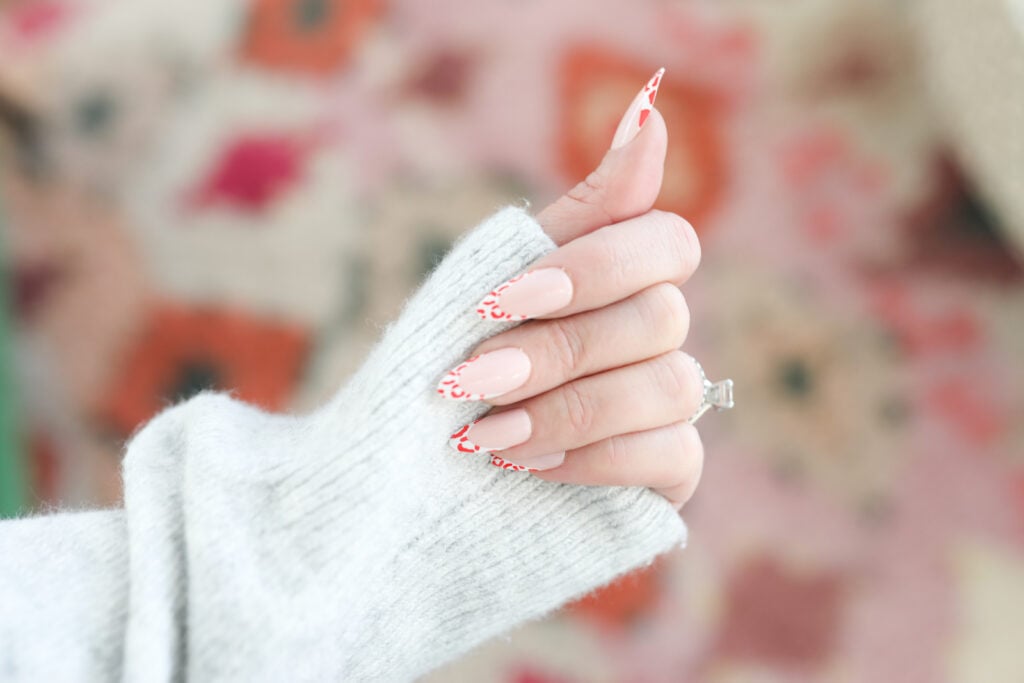 She wanted to create a beautiful spot that woman could get beautiful nails without the high prices. A spot that felt like you're going to your best friends house for a fun little mani party.
Along with the salon, she also created a polish that was clean, lasted 7+ days and easy to apply. All of their polish is 15 free (free of toxic chemicals), vegan, and cruelty free with real staying power.
Her polish was actually created for people like me – who wanted to be able to get the perfect mani at home! It's the first polish to be created just for the consumer, not the salon.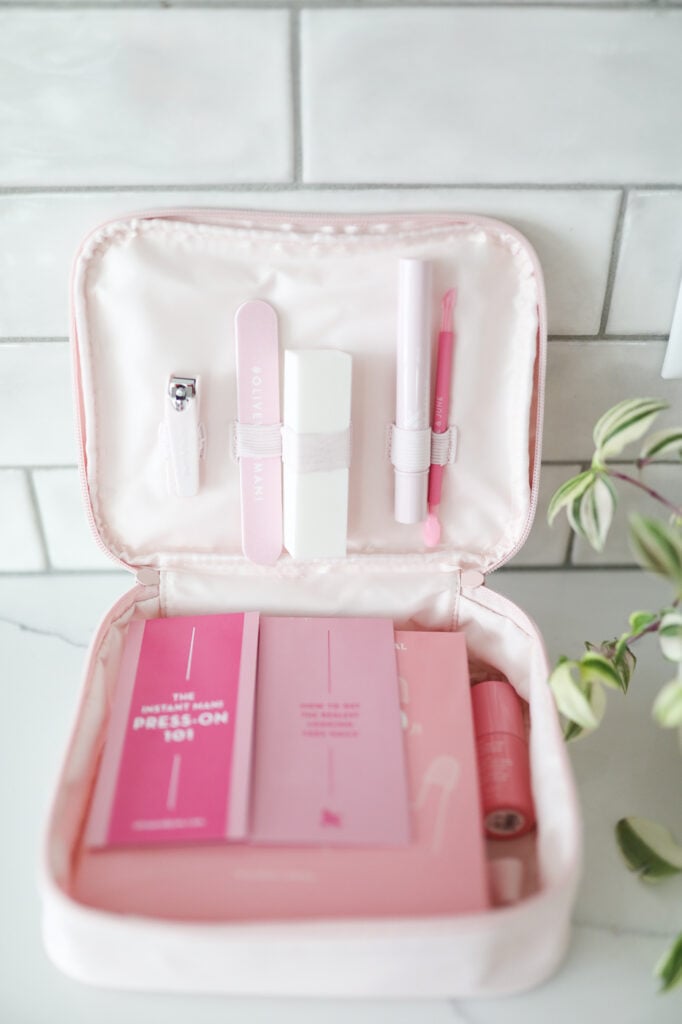 Her latest product is press on nails! But these aren't your regular run of the mill press ons, in true O&J fashion, they're better than just about any press on I've ever seen. It's the easiest way to get an instant mani!
Let's review.
Olive and June Press On Nails Specifics
One of the best things about Olive and June Press On Nails is the sheer number of nails inside each kit. Every kit comes with 42 nails in 21 different sizes making it easier than ever to find the perfect size for your real nails!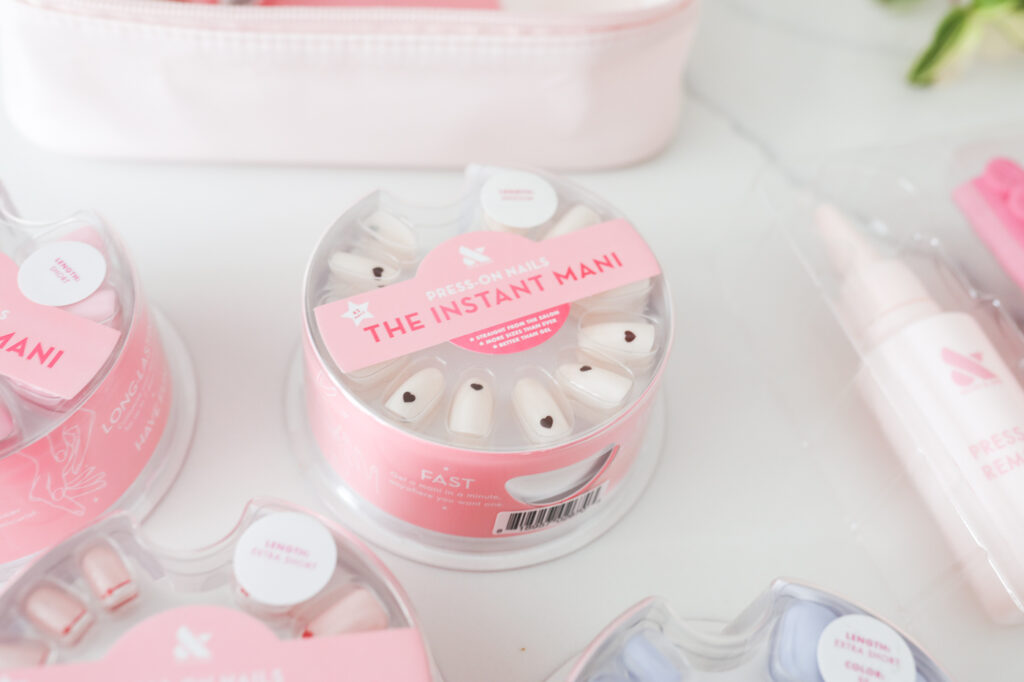 The O&J team knows that not every person and every nail is the same so they added more sizes than any other brand to ensure you find the proper fit.
Their nails are also made with 94% post-consumer recycled material (PCR) and the nail included is non-toxic.
SGT spent a long time (2 years!) researching what type of press on nails were out on the market already, what was missing and what felt perfect for O&J. One thing that was important to her was to ensure your nail wasn't ruined from your O&J press ons!
A non-toxic nail glue helps keep your nails healthy and strong. Couple that with using the Olive & June Strengthener polish before applying your nails and the amount of damage done is minimal if not non-existent.
The also have a number of different sizes and a variety of shapes! As someone who prefers short nails, I love this. They have:
Extra-short Length
Short Length
Medium Length
Long Length
They also have 4 different shapes to choose from:
Squoval
Round
Oval
Almond
Olive and June Press On System
I did my first few rounds of press on nails without the Press On System. However, once I got the Press On System I quickly realized why it's worth getting especially for the removal kit!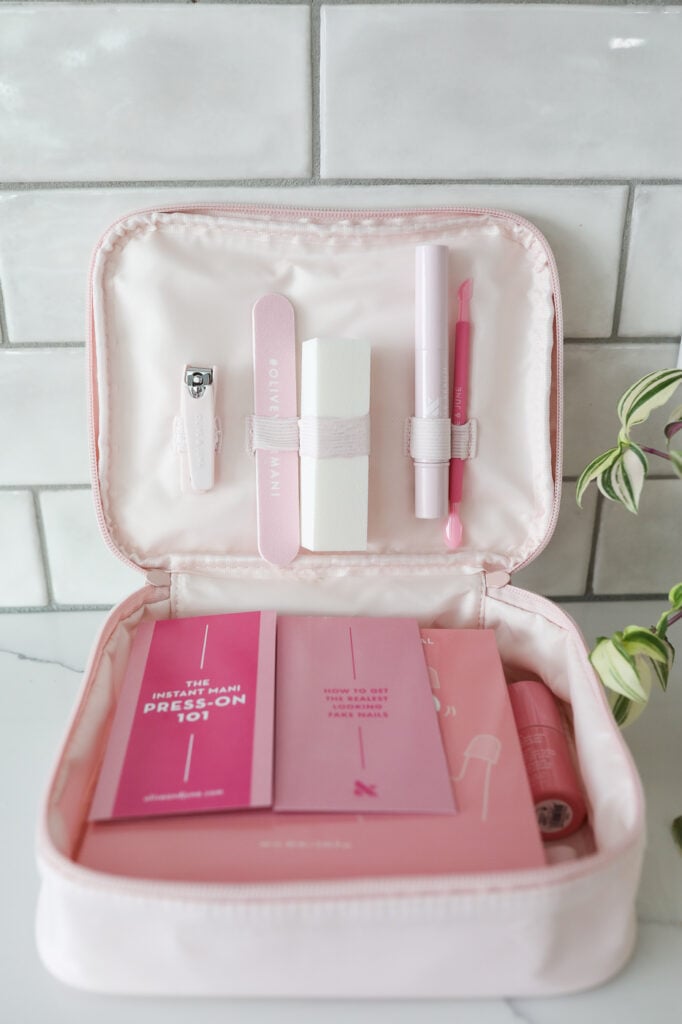 Here's what comes in the Press On System:
Press-On Nails of your choice
Carry-All Pouch
Straight-edge Nail Clipper
Dual-grit Nail File
Salon-quality Nail Buffer
Gentle Mani Cuticle Pusher
Award-winning Cuticle serum
Nail Strengthener for healthy nails
Removal Kit for easy + clean removal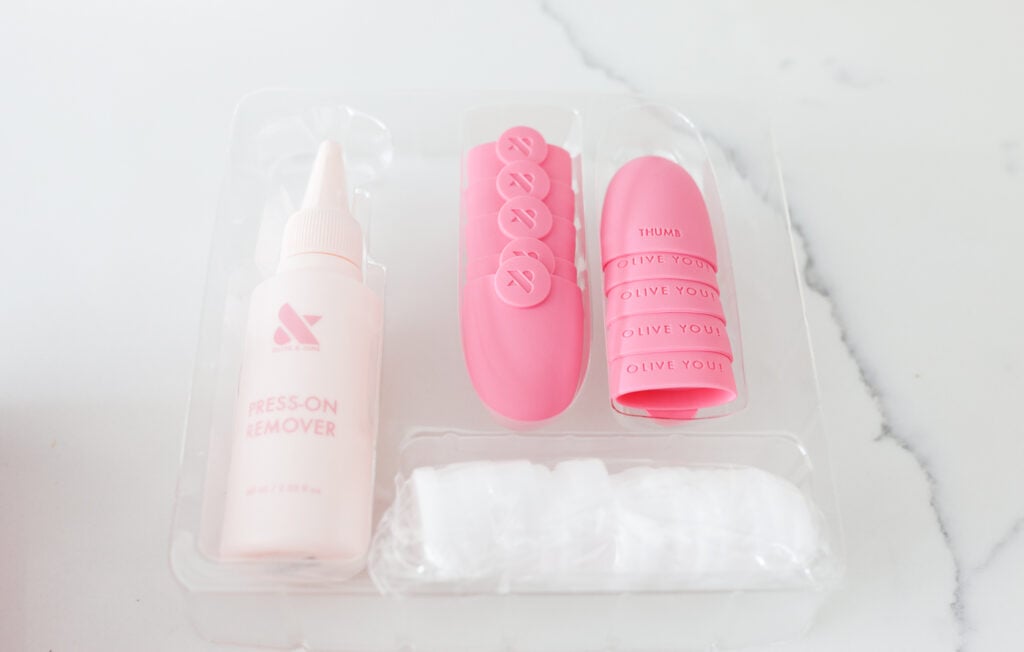 How to Put On Olive & June Press On Nails?
Prep Your Nails
One thing I love about Olive & June is that they're so good at teaching you how to do things. I learned so much from them about how to have the perfect at home mani with polish.
In the same vein, they teach you exactly what you need to know to put on your press on nails with success! Here's how to do it.
First find the right size nails. Each nail is actually numbered to make it super easy! Make sure the number side is toward your cuticle. You want to find a nail that covers your nail but isn't too tight.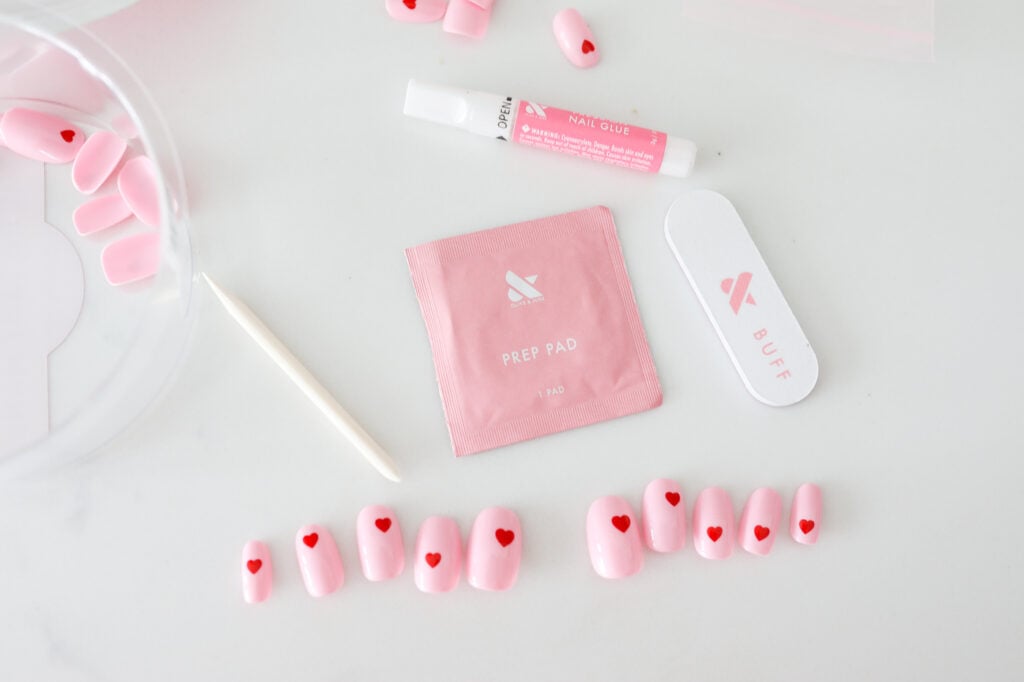 Start by trimming your nails to a short but comfortable length. You want to do your best to ensure the press on nail covers your real nail. Then file your nail to finish. Buff the top of your nail slightly.
After that, use the prep pad! Thoroughly wipe down each nail.
Next, using the cuticle pusher (either the one in the kit or the wooden cuticle pusher that's included in the set of nails) or your thumb's nail, gently push back your cuticle to a straight line. This will help the press on to look more natural!
Follow that with a layer of O&J's nail strengthener. This helps your nails continue to be healthy and help the glue stay on!
Apply the Nails
You can do this for either short term wear or long term wear.
For short term wear, simply put one line directly on your nail followed by your press on nail.
For long term wear, put a dot on your press on nail first. Then cover your actual nail with glue. Wait 30 seconds, then put on your nail holding for 5 seconds.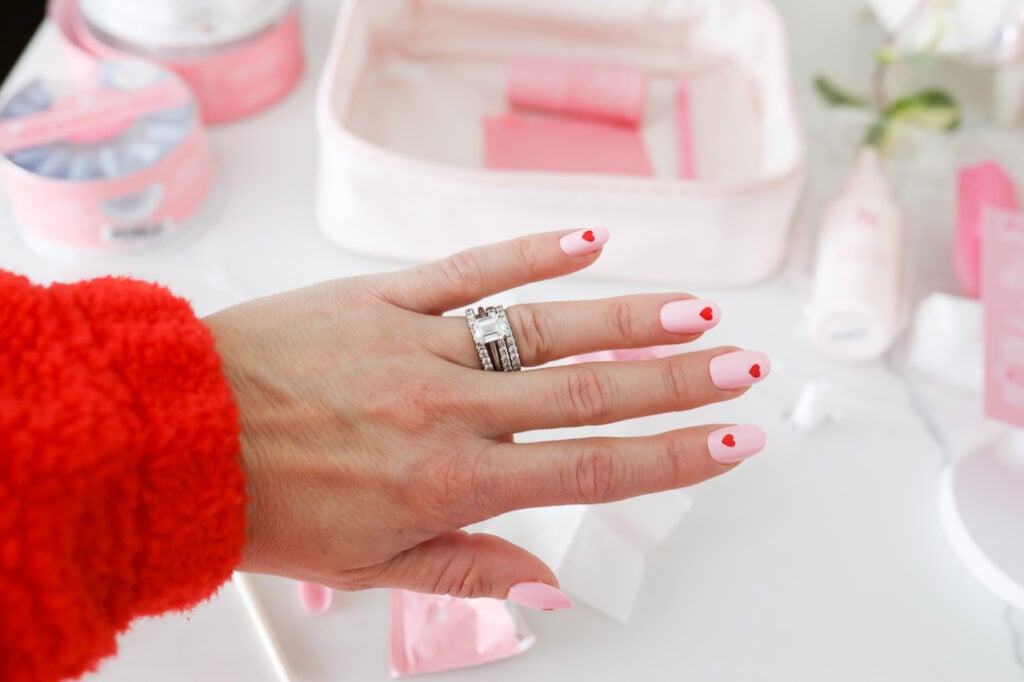 One thing I love is YES, you CAN trim them! Wait an hour and then very gently and carefully trim your nails. Just go slow!
Finish it by filing to give them a natural look. Always complete the look with Olive & June's Cuticle Serum!
How to Take Off Olive & June Press On Nails?
The removal process will depend on how many days of wear you're on. You want to be careful to not ruin your own nails so did pay attention!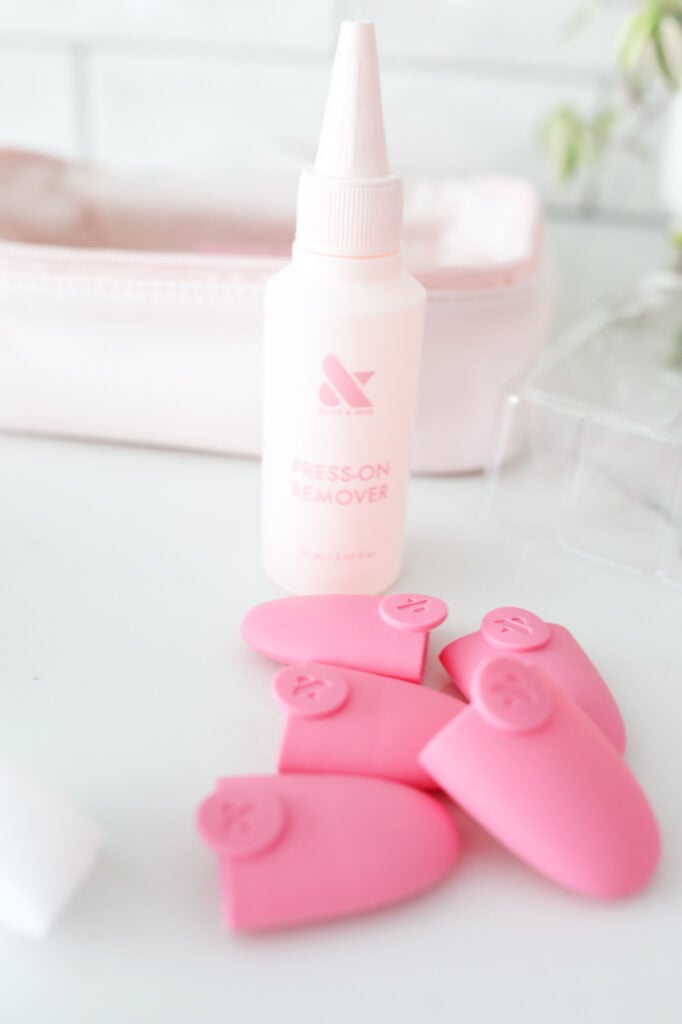 If you've had your nails on for 5-6 days you can just soak your nails in soapy water and gently pop them off your natural nails.
However, if you've had them on for just a couple days, using Olive & June's press on removal system makes getting your nails off so easy! I highly highly highly recommend getting it.
Using the removal system is so easy. First, you'll want to file down the top of your nails and trim back your nail.
Soak the pad with some of the press on remover and slide them into your cap. Put your cap on your nails, wait a 5-10 minutes and slide them off. If the nail slides off to your good to go. If not, put the cap on for a little bit longer!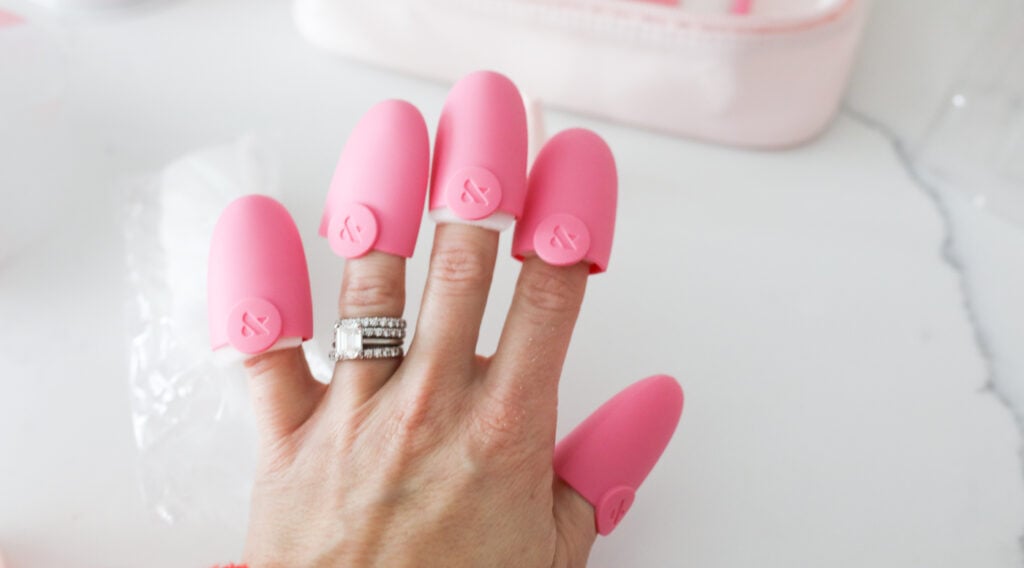 My Honest Review
I'll be frank with you – I am NOT a fake nail kinda girl. I've tried a bunch in the past and I only keep them on for an hour because of how annoying they are.
However, I honestly really like these! Most fake nails, including most of Olive & June's are too long for me (I like short nails!) but I really like how I can trim these up easily and still have them look natural. Doing this has allowed me to wear my press ons for a few days rather than want to rip them off immediately!
Remember – you can file your press ons! Trim them little by little (plastic is much harder to trim than your real nail) and finish by filing. That will help them look more natural.
I do sometimes just put on the longer nails for a day because I like the look of them! I haven't figure out how to remove my contacts with the long nails on yet so I always trim them of remove them before bed.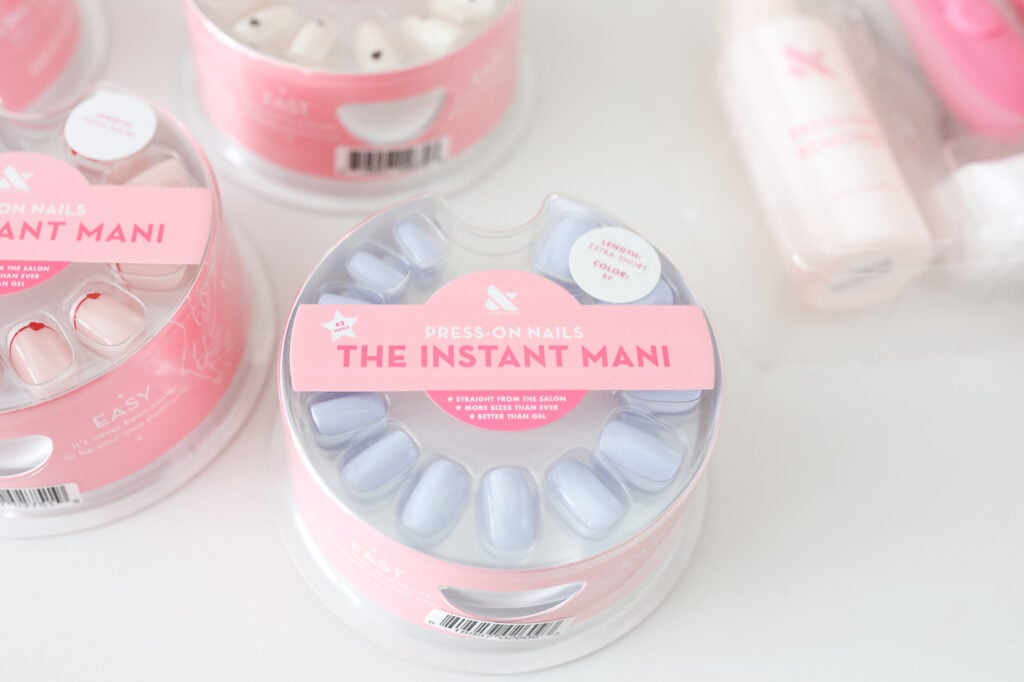 Some people I know say that the nails are too hard or rigid. I've never worn a nail that's more soft or flexible than this but I do know that they're created hard for longer wear. Just something to keep in mind if you're a press on nail connoisseur! 😉
I also like that you can paint these and they still look natural! If you want one nail a different color, you can easily paint over the press on. Just remember to put a layer of the top coat on!
Overall, these are the best press-on nails I've ever tried.
So should you try them?
If you're someone who likes fake nails or would like to some, then definitely yes! It's fun to easily put them on and remove them whenever you want with ease. They're also great for a special occasion or trip!
However, if you're not a fake nail kinda girl and love polish, than just stick to the polish! Olive & June has truly the best polish around (find my Olive & June review here).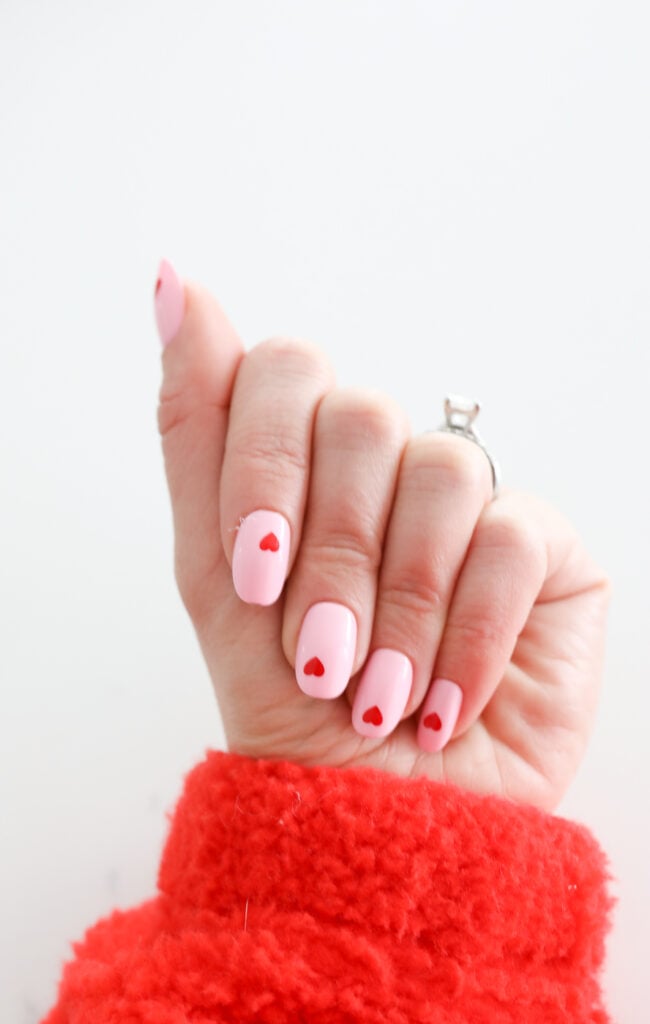 As I wrap up, here's a few FAQ for you.
O&J Press-On FAQ
How long do O&J Press Ons last?
I can't say with full certainty because I usually remove them after 2 or 3 days but they should stay on for 7 days if you apply them for long term wear (with the dot of glue on the press on and your nail covered in glue).
Are Olive and June Press-On nails reusable?
Yes! If you soak them in soapy water to remove them than you can most definitely reuse them. If you use the press on removal system to remove them then you won't be able to.
Where can I buy O&J Press-On Nails and is there a coupon code?
Head to Olive and June's website and use the code JenB20 for 20% off your Press On System (or any system!)
While I will likely stick to polish for most of my at home manicures, I do love the option of press-on nails for beautiful nail art or flawless nails.
Happy Manicuring!
Check out these Olive & June posts
Looking for nail ideas? Try these:
And try out one of these different nail shapes while you're at it!