If you're looking for white french nail designs, look no further! But just because you're going with the white tip doesn't mean you only have one manicure option!
There are lots of ways to customize a white french tip to make it fit your style and the occasion!
Here are some french nail design ideas for your next mani!
Many of the designs below are from Olive and June. I've been using Olive & June for years – check our my Olive & June review (plus a coupon code) here!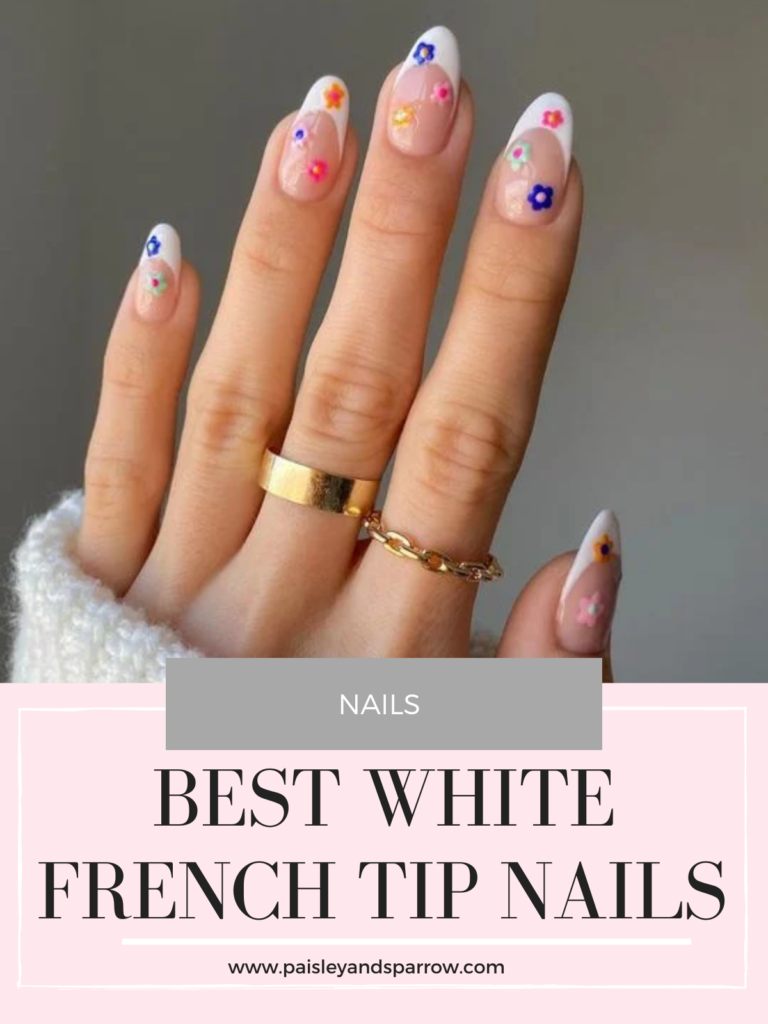 White French Nail Designs
1. White Iridescent Tips with White Heart Accent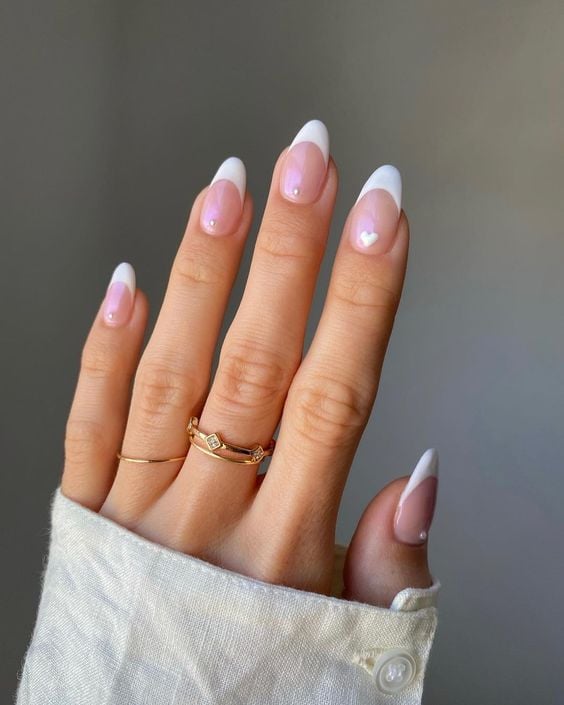 Make your classic french tip nails a little sweeter with small dots at the base of each nail — and a small heart on one. Top it off with a very pearly top coat for classy, cute nails!
Using Le Mini Macaron Pearlescence
2. Textured White Tips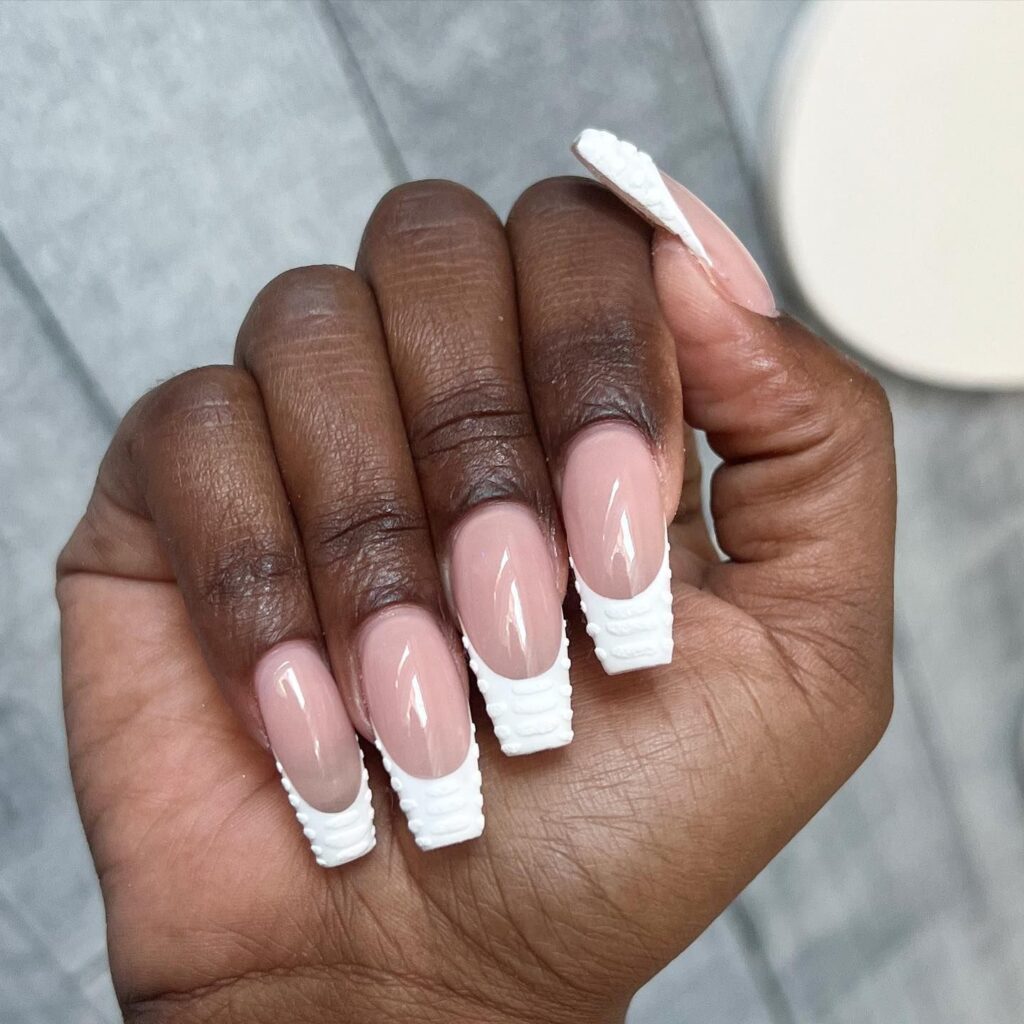 The texture of these nails is so cool! From far away, it looks like the simple classic design, but get closer and you'll see it's a much more chic and modern look with the additional patterns in white. This look is best for longer nails so you have enough space to make an impact.
3. Short French Tip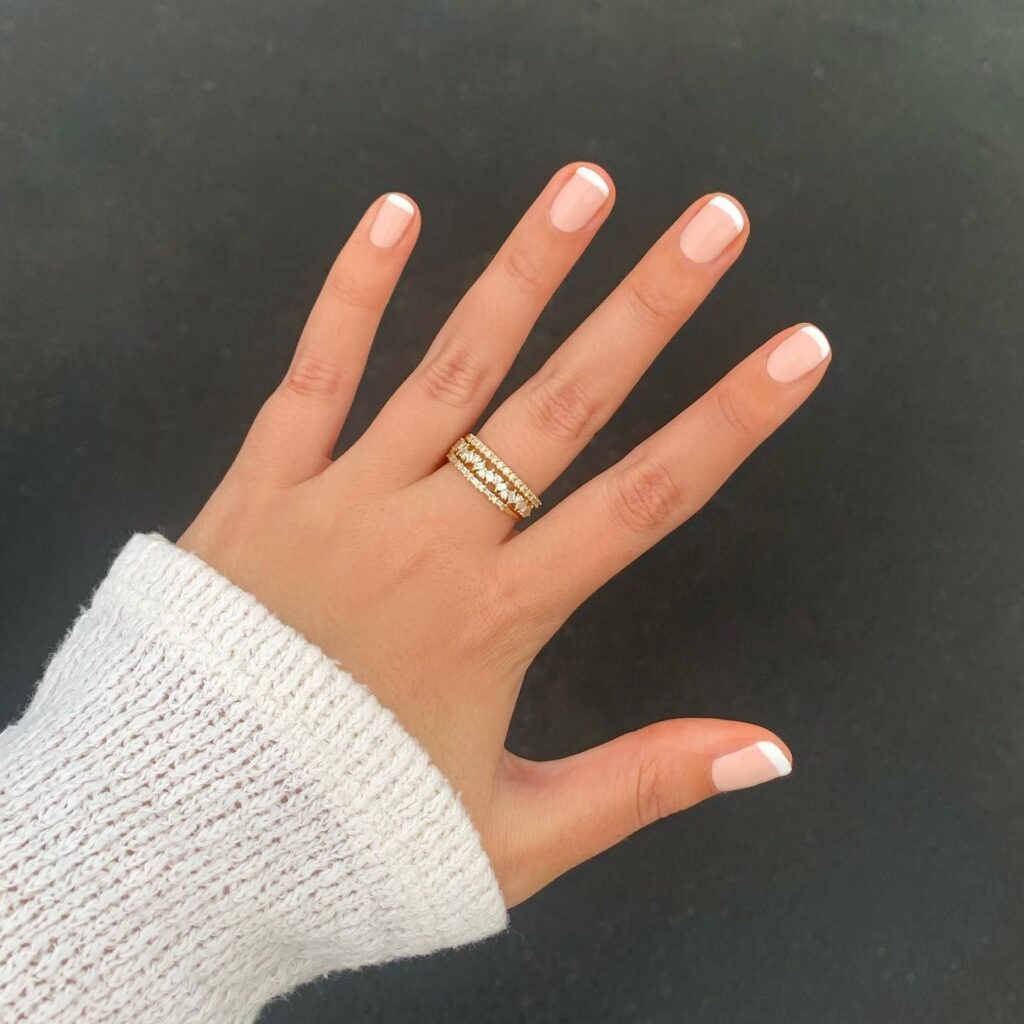 If you prefer short nails, this classic look is perfect for you. Choose press-ons for the flawless line at the tip of the nails, or use nail polish. Use a peachy pink for the base and a careful swipe of white nail polish on the tips.
4. White Tips with Cherries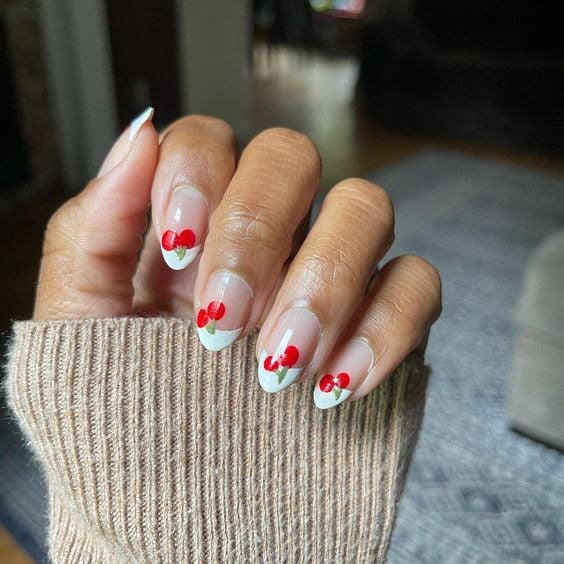 These little cherry french tips are just darling and easy enough for a beginner (plus the cherries can hide a not so straight line)! You can use a dotting tool or just a Q tip for the cherries and a tool or toothpick for the stems.
5. Black Heart With Gems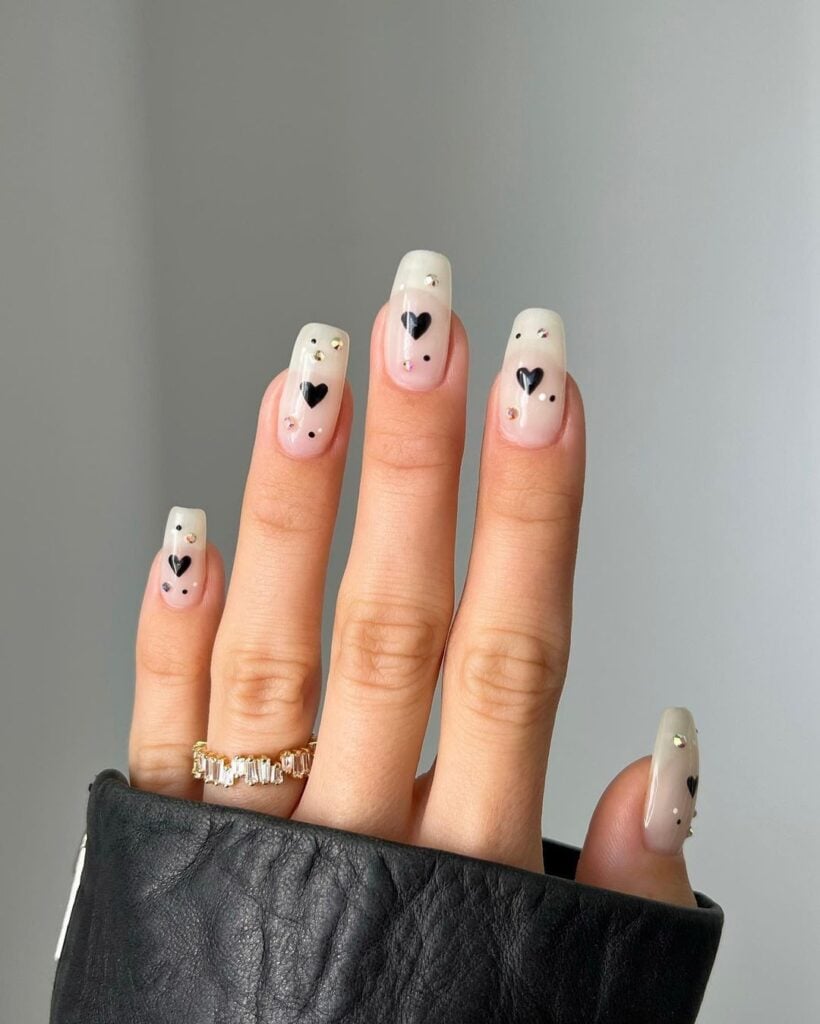 Just because you're going with french nail tips, that doesn't mean you have to keep it totally simple and plain! You can add jewels, polka dots, hearts, whatever you like! And mix up the base color — it can be more opaque than the traditional french manicure designs.
6. Red Heart White French Tip Nails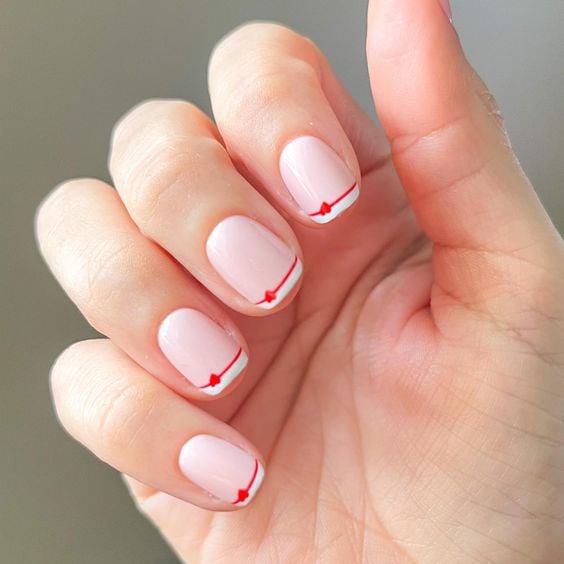 The best way to nail the french design at home is to use press-on nails! It's a super easy way to get those straight white lines and try different nail designs like this cute little heart. They're great for a special occasion or for everyday wear, and if you trim them short, no one will know they're not your natural nails.
Colors: Olive and June Press On Nails
7. White Checked Print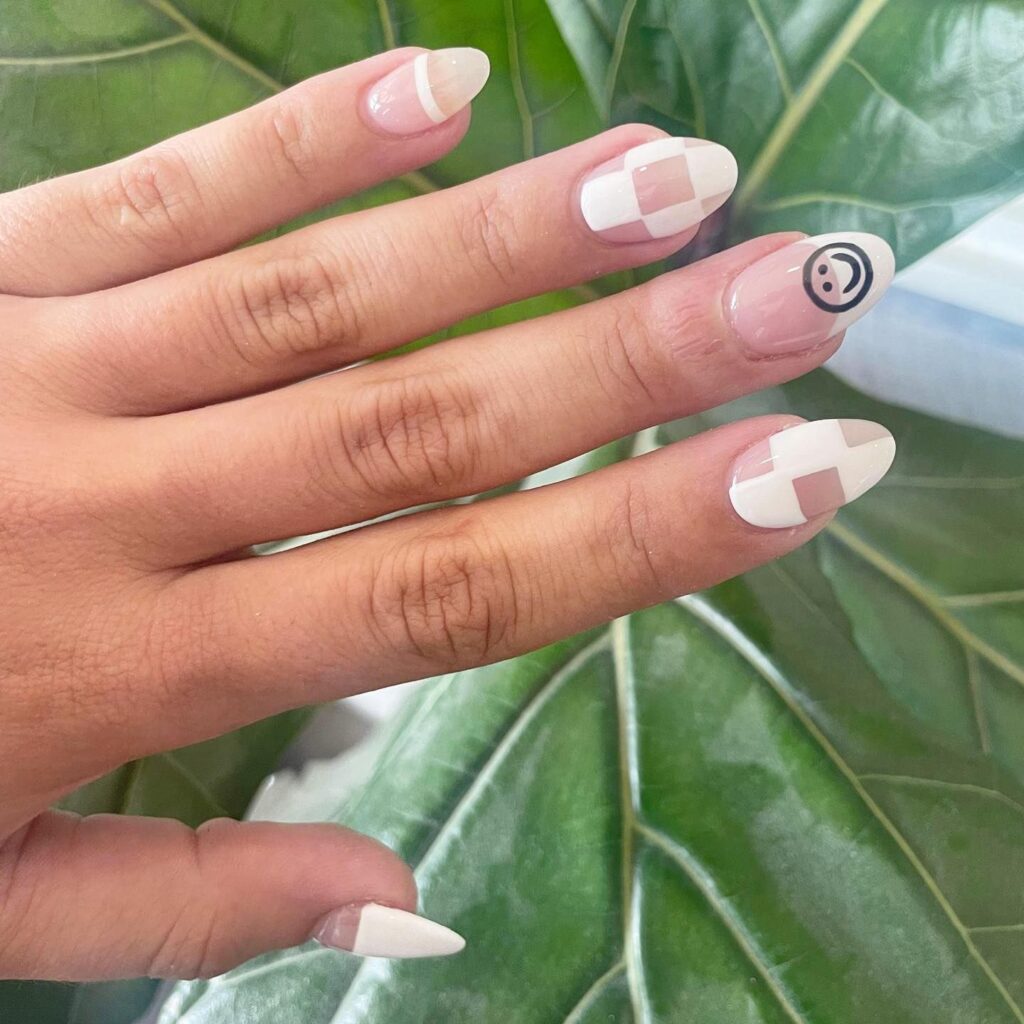 You can still get the overall look of French tips while expressing your unique style by using neutral base with white polish on top. These checkered nails have accent nails with three different takes on the French tip. Paint something cute on top of a traditional white tip (like a smiley face!), paint one white line instead of the whole tip, or extend your white tip much farther down your nail — any one of these will give you a unique look.
8. Orange and White Tips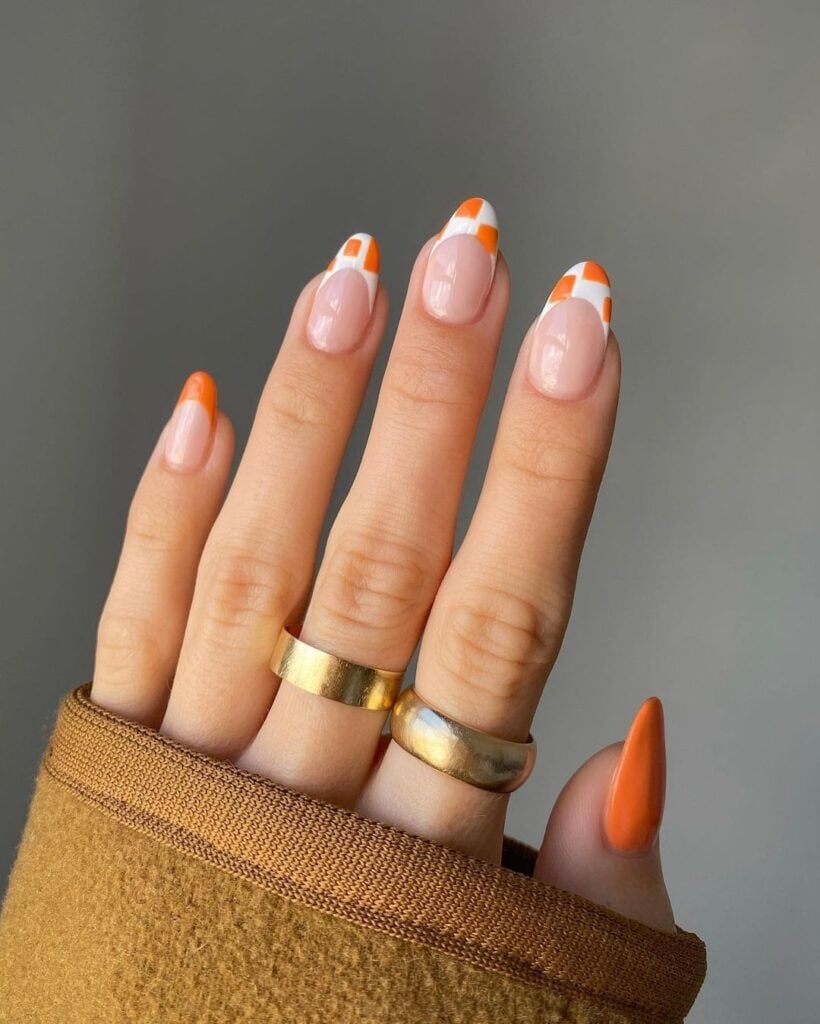 Add a bright color for a fun take on the traditional white tips! This orange stands out but is still classy!
9. Press On French Tip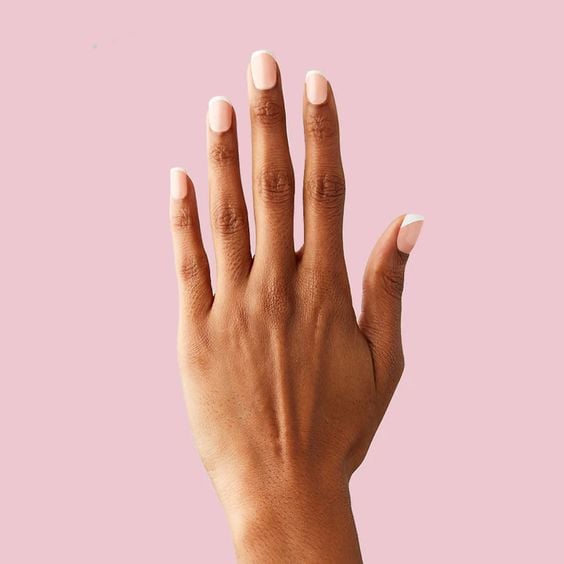 Another example of press-ons creating the perfect classic French manicure style! I've used Olive and June press on nails and love them! They're easy enough to do yourself and look good enough for formal events.
Find my full review of Olive and June press on nails here!
10. Brown and White French Tips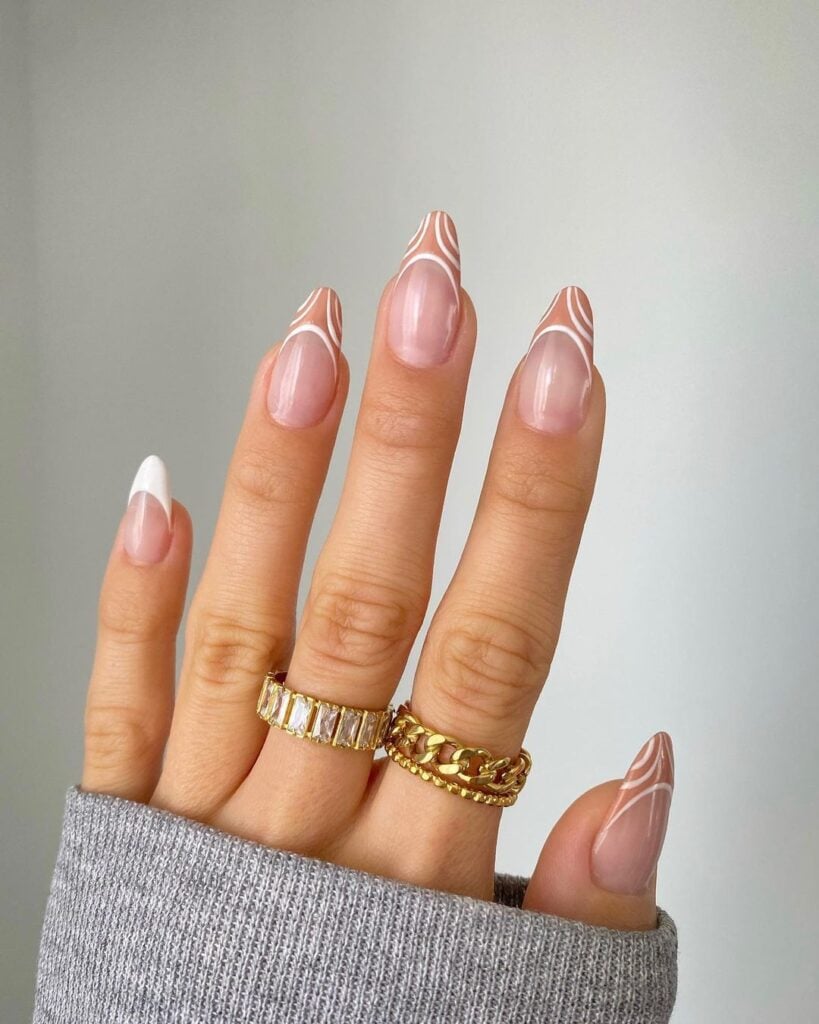 If you're looking for chic neutrals, this tan French tip with white accents is gorgeous. And the best part for DIY nail artists — you can do whatever abstract designs you want!
11. White with Gems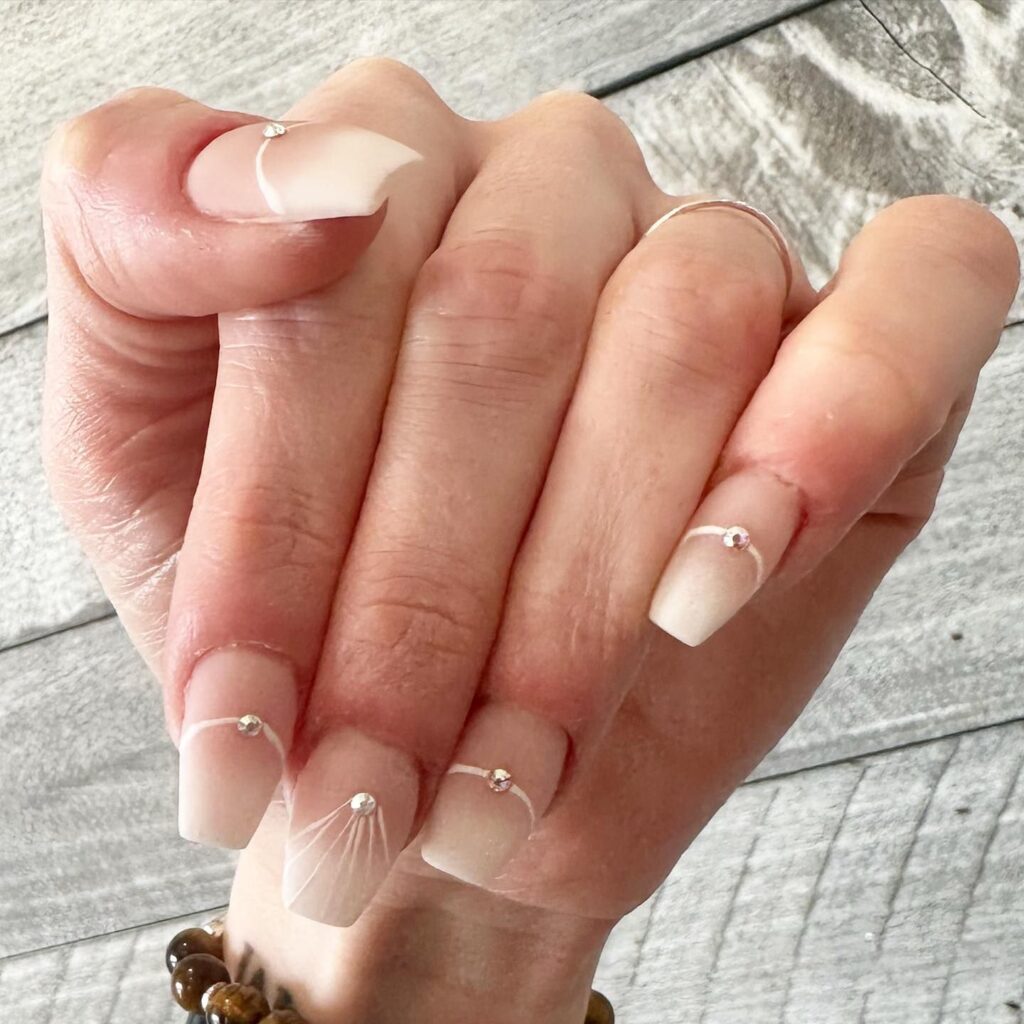 Glam up a simple nail with rhinestones or gems! You can do whatever pattern you want with your sparkle, but a simple white horizontal line is a quick easy manicure.
12. White Tips & Flowers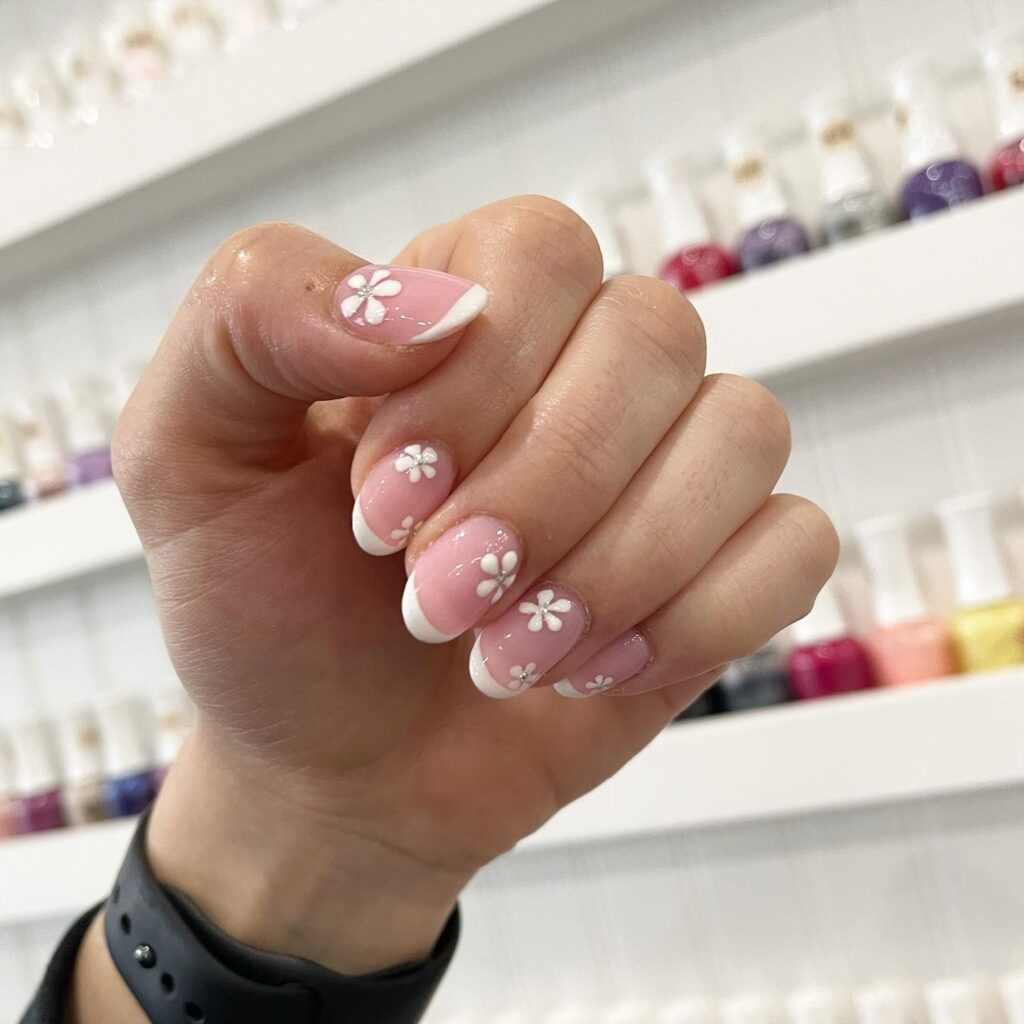 Why is this giving me 2000s Limited Too vibes?! (And I'm not mad about it!) Take the classic nail design (best with a sweet nude pink base) and add a daisy or two to each nail.
The easiest way to create this look is to use a dotting tool to make five little dots and then pull them toward the center of the flower with a tool or toothpick. Top it off with a little stone or dot of glittery polish.
13. White French Tip with Flower Accents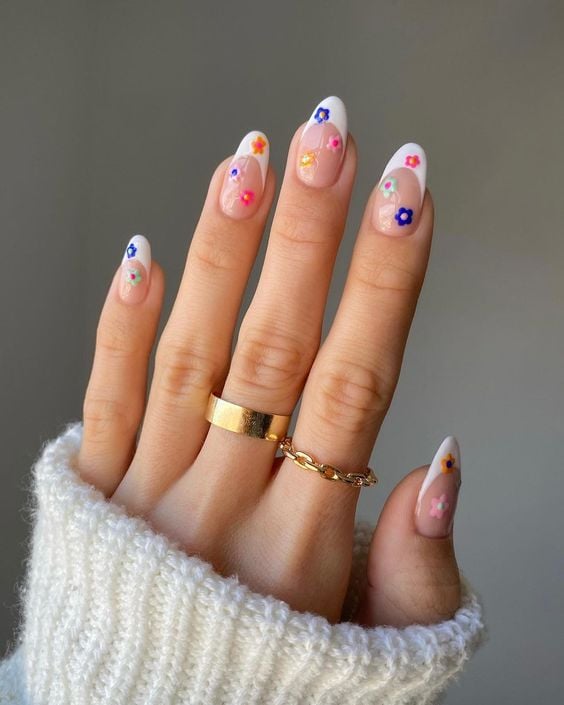 Bring some sweet color to your French manicure with retro-style flowers in bright hues! Pick a handful of colors, and mix and match the colors of the petals and centers.
14. White Heart Tips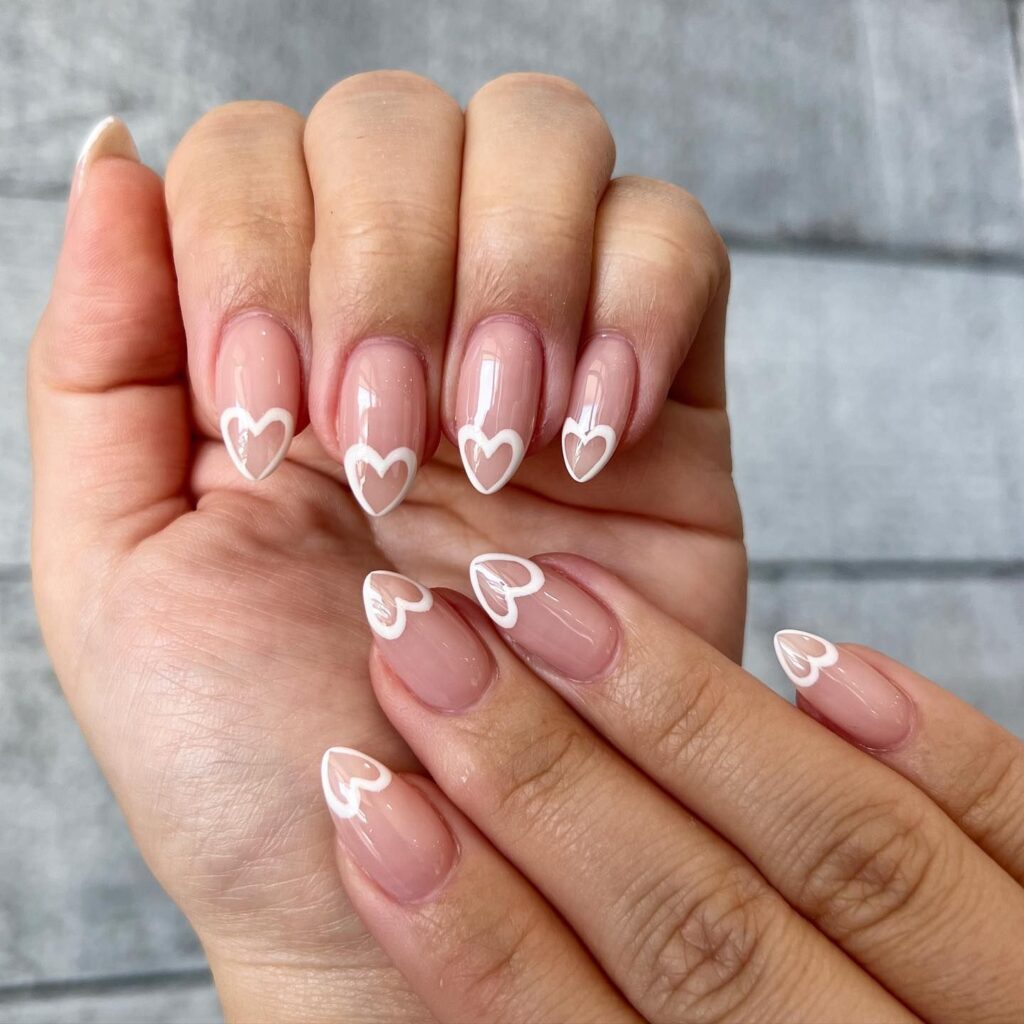 If you like the pointed nail shape, play it up with these adorable heart tips! Perfect for date night, Valentine's Day, or just when you're feeling a little extra love!
15. Zebra Tips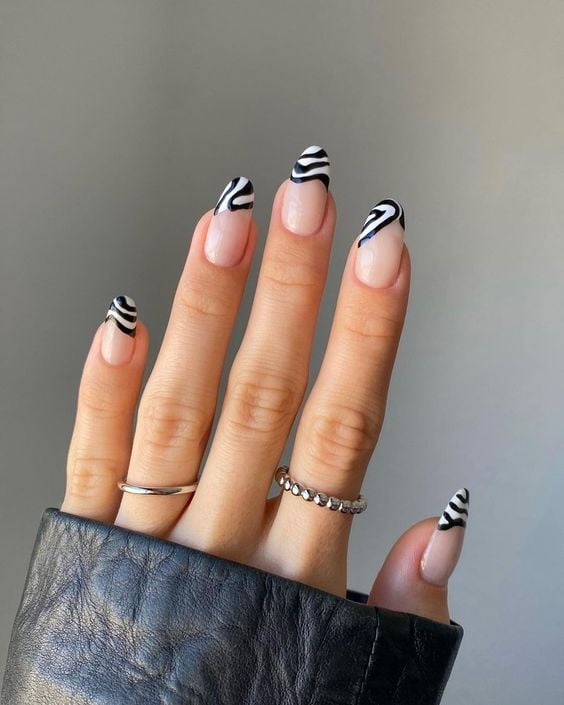 Whether you just want to try animal print or you can't quite get your white tip straight, this zebra print is a simple addition with a big impact.
Color: Le Mini Macaron licorice and milkshake
16. Snow & Snowmen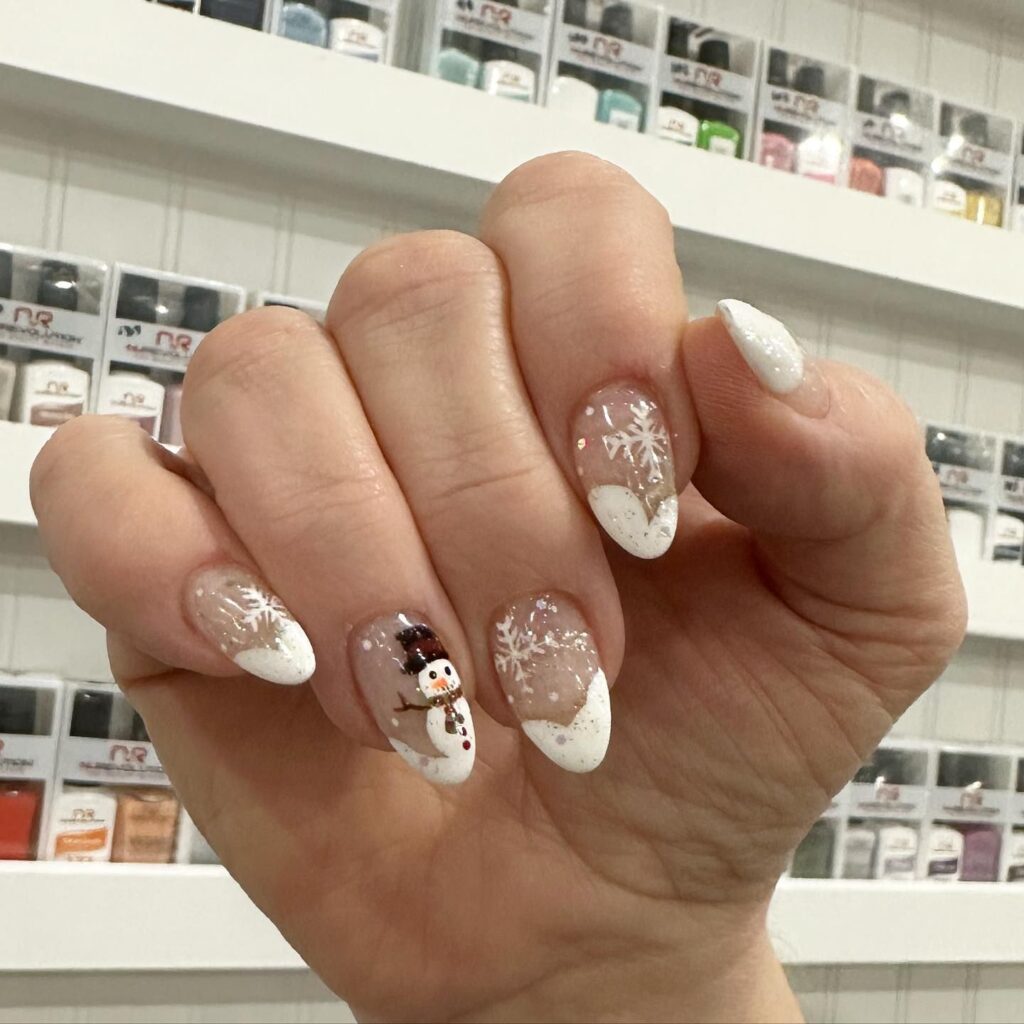 Bring a winter wonderland to your manicure by turning the white tips into snow! Add some snowflakes, glitter and even a snowman on your ring finger!
17. White Heart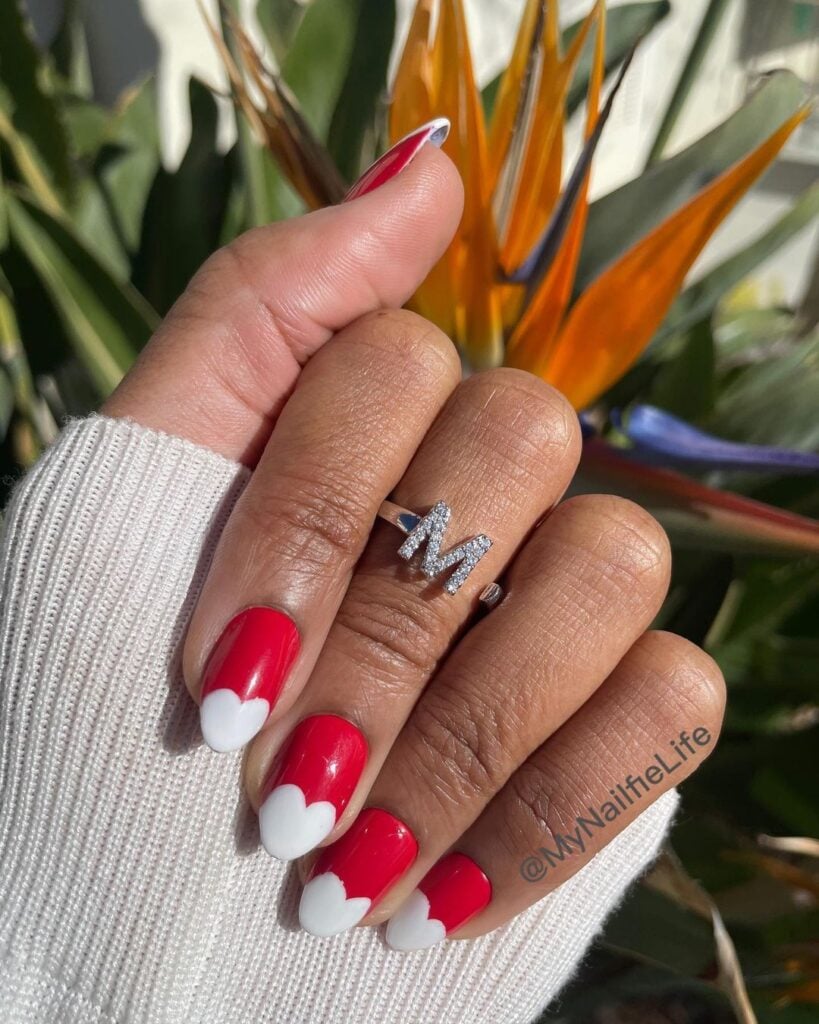 You don't have to have a neutral skin tone base for your white French tips. You can go bold with red! I love this cute take on the classic manicure, combining a bright base and subtle hearts on the tips.
18. Classic French Tip with All Over Gems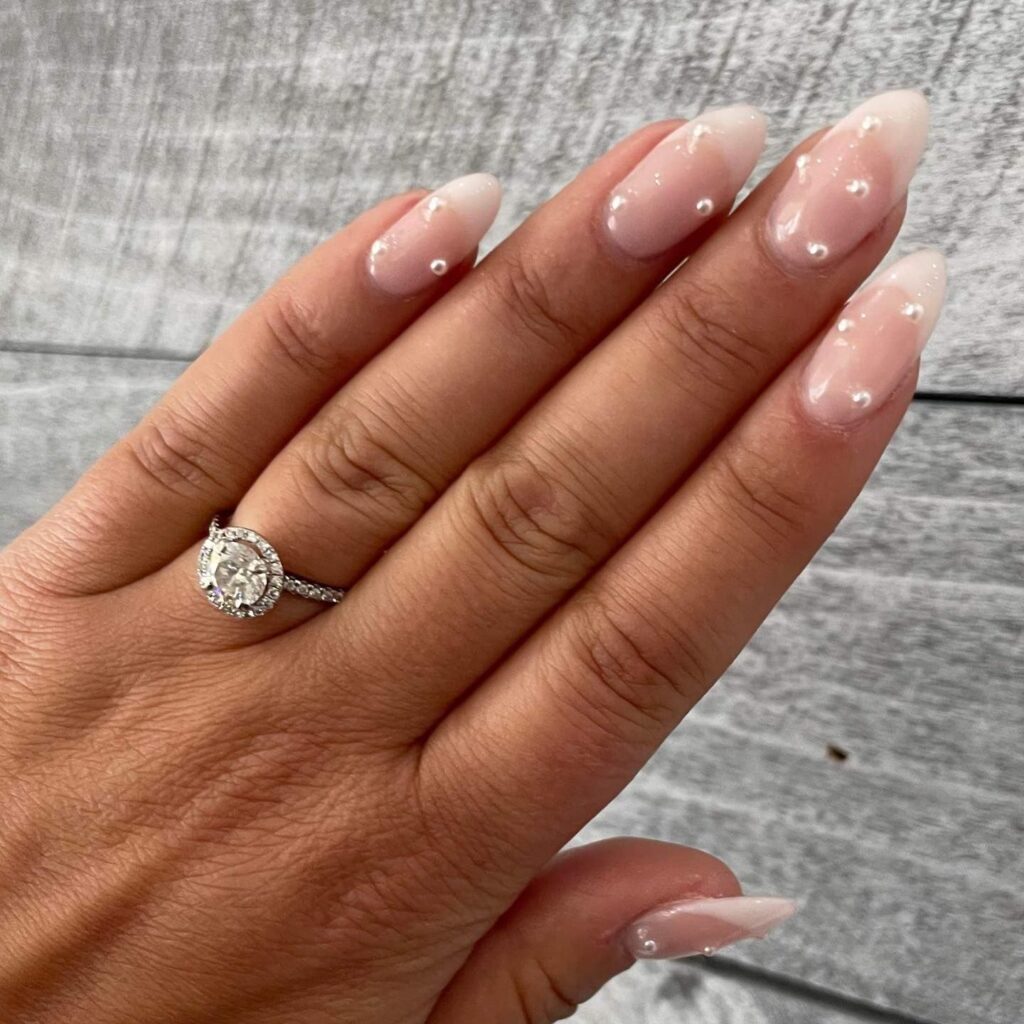 What's as preppy as a French manicure? Pearls! Add some tiny ones to your nails to dress it up a little bit!
19. White and Black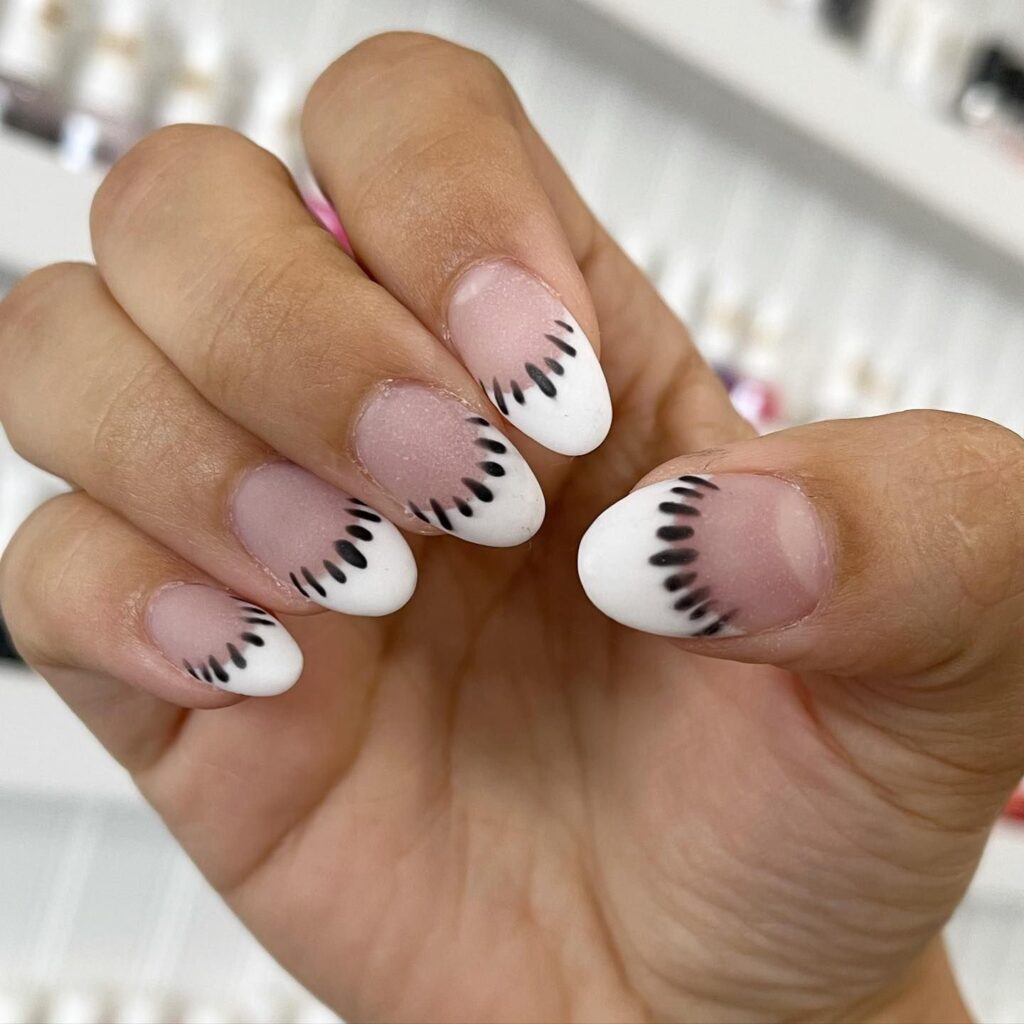 This is the easiest spooky manicure for Halloween season! Paint the tips white and add black stitch marks for a subtle Frankenstein look.
Check out other spooky and fun Halloween nails here!
20. Lace White Nails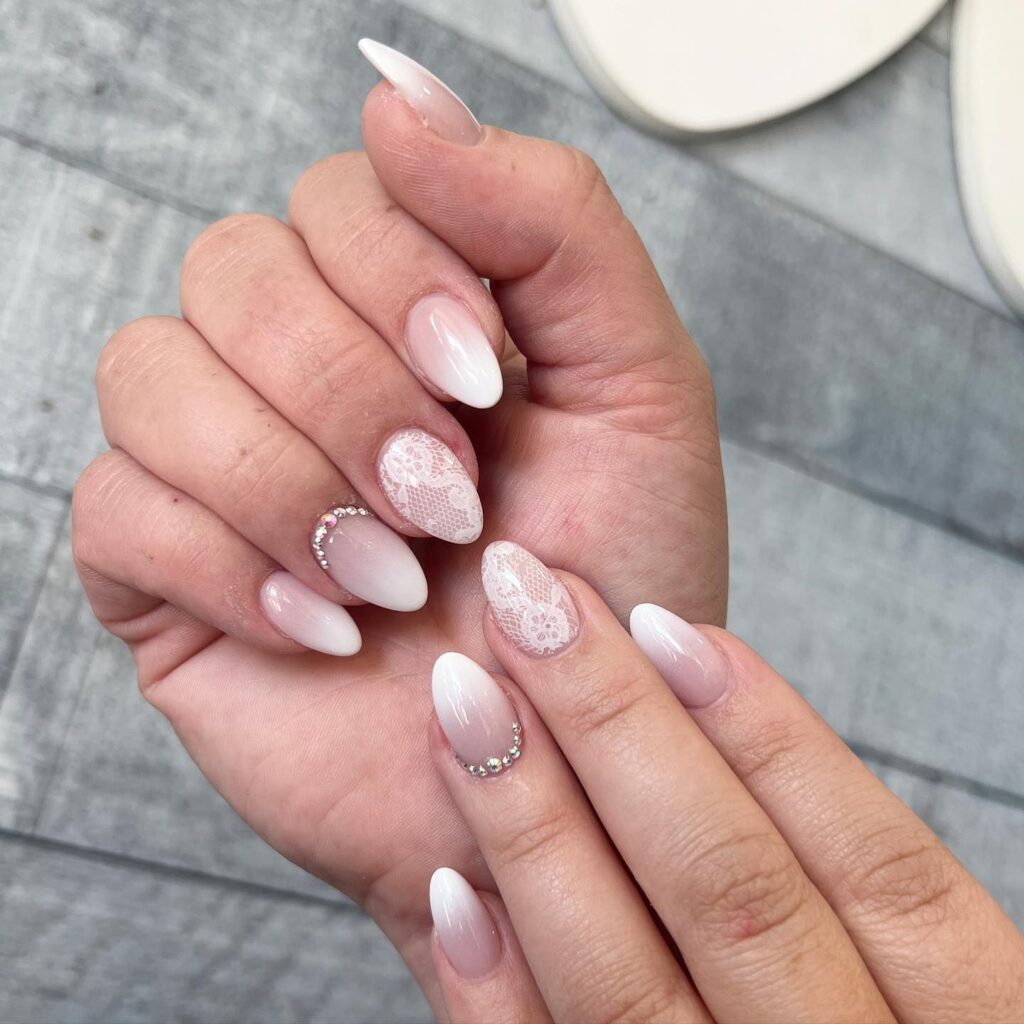 This is a beautiful wedding look with both delicate lace and a touch of sparkle.
21. White French Tip with Smiles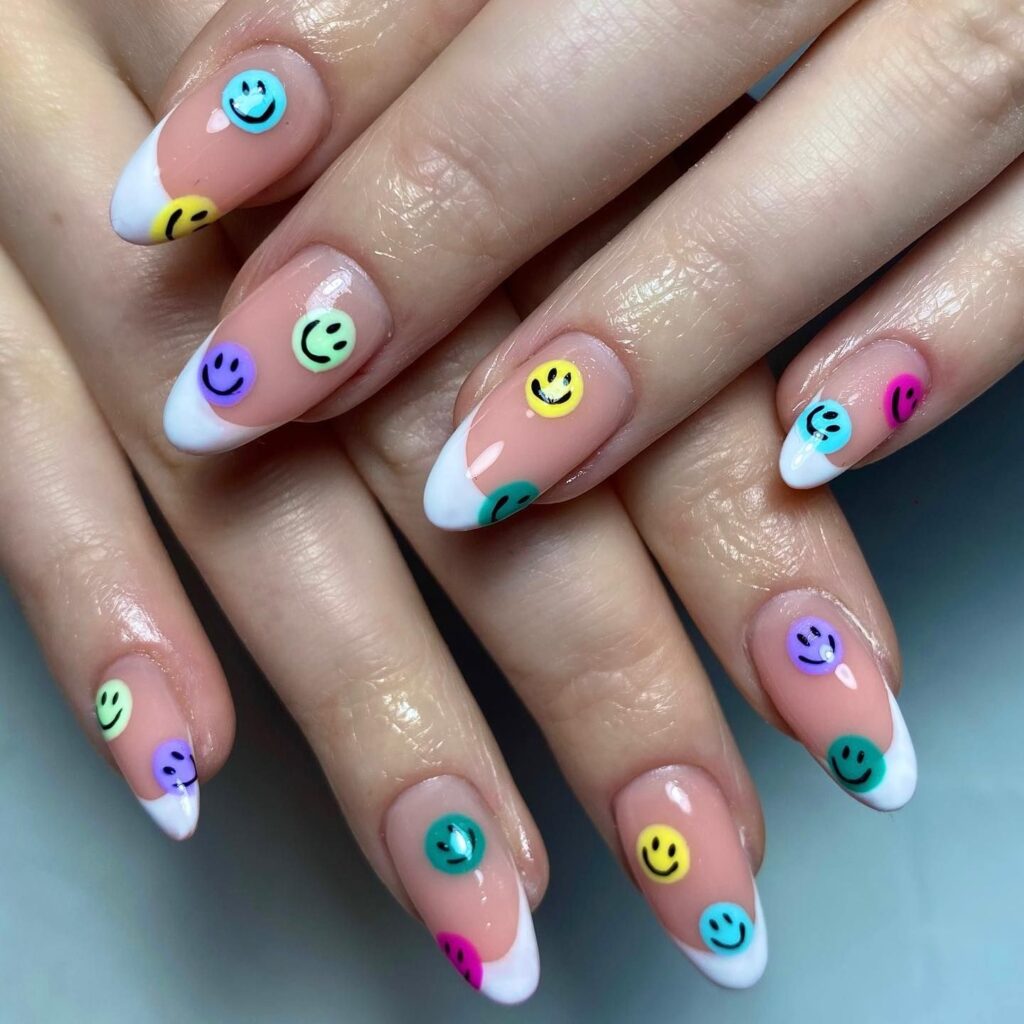 You can't help but smile when you see all these colorful faces painted on your French manicure. Choose all your favorite colors for the cheeriest nails around.
22. White Tips with Gold Accents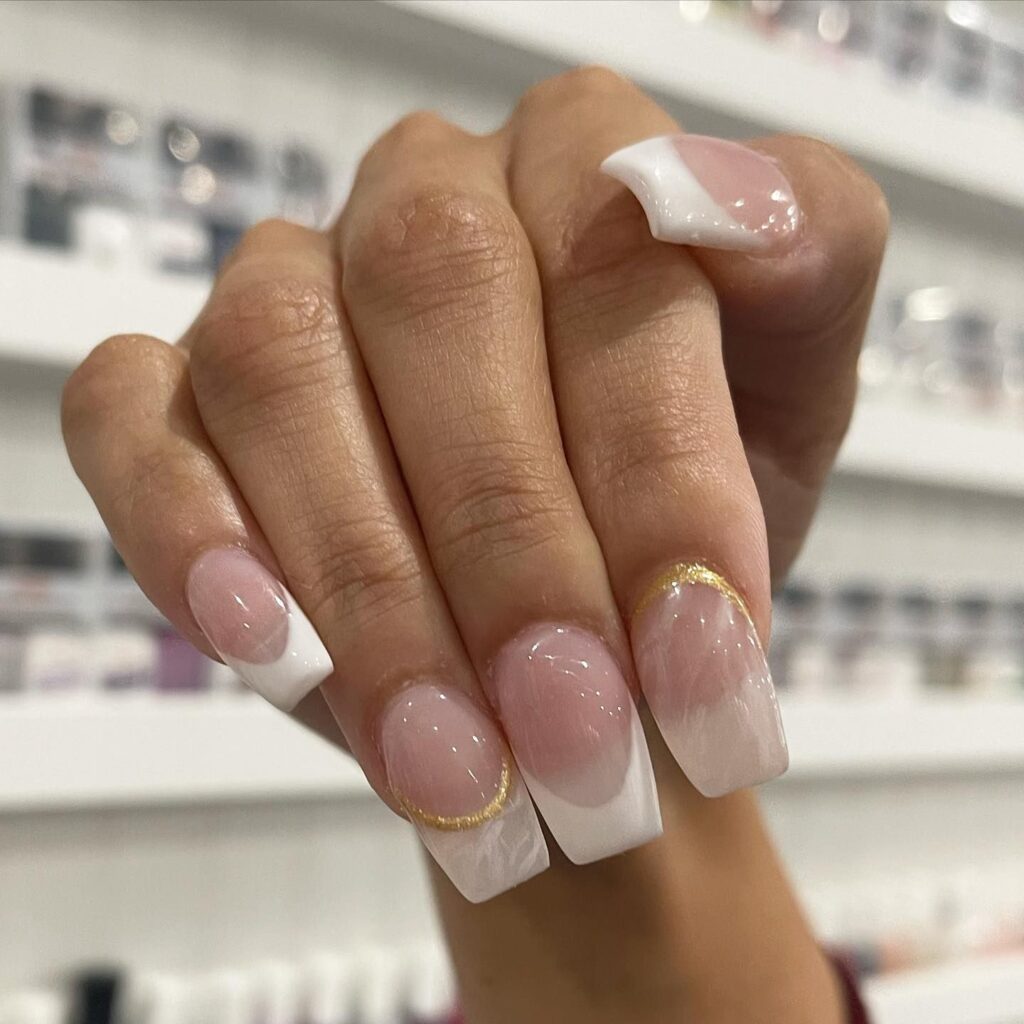 Swipe a little sparkly gold polish on your nails! Vary where you put the line — a thin line just under the tip or just above the cuticle are perfect spots.
Have you tried Olive and June yet? Read my Olive and June Review or my blog post on how to use a manicure system at home!
Looking for more manicure inspiration? Try these: