Brown is in! You'll see the brown nail trend all of Instagram, Pinterest and TikTok for good reason – it's a chic neutral that goes with almost everything!
Whether you want a way to transition from summer to fall, or just love the look of a good brown color, a brown mani is a great option anytime of the year!
And there's no better place to wear brown than on your nails. Here are some of the best brown nail designs!
Many of the designs below are from Olive and June. Find my Olive and June review plus a coupon code here!
Brown Nail Designs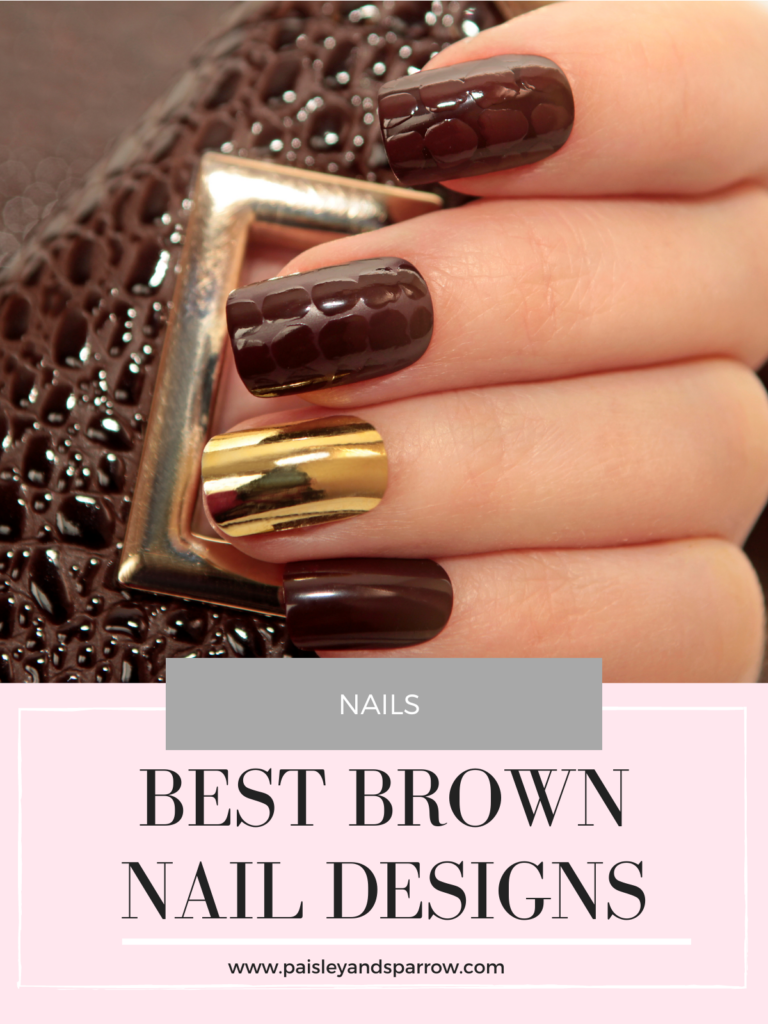 1. Leopard and Red Nails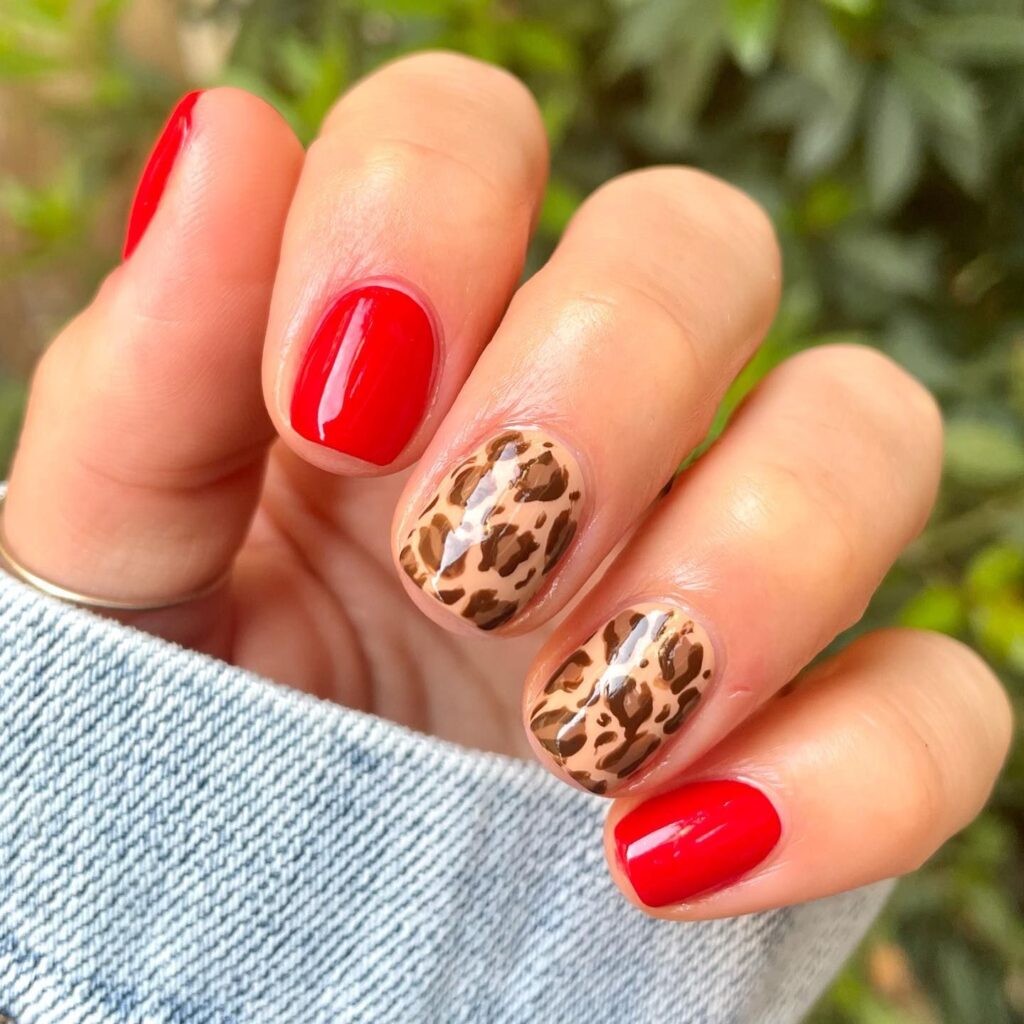 Don't forget: brown can go with bright colors too! These leopard print nails are easier than you think and go great with red.
Paint the light brown base, make some darker brown spots and then outline them and add some small spots with black or even darker brown! Just make sure you let each layer dry before starting on the next.
Colors: @terrabeautybars No. 30 Pitanga Red, No 31. Dark Tan, No 11. Deep Brown, No. 42 Earthernal
2. Brown Ombre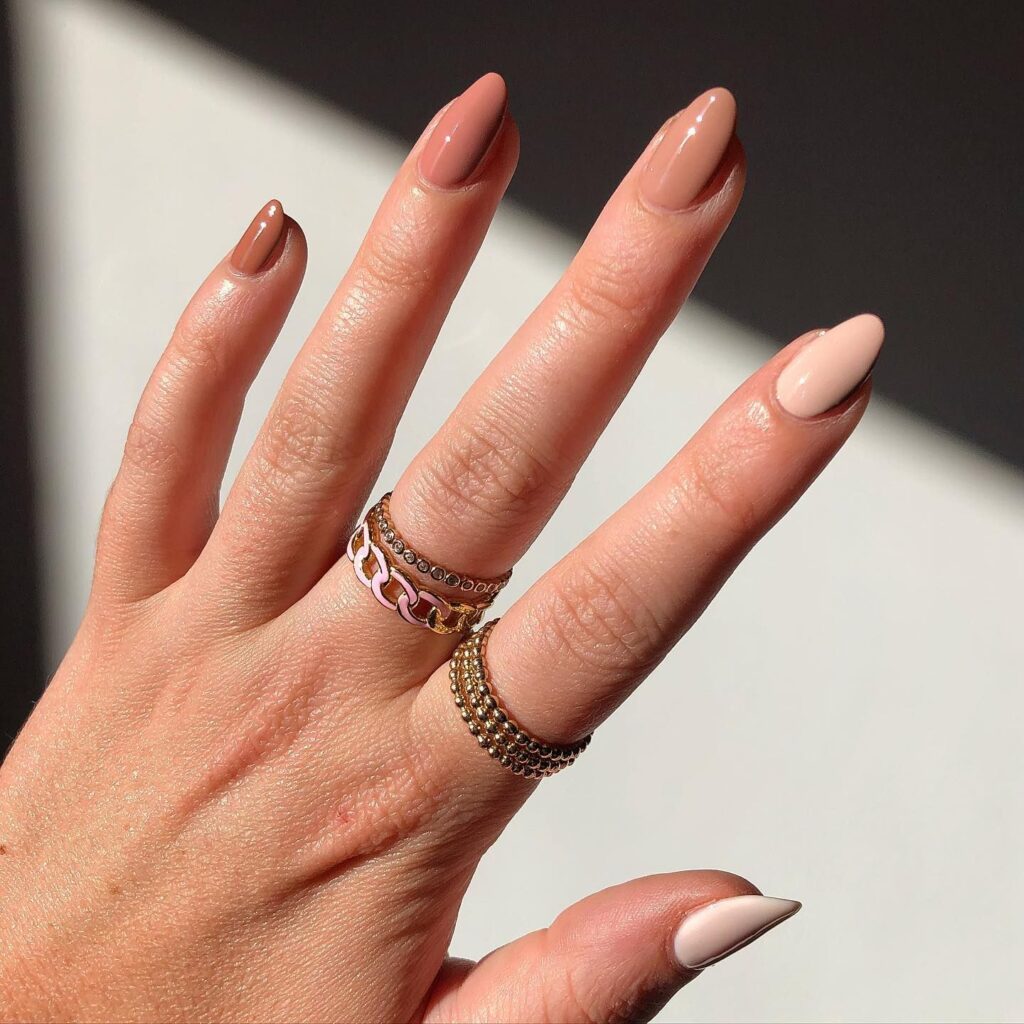 If you're a neutral queen or just want to let your outfit do the talking, this chic brown ombre is perfect. You can pick shades that have a slight pink or red hue if you are worried about your brown looking too drab.
Ombre is an easy way to create the most beautiful nails!
3. Brown Swirls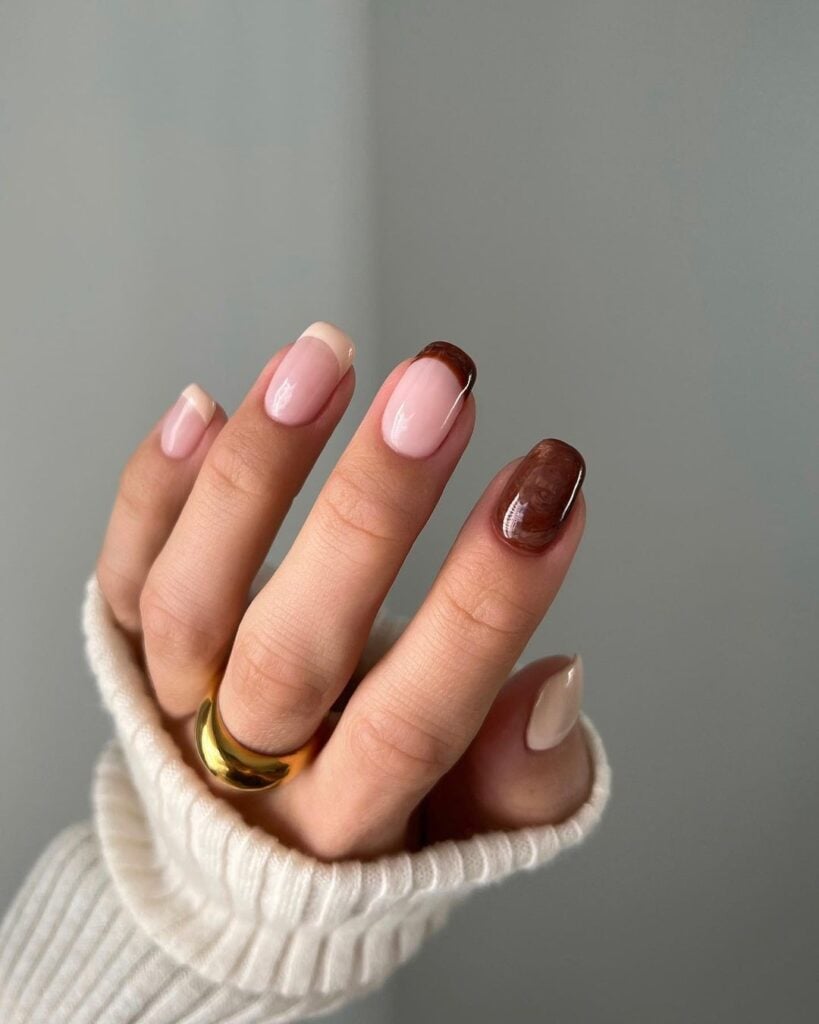 I always love when there's one statement nail — you can focus on making that single nail really stand out. This shiny brown swirl nail is gorgeous (and inspired by a sleek Mercedes G-Wagen!).
4. Brown Shimmer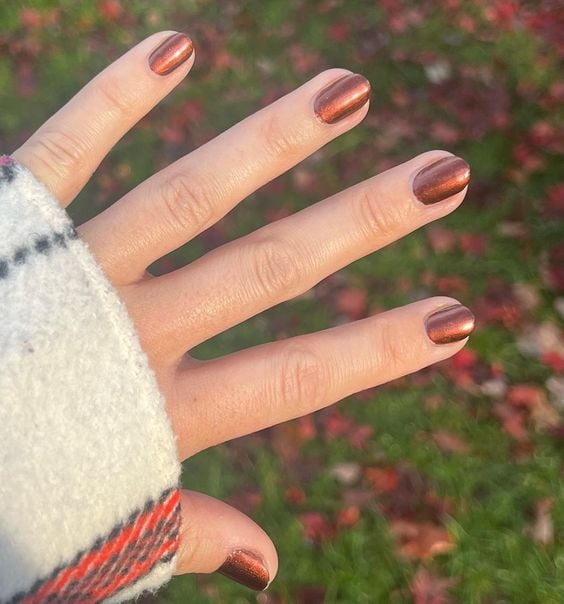 Do you like a little shimmer on your nails? You can get the effect easily with this Orly polish. It's the perfect metallic chocolate brown, and great for mani beginners.
Color: Orly "Stop the Clock"
5. Abstract Brown, White and Black Nails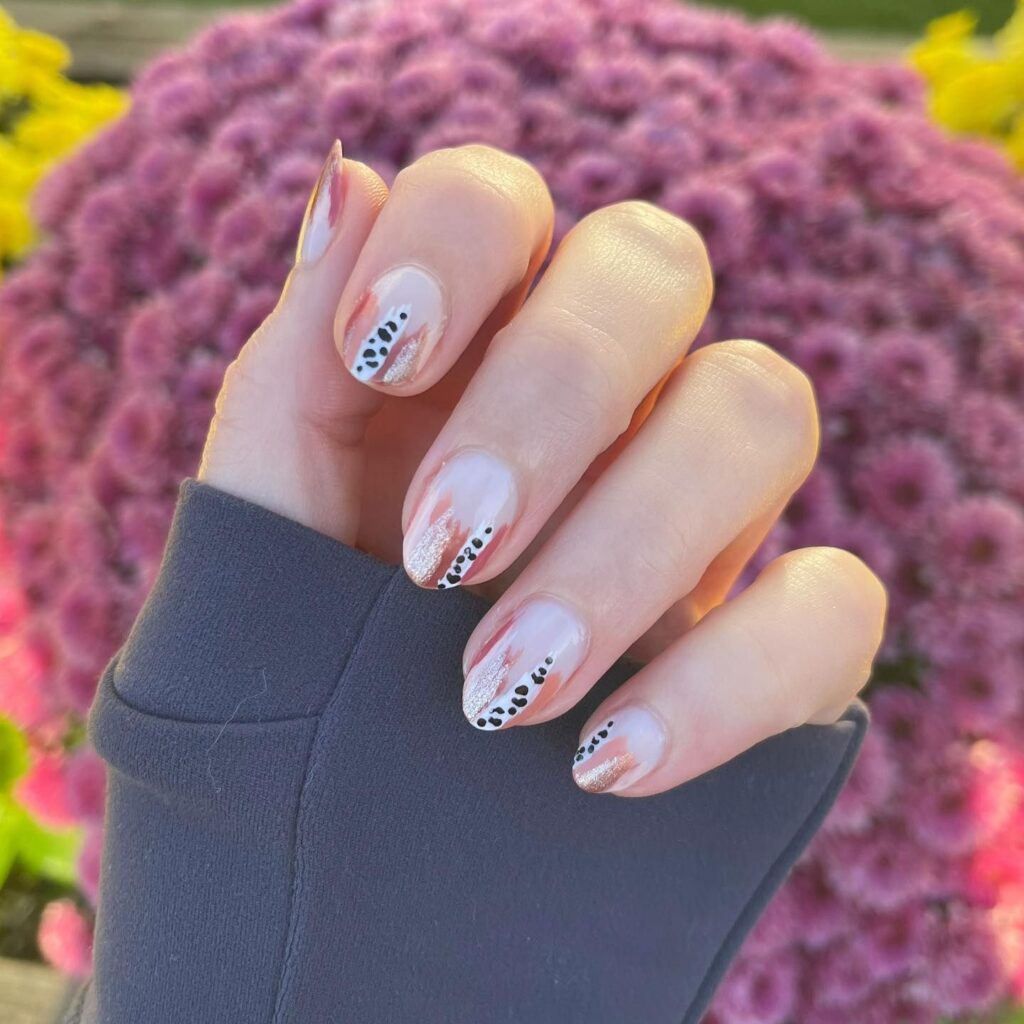 Let your creative side out with these fun abstract black, gold, brown and white nails. I love the way the brown and gold go together, and the white with black polka dots add an extra element of fun. Better yet — you don't need a steady hand to pull these off!
Colors: Olive and June JJ, Fig Ranch, MG, OJSM, HD, EM, BI
6. Brown and Shimmer Gold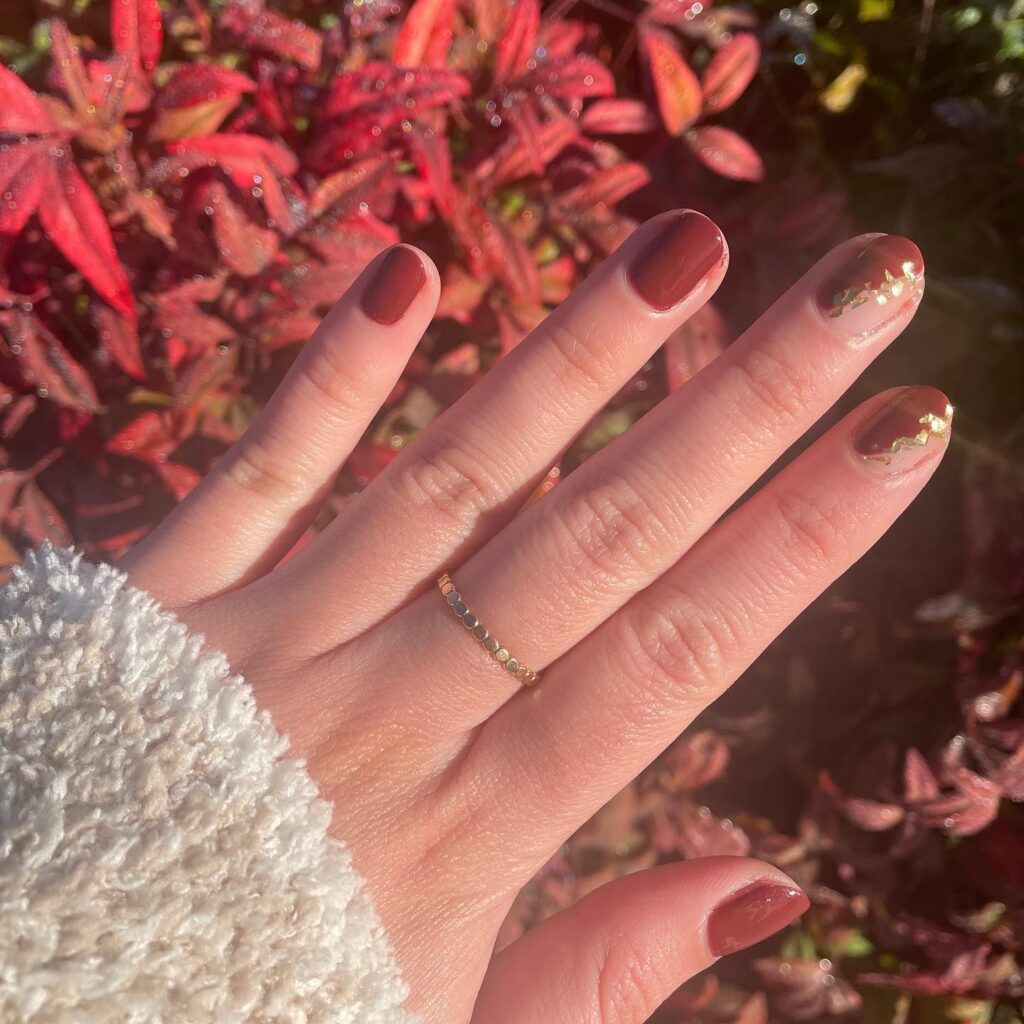 Glam your brown nails up with some big gold flakes. You can use a chunky gold glitter nail polish or even try your hand at adding gold leaf to the manicure. These chocolate brown nails are a great way to welcome the fall season!
7. Brown Cheetah Tips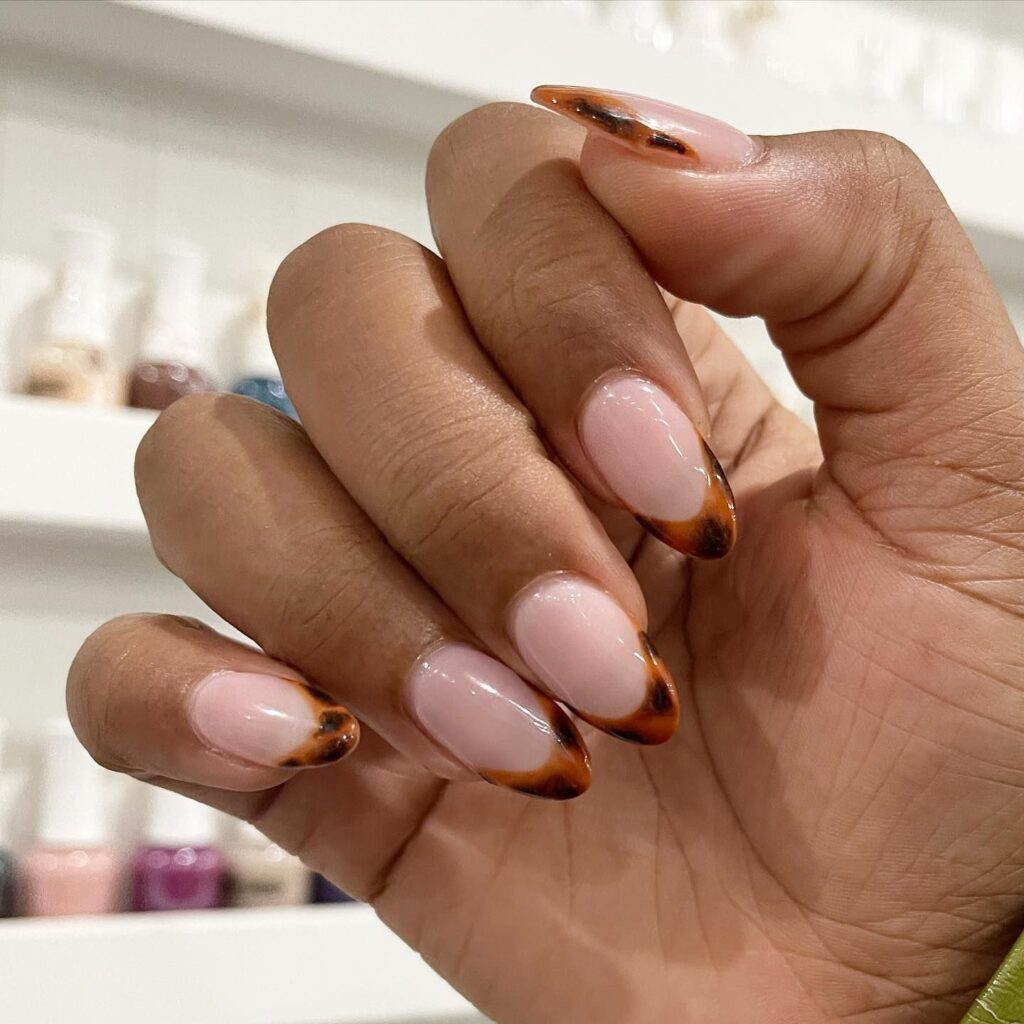 Love the cheetah look but want to do something a bit more subtle? These cheetah tips are a great choice to incorporate some animal print to your nails without going full on feline! Start with a neutral base and add on brown and black tips.
8. Brown and White French Tips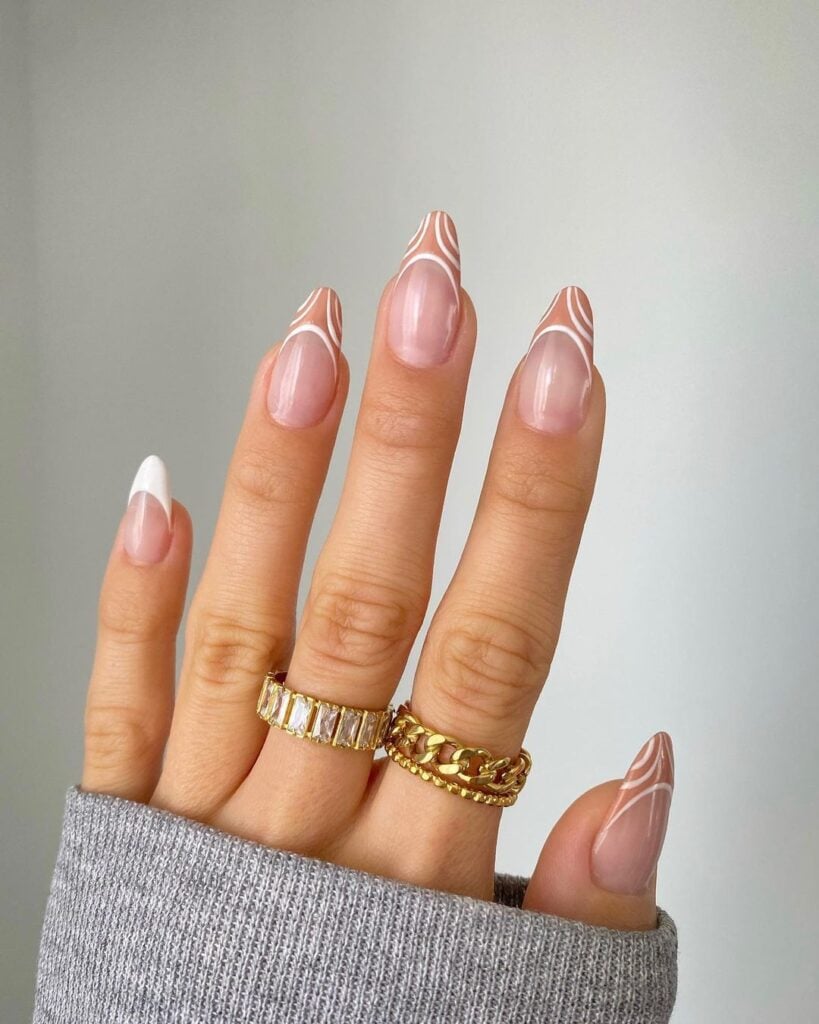 Here's a fun twist on a classic white French tip! Add a bit of tan to the mix! Start with a neutral pink base with a simple white line where a classic white tip would start. Then incorporate a tan tip with white swirls.
The nail shape really makes a difference in this mani with the bulk of the design on the long tips.
*Find 11 different nail shapes here!
9. Tortoise Shell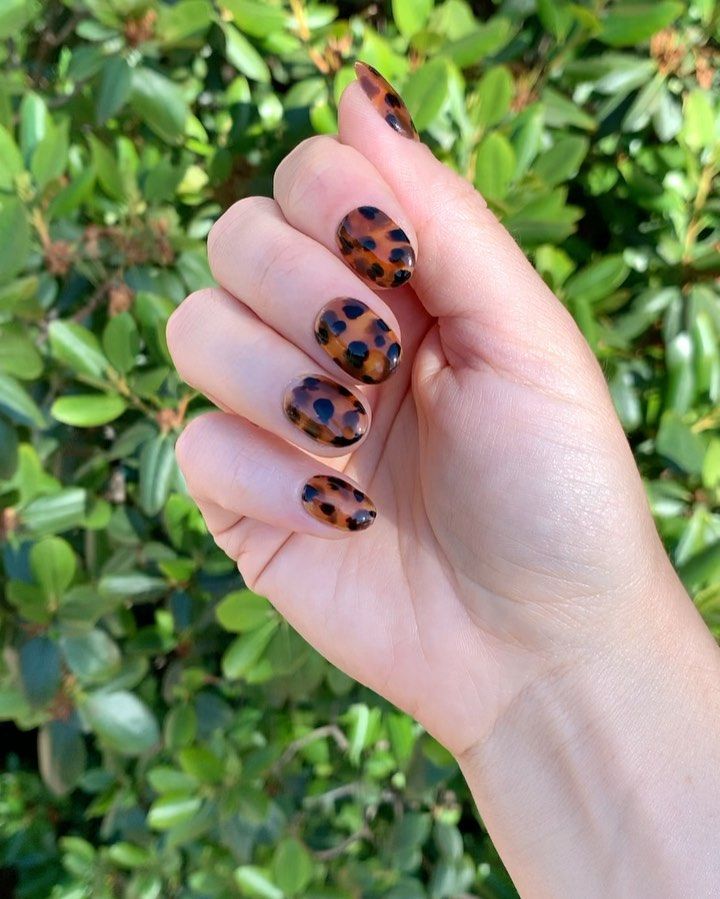 Love your tortoise shell sunglasses? Bring them to your nails! These fun nails are great for coordinating your sunnies to your nails.
This is probably my favorite design of all the looks! Start with a solid brown and add different shades of brown along with black to create the look!
10. Brown Flower Accent Nail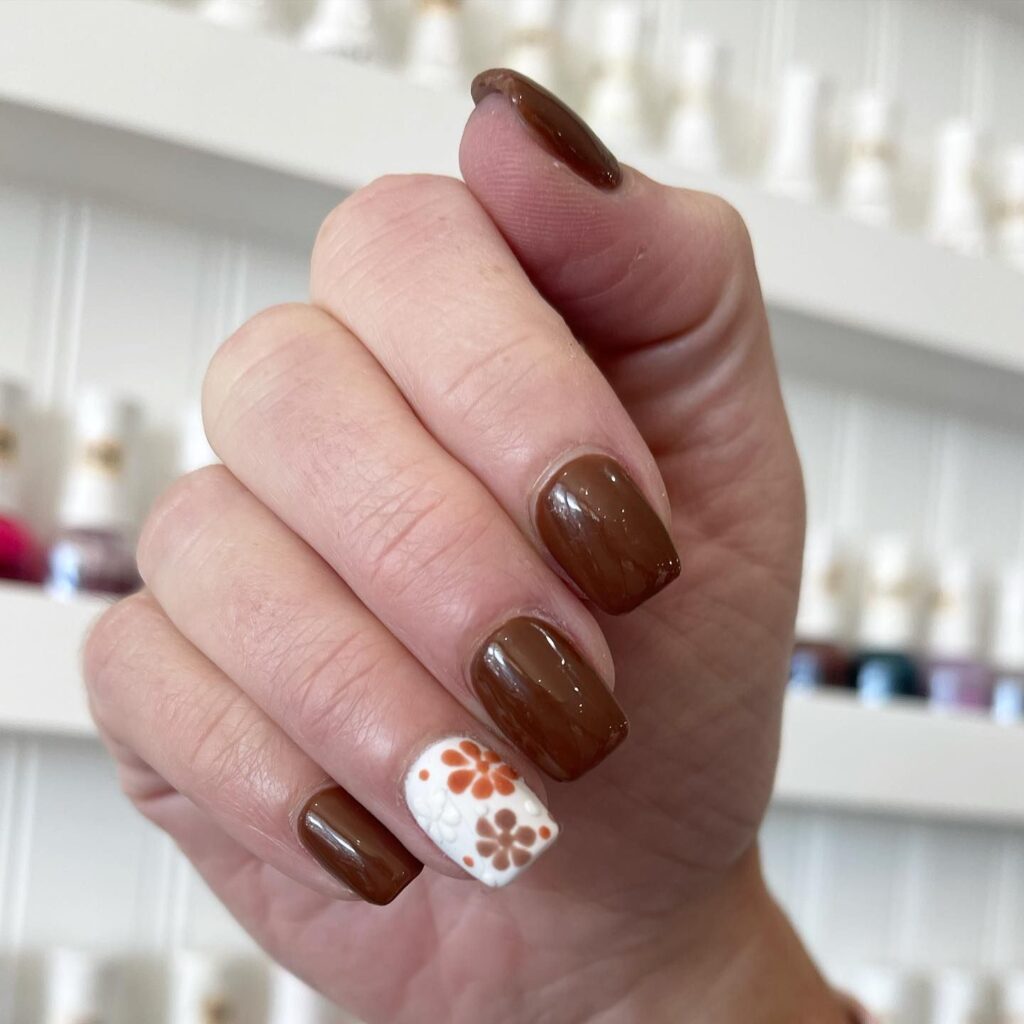 If you're looking for a more retro look, this is a great option! I love the 70s style flowers in tan, brown and white.
*Check out more Floral Nail designs here!
11. Autumn Mix and Match Nails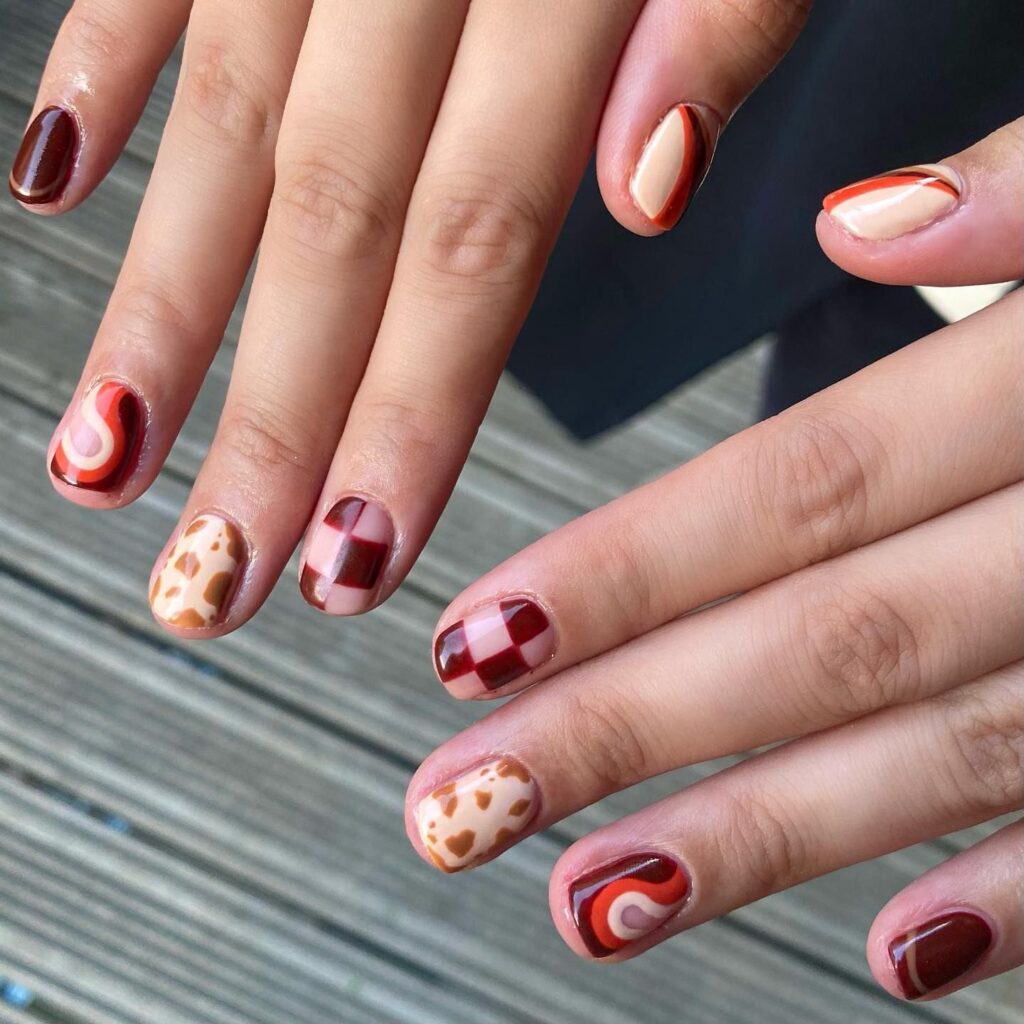 This fun mix and match manicure gives you the option of so many different designs in one mani! From cow print to swirls to checkered print to a simple swoop, this look works with the same shade of brown incorporated throughout 4 of the nails.
12. Sweater Nails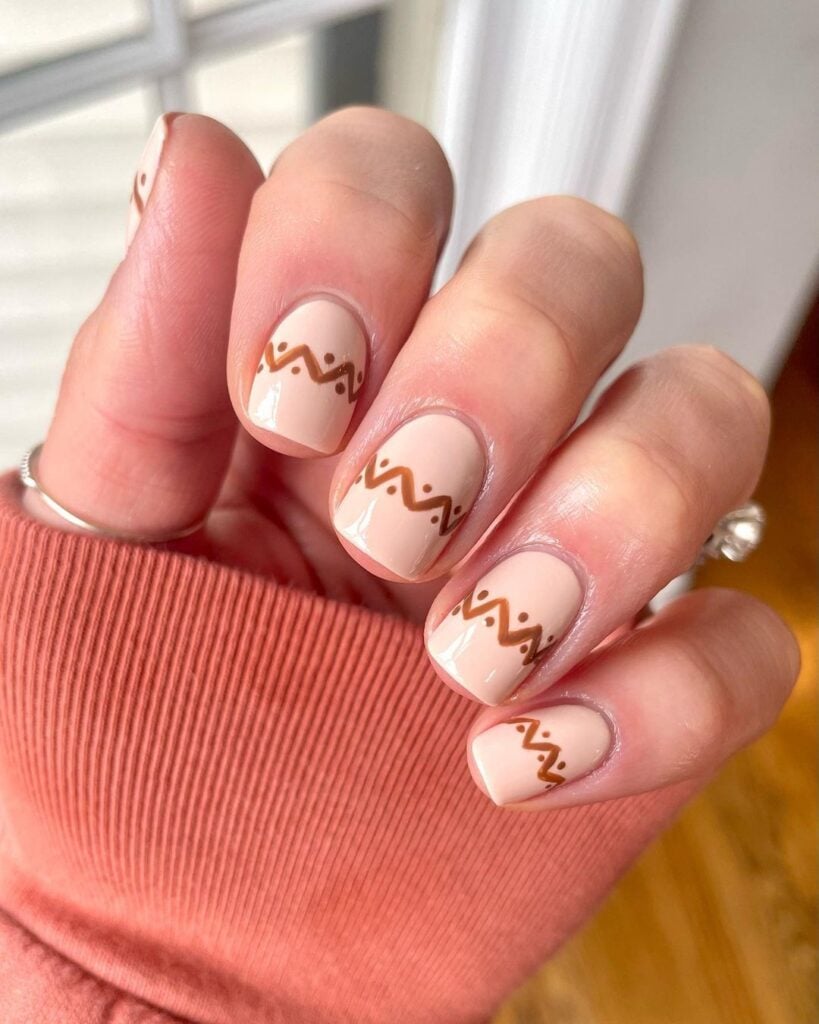 Why not bring the sweater trend to your nails! This cable knit design is a simple way to incorporate your sweater design to your manicure. Start with a neutral base, use a brown accent color to add zigzags and dot accents.
This is a great options for a shorter square nails since the design is in the middle of the finger!
Colors: Cable Knit by Olive and June and no. 13 Dark Tan by TerraBeautyBars
13. Dark Brown Solid Nails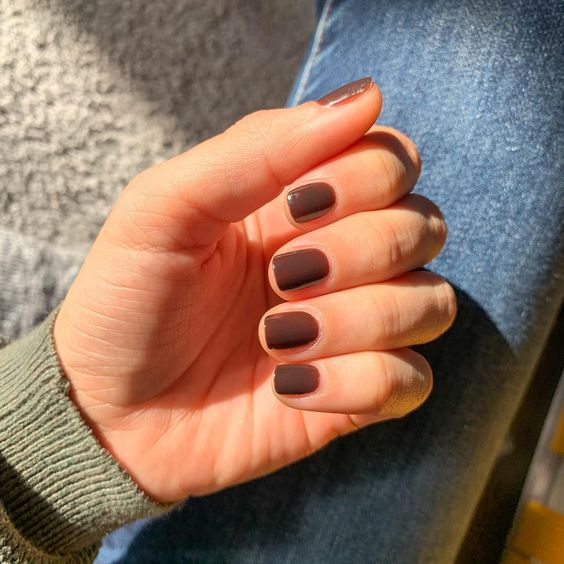 You can't go wrong with an all over color nail color especially in a dark shade! These short brown nails are simple yet classic especially for a fall manicure.
14. Brown And Gold Swirls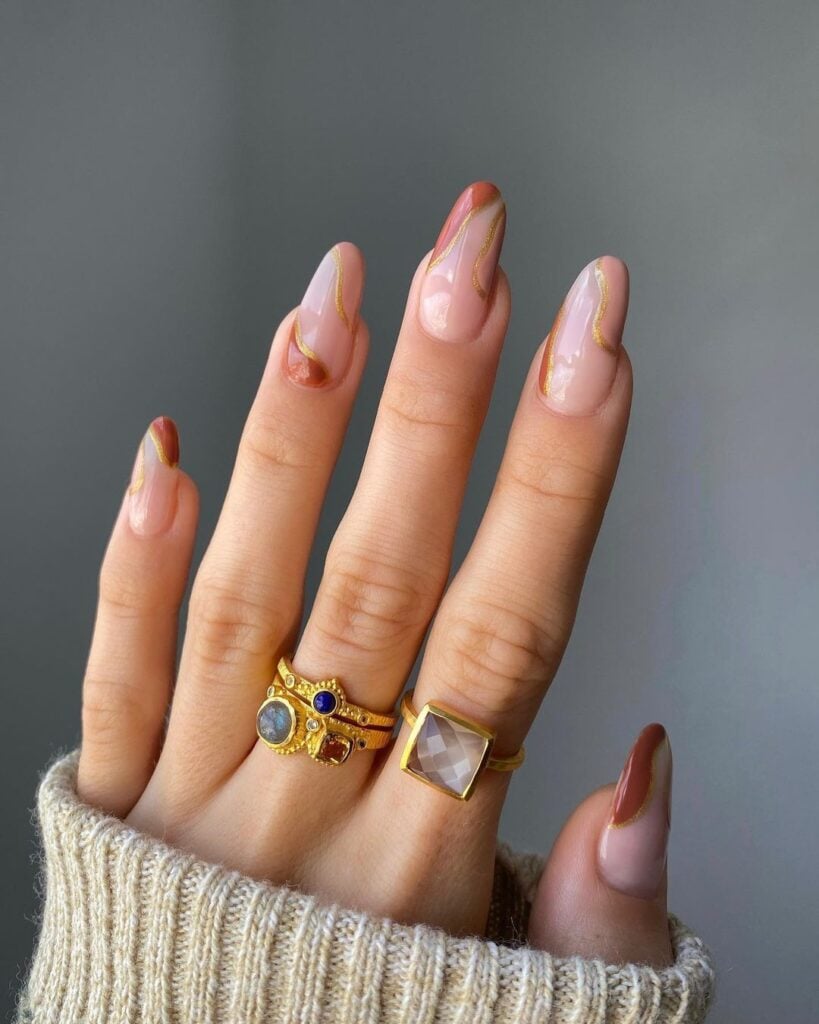 This nude nail design gets a bit of an upgrade with light brown and gold swirls intermixed. This is a great neutral nail design for an everyday look.
*Find other Nude Nail designs here!
15. Chocolate Daisies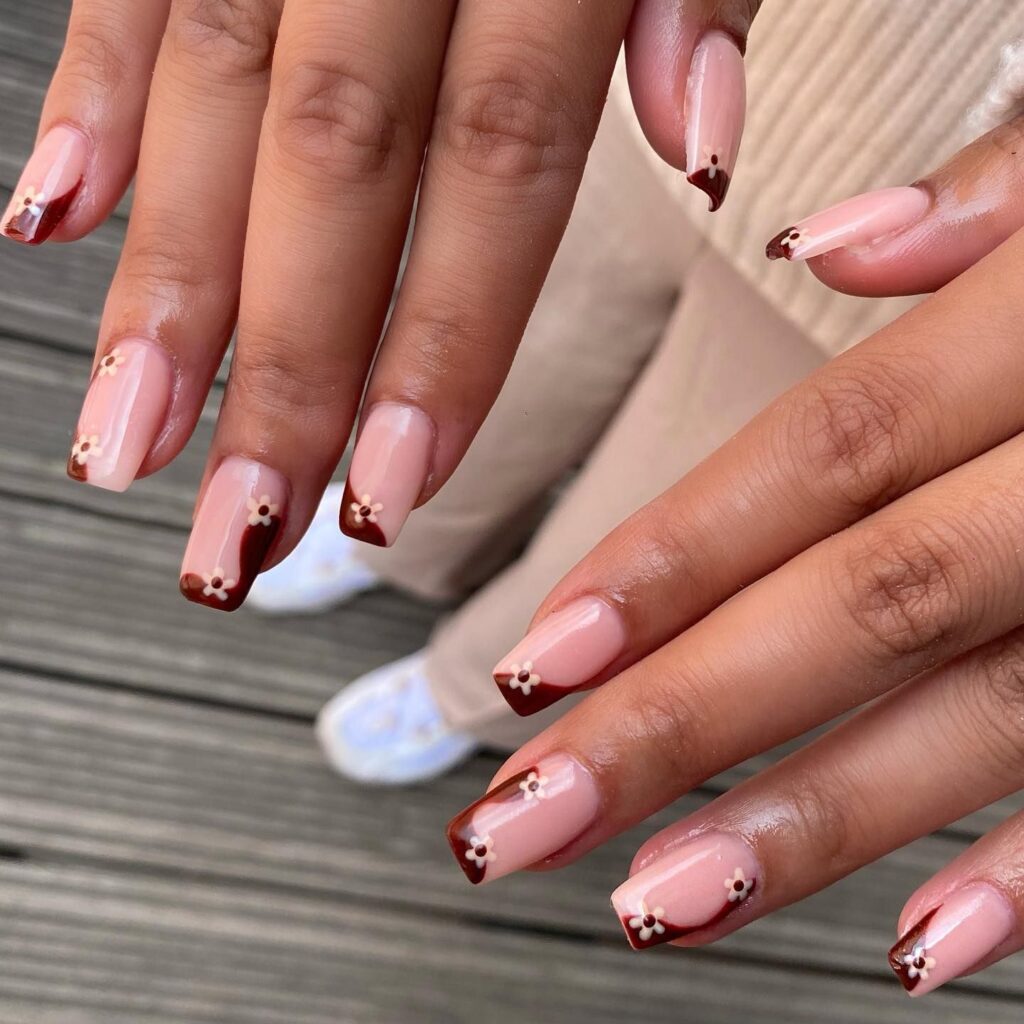 We see daisies painted on all sorts of summer colors but rarely see them on brown! This unique color combo is a great idea for a spring or fall manicure.
16. Cow Print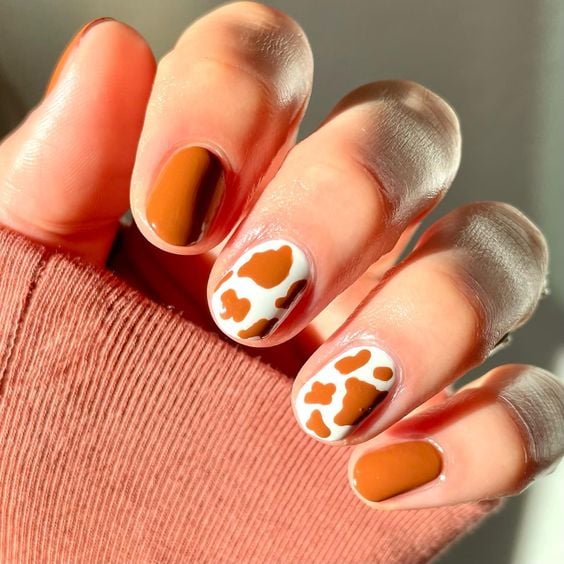 Whether you're heading to Yellowstone Ranch or just love cows, this is such a fun idea for short nails! Having two accent nails with cow print is a simple and subtle way to have some fun with your mani!
Colors:
Brown: Row with the Flow from the Essie #swooninthelagoon collection
White: 2 coats HD, 1 coat BEB from Olive and June
*Check out other short nail designs here!
17. Brown Snake Print Nails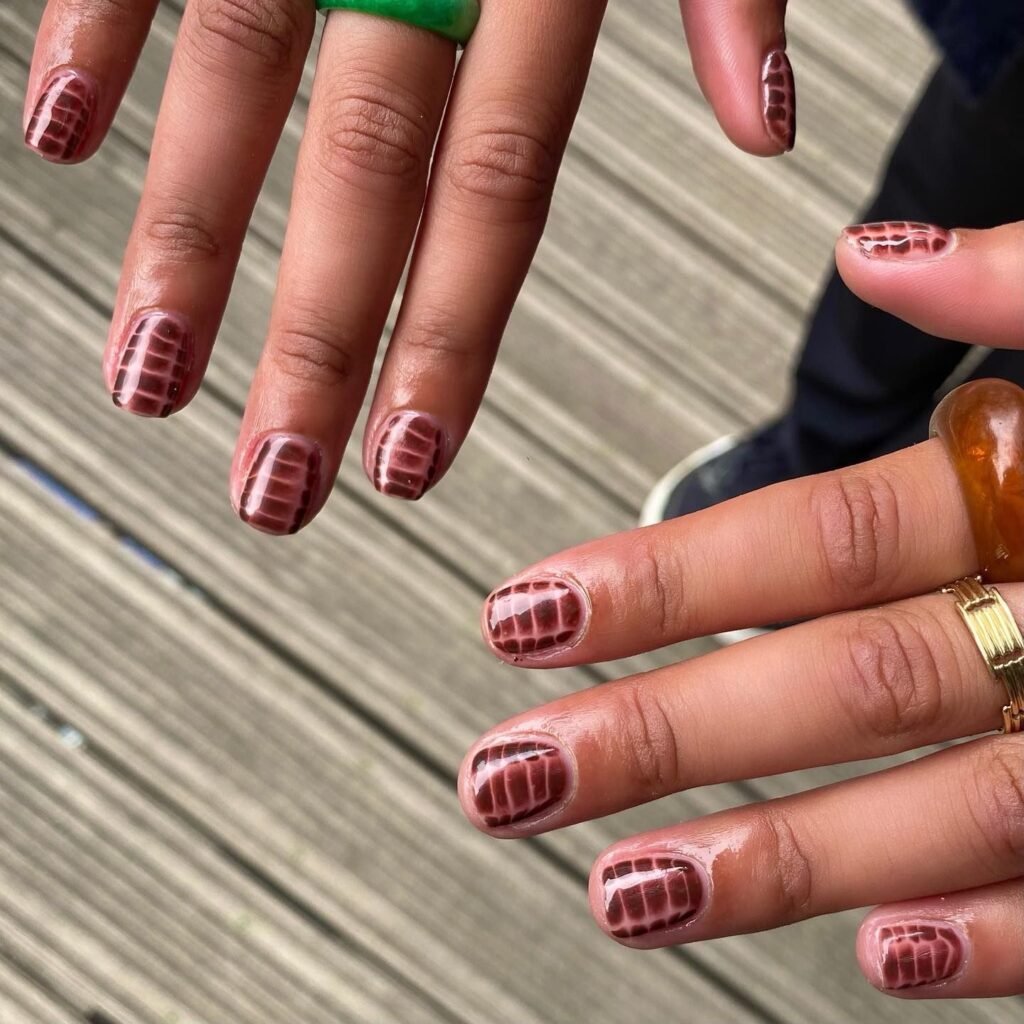 Snake print nails? Yes, please! This unique animal print nail art is a show stopping look that only the most trendy of gals can do.
One trick for stunning brown nails is to pick a color that's lighter or darker than your skin tone so you have some contrast!
18. Rust Ombre Nails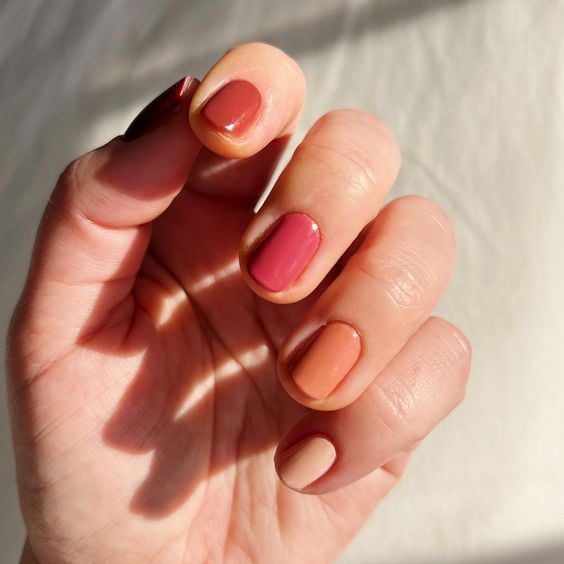 As you can see, ombre nails can be done in so many different color combos. This reddish orange mani is perfect for fall.
This is a great option if you want to try out the brown trend along with a few other colors. Ombre is an excellent choice on your natural nail!
*Find even more ombre nail styles here!
19. Chocolate Marble
If you love the marble look, why not try it with brown? This beautiful chocolate marble manicure has a gold accent throughout it. Start with dark brown on a few nails and incorporate the marble look as an accent!
20. Brown French Tips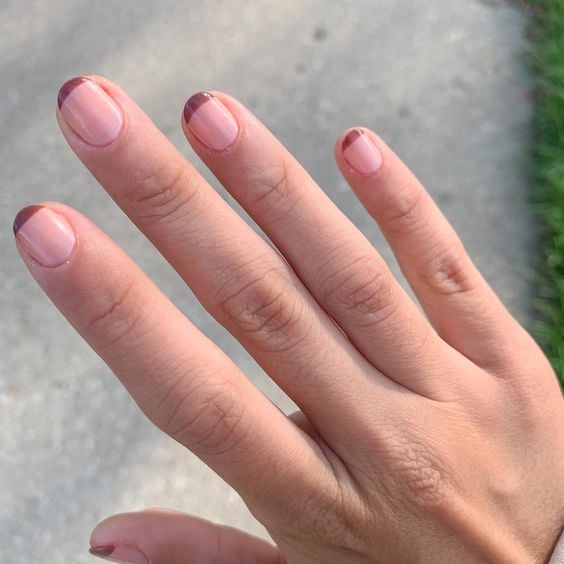 If you're only just dipping your toe into the brown nail trend, you could just dip your finger tips in (literally). These brown french tips are simple, easy to pull off, and keep your nails light no matter how dark your polish color is.
Colors from Olive and June: CHM for base, JJ for tip
Love French Tips? Find other french tip ideas on this post!
21. Brown Leopard Accent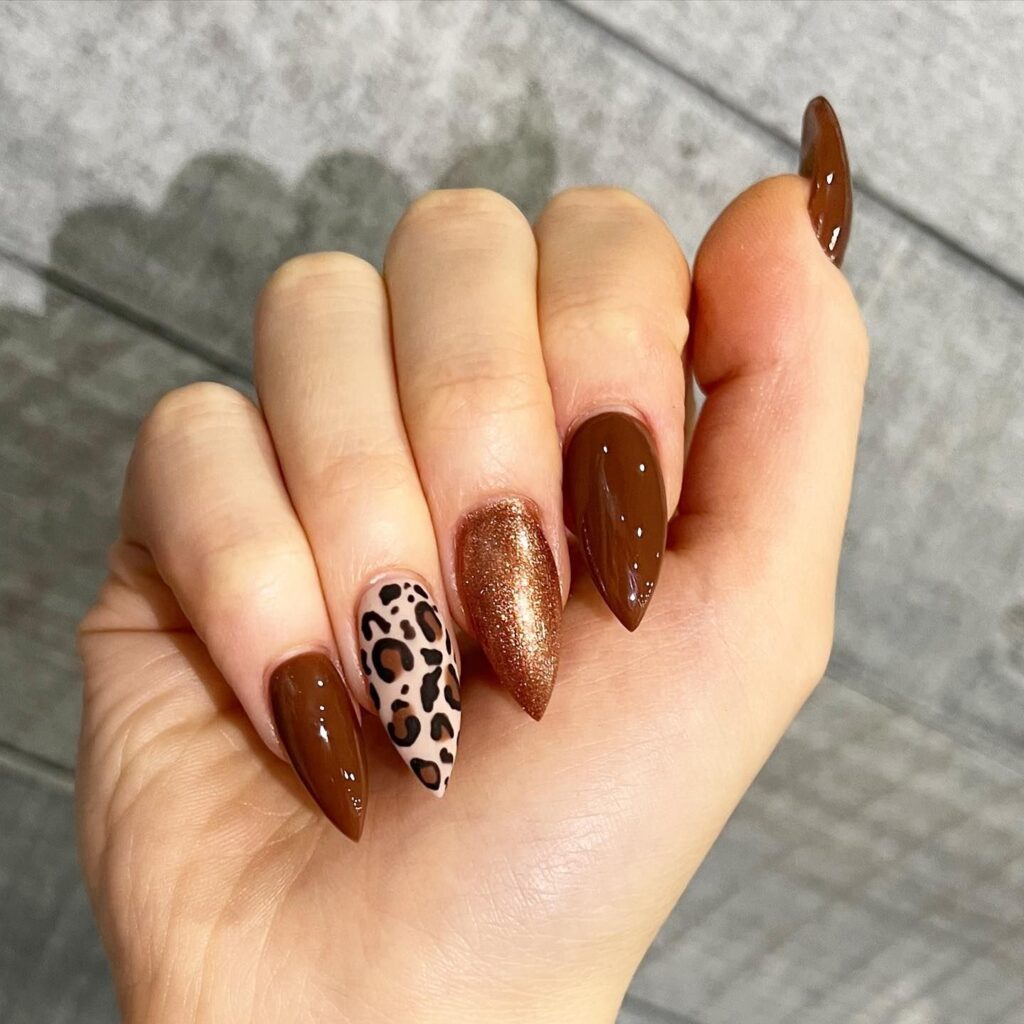 You can never go wrong with more than one accent, especially when one is sparkles! Get this look by going for a slightly lighter shade of brown sparkles on your middle finger and a full leopard print nail on your ring finger.
22. Brown and White Squiggle Line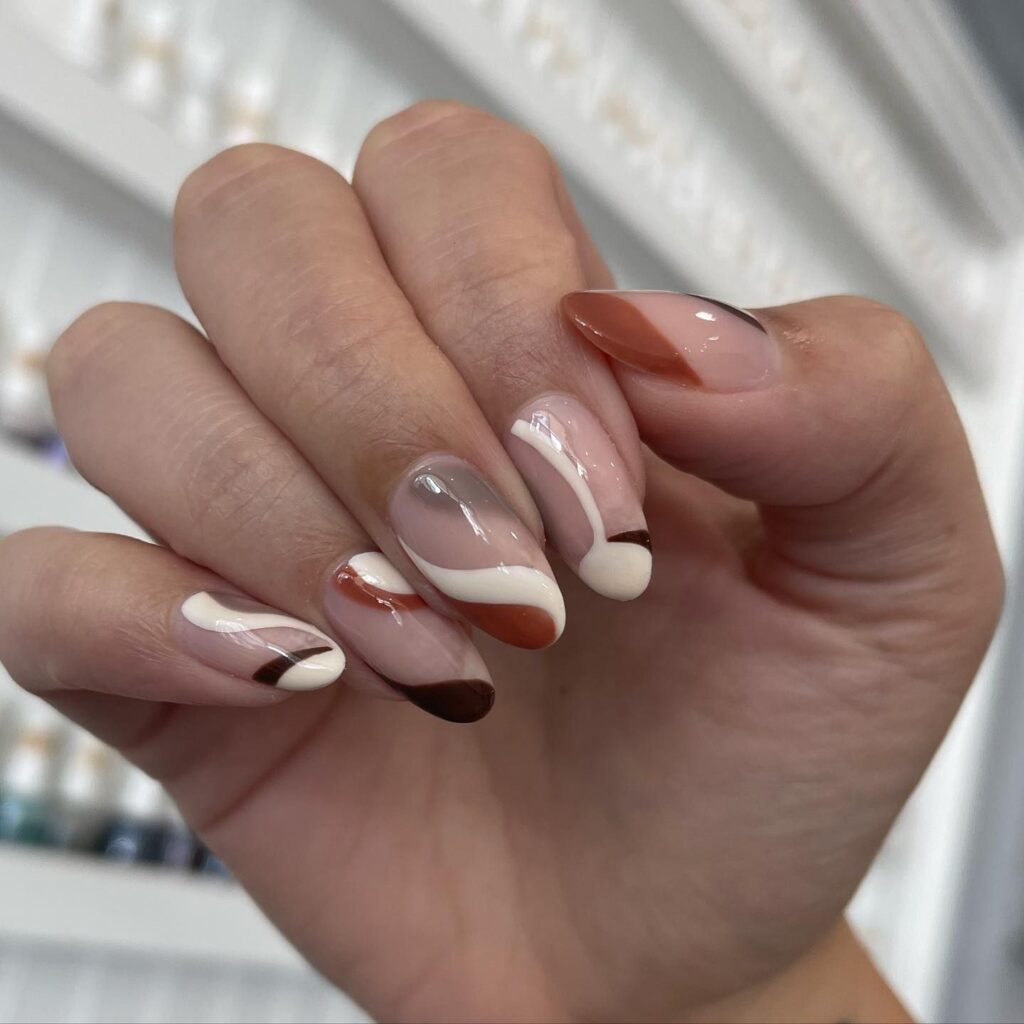 Brown, black and white will always be one of my favorite color combos. These coordinating swirls tie in all 3 colors beautifully. The white color is incorporated through each nail to tie them all together.
23. Dark Brown Ombre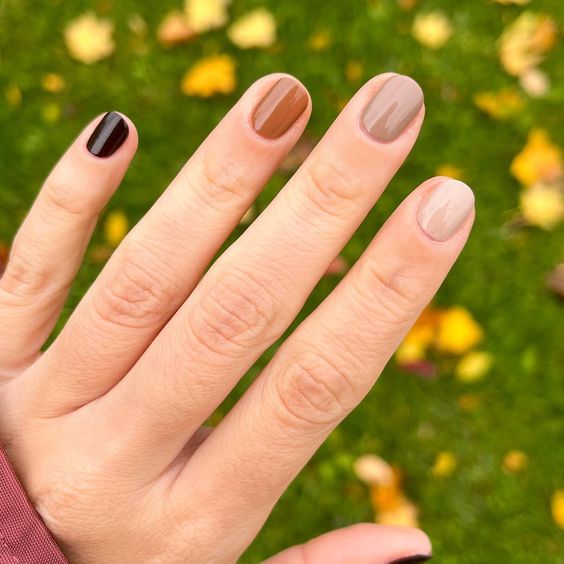 Image via @nailfies.by.lexi
You don't have to use bright colors to jump on the ombre trend. This gorgeous brown manicure is oh so chic and perfect for fall or more formal offices. Start with a dark brown polish on your pinky and go lighter with each step!
Colors by Talon Polish: Pinky-Thumb: Rory, Goldie, Teddy, Coco, Rory
I hope this helps you figure out a fun new way to create a brown nail design! Which one was your favorite?
If you want more nail fun, head here for my Olive and June Review or how to use a manicure system at home!
Looking for even more nail ideas? Try these:
And try out one of these different nail shapes while you're at it!