You don't always have to go with bright, bold colors to make a statement with your nails. Sometimes black nail designs are the perfect choice, especially if you jazz it up a bit with a design.
Whether it's for spooky season or a formal affair (or something in between!), there's a black nail design perfect for your style. Find 21 great black nail ideas below for some inspiration!
Many of the below ideas are used using Olive and June. Find my honest Olive & June review with a coupon code here!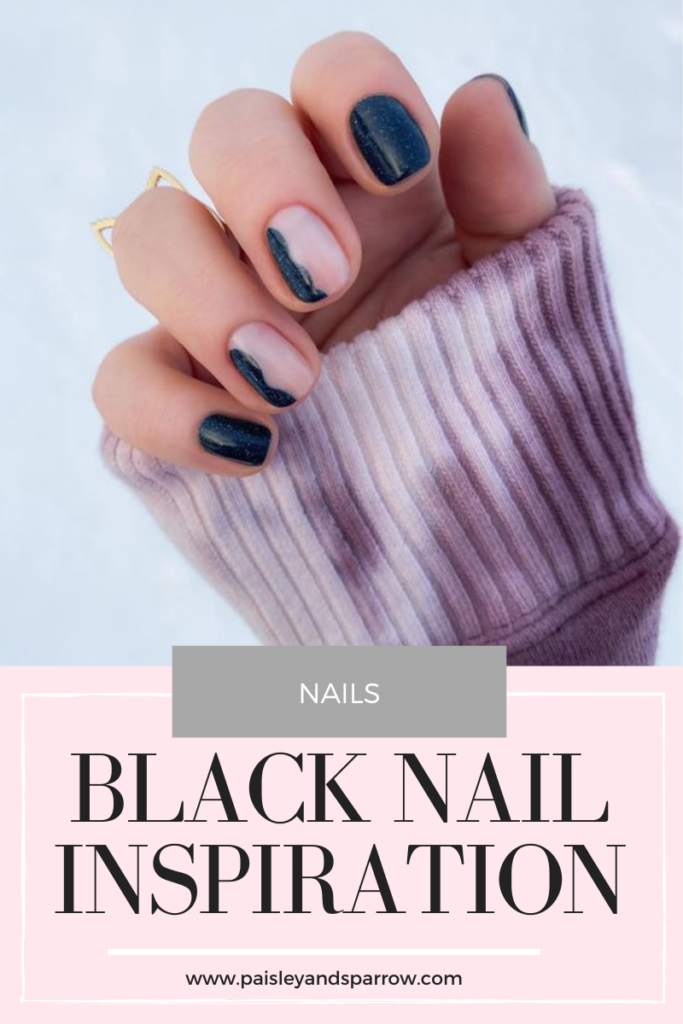 21 Best Black Nail Designs
1. Black Polka Dot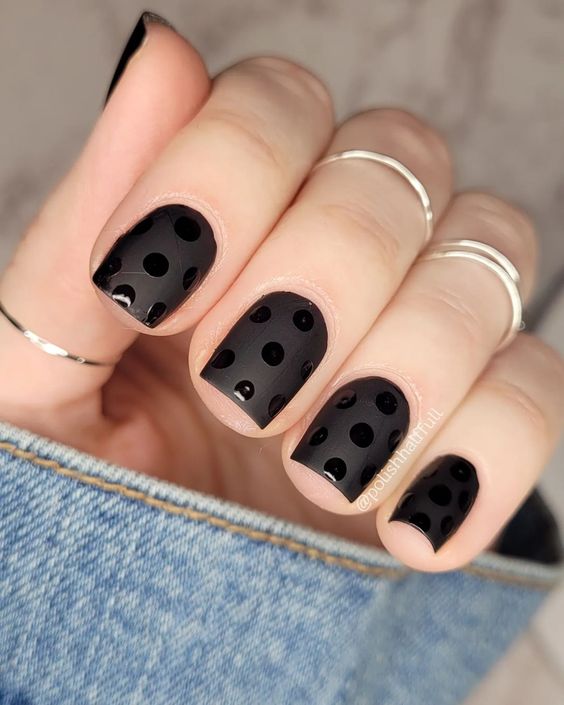 Matte black with shiny dots on each nail is a super unique look that's also easy to replicate! This is another manicure that could be done with any color combo — even mixing up two colors!
Color: Olive and June: E&M
Sally Hansen: Big Matte Top Coat
2. Zebra Tips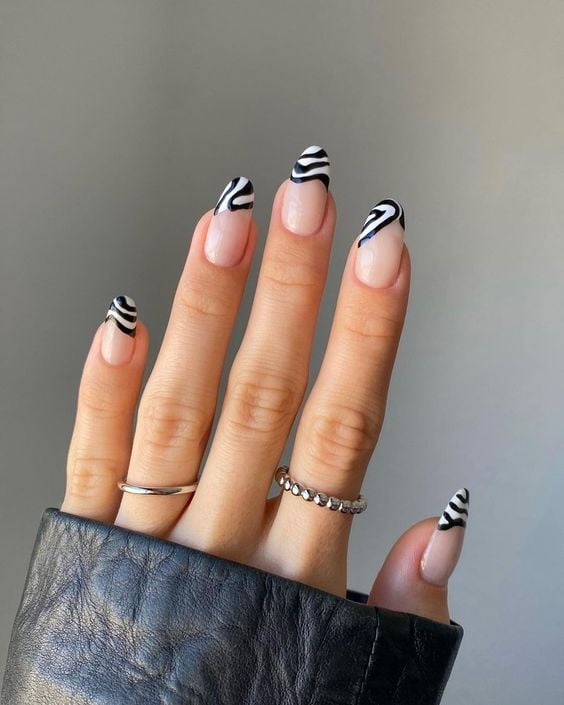 Go a little wild with the easiest animal print! Keeping the design just on the nail tip is a good way to ease into animal print if you're worried it might be a little bold for you.
Color: Le Mini Macaron licorice and milkshake.
3. Black and White Checker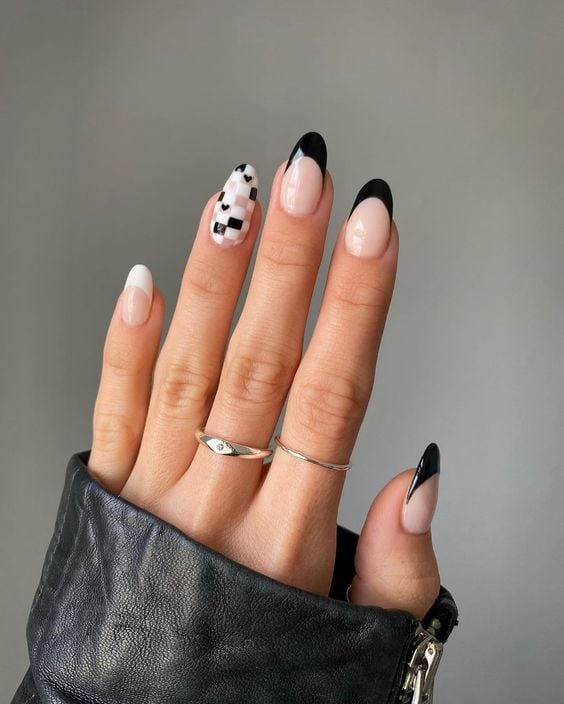 Black French tips are such a cool twist on the classic French tip. You could go with all black tips, or mix it up with a white tip and a checkerboard effect on the ring finger. Make it even easier on yourself by leaving some of the squares nude!
Color: Le Mini Macaron licorice and milkshake.
4. Abstract Black and White Nails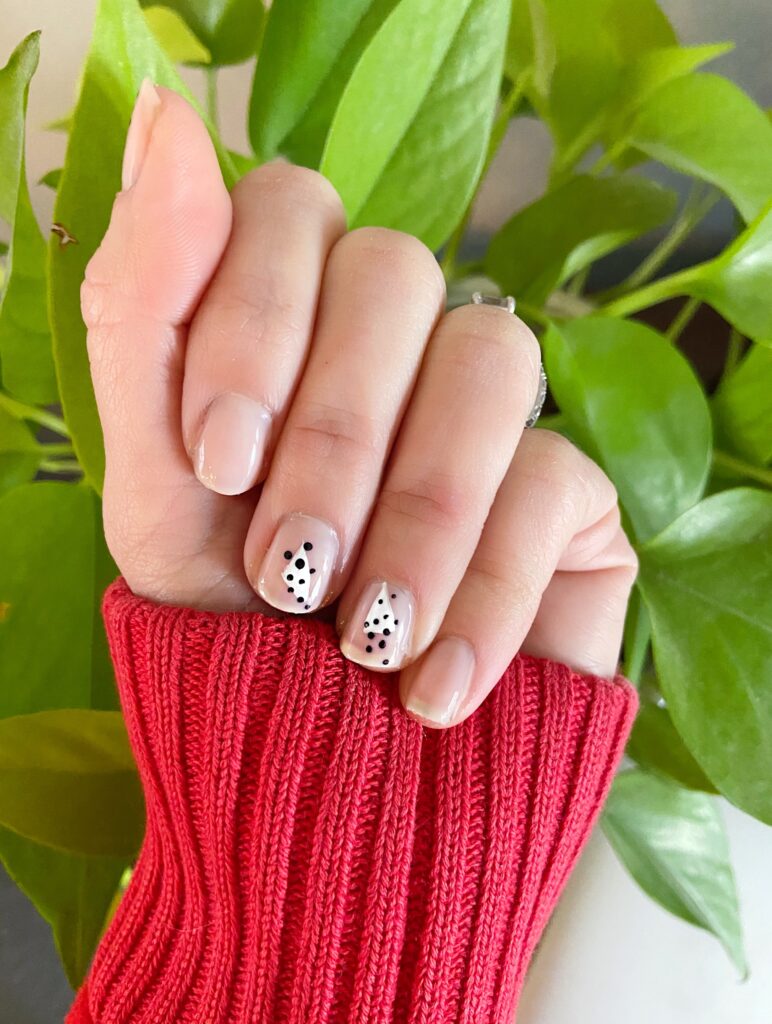 You can never go wrong with a classic black and white manicure! Start with a neutral nail color. Add a simple triangle accent and top it off with black dots!
5. Black and White Cow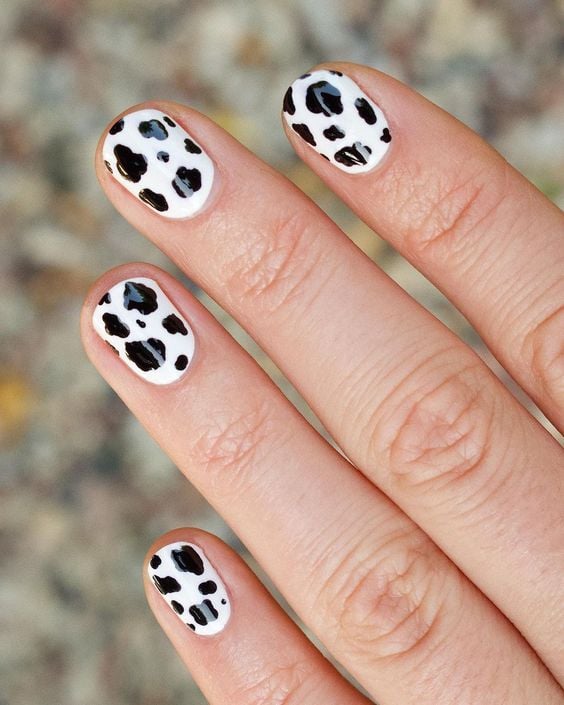 Here's a classic black and white cow look that you can do all over your nail!
It's the perfect look for your short nails for chic-fil-la day when you're dressing like a cow or just to show your love for these gentle giant creatures. Or pass them off as Dalmatian spots for your Cruella DeVil look!
6. Black Hearts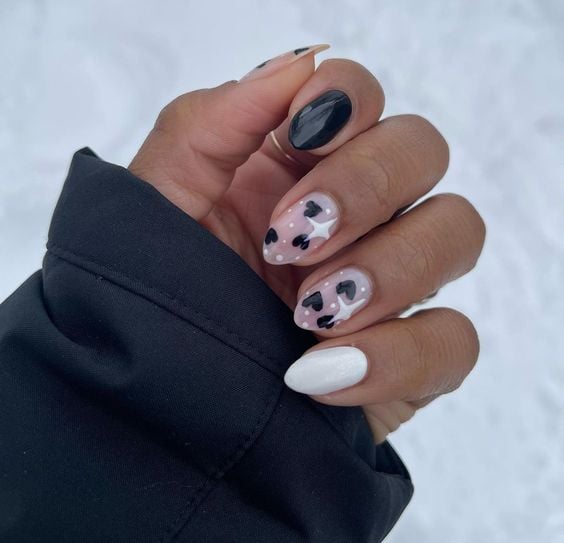 Image via @lecame.shesaw.shepainted
Perfect for date night, Valentine's Day or just a Tuesday! These sweet black hearts make your black and white manicure pop. Paint some small white dots in between and a starburst to really elevate the look.
7. Black Heart Accent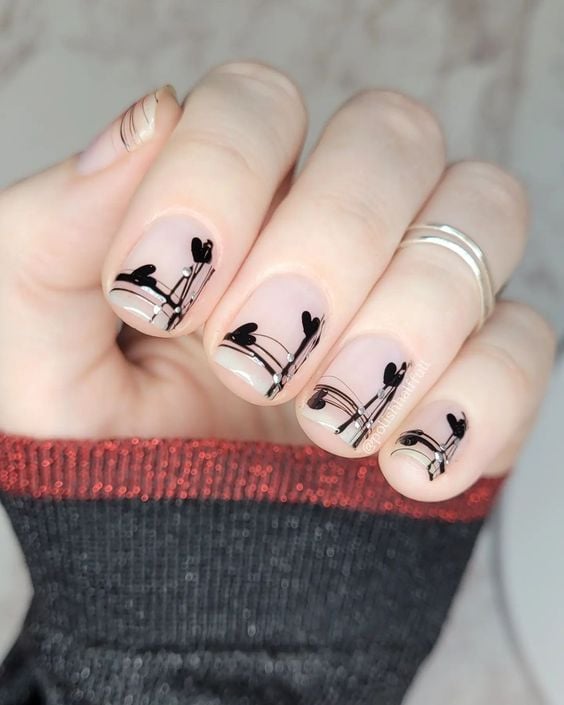 Here is a fancy manicure using all neutral colors but definitely creates a stand out design! This would be a fun manicure to have when attending a wedding or other more formal event.
8. Black Tips With Stars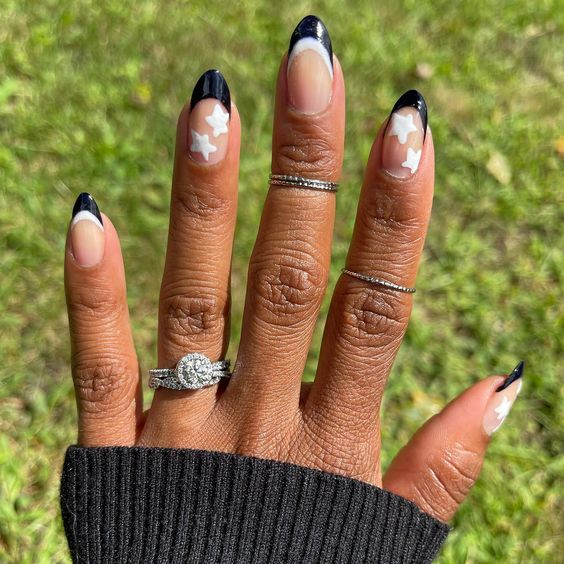 Image via @lecame.shesaw.shepainted
These black French tips are a little bit witchy or a little bit punk rock. You can freehand these stars or even use nail stickers if you're not confident in your drawing ability.
Colors used: Olive and June E+M, HD and Stellar
9. Black and White Daisies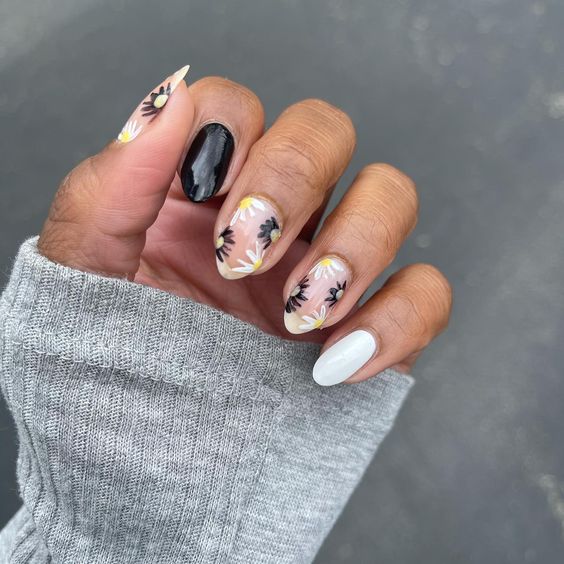 Image via @lecame.shesaw.shepainted
Black fingernails doesn't mean they can't be sweet! Paint some white daisies along with some black daisies for a fun black, white and yellow look.
10. Cruella Inspired Nails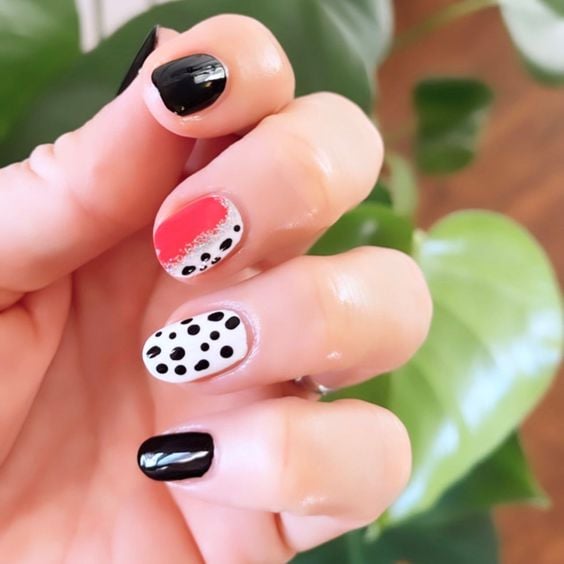 Image via @nailfiesrus
Release your inner Cruella with black and red and some subtle Dalmatian spots. I love the rough pop of red! It really sets this mani apart.
11. Sparkle Black and Nude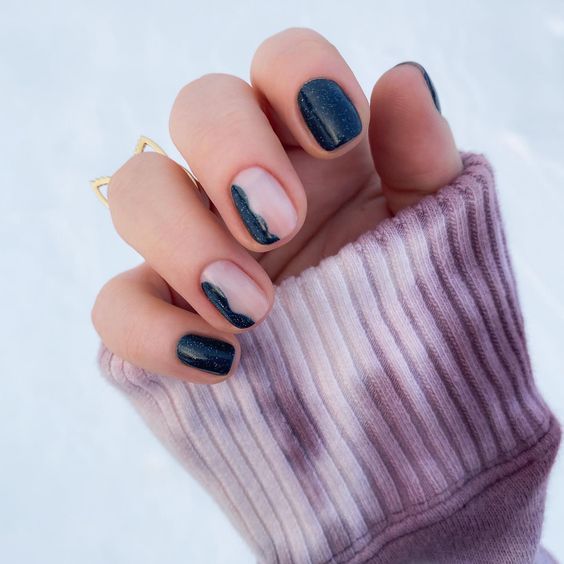 Image via @mani.of.the.moment
If you think black will look too dark or flat on your nails, add a layer of sparkle. You can also break up the darkness by doing some nails part nude and part black.
Colors Used: ILNP Snowstorm and Olive and June BEB
12. Moon Nails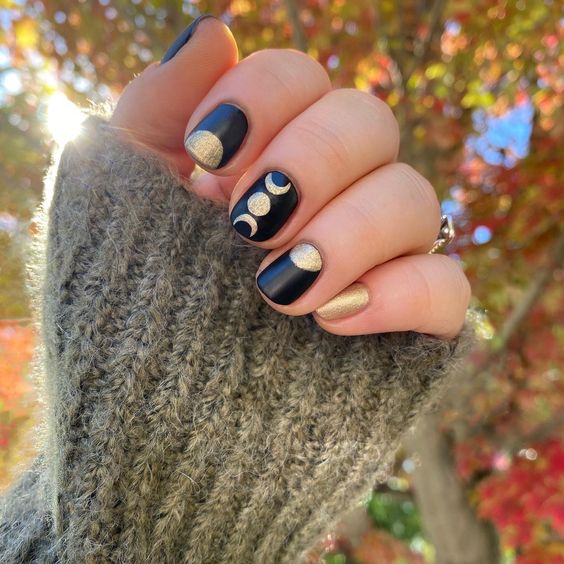 Image via @mani.of.the.moment
Draw inspiration from just one of these fingernails or combine them all like this beautiful moon manicure does. Paint the phases of the moon on your nails in gold for a glam look.
Colors used from Olive & June: E+M with OJBH art
13. Leopard Black Nails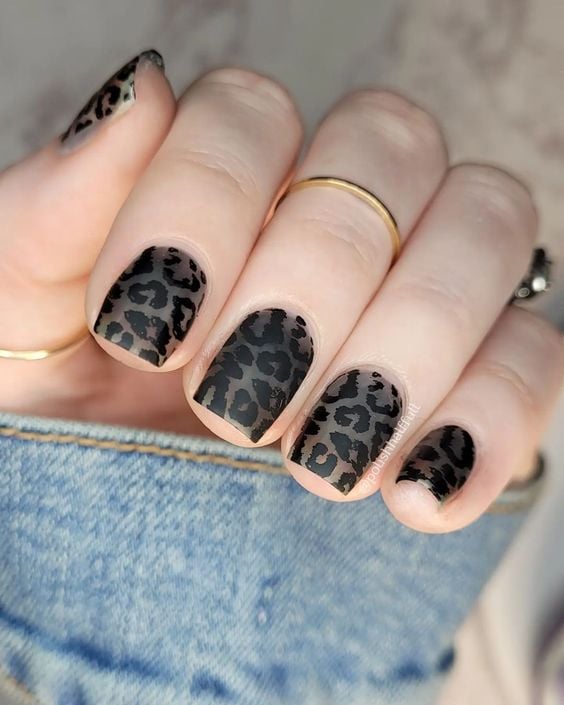 image via polish_half_full
A black design on a sheer black background is such a cool idea. Use a stamp or even freehand the leopard spots. They don't have to be perfect!
14. Black and White Swirls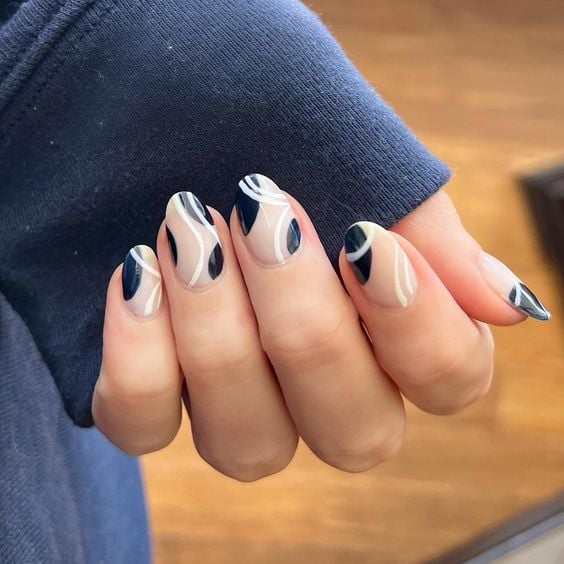 Image via @always.manicured
This manicure gives me retro vibes! Make parts of big circles on the edges of your nails and then white curvy lines in whatever pattern you like best.
Colors used from Olive and June: EC, BEB, HD, HJ
15. Halloween Nails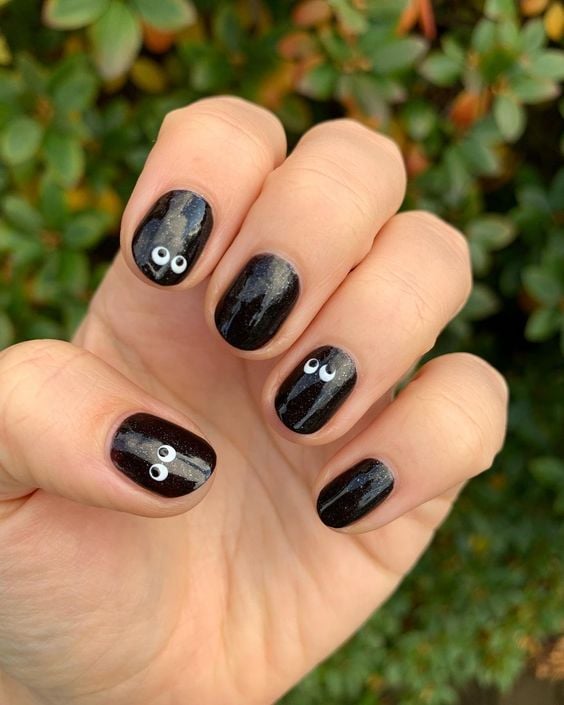 Image via @karanailedit
Sparkle plus easy eyes equals the perfect spooky-cute Halloween manicure. Use your dotting tools or even just Q-tips or toothpicks to make these adorable little peepers.
Find more Halloween nails!
16. Black Solids and Dots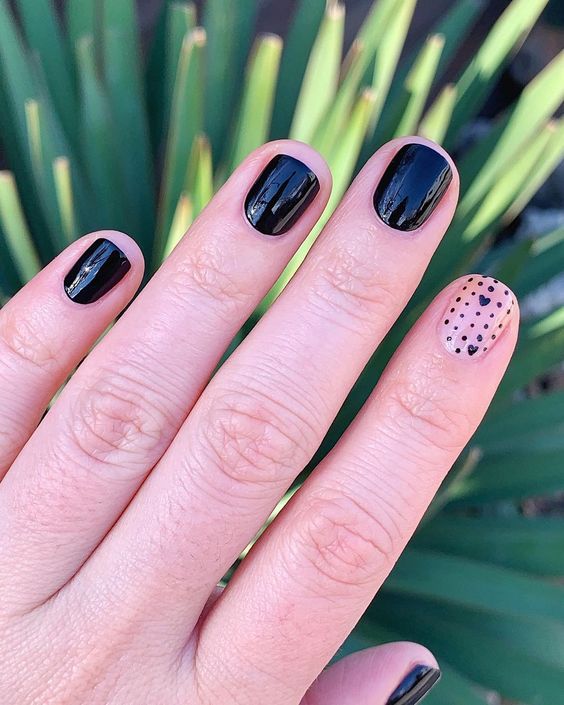 Image via karanailedit
Dress up your solid black manicure by doing a delicate black design on top of a nude fingernail. Tiny dots and a heart are the perfect pattern for a beginner even if you don't have specialty tools.
Colors used from Olive & June: E+M
17. Black Sparkles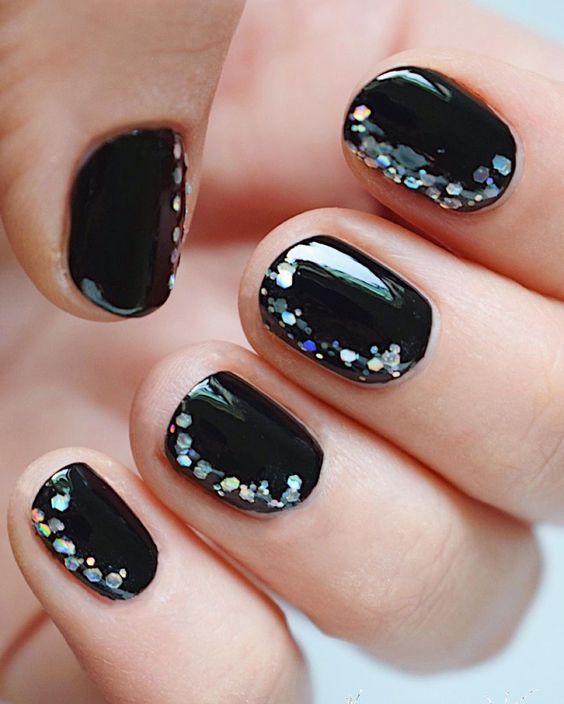 Image via karanailedit
Big pieces of glitter in a moon shape on the edge of your nail make a glam look for NYE, Halloween or a formal event. Use a high-shine top coat for the full effect.
Want black nail designs with stones? Head here!
18. Black Stars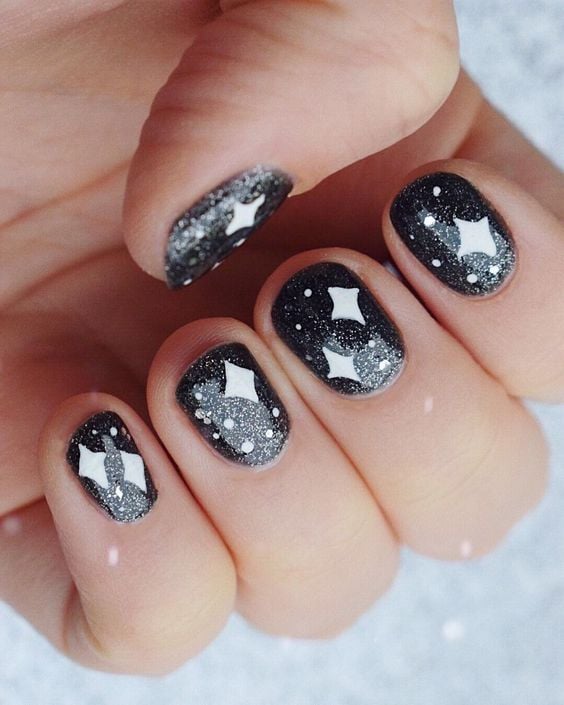 Image via karanailedit
A manicure inspired by the night sky! Use small silver glitter on top of the black and then paint big shiny stars.
19. Black Heart Tips and Accent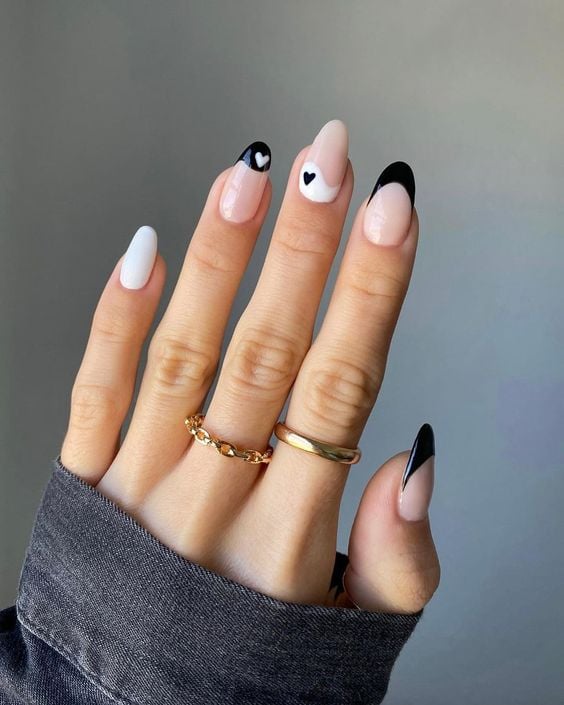 Image via @nailsbysmf
This black manicure is sweetened up with the gentle waves, the white accents and the adorable little hearts.
Colors Used: Le Mini Macaron licorice and milkshake.
20. Black Snake Nails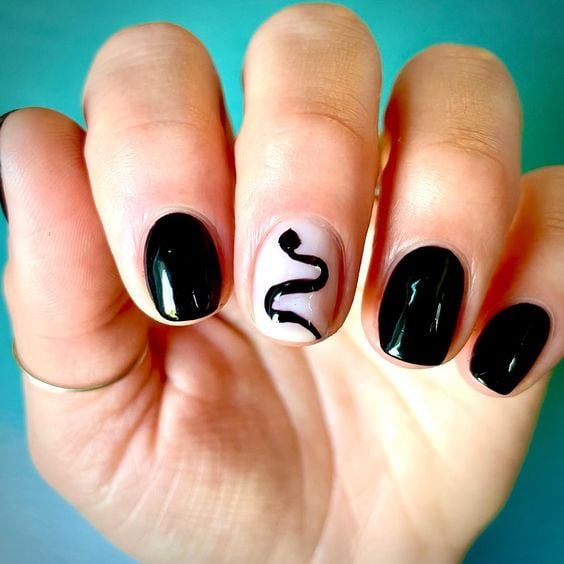 Image via @paintbynaptime
Go full goth with an easy snake on one of your nails. You can use nail tools or even just the nail brush!
Colors Used from Olive and June: SD and BEB
21. Black with White Dot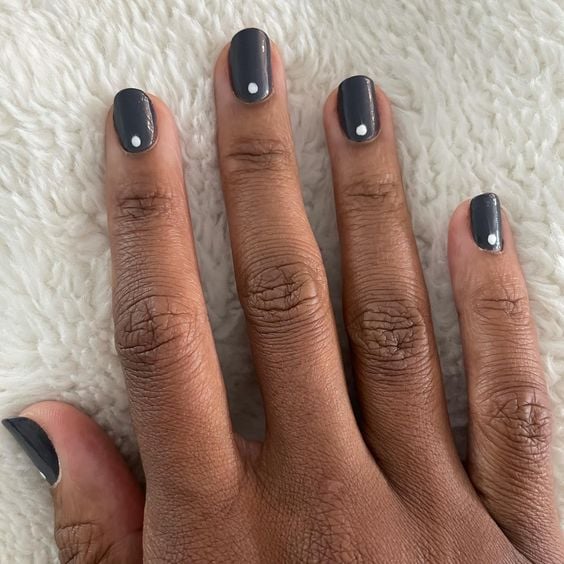 Image via @mynailfielife
This might be the easiest idea on the list to do yourself (even on your dominant hand!). Paint solid black nails and then use a dotting tool or Q-tip to make small white dots. Make them as big or as small as you want, or even do a line of dots to mix it up.
There you have it! I hope you found some black nail designs to try out for your next manicure!
Need more nail inspiration and opinions? Check out my reviews of Olive and June's mani/pedi systems and press-on nails.
Looking for nail ideas? Try these:
.