You can't go wrong with classic white nails. It's light and bright, and can be perfect for every season. It can evoke cool wintry feelings, or you can warm it up with bright accents for spring and summer!
If you're looking for a manicure that looks chic and cool, try one of these 23 white nail designs! Or just use them for inspiration for your own unique look.
One of my favorite nail polish brands and one that's used for many of these designs is Olive and June! Use this link and the code jenb20 for 20% off your order of any of their systems.
(Find my full review of Olive & June here.)
23 Best White Nails to Try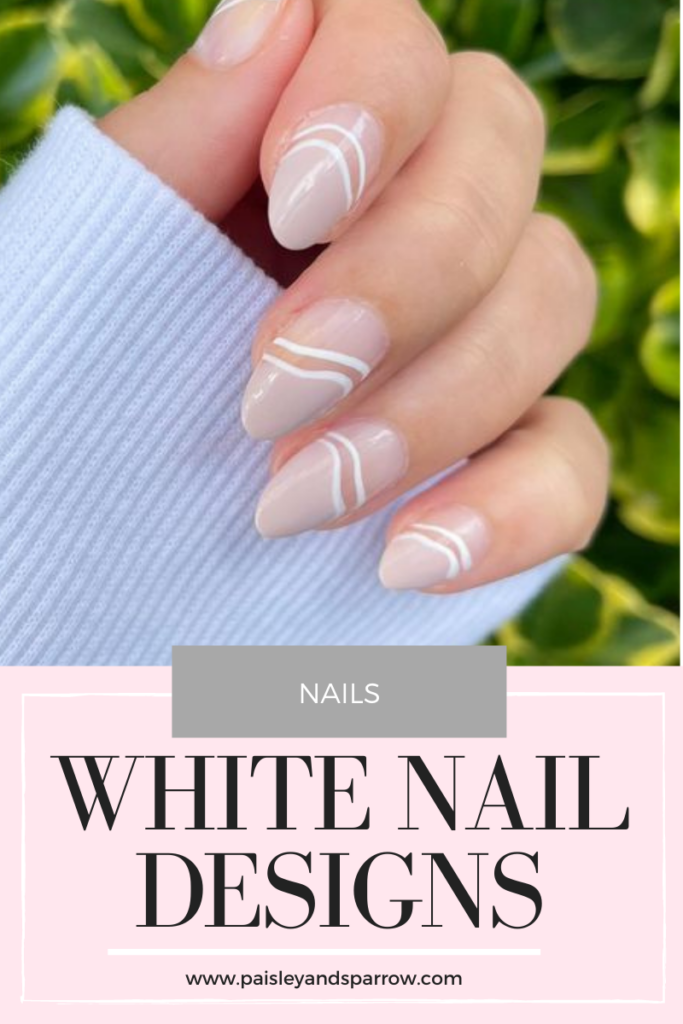 Paisley + Sparrow is a participant in the Amazon Services LLC Associates Program. This post may include affiliate links which means I may earn a small commission if you shop using the links below at no additional cost to you. 
1. White Lines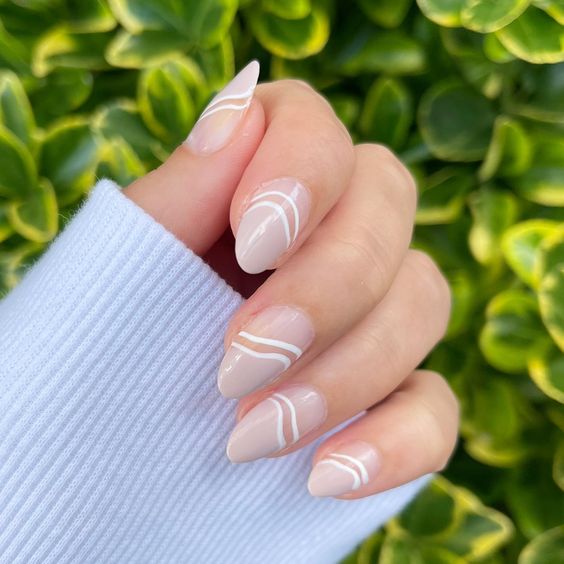 These neutral nails draw the eye with an organic line down the middle. You can easily freehand this design, which makes it a simple one to do at home!
Colors: Olive and June EC, HD, CDJ
2. White Iridescent Tips with White Heart Accent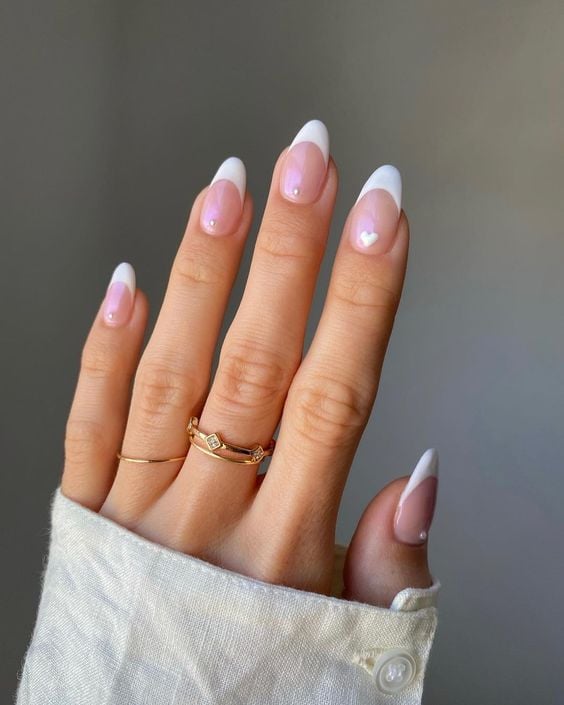 Jazz up a classic French manicure with dots, a heart, and the most perfectly pearly top coat! This will work on short nails, too, but I love how it looks here with longer nails!
Color: Le Mini Macaron Pearlescence
3. White Dots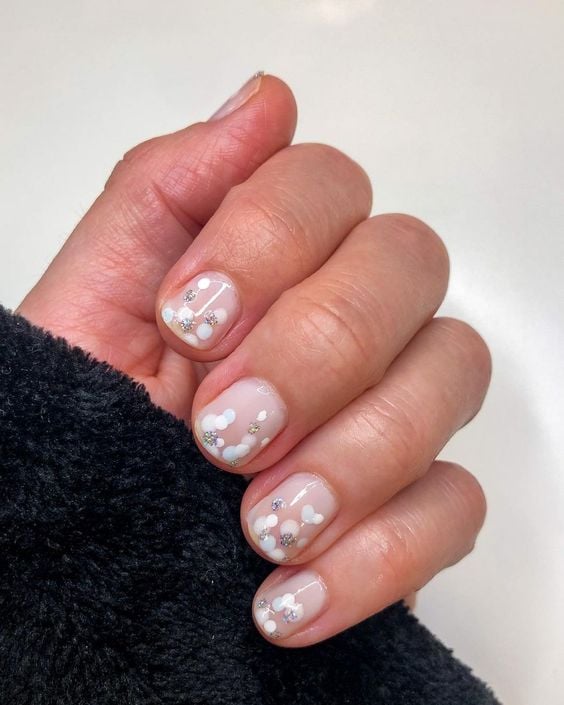 Using shades of white, gray and silver, this mani gives winter wonderland vibes! All you need it a dotting tool and a little time to let the layers dry.
Colors: Olive and June BEB, Stellar, Angelfish, HD, Exclamation Point
4. Polka Dot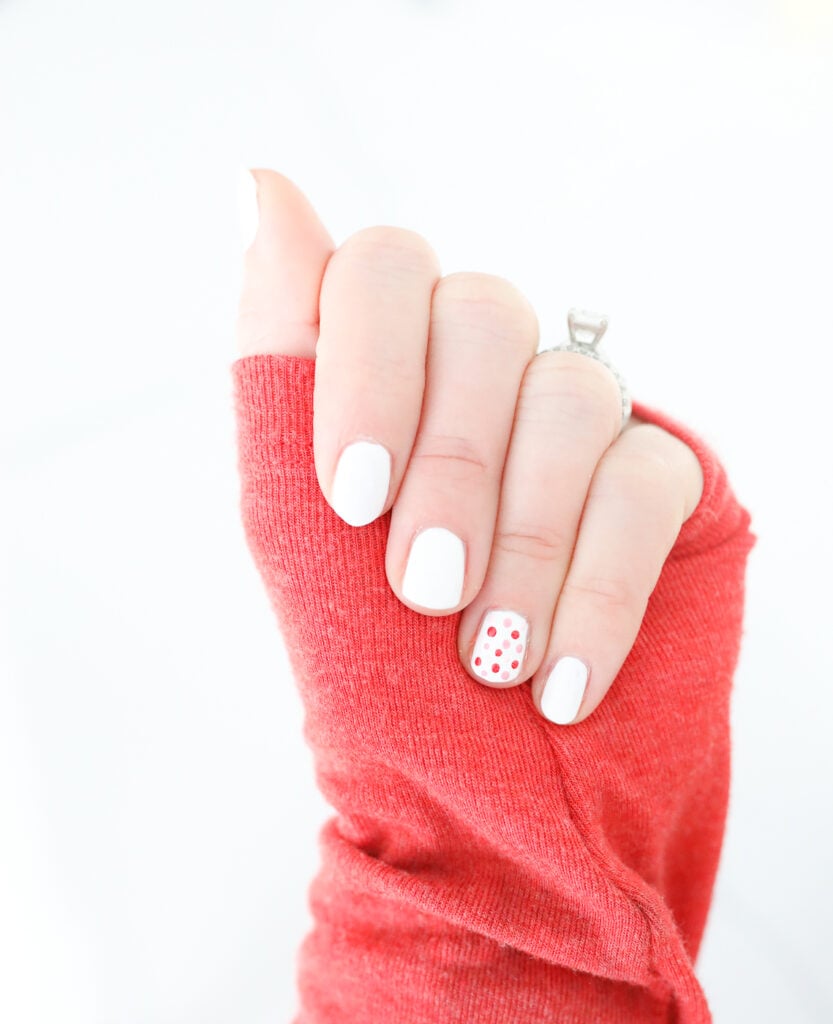 A super easy way to dip your toes into the DIY manicure world is polka dots. Start with a solid color base. Once that dries, pick one nail to add dots too. The beauty of this is if you mess up you only have one nail to redo!
Pick 3 coordinating colors and a dotting tool and get after it! The key is to let this fully dry before you put on your top coat.
Colors from Olive and June: HD for the white and ES (red), JM (darker pink) and Pink Sands (lighter pink).
5. Bird Nails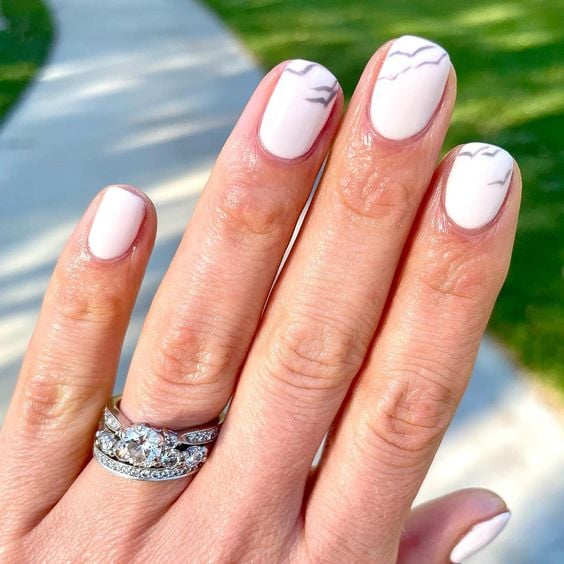 As you start out trying nail art yourself, it's ok to start simple! These birds look stunning but are also simple to make! Start with one bird and once you conquer that add more!
Colors from Olive and June: LHG and BEB and Lunar by Olive Ave Polish
6. XOXO Nails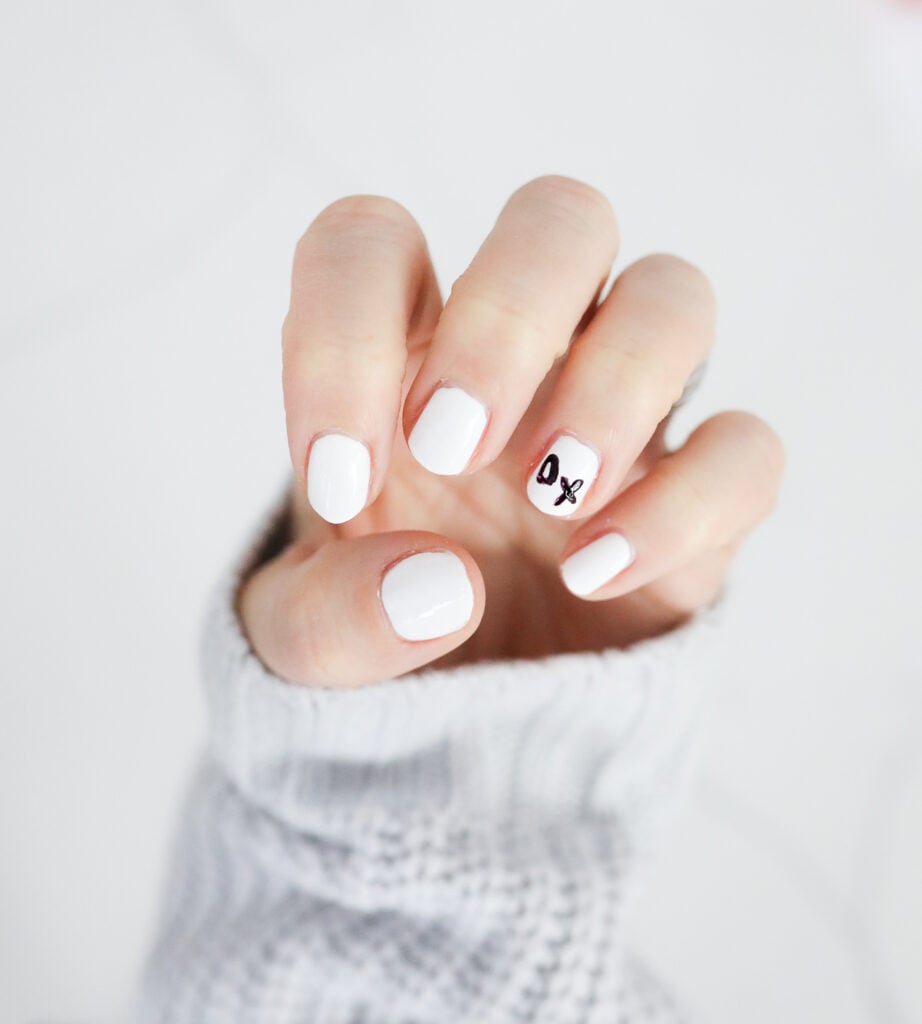 Celebrating Valentine's day? Or your anniversary? Show your love with this super simple OX nail art! You could easily customize this with your initials or your significant other's initials on the one nail!
Colors from Olive and June: HD for the white
*Find more Valentine's nails here!
7. Heart Accent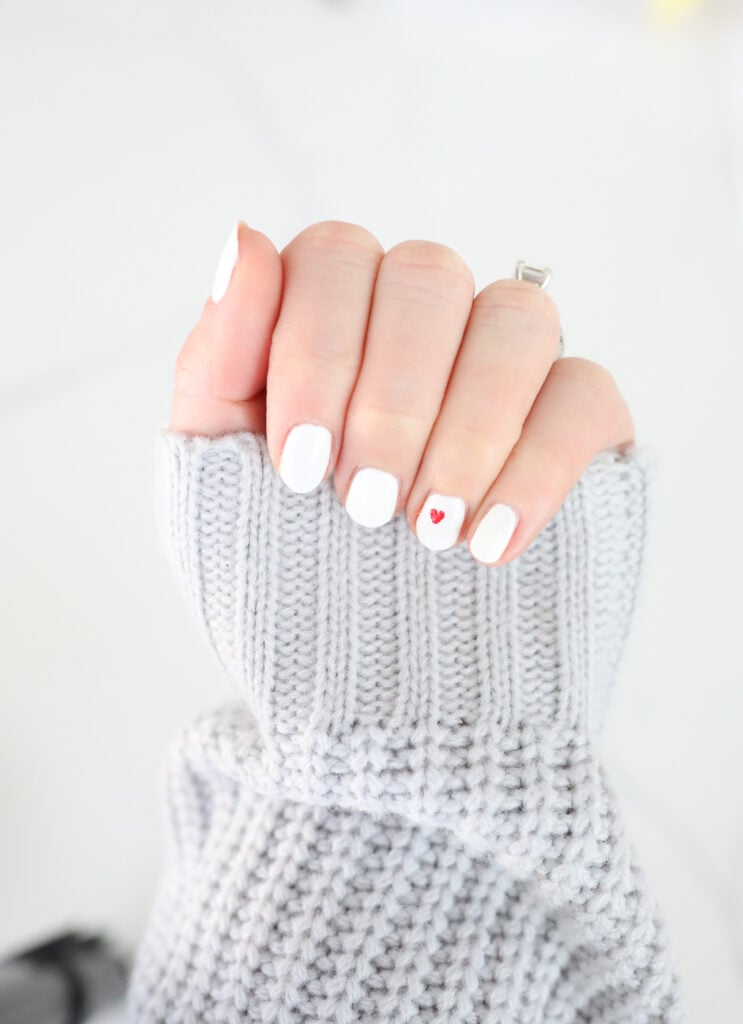 I love this look because it makes the little red heart pop! Use a dotting tool to make two small dots right next to each other, then pull them down into a point to form a heart!
Colors from Olive and June: HD (white) and ES (red)
8. Squiggle Line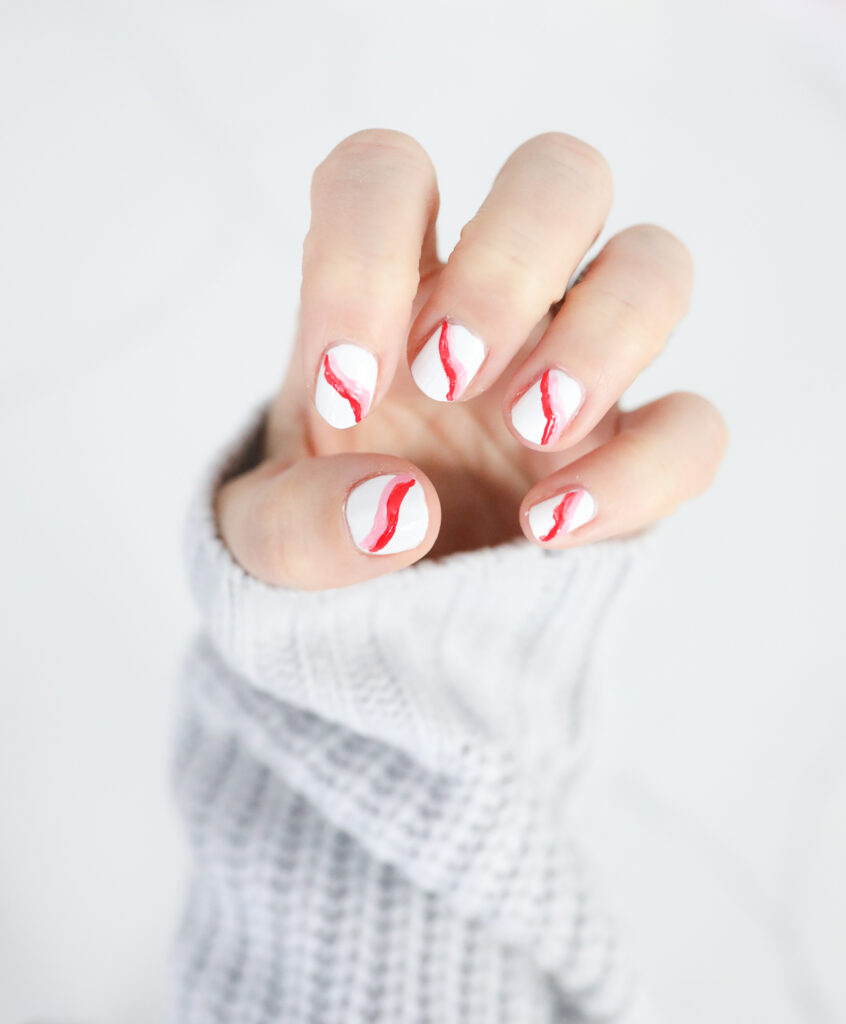 Abstract squiggles are an easy way to try your hand at nail art. There's no rules when it comes to abstract squiggles. Just start in one corner and end in the other corner with any sort of squiggle in the middle. Get a coordinating color and follow the original line!
Colors from Olive and June: ES (red) and JM (darker pink).
9. White and Nude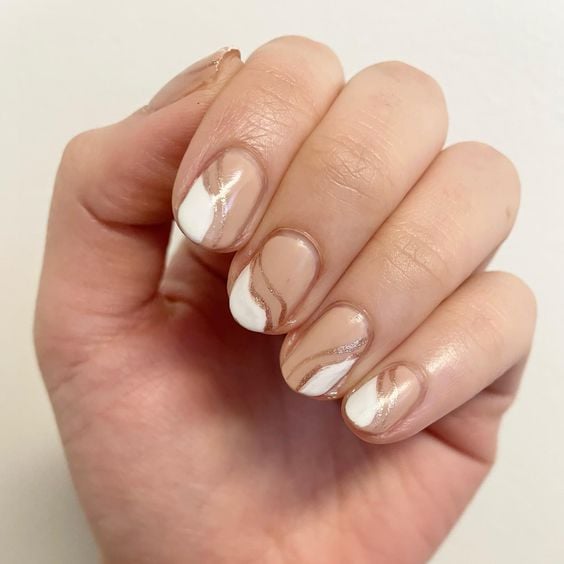 This manicure uses three colors to create a color block style design that you will love! You can keep with the white accent to stay with neutral tones or use a brighter color!
Color: Olive and June base: CHM, accents: HD, OJSM
*Find more more nude nail designs here!
10. Abstract Black and White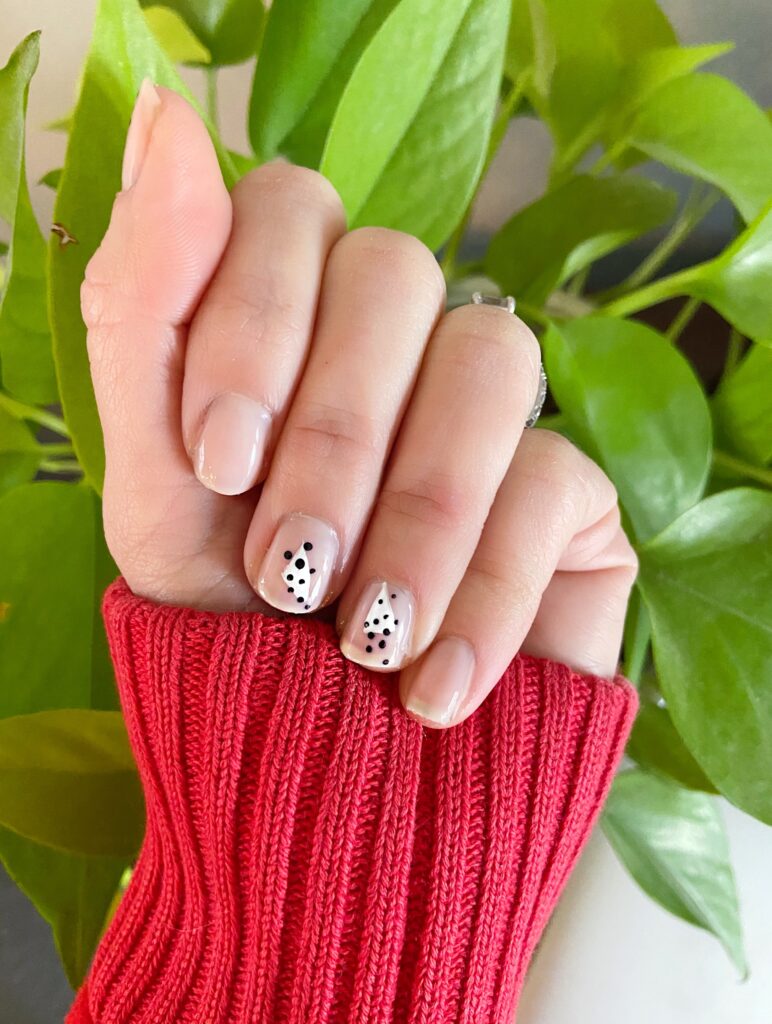 You can never go wrong with a classic black and white manicure! Start with a neutral nail color. Add a simple triangle accent and top it off with black dots!
11. Press On French Tip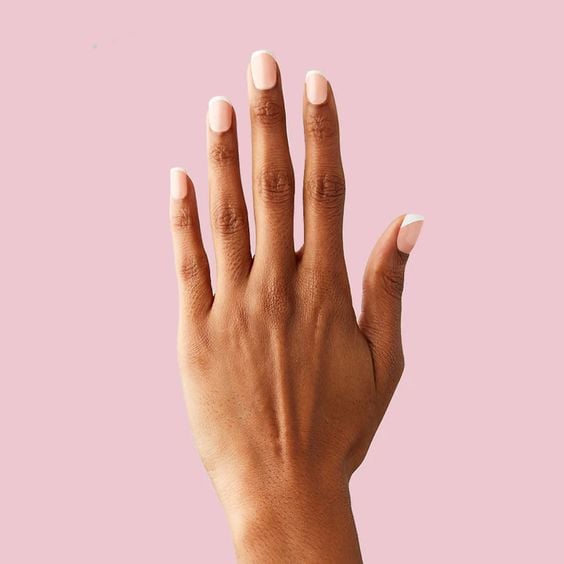 Fun fact — you don't actually HAVE to paint your nails to get a beautiful mani! These french nails are created with press ons! I've used Olive and June press on nails and love them!
Nails: Olive and June
Find my full review of Olive and June press on nails here!
12. Sparkly White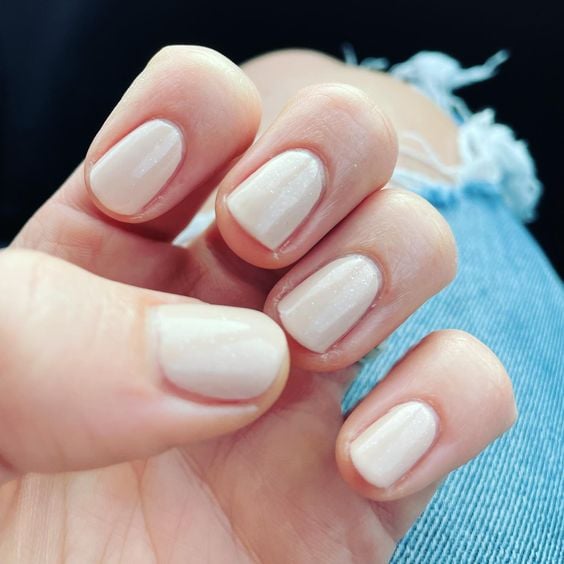 Keep a solid white polish from falling flat with a subtle sparkle in your top coat. This manicure is simple but has depth with just a little bit of glitter.
Colors: Olive and June 2 coats of Cable Knit and 1 coat Cosmic
13. Q-Tip Nails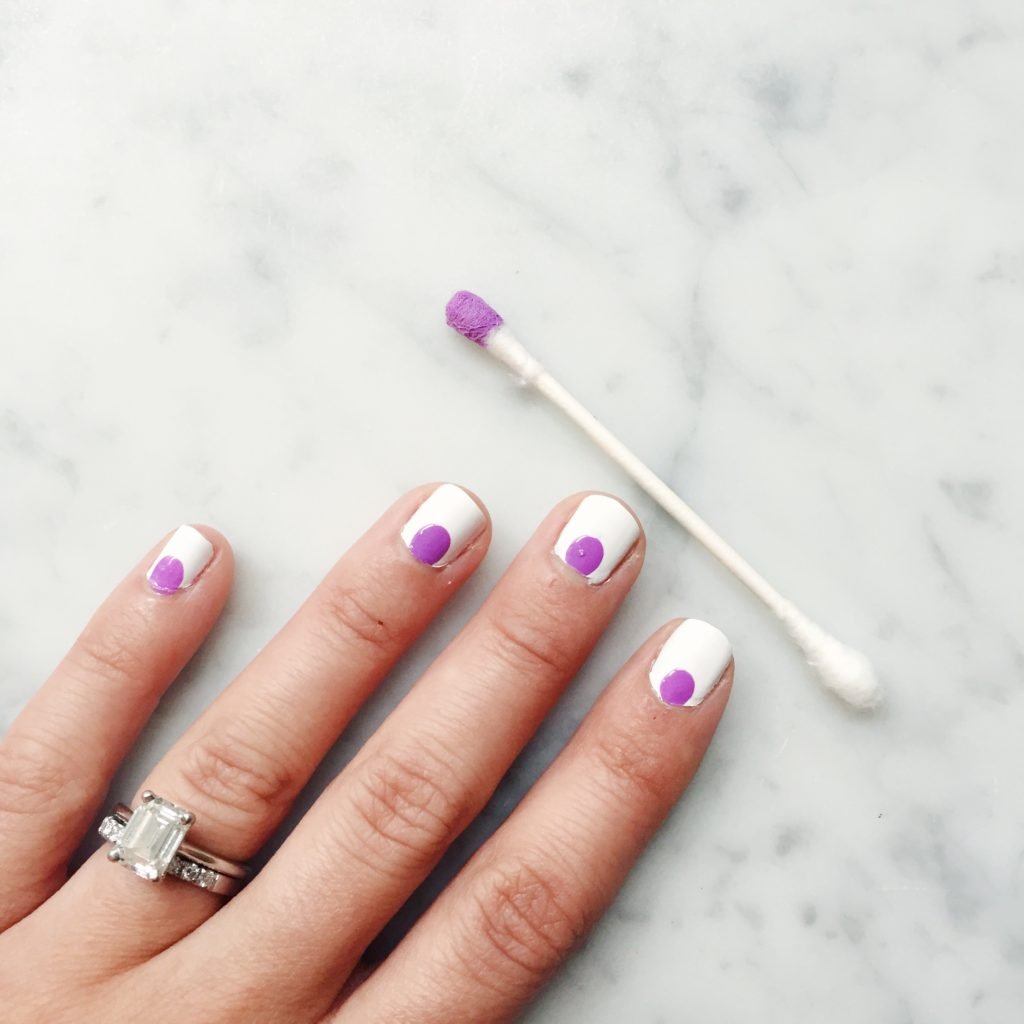 One of the easiest ways to create a nail design on short nails is with a q-tip! Paint your nails a solid base. Once it's dry use a q tip to add a dot at the base of your nail!
Find more q-tip nail art details here!
14. Star Accent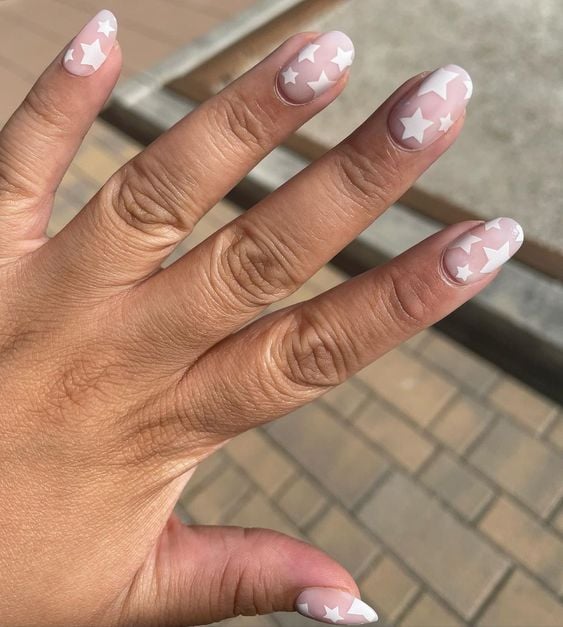 Olive and June Press on nails for the win! These nude based nails with white stars are so fun! A great manicure for Memorial Day or the 4th of July!
Nails: Olive and June again!
15. Confetti Nails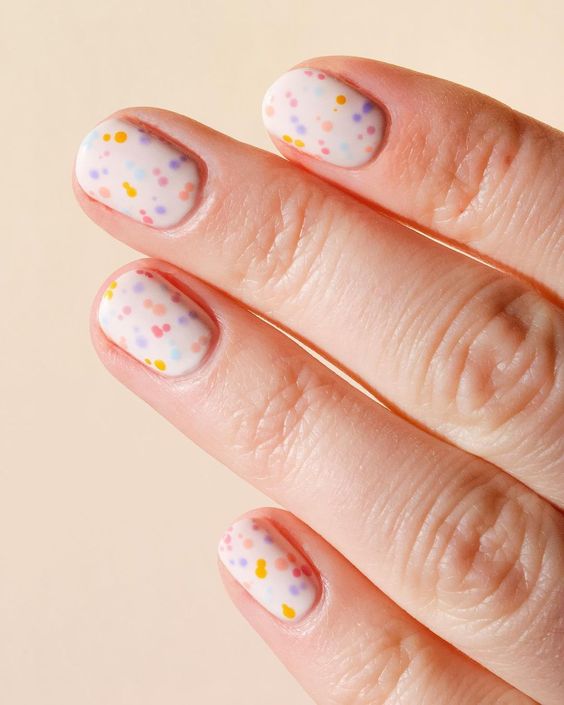 These confetti nails are perfect for a celebration! Just use a dotting tool to make dots of different sizes in all your favorite colors. Putting two dots of the same color next to each other makes it look really professional for some reason!
It can be repurposed for any holiday too just by switching out colors!
16. Star Nails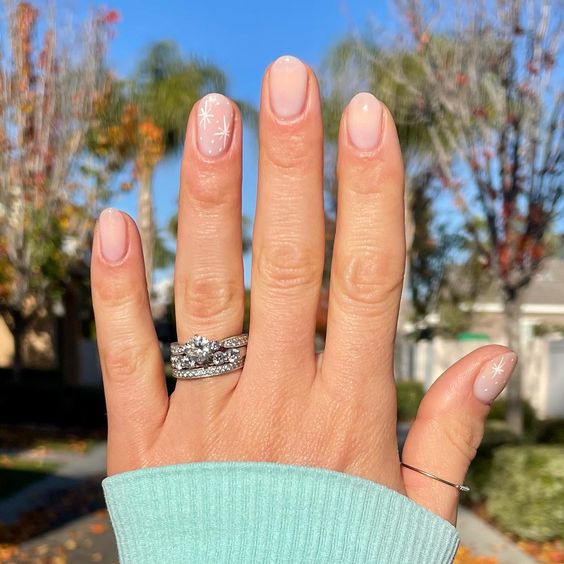 These gorgeous star nails are amazing. Use white nail polish to create a star design on your thumb and ring finger. Add some simple dots around the stars and you have a beautiful manicure.
Color: Olive and June base:3 coats BEB Stars: HD
17. Black and White Cow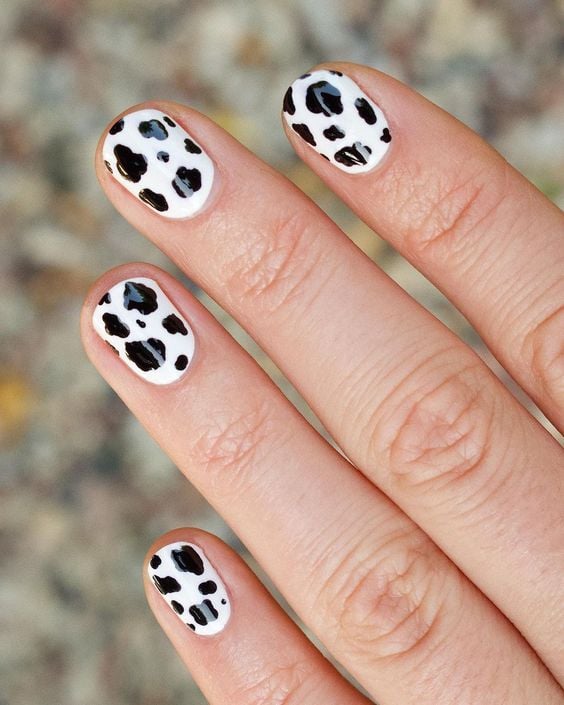 Here's a classic black and white cow look that you can do all over your nail! I also think it totally passes for an easy white leopard print.
It's the perfect look for Chic-fil-A day when you're dressing like a cow or just to show your love for animal print.
18. Cow Print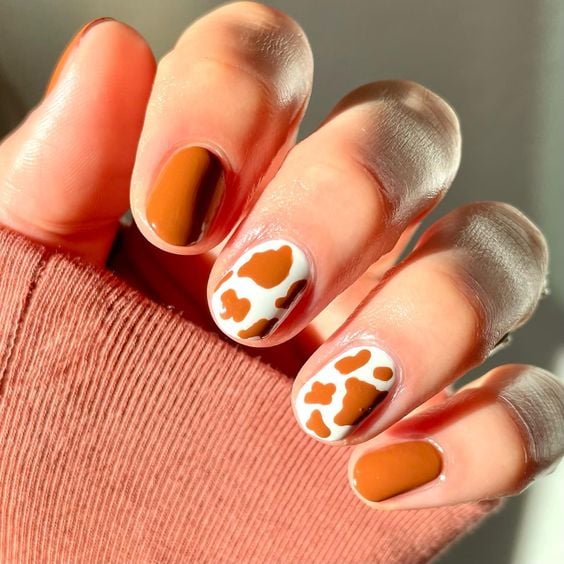 Whether you're heading to Yellowstone Ranch or just love cows, this is such a fun idea for short nails! Having two accent nails with cow print is a simple and subtle way to have some fun with your mani!
Colors:
Brown: Row with the Flow from the Essie #swooninthelagoon collection
White: 2 coats HD, 1 coat BEB from Olive and June
19. Moon Nails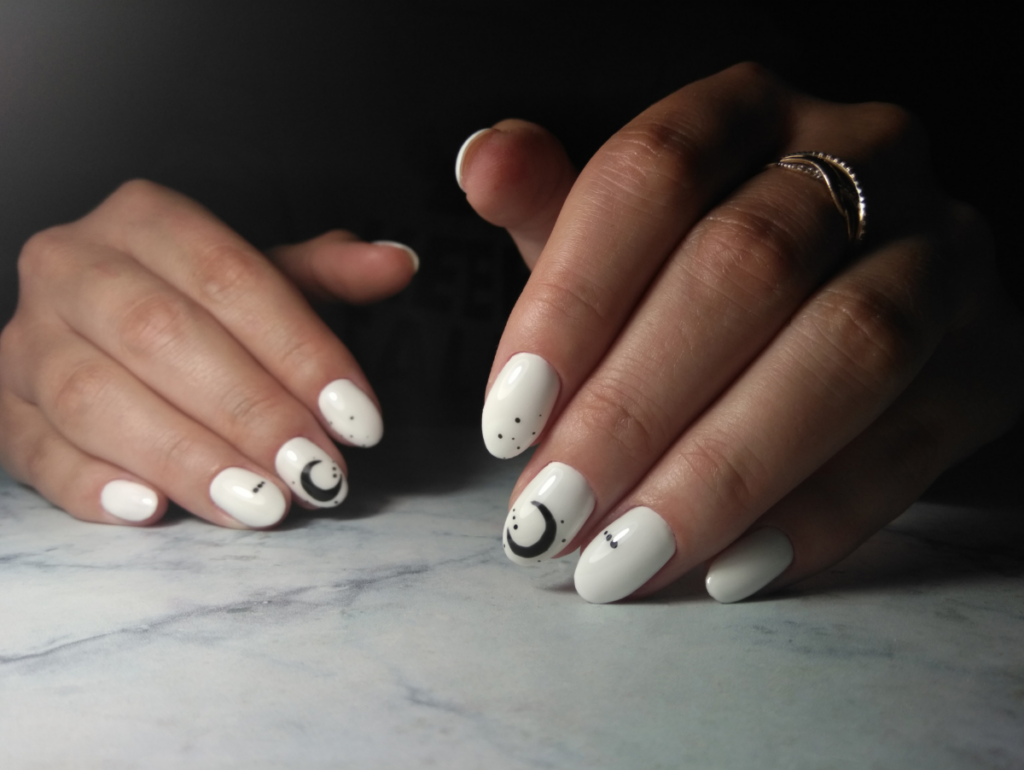 Flip the color scheme for night themed nails and use a white base! These moons and stars are great for Halloween or just for lunar lovers!
20. Abstract White Nails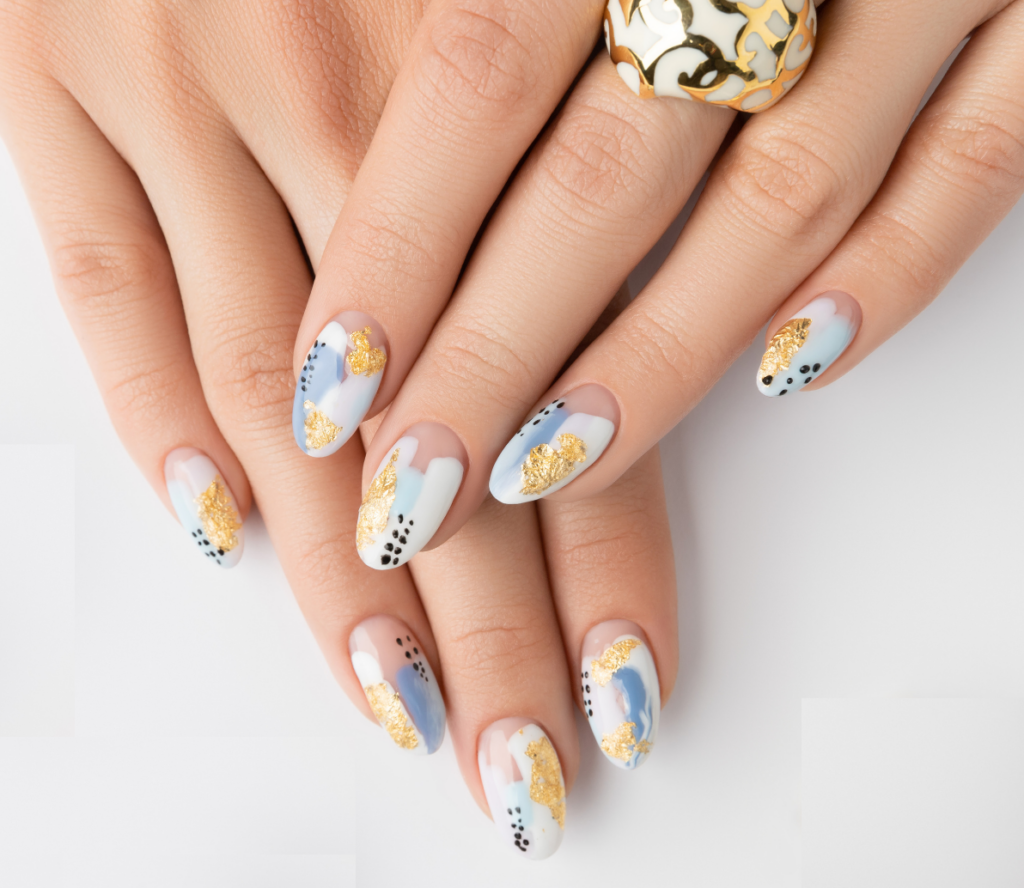 Use white as one of the prominent colors in an abstract design. I love abstract fingernails because you can't mess them up! Try layering different colors, leaving some nude nail showing, making dots and even applying gold leaf!
21. White Base with Red and Peach Flowers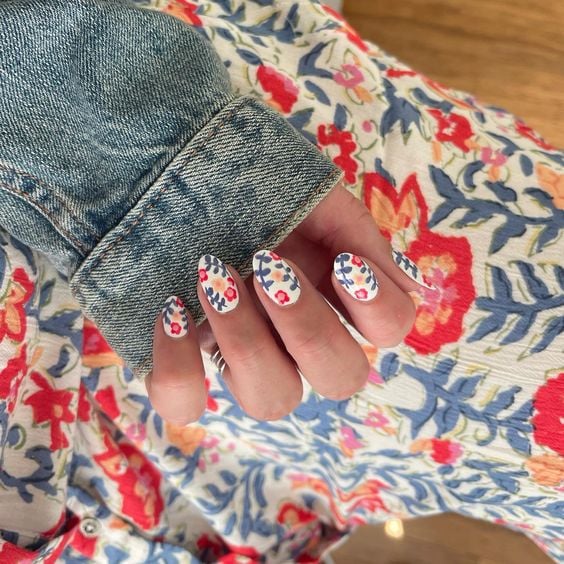 Take inspiration from your favorite floral fabrics! Whether you just use the same color scheme or copy it exactly, you already know you love the look!
The light background really makes the flowers and blue leafy stems pop, just like on the dress.
Colors from Olive and June: HD, Hibiscus, CNH, BI, JM
22. White French Tip with Flower Accents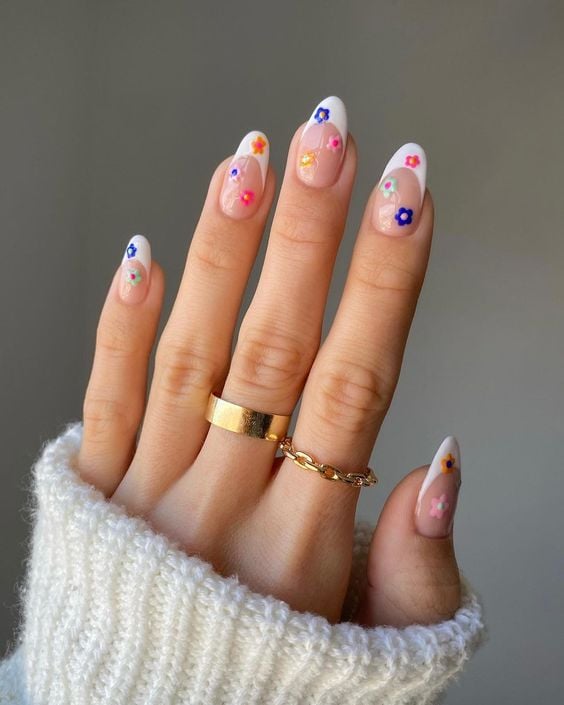 Give yourself a bit of a retro vibe with these '70s style colorful flowers. A classic French manicure in white is the perfect backdrop.
23. White and Yellow Daisies on Nude Nails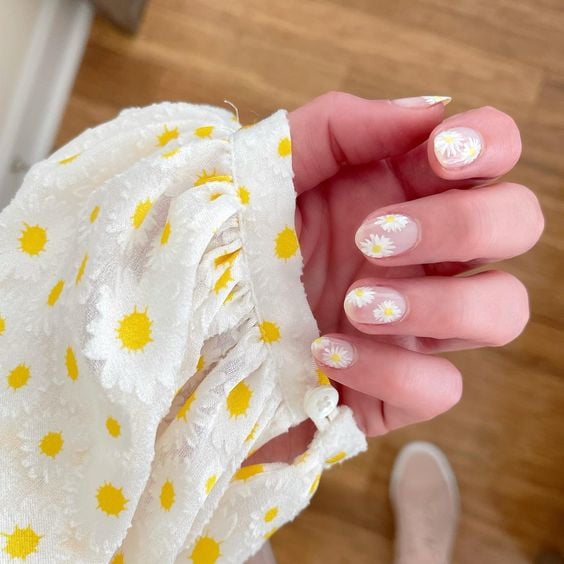 "Don't you think daisies are the friendliest flower?" This You've Got Mail quote is spot on — and these fingernails feel oh so friendly! Use a nude sheer polish so you don't detract from the beautiful full daisies.
I hope these different white nail designs inspires your next mani whether you do it at home or head to the salon!
Love Olive and June? Use this link and the code jenb20 for 20% off your order of any of their systems.
Looking for nail ideas? Try these:
And try out one of these different nail shapes while you're at it!