One thing I absolutely love doing is sharing how to declutter and organize your home. Decluttering and organizing helps in so many ways! It helps your home stay more clean, you spend less time trying to find things and you're not filling your home with things you don't need, want or use.
I find cleaning or organizing to be super therapeutic but I know that's not the case for everyone! It can be stressful, confusing and down right overwhelming.
That's why I'm teaming up with blogging bestie, Arin from Arin Solange at Home, for the 6 Bags in 6 Weeks Challenge! Together we're going to walk you through how to finally declutter and organize your home.
Why are we doing this challenge?
Arin and I both believe that a home that is organized and clutter free is a more joyful space. We both are moms with little kids so our days are full of changing diapers, feeding babies, dropping off and picking kids up from school and preparing all the meals for the day. The last thing we want is to spend hours picking up our home after the kids go to sleep.
We want our homes to be less stressful and more purposeful. Being organized and removing the clutter helps do this! When you start your mornings off knowing exactly where that specific hair product you like is located and your kids know where to find their hats and mittens to get ready for school, it creates a place where there's less overwhelm, less chaos and more calm.We know how crazy and stressful life can be, especially with kids, and the purpose of this challenge is to eliminate some of that!
I'm going to be sharing a day by day calendar to guide you through this process. You can follow it directly or just simply use it as a starting point to help get you going (or re-motivate you) through this challenge.
Below you'll see the printable to use for this challenge. You can print it off to help you prep for the challenge! I'll be going more in depth each week with the best way to go through each space in your home but this will give you a basic idea of what to expect.
How to Declutter + Organize Your Home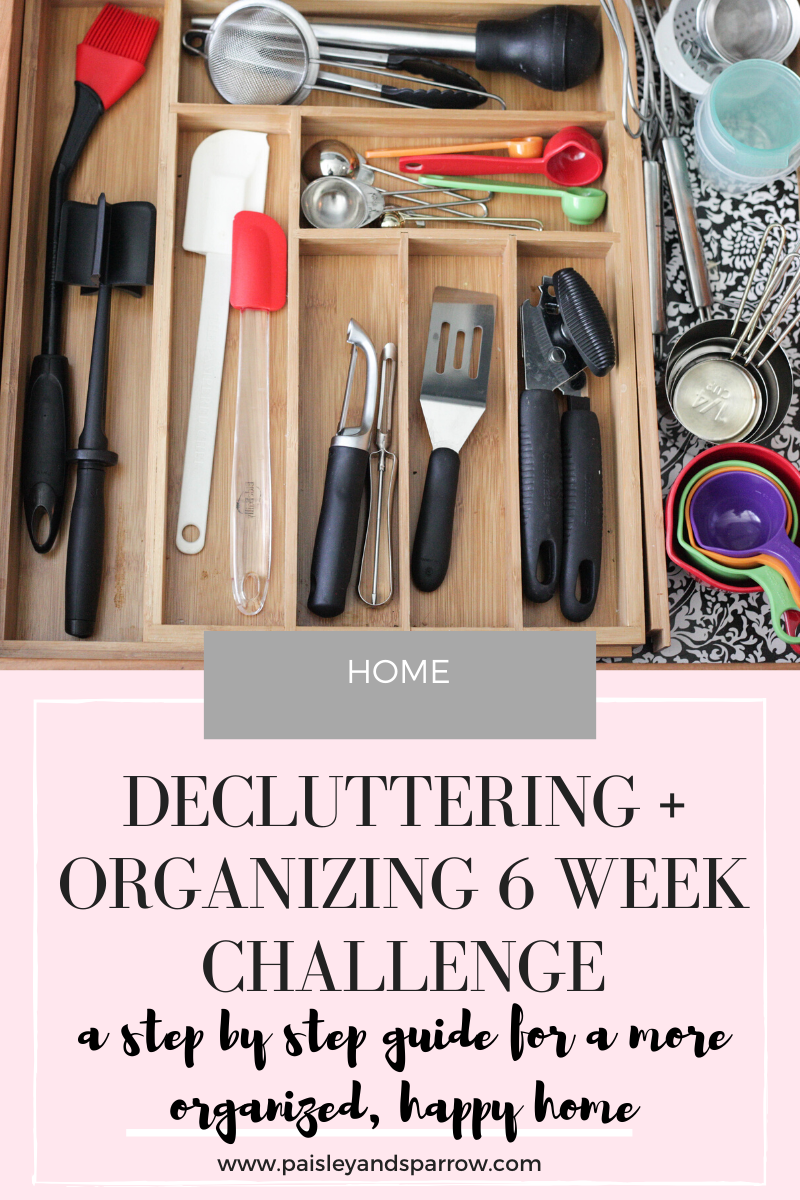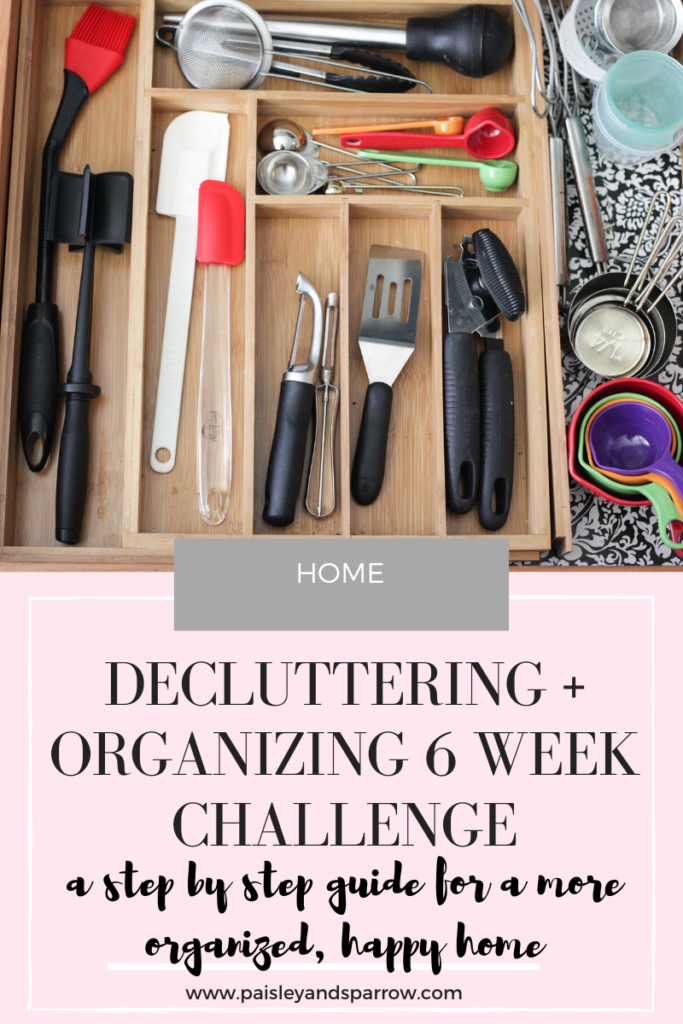 Categorizing your stuff
You'll want to categorize your stuff in 4 different ways:
Keep
Donate/Sell
Fix
Throw away
Keep
The items you keep should be ones that you have used within the last year or have sentimental value that your grandkids would appreciate (for example your wedding dress).
Things like "aspirational clothing" (clothing that you don't fit into yet that you hope to someday), fine china that you haven't used in your 5 years of marriage and sentimental items that really have little meaning to you should not be kept. This is such a morbid thought but I always think to myself, if I die would this add value to anyone else? If I'm keeping something because I think it would be a nice thing to pass on to my kids then it should have some meaning.
There's always a few exceptions to this rule. For instance, I have a handful of clothes that I don't yet fit into but I also had a baby 4 months ago so there's a good chance I'll fit into them soon.
Donate/Sell
Donating or selling items is by far the best thing to do with items you're no longer keeping. I always let our babysitters and my niece get first dibs at my clothes and send photos of things I'm getting rid of to my sisters and mom to see if they want it.
From what doesn't get claimed, gets either sold or donated to our local thrift store! I've been asked where I donate items. I typically donate them to a local thrift store that I know and love (Arc's Value Village). There are lots of great places to donate items to and even some that pick up items (in MN you can even have some places pick up your items like DAV). I sell some of my name brand clothes on Poshmark (find me @jen_biswas) and other items through our local neighborhood app.
Fix
When you put things in the "fix" category, set a time limit for yourself. If you have clothes that need to be altered set an appointment with your seamstress BEFORE this challenge ends. If you haven't brought them in within 2 weeks they should go to the donate pile.
Same with everything else. Set a date the items need to be fixed by, set an alert in your phone, and if it's not fixed by then, then donate them!
Throw Away
And lastly, items to throw away. This should be your last resort but things that can't be donated or fixed (like old papers, broken items or clothes that can't be mended) belong here.
6 Bags for 6 Weeks
Ok, now on to the plan! I have my printable broken out into 6 weeks of work with specific sections for 6 days of the week. (Click here to download your calendar!) You can use this in a few ways. You can follow the plan exactly, you can do all the work on the weekends (clumping all 6 days into 1 or 2) or however works best for you.
As you go through your home, cross off the completed areas on your print off. This will help you keep track of what you've done and what's still left. There's also something amazing about crossing things off a list ha!
Also, Arin is sharing a printable for you to keep track of how many bags you're getting rid of. Our challenge for you is to get rid of 6 bags of stuff every week for the 6 week challenge. She has tons more information on that over on her post so be sure to go read that and download her printable!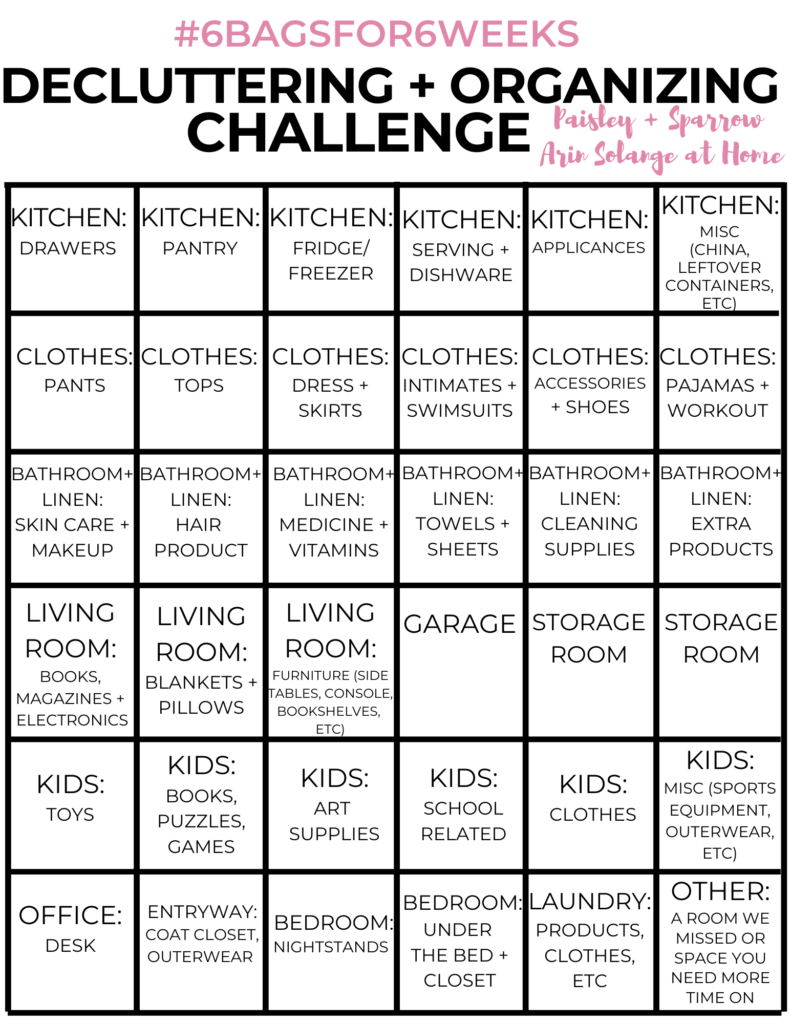 Week 1: Kitchen
Day 1: Drawers
Day 2: Pantry
Day 3: Fridge/freezer
Day 4: Serving and dishware
Day 5: Appliances
Day 6: Misc (china, leftover containers, etc)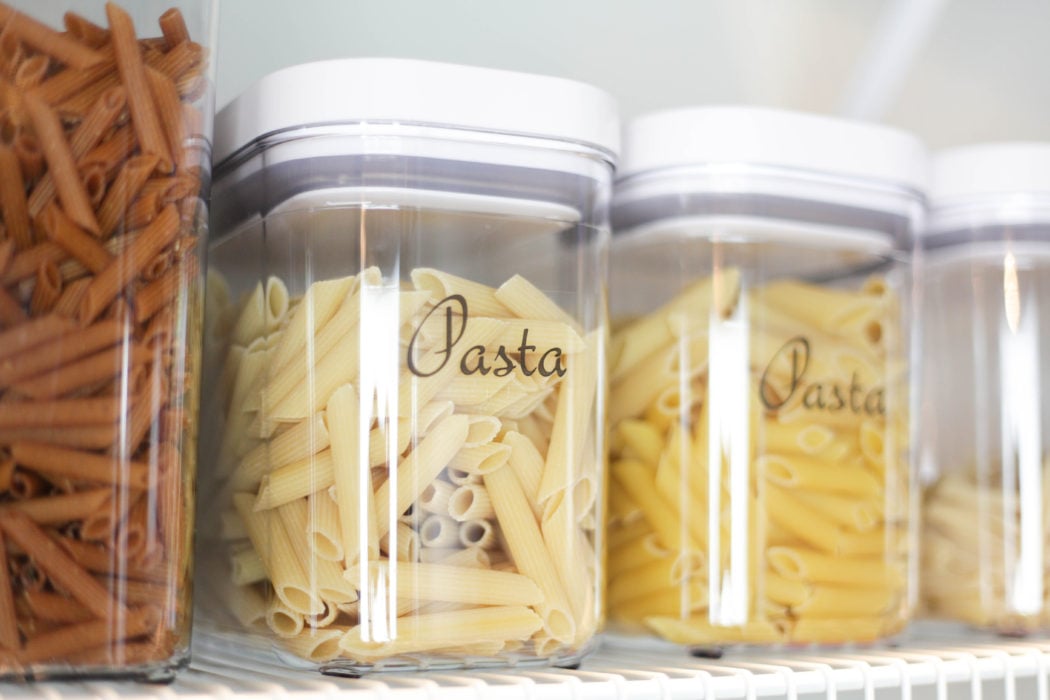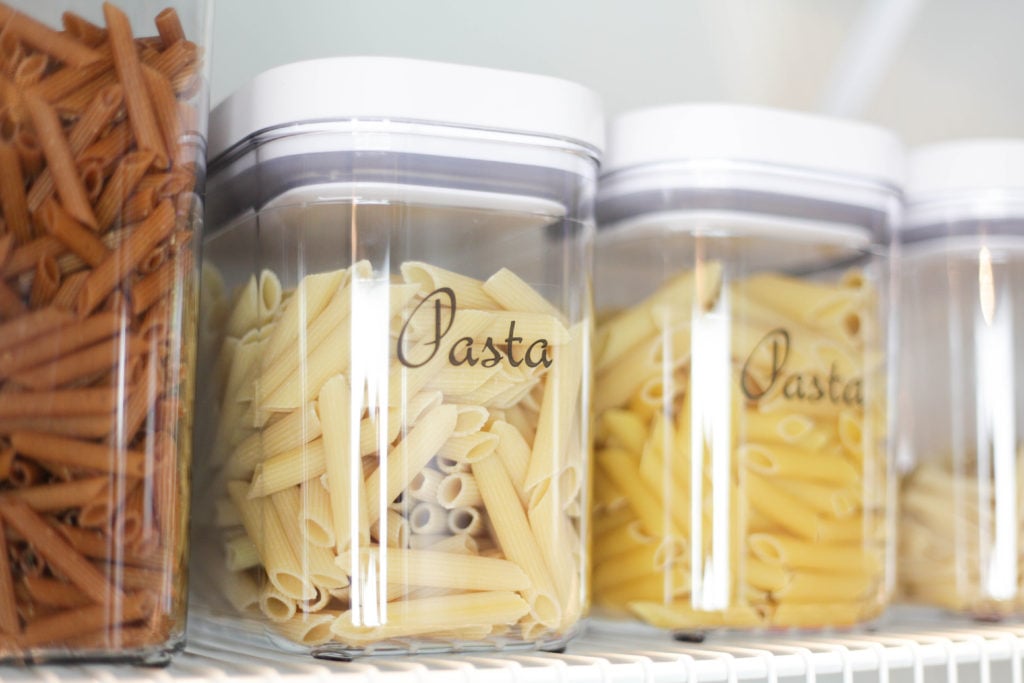 Week 2: Clothes
Day 1: Pants
Day 2: Tops
Day 3: Dresses + skirts
Day 4: Intimates + swimsuits
Day 5: Accessories + shoes
Day 6: Pajamas + workout clothes
Week 3: Bathroom + Linen Closet
Day 1: Skin care + makeup
Day 2: Hair product
Day 3: Towels + sheets
Day 4: Medicine + vitamins
Day 5: Cleaning supplies
Day 6: Extra products (like bags of cotton balls, Costco size packages of deodorant, body wash, etc)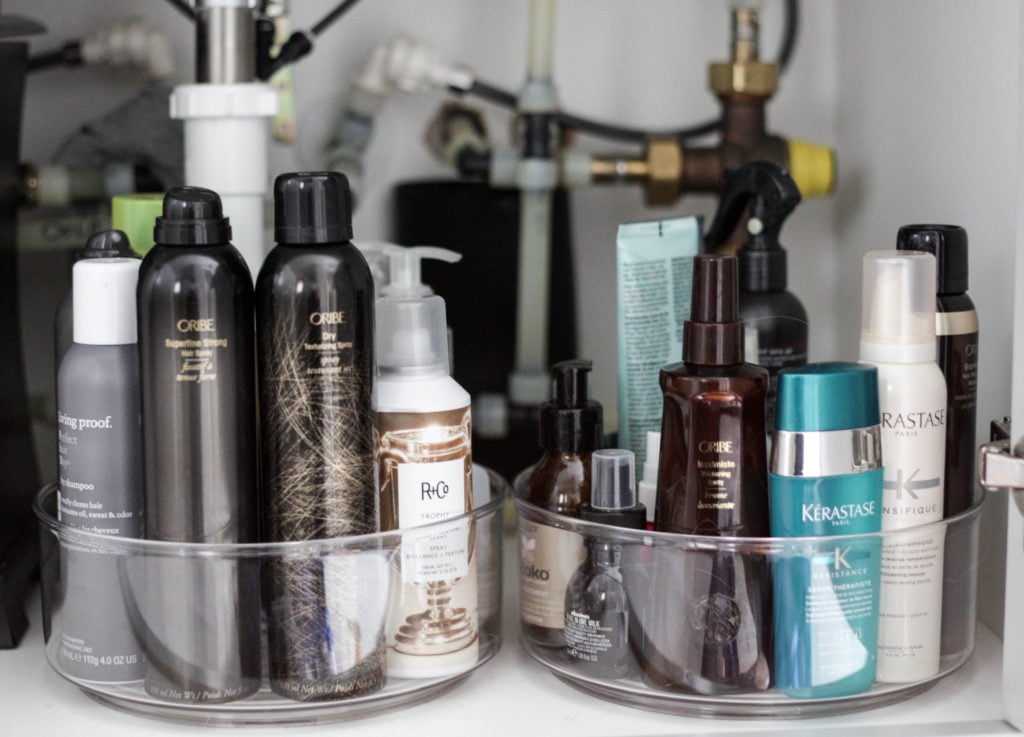 Week 4: Living Room , Storage Room + Garage
Day 1: Magazines, books + electronics
Day 2: Blankets + pillows
Day 3: Furniture (Bookshelves, side table + console)
Day 4: Garage
Day 5: Storage Room (Day 1)
Day 6: Storage Room (Day 2)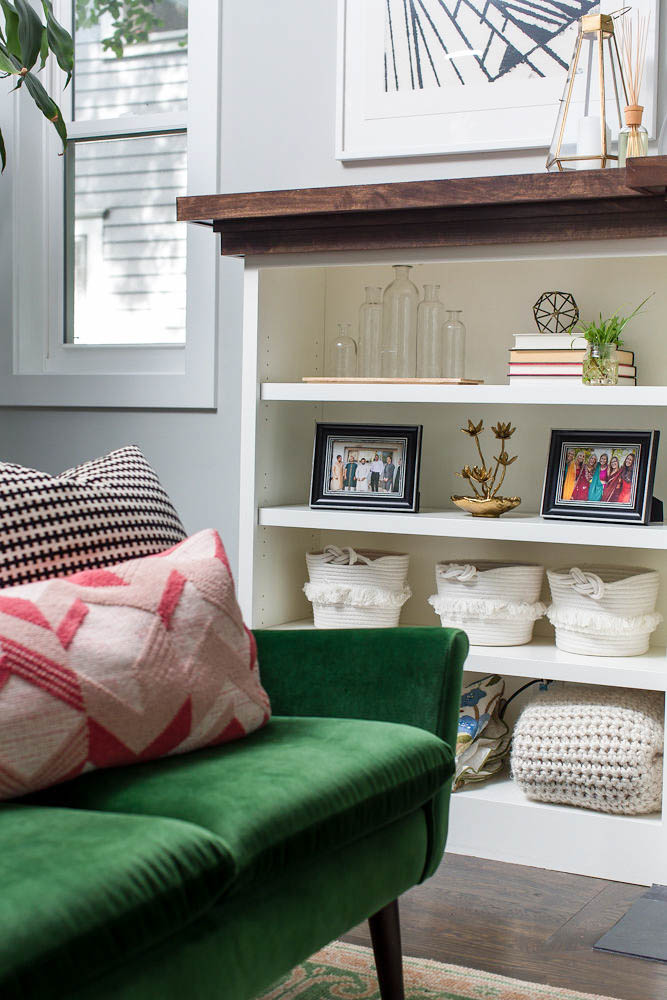 Week 5: Kids
Day 1: Toys
Day 2: Books, Puzzles + Games
Day 3: Art Supplies
Day 4: Papers, School Related
Day 5: Clothes
Day 6: Misc (Sports equipment, outerwear, etc)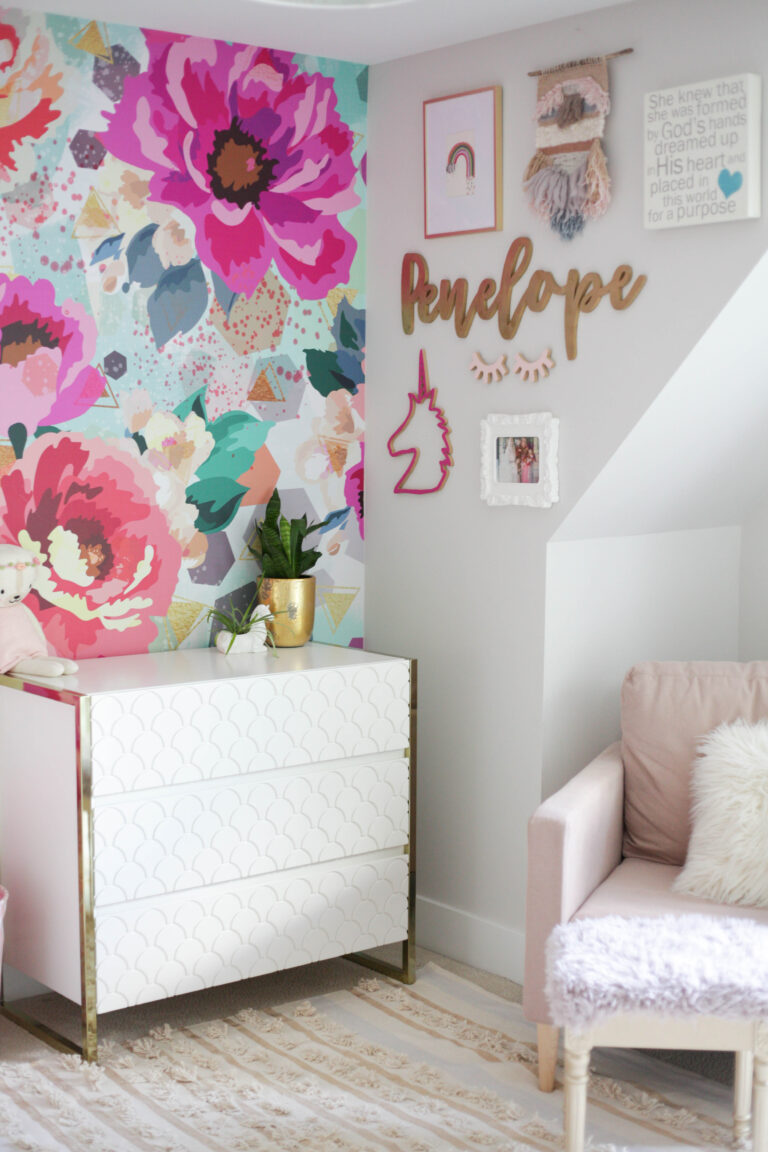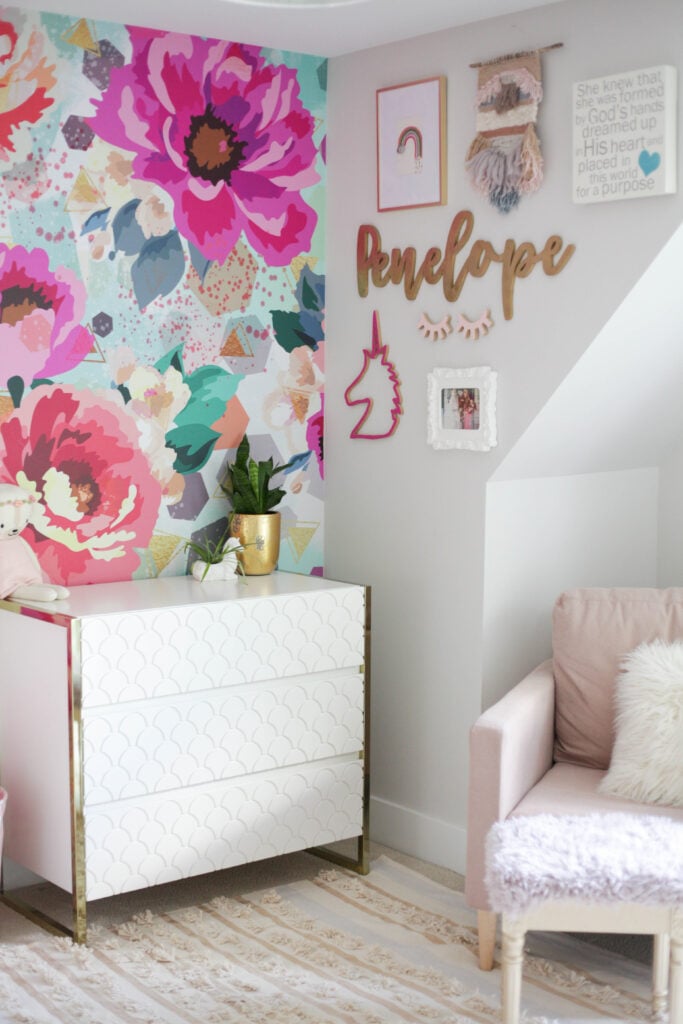 Week 6: Misc
Day 1: Office – Desk, Office supplies, etc
Day 2: Entryway – Coat closet, Outerwear
Day 3: Bedroom – Nightstands
Day 4: Bedroom – Under the bed + closet (other than clothes)
Day 5: Laundry – Products + clothes
Day 6: Other – A room or space we missed or you need more time on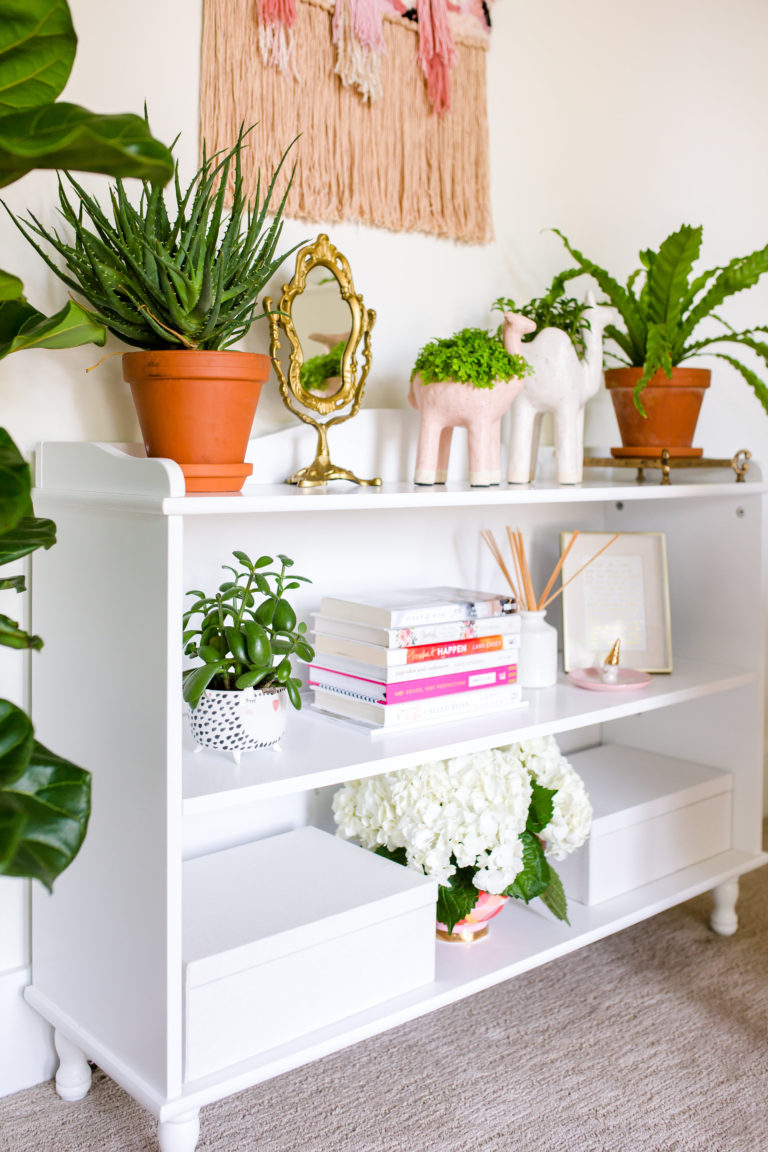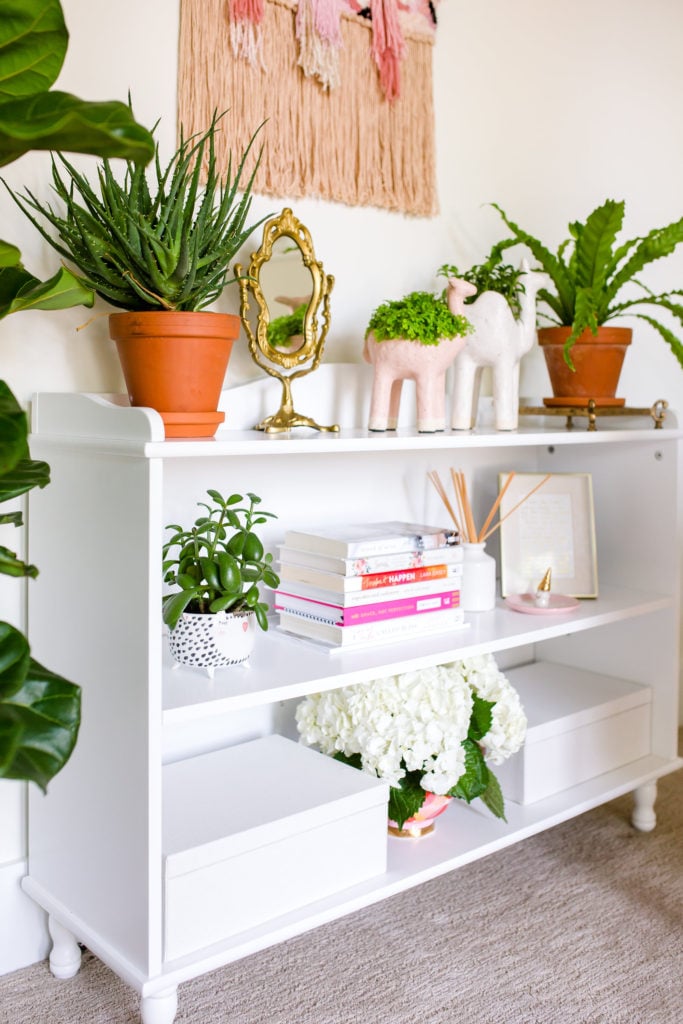 Our challenge is officially launching on January 6th! We have some amazing brands on board to reward some of you who participate in this challenge. More on that in the coming weeks!
Be sure to tag us on Instagram and use the hashtag #6daysfor6weeks to let us know you'll be joining in on the fun! We can't wait to start 2020 with you in a space that bring more joy and purpose to your life.
Be sure to download and print off your calendar here!
And in the meantime, check out these organizational posts:
Entryway Drop Zone Organization
7 Genius Home Organization Hacks
7 Kitchen Pantry Organization Ideas