You may have heard of the clothing brand Everlane. And if you haven't, you'll need to check it out! This brand is predominantly online, with a few stores in cities like New York and Los Angeles.
They are well known for producing ethical clothing and for their radical transparency about the production cost. They work with ethical factories that rate high on things like fair wages and work environment.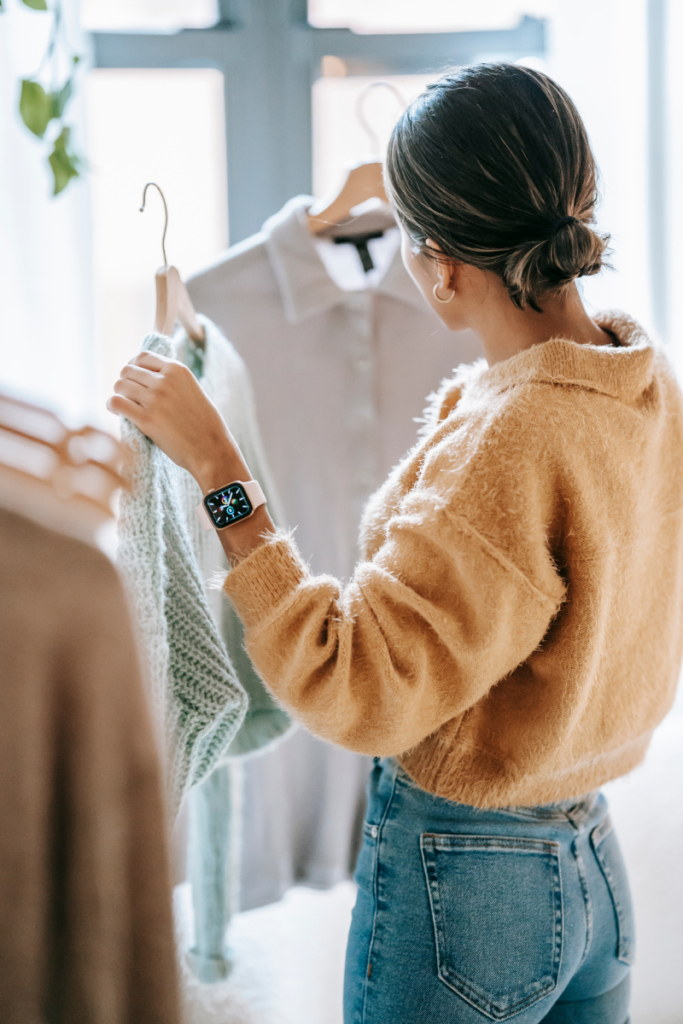 Along with having great materials and high ethical practices, Everlane is also popular because of their clothing styles. They produce many great modern basic pieces, perfect for building a capsule wardrobe that's timeless and classic.
If you like the style and mission of Everlane, check out some of these other sustainable brands that offer similar products with the same mindset as Everlane. Hopefully you'll find a great option to add to your wardrobe.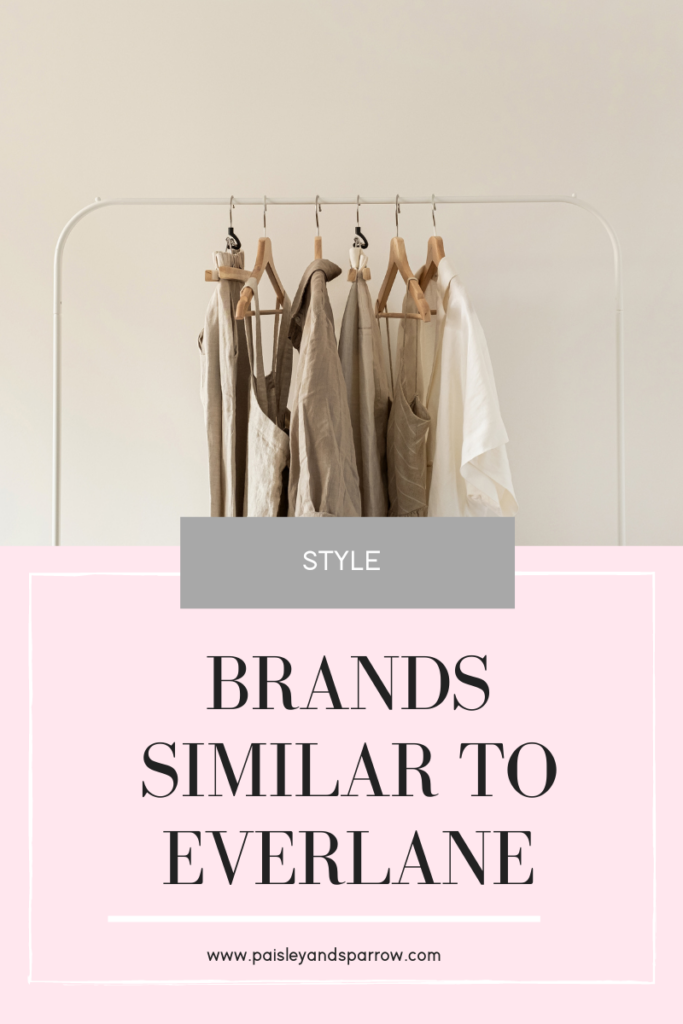 Paisley + Sparrow is a participant in the Amazon Services LLC Associates Program. This post may include affiliate links which means I may earn a small commission if you shop using the links below at no additional cost to you. 
25 Best Brands Similar to Everlane
If you're trying to get away from buying fast fashion and find ethical alternatives, check out this list of brands with high standards and similar styles to Everlane.
COS is committed to sustainability and doing their part to help the environment. They have a goal to use 100% sustainability sources or recycled materials and use 100% recycled, reusable, or compostable packaging materials by 2025.
By 2030, they want to reuse, repair, or recycle store products and materials. As far as style goes, this Scandinavian brand produces contemporary minimalist pieces that are great basics.
Madewell is known for its jeans, but they also have a wide range of high-quality basics and cute classic clothes that you can use to create an effortless, refined, and timeless look.
You can also browse their preloved selection on their website for resale pieces and vintage Madewell. That's one way the brand is working to be sustainable. 
J. Crew offers a classic preppy look. These timeless designs will last you decades, and they have collections for every season.
Like Madewell, J. Crew also has the option to purchase resale and vintage clothing through J. Crew Always. They are also working on re-imagining products and packaging to help the planet.
This brand offers a simple and sustainable wardrobe. Their high-quality clothing is casual and elegant and, like other brands, you can buy resale clothing through Eileen Fisher Renew.
They've also been working on their sustainability, carbon footprint, and ethical standards over the years.
Modern Citizen has timeless pieces that blend elegance with boldness. Their goal is to create clothing that can be worn season after season.
The company puts an emphasis on responsibility rather than sustainability. They have been working on improving their shipping, packaging, inventory, office spaces, and partnerships.
Aday sells minimalist designs along with capsule clothing. They strive to make their clothing comfortable and sustainable so that you'll reach for the same pieces season after season.
Their clothing is made with recycled fabrics that last through wear and washing, standing the test of time. 
This contemporary fashion brand has great classic designs that will become your wardrobe staples. They also have a variety of cashmere, leather, and suede options as well.
And if you're having a hard time deciding between all of Vince's clothing options, you can sign up for Vince Unfold where you can rent clothing for one flat fee. It's a great way to build your style and rent pieces you may only need for one occasion, keeping your closet from getting cluttered and keeping clothes out of landfills.
This modern day brand has all the essentials. Along with having clothing that's a great alternative to Everlane, they also sell shoes, accessories, bags, and tons of homeware pieces. It's definitely a one-stop shop that is worth checking out!
This Canadian clothing retailer is all about its role as a sustainable fashion brand. They source eco-friendly materials that are natural and biodegradable.
They also work to build schools and help farmers in rural Egypt, where their materials are coming from. Buying from Kotn helps all this to happen! Plus they have a collection of great timeless pieces, so buying from Kotn is a win win!
This feminine fashion brand is another great choice. They have a selection of basic tees that are perfect to have on hand. Browse through some of their other popular items like cozy sweaters for fall and breezy sundresses for the spring.
Plus, they have a goal to use 100% more sustainable and recyclable materials by the end of 2030.
Made with premium materials and all sizes from 00 to 40, Universal Standard is a brand that has something everyone will love. They have everything from workwear to athleisure to everyday staples.
AYR stands for All Year Round, and that's the kind of clothes the brand aims for. Their clothing is simple yet stylish and the perfect "old soul" look. But items sell out quickly! They produce everything in small batches to help minimize waste.
This brand has everyday essentials with a luxurious twist. They are also working on becoming more sustainable practices and reducing their environmental footprint.
While browsing their website, be sure to check out the Oak Refined tab. This is a collection that puts sustainability at its core.
If you're looking for more affordable prices, check out Quince! Quince is a direct to consumer brand that values quality, sustainability, and affordability.
They use ethical fabrics, eco-friendly dyes and materials, and use few materials for packaging. Browse their best selling cashmere tees, linen tanks, and stretch silk blouses.
Check out my recent review of Quince clothing!
This sustainable brand is working hard to do their part. For each tee purchased, they plant a tree. They also value the fabric that is used in the clothing. The brand works directly with mills to develop fabrics that are sustainable, soft, and will last.
While shopping on Amour Vert's website, you'll be able to look through their collections for inspiration. Also, check out ReAmour for resale pieces.
This clothing brand works to develop pieces that never go out of style. Their classic pieces are great for any wardrobe. But they won't last long.
The company makes small batches to help reduce waste. They also upcycle surplus fabrics and garments to do their part to help the environment.
Bleusalt has luxurious basics made with the softest materials. These basics are perfect for day and night and will never go out of style.
Bleusalt is working towards zero waste and encourages capsule wardrobes and quality pieces that will last over time. You can even purchase an already put together capsule wardrobe from their website!
This brand offers relaxed and easy to wear designs. Look through their essentials to find the perfect basics. Or, for season specific pieces, browse their collections. Find what the brand promises to be "not so basic, basic."
This contemporary brand values the design process. Each piece is created with strong attention to detail to make feminine clothing you will love. Created for the modern woman, Tove's clothing is designed to fit in well with a minimal and refined wardrobe.
Sustainability is also one of the brand's core values. Fabrics are sourced from mills that use the best fabrics for beautiful clothing.
With Pact, you'll find simple, organic clothes that are made with high-quality materials. While using materials like organic cotton, the brand also values being carbon neutral and having safe working conditions.
Sustainability is a huge part of Pact. In fact, your clothes will arrive in a fully recyclable paper bag. Browse today to find a piece of Pact to add to your wardrobe.
This brand has California inspired clothing that are wardrobe essentials. Jenni Kayne's are designed with simplicity and are meant to last throughout time. You'll be able to find all your favorite classic basics here.
Also, you'll love that Jenni Kayne is working to find ways to become a more sustainable company.
Reformation has a little bit of everything for all kinds of occasions. The brand focuses on making clothing that celebrates the feminine figure while also focusing on sustainability.
They've been 100% carbon neutral since 2015 and recycle 75% of their garbage. They are also very upfront about how they are being sustainable and send out quarterly reports so consumers can be in the know.
Shop Cuyana to find refined classics that perfectly blend sophistication and comfort. Their products are made with quality materials to ensure that your purchase will last for years. And if your style changes or you grow tired of any of your Cuyana purchases, you can donate them to individuals in need through Cuyana x thredUP.
The brand also practices sustainable approaches by using sustainable materials and ethical suppliers.
Weekday is a Swedish brand that offers staples influenced by youth culture and street style. There's something for every style here.
Along with making great clothes, Weekday also puts sustainability as one of their top values. They are constantly working to improve their practices and have a goal to reach net zero by 2040.
Toad and Co is an eco-friendly brand that is like Everlane but cheaper. You can browse their website by clothing type or by material.
The company uses eco materials like organic cotton, hemp, recycled fibers, and vegan clothing. Plus, they have big sustainability goals that they're looking to achieve within the next few years. 
Everlane is a great brand for basics and sustainability, but it's also good to have other options for clothes shopping. These brands all have a selection of pieces that are similar to Everlane that will help you broaden your horizons. Enjoy browsing, shopping, and finding your new favorite addition to your wardrobe!
Looking for more fashion fun? Check out my review of Mott & Bow clothing, the best designer jean brands, and Golden Goose dupes!