Your pantry is one area in your home that can easily become a cluttered chaotic mess. But where do you start? Today we're going to walk through some kitchen pantry organization ideas. 
You use your kitchen pantry every single day (or close to it). So it's worth putting in a little time and effort to make it a space that works for you!
You can head over to this post for some of my favorite kitchen organization products or keep going to see some of what I used in this kitchen.
We've moved since this post went live, so the photos below are from our old pantry! I'll be sharing more photos and tips on future organization posts, but this is a great place to get started.
7 Kitchen Pantry Organization Ideas
This kitchen was organized with the help of Style and Dwell! Below are some of their tips for organizing your pantry!
Ok, brace yourself.
Here is the before: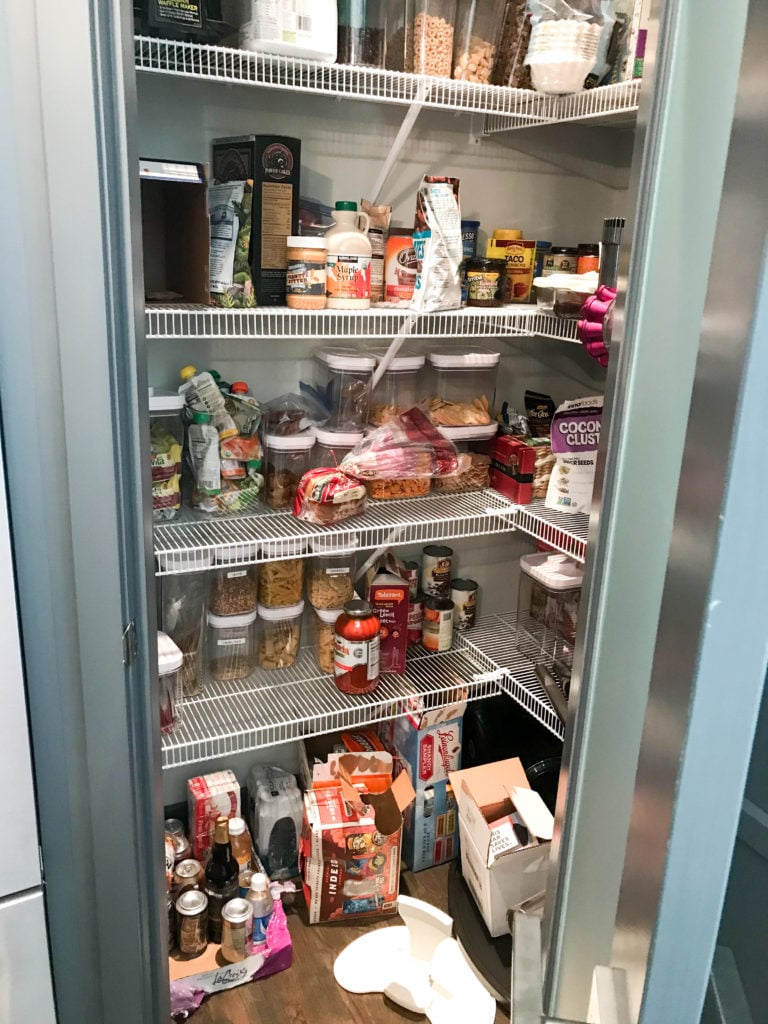 This post may include affiliate links which means I may earn a small commission if you shop using the links below at no additional cost to you. Thanks so much for supporting me and this blog!
And to think, I thought it was pretty good haha!
Keep scrolling to the bottom to see the after, but check out their 7 perfect tips!
1. Take Everything Out
Literally remove every single item from whatever space you're organizing. By taking all your items out of the pantry, it allows you to start fresh!
You may have expired items or multiples of the same thing hiding in different areas. Only keep what's not expired and what you actually will use!
Also make a list of things you need to purchase, especially if you throw out spices or things you use frequently.
2. Group Like With Like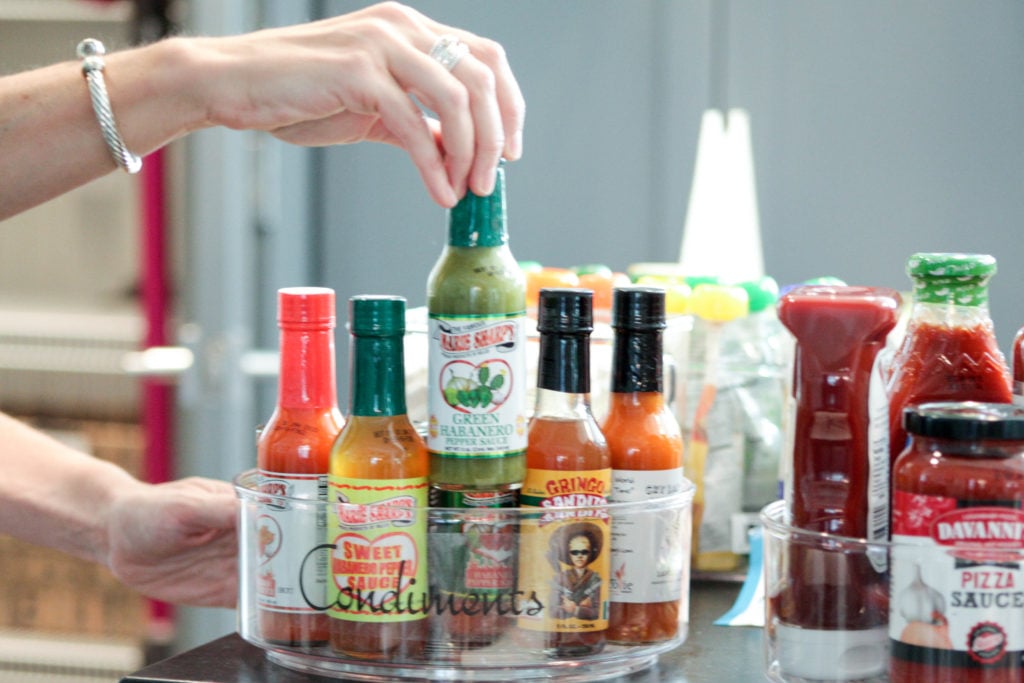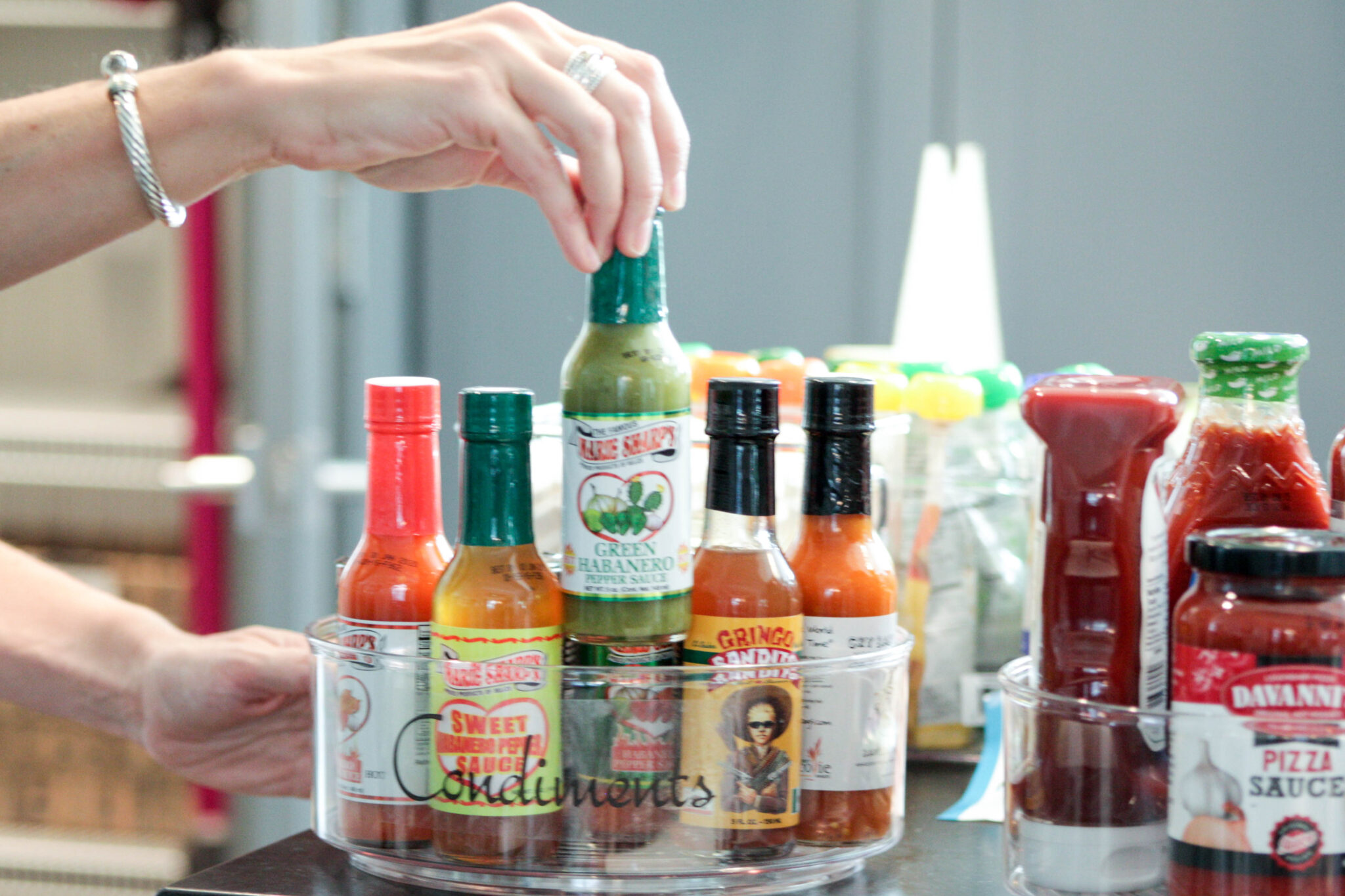 Putting items into designated categories, and giving it a specific place in your pantry or cupboard will keep the whole family more organized, and they'll be fewer questions about "where's the…".
Turns out we had an entire lazy susan full of hot sauce ha! It was really good for me (and Rishi) to easily see things we had a lot (or a little) of.
3. Labels
It may seem crazy but labeling containes (even clear containers) will give all your items a "home." This also makes putting things away a breeze, and everyone in the family will know where specific items go.
Be careful about making labels too specific; think broad (dinner, breakfast, beverages, pasta, cereal, snacks) so you don't have to change them often.
You can also use a white board maker in some spaces! I use them in the fridge for our drawers so I know which drawers have fruit, veggie, cheese and meat!
Or these labels from Amazon are so pretty and easy to use!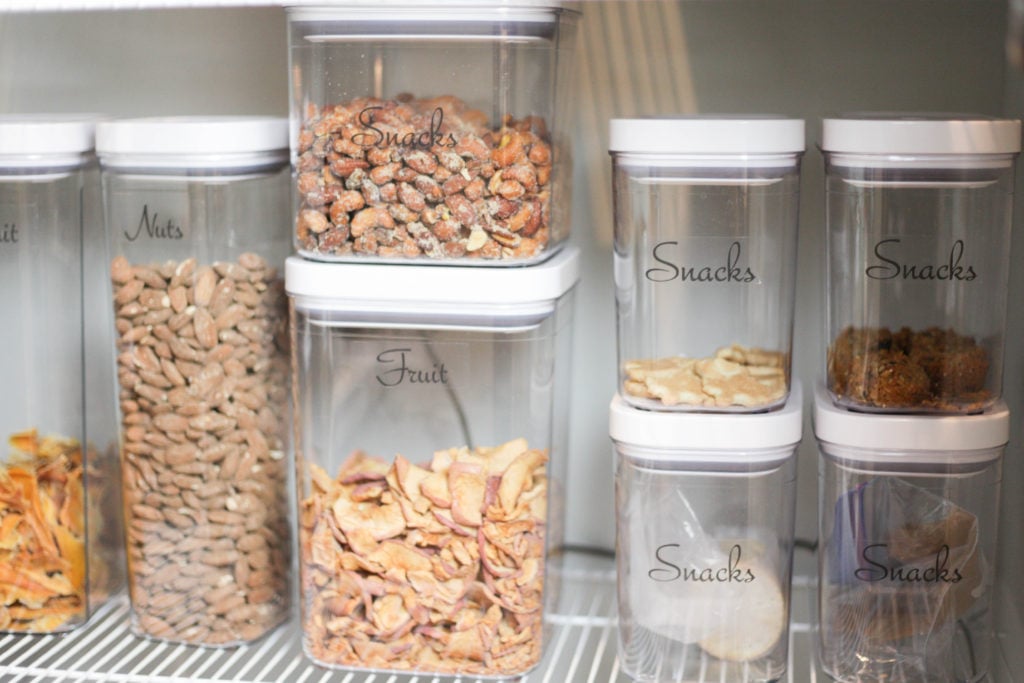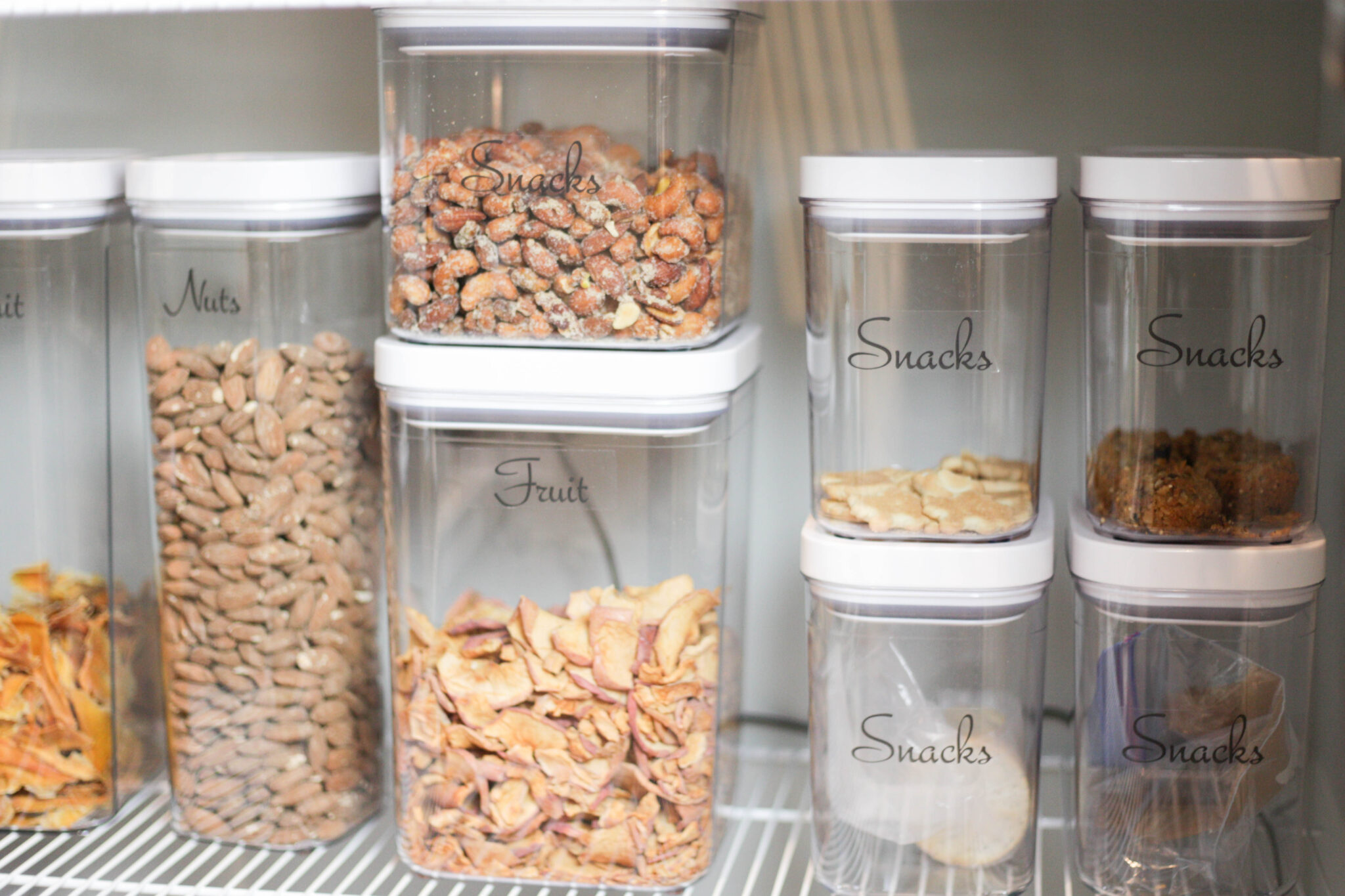 4. Decant Whenever Possible
If you can, pour items from their original packaging into your own containers. This makes seeing what you currently have on hand easy, and helps with overbuying or suddenly running out of something.
It also keeps items fresher vs. open in a box. These OXO containers are perfect for this!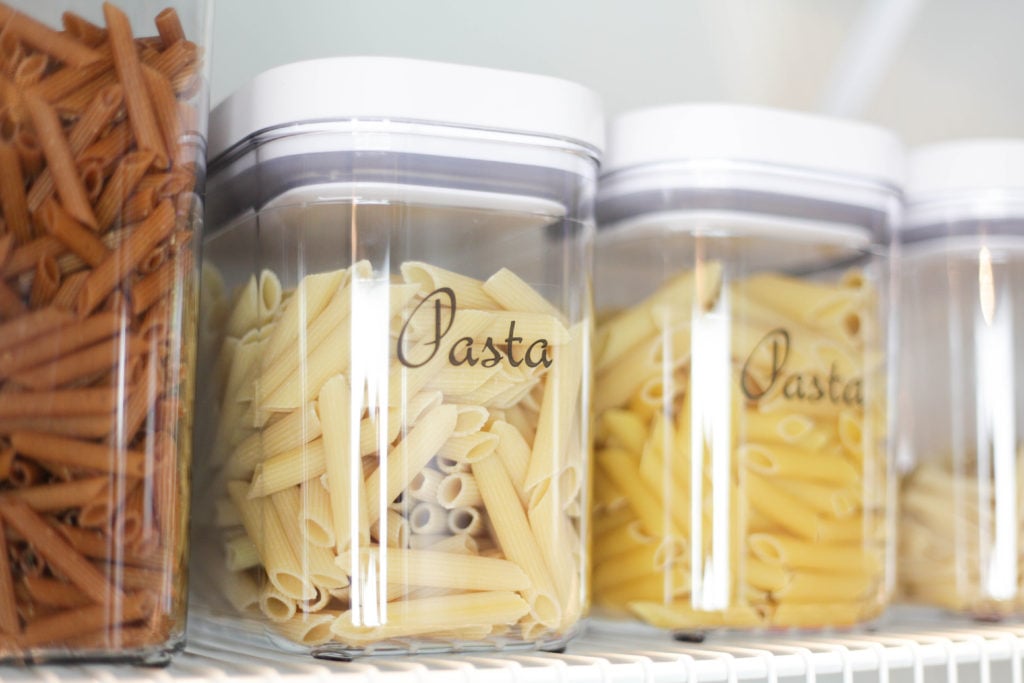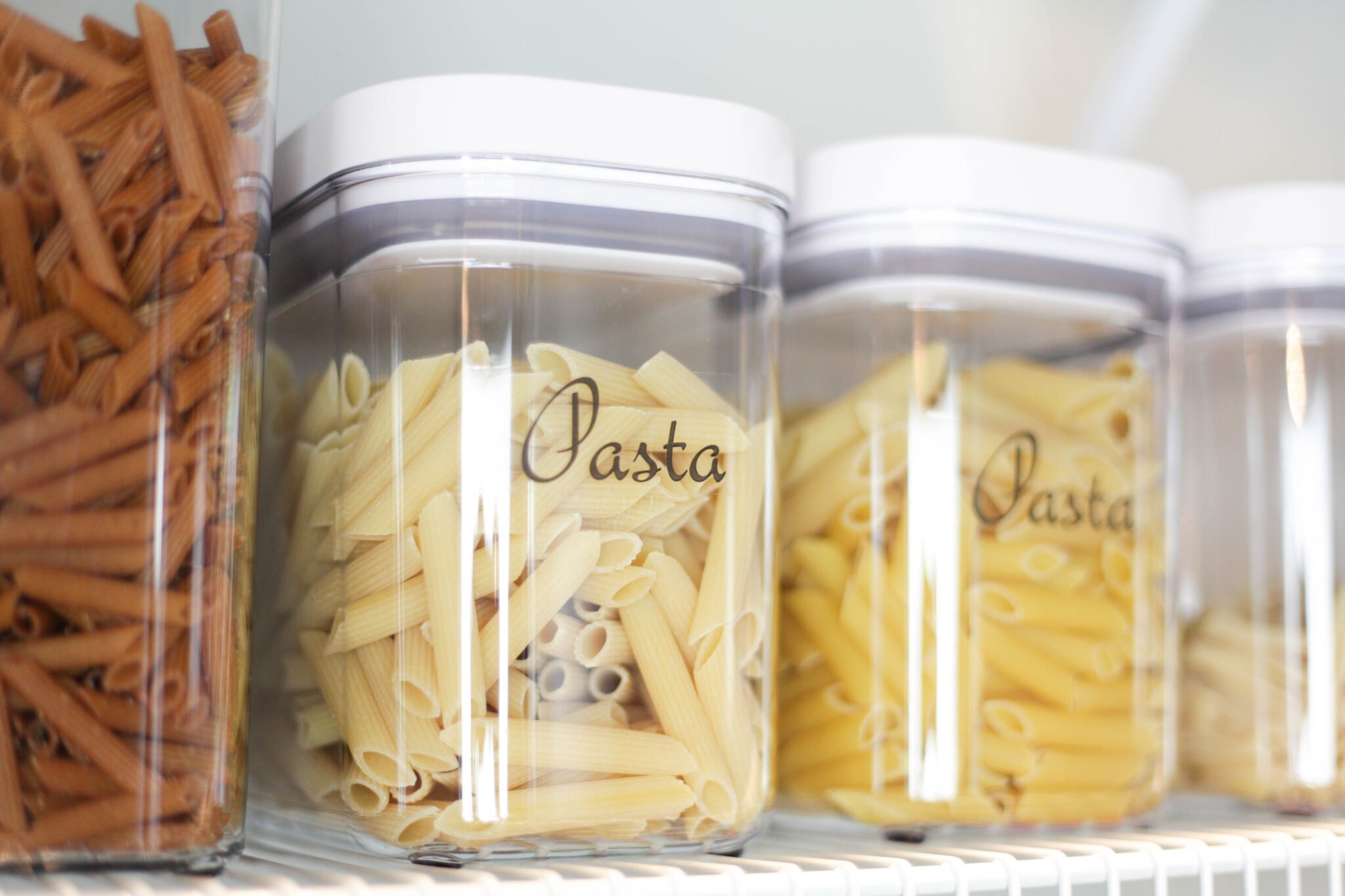 5.  Don't Let Things Hide in Dark Corners
We love a good lazy susan or riser for keeping cans and condiments front and center. (Here's another use for lazy susans!)
One of my hard-to-get-to spots holds our extra bags of coffee rather than snacks for the kids. Don't be afraid to rearrange things every once in a while if something isn't working if you can't use a lazy susan or riser.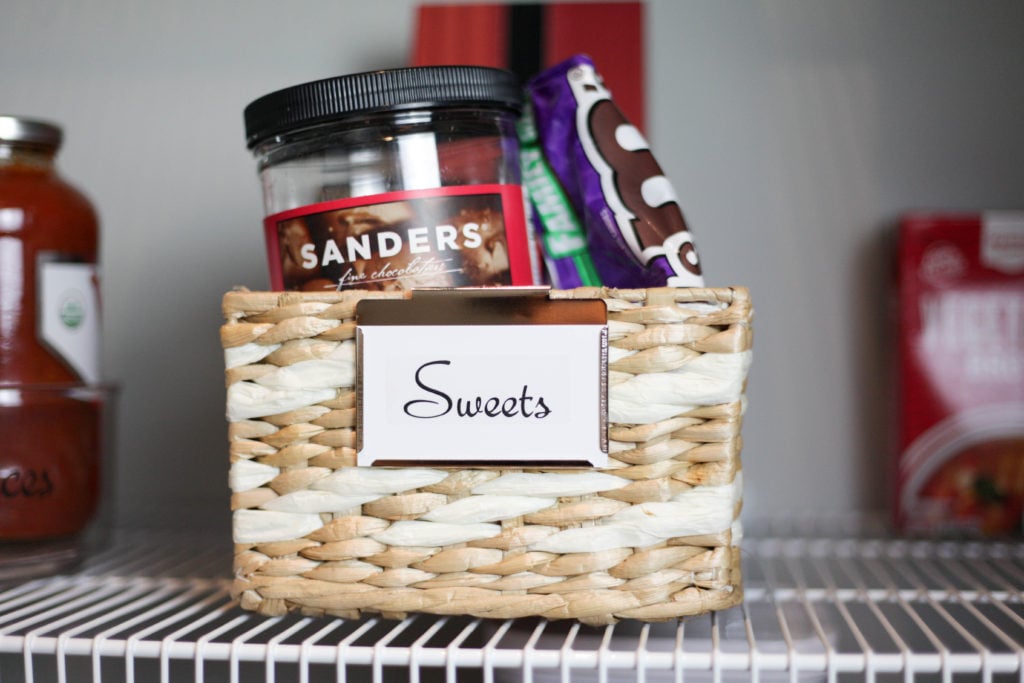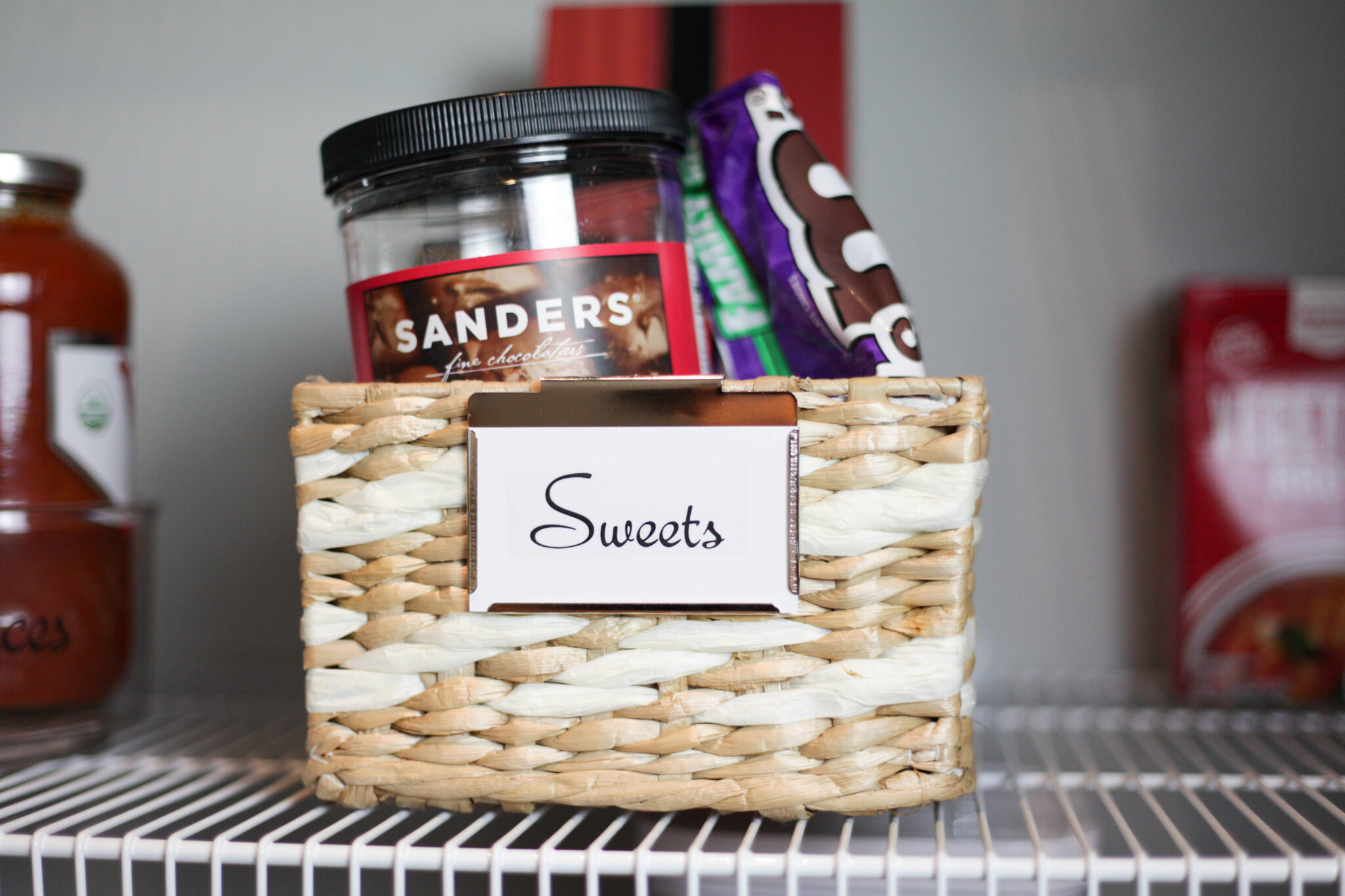 6.  Keep the Kids Items Accessible
This is great for helping kiddos be responsible, and really nice for parents when the little ones can pour their own cereal or grab a healthy snack.
Right now we keep pouches in reach for Roy so he can bring them to me if he wants them (I'll never complain about him eating more fruits or veggies!). However I keep things like Goldfish up a level so he can't just fill up on not so healthy snacks. 😉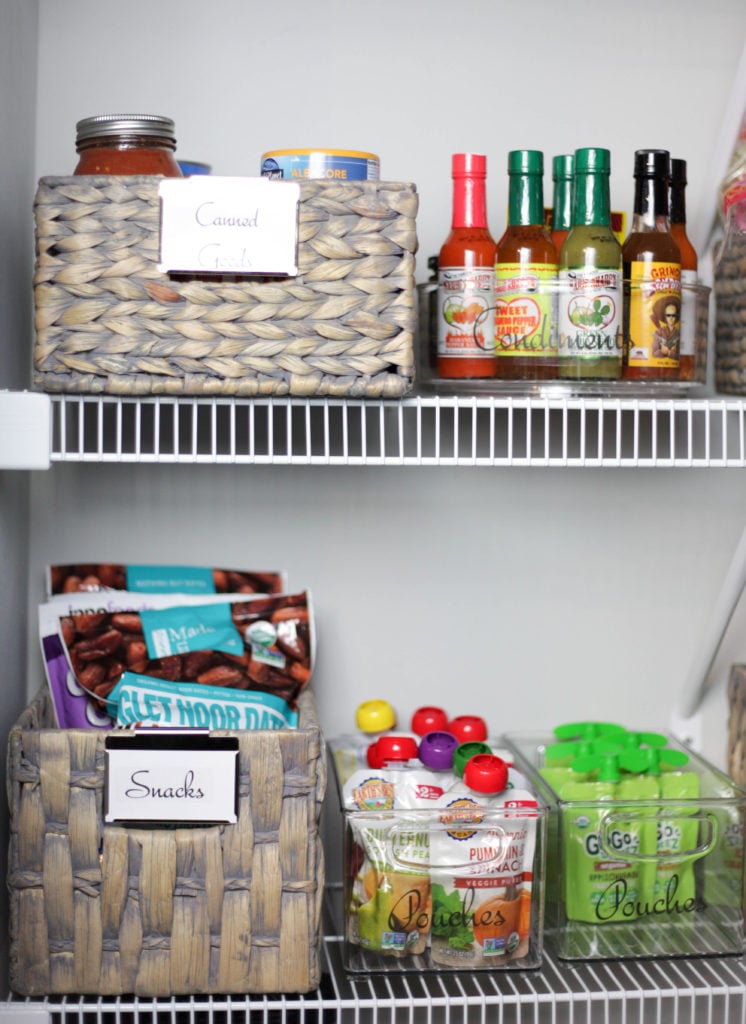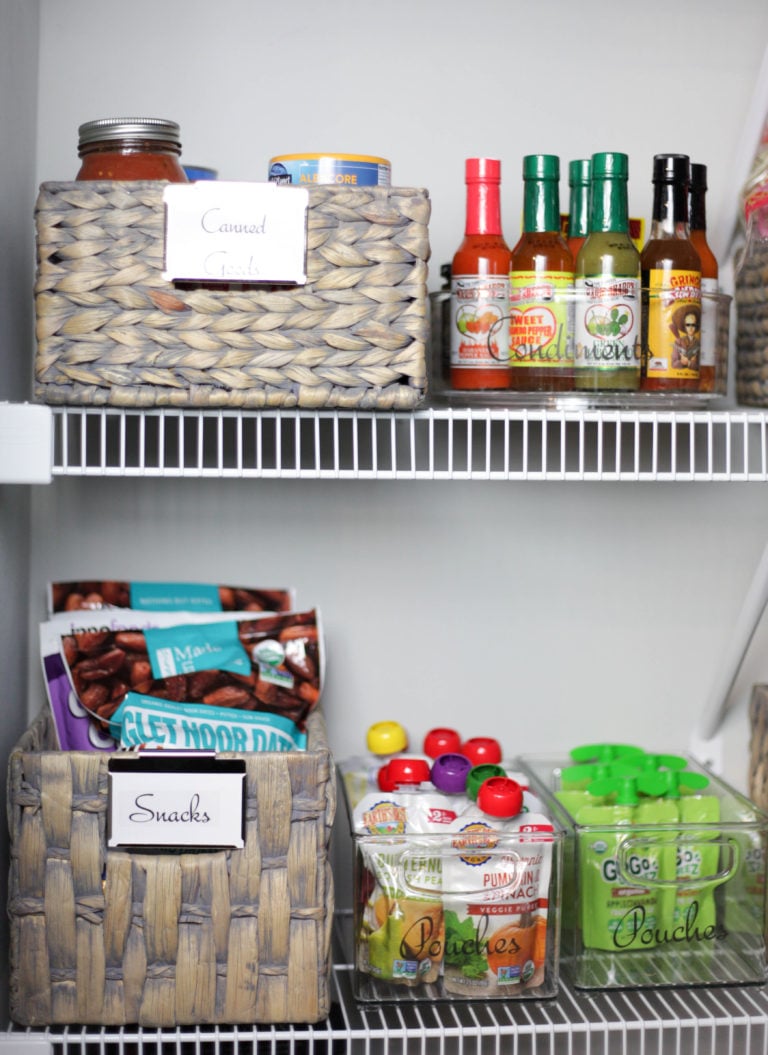 7.  Make It Pretty
Your pantry can be both organized and stylish. We love a good mix of baskets, clear containers, and fun turn tables.
That's it!
Aren't their pantry organization tips great?
I love the idea of making the kid items accessible for Roy. Now he's able to pick out his own cereal or pouch without me trying to interpret his pointing! 🙂 Just make sure you don't have anything in reach that would be bad if they got into it.
And now, here's the after!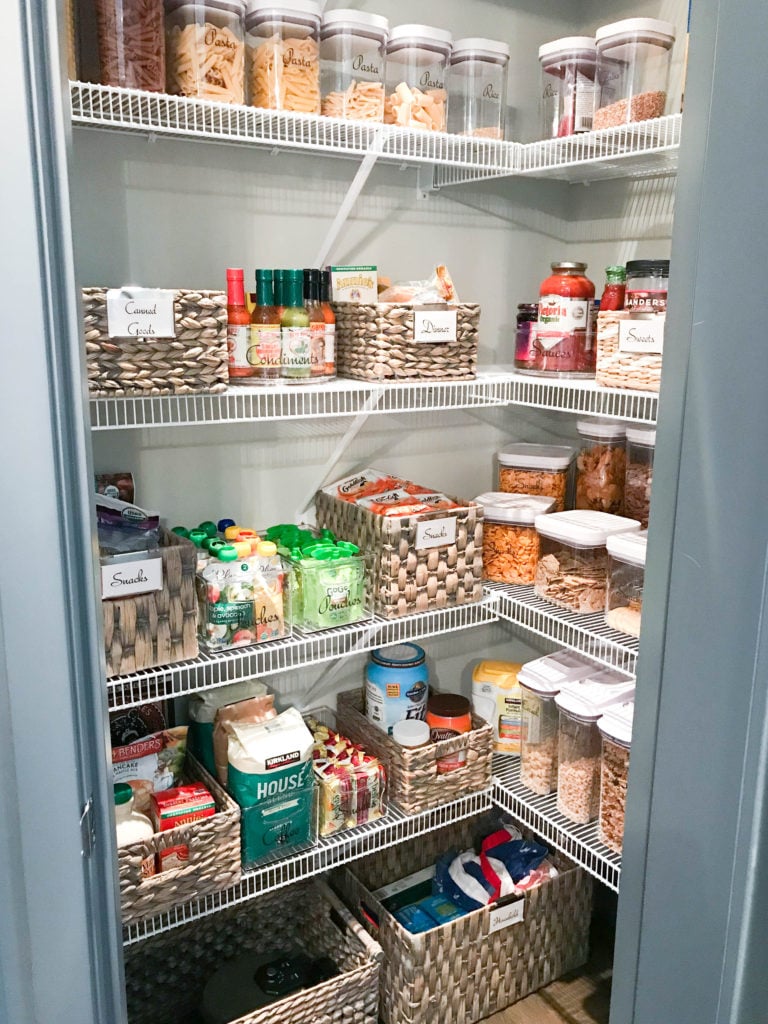 Isn't it amazing? If you need some other ideas for your kitchen check out these 12 spice rack ideas or these amazing organization ideas for your kitchen from Amazon!
I hope these kitchen pantry ideas help you organize your own kitchen! And whether you're local to Minneapolis or live 5,000 miles alway, be sure and check out Style and Dwell, as they offer both in-person and virtual help!
Be sure to check out my How to Organize Your Makeup post for even more organizing ideas!
Thanks for reading!
With love,
Jen