Is there anything more annoying than opening up a cupboard or pantry only to find it stuffed to the max and you're unable to find what you need? Or you just know there's a can of soup in there but have to remove everything in the cupboard to find it?
When it comes to organizing your kitchen, yes, you definitely need to some purging and organizing but having the right tools is key. So what are some best kitchen storage and organization products out there? Today I'm sharing many of the things that are in my very own kitchen!
Let's get organized!
13 Amazing Kitchen Products to Get You Organized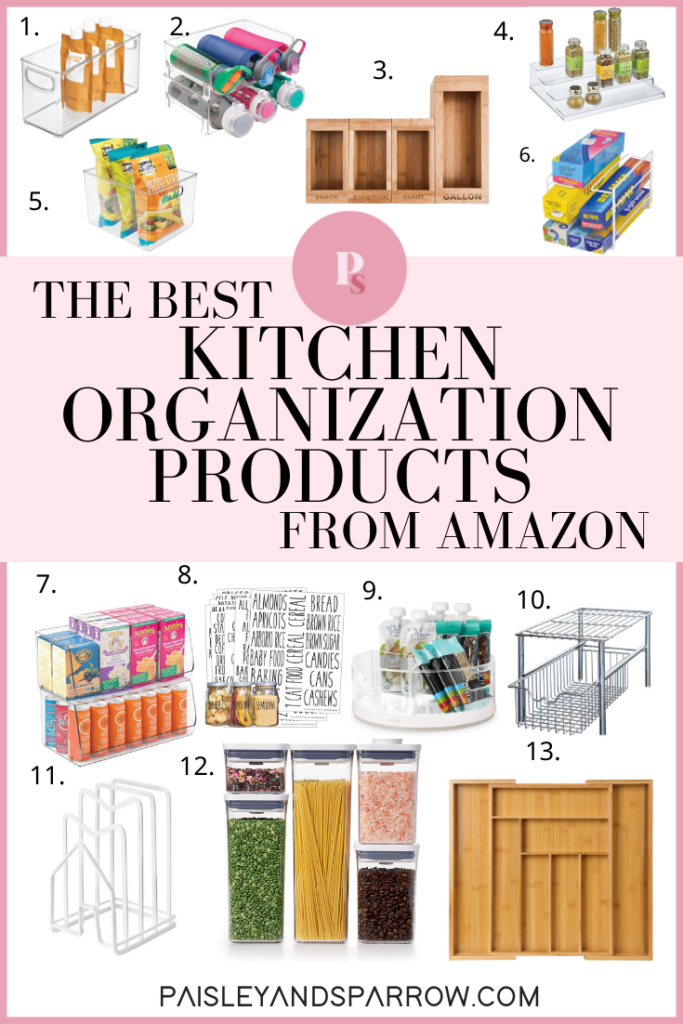 This post may include affiliate links which means I may earn a small commission if you shop using the links below at no additional cost to you. Paisley + Sparrow is a participant in the Amazon Services LLC Associates Program. Thanks so much for supporting me and this blog!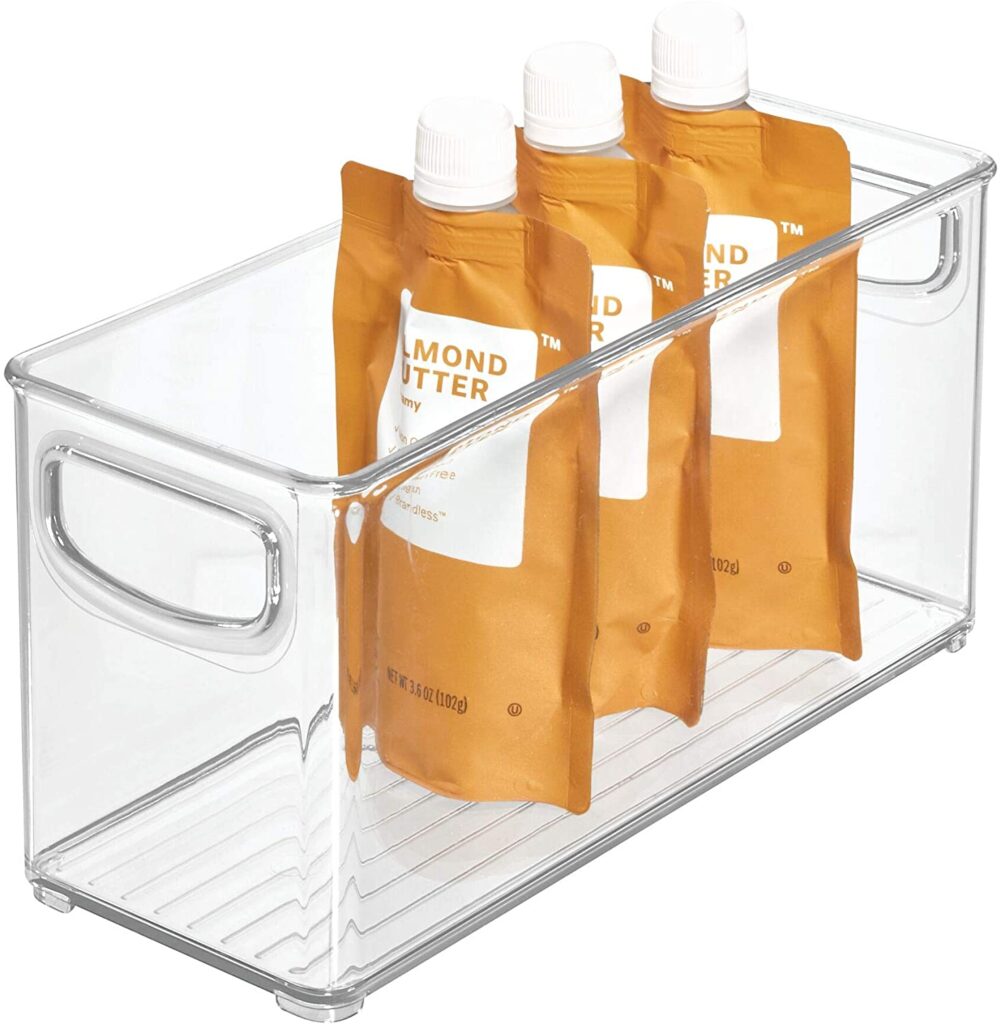 These clear storage bins are perfect for your pantry staples. Keep macaroni and cheese, rice, pasta, kids snacks – whatever your normally have on hand! I love these to help me keep track of when I need to add something to my grocery list – I can easily see what I'm running out!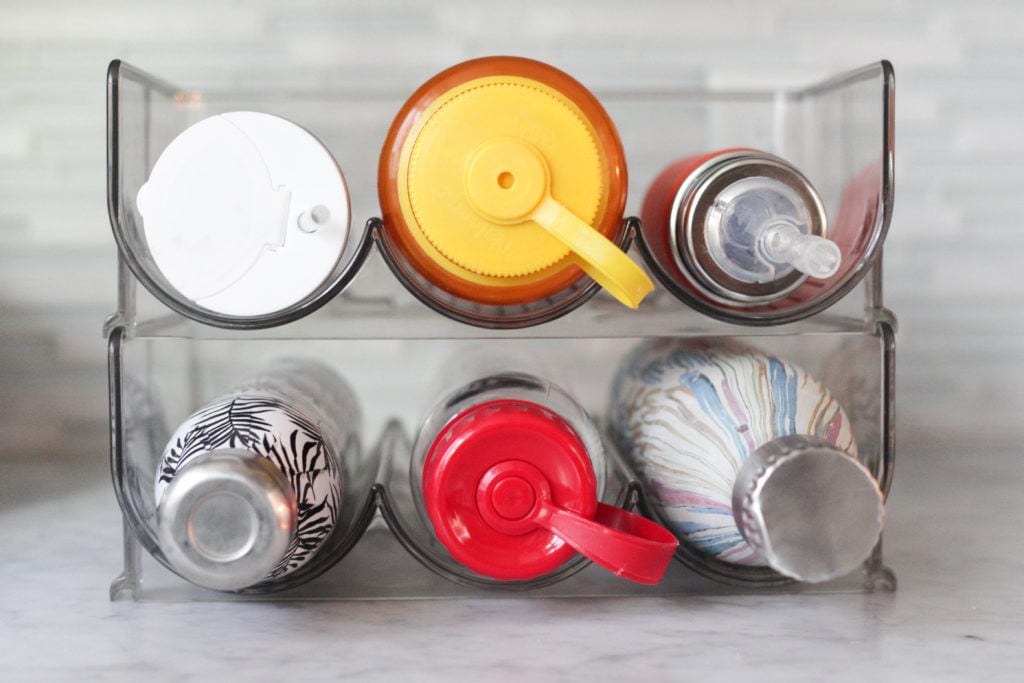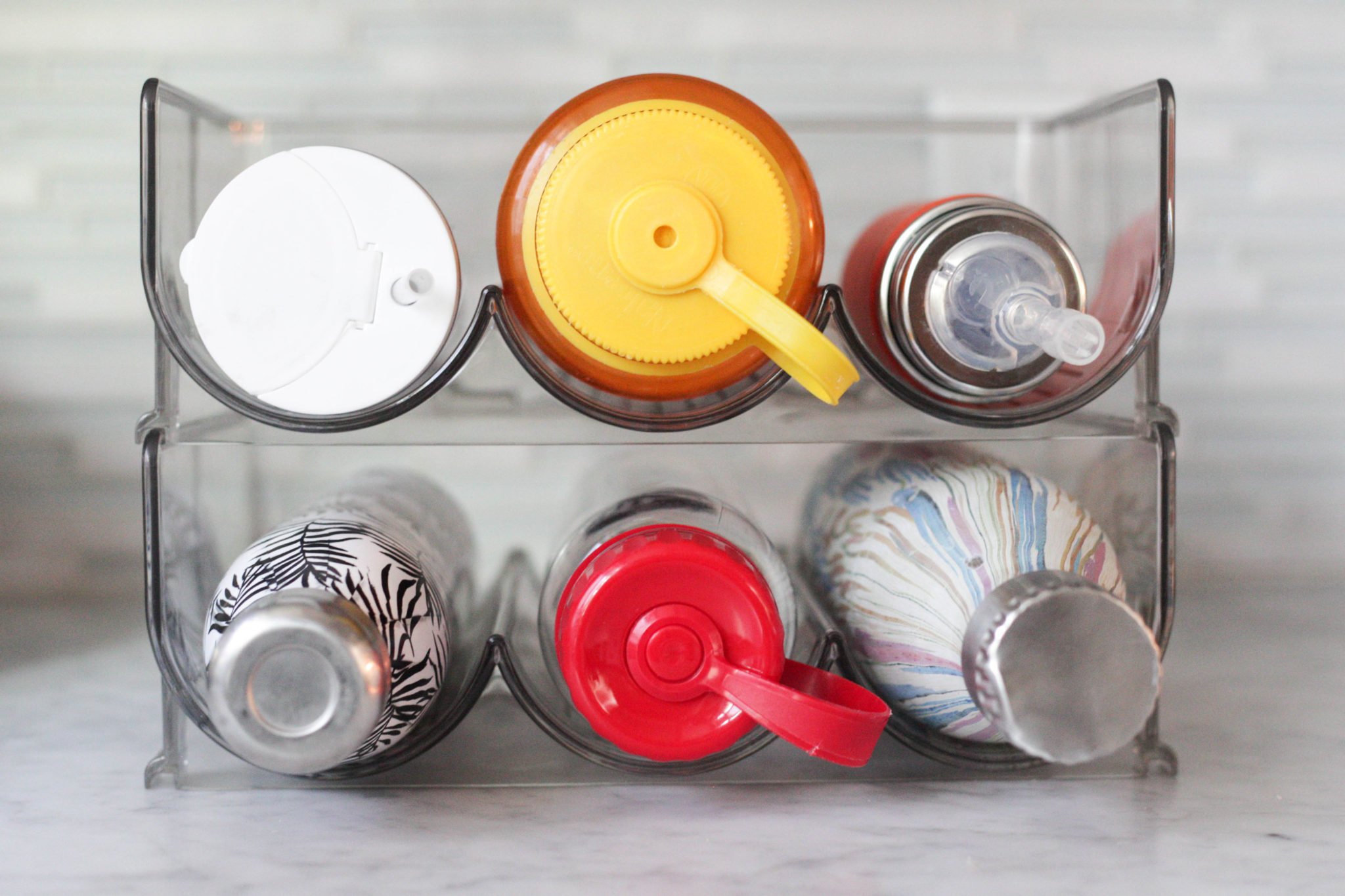 This is one of those products that you didn't know you needed it until you have it. If you're sick of opening cupboards and having water bottles tumble out, this is for you! This also helps keep you in check when you start to have too many water bottles to fit in the holder.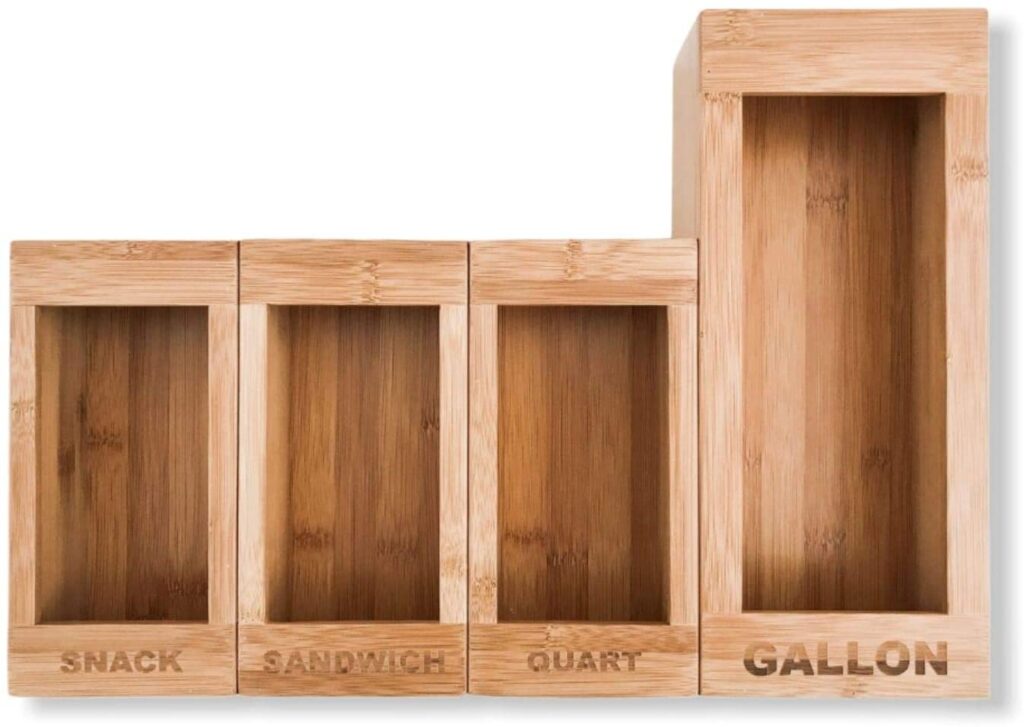 While these are definitely not a necessity, they do make life easier and prettier! No more broken cardboard boxes with bags spilling out, just beautiful wood boxes perfect for your bags!
I have these in a drawer but you could also stack them on top of one another in a cabinet!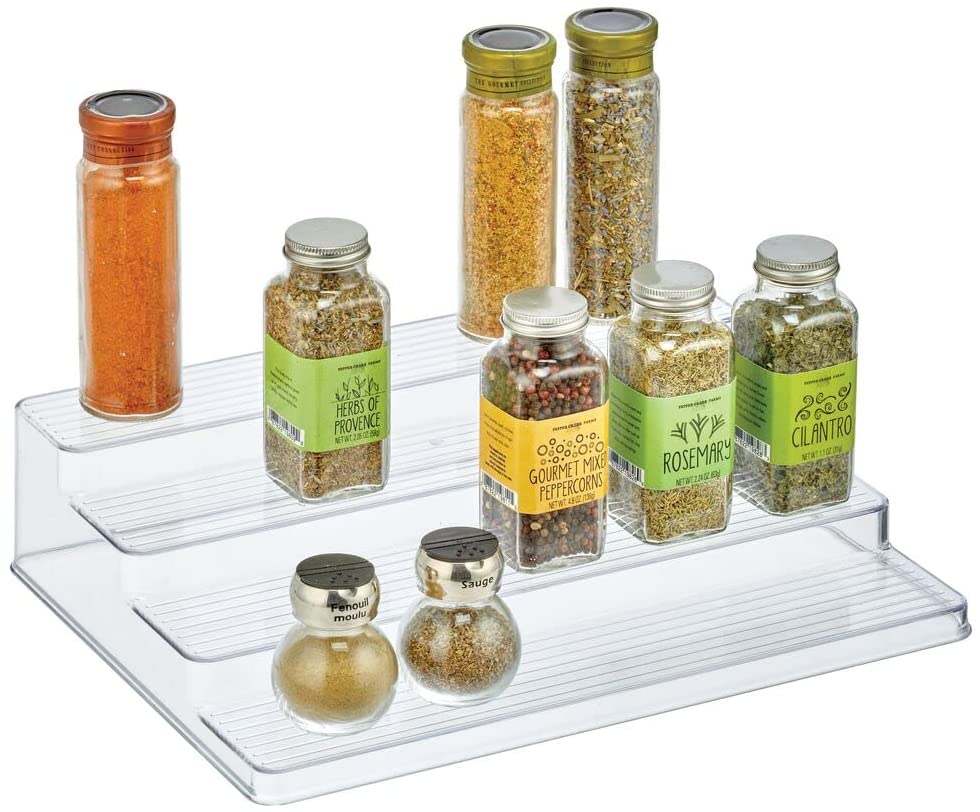 Use this for spices, soup cans or any number of things! The tiered system allows you to be able to easily see towards the back of your shelf or cabinet without having to move everything out of the way.
Head over to this post for 12 different spice racks that will fit your kitchen!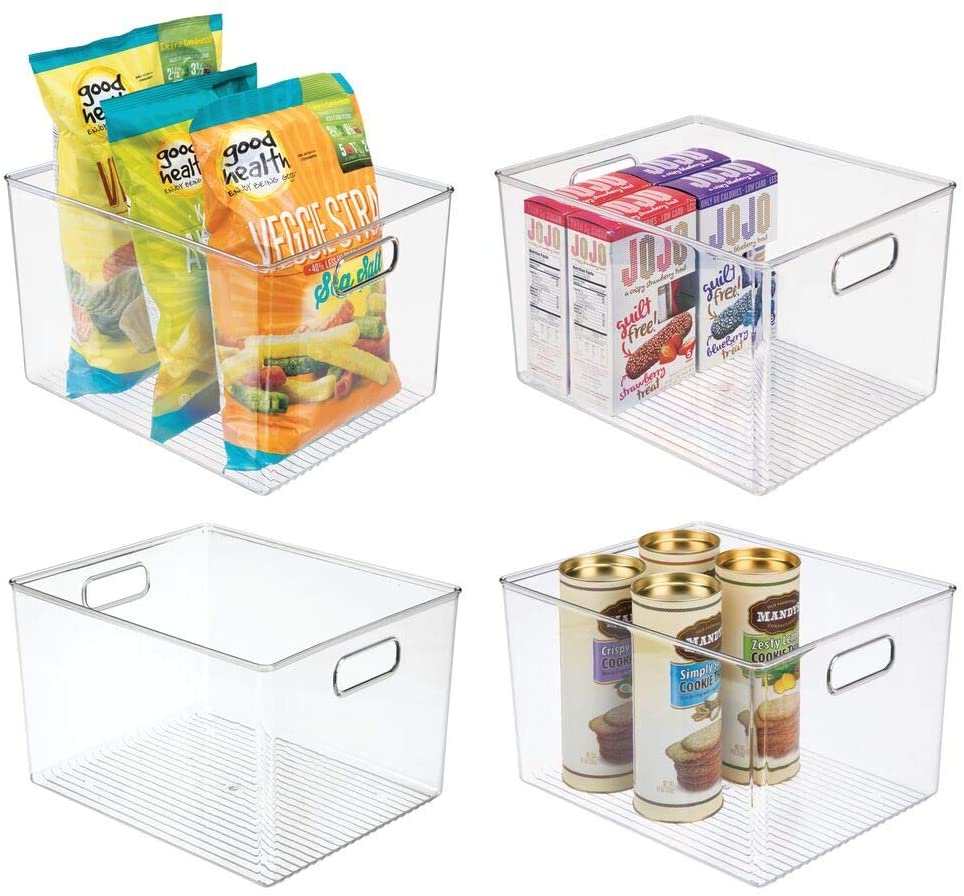 These are similar to the clear storage bins from earlier only much bigger. These are perfect for those Costco sized products that you love to keep on hand! This bigger size is also great for bulky snacks such as chips, animal crackers, or veggie straws.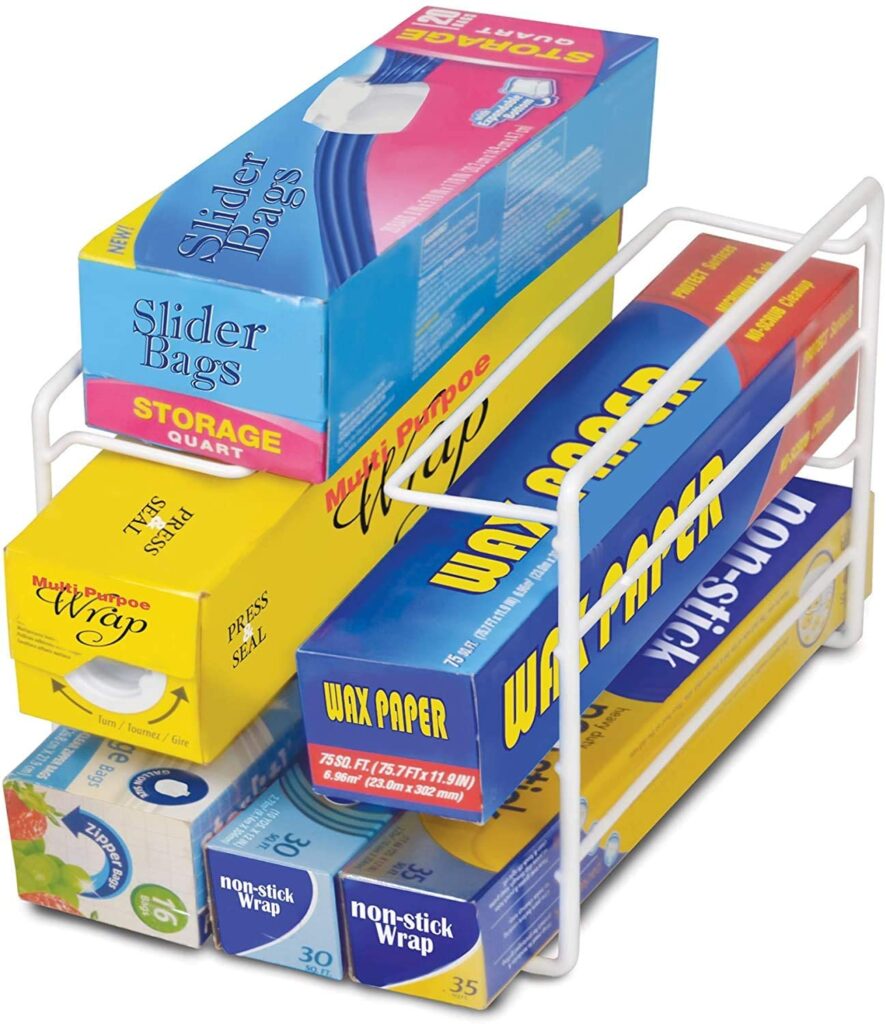 Do you have a drawer crammed full of wax paper boxes, foil boxes or any number of boxes like these? Or are they all constantly falling off a shelf when you go to grab just one?
I love this tiered system to put aluminum foil, saran wrap, and wax paper in! It saves space in your drawers and makes them easy to get to.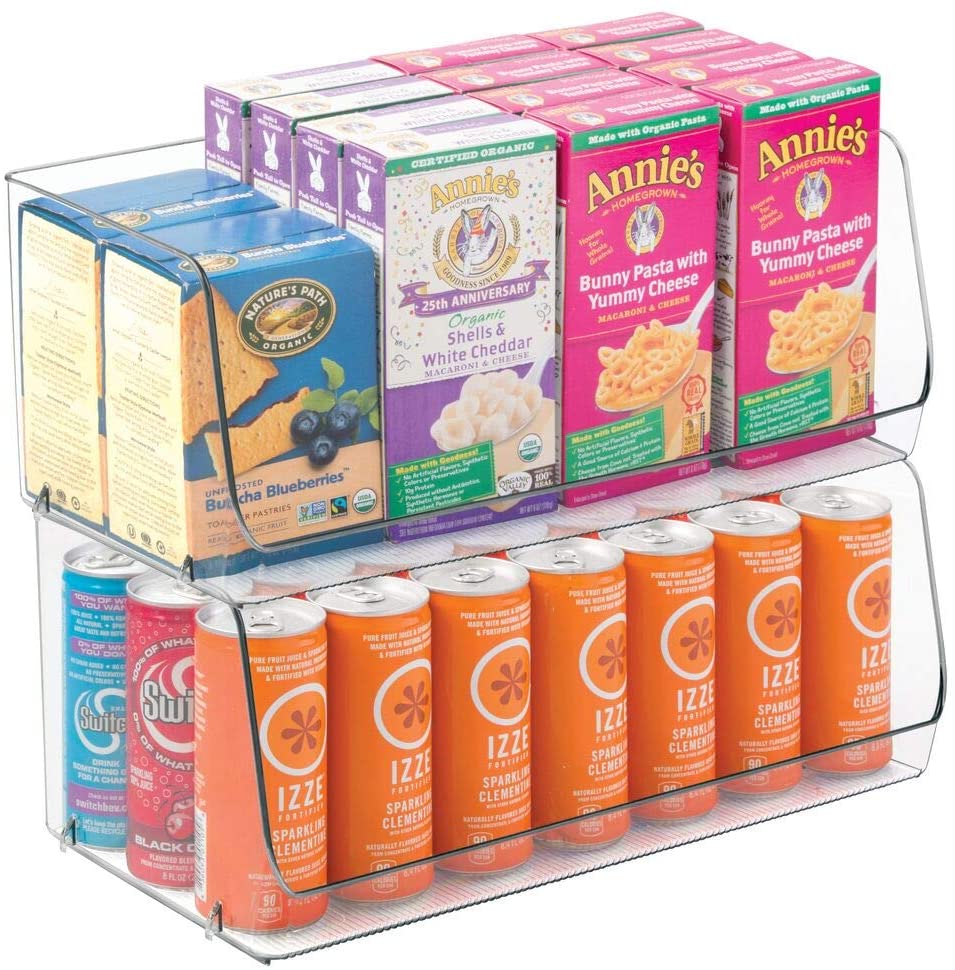 These stackable food containers are great for a kitchen cabinets, pantry, OR for your storage closet where you keep all your extra back stock. These sizes are perfect for canned drinks, boxed foods, or other shelf stable items that you like to have on hand.
There's also other sizes of these if you have a smaller spot you need them!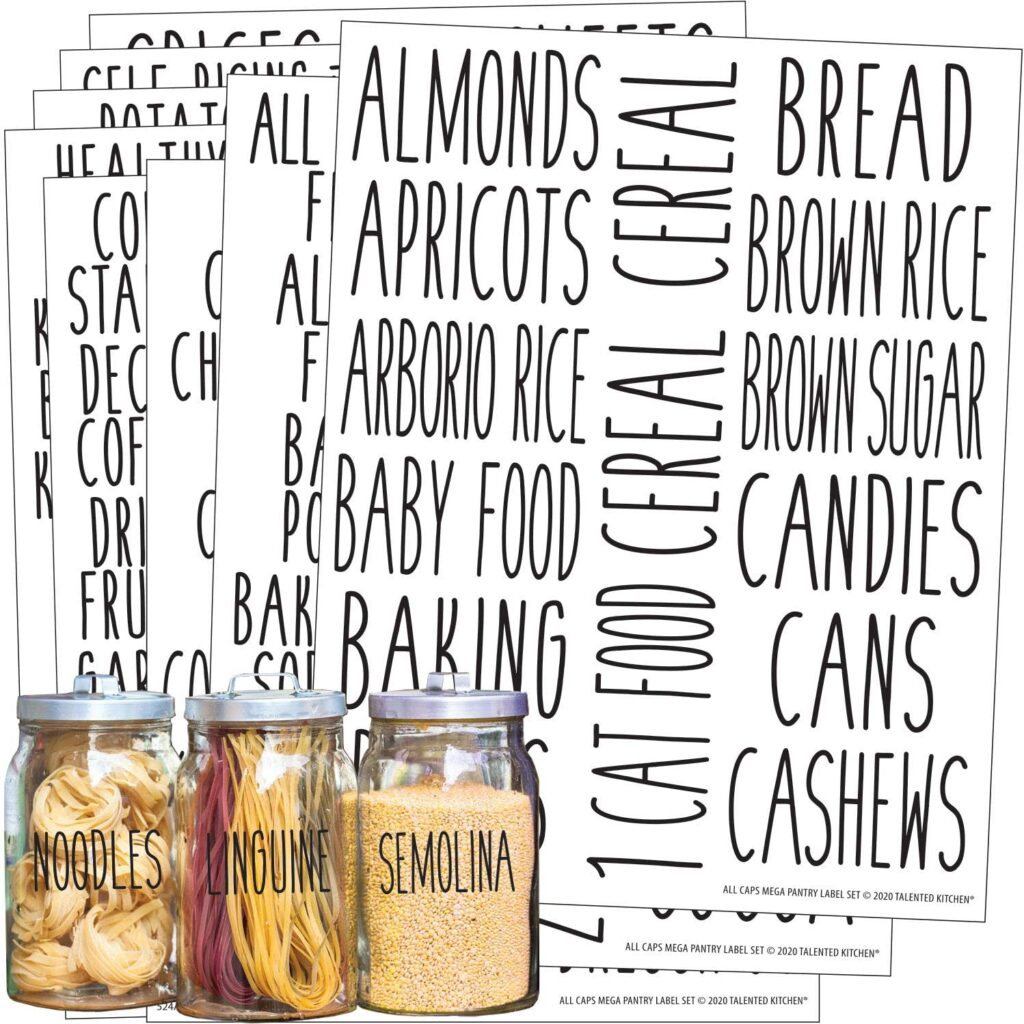 Trying to remember what you actually put in a container? I get it. I love the font on these labels! These are perfect for jars or other storage containers.
Keep things organized with these stick on labels that come in a variety of fonts and colors.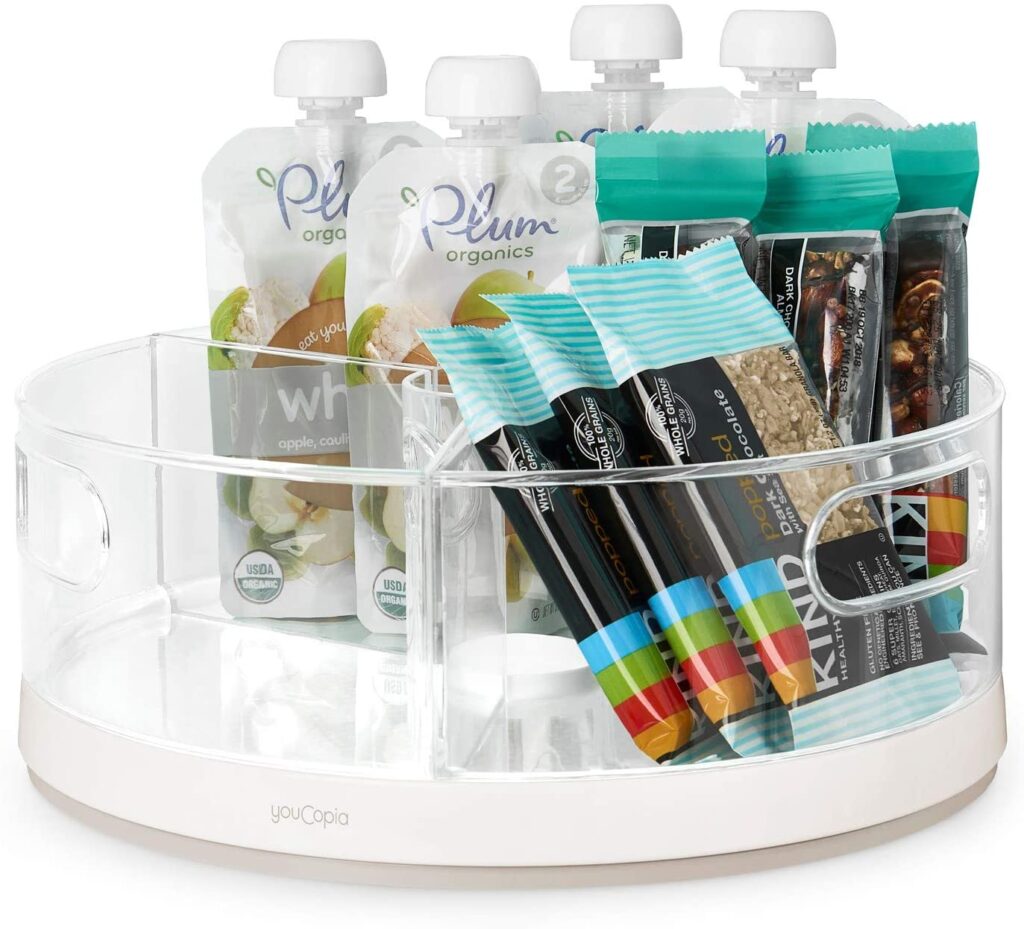 The dividers on this lazy susan are great for all your smaller items that you want to easily be able to see. I love this for granola bars, fruit snacks, toddler food pouches, and trail mix!
(You can also use this in other parts of your house – use it for crayons, markers, and colored pencils for the kids!)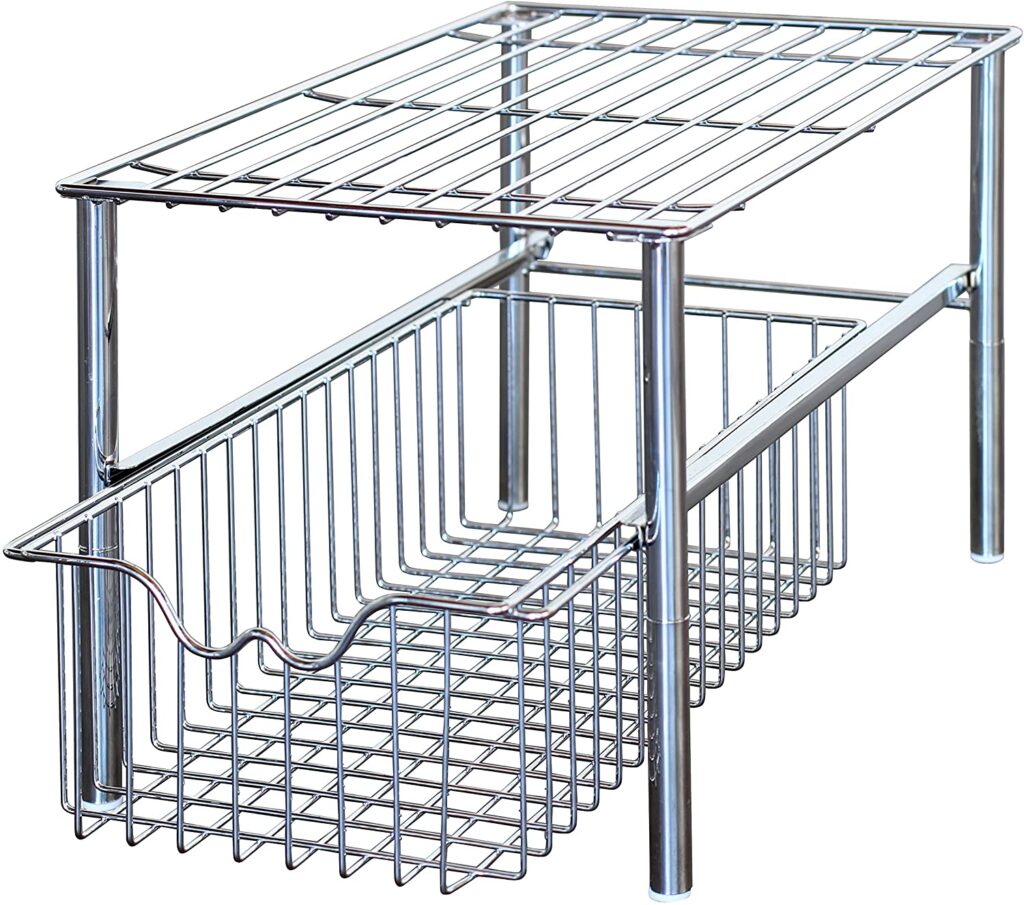 This is perfect for under your kitchen sink! The basket slides out and the shelf on top gives you extra space for storing kitchen items – things like cleaning supplies, extra soap, sponges, and garbage bags.
This is something I personally use all over my house from my laundry room to my bathroom!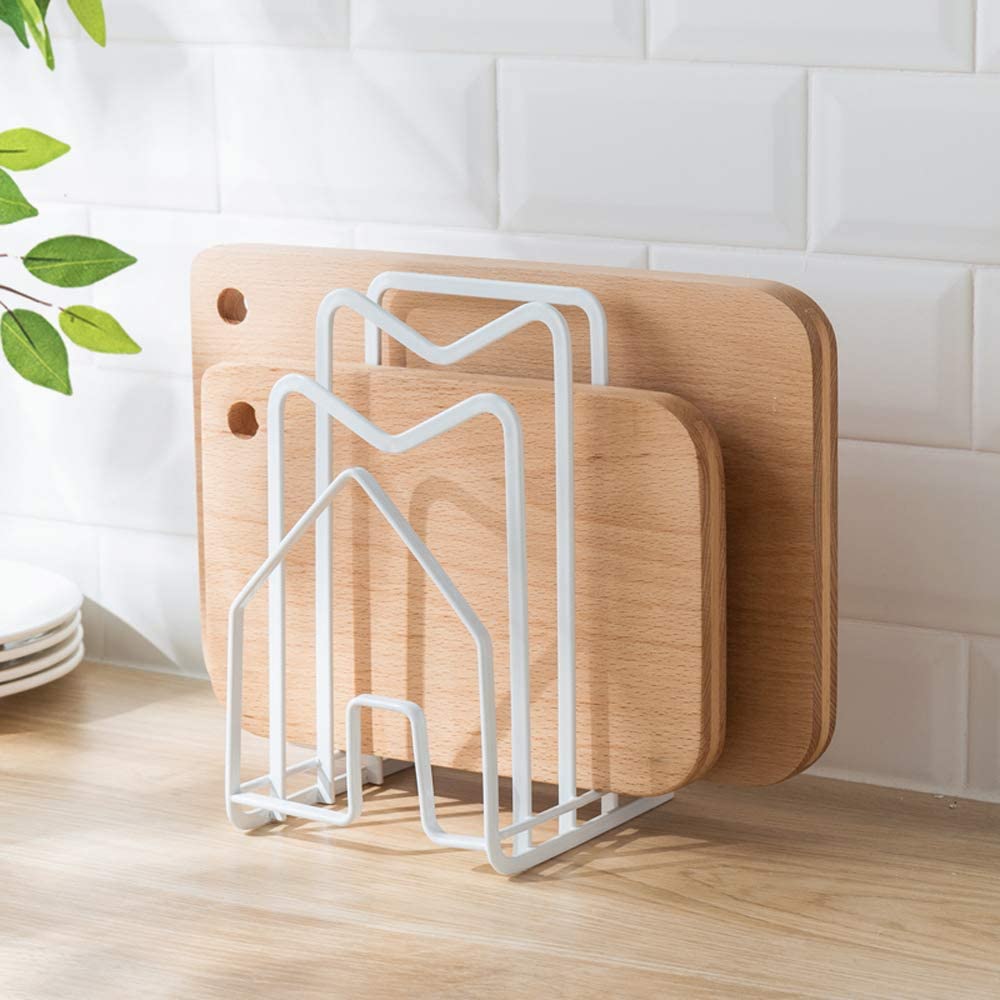 This is pretty enough to leave on your kitchen counter and utilitarian enough to store in a cabinet! This is perfect for cutting boards, sheet pans, and pie plates.
You can also hide it in smaller shelves to make the space more usable.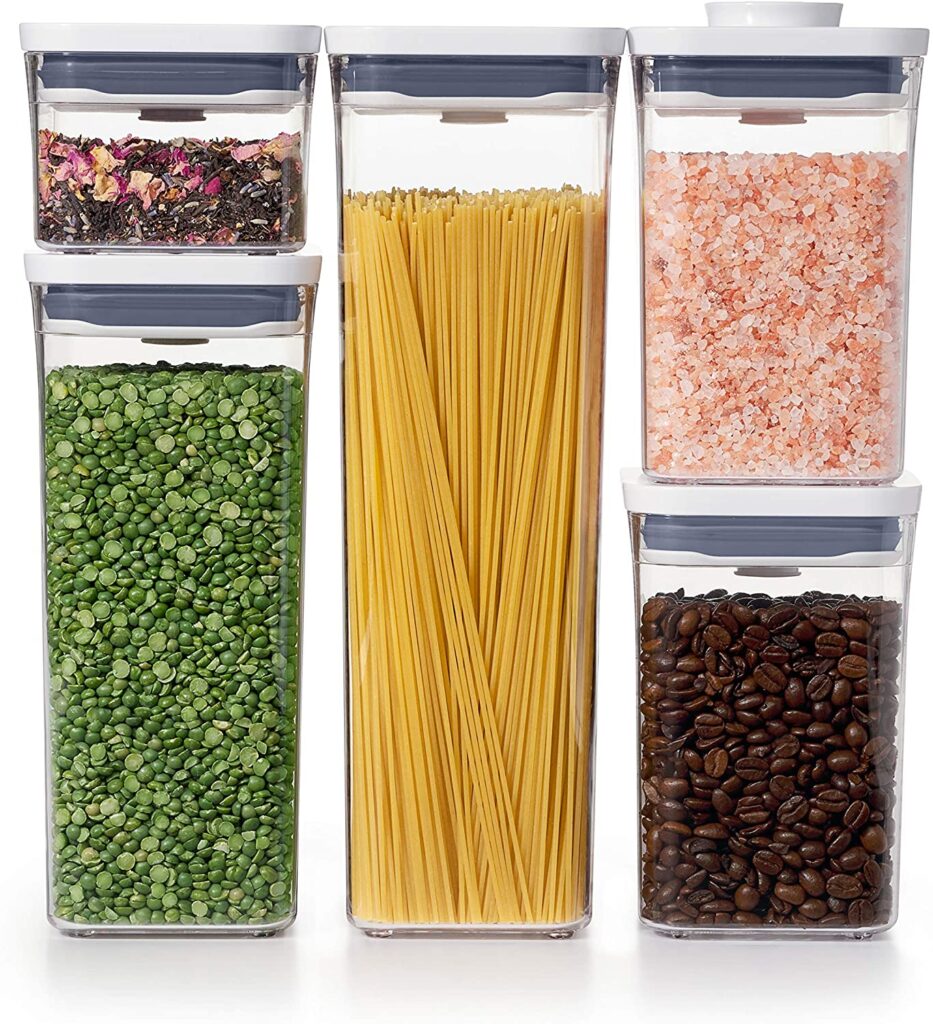 This is another product I love to keep all my pantry staples in. Never run out of spaghetti, cereal, pancake mix, or snacks with these air tight storage containers! Tip: Write cooking instructions on these containers with a marker or cut the instructions off the box and tape it on!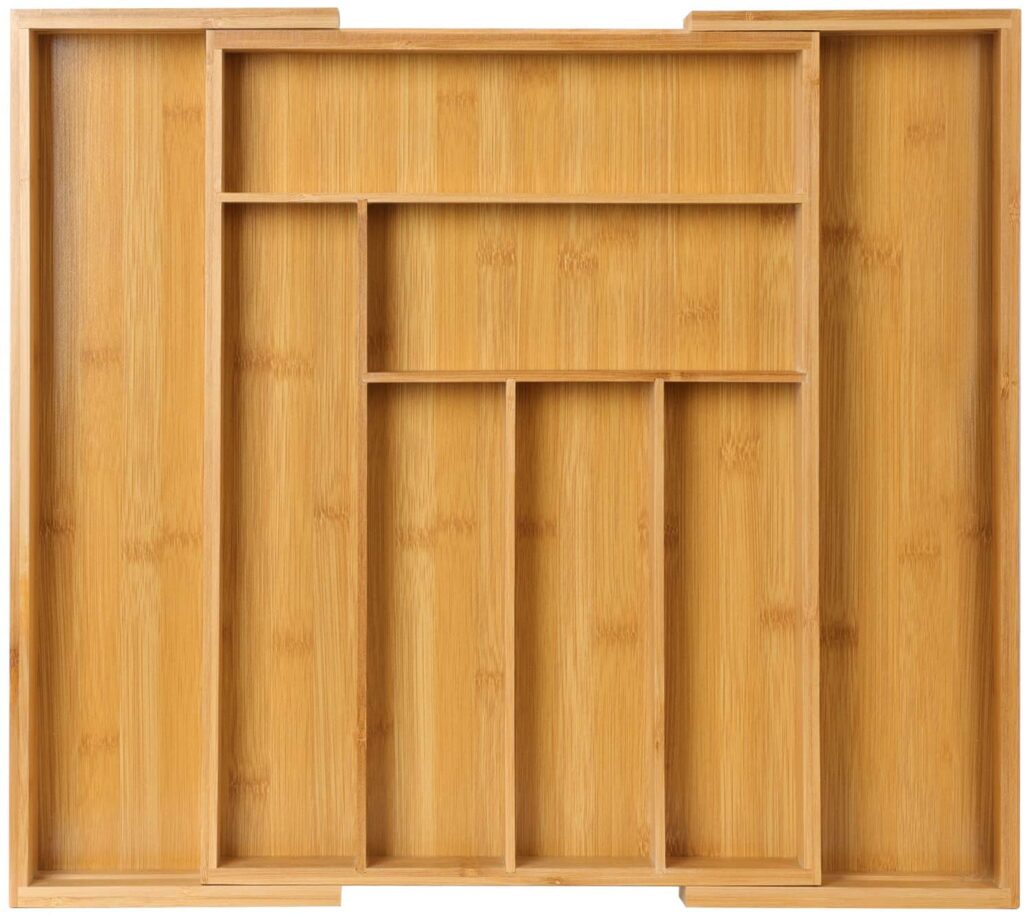 You can't go wrong with this beautiful wooden drawer organizer. I love the classy wooden look. You will love organizing your cooking utensils or silverware in this organizer.
Want more Amazon finds?
Check out my Amazon Haul post for some of my absolute favorite Amazon must haves!