One of the most annoyingly cluttered and untidy areas in your house is probably the space under the sink. It can get even more annoying when you're desperately hunting for something you need right away, and you've to deal with random, unnecessary things.
These could range from long-abandoned, empty shampoo bottles to haphazardly stuffed toiletries and cleaning supplies.
So, if you're looking for some excellent under the sink organization ideas, you're in the right place! I've curated a list of easy methods and storage systems to help you keep your space organized and turn the inside of the cabinet into a functional space.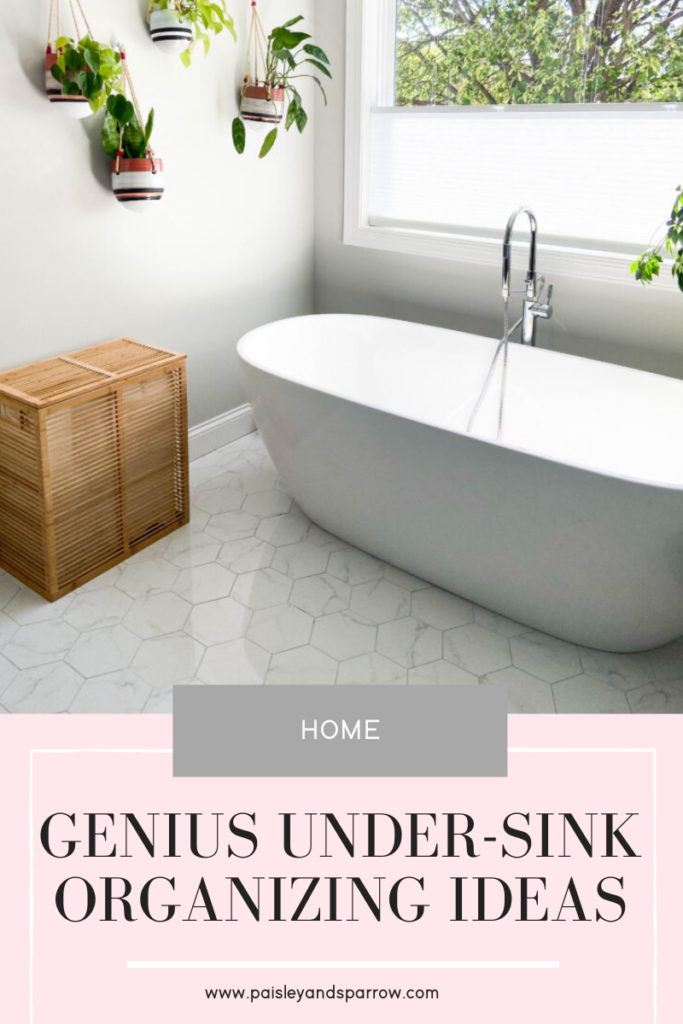 This post contains affiliate links.
Why Store Things Under the Sink?
If you have limited space in your kitchen and bathroom, making use of your sink cabinet area is a great way to keep your space clean and tidy. Instead of piling your kitchen and bathroom counters with unnecessary stuff, you can make use of the space under your sink to store daily-use items or cleaning supplies.
You can try using under sink organizers like baskets, smart containers, or pullout drawers. Not only will it make it easier to find items and help organize your space, but it will also save you time, energy, and frustration.
Besides, it can also give your kitchen and bathroom a lighter and larger feel.
It's also a great spot for a child lock so you have one central place to put anything that's dangerous for your kids to get into.
What Can You Store There?
Things that belong under the kitchen sink are:
Dish soap and hand soap
Dishwasher pods
Kitchen cleaners and chemicals
Dishwashing gloves, towels, rags, and extra sponges
Small fire extinguisher
Small trash can
Flower vases
Trash bags
Cleaning caddy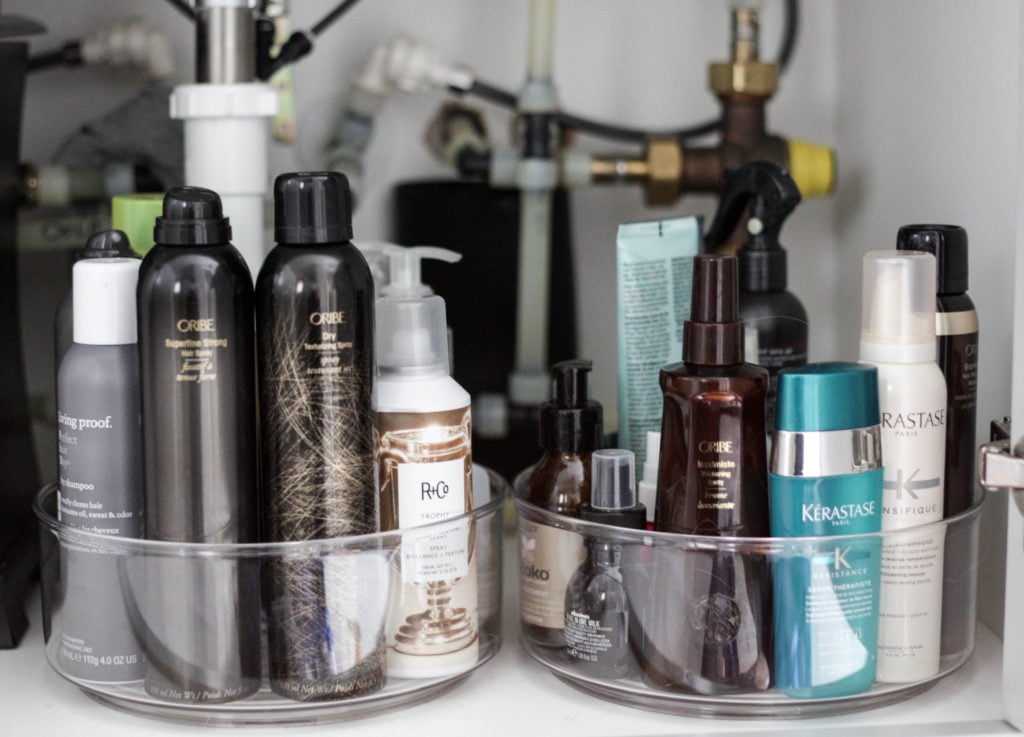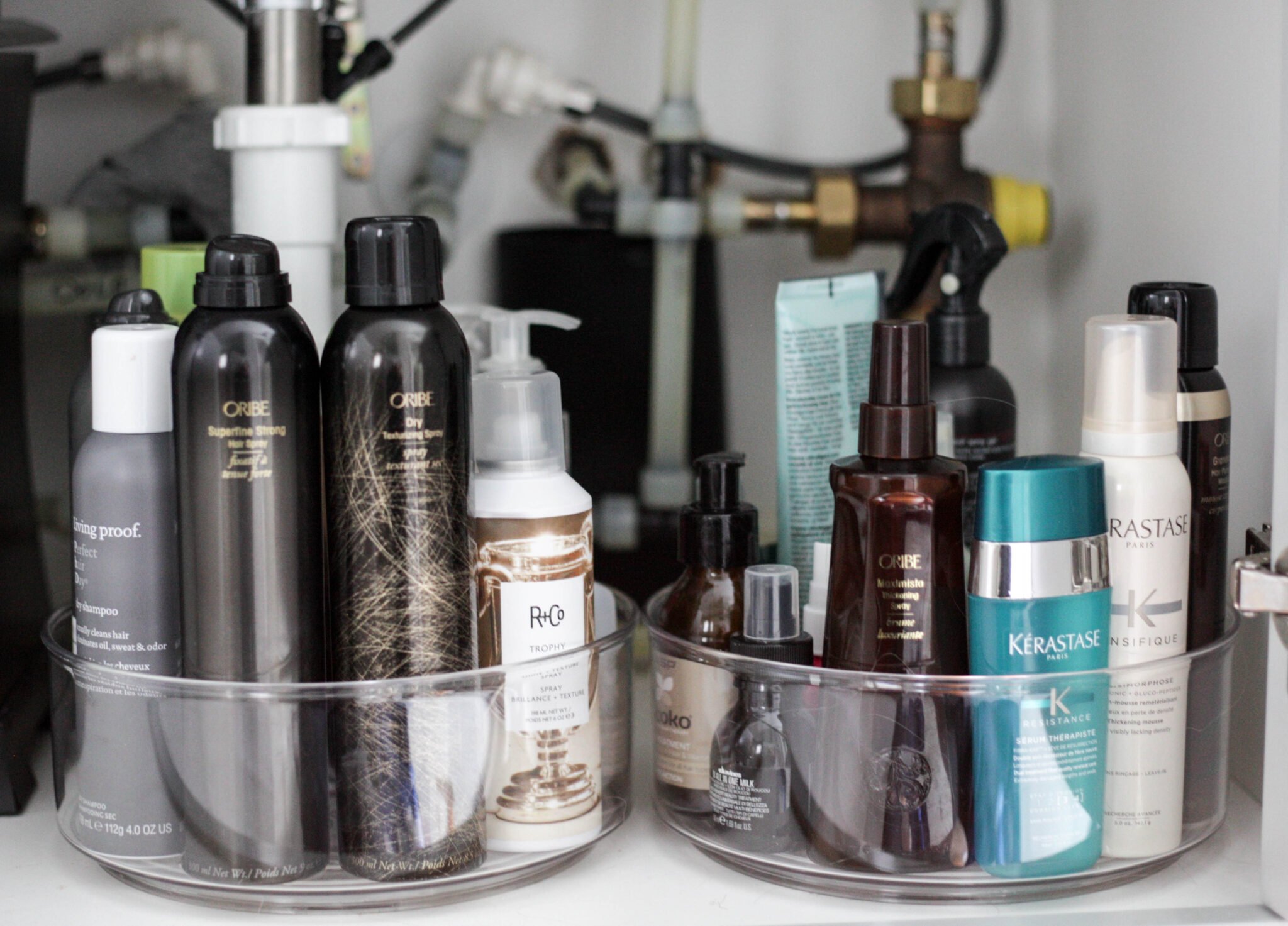 Things that belong under the bathroom sink are:
Toiletries
Towels
Shower supplies
Toilet paper
First aid kit
Hairdryer, curler, flat iron
Challenges
One of the biggest challenges to organizing the under-the-sink area is fitting things around the pipes and garbage disposal. This can be especially hard to achieve if your cabinet area is small to begin with.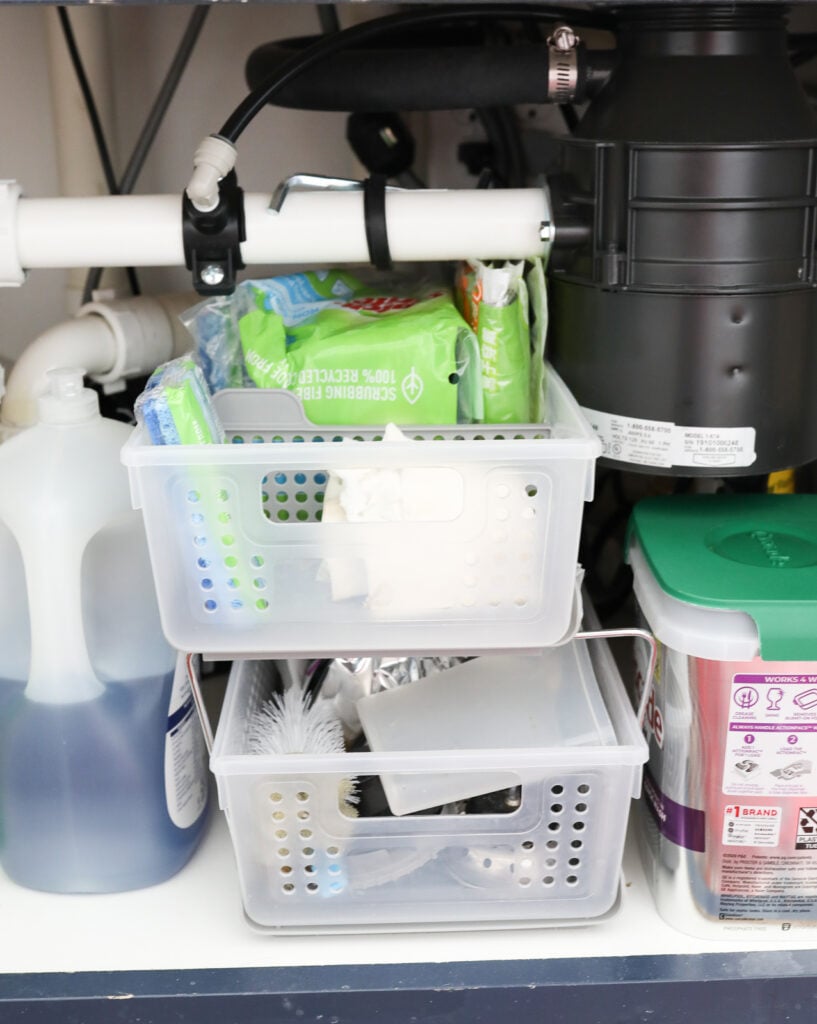 So, you must take careful measurements of the cabinet to make the most of your under-sink space. You can get adjustable and expandable shelves and organizers and fit them around your unique pipe configuration. Use vertical space as much as possible!
Before You Start
The first thing you'll need to do before organizing your under-sink area is clean and declutter it! Completely empty it and thoroughly clean the space. Depending on your space you may want to lay a shelf liner down.
(Want a full declutter challenge? Head here for my 30 day declutter challenge!)
Then declutter all of your items and only keep the things you absolutely need. Analyze the space, figure out the height and width of the area under your sink.
Then you'll need to decide on the kind of storage containers you'd need! Here's where the fun part happens (in my opinion anyway)!
I've found 16 different items to help organize your under the sink area. This should help you figure out what would work best in your area or at least give you an idea of similar items you could use!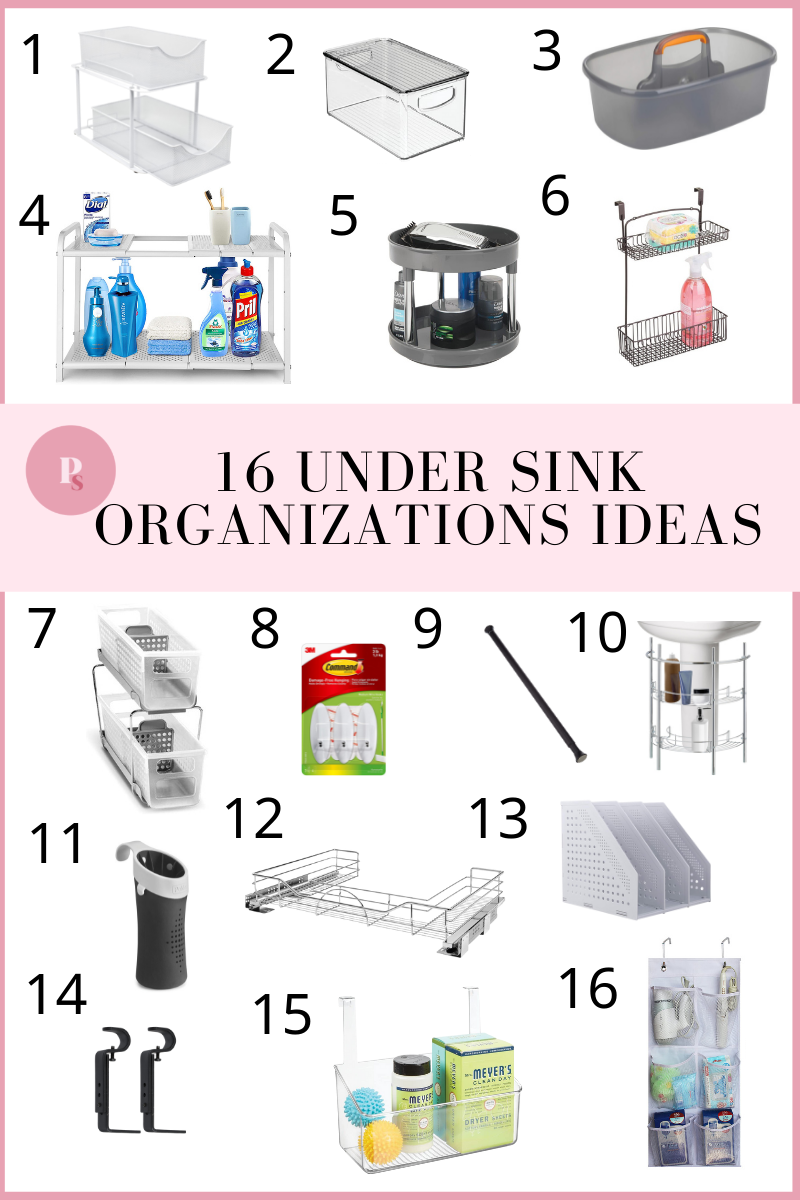 16 Best Under-Sink Organizers For The Kitchen And Bathroom
There are so many different storage options (just stroll through The Container Store and you'll see what I mean!), so don't be afraid to combine them in different arrangements to make it work best for you.
And before you remove all the packaging, make sure it fits the way you want it to!
Drawers, especially a pull-out drawer, are the perfect way to prevent things from getting lost in the back of the cabinet and make it easier to access everything.
You can use this two-drawer organizer to make the most of your under-sink area by storing cleaning products, sponges, and rags in your kitchen and extra soap, shaving products, and surplus toilet paper in the bathroom.
One of the best ways to make the most out of a tight area is using stackable bins to store and organize your items. You can stack however many fit in your space. The see-through plastic bins also help you keep track of what's inside.
Storage caddies not only help you organize your things under the sink, but they are also great to tote your cleaning supplies around your house during your weekly chores.
Pipes can get in the way of normal shelving, so you can buy specific under-the-sink shelves to store your things and expand storage space. Genius!
Lazy Susans are one of my favorite types of storage, and they're great options for under-sink organizers. They work well when you have a deep cabinet and have to fight through the mess to find what you need.
This two-level Lazy Susan doesn't take up much space and allows you easy access to your everyday products.
One of the best ways to utilize the unused space in your cabinet is by using wire baskets. These versatile and easy-to-operate baskets come in various sizes and shapes, making them perfect for storing oddly shaped items together, from spray bottles to soaps.
If you have extra tight spaces, these space-saving slim basket drawers with adjustable dividers can come to your rescue. You can also add labels to the dividers and drawers.
I own and use these in both my kitchen cabinet as well as my bathroom cabinet!
Installing Command hooks is another great idea to maximize under-sink storage space. You can use them to hang small, lightweight items like gloves, cleaning towels, and dish scrub brushes or to hang your cosmetics bag behind the cabinet door.
Use the screw-in hooks for a permanent solution, or get removable adhesive ones if you want to be able to remove them later.
Tension rods are a brilliant way to add extra storage space under your sink. You can install a tension rod in the gaps between the pipes and use them as perch for spray bottles.
This also allows for extra room underneath for other storage boxes.
As pedestal sinks lack the cabinet space of other bathroom facilities, this two-tier shelf can be used to place soaps, shaving creams, and other handy items. You can also hang small towels and washcloths at the top bar.
Curling iron holsters not only help save space in your bathroom but also prevent the cords from getting messy. You can hang these holsters behind the cabinet door.
Using the storage space beneath the sink efficiently can be tricky due to the drain pipes. This clever, U-shaped drawer can solve the problem as it smoothly slides in and out and leaves the area in the center clear for the plumbing.
Here's another creative way to maximize your under-sink storage space. Use file holders to store your hair styling tools and stash makeup brushes.
A plastic trash bag box can take up a lot of cabinet space, so you can use wooden dowels and a curtain rod to create a space-saving solution for rolls of plastic trash bags.
Mount it to the back of the cabinet door or somewhere inside the cabinet.
You can use these clear cabinet door organizers made from durable shatter-resistant plastic to provide easy access to your storage space.
Use a small pocket organizer to store hair accessories or cleaning supplies on the back of the cabinet door.
Organize and De-Stress
I know I feel a lot less stressed when I know where everything is. It especially makes kitchen chores or getting ready much simpler! I hope this list of under-sink organizing ideas helps you keep your kitchen and bathroom neat and clutter free.
Want more?