Having an organized makeup drawer is so important. It makes mornings easier and less stressed when you can find what you need! It also prevents you from misplacing items and having to replace it.
I know it can be a hard process to figure how to actually do it, so let's chat through some makeup organizer ideas and my simple steps how to organize your makeup drawer!
There are few things that make me happier than a perfectly organized home. Seriously.  Everything seems less chaotic and I feel less stressed and more happy!
I know it can be frustrating to figure out how to organized things like your makeup so hopefully these makeup organizer ideas can take away some of the frustration.
We recently moved and getting my makeup drawer organized was high on the priority list. This drawer includes all of my makeup as well as a lot of hair accessories like hair ties, barrettes and bobby pins, things I reach for daily!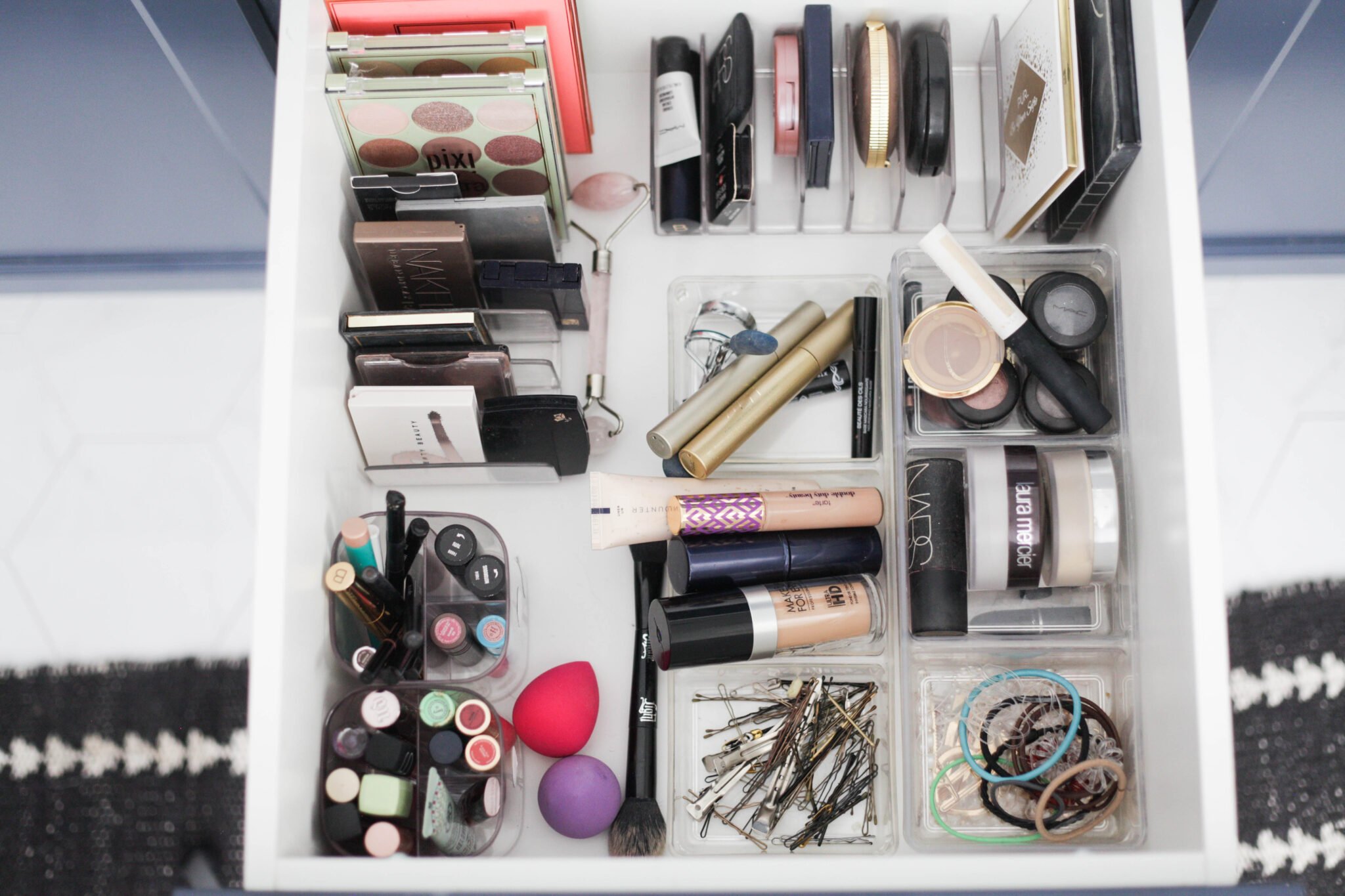 Since these are all used daily, I wanted to get my makeup storage drawers organized as quick as possible!
Our new bathroom had deep bathroom drawers but they are also skinnier drawers so I had to pick up a few different organizers to make my cosmetic drawers clean and organized!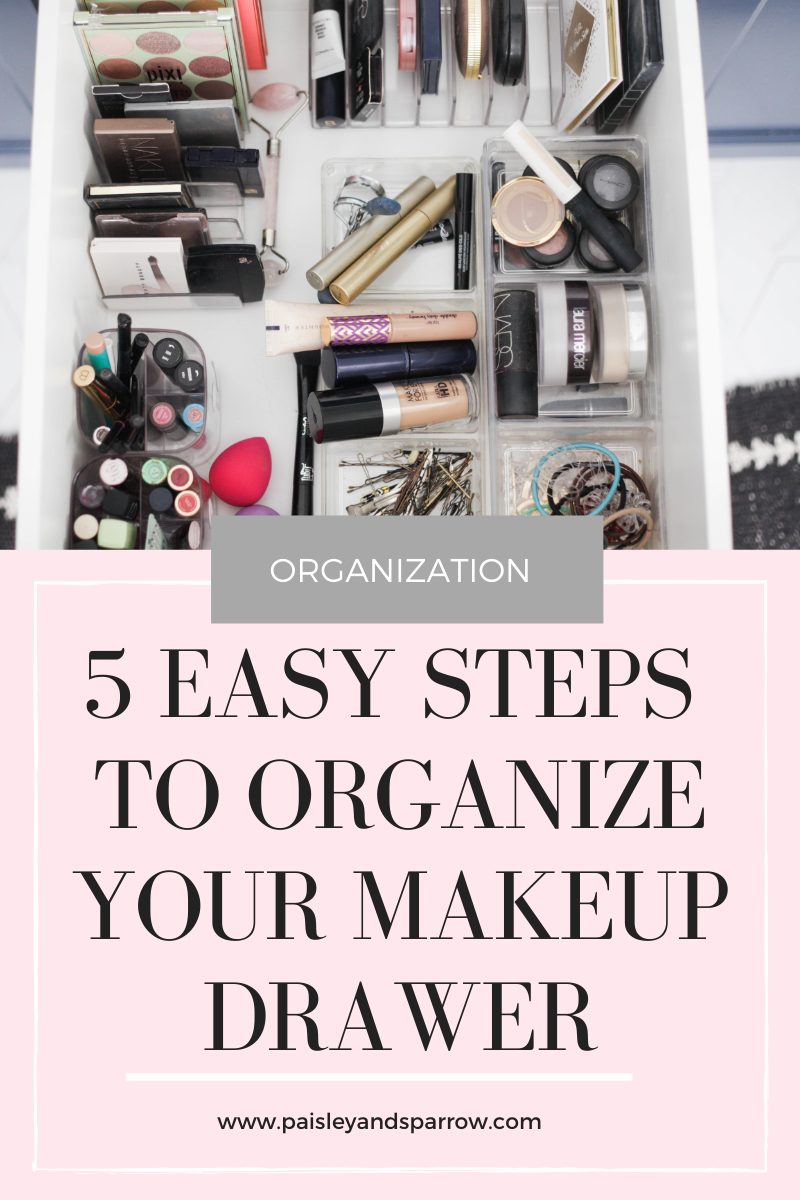 Paisley + Sparrow is a participant in the Amazon Services LLC Associates Program. This post may include affiliate links which means I may earn a small commission if you shop using the links below at no additional cost to you. 
I wanted to make a basic, inexpensive DIY makeup drawer organizer. A few very inexpensive plastic containers and about 30 minutes of my time has made a HUGE impact on my mornings.
I recently read that women spend on average $1,200 on cosmetics each year. Then when you factor in the multiple samples you get every time you order from Sephora (or any other beauty supply shop) it's clear why these drawers can get so out of hand!
How to Organize Makeup Drawer in 5 Easy Steps
This is how my drawer started: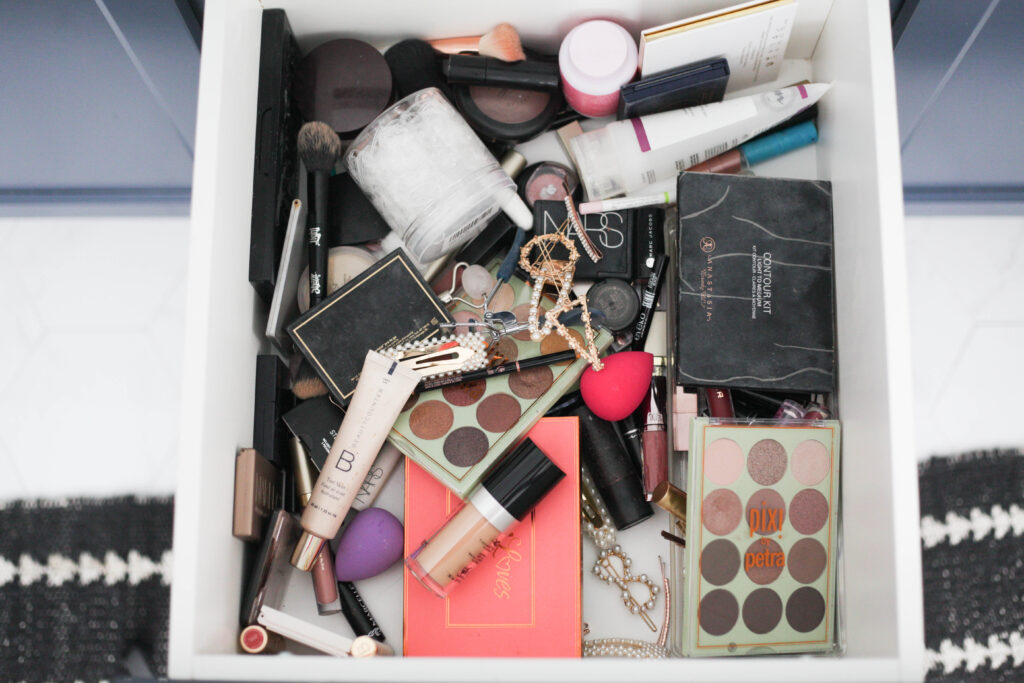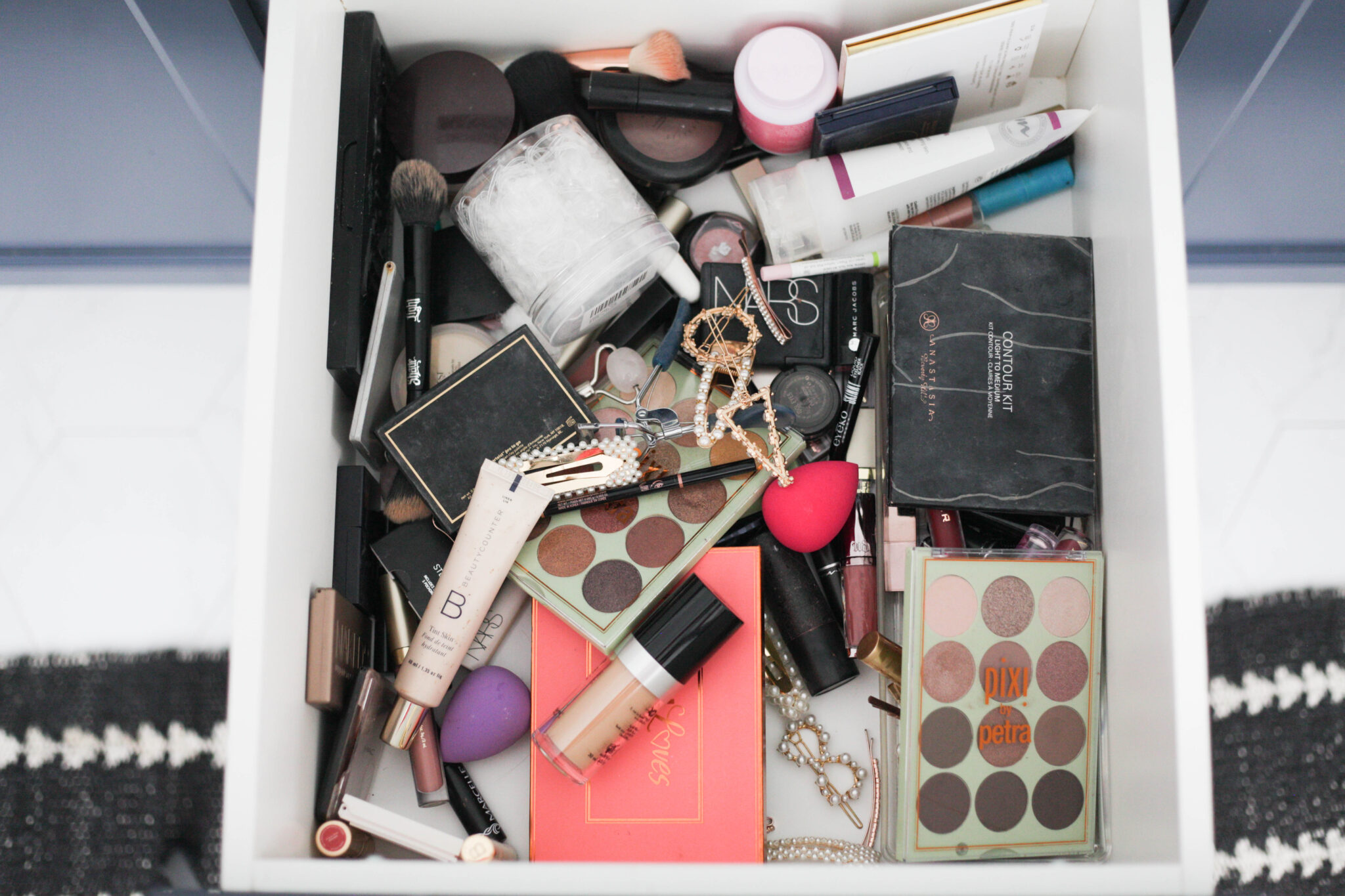 There are tons of different ways how to organize your makeup drawer depending on where you keep it but here is how I organize mine!
This way is a cheap way to DIY a makeup drawer organizer with a few simple products from Amazon! No need to purchase a fancy makeup organizer shelf unit for all your cosmetics. This works perfect!
1. Buy trays for your drawer.
Make sure to measure your cosmetic drawers to get the right ones. I use a variety of different ones.
I have this larger plastic organizer from Amazon for our old bathroom which is great for larger drawers!
For our new cosmetics drawer I used 2 of these vertical makeup palette organizers from Amazon, 2 organizer cups from Amazon for lipstick and eyeliner and 3 of these 3 section containers.
None of these are very expensive but honestly small boxes or jars can be good if you don't want to spend the money on trays.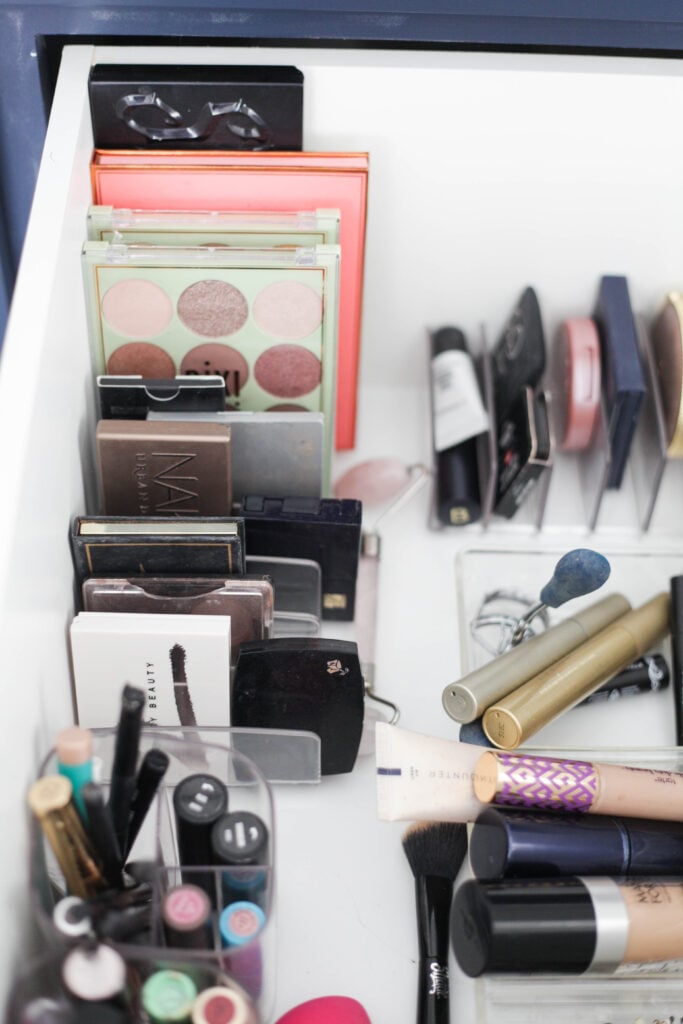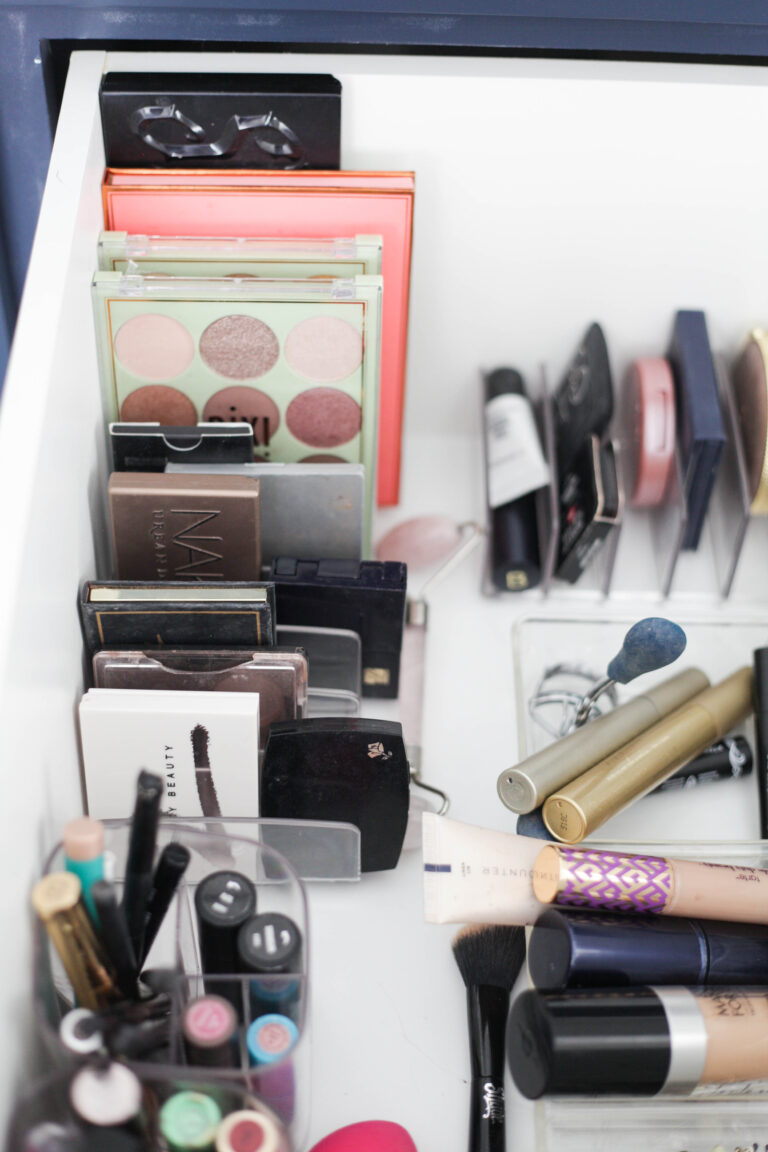 You may need to try out a few different ones to figure out what works well for your drawer as well as your needs. My last bathroom had very skinny makeup drawers so I couldn't use the makeup palette organizers.
Now that we have deeper bathroom drawers I love having these palette organizers to organize my makeup palettes! I actually find them so much easier to keep organized and also see and use what I have rather than stacking them on top of one another.
2. Take everything out of your drawer and go through all of your products.
I mean it. Every single thing. And then get one of the handy wipes and wipe down the drawer.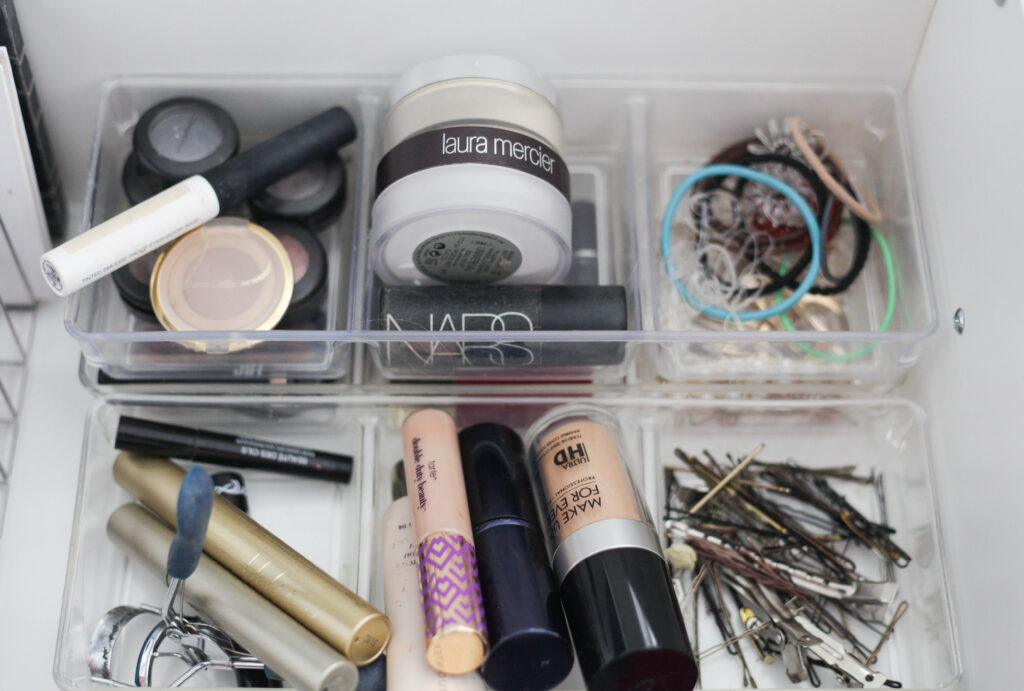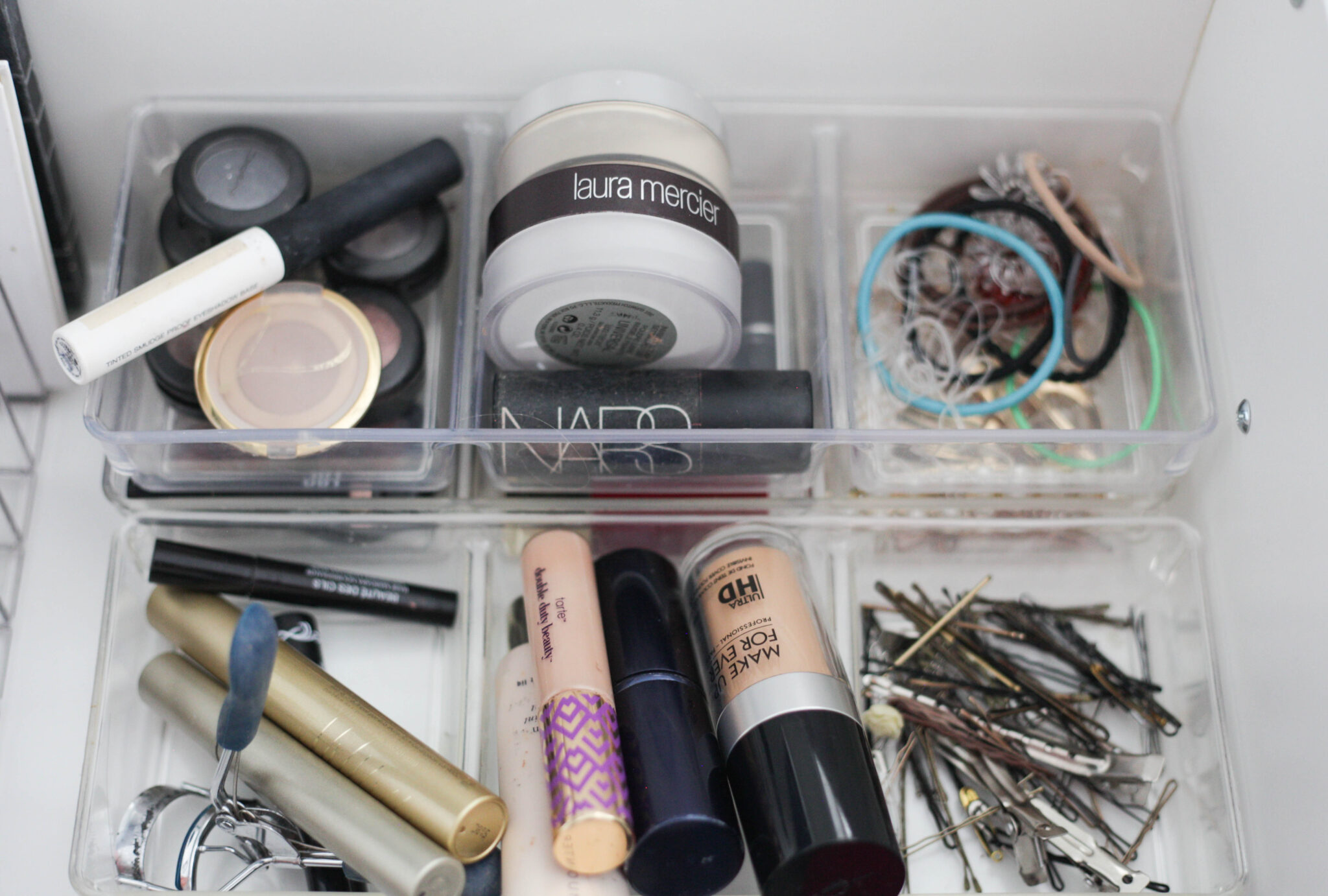 Wiping out your cosmetic drawer it is key because if it's anything like mine it's full of pigment from eyeshadow and blush. Clean it all our so your products don't get covered in dust and pigment when you put them back!
When you go through your products, ask yourself these questions: Is it old? Do I use it (I mean, actually use it.)? Is it broken? Do I have multiple of one thing? Purge all of the things that you don't use, is old or that you have multiples of.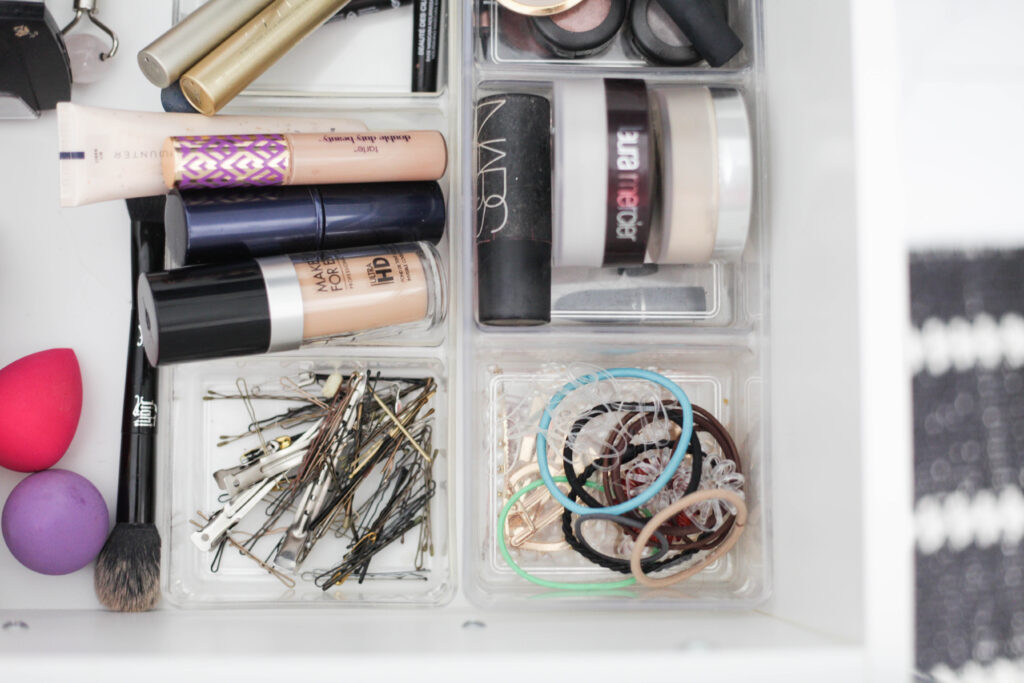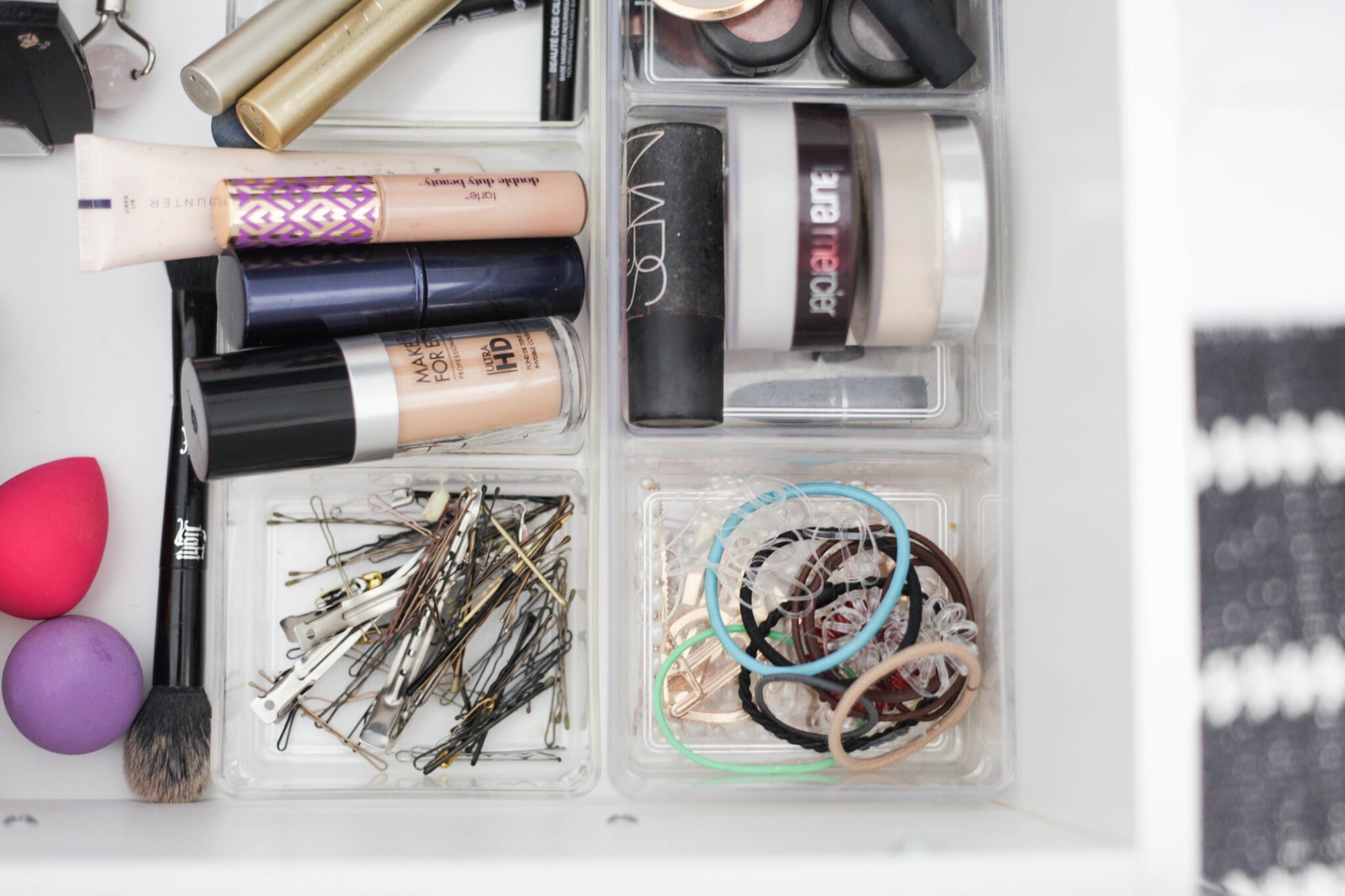 Makeup does expire so if you can't remember the last time you used it or when you actually bought it, throw it away and start fresh.
Here are some common makeup expiration dates you should remember:
Mascara Expiration Date – 3 months
Liquid Eyeliner Expiration Date – 3-4 months
Eyeshadow Expiration Date – 3-6 months
Lipstick, Liner + Gloss Expiration Date – 1 – 1.5 years
FoundationExpiration Date – 6 months to 1 year
Blush + Powder Expiration Date- 2 years
Some products actually have a small symbol on the label that will tell you how long it lasts. It's a symbol of an open cream jar icon (known as the PAO – Period After Opening) which has a number of how many months after opening it stays good for! One other thing to note is the expiration date starts when you open it, not when you buy it!
3. Put your trays in.
This is an easy one. 😉 You may need to leave out one or swap sizes but do the best you can.
Again, this can take some rearranging so try a few different ways out! It also can be helpful to just live with it a certain way for a week or two to see if you like it.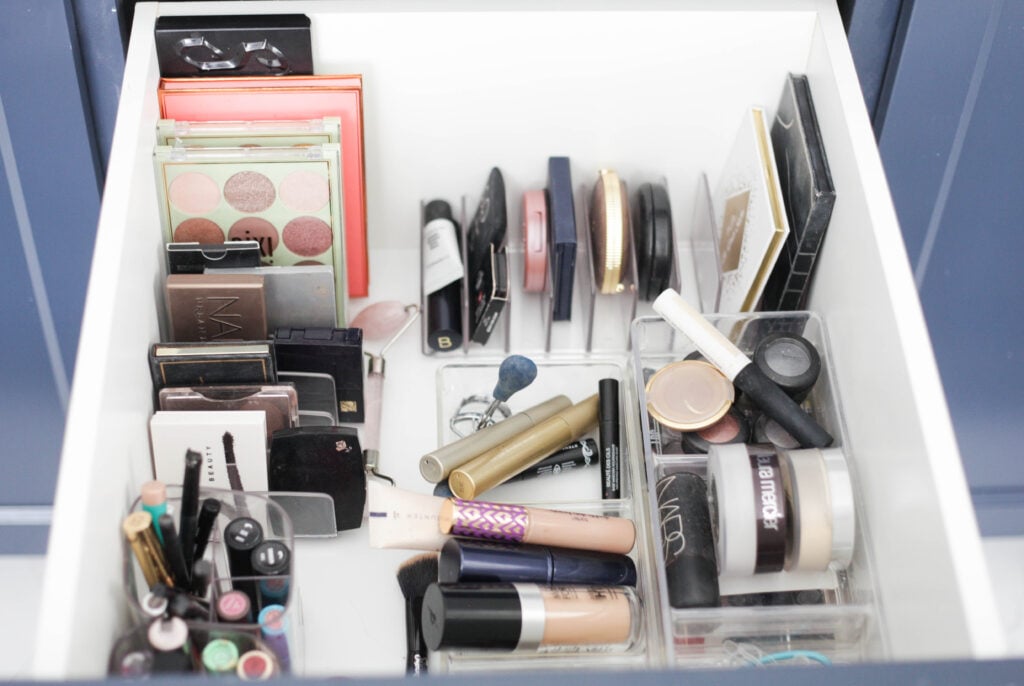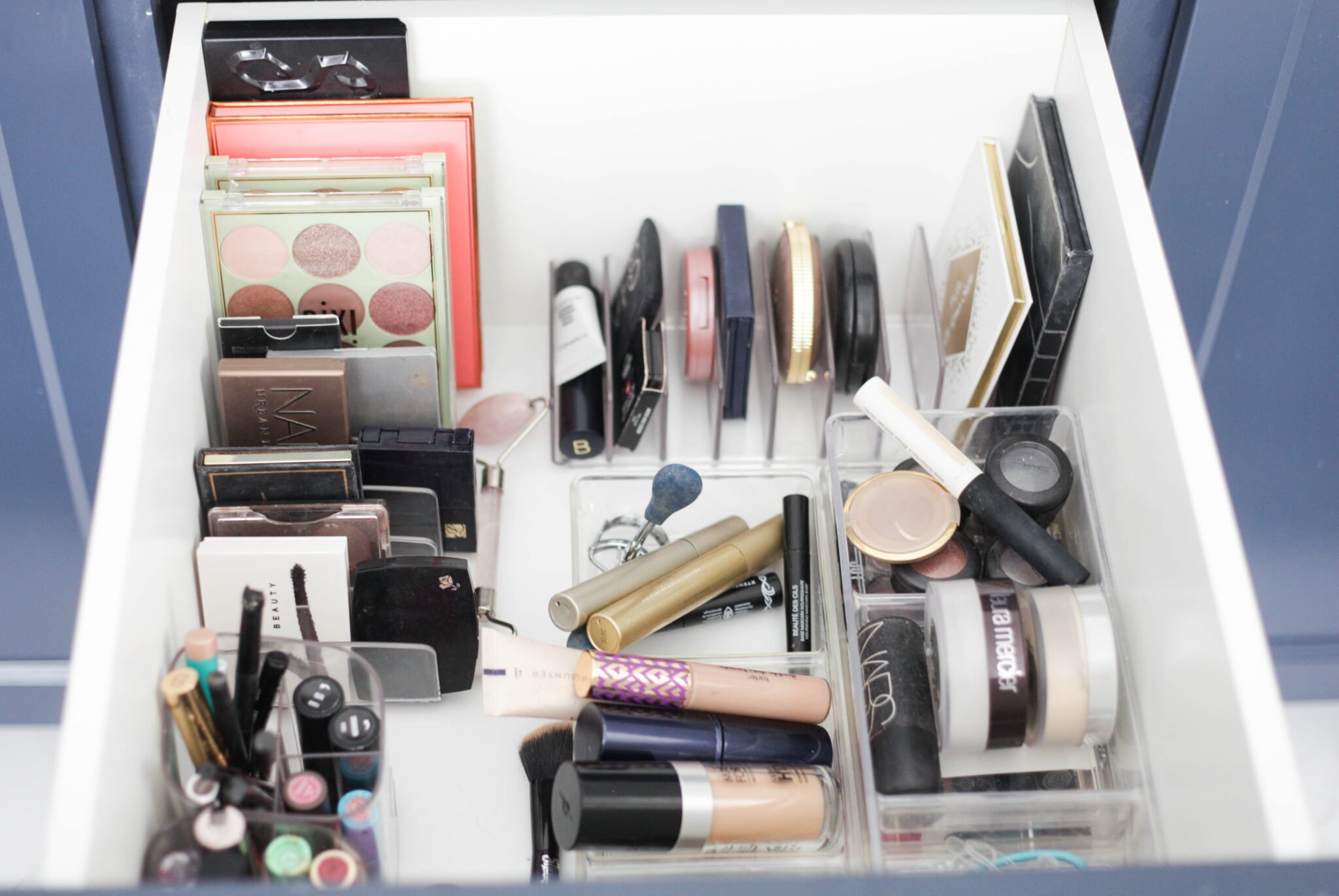 4. Put everything away!
Put like items together (eyeshadows together, foundations + concealers together, etc). I also have some hair accessories (hair ties, bobby pins, etc) in this drawer as well.
You may need to stack items or put a few "non similar" items together but ideally keep like things together.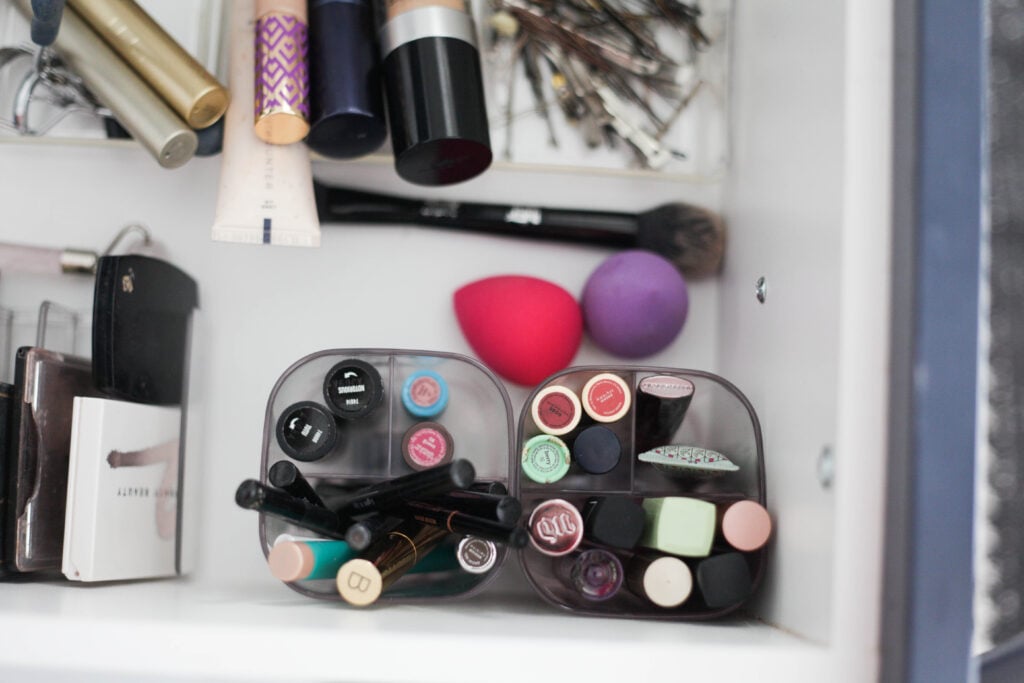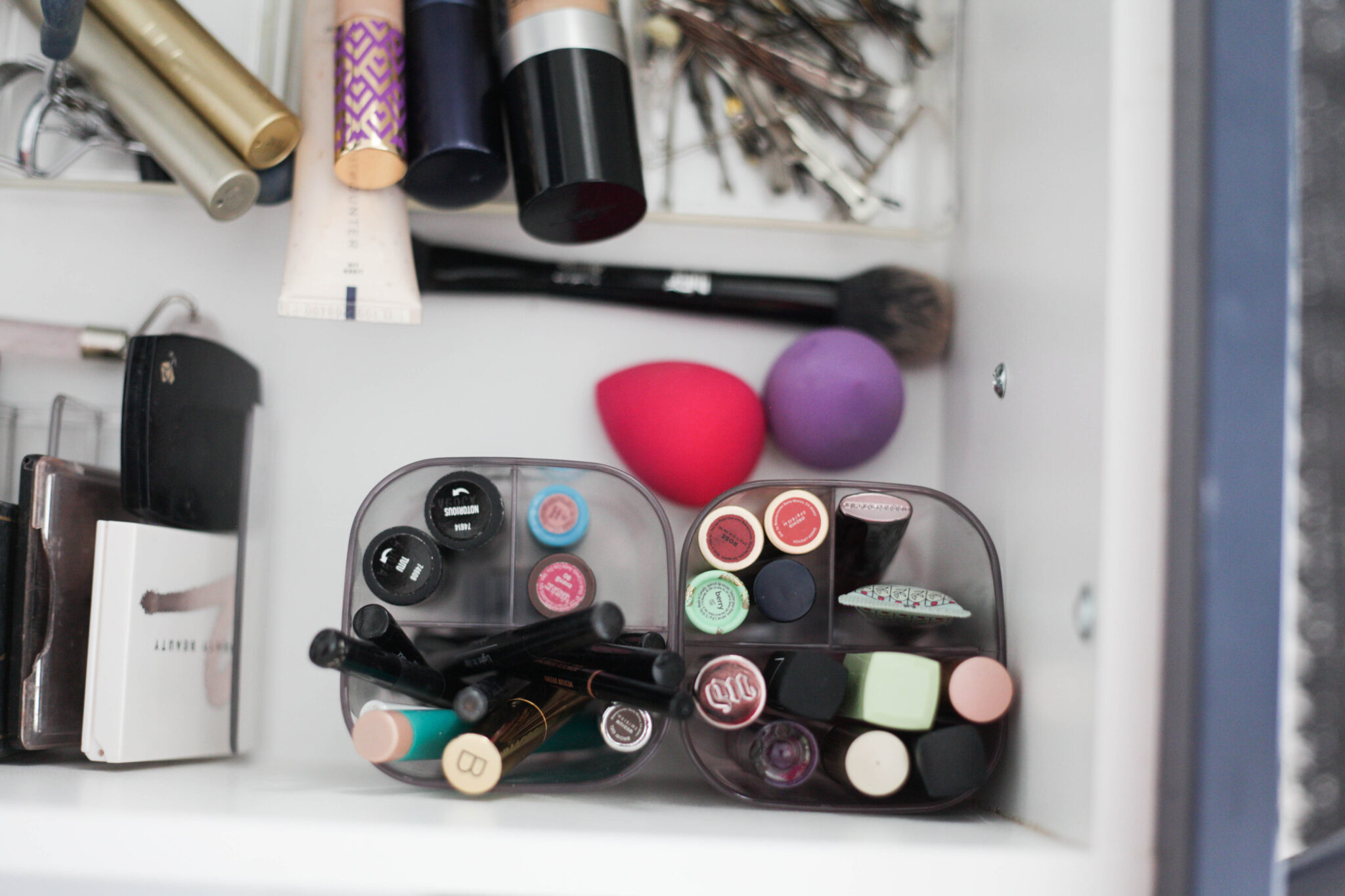 For example, you can put face primer, foundation and concealer together since those are all things you put on back to back (usually). It helps keep yourself organized when everything is together.
I stacked up one of my 3 section containers on top of another one since I didn't have enough room for it all. I simply put items I don't use daily (fancy hair clips, metallic shimmer eyeshadow and my not so favorite lipsticks) in the bottom row.
5. Put all of your brushes in jars.
Use old baby food jars, pesto jars, mason jars, empty candle jars…whatever you want! I love repurposing things for times like this. You don't need to go buy fancy jars if you don't want to – just shop your house!
So there you have it! A clean, organized make up drawer to make your mornings that much better.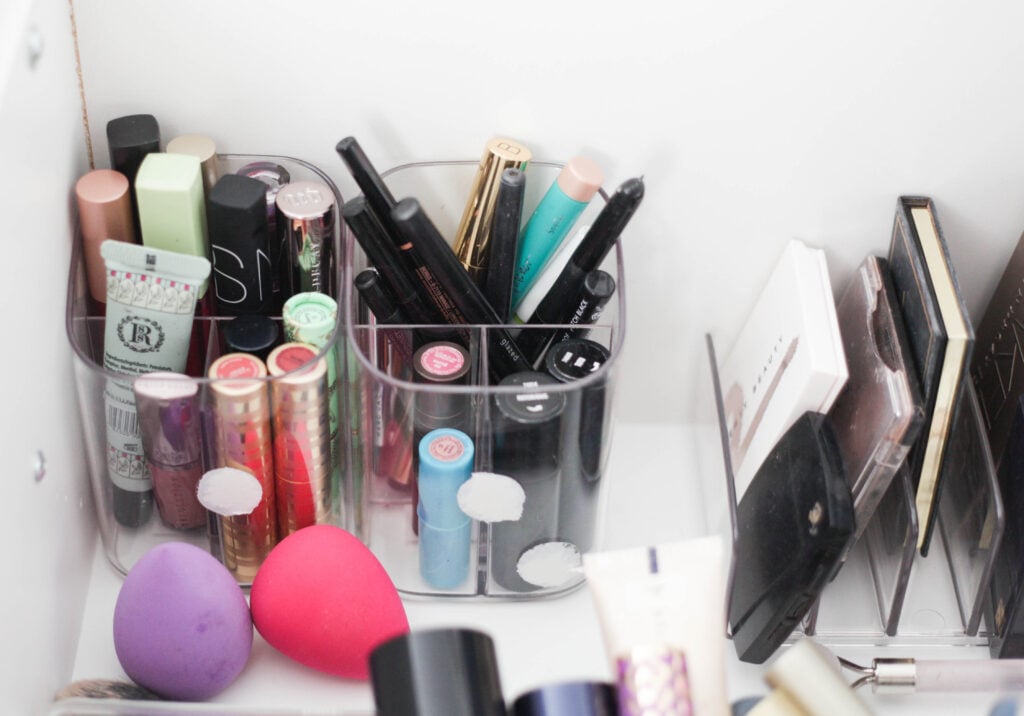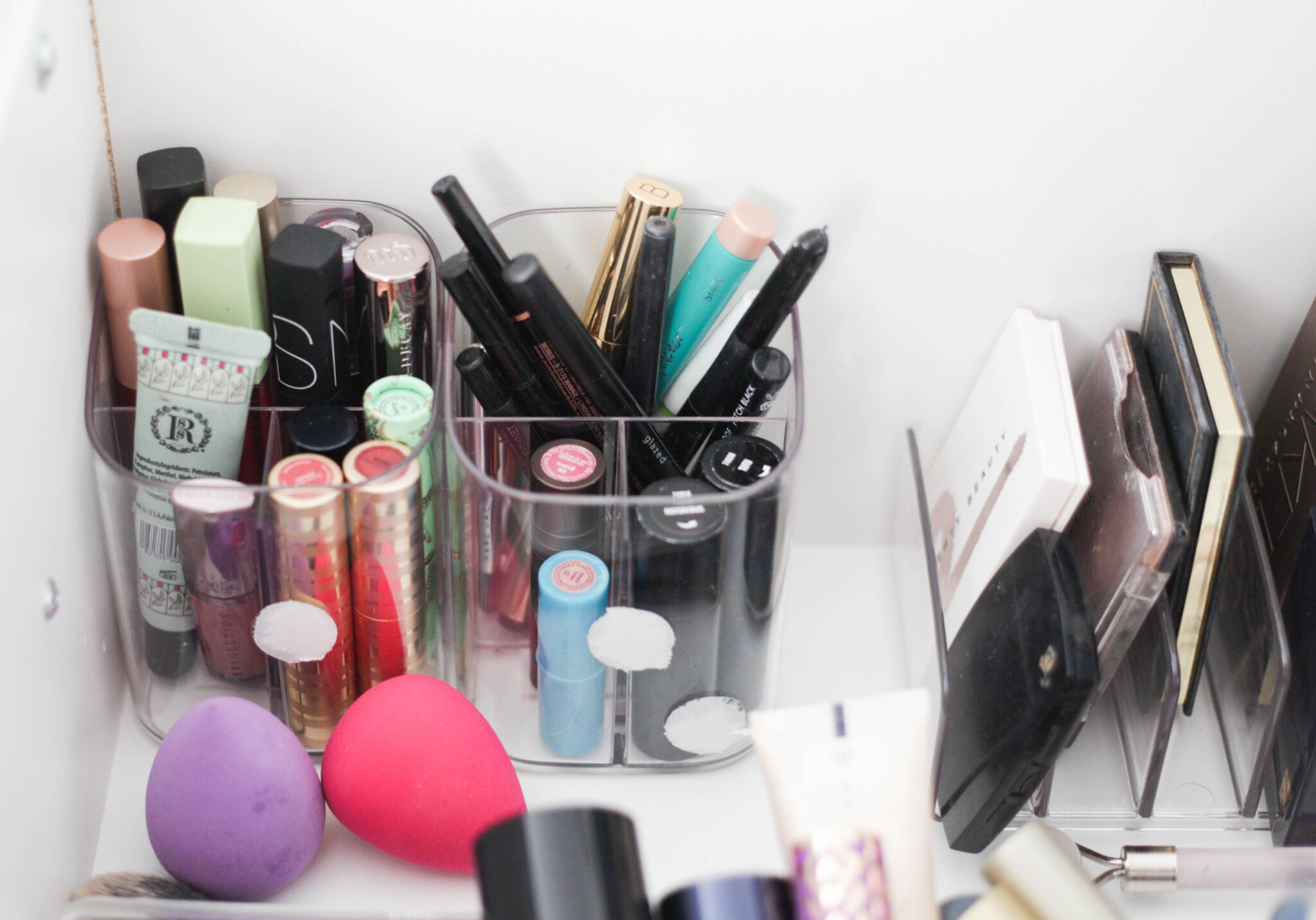 Thanks so much for reading! Be sure to follow along on Instagram for even more fun!
Love makeup? Find out how to wash all those makeup brushes you use!
Want to declutter your whole house? Join the 30 Day Declutter Challenge!
Want more organization tips? Check out one of these!
Kitchen
Closet
Bathroom + Linen Closet 
Living Room, Storage Room + Garage
Kids
Misc 
If you want to do a 30 day declutter challenge, get a free guide here!