I recently decided to organize my makeup drawer and it made a HUGE difference in my mornings! I no longer am digging through 50 items to find the one I need because everything has a home. I know it can be a hard process to figure how to actually do it, so here is how to organize your makeup drawer in 5 easy steps!
There are few things that make me happier than a perfectly organized home. Seriously. Everything seems less chaotic and I feel less stressed and more happy!
Now let's be real, my home is about 50% organized. It seems like every time I'm close to feeling like the majority of my home is organized we go and redo my office, get all new light fixtures or a child grows out of their current size of clothing.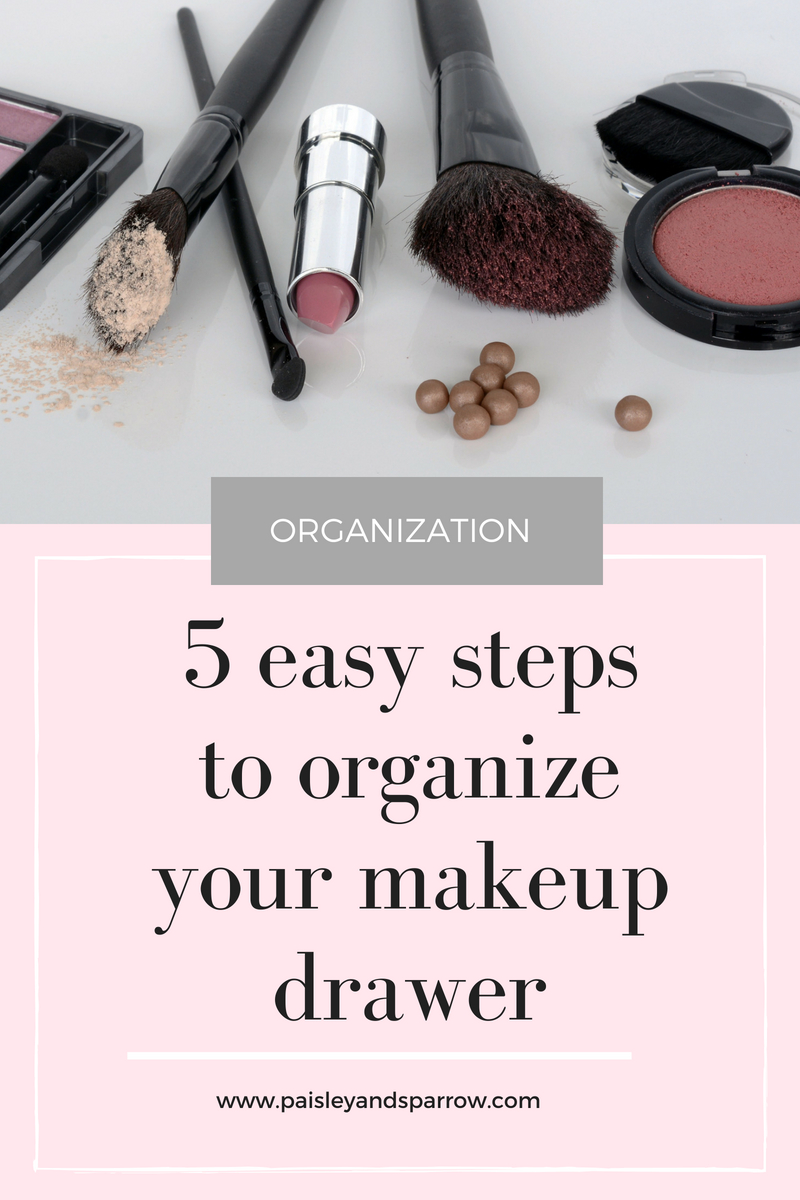 Before I had Penelope I was in full on nest mode and decided to finally organize my makeup drawer (among other things like decorating her nursery which you can see here!).
A few very inexpensive plastic containers and about 30 minutes of my time has made a HUGE impact on my mornings.
I recently read that women spend on average $1,200 on makeup each year. Then when you factor in the multiple samples you get every time you order from Sephora (or any other beauty supply shop) it's clear why these drawers can get so out of hand!
This is how my drawer started: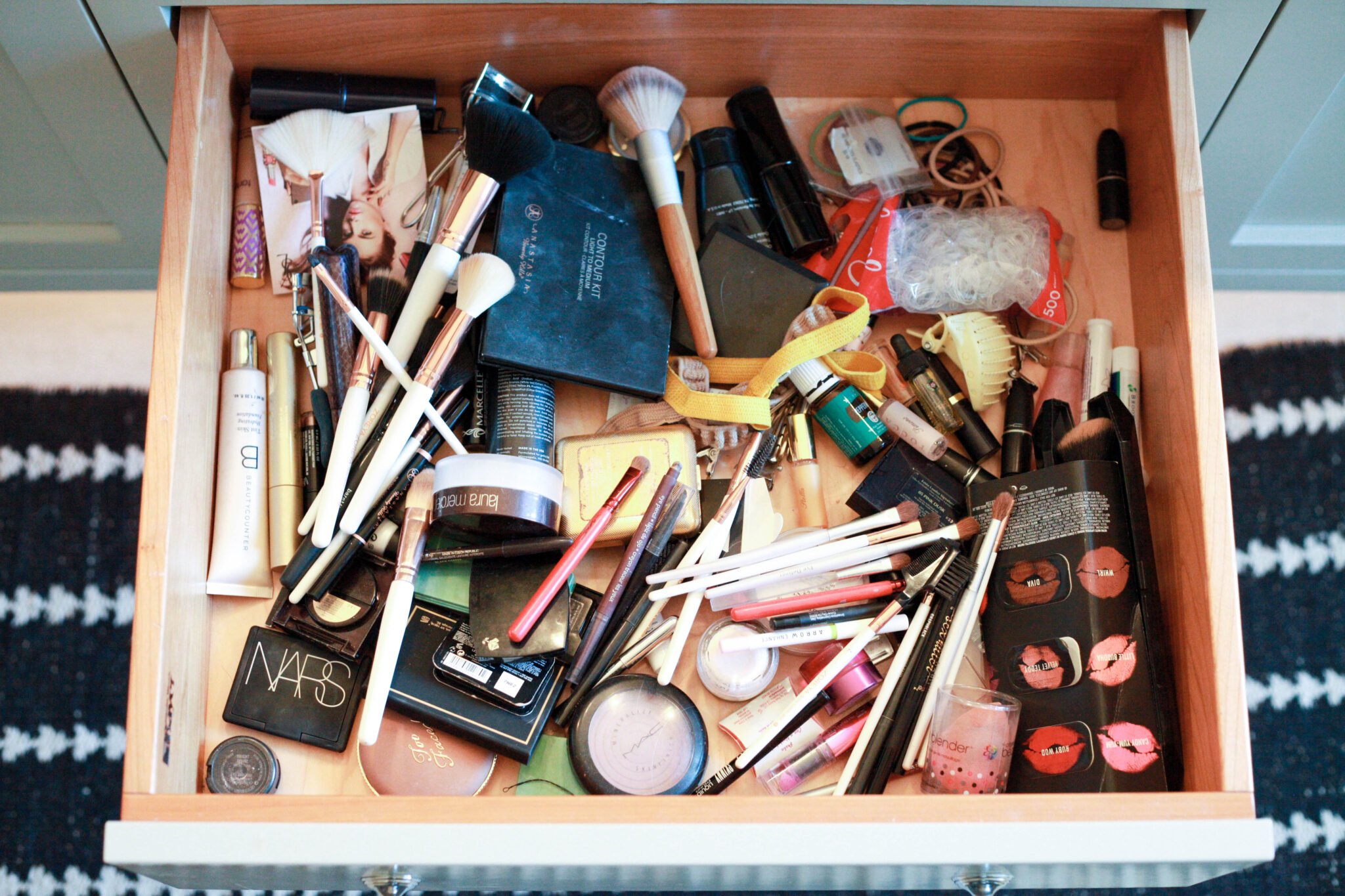 There are tons of different ways how to organize your makeup drawer depending on where you keep it but here is how I organize mine!
1. Buy trays for your drawer.
Make sure to measure your drawer to get the right ones. I use a variety of different ones (I have this one and these) but honestly small boxes or jars can be good if you don't want to spend the money on trays.
You may need to try out a few different ones to figure out what works well for your drawer as well as your needs.
2. Take everything out of your drawer and go through all of your products.
I mean it. Every single thing. And then get one of the handy wipes and wipe down the drawer.
Wiping it is key because if it's anything like mine it's full of pigment from eyeshadow and blush. Then your products won't get covered in dust and pigment when you put them back!
When you go through your products, ask yourself these questions: Is it old? Do I use it (I mean, actually  use it.)? Is it broken? Do I have multiple of one thing? Purge all of the things that you don't use, is old or that you have multiples of.
Makeup does expire so if you can't remember the last time you used it or when you actually bought it, throw it away and start fresh.
Here are some common expiration dates you should remember:
Mascara – 3 months
Liquid Eyeliner – 3-4 months
Eyeshadow – 3-6 months
Lipstick, Liner + Gladd – 1 – 1.5 years
Foundation – 6 months to 1 year
Blush + Powder – 2 years
One other thing to note is the expiration date starts when you open it, not when you buy it!
3. Put your trays in your drawer.
This is an easy one. 😉 You may need to leave out one or swap sizes but do the best you can.
I knew my back corner was going to be for my larger items (eyeshadow pallets and contouring kit) so I just didn't put anything there.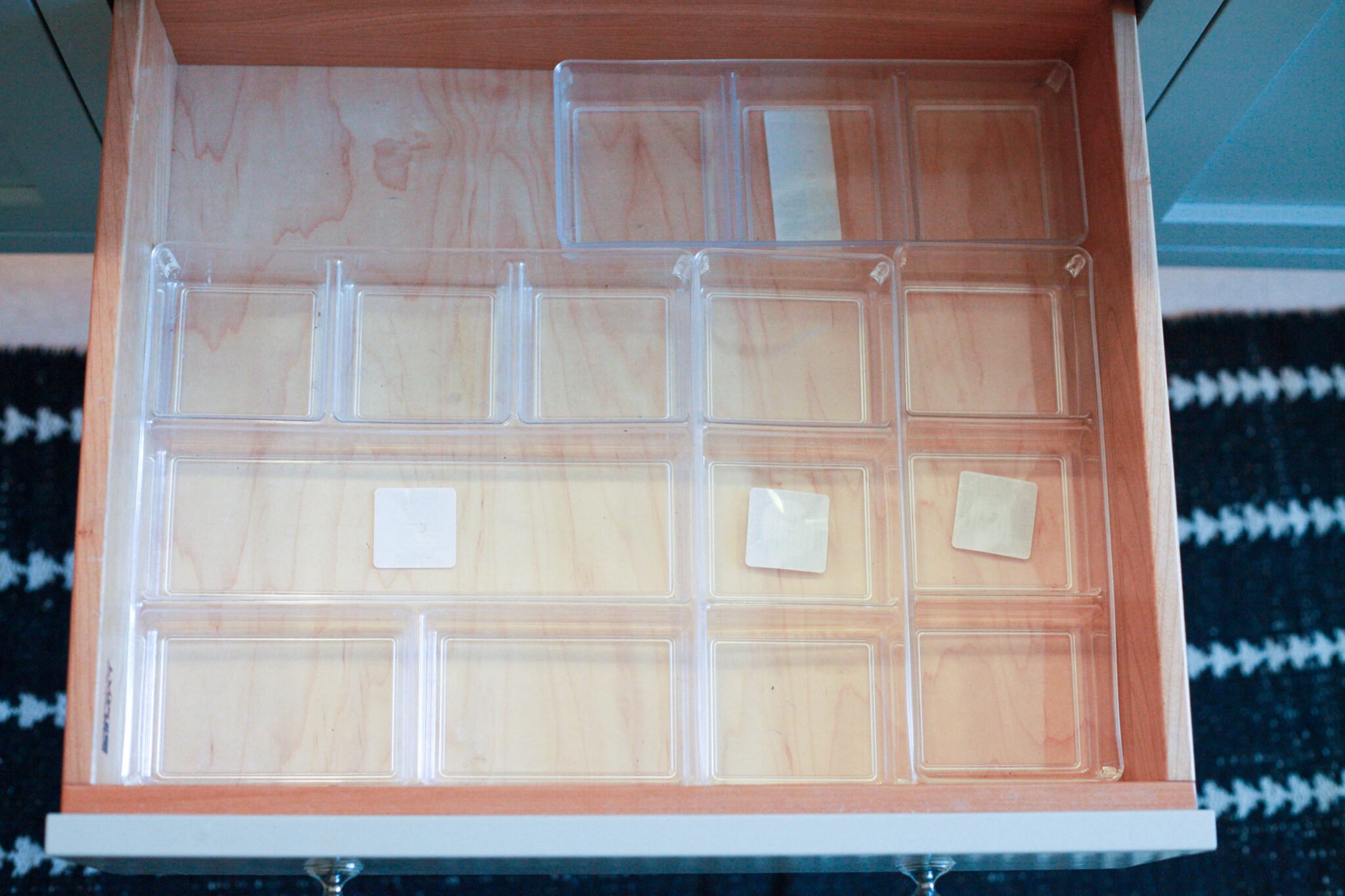 4. Put everything away!
Put like items together (eyeshadows together, foundations + concealers together, etc). I also have some hair stuff in this drawer as well.
You may need to stack items or put a few "non similar" items together but ideally keep like things together.
For example, you can put face primer, foundation and concealer together since those are all things you put on back to back (usually). It helps keep yourself organized when everything is together.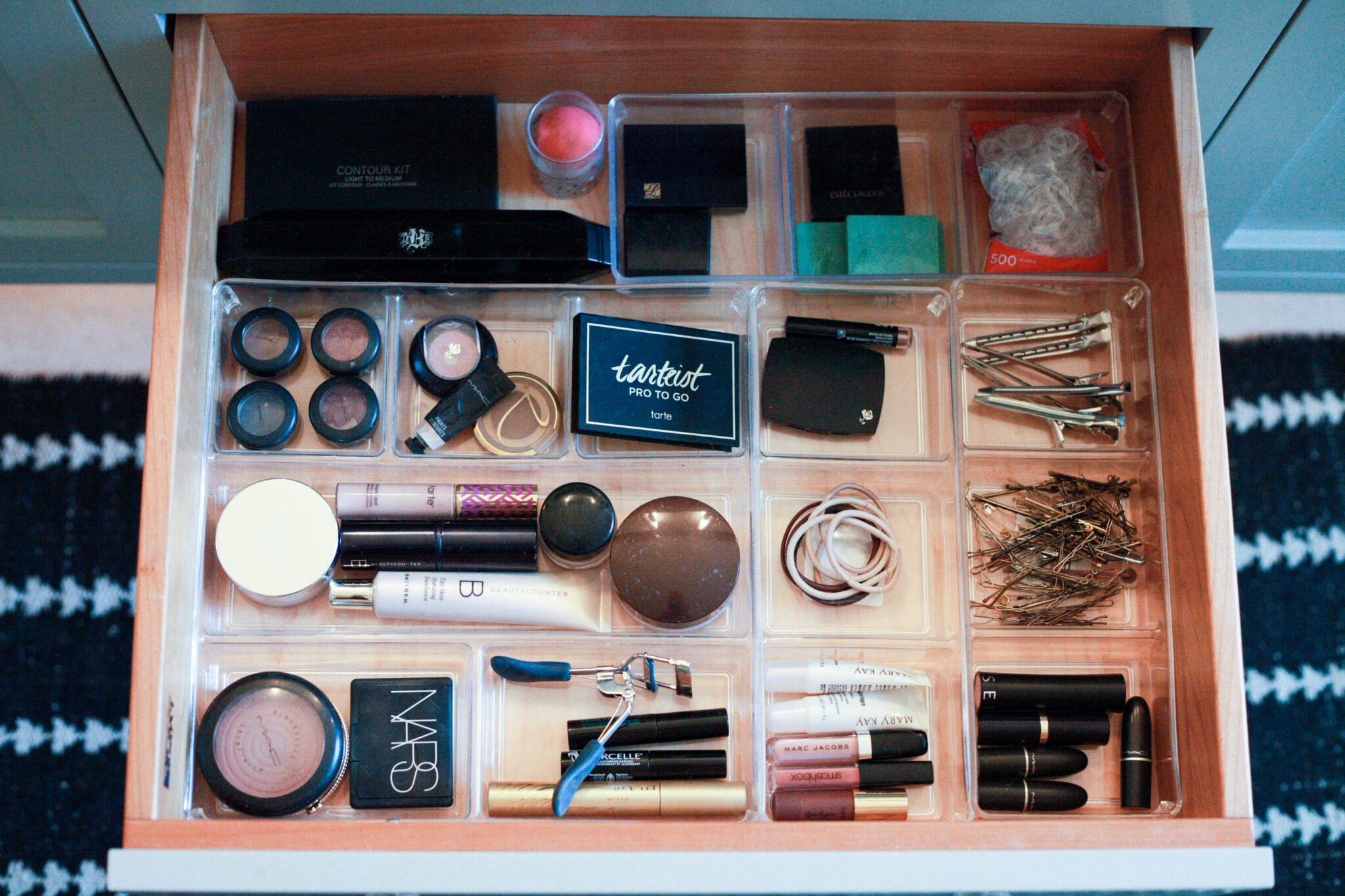 5. Put all of your brushes in jars.
Use old baby food jars, pesto jars, mason jars, empty candle jars…whatever you want! I love repurposing things for times like this. You don't need to go buy fancy jars if you don't want to – just shop your house!
So there you have it! A clean, organized make up drawer to make your mornings that much better.
Thanks so much for reading! Be sure to follow along on Instagram for even more fun!
Some of the most popular posts here are 4 easy tips for decorating your home, 7 tricks for new moms and 5 ways to find the joy again.
I hope you'll stick around for a while!
xo
Jen