We all want a clean, organized living room but do you know how to organize a living room? Or is even the though of it too exhausting to even think about? It's not hard and today I'll walk you through exactly what you need to do to declutter and organize your living room.
Think about your living room. How do you want it to feel? Relaxing? Peaceful? Calm? It can be those things!
No matter if it's tiny or huge, you have 10 people in your family or one, there are certain things that each living room can have to be organized and a peaceful place to be.
(New to Paisley + Sparrow? Check out my original 30 Day Decluttering and Organizing Challenge post for all the details.)
How to Organize a Living Room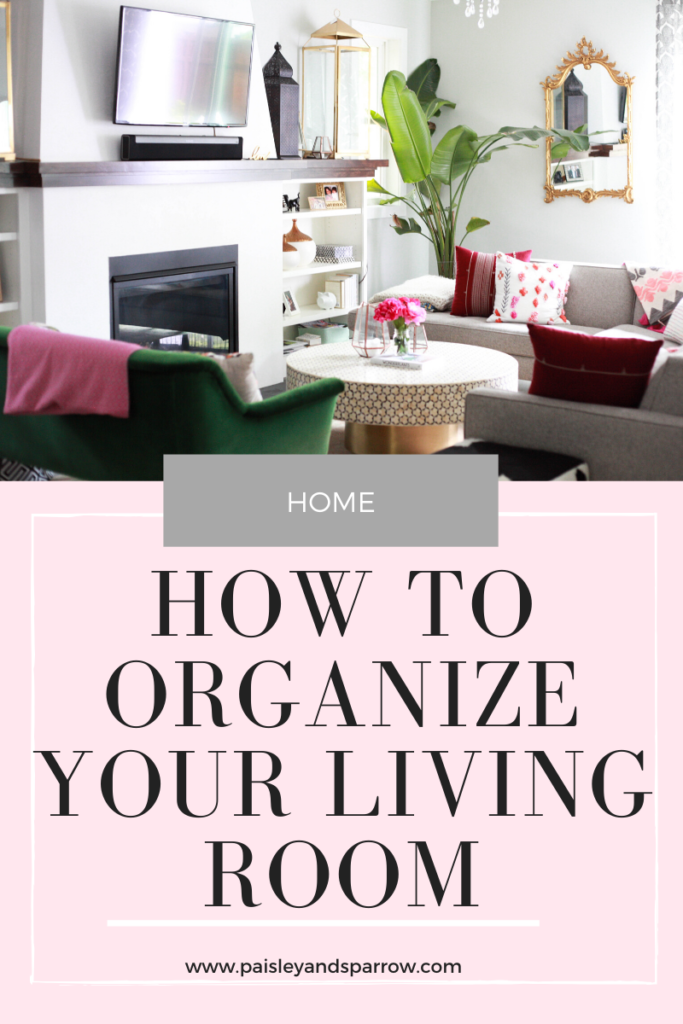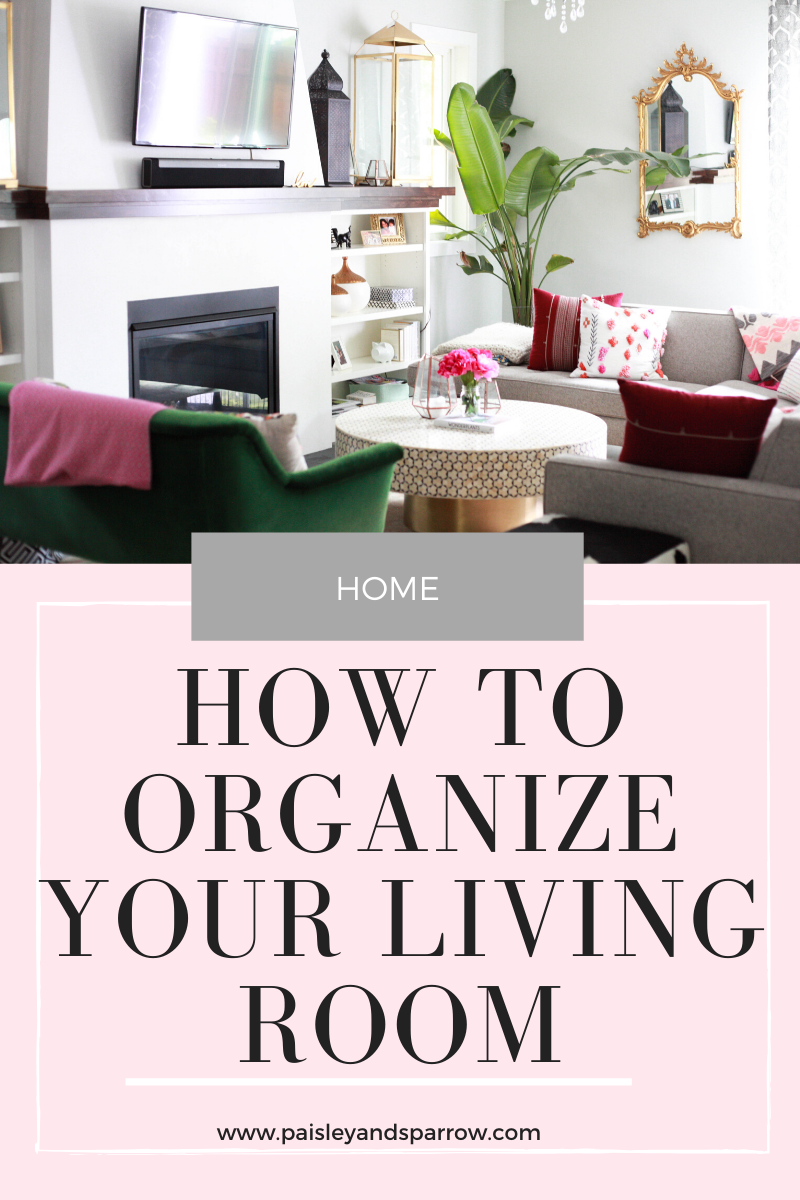 *this post may contain affiliate links which means I may earn a small commission on something you purchase at no additional cost to you. Thank you for helping me support my family through Paisley + Sparrow!
We're going to walk through how to organize your living room in chunks to make it more manageable to tackle. I strongly encourage you to take it one section at a time – declutter and organize one section before moving on. It can be too overwhelming to do all of it at once!
Books, Magazines + Electronics
Let's start with one of the easiest things that can become a huge cluttered mess in your living room which is your books, magazine and all of your electronics!
2 Steps for Decluttering and Organizing Books
Books can be a sensitive topic. Some people keep ALL of their books forever. Others read it once and pass it on! Regardless of whether or not you're a keeper or tosser, you need to be organized. Let's organize our books in 2 simple steps.
1. Go through all of your books!
The number one thing to do is to really go through all of your books. If there are some that are super out dated, you haven't touched in YEARS or that you just don't want to ever read again, donate them.
One you have all of the books you want to keep it's time to organize them.
2. Have a system for organizing your books.
Step number 2 is to organize the books you keep. If you have a lot of books, make sure you have a method for them.
This will oftentimes depend on you and whether you like to keep them organized by author, title, genre, etc. The last thing you want is to not be able to find the book you're looking for when you really want it!
If you're someone like me who doesn't mind mixing up genres or authors, color coordinate them! I keep a few books in my office, a few others in our bedroom and the bulk of them in our upstairs hallway on a bookshelf.
I arrange them by color to keep it looking pretty! Another thing I like to do is to have the binding face the wall when I'm using them to raise things up and add dimension to a bookshelf. That way you don't need to worry about color!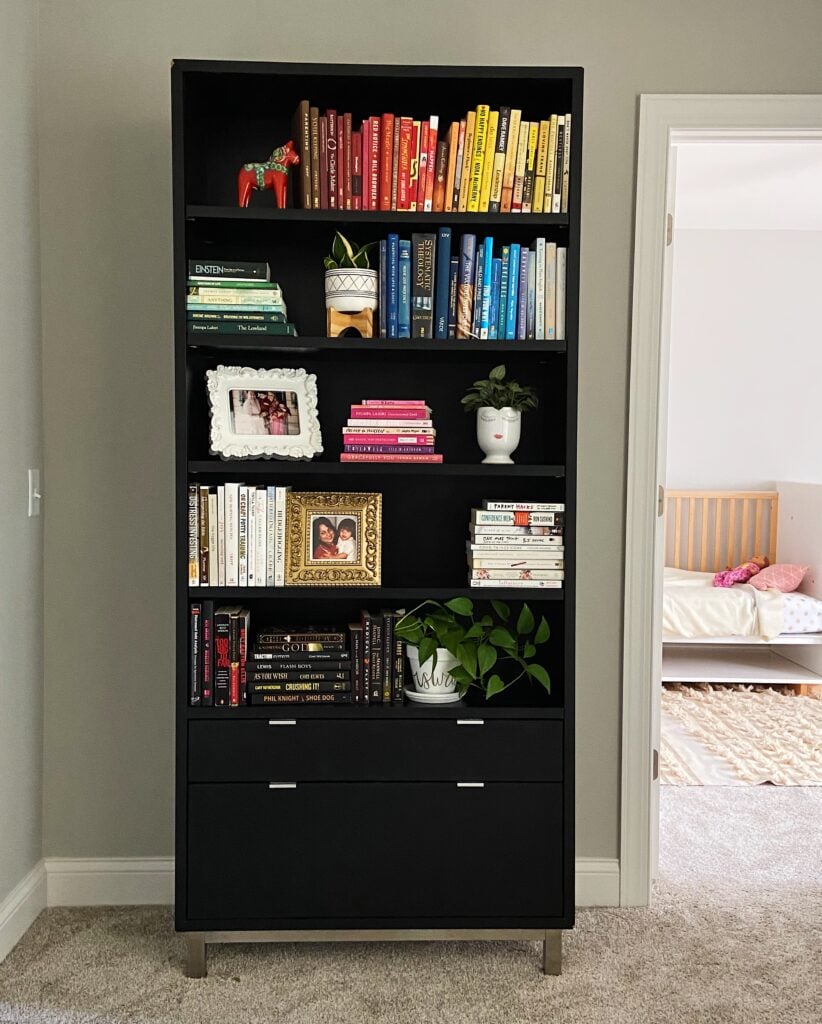 3 Steps for Decluttering and Organizing Magazines
1. Go through your magazines monthly
With all of the free magazines we all get lately, your magazine pile can stack up really quickly! Once a month go through all of your magazines to keep your stack small.
If you can, pass them on to a friend or neighbor! One of our babysitters loves magazines so I pass them all on to her (and then she passes them on to her friend!).
2. Have one spot for your magazines
Have one spot for all of your magazines. This helps contain the magazine clutter and also helps you see when the stack is getting too high! Below are some really fun magazine holders that you could get!
Just because they're magazines doesn't mean the way you store them doesn't have to be pretty! Pick something that goes with your decor so it doesn't become an eyesore.
3. If you don't read them, unsubscribe!
If you find yourself never reading them or immediately tossing them in the recycling, unsubscribe! There's no sense in wasting trees, spaces or resources on something you don't actually use.
7 Products for Magazine Storage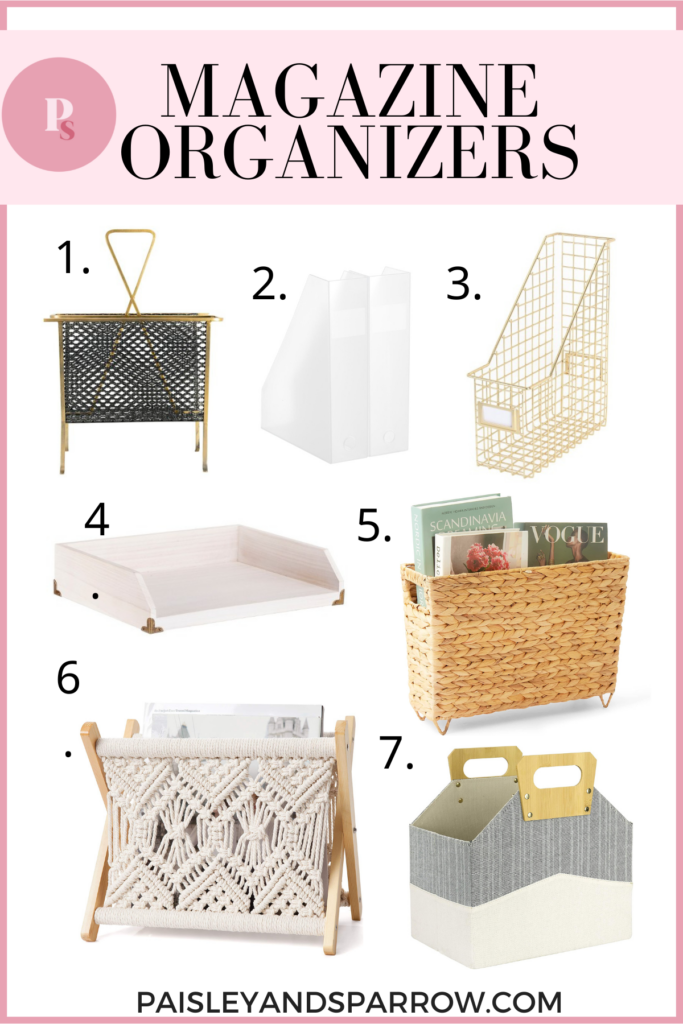 Blankets + Pillows
Maybe you're like me and you have a LOT of blankets and pillow. You need to go through all of them and got rid of some!
Do you have pillows you haven't used in years? Are there ones that are damaged with holes or broken zippers? If you don't use them or don't want to fix any of the damaged ones, get rid of them.
Same goes with blankets! It's good to keep a few old blankets for the car or outside, otherwise donate any blankest that you don't use or aren't in good condition.
For blankets that aren't in the best shape, bring to an animal shelter! They can typically always use them.
4 Ways to Store Blankets
Here are a few easy ways to store the blankets that you end up keeping.
1. A blanket ladder.
Blanket ladders are a great way to store blankets. It doesn't take up too much space, can be used as decoration and can hold quite a few blankets! We have one and I love it. Here are a few great blanket ladders you could buy!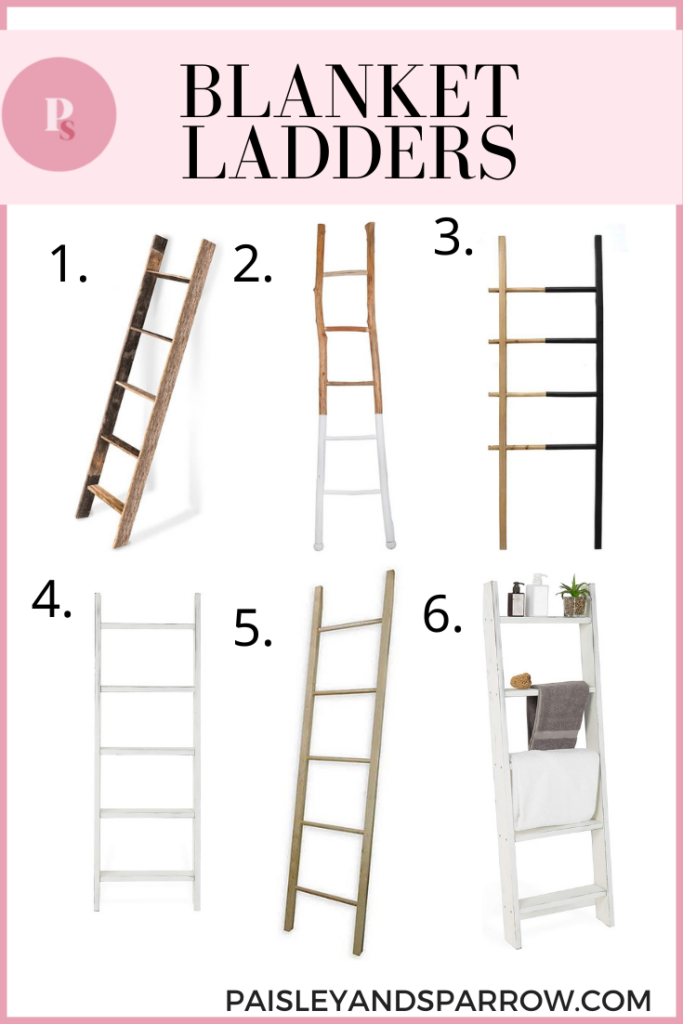 2. On a shelf.
Roll up your blankets and put them in the bottom shelf of a bookshelf (or built ins). Added bonus is these shelves won't be at risk of getting cluttered! Great for small spaces or not a lot of floor space.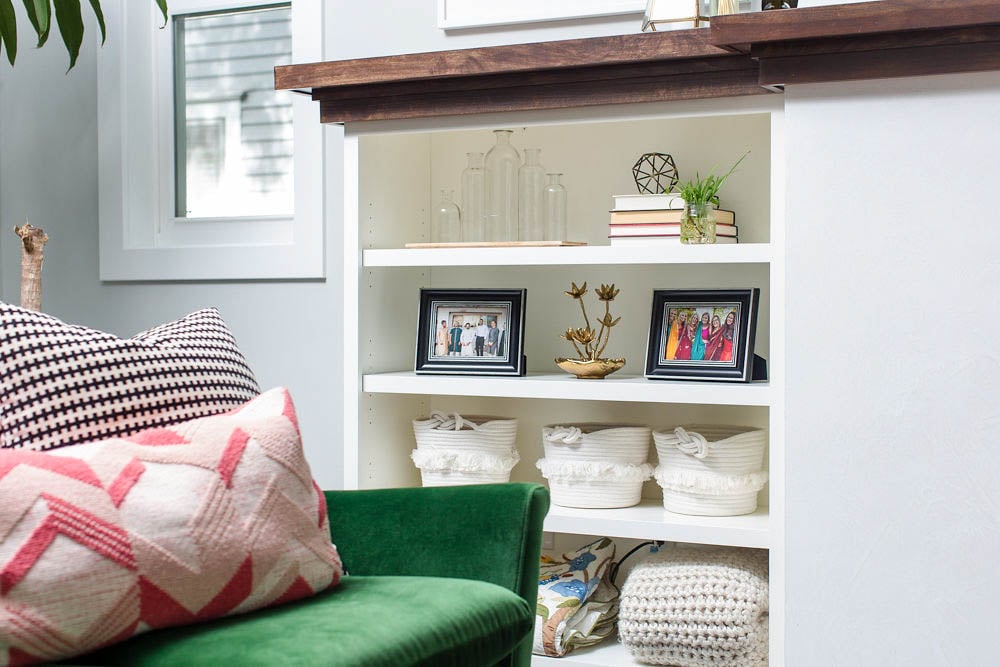 3. In a trunk.
Trunks are a great decorative way of storing blankets. We have 2 trunks for blankets – one with family heirloom blankets (ones my grandma and Rishi's grandma have made) and another of just extra blankets for our guest room, kids, etc.
4. In a basket.
I love the looks of big baskets with cozy blankets stuffed inside. If you have floor space this is a great option!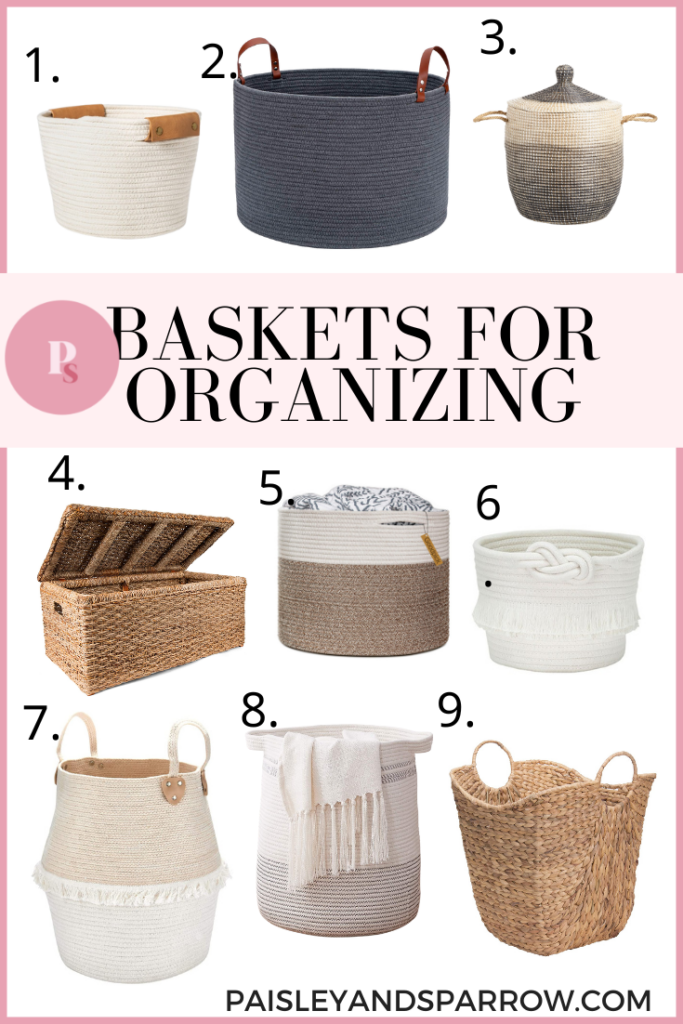 Furniture (Side tables, Bookshelves, Etc)
Now let's tackle our furniture! It can be so easy for your bookshelves, consoles and side tables to quickly get full of clutter and mess. When it comes to these, less is more!
I often times go through the process of taking everything off my shelves and slowly add things back in. One tip is to only put things on your shelf that bring you joy! Also make sure that your shelves have different elements – plants, books, pictures, etc.
Make sure that your side tables don't have much, if anything on them! You want them to be accessible for guests to put glasses, etc when they visit so don't overcrowd them with unnecessary stuff.
Don't have the 30 Day Declutter Challenge calendar yet? Get it here!
Want more organization tips? Check out one of these!
Kitchen
Closet
Bathroom + Linen Closet 
Living Room, Storage Room + Garage
Kids
Misc 
If you want to do a 30 day declutter challenge, get a free guide here!