Looking for some tips for entryway organization? I did a full drop zone makeover and completely reorganized it!
There's one spot in our home that has gotten organized, re-organized and re-organized AGAIN and AGAIN since we've moved in and that's our back entryway drop zone.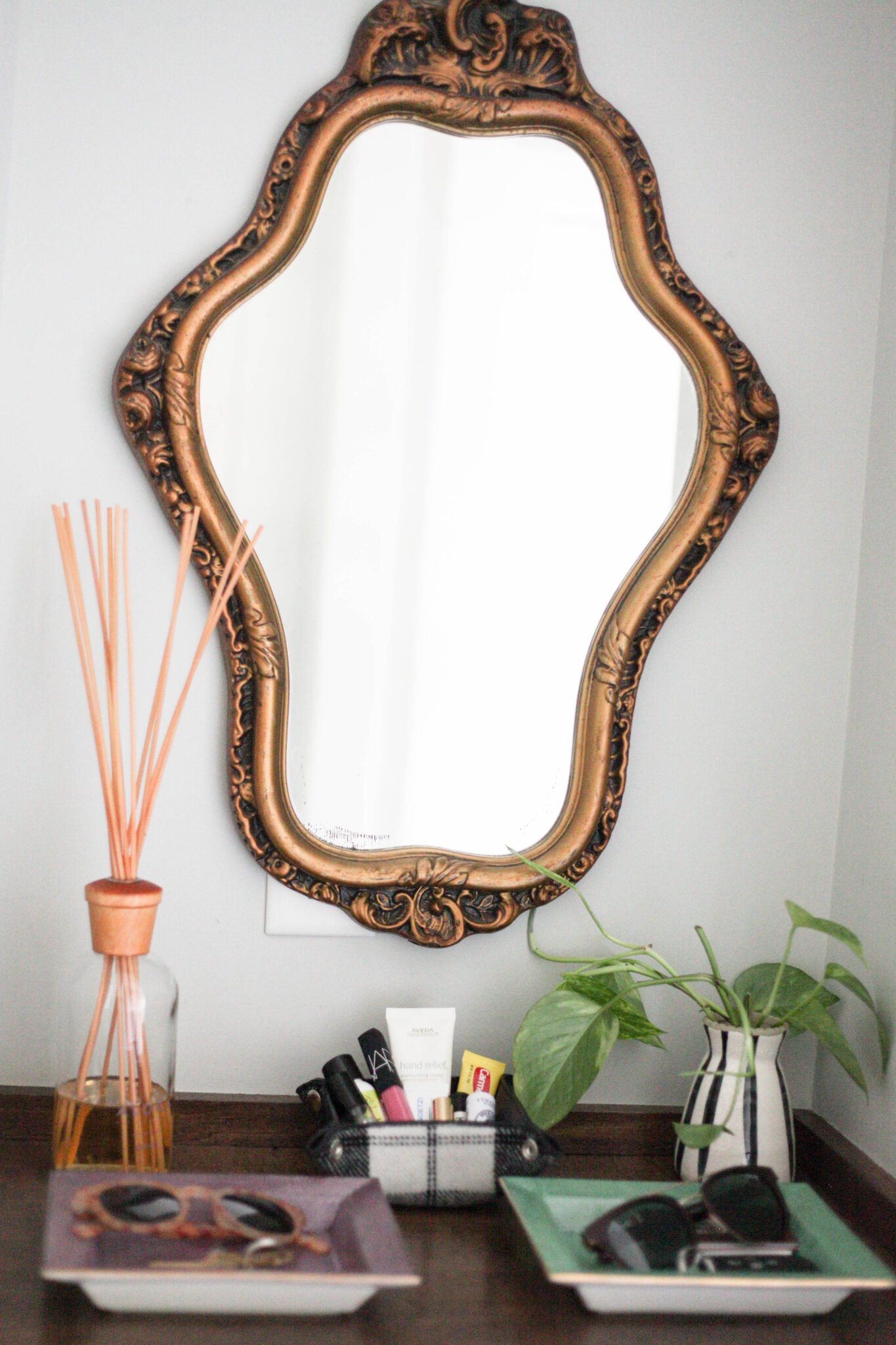 For whatever reason I just couldn't get a handle on our messy drawer, cluttered shelf and a disaster of cupboard space. The drawer always had expired coupons, old receipts, random papers and a whole mess of everything else.
Whenever we needed something from there we pretty much had to dump everything out to find the one thing we needed (and it's a tiny drawer!).
Same with the cupboards! I kept trying different ways to organize everything in there but it was basically creating piles of different messes. Not super strategic.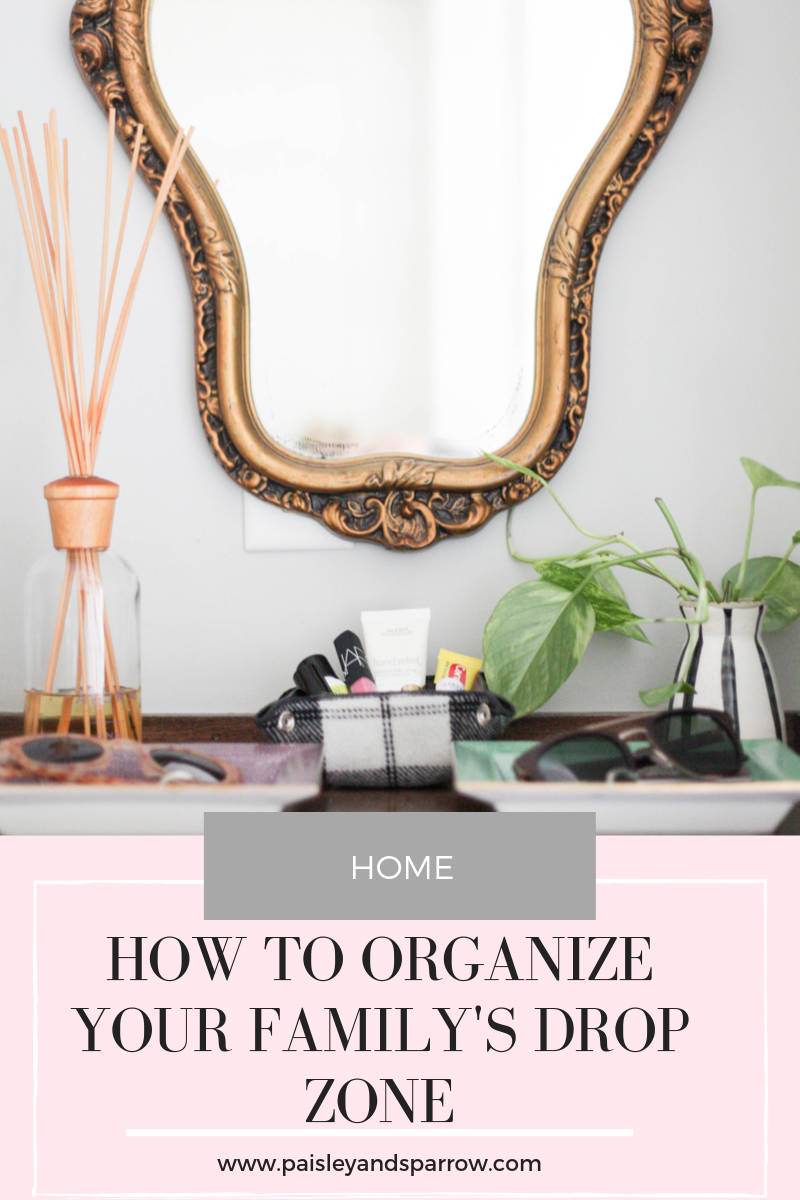 Drawer Organizers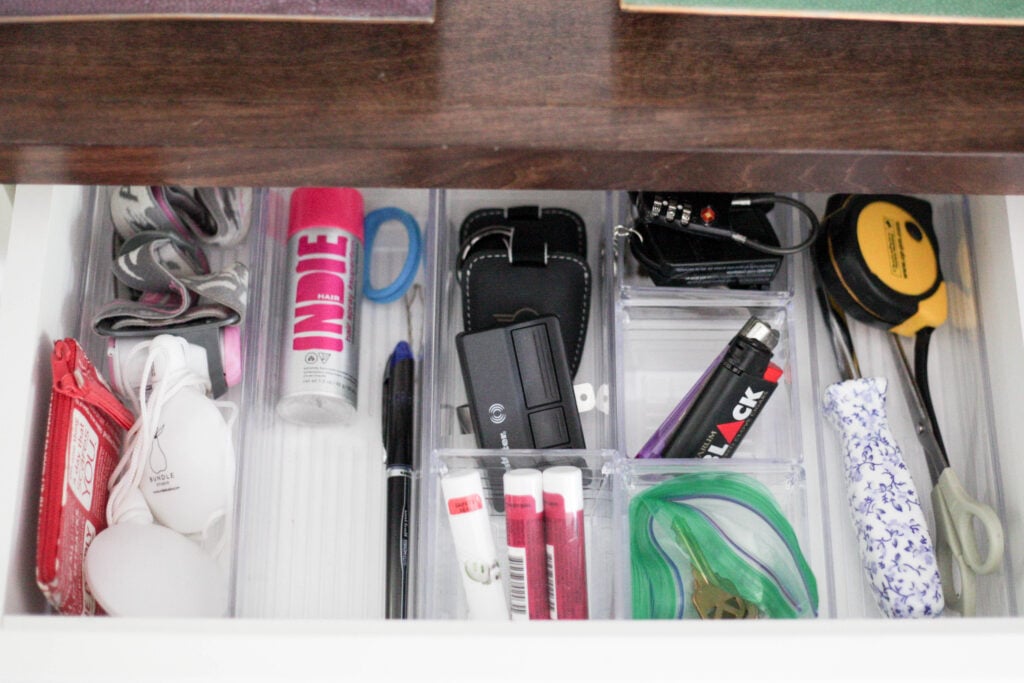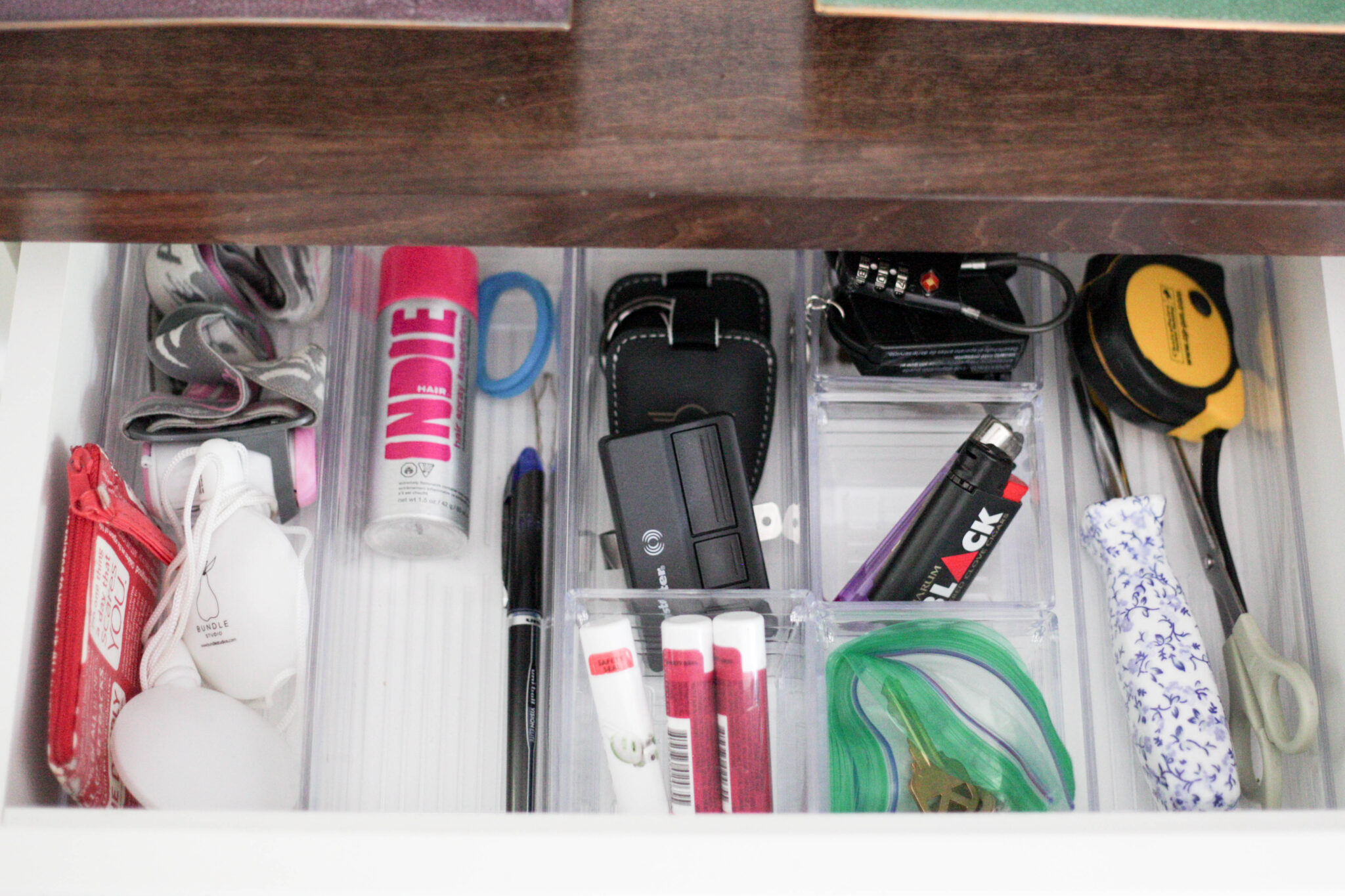 I don't know why it took me 4+ years to decided to get some drawer organizers (and shelf bins) to tackle the mess and keep me (and my family) more organized!
I use them in my office, for my makeup and in the kitchen so it was only natural to use them to organize this drawer too!
This is my favorite type of drawer organizers to buy (rather than the one big insert you put in your drawer) because you can mix and match different styles to fit your needs.
There was actually too many inserts for this drawer (that's how tiny it is ha!) but I have some extra space in my office desk drawers that I knew I could use them in.
Because our back entryway is used daily (we barely use our front door!), we have all of our necessities in there. I like having things like a screwdriver, tape measure, scissors and light for when we need them rather than going all the way down to the basement for any of those items (because you know, going down one flight of stairs is so difficult haha!).
We also have all of our extra house and car keys, bike locks, etc in this drawer so we don't lose any of them and know exactly where they are when we need them.
I also love having a few extra hair ties (for me AND Penelope), bobby pins and hairspray for quick touch ups as I run out the house.
Rishi and my brother and brother-in-law have occasional cigar nights at our house so that's why we have cigar lighters. 😉
Plate Organizers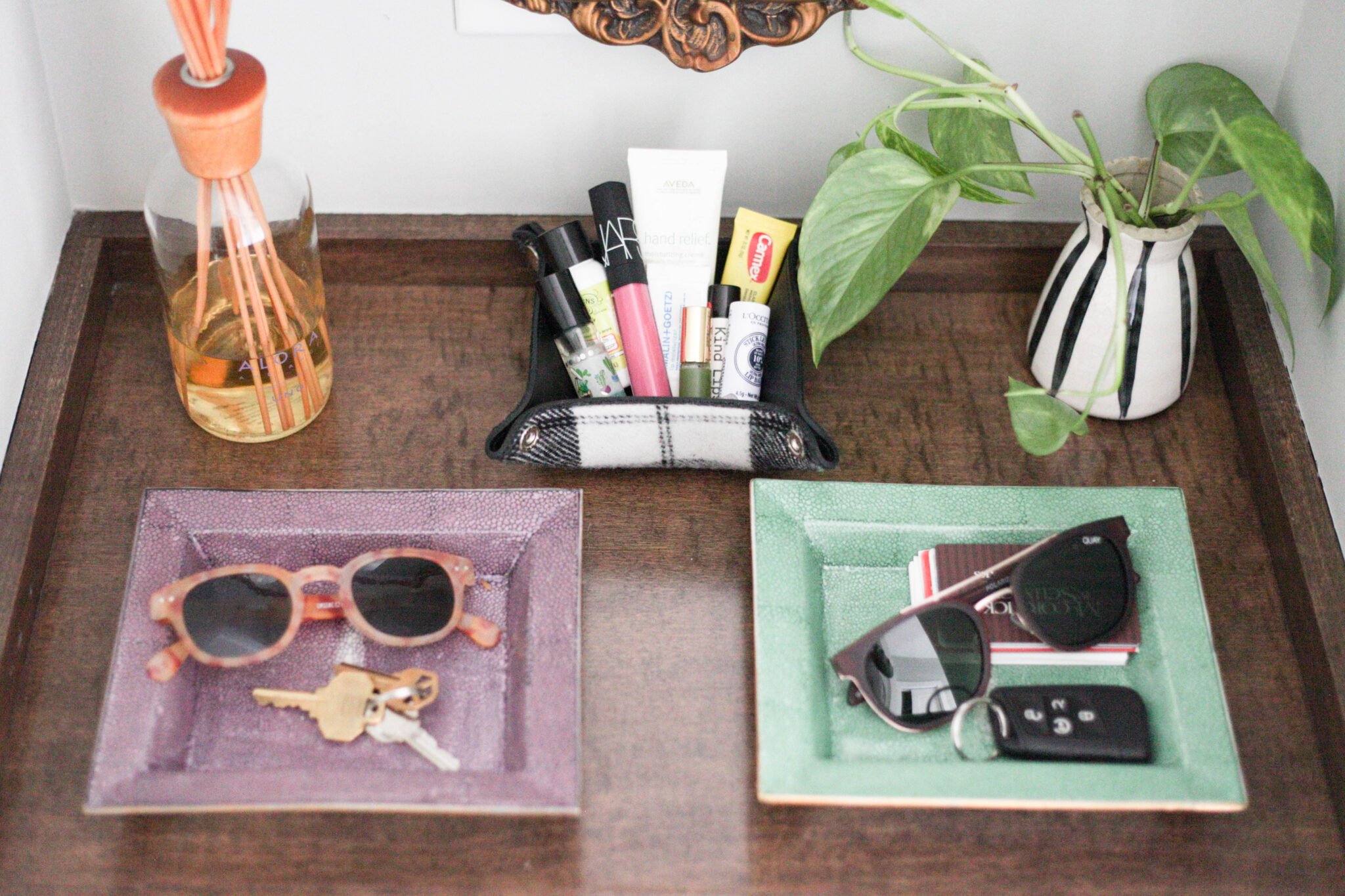 We've actually used these little plates as "his and hers" spots for our keys, sunglasses, etc. for a long time but they've usually gotten buried in random stuff.
But now that the drawer is all organized we've been able to use them for how I intended for them to be used!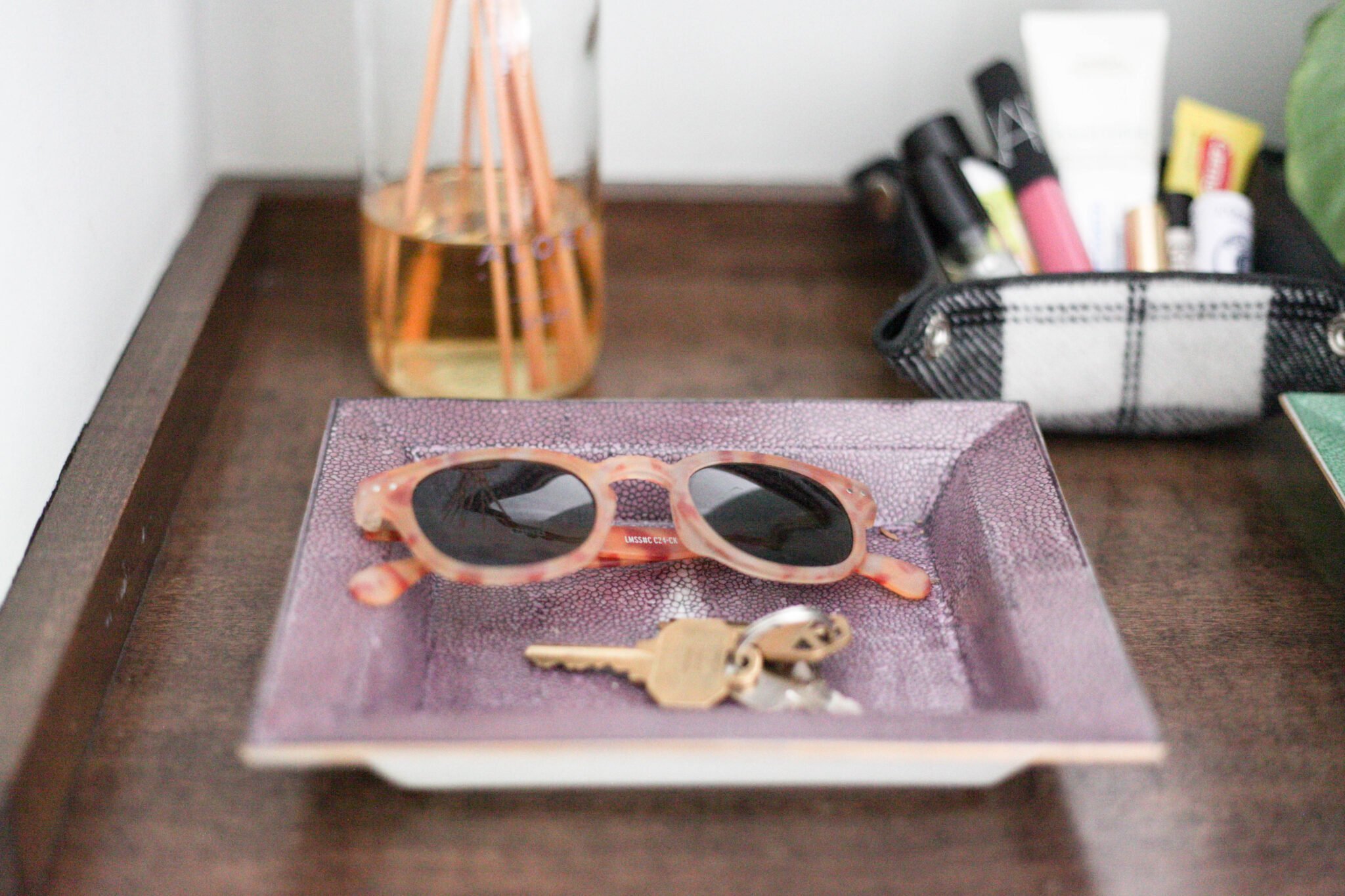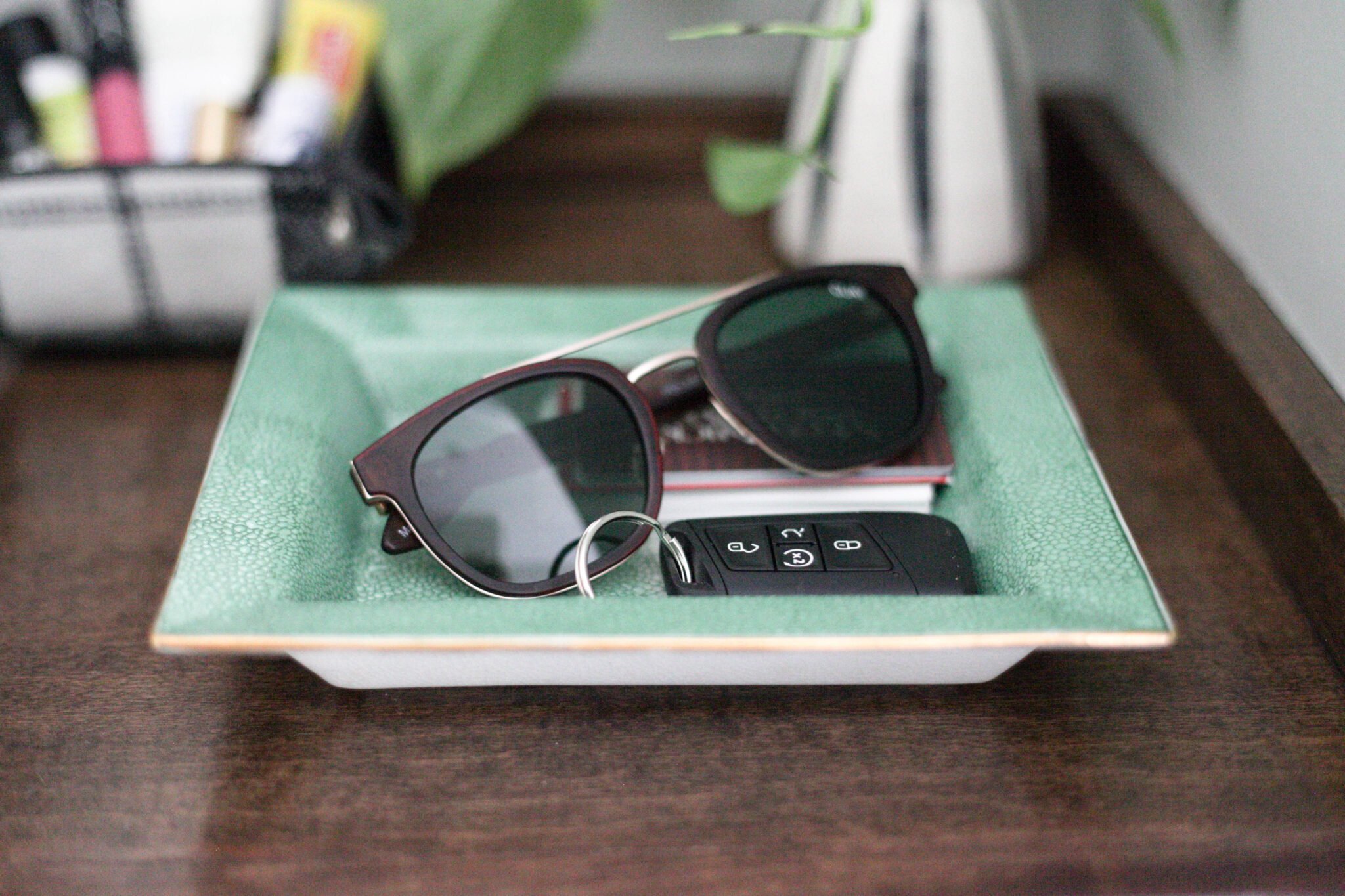 I love having separate spots for mine and Rishi's stuff so we know exactly where our important items are rather than accidentally taken one another's keys when we leave the house.
Valet Tray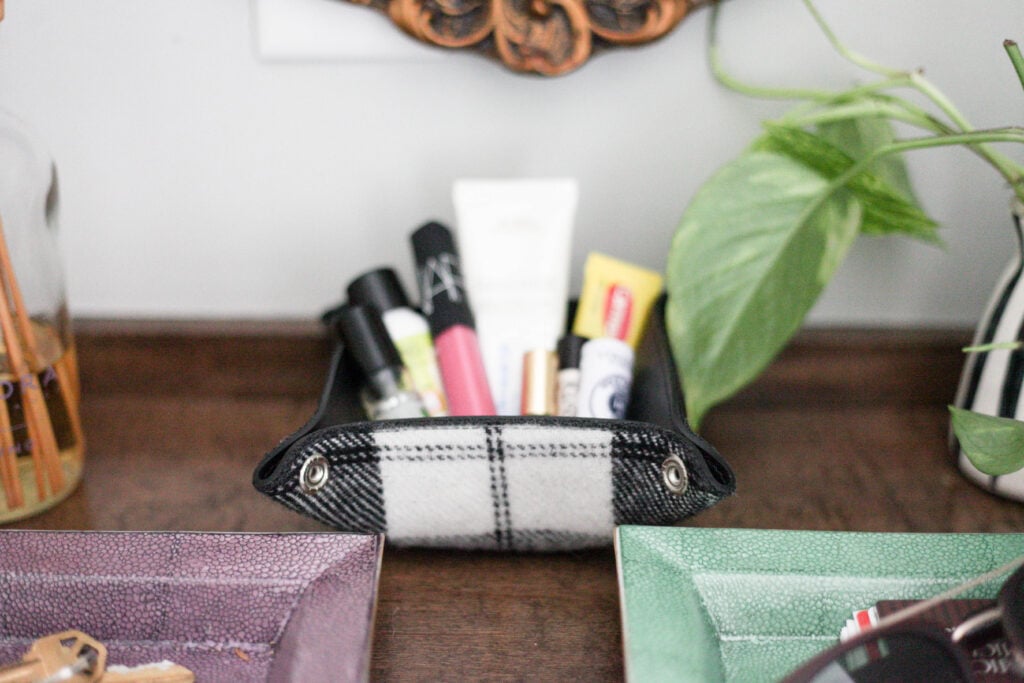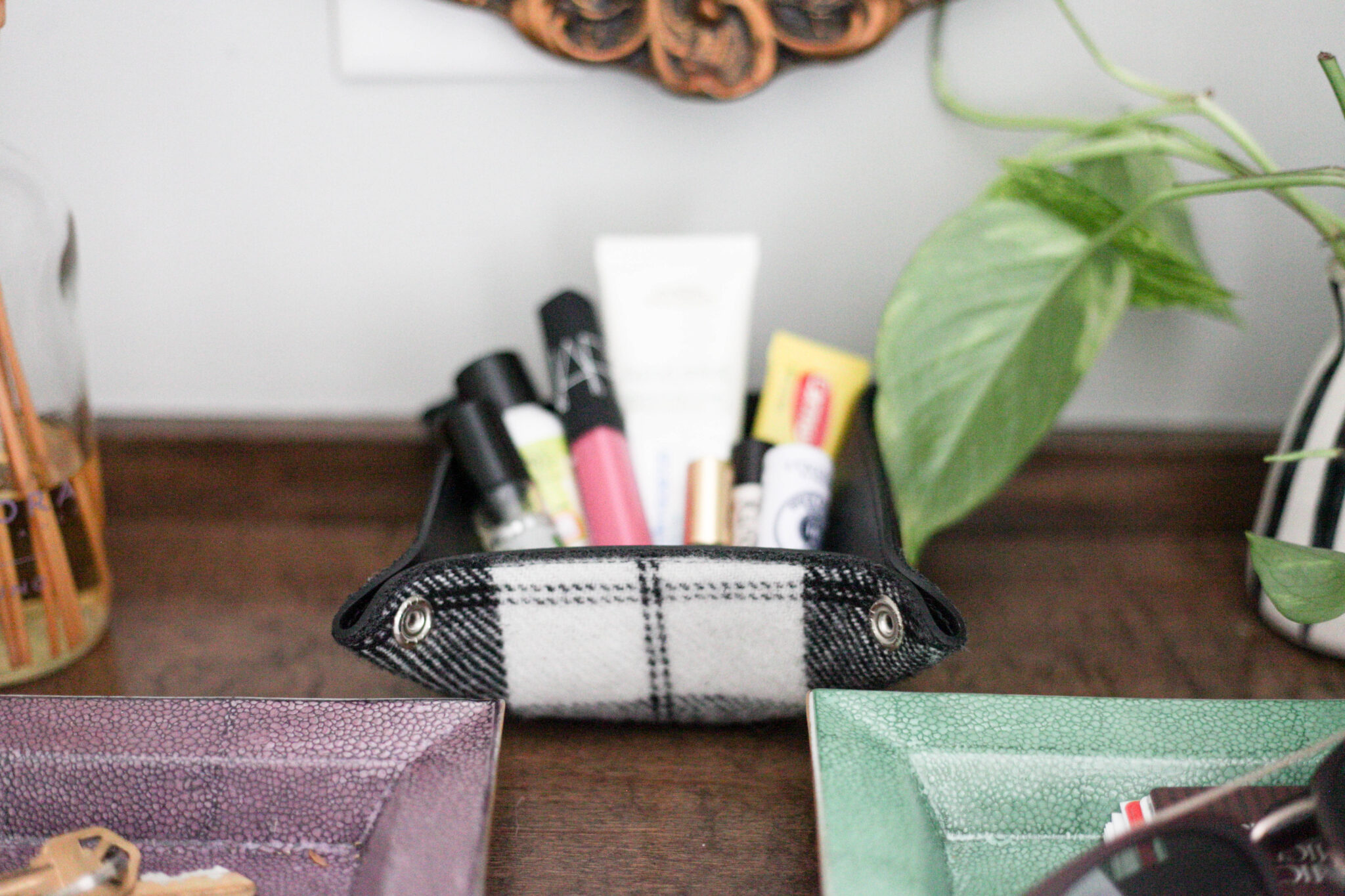 I actually use this valet tray from Faribault Woolen Mill Co for lip balm, lip stick and lotion! In the winter I always am looking for lotion as I walk out the door so having a small one right by my keys is perfect.
I also like keeping a few different lip products (lip balm for both me and Rishi and glosses and lipstick for me) to throw on as I'm leaving if I hadn't applied any already.
I used to keep ALL of my lipstick and glosses here but I quickly realized that wasn't the smartest idea. Now the bulk of them live in my bathroom with my makeup so I can put on and take with me the one that goes with my makeup and outfit for the day and just have a few neutrals by the door for last minute applications.
Mirror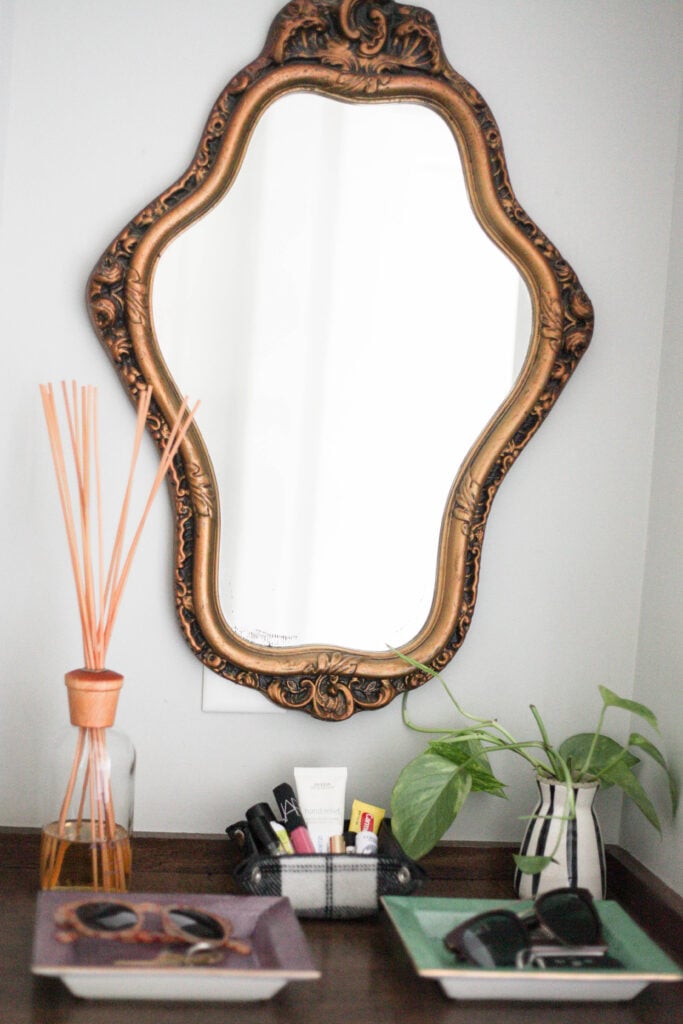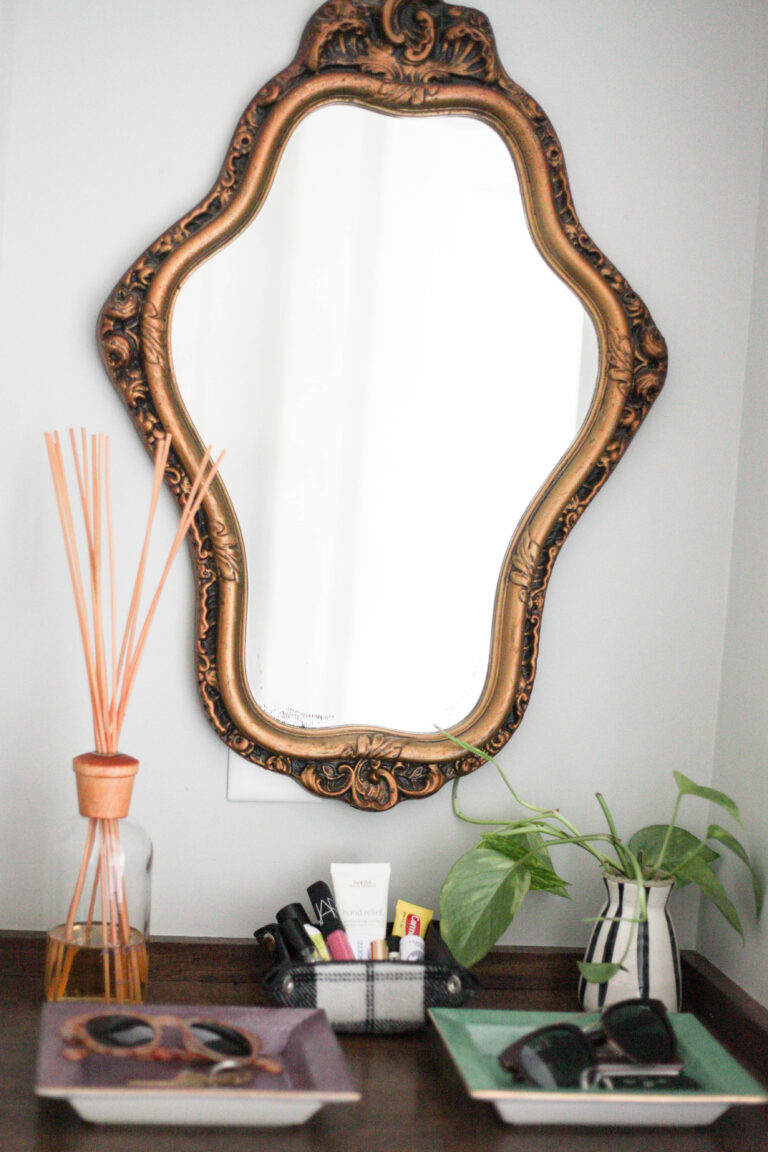 Every entryway needs a mirror! This has been switched from a key holder to a paper holder to a mirror and the mirror is here to stay!
Being able to get a quick glimpse of myself as I leave the house is necessary, especially for things like school drop off when I haven't actually gotten ready for the day! It saves me from walking into school with makeup smeared under my eyes from the day before or hair that's sticking up. 🙂
Reed Diffuser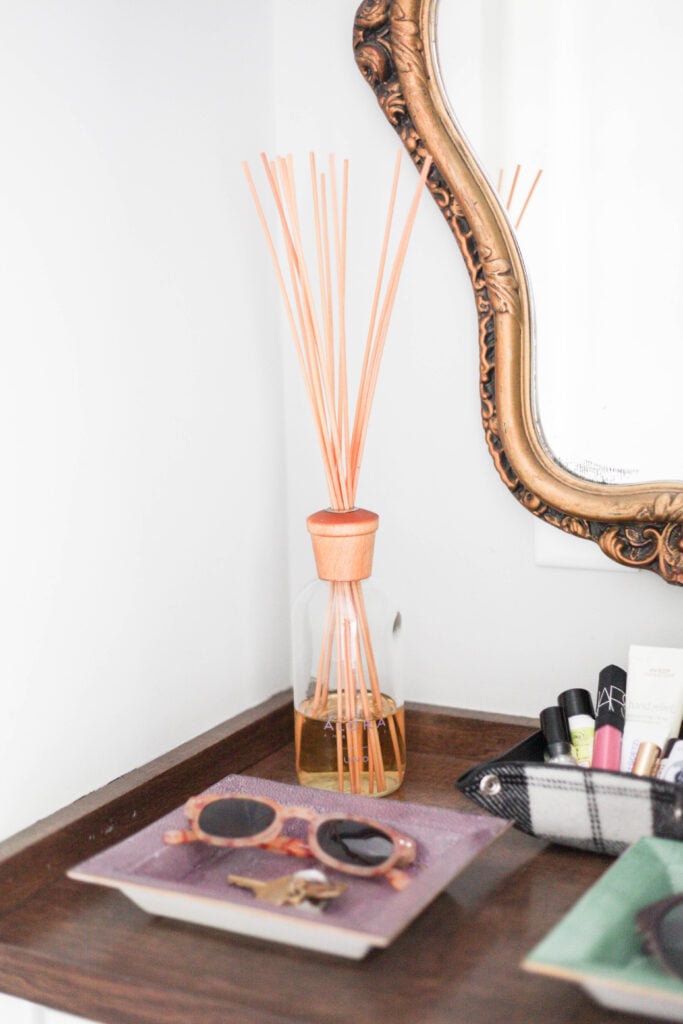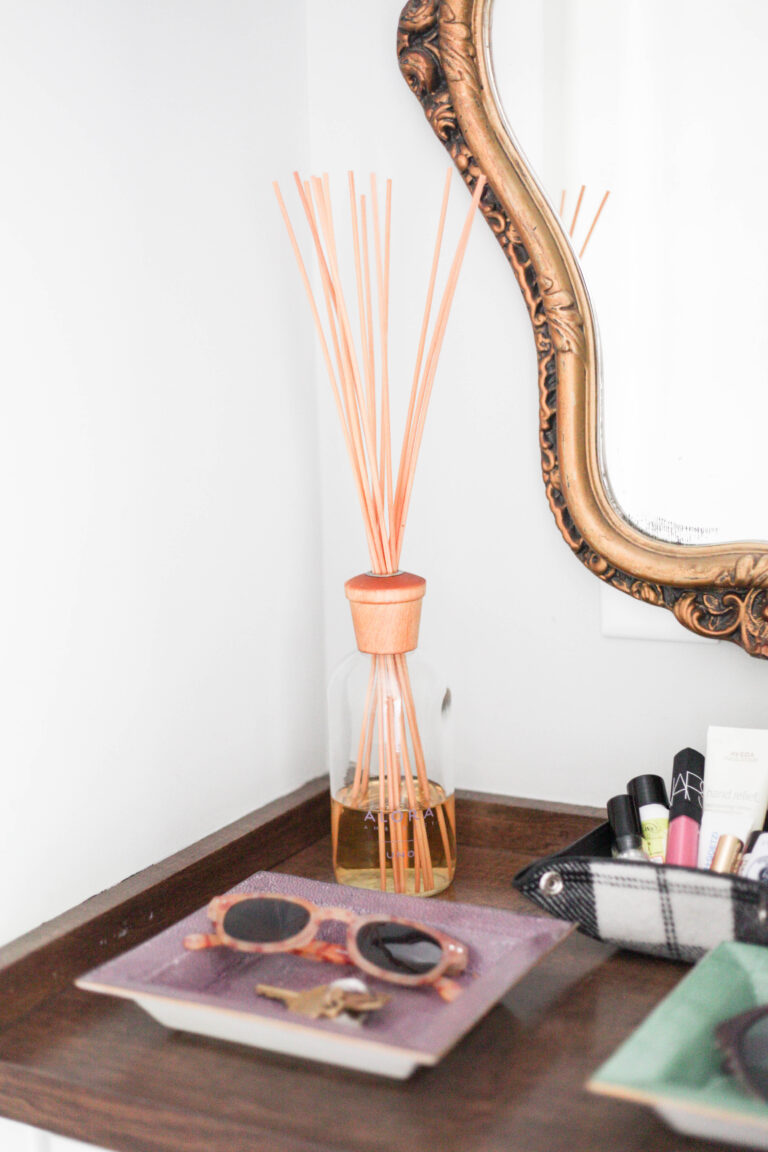 I used to keep a candle here but after realizing it's not safe to have a lit candle in a spot where we only see when entering and exiting our house, I removed it. (And honestly I never lit it!)
Now we have one of Alora Ambiance's reed diffusers which freshens the air in and around our drop zone. I especially appreciate it since we have a ton of our shoes back there!
Side note – Alora Ambiance diffusers are a bit more pricey but worth every single penny. They last a long time, their scents aren't overpowering and they're based right out of Minneapolis which I love!
A Plant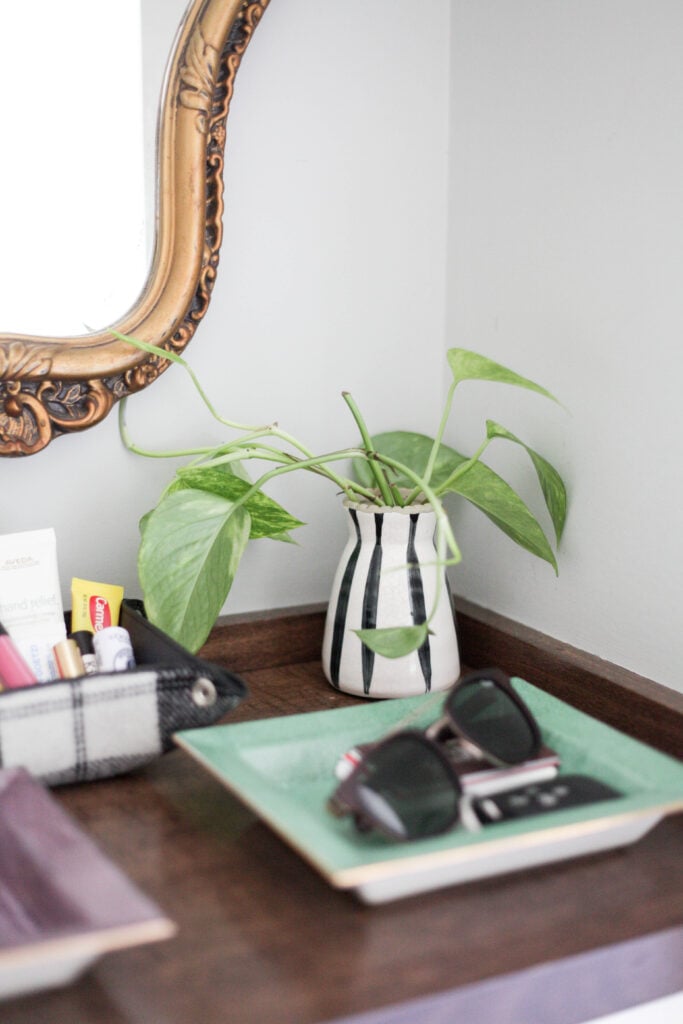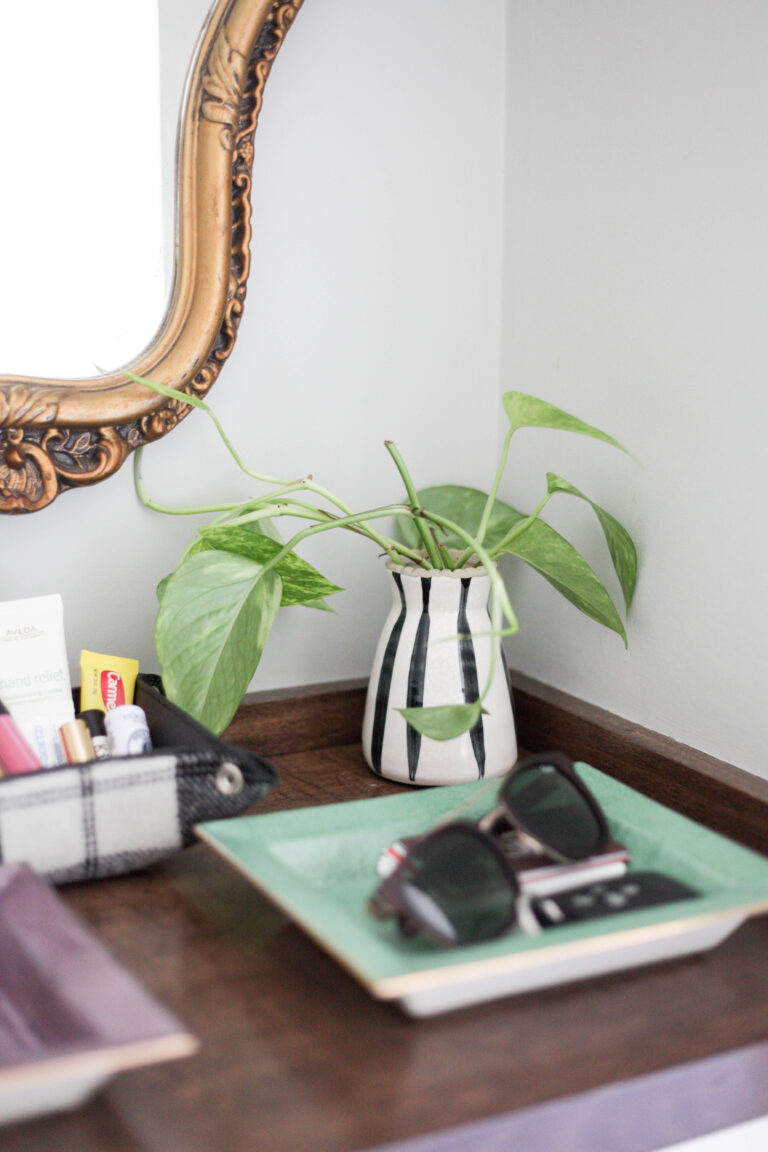 Here's my secret with this plant. It's actually just clippings from a pothos that I propagated! I feel like I'm always propagating plants and putting them in small cute vases is a great way to hide the fact that they're growing roots and not actually an established plant.
A little bit of green and life is great no matter what room you're in and I love walking in to our home and seeing some plant life right away.
I also do this over flowers since I don't get flowers all that often and when I do, I want them to be seen more!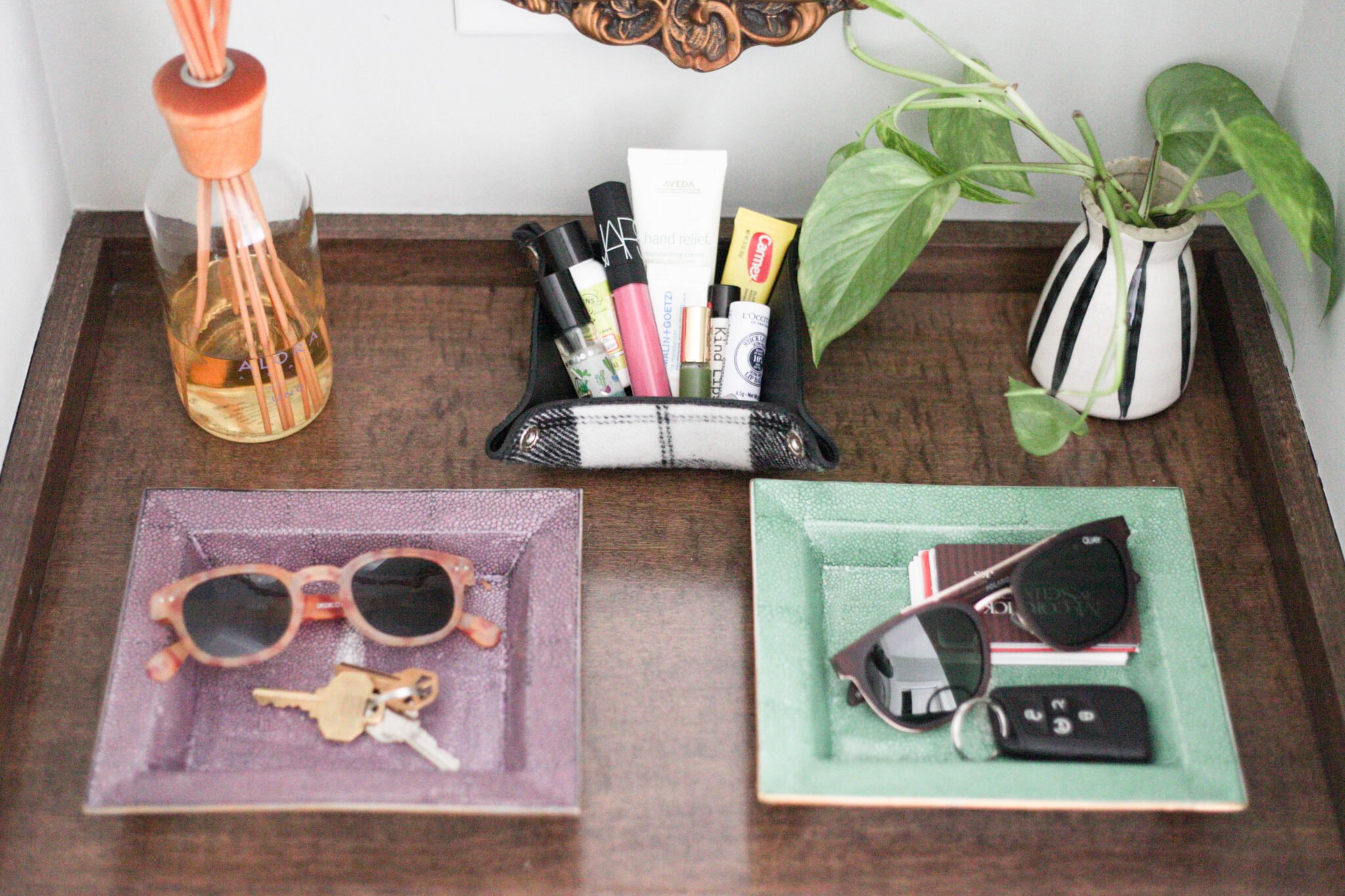 I hope this helps you with organizing and styling your entryway/mud room/drop zone area! It's crazy what a few simple tools can do to organize a small space.
Want more organization tips? Check out one of these!
Kitchen
Closet
Bathroom + Linen Closet 
Living Room, Storage Room + Garage
Kids
Misc 
If you want to do a 30 day declutter challenge, get a free guide here!