Kitchen organization can be a whole lot of fun but also takes some planning. When it comes to your spices, you want to find the right design and system for you.
Not every system will fit your kitchen or your organizational style. Today we are going to look at some ideas for your spice organization and show you where you can find these items.
The spice rack has long been an integral part of the kitchen, but not everyone does it the same way. You want to find something that works for you and helps you find your favorites spices while you're cooking.
From drawers to towers, here are some of the coolest spice storage ideas available today for your spice containers!
12 Spice Storage Racks & Ideas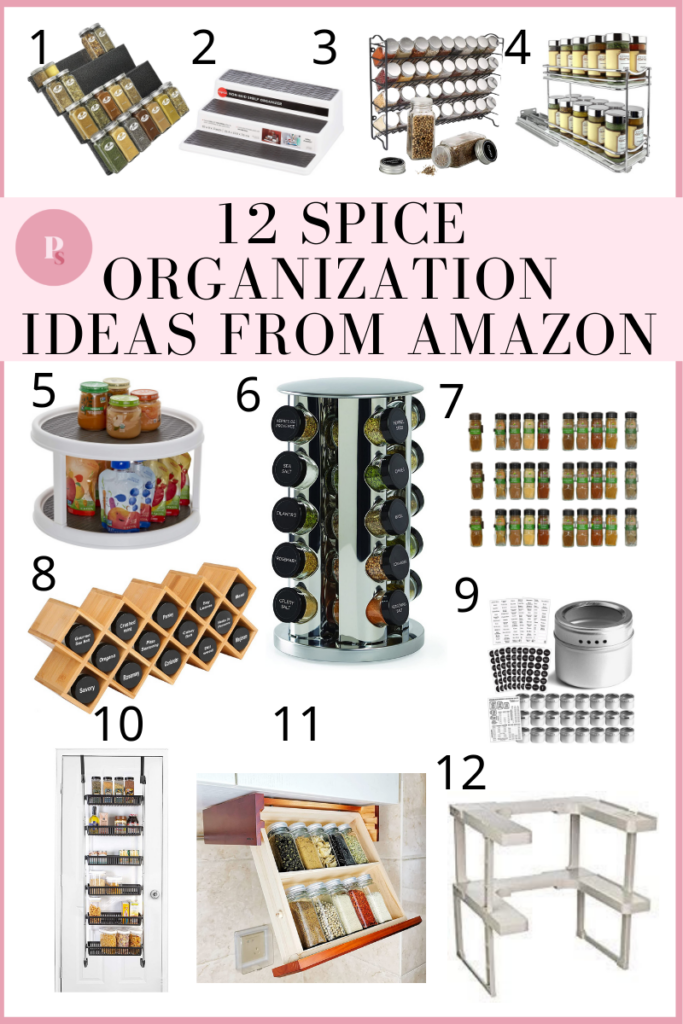 Please note: Paisley + Sparrow is a participant in the Amazon Services LLC Associates Program. This post may include affiliate links which means I may earn a small commission if you shop using the links below at no additional cost to you.
1. Drawer Organizer
These drawer organizers can be really handy—especially if you don't have a dedicated spice cabinet for your spices! If you like to reach into the drawer and find the right spices, then this is perfect for you.
These drawer inserts can have two to four rows or even more, and they can usually hold at least thirty different spices depending on the model.
The product we recommend is the Lynk Professional Spice Rack Tray Insert. This item is great and has four rows with perfect space for you to lay out all of your spices as needed.
It is also metallic, so it will last a long time and be sturdy in your kitchen drawers. It is one of the top-rated items, and it can really make a difference in the storage you have for your spices!
2. Tiered Organizers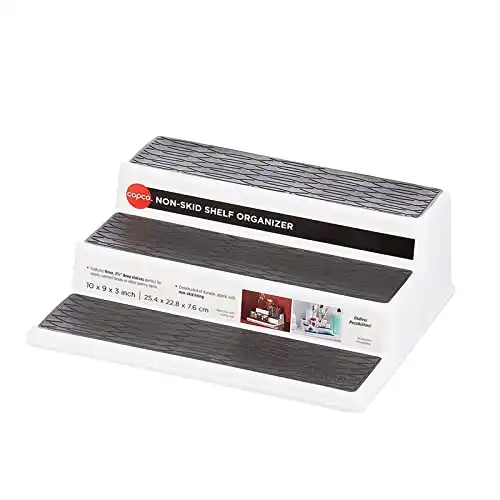 We earn a commission if you make a purchase, at no additional cost to you.
If you want to have something simple for your kitchen, tiered organizers are a great storage solution. They can be wood or plastic and usually can sit atop your kitchen counter.
What is great about this item is that it is layered so you can see the spices that are there. This can save you time and make it incredibly easy to see what you need in your spices.
Our choice for a tiered spice rack is the Non-Skid 3-Tier Spice Pantry Kitchen Cabinet Organizer. This is incredibly affordable and even comes with non-skid material on the surface.
That way, no matter how messy your cooking might become, you can make sure that your spices stay put.
3. Spice Rack with Labels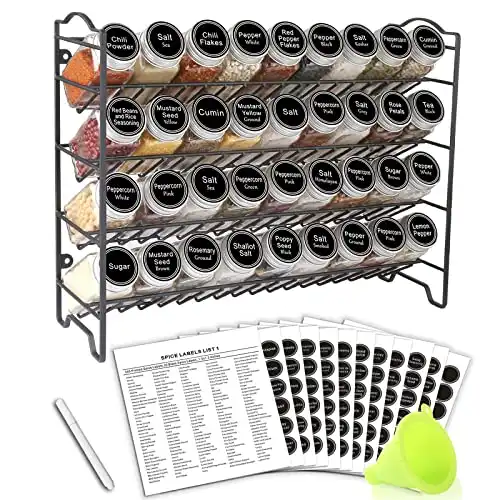 We earn a commission if you make a purchase, at no additional cost to you.
For those who want more room for their spices and the ability to do it themselves, a spice rack with labels might be the perfect choice. This comes with labels and can help you to put identifiers for all of your spices. Some of them come with up to fifty spice jars, meaning you can package your own spices in your kitchen.
The best available product on the market is the SWOMMOLY Spice Rack Organizer, which comes with 36 different glass jars and nearly 400 different labels for your spices.
This organizer is wired and metal to allow you to keep the sturdy structure for a long time. It can be perfectly placed near the backsplash of your kitchen or even right next to your oven for easier access during your cooking and meal preparation.
4. Slide Out Rack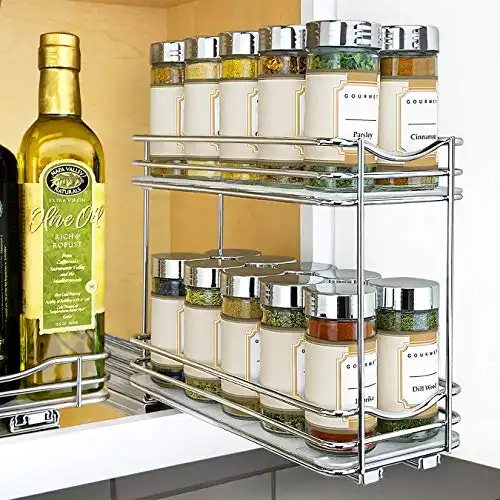 We earn a commission if you make a purchase, at no additional cost to you.
If racks are enticing but you want something that stays hidden most of the time, then the slide out rack is a great idea for you. This is one of those items that you can install in your cabinet and keep there, but only pull out when you need it.
It works much like the drawers in your cabinets that slide out and reveal more items and hides when the cabinet doors are shut.
There are some great options of cabinet spice racks out there in the market, including the Lynx Slide Out Double Spice Rack. This is made with a chrome finish and it reasonably priced.
It can hold up to two dozen spices and can pull out of the shelf when you need but remained hidden when you don't need it.
5. Lazy Susan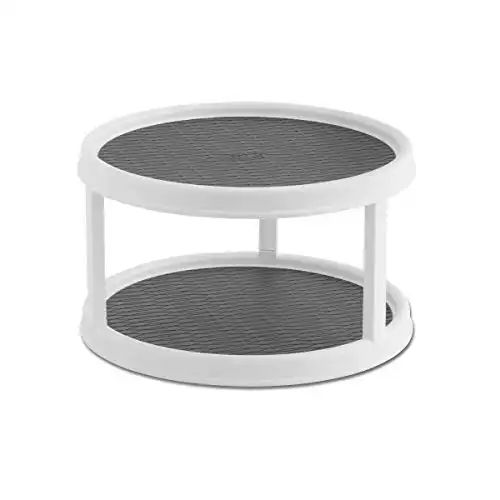 We earn a commission if you make a purchase, at no additional cost to you.
A Lazy Susan is probably the best way to easily store your spices although I may be bias since this is how I store mine! These operate in the very same manner that other Lazy Susans do, except it is designed to be small enough for the spices to fit.
It is also small enough for you to place in a cabinet or even on the countertop if you prefer it out and visible.
Out of all the products on the market, the Copco model is one of the best ones available. It is one foot in diameter and incredibly strong with its non-skid material. It is a two-level Lazy Susan, making it easier than ever for you to have the storage and space that you need.
I use this one in a variety of different spots in my home!
6. Spice Rack Tower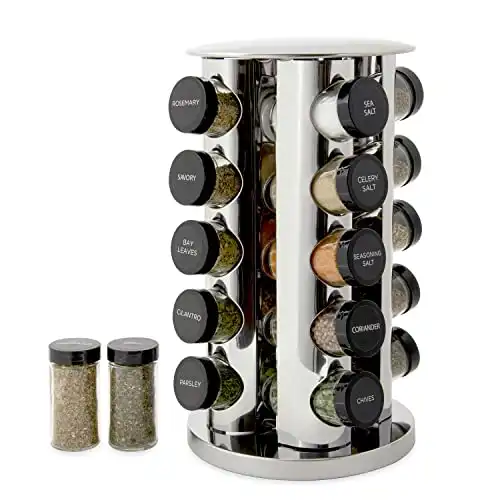 We earn a commission if you make a purchase, at no additional cost to you.
For those who want a sleeker design, spice rack towers can be put to great use in your kitchen. These can rotate just like the Lazy Susan, except they are in the tower formation.
You can put spices on all sides of the tower and keep the label out so you know which one you are looking at. Best of all, these can be incredibly compact and allow you to place it anywhere in your kitchen.
The Kamenstein Revolving spice rack tower is an excellent choice that is modeled with metal and revolves around. This allows you to store up to twenty different spices in this tower, and it is small enough for you to place in a corner of your kitchen counter space. As well, you can get free spice refills for up to five years!
7. Spice Gripper Strips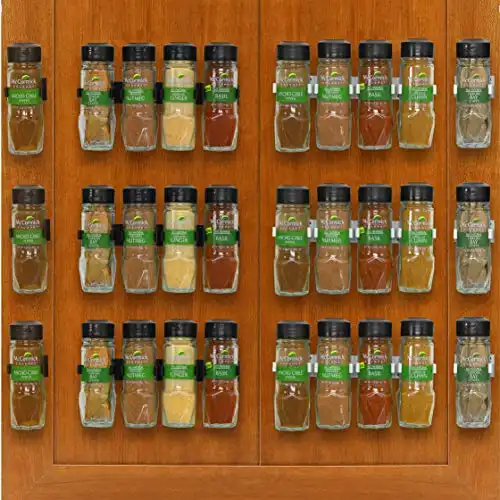 We earn a commission if you make a purchase, at no additional cost to you.
If you are more the DIY type of person and have a small space, then you should definitely check out the spice gripper strips to store spices. These can be implemented in any cabinet of yours in the kitchen and are incredibly durable.
It can hold many jars and can be placed on the inside of your cupboard door. That way, you don't have to sacrifice space for your spices.
The SimpleHouseware spice gripper strips are an excellent choice and a top seller on Amazon. These come in six strips and they can hold up to thirty jars.
These come in many colors so you can match your kitchen and design the kitchen to your specifications. This is the perfect solution for those who lack kitchen space but want to have the availability of these spices at their disposal!
8. Honeycomb Spice Rack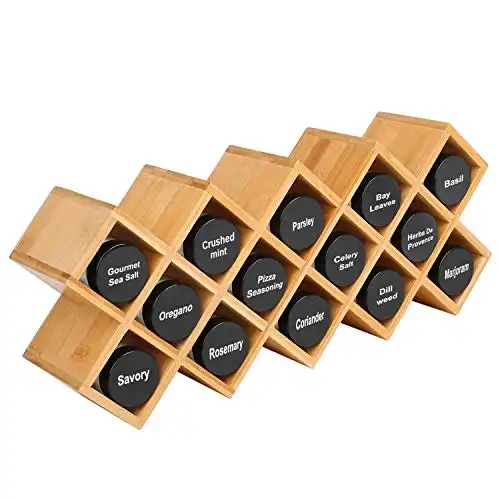 We earn a commission if you make a purchase, at no additional cost to you.
If you want a bit of personality and design to your kitchen organization, this spice organizer is a great alternative. This countertop spice rack is in the shape of a honeycomb, allowing you to place the spices in the holes of each spot.
This allows you to see the spices and keep it stored and out of the way on your kitchen countertop.
There are many options to choose from, but one of the most popular ones currently is the bamboo model one on Amazon.
This model is a top choice and can be mounted on the door, cabinet, or other area of your kitchen. If you want, you can even leave this free standing on your countertop for your use!
9. Magnetic Jars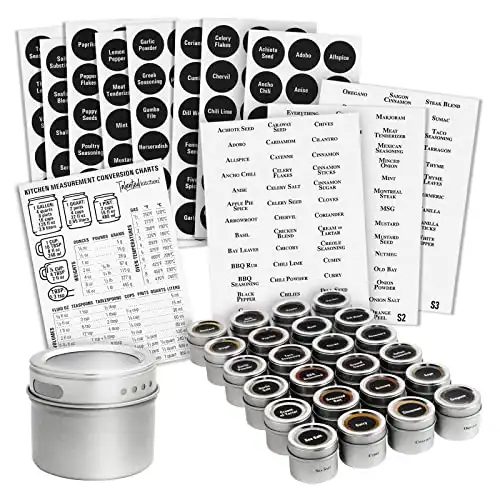 We earn a commission if you make a purchase, at no additional cost to you.
Just like the gripper strips, you can also choose to have a magnetic spice rack for your storage. This is a great way to keep your spices out of the way, stored appropriately, and also labeled.
You can place the magnetic strip under any cabinet of your choice, fill the spices in magnetic tins, and then you are all ready to use your spice jars!
Some of the best magnetic spice jars offer the availability of labels so that you can properly label and keep your spices organized.
There are some models, especially ones like these Magnetic Spice Jars on Amazon, that come with plenty of spices and also come with more than two hundred stickers for your use as you continue to use your spice jars!
10. Over the Door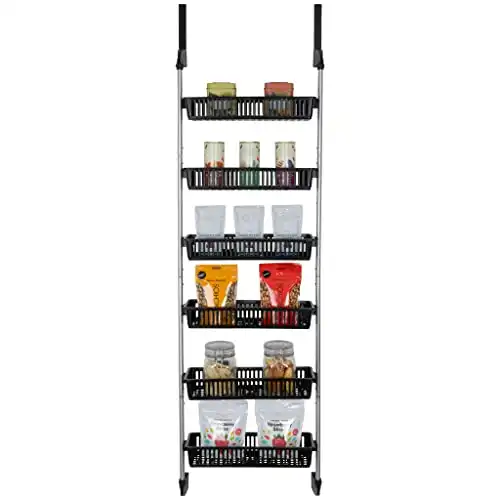 We earn a commission if you make a purchase, at no additional cost to you.
If you want to keep your spices in the pantry, this is a great option for you. You can choose to purchase an over the door spice rack that keeps your spices out of the way and accessible. This can come in several different sizes and shapes, but most importantly, you should pick the model that fits your spice jars.
Smart Design created an over the door model that has six different baskets to help you organize your spices appropriately. This can be placed on your pantry door, behind the kitchen door, or any other location that you feel is most appropriate!
11. Under Cabinet Storage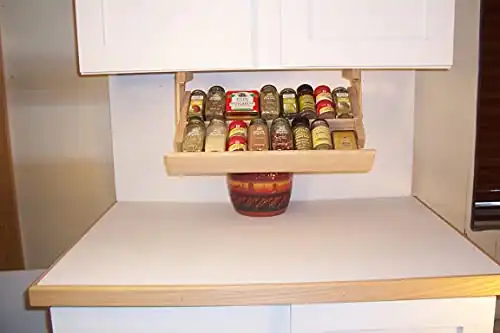 We earn a commission if you make a purchase, at no additional cost to you.
While cooking, you might want easy access to your spices and just be able to reach for your spices nearby the oven. If this sounds like you, then the under cabinet space might be the way to go.
This can be installed under your cabinet anywhere in your kitchen. The drawer can be pulled out and put back as you need it, and keep it out of sight but nearby for your cooking needs.
One of the coolest models available is the wooden drawer offered on Amazon. This model offers users an easy and safe way to use the products by being able to pull out the drawer, pick the spices needed, and then put it back easily.
12. Space Saver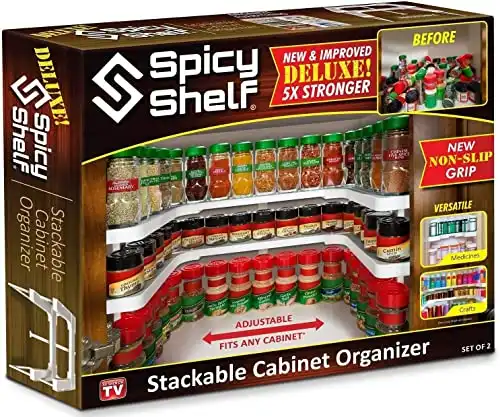 We earn a commission if you make a purchase, at no additional cost to you.
Finally, the last model we are going to show you is the space saver options that's perfect for small kitchens. This is one of our favorites and allows you to have more storage but also keep track of your spices accordingly!
You can get organizers that created curves, shelves, and other features to keep you more organized.
Spicy Shelf is one of the best ones available and can expand to any size cabinet. If you are looking for an easy way to organize your spices without the hassle, you need to find a space saver that helps you keep your spices organized and ready to use.
Conclusion
Choosing the right spice organization can be difficult, but we hope that you have some great ideas for your kitchen! We would love to hear your ideas and see how you organize your spices in your kitchen!
Want more kitchen organization ideas? Check out one of these!