While clothes can easily be hung up in a closet or tucked away in a dresser, finding an efficient and easy way to store your shoes can be a much bigger hassle. This usually results in an unorganized pile of shoes on the floor of your closet or other areas of your house.
If you're a shoe lover with a lot of shoes we can bet you know the struggle of keeping your shoes organized and not in a cluttered mess. And whether you live in a small apartment or a large home, it's still a smart idea to have a way to organize your pile of shoes!
So regardless if you are the queen of high heels or a sneaker fan, you'll be happy to know that there are plenty of convenient and smart ways to properly organize and store your shoe collection! In this guide, we'll be sharing some of the best ways to organize your shoe collection.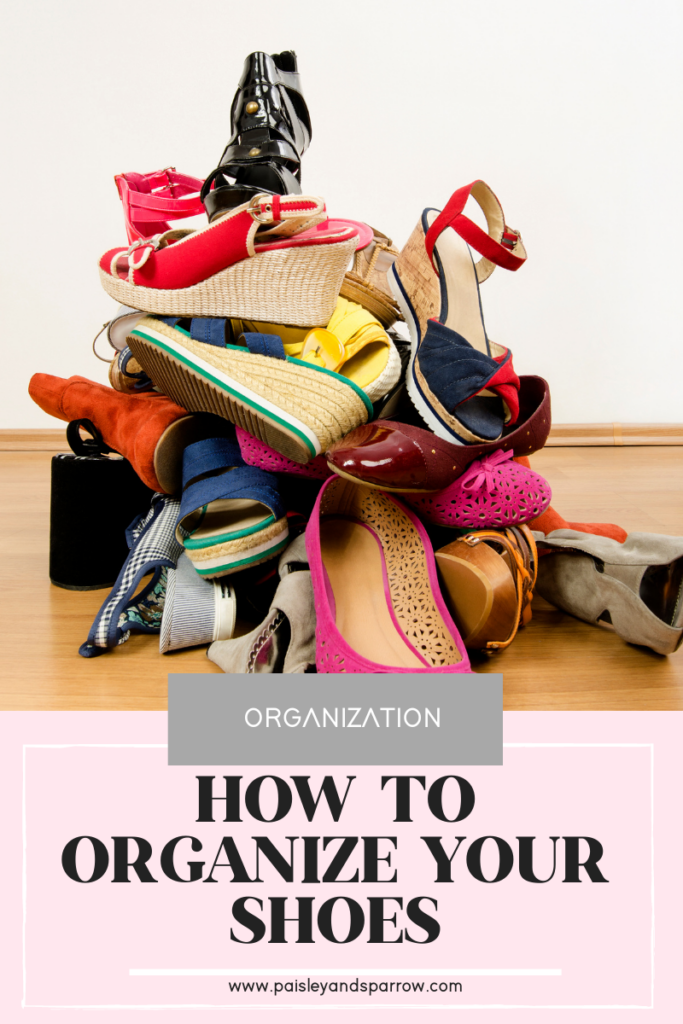 Before You Begin
When it comes to organizing any part of your closet, it's always a great idea to start off on the right foot (no pun intended). Giving your shoe collection a thorough declutter will give you more room to work with and will make organizing and getting dressed way easier in the long run.
The first step is to make separate piles for items you want to keep, donate, have repaired, or toss. For any shoes with holes, worn-out soles, or other extensive damage, it's probably time to throw them out but shoes that are scuffed or have a worn inner sole can likely be fixed.
If you find a pair of shoes that you haven't worn in a long time, are the wrong size, or don't fit your personal style anymore, those can be either donated or consigned.
It's also a great idea to group your shoes into piles of the types of shoes. That way you can easily organize the shoes that are left and also be able to put away winter boots in the summer or place dress shoes for special occasions in a spot that isn't prime shoe storage space!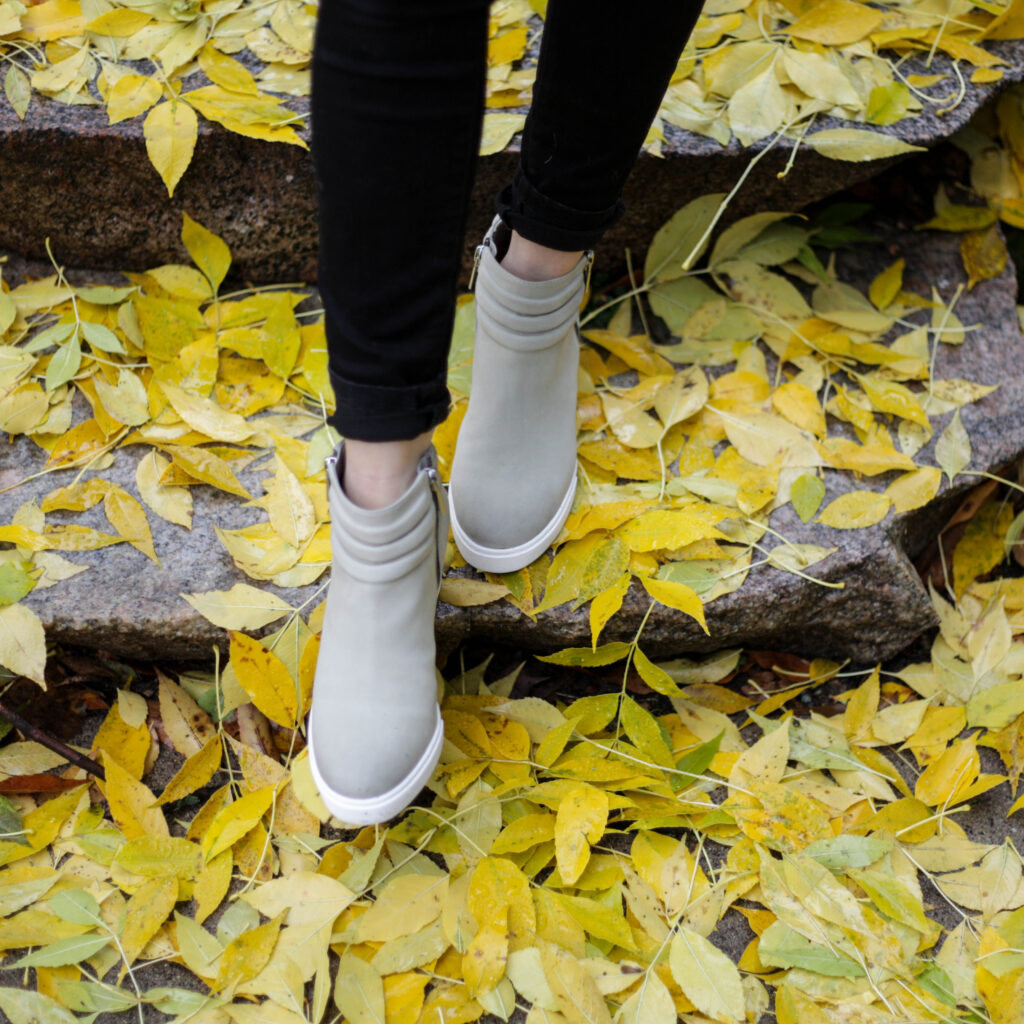 Once you've completed this step, you should be left with only the shoes you absolutely love and wear. This is what makes for a great wardrobe!
*Bonus, here are 11 places to sell your shoes and some tips for selling your shoes with success!
Storage Solutions
Once you've downsized your collection, it's time to start thinking about the best way to store your shoes. First, you'll want to consider the size of your space.
Do you find yourself with no floor space but plenty of hanging space? Or have been blessed with a roomy closet and shelving? Thankfully no matter what your limitations are whether your closet is a small space or a huge space, there are dozens of creative ways out there for you store shoes.
Before you call a professional organizer to fix your shoe situation, here are are some of the best shoe storage solutions to consider.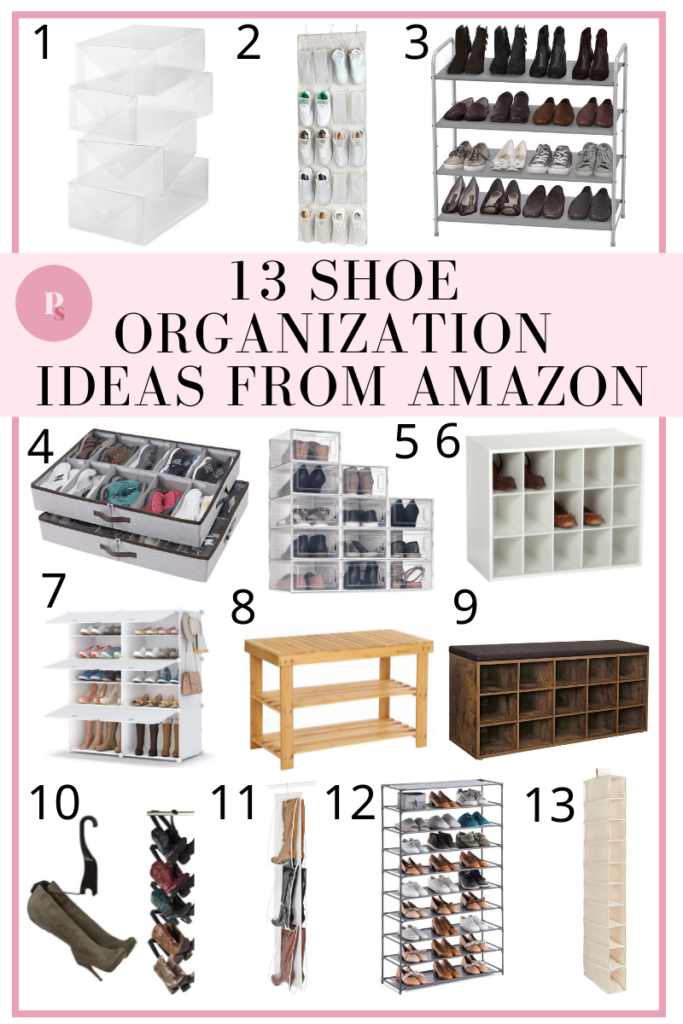 Please note: Paisley + Sparrow is a participant in the Amazon Services LLC Associates Program. This post may include affiliate links which means I may earn a small commission if you shop using the links below at no additional cost to you.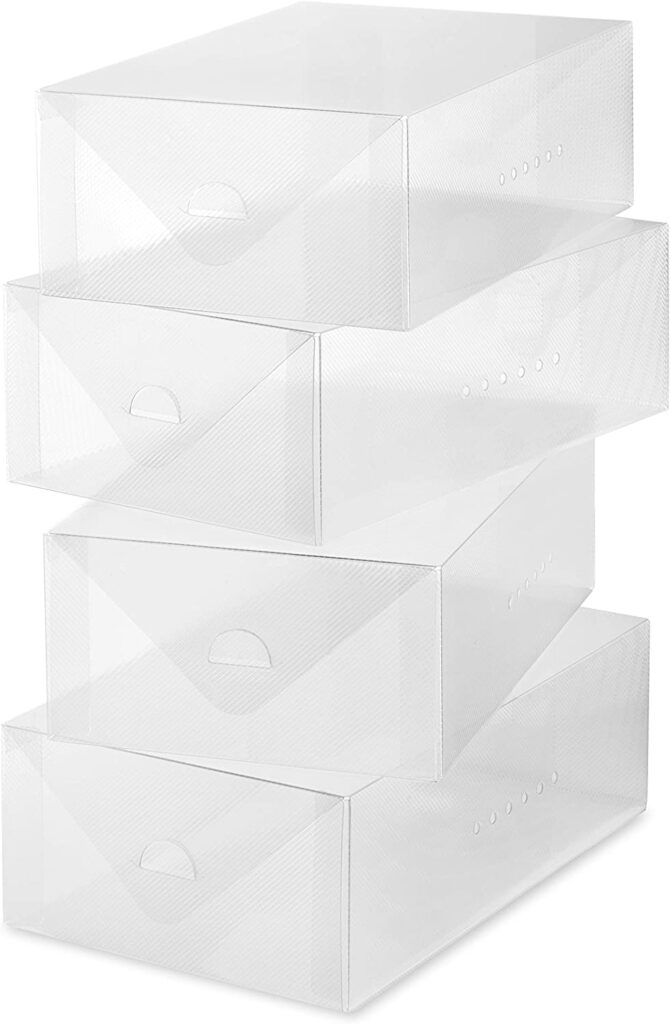 Keeping your shoes in the shoe boxes they came with works well, but it isn't always a good idea. They're usually made of cardboard and have to be opened from the top, which isn't ideal for stacking.
These clear shoe boxes offer the same protection from dust, dirt, and debris but allow you the see what's inside without opening the box. Even better, you don't have to worry about toppling over a stack of shoe boxes to get the pair you want – these open from the side for easy access.
It's the perfect way to store your favorite shoes and still be able to see them!

Hanging shoe organizers are a popular choice for shoe storage and can be a fantastic way to make the most of limited space. This hanging rack has two versions, one that can hold 24 flats and sandals and one that can hold 20 pairs of larger shoes.
Each compartment is made of mesh material so that you quickly find the shoes you're looking for. A hanging rack is especially good for flatter shoes like sandals, as they can be stored in a way that doesn't take up valuable shelf or floor space.
Hang this on the back of your closet door for easy access!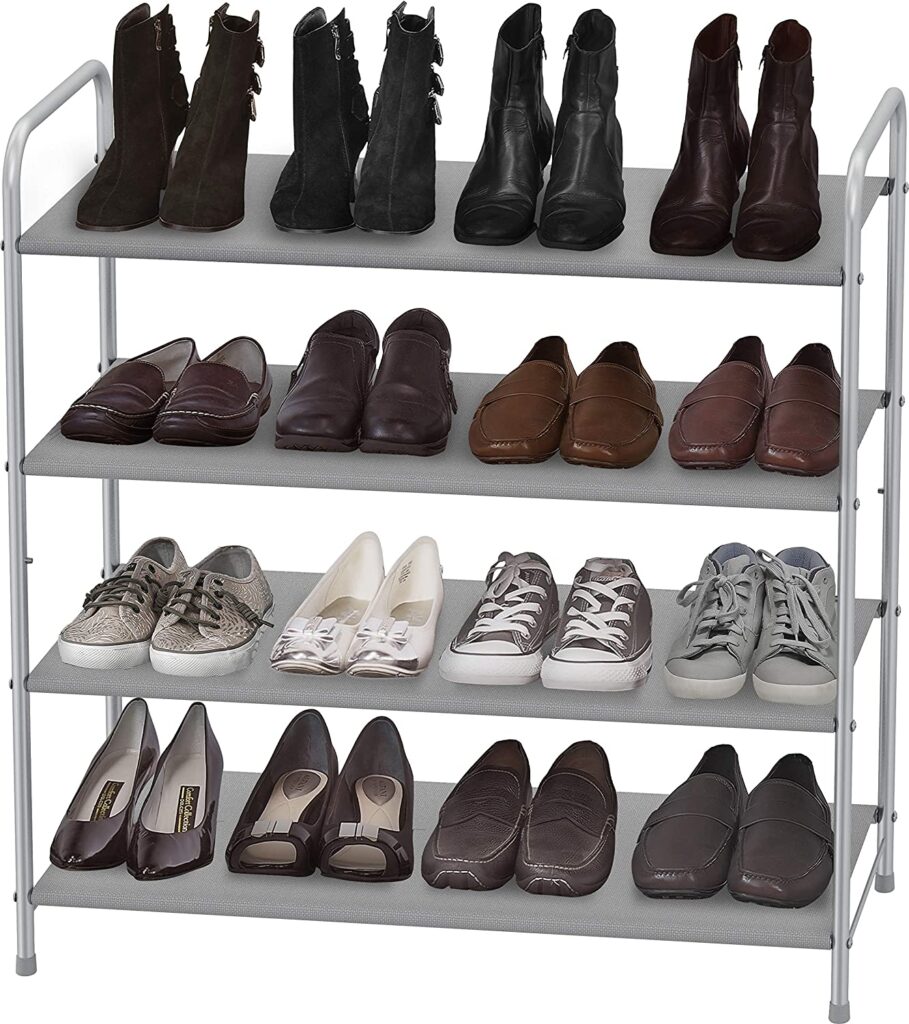 If you have a bit more closet space, but don't feel up to installing your own shelves, shoe racks are naturally a great option. These allow you to easily view your shoes and grab them whenever you need them while making use of vertical space.
This metal version fits up to 20 pairs and works well for the closet as well as your entryway or mudroom. You can find many different sizes of shoe racks, so look around for one that fits your space (and shoe collection) perfectly.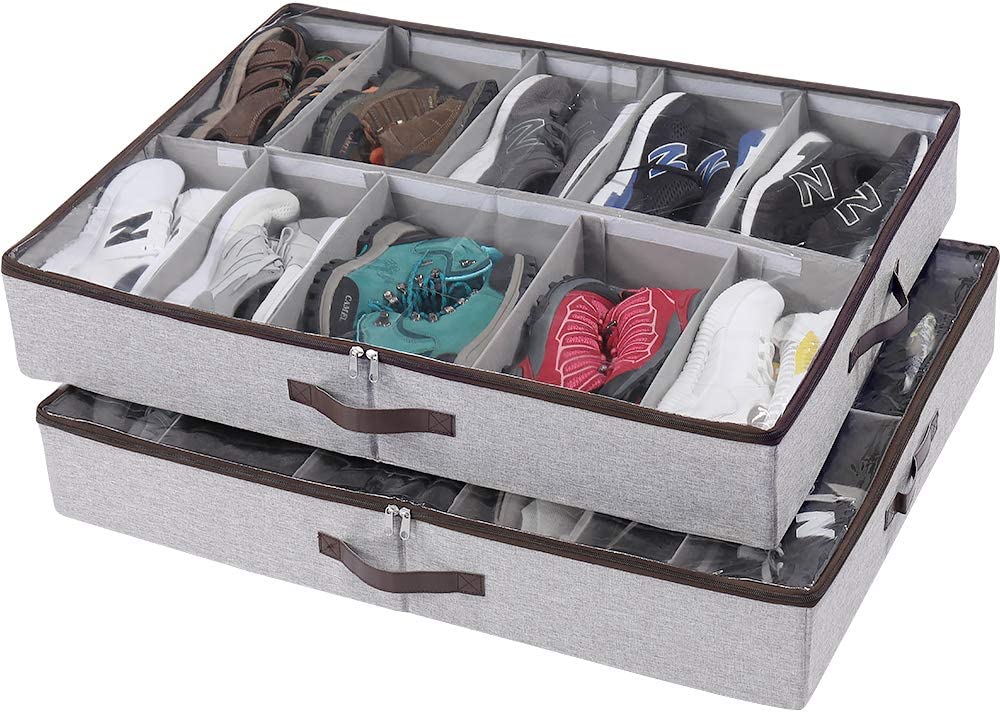 For a particularly small closet, you may have to look elsewhere for extra storage space. These under-the-bed storage containers are the perfect size for sliding your shoes underneath the bed and making the most efficient use of space.
In particular, this is a great option for storing out-of-season shoes or special occasion styles that you might not use often. This set comes with two 12-slot shoe organizers and is made of eco-friendly linen, making them both durable and stylish.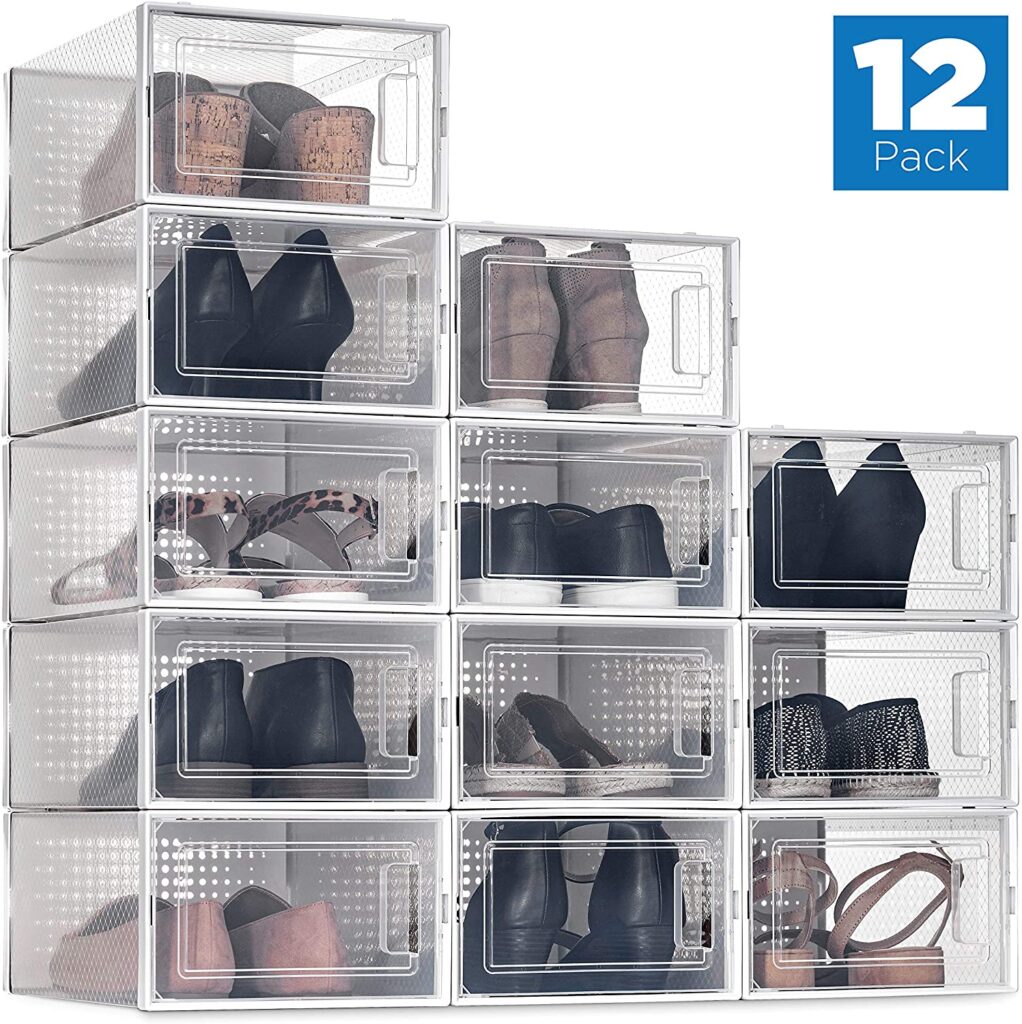 If you like the look of the clear shoe boxes from above but want something a bit more durable, consider upgrading to these hard plastic storage boxes.
These stackable boxes allow you to create the perfect customizable unit for your shoe storage. One of the most notable features of these boxes is their clear side-open front doors that make it easy to see and access your shoes.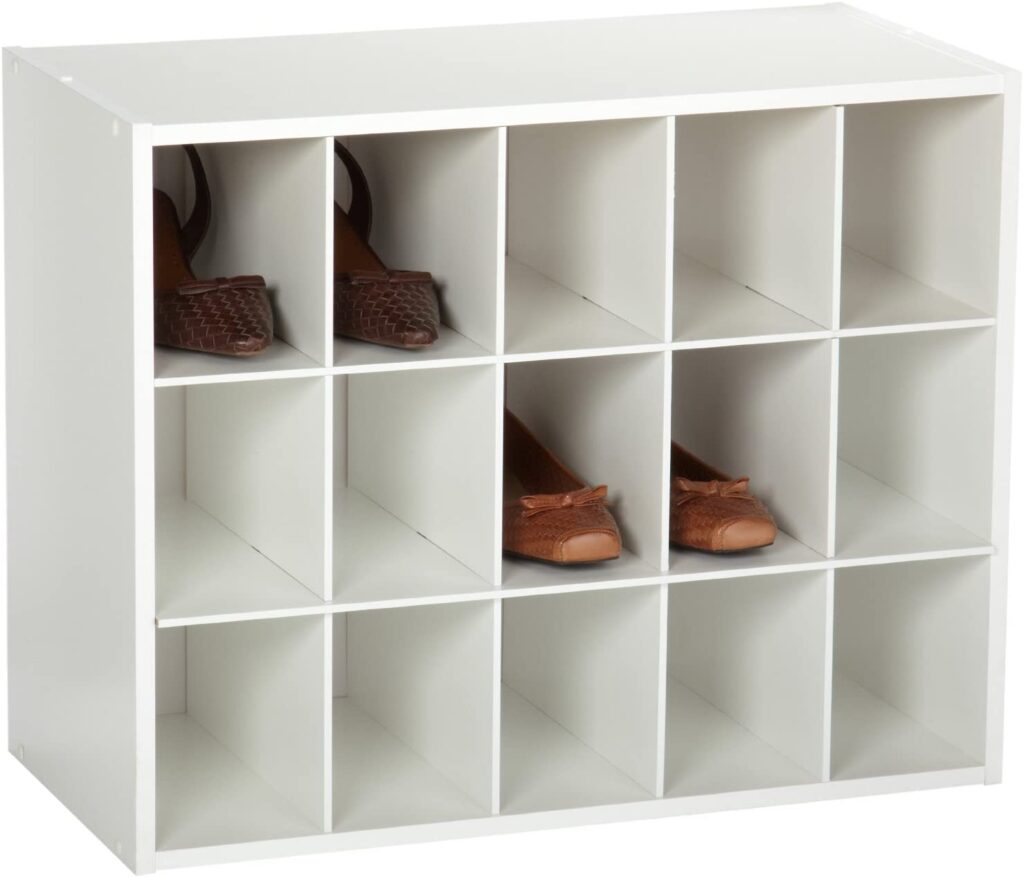 Another great option for a smaller closets is a compact shoe cubby unit. These organizers are usually shorter with smaller compartments and are a great way to make use of smaller areas.
While you may not want to stack your nicer pairs of shoes on top of each other, these are perfect for sandals, flats, and sneakers. Alternatively, you can always designate one shoe to its own compartment to reduce the risk of damaging your item.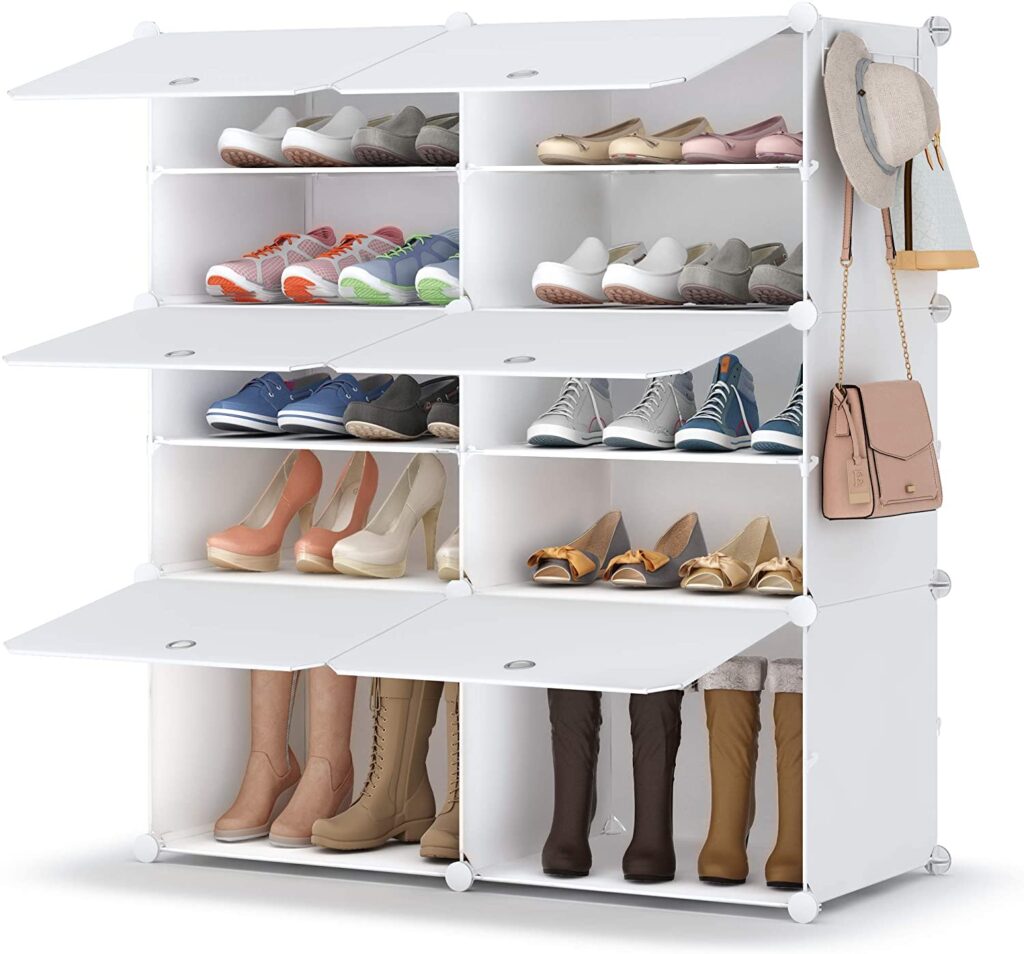 While we've shared many great options for flatter styles of shoes, you may be wondering where to find storage for items like high-top sneakers, ankle boots, or even mid-calf boots. Luckily, this five-tier shoe storage cabinet has plenty of room for almost all varieties of shoes.
With a bit of assembly, this cabinet provides an attractive and easy to access storage solution that will instantly make your closet look more organized and streamlined.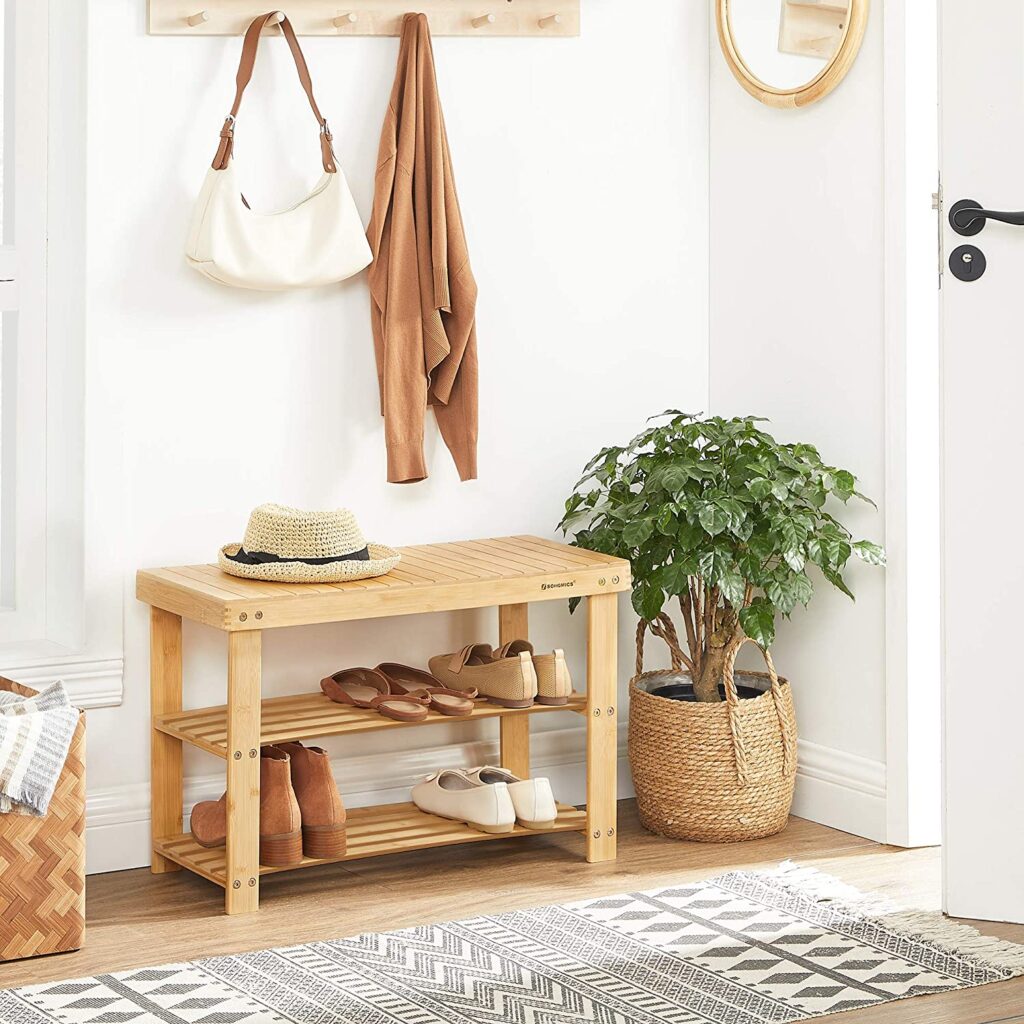 Shoe storage benches are a popular and great choice for almost any area of your house. Not only do they offer some extra storage space, but they provide a convenient place to sit while putting on and removing your shoes.
This version is made from sturdy wood, comes in five colors, and holds up to 264 pounds of weight. This simple bench a particularly good option for entryways or mudrooms, but will also work well in a hallway near your front door, bedroom, closet, or bathroom.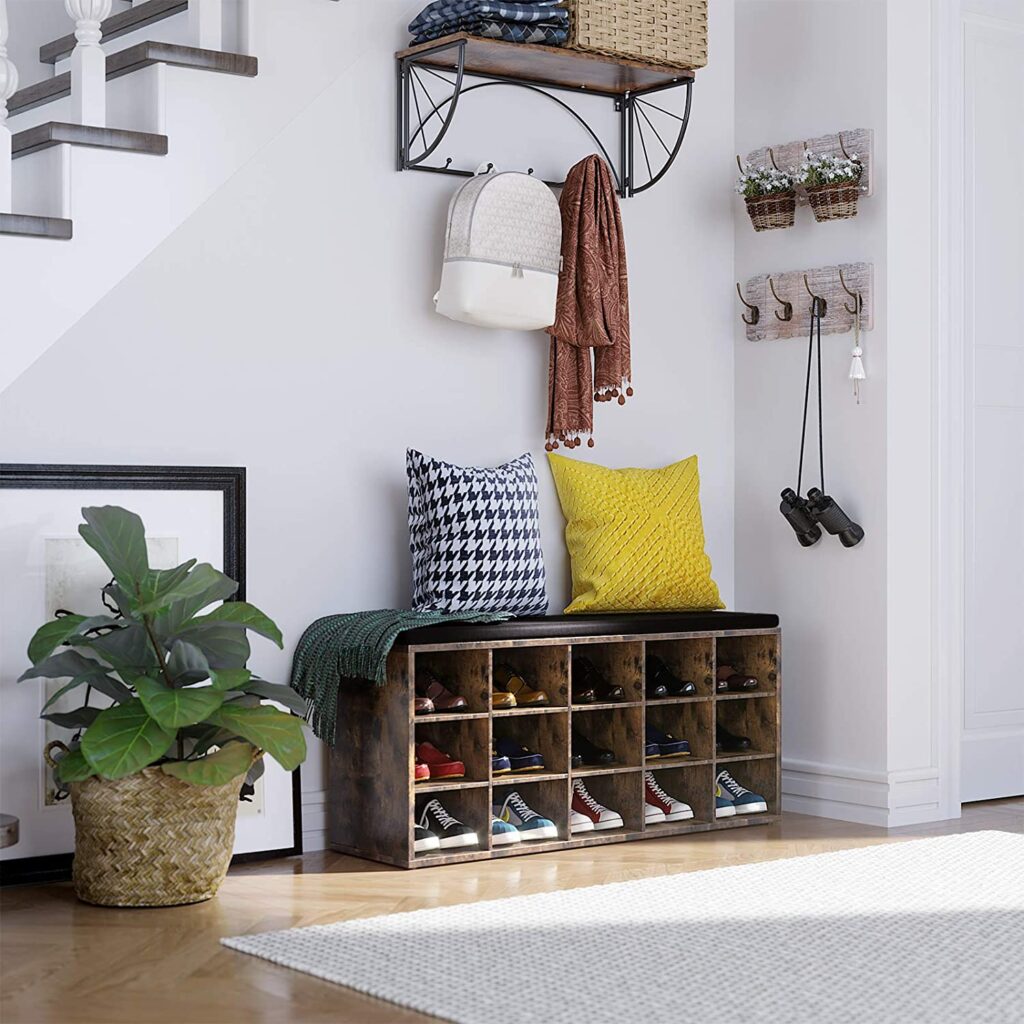 For a shoe bench that's just as much a gorgeous piece of furniture as it is a great storage solution, this cushioned bench offers the best of both worlds. With fifteen shoe cubbies, this is a great way to store your go-to pairs of shoes by the doorway.
This piece is also crafted from sturdy engineered wood, giving it a stylish rustic look and supporting up to an impressive 440 pounds. Thanks to that comfortable cushioned bench, this would also be the perfect accent piece for the end of your bed or even in your living room.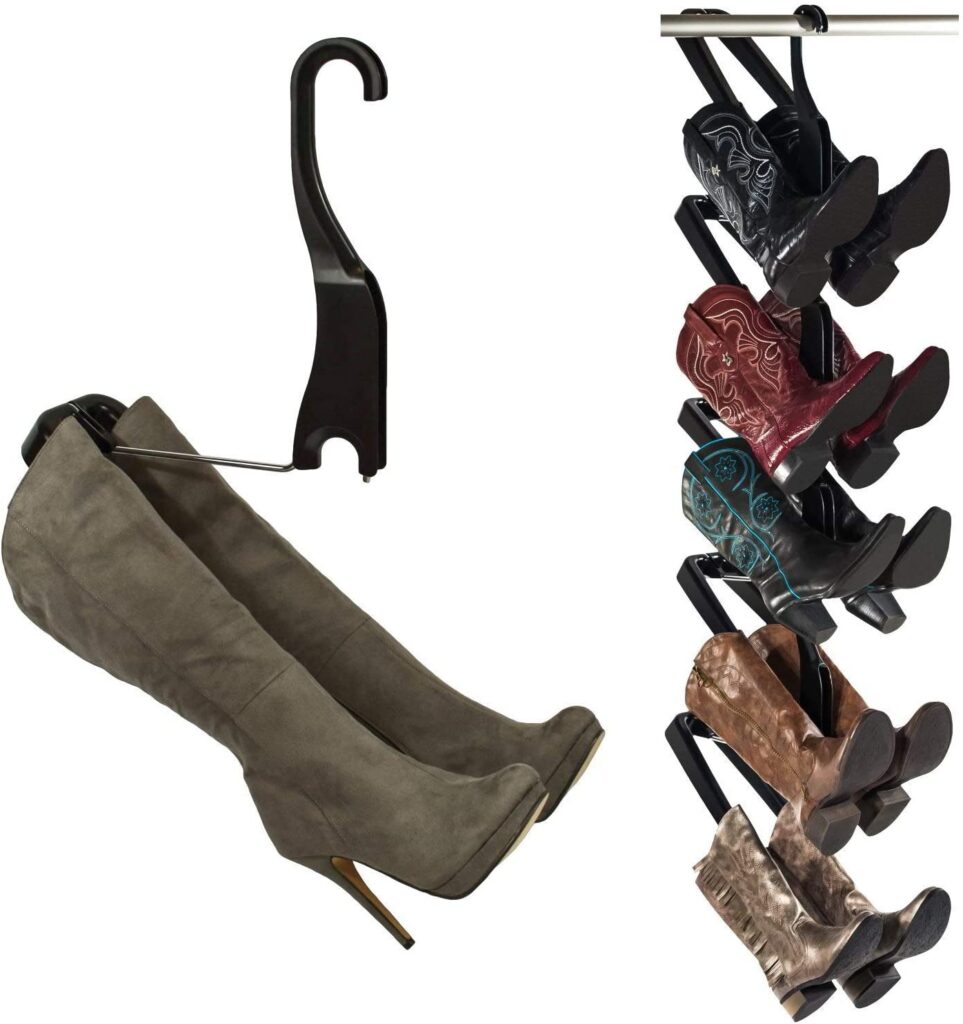 Tall boots can be one of the most frustrating things when it comes to storage. They take up a large amount of vertical space, are easily misshapen, and can be difficult to keep standing up the right way.
But, if you find yourself with extra space on your closet rod, this product is a must-have! The Boot Butler allows you to hang your boots vertically, maintaining their natural shape with boot shapers and saving valuable floor space in your closet.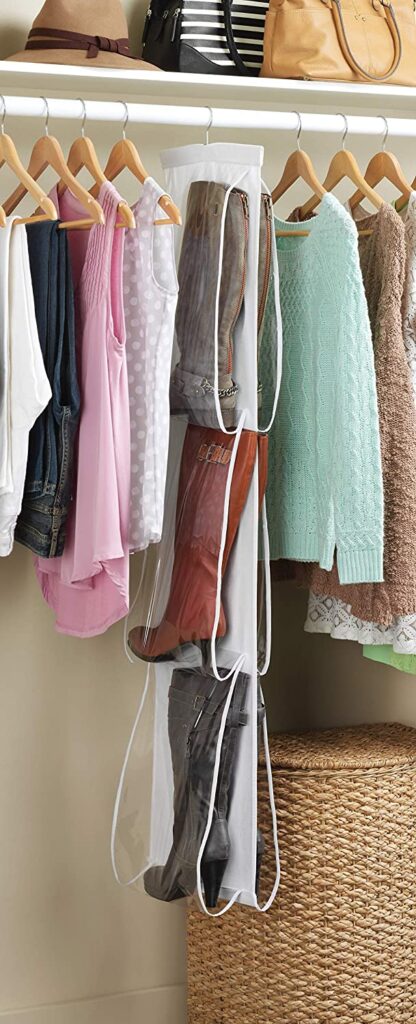 One other great option for hanging your boots is the Whitmore Hanging Boot File. This item works similarly to the Boot Butler, hanging your boots vertically in your closet, but offers a way to further protect them from being scuffed or rubbed against other clothing items.
This option is ideal for those looking for an efficient way to store boots made from delicate materials like suede or smooth leather.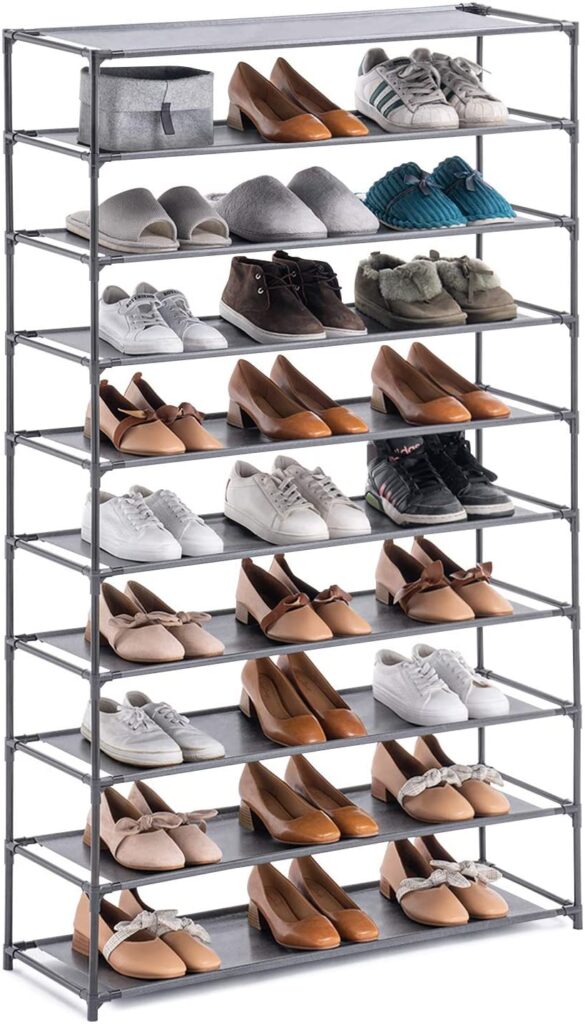 This may just be the crème de la crème of all shoe shelves! This a capacity of up to 50 pairs of shoes, this shelving unit is for those with a serious shoe collection. T
he minimalist style of this shelving unit is perfect for giving your closet a modern vibe and the thick metal components are durable enough to handle whatever you throw at it. Additionally, each shelf is removable, meaning you can fit any shoe height without damaging your items.
If you don't have enough shoes to fill this unit, you can even use the extra shelving space for shoe boxes, accessories, books, and more!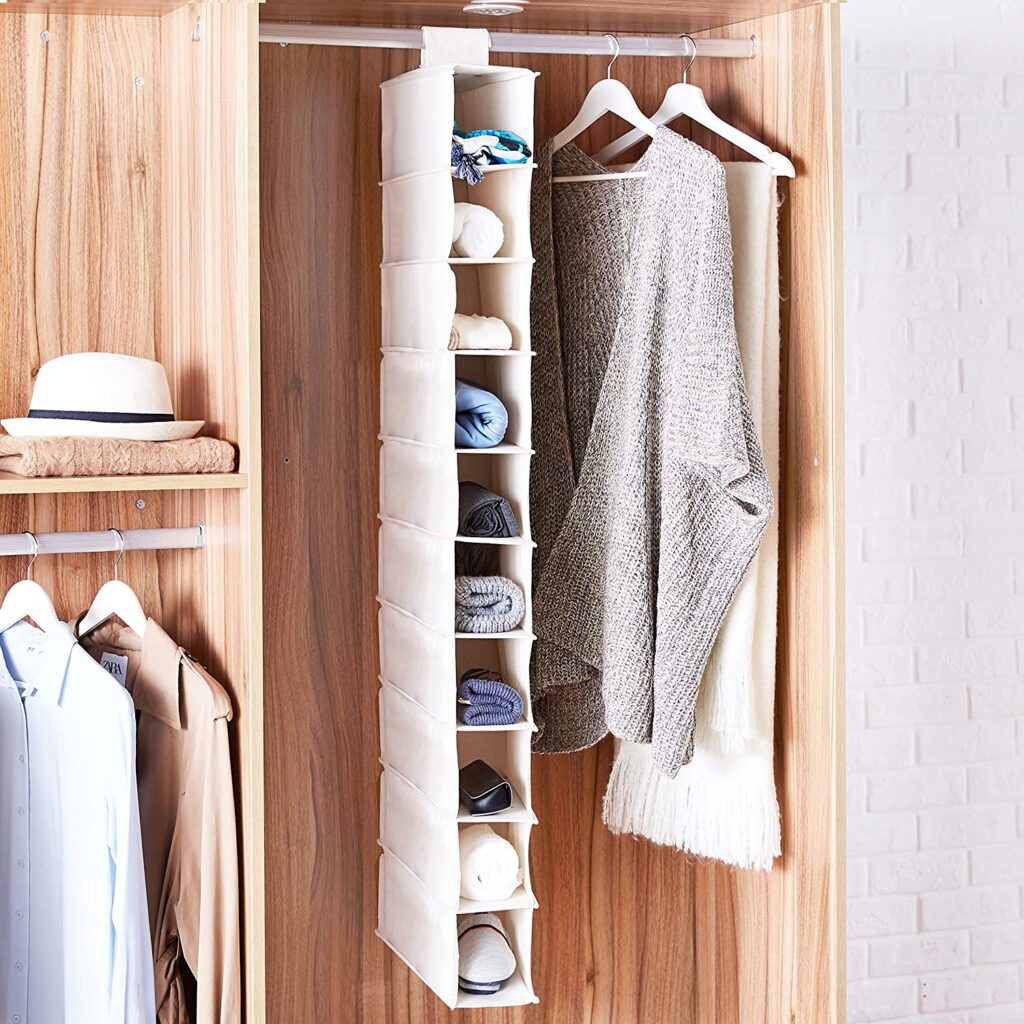 If you're looking to save the most space possible in your wardrobe, a good option is this hanging closet shelf. Flip flops and sandals can be tough to find a good storage solution for since they're tough to store in a neat and organized way.
The compartments on their shelf, while narrow, create the perfect snug space for your flat sandals without taking up much extra space.
While it can seem daunting, organizing your shoe collection is one of the most important parts of creating a closet that's streamlined, efficient, and easy to use.
By putting in a little time to find the perfect storage solutions, getting dressed can become less of a chore and maybe even a bit more fun! So don't be afraid to get creative with your storage and create a system that's perfect for you and your space.
Want more shoe fun? Here's how to clean those white Converse and make them look brand new!
Want some other tips for an organized clean home? Here's a reader favorite post – how to organize your makeup drawer and 14 secrets to keeping a clean house!
You can also check out one of these!