If you have several Lego sets in your house, storing and keeping all those small Lego pieces can be an absolute nightmare.
They can take up quite a bit of storage space and if anyone in your household accidentally steps on one in the middle of the night, it can seriously hurt. OW!
If your kid has a Lego obsession and you're looking for a great way to help organize the many bits and pieces that make up a Lego collection, this post is for you. I've rounded up all the best Lego storage ideas and products out there.
What To Consider When Looking for Lego Storage
The right Lego storage for you depends on who is using it, where it is in your house, whether you have a small or huge collection, and how your builder stays most organized. When shopping for the ideal Lego storage containers or displays, make sure to consider the following:
Does your storage need to enable easy and quick clean-up? Storage bags are easier to move around than storage boxes and occupy less space. If you're storing Legos in your living room or other high traffic area, a storage bag might be the best option.
Multi-purpose options like a table offer storage and a place for the kids to sit and play with their Legos on top of the table. You can even look up plans online for a DIY Lego table.
Does your builder want to leave the finished product intact where they can see it? You need to consider storage solutions that also act as a display.
Organizers with different compartments are the best solutions if you have different sizes of Lego blocks that must be separated and stored. Will you sort by type of piece, brick size, or by Lego set? That should factor into your choice of Lego organization system.
Go for heavy-duty, high-quality storage bins or drawers that keep the little pieces protected and away from damage, especially if you have pets that chew or babies.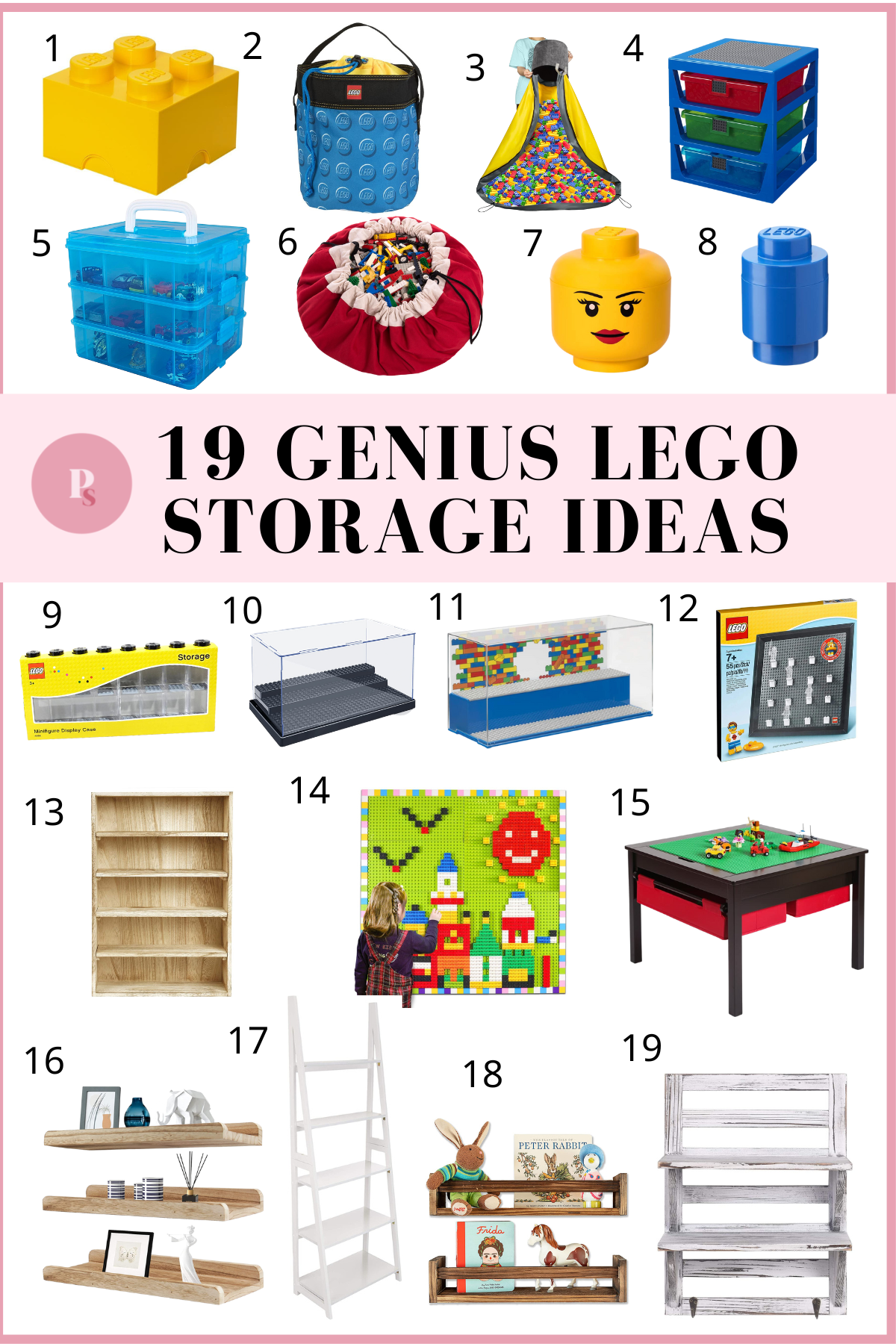 Paisley + Sparrow is a participant in the Amazon Services LLC Associates Program. This post may include affiliate links which means I may earn a small commission if you shop using the links below at no additional cost to you. 
19 Lego Storage Ideas
Lego storage options don't have to be boring. A wide selection of Lego storage ideas makes tidying up almost as fun as playing with the Legos. Here are some storage pieces worth considering.
This storage piece doubles as a decorative piece for your child's room. They come in attractive colors, perfect for adding a pop of color to a room.
A single storage brick can hold up to 800 pieces so you'll never have a brick lying around again. The best part? They stack!
Do your kids love taking their Lego sets to their friend's place or a playgroup? A cinch bucket is the perfect tool for carrying Lego sets from one place to another.
The addition of a cinch closure makes it a handy feature to keep small pieces from accidentally falling out.
What's better than a storage basket that opens up and functions as a play mat? If Lego clean-up has been a nightmare for you, you need to purchase this basket.
You'll save yourself the tedious task of picking one piece up at a time and clear your floor space in no time. Just open the mat to let your kid enjoy their playtime. When your child is done, just pull the mat up and tip the pieces into the storage bin it's attached to.
A drawer rack storage system comes with removable drawers and is the perfect Lego storage solution. Each drawer has the right depth for keeping a lot of Legos inside. If disorganized Lego sets have been your concern, consider sorting your Lego pieces by drawer.
You can come up with the organizational system that makes sense and provides easy access for you.
Bins & Things features a portable and see-through storage case that has 18 different compartments for sorting your Lego pieces. The size of the compartments can be adjusted to your liking, and this case has three stackable levels.
If your kid loves to travel around with toys, this case with its easy-to-carry handle is lightweight and very portable.
Want easy clean-up? With this drawstring toy bag and 55-inch play mat, easily put the Legos away by gathering the ends of the mat and tugging on the drawstring until it wraps around the Legos and conveniently turns into a bag.
Asking a child to tidy up their room is no easy feat. But when you have something as exciting as a giant Lego head for storage, cleaning up becomes more interesting and fun.
This storage piece is stackable and a unique way to store Legos. It comes in a few different options, including a girl, a boy, a pumpkin and a skeleton.
This round brick is another Lego-inspired storage space. Similar to the Lego Storage Head, the giant and colorful round bricks are stackable and fit together like real Lego bricks. Even better, there are six bright colors to choose from so you can have several of these fun storage spaces in your child's room.
Minifigure Display Ideas
One of the most iconic elements of Lego toys is the mini-figures. It isn't at all surprising that many children (and adults!) have a collection in their homes.
Here are some creative products to help you display your mini-figures in a fun way and with convenient storage:
Shaped like a large transparent Lego brick, this display case can store up to 16 mini-figures at once. It comes with easy-to-open doors and can go perfectly on your walls or desk.
Mini figures can be firmly fixed on top of the Lego surfaces inside the case so they won't fall down or wobble while inside.
If you'd like to display all your mini-figures together instead of storing them in individual compartments, KKU's display case is an excellent option.
Their display case is made of high-quality acrylic and has three movable platforms inside so you can customize your display. This case can neatly fit up to 35 mini-figures at once.
A more colorful way to keep all your mini-figures together in one compartment is Room Copenhagen's display case. It comes with a colorful Lego-inspired backdrop and two fixed tiers for placing your favorite mini-figures. It's available in blue and red.
Since this display frame lets you fix your Lego mini-figures on tiny ledges, your display gets a nice 3D effect. You can even move the ledges around to further customize your display. This frame has a stand at the back so you can prop it up on a desk or a shelf.
Depending on your configuration, the frame can hold up to 25 mini-figures at once. You also get a free mini-fig!
Display all your Lego figures by placing them on these beautiful wooden wall-mounted shelf racks. Five wooden racks are present on a single shelf, and each rack easily slides in and out.
Built Lego Set Display/Storage Ideas
When your child spends hours working on their Lego masterpieces, they may not want to take them apart when they're finished. It's a work of art, after all! Here are some recommended options for displaying and storing your child's completed set and own creations:
Imagine a Lego canvas that's attached to your wall and you'll understand why this product by Burgkidz is such a great product. You can easily install this on any wall while encouraging your child's creativity. It's perfect for a playroom or kid's room!
Give your children a Lego play table where they can work on their Lego creations. Store the brick pieces in the different drawers underneath the table and use the surface for playing and experimenting with Legos. Build a whole city, and leave it as a work in progress for you builder to work on for days.
A floating shelf is multi-purpose and can be used for displaying a variety of things, including mini-figures.
Mix and match the decor of your house by placing books, collectibles, and Lego creations all in the same place. This can fit in with kid, teen or even grownup decor in shared spaces.
Bookshelves are excellent for Lego displays. This 5-tier ladder style bookshelf is a great conversation starter, easy to assemble, and can be placed anywhere without occupying too much space.
Here's a beautiful nursery version for display shelves. This bookshelf is made of fir and pinewood and features sturdy metal anchors for easy installation. These shelves can grow with your children, to hold everything from stuffed animals to books to Legos.
This hanging shelf organizer is just the right touch between rustic and contemporary design. It is a practical and easy way to display Lego creations along with other decorative pieces. Use it in a living room where the kids play, or paint it to match your child's bedroom colors.