Ok ladies, this post is for all my hair product junkies out there trying to figure out how to organize hair products.
If you follow me on Instagram there's a chance you saw this on my stories! I had so many comments on it that I wanted to share it here for everyone to learn from!
If you're anything like me, you have a variety of dry shampoos, hair sprays, mousse, style prep sprays, etc, etc, etc. 😉 I have different product for when I want to wear my hair straight, curly, wavy, air dried or in updos. Each style requires different product and I love experimenting with new stuff!
I've never had a good system for my madness and was constantly trying to figure out how to organize it all. It was never super easy to access and I was constantly organizing, reorganizing and digging through bins or drawers to find what I need for that day.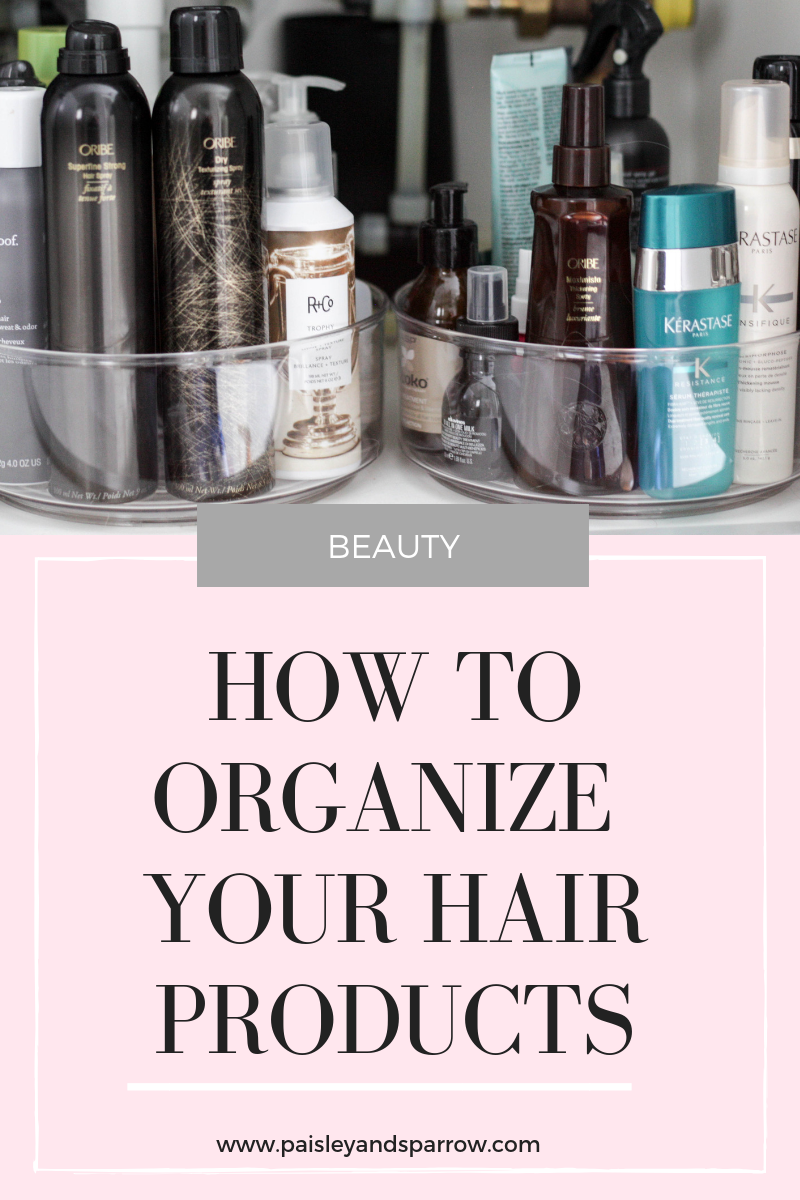 This post contains affiliate links.
Often times, I completley forgot I had a certain product because it had ended up at the bottom of the pile so I wasn't using it or worse – wasting money on a a replacement since I couldn't find it!
How to Organize Hair Products
I recently organized my kitchen (find more of my kitchen organization tips here) and used a few lazy susans in my pantry.
I loved them so much that I bought a few more to use for my spices. When they arrived I had a thought: What if I used them for my hair product?!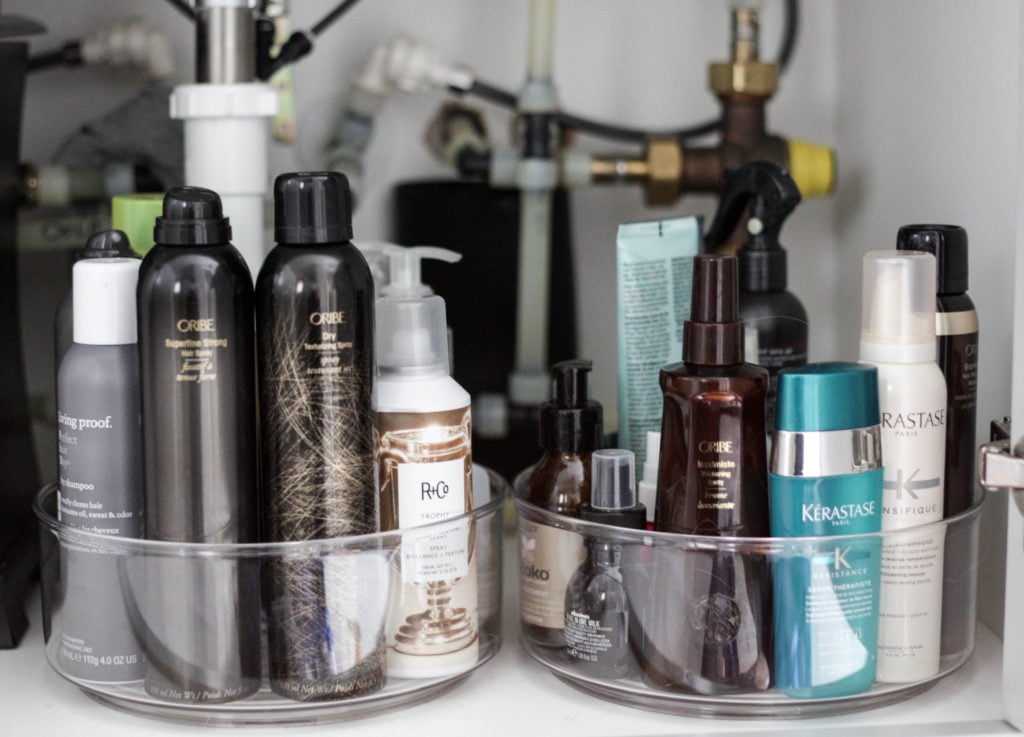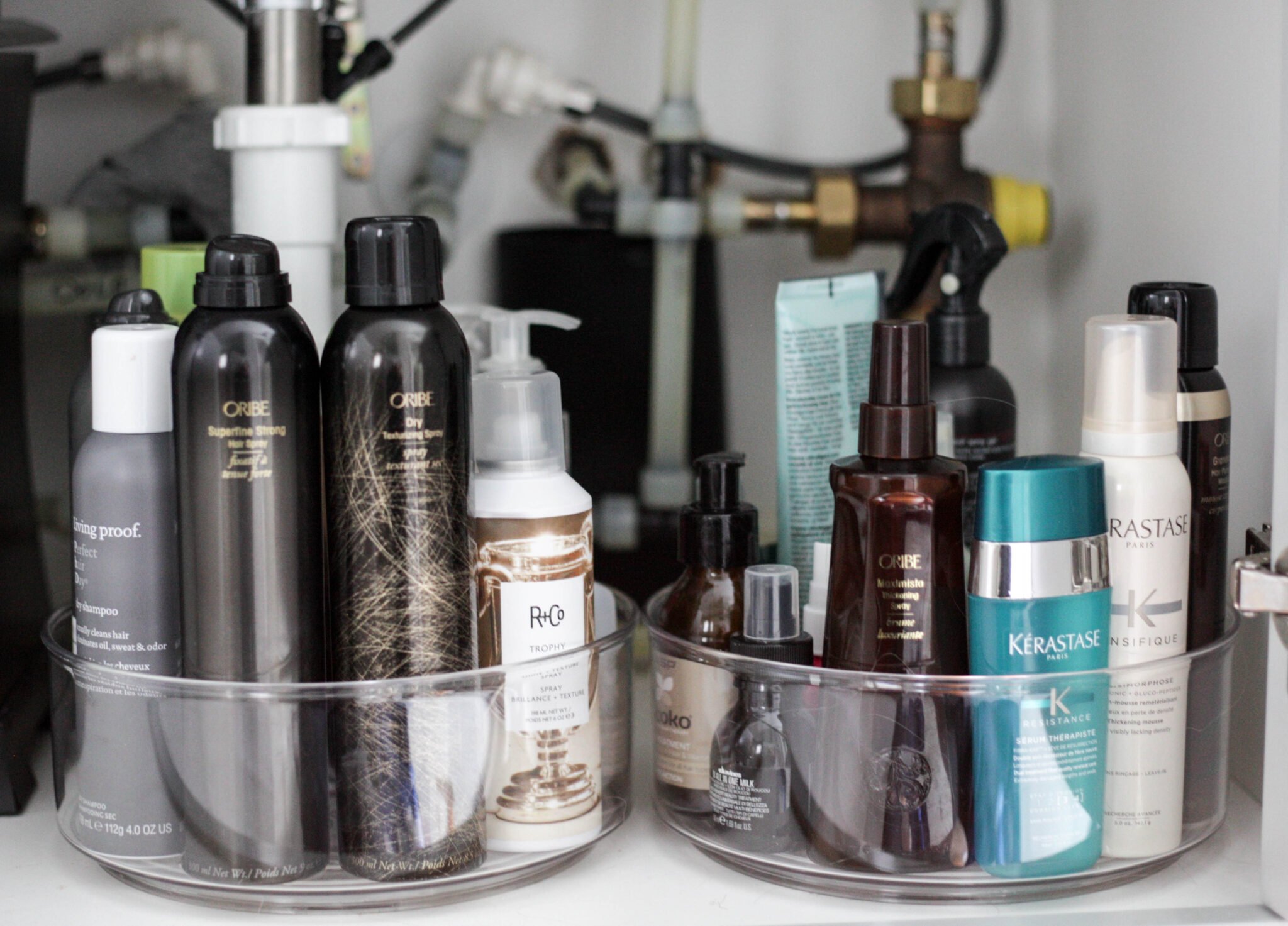 I ran upstairs, took all of my product off of their shelf and put the lazy susans inside. I filled one with products to use on wet hair and the other with products to use on dry hair.
Not gonna lie, it was probably one of the best ideas I've had in a while! 😉 Now all of my products are completely organized, easy to access, easy to see and I'm a happy girl ever single time I open my cupboard to get some product out.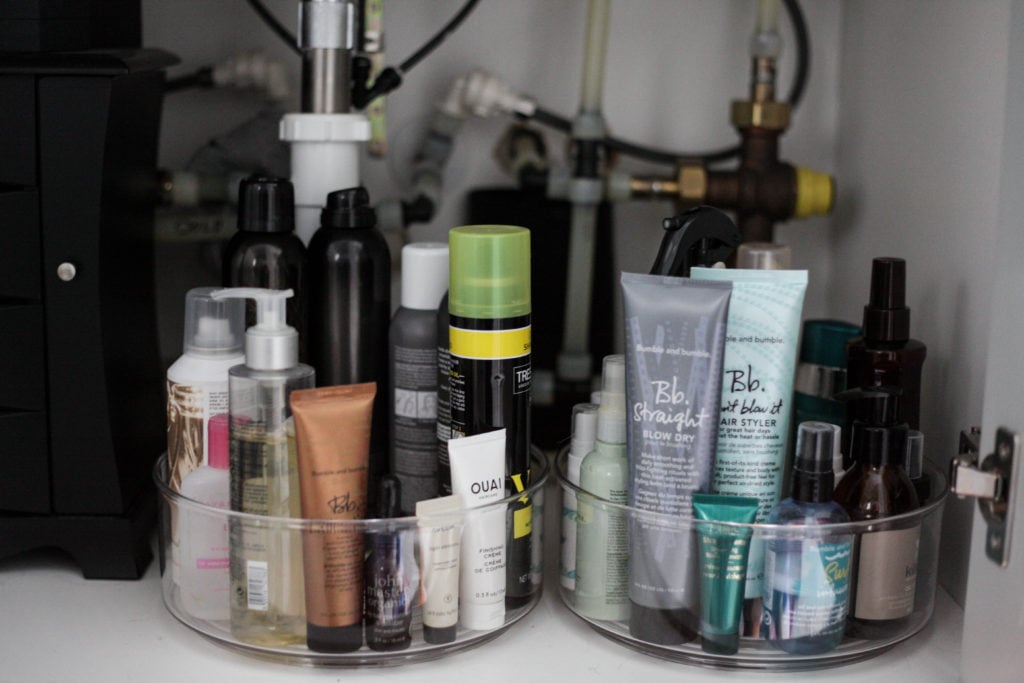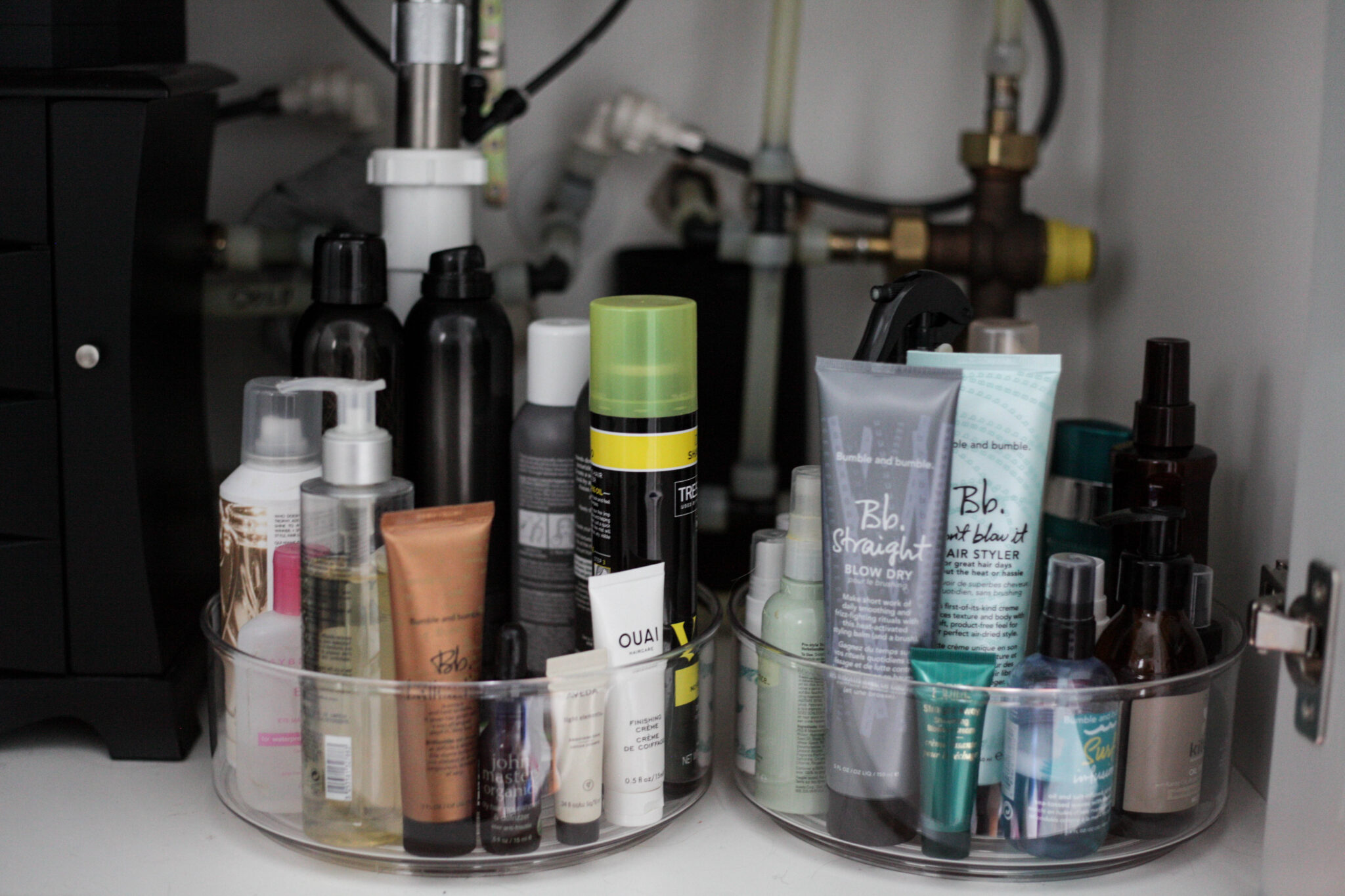 If you don't have an open shelf for these, you can always leave them on your counter or even combine your products into one lazy susan rather than splitting them up into 2.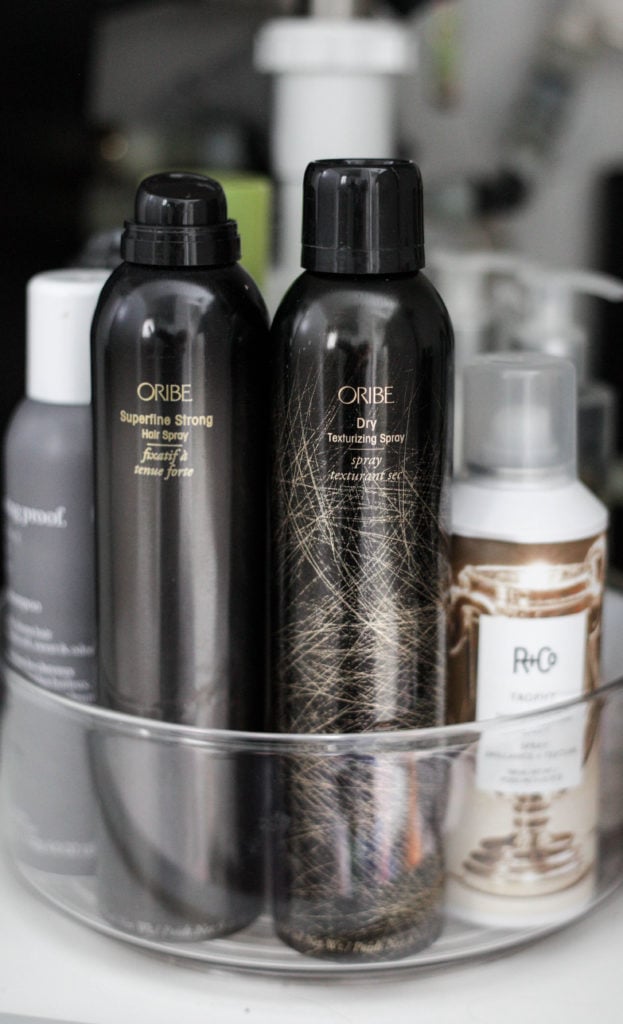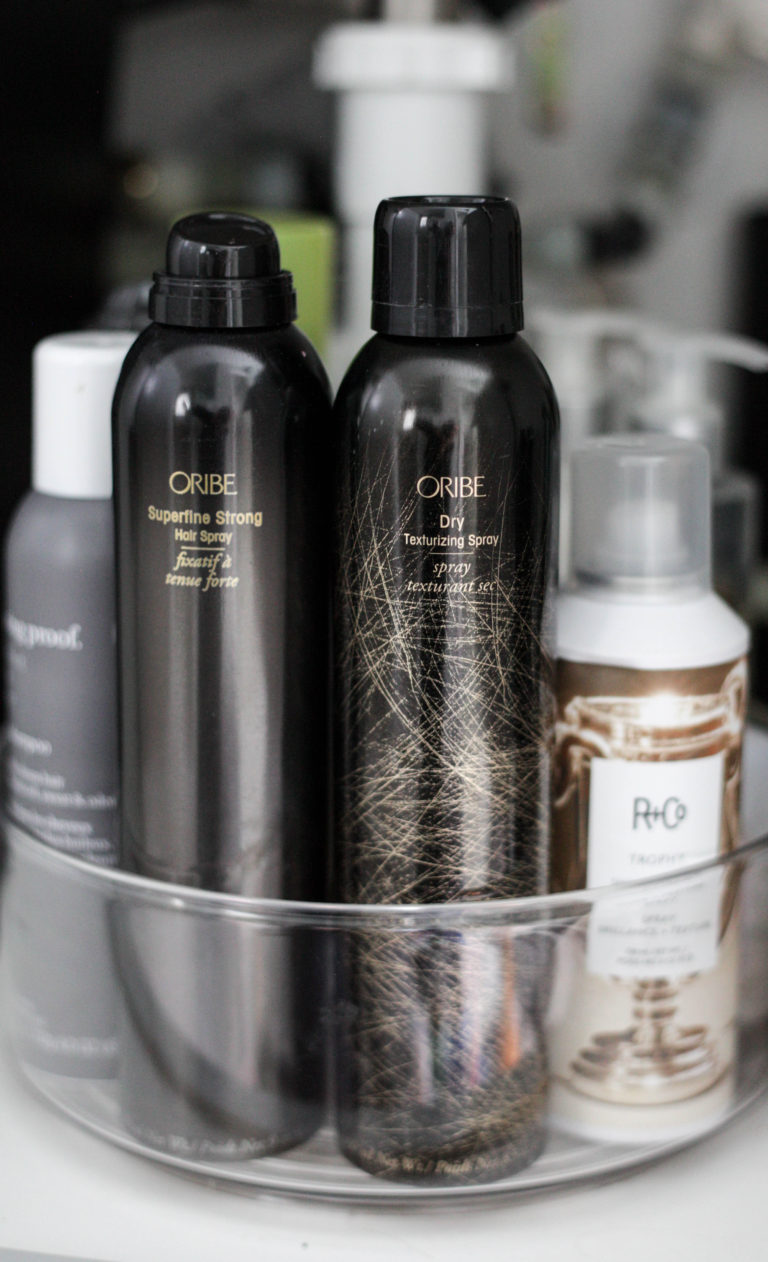 I bought this lazy susan on Amazon. They come in a pack of two!
Ok now onto just a few of my current favorite products. (I'm not going to share any dry shampoos I love since I have this post all about those.)
Hair Products I'm Loving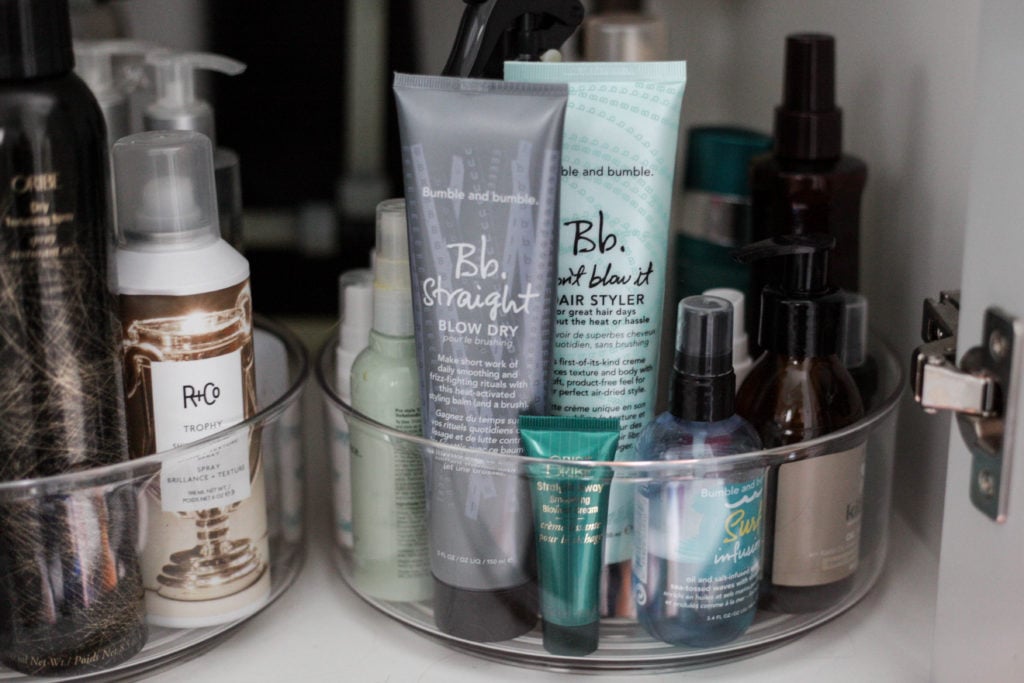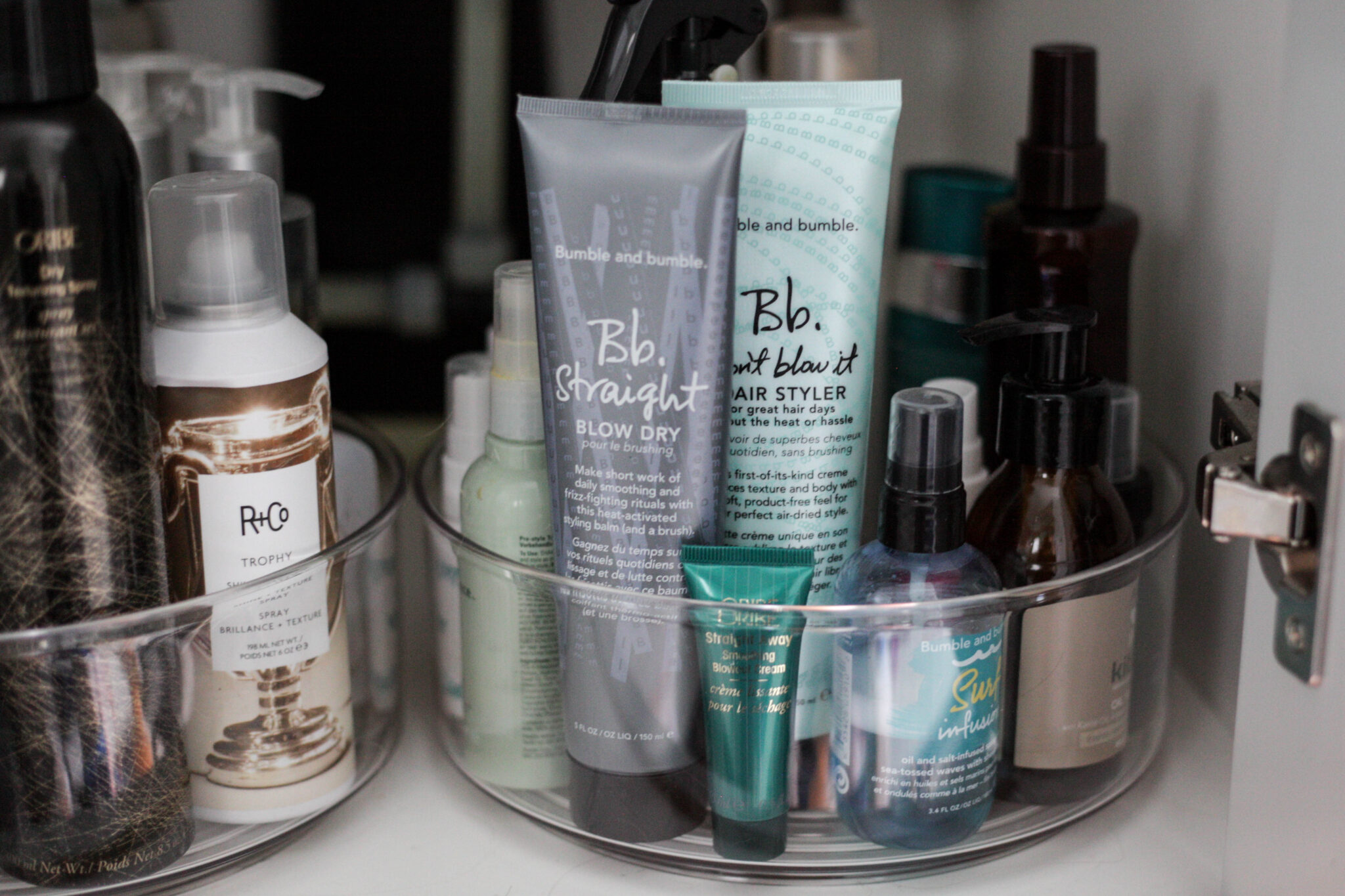 I started using this in the last 6 months and don't know ow I lived without it. I use it right before curling it and it helps hold curl and add shine and texture. If you love curling your hair, you need this stuff!!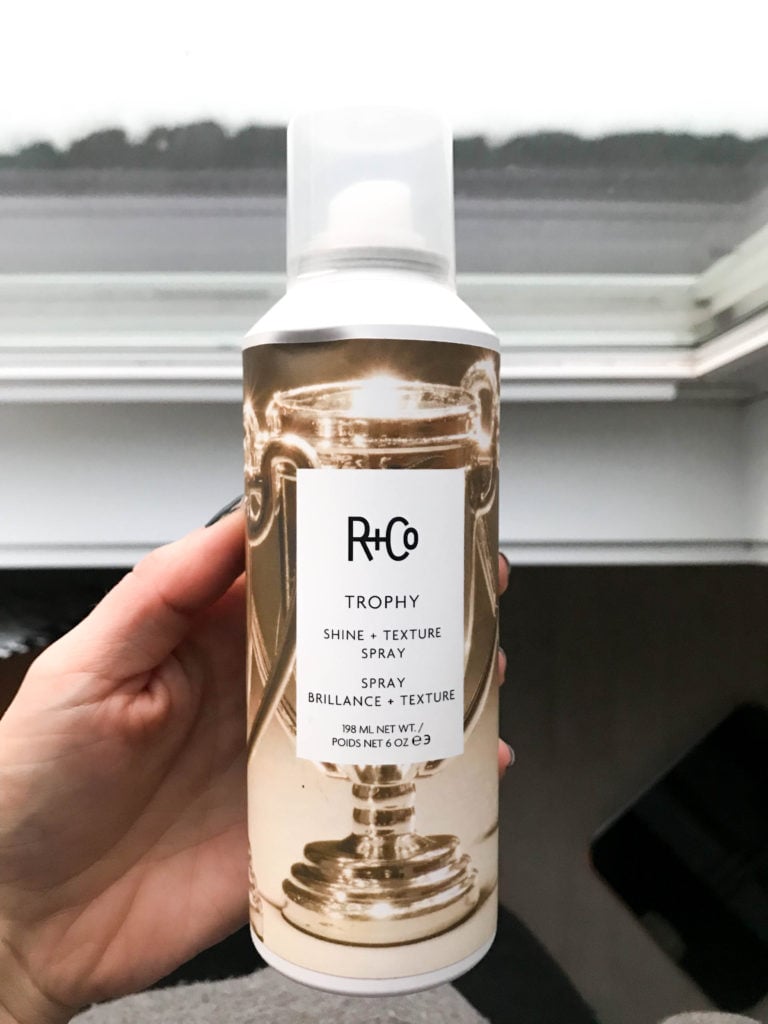 If you have damaged hair, this stuff will help immensely. My hair is in rough shape simply from losing so much with having babies. This transforms my hair to be hydrated and healthy looking!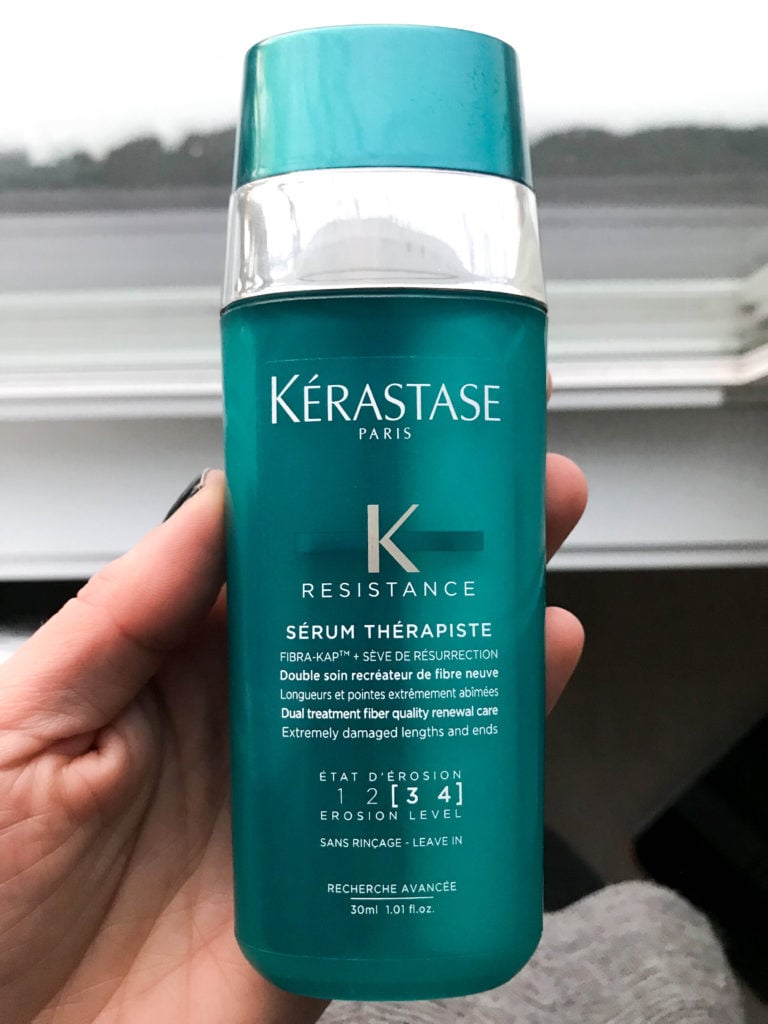 I don't know what I ever did without this stuff. Sounds dramatic but I'm in love! I have fine hair and this automatically makes it feel thicker and more luxurious just by blow drying it. If you have fine or thin hair, definitely try this one!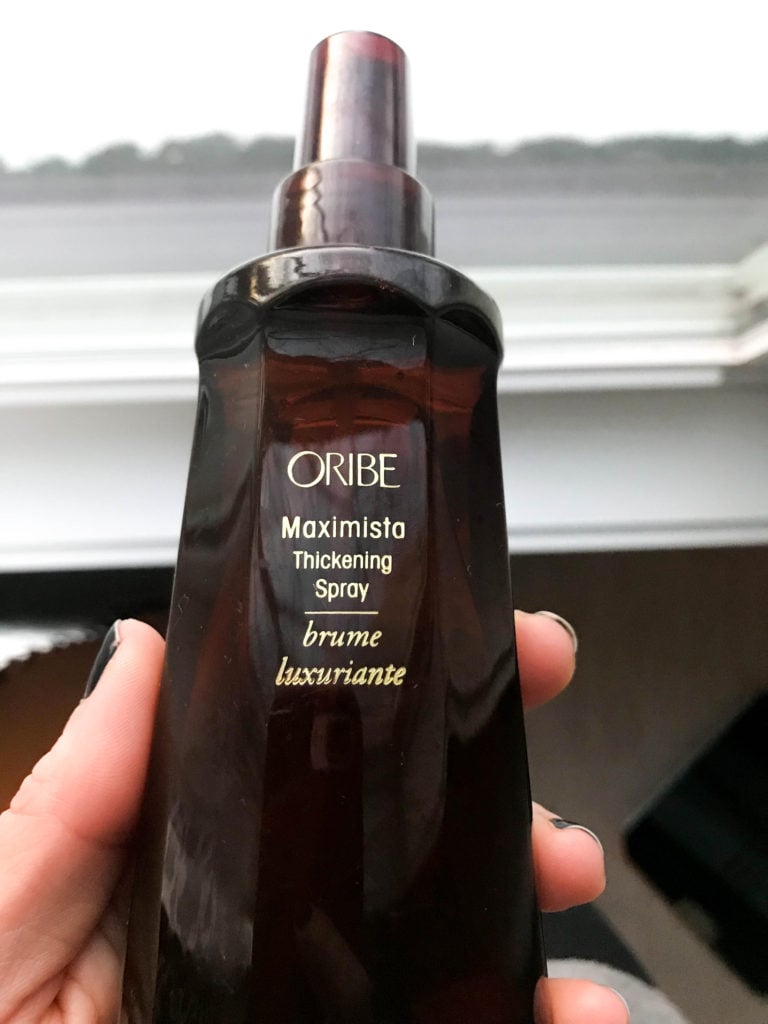 This is actually a family favorite. I've been using this control paste for literally years and since Rishi and I got married, I've caught him using it on more than one occasion!
(So much so that I go through a jar in over twice as fast as normal!) Roy also uses it (and by uses it, I mean we use it on his hair to tame crazy bed head haha!).
It's not sticky, smells amazing and perfect for all hair textures. I use this after curling my hair to help keep it in place, give it some texture and hold down my baby hairs that don't seem to fit in place.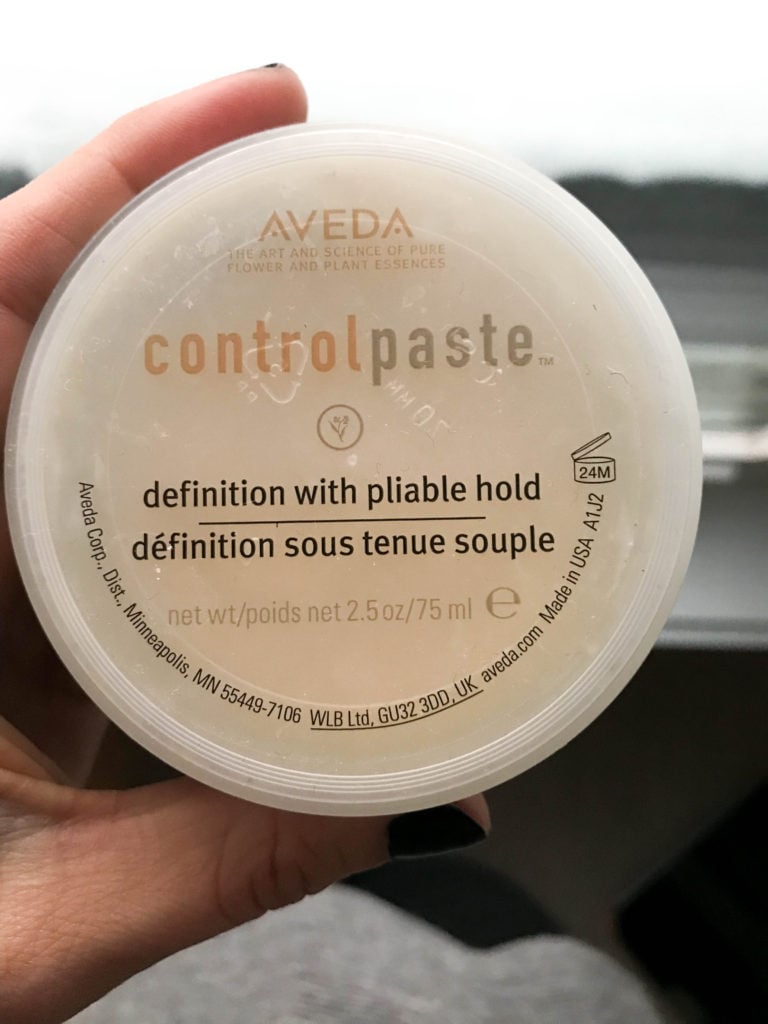 This is another product I've been using for years and years and just can't quit. It's perfect for taming frizz, adding some shine and overall making your hair look way better. 😉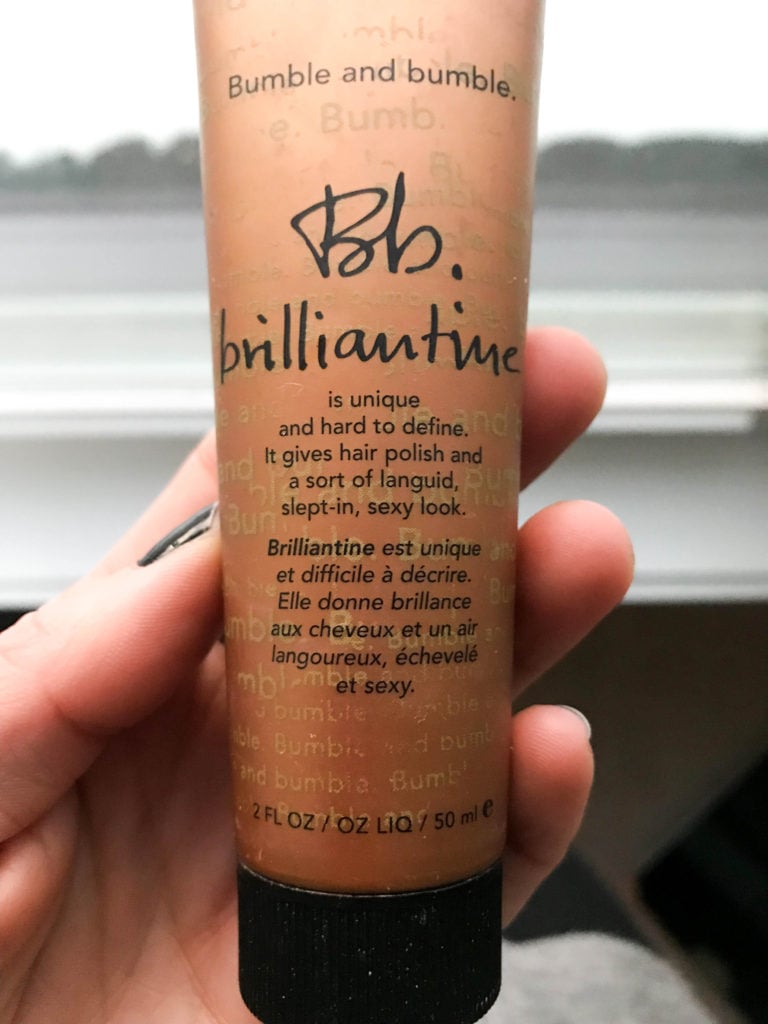 My "go to" hair products change often but these are 5 that have been pretty constant for a while now!
If you find yourself trying to figure out how to organize hair products , try out a lazy susan! This simple trick has definitely helped make my life (and mornings) less stressful and much easier. I highly recommend trying it out!
What's your favorite hair product lately? Be sure to check out my 6 Tips for Using Dry Shampoo post for tips and tricks you probably didn't know!
Want more organization tips? Check out one of these!
Kitchen
Closet
Bathroom + Linen Closet 
Living Room, Storage Room + Garage
Kids
Misc 
If you want to do a 30 day declutter challenge, get a free guide here!