I am a huge nerd when it comes to organizing. Organizing is seriously therapeutic for me! I've discovered my fair share of home organization hacks along the way that I wanted to share with you!
Here are a bunch of my favorite organization hacks and products that I personally use. I've found these useful in a variety of spots of my house! I hope this helps!
7 Genius Home Organization Hacks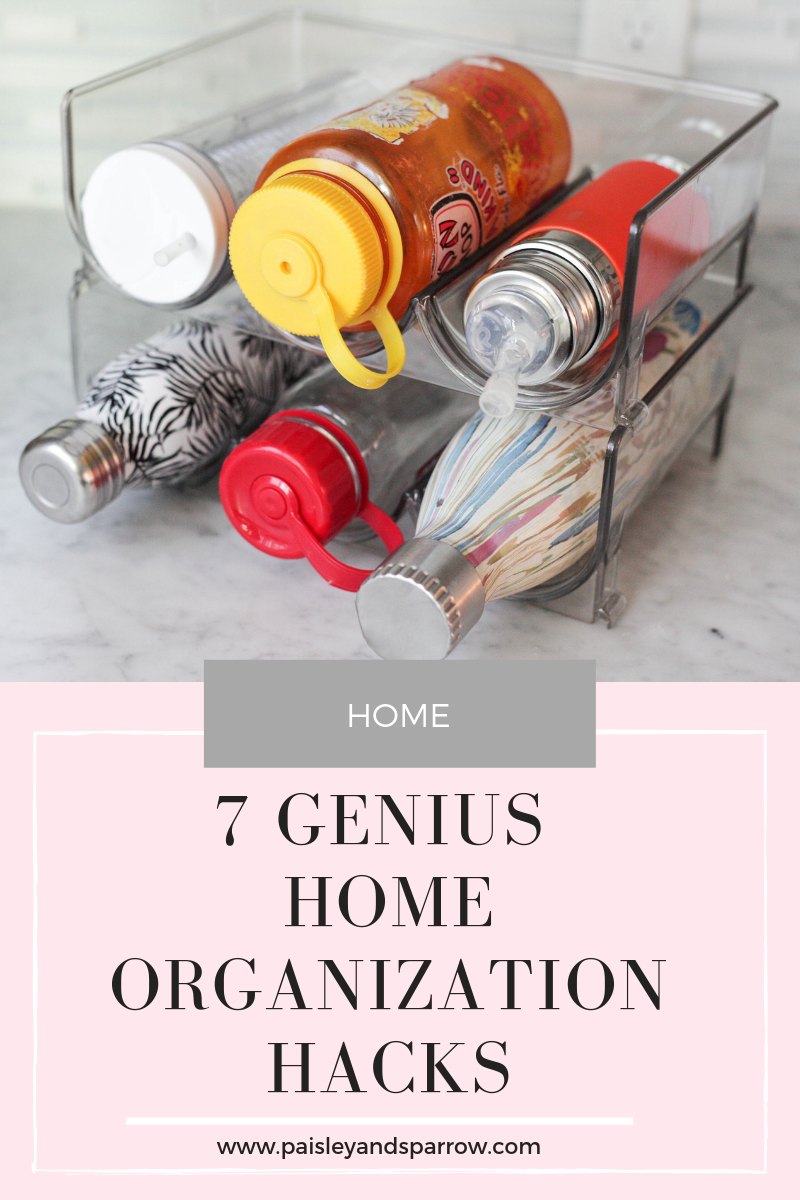 This post contains affiliate links.
1. Water Bottle Storage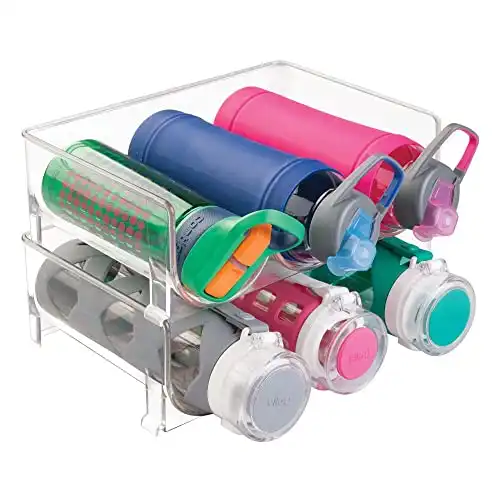 We earn a commission if you make a purchase, at no additional cost to you.
I'm sure we're not the only family who has an overabundance of water bottles — and they just don't seem to have a home! They're hard to fit in cupboards yet roll away when they're on their side, knocking over anything in their path.
Water bottles are also given away at just about every event, conference or social gathering. It seems we have about 4.5 bottles per person in this home. Yikes!
I recently bought this handy water bottle storage rack and my husband told me it was one of the best things that I've bought lately. If that's not a ringing endorsement, I don't know what is!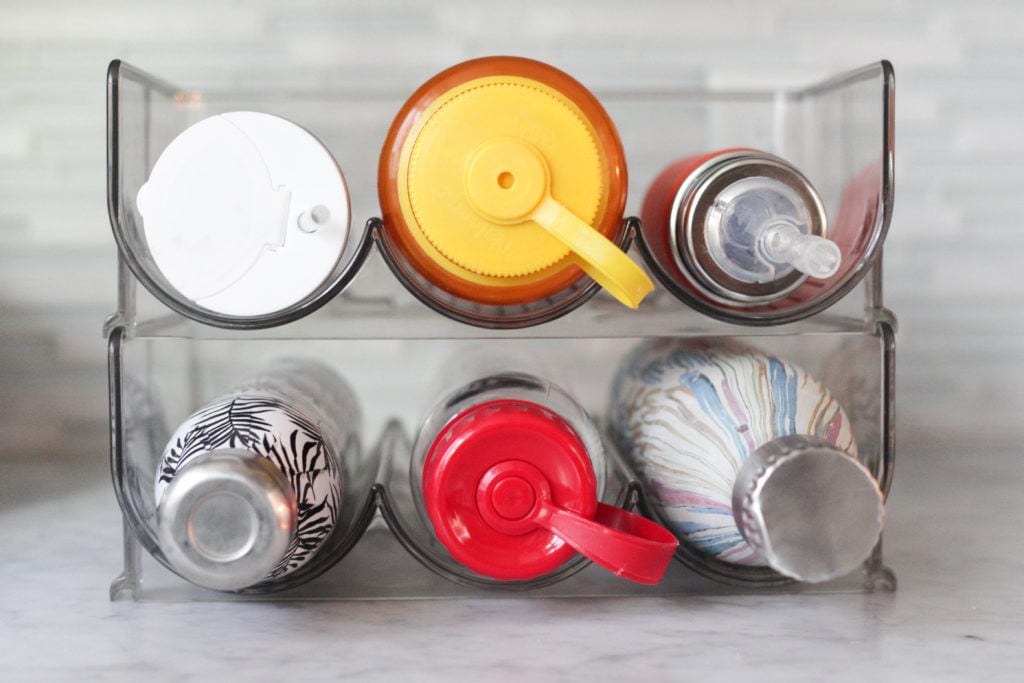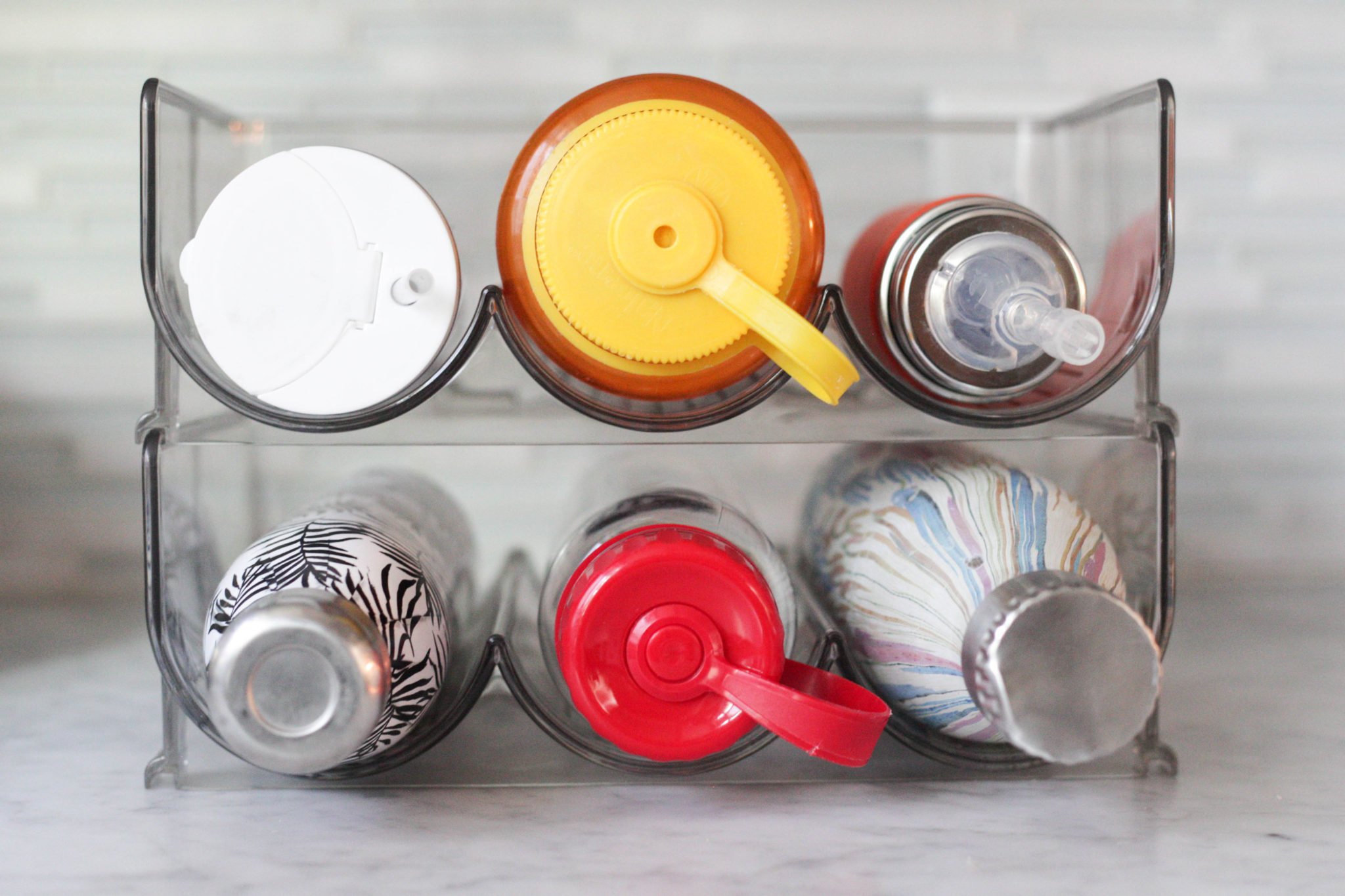 It helps us keep track of all of our water bottles, creates a nice little home for them all, AND it also helped me to get rid of a few water bottles, which is always nice.
Both my husband and I always have one water bottle out that we're using, typically one that's in the wash and one put away. This rack holds 6 bottles so it's perfect for us.
We actually don't really don't need 6 water bottles for 2 people but it is nice to have some extra for the car or work. It's way better than the 12 we originally had though!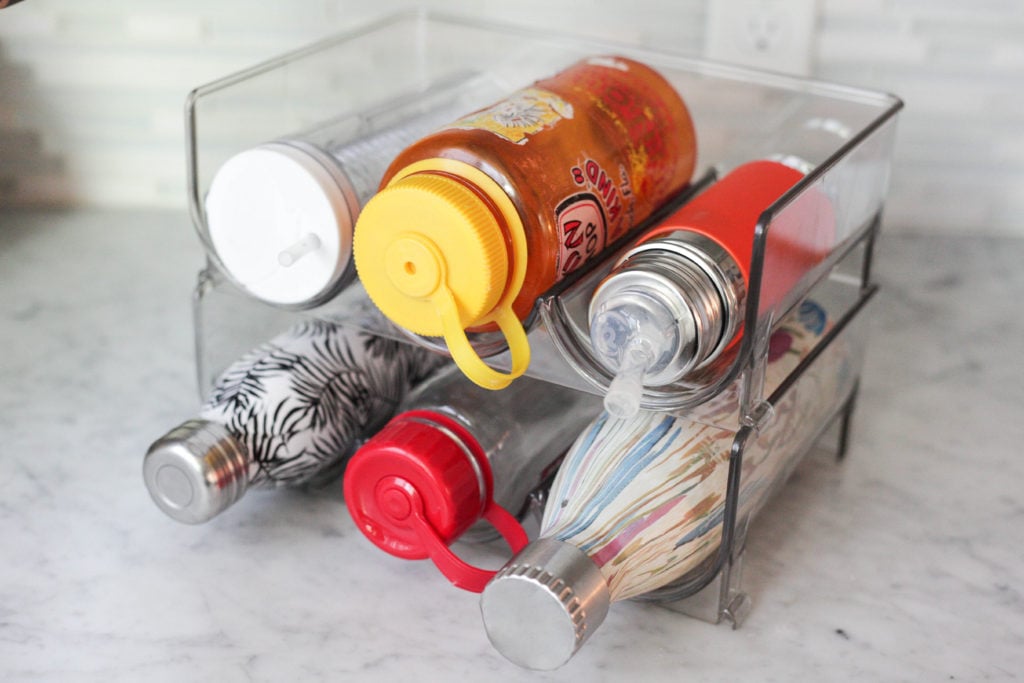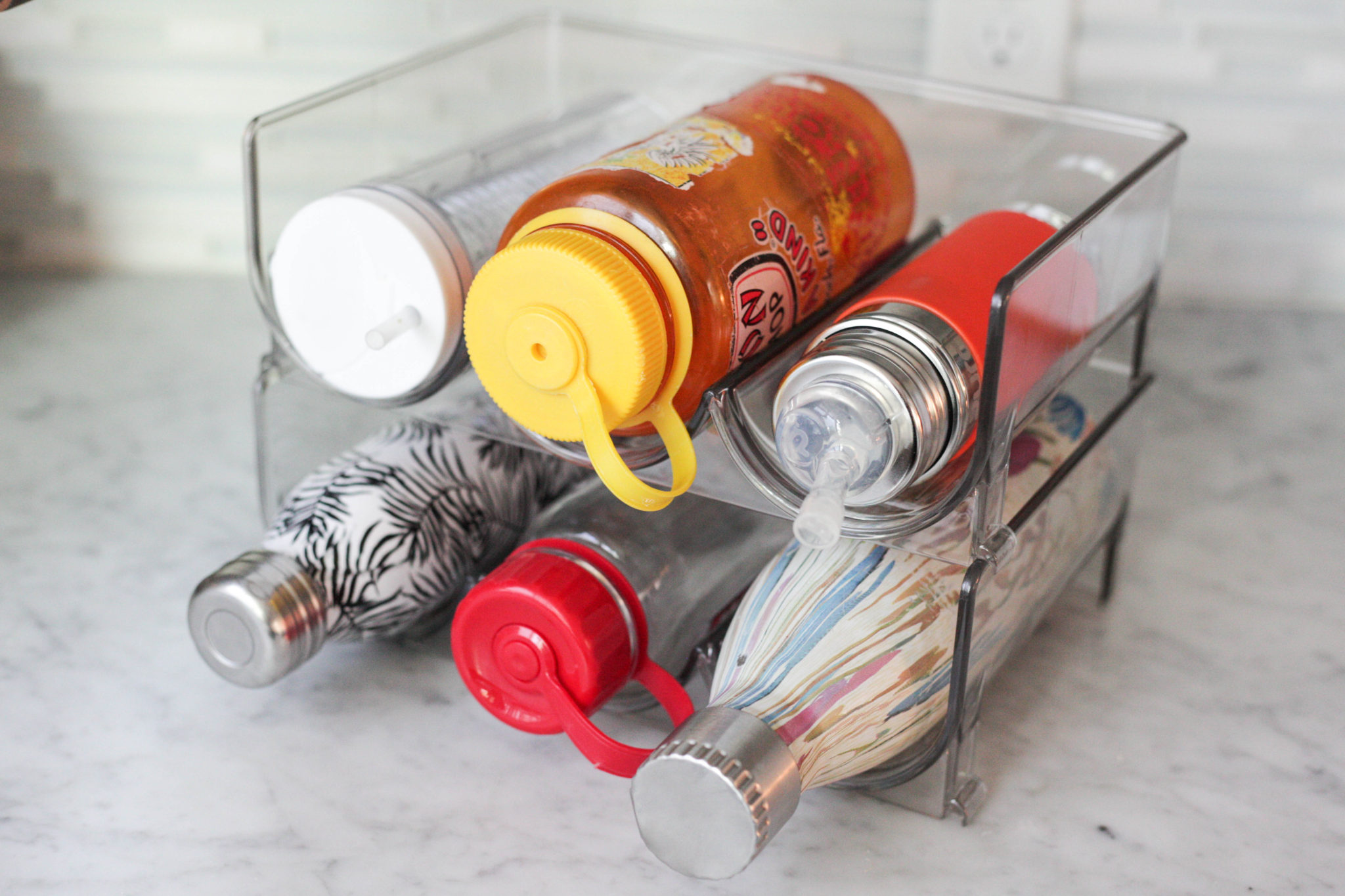 I love that they're laying down since a couple of ours were too tall for this space anyhow and now I'm not dealing with multiple water bottles falling out of the cupboard when I open it up!
Find options at Bed, Bath and Beyond and Amazon here.
2. Kitchen Drawer Organizers
Expandable Drawer Organizer for Utensils
Designed with 6-8 compartments, the silverware organizer can save space while accommodating multiple items, which is expandable from 13 inches to 19.6 inches wide with smooth sliding.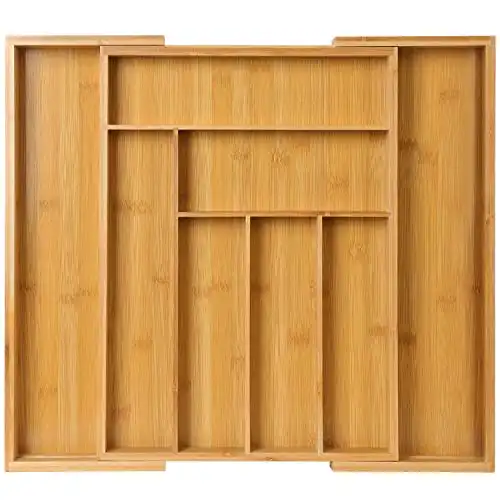 We earn a commission if you make a purchase, at no additional cost to you.
This seems like a no brainer, but I went about 2 years without kitchen drawer organizers when we moved into this house!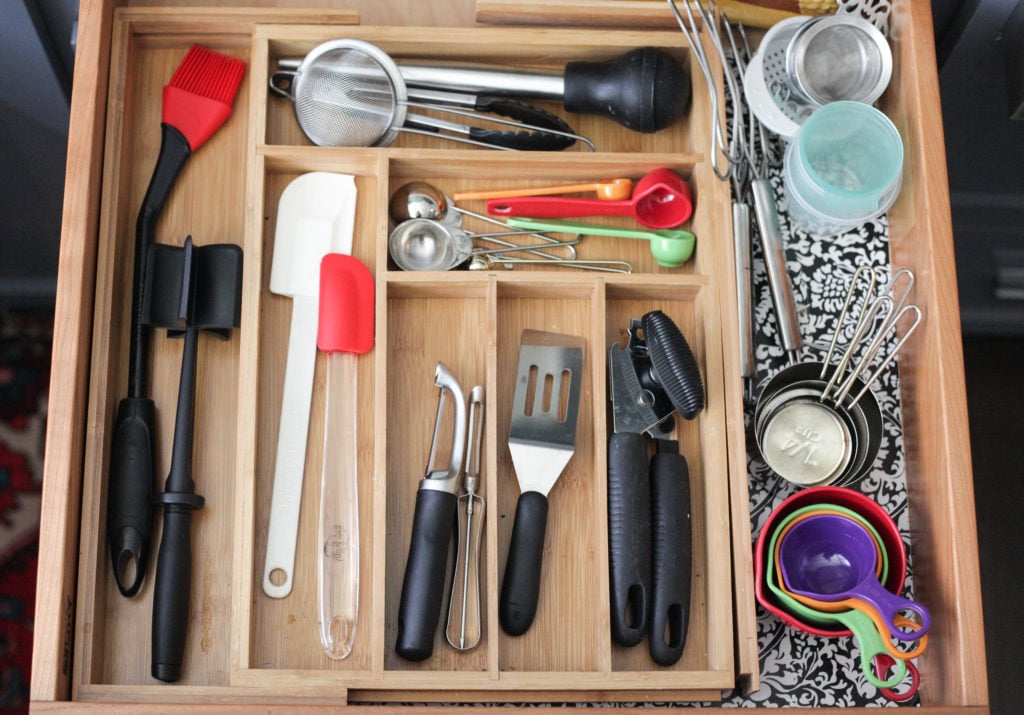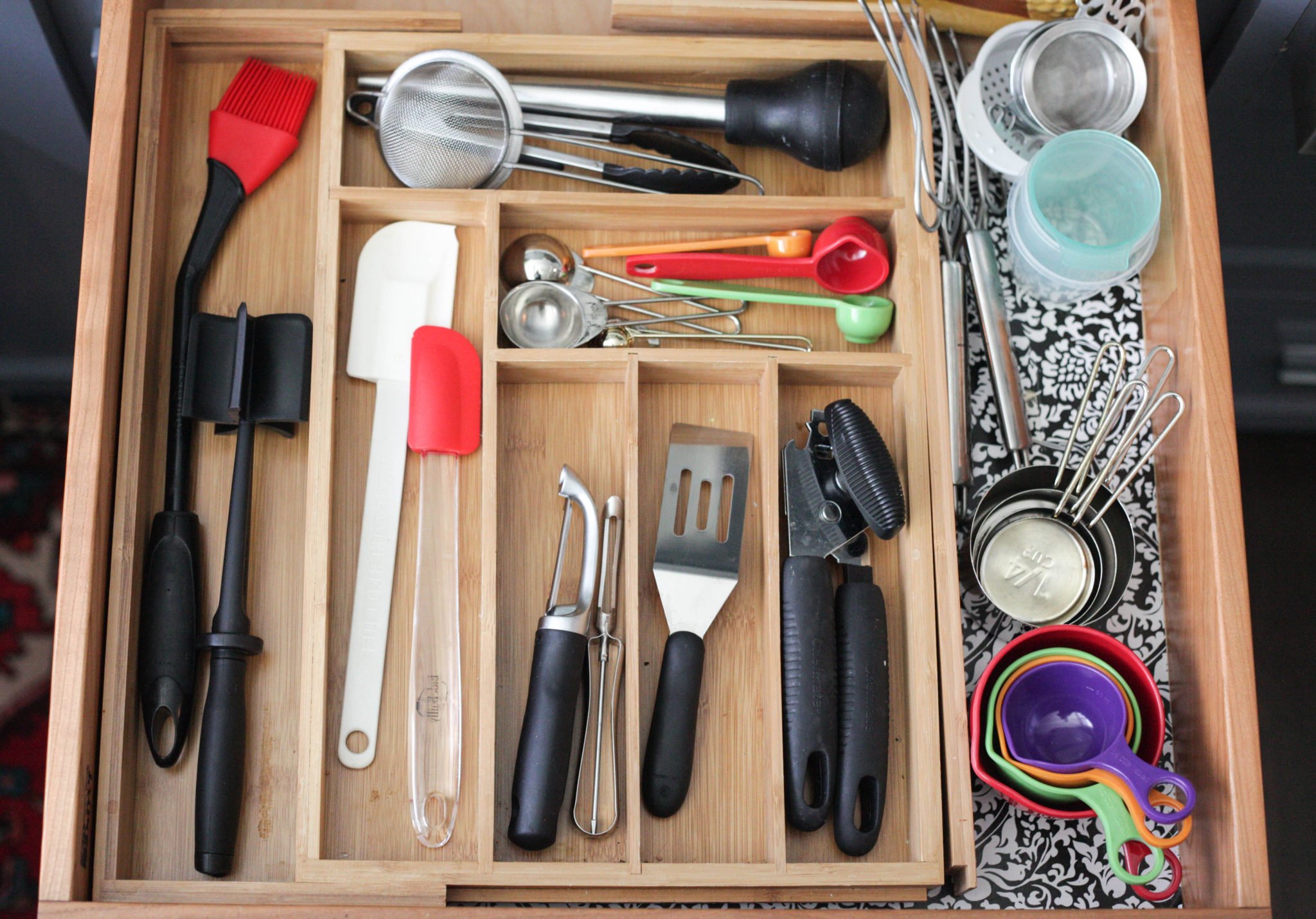 It's easy to remember to use drawer organizers for your silverware, but it's useful for so many other things!
My OCD sometimes kicks in when I can't fit like items with like items in these but even that's way better than one drawer full of a ton of kitchen gadgets all together with zero organization.
Find options at Target, Amazon, and Bed Bath and Beyond.
3. Food Organization
I have a ton of tips over on this post, but decanting items and using clear containers is key for helping me know what I have and what I need!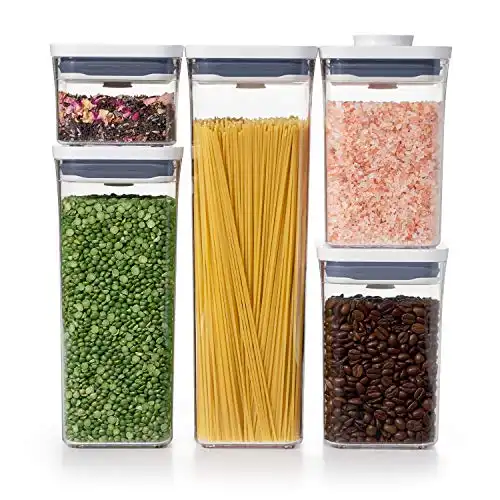 We earn a commission if you make a purchase, at no additional cost to you.
When I decant things into these containers like noodles, I will use a white board marker to write (right on the container!) what the noodle is and how long to cook it.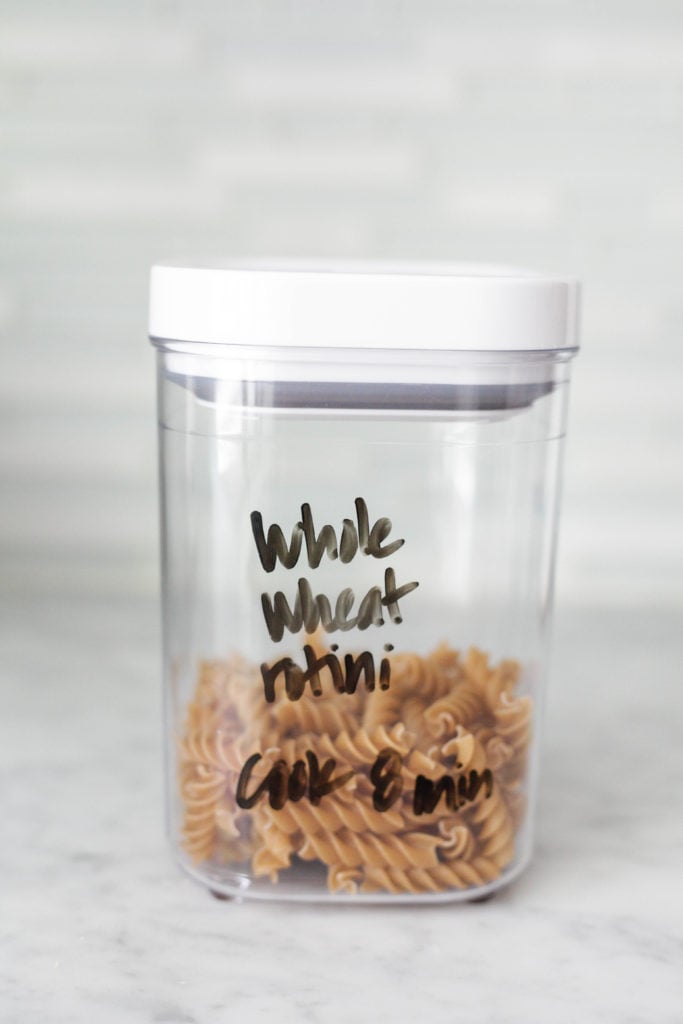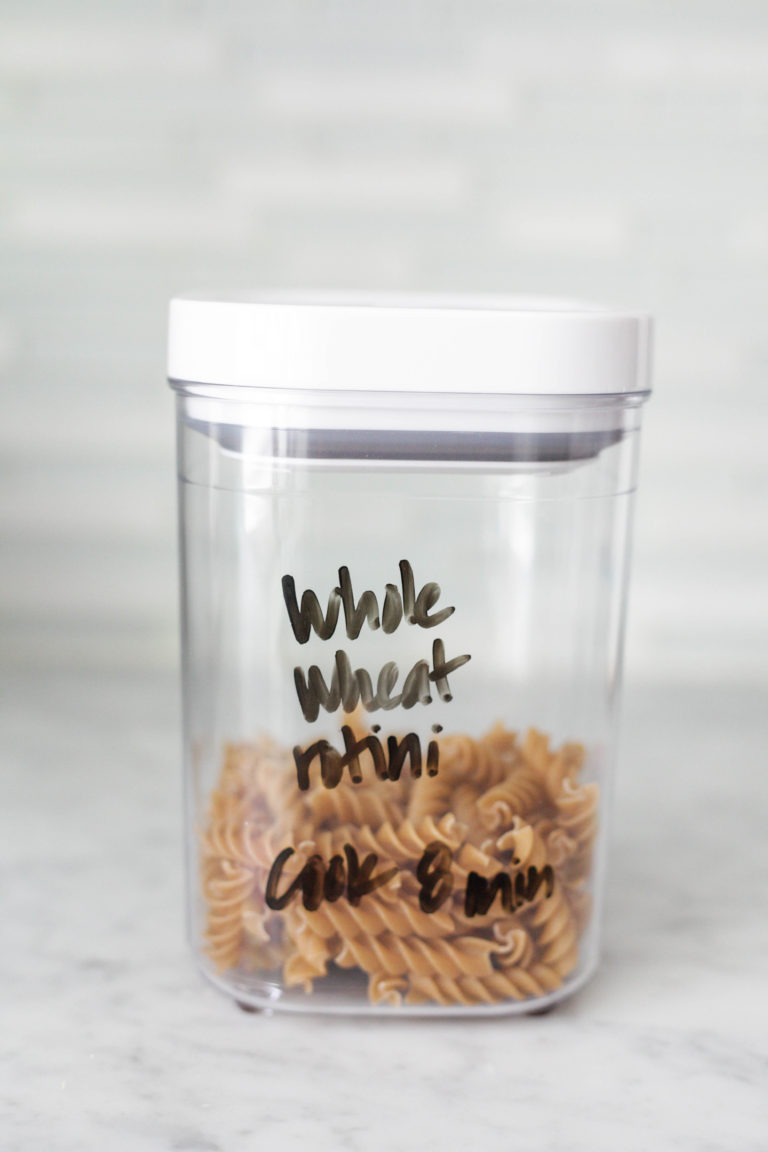 I realized after decanting all of our noodles and rice for the first time that I couldn't ever remember what exactly was in there or how to cook it! White board marker to the rescue! It definitely helps keep things easy!
I put pouches and kid-approved snacks in clear bins in arms reach. That way the kids can easily get what they want.
To be honest, this sounded risky at first but now I love it! It helps eliminate a lot of whining when I can't figure out what Penelope wants and Roy can pick out what cereal he wants in the morning or what pouch he wants to eat! They currently can't open pouches so I don't worry about a mess being made if they open up a pouch full of berries or something.
Find options on Amazon (closed containers here and here, other containers here).
4. Earring Storage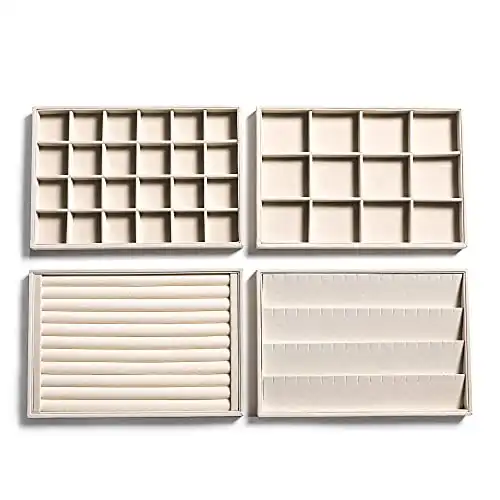 We earn a commission if you make a purchase, at no additional cost to you.
I got these trays and put them together to create this drawer organization. I use the bigger spaces for my giant tassel earrings and the smaller spots for studs and smaller earrings.
It's so much easier for me to just open up the drawer and see all of my earrings out and organized (mostly) by color to find what I want! It's way better than rummaging through a box or unorganized drawer!
*Check out other jewelry storage ideas here!
5. Necklace Storage
Having your necklaces hang rather than in a drawer (even one like my earrings) keeps them from getting tangled up so you can easily grab the one you want to wear and get on your merry way!
Find options at Anthropologie, The Container Store, Amazon (here and here).
6. Hair Product Storage
I have a whole blog post on this but lazy susans are my absolute favorite way to organize my hair products!
Lazy Susan - 2 Pack
9" diameter x 3 1/2" height

Equipped with stainless steel ball bearings in the bottom, this storage bin can smoothly rotate 360°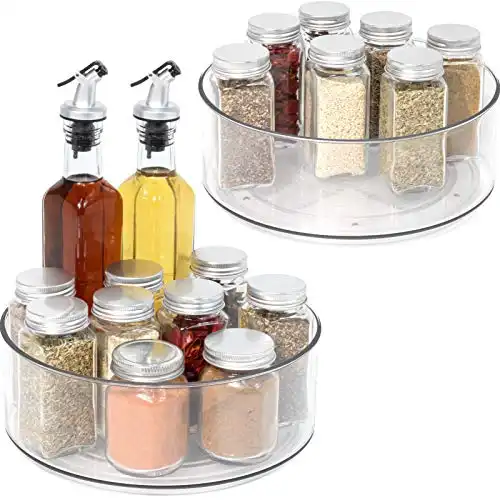 We earn a commission if you make a purchase, at no additional cost to you.
My favorite thing about using lazy susans is that I can easily see all of my products! One never falls into a black hole where I forget about it. I have mine organized by wet hair and dry hair so I just need to look in one spot when adding product to my wet hair.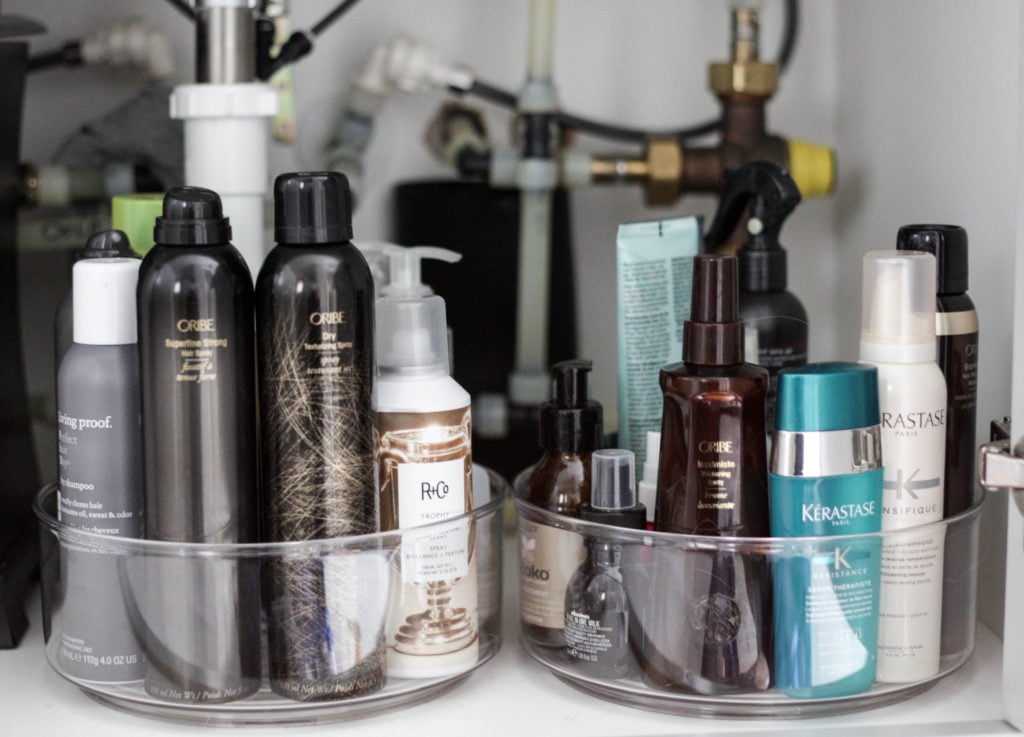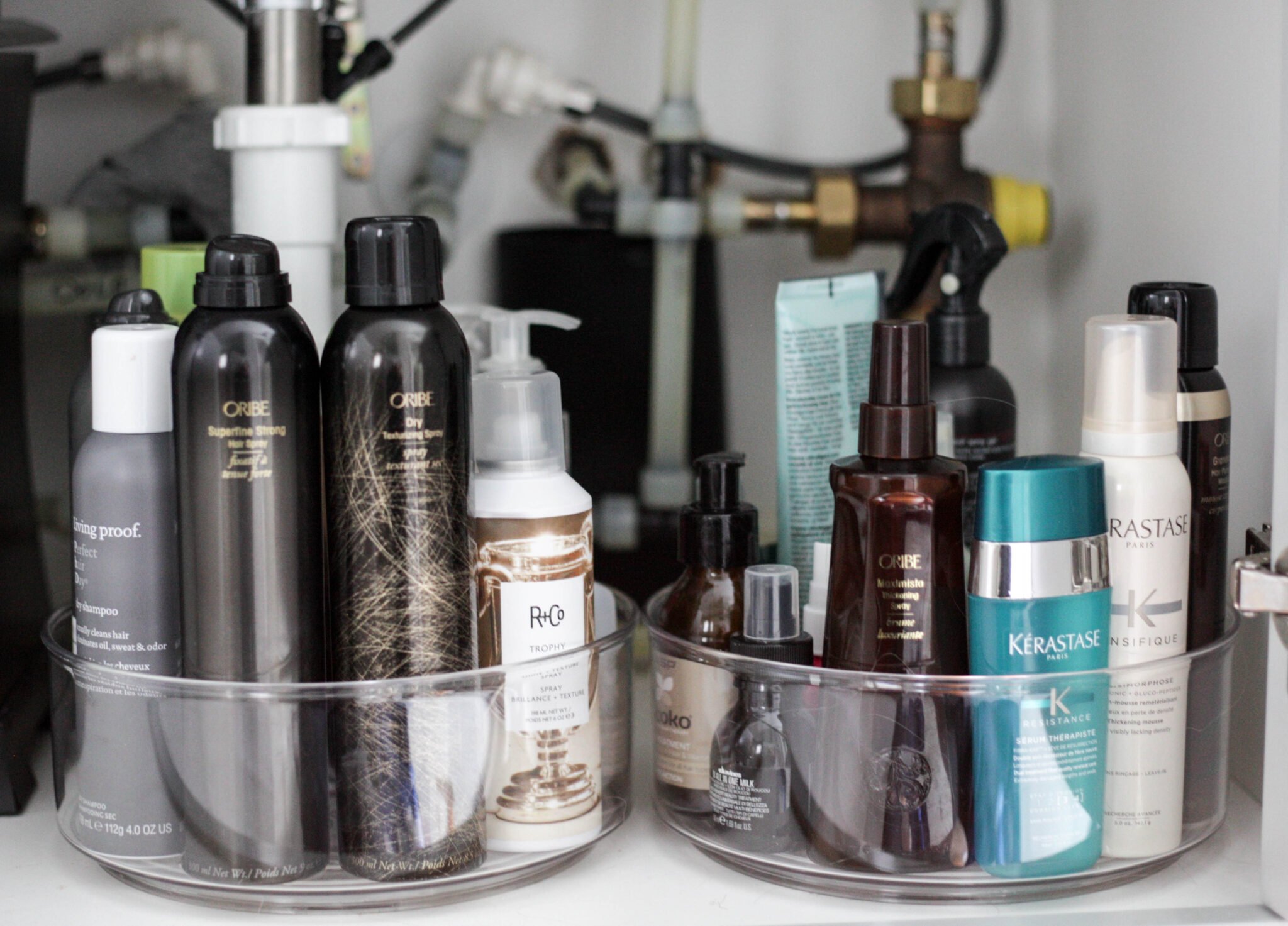 For the record, lazy susans are amazing just about anywhere. We use them for oils in the kitchen, vitamins in the pantry, miscellaneous coffee items in one of our large cupboards, and more! Buy this double pack and start your obsession. 😉
7. Makeup Storage
Again, I have another blog post on this but keeping your makeup organized makes getting ready so much easier!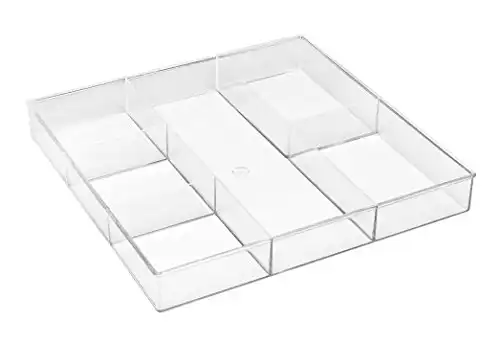 We earn a commission if you make a purchase, at no additional cost to you.
I keep like items together (foundation + concealer, all of my eyeshadow, etc.), so I know exactly where to look when I'm applying my makeup.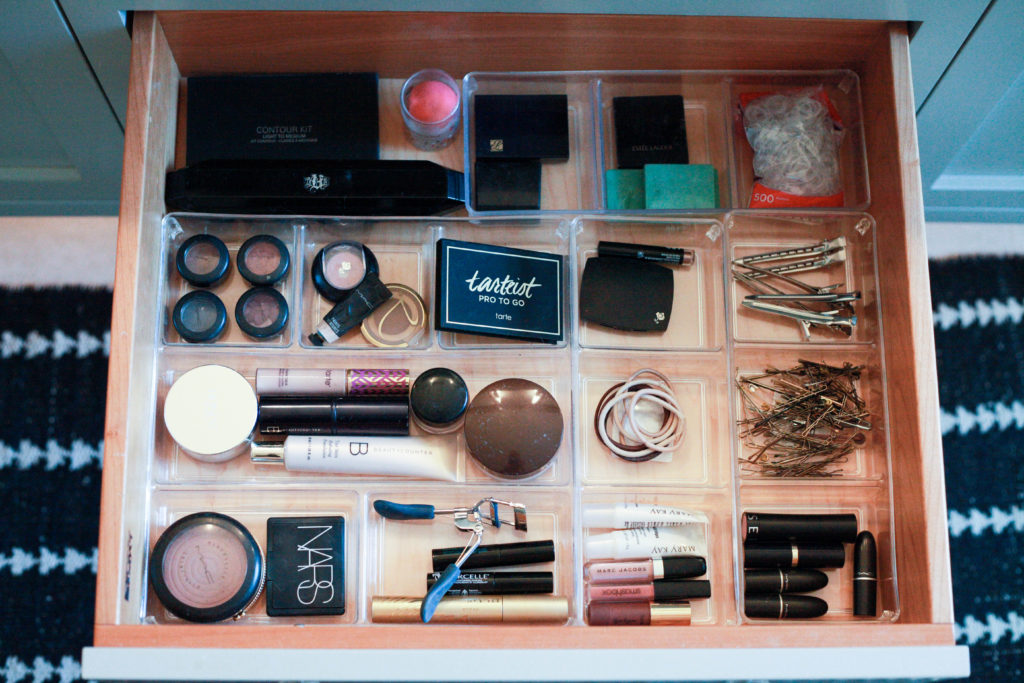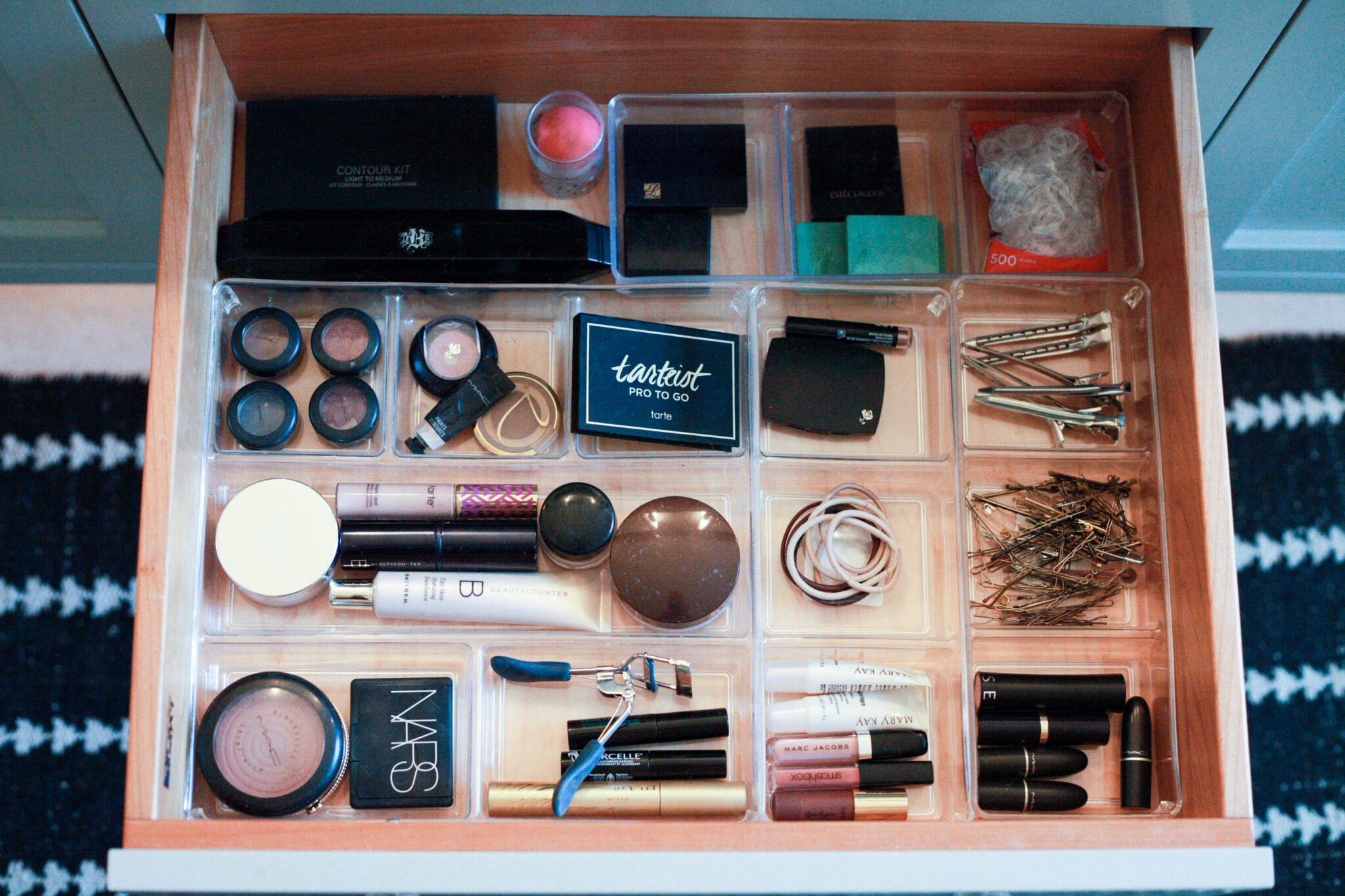 I have even more home organization hacks up my sleeve — head to this 30 day declutter and organization challenge!
As always, thanks for reading and be sure to pin this to Pinterest to share the wealth with others!
Want more organization tips? Check out one of these!
Kitchen
Closet
Bathroom + Linen Closet 
Living Room, Storage Room + Garage
Kids
Misc 
If you want to do a 30 day declutter challenge, get a free guide here!