One thing you can never find enough of is closet space. I have spent years attempting to find the perfect way to consolidate my wardrobe and items into my closet.
The hardest items to organize and keep straight are always the jewelry in my collection, especially storing my necklaces.
When it comes to organizing your jewelry, especially you necklaces, there's lots to keep in mind. Most of us aren't lucky enough to have a custom closet but that doesn't mean that you can't easily organize your necklaces and jewelry!
There's lots of different ways to store your jewelry from your closet door to jewelry drawer organizers to the walls of your closet to the top of your dresser! We're going to share some of the best jewelry organizers for your own space.
Considerations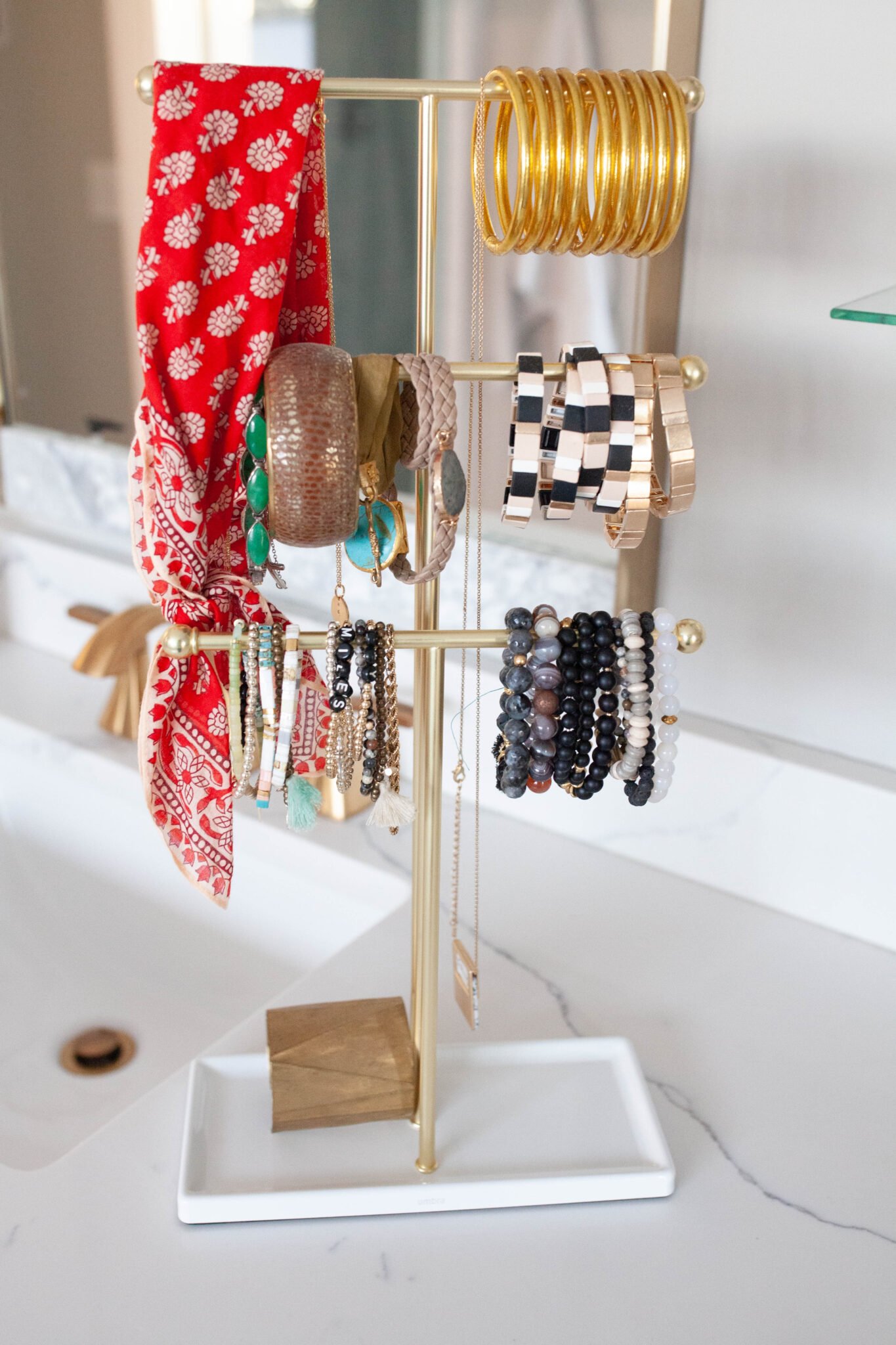 Hanging or drawers/boxes
There are two typical styles of jewelry storage to choose from: hanging jewelry organizer or using a jewelry box. Both styles are great for displaying jewelry and ensuring necklaces don't get tangled, but your choice may depend on your space and personal habits.
I prefer to keep my jewelry in eyesight, that way I can see what pieces I have and use them more. If it is out of sight, it truly is out of mind, which is why I often prefer to hang my necklaces. A hanging storage option can also become a staple decor piece in your closet.
Choosing a jewelry box or drawer for storage can sometimes take up too much space on your closet shelf or dresser, but it is perfect for those with a lot of jewelry, especially costume jewelry, to store.
My favorite jewelry boxes have a clear top to keep your necklaces in eyesight, and they keep each necklace separated, which helps keep your necklaces from tangling. A jewelry box is often best for expensive or sentimental pieces, for a little extra protection.
Your Closet Space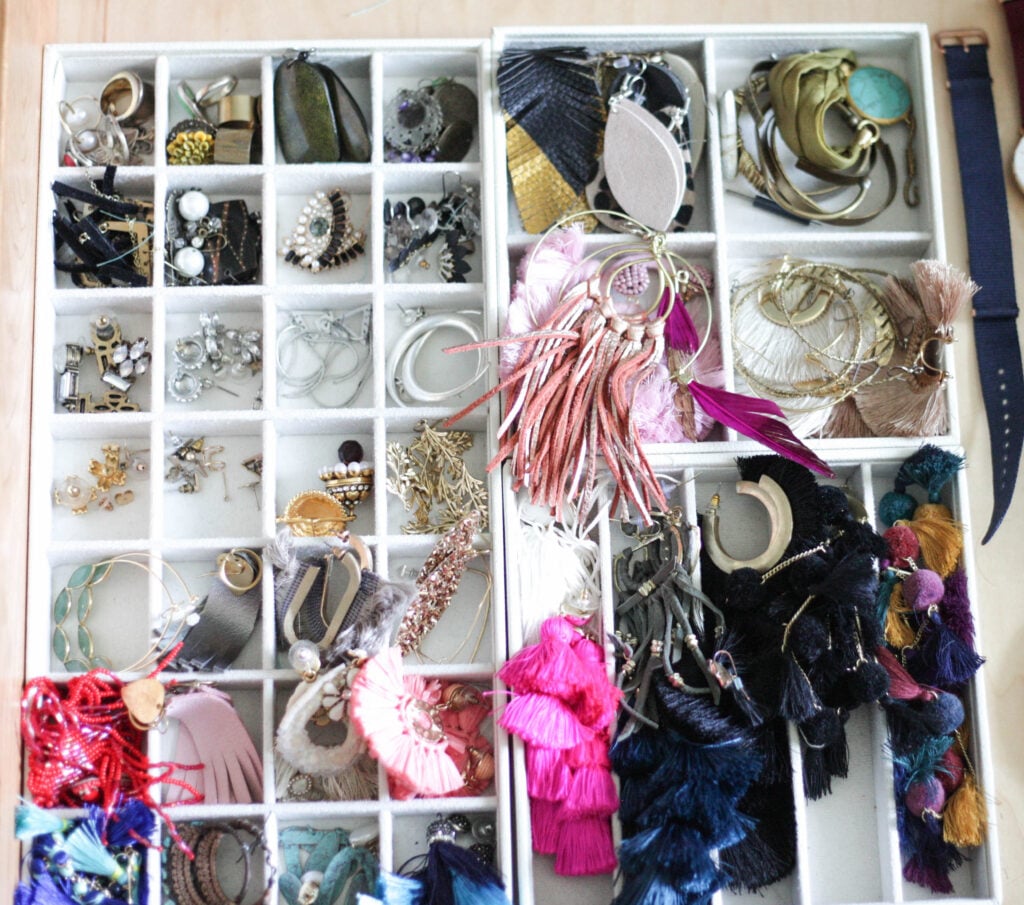 Everyone has a difference closet space and layout. Personally, my closet isn't giant but it's not tiny. I use my dresser to make more space. Deciding on jewelry storage can often depend on what you have to work with and your own spaces.
If you have more dresser space or shelf space, choosing a jewelry cabinet, jewelry tray or drawer might be perfect for you. I have also taken my dresser drawers and devoted them to jewelry boxes in the past. These options are great if you have space, but not everyone does.
Hanging your necklaces is an easy way to store jewelry if you don't have a lot of drawer and shelf space. There are gorgeous options for hanging your jewelry, that add a delicacy and beauty to your closet.
Budget
Looking at your budget should always be the first step when finding the item right for you. Between Etsy, Amazon, and other retailers, there will always be an organization piece in your budget. You can even just use small hooks for your necklaces if purchasing something isn't an option.
           Lucky for you, I have spent a long while looking for necklace storage options of all kinds to meet your needs, closet space, and budget. Let's take a look and find the perfect solution for your necklaces.
15 Jewelry Storage Ideas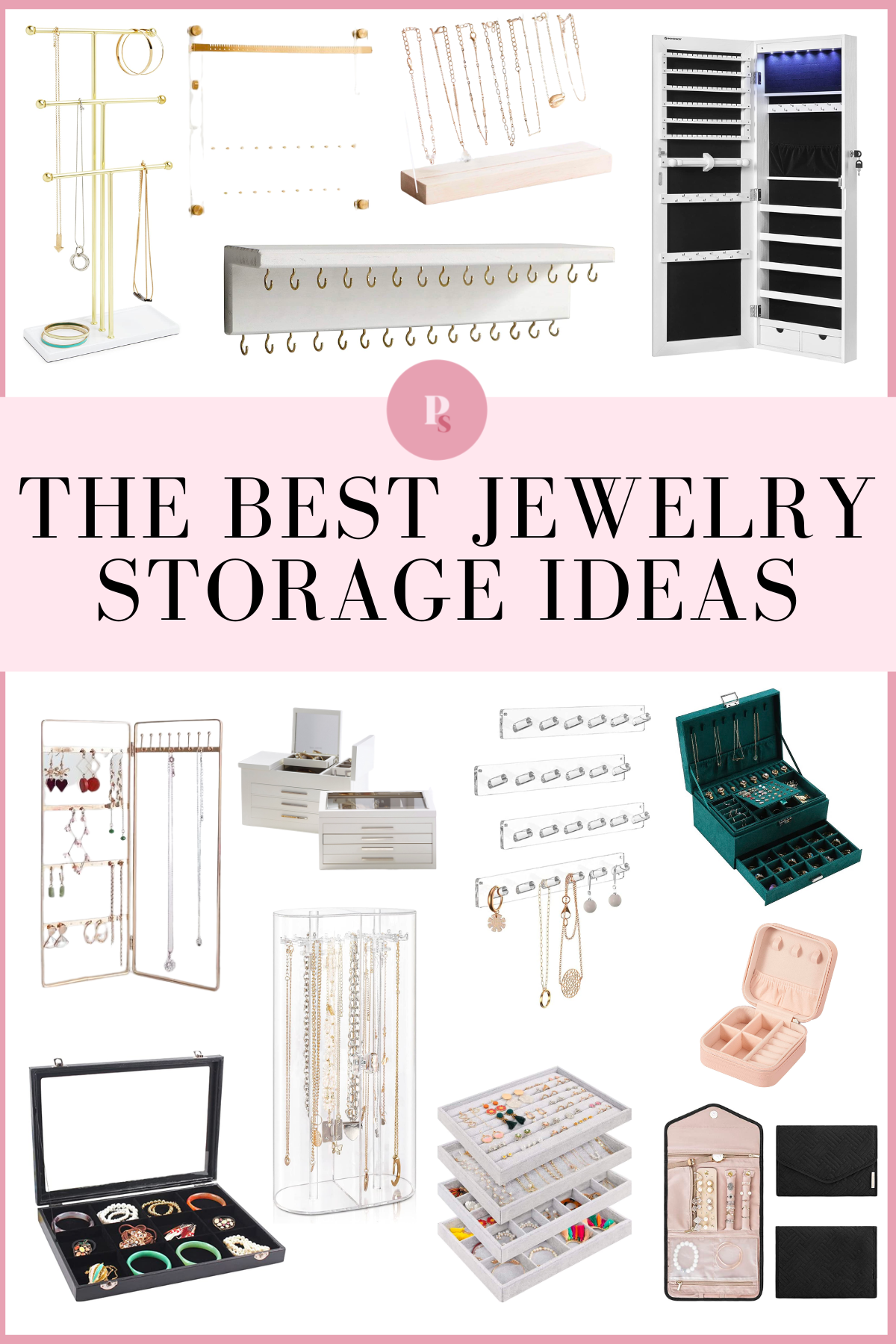 This post contains affiliate links.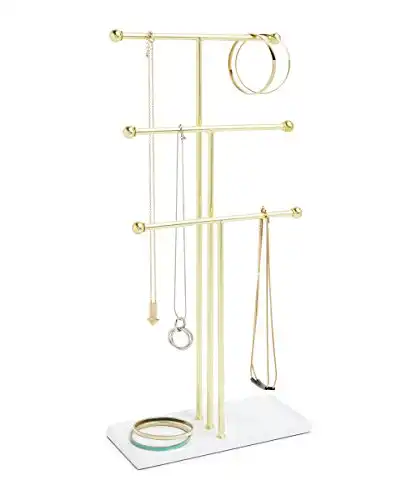 We earn a commission if you make a purchase, at no additional cost to you.
This is the exact jewelry stand that I use on top of my dresser! I use it mainly for all of my bracelets on the pegs and rings on the base.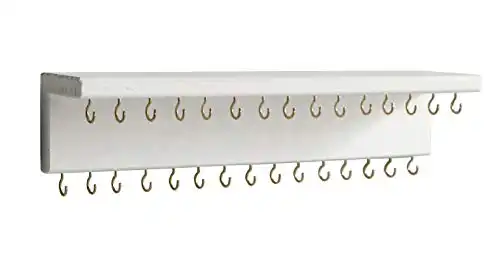 We earn a commission if you make a purchase, at no additional cost to you.
Another jewelry storage idea that I personally use is this one! I absolutely love it because I've found that it's the easiest way to hang all of my long necklaces and chunky necklaces in one spot.
This jewelry holder helps not only the best way to keep necklaces accessible but also keeps them untangled!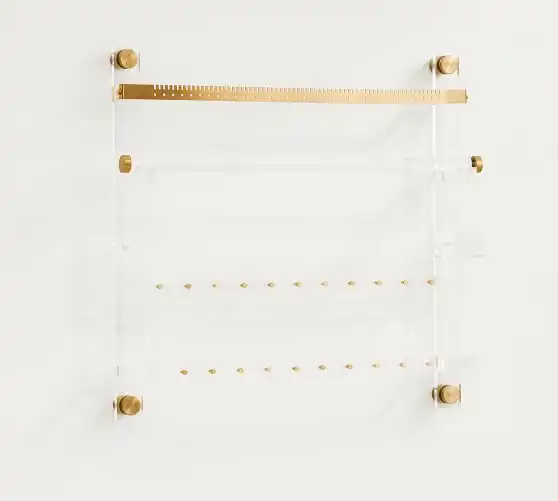 We earn a commission if you make a purchase, at no additional cost to you.
This stunning wall hanger allows you to hang all of your jewelry together in one spot! There's ample space for necklaces, bracelets, and earrings. These acrylic organizers is simple yet elegant.
Romane Necklace Holder Wood and Clear Acrylic Plank
Clean and minimal lines come together in a modern expression. The wooden base together with the acrylic panel ensure a look that will lift your jewelry up in a store or jewelry shop.
100% Made in France
By purchasing this product, you support a french small business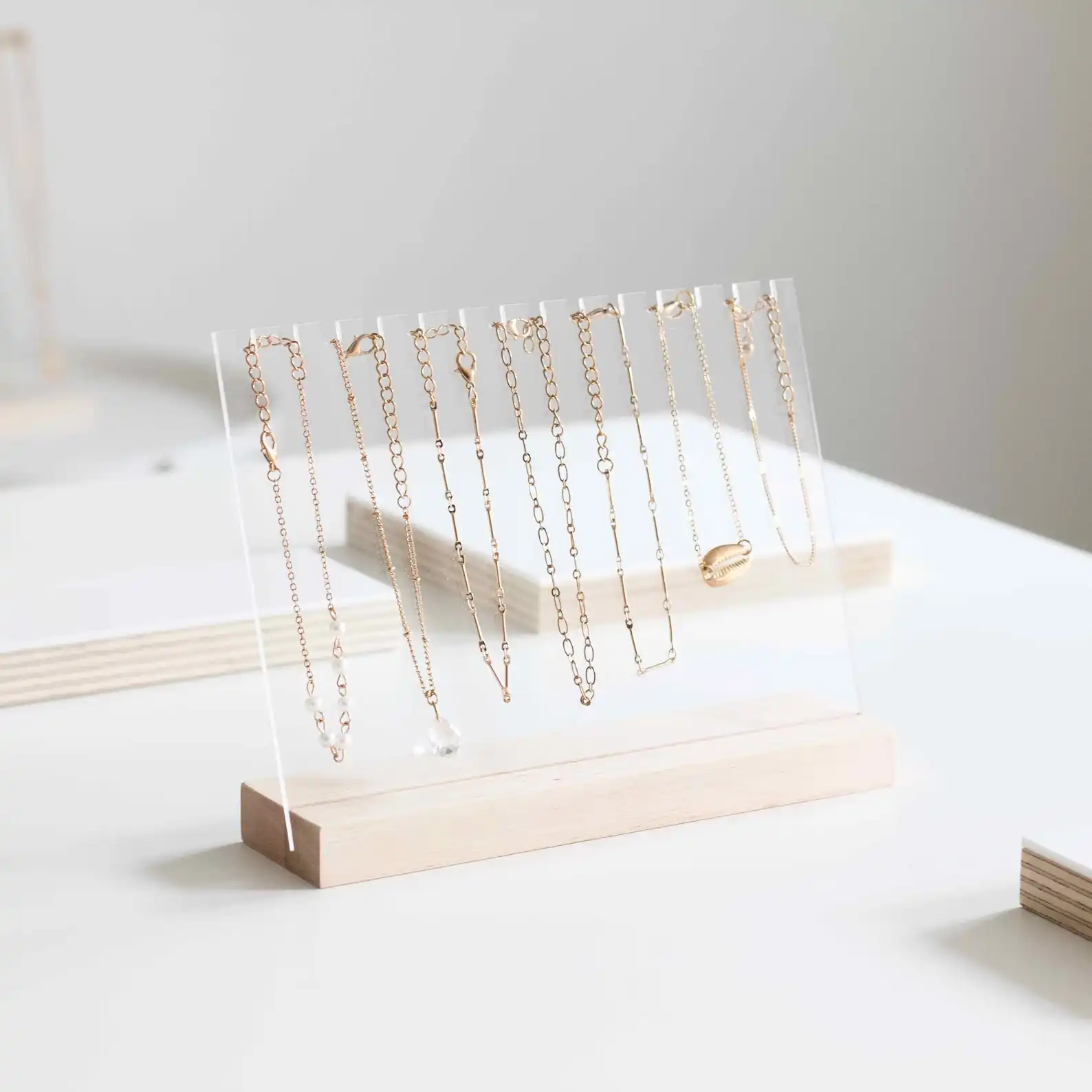 We earn a commission if you make a purchase, at no additional cost to you.
Another simple yet beautiful way to display necklaces is this wood and acrylic stand from Etsy! It's made in France and comes in a variety of colors.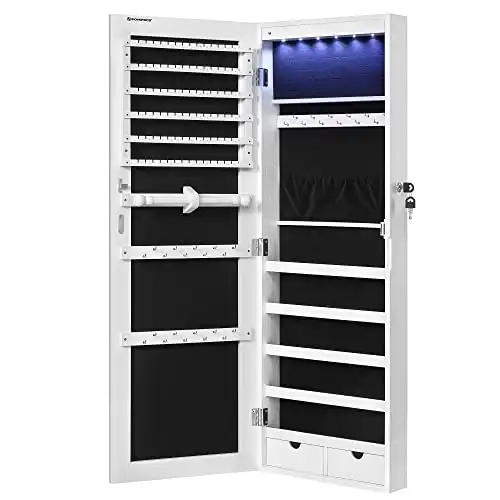 We earn a commission if you make a purchase, at no additional cost to you.
My sister owns this jewelry armoire for her daughters and it is amazing! Not only does it store all of their jewelry but it it's also a full length mirror. If you have the spot for this, it's a great organizer!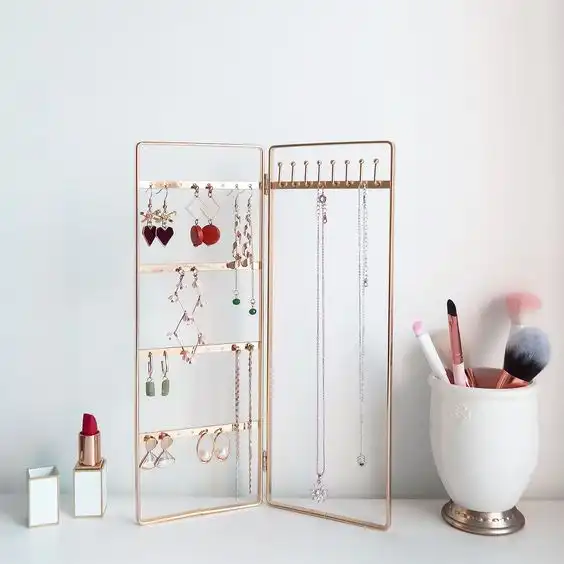 We earn a commission if you make a purchase, at no additional cost to you.
This foldable jewelry stand is a great option if you want to have the option of putting it away when not in use! It's great for earrings and necklaces.
Stella Jewelry Boxes - Dutch White
Made of MDF.
MDF is an engineered wood that lends exceptional strength and ensures the product's structural integrity over time.
Large interior is lined with linen.
Ultimate interior is lined with velvet.
Hardware features a silver finish.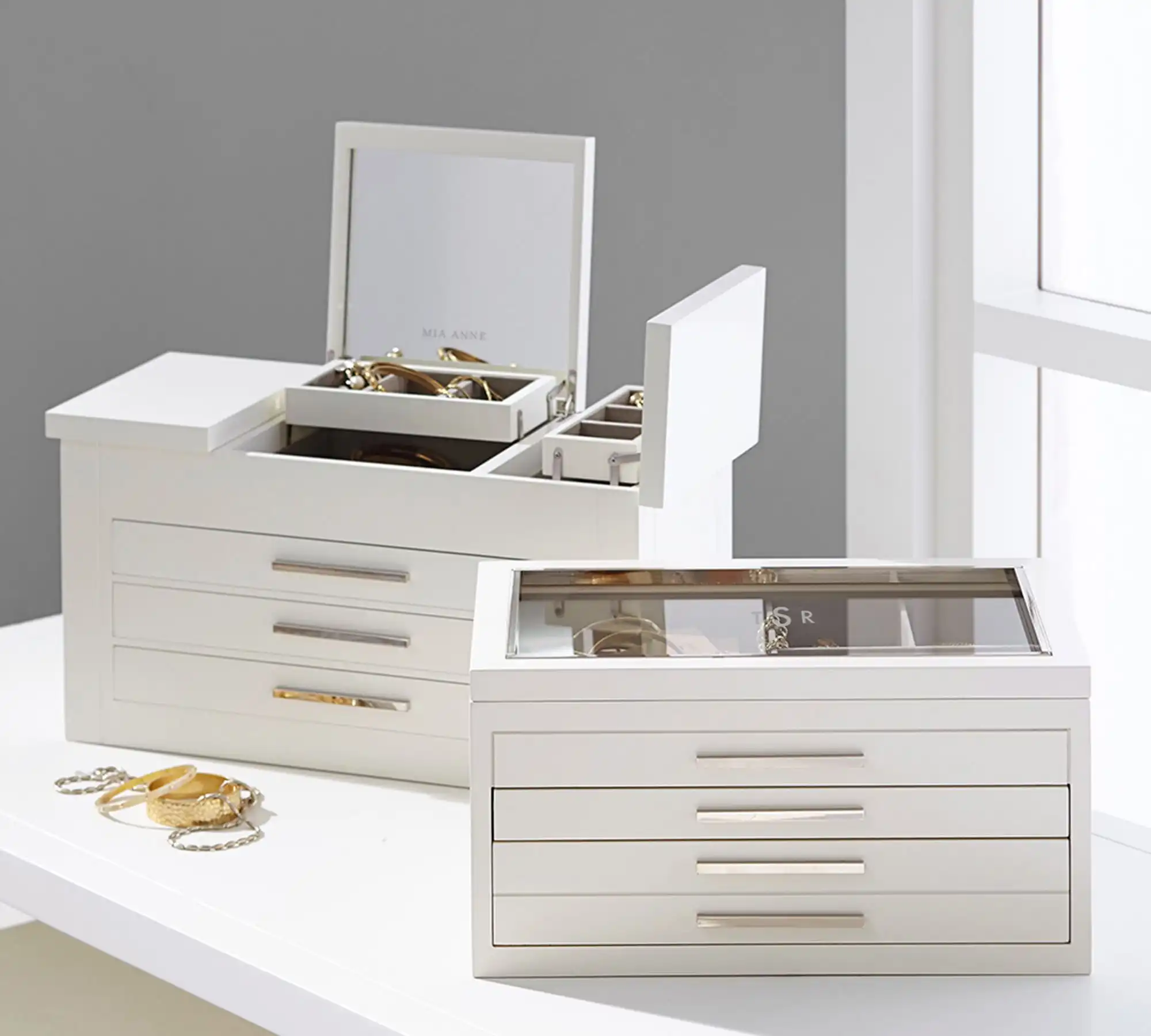 We earn a commission if you make a purchase, at no additional cost to you.
This beautiful jewelry box will make you jewelry feel extra elegant! The drawers slide out for easy storage and there's plenty of storage for all of your accessories!
This 3 tiered system organizer is perfect for the woman with a lot of jewelry! It's full of great compartments to keep jewelry safe and can easily be stored away without anything getting tangled or messed up!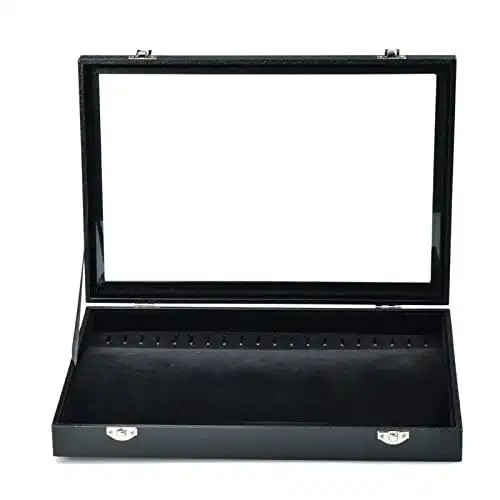 We earn a commission if you make a purchase, at no additional cost to you.
This jewelry storage comes in a variety of options for necklaces, rings and more. You can mix and match and stack them up safely together!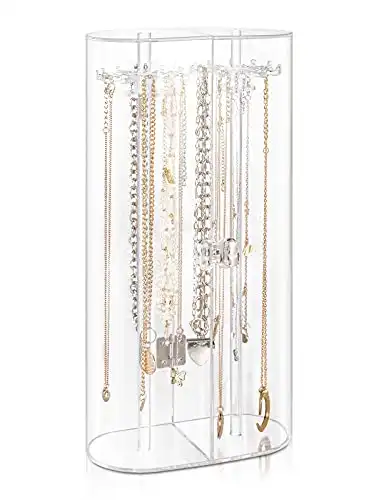 We earn a commission if you make a purchase, at no additional cost to you.
Do you like to see your necklaces? This acrylic necklace holder is a unique way to keep your necklaces safe but also is in a way you can see them!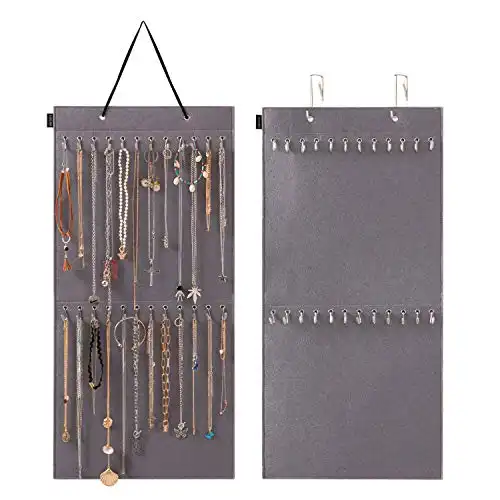 We earn a commission if you make a purchase, at no additional cost to you.
This organizer is a great way to store your necklaces in small spaces! Utilize the back of your door or your wall with this one! Easily hang 24 necklaces tangle free with this organizer!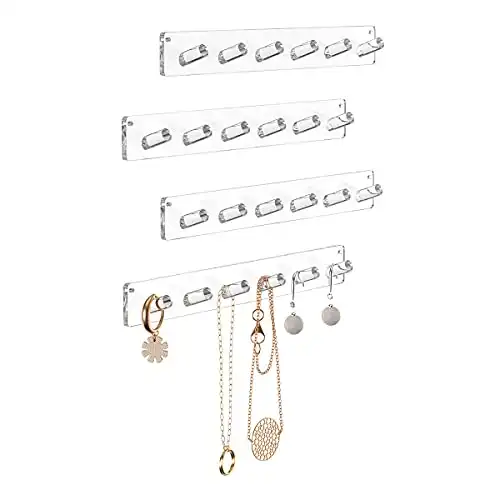 We earn a commission if you make a purchase, at no additional cost to you.
Another beautiful way to utilize your wall space is these acrylic knobs! It comes in a pack of 4 so you'll have ample storage for your necklaces and bracelets.
These decorative hooks are your best bet when hanging longer necklaces!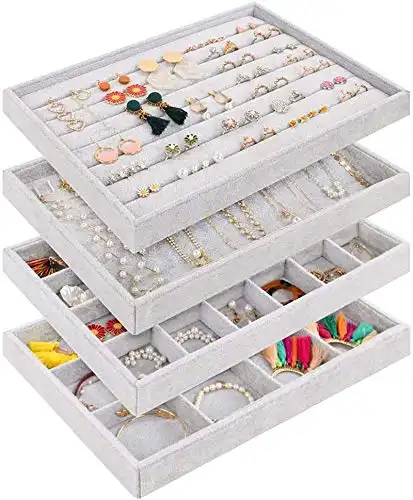 We earn a commission if you make a purchase, at no additional cost to you.
If you use your drawers, even shallow drawers, for your jewelry storage, this is a much needed way to keep things organized! I use these in my own drawers for all of my earrings and it makes a world of difference! They come in different sizes so you can hold everything from stud earrings to statement necklaces.
Travel Jewelry Organizer Roll Foldable Jewelry Case for Rings, Necklaces, Bracelets, Earrings
The foldable jewelry organizer is made from quilted cotton with stitching pattern, making it durable for many years to come
5 Compartments : Buckle band for rings + earrings panel + necklace buckled strap + interlayer visible zip pouch, and long zip pocket
Tangle-free Storage: Keeps your earrings, rings, diamond, necklaces, bracelets, brooches, hairpin, and watch and more neatly organized, preventing them from getting tangled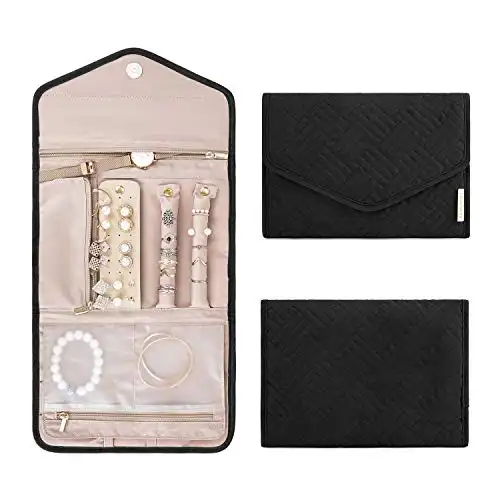 We earn a commission if you make a purchase, at no additional cost to you.
If you travel a lot you need a great system for traveling with jewelry. This option keeps a ton of jewelry safe and secure without the risk of a tangled mess when you arrive at your destination.
PU Leather Small Jewelry Box, Travel Portable Jewelry Case
QUALITY Material - Made from high quality deluxe synthetic PU leather exterior, and high quality flannel interior
TRAVEL SIZE - Size 3.9*3.9*2inch/10*10*5cm, this jewelry organizer is portable and light weight,easy to carry in your handbags or in your luggage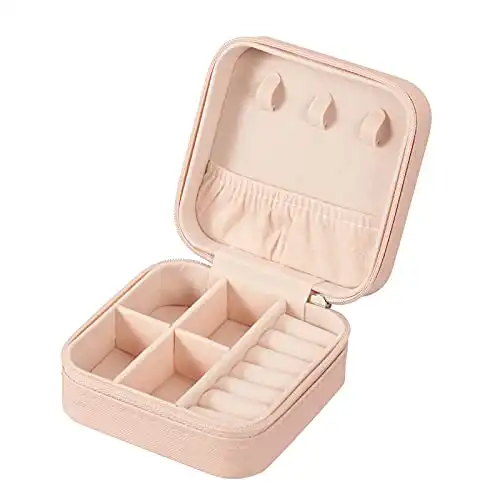 We earn a commission if you make a purchase, at no additional cost to you.
I own this one! If you need to travel with just a few pieces of jewelry or want something to take with you when you get ready at the gym after a workout, this is a wonderful option! It's small yet secure and a great pick for a few pieces of jewelry.
Other tips for storing jewelry
Jewelry storage is not just about looks. If you invest in a jewelry piece, it is best to ensure that that it stays beautiful and pristine, which includes proper storage. Always make sure to clean and dry your jewelry before storing it away to prevent any eroding or discoloration. Moisture can be detrimental to jewelry pieces, which is why I do not recommend storing jewelry in your bathroom. Try to keep the special bag or pouch your jewelry comes in, as it adds an extra layer of protection to the piece when stored away.
Untangling necklaces can quickly get frustrating, and can ruin the chain of the necklace. This is something to keep in mind when storing your jewelry. Be sure to find a storage option that keeps your necklaces safe from tangling. When using a necklace holder, having an individual hook or peg for each necklace can be very helpful. If using the pouch or bag the jewelry came in, do not forget to leave the fastened clasp outside of the bag to avoid tangling.
When storing jewelry, make sure to keep it somewhere you can see it, that way it is sure to get used. For your everyday pieces, store them in the open, and make this storage a beauty to look at. Your fun pieces that add character to an outfit should also be stored where you can see it, so you don't forget that it is there. Keeping jewelry in eyesight means you will tend to use the items more often. When jewelry storage can be so beautiful, why not?
FAQ
Can you store jewelry in plastic bags?
           In a pickle, I have been known to put jewelry in a plastic bag for travel. Now, the thought of that makes me cringe.
Moisture is detrimental to jewelry, and a plastic bag is the perfect place to trap moisture. Not to mention throwing your jewelry in a plastic bag is simply begging for every piece to get tangled together.
A plastic bag can work when you need it to, just make sure to take good care of each piece before they are stored.
Can you store gold and silver together?
           A question everyone always asks, can you store gold and silver together? The answer is yes. These two metals can be stored together and are both not active metals, meaning they will not negatively react to each other. The only catch to storing these two is the physical damage, as gold is very soft and malleable. You may store these two together, just make sure to care for each piece of jewelry in storage.
How do you store expensive jewelry?
           Expensive jewelry is a treasure to keep in your collection, however, how you store your jewelry is important to making sure it retains it's beauty over time. Make sure you store your expensive pieces out of direct sunlight and in room temperature. Like I said before, moisture is the enemy when it comes to keeping your jewelry pristine.
           Storing expensive jewelry, means you most likely do not want it displayed to keep it safe. This is where a jewelry box or drawer is your best option to tuck away your prized pieces. A jewelry box or drawer will also help keep each piece separated to make sure no damage or reactions occur. Try to keep any gems away in separate slots, so the gems do not damage any other jewels.
           Jewelry is my favorite way to elevate a look or style, but it is important to keep great care of all of your pieces. Longevity is the goal, so you can rock that beautiful gold piece for as long as your can.
Here's some other posts you may love!