Soon to be mom? Are you starting to get baby gifts from showers, (soon to be) grandparents and loving friends? Is it starting to pile up in your nursery and you're feeling overwhelmed with what to do with it all?
Or maybe you're well into motherhood but can't figure out a good system for your baby's closet. You can drive yourself crazy trying to figure out how to organize baby clothes and all their stuff!
We all know that babies need a lot of stuff. They go through about 40 diapers a day, 2 outfits an hour and need everything but the kitchen sink when heading out of the house.
Ok, maybe it's not that bad but even being the most minimalist type of person, the fact of the matter still remains: babies require more than adults and all of that stuff can be overwhelming!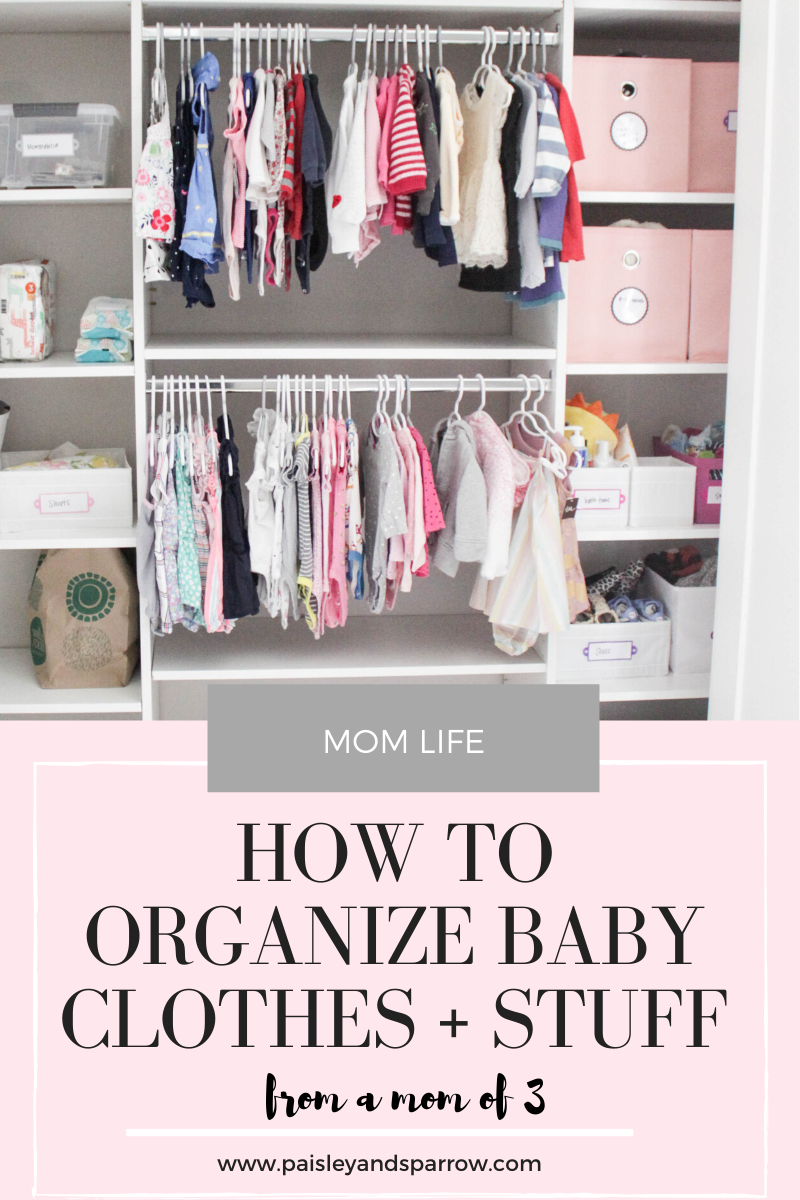 Paisley + Sparrow is a participant in the Amazon Services LLC Associates Program. This post may include affiliate links which means I may earn a small commission if you shop using the links below at no additional cost to you. 
How to Organize Baby Clothes (+ Stuff)
Because I'm a little obsessed with organizing (which you might know from my 30 Day Declutter Challenge), I knew I was going to figure out how to organize baby clothes and all their stuff before our baby's arrived.
At times they're growing out of clothes every month so being able to stay organized is key to staying sane!
I shared a super quick video of Penelope's closet on IG stories and so many of you had questions about it so I thought I'd share some more info.
Here's all the details!
Closet Organizer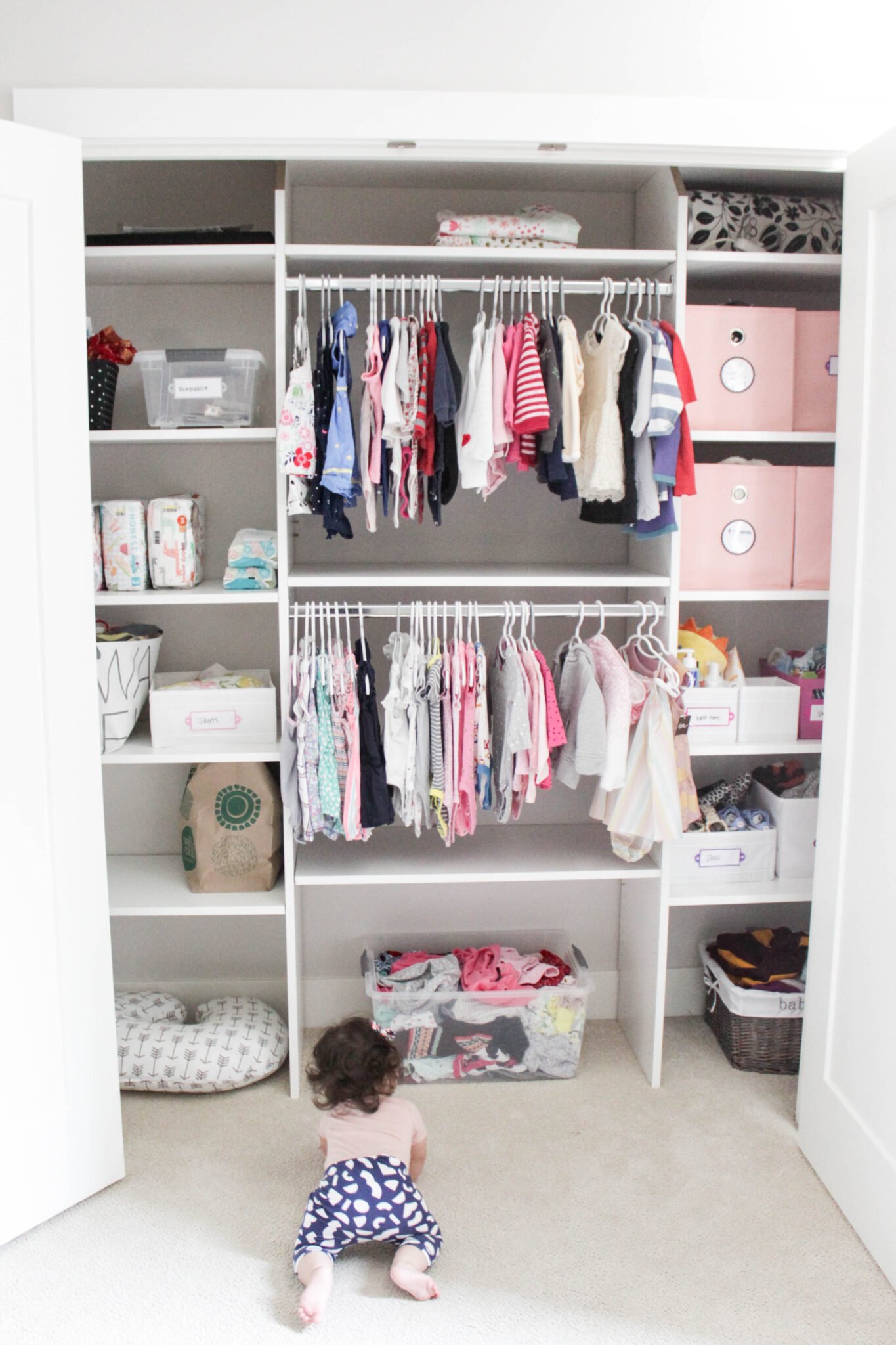 First up, my brother and Rishi made the closet organizer. I have zero clue how they did it so don't ask. 😉
When they made Roy's, I was out registering for baby gifts with my sister-in-law. Then I was busy keeping Roy out of the way when they did one when I was pregnant with Penelope!
I highly recommend getting some sort of system installed or putting a small shelving unit in the closet to help you stay organized.
When we moved to our new home we ended up buying a closet organizer from Amazon that we love! Here's a link to it. If you're not super handy or don't want to start from scratch, this is a fantastic option!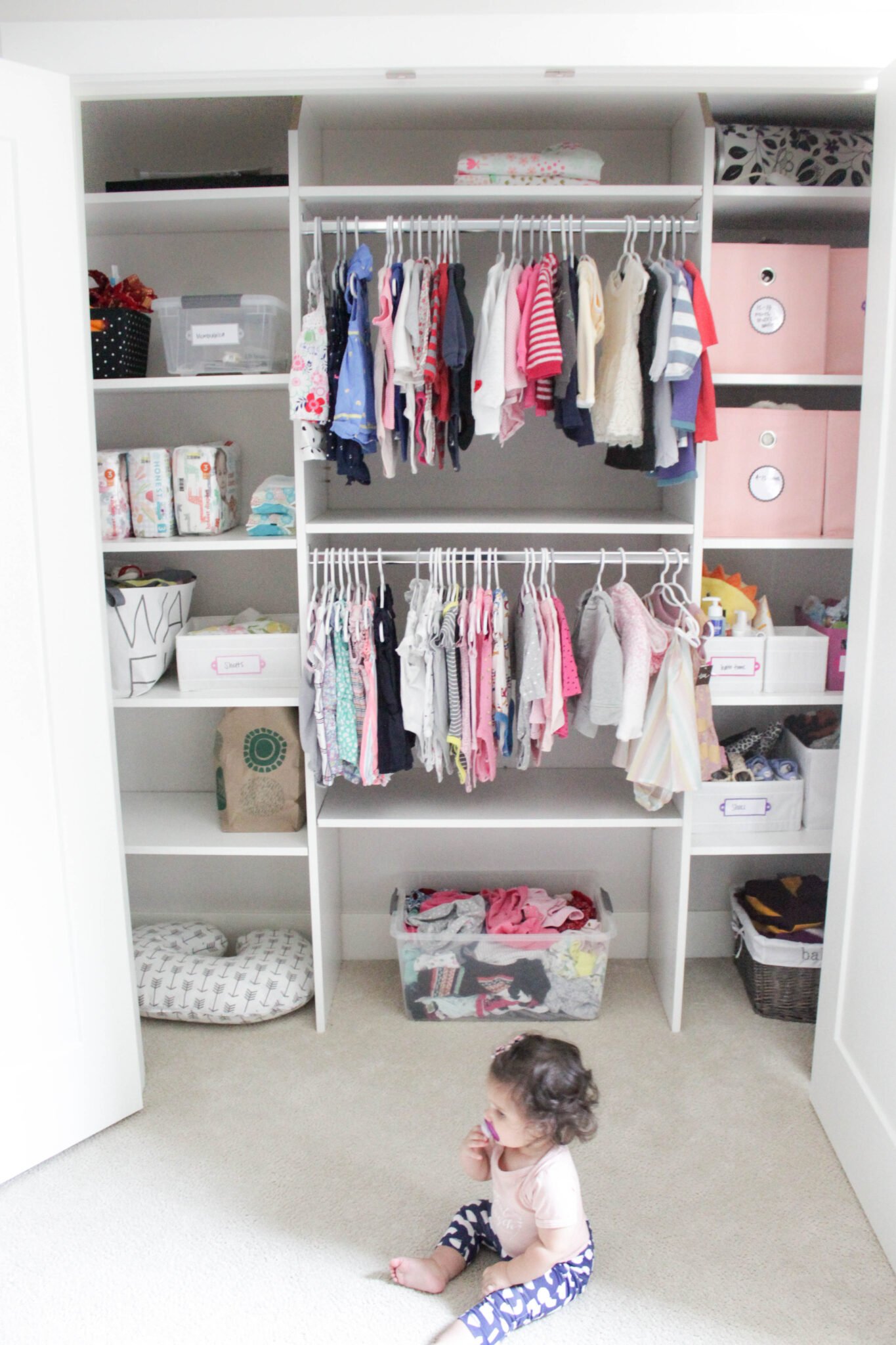 Hanging Clothes
I hang all of our kids tops and dresses. It can be annoying hanging all of those tiny articles of clothing but being able to quickly sift through what they have makes life so much easier.
I keep pants and pajamas in drawers, otherwise everything is hung up.
You can see in the photo below, that I separate them by rompers/jumpers, short sleeve onesies, long sleeve onesies, sweaters/sweatshirts and dresses.
You don't have to get quite as specific as that but it really helps me in looking through Penelope's clothes quickly to find something to put on her.
There are 2 racks. The bottom one is for the clothes that currently fit and the top is for the next size up.
I always pull out the next size of clothes because often times sizing is weird and something sized 3-6 actually fits more like 6-9 and something size 9-12 might fit more like 6-9! Kids clothes are annoying like that.
Tips if you don't have 2 racks:
Split the one rack into 2 sides. The left side is current size and the right size is too big. Use a divider (like these adorable floral one) to keep things organized.
Buy a small hanging rack (like this hanging rack) for the floor!
Get a hanging rack that hangs on the top bar. We have this in our older son's room to allow him to get the clothes he needs each day without needing our help!
Even if you don't have room to pull out all of the next size clothes, be sure to go through them and pull out anything that looks small. There's nothing worse than pulling out the cutest outfit only to realize it's too small!
Organizing Baby Clothes That Are Too Small
One thing that is MUST for a baby's closet is a bin for clothes they outgrow. Roy pretty much hasn't grown for 6 months but Penelope outgrows something pretty much every week.
I keep a plastic bin in the bottom of her closet. As I find things that no longer fit her, they go in the bin. Once the bin is full, I put a piece of paper facing out that says what sizes are in there and put it in our storage room. Easy, peasy!
(Side note, you'll see a brown grocery bag to the left in the closet. My amazing cousin has a daughter who is 6 months older than P. She gives us basically all the clothes that her daughter has grown out of for Penelope to wear! I keep a bag in the closet to put my cousin's clothes in so I can keep it separate and give her clothes back whenever I see her.)
Tip if you don't have space in the baby's closet for a bin:
Use a small, short one under the crib.
Have a large storage bag under the crib or dresser.
Put a grocery bag somewhere in or near the baby's closet to bring to where you store clothes once a week (or as it fills up).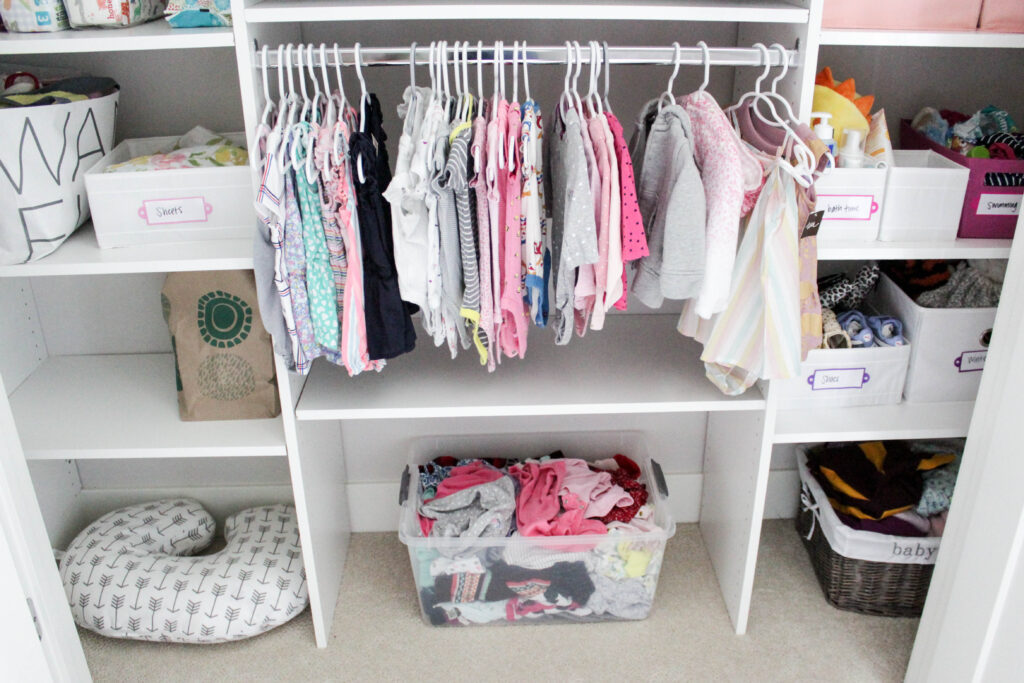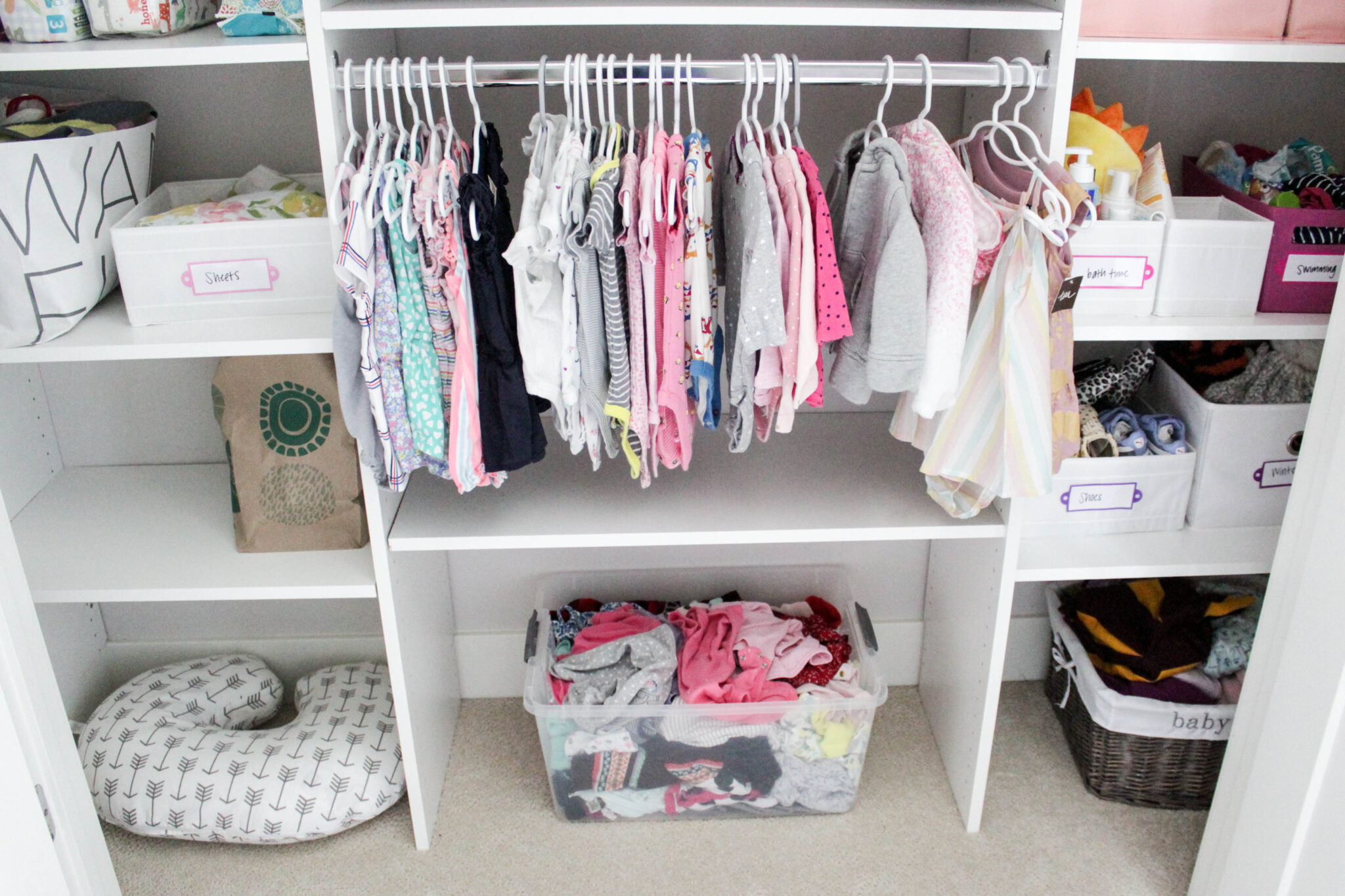 Organizing Clothes That Are Too Big
On the other side of the coin is all of the clothes that are too big. I like to buy things opportunistically. If I see a cute onesie or sweater or pair of shoes on major sale, I buy it.
(Sometimes this backfires if seasons don't line up so be careful when buying things like winter jackets or swimsuits unless you're pretty confident you know what size your kid will be in.) I also have clothes for P to grow in to from my nieces and my cousin.
To keep these organized, I bought a handful of bins and sticker labels. (My exact labels aren't sold anymore so any white sticker would work! Or just use masking tape and a permanent marker or something like this which combines the box and label!)
As I get items, I label a bin and put the clothes in there. As I get more and more, I will separate them even further. I'll break up "size 6-9" to "size 6-9 onesies and outfits" and "size 6-9 pants and pajamas".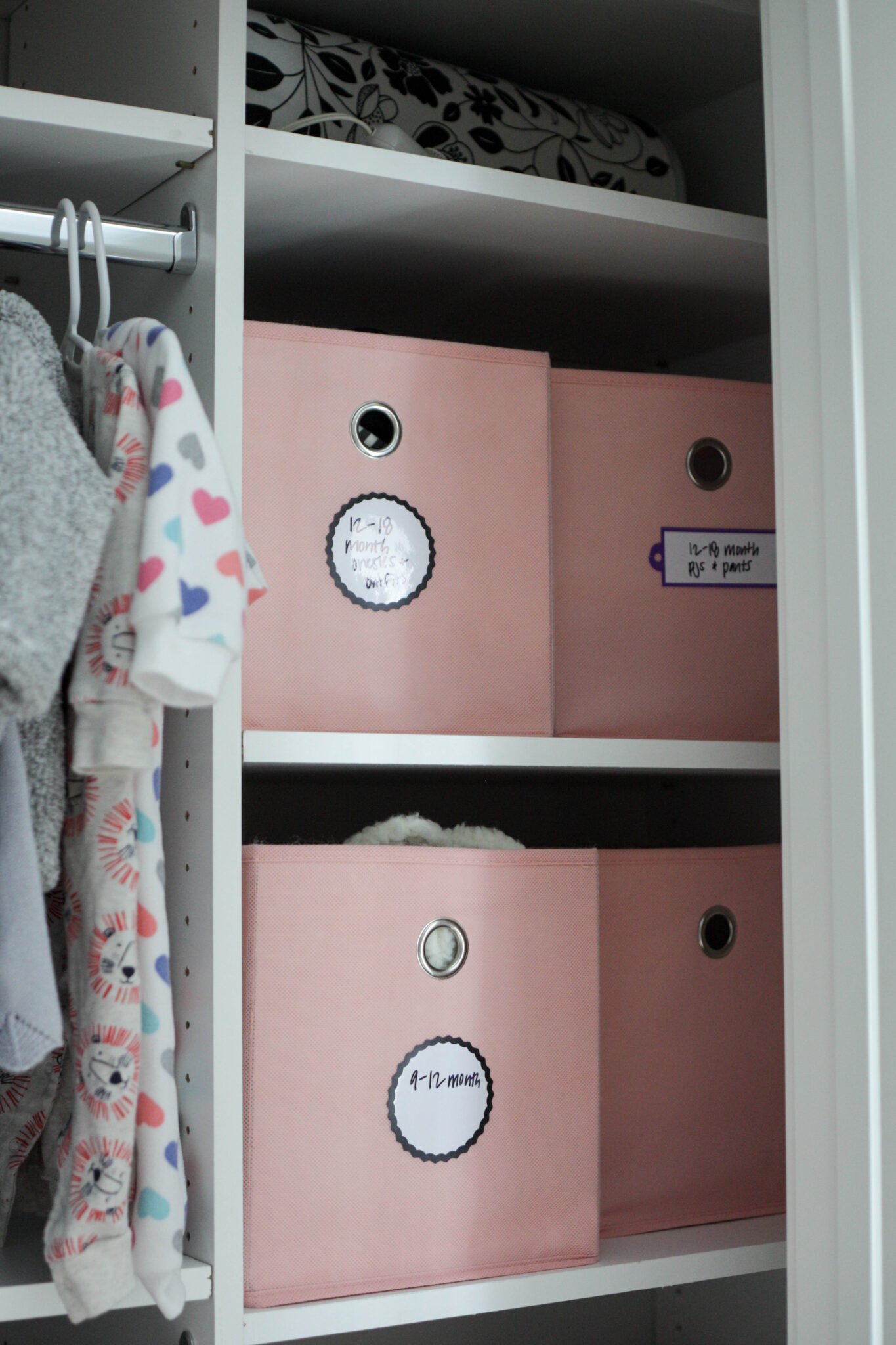 All of these bins are best kept on a shelf in your baby's closet. It's really helpful to see that you only have 1 pair of pajamas so you can keep an eye out for them when your shopping rather than hitting that stage and realize you have nothing in that size.
I also have a bin of clothes that P won't fit into for a year or so. I keep those in a separate open bin in the closet just a visual so I don't forget about them! If I put them away in our basement I would likely forget that I had them.
Tips if you don't have shelves:
Get a small organizer like this vertical dresser storage or this wide dresser storage depending on your baby's closet situation.
Get a small shelving unit like this 3 shelf organizer to sit on the floor.
Other Items
Drawer bins (plastic or cloth) are your best friend when it comes to kid stuff. I got a handful from Amazon, Ikea and Target for different purposes. (These bins from Amazon are great since you get a variety of sizes.)
I have small bins for bath stuff that I don't keep in the bath. (Things like extra soap/shampoo, brush, detangling spray, brush, comb, etc.) I'll eventually move these into the kids' bathroom but since they use our bathtub for baths, I keep it in their room.
I also have a small bin for swimsuits and sunscreen as well as one for hats and mittens. Keeping these organized and in their own spot helps you to not lose them!
I use a small bin for extra sheets because who wants to fold sheets, especially the tiny ones? 🙂
I have one shelf dedicated for diapers and wipes. This helps me to see when I'm getting low on diapers so I can get more!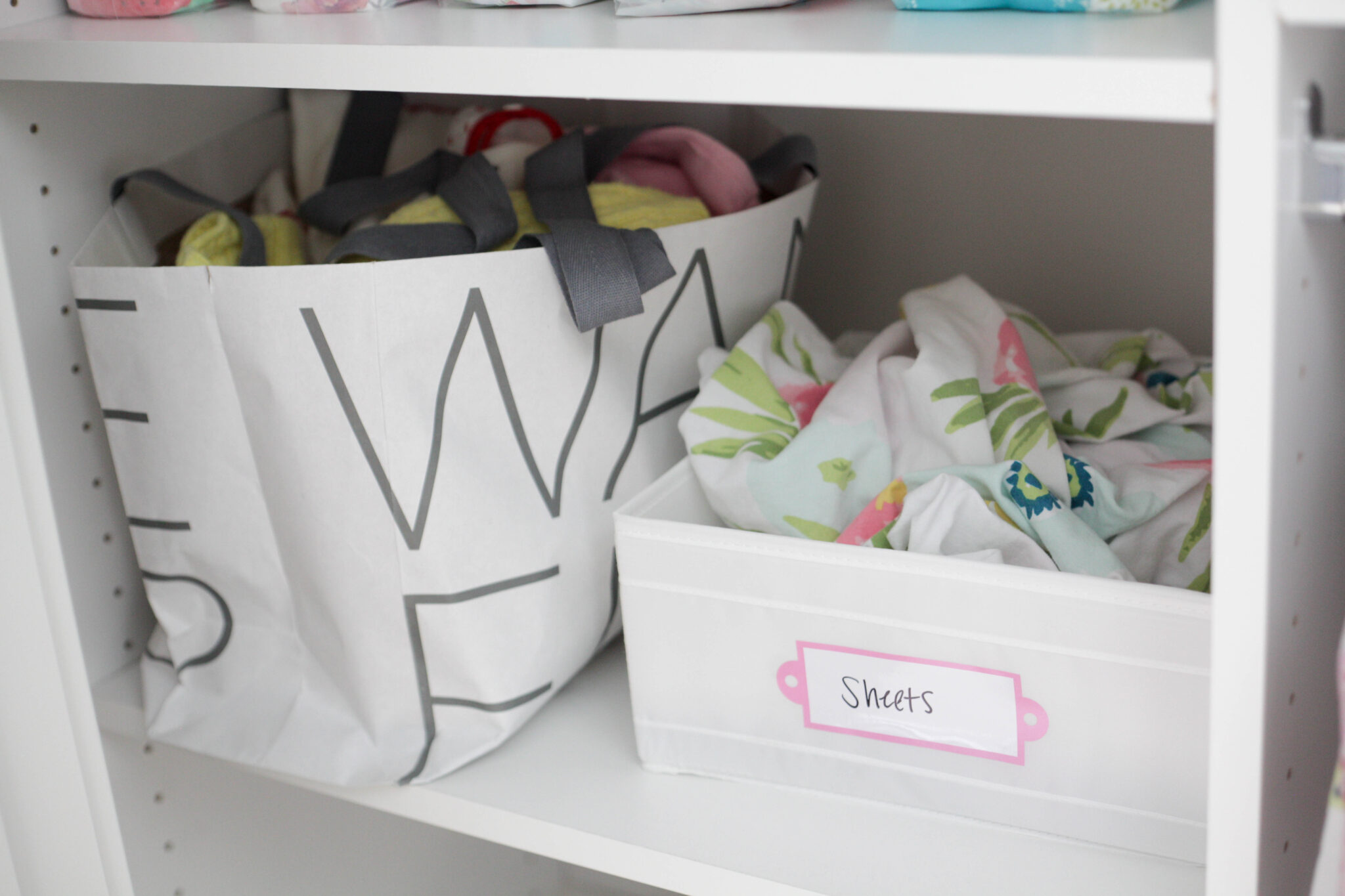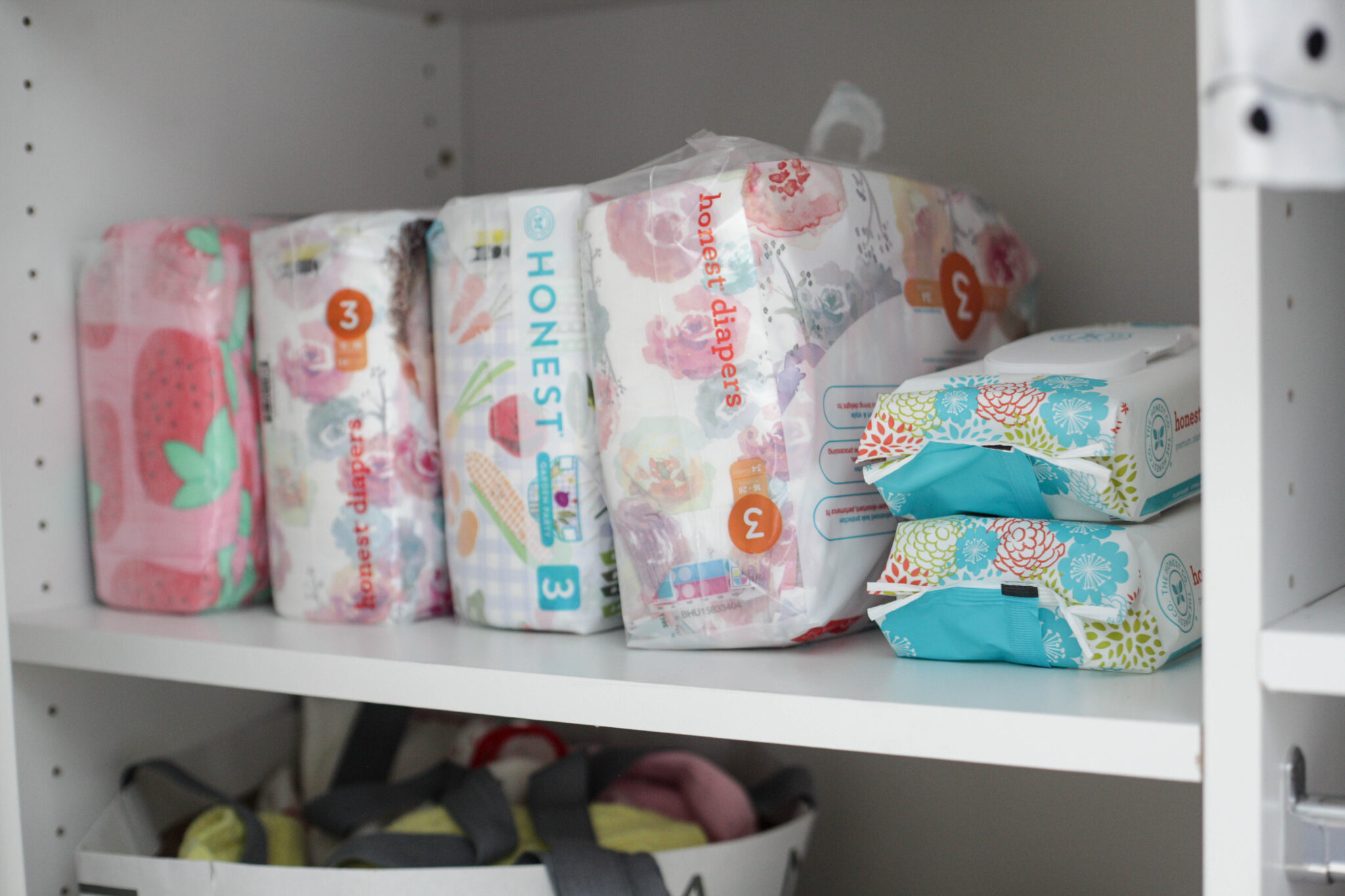 Memorabilia
One thing I started with Roy is a small memorabilia box. I keep things like hospital bracelets, birthday cards, birth announcement (which also happens to be our Christmas card for both kids because I fail at birth announcements haha!) and other things that have some meaning.
I don't tend to keep a ton of stuff but some of the more important things I want to keep go in the box.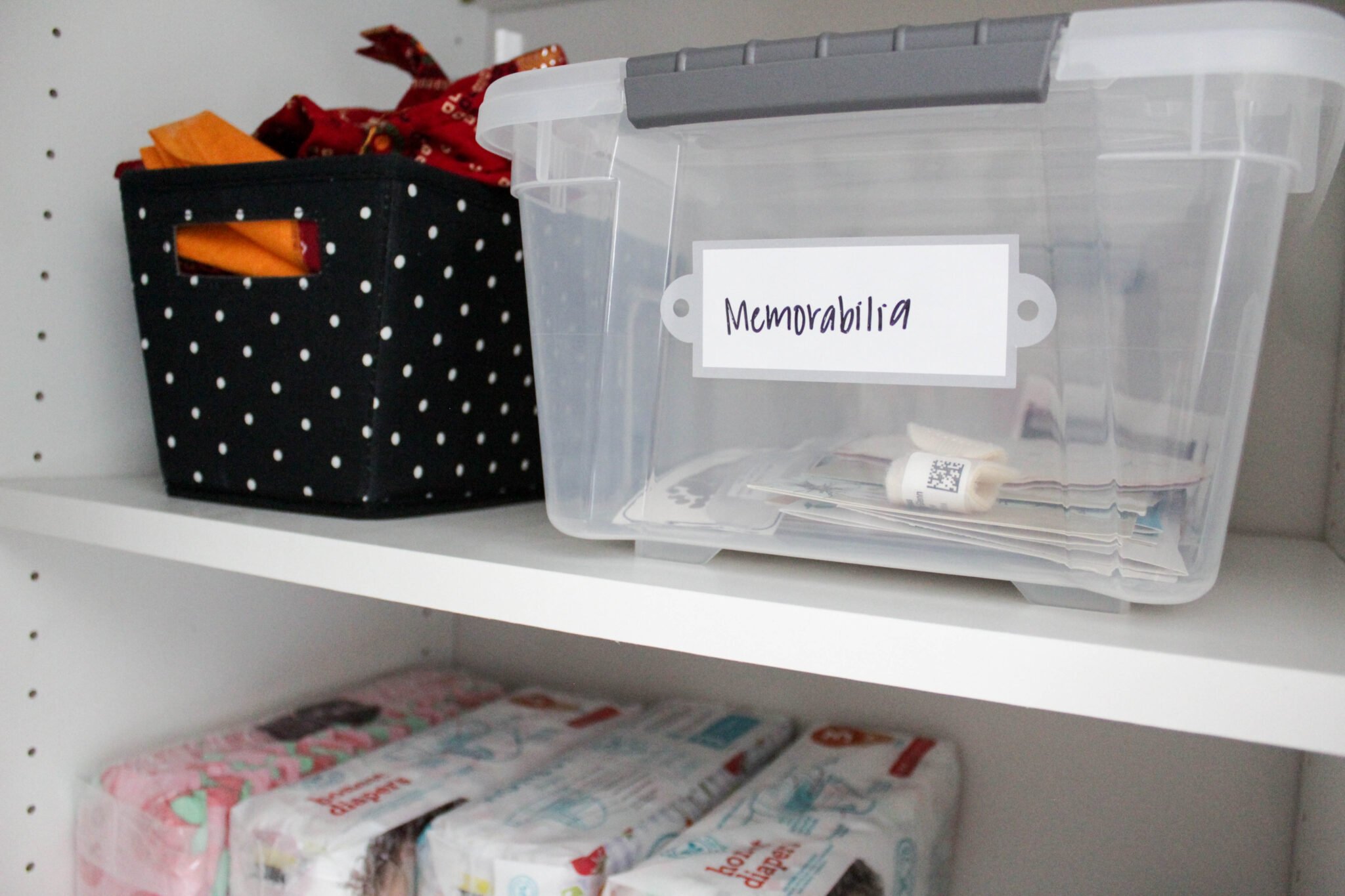 Dresser Drawers
With both kids, I have one dresser drawer dedicated for pajamas and one for pants/shorts/skirts. Roy is potty trained but when he was still in diapers I just made one dresser drawer in Penelope's room for all the diapers and wipes.
I also have one of the drawers for pants/pajamas that are the next size up. Same as the hanger situation, I go through this drawer from time to time and pull out clothes that now fit.
I have one drawer of random things like blankets, burp cloths, etc in Penelope's room. Most of the burp cloths are in our kitchen but you never know when a kid might spit up so it's good to have some of these things around the house ha!
For both kids I have one drawer dedicated for socks and some shoes. I keep the majority of their shoes by our back door but I have ones that are the next size up in this drawer.
I also have Penelope's hair supplies all sorted out in this drawer. (This girl needs a lot of hair supplies to keep her hair out of her face!).
Small bins are perfect for these. I put thick headbands and head wraps in one, thin headbands in one and bows and hair ties in another.
I can't stress how important storage bins are! Get them! 🙂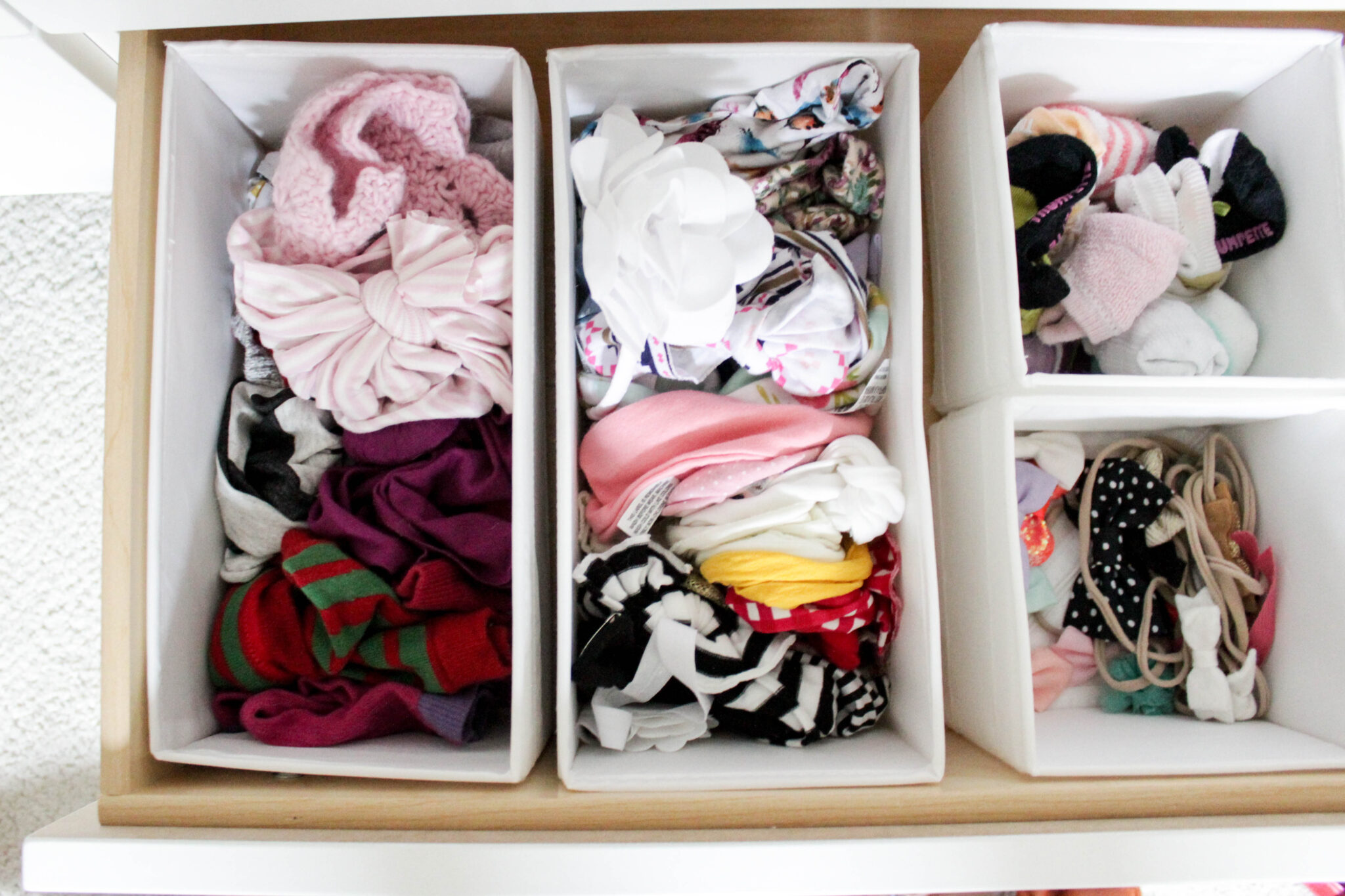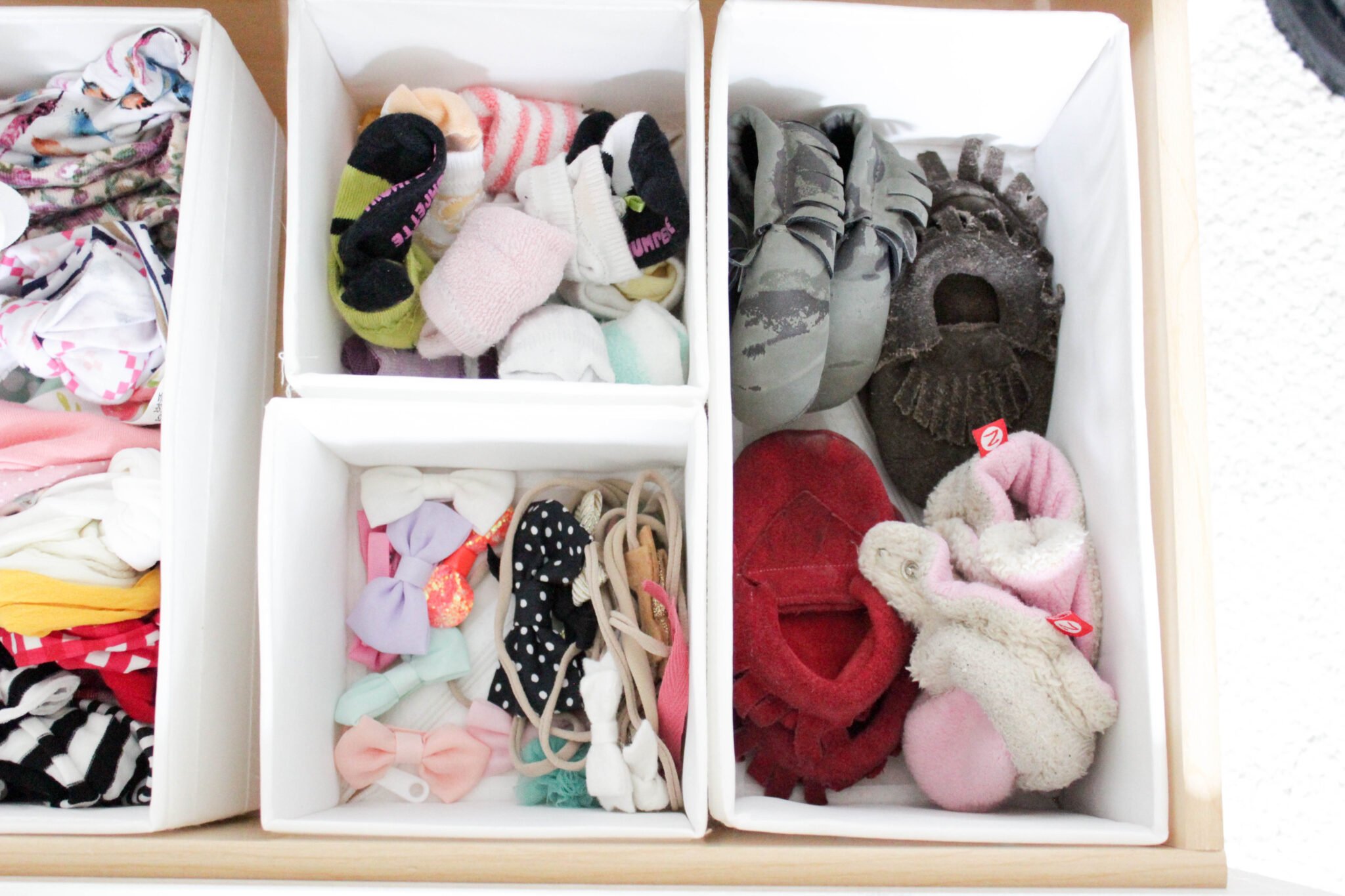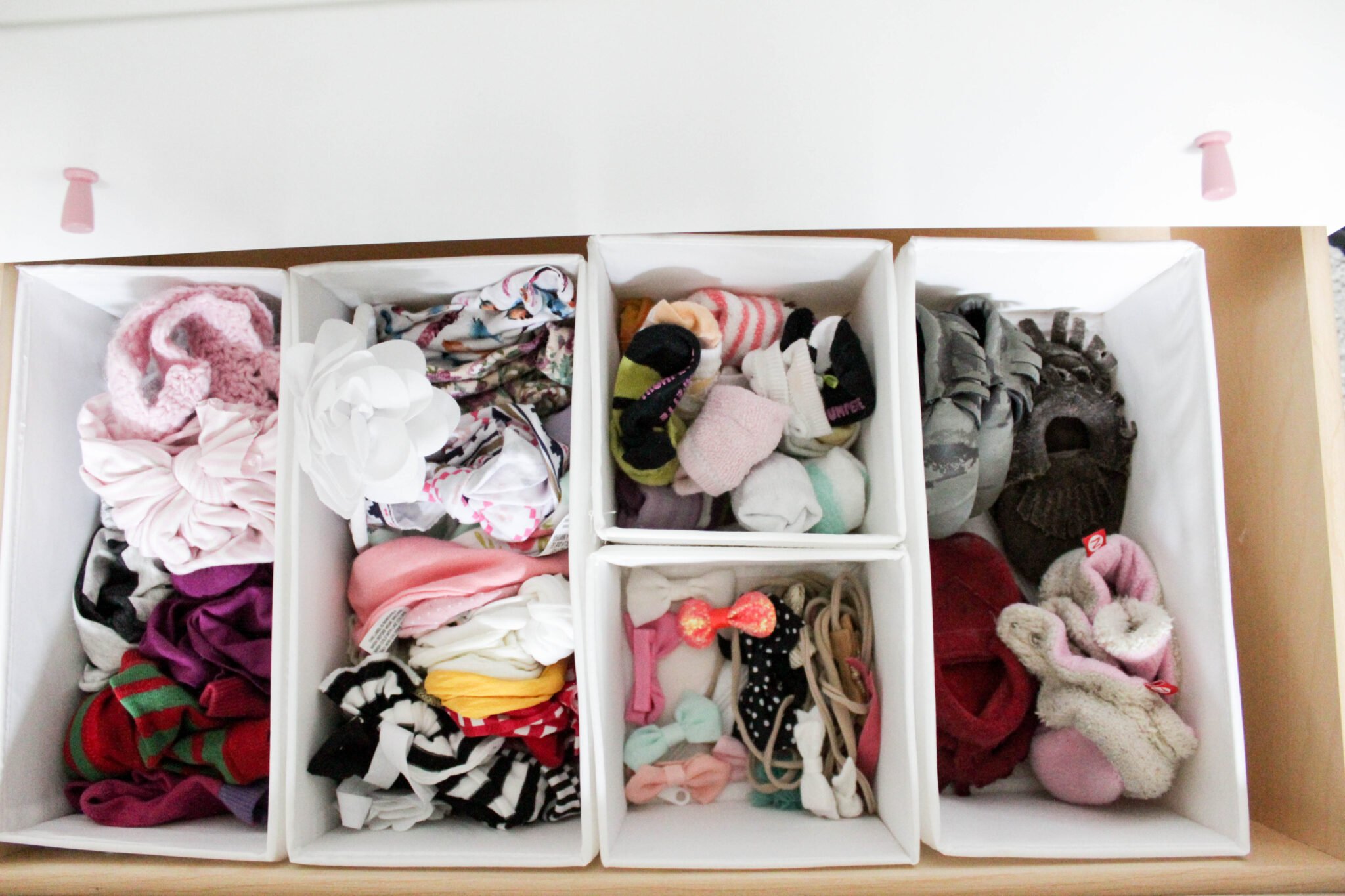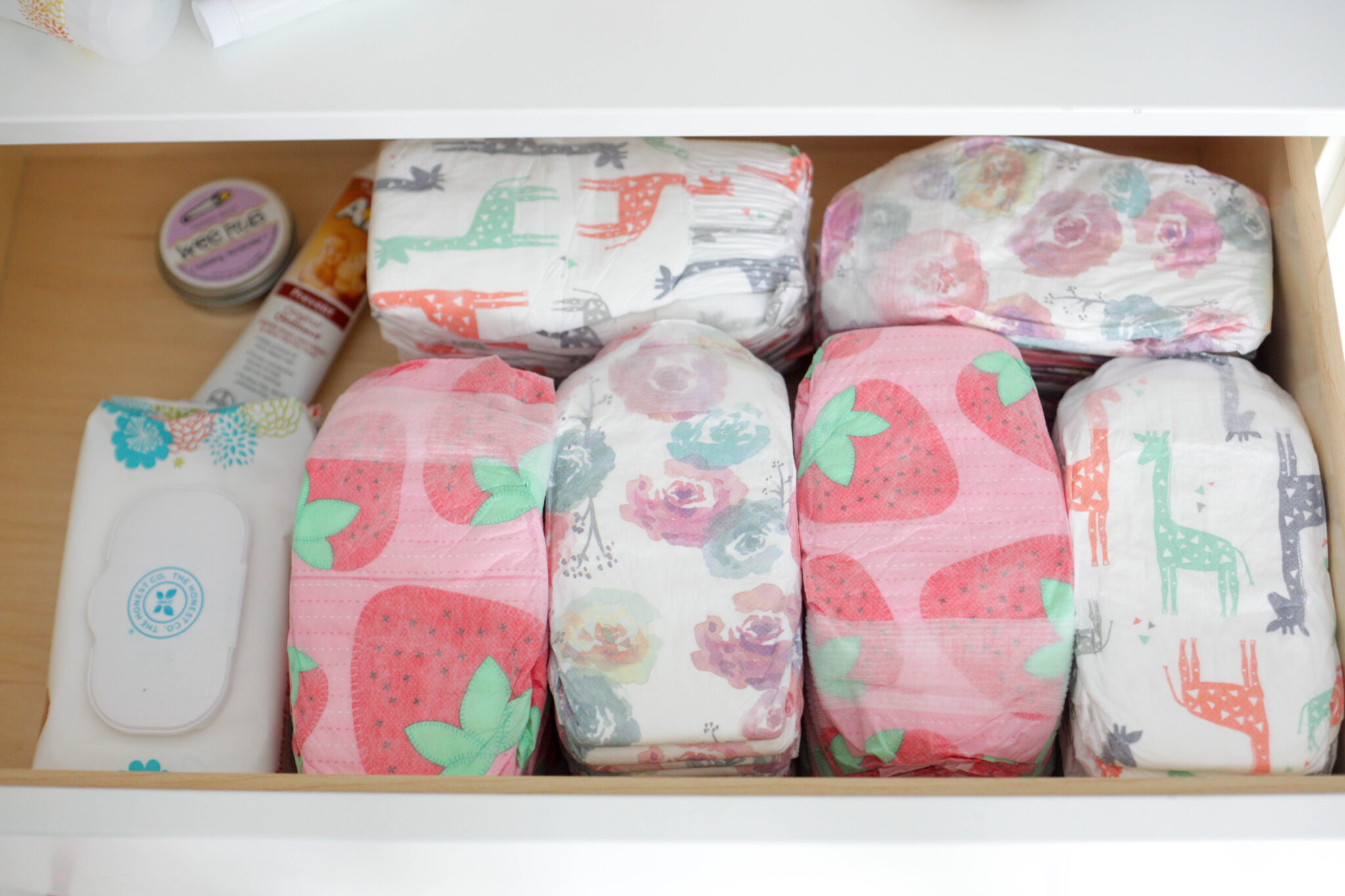 And there you have it!
The full low down of how to organize baby clothes and all their stuff!. Here's a video to get an even more in depth look!
What are tricks that you've learned that help you with organizing your baby's clothes and stuff? What's something from my baby's closets that you want to do to? I'd love to hear!
Click on over and read my 7 mom hacks to help make your life easier – I know they'll help!
Want to get in on a 30 day declutter challenge? Let's do it!
Want more organization tips? Check out one of these!
Kitchen
Closet
Bathroom + Linen Closet 
Living Room, Storage Room + Garage
Kids
Misc 
If you want to do a 30 day declutter challenge, get a free guide here!