Being invited to a baby shower is very exciting! There's going to be a new life in your circle! But what do you wear to celebrate such a big occasion?
Sometimes, guests are given a specific theme, but often, guests wonder what to wear and don't want to outshine the expectant mother.
If you're wondering what to wear to a baby shower, you've come to the right spot! This post will help you know exactly what to wear to a baby shower whether it's outdoor, indoor, virtual and more.
Depending on the venue and the season, there are different kinds of outfits that would be appropriate to wear to a baby shower. Here are some ideas to help take away some outfit stress and get you ready to celebrate the new baby!
Best Outfits to Wear to a Baby Shower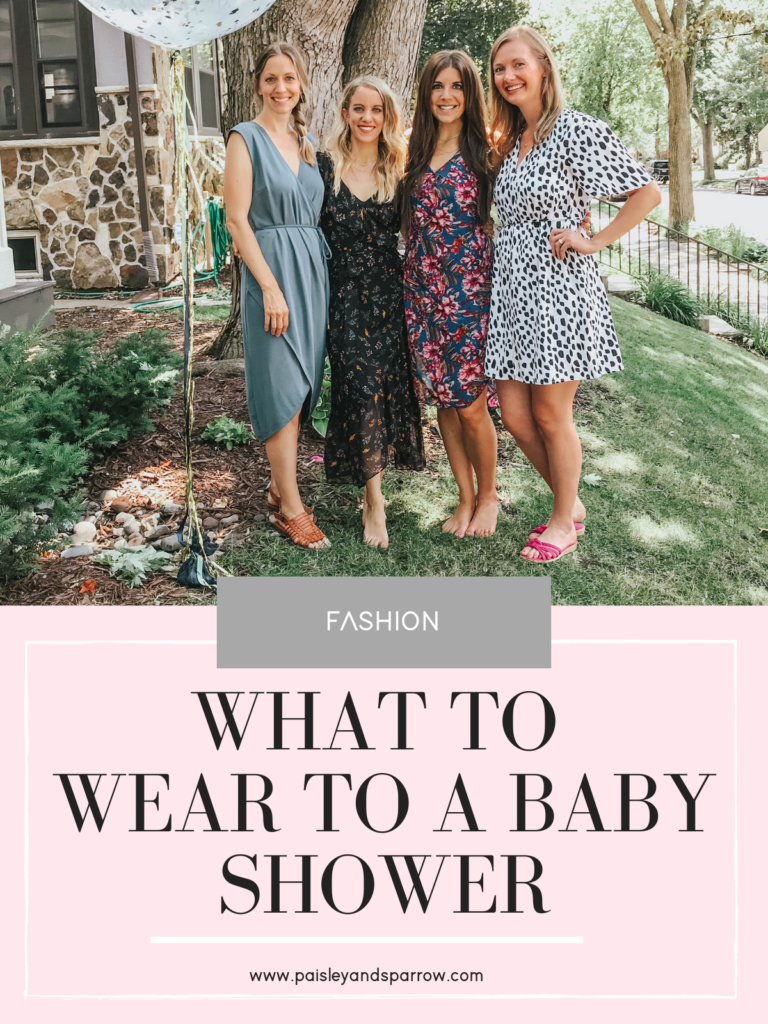 This post contains affiliate links.
I've broken it down by the location of the shower and time of year. Those are the biggest hints on what you should be wearing. And as always in life, get advice from friends if you still aren't sure!
Outdoor Baby Shower
If a baby shower is being held outdoors, that likely means it's taking place during a season with comfortable weather temperatures, though you might want to plan ahead in case it's a little colder or hotter than you expect.
Sometimes, outdoor baby showers can have a specific theme. If that is the case, make sure you dress according to the theme. If there is no indication of a theme, put on something that looks nice but will also have you feeling comfortable while outside for a while.
Don't forget to think about your shoes! An outdoor baby shower might not be the best place for heels, in case you're walking on dirt or grass. Try flats, sandals, or even a stylish sneaker with your baby shower outfit.
Here are some good outfits to keep you comfortable while outdoors:
Sundress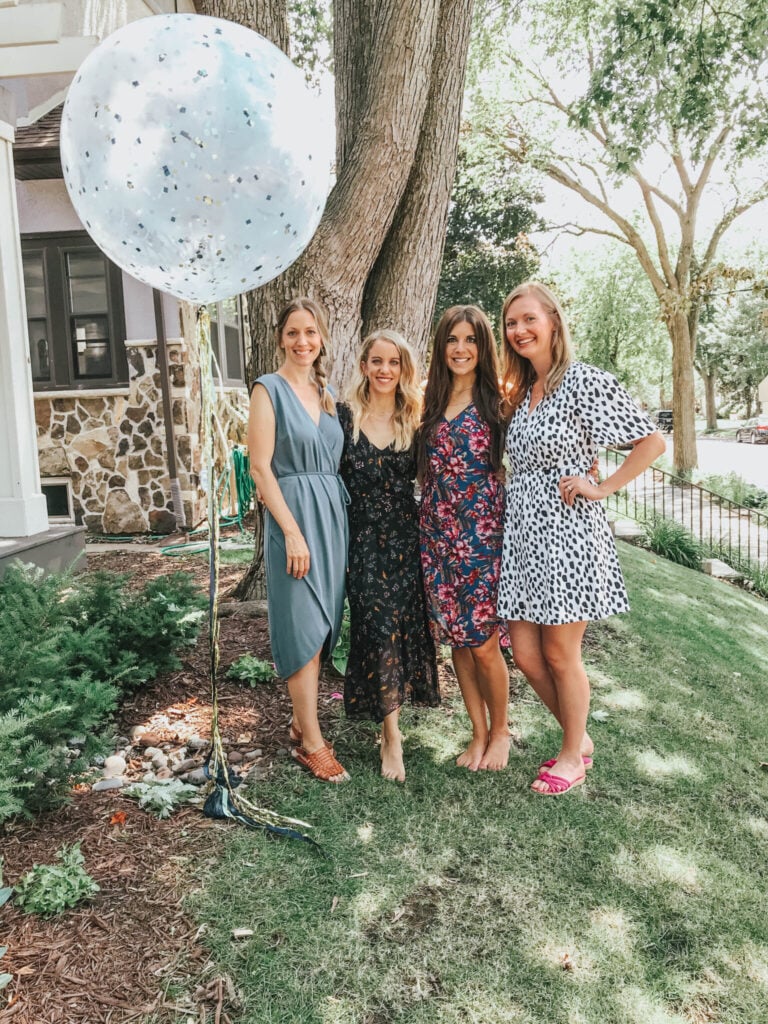 A casual sundress is a great choice. Keep in mind that the mother-to-be will probably be wearing a lovely sundress, so keep it light and simple!
Jumpsuit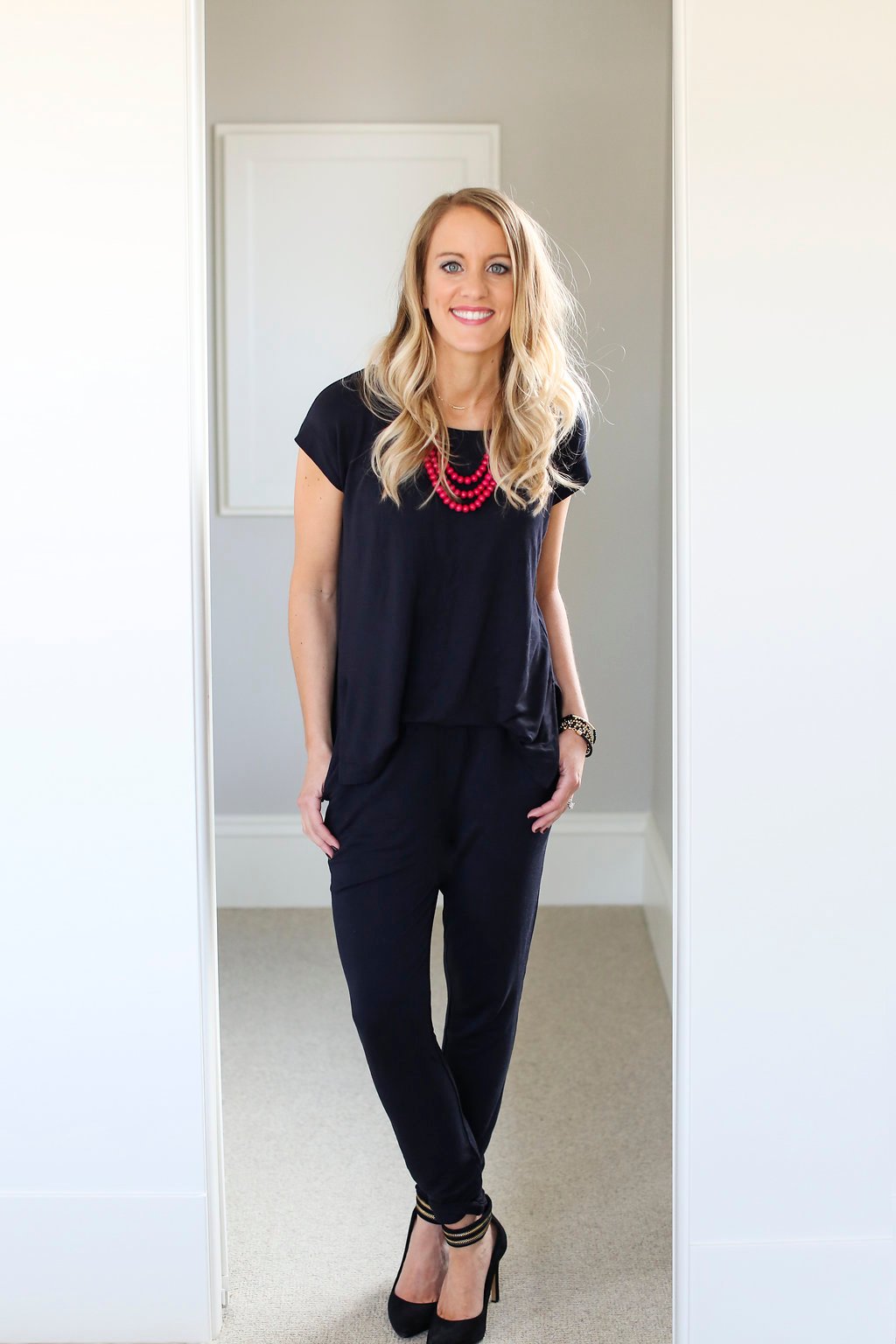 Or, go with a jumpsuit! You can easily throw on a jean jacket if there is a chill in the air.
Linen Pants and Simple Top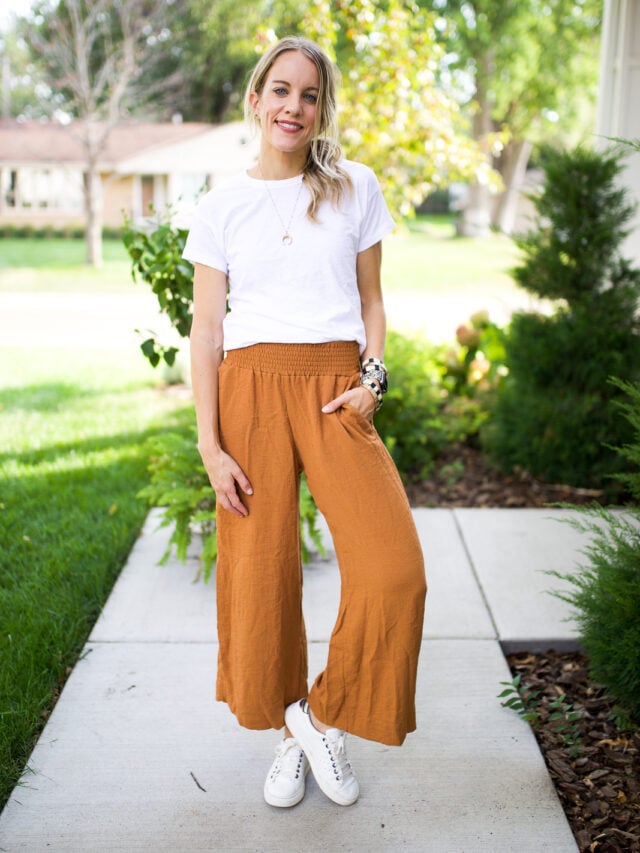 Another great option for warmer weather is linen pants. They're breathable, and you'll look nice. Tuck in a simple top and pair with some gold jewelry for a comfortable outdoor outfit.
Baby Shower at Someone's House
It can be difficult to figure out what to wear if you are invited to a baby shower event at someone's house, especially if you've never been to the host's house! You can, however, get a few clues.
Think about the time of day the shower will take place, if there is a theme, and if you anticipate any games! You definitely want to be comfortable and dress in layers — you never know if the host's house is warm or chilly! Nothing is worse than spending a whole party sweating or shivering.
But thankfully, you have lots of great options! All are comfortable for moving around and will keep you feeling comfortable no matter the home's inside temperature.
With all that in mind, consider one of these good options of outfits:
Jeans and Cardigan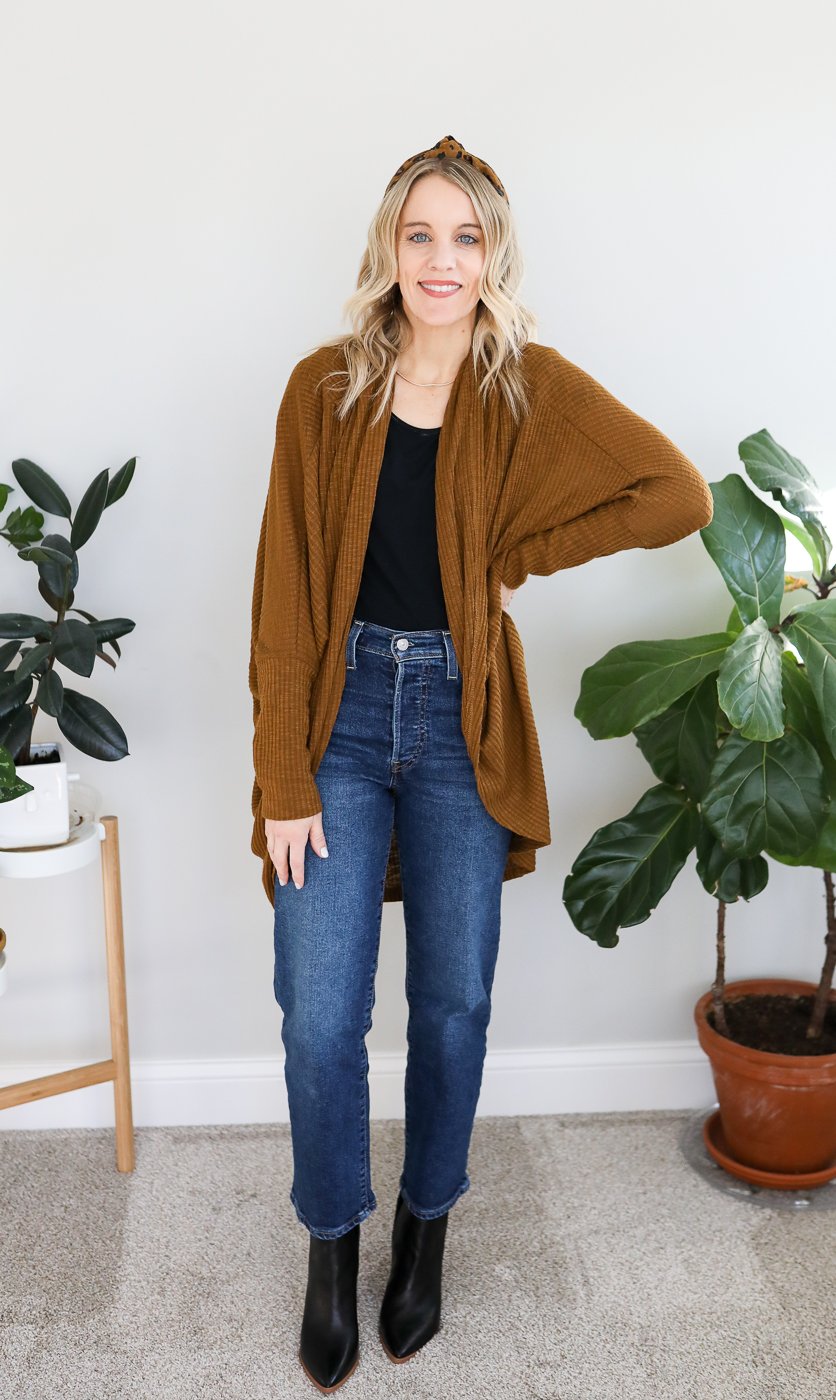 Shop the look: Jeans | T-shirt | Cardigan (sold out – similar here) | Boots
Tuck a simple shirt into jeans and throw a cardigan over the top for a casual, comfortable, and cute look!
(Find more cropped jeans outfits here!)
Party Dress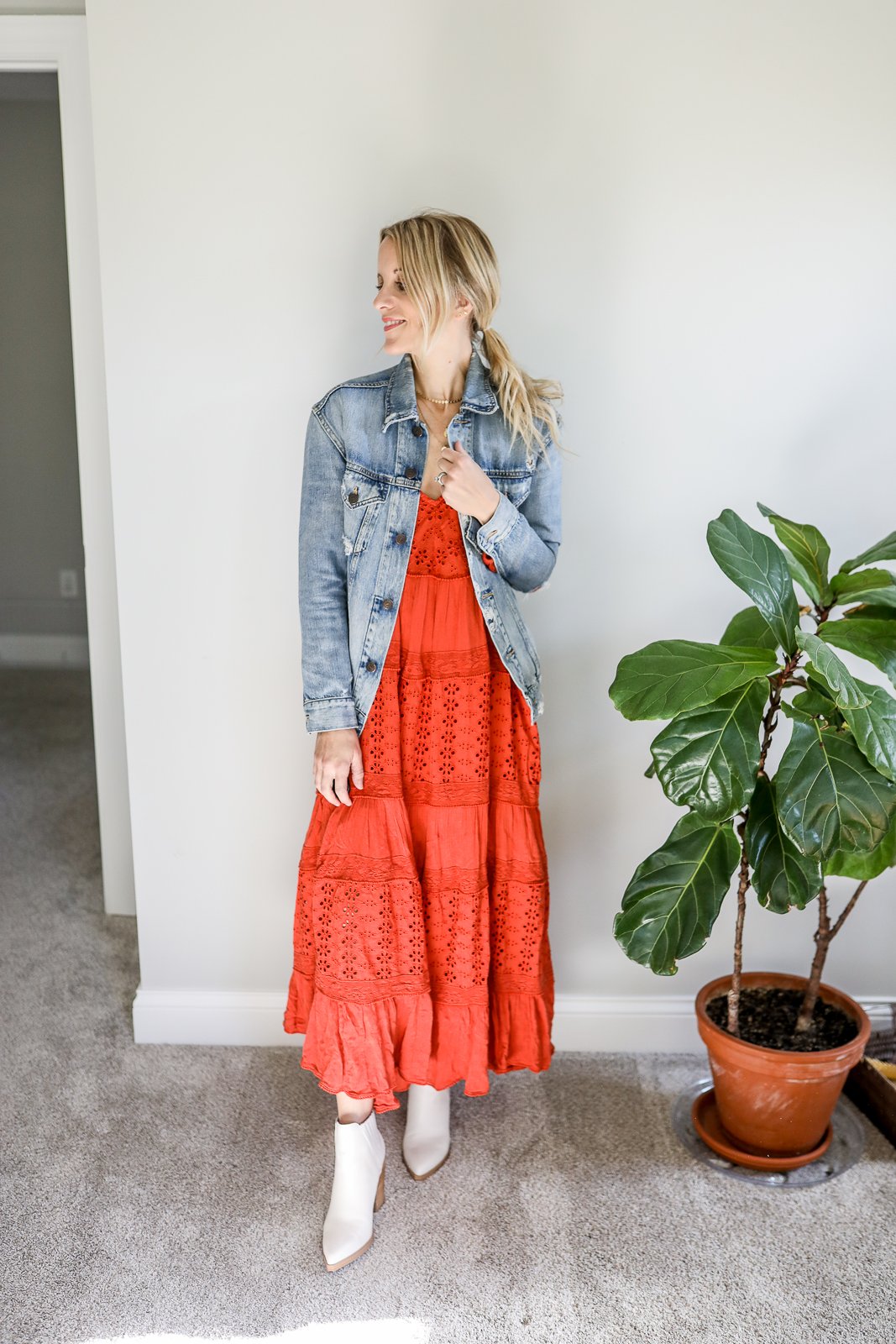 Shop the Look: Jacket | Dress | Boots
If the event will be a little more formal, wear a party dress with a sweater or jean jacket handy!
Find more denim jacket outfit ideas here.
Romper
You can never go wrong with a casual dress or romper! Both will show that you've put some effort into your outfit, and you can always throw a sweater on if you start to feel cold.
Spring Baby Shower
Spring is a time for florals, pastels, and new life. But, if you're invited to a baby shower in the spring, you may find that figuring out what to wear can be a bit more challenging than you thought.
Spring weather can be so unpredictable depending on where you live! Because of that, it's best to go with an outfit that is versatile for any changes in weather.
Some good spring outfits:
Florals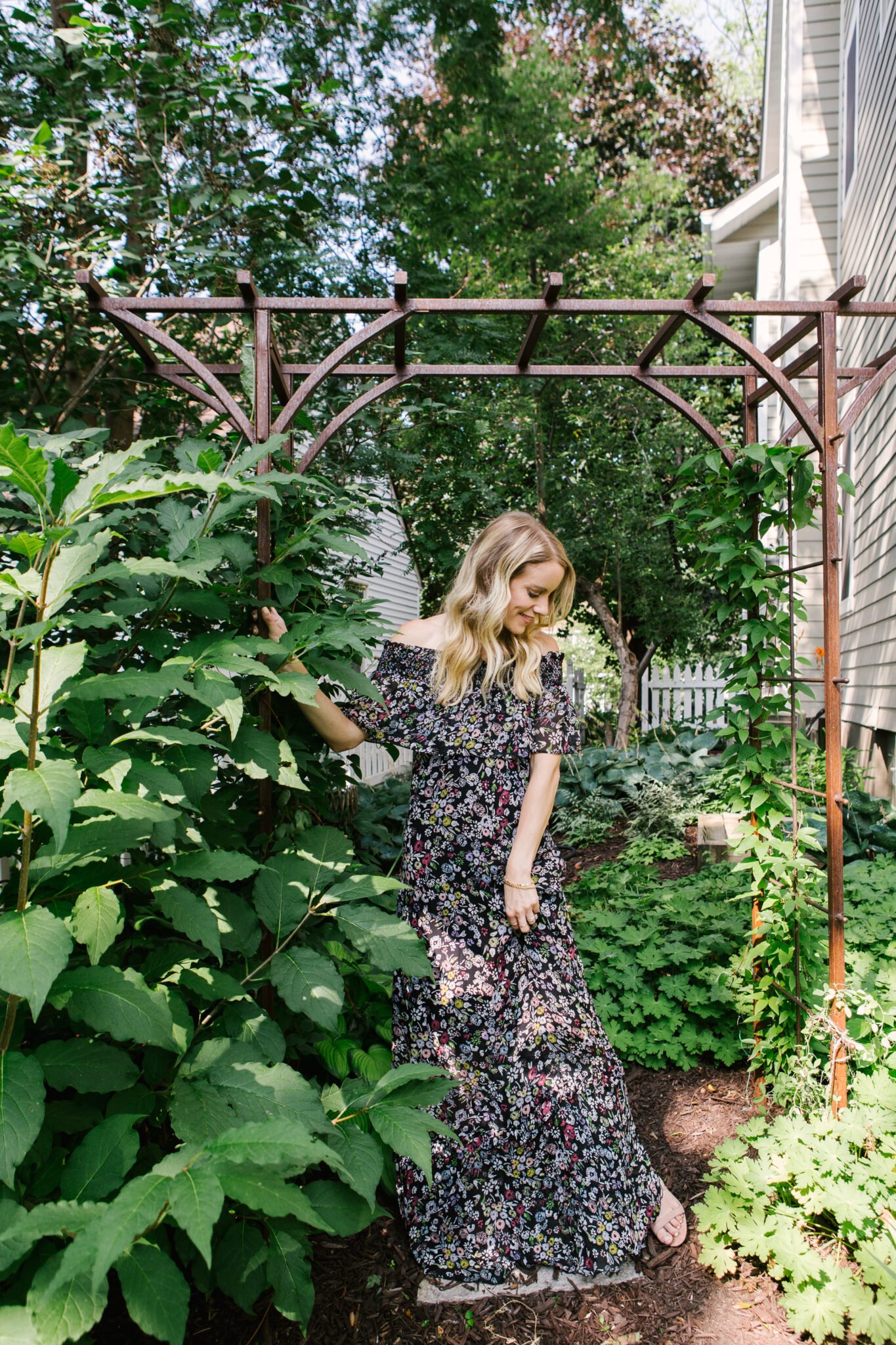 A floral dress is a wonderful option for a spring baby shower. If it's warm, you can wear it as is. However, if it's a chillier spring day, layer a jean jacket or cardigan over it to stay comfortable.
White Jeans and Solid Color Top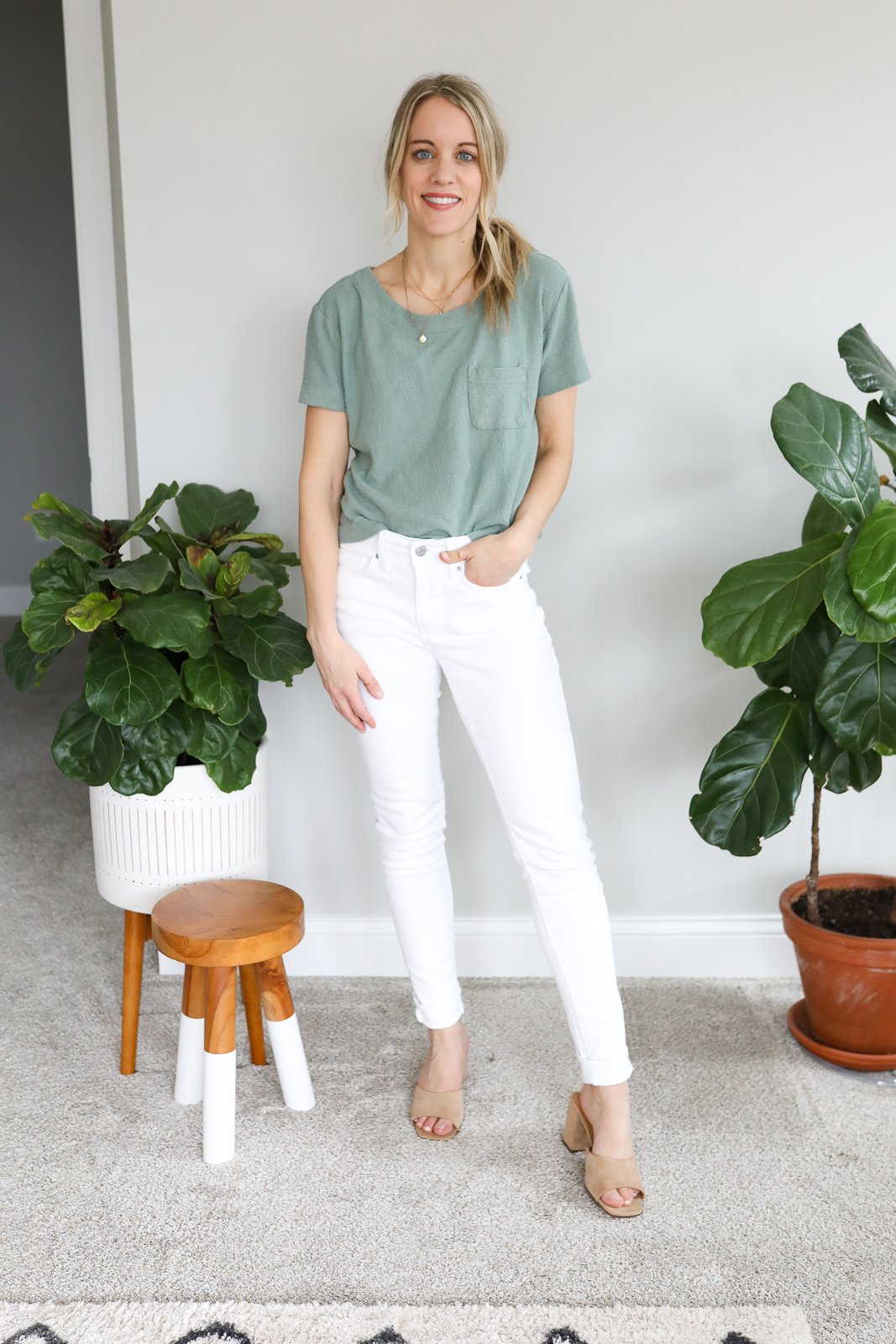 Shop the outfit: White Jeans | Shirt (if sold out – similar here) | Slides
Another great option is white jeans, a solid color top or blouse, and some simple heels. Add some gold hoops or a necklace and you'll be set!
Find more white jean outfits here!
Skirt and Chambray Shirt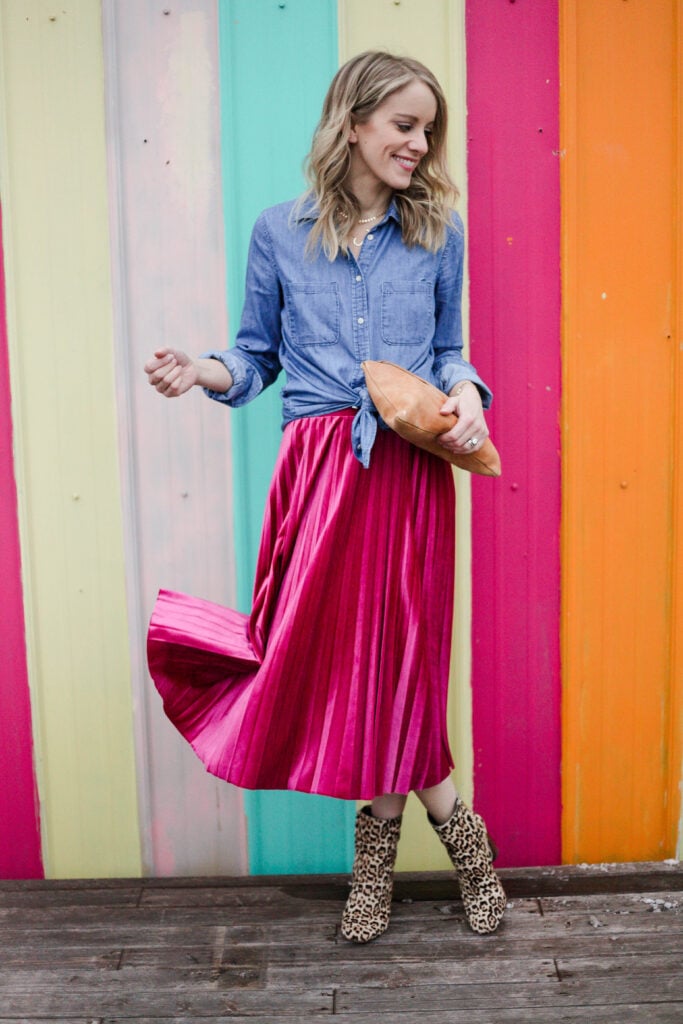 Shop the Outfit: Denim Shirt (Mine is super old – this one is similar) | Skirt (similar here) | Boots
Wear a pleated skirt with a chambray shirt for a smart casual look that's great for spring!
*Head here for more ways to wear your chambray top!
Summer Baby Shower
Summer is the time for warm temperatures, and in some places, it's a time of terrible heat and humidity! Don't melt in the heat! You'll want to be comfortable and sweat-free, but you also don't want to be too showy.
It's best to leave anything that's low cut or form fitting at home. But fear not! There are lots of great options for summer baby shower outfits that will keep you cool and looking summery.
Some lovely summer outfits:
Sleeveless Dress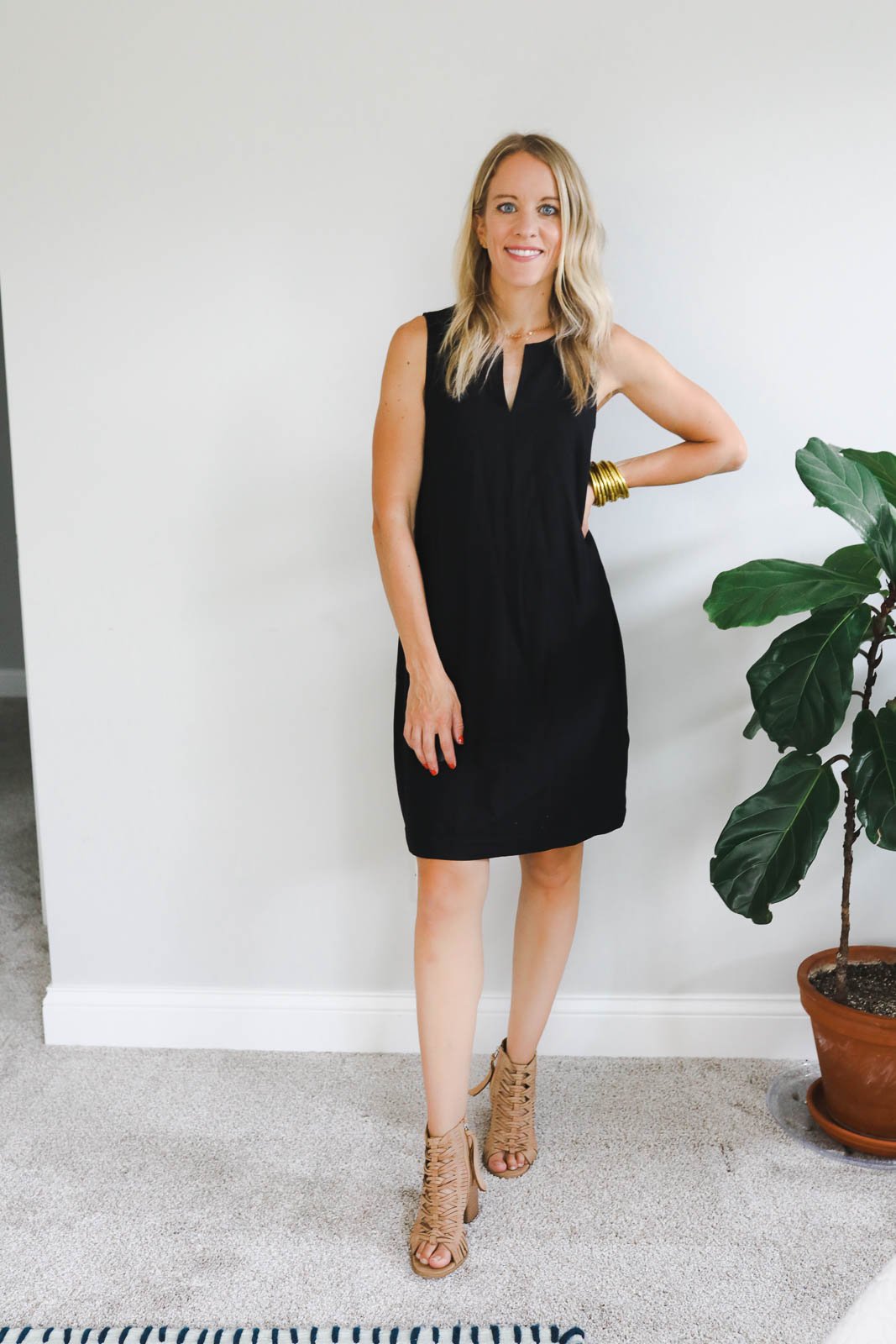 Shop the Look: Dress
A lightweight, breezy dress or casual tank dress are great options! Pair with some sandals or wedges for a great summer outfit.
Find more shift dress outfits here!
Midi Dress or Skirt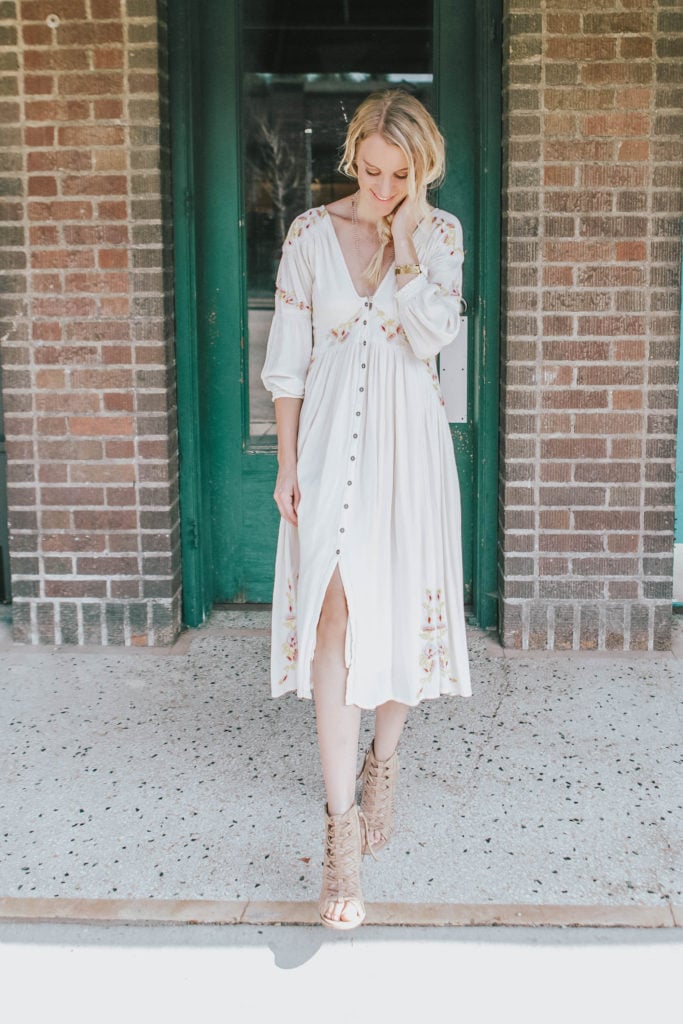 Midi dresses and skirts are also very flattering. Add some fun accessories to fully complete the look.
Maxi Dress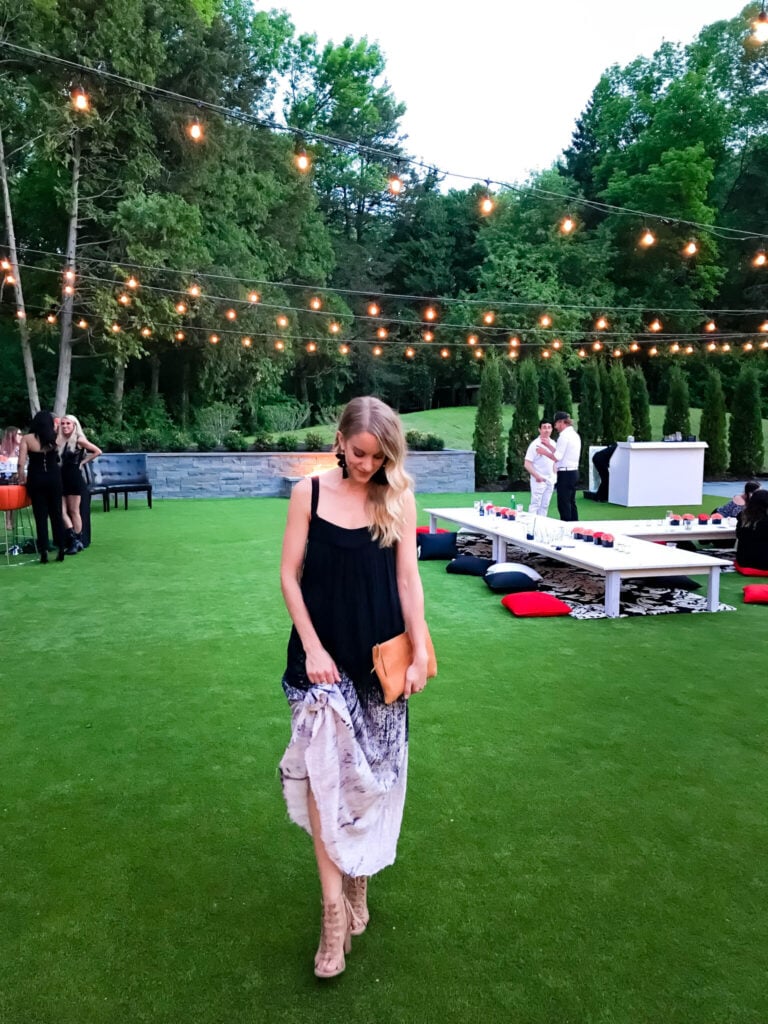 A boho maxi dress is another great (and easy!) outfit idea.
Linen Dress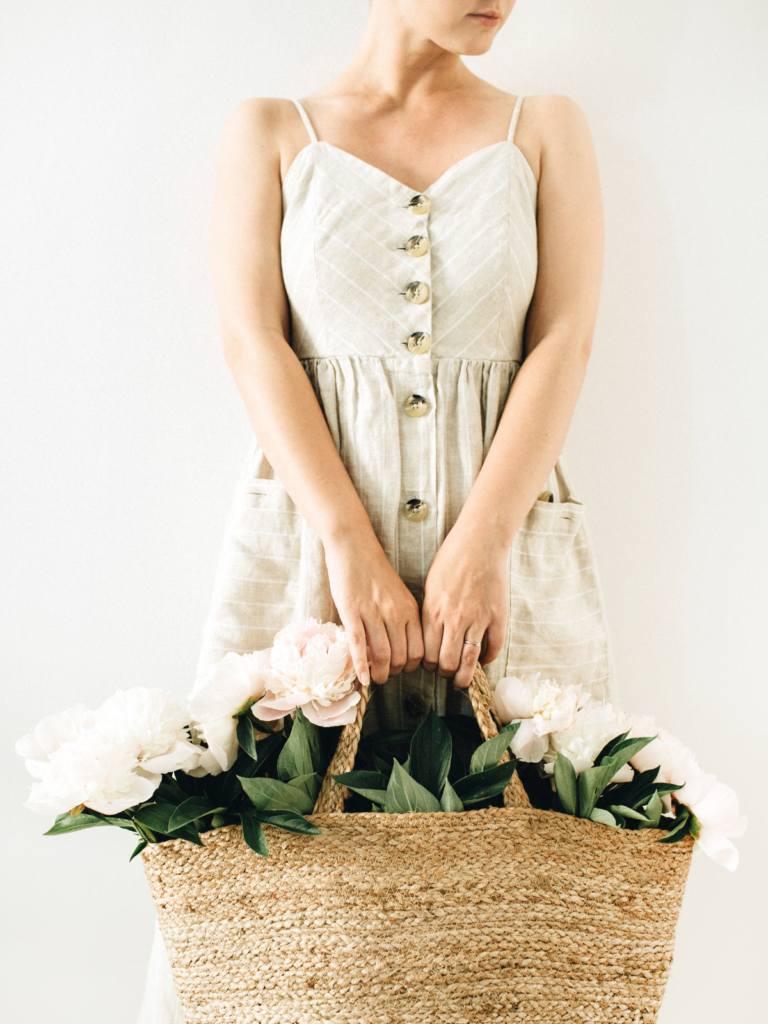 Seersucker and linen dresses are great materials that scream summer. Plus, they're lightweight! That means less sweating!
Shorts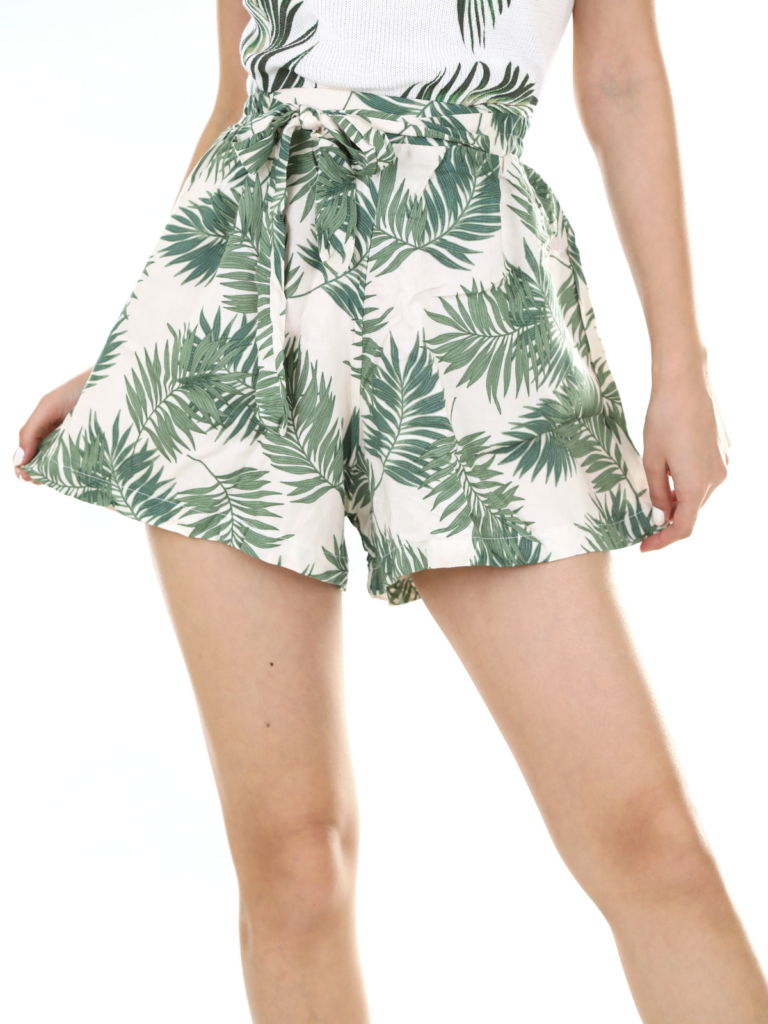 If the baby shower will be outside, wear a lacy blouse with some colorful paper bag shorts to stay cool in the summer heat.
Fall Baby Shower
A fall baby shower can also be tricky depending on where you live! Just like spring baby shower options, you'll also want to dress in layers so your outfit can work for warmer or colder temperatures.
Fall fashion is great to layer with some cute booties and it's a fun season to get dressed up.
Here's a few fall outfits that can easily be changed day of if the temperature isn't what you thought it would be:
Dress and Leggings
You could wear a dress and easily throw some leggings and a cardigan on if it's colder on the day of. A plaid dress with oxfords would be a cute fall look!
Sweater Dress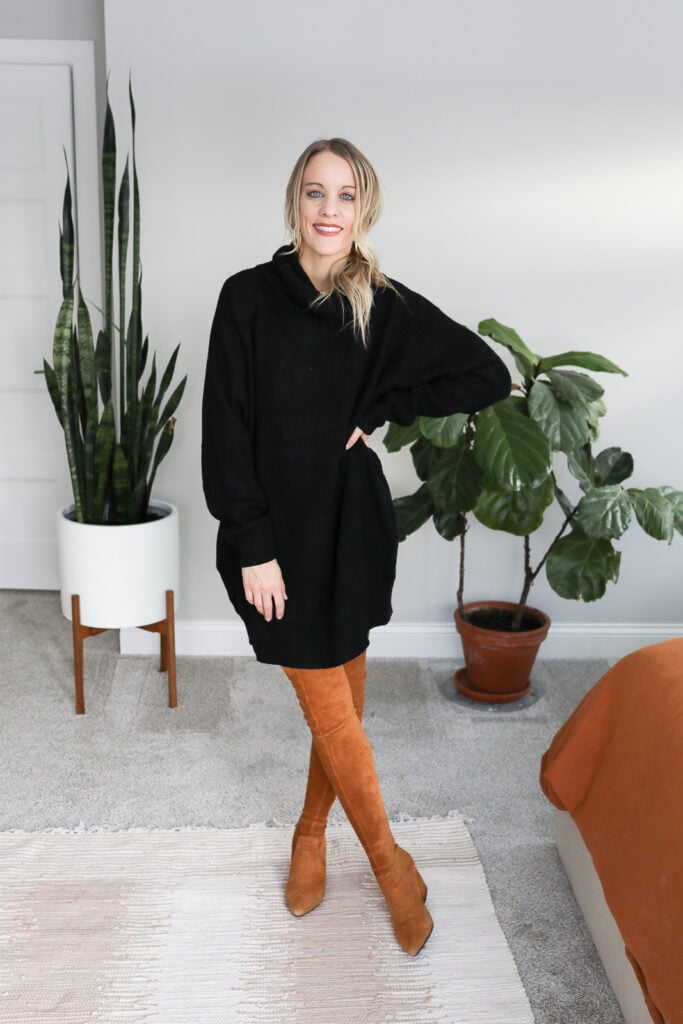 Shop the Look | Sweater Dress | Boots
Or, a sweater dress and knee high boots will keep you warm, cozy, and fashionable.
Legging and Sweater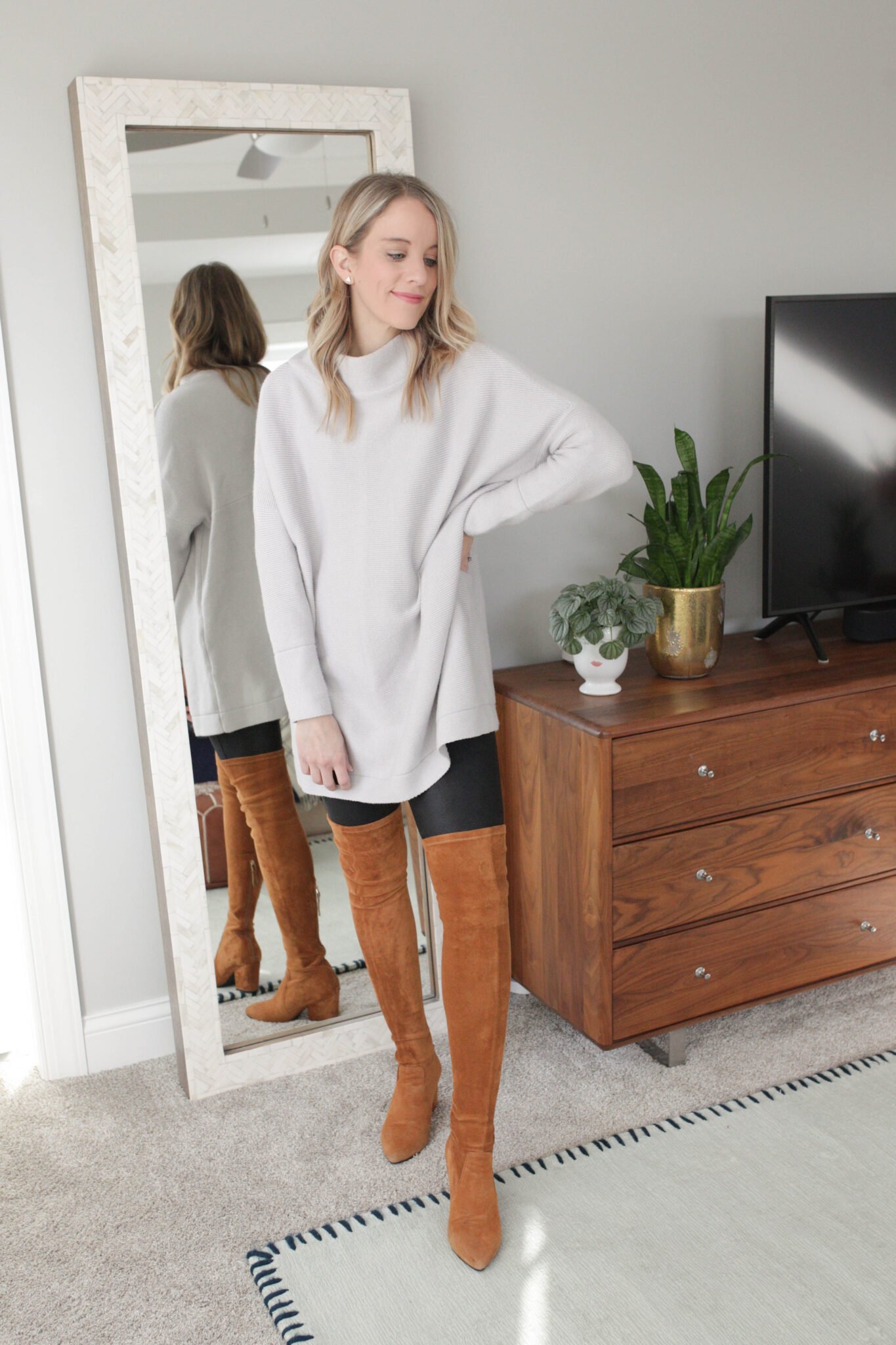 Shop this Look: Spanx | Oversized Sweater | Over the Knee Boots
Wear leggings and a lightweight sweater. If it's warmer, wear your sweater with a skirt and boots instead.
Winter Baby Shower
Winter can sometimes be harder to dress up for, even for a winter baby shower! Colder temperatures and, in some places, snow, can make it difficult to put together a nice outfit without compromising your warmth.
Thankfully, if it's really chilly where you live, there's a good chance that the baby shower will take place inside. But you'll still want to be warm in your process of walking into the venue.
These winter outfit options are a great way to dress up while still staying warm:
Sweater and Boots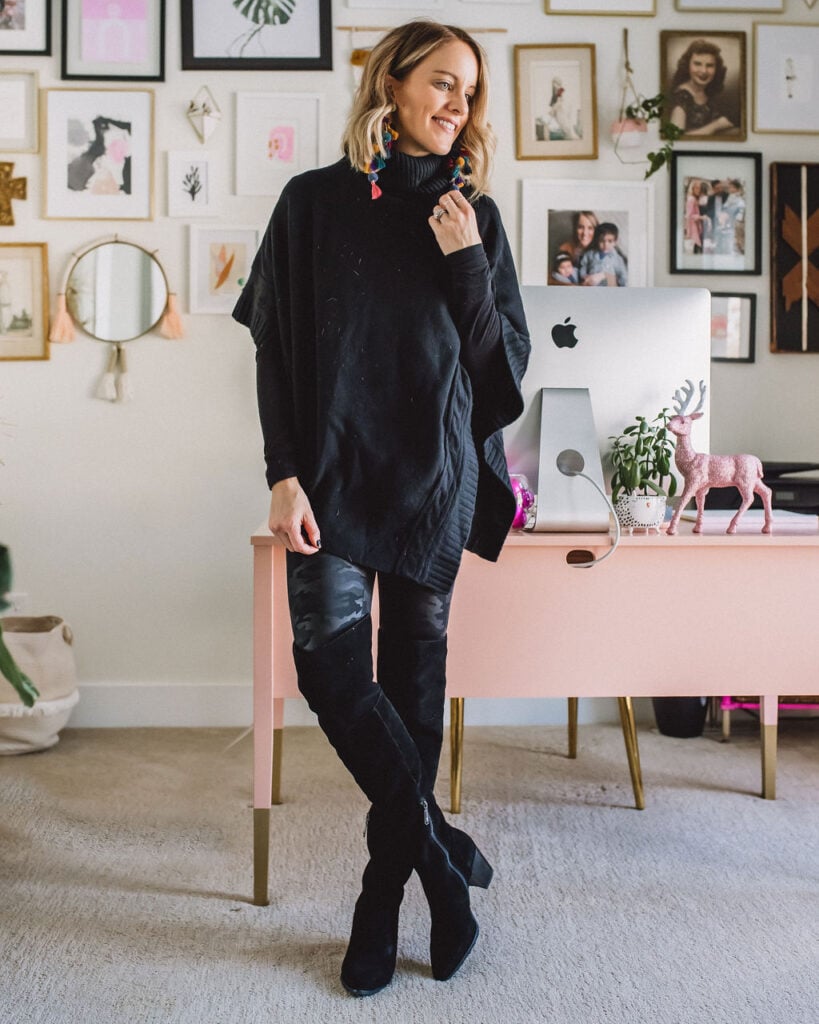 Leggings, a nice sweater, and some boots can make for a very put-together outfit. Or, dress up the outfit with some nice dress pants. If it's freezing, wear a thick jacket overtop and take it off once you get inside.
Shop the Outfit: Spanx camo leggings (also available at Anthropologie)| boots | poncho (old – similar here)
Jeans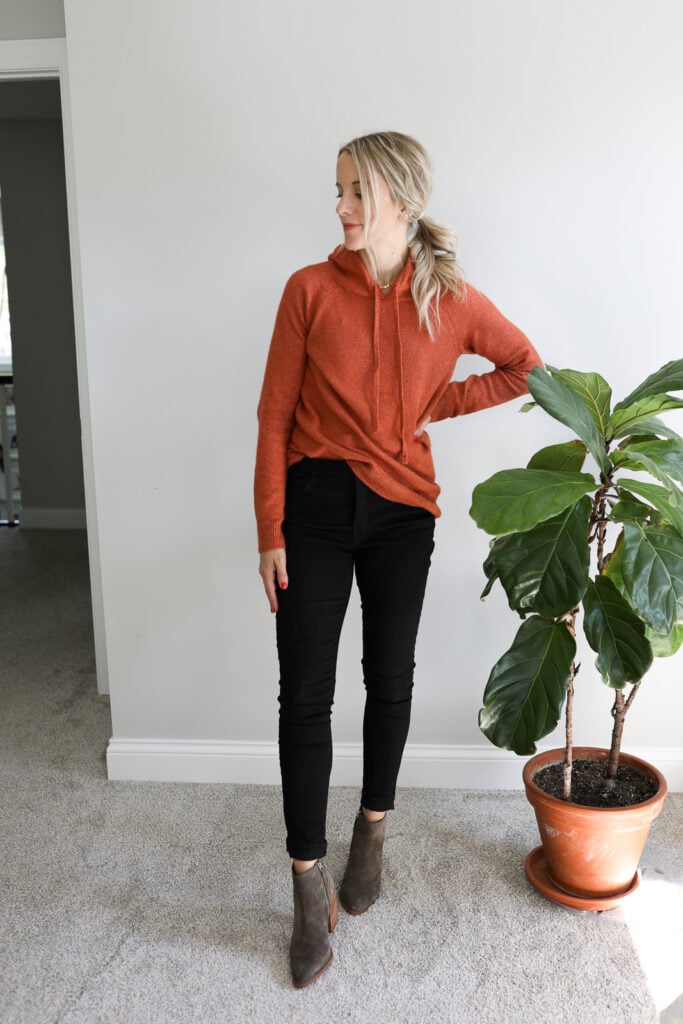 If it's a casual event, you could wear jeans and a nice top or sweater. Pair with boots and a jacket for when you leave.
Sweater Dress and Ankle Boots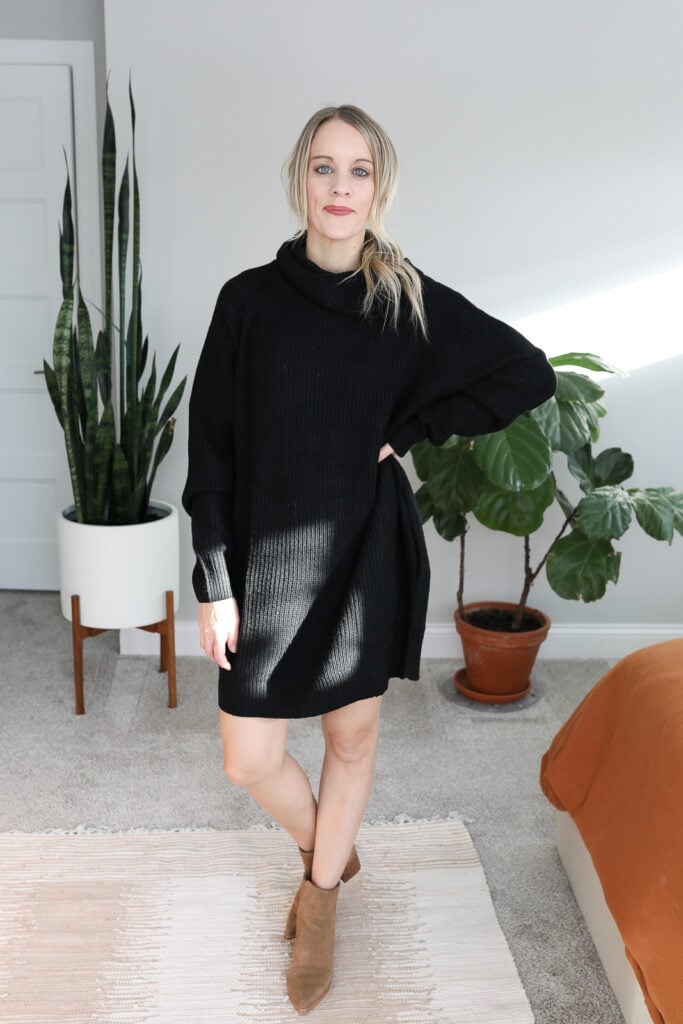 Shop the Look: Sweater Dress | Boots (sold out – similar here)
You can also dress warm with a sweater dress and ankle boots to look nice and keep warm!
Find more sweater dress outfits here!
Virtual Baby Shower
The great thing about a virtual baby shower is that you get to celebrate from the comfort of your own home! But don't show up with unbrushed hair and your pajamas on! You'll still want to dress up a little since you'll be on camera, but you'll only have to worry about your top half!
Treat a virtual baby shower the same way that you would an in-person shower. You should still dress up and show that you have put some effort into your appearance.
Here's a few easy ideas so that you can get dressed up from the comfort of your home:
Cute Top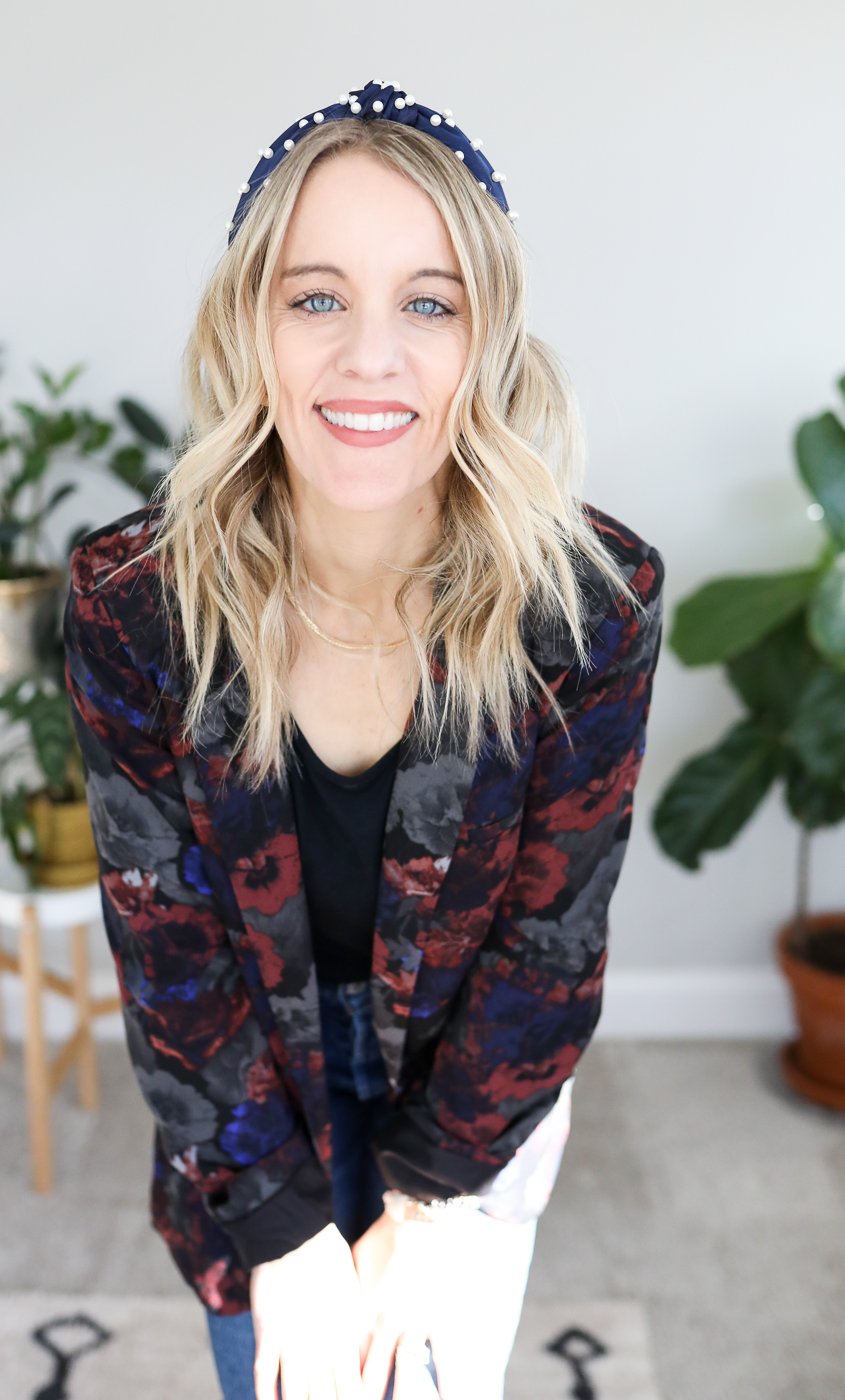 A nice top, light makeup, and a simple necklace or pearl headband will have you good to go. Keep your sweatpants on! Just be careful that you don't stand up while on camera!
Sundress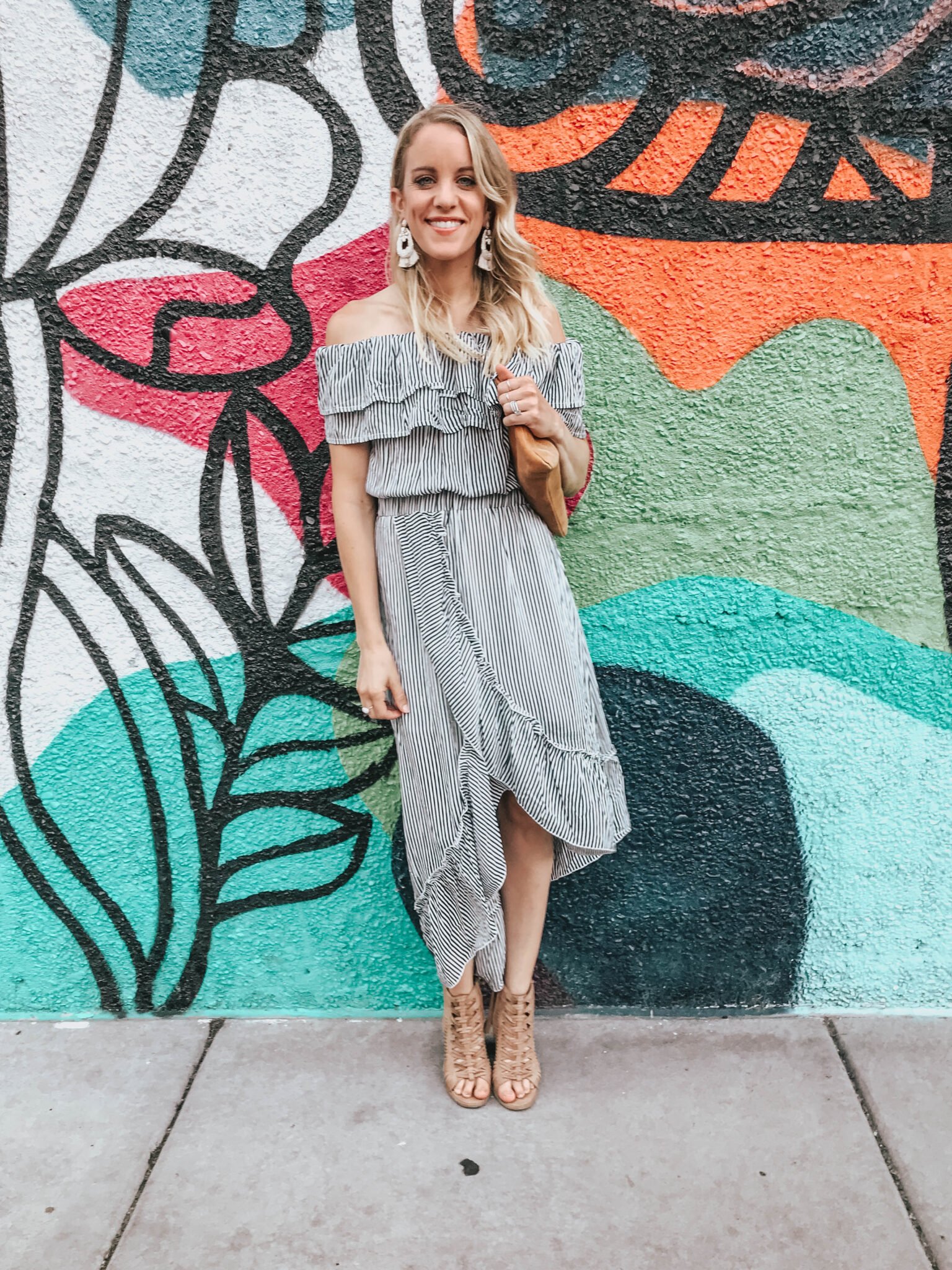 You can also wear a casual sundress. It's easy to slip on right before the event and slip off once you hang up the call. Back to comfy loungewear!
Statement Necklace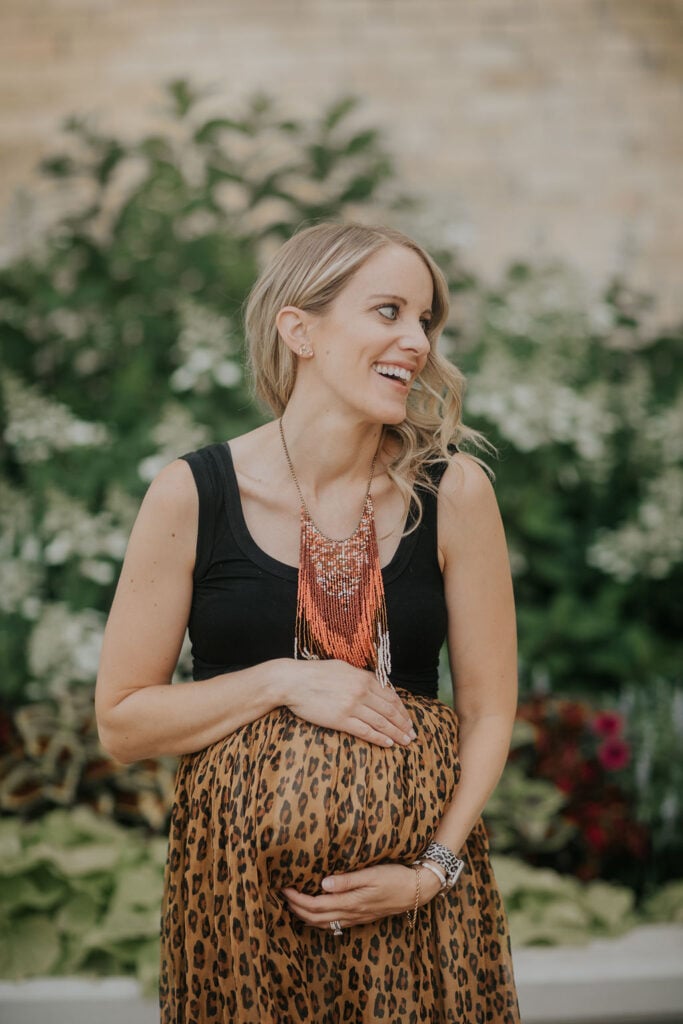 Since only your top half will be visible, add a statement necklace to your outfit! It's smart to test your lighting, background, and outfit before the event so you can know how you will look on screen.
What to Wear If It's Your Baby Shower
You have the biggest advantage if it's your baby shower! You know exactly what to expect and it's your big moment!
But comfort should be your biggest priority. You'll be opening gifts, so make sure you pick a good outfit to sit in! If you know that games are part of your party, keep that in mind, too, when picking your outfit. You'll want something that you'll feel comfortable in and feel good in!
Here's some perfect baby shower outfit ideas if you're being showered:
Off the Shoulder Dress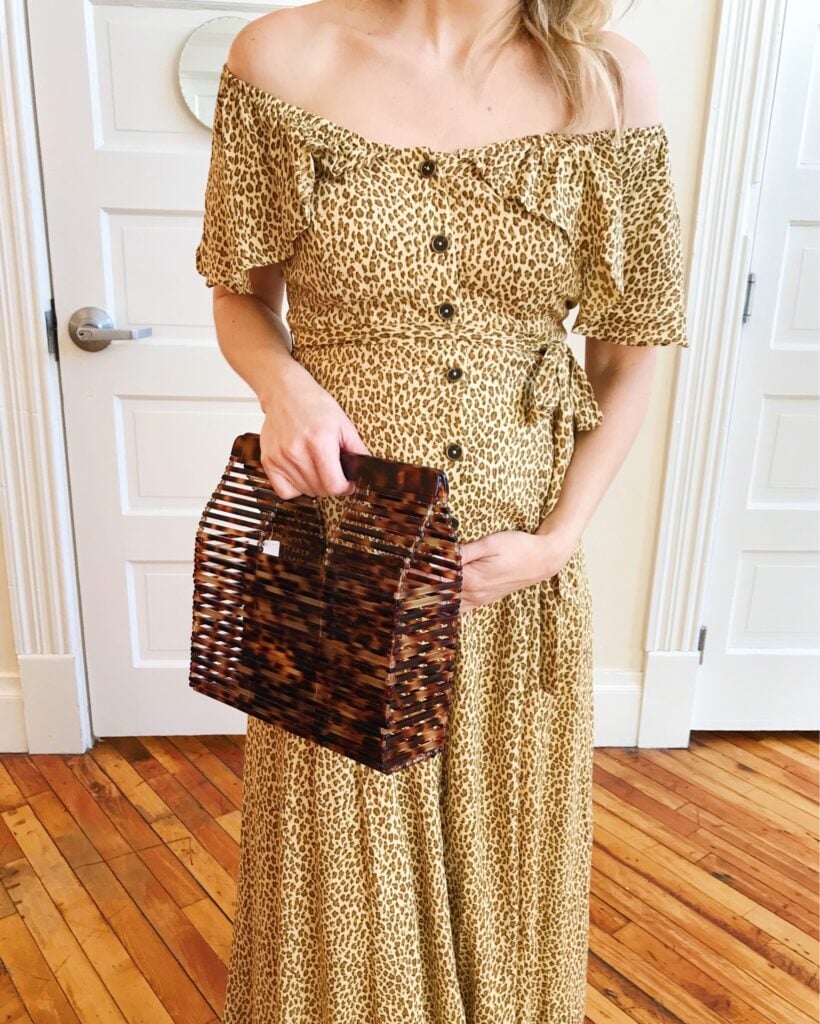 Shop the Look: Similar smocked dress
A nice flowy off the shoulder dress could be a great choice! Dresses that are flowy leave you comfortable and your whole outfit is complete–all you have to do is accessorize!
Fitted Maternity Dress and Kimono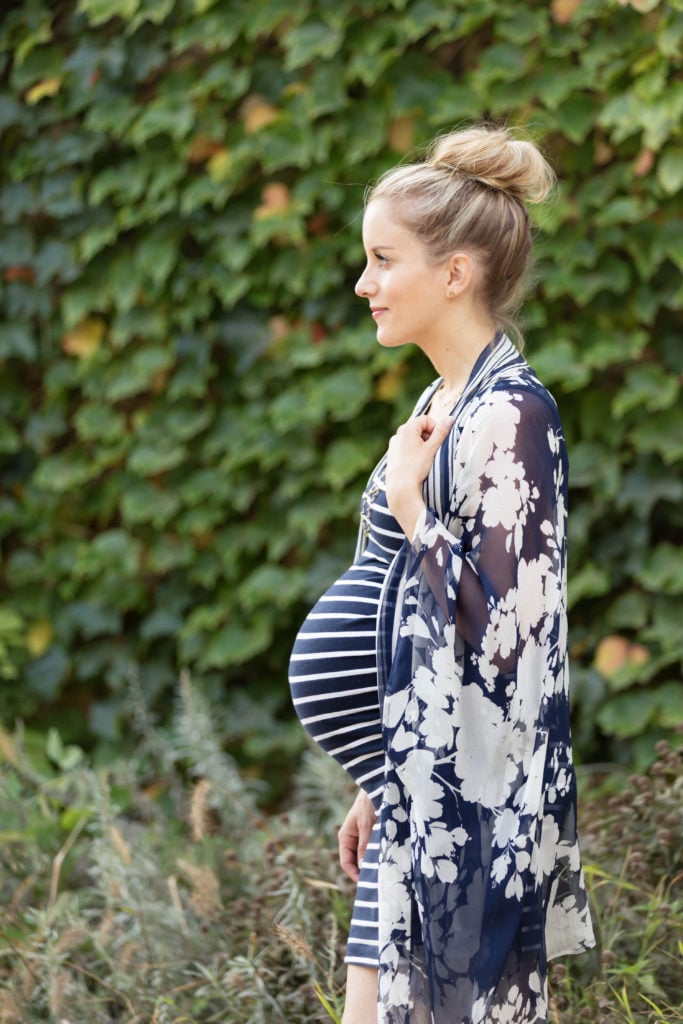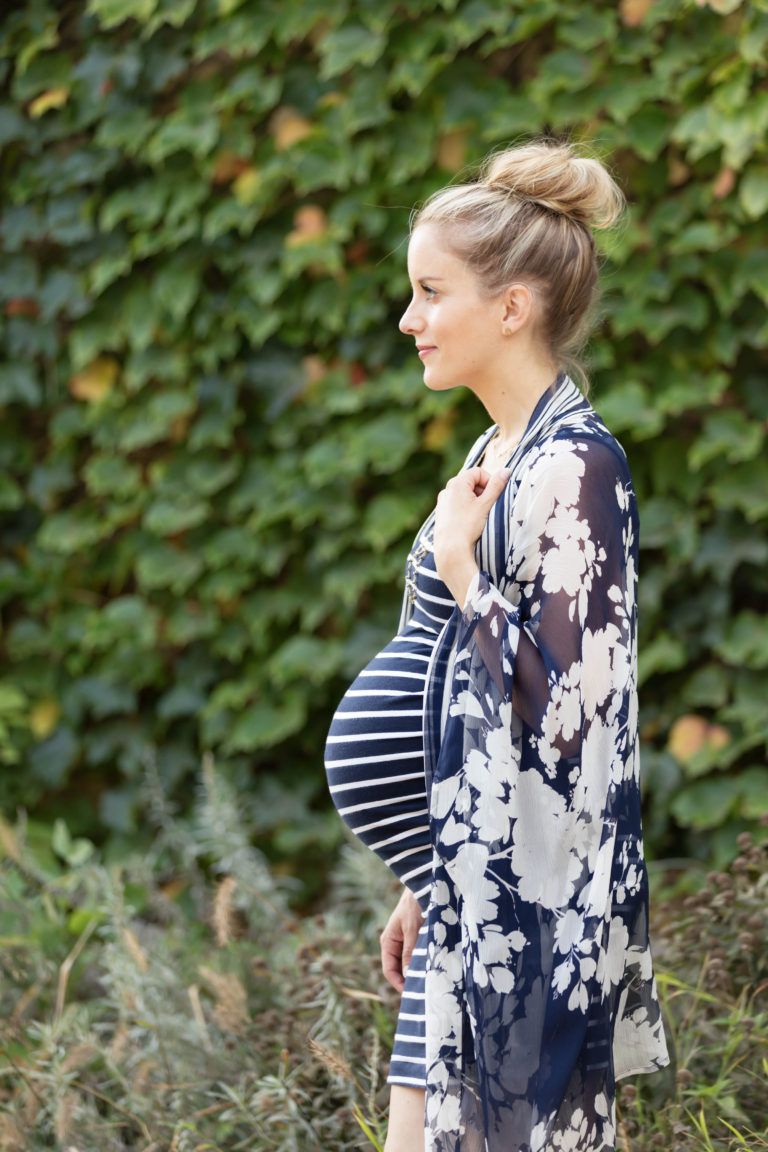 Shop the Look: Similar Jersey Knit Dress
A fitted maternity dress with a kimono is elegant and will nicely show off your bump. No need to try to hide it!
Pants or Skirt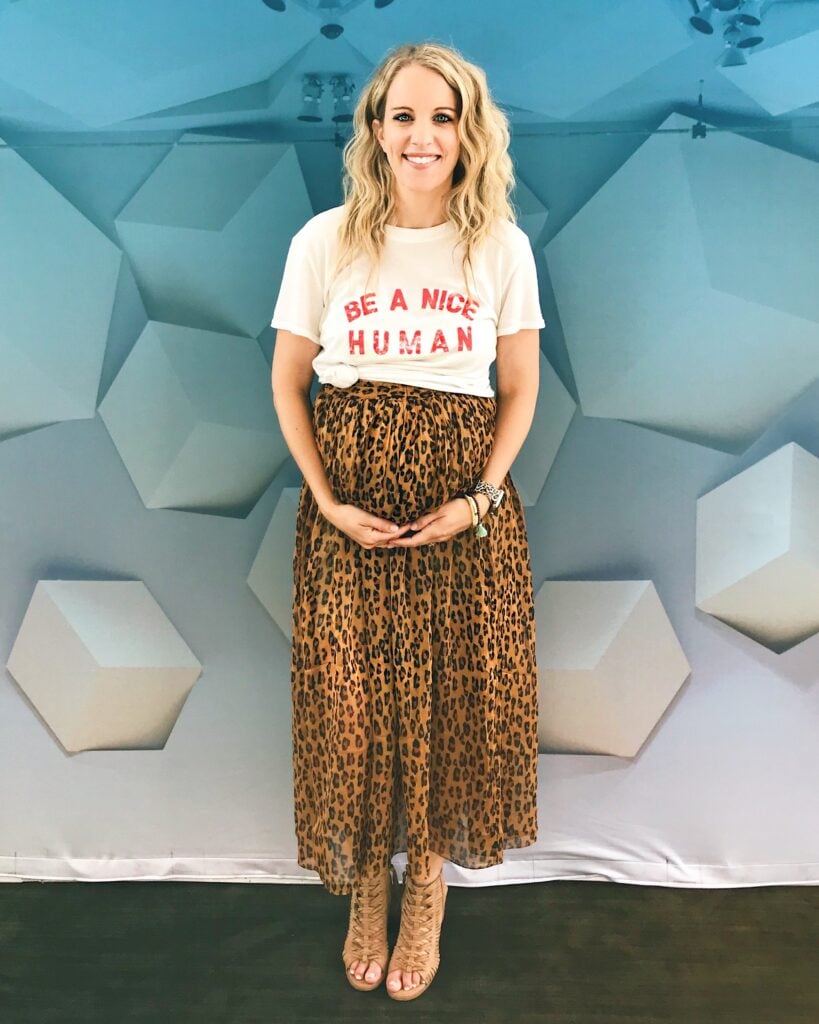 Shop the Look: Similar Skirt
If dresses aren't your thing, go with some nice pants or a skirt. There are so many cute maternity options out there, so you won't have to compromise your style.
Find more maternity clothes from Amazon here!
You'll also want to pick some comfortable shoes for walking around and mingling with guests.
Have a sweater or cardigan with you, too. You never know when your body temperature will change. One minute you might be hot, the next minute you're cold! It's always good to think ahead and be prepared.
FAQ
What color should you not wear to a baby shower?
Typically, wearing black to a baby shower is frowned upon. Baby showers are a celebration of new life, and black is generally associated with death and funerals.
It's best to go with a brighter-colored outfit instead! If your wardrobe mostly consists of darker clothes, opt with navy instead of black.
Should you wear jeans to a baby shower?
Depending on the season, venue, and dress code, jeans can sometimes be an appropriate choice when paired with a nice top! Just make sure the jeans fit well and aren't super ripped.
Jeans can be easily dressed up for a nice casual look. White jeans or capris could be great for the spring or summer, while darker jeans are great for the winter!
If the baby shower will be more formal or there is a specific dress code or theme, stay away from jeans unless specified.
What should a man wear to a baby shower?
Men should still make an effort to look nice! Just like women, they'll want to make sure their outfits can be adaptable for different settings and different weather and that it follows any specific guidelines.
Generally, men can wear khakis, dark denim and a polo or casual button up.
I hope this helps you know what to wear to a baby shower! In general, it's wise to always check the invitation for any indications about the theme and where the baby shower will be located. If you know other guests that are invited, you can always reach out to them to see what they are thinking about wearing.
Make sure that no matter what you decide to wear, that you are comfortable! You want to feel good about yourself!
Many baby showers include active games, so pick an outfit where you won't have to worry about it showing too much or falling down. And pick comfortable footwear for wherever the shower will be held.
Follow these tips, and you're bound to be dressed appropriately at the baby shower!
Looking for ideas to wear with your white jeans? Check out these outfits. Need more fall and winter outfit ideas — check here.
Here are some more maternity outfit ideas if you're the mom-to-be!