So you're expecting — congratulations! Pregnancy is one of the most exciting parts of a woman's life. That being said, your wardrobe is going to need a major overhaul to get you through the next 9 months.
I've had 3 kids myself and have learned a LOT about maternity clothes. For my first pregnancy I tried to get by with not buying much and was super uncomfortable and had such a hard time getting dressed each morning.
Once I bought my first pair of maternity jeans and a stack of maternity tops I realized they are totally worth every single cent. They not only help you feel comfortable in what you're wearing as your body is continuing to change but maternity clothes also help you feel good about how you look!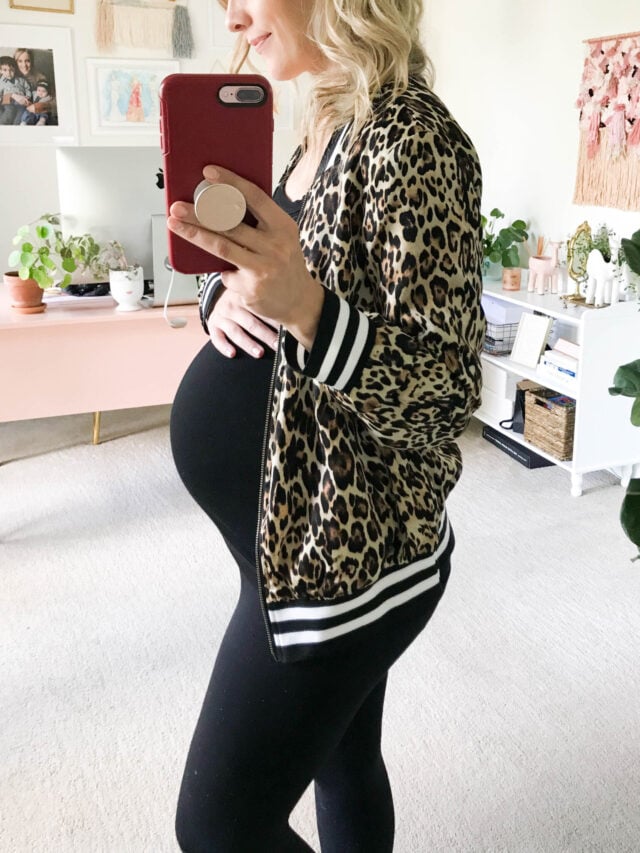 One reason I love Amazon is because there are tons of options, it's easy to return things, and it's affordable. It's also your one-stop shop for basically everything so you can create your baby registry and pick up some baby essentials while you shop.
5 Best Amazon Maternity Brands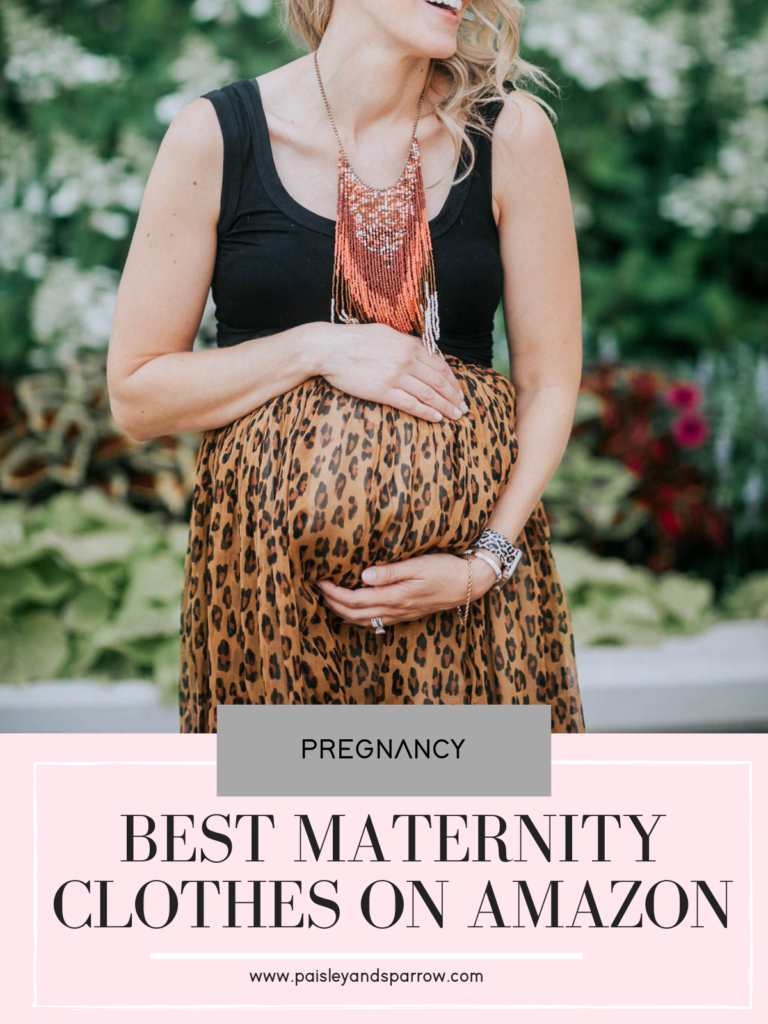 This post contains affiliate links.
Amazon is one of the best places to turn for affordable maternity clothes but not all brands are created equal. Here are some of my favorite maternity brands that you can find on Amazon.
Mother Bee Maternity primarily sells maternity dresses, but they also offer a limited selection of tops, pants, and nursing clothes. Their items are very reasonably priced, giving you a great bang for your buck.
Widely known for their comfort and quality, Kindred Bravely is a very popular maternity brand. Specializing in maternity loungewear, they're known for their pajamas, nursing tank tops, and nursing bras.
Amazon's in-house brand offers a wide variety of essential clothing items spanning many different categories. While their maternity section is fairly limited, they do have some of the basic items that you will need throughout your pregnancy journey.
Known as an OG maternity brand, Motherhood Maternity has a broad selection of maternity items, including denim, swimwear, leggings, and more.
Hatch is a high-end maternity brand that is available on Amazon. They're known for their stylish and high-quality items.
The Best Maternity Clothes on Amazon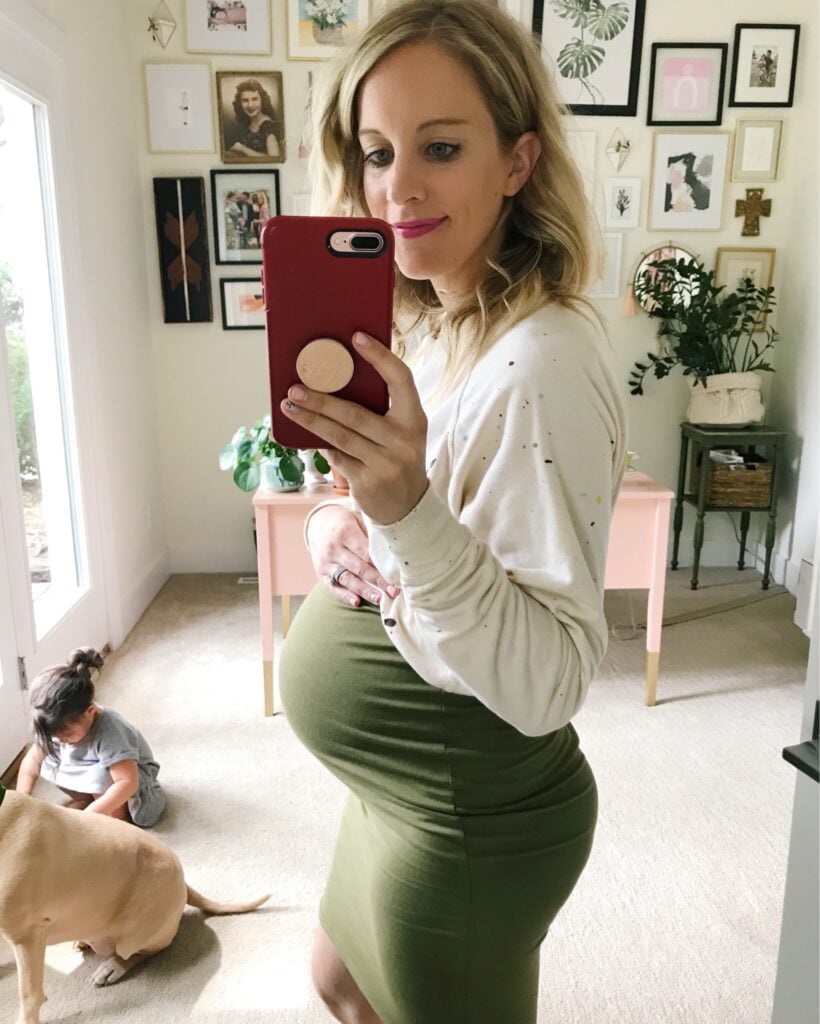 Amazon offers thousands of maternity options to choose from for pregnant people of all body types, but there are some items that you won't want to miss. Here are my top recommendations for maternity clothing that is both stylish and practical.
Best Maternity Tops
While you may not need maternity tops until the second trimester, these are going to be some of the most useful things you can buy! It's a good idea to invest in a few staples and of course have fun with a couple trendy items!
While it's fun to look at all the fashionable maternity tops out there, be sure to budget for the basics as well! This 3-pack of ruched side t-shirts is a staple in any maternity wardrobe.
This isn't your average maternity tank top — it also doubles as a belly band. Its ultra-supportive stomach panel will help keep you comfortable all throughout your pregnancy.
When it comes to maternity tops, beware of bad actors! Just because a shirt is marketed as "loose", "baggy" or "oversized" doesn't mean it will be ideal for pregnancy. To make sure your tops will cover your belly all the way to the end of your pregnancy, make sure you're purchasing tops that are truly designed for growing bellies, like this adorable tunic from the maternity brand Xpenyo.
This adorable Swiss dot maternity blouse is perfect for wearing to work, or for wearing out and about. It has decorative buttons, long sleeves and a peplum fit. Pair it with a denim jacket for a cute, layered look.
This is a great top for the first trimester when you may be covering up your bump before you start sharing the good news!
Don't forget to upgrade your workout gear for pregnancy as well! This highly rated fitness tank top from Adidas will help you stay fit and comfortable all throughout your pregnancy.
Best Maternity Dresses
I had 2 summer babies and one early fall baby so I ended up wearing a lot of dresses throughout the summer months.
Whether you need a special occasion dress for a baby shower or photo shoot or you just want a dress for everyday wear, here are some great options!
With over 6,000 five star reviews on Amazon, this adorable maternity dress flatters every body type and any bump size. Available in a wide variety of colors and prints, this comfortable gown is perfect for any baby celebration.
Stay comfy and cute in this bodycon dress from LaClef Maternity. Top off your bump with a bow with the adorable tie front!
This highly rated maternity dress is a great option for any occasion. With a dozen different colors to choose from and sizing up to 3XL, this stretchy gown is perfect for any mama to be.
If you're a floral-loving gal, this is the dress for you! Available in many different floral patterns, this flowy dress will make it feel like springtime any time of year.
Designed for pregnancy and beyond, this midi dress from Kindred Bravely also features an easy access top that will come in handy if you choose to breastfeed after baby arrives.
Best Maternity Leggings
One article of clothing I lived in for all 3 of my pregnancies was leggings. They're truly one of the best things from your first trimester to your third trimester (and of course for postpartum wear too!).
I have a whole post on maternity leggings with other options other than Amazon but here's a few additional ones!
Whether you're lounging or exercising, these comfy leggings from Momcozy will be there to support you. Featuring a sleek seamless design, these over-the-bump pants are a fan favorite on Amazon.
Ingrid & Isabel have the best under-belly maternity leggings available on the market. Their maternity leggings provide flexibility so you can find the best fit, allowing you to wear them either over or under the bump by adjusting the band built into the leggings.
Ingrid & Isabel leggings are unique because they are designed with breathable fabric, chafing control and provide ankle zippers for when your ankles are feeling a little swollen, a great relief as your body changes in so many different ways.
Never worry about your bump not being covered with these super high-rise maternity leggings. Made from 95% Cotton, these are the perfect everyday leggings to rock with any outfit.
Designed to grow with you before, during, and after pregnancy, these high-end leggings from Hatch will be your new best friend. They feature a stretchy top section that you can fold down in case you have a c-section, allowing you to continue to wear them comfortably after your baby is born.
The unique cross front design or these maternity leggings will look adorable on your growing bump. Designed to comfortably fit under your belly, you'll want to continue wearing these well after your pregnancy!
Arguably the experts of creating comfortable maternity clothing, Kindred Bravely has done it again with these leggings. Available in black and navy, these ultra-stretchy high waisted pants will be your new favorite both during and after pregnancy.
Having support on your belly is so important during pregnancy, especially when you get closer to your due date and can feel the weight more than ever.
Blanqi leggings are breathable and stretchable, which will adjust nicely throughout your entire pregnancy. They are made to stretch over the belly, which will help redistribute the weight of your belly and hug you in all the right places.
Best Maternity Jeans
Trust me when I say, you need a good pair of maternity jeans! I tried to go without for my first pregnancy but once I invested in a pair of good jeans for everyday wear I was so much happier!
It extended my wardrobe since you can pair jeans with so many different things and just helps getting dressed that much easier.
Comfort is the name of the game when it comes to maternity jeans. Stay stylish all throughout your pregnancy with these skinny jeans from Levi Strauss.
Don't feel like you have to sacrifice your style after you get pregnant! Continue to look cute with these distressed underbelly maternity jeans.
These trendy straight-legged jeans from Motherhood Maternity go with almost anything! They have a secret panel made of a stretchy fabric that will grow with your ever changing bump. Pair with an oversized band tee for a perfect everyday look.
These maternity jeans from Savi Parker feature two unique belly panels that allow for some serious stretch while still looking stylish.
If you're more of a flare jeans kind of girl, then these are the maternity jeans for you. Available in black and navy blue, these classic cut jeans would look great styled with a blazer.
Best Maternity Photoshoot Dresses
With over 8,000 reviews total, this is one of the most purchased maternity dresses on Amazon! Available in tons of stunning colors, this is the perfect gown for a maternity photo shoot.
This beautiful form-fitting gown was designed to flatter baby bumps. With a multitude of shades to choose from, you're sure to feel beautiful in your maternity photos with this dress.
A reviewer favorite on Amazon, this all-lace maternity gown features a gorgeous train that will look incredible in maternity photos.
If you choose to do boudoir maternity photos, this is the perfect gown for you! Made from beautiful sheer fabric, this open-front dress will display your precious bump beautifully.
This maternity dress has it all — a tiered skirt, flowy sleeves, and a super flattering mermaid fit. Any mama-to-be would look gorgeous in this luxurious gown!
Other Great Maternity Clothing Items
Take your bump to the beach with this adorable maternity swimsuit! Add a floppy sun hat to complete the look and you can't go wrong.
This pajama set from Hatch is perfect for gifting, either to yourself or to another mama-to-be! The set includes a matching bamboo nightgown and robe, a pair of comfy briefs, and a pair of cozy socks that were made in Italy.
At a certain point in your pregnancy, your trusty biker shorts will no longer fit. (Sad day!) Make sure you're prepared to replace them with these comfy maternity yoga shorts from Foucome.
Have a shirt that isn't maternity sized that you just don't want to give up? These shirt extenders have got you covered — literally!
Because nothing's cuter than a baby bump in a pair of overalls. This pair from Motherhood Maternity features stretchy side panels to grow with you all the way to the end of your pregnancy journey.
Don't let shopping for new maternity clothes stress you out — Amazon has got you covered! It's a great place to pick up some cute maternity clothes that you'll love for your entire pregnancy no matter what your budget.
I hope this guide helped make your search for pregnancy essentials a little easier. Happy shopping, and congratulations, mama!
Want some more clothing suggestions for pregnancy and postpartum? Check out the best postpartum pajamas, cutest postpartum swimsuits, and maternity outfits for summer!