All 3 of my pregnancies have had the majority of my 2nd or 3rd trimesters in the summer so I've learned a few things about summer pregnancy outfits!
It's not always easy to find clothes you're comfortable in – both with a growing bump AND so you don't overheat!
I honestly try to make do without buying too many maternity specific clothes but instead try to make do with things I can actually wear again.
Before we get into outfit ideas, let's answer a few common questions!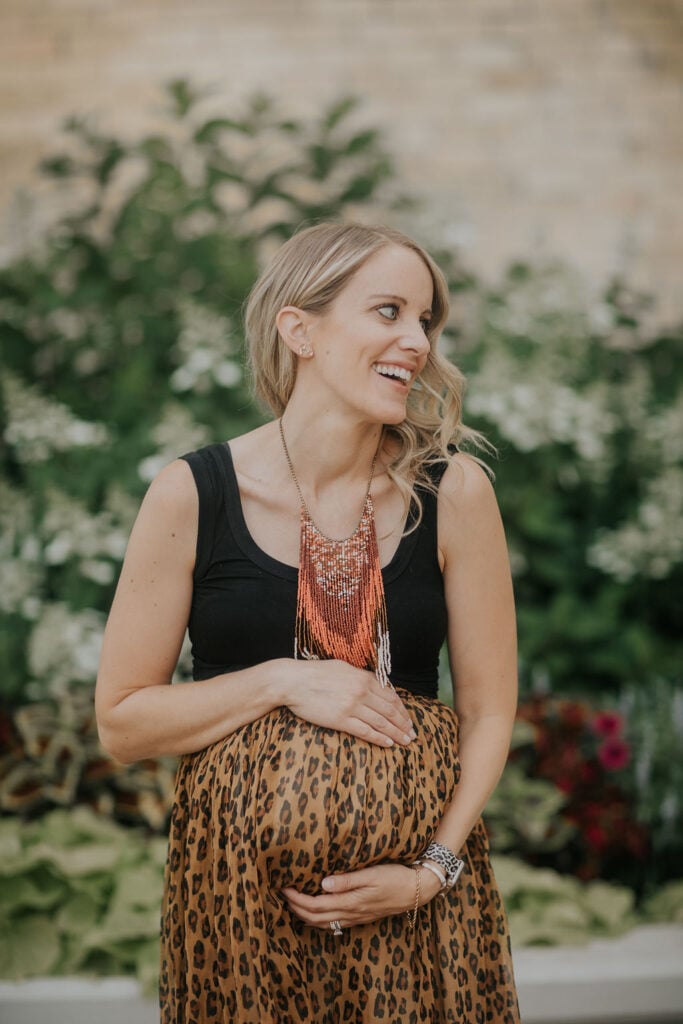 What Should I Wear for Maternity in Summer?
There are many options for what you should wear for maternity in the summer and here's a few essentials:
Dresses – Probably one of the easiest and most chic way to cover your bump!
Stretchy Skirts – Another easy way to cover your bump and also not overheat. Pair with fitted tanks or knotted t-shirts and you'll be the most stylish mama on the block!
Comfy Shoes – Make sure they're easy to get on and off! Think cute, comfy sneakers or sandals with good support. Your feet also may likely swell so be sure to not have any shoes that are too tight!
Fitted Tops – Great for pairing with flowy skirts or to show of your bump and…
Flowy Tops – Great for putting on over bike shorts or leggings!
Shorts – Short are a bit of a personal preference but a good thing to have! Whether you get over the belly shorts, ones with expandable sides or bike shorts, there's tons of great options!
Below are a few of my personal favorites as well as what I would get if this wasn't my last pregnancy! I always recommend buying quality items with your first pregnancy so you're more likely to wear them for additional ones and not have to worry about them not lasting.
9 Maternity Outfits for Summer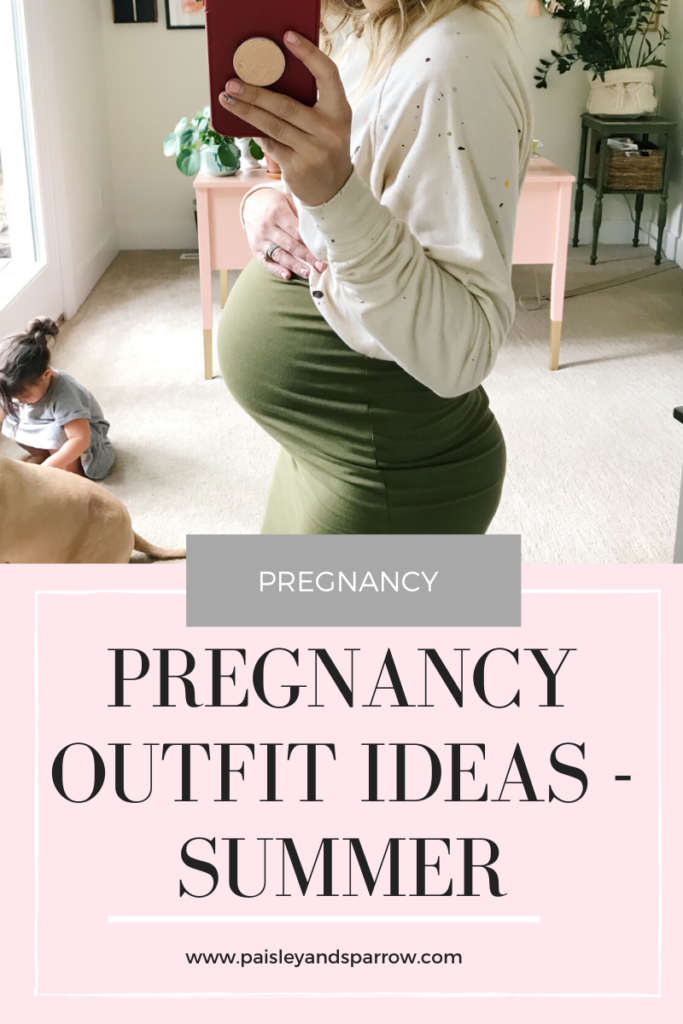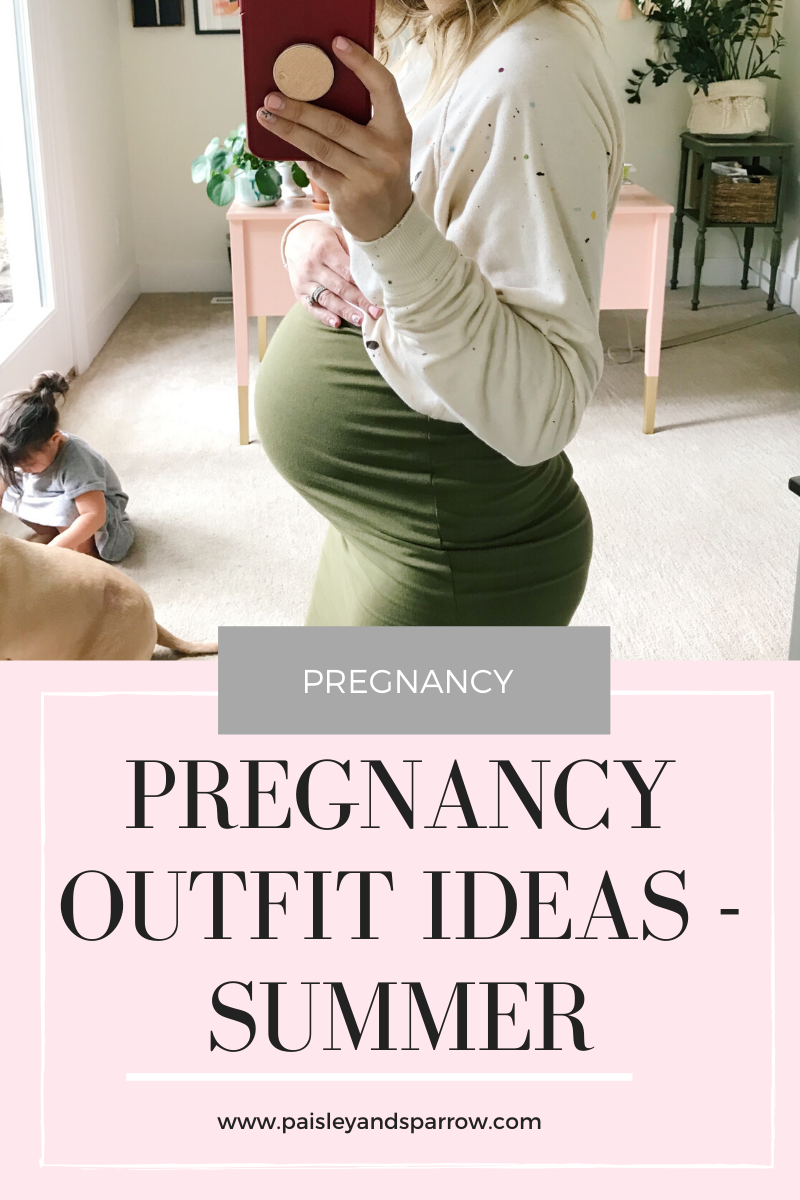 Paisley + Sparrow is a participant in the Amazon Services LLC Associates Program, an affiliate advertising program designed to provide a means for sites to earn advertising fees by advertising and linking to Amazon.com.This post may include affiliate links which means I may earn a small commission if you shop using the links below at no additional cost to you. Thanks so much for supporting me and this blog!
If you've been around my part of the internet for a while, you know I love a good pair of black distressed shorts.
Funny thing is, this is my 3rd pregnancy during the summer and the first time I've bought maternity shorts that I actually loved!!
These shorts are super comfortable, not too short and the perfect amount of distressing. I actually bought 2 other shorts from Pink Blush for our vacation and I only wore the denim ones once because these black ones are superiorly more comfortable.
If you're in between sizes I recommend sizing up!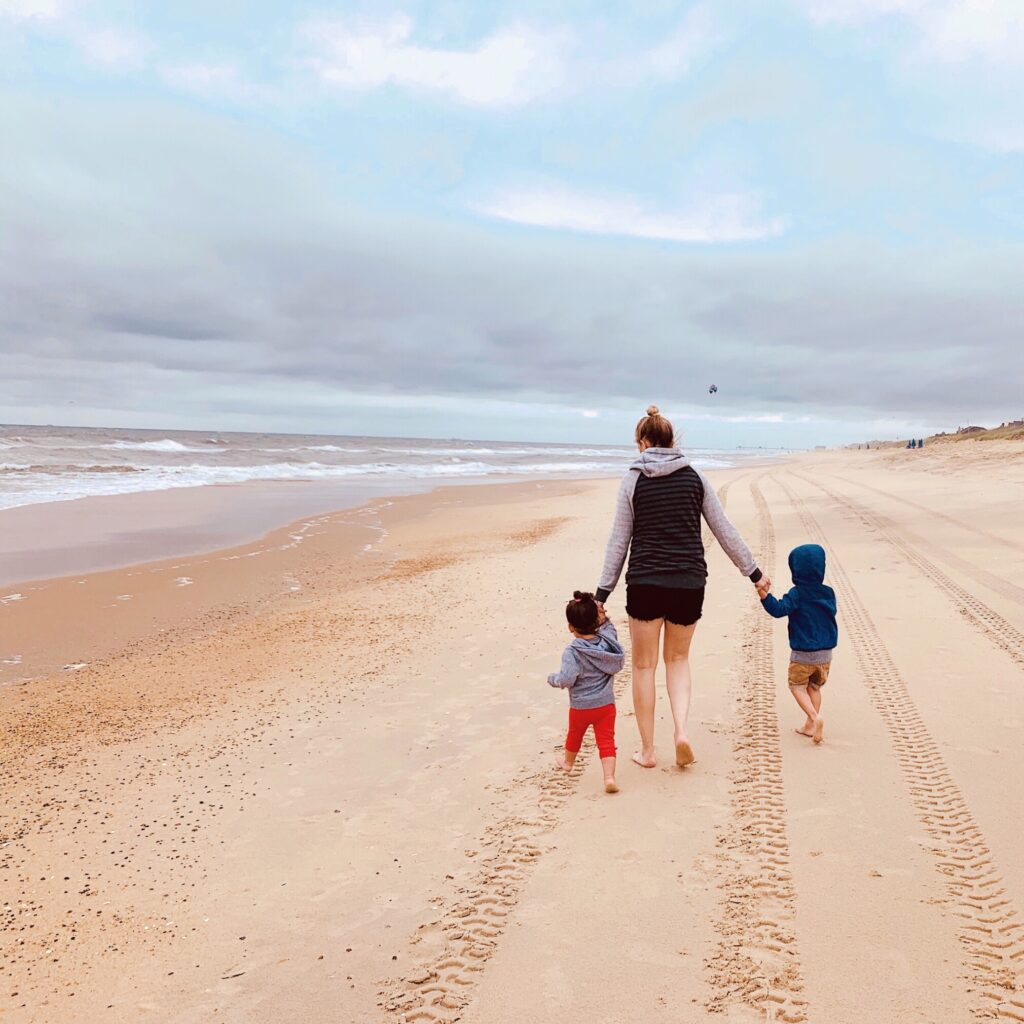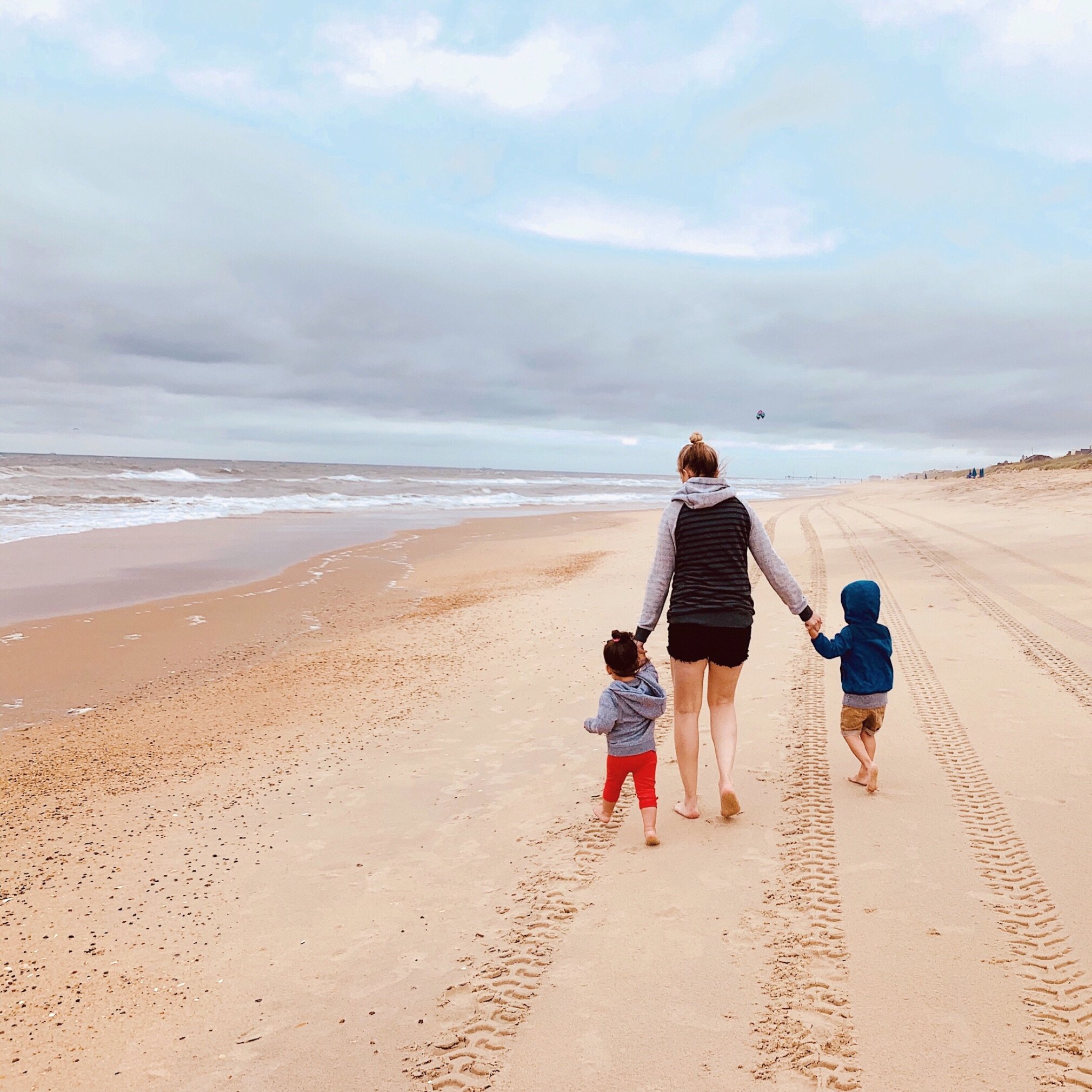 2. Grey Denim & White Tee & Bandana
Even in the summer you need a pair of good maternity pants and these have been in constant rotation so far for me!
I love skinny jeans whether I'm pregnant or not and these are perfect. The over the belly band doesn't fall down and they have the perfect amount of stretch.
Grey is ideal for summer because you can pair it with white tanks or bright colored tops and everything in between!
Skip the necklace and try a bandana! Here's a simple tutorial to easily tie a bandana around your neck!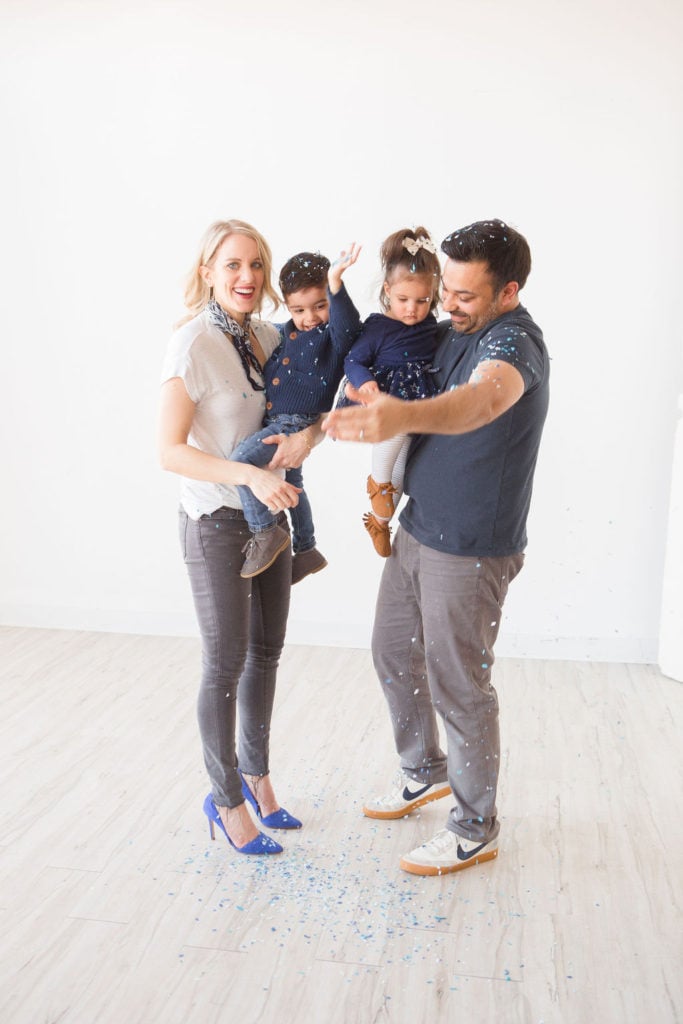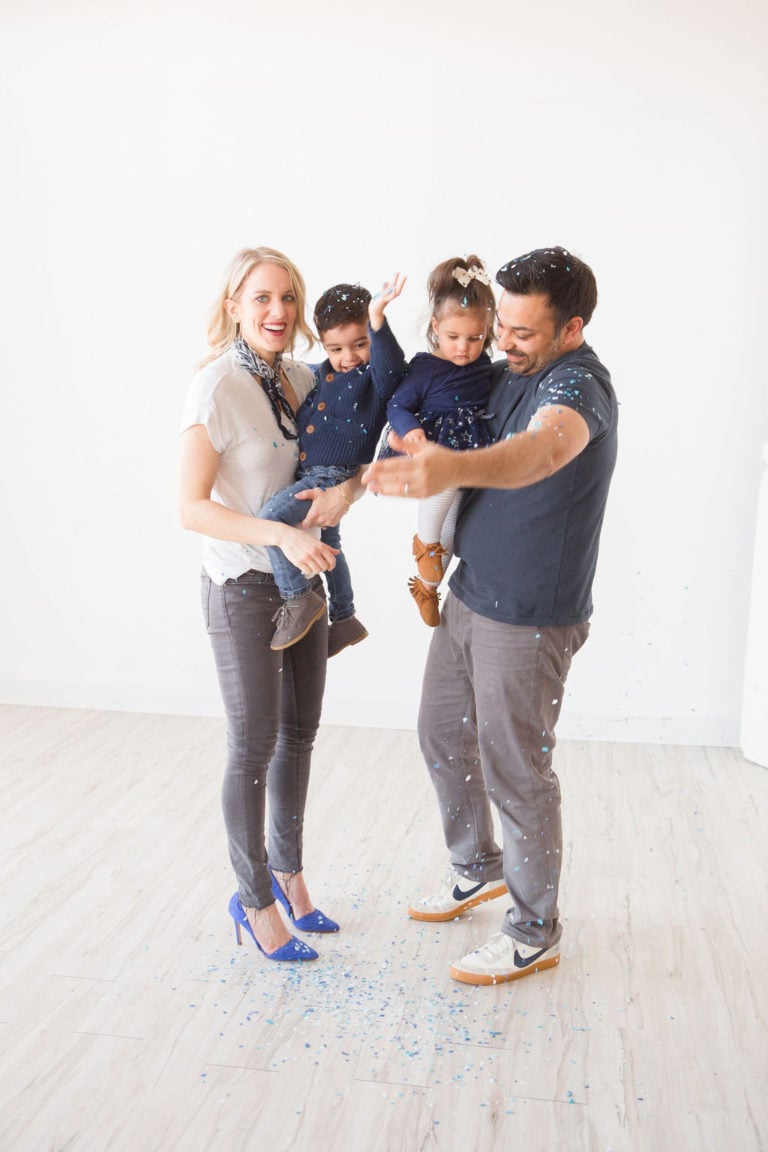 This dress is simply amazing! I bought it in purple when I wasn't pregnant and loved it so much I bought it in black (and will likely buy it in even more colors before the summer is over).
It's super flattering on all body types and is ideal for postpartum too!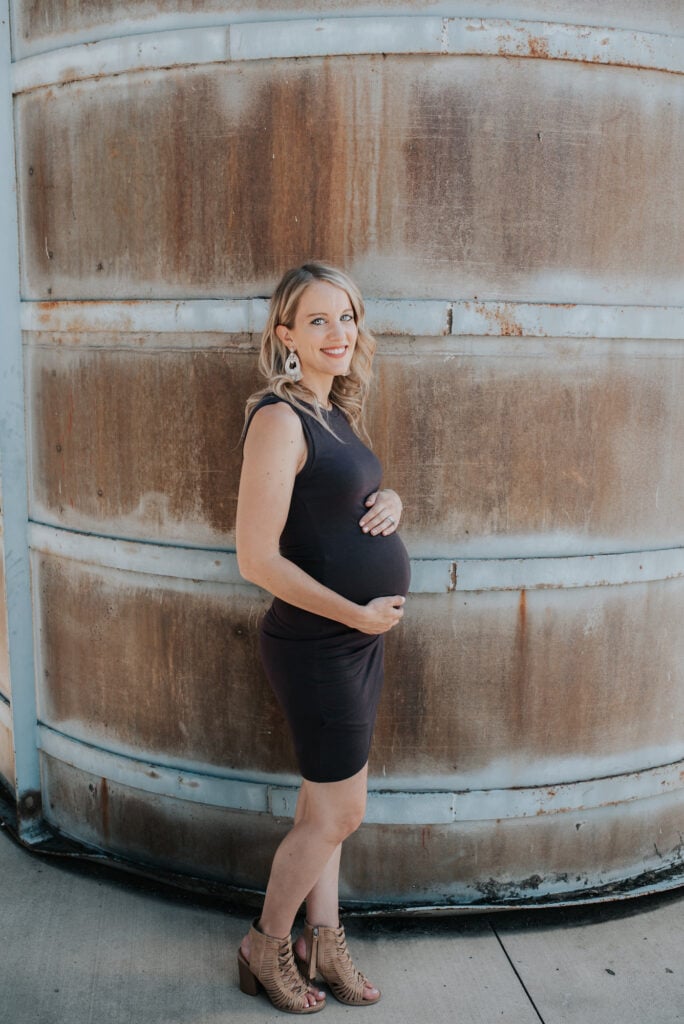 I don't size up on this dress otherwise the arm holes are too big. However, if you have a large chest you may want to size up one! If you also want it a bit longer, definitely go up one as it can get a tad short.
Here's a look at the black one too!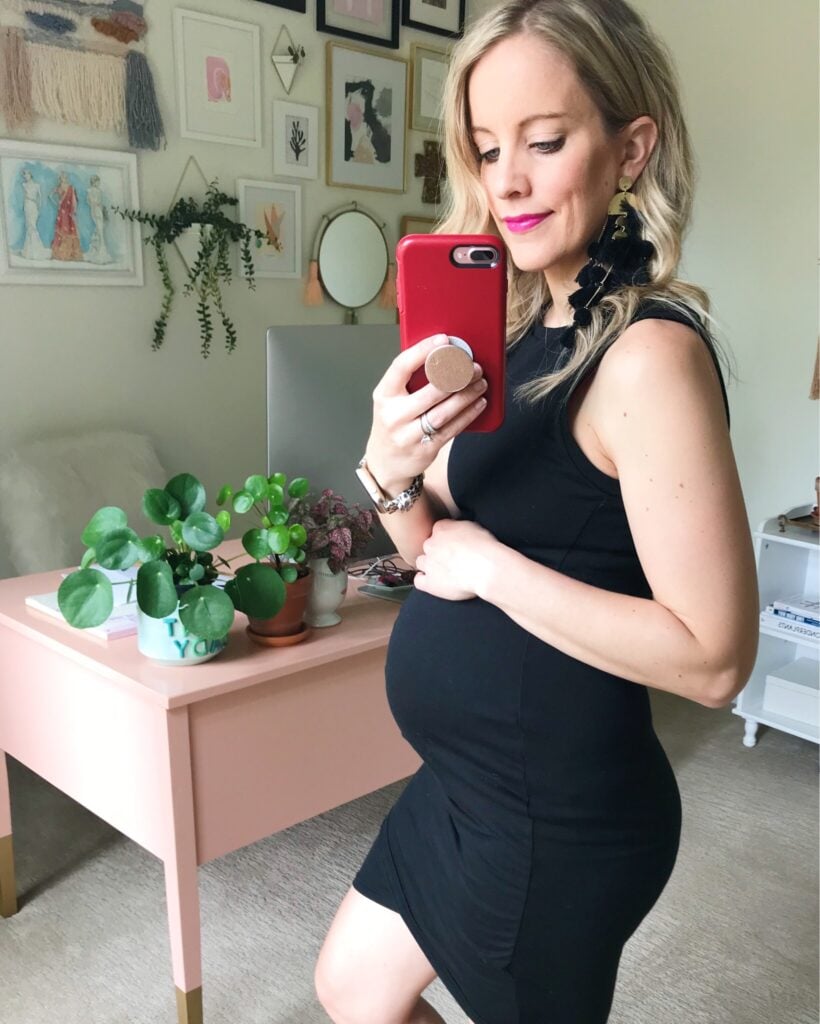 These are the most comfortable dresses ever! I typically prefer more fitted dresses so people don't have to wonder if I'm pregnant or just put on some weight (haha!).
Dress this up with a kimono or wear it with sneakers for a casual stroll around the neighborhood. The options are endless!
Mine is sold out but this dress from Old Navy is super similar with lots of color options!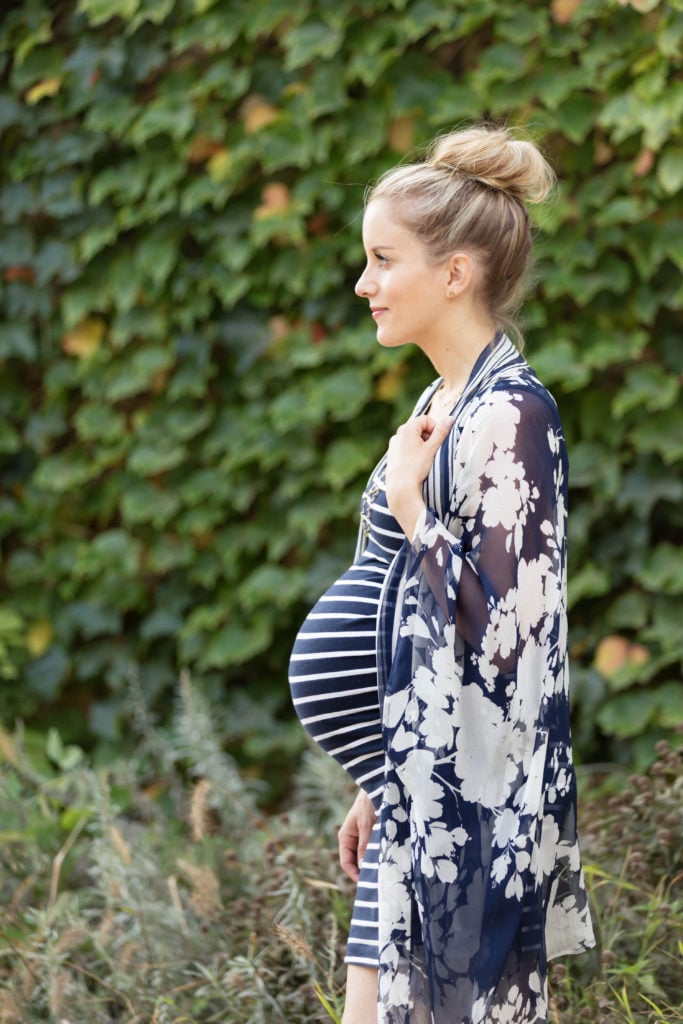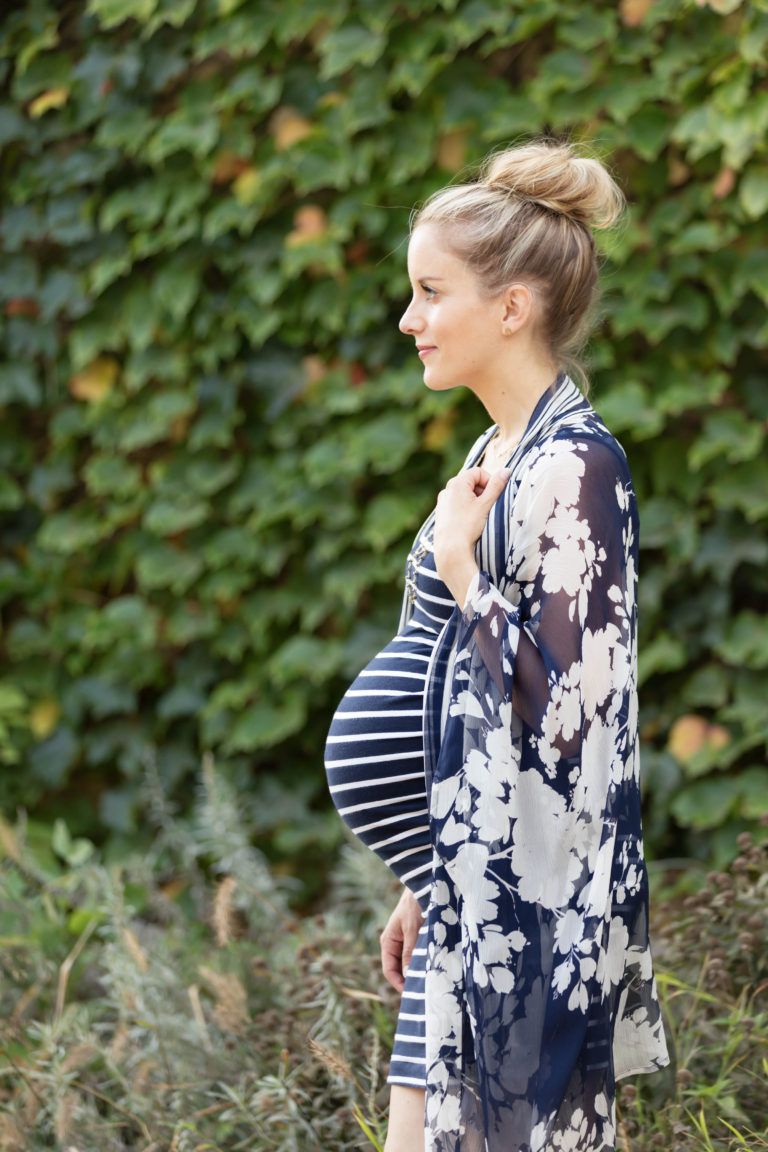 5. Solid Tank & Shorts, Pants or a Skirt
This racerback tank comes in a ton of colors! It's long enough to cover any size bump and is super comfortable.
It's great for layering under just about anything! It also doesn't scream "maternity" so you can easily wear this postpartum if you don't mind the length!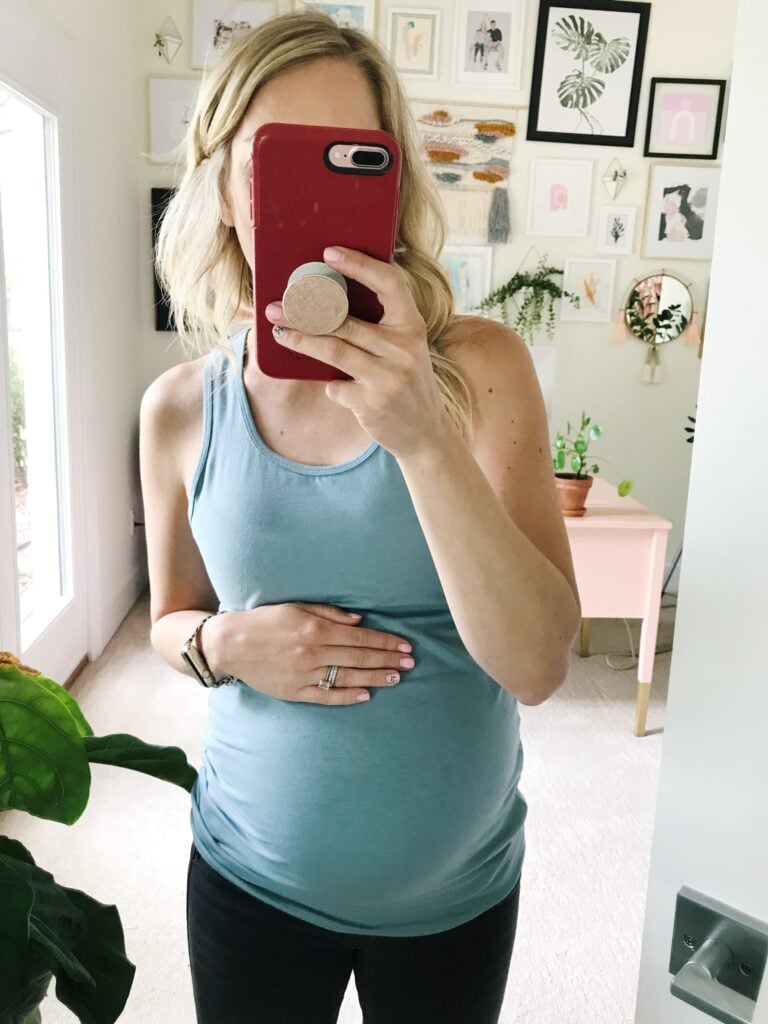 This may be one of my favorite things to wear when I'm pregnant!
I love pulling stretchy pencil skirts up over my bump and pairing it with a knotted graphic tee or tank. I have 2 super old ones that I love to wear and got this non-maternity one off of Amazon that is perfect!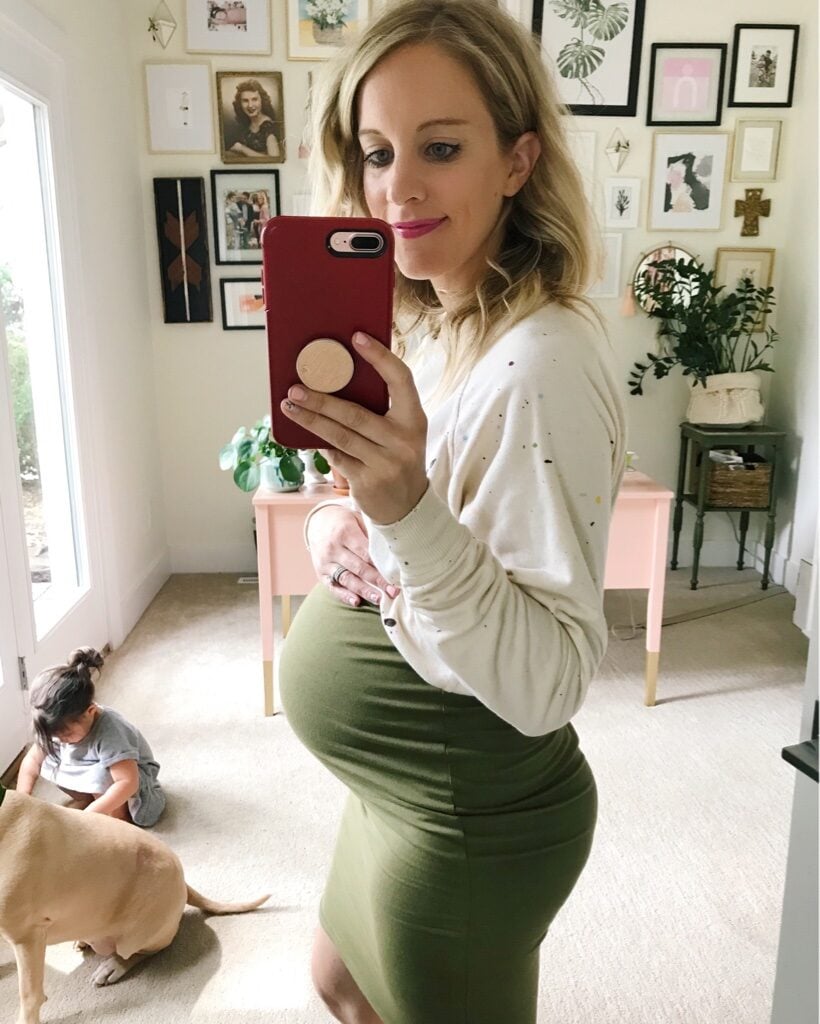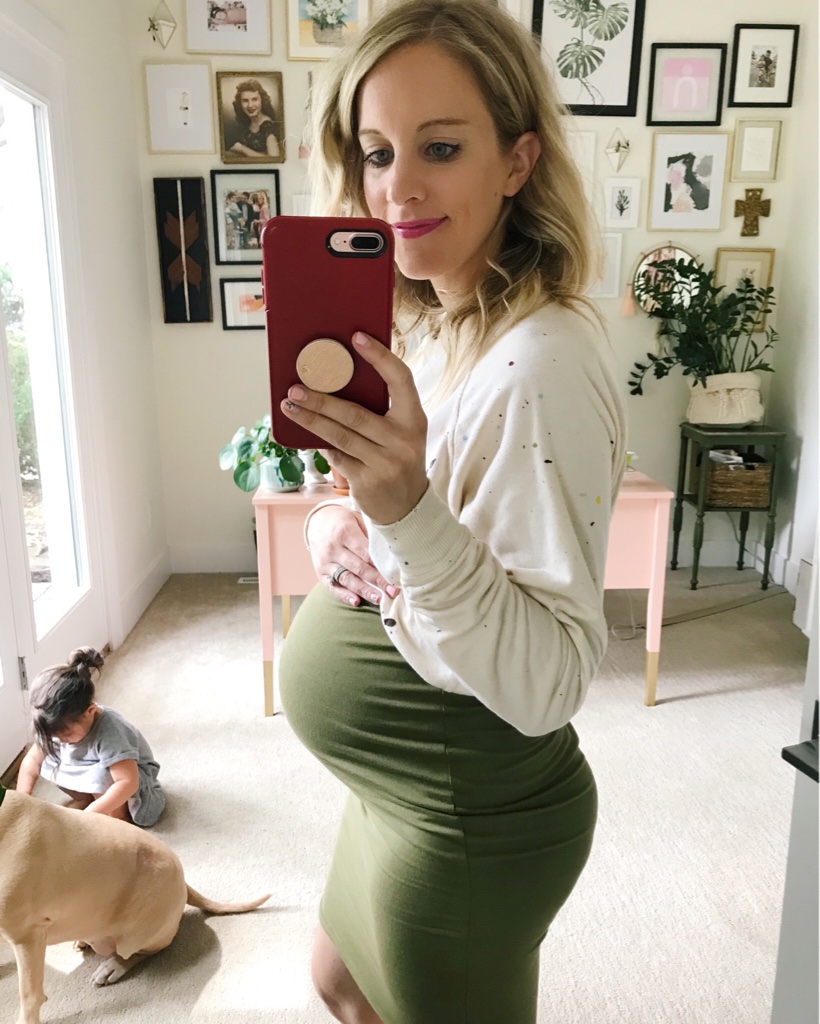 If you love distressed denim pre-pregnancy, you'll love them during! I bought these denim shorts during my 3rd pregnancy and lived in them (and the black ones above!).
Side panel shorts are great for summer so you don't have an added layer over your belly making you hotter than you already are.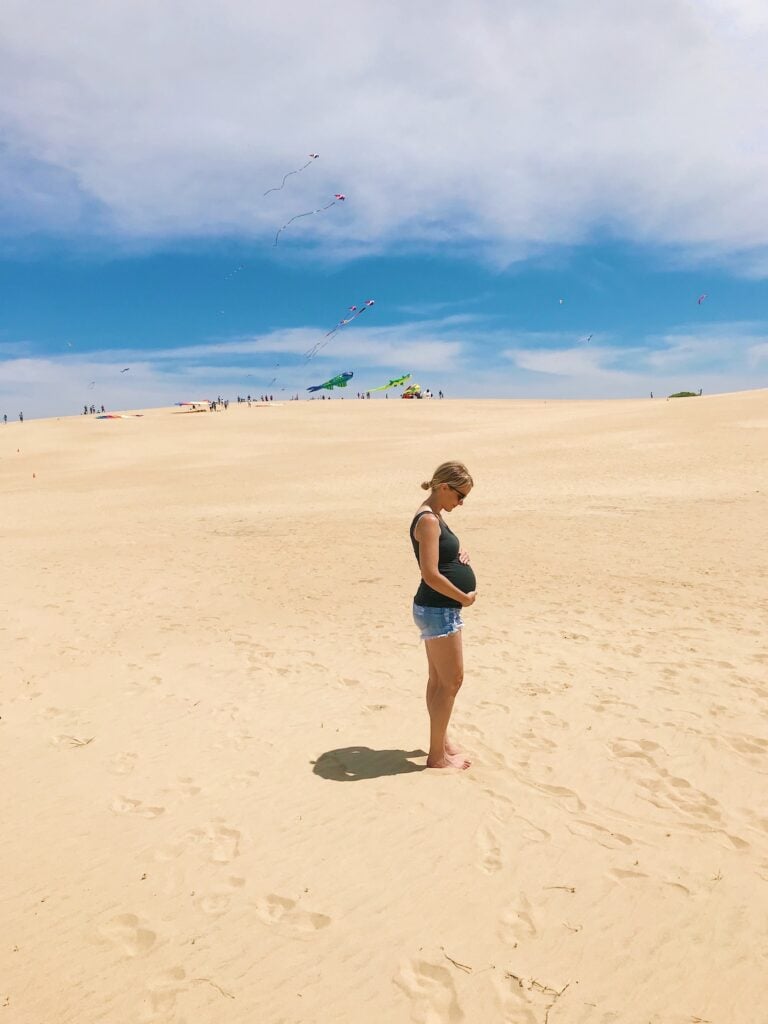 (Hate shorts? Here are the 10 best maternity leggings!)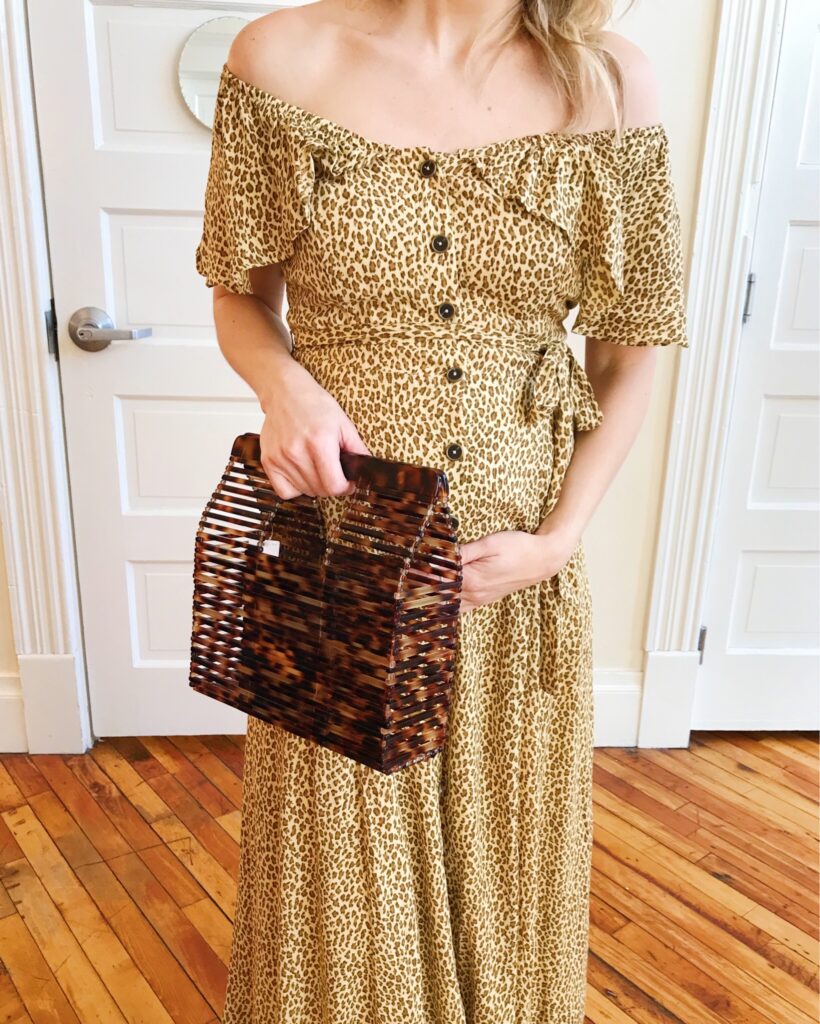 I love flowy dresses at all times and this one was no different! Unfortunately it is sold out but this dress is super similar and stunning!
Flowly maxi dresses allow air to move so you're not too hot and are super flattering. You could easily transition this to fall with a cute denim jacket too!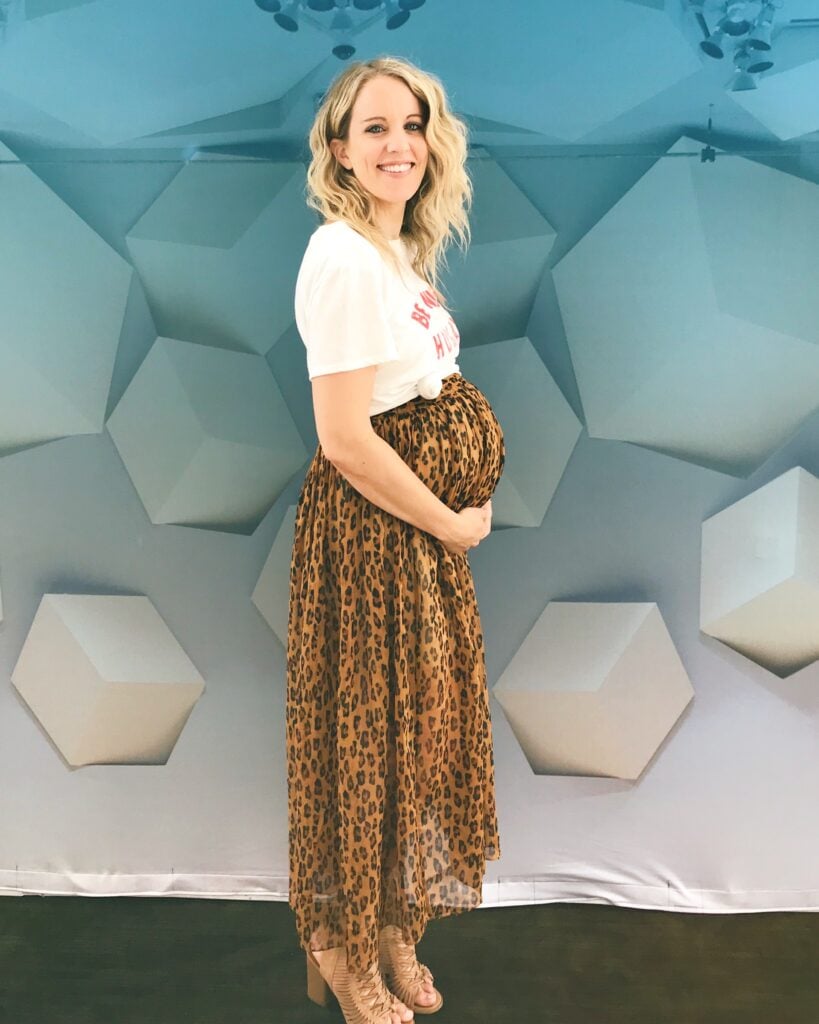 Just because you're pregnant doesn't mean you can't wear animal print! Leopard and all animal print is super versatile and fun to wear.
Maxi skirts are perfect worn over the bump with a fitted top or under the bump if you need/want to add a little length! Mine is sold out but this one is super similar!
FAQs
How many weeks pregnant do you start wearing maternity clothes?
Usually after 12 weeks you'll need to start wearing larger clothes and 15+ you'll need maternity clothes.
Should you go up a size in maternity clothes?
No, you shouldn't need to size up in maternity clothes. You'll typically need to order your pre-pregnancy size.
What are 2 appropriate outfits for a pregnant woman?
wo appropriate outfits for a pregnant woman are a maternity dress with a kimono and sandals and a pair of shorts paired with a t-shirt and sneakers.
One final note: I am constantly pulling graphic tees, muscle tanks and joggers from my closet to wear this summer. Put items that no longer fit towards the back of your closet so you don't even consider them in your rotation and just remember – it'll be like your birthday when you can start wearing all of your old clothes again!
I hope this helps you with some fun maternity summer clothes! If you want funny maternity shirts head here! Love leggings and need some maternity styles? I have you covered with these best maternity leggings!
And don't forget to check out my best Amazon maternity finds!
Be sure to check out my hospital bag checklist (after 3 babies I've learned a thing or 2!) and my new mom survival kit to help those first few weeks be a bit more enjoyable!
Have fun dressing the bump!
With love,
Jen