So you finally bought yourself a pair of faux leather leggings and now trying to figure out what to wear with them? You're in luck because today I'm sharing 8 different faux leather leggings outfits for you to try!
Leather leggings, faux leather leggings and leather pants are all super popular options, especially for a casual look! The best thing about them is these can be worn casual or dressy all depending on how you style them.
Once you learn all the different ways you can wear them, they will become a wardrobe staple during the colder weather months!
What Faux Leather Leggings to Buy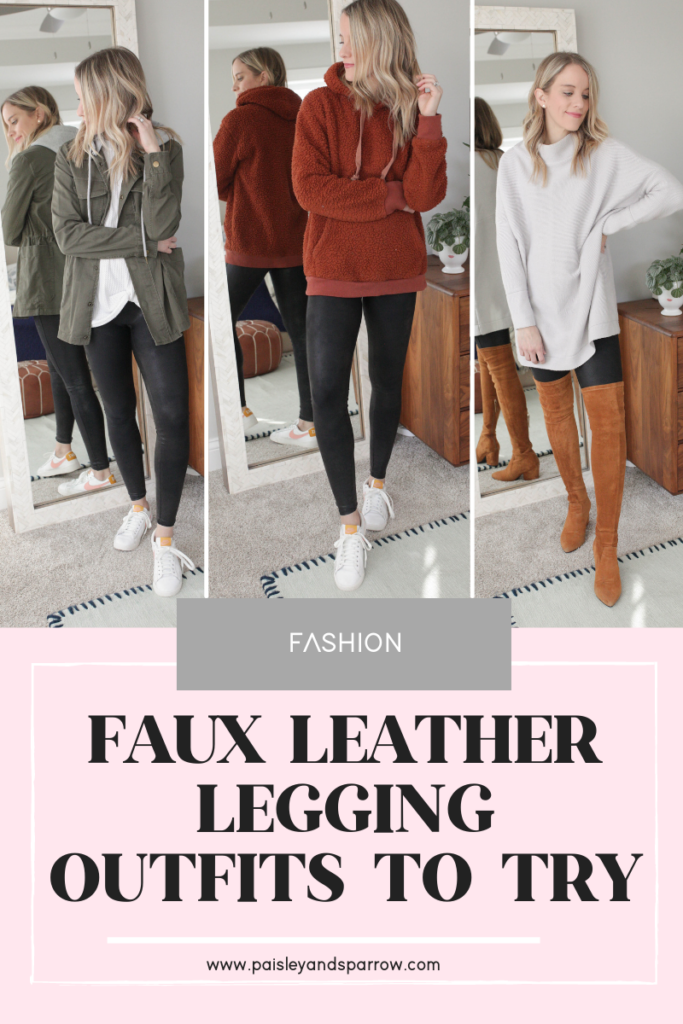 This post may include affiliate links which means I may earn a small commission if you shop using the links below at no additional cost to you. Paisley + Sparrow is a participant in the Amazon Services LLC Associates Program. Thanks so much for supporting me and this blog!
Before we get started on cute outfit ideas, let's chat about which faux-leather leggings you should get.
Spanx
All of the outfits below are shown wearing Spanx faux leather leggings. I've had mine for years and LOVE them. They have the perfect amount of compression, don't roll down at the waist and are well loved by so many people. There's a reason they have a cult following! 😉
Spanx leggings are definitely an investment piece so keep that in mind when purchasing them. They often go on sale during the Nordstrom Anniversary Sale (which I cover!) so watch for sales on these!
Commando
Other faux leather leggings that get great reviews and that I own are commando leggings. These are another great option for leather leggings. They're structured a bit more like a pant rather than a legging.
American Eagle
If spending a lot of money on leather leggings isn't your jam, I tried out American Eagle's! And while they definitely don't have the seamless look of Spanx (these are a crackle style), they are comfortable and fit well.
And the price points will make your wallet happy!
Amazon
Lastly, if you're looking for an inexpensive pair to try out, these classic faux leather leggings from Amazon get over 4,000 reviews! Plus you get that Prime free shipping!
12 Faux Leather Leggings Outfits for Fall/Winter
Today we're going to talk about my favorite ways to wear leather leggings outfits for the fall or winter season.
Hopefully this will be a starting point for your own outfit and give you some inspiration as you look in your closet to make them work with your personal style (or just feel free to copy the below exactly!).
1. A Tunic Top + Leather Leggings Outfit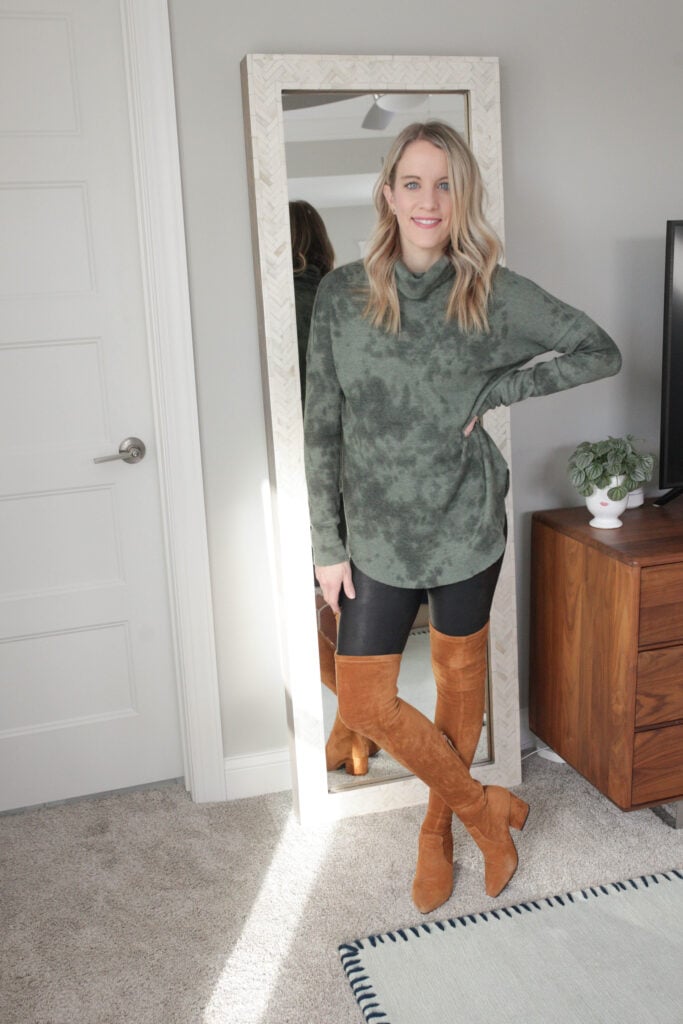 A long shirt is a great option for faux leather leggings since it covers your butt! A thicker, cozier tunic sweater is a great option for cold days or a lighter weight tunic top like the one I'm wearing is a great idea for fall.
Shop This Outfit
Spanx | Tunic Top (exact one out of stock, similar linked) Over the Knee Boots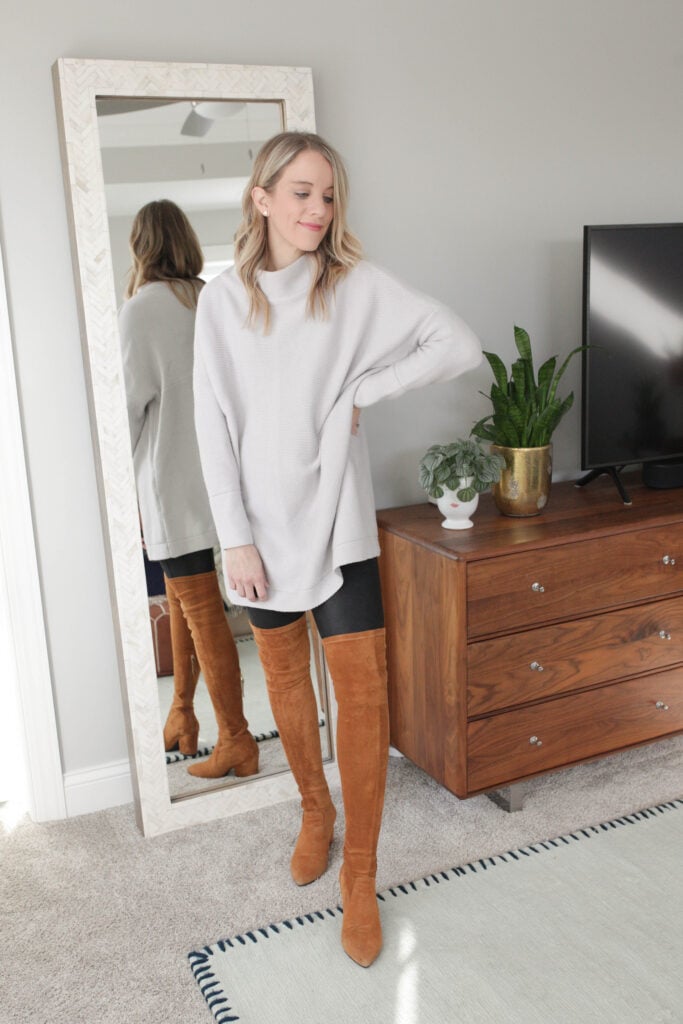 This chic look lets you feel fabulous but still be comfy with an oversized sweater and OTK boots! This is perfect for a date night outfit.
It's also an easy way to ease into this fashion trend since most of the black leather leggings are covered.
Shop This Outfit
Spanx | Oversized Sweater | Over the Knee Boots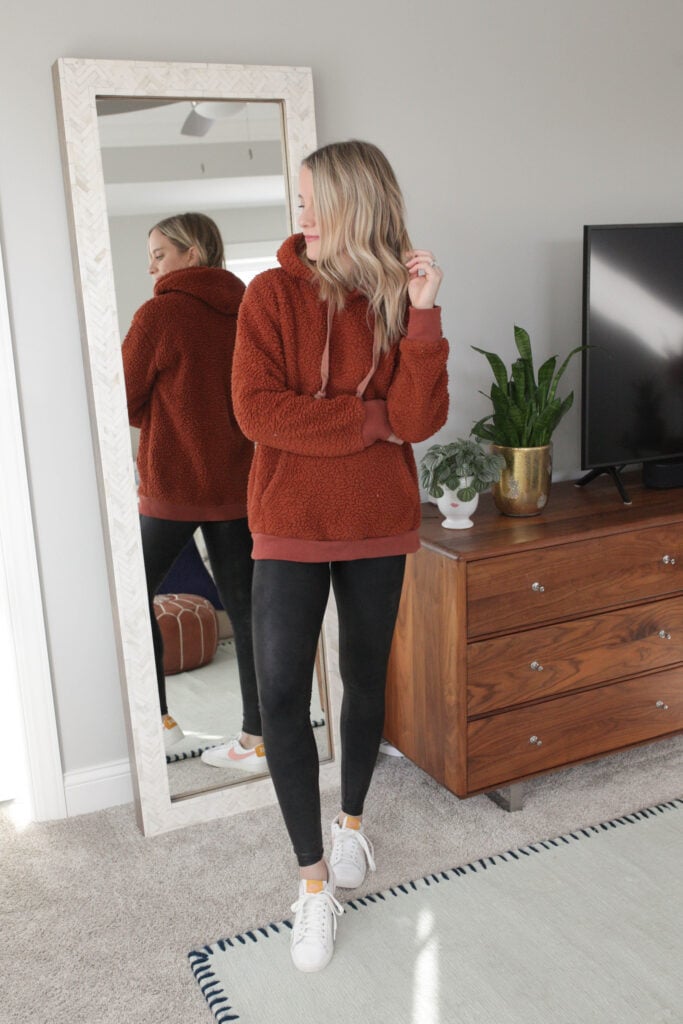 Need to run errands or drop the kids off at school? Pair your leather leggings with a fleece sweatshirt and simple white Nikes or similar sneakers to keep you looking stylish while you're out and about.
I love how this sherpa pullover adds a different texture to the outfit. It gives it a bit more interest and makes me feel more put together!
Shop This Outfit
Spanx | Fleece Sweatshirt | Sneakers (sold out, similar Nikes here)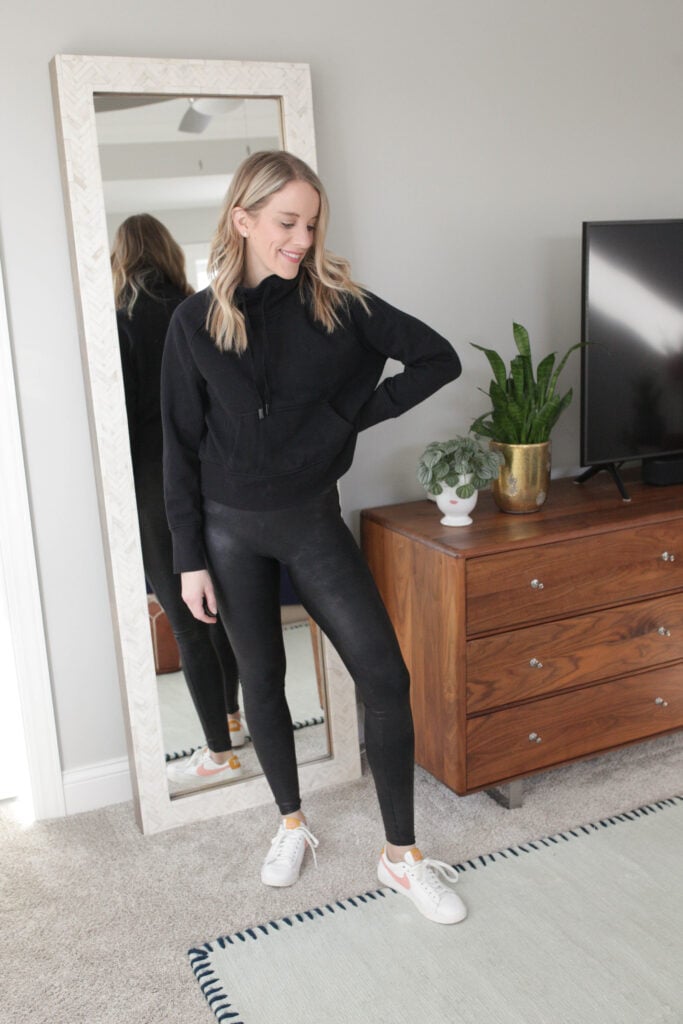 Want to feel a bit more sporty? This cropped sweatshirt does just that with its kangaroo pockets and high neck. I sized up one on this sweatshirt for a bit more oversized cropped feel to it.
Shop This Outfit
Spanx | Cropped Sweatshirt | Sneakers (sold out, similar Nikes here)
5. Denim Jacket + Faux Leather Leggings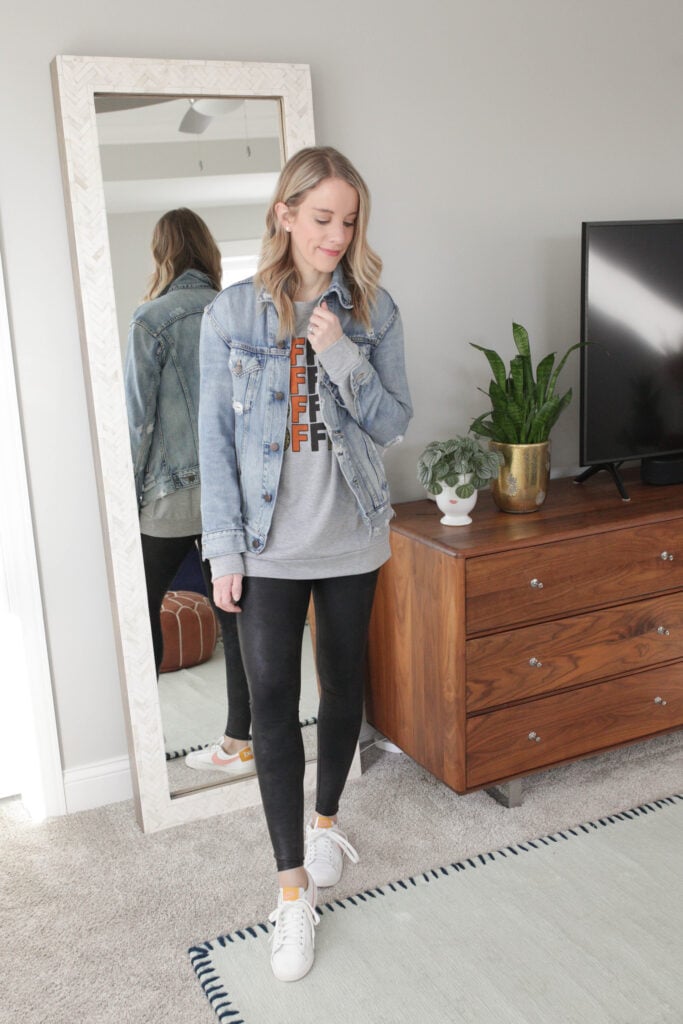 A denim jacket is always on trend especially with a faux leather leggings outfit. The distressed look on this denim jacket works perfectly with the long sleeve graphic tee. Sneakers keep it casual making this an ideal errand running leather legging outfit!
I also love a cute denim shirt with my leather leggings! The shirt goes from sweet to fierce instantly.
Shop This Outfit
Spanx | Coffee Graphic Long Sleeve | Denim Jacket | Sneakers (sold out, similar Nikes here)
Find more denim jacket outfit ideas here!
6. Shacket + Combat Boots Look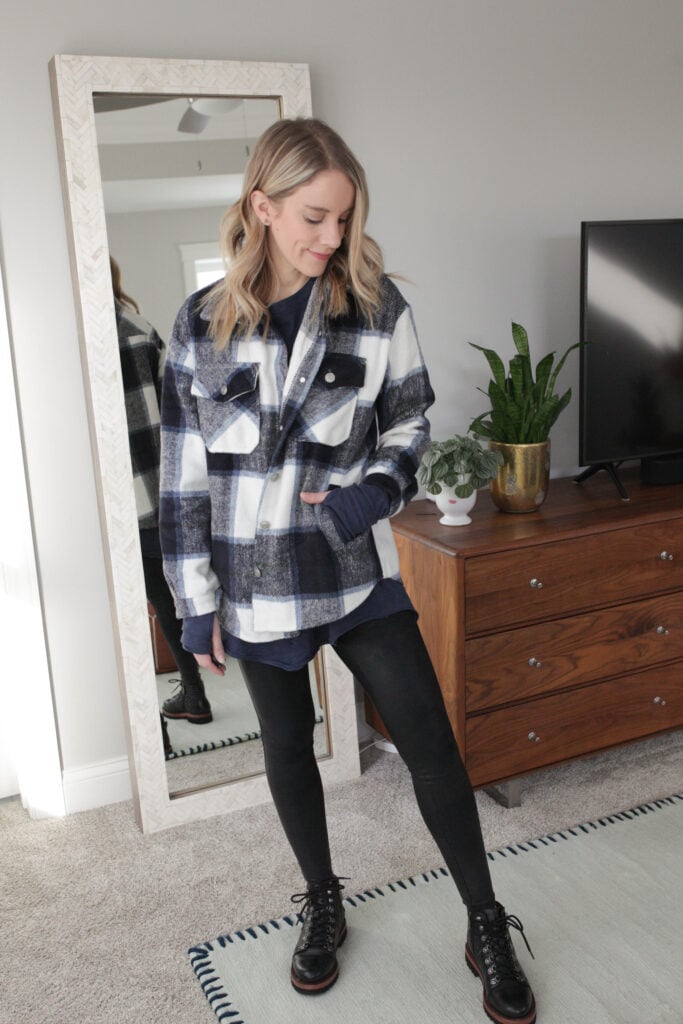 Raise your hand if you love shackets! I can't get enough of them. These oversized button-down shirt jackets are great for cooler weather (like in fall or spring). Pair with a long sleeve t-shirt and hiking or combat boots.
Shop This Outfit
Spanx | Shacket | Long Sleeve Top | Boots (sold out, similar boots here)
7. Utility Jacket and Sneakers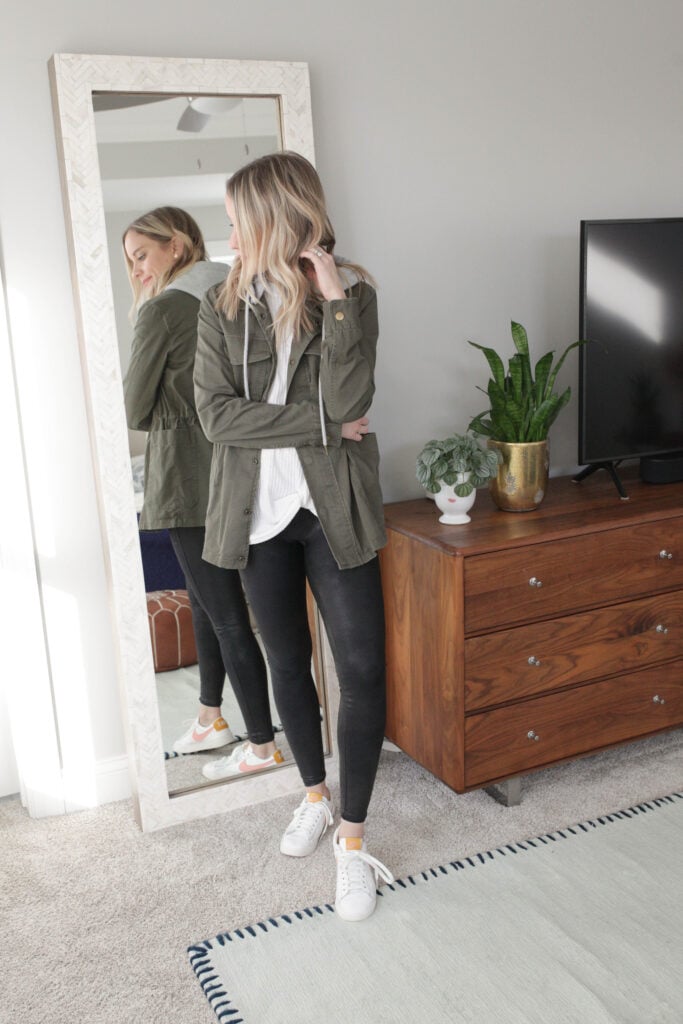 This is a great outfit for those days where it's cooler in the morning and warmer during the day. The knotted tank top can be worn alone with your leather leggings as the day warms up but it also looks perfect styled under a utility jacket.
Shop This Outfit:
Spanx | Tank Top | Utility Jacket (Similar here and here)| Sneakers (sold out, similar Nikes here)
*Check out other white sneakers here!
8. Edgy Leather Jacket Look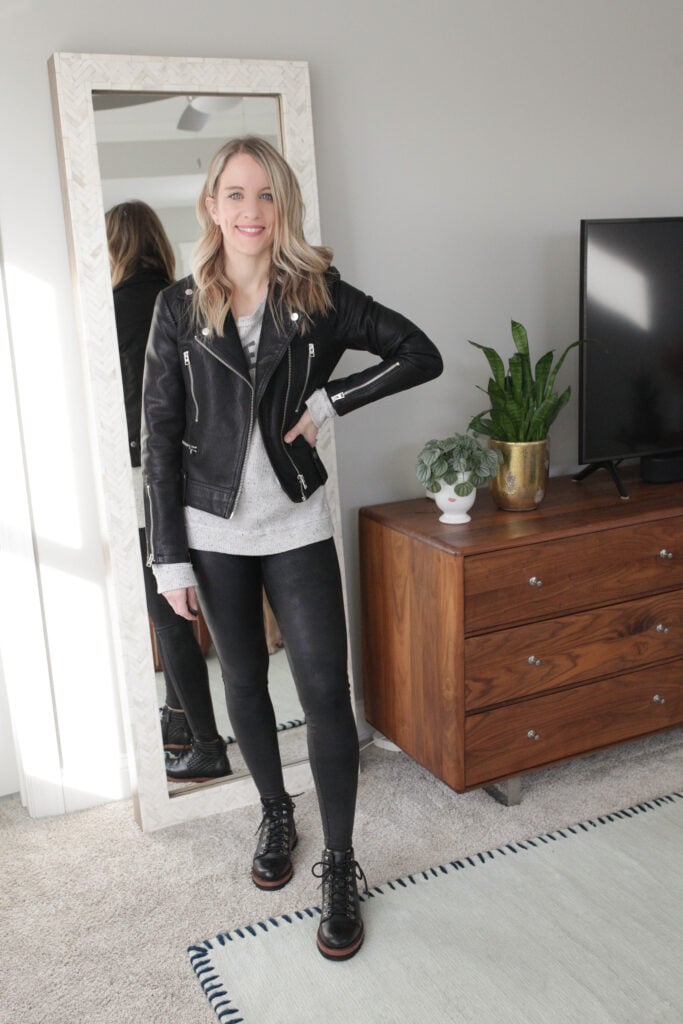 Like to live on the wild side? This fun leather moto style jacket and combat boot leather legging outfit will give you an edgy look whether you're heading to school drop off or grabbing brunch with the girls!
Shop This Outfit
Spanx | Grey Long Sleeve (sold out, similar waffle knit here) | Leather Jacket (similar here) | Boots (sold out, similar boots here)
Love black boots? Check out other black boot outfit ideas here!
9. Swap the Combat Boots for Chelsea Boots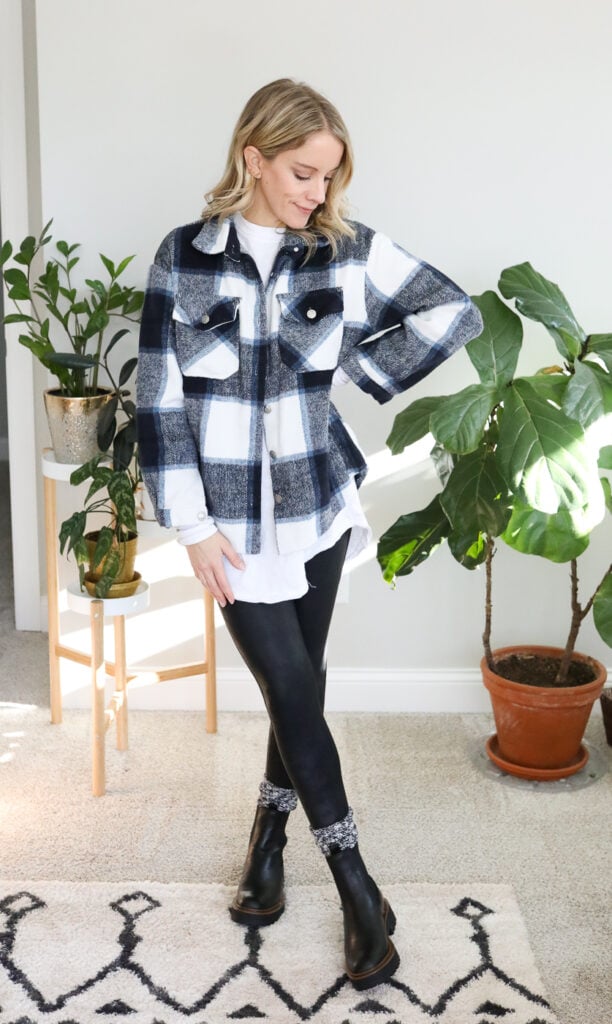 If you loved the oversized shacket look above, here's a small twist! Add in cozy socks pulled slightly over your leggings and add Chelsea Boots instead of Combat boots!
Want more shacket fun? Head to this post all about shackets.
Shop this outfit
Long Sleeve | Shacket | Leggings | Socks (similar here) | Boots
10. All Black : Black Leggings and a Black Sweater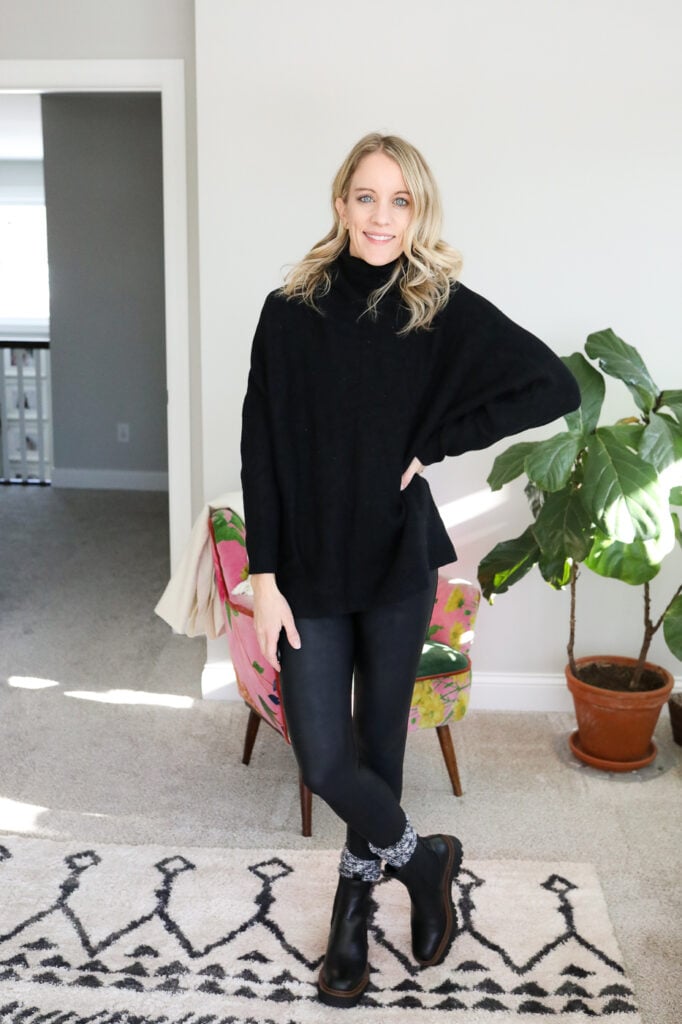 When in doubt, go black! One of the most classic and easy ways to wear Chelsea boots is black on black on black! I love this simple look of leggings and an oversized sweater! It's easy to wear and you'll always look chic!
Love Chelsea Boots? Here's more faux Chelsea Boots outfits!
Shop this outfit
Sweater | Leggings | Socks (similar here) | Boots
11. Black Leggings and a Tie Dye Sweater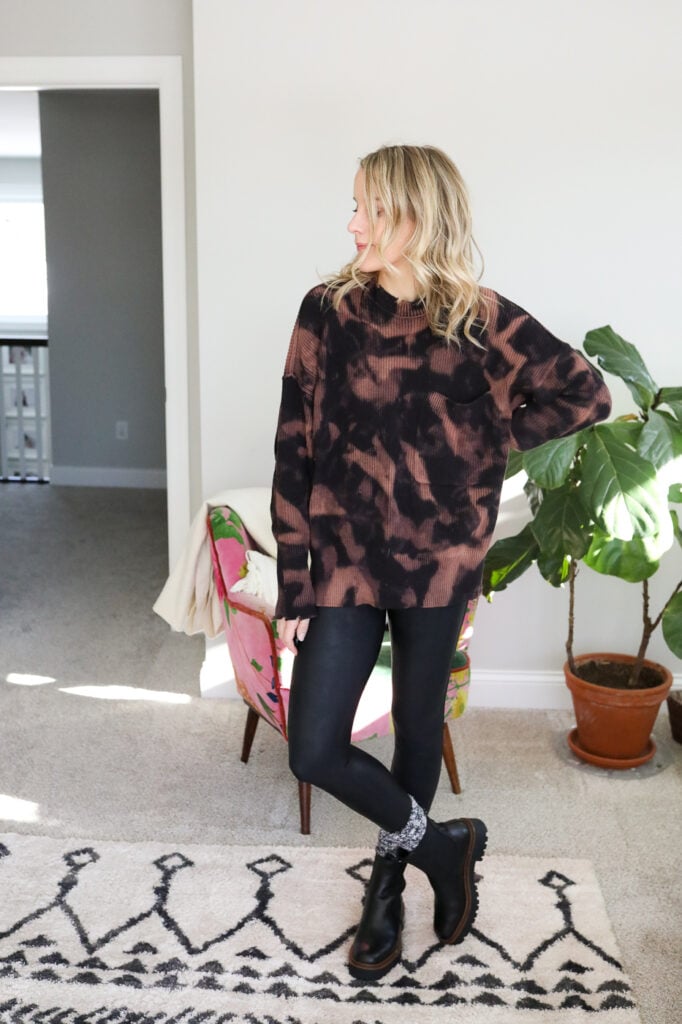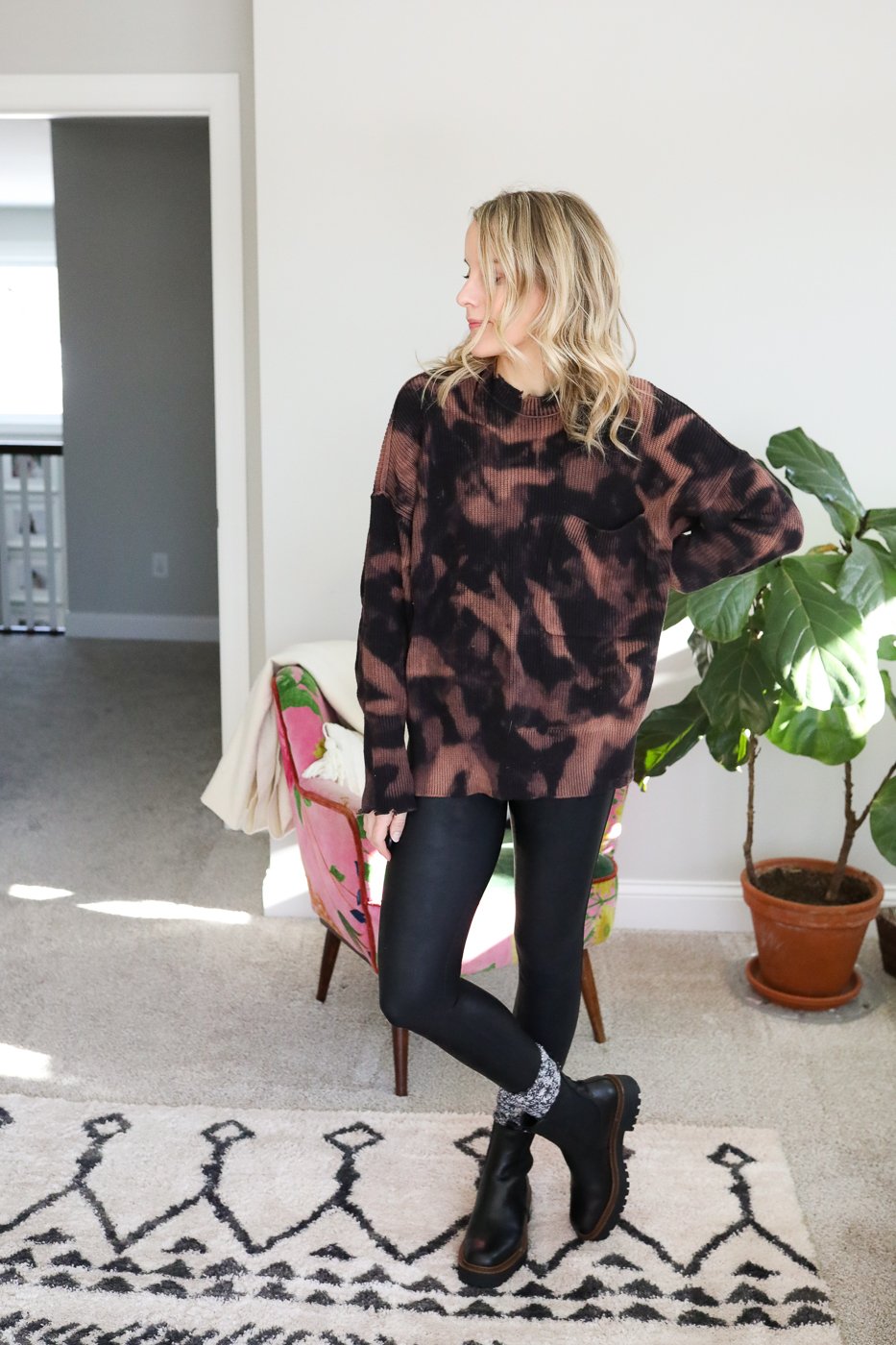 Have an oversized tie dye sweater you love? Throw it on with leggings and your Chelsea boots! If you like a little bit of extra length, add a longer tee or tank underneath (this Free People Long Sleeve is my fav).
Cozy socks pulled over your leggings give this an extra cozy vibe!
Shop this outfit:
Sweater (original sold out, similar style linked) | Leggings | Socks (similar here) | Boots
12. Faux Leather Leggings + Over the Knee Boots + Denim Shirt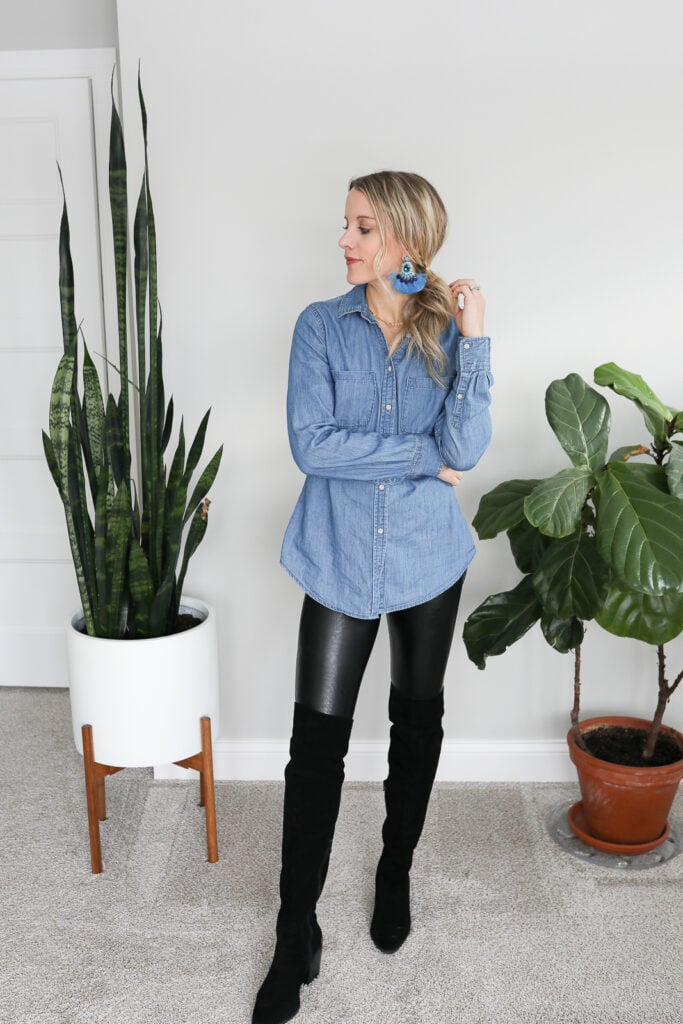 Heading out for a night on the town? Pull on a pair of faux leather leggings, your go to pair of over the knee boots and your denim shirt.
Adding a pair of fun, statement earrings will complete the look!
(Want more over the knee outfits and tips to wear them? Head here!)
Shop the Outfit
Denim Shirt (Mine is super old – this one is similar) | Leggings | Boots | Earrings (Sold out – similar here)
13. Leggings, Graphic Tee and a Shacket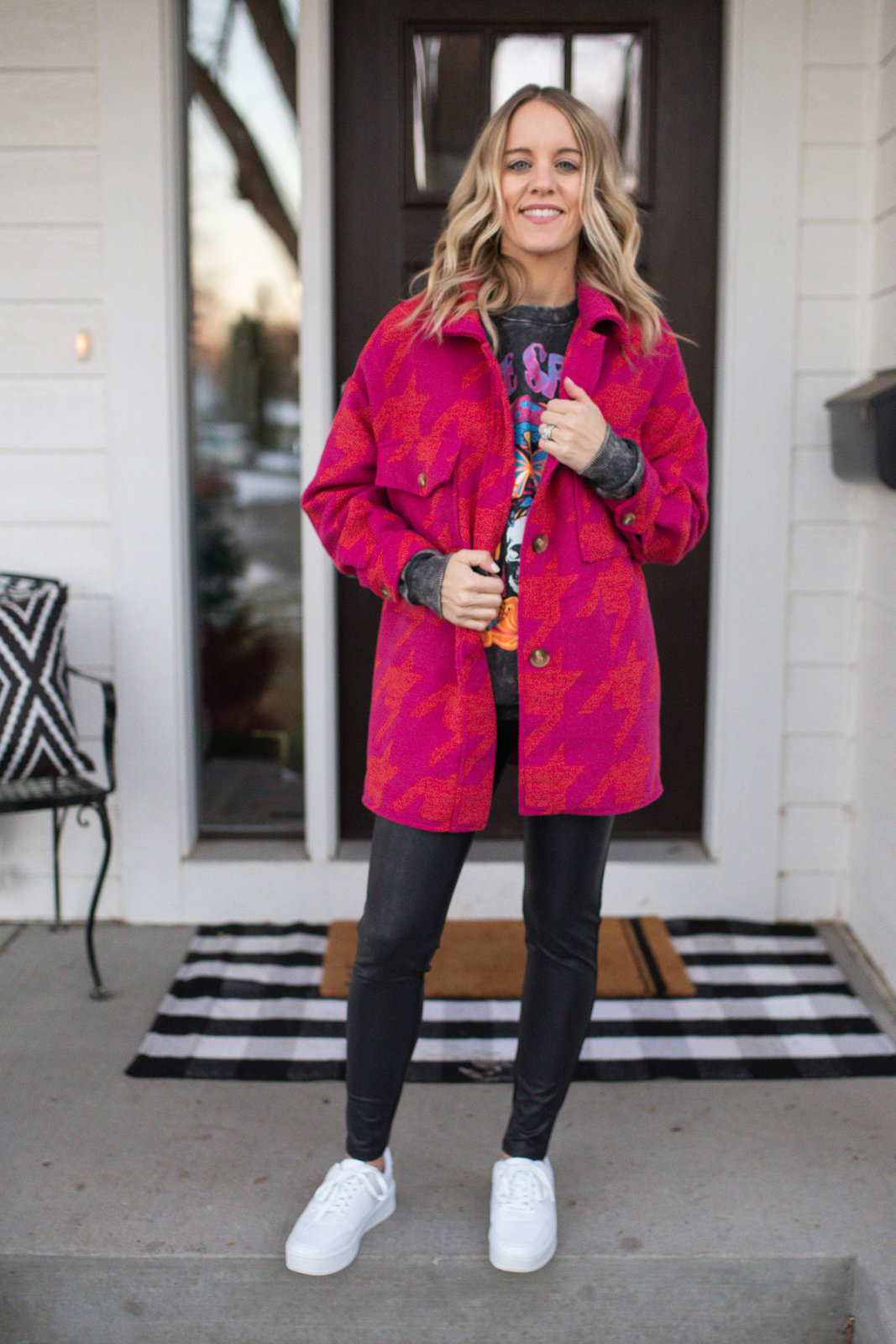 I love the bright pink color of this shacket. It's a great layering piece over long-sleeved shirts like the graphic sweatshirt I'm wearing here. A pair of faux leather leggings and classic white sneakers completes the look!
Shop the Look
Faux Leather Leggings | Graphic Sweatshirt | Pink Shacket | Platform Sneakers
14. Quilted Jacket + Faux Leather Leggings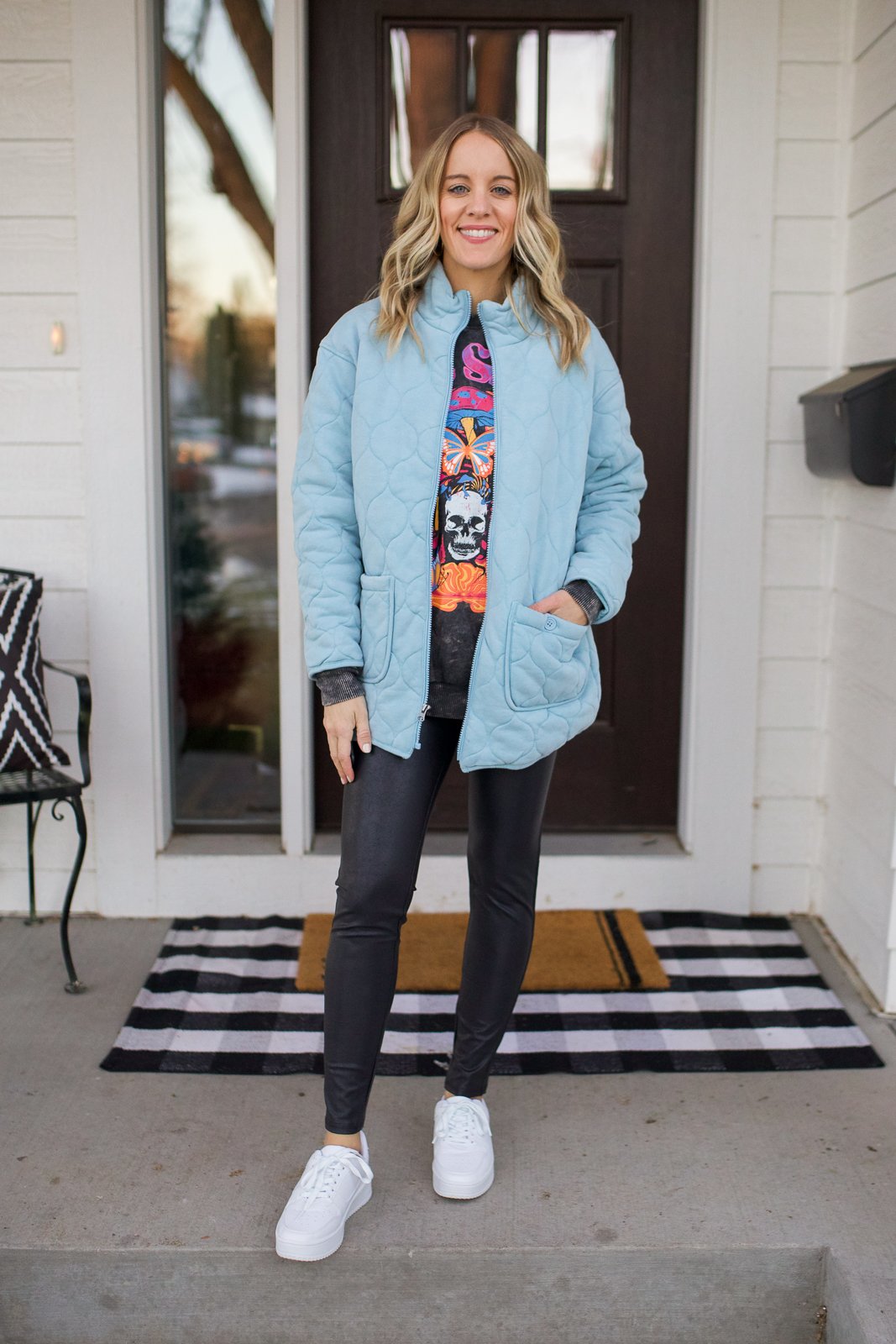 It comes in other colors and also fits oversized.
Faux Leather Leggings & Graphic Sweatshirt & Blue Quilted Jacket & Platform Sneakers
Frequently Asked Questions
What tops do I wear with faux leather leggings?
I like to wear longer shirts with my faux leather leggings, so they cover most of my butt. It helps them look less like leggings and more like real pants. Tunic tops, oversized sweaters, or even layered shirts work well.
If your shirt is a little short, you can pair it with a longer cardigan or jacket.
How do you style faux leather leggings for a night out?
The simplest way to take your faux leather leggings out on the town is to wear heels or a sparkly top! If that's not possible because it's too cold out, an oversized sweater and over the knee boots or a leather-on-leather look will do the trick. And don't forget to dress up the jewelry!
Can you wear faux leather leggings in the summer?
Yes! I wear my faux leather leggings the most in the cooler months, but they're comfortable and breathable enough to wear during the summer. 
During the summer, you can wear short-sleeve or sleeveless tunic tops, tank tops with a flannel or denim shirt tied around your waist, or just a fun graphic tee. 
Are faux leather leggings work appropriate?
The answer depends on how formal your office dress code is. If your office requires business attire, I wouldn't attempt to wear any type of leggings unless they're under a sweater dress or something similar. 
But for more relaxed, casual work environments, faux leather leggings (with your butt covered) are probably fine! They're dressier than regular leggings, after all. 
Dress up your leather leggings for work with a solid or plaid blazer or a nice blouse and cardigan.
What patterns go with faux leather leggings?
Plaid is the obvious choice, but camo and leopard prints look great with faux leather leggings. If you're worried a print is too busy or too much, layer it under another shirt, so just a bit is peeking out on the bottom and edges.
Want more legging outfit ideas? Check out this post for 9 more legging outfit ideas or this post with the best maternity leggings!
If you want more posts like these, check out one of these!
Pairing your leggings with Converse shoes? Check out this post to learn how to clean your white Converse sneakers!