When it comes to closet staples, a jean jacket is one of those. Jean jackets are some of the most versatile pieces in your closet and one that I personally wear all the time!
Your jean jacket is a classic wardrobe staple. You can wear it with just about anything, from jeans to dresses. It gives you an effortlessly cool vibe while keeping you warm on chilly days.
There's also tons of different types! From an oversized denim jacket to a black denim jacket to a classic denim jacket, there's tons of different options to choose from.
Today I'm to share some of my favorite denim jacket outfits as well as a handful of my favorite denim jackets for you to choose from!
But first, let's chat about what you can wear with a jean jacket and how to dress up and how to dress down your denim jacket.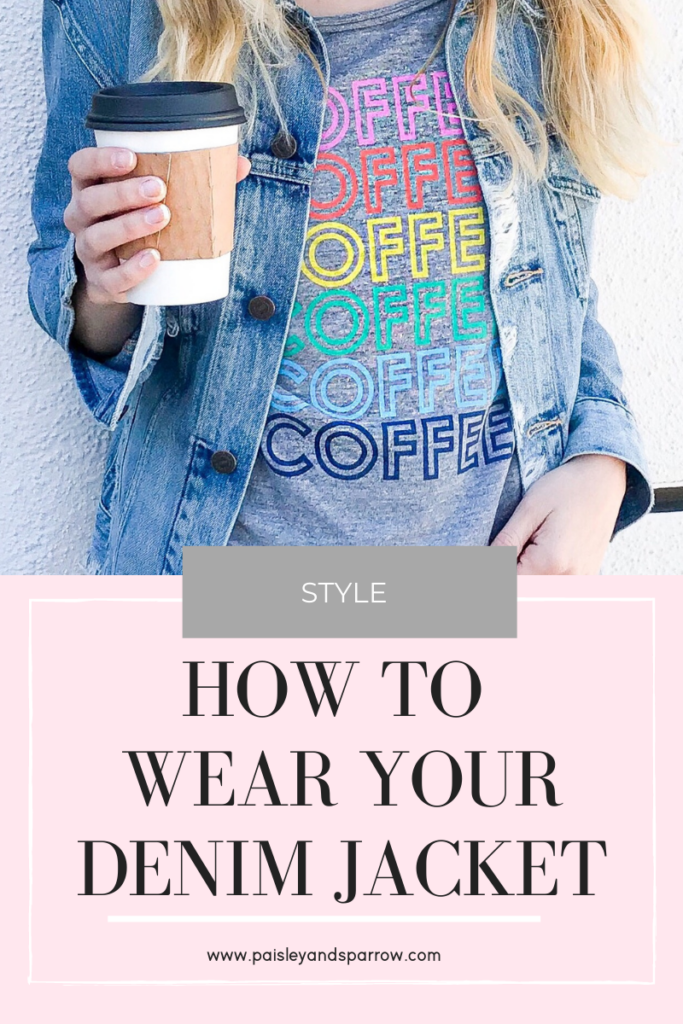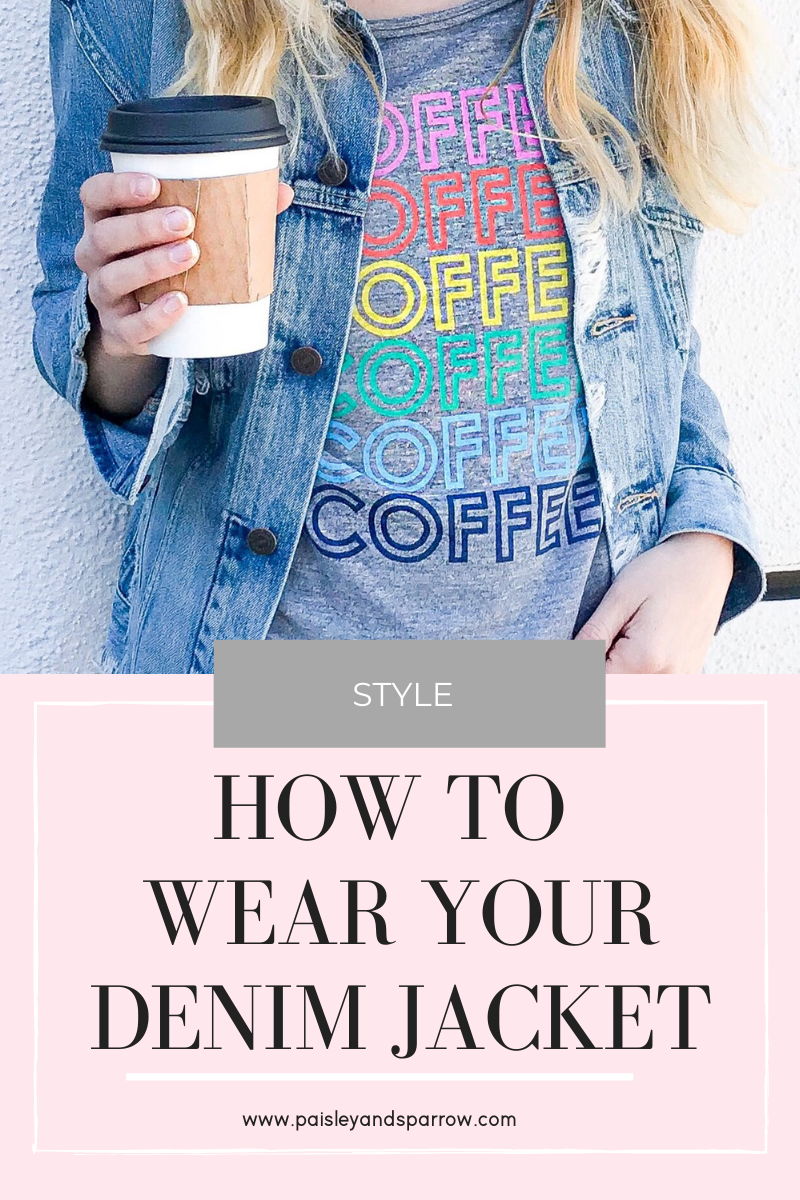 Paisley + Sparrow is a participant in the Amazon Services LLC Associates Program. This post may include affiliate links which means I may earn a small commission if you shop using the links below at no additional cost to you.
What Can You Wear with a Denim Jacket?
A denim jacket is definitely a statement piece that packs punch to your outfit, but how do you wear it and with what?
You can wear practically anything with a jean jacket! From dresses or skirts to jeans or leggings, denim jackets are a great way to stay warm and look chic!
Different Jean Jacket Styles
There are so many different types and styles of denim jackets out there. I own multiple jean jackets since they're all great for different types of outfits!
A black denim jacket is a great addition if you're someone who gravitates to outfits that are more grey or black based! A solid black helps dress things up a bit while a more distressed dark grey keeps things casual and cute. Pick your favorite color of distressed jean for a casual look that's perfect for everyday wear. My personal favorite is pairing my black denim jacket with booties for a classic feel.
An oversized jean jacket is the perfect option for those who like to keep it casual. Whether you're wearing a graphic tee and leggings or skinny jeans and boots, an oversized jean jacket will give your look that effortlessly cool vibe.
A classic denim jacket can be paired with any look depending on how you style it! It's great for the girl who likes to wear her jean jackets all the time.
How to Dress Up a Denim Jacket
One of my favorite ways to dress up my denim jacket is by pairing it with a dress or skirt. This look screams polished and put-together and works well for many different occasions (from formal to casual). If you're going for this look, I recommend wearing heels to dress it up even more.
How to Dress Down a Denim Jacket
A foolproof way to dress down your denim jacket is pairing it with joggers, distressed denim or even leggings. All of these options are laid-back casual and can be worn to school drop off or running errands – all while looking chic.
Now that you know how to dress up and how to dress down your denim jacket, let's get into how I like
Let's get going.
Denim Jacket Outfit Inspiration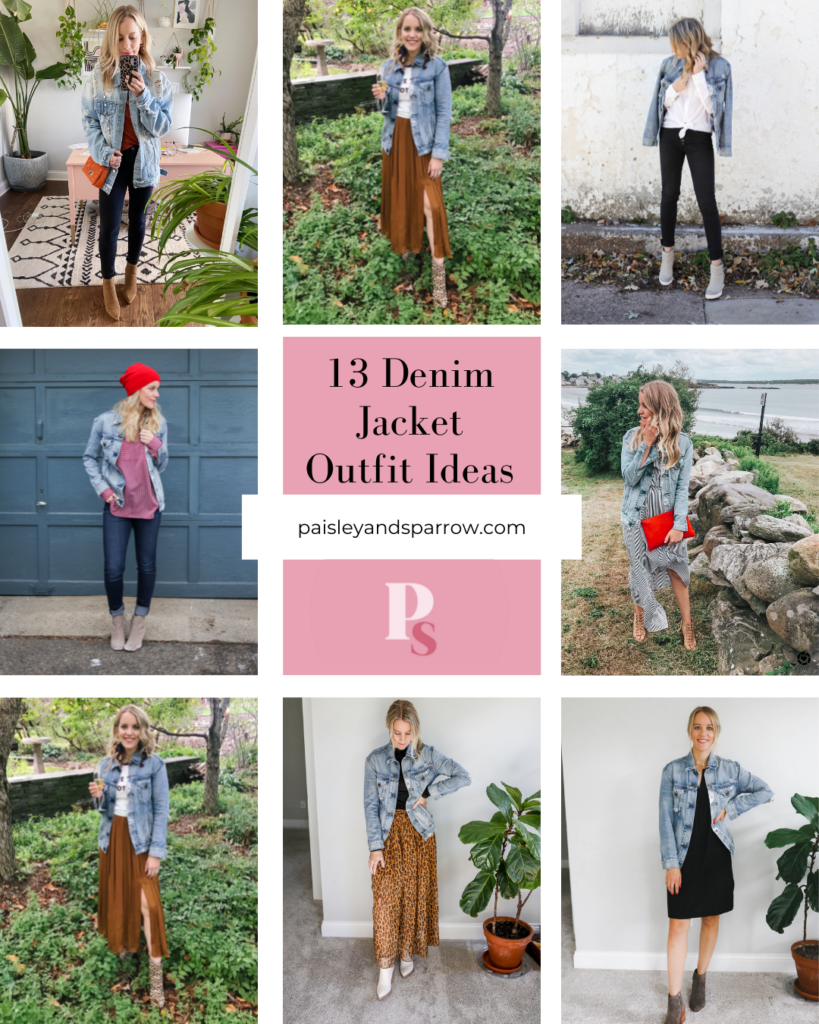 I am someone who loves to see things in real life, so here's a few different ways how to wear you denim jacket! Most of these are shows using my favorite denim jacket from Able but I have a few other jackets thrown into the mix as well.
1. Black Jeans + White Button Down + Denim Jacket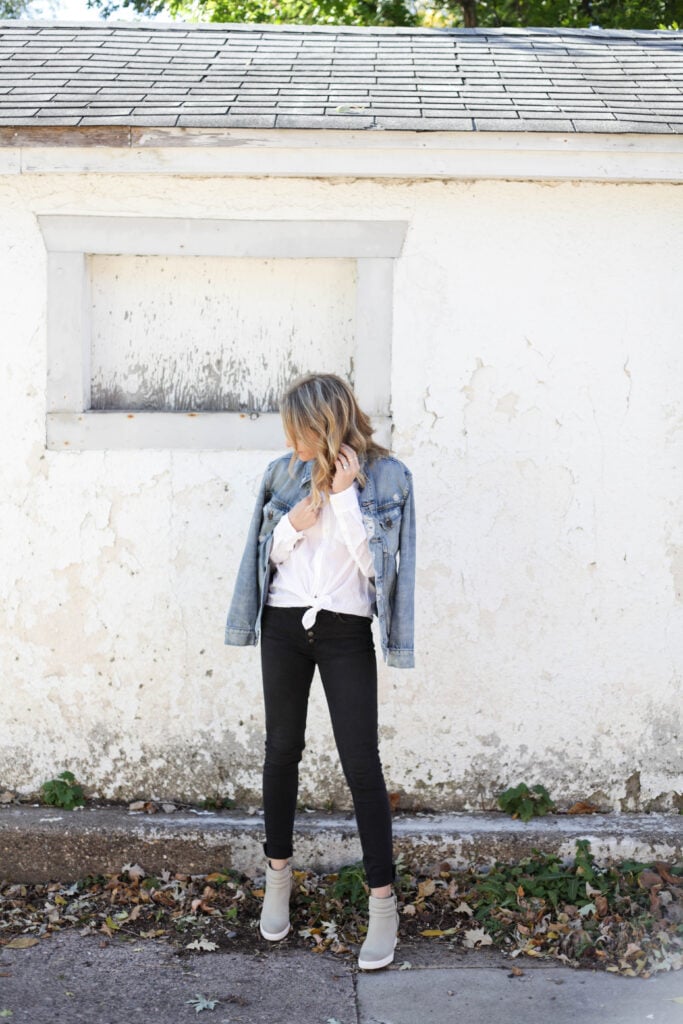 Shop the Look: Jacket | White Button Down | Jeans (Similar) | Boots (Similar)
One of the most classic ways to wear a denim jacket is to pair it with black jeans. You won't give off any Canadian Tuxedo look vibes and the versatility of this base can easily take you from dressy to casual depending on your shirt and shoes.
A white button down gives you a polish look. You can either knot it at the bottom like I did, or tuck it in to give your waist some definition. Simple wedge booties complete the look.
2. Black Jeans + Hooded Sweater + Denim Jacket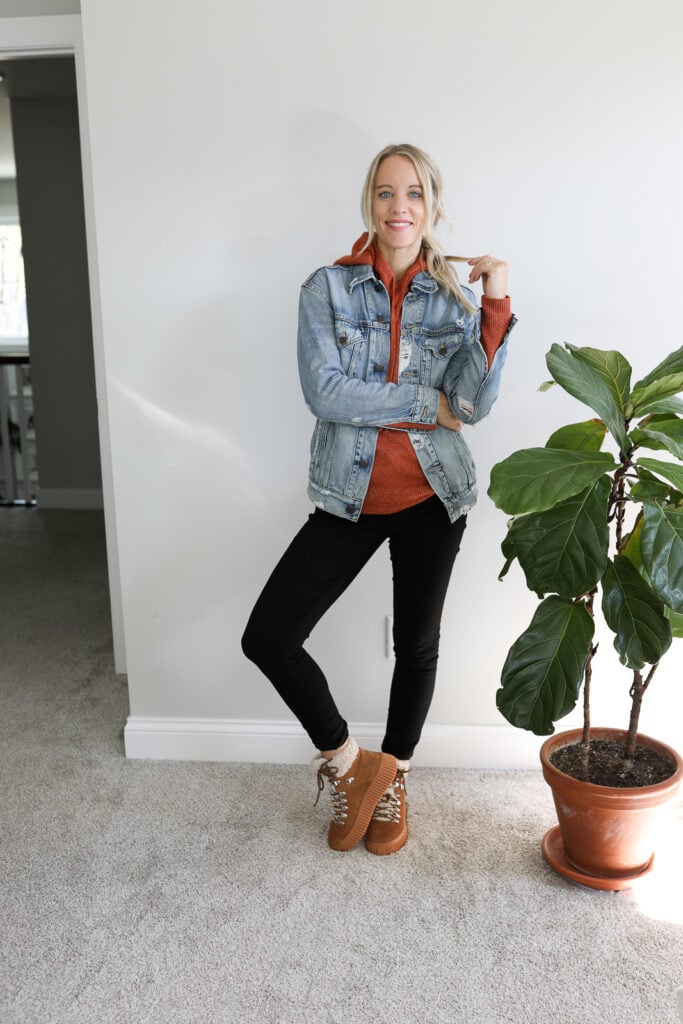 Shop the Look: Jacket | Sweater | Jeans | Boots
Another simple black skinny jeans outfit is this one! It's a much more casual vibe than the white button down look. The key to this one is ensuring that the bottom layer is very thin. You don't want a thick sweatshirt or sweater underneath your denim jacket or that will make you look much heavier than you are!
I absolutely love this hooded sweater that I found on Amazon. It's soft, comes in a ton of different colors and is great for layering! Add in boots with a bit of sherpa detailing and your ready for fall or winter!
3. Dark Wash Denim + Denim Jacket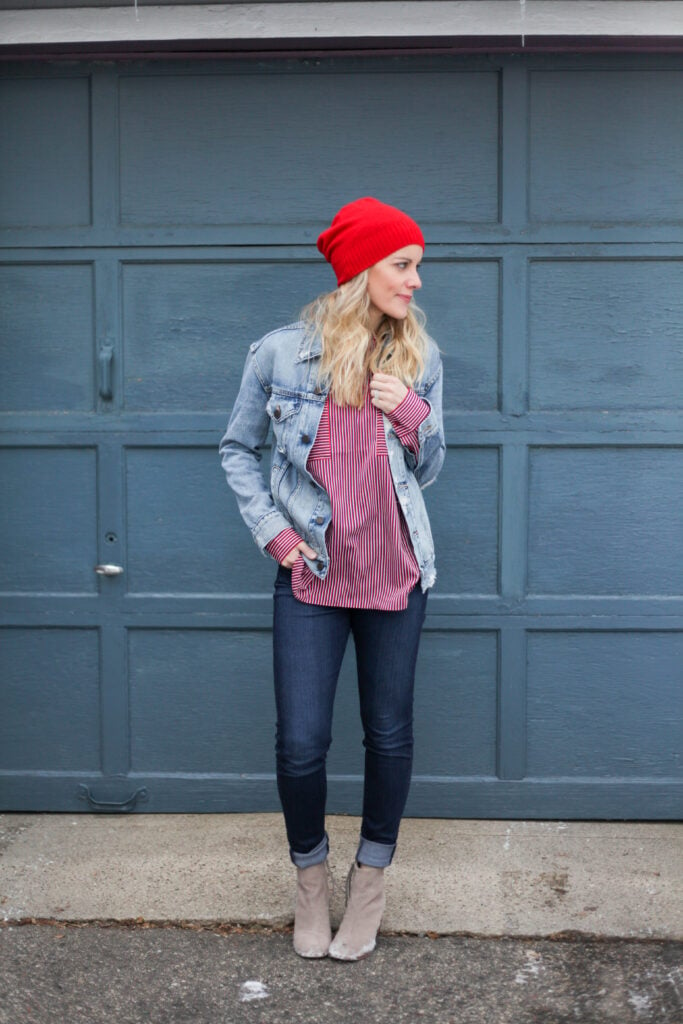 Shop the Look: Jacket | Red Shirt | Hat | Jeans | Boots
One common misconception is that you can't wear a denim jacket with a pair of jeans! Totally not true! To keep your look timeless, the best way to wear blue jeans and a blue denim jacket is to keep the top half a different shape than the bottom half. In this outfit, I have a dark shade for my denim jeans since my jacket is a light wash denim jacket. It's always better to have a darker shade on the bottom since darker colors are more slimming than lighter ones!
I added a red stripe top and red hat to give this look a bit more of a fun look. Heeled booties and cuffed jeans complete the look.
4. Graphic Tee + Denim Jacket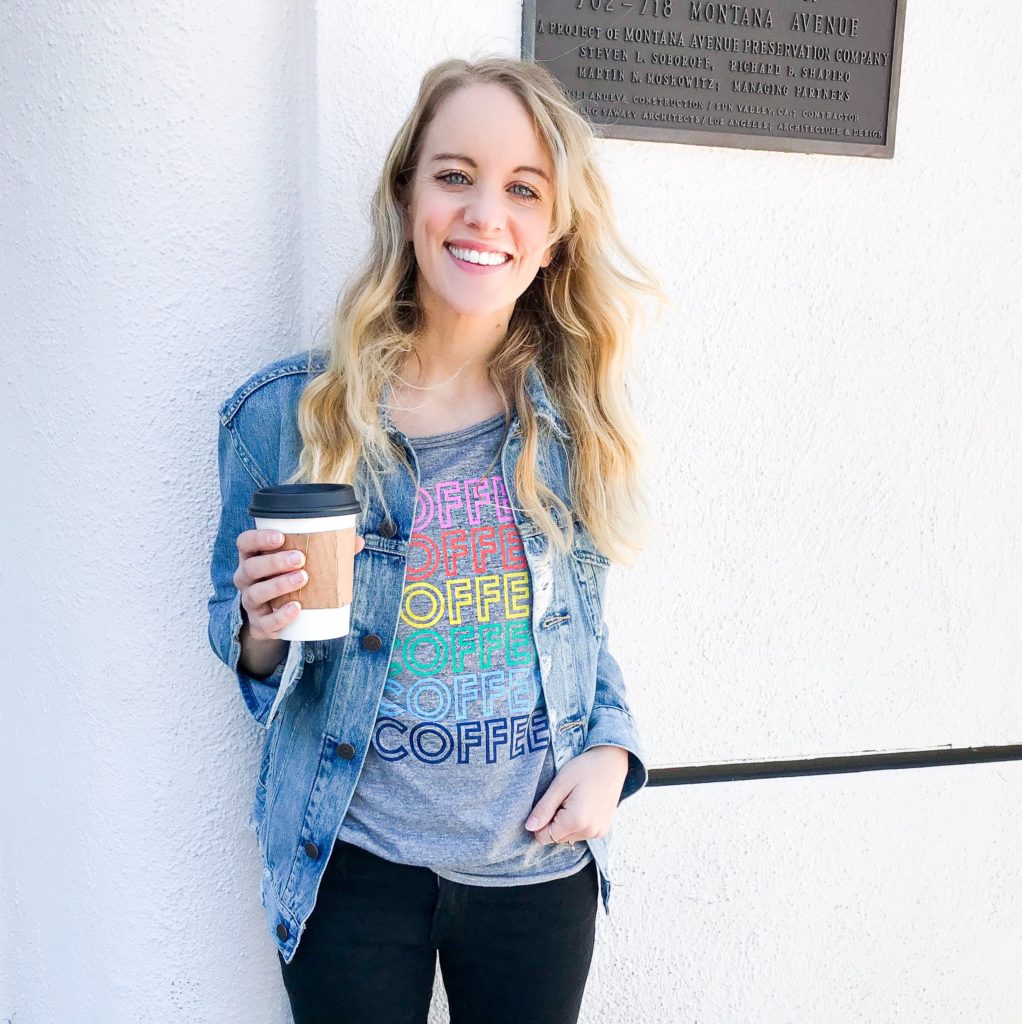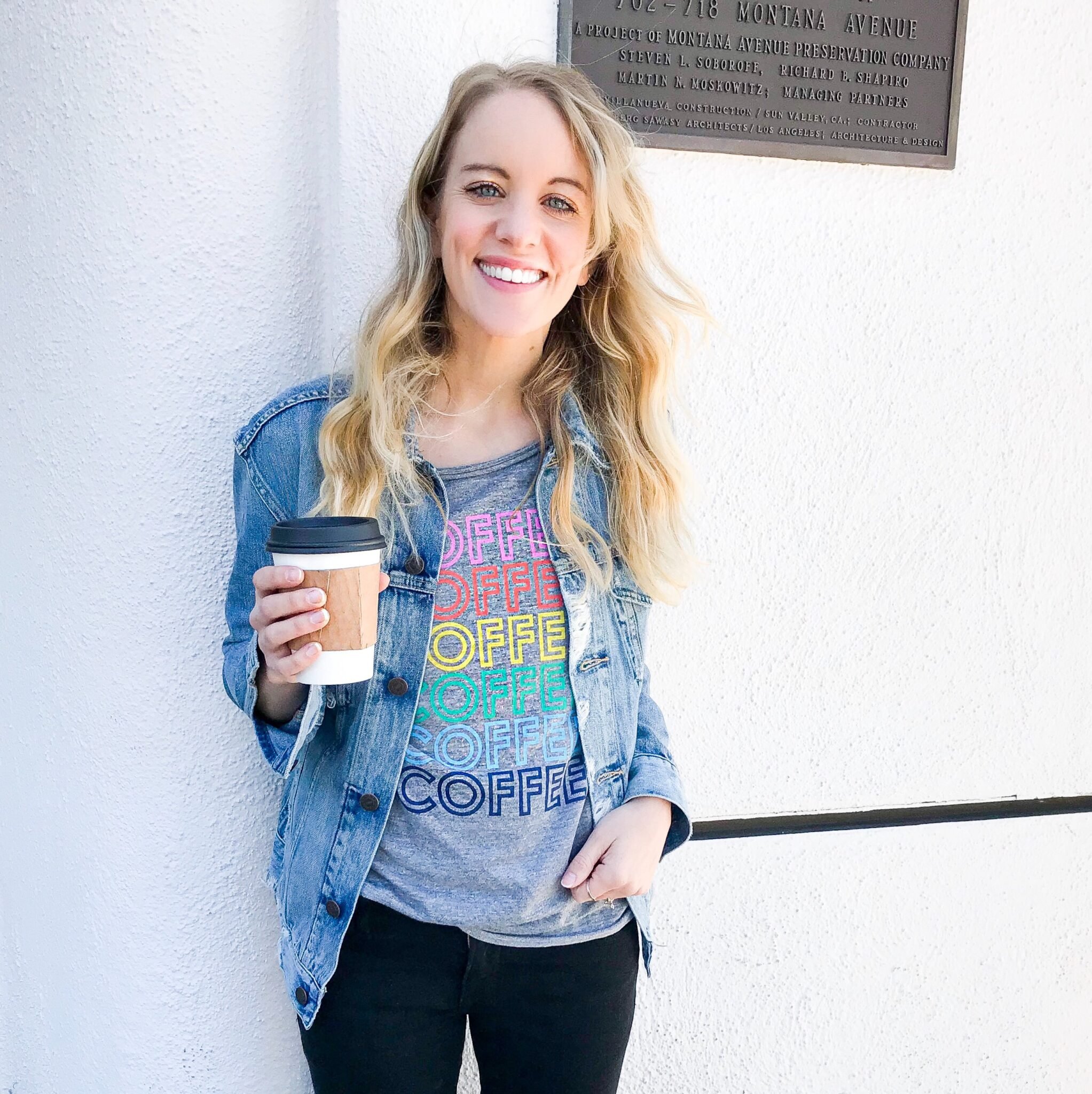 Arguably one of the easiest ways to wear a denim jacket is with a graphic tee! Throwing on your trusty denim jacket over your favorite graphic tee gives you the perfect outfit for just about anything – running errands, coffee with a friend or school pick up!
5. Midi Skirt (With Slits) + Graphic Tee + Denim Jacket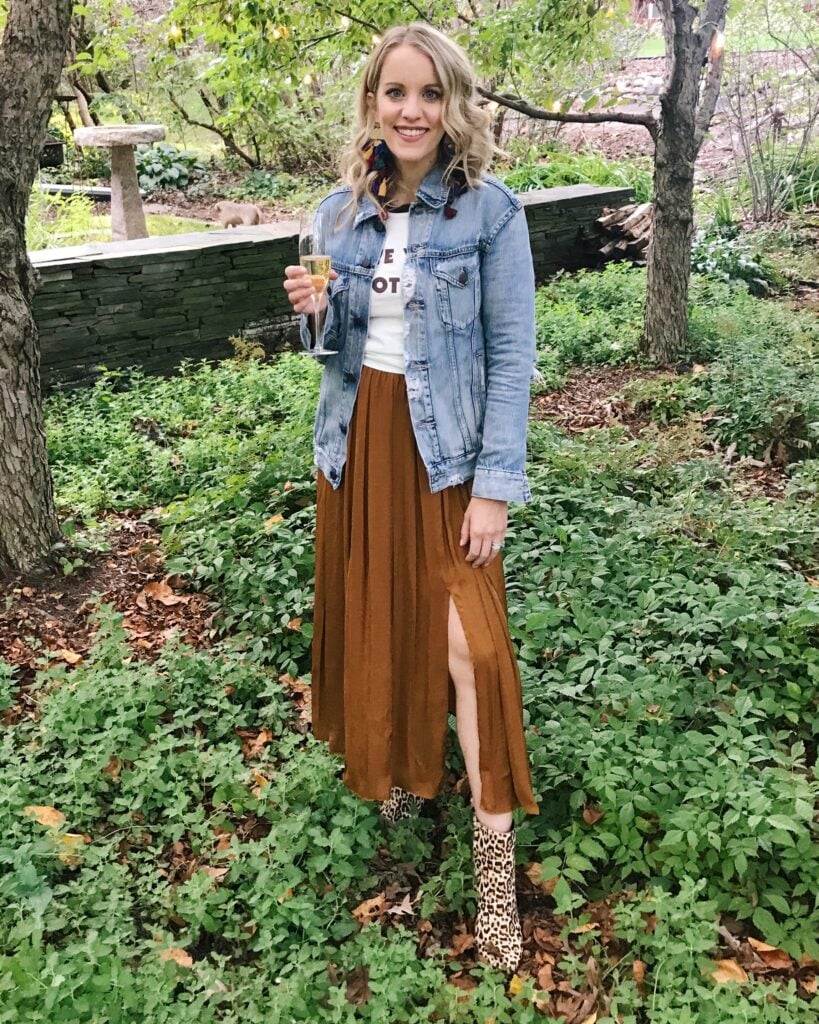 Shop the Look: Jacket | Tee | Skirt (Similar) | Boots (Similar)
This seems to be my go to way of wearing a denim jacket! I love skirts and wearing a denim jacket helps take them from dressy to a little bit more casual (depending on your jacket, of course).
For this look I paired a high waisted skirt (with slits) and a graphic tee with my blue jean jacket. I always tuck in my shirts to my skirts to give define my waist. This will give you a slimmer look! Since my outfit was fairly neutral, I gave it a pop with a pair of leopard boots and some wild tassel earrings.
6. Midi Skirt (No Slits) + Graphic Tee + Denim Jacket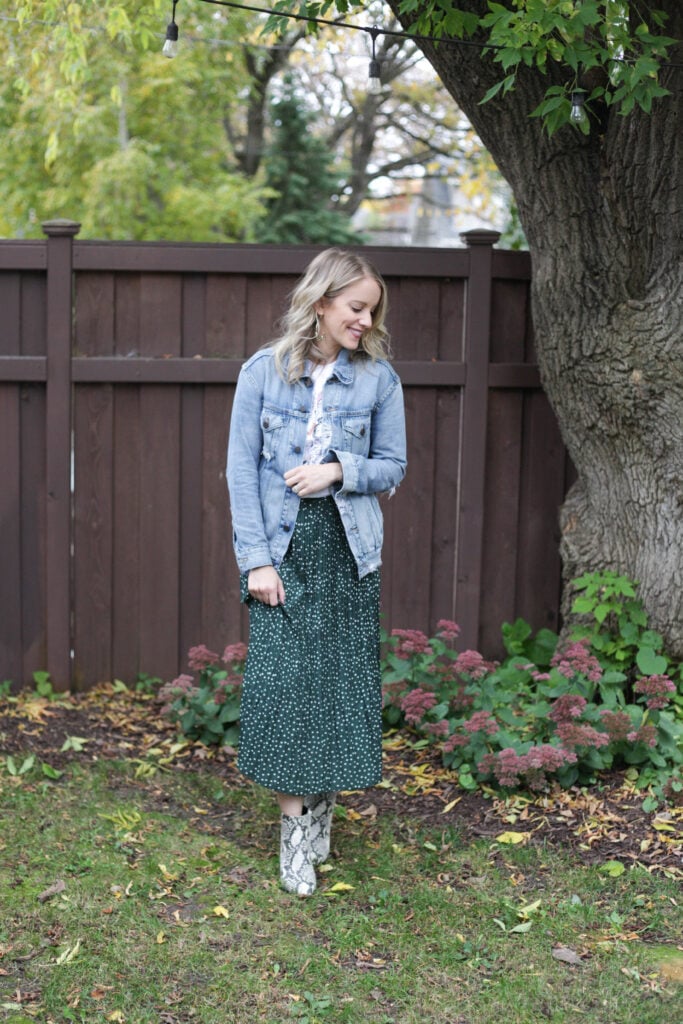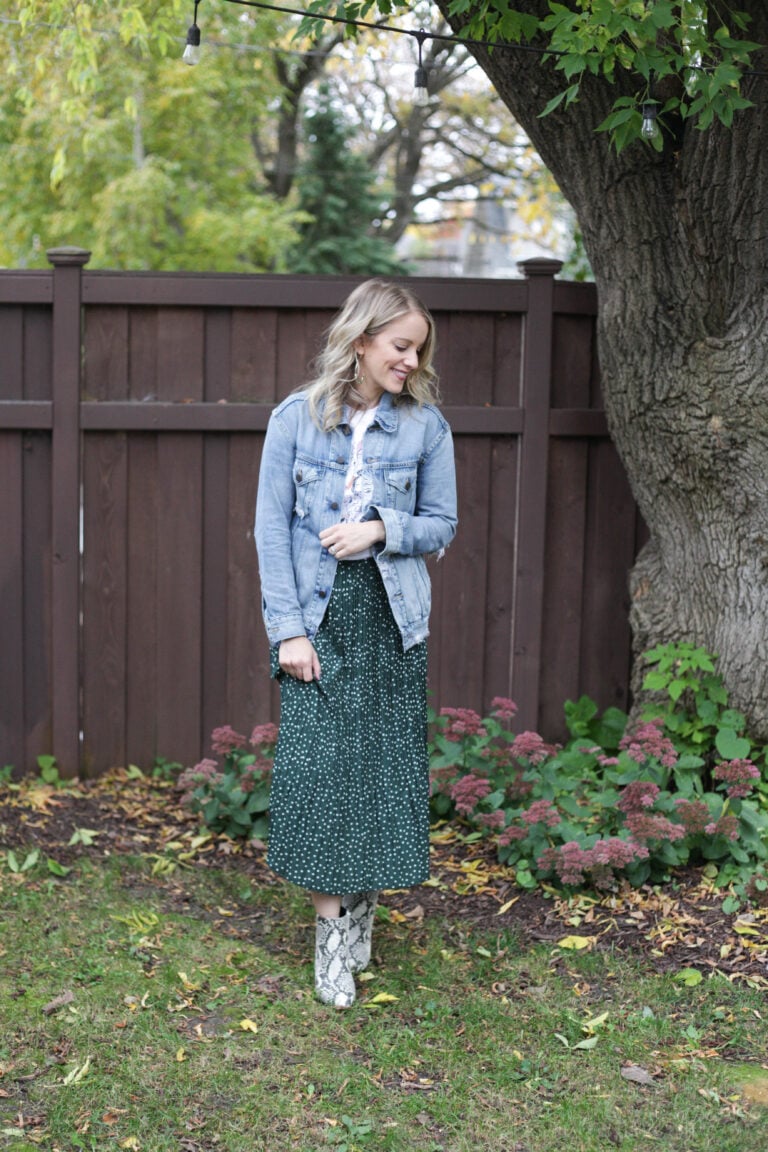 Shop the Look: Jacket | Skirt | Tee | Boots (Similar)
Another midi skirt outfit is this one! The skirt is more structured without a high slit. Again, I tucked in my graphic tee to define my waist and added fun animal print booties. Depending on your own personal style and what kind of look you're going for, you can wear heels or even tennis shoes with your midi skirt!
Midid skirts a classic piece in any wardrobe and jean jackets make them super versatile.
7. Denim Jacket + Leggings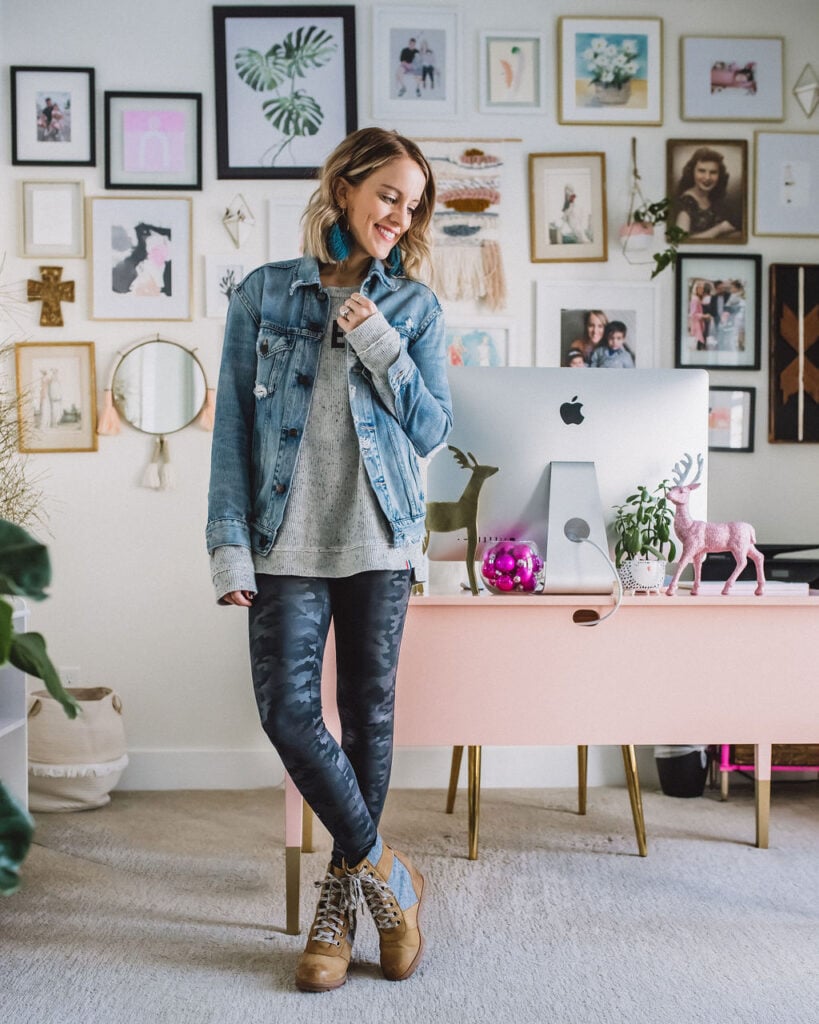 Shop the Look: Jacket | White Button Down | Jeans | Boots
Regardless of whether you're wearing black leggings, camo print leggings or colored leggings, a denim jacket is a great option to pair with leggings! Leggings are a great bottom to wear with an oversized jacket. It helps cover your butt an oversized top is always a good option for an extra fitted pant.
8. Denim Jacket + Colorful Summer Dress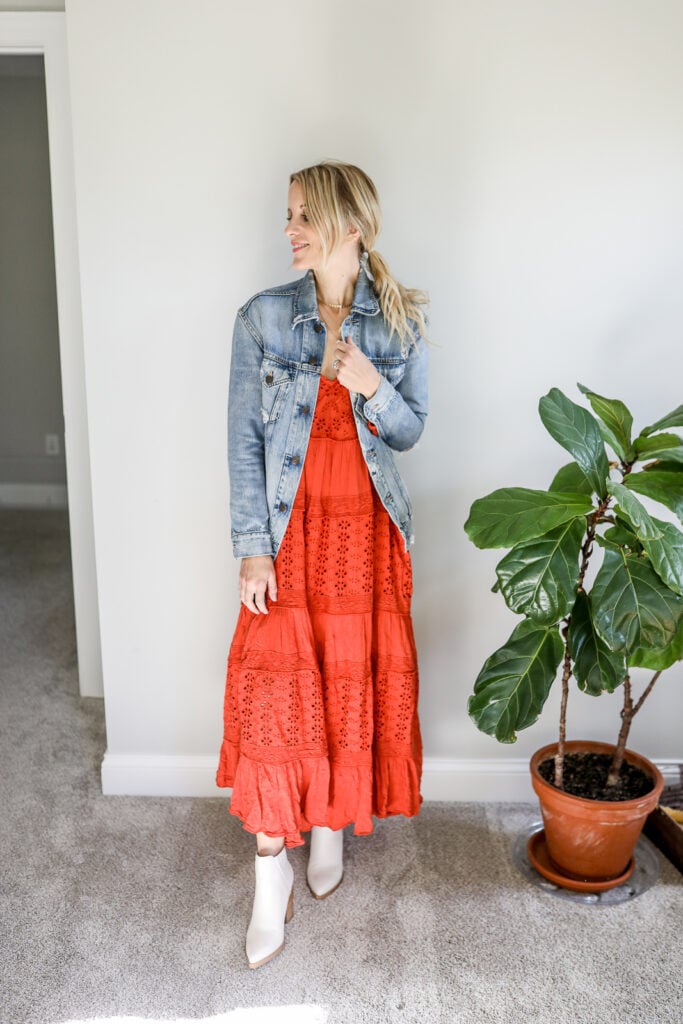 Shop the Look: Jacket | Dress | Boots
(find more white boots and white boot outfits here)
As the warmer weather starts to turn cooler, or for those cooler evenings in the summer, try adding a denim jacket to your summer dress! Whether it's a maxi dress or a mini dress, a denim jacket is a perfect way to stay warm.
I added a denim jacket and booties over my favorite colorful dress to keep me warm in the fall.
9. Shift Dress + Denim Jacket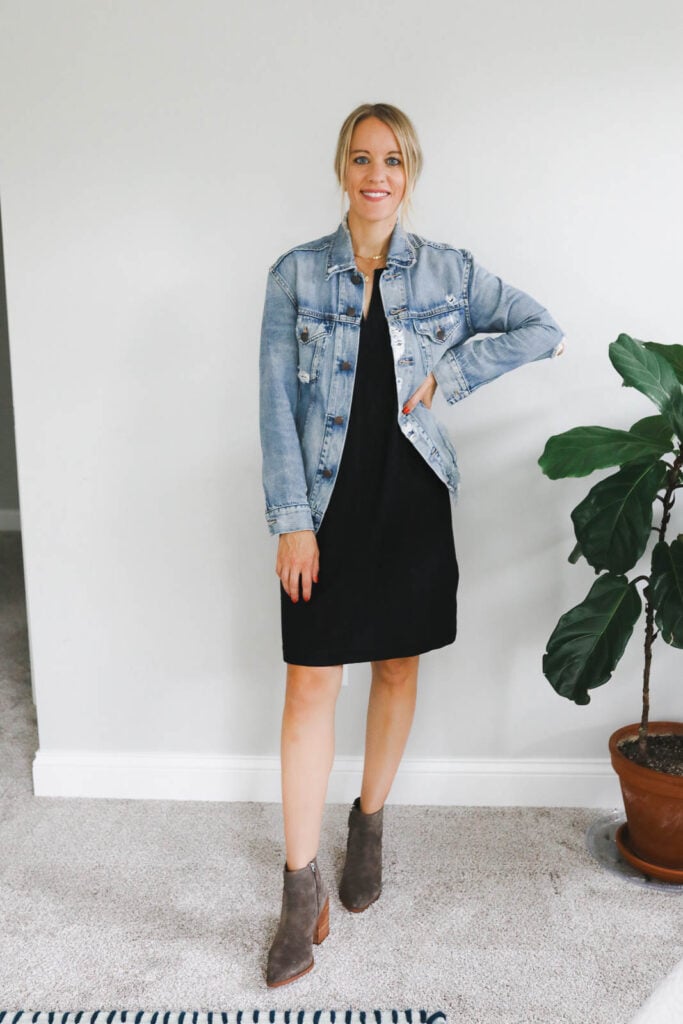 Shop the Look: Jacket | Dress | Boots
Same goes for shift dresses! Shift dresses are a great option, especially for the office. Swap the heels for boots and add a jacket over the top to wear your dress all year long.
10. Shift Dress + White Sneakers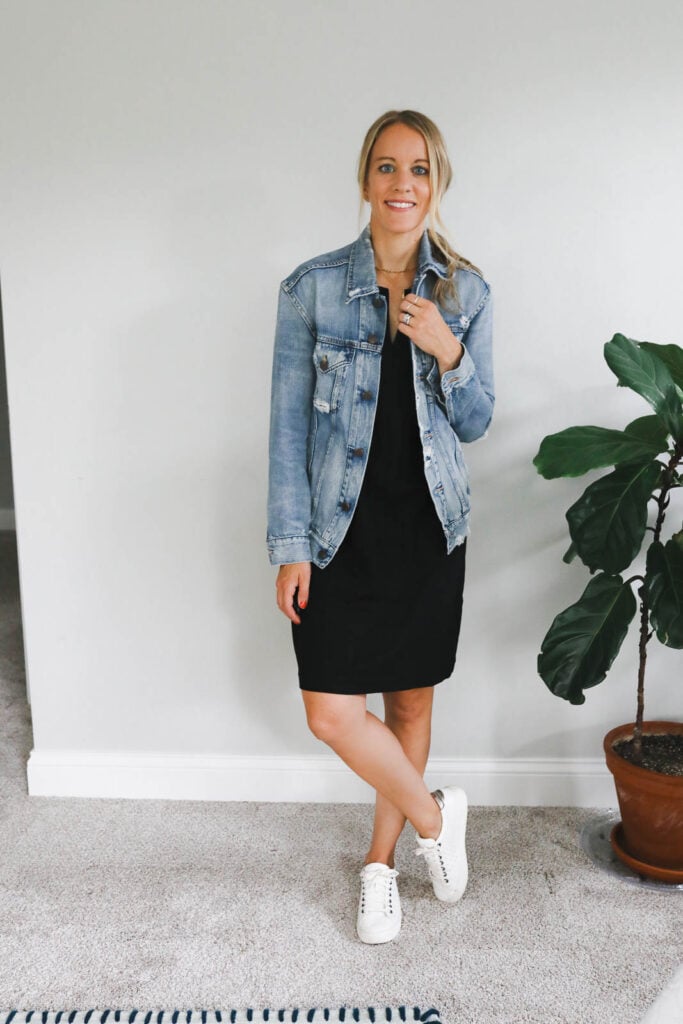 Shop the Look: Jacket | Dress | Sneakers
One simple swap to take the outfit above from dressy to casual is to put on sneakers instead of booties! Head to the zoo with the kids or on a walk with a friend in this look!
11. Maxi Skirt + Body Suit + Graphic Tees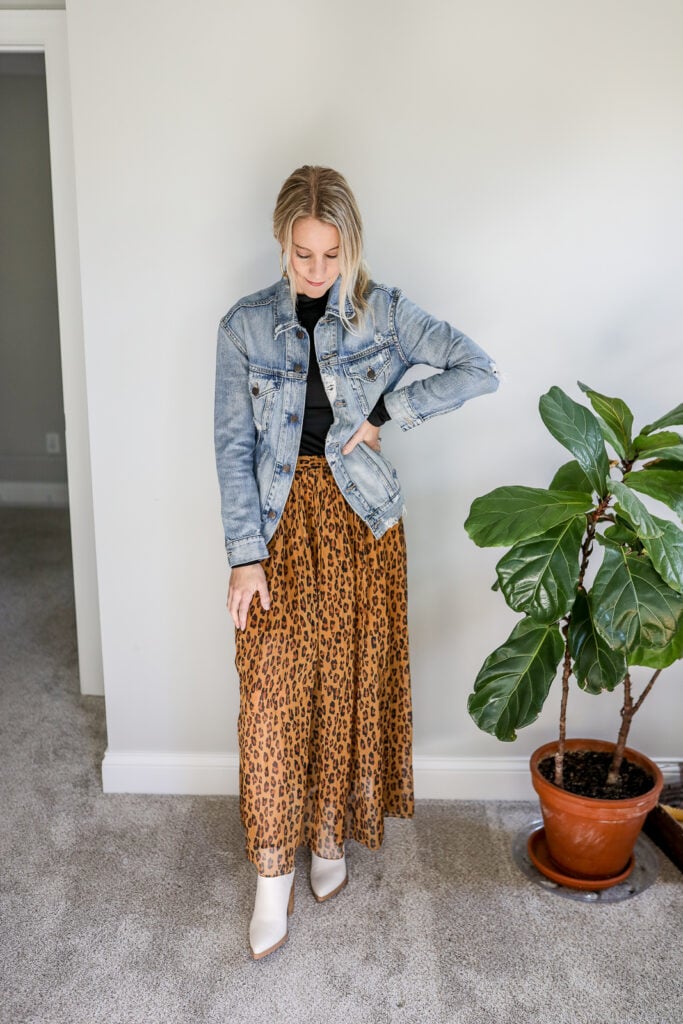 Shop the Look: Jacket | Skirt ( Similar here and here) | Bodysuit |
I love a good maxi skirt all year round! To keep this look chic, I wore a black bodysuit underneath my jacket to keep the top flawless. No shirts coming untucked or unnecessary bunching – just a clean look from top to bottom! This look would also look great with a black jean jacket!
12. Oversize Denim Jacket + Skinny Jeans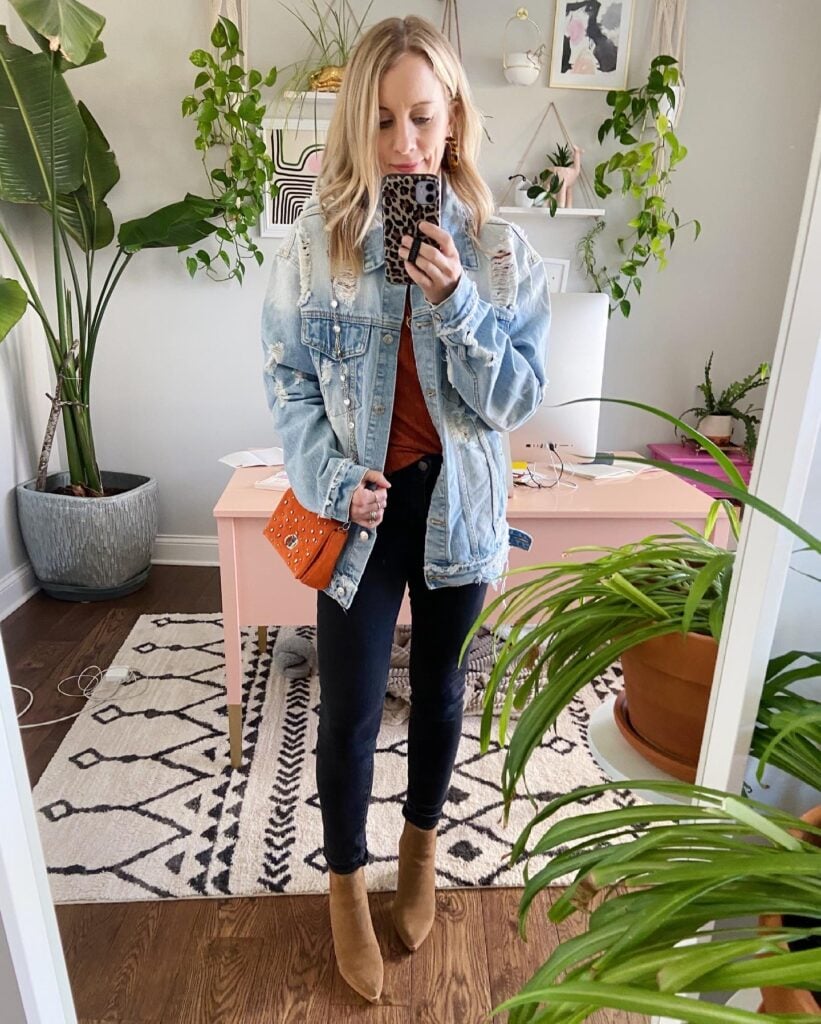 Shop the Look: Jacket | Red Tee | Jeans | Boots
Oversized denim jackets are growing in popularity! To keep the overall look chic, be sure to keep the clothes underneath the oversized jacket more fitted. I put on dark skinny jeans and a fitted top (tucked of course) so my jacket didn't over power me. Add heeled booties and a small purse and away you go!
13. Asymmetrical Dress + Denim Jacket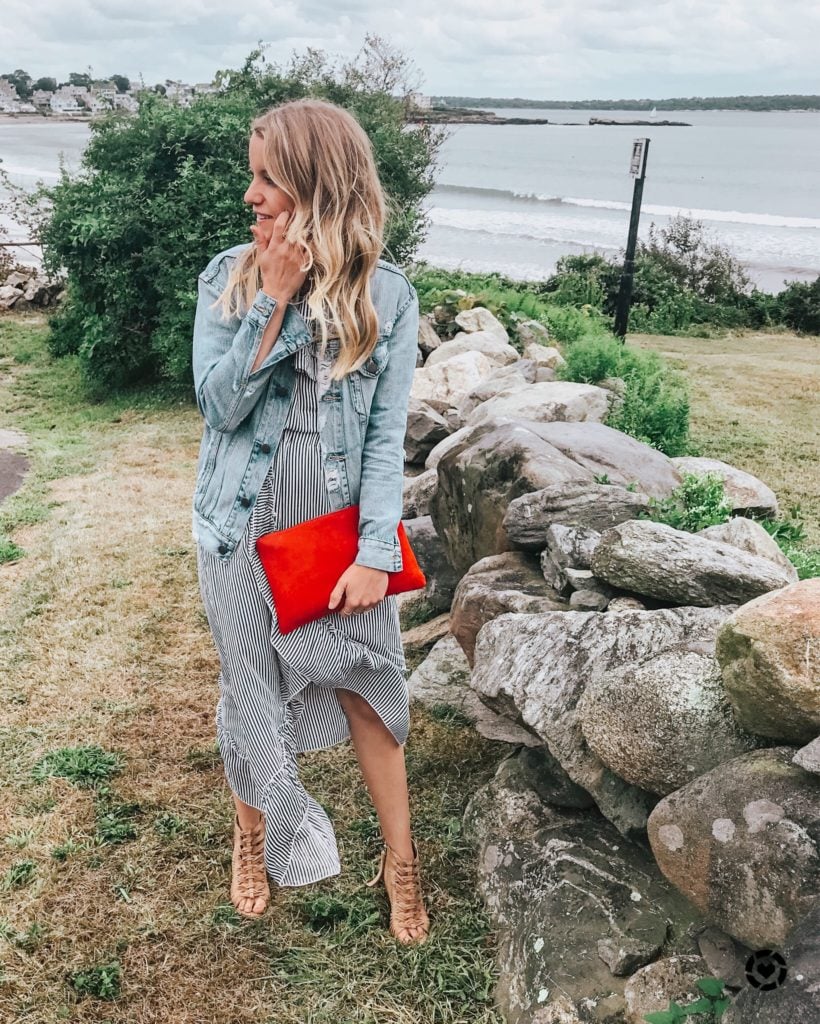 Shop the Look: Jacket | White Button Down | Jeans | Boots
If I'm honest, this is one of my favorite outfits to date! I wasn't planning on wearing this jacket to the wedding brunch we attended but we were out of state, the weather turned cold and I had no other option!
What are Your Favorite Denim Jackets?
Now that you know how to wear a denim jacket, how about picking up your favorite style of jean jacket? I've gathered some of my personal favorites that are perfect for transitioning into fall!
My go-to is definitely a more fitted, classic denim jacket. A classic denim jacket looks great both worn on its own or paired with some layering pieces! I'm personally obsessed with how this one easily goes from casual to dressy.
An oversized denim jacket is great if you want to layer on some warmth during fall! I'm personally obsessed with how baggy this one is, it's definitely my favorite jean jacket style!
An all black denim jacket is a must-have as it's perfect for wearing with any dark colored outfit, from jeans to skirts.
If you want more posts like these, check out one of these!