We've entered the days of cold days and even colder nights. Aka winter months and sweater weather!
With colder days ahead, our style choices switch from sleeveless dress to sweater dress. If you haven't embraced a sweater dress yet, now is the time to do it! It's the perfect look for everything from the office to date night and everything in between.
If you're new to sweater dresses or just need some sweater dress outfit ideas, you're in the right spot! I'm someone who won't keep something in my closet if I can only wear it one way. Nobody has space in their closet for that!
There are tons of different types of sweater dresses to choose from. You can get a mini sweater dress, a midi dress, oversized sweaters, solid colors, printed colors, long sleeves or even short sleeves!
I have 2 sweater dress that you'll see below. One is a tighter fit turtleneck sweater dress and the other is an oversized sweater dress.
Today I'm going to share different ways to wear your sweater dress to inspire your next outfit!
How to Wear a Sweater Dress – 15 Outfit Ideas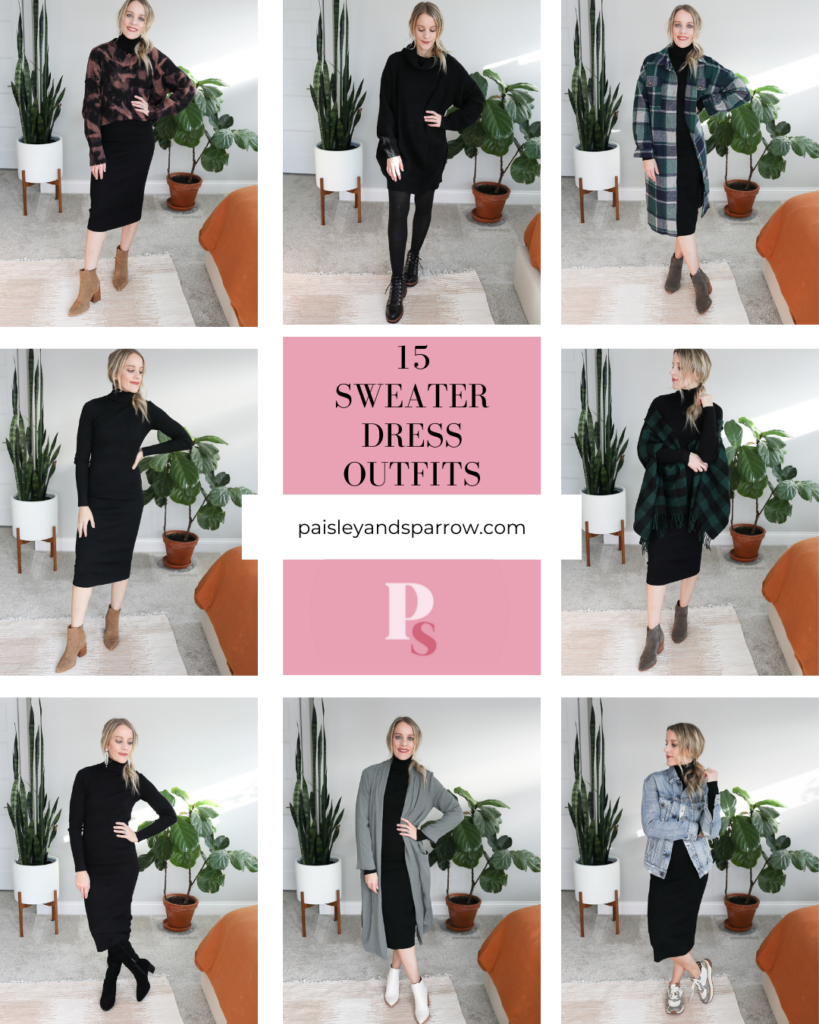 Paisley + Sparrow is a participant in the Amazon Services LLC Associates Program. This post may include affiliate links which means I may earn a small commission if you shop using the links below at no additional cost to you. 
1. With Neutral Boots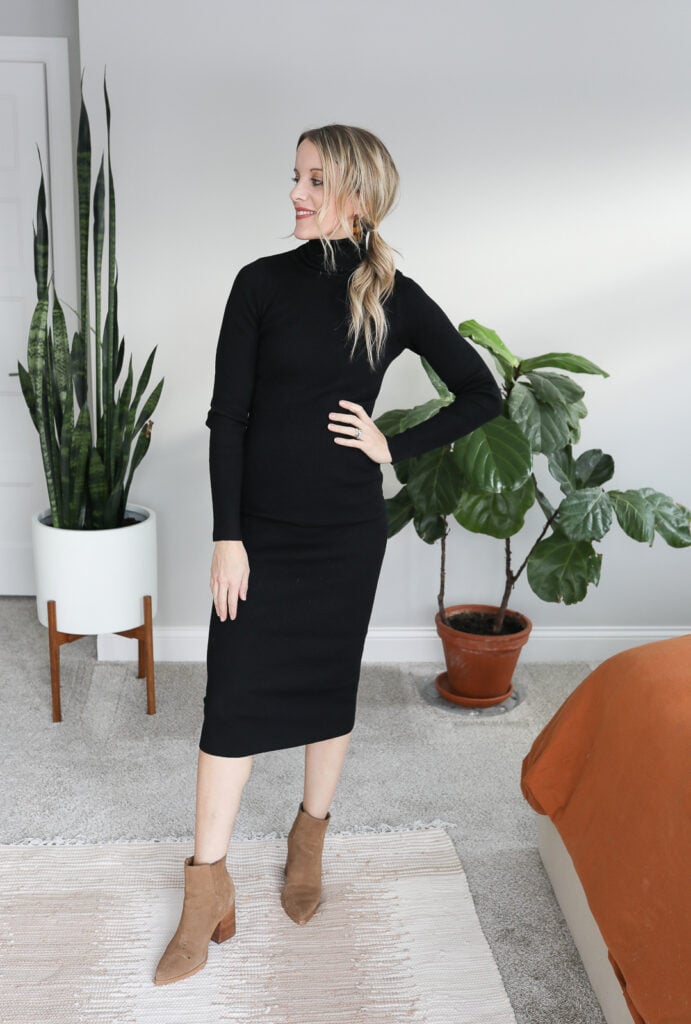 Sweater Dress | Boots (sold out – similar here)
This fitted sweater dress is my favorite sweater dress for layering as well as for a more professional vibe. Keep things simple and neutral by adding a pair of heeled neutral booties with your sweater dress! On really cold days add a pair of tights to keep your legs warm.
You could also swap brown boots for plain black ankle boots.
2. With Over The Knee Boots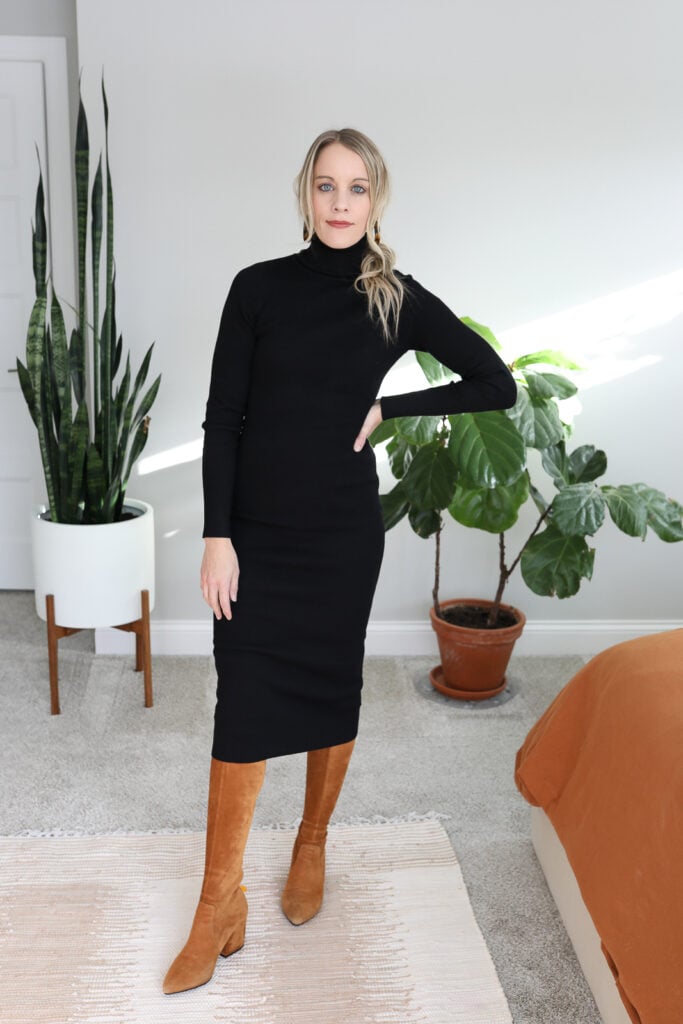 I love this chic look for my long sleeve sweater dress that's perfect for a day at the office or any other sort of professional spot. A pair of cognac colored over the knee boots will keep you toasty warm and tie in gold jewelry that you have!
3. OTK Boots & Sherpa Jacket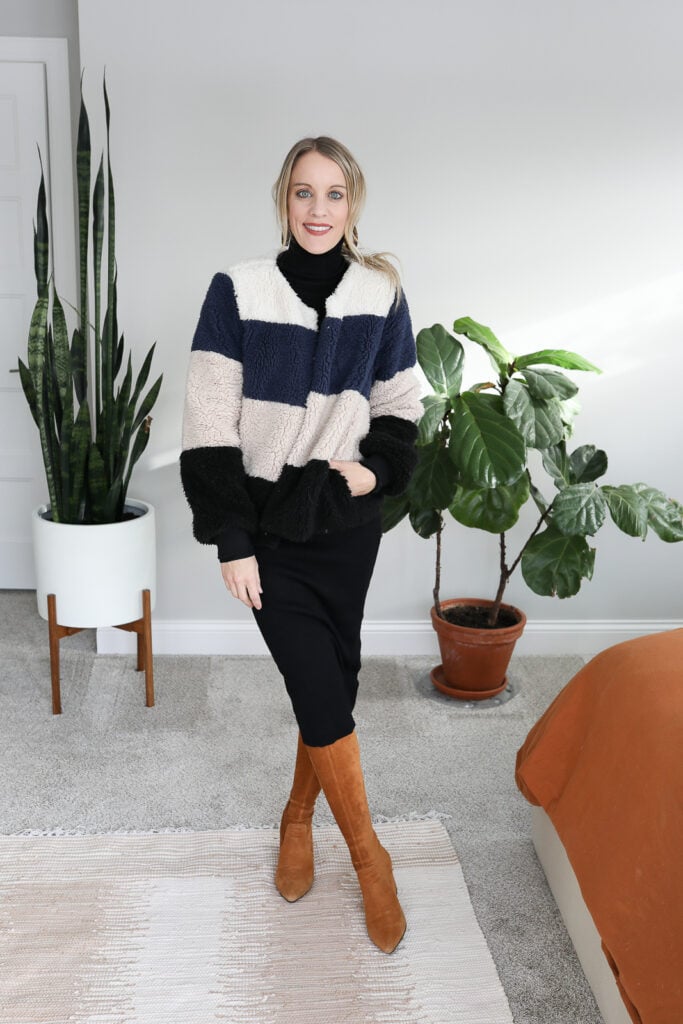 Sweater Dress | Jacket (sold out similar here and here) Boots
If you want to stay extra warm or just want a cozy look, add a sherpa jacket over the top! The stripes in this jacket create the perfect balance to the solid base of the dress and boots.
4. All Black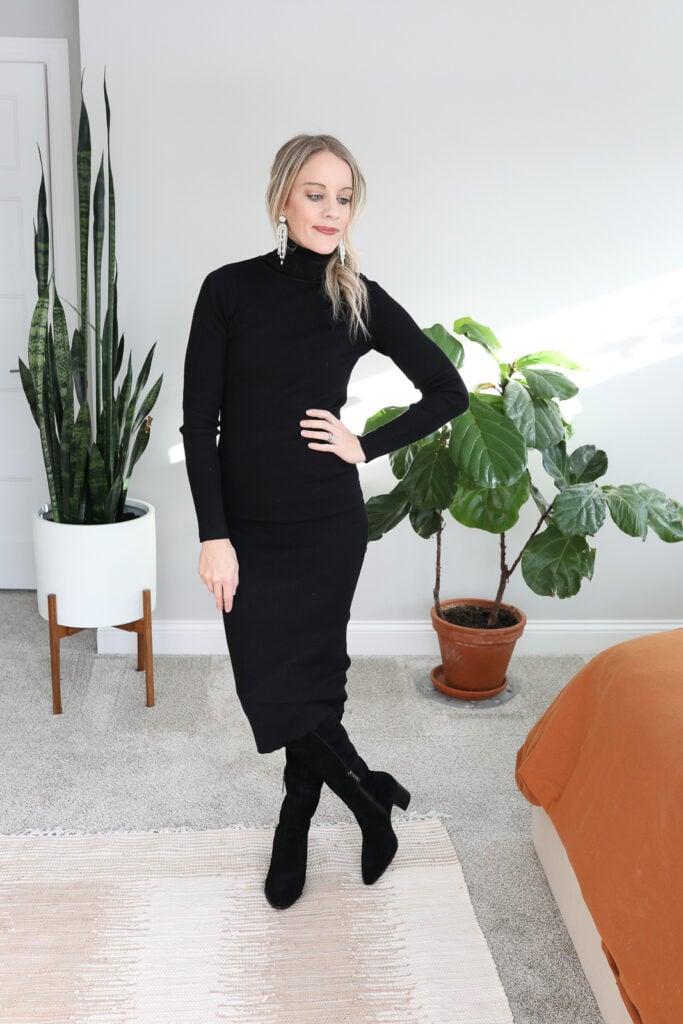 When in doubt, go with black! A long black sweater dress and knee high black boots is a great way to not only look chic but also not have to think too much about your outfit! Add in a pop of color with your earrings and you're ready to go.
5. Belted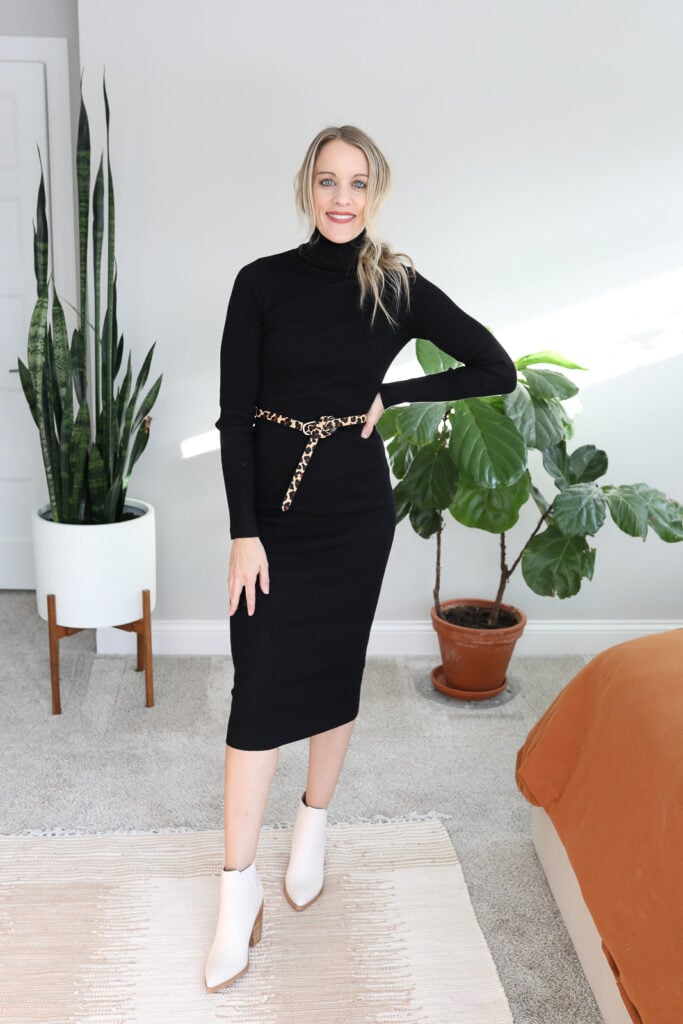 Sweater Dress | Belt (sold out – similar here) Boots (sold out – similar here)
Want to define your waist? This will do just that! A fun printed belt like mine over a solid colored dress is a beautiful combination. Add in a pair of ankle boots in a coordinating color to complete the look.
Want something a bit more neutral? Try a black leather belt instead of a printed one!
6. Casual with Denim Jackets & Sneakers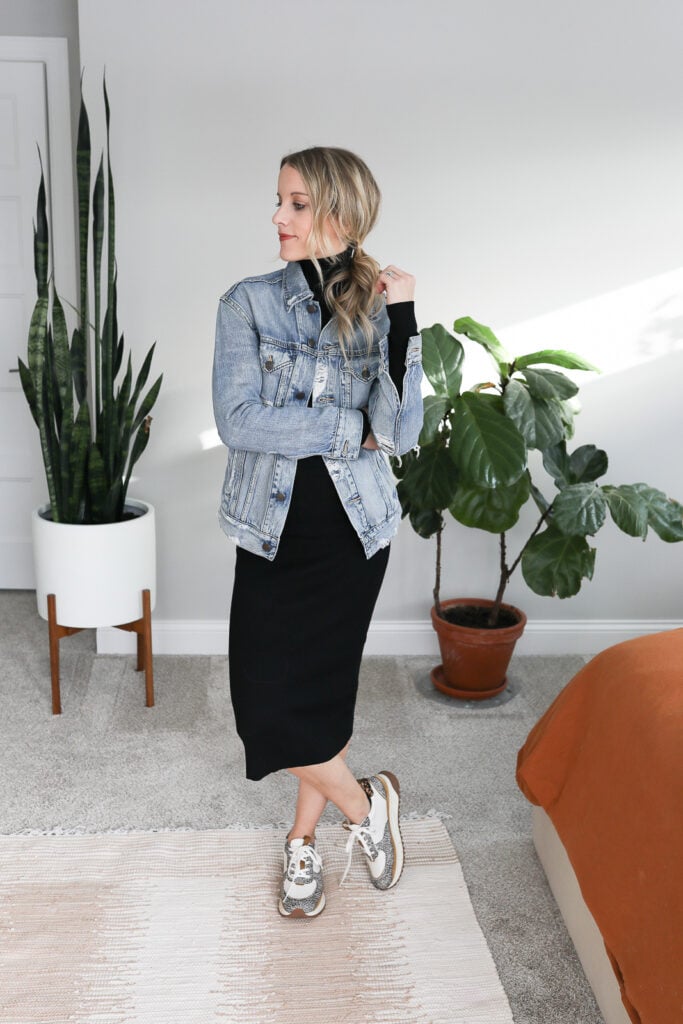 Sweater Dress | Denim Jacket | Sneakers
Sweater dresses don't have to look fancy! They're also great worn dressed down. An easy way to do this is to throw on a denim jacket and a cute pair of sneakers!
Find even more denim jacket outfit ideas here!
7. With a Long Jacket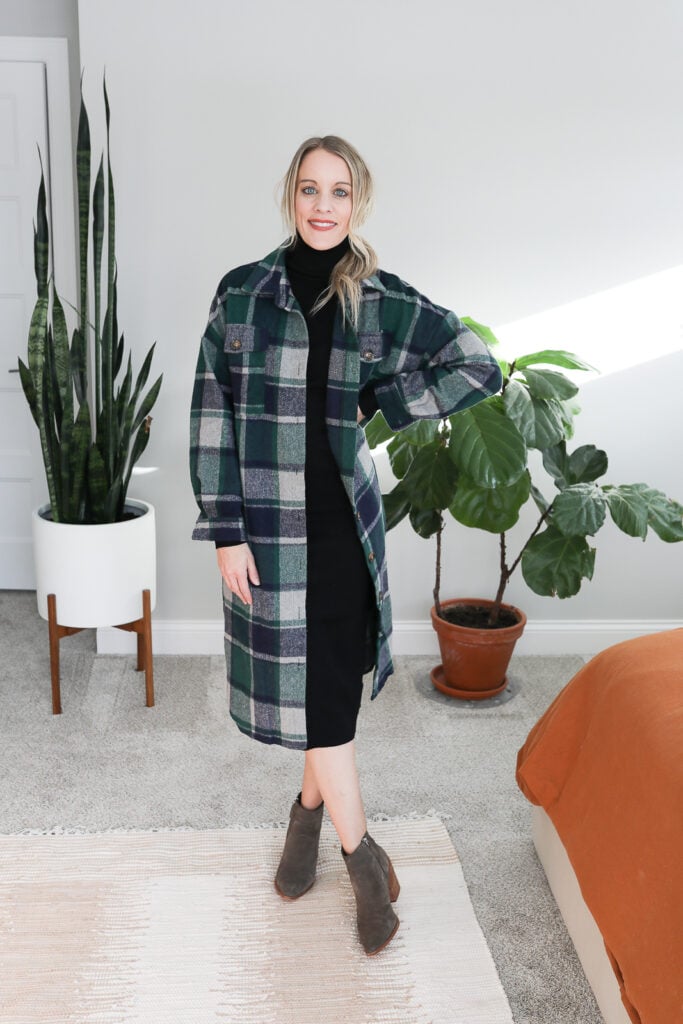 Sweater Dress | Jacket | Boots
Want to look a bit more stylish? I've got you covered! This beautiful long flannel jacket does just the thing! Just make sure that your jacket is longer than your dress! Throw on a pair of boots and you'll be the most stylish girl around!
8. With a Long Cardigan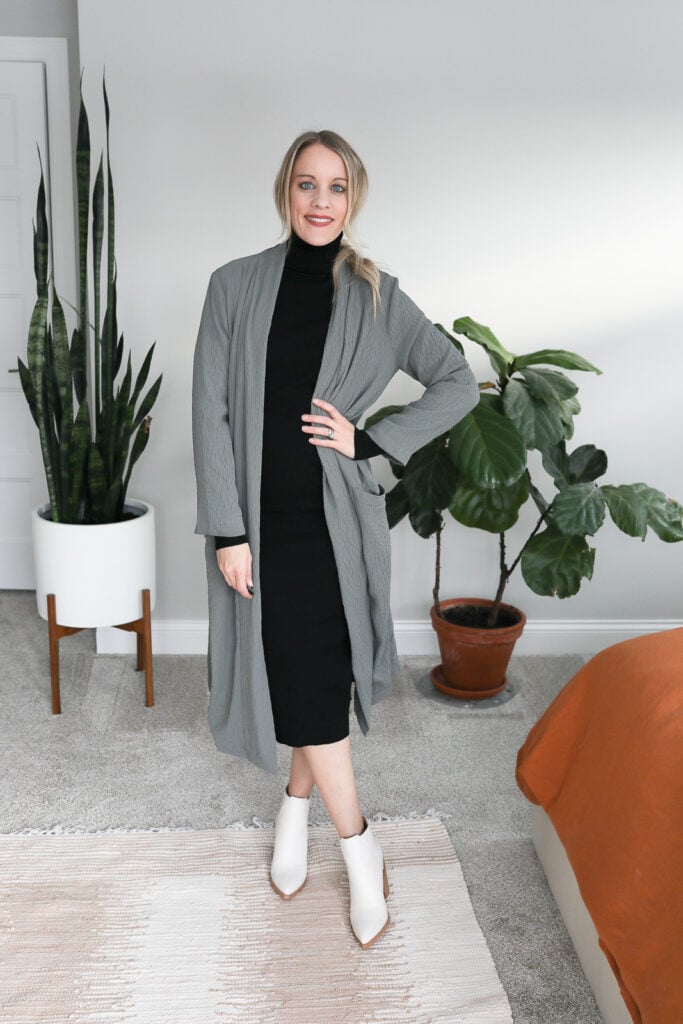 Sweater Dress | Duster (sold out – similar style here and similar color here) | Boots (sold out – similar here)
Don't want to wear something quite as heavy as a flannel jacket? Opt for a long cardigan! This one is a bit more elevated than a cotton sweater style cardigan making this outfit a great option for a more professional setting without losing the style!
Keep it extra stylish by adding a pair of white booties to your outfit! Just remember to keep your cardigan longer than your dress!
Find more white bootie outfits and tons of white booties to shop on this post!
9. With Pumps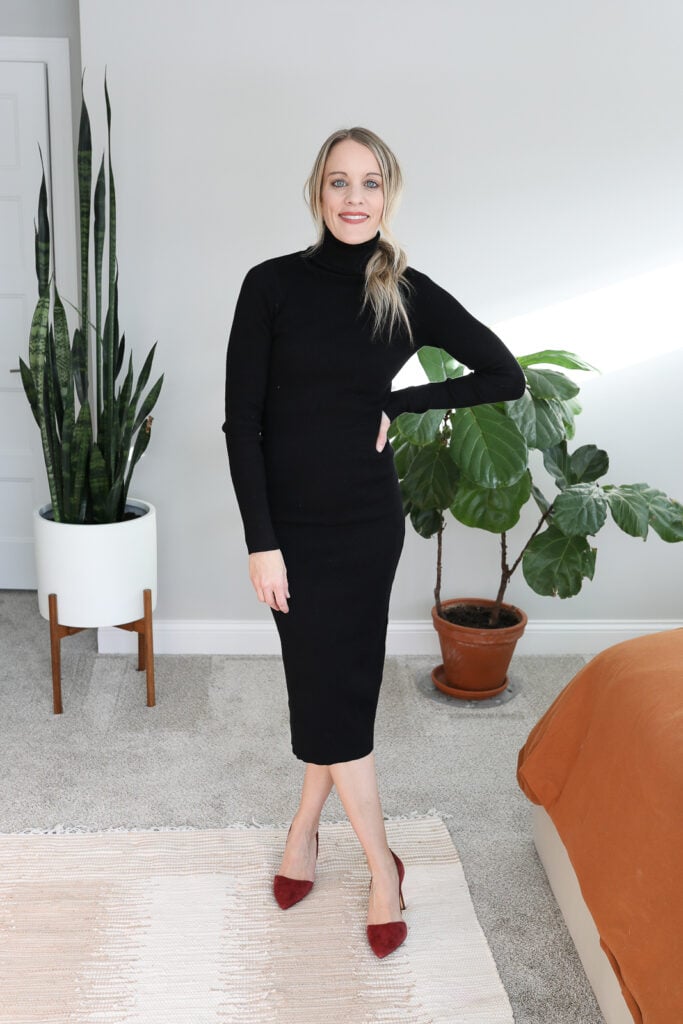 Sweater Dress | Heels (sold out –similar here)
I can't forget the easiest way to wear your sweater dress! A pair of heels is a good option for the workplace. A pair of opaque tights or a pair of thick tights may be a necessity during those bitter cold winter days!
Keep it classic with a pair of black pumps or give it a fashionable flair with a colored pair of pumps or even printed pumps!
10. Sweater Dress with Shawl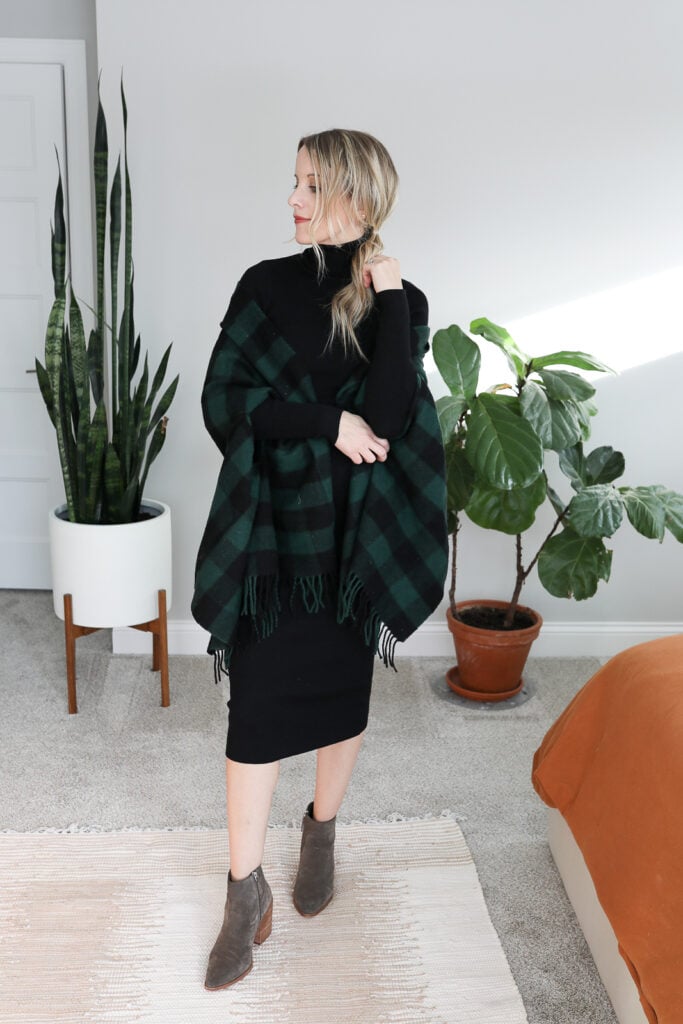 Sweater Dress | Plaid Scarf | Boots
A beautiful shawl or oversized blanket scarf is another fun accessory to wear with your sweater dress. If your dress is a solid color, add in some prints with your accessories! This simple black and green shawl keeps me cozy warm while looking sophisticated.
11. Sweater Over a Sweater Dress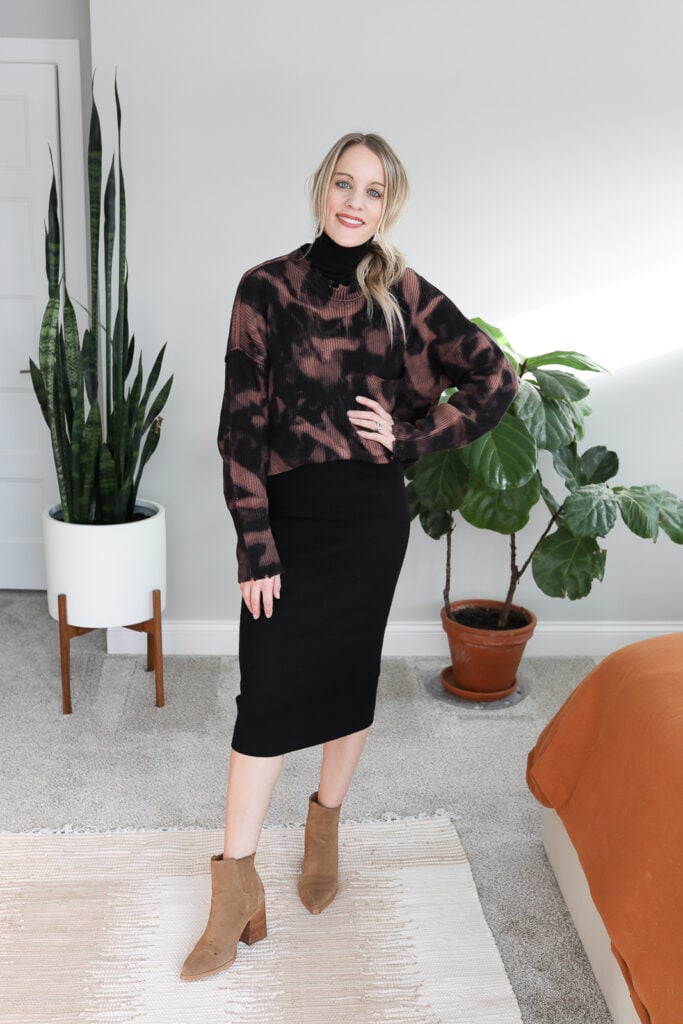 Sweater Dress | Sweater ( similar here and here) Boots (sold out – similar here)
Are you someone who's always cold? Me too. Try out this fun combo! Here's my trick for getting this to work though.
After you put on your dress, add a sports bra over the top. Yes, you heard me right – a sports bra! Then, layer the sweater over the top of the dress + sports bra. Take the bottom hem of your sweater is neatly tuck it in to the bottom of the bra! Easy peasy and nobody will every know your little secret.
12. Oversized Sweater With Booties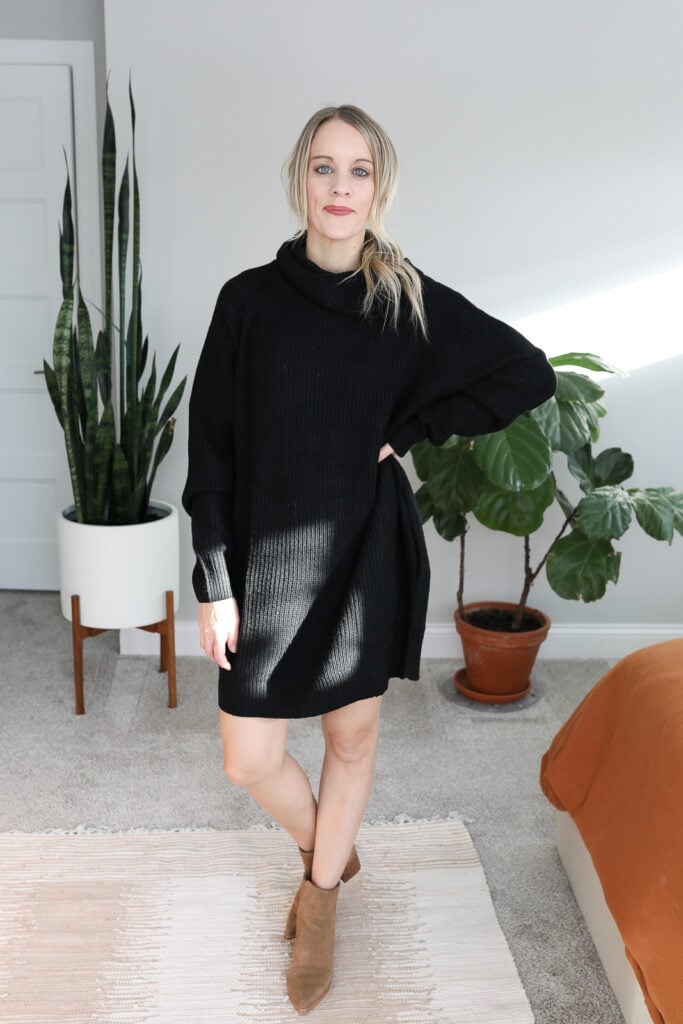 Sweater Dress | Boots (sold out – similar here)
My first ever sweater dress was this oversized black sweater dress. I love oversized sweater dresses because they're comfy, cozy and you can layer clothes underneath them for added warmth and nobody will even know!
If you want something simple yet chic, try out this combo. Cozy sweater dresses paired with booties is such a cute look! You can also swap out the lower shaft boots for tall boots or knee-high boots during extra cold days.
13. Oversized Sweater Dress + Over the Knee Tan Boots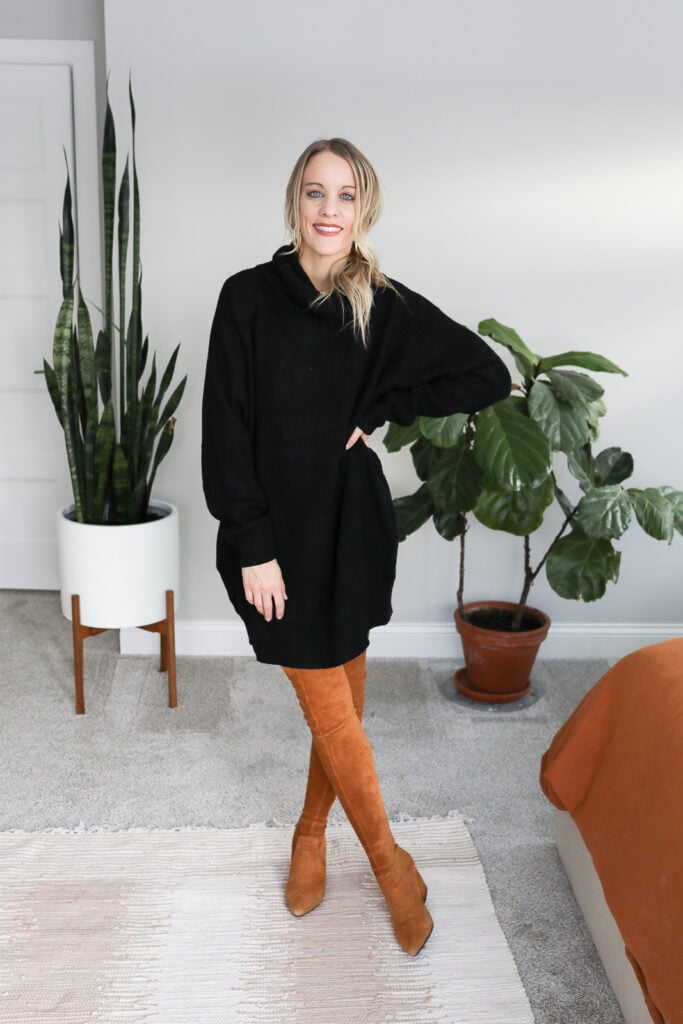 Want a bit of contrast? Less black on black? Add a pair of colored boots like these over the knee tan boots! One of my favorite ways to wear this sweater dress is with over the knee boots! You can even add a pair of black leggings underneath to keep your extra warm in cold weather!
14. Oversized Sweater Dress + Over the Knee Black Boots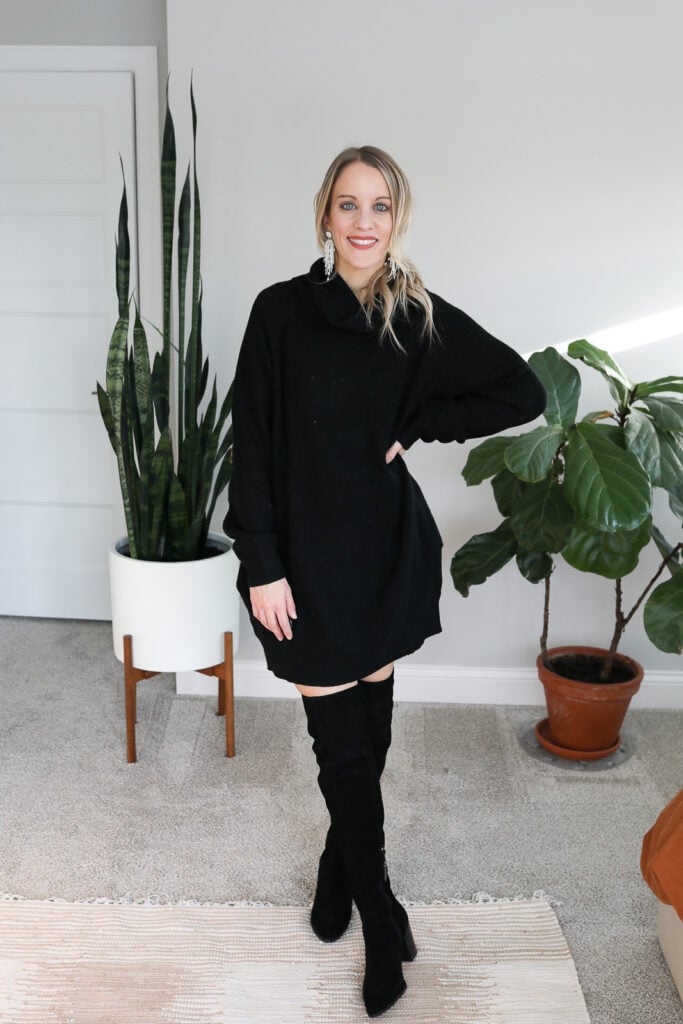 If you're looking for a chic black on black look, try a black sweater dress with black thigh-high boots. For those really cold days add a pair of black tights too!
15. Oversized Sweater Dress + Combat Boots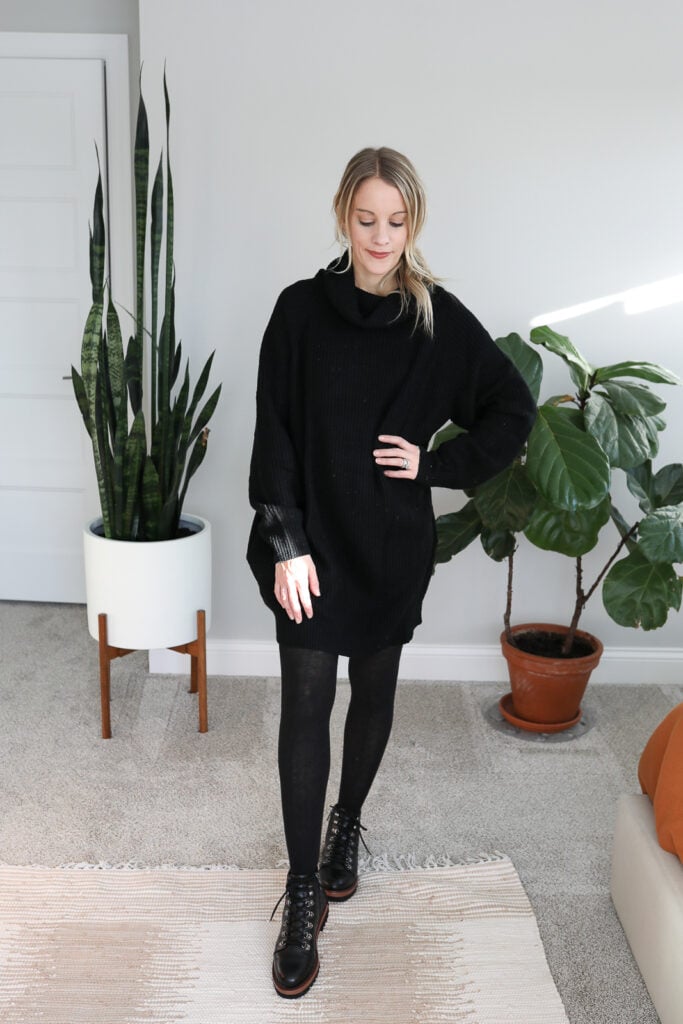 Sweater Dress | Boots (sold out – similar here)
Want a bit of an edgier look? Try throwing on a pair of combat boots! Keep your legs warm with a pair of patterned or fishnet tights, or even cozy socks, and add combat boots to the look.
You could even layer a moto or black leather jacket over the top if your dress isn't too bulky!
There you have it! So many fun ways to wear a sweater dress whether yours is oversized or fitted.
And remember – sweater dress come in all sorts of sizes and colors! Pick up a grey sweater dress for a neutral look, a printed one if you're a fashionista or even this cute belted one that I also own!
I hope this helps you get more use out of your sweater dress or inspires you to finally get one!
If you want even more outfit inspiration, check out one of these posts!