If you're shopping for a new look and don't already own midi dresses, it's time to incorporate this beautiful trend into your wardrobe. But what is a midi dress? Today we're going to explore this beautiful type of dress with tons of types for styling them, picking the right type and our top picks.
There are many different varieties and options available with midi dresses to fit your body type and preference. Plus, they look super cute to wear regardless of the season, as they can be dressed up with cardigans and boots or dressed down with a pair of sandals.
Before jumping into buying a midi dress, you'll need to understand what a midi dress is and how to style it. Let's get started!
What Is a Midi Dress?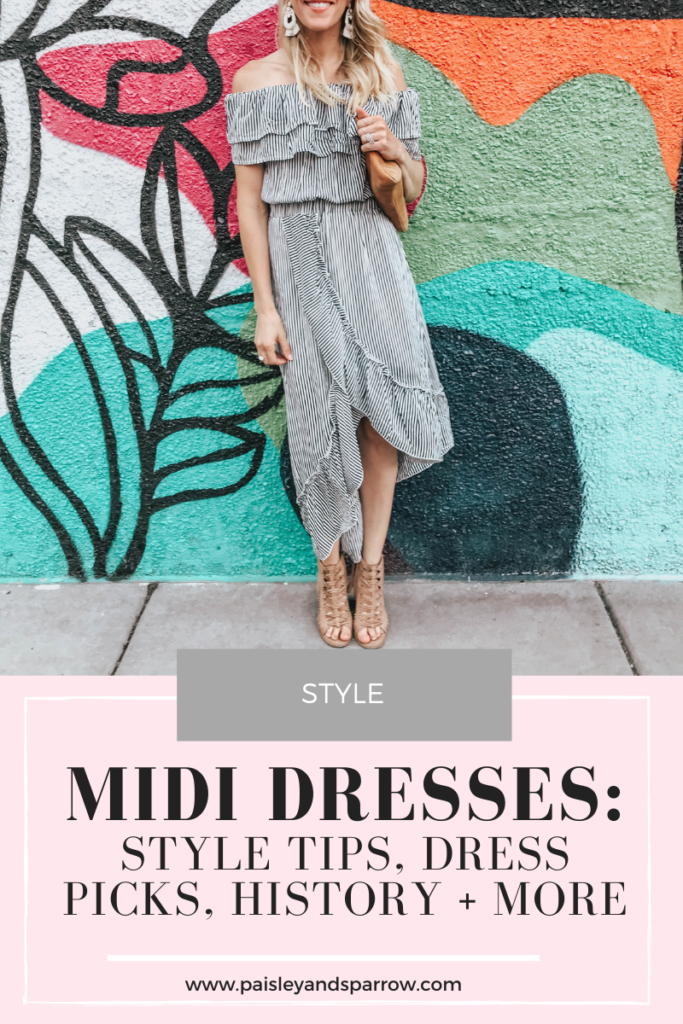 This post contains affiliate links.
A midi dress is any type of dress that rises above the ankles but falls below the knees, otherwise known as the mid-calf. There are various patterns and styles to choose from to fit your body shape and fashion preference.
A midi dress is not the same as a maxi dress. The most significant difference between a maxi dress and a midi dress is that a maxi dress will fall all the way down to the floor or the ankle, while a midi falls in the mid-calf area.
Midi dresses are perfect to wear in any season as they are made of various materials and patterns. They can be dressed up by adding jackets and jewelry or can be a standalone piece, only needing a pair of shoes.
History of the Midi Dress
The history of the midi dress is quite fascinating. The idea of the midi dress has been around for centuries, as it was not a unique invention, it was just a dress that was shorter than your ankles.
1900s
Before the early 1900s, everyone wore dresses to their ankles. It was not proper to show your ankles, so everyone invested in longer garments. It was assumed that you were a person who was poor or in the lower working class if you wore a midi dress.
Commonly the poor or working-class could not afford to buy new dresses for their growing children, so they would have to wear dresses that didn't fit well or looked like a midi dress.
1910's and 1920's
However, around the early 1910's and '20s, hemlines began to get shorter, with shorter dresses becoming the norm for most women to wear. It wasn't until 1927 when the flapper dress made its debut, that dresses as short as your knees would be common to wear.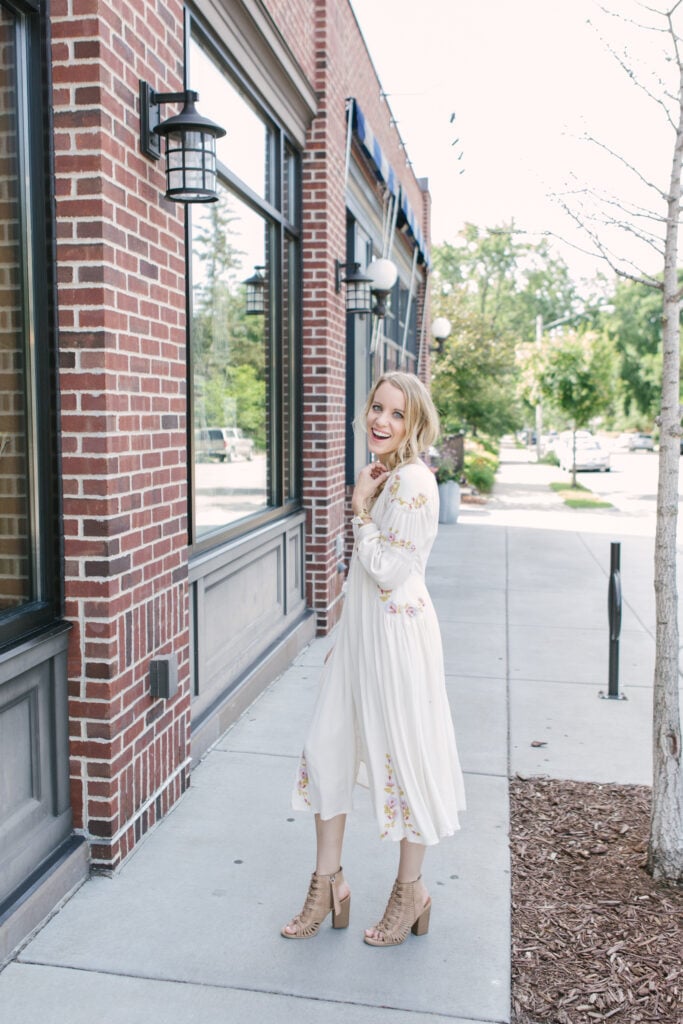 Flappers were a younger generation of girls who were considered rebels of their period. They went against the social norms applied to women of their generation by listening to jazz music, wearing their hair in a shorter style, and dressing in short skirts that went to the knees.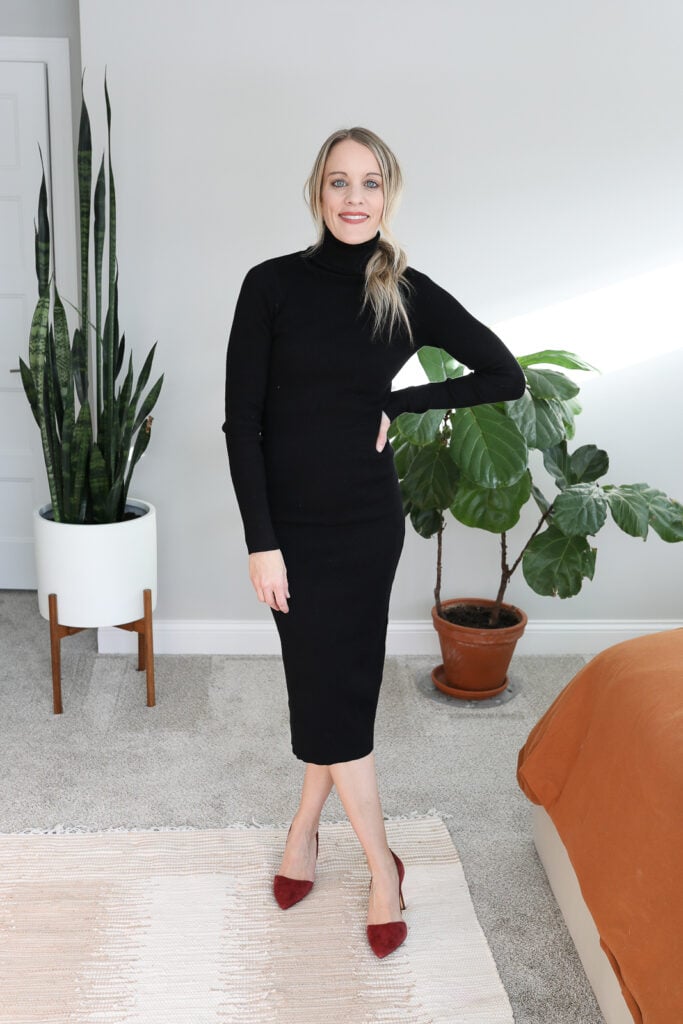 (find this sweater dress here)
1940's
The flapper phase didn't last forever. By the early 1940s, midi dresses had become popular again as the appropriate standard length for dresses. Midi dresses were considered a display of femininity and elegance without revealing too much skin.
1960's
The most significant change to dresses came around the 1960s when women pushed to change their wardrobe and not conform to the fashion or styles they were told to wear.
Women began to wear a wide variety of dresses, including the mini, midi, and maxi style dresses. From that point, midi dresses fell in and out of the fashion scene, usually seeing a reoccurrence around spring and the early fall season.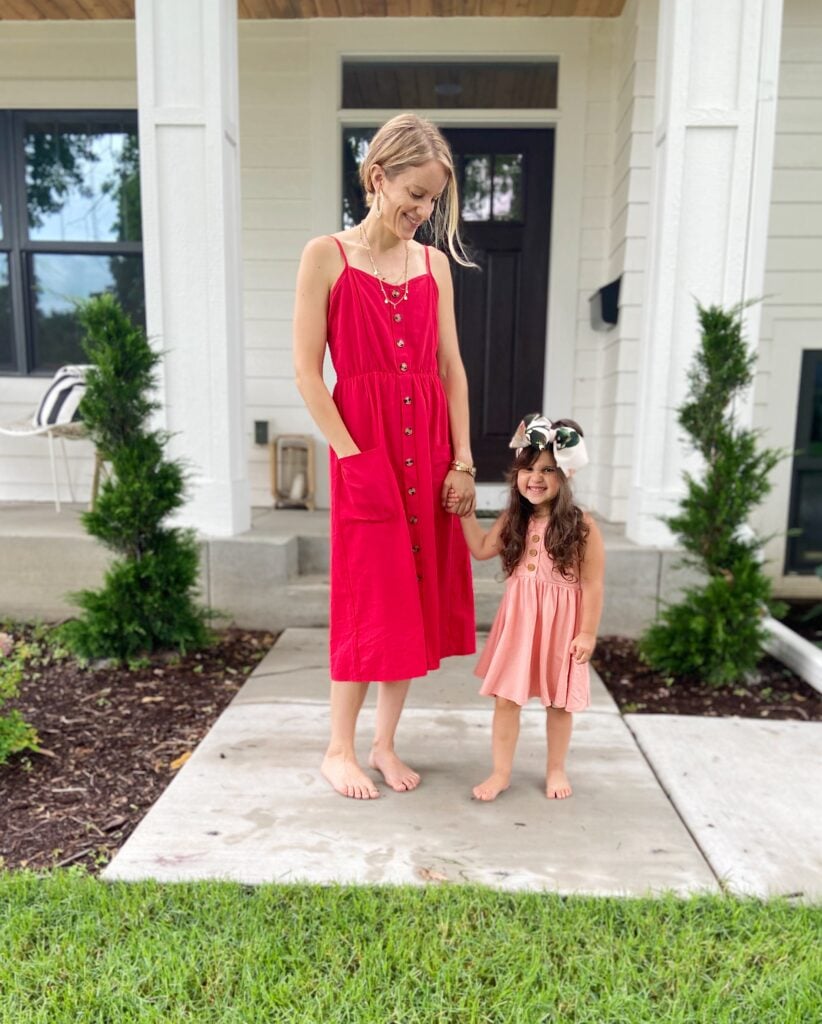 Different Types of Midi Dresses
There are a variety of different types of midi dress – here's some of the most popular ones.
1. Bodycon Midi Dress
A bodycon midi dress is a tighter midi dress. It clings to your body to accentuate your natural curves, such as your hips, waist, and booty area.
2. Bardot Midi Dress
A bardot Midi dress is an off-the-shoulder dressy look. Bardot Midi dresses are a popular style for weddings and during the seasons of spring and summer.
3. Long Sleeve Midi Dress
Long sleeve Midi dresses provide comfort and covering during the cooler months of the year. They look classy and show off your curves without the tightness of a bodycon dress.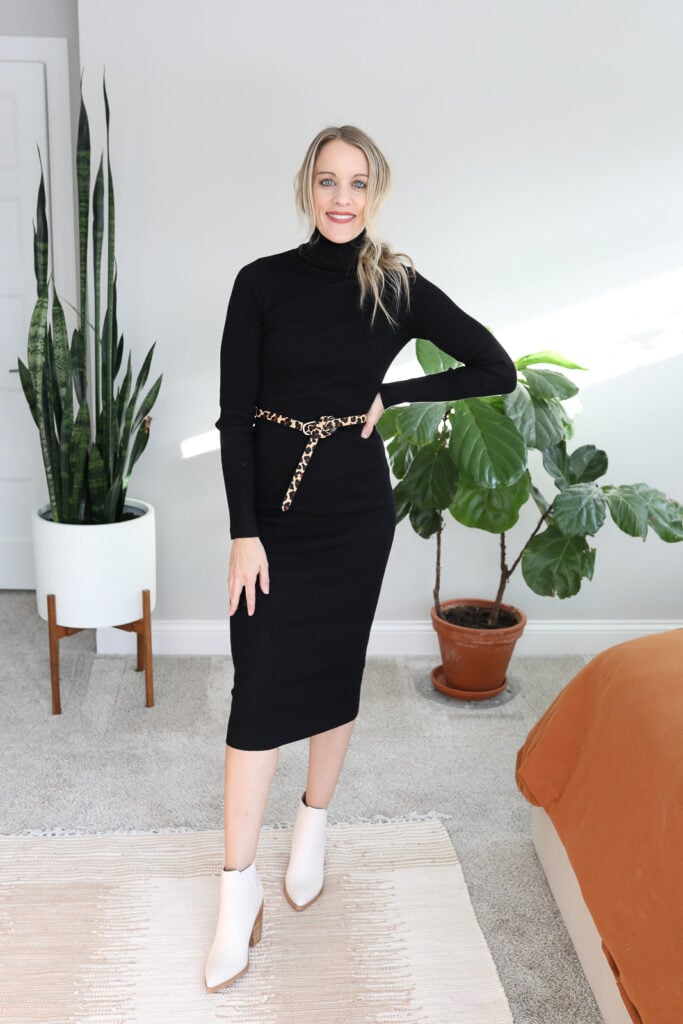 4. Lace Midi Dress
Lace midi dresses are elegant and perfect for formal events. These dresses are designed with lace fabric in some capacity and are usually lined to create a functional, well-designed piece of clothing.
5. Midi Wrap Dress
A midi wrap dress has a tie around the waist area, usually sitting on the side of your hip. Midi wrap dresses allow you to customize how tight you want the dress to sit around your waistline. This look is flattering for many body types.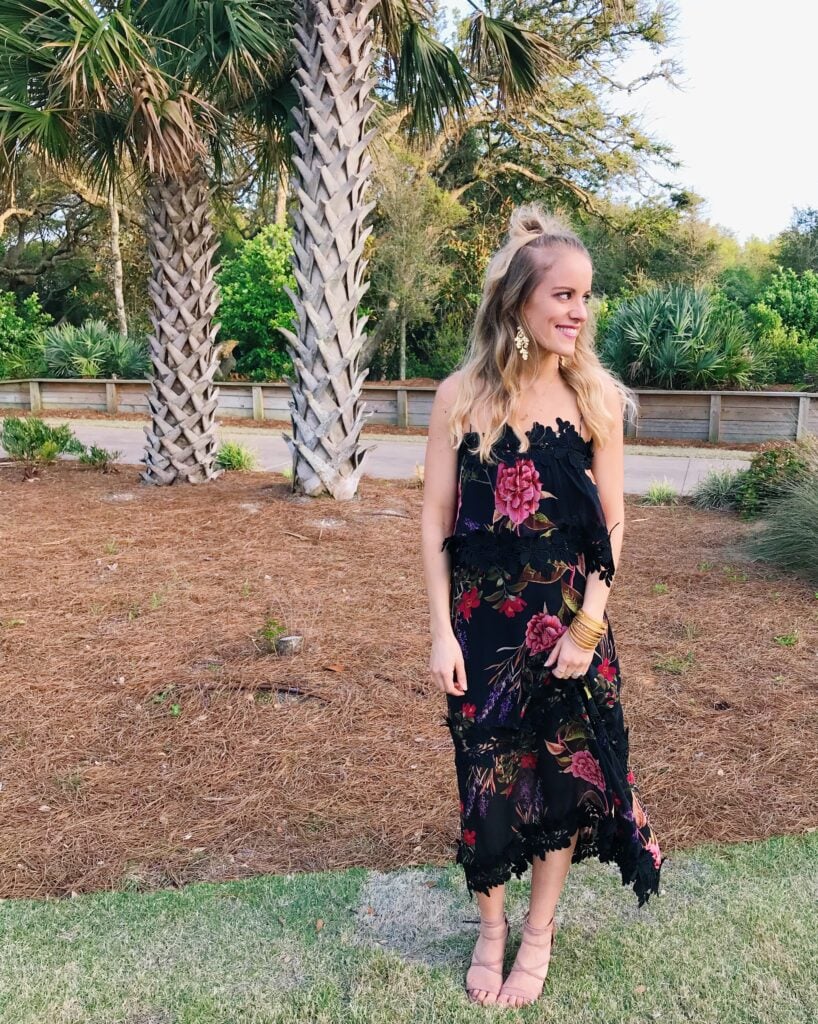 How to Choose a Midi Dress
When you're searching or shopping for a midi dress, it's important that you choose a dress that fits your fashion preference and can be easily styled. Here are a few tips you should follow while shopping for a midi dress.
1. Consider the Length
You want to make sure that you don't buy a dress that hits the middle of your calf, which is usually the widest part of your leg. It will make you look boxy while making the dress look longer than it is.
To buy the right length, you'll want to check to see where it falls on your legs. The ideal area is a few inches above the ankle or a few inches below the knee. Choose the right hem because it will determine the overall look and feel of your dress.
2. Show Off Your Waist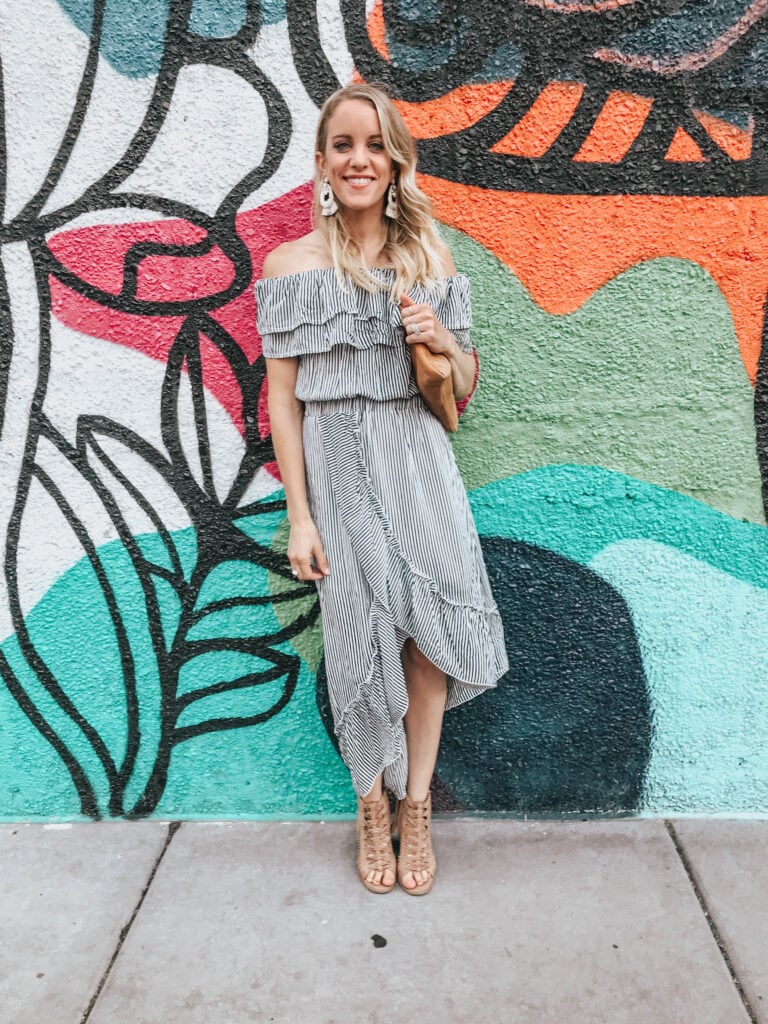 If you wear your dress the wrong way, you can be hiding your curves which will not show off your figure well. Midi dresses are often paired with a belt because they will complete the look and show off your waistline.
If you're buying a bodycon dress, this might not be necessary because your curves will already naturally show through the clothing. However, if you want to show off your curves further, you can add a thick belt to a bodycon dress.
3. Think Long Term
You only want to purchase pieces that you will wear multiple times, and that can be styled in various ways, such as by adding a piece of jewelry or wearing a jacket with it. Make sure that this is a piece you'll enjoy wearing multiple times. Don't buy something you don't love.
4. Highlight Your Neckline
Midi dresses offer so many different types of ways to show off your features, specifically your neckline. Consider strapless, sleeveless options or a low back cut to really show off your neckline. Choose the style that feels most comfortable to you because it's all about feeling like your best self.
*Find a complete guide of necklines here!
Style Tips for Your Midi Dress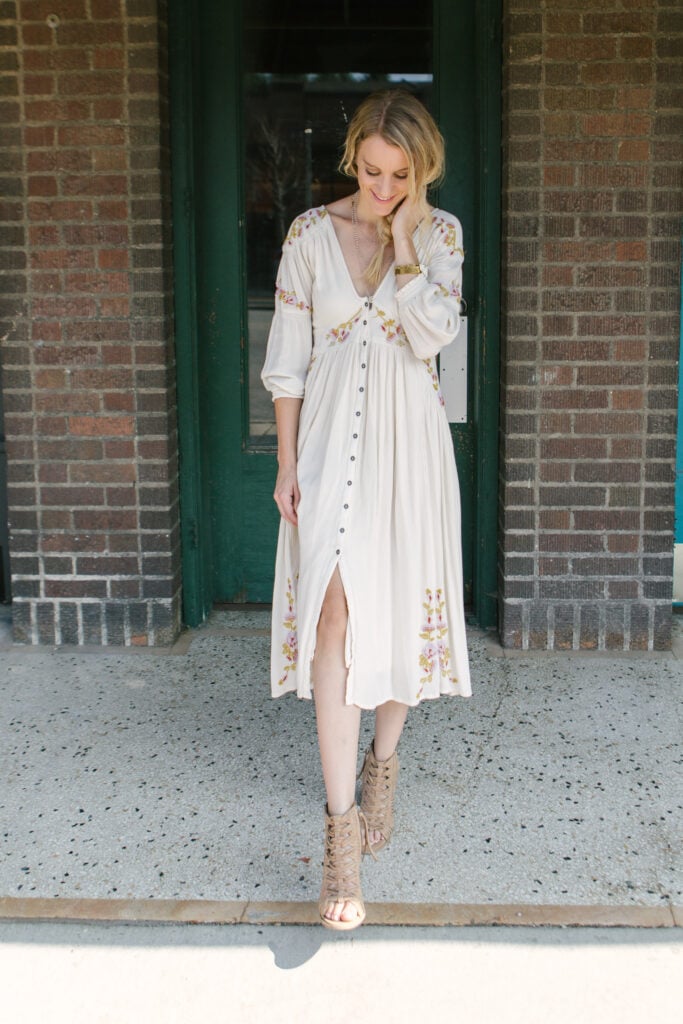 Now that you have chosen some gorgeous pieces to add to your wardrobe, it's time to learn how to style them. Thankfully, Midi dresses have so many ways to be worn, making your dress a versatile staple for your wardrobe. Check out our top style tips below.
1. Dress it Down
If you're going for a very casual look, try to dress it down with a pair of sneakers. Sneakers look so cute with a midi dress. You can pair it with any type of Converse, Adidas, or Nike shoes.
However, any brand of white shoe would look adorable with a midi dress. This is an easy way to show off a casual, fun midi dress look.
2. Add Jewelry
Most of your midi dresses will have some type of pattern or style that allows you to wear them without having to add an accessory. However, if you want a fun way to style your midi dress, considering adding jewelry.
The type of jewelry that would look great with a midi-dress includes bracelets, necklaces, or earrings. Try to match the style of jewelry to the kind of dress you're wearing. For example, if you're wearing a bold bodycon midi dress, make sure your jewelry compliments this look.
3. Sandals Match Everything
During the summertime, the perfect way to match a midi dress is to put on a pair of flat sandals. Plain white or black sandals are a simple way to match your midi dress.
Plus, you'll feel comfortable throughout the day whether you must run errands or are heading into the office.
4. Add a Jacket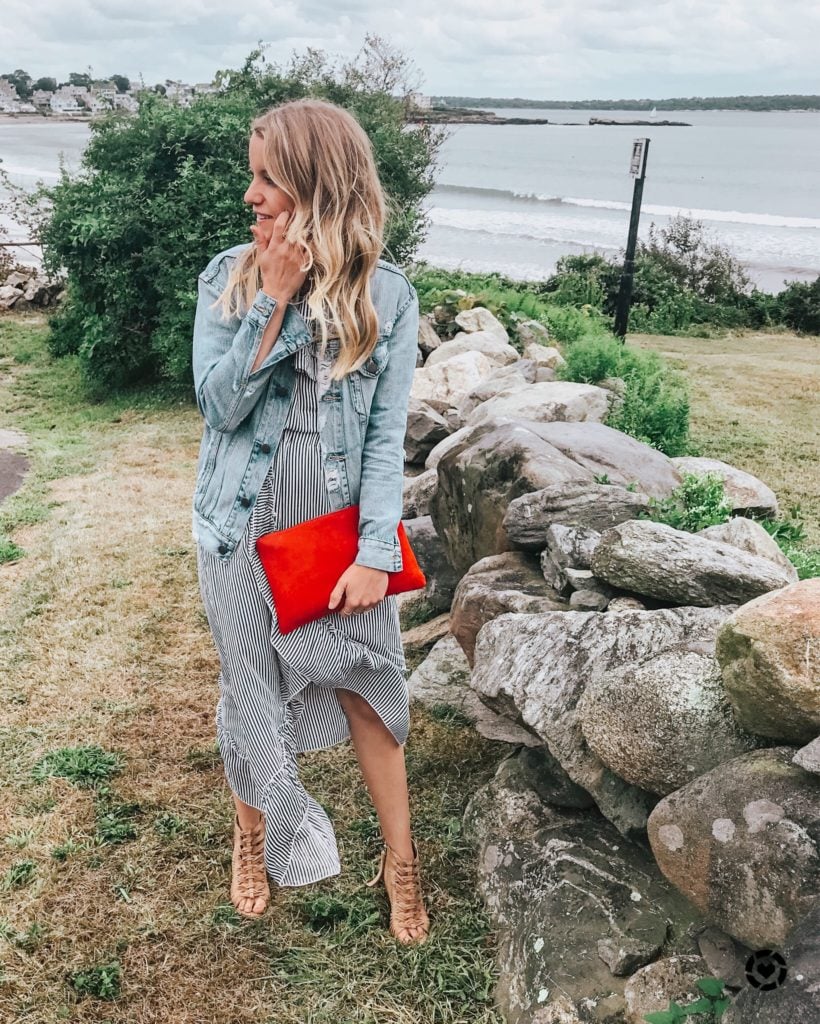 Jackets are the perfect complement to a midi dress. Consider a denim jacket or shacket to pair with your dress when the weather feels a little cooler. Jean jackets are available in multiple colors and help add warmth without taking away from your dress's look.
The 9 Best Midi Dresses
Here are some of my favorite midi dresses (I own number 2 and 9!).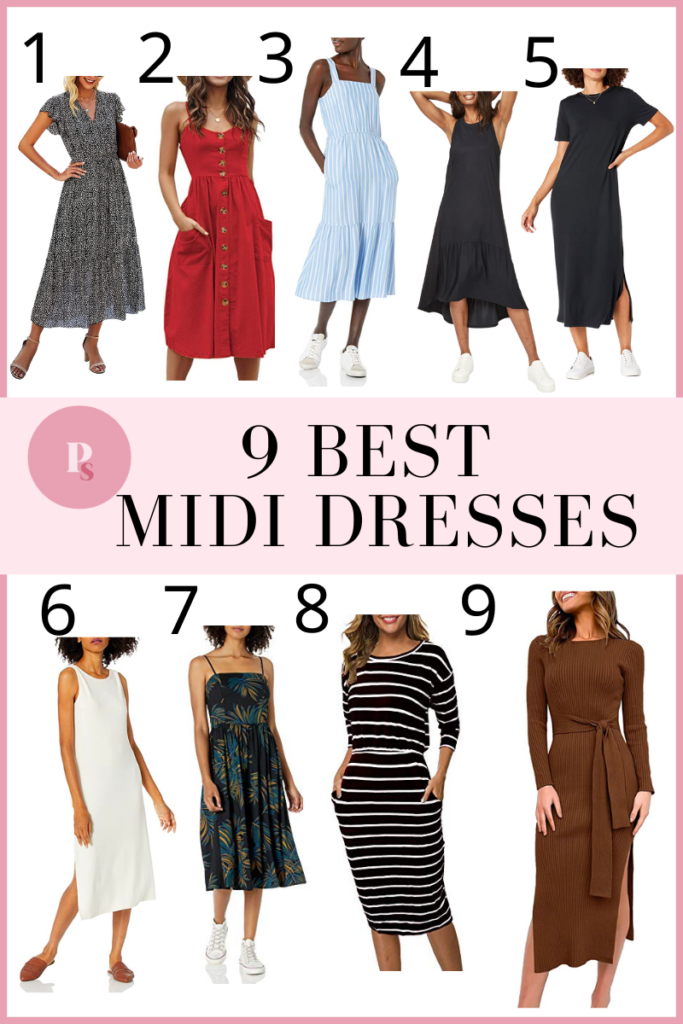 This sun dress is made out of polyester to keep you cool. Has a belted waist to define your waistline and has flowy ruffle cap sleeves. Comes in 5 different colors.
I own this faux button down midi dress and love it! Features 2 large pockets, comes in a variety of prints and colors. Buttons are for show only, they don't actually close the dress. The back is elastic. I normally wear an xs and got a small in this dress (the smallest size). Fits slightly large on me.
This breezy, flowy dress features a tiered skirt and tank top style sleeves. This dress is super easy to dress up or down with your jewelry and shoes and comes in a variety of colors!
This fun and flirty racerback midi dress is well loved by people who own it! With over 70 positive reviews you can rest assured knowing this is a good option. It has a high low hem and a flowy feel that you can throw on after a good workout or to head out for coffee.
This cotton-modal knit midi dress is the perfect casual dress to wear for everyday! Pair with a denim jacket and converse shoes for running errands or a kimono and wedges for a more elevated look!
This versatile Sleeveless Bateau Midi Dress is a figure flattering outfit that's super comfortable and super versatile! Made out of cozy soft material and has over 350 reviews.
This beautiful Smock-Back Cami Midi Dress has elastic on the back which creates the perfect fit! It comes in 6 different colors and can be dressed up or down with your accessories.
This simple yet beautiful Casual Pencil Dress has a defined waist for a flattering look making it great for dressing up or dressing down. It has pockets and comes in a bunch of different colors.
This classic Long Sleeve Knit Midi Dress comes in a variety of colors and comes with a matching belt. It's effortlessly chic and has a side slit for a fun look (and easy walking!).
Midi dresses are a cute way to add fashion and style to your outfits. The multiple styles available work with every body type, making it a fun addition to your closet.
If you haven't purchased a midi dress yet, head down to your favorite clothing shop and use our tips to buy a new addition to your wardrobe.