When you're invited to brunch, whether it's with close friends or family, you want to look your best. It's fun to get a little dressed up or put together cute outfits for brunch to meet up with friends!
So whether you're looking for more formal brunch outfits, something casual, or somewhere in between, this guide will help you figure out what outfits to wear no matter the season!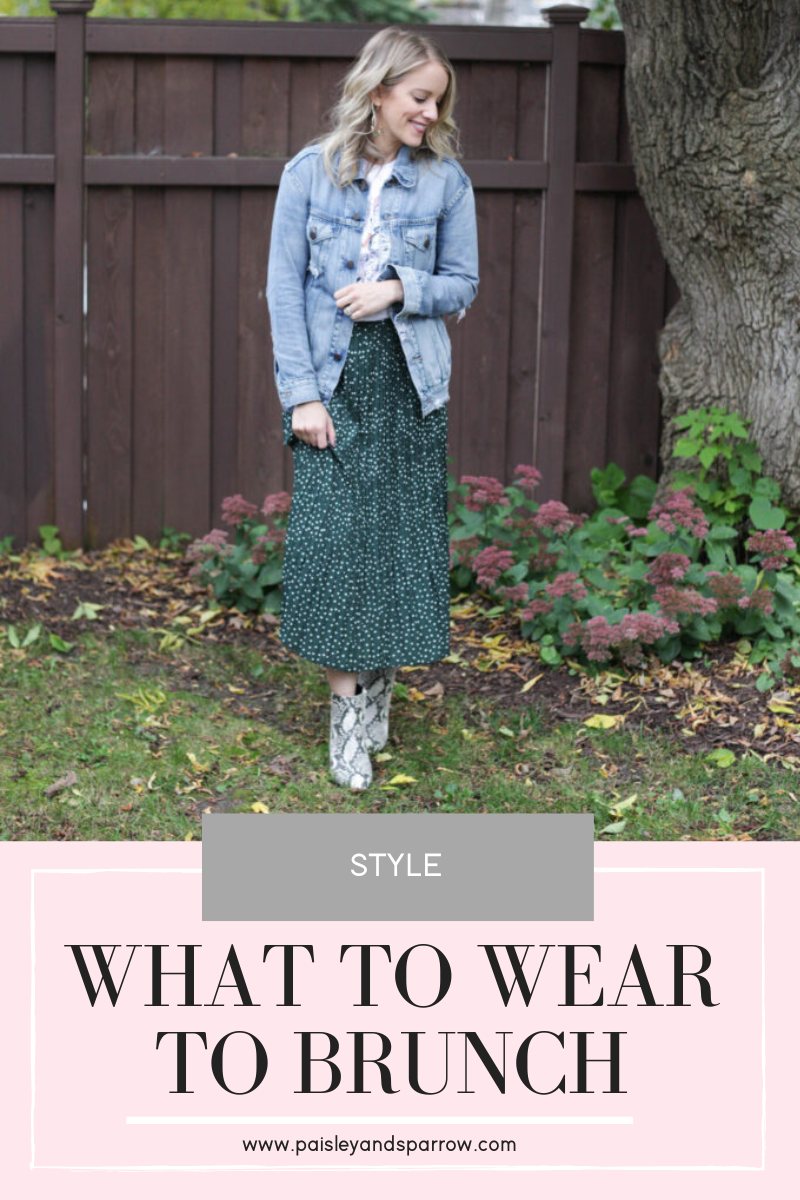 Start With the Basics! Casual Brunch Outfits
If you're at a loss of where to start for your brunch outfit, you can always turn to the wardrobe basics. These items are the best because they're easy to mix and match with other pieces to create a cohesive look!
You can always rely on a great pair of jeans, a fitted white t-shirt, and white sneakers as foundational pieces. You can create casual brunch outfits with just the basics. Or mix them with your statement pieces, such as a cool leather jacket, interesting tops or brightly colored skirt, and you instantly have a solid look.
And, of course, no outfits are complete without the perfect accessories! A statement necklace, pair of earrings, or eye-catching watch can take your outfits to the next level.
1. White T-Shirt
A white t-shirt is an ultimate chameleon in your wardrobe. If you don't have a favorite t-shirt, get one! This versatile top can easily be worn casually with a pair of great-fitting denim jeans or elevated with skirts or slacks. If you're looking to dress things up, consider adding a chic jacket or cardigan to your look!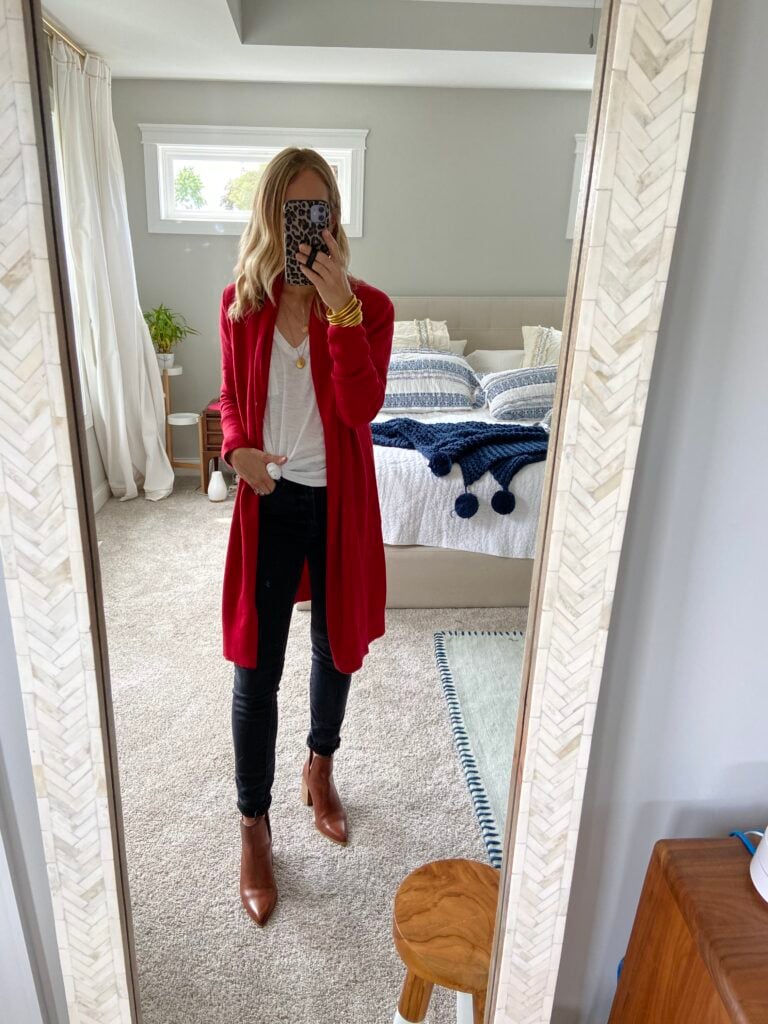 ---
White T-Shirt Options:
Madewell's crewneck t-shirt is an excellent staple piece that should be in everyone's wardrobe. The crewneck cut suits all body types and can be worn with virtually anything!
The buttery soft material is very cozy, and the looser fit allows you to move comfortably. You can easily tuck it into your chosen bottoms for a more defined waistline. I own this t-shirt in 5 different colors!
Want something super casual but a little more elevated than the traditional white t-shirt? This beautiful off-the-shoulder top will elevate your look to a new level without too much effort! It can easily be mixed and matched with a skirt, jeans, pants, or shorts to create a simple yet elegant look!
---
2. Jeans
Whether they're classic navy denim, black, white, or ripped ­– a good pair of jeans is a staple that should be in your wardrobe. They can be worn with virtually any type of top!
---
Jean Options
These vintage-inspired jeans are the perfect go-to jeans! The vintage-inspired cut is flattering on all body types, and Wit & Wisdom's unique 'Ab'solution technology will further enhance your shape by slimming, shaping, and lifting in all the right places!
I love Wit & Wisdom jeans and own not only a few pairs of jeans but also a pair of shorts!
---
3. White Fashion Sneakers
Just like a good old white t-shirt, all-white sneakers are one of your closet's most versatile shoe options. They can be paired with any colored outfits and are incredibly comfortable to wear without looking too athletic, like running shoes!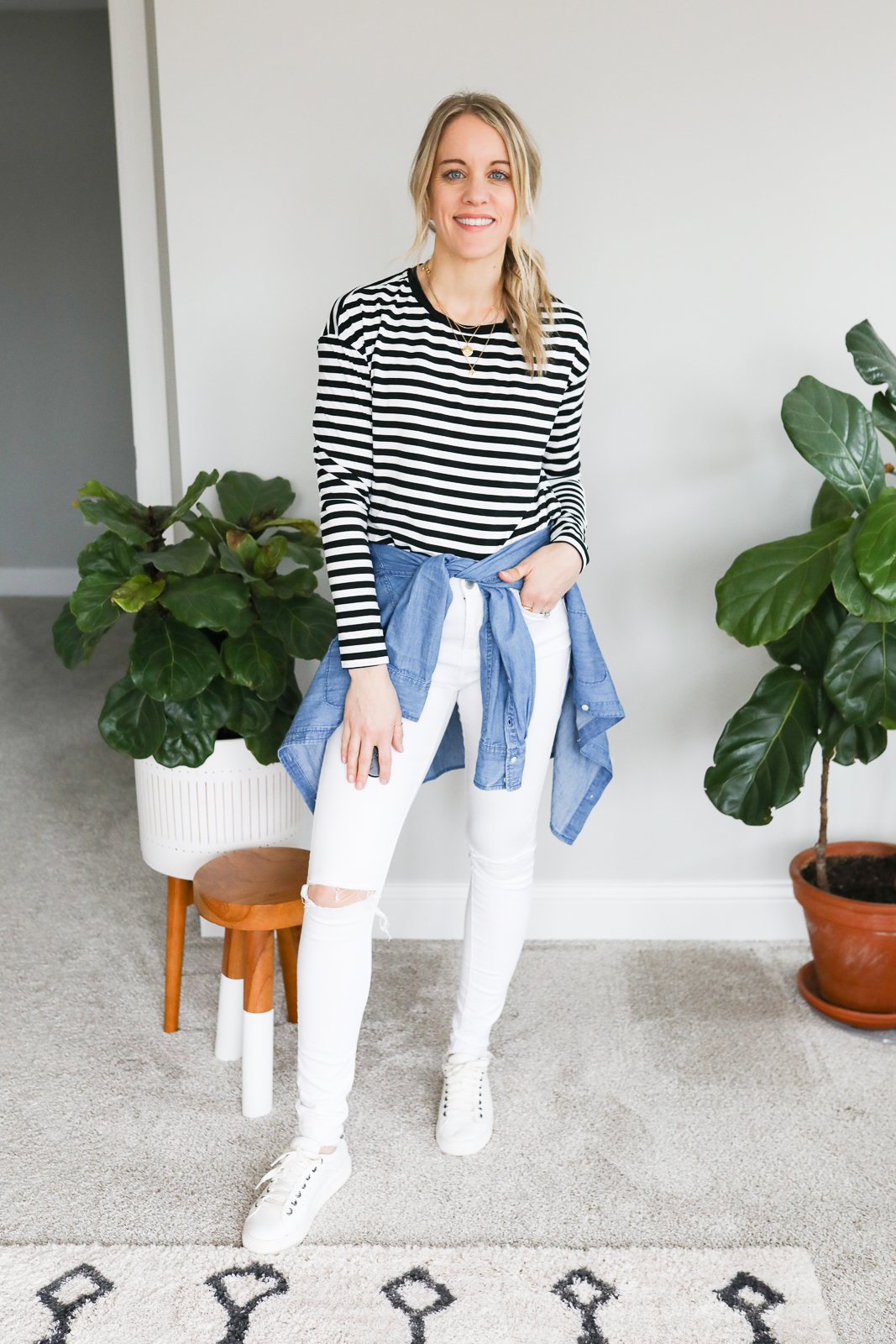 *Find white jean outfit ideas here!
---
White Sneaker Options
These white sneakers are comfortable to wear and are extremely easy to clean, so they stay looking new longer!
Find tons more white sneakers options here!
---
Spring Brunch Outfits
When choosing the perfect brunch outfits for spring, there are a few key elements to keep in mind. First, you'll want to choose something comfortable yet stylish —after all, you'll likely spend a good amount of time sitting, eating and drinking in your brunch spot.
And second, since the weather can be unpredictable this time of year, it's always a good idea to have a light jacket or cardigan on hand in case it gets chilly.
With those two things in mind, here are some stylish and seasonally appropriate looks to wear to brunch this spring.
4. Dresses
If you're looking for the perfect brunch outfit, why not keep it simple with a beautiful dress? Dresses are one of the most effortless outfits to wear because you don't have to worry too much about finding the perfect bottoms to go with them.
Simply throw on your dress, some beautiful jewelry, some shoes, and voila! Easy, quick, and you're ready to go!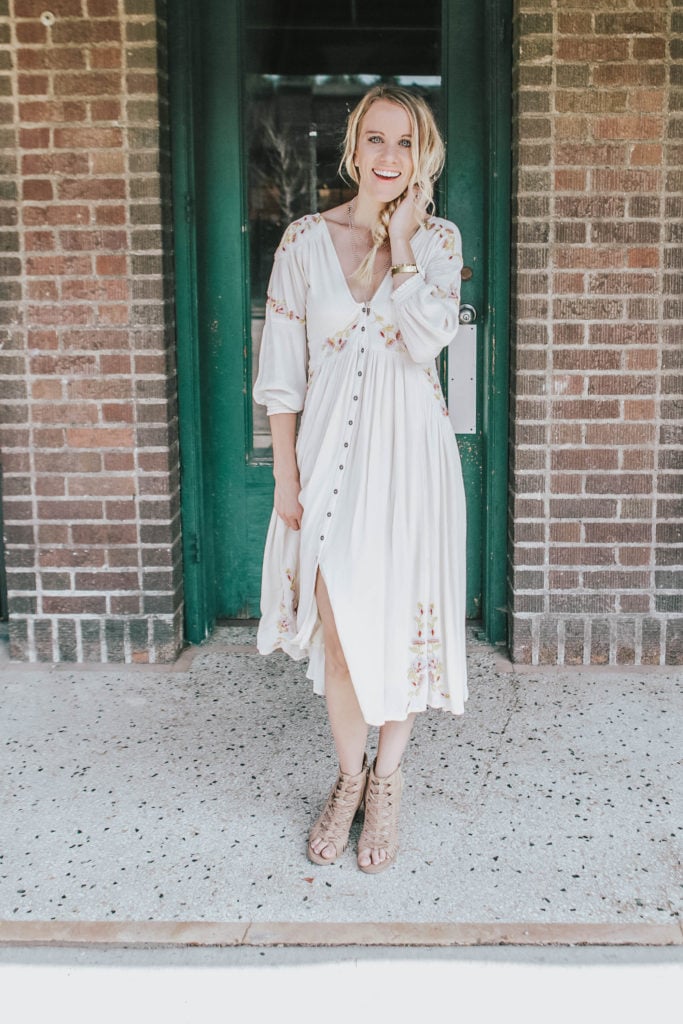 ---
Dress Ideas
Show off a softer, more romantic side with a beautiful midi dress! The pale lilac shade and delicate floral pattern pay homage to the softer shades of the spring season. The flowy ankle-length skirt, plunging neckline, and puff sleeves will bring forth your softer, more romantic side!
This beautiful dress by Karen Kane is sophisticated and elegant. The billowy three-quarter sleeves, curved hemline, and ballet neck create a flattering and romantic silhouette! The removable sash is perfect for cinching your waist to enhance and show off your shape.
---
5. Jumpsuits
There's no need to overthink your outfit! Keep it simple yet elegant with a beautiful jumpsuit.
While a jumpsuit may not be the first thing you think of to wear to brunch, it's a great piece to add to your wardrobe! They're excellent because they're a one-piece, no-fuss outfit that gives you a lot of coverage. Dress it up with a pair of strappy heels or some cute sandals.
---
Jumpsuit Ideas
This INC jumpsuit is super comfortable to wear. The beautiful flyaway leg design and flowy fabric create a soft, billowy silhouette, while the belt will show off your figure!
---
6. Maxi Skirt and Tank or Blouse
A long flowing maxi skirt is perfect for spring! It's easy to dress up or dress down. Throw on a cropped tank for a warmer day or a knotted graphic tee for a casual brunch. Pair it with flats or sandals for a soft, romantic look!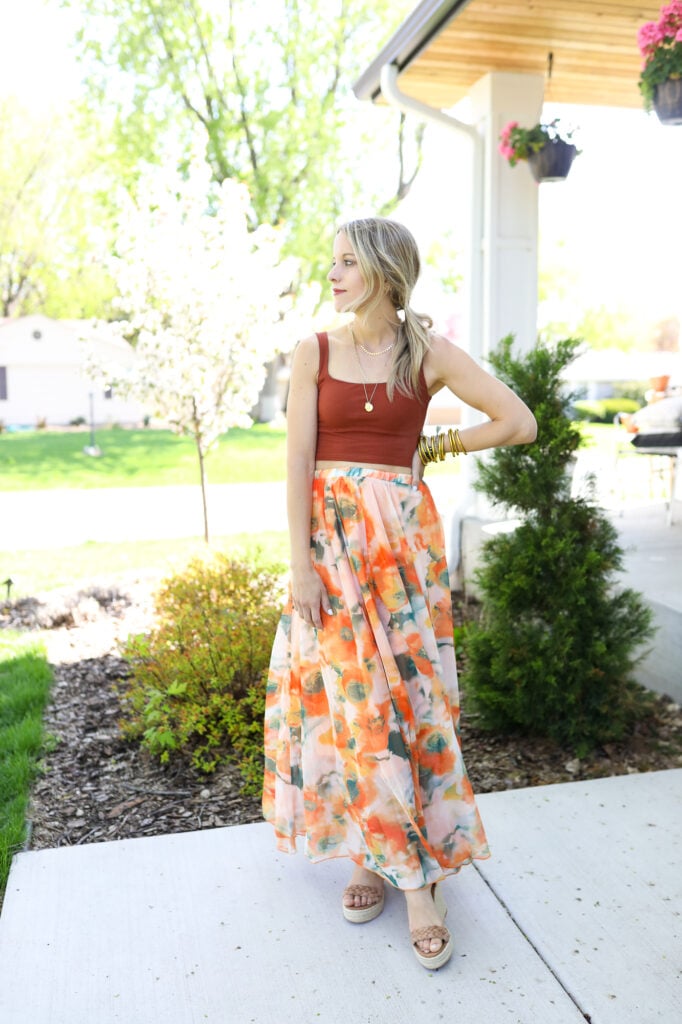 ---
Skirt Options
This lovely maxi skirt features a unique asymmetrical design with a high waist, beautiful pleating, and draping! It's available in over 40 colors and patterns!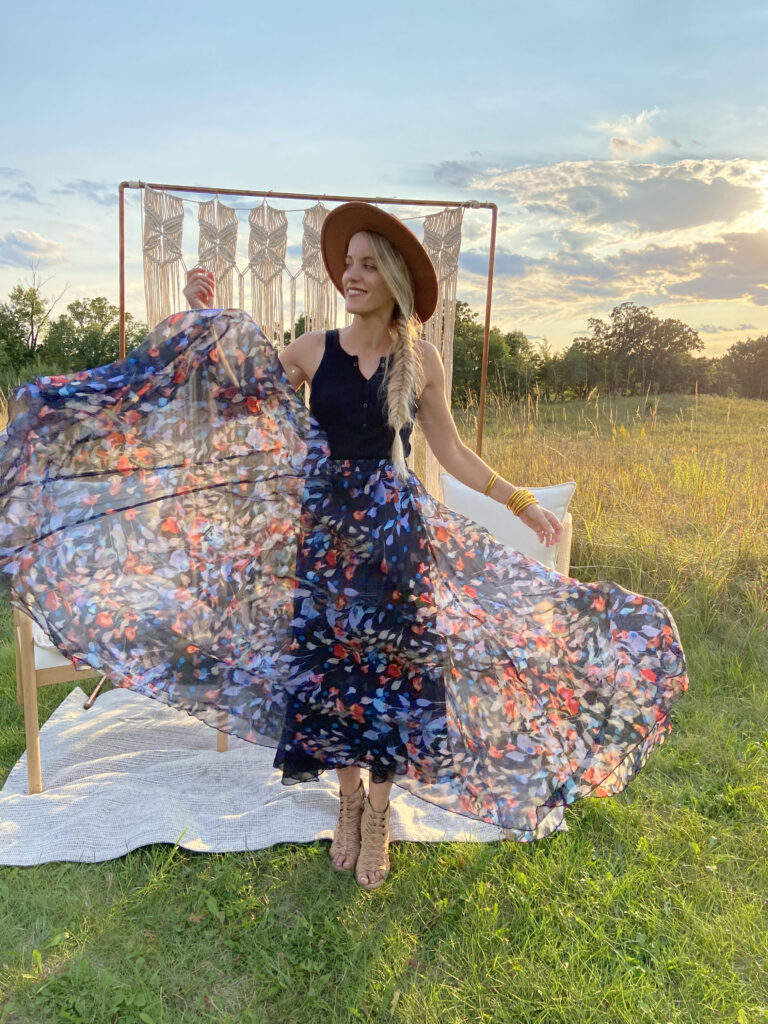 ---
Summer Brunch Outfits
When putting together your perfect summer brunch outfits, choosing something that will keep you cool in the heat is the most important thing. If you want to wear something a little more casual, try a pair of shorts or a sundress.
No matter what you choose to wear, make sure you accessorize with some summer staples like sunglasses or a stylish oversized straw hat.
7. Rompers
Rompers are the perfect easy outfits to wear to a casual summertime brunch with your girlfriends! They're a great alternative to dresses if you don't want to worry about your mini dress blowing up.
Most rompers are sleeveless (or some version of short sleeves), so they make a comfortable style for summer. Pair them with a set of classic all-white sneakers or elevate them with a pair of stunning sandals or heels.
---
Romper Options
This adorable romper is the perfect effortless outfit for brunch! It's made of an 80% polyester, 15% cotton, and 5% spandex blend, making it soft and comfortable for any of us. It will stretch to fit your body perfectly.
The modest scoop neckline and short-sleeved design are the perfect way to stay cool during summer without revealing too much skin.
---
8. Two-Piece Sets
Two-piece sets have grown in popularity over the years because they are easy to style! The matching tops and bottoms are already a solid foundation for you. All you have to do is accessorize them with jewelry and some killer shoes.
---
Two Piece Set Ideas
Beat the summer heat with an adorable two-piece set that shows some skin without being too risqué! This lovely two-piece jumpsuit comes in twelve different shades!
The top is versatile, and you can adjust the tie to your liking for a unique look. The pants are long, making it tall girl friendly, but if you're on the shorter side, you can still rock this adorable jumpsuit with heels.
This lightweight set includes a round neck slightly cropped sleeveless top and wide leg pants, perfect for brunch on a patio during the summer. Choose a classic color like black or white, or go bold with a bright orange or purple. You're sure to be comfortable and get lots of compliments.
---
9. Blouse and Linen Shorts
Linen shorts are perfect to wear during the summertime because the material is breathable and will keep you cool! Pair it with a beautiful blouse and cute sandals for a chic look.
---
Shorts Option
These adorable wide-leg shorts have stylish pleats and a matching belt to accentuate your shape.
10. Statement Skirts
You can never go wrong with a simple blouse and statement skirt in a bright, fun color! Keep your top and shoes neutral to let your skirt shine and have some fun with it!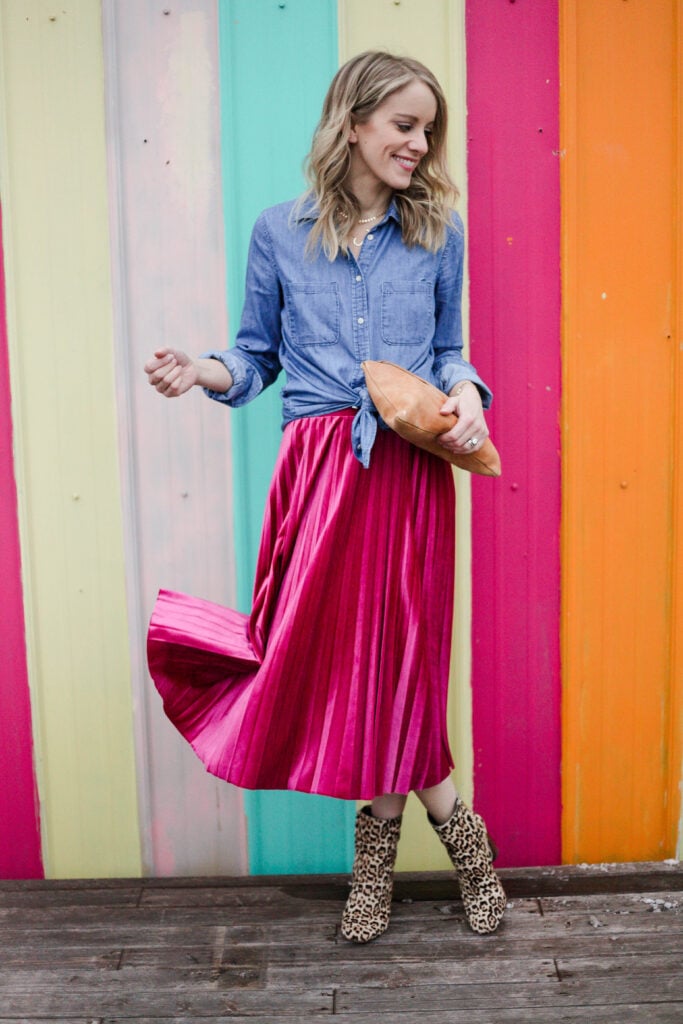 *Find more denim top outfit ideas here
---
Skirt Option
This ruched midi skirt stops right above the knee and has a chic high-cut side slit! The drawstring-adjustable ruching makes it easy to tweak to your liking!
---
Fall and Winter Brunch Outfits
Brunch is not reserved for warmer weather! Get some ideas for fall and winter brunch outfits.
While the warm weather might have had you reaching for sun dresses and skirts, fall and winter call for a slightly more covered-up look. You can still look elegant and put together while bundling up for cooler weather.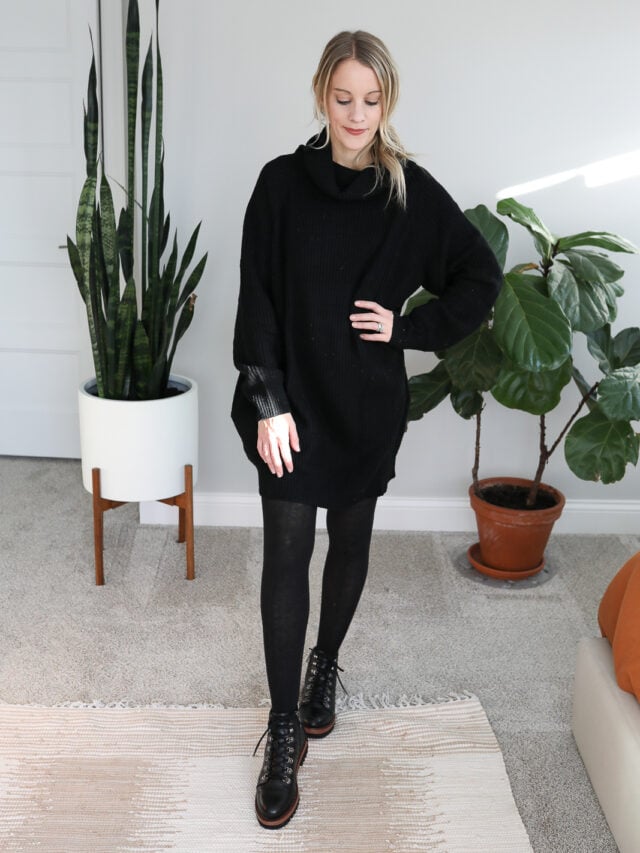 *Find more sweater dress outfits here
11. Cashmere Sweater and Slacks
Cashmere sweaters are perfect for staying warm in the cooler months without sacrificing style! Choose a sweater with a nice silhouette, so you don't lose your natural shape when layering it with your outerwear. Pair it with your white sneakers for a comfy casual look or with heeled boots.
You can also wear your favorite sweaters over midi or maxi dresses in the fall for more inspired outfits. My favorite trick: wear a sports bra over your dress. Then put your sweater over the sports bra, and tuck the front of your sweater up into the bottom of the sports bra.
The casual tuck keeps the sweater from looking too frumpy over your dress, giving you a bit of shape while still being cozy and looking in style.
---
Sweater Ideas
Charter Club's cashmere sweaters feel like wrapping yourself up in a cozy blanket! It's designed with 2-ply yarn for ultimate softness, durability, and to reduce pilling.
This wonderful sweater has a timeless silhouette, with a flattering crew neckline, long tapered sleeves, and a looser fit around the abdomen. It's available in 20 different colors, so be sure to grab several in your favorite shades! It's a versatile piece that looks great with a simple pair of jeans or elevated by tucking it into a skirt and fleece-lined tights.
---
12. Peacoat, Simple Blouse, and Denim Jeans
Colder weather calls for you to dress in outfits with thicker outerwear to keep you warm! However, a big coat doesn't have to cramp your style. Choose a coat with a timeless design, pair it with a simple blouse, and voila — cute brunch outfit!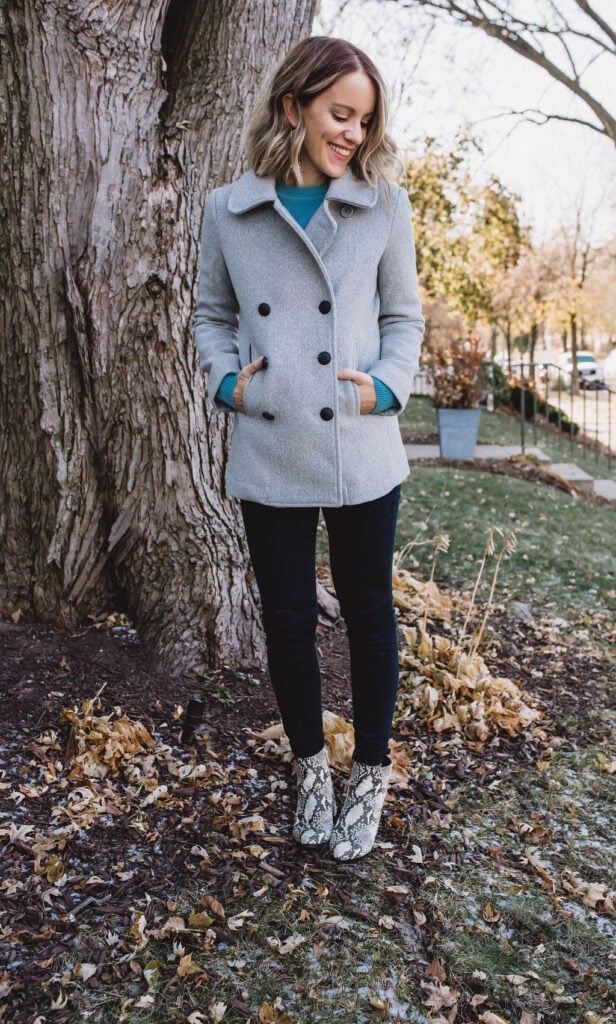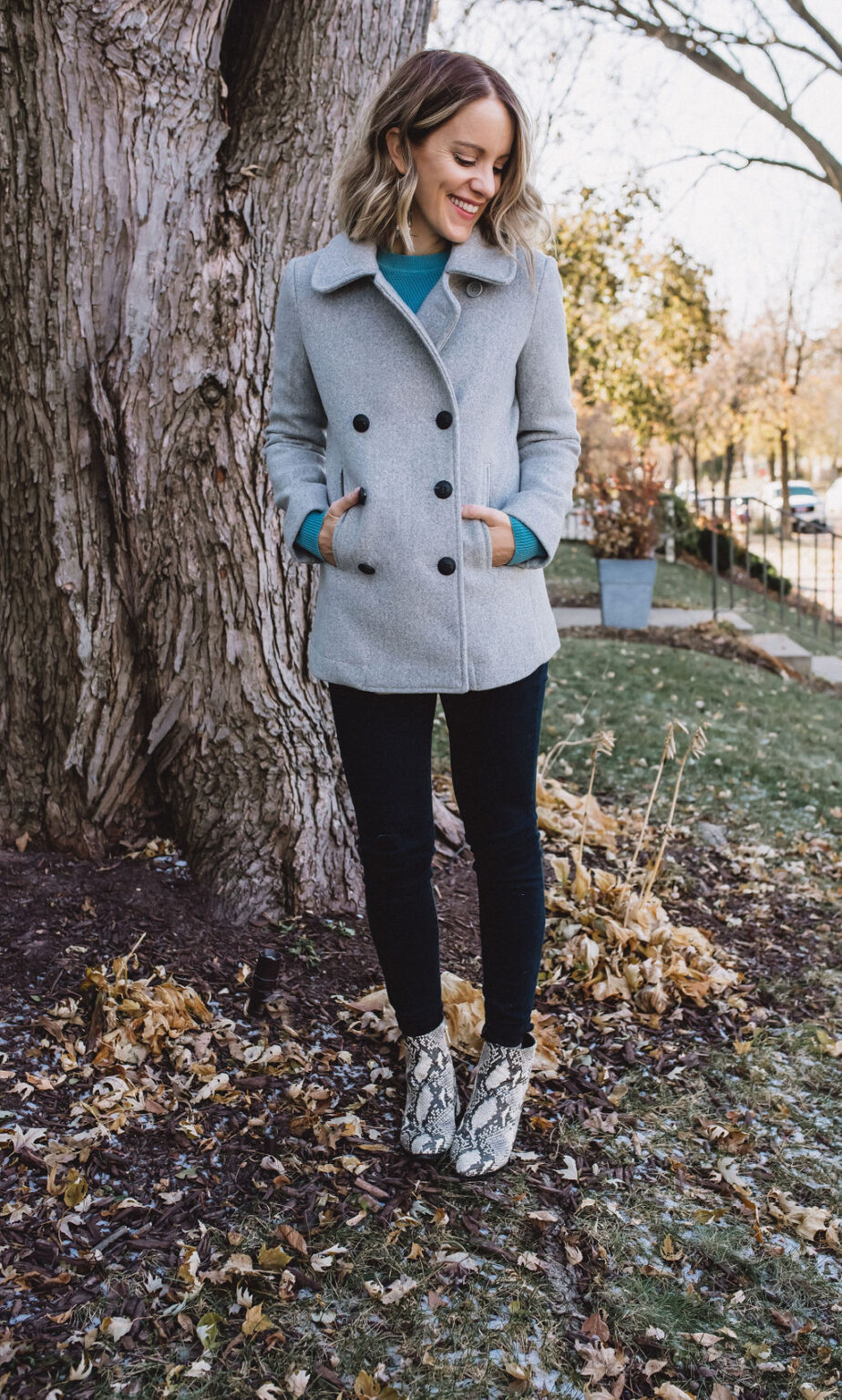 ---
Coat Option
Sam Edelman's peacoat is an elegant, timeless design that will continue to be in style as the years pass. It's double-breasted, with a lightly textured finish, and has simple hardware. The wool blend will keep you toasty warm all throughout the cooler season.
Blouse Option
This gorgeous blouse has a timeless silhouette and is easy to style! The long sleeves keep you warmer, and the bow neck adds a cute, sophisticated touch! It's a perfect versatile piece that can be worn to work or out for brunch with your friends!
---
13. Leather Biker Jacket, White T-Shirt, and Black Denim Jeans
Are you looking for something more dramatic? A statement leather jacket will let your inner rocker chic take over!
Throw it over your favorite t-shirt, sweater, or dress for a more edgy style! It's such a fun take on fall brunch outfits.
---
Jacket Option
Lucky Brand's Moto Jacket is a statement piece that embodies the classic biker look. It's made from supple lamb leather, and the inner cotton and polyester lining will help your stay warm. The slim fit is very flattering and will enhance your shape, while the stylish asymmetrical zip and silver-toned hardware add a chic touch.
---
14. Oversized Sweater and Slacks
An oversized sweater paired with form-fitting slacks or pants is a perfect outfit for cooler winter months! The sweater will keep you warm, while the fitted bottoms will add shape to the overall outfit!
Pair it with your white sneakers to keep it casual. Or dress it up with chunky heels or boots for the perfect look!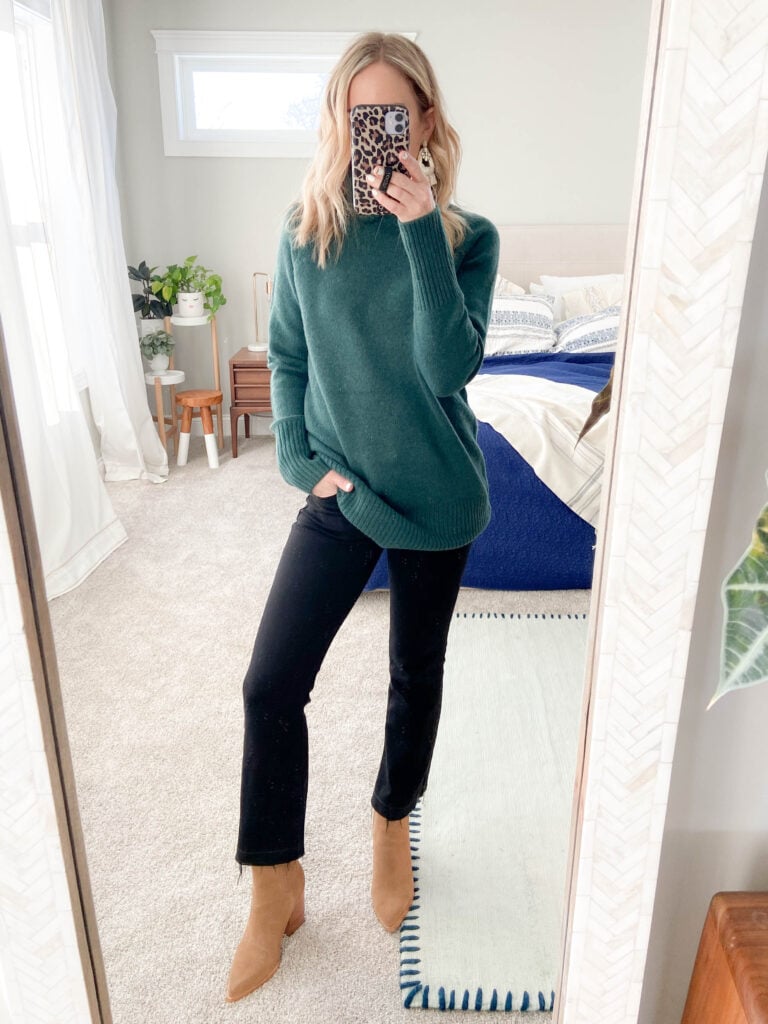 ---
Sweater Option
This stylish oversized sweater has a sophisticated cowl neck design that will keep you warm no matter how chilly it gets! It's super roomy and comfortable to wear all day long. It's available in thirty different shades, so you can choose the perfect color to suit your wardrobe.
15. Statement Blouse, Skirt, and Thermal Tights
Just because the temperatures outside have taken a nosedive doesn't mean you have to give up wearing your favorite skirts or dresses altogether! The key to staying warm during the cooler months is strategically layering your outerwear.
---
Tights Option
These thermal tights have an inner fleece lining that will help keep you comfortable and warm in cooler weather. The stretchy fabric will slim and shape your abdomen, hips, and legs for a leaner silhouette!
---
Sunday Brunch Outfits
Is there anything more fun than brunch with the girls on a lazy Sunday afternoon? Definitely not! However, if you have last-minute errands or church to attend on Sunday morning, you might be short on time!
Here are our top picks for Sunday brunch outfits that are versatile, quick, and easy to throw on and go!
16. Classic Dresses
You can never go wrong with a dress with a timeless silhouette! Simple dresses are best if you're short on time and can't afford to change before heading from church to brunch! Go straight there or change out some accessories to dress it up differently.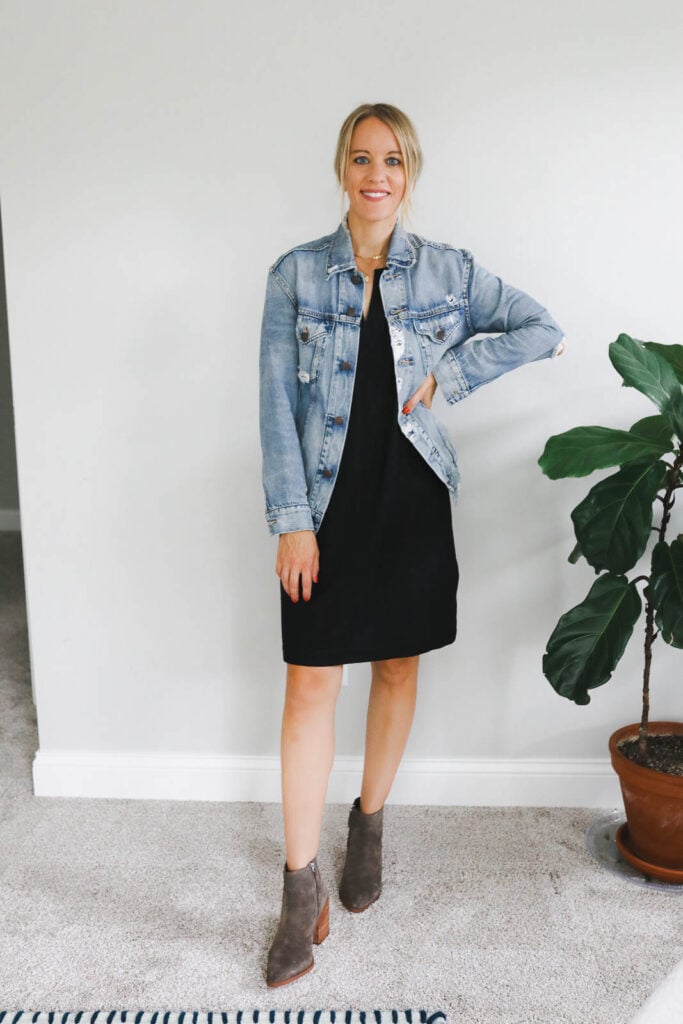 Find ideas for how to style a shift dress!
---
Dress Option
This sleek and sophisticated sheath dress is versatile, making it the perfect outfit to wear to Sunday brunches! The classic length of the dress, jewel neckline, and cap sleeves keep it modern yet modest.
The beautiful front twist will accentuate your figure without being too dramatic. It's appropriate to wear to church and stylish enough to meet up with friends at your favorite brunch spot immediately afterward!
17. Comfortable Cardigan, White T-Shirt, and Jeans
Brunch doesn't mean you have to dress up if you're not in the mood! Keep things simple, casual, and cozy on a lazy Sunday afternoon with a simple white t-shirt, jeans, and a cozy cardigan.
It's simple enough to throw on for some quick errands but dressy enough to enjoy brunch with your friends. Pair it with your trusty white sneakers, and you'll be comfortable all day!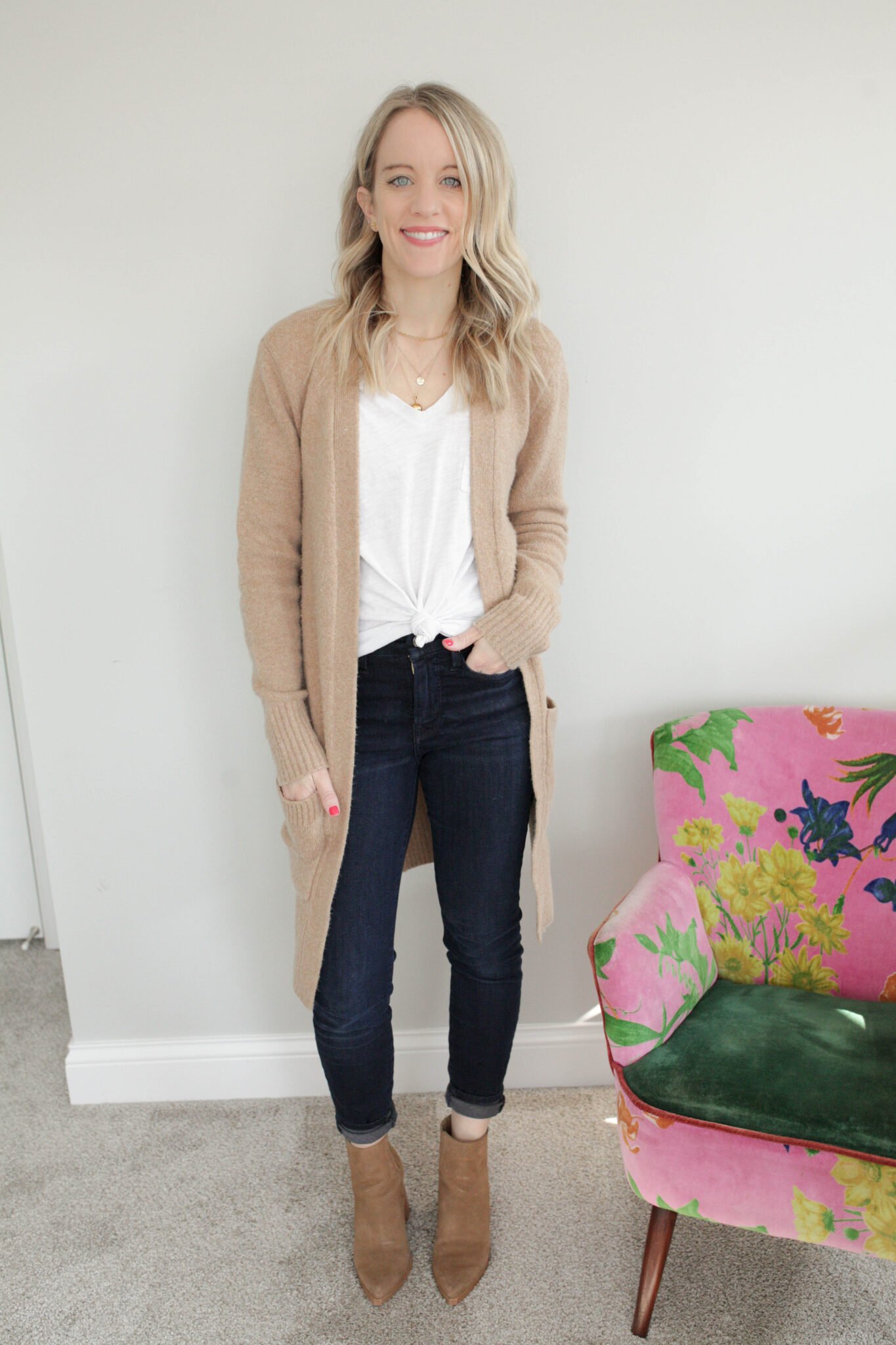 ---
Cardigan Option
Indulge in luxury with this cozy cardigan from Barefoot Dreams. It's available in six neutral shades that will work with any wardrobe! Buttery soft and warm, this sweater is great to go with many of the tops in your closet. It's got an open front, long sleeves, and pockets to hold your essentials!
Find your signature look!
Fashion doesn't have to be scary. Generally, there are no wrong or right things to wear. It's all about exploring and being daring enough to mix and match pieces to develop your signature style!
Not sure what to wear to that upcoming event? Don't worry; I've got you covered. Check out some more ideas for outfits and fashion tips here: