Do you find yourself reaching for the same thing over and over? Want to feel a bit more stylish and a little less simple? I'm right there with you.
I'm going to be sharing a variety of different outfits to go from simple to styled but today let's start with the cardigan/t-shirt outfit.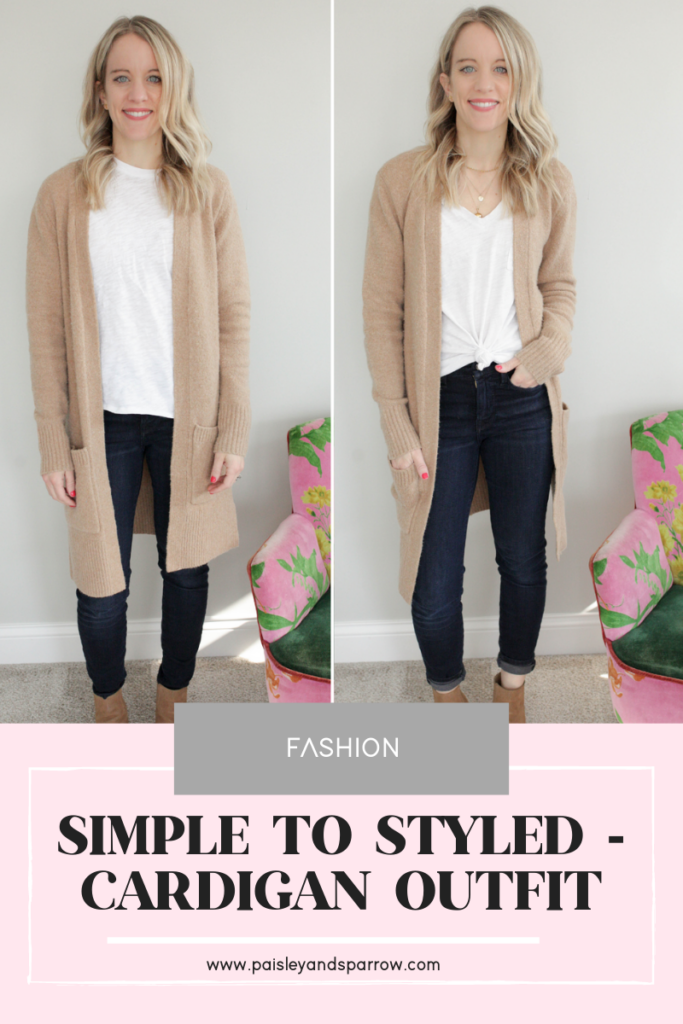 I would imagine most of you wear almost this exact outfit. A pair of denim, some sort of t-shirt and a cardigan. Depending on where you live, you might wear boots like me or heels or flats but the concept stays the same.
And how often do you just not feel put together in this outfit? Well, a few simple swaps can go from simple to stylish, making all the other moms at school drop off or ladies at work asking you for style tips.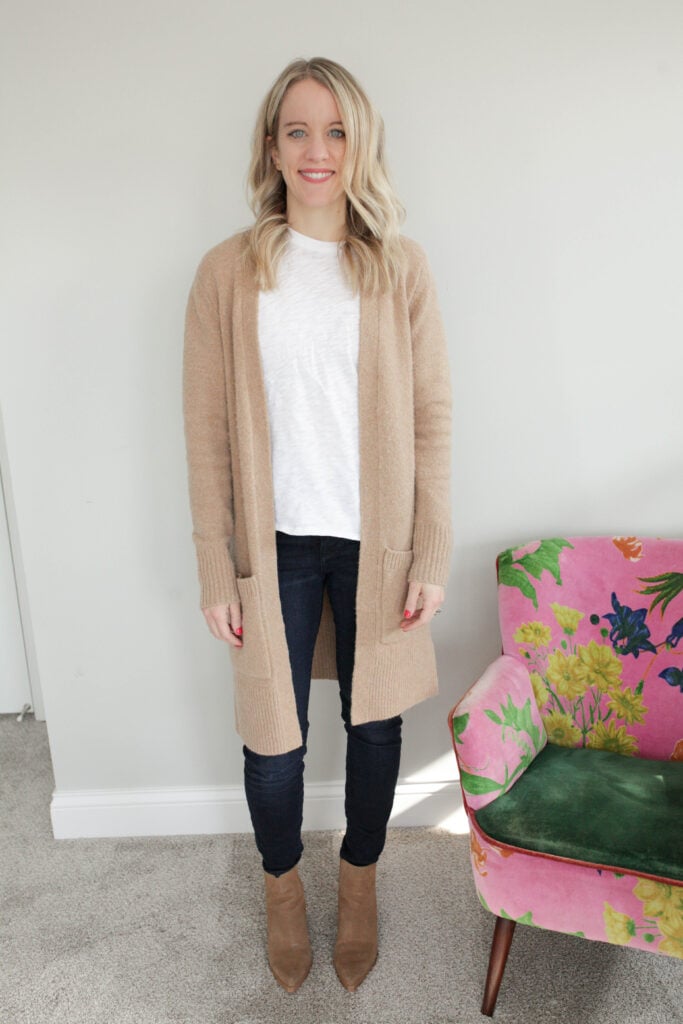 Here's what we're going to do.
Cardigan Outfit Style Tips
Swap 1: Change the crew neck t-shirt to a v-neck
Your neckline matters! A crewneck shortens your neck while a v-neck makes it appear longer. You can also add a few necklaces when wearing a v-neck which automatically makes you look (and feel) more stylish!
Swap 2: Tuck or knot your t-shirt
I know the knotted look is not everyone's favorite so you can always try a half or full tuck instead! Regardless of what you do, shortening the length of your t-shirt will make your legs look longer and give you some definition at your hips.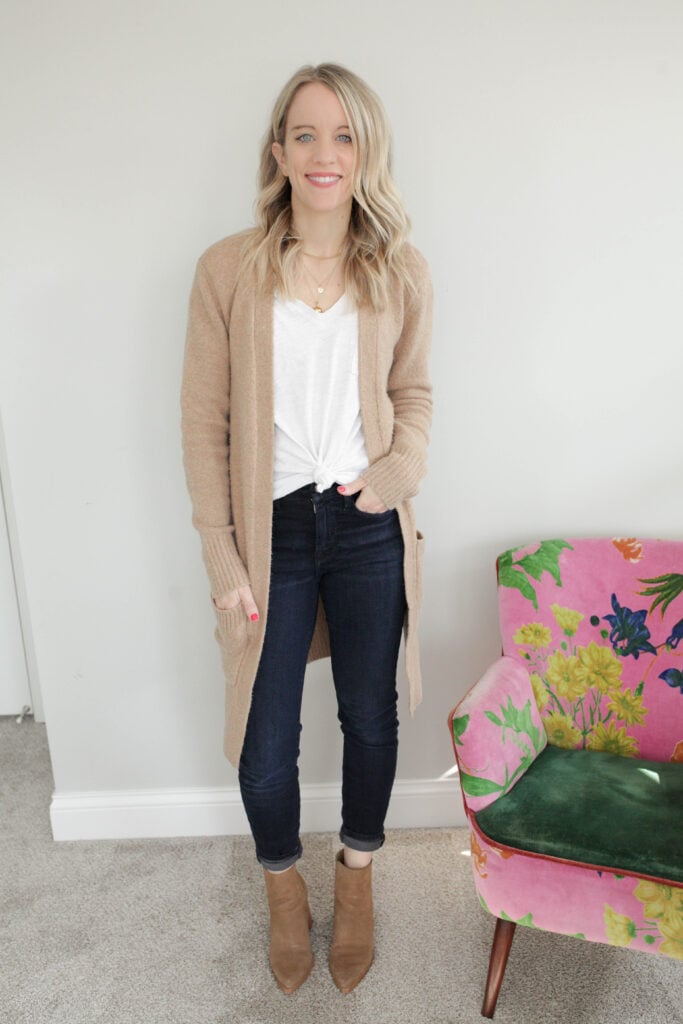 When you t-shirt hangs out you miss out on any of your curves and it cuts off the length of your legs.
Swap 3: Cuff your jeans
The last swap is to cuff your jeans (or swap them out for a cropped pair). Depending on your inseam, your jeans might look better cuffed with boots like this.
If your jeans bunch up at the bottom of your boots it can not only feel annoying but look a bit sloppy. By simply cuffing them up at the bottom you appear taller and bonus – it shows off your shoes!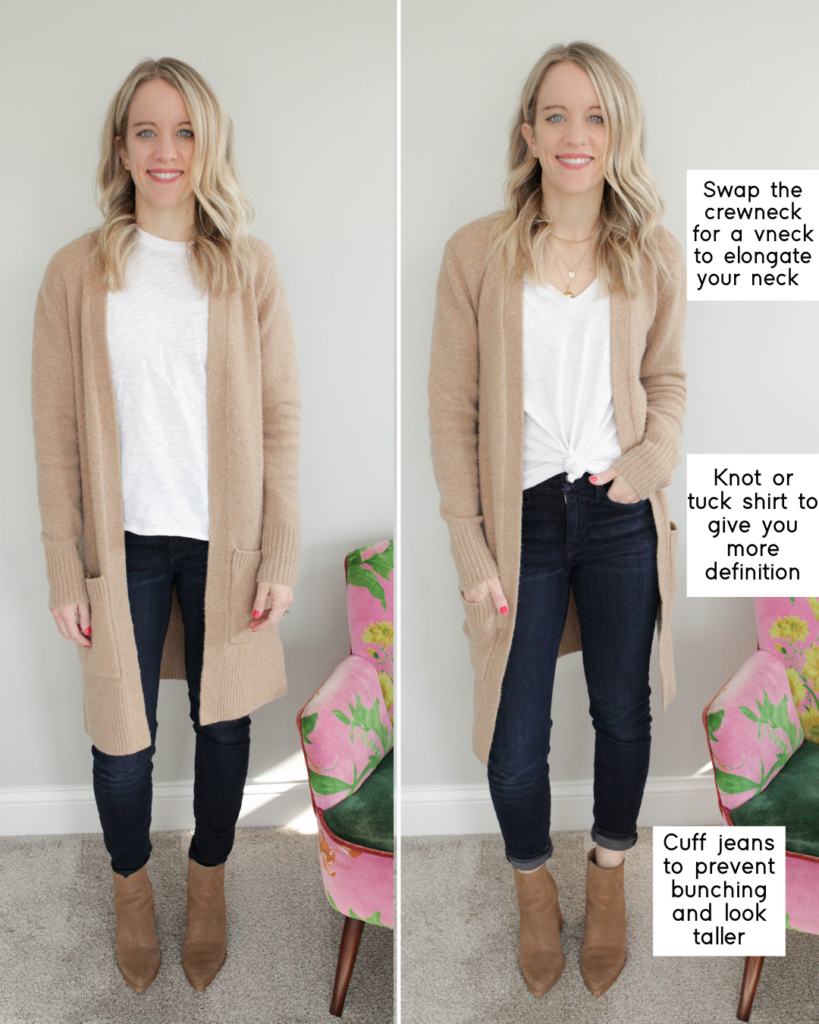 Shop my outfit
Cardigan | Crewneck t-shirt | V-neck t-shirt | Jeans | Boots
And that's it! Just a few simple swaps makes this outfit go from simple to stylish. What other outfits should we do? Comment below!