There is not a more perfect summer day than one spent at the beach! And I love styling for every occasion and activity when it comes to beach days because of how easy and effortless it is.
Just a few items like a large-brimmed hat, a cover up, and a fabulous pair of sunglasses can be styled with several outfit variations using closet staples, like denim jeans, tees and tank tops, or button-down shirts.
Wearing your bathing suit or bikini isn't the only beach-wear option out there! Dressing for the beach is so fun, and coastal beach attire is picking up traction and becoming a huge trend on social media these days.
How to Decide What to Pack
What you wear and pack to the beach will all be determined by three factors:
Weather
Occasion
Activity
I've put together outfits for all occasions, weather, and activities at the beach—mama-friendly outfits for when you're having a beach outing with the kids, date night with your sweetheart, brunch with the girlfriends, the perfect wedding guest looks, a day out with friends, a beach to boardwalk transition, and how to dress for the beach at night in cooler temperatures.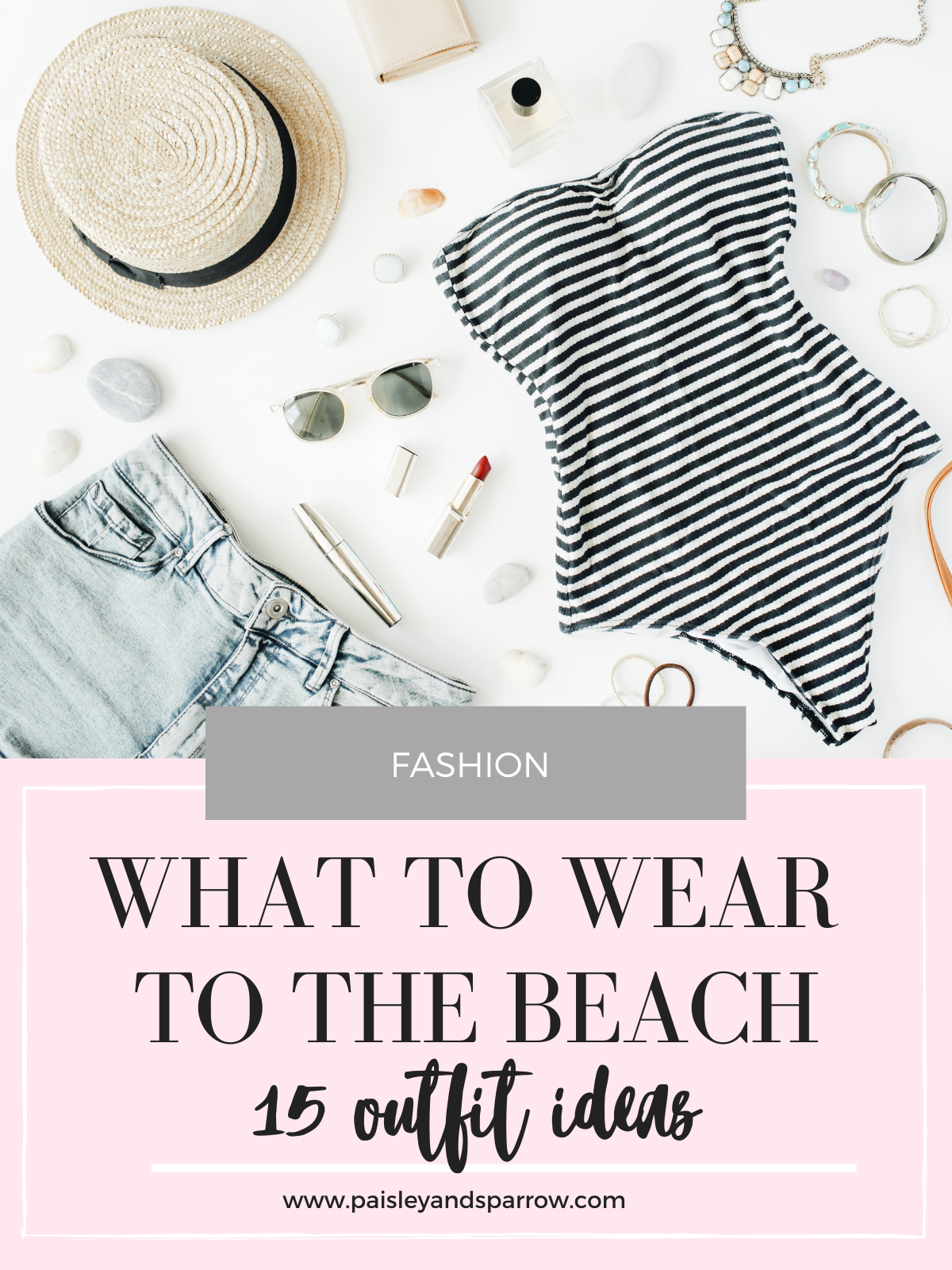 Something to keep in mind when dressing for the beach:
Well-curated fabrics are going to be your best friend in hot weather at the beach. Remember, our skin breathes, so what does this mean for the clothing we wear? It also needs to breathe!
Breathable, lightweight materials I love and look for in the summertime are:
Linen
Cotton
Silk
Sheer fabric
Lightweight Wool (Yes, real wool! The right wool fabric will retract heat from your body).
Beach Outfit Ideas for Your Beach Vacation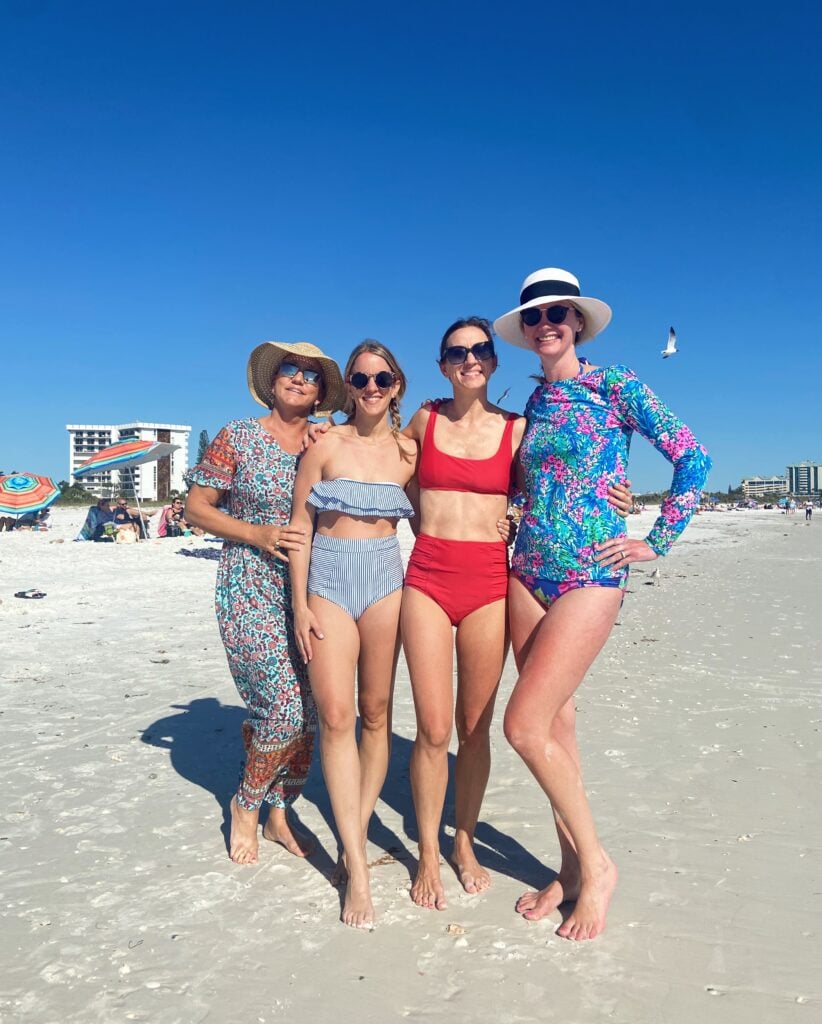 Paisley + Sparrow is a participant in the Amazon Services LLC Associates Program. This post may include affiliate links which means I may earn a small commission if you shop using the links below at no additional cost to you. 
Beach Outfits for a Day Out with the Kids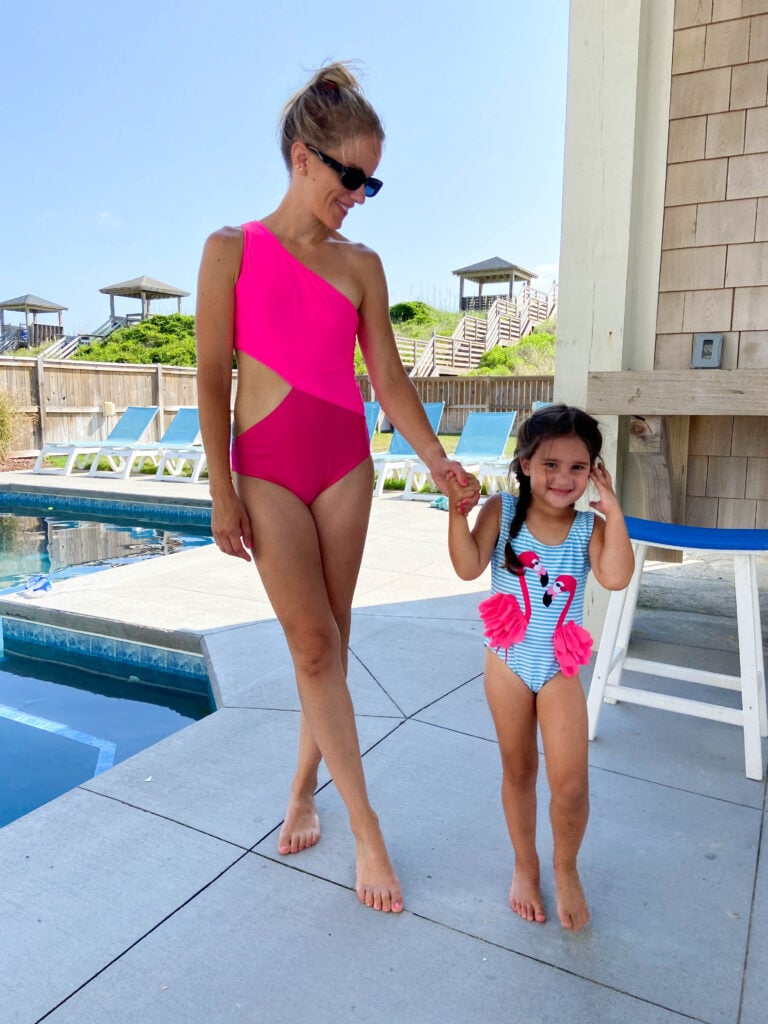 Spending time with the kids at the beach means tapping into your inner child yourself. This means building sandcastles, looking for seashells, running around the beach, swimming in the water, having outfits that are easy to transition into from lounging on the sand to playing in the waves, or for when your kid's sticky popsicle fingers get all over your clothes!
These looks need to be easy, comfortable, and practical. And clothes you're not afraid of getting dirty!
1. Caftan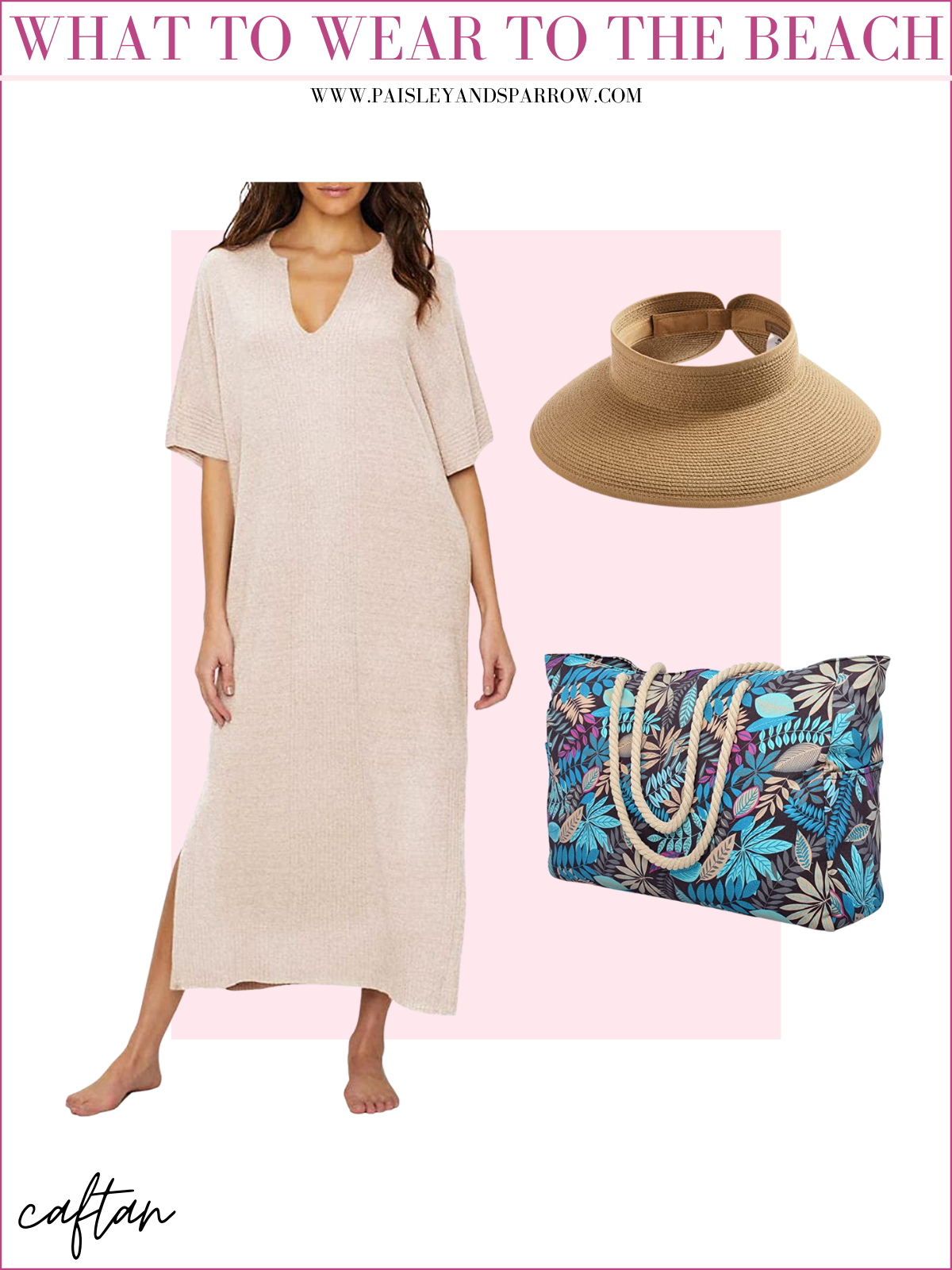 Shop:
Caftan (this one is named one of Oprah's favorite things!)
Visor
Bag
A lightweight caftan is perfect for staying cool at the beach with kids.
You can wear a caftan as a whole look, or as beach cover-ups for an easy transitional look for between swims. Style with a good pair of sandals, a straw hat and beach bag, and a fabulous pair of sunglasses.
2. Wide Leg Pants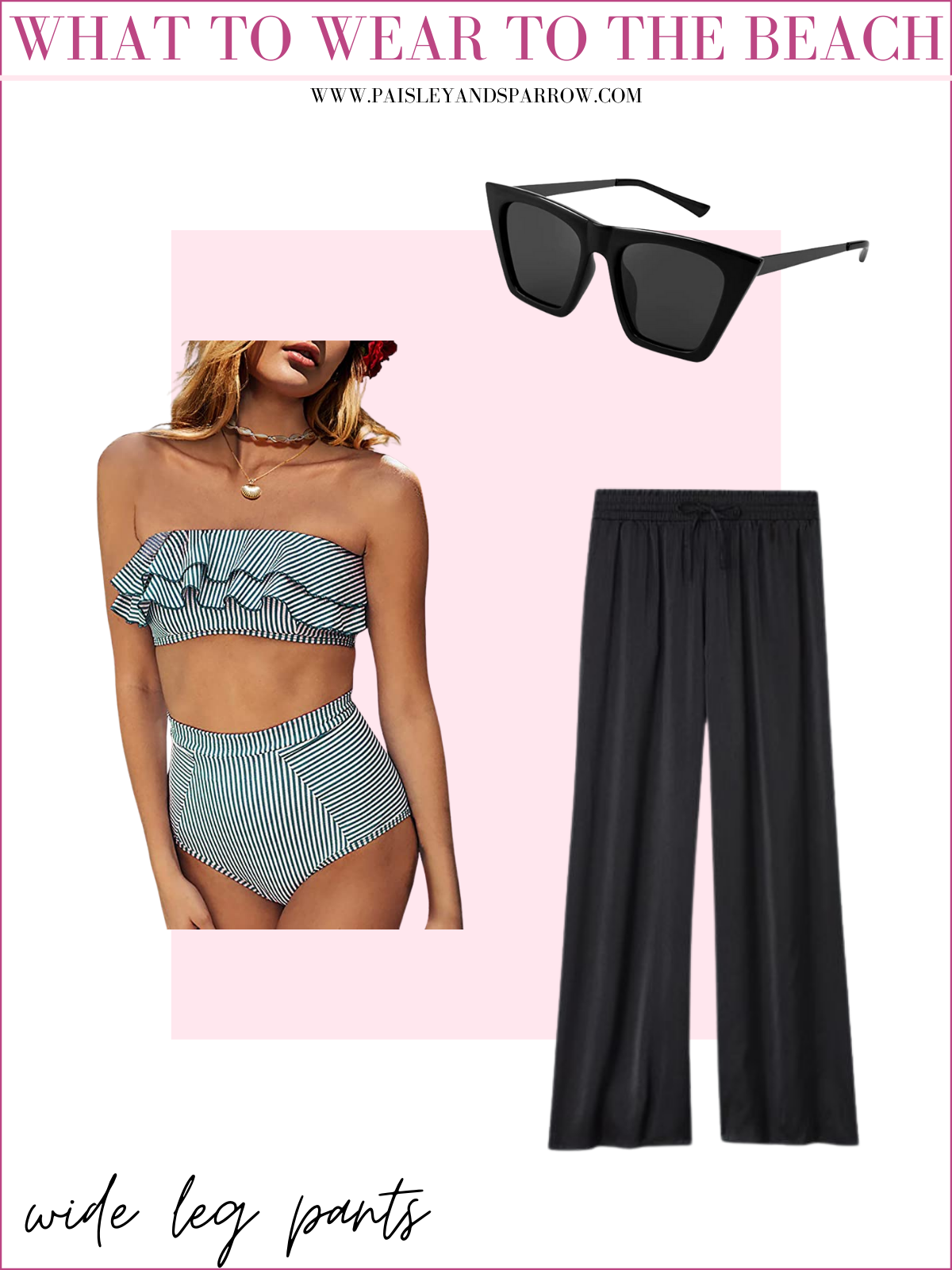 Shop Now:
Palazzo Pants
Ruffle Suit
Sunglasses
I love the wide-leg pant look. Still feels like wearing a lightweight and flowy kaftan, but you don't have to worry about the dress hiking up.
I own these pants from Summer Salt and love them!
3. Shorts and Cover Up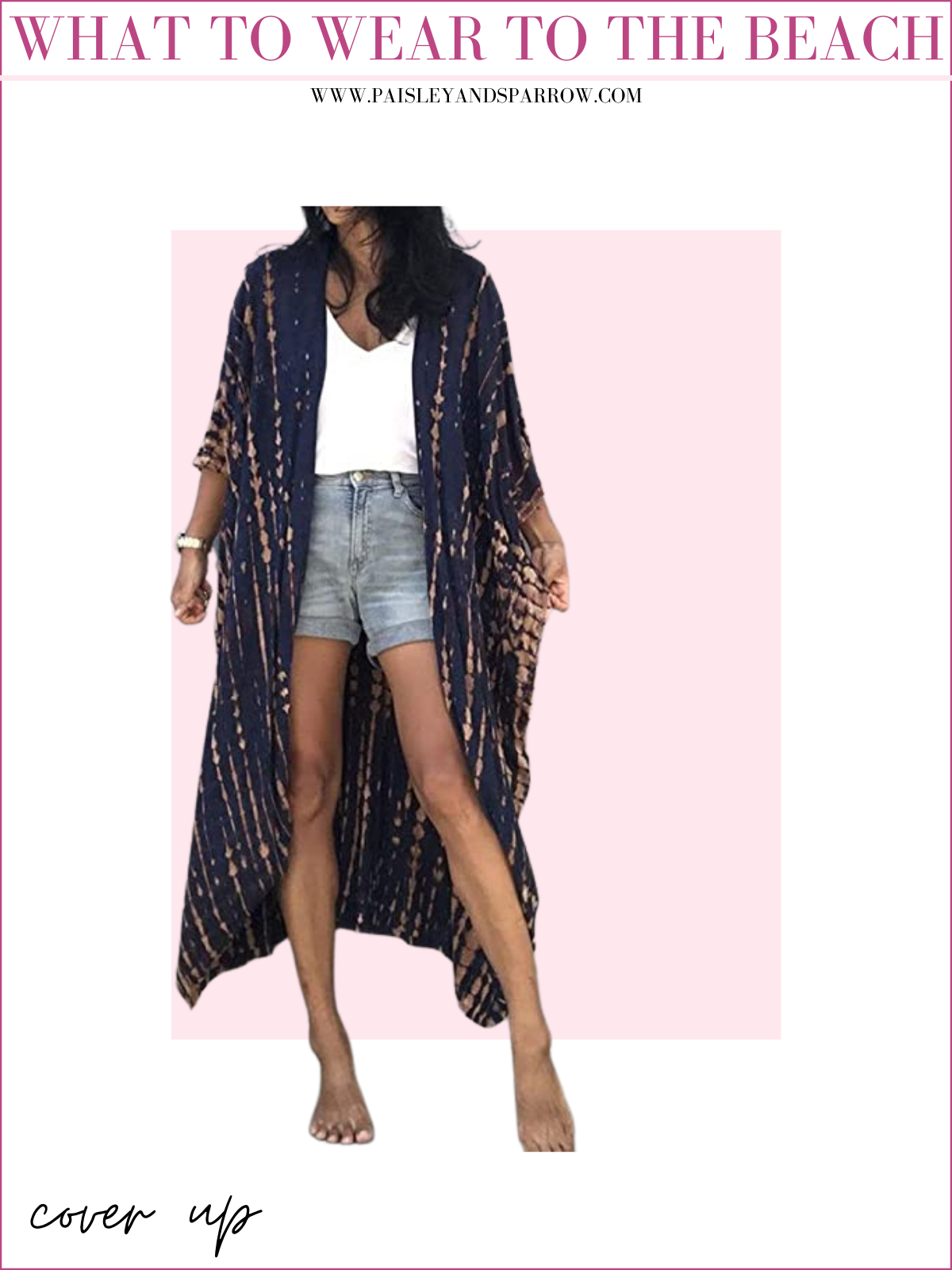 Shop Now:
Levis High Waist Shorts
Cover Up
A very easy look to style for the beach is a simple tank top, denim shorts, and a kimono cover up. I love the tie-dye! Each of these items are staples in most everyone's closet. Adding a hat or sunglasses are perfect accessories.
4. Rash Guard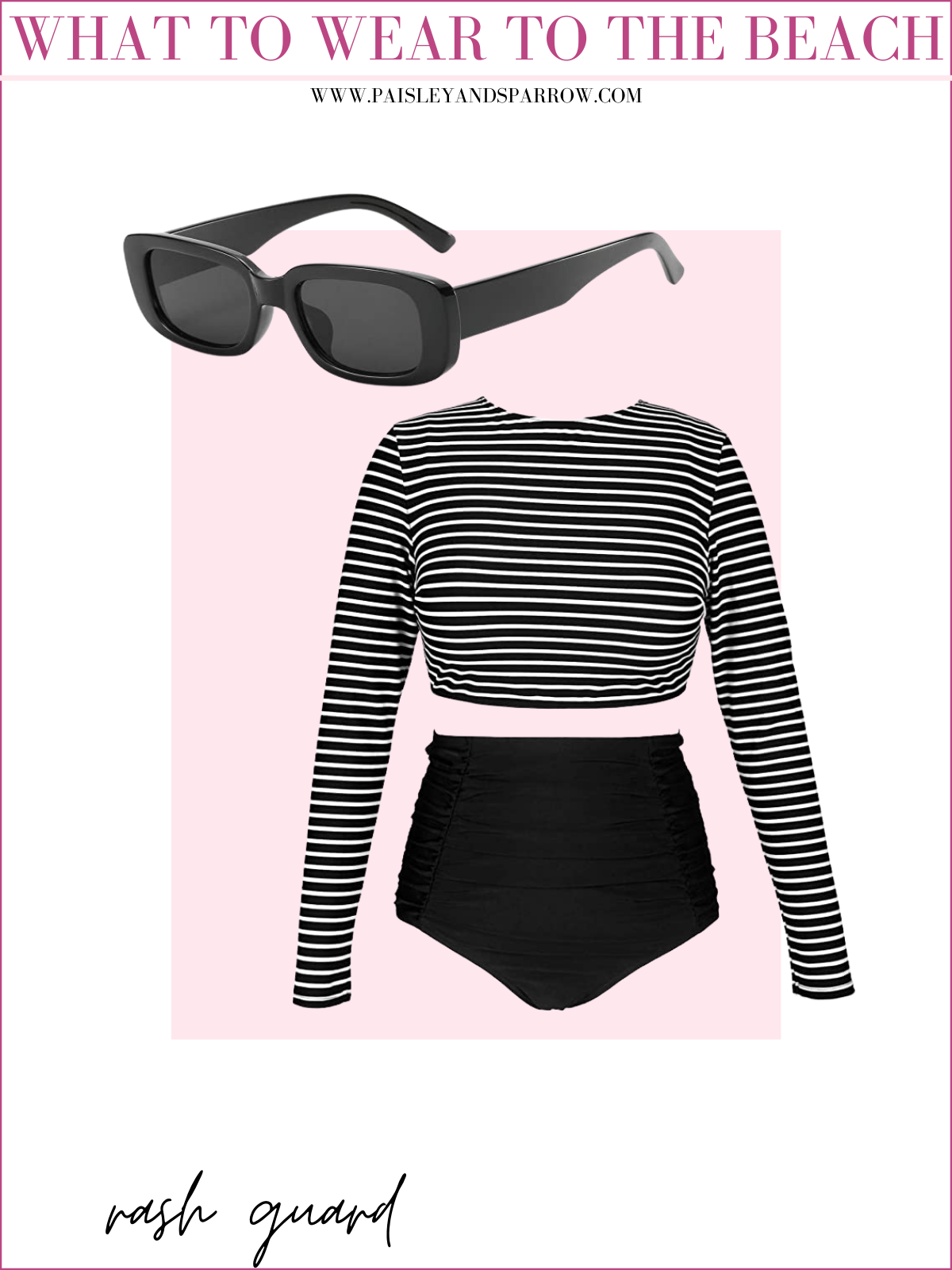 Shop Now:
Rash Guard
Rectangle Sunnies
Usually days at the beach with kids are whole day ordeals, and so comfort and sun protection are going to be your two best friends. That's why a rash guard is such a great option for keeping your skin protected while out in the water and on the beach.
A rash guard top is usually made with spandex and can be worn in the water. It's lightweight and keeps your skin protected from the sun as an added layer of protection.
Rash guards come as a top like above, as a crop top which can be worn like a bikini or a one piece like this one from Lululemon.
If you opt for a rash guard top, style with a pair of swim bottoms or shorts.
What to Wear to the Beach for Date Night
There is not a more romantic evening than spending it with that someone special, enjoying dinner on the beach and then walking the shoreline together. Whether your date night includes spending time in the water, or enjoying a nice dinner with a view, I have a couple outfit ideas that are sure to "wow" your date!
5. Casual Date Night – Crochet Cover Up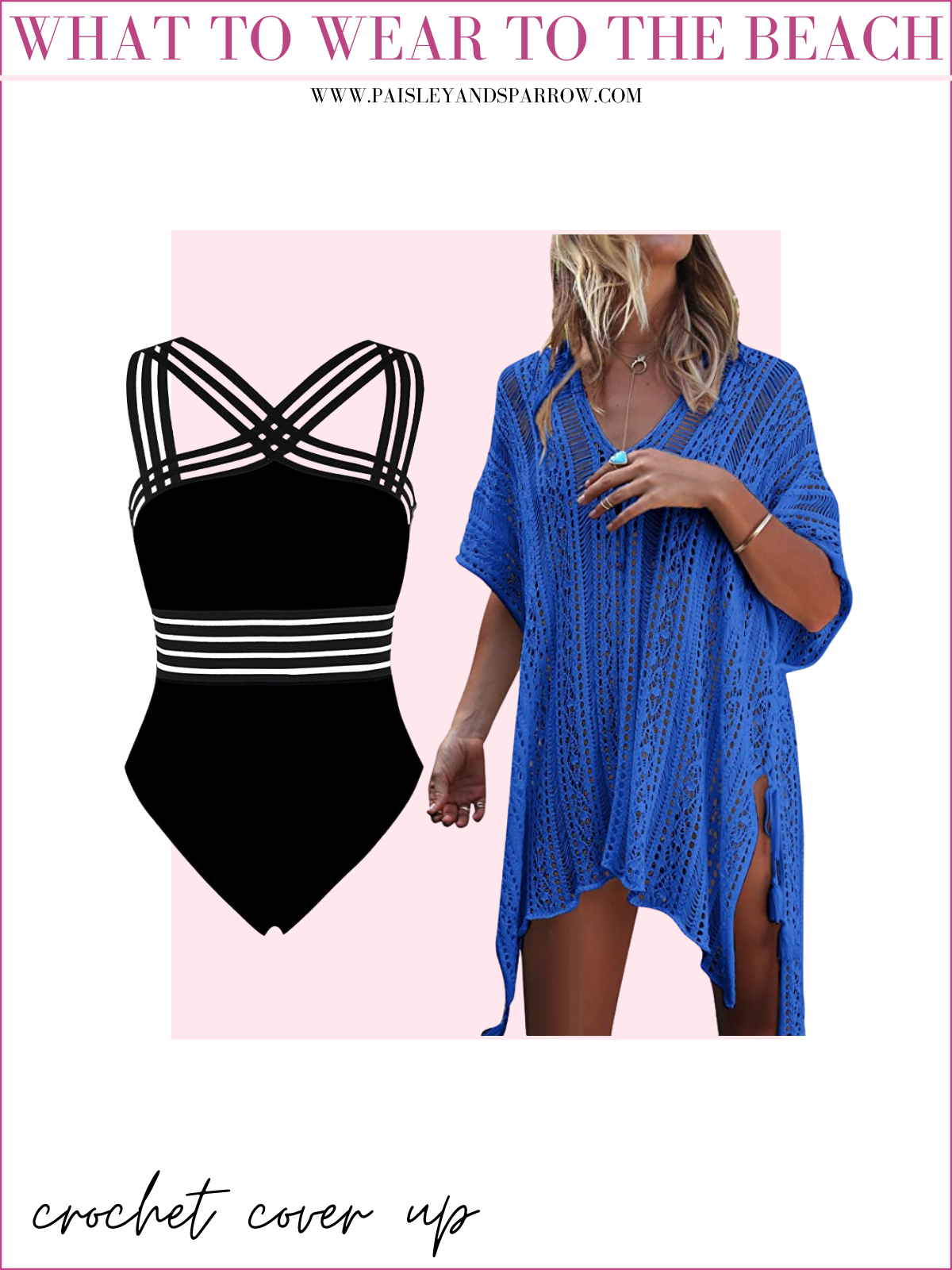 Shop Now:
One Piece Swimsuit
Crochet Cover Up
If your date night includes swimming or wading in the water, I can't think of a cuter beach style than a crochet cover up. Style with the perfect swimsuit or with a crop or bandeau top like below.
6. Dressy Date Night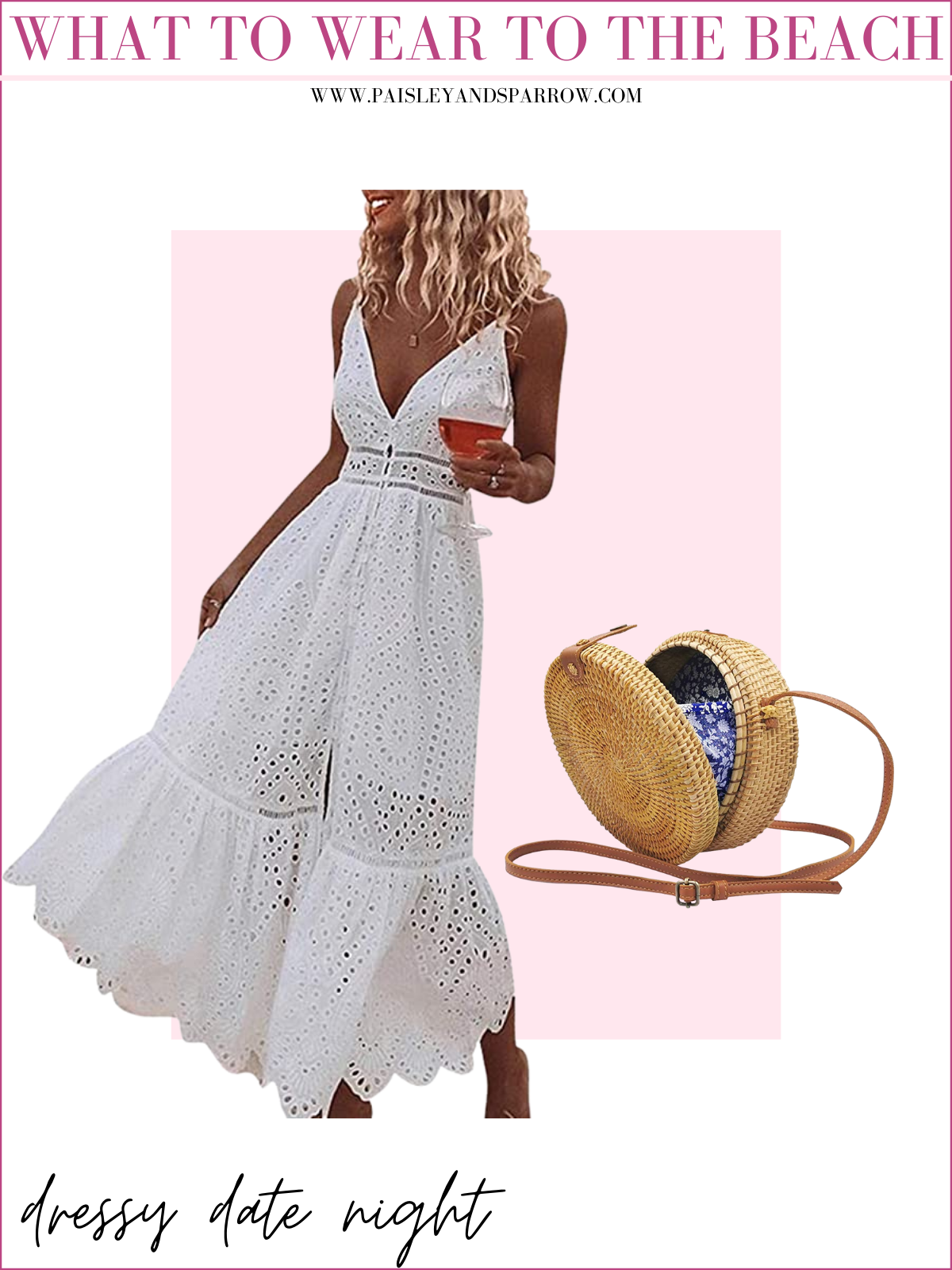 Every closet needs a classic cotton or linen white dress for the summertime. It can be worn for many occasions and activities.
I think it's the perfect look for a date night, because of how easy it is to accessorize. Wear with a pair of fabulous espadrilles or metallic sandal, finishing off your look with your favorite handbag. You can dress it up more with the jewelry you choose as well.
7. Beach to Boardwalk
I like to style a look I may wear down the boardwalks to be easily transitional for time spent on the beach. Denim jean shorts are the best option for when you need a versatile outfit at the beach.
You can pair them with a top like a lightweight button down or you could wear your jean shorts with your bathing suit, wearing it as a top.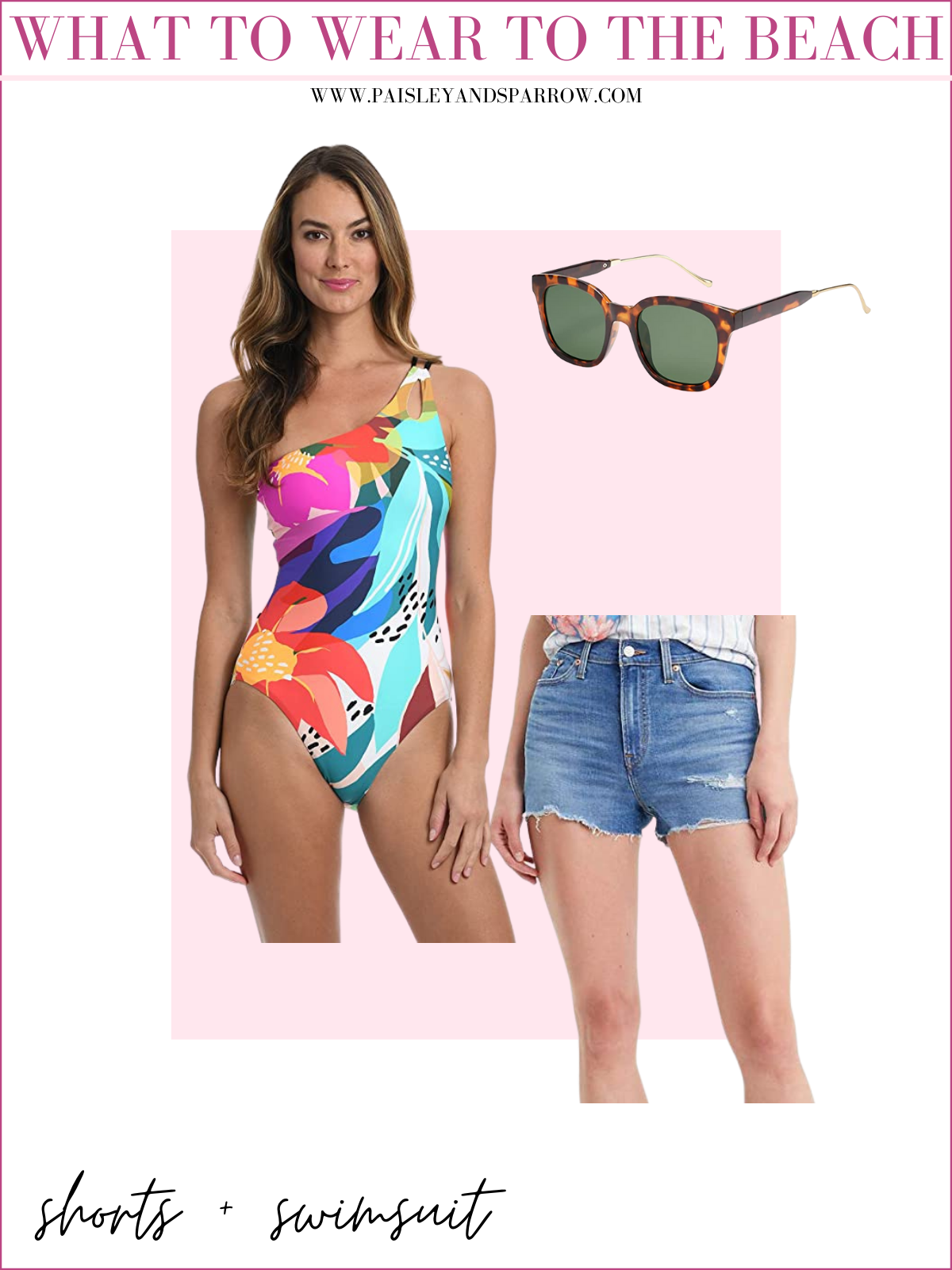 Shop Now:
Swimsuit
Levis High Waist Shorts
Sunglasses
Both looks can easily be worn while strolling the boardwalk, and then be comfortable and versatile enough for the beach and wading in the water. Both looks look complete with sunglasses and straw hats.
Beach Outfits for a Beach Day with Friends
Dressing for a relaxing and fun day at the beach with friends can be comfortable and chic!
8. Sarong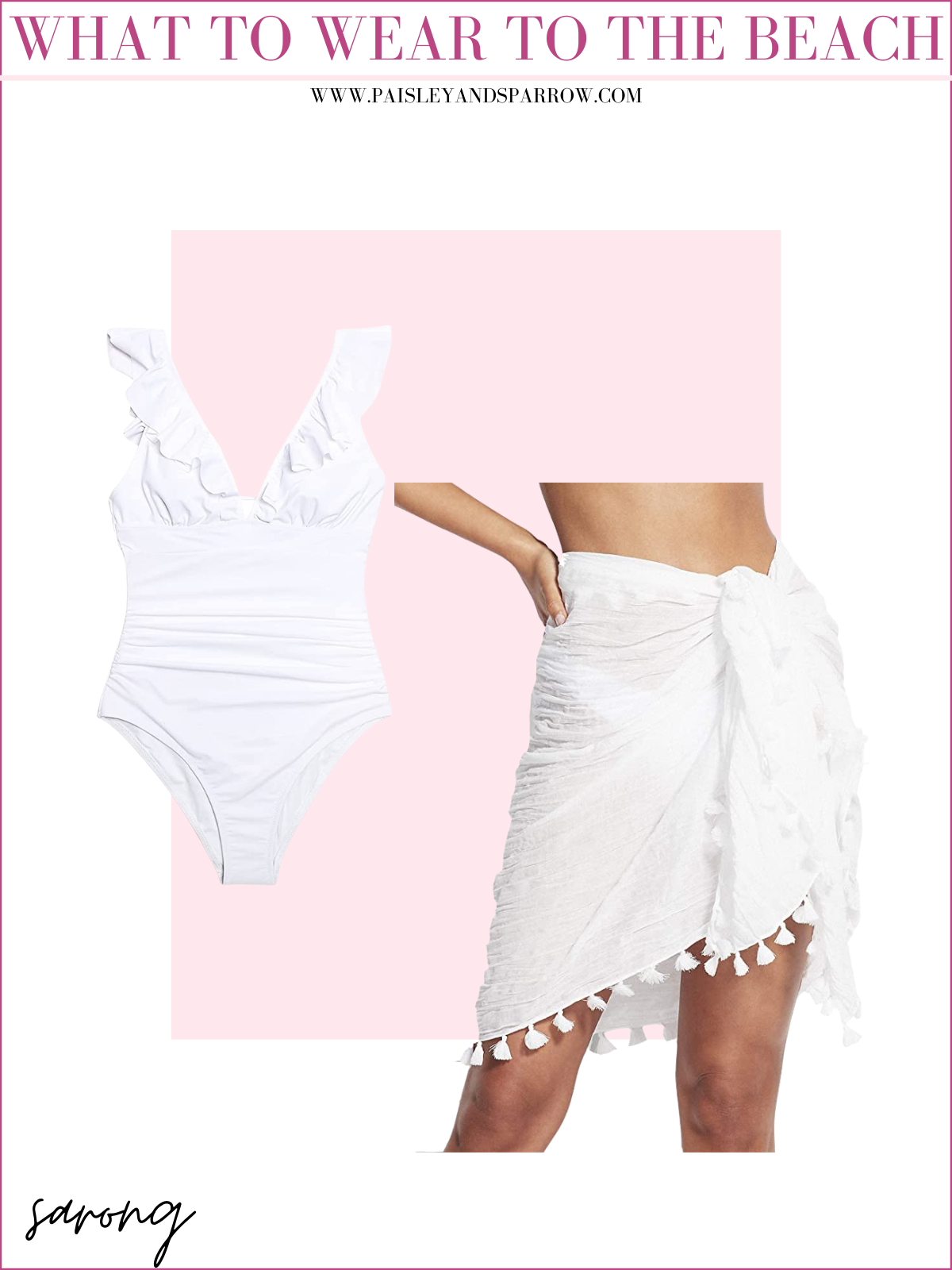 Shop Now:
Sarong
One Piece Ruffle Swimsuit
A sarong is a must have for an easy cover up and even comfortable styling piece for a beach outfit. A sarong can be worn as a practical piece or to add a touch of elegance to your beach look.
A sarong can be short or long. Some sarongs have an elastic waist, which gives more of a skirt feel. And others can be tied at the waist for a more relaxed look. A simple, easy, relaxed look is my favorite go-to style when lounging around the beach with friends.
9. Oversized Button Down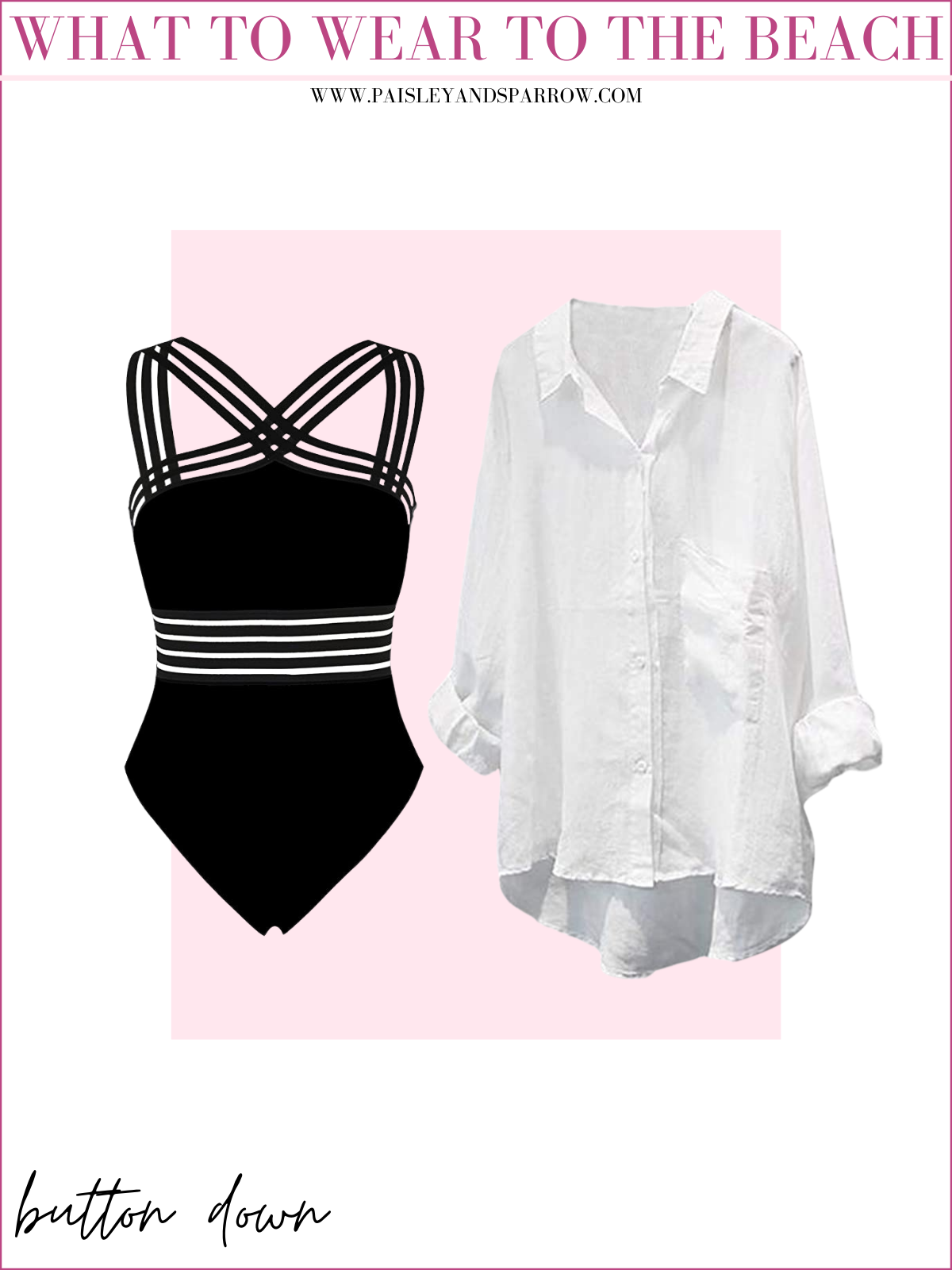 Shop Now:
Oversized Button Down
One Piece Swimsuit
I've been seeing women wear an oversized button-down shirt to the beach as a cover up. I think button down cover ups are the chicest accessory to wear with friends or anytime at the beach. One fad that has taken over the internet, especially TikTok, is the "coastal grandmother", minimal-didn't-try kind of aesthetic.
Go raid your husband's or boyfriend's closet, and ta da! You have a beach cover up!
There are also beach cover ups in this oversized button-down style you can shop for as well if you don't want to "borrow" from your man's closet.
10. Matching Outfits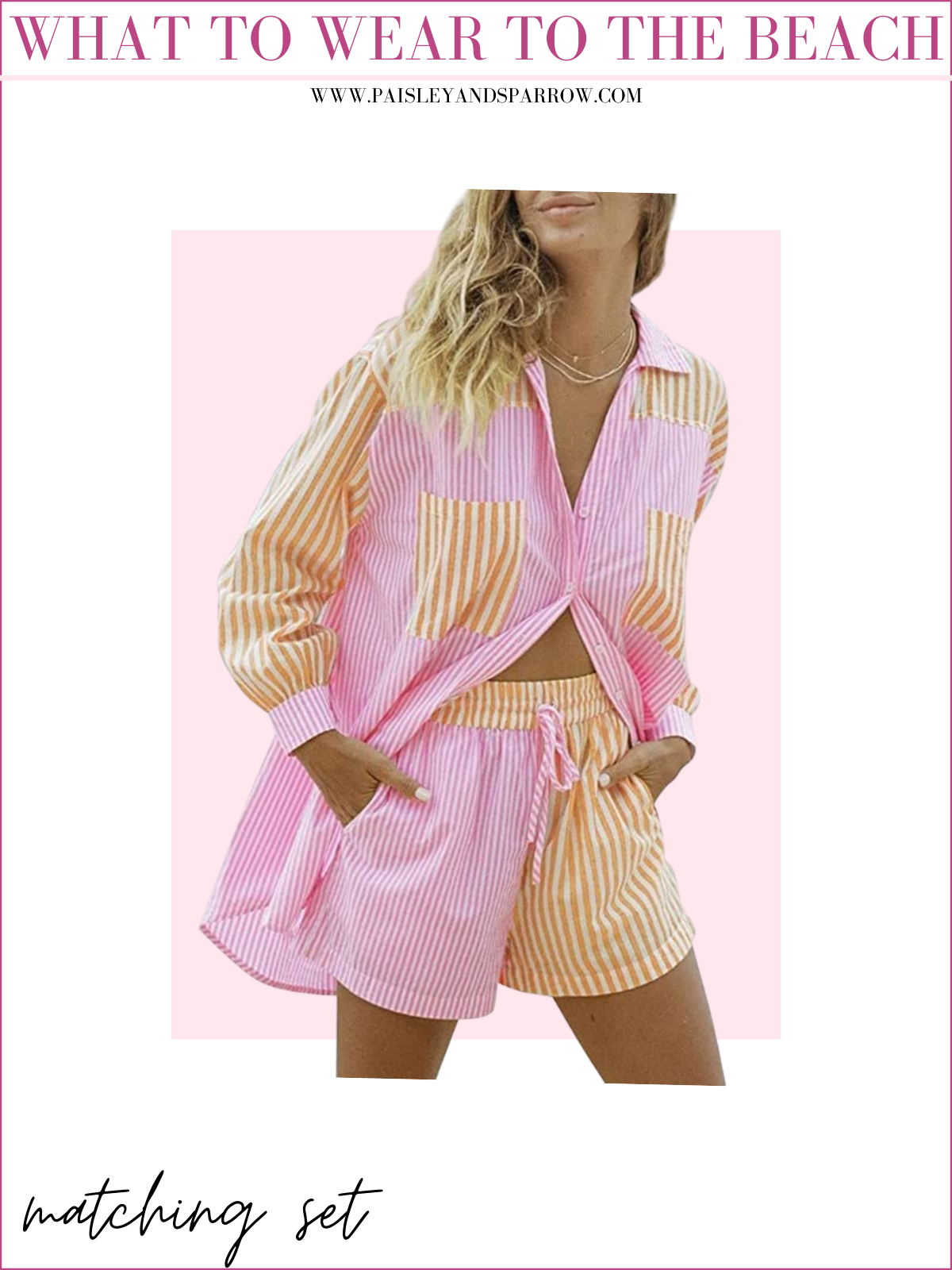 Shop Now:
Pink and Orange Set
If you want a more put together look, you could do a matching set! You can wear these together for a complete look or separate. There's ton of options!
Brunch Beach Outfits
For brunch, I love opting for a dressy-casual look. The best way to achieve this is through matching sets or monochrome looks.
11. White Set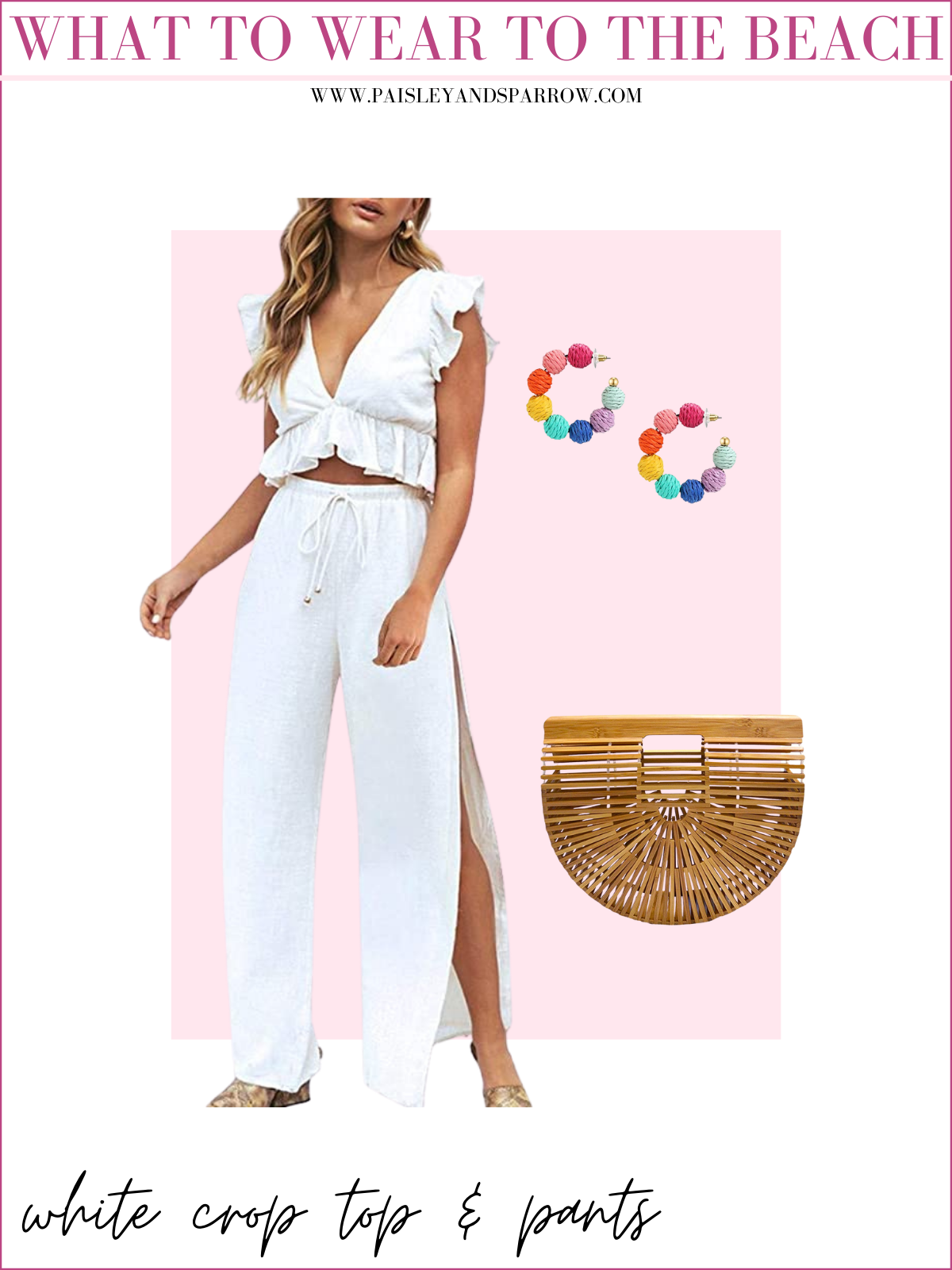 Shop Now:
White Set
Bamboo Bag
Earrings
This look has all your closet staples. A pair of white pants and a white tank or crop top. You can experiment with other monochrome pieces or color blocking. And then adding an accessory like a straw hat adds the perfect touch of glam to a brunch date at the beach.
12. Statement Sunnies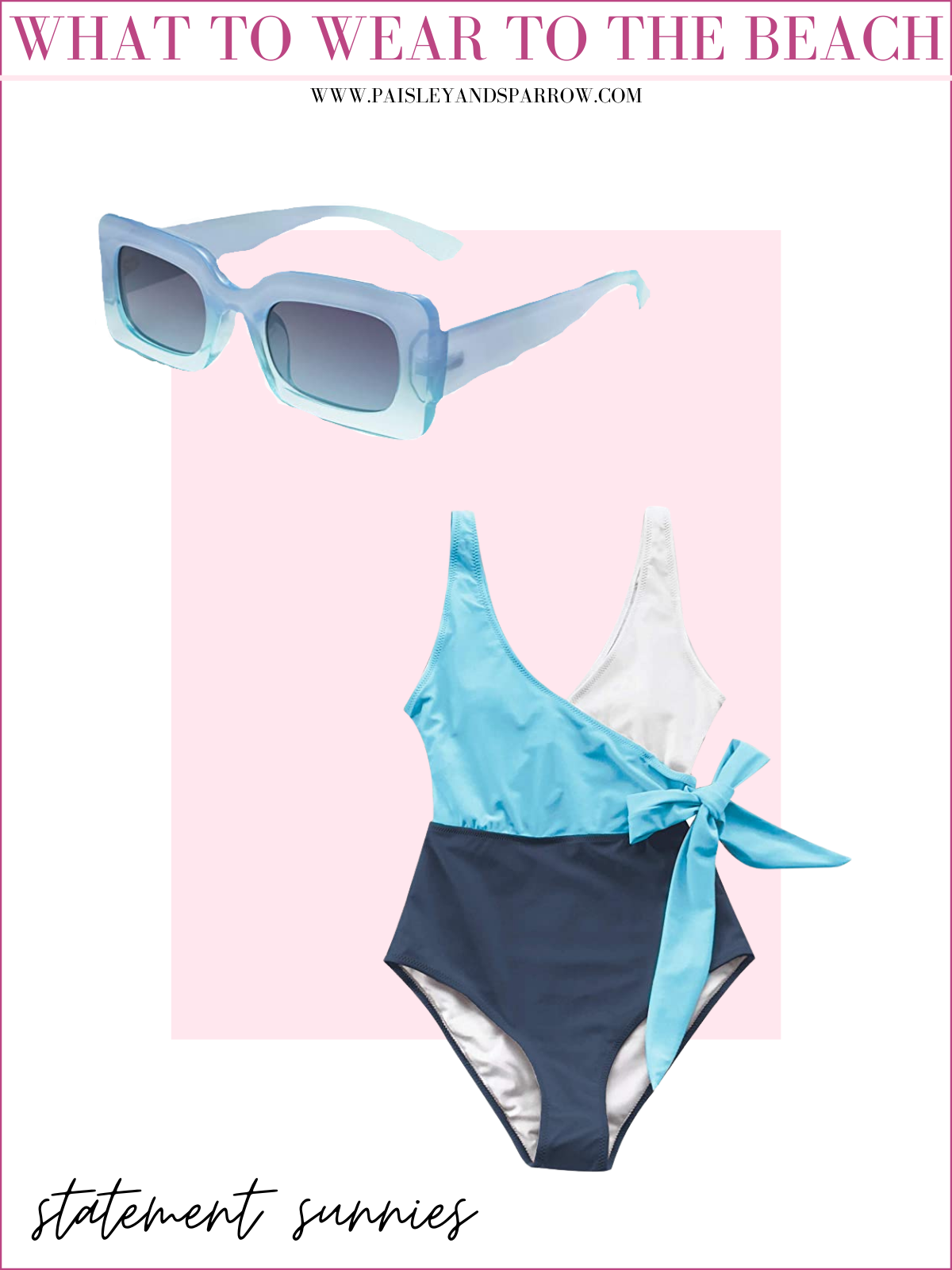 Shop Now:
90s Sunglasses
Tie Swimsuit
For something fun and something that makes a statement, a pair of fabulous sunglasses will give you that Hollywood Glam feel.
A pair of statement sunnies are a must-have accessory for your summer wardrobe and can be worn with any beach time look, but especially for brunch mimosas!
13. At Night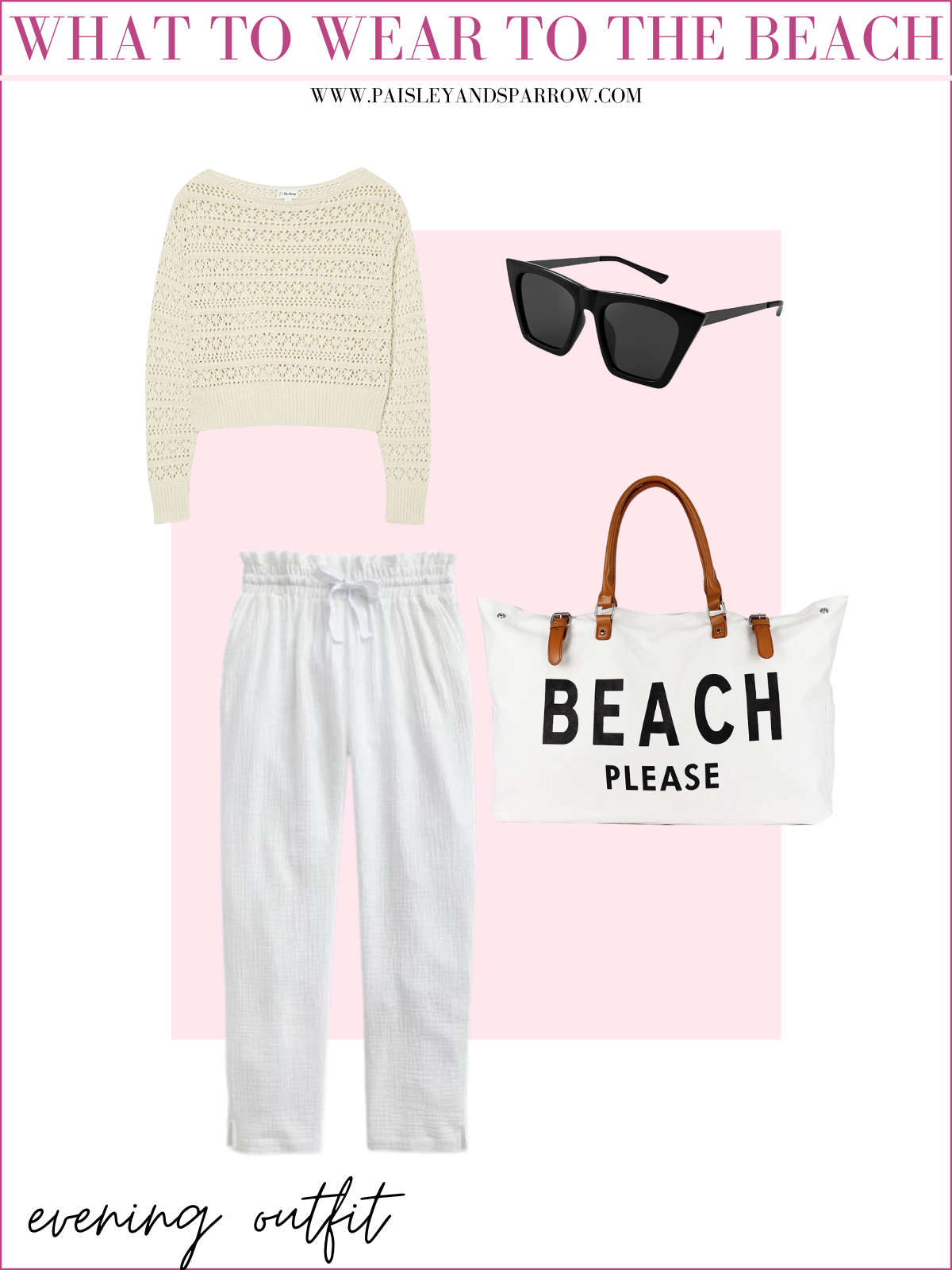 Shop Now:
Crochet Top
Drawstring Pants
Beach Please Bag
It can get cold at night depending on which beach you're at and what time of the year it is. During the summertime, beaches may get just a slight breeze making it a tad cooler at night than during the day. Keeping a cardigan or denim jacket with you to add to your styled look should keep you warm.
Something light and simple like these knit options will keep you from getting cold without being too bulky. Light knitwear is easily styled with linen, denim, and cotton.
A lightweight crochet hoodie or sweater is also a super cute option especially for cooler summer days. This can be worn as a cover up as well. Goes perfect for denim or swim shorts or long pants.
What to Wear to a Beach Wedding
14. Daytime Wedding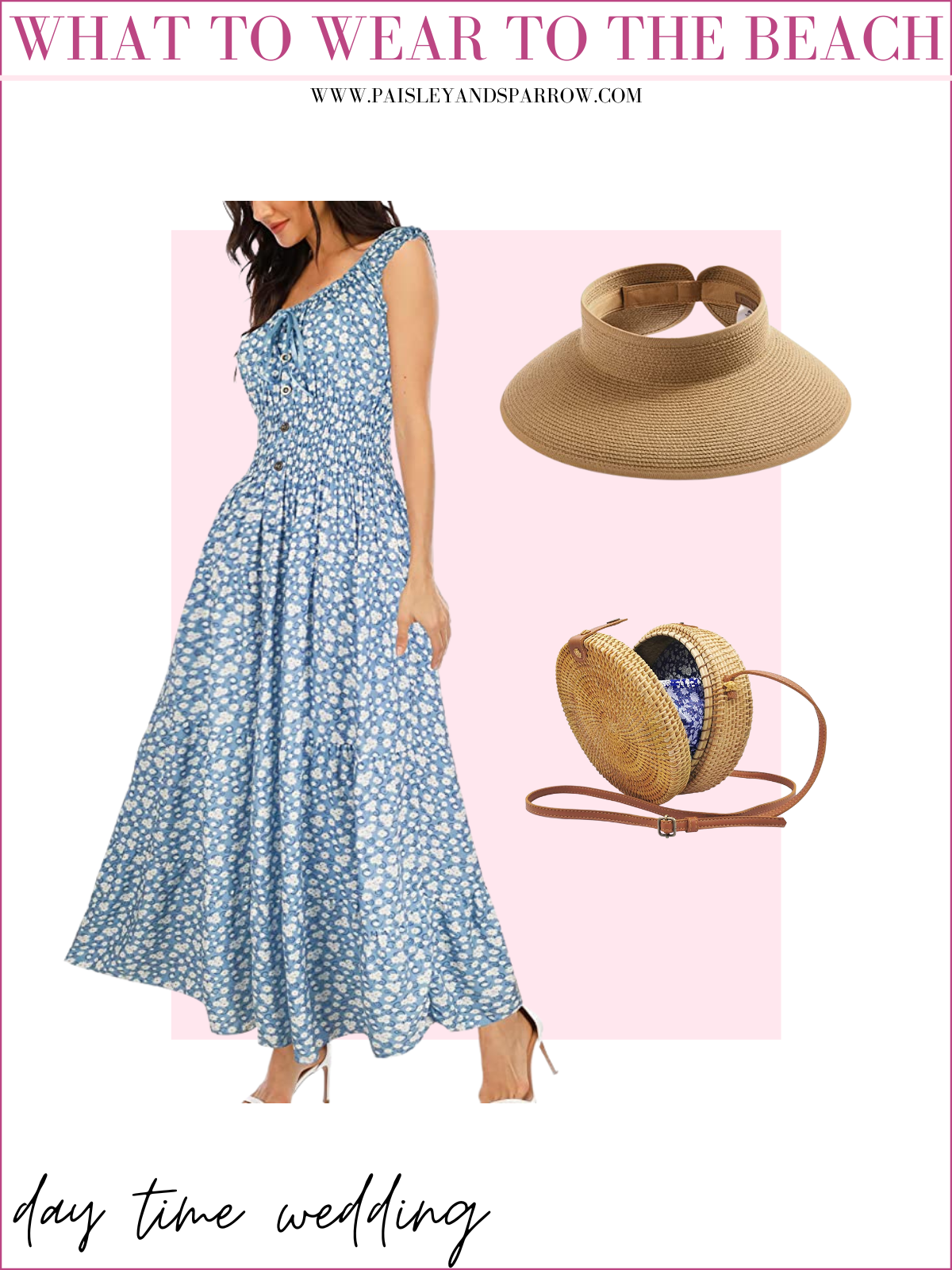 Shop Now:
Flowy Boho Dress
Visor
Bag
For a daytime wedding, opting for a midi or maxi dress, in a fabric like cotton, is a simple and classic option.
A straw hat as an accessory could elevate the look even more. Keeping the dress on the longer side will still add a flair of formality without being too over the top for a more casual dress code. On the other hand, daytime weddings can be hot so you may want something on the shorter side or with a thigh-high slit to get some air flowing!
Off the shoulder or another elegant neckline like sweetheart or V-neck can also make a cotton or linen beach dress look more formal, like styled above.
15. Formal/Evening Wedding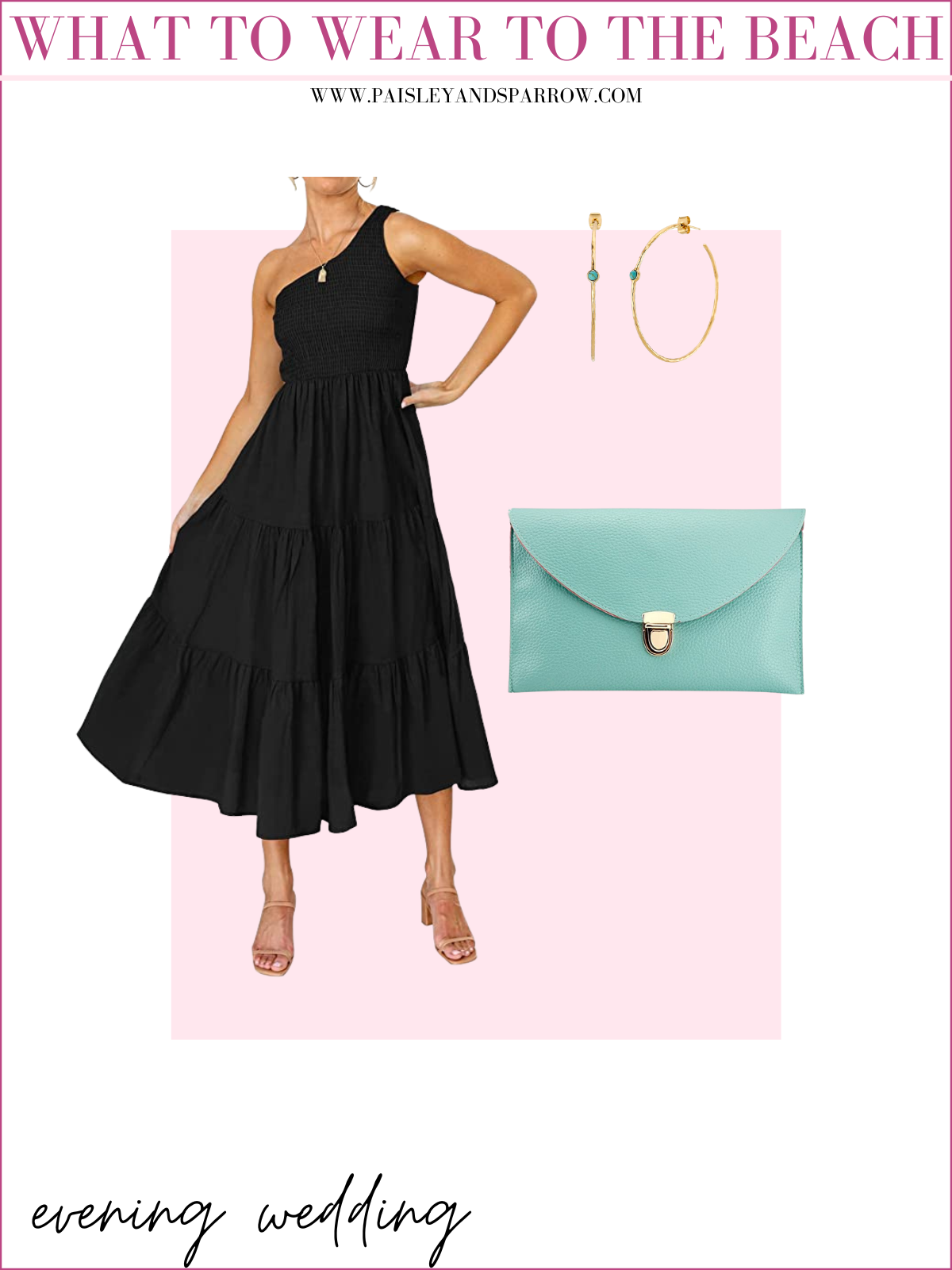 Shop Now:
Black Dress
Clutch
Earrings
For a formal affair, the fabric and cut is what's going to be the winner with this one. A luxurious silk or satin midi or maxi dress is what you want to shop for.
You can keep your dress simple yet elegant with an amazing neckline or back. Something like this one shoulder dress immediately gives it a more elegant feel.
If you want a more formal shoe look but still a practical pick for beachy sand, it's a good idea wear a pair of wedges or espadrilles with your wedding look. You will still look dressy without having heels sink into the sand.
And there you have it! 15 different beach outfits for your next trip to the beach.
Be sure to check out one of the posts for more summer fun!