White sneakers are a must-have staple for any closet. They can be worn with jeans, pants, shorts, skirts of any length and style, and they can also be styled with dresses. They are especially convenient for lifestyles that are always on the go, traveling, or walking often.
When you are always out the door, a busy mom, or just seeking something casual and comfortable, a white sneaker is your go-to shoe. And with fun throwback styles to the 70s, 80s, and 90s, white sneakers are so fun to shop for right now.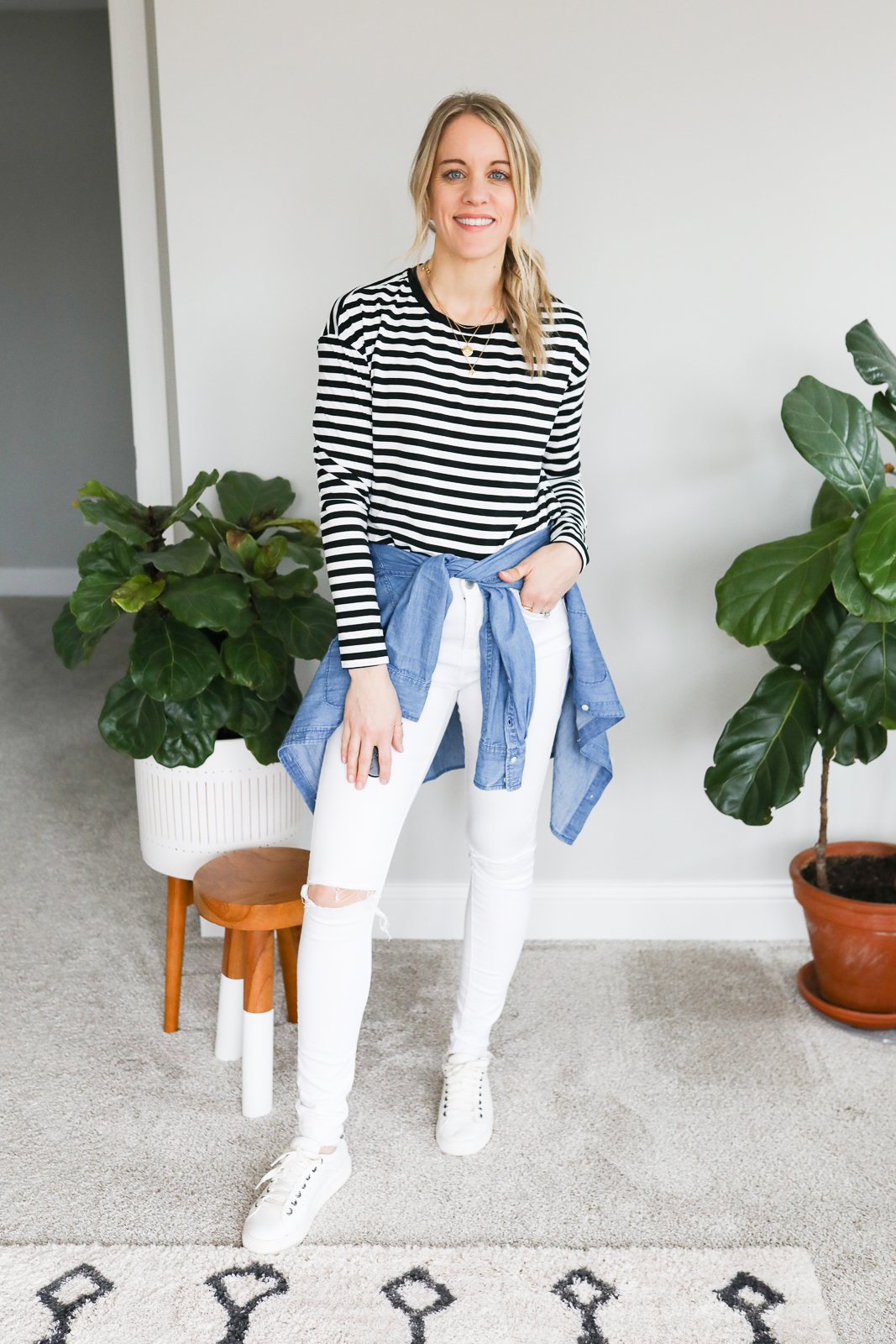 I've put together the best white sneakers in several categories, including low and high tops, travel, luxury, comfort, budget-friendly, eco-conscious, and more!
25 Best White Sneakers for Women
No matter what your style is and how much money you want to spend, I've got a pair of shoes for you! These are the best white sneakers for women.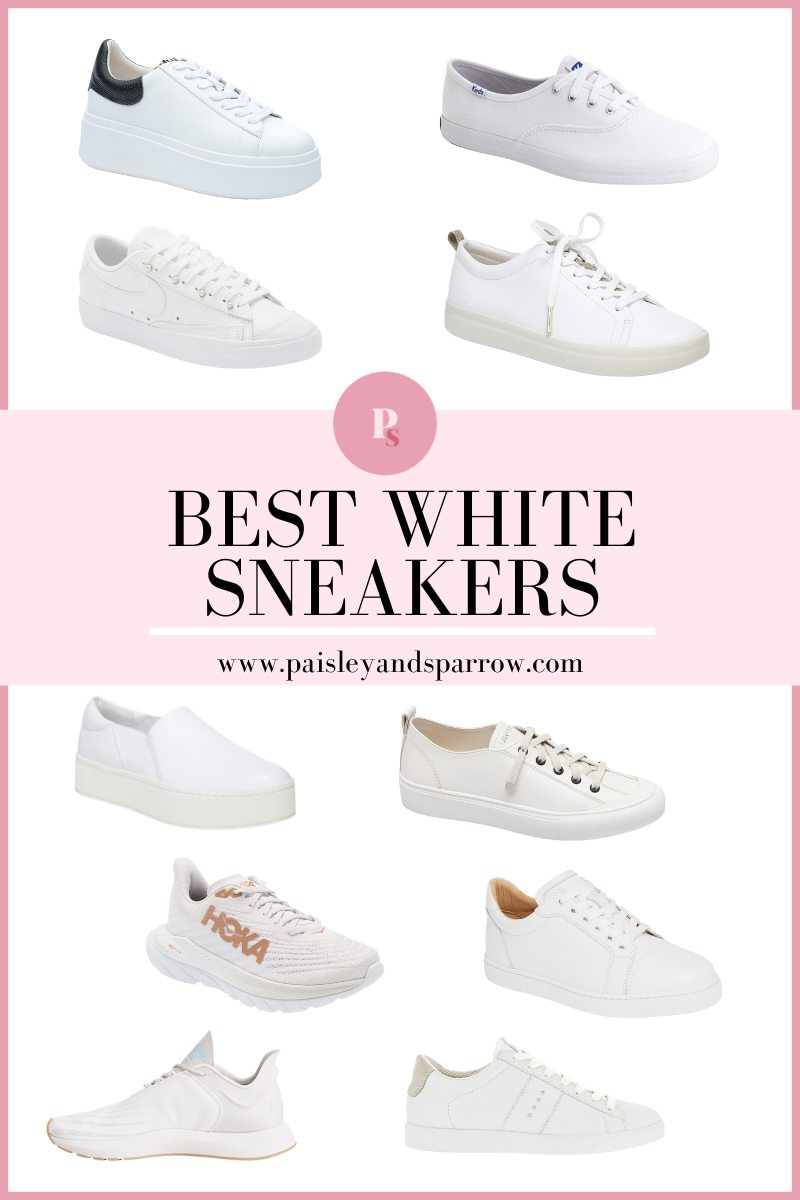 This post contains affiliate links.
Best Low Top
This is my favorite low top sneaker option (and you know I love Lisa Vicky — for sneakers, boots and whatever other shoes!). These are a great everyday look and very comfortable.
My favorite detail about these sneakers are the black eyelets that the laces go through. It adds the perfect touch to these classic low top sneakers.
I own these in white and black and love them!
Best High Top
A very sporty look, this white high top sneaker is such a fun throwback to the 1970s to add to your shoe collection. The Nike Blazer was originally created for basketball in 1972. This is a classic white sneaker with a simple black Nike logo stretching around the back to the sides of the shoes.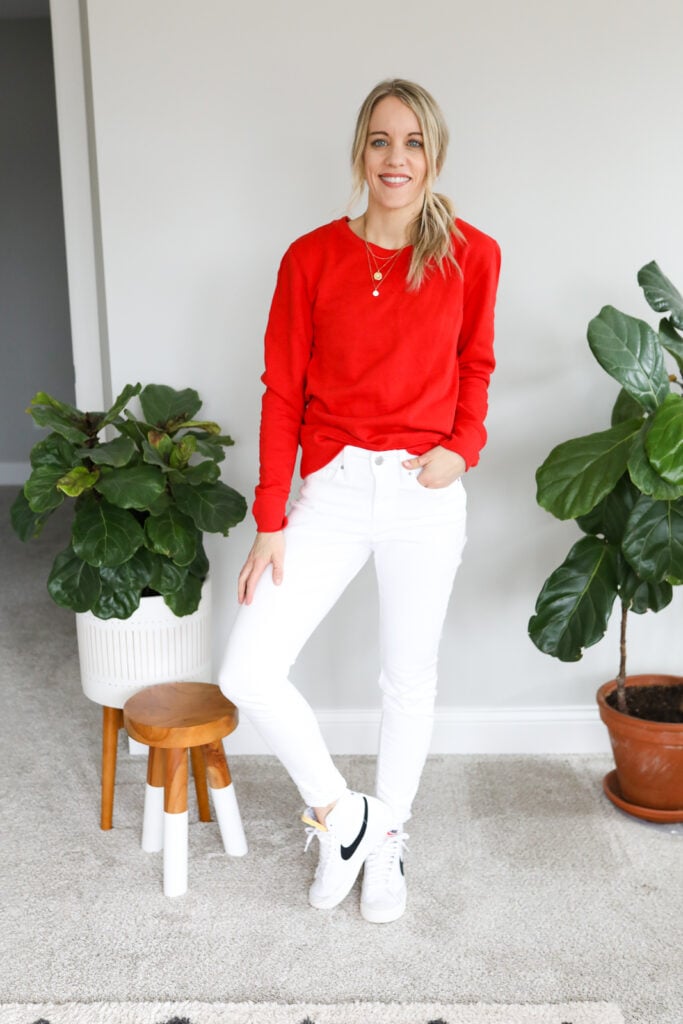 The upper is made of soft leather and suede, making them high quality, high style and easy to clean. It's probably important to note the tongue of this shoe isn't completely wrapped in fabric so you can see some of the cushion peeking out.
I own these and love them! They're super comfortable and chic and I always get tons of compliments on them.
Best Converse
Everybody needs a pair of Converse Chuck Taylor sneakers. This is such a fantastic Converse and so easy to style.
What I love most about this sneaker is that it fits like a whole shoe but slips on easily at the back. It's like a hybrid between a regular sneaker and a slip on.
This sneaker works for so many different styles making it versatile enough to style with many outfits. This is one of the best for getting your money's worth since you can wear these sneakers with virtually anything!
Both my sister and I own these and wear them all the time!
Best Sport
I chose this sneaker as best in sport for a few reasons.
First, this sneaker was specifically designed to fit the form and shape of a female foot. Think of it like a perfectly tailored dress to fit your curves just right. All women's sneakers should fit this well.
These shoes also come with a removable sock liner and foam cushioning around the toe to reduce lace pressure. They're a very comfortable and well-fitted pair of sneakers.
Best in Trends
This pair of women's sneakers have a classic low top look but with a retro Swoosh design. They're well known for being not only cute but comfortable.
These Nikes come in a variety of colors making them the perfect addition to any wardrobe!
Best Everyday
For everyday wear, you will want to focus on high-quality material. This is why this classic pair of white leather sneakers will not only be a great staple for your collection, but it will also last for several years. Reviewers say they love how cute and comfortable these are, even for all day wear.
The small lace up detail up the back of the classic leather sneaker adds a bit of fun!
You can get these cute leather shoes in the classic style or with a slight platform if that's more your thing.
This is another pair of the best leather sneakers for everyday wear. It has a sportier style with a nod to the '80s. This pair looks amazing with fashion sport and street looks.
It has a leather upper and rubber outsole and fits a little small, so you may want to size up when you buy a pair.
Best Platforms
I love a good platform sneaker, and they are in style at the moment. Platform shoes were very popular in the '90s, and we all know '90s fashion is back! This is definitely one style I can get on board with.
This Super-Star low top platform sneaker is both sporty and feminine. The heel is embroidered with floral silhouettes that mold into the Adidas logo, adding just the perfect touch of softness with the fun and sporty platform.
For an extra sporty platform sneaker, this is such a fun pick! It comes in a pure white color with small metallic silver details on the toe and heel, which adds something kind of cool to the look!
The chunky style makes a true statement, giving any outfit a little fashion boost.
For a simple, classic, and versatile platform sneaker, this is my pick for an everyday option. Adds fantastic height and looks amazing with shorts, jeans, and dresses.
These sneakers have three different color options for the top of the heel, so you can add a pop of color to your white sneakers if that's more your style.
Best Canvas
If you want a lightweight sneaker, opting for canvas material will make you feel as light as a feather. This white canvas sneaker is made with 100% cotton and easy to style with almost anything.
This sneaker has just four eyelets on each side and a narrower and longer opening at the top compared to other sneakers. It gives it almost a ballerina flat look but in sneaker form.
This is another great canvas sneaker pick, a cross between a sporty shoe and a low-top Converse-type style. It's also at a fantastic price on Amazon for budget shopping and styling needs.
Best Comfort
What's so amazing about these sneakers is that they were specifically created with technology to create the most comfort for your foot.
The fit of the cushion in the shoes and soft leather follows the curve of your foot, so it molds and flows with the movement and shape of your foot. This is my top pick for comfortable white sneakers!
This is another amazing pair of comfort white sneakers. The insole of this shoe can be removed and reinserted for cushioned arch support, providing comfort and protection for the foot. You should break in the shoe for a day or two to begin experiencing the full benefits of the orthotic insole.
Best Budget
For the best affordable white sneaker, this pair from Amazon under $20 is a top pick if you don't want to spend a ton! It's a canvas material with glowing reviews from customers. It works for everyday looks and most outfits.
Not only is it fairly easy to clean, but if you are rough on white shoes, these are inexpensive enough to replace if yours get too dirty and you need to buy another pair.
Best for Travel
This sneaker has a sophisticated and sporty look, made with 100% leather, and easy to lace up, making it a top pick for travel. Comfortable, durable, and stylish, working for all the walking most travel requires, flights, transportation, and getting around cities and towns while also looking fabulous.
Best Eco-Conscious
Made in the USA from recycled plastic bottles, this sneaker uses materials you can feel good about wearing for the earth. Better yet, it has anatomical cushioning to make them some of the most comfortable shoes you can get.
Another sneaker made from recycled materials, the canvas is made from plastic bottles. The eyelets and back of the sneakers have rainbow color details, which adds a fun side to these white canvas sneakers. White sneakers don't have to be boring!
Best Vegan Leather
For a vegan and cruelty-free option, this sneaker uses synthetic leather. They work as running shoes or everyday shoes, and the simple design makes styling effortless.
Best Luxury/Designer
My luxury pick are these Christian Louboutins with the iconic red bottoms. Made in Italy, these are a classic white sneaker design that can be dressed casually or even for something more sleek and elegant.
If you're looking to invest in a pair you'll keep forever, this is it.
Best Slip-On
These are a non lace up slip-on platform sneaker. This sneaker is just a fantastic option for an everyday, go-to street style look. There are many colors to choose from, but the white is the most classic and easiest to style.
This is a super sporty slip-on, with a mule-like design with an open back. It has a super comfortable insole with memory foam for extra comfort and arch support.
These are so easy to pop on and get out the door for busy lifestyles.
Best Running
These running sneakers come highly rated. These shoes are a responsive running shoe made by one of the best running shoe brands around. The all white color option makes any athletic style look super chic.
I've worn these shoes for years as a runner! They last a long time and are an overall great shoe.
The first runner-up in white running sneakers is this Hoka pair. This is made with comfort technology in the insole to mold to the movement of your foot, and made with mesh material in the heel and toe for comfort and better fit.
I have a few pair of Hoka shoes and love them! They're super stylish, incredibly comfortable and super trendy.
Best Overall
This is the best overall pick I've chosen for style, comfort, price, and versatility. Kind of like the Nike high top mentioned earlier, this is a low top version of the 1970s throwback design.
It's an all-white color, including the Nike logo. It's a fantastic pair for any closet.
Where will you wear your new white shoes? I hope you find as many uses for them as I have!
Want more shoe recommendations? Find out what shoes to wear with mom jeans, what shoes to wear with a navy dress, and what shoes to wear with leggings!