If you love doing at-home manicures and pedicures, you need to know about the Olive & June pedi system! This pedi kit is full of all the things you need for the perfect at home pedicure.
Today I'm going to walk you through the entire system and I'll give you my full review! I've been doing my own nails for years and years and have really started figuring out how to salon worthy nails at home. The Olive & June pedi kit has really helped help up my game!
First up, let's look at what's inside the kit.
*Want a promo code? Use this link and the code jenb20 for 20% off your order of any of their systems!
Olive & June Pedicure Kit Review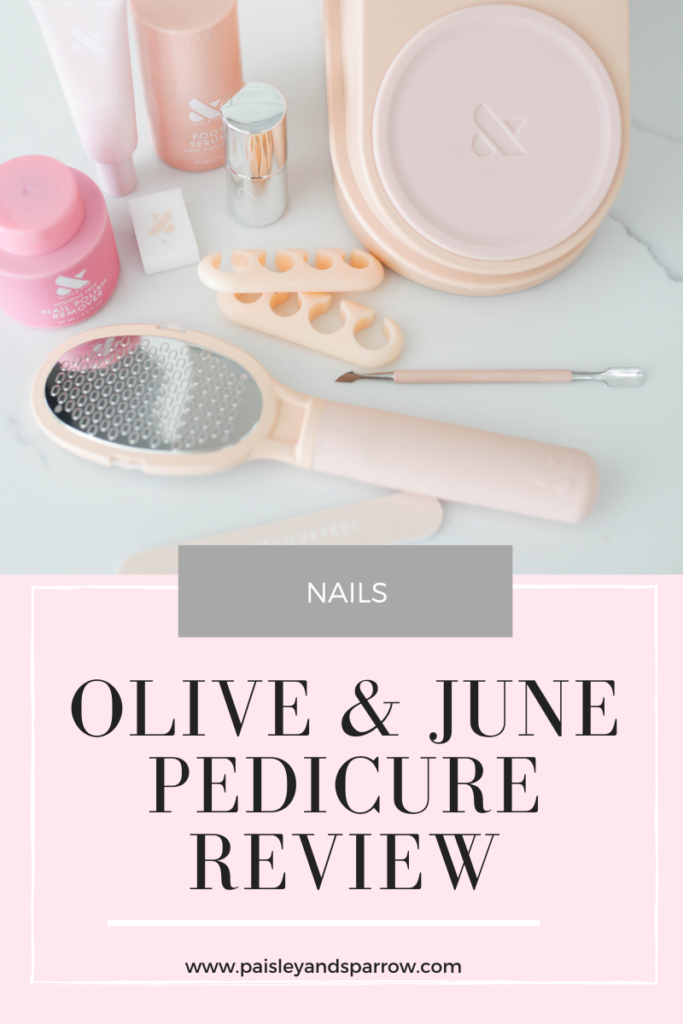 Paisley + Sparrow is a participant in the Amazon Services LLC Associates Program. This post may include affiliate links which means I may earn a small commission if you shop using the links below at no additional cost to you. 
Olive and June has the first ever, all-in-one Pedicure System! It has everything you need for the perfect at-home pedicure with tools, foot care and of course, polish!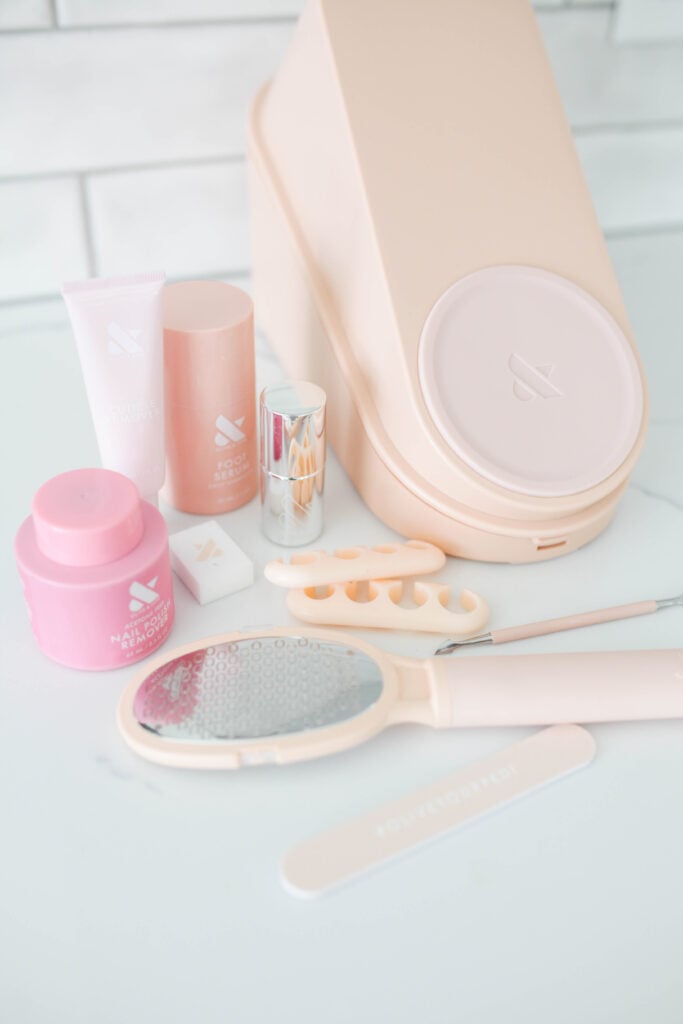 Pedicure System Contents
Like the manicure box, they have a pedi kit full of all the nail tools to get a perfect pedi. Here's what's inside Olive & June's pedi system:
Pink Posey – patent pending, this amazing tool the SGT created gives you the perfect angle of your foot to paint your feet. Not only does it hold all of your kit's products but it also gives you a spot to put your foot when you are giving yourself a manicure!
Foot file – nobody has perfect feet – they secret is in the foot file!
Large straight edge nail clippers – shape those toenails with your large flat-edge nail clipper made for your toes
Nail file – finish off shaping your toenails with the nail file
Cuticle remover – apply the serum, rub it in and wait 5 minutes. Then grab your Cuticle Pusher!
Cuticle pusher – after you've waited 5 minutes, use the Cuticle Pusher to push cuticles back! Then wipe off any excess cuticle remover.
Mini Nail buffer – use the buffer to buff off your cuticles after you push them back
Nail polish remover pot – use the top sponge to remove polish from your toenails
Clean-up brush – this is the same clean up brush as the mani system brush to clean up any messes along the way.
Super glossy top coat
Silicone toe separators – these are actually a comfortable way to separate those toes of yours!
Foot serum – use the foot serum daily for maximum hydration!
Plus your choice of a 15 free nail polish of your choice (in either long lasting or quick dry formula).
My Honest Olive & June Pedicure Kit Review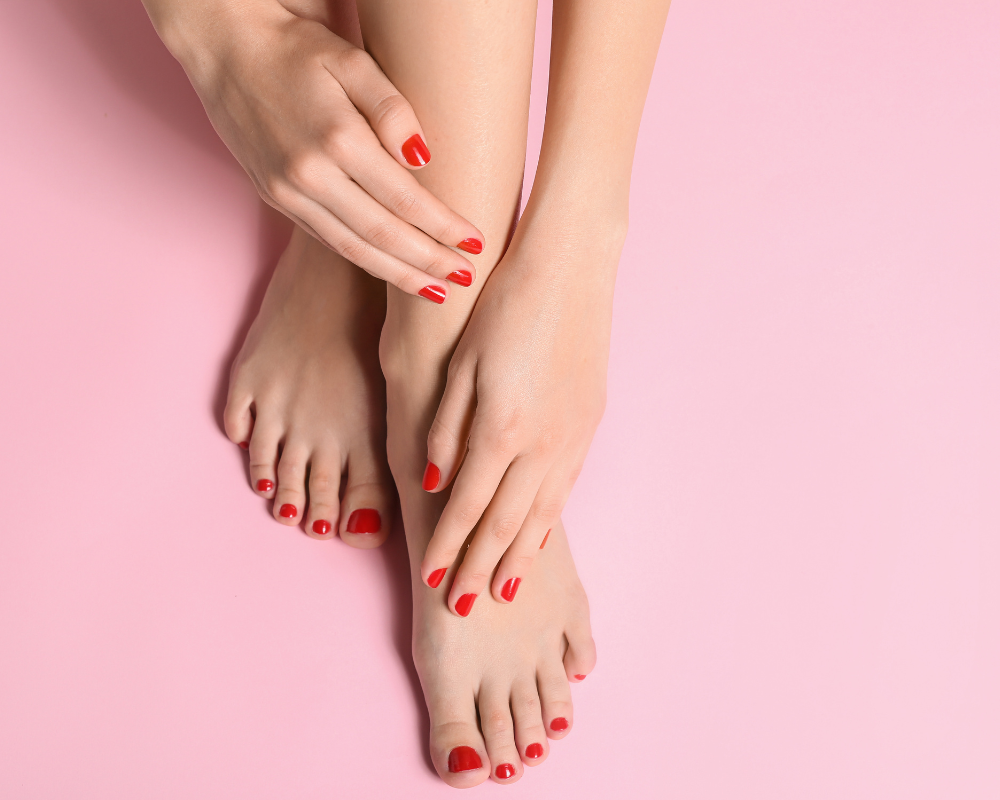 I've been using Olive & June products for years and have always loved just about everything they've come out with. When they launched their new Pedicure System I was thrilled! I've always struggled with doing my own toes at home and I was ready to try out this new kit.
When I first opened it up I was impressed to find everything you would need to get beautiful toes (and feet!).
I started out by putting the cuticle remover on and letting it sit for about 10 minute. I was shocked when I took out the cuticle pusher and pushed back my cuticles with ease. Right away I was hooked!
I then gently used the foot file to get some of the dead skin off. This is a tool that should be used often.
Like when you paint your nails, you should use the nail clippers to shape your nails most of the way and then finish them off with the file. I don't do that much shaping of my toes, just trimming them up and rounding off the edges. Easy peasy, especially with the straight edge nail clippers!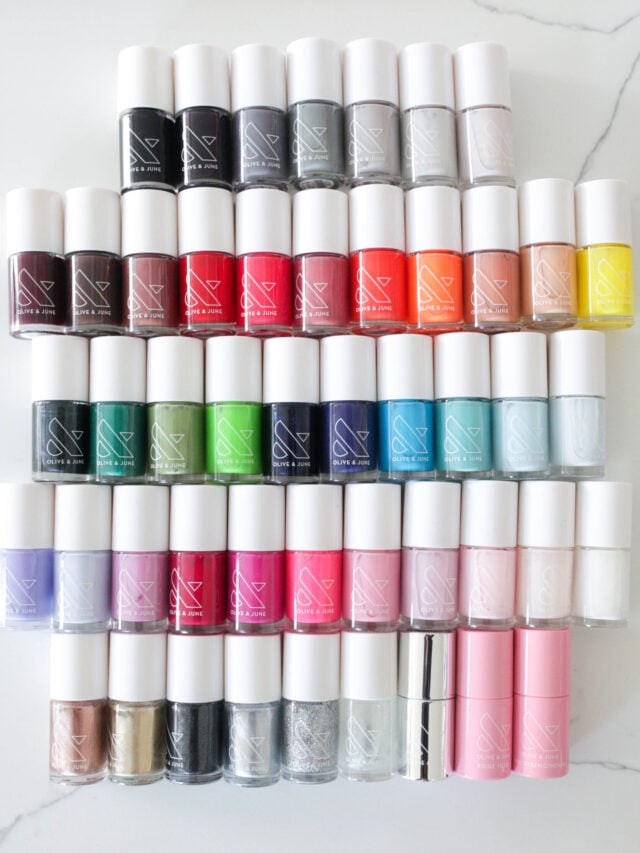 When you take off the top of the nail polish pod, you'll notice that the there's a small pad on the cover. This is what you'll use to remove any nail polish!
Always do this right before you polish your toes to remove any excess oil and dirt. Doing this will extend the life of your pedicure.
I applied 2 coats of polish and then the top coat and I was done!
The tools in this kit made it super easy to get an extra beautiful pedicure!
On my finger nails, this polish will last anywhere from 5-10 days. On my toes it will last like 3-4 weeks! It always looks so nice and truly lasts so long.
Some people say this will replace your gel manicures and pedicure. It's good but it's not quite that good! It's still a regular polish after all. I will say, it's way more gentle on your nails than gel or dip polish.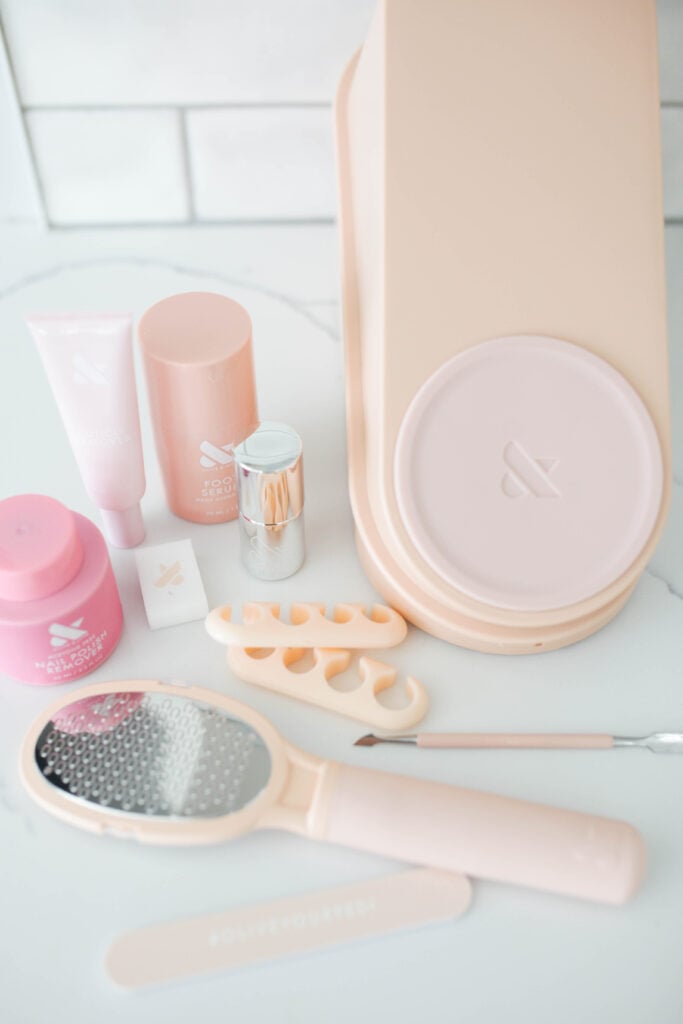 Olive & June History
You can read a ton of the history of Olive & June on this Olive & June review post but here's the cliffnotes version.
O&J was started by Sarah Gibson Tuttle after she left her finance job and moved to California for a better work/life balance. When she couldn't find a salon she loved she decided to make her own!
This is what launched the Olive & June brand back in 2013.
Foot Care Essentials Set
I can't talk about the pedi system without talking about the foot care essential set. If you're serious about your feet and making them look like you just walked out of a nail salon, you should probably look into this set. 😉
Inside you'll get a foot serum, heel balm, mani + pedi scrub and a foot file (same foot file in the kit).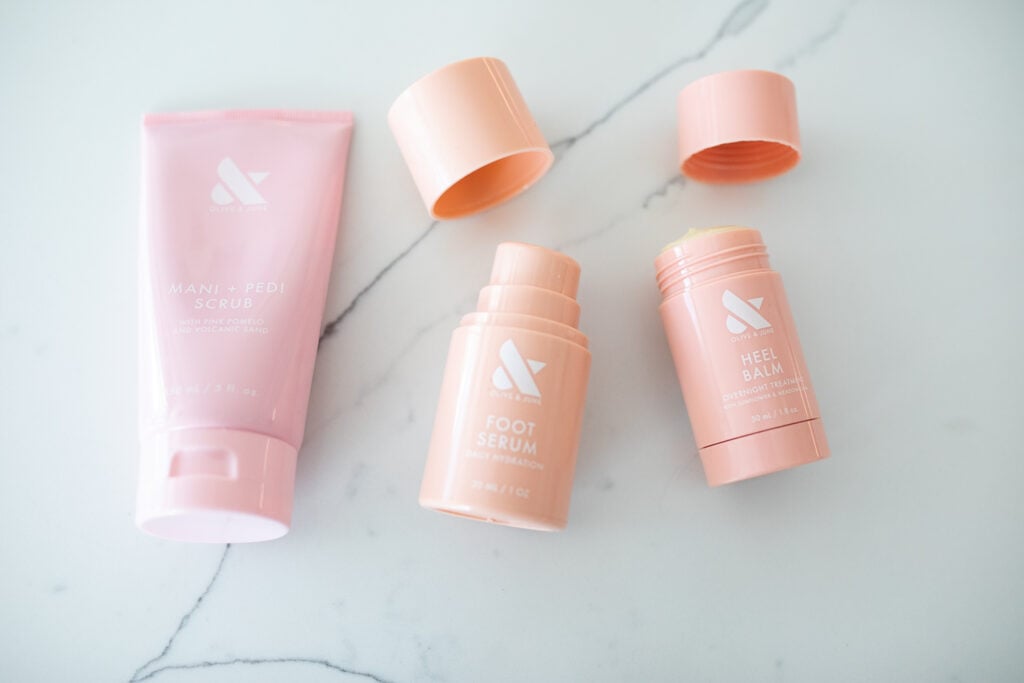 I'm not kidding when I say that all of these products are magic. I use the pedi scrub right before I get in the shower and give my feet (and hands) a good scrub. When I get out of the shower (or bath) I put on the heel balm. I also put on the heel balm when I go to bed.
I wish I would have taken a before and after picture of my heels because they looked so much better after using these products! If you deal with dry, cracked skin I highly recommend picking this up too.
Other Olive & June Products
There are tons of other great Olive & June Systems and Products!
Manicure System (find my Mani System review here)
Press On System (check out my Press On System review here!)
Cuticle Serum & Cuticle Balm – keep those nail beds hydrated and looking amazing with these products
Dry Drops – dries your nail polish in 80 seconds!
Poppy – this goes on to of the handle of your nail polish bottle. It helps you put on nail polish so much easier, especially when using your non-dominant hand
Tons and tons of nail polishes – they are constantly coming out with new polish colors every season
Olive & June Discount Code
Use this link and the code jenb20 for 20% off your order of any of their systems!
FAQ
Is the Olive and June kit worth it?
Yes! If you're serious about switching from salon pedicures to at home pedicures, this kit and the contents are 100% worth it.
Is Olive and June good for nails?
Yes. It's 15 free which means it is made without chemicals like without Dibutyl phthalate (DBP), Toluene, Formaldehyde, Formaldehyde resin, Camphor, Ethyl tosylamide and Xylene. Like all nail polish, too much of a good thing can be harmful though. You can also use the Nail Strengthening polish to strengthen your nails.
All in all, the Olive & June pedicure system is amazing! It provides you with all of the tools you need for a great at home pedicure. Getting the complete system is totally worth it, in my opinion.
With all things, a little practice goes a long way! Don't expect to have a perfect pedicure the first time. Practice, practice and practice some more and you'll soon master your DIY pedicure!
Don't forget! Use this link and the code jenb20 for 20% off your order of any Olive & June system!
Looking for nail ideas? Try these: