Three cheers for sales!! The Nordstrom Anniversary Sale is almost here! I know it can be super overwhelming to shop at so I'm doing all the hard work for you! If you're new to the Nordy Sale, you can find everything you need to know about the Nordstrom Anniversary Sale here.
I have tons of guides – baby products, fashion, shoes + boots, accessories + beauty and home – to help! Lat year my sister joined the fun and she's back for another round!
My sister is my polar opposite so I wanted her to share her top 10 picks from the Nordstrom Sale! (You can see us share graphic tees here and shorts here to get an idea of our body shapes, etc.)
We'll also be doing a try on over on Instagram so be sure to watch for that!
So without further ado, here is my sister's top 10 picks!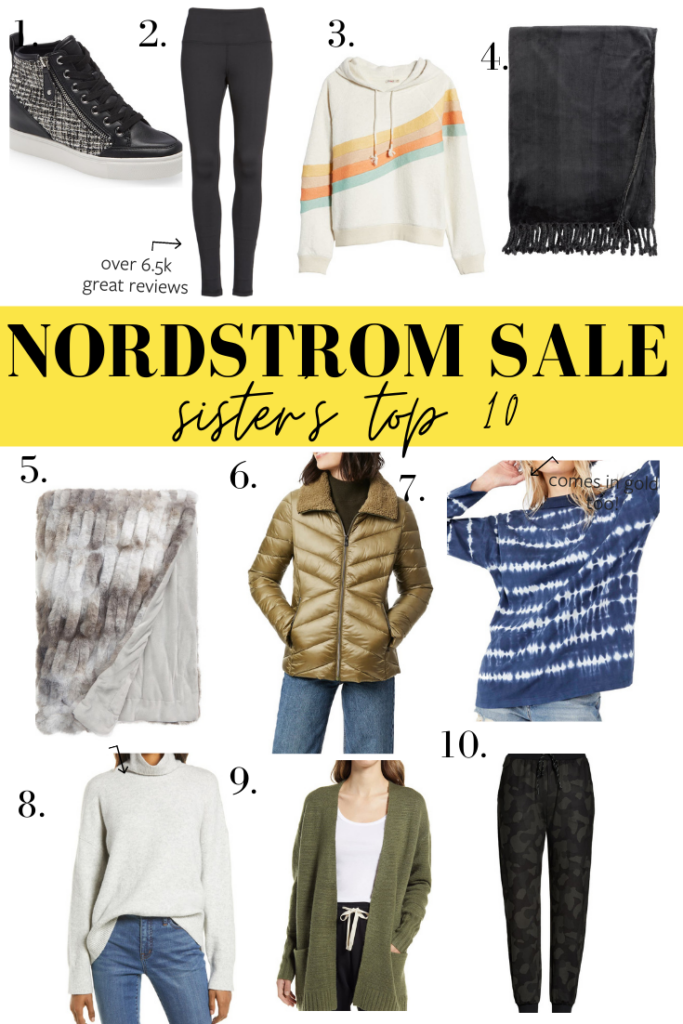 Please note, I do make a small commission if you shop using my links. I am so appreciative when you shop through my blog because it helps me be able to put out even more content on this blog! So thank you in advance for using my links!!
Sale Price: $89.95 After Sale: $59.90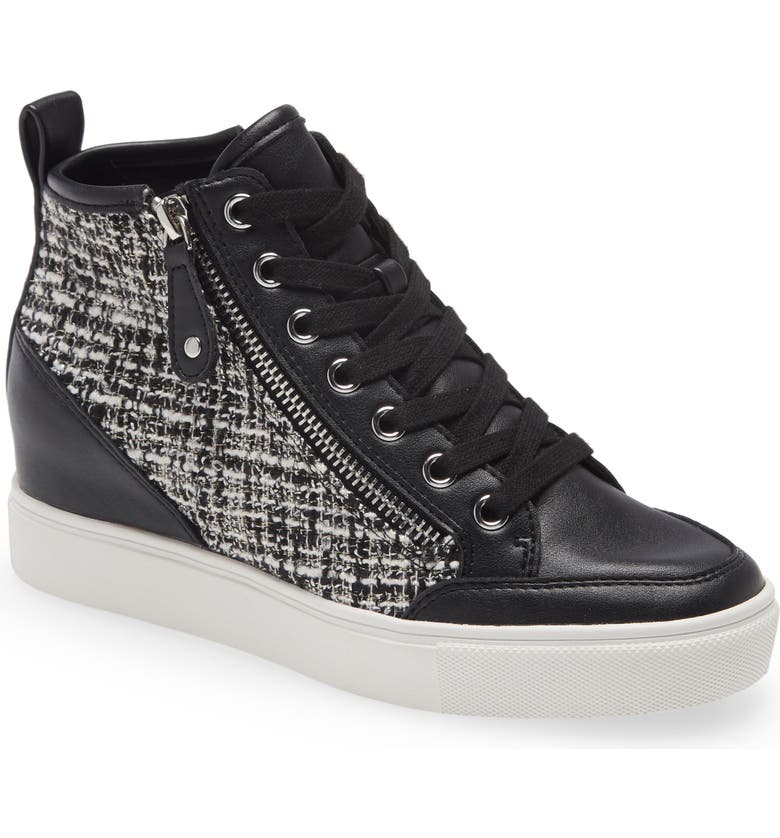 These wedge shoes are a fantastic mix between a sneaker and a bootie! These are perfect for fall and winter and come in three different colors.
Sale Price: $38.90 After Sale: $59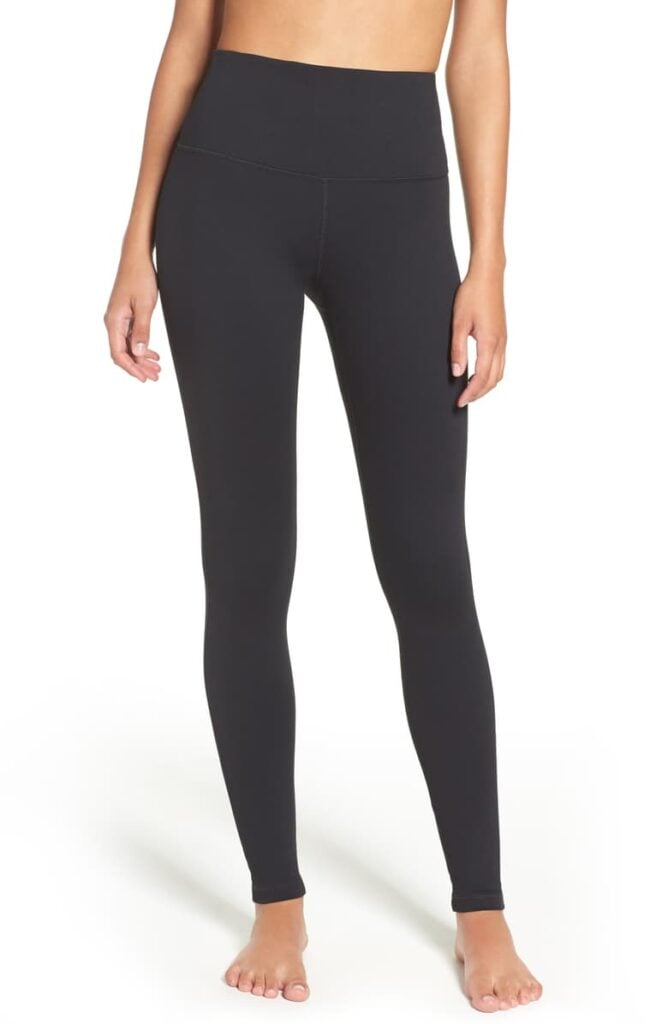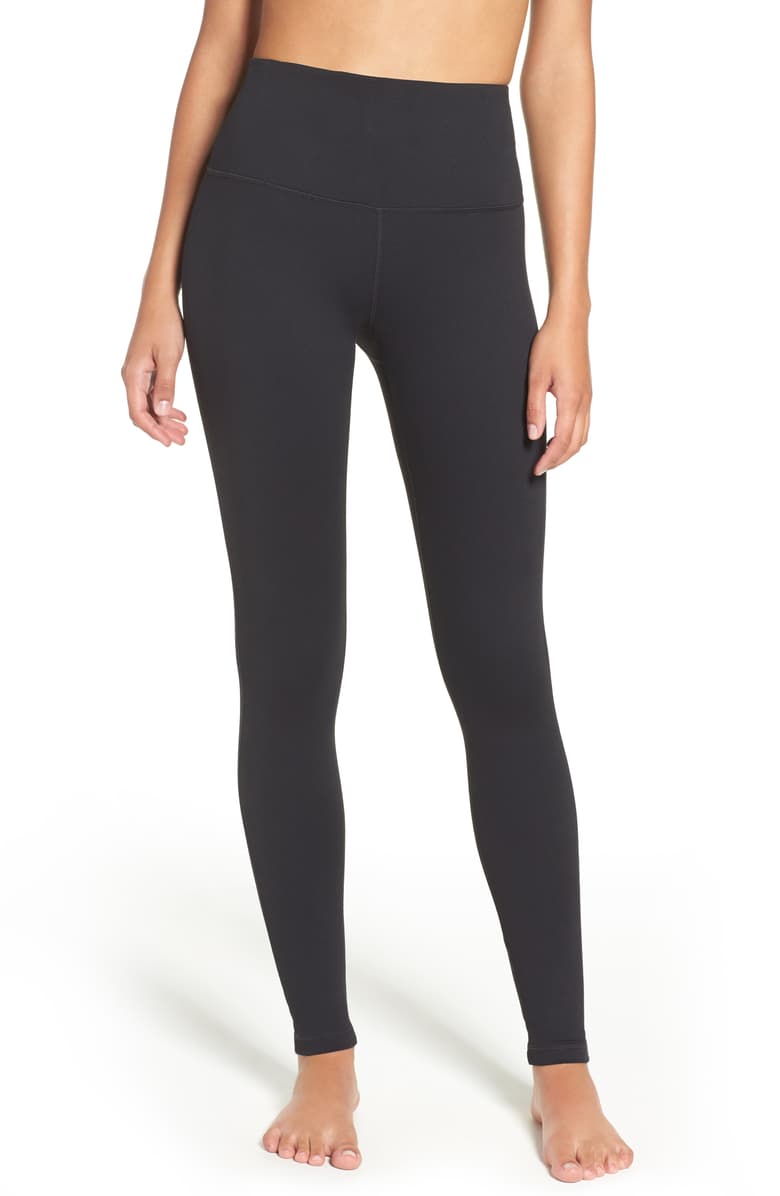 My favorite leggings! They don't slide down – ever! They are thick enough so you feel like you are wearing pants and you never have to worry about anything showing.
You really can't go wrong with these leggings. These are my go-to leggings – I love wearing them with tunic tops and long cardigans out and at home with a cozy sweatshirt. My daughter (Jen's 13 year old niece) will be getting her own pair this year!
Sale Price: $89.90 After Sale: $148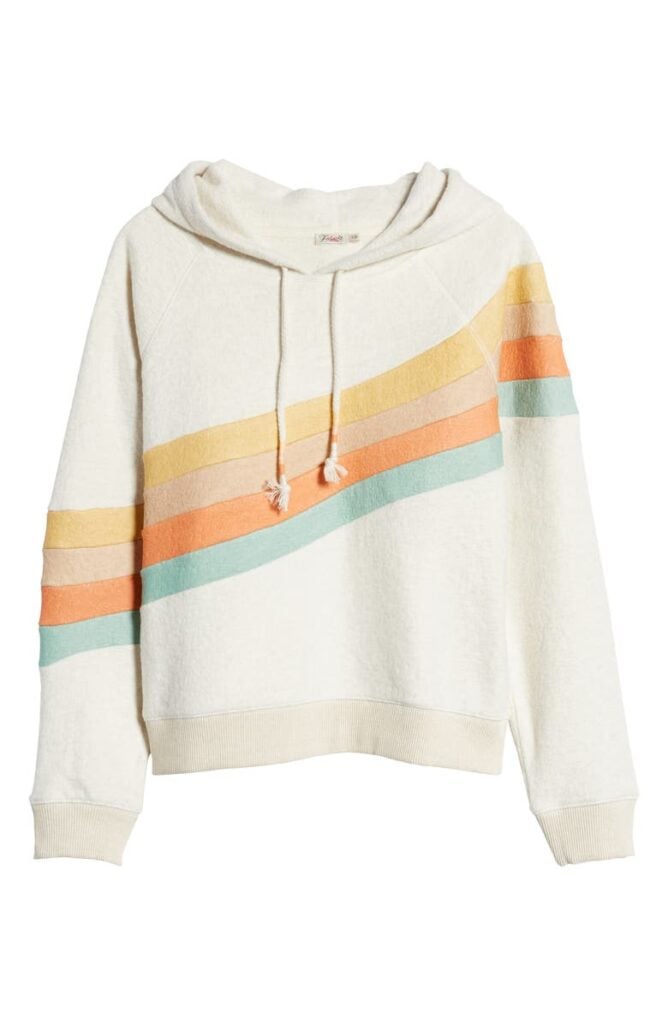 This is a bit more than I normally spend on a sweatshirt but at almost 40% off this is a great deal! This vintage looking sweatshirt is perfect for hanging out with friends or family over the weekend.
The simple stripes give a "sweatshirt and jeans" outfit a nice upgrade while still allowing you to be warm and cozy.
Sale Price: $32.90 After Sale: $49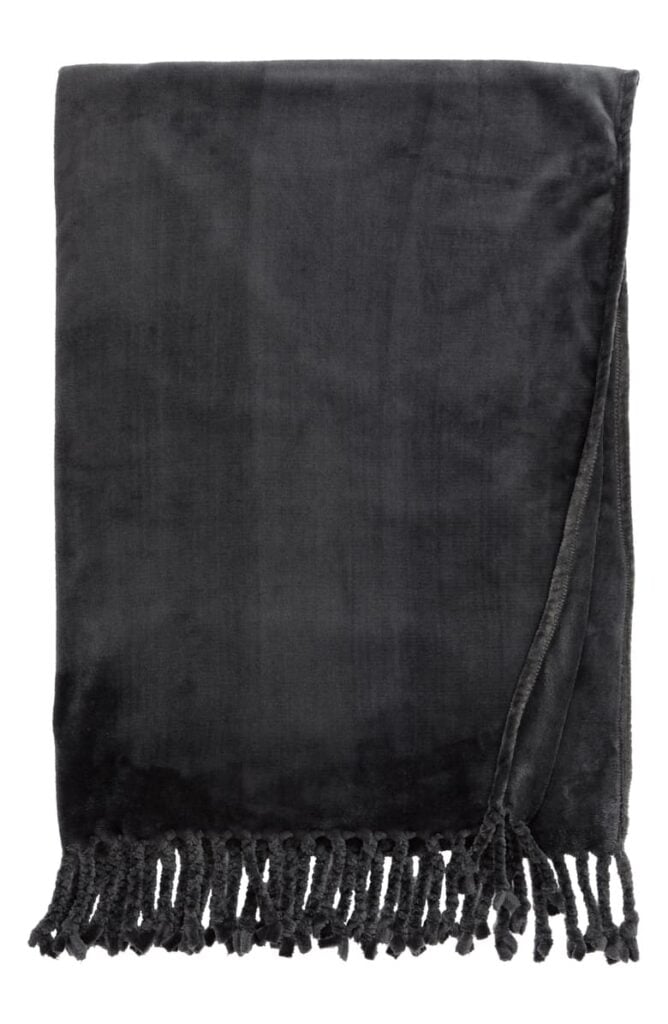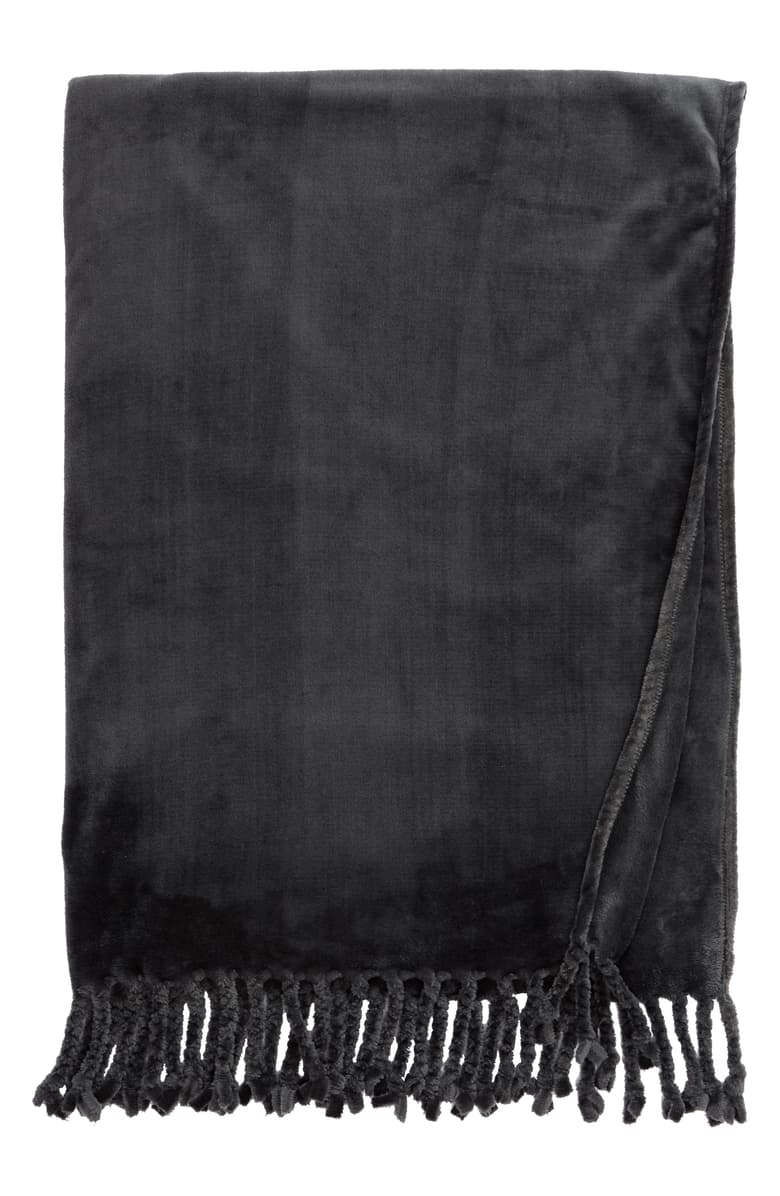 I have two of the original size Bliss blankets that I have bought at the last couple of Nordstrom Anniversary sales. I am extremely tempted to purchase this oversize one this year!
These blankets have held up so well – we use them at least 9 months of the year almost daily. Comes in five colors.
Sale Price: $44.90 After Sale: $69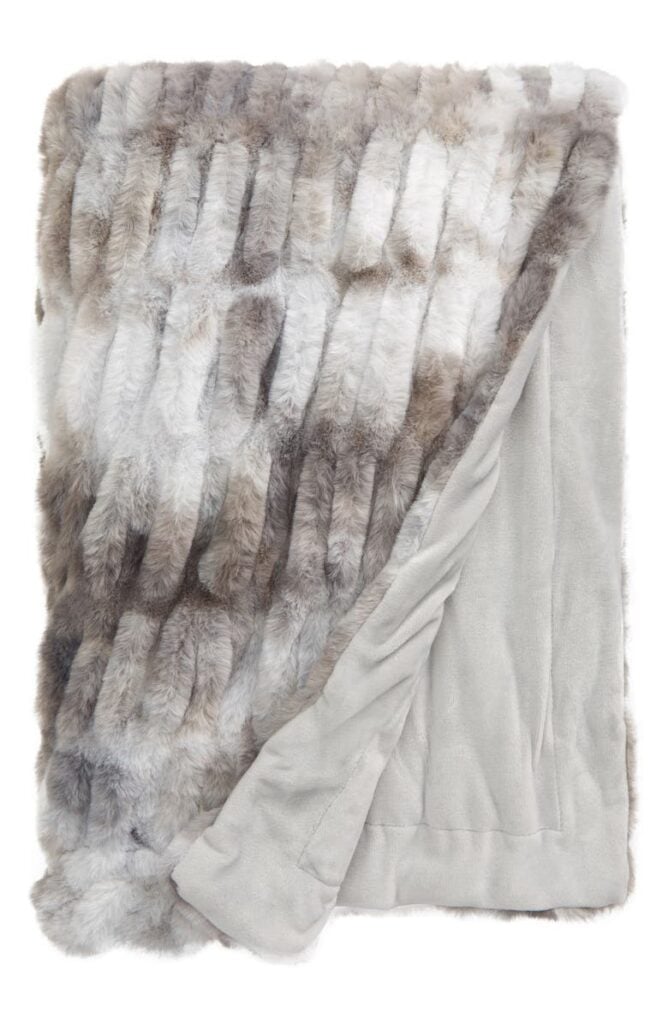 I currently own one faux fur blanket that is on its last legs, so I am planning on purchasing this one! I love having a fur blanket in my living room – it adds a cozy texture and is fantastic to cuddle with in the mornings with a cup of coffee! This particular blanket comes in all white and brown/white.
Sale Price: $109.90 After Sale: $200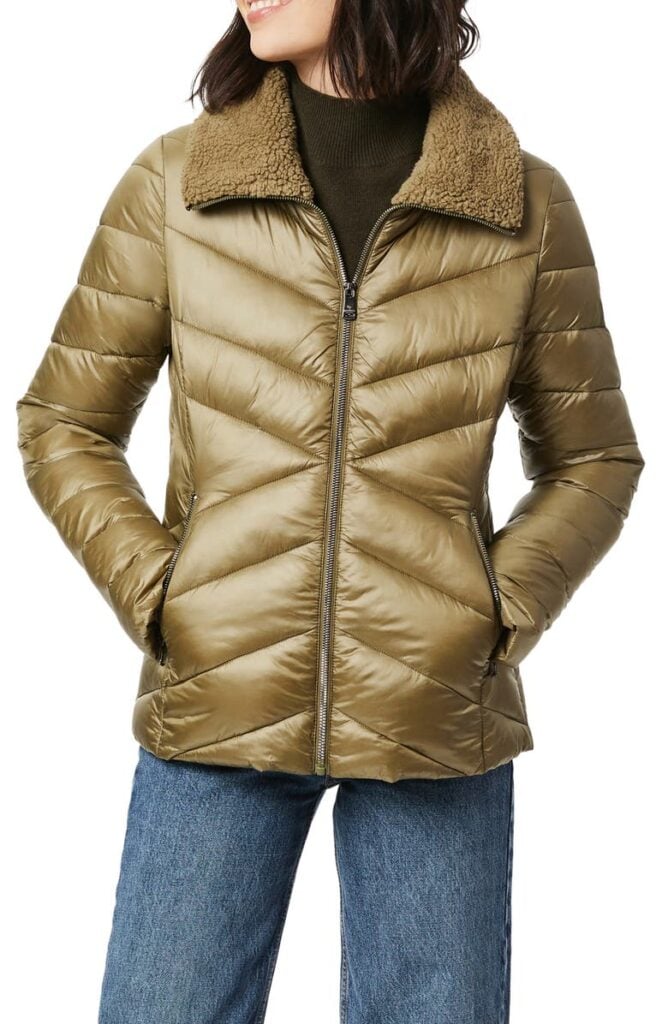 I have a thing for coats, and this one is so cute! I love that there is fleece around the collar to make it warmer during chilly days.
The quilted puffer look is classic and the pockets are great for throwing a pair of gloves. This seems like a perfect coat to wear when you want to be warm but you don't quite need your winter parka yet.
Sale Price: $38.90 After Sale: $58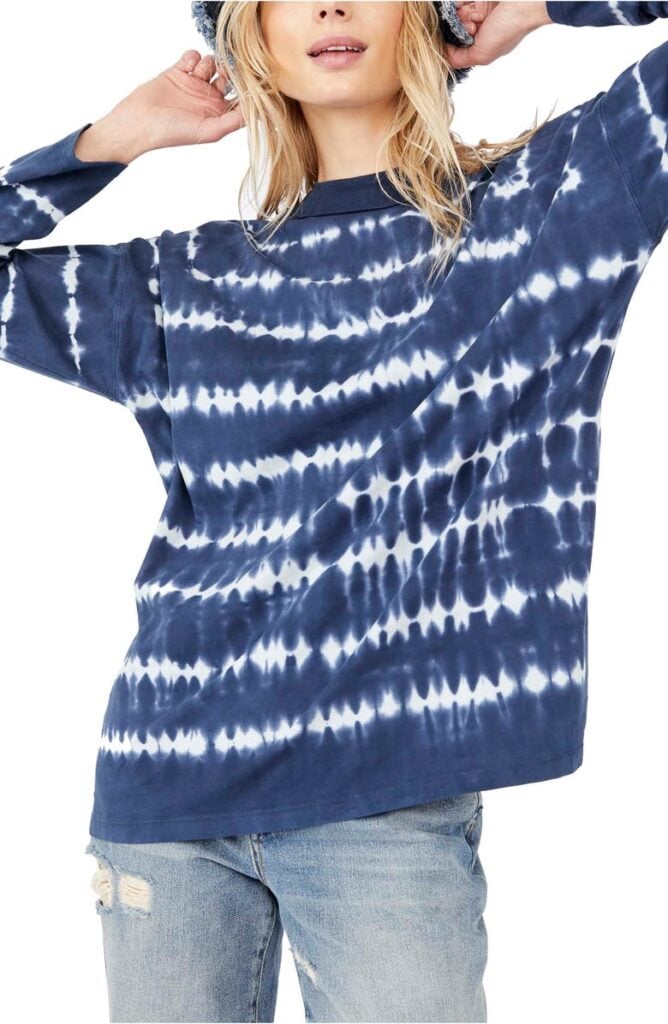 Tie dye is in right now, and there is no better time to jump on a trend than during a sale! If you are wanting to try the tie dye look this shirt is perfect.
I love that it is basically a twist on a classic striped tee shirt. This shirt also comes in a yellow "stripe" and a blue/white/pink splotchy tie dye look.
Sale Price: $39.90 After Sale: $59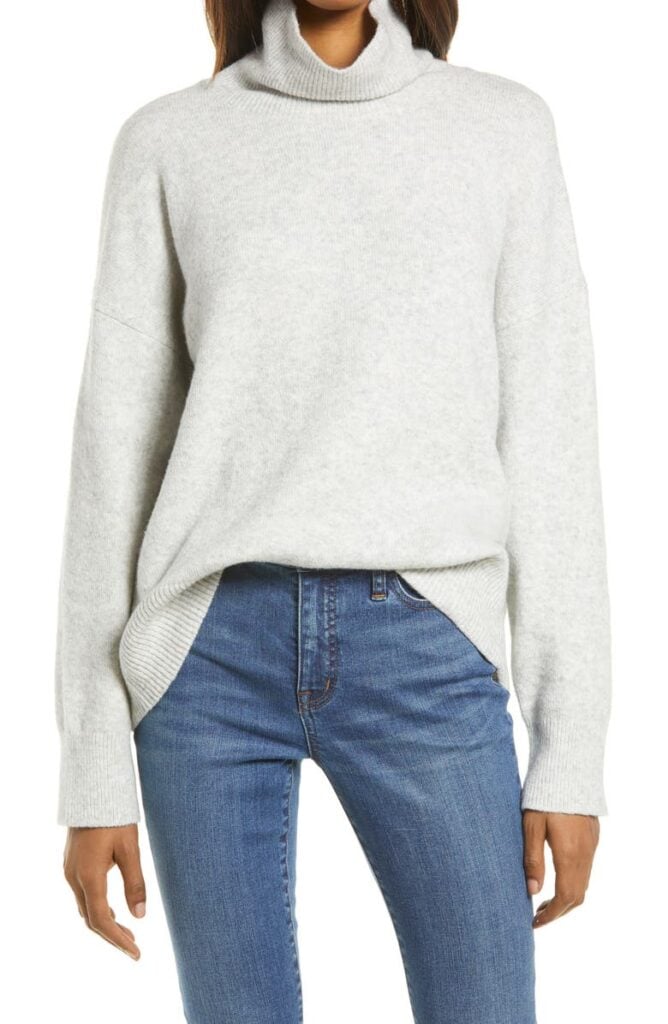 This turtleneck sweater hits all the checkmarks: It is classy, cozy, comfortable, and timeless. This sweater would be so easy to dress up with a pair of black jeans and some jewelry….or wear it casually for a day with the family!
Sale Price: $45.90 After Sale: $69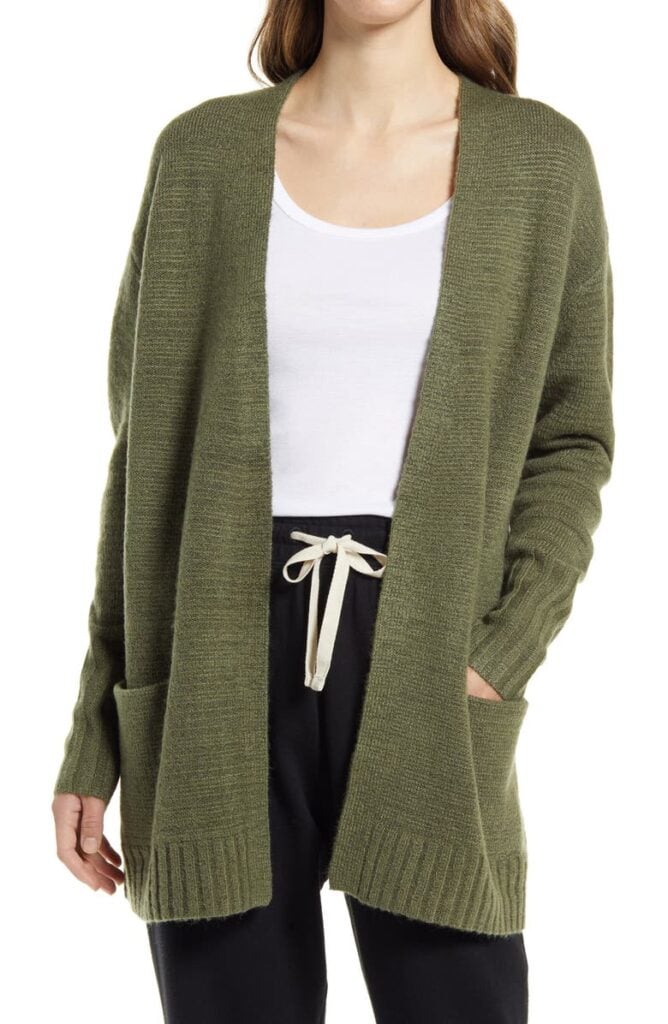 I have been on the lookout for a new olive cardigan and this is one I am going to try! I love cardigans with pockets and this one seems like a great option. I like the ribbing on the bottom and the sleeves – and the oversize look is perfect for wearing with my Zella leggings or skinny jeans. Comes in 6 colors.
Sale Price: $38.90 After Sale: $59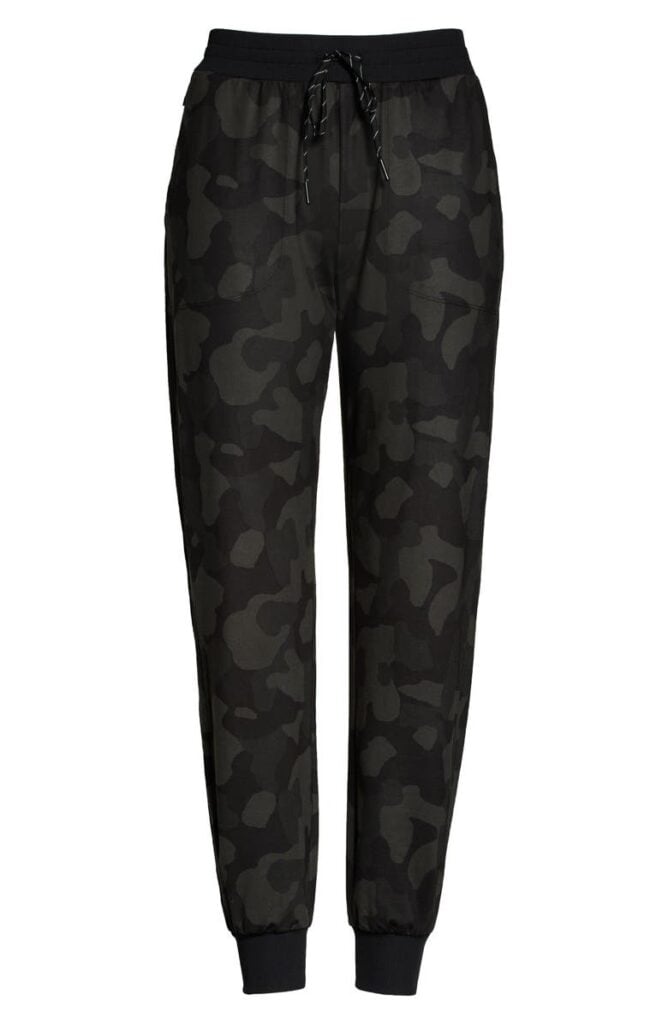 I have been eyeing Zella joggers for about two years and haven't pulled the trigger yet – but I think this year is the year I buy some! I love the very light gray/black camouflage print and that they have pockets. These will be in my cart for sure.
Thanks for shopping my Nordstrom Anniversary Sale Shoes, Accessories + Beauty picks! Now check out one of these guides for even more great sales!
Complete List of Nordstrom Anniversary Sale Guides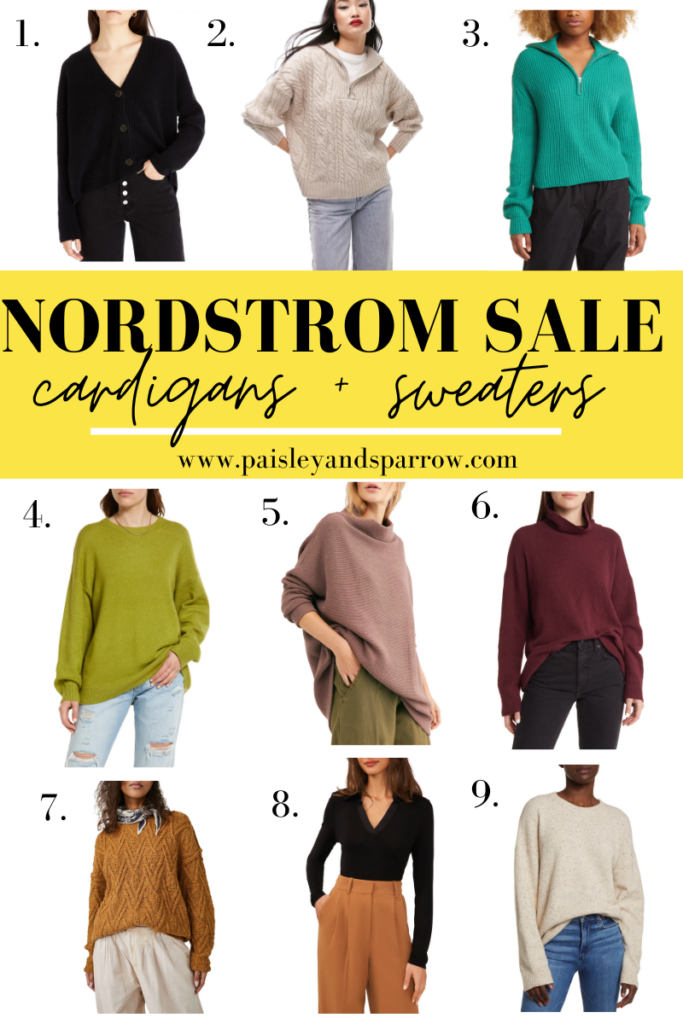 ---
Looking for t-shirts, long sleeves and button ups? Here's the best staples and trendy items to check out!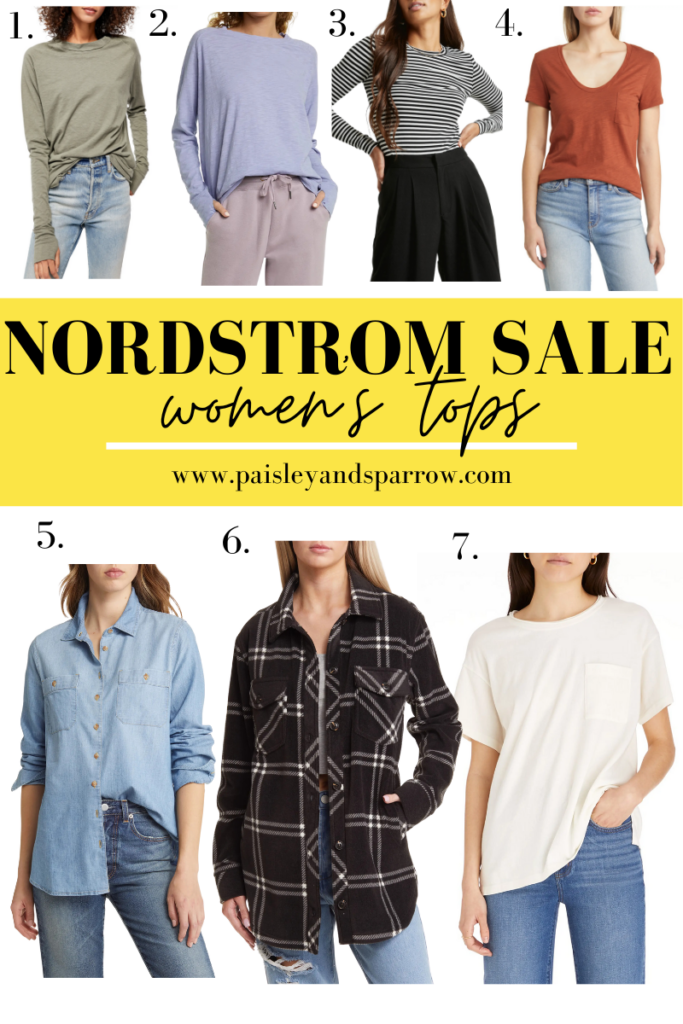 ---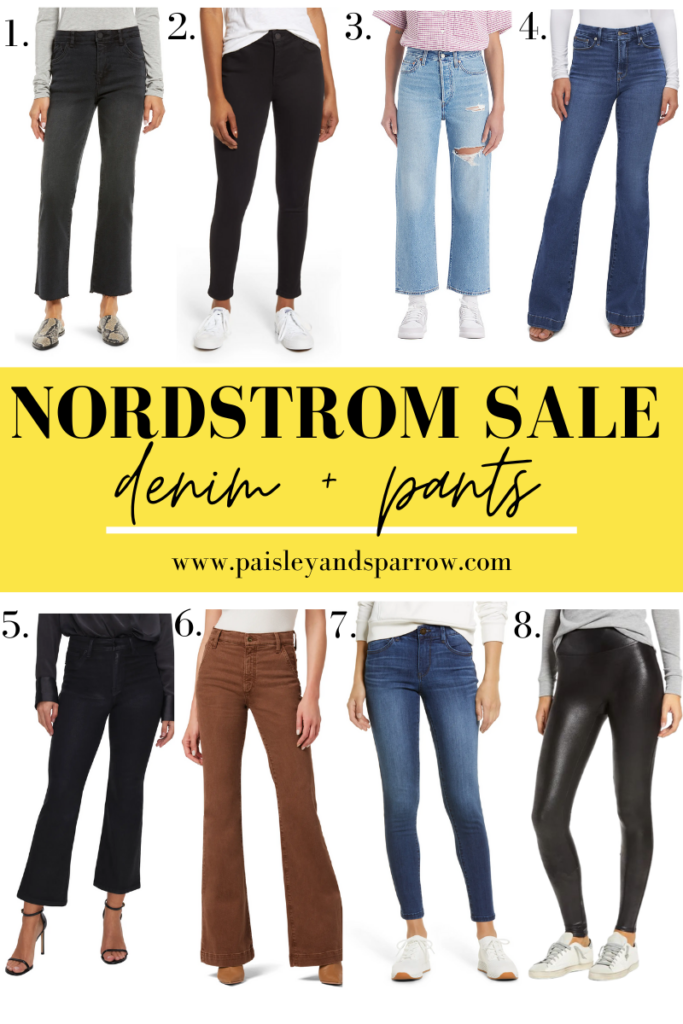 SPANX (which rarely goes on sale), Good American, and so much more. Now is the time to stock up on these staples in your closet.
---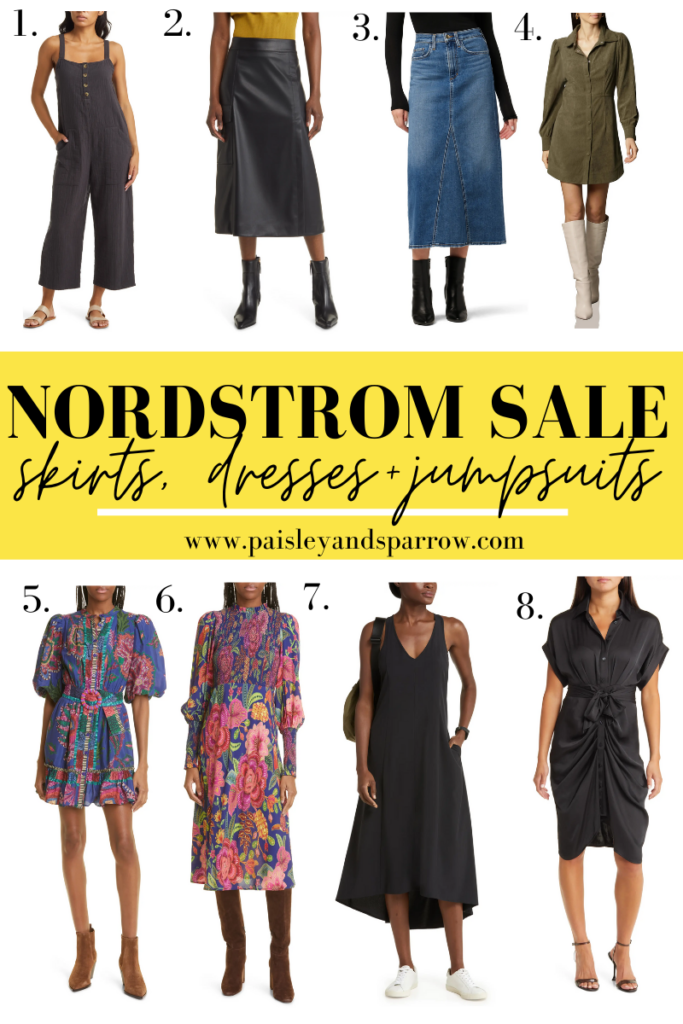 ---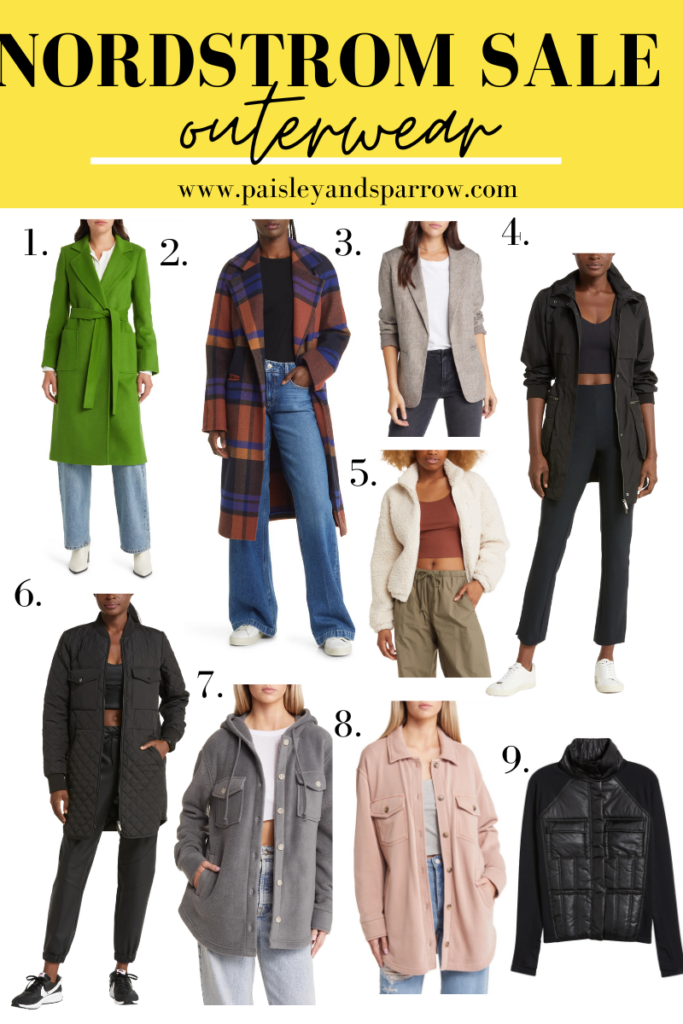 Do you need a new winter jacket? Or just a fun new fall coat to make the transition to cooler weather a bit more enjoyable. Whatever it is, there's tons of options when it comes to jackets and coats!
---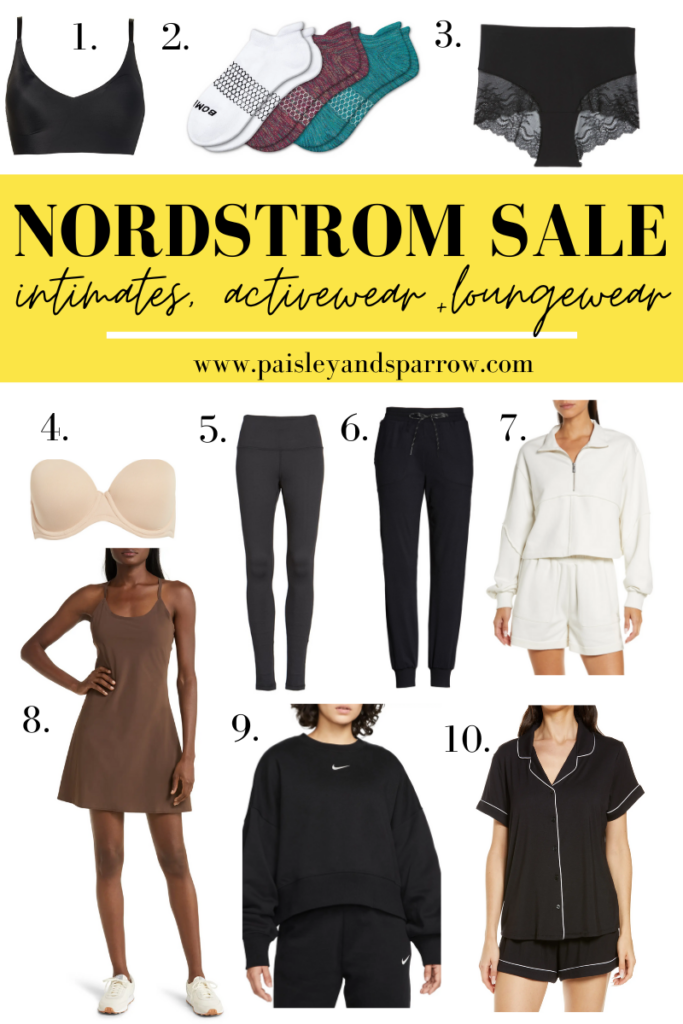 ---
---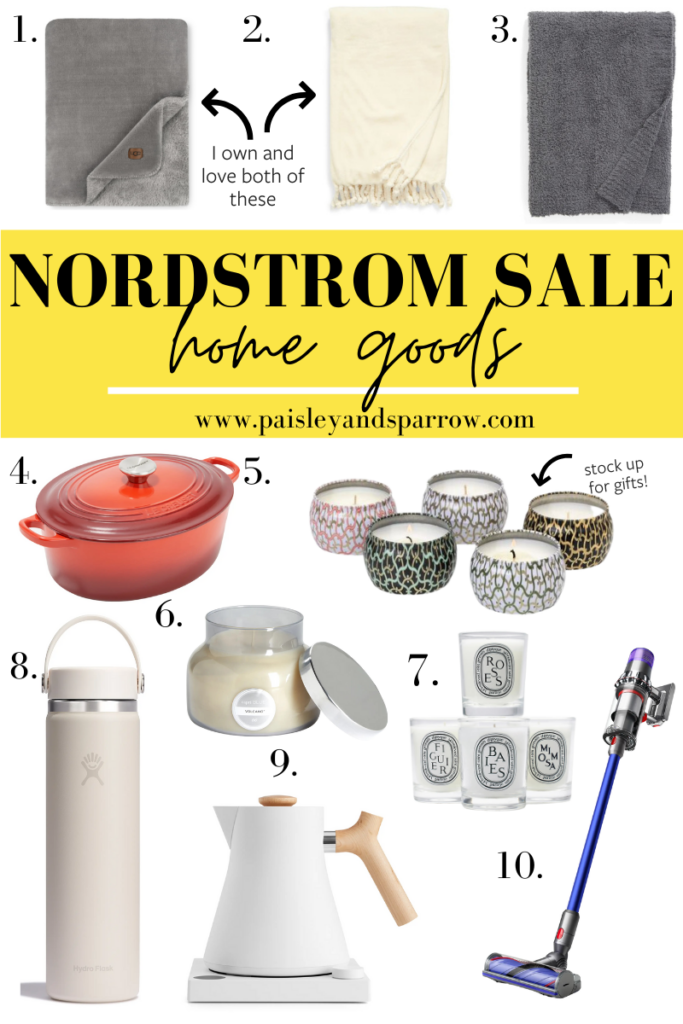 I love to stock up on blankets, candles and other gift items to prep me for the holiday season. There's always great finds on my favorite kitchen, decor and bath items!
---
Women's Boots, Booties & Heels
If you don't get a pair of booties, you did the Nordstrom Anniversary Sale wrong. I kid, I kid, but between brands like Timberland, Blondo and Steve Madden, there's so many great options!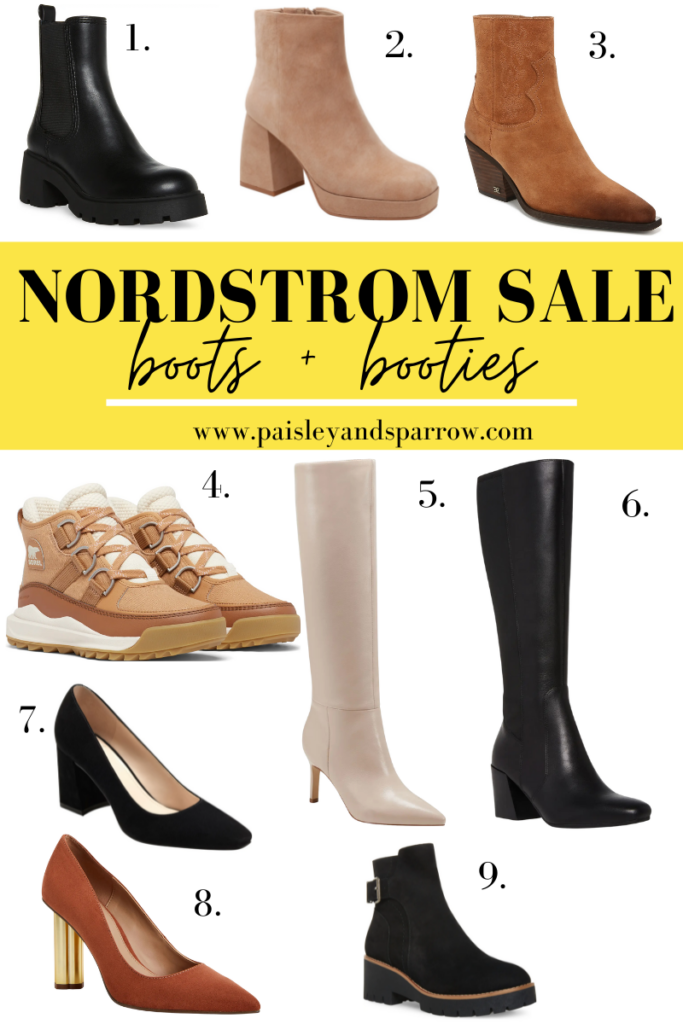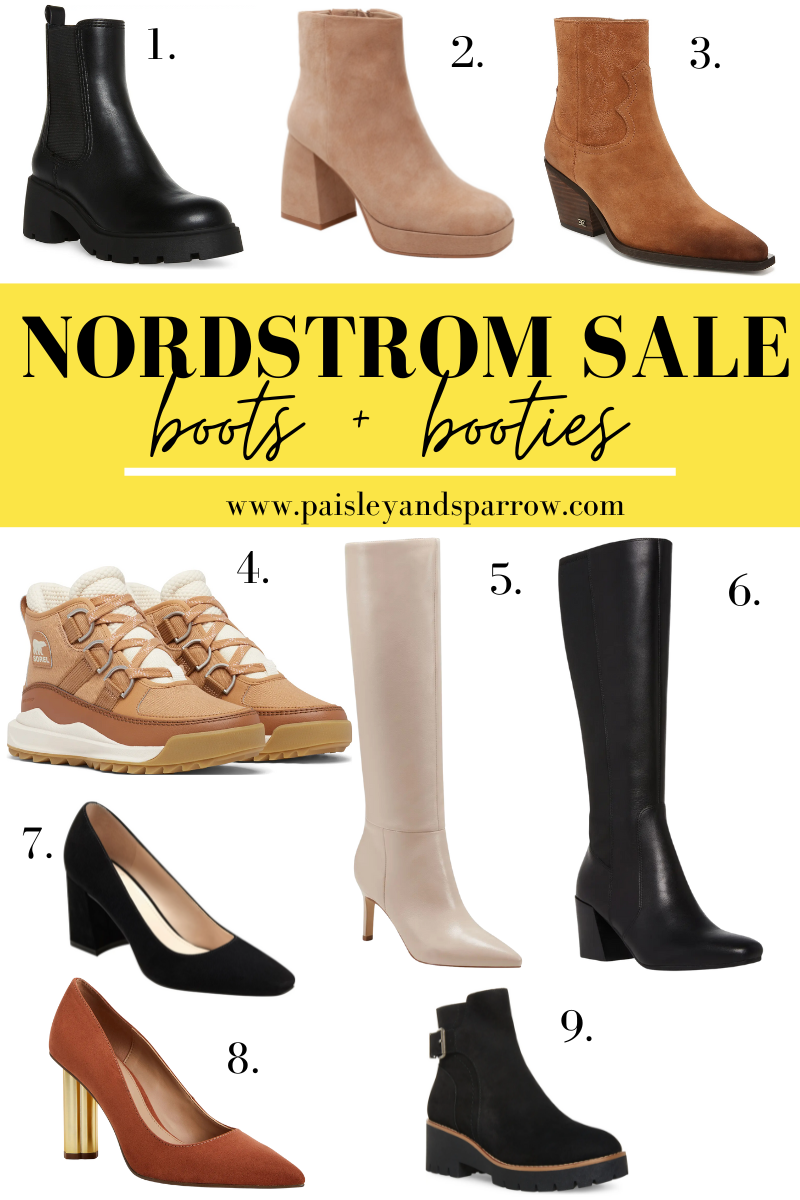 ---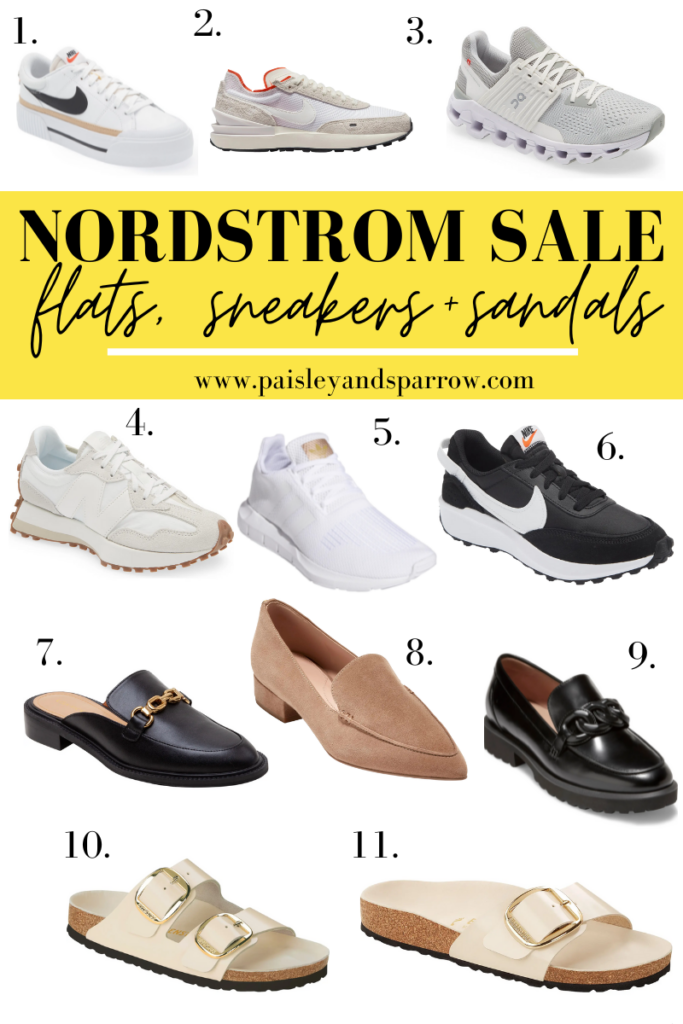 I always buy quite a few shoes during the Anniversary Sale because the deals are so great! And let's be real, how often do you see brands like Nike on sale?
---
Hats, jewelry and bags, oh my! Here's some of the best accessories to choose from.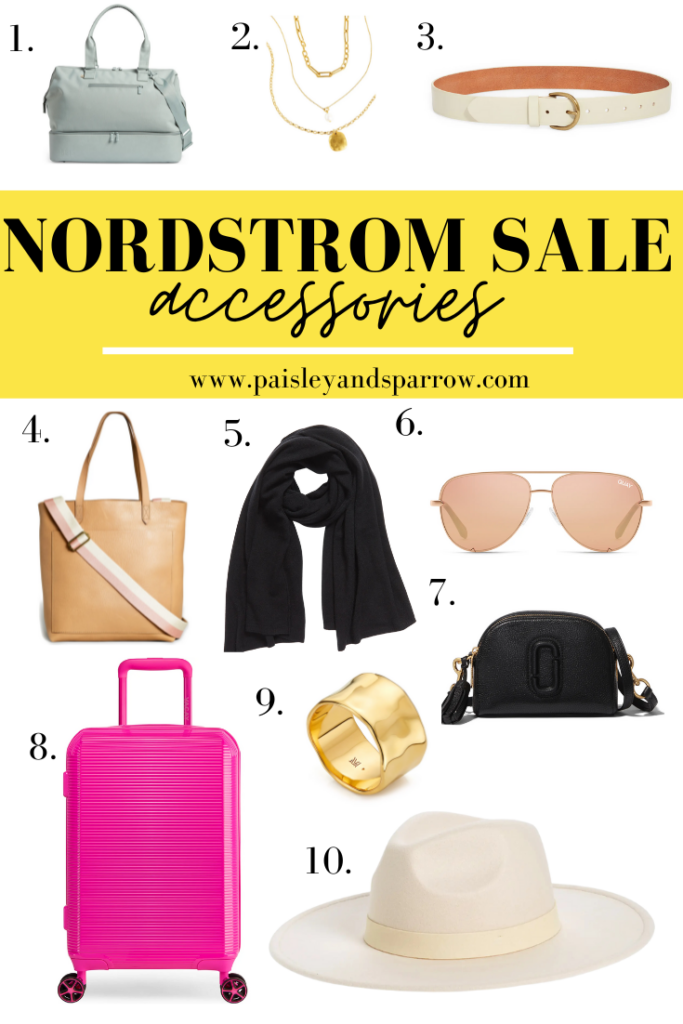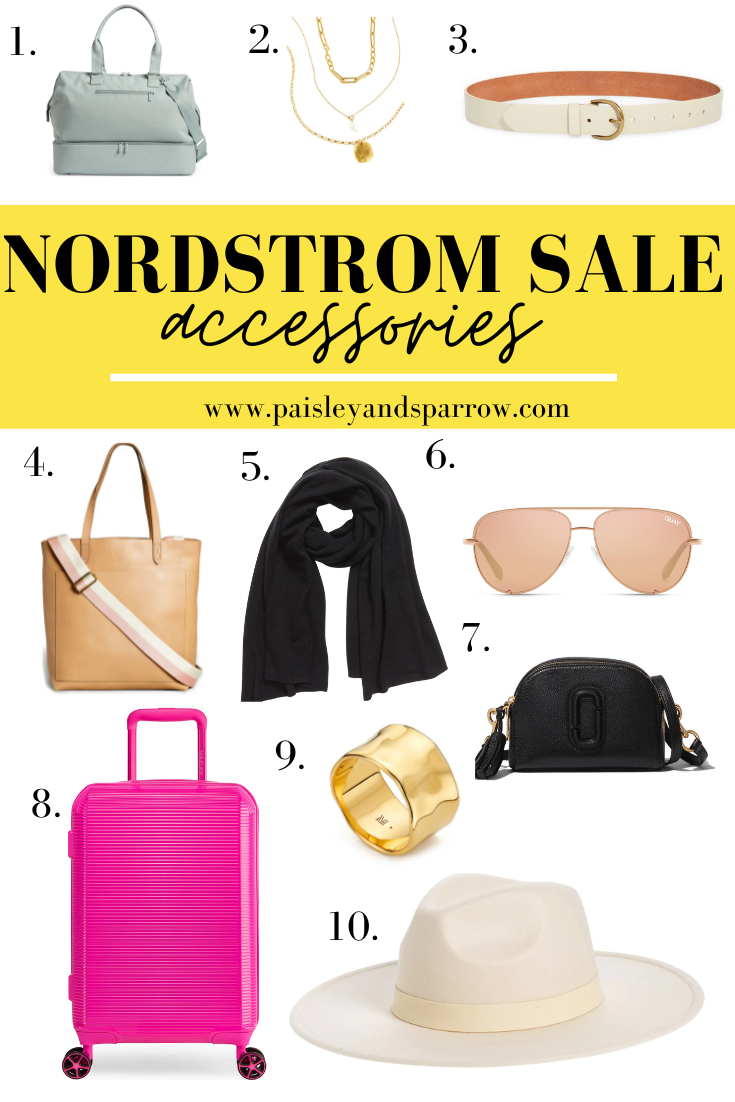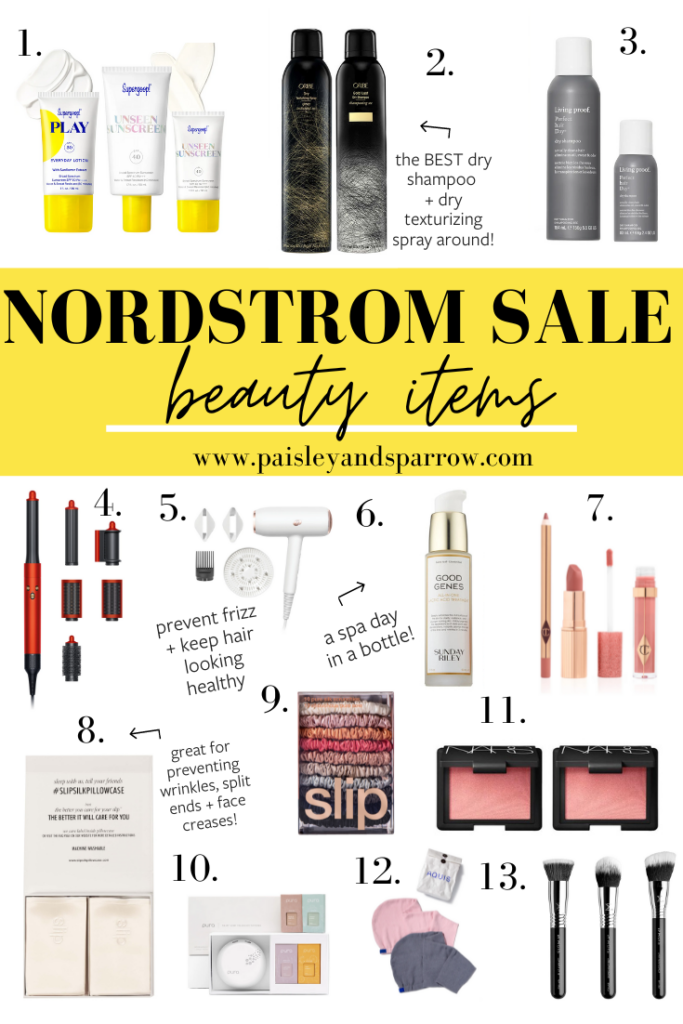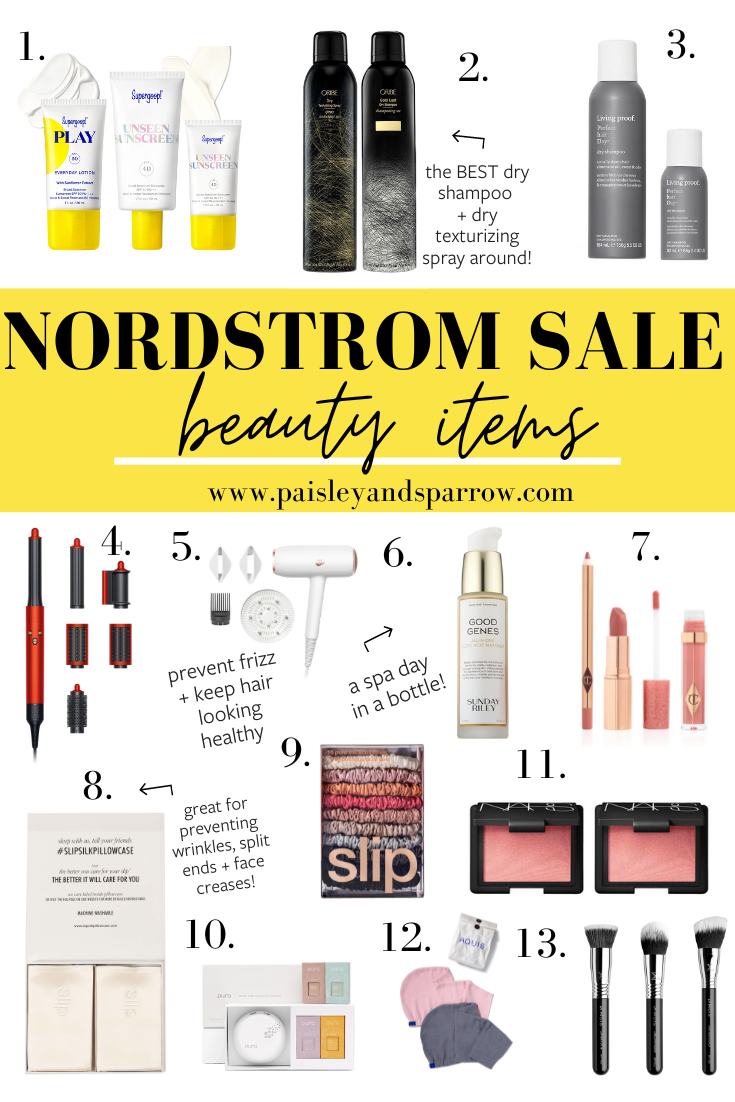 You can never go wrong with brands like T3, Oribe, Dyson, Slip, La Mer, Charlotte Tilbury and Nars. Stock up and be glad you did throughout the year.
---
We all know baby items aren't cheap and the need is always there! From Uppababy strollers to highchairs and shoes, there's tons of great deals on baby items! Many of these baby products rarely go on sale.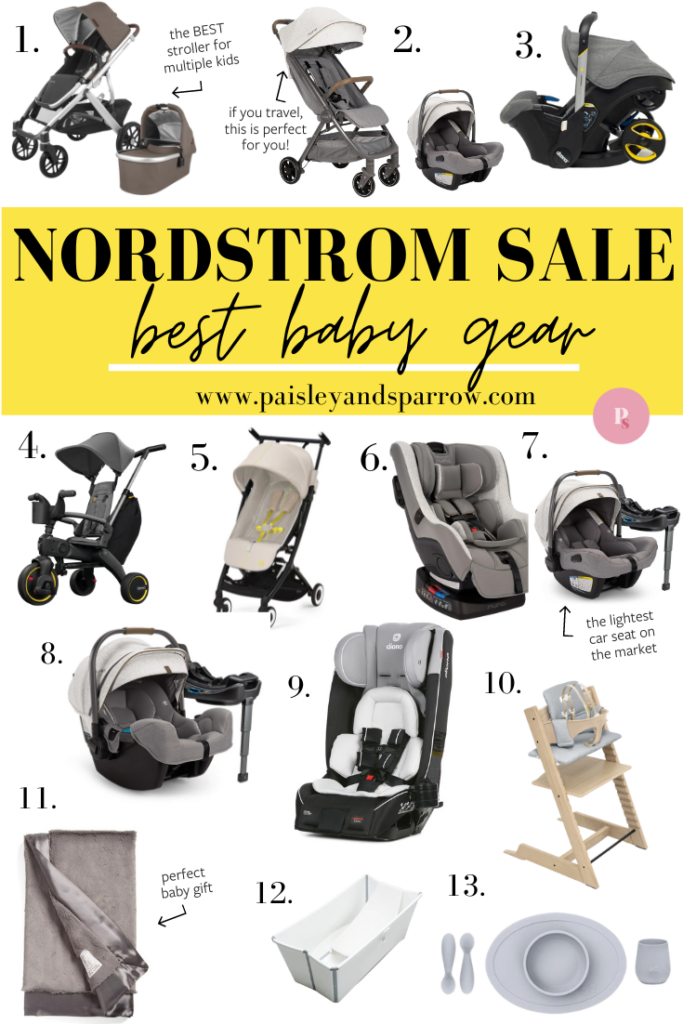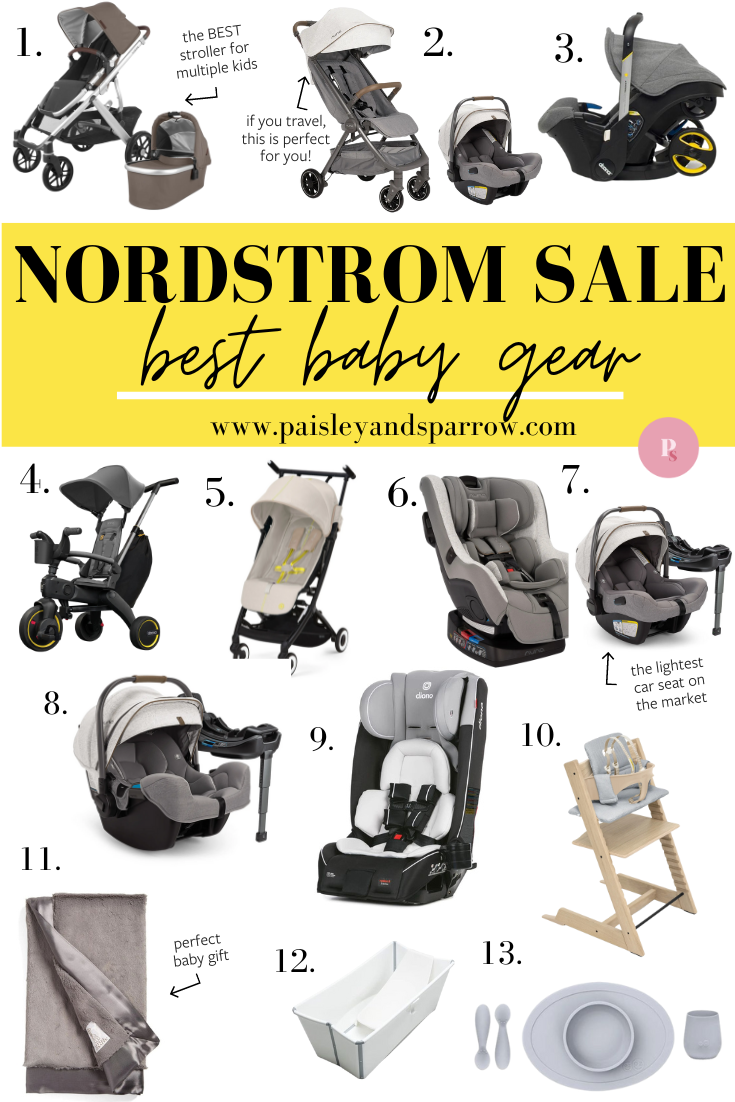 ---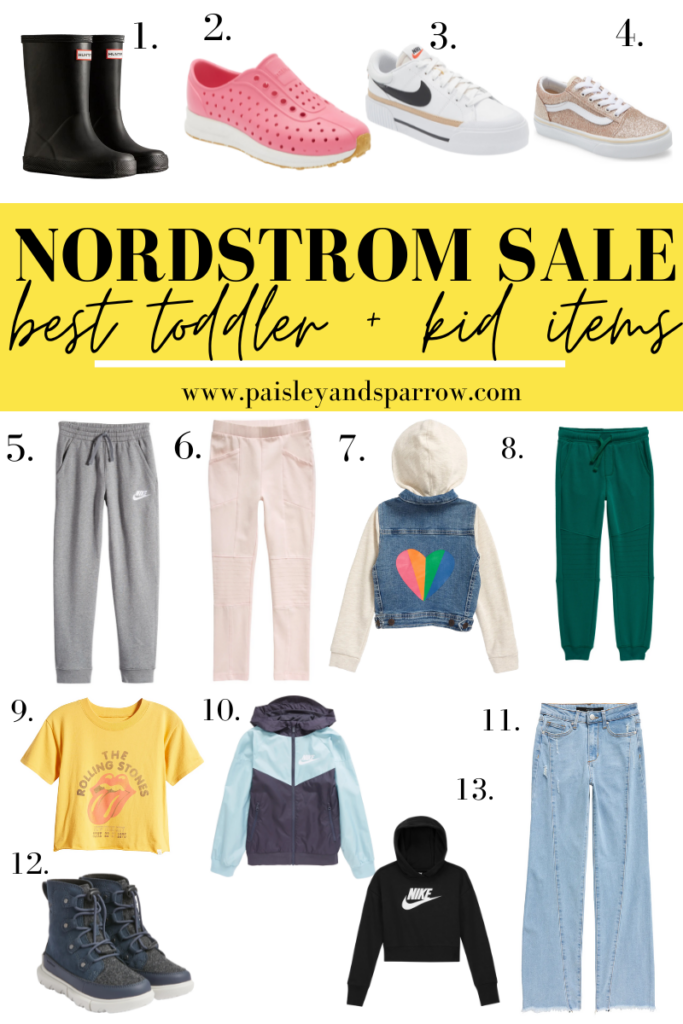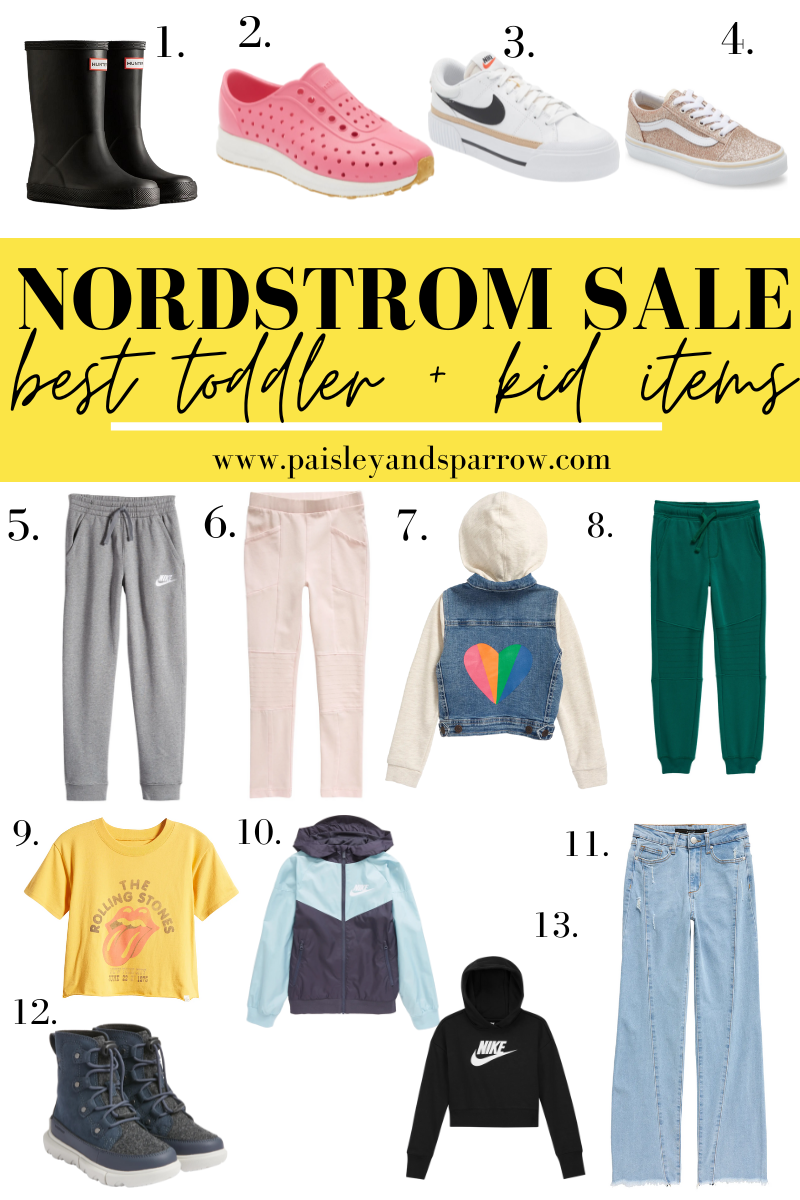 Like babies, toddlers and kids are always growing and needing new items! I always pick up some new clothes and outerwear for my kids during this time.
Men's Guide
Men like to shop too! Here's the ultimate guide for guys. Everything has been hand picked my (very fashionable) husband!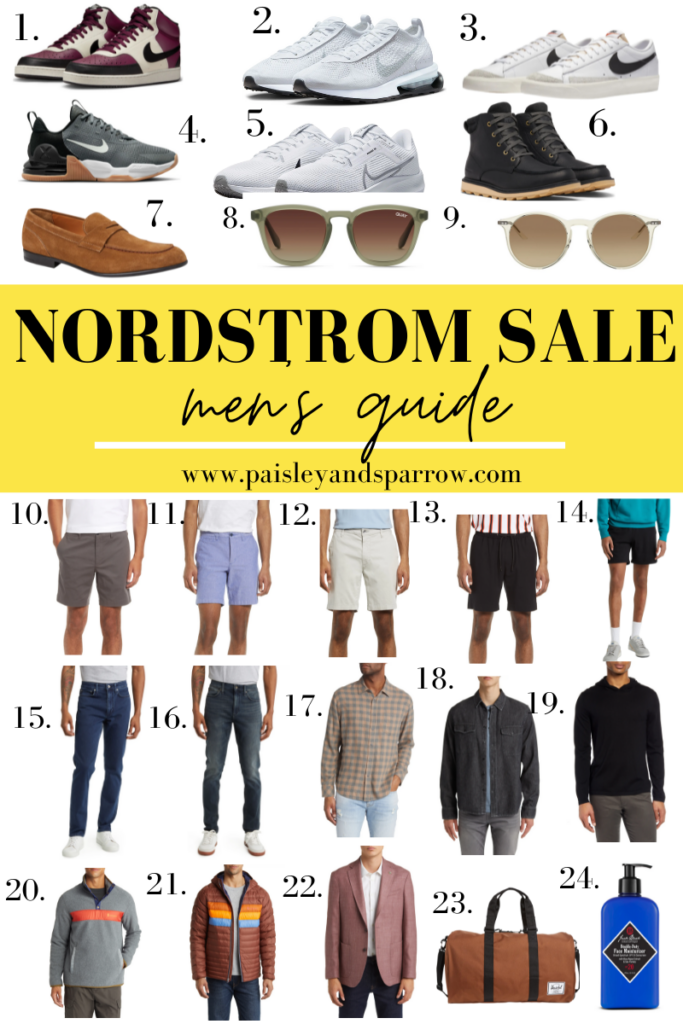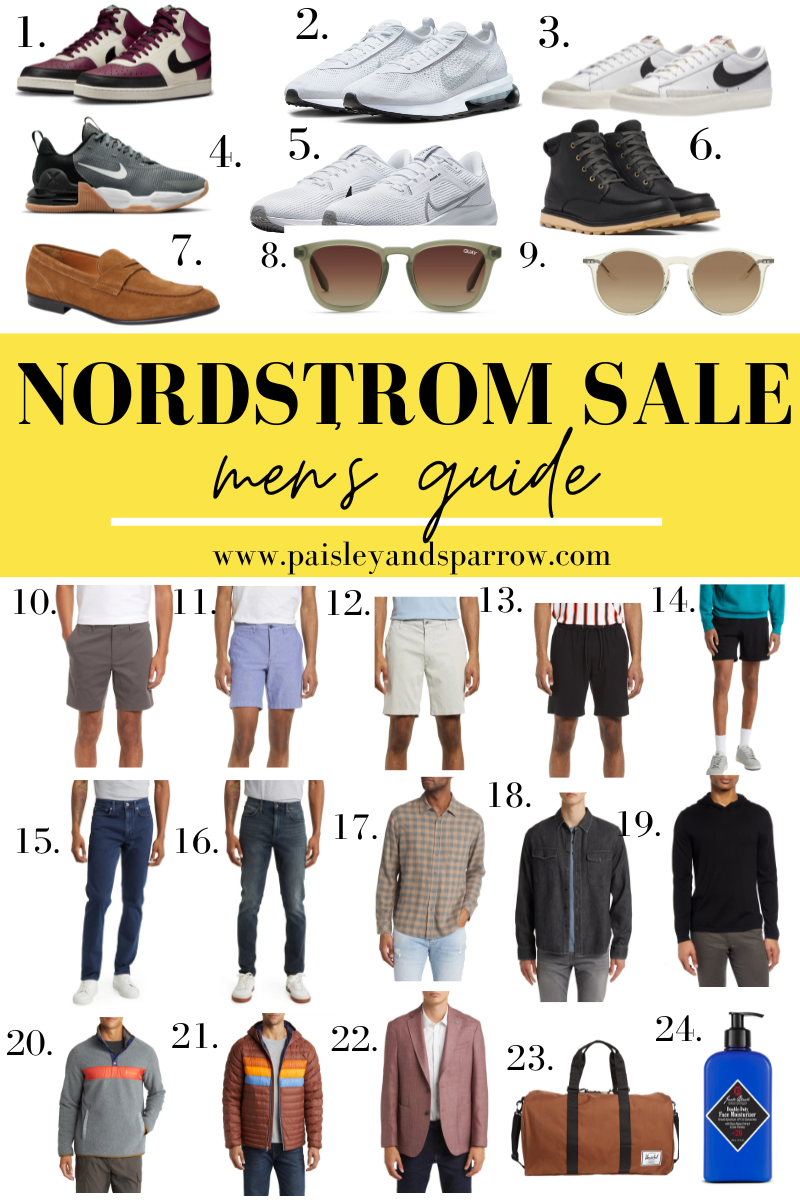 Thanks so much for reading and sharing!