The Nordstrom Sale is finally here! I know it can be super overwhelming to shop at so I'm doing all the hard work for you! If you're new to the Nordstrom Sale, you can find everything you need to know about the Nordstrom Anniversary Sale here.
This post is all about shoes and boots! I've rounded up the best sneakers, booties, flats, sandals and more.
New to the Nordstrom sale is Birkenstocks! Yes you heard that right. I'm so excited! Those will likely sell out quick so be sure to shop those first.
There's also the classics like Blondo, Marc Fisher, Ugg and Sorel in the boots and Nikes, On Cloud, Adidas and New Balance in the sneaker section. Tons of great brands to choose from!
I've done literal hours of research combing through every single item on sale finding items I personally love and some that I plan to buy (or already own) so you don't have to!
The Best Nordstrom Sale Shoes
Let's get to it!
Please note, I do make a small commission if you shop using my links. I am so appreciative when you shop through my blog because it helps me be able to put out even more content on this blog! So thank you in advance for using my links!!
Nordstrom Sale Booties + Boots + Heels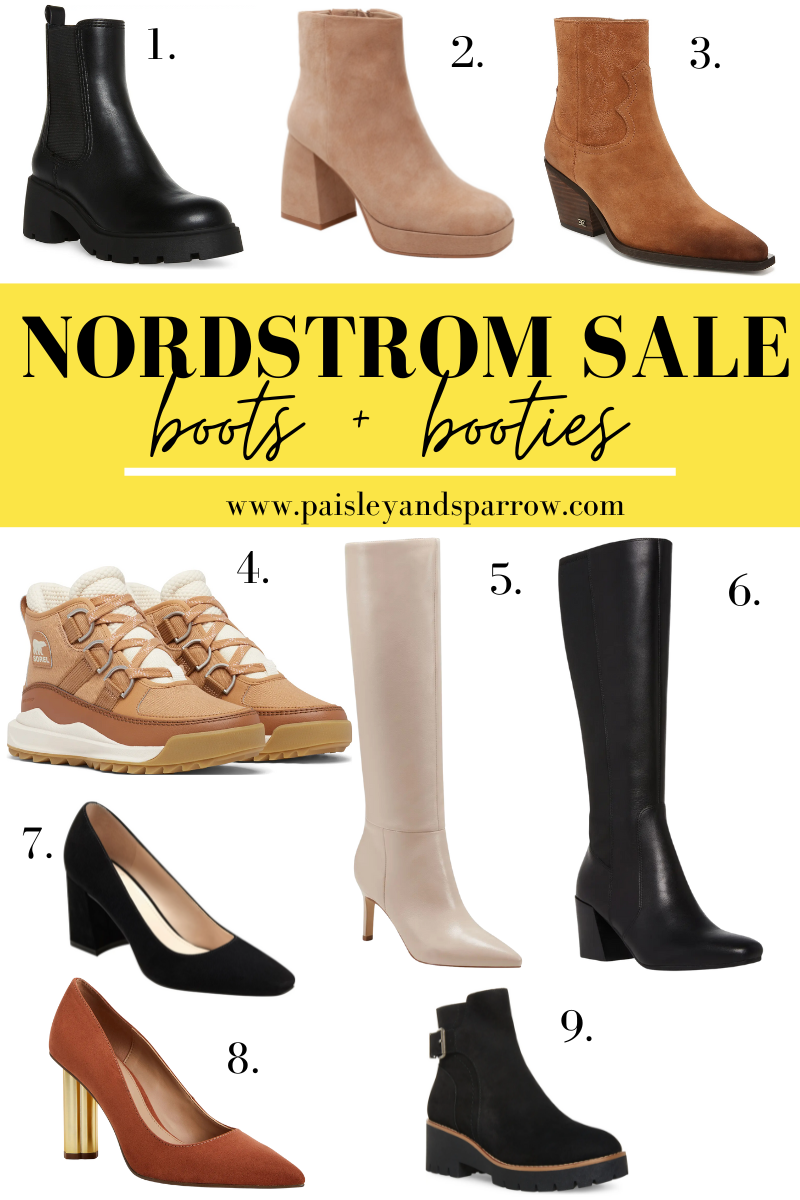 1. Steve Madden Haylan Chelsea Boot
Sale: $79.99
After Sale: $119.95
Every gal needs a pair of Chelsea boots. These come in a few different colors.
Sale: $64.99
After Sale: $95
I own so many different pairs of Lisa Vicky shoes and love them all! These boots have a square toe and chunky heel and come in 4 different colors.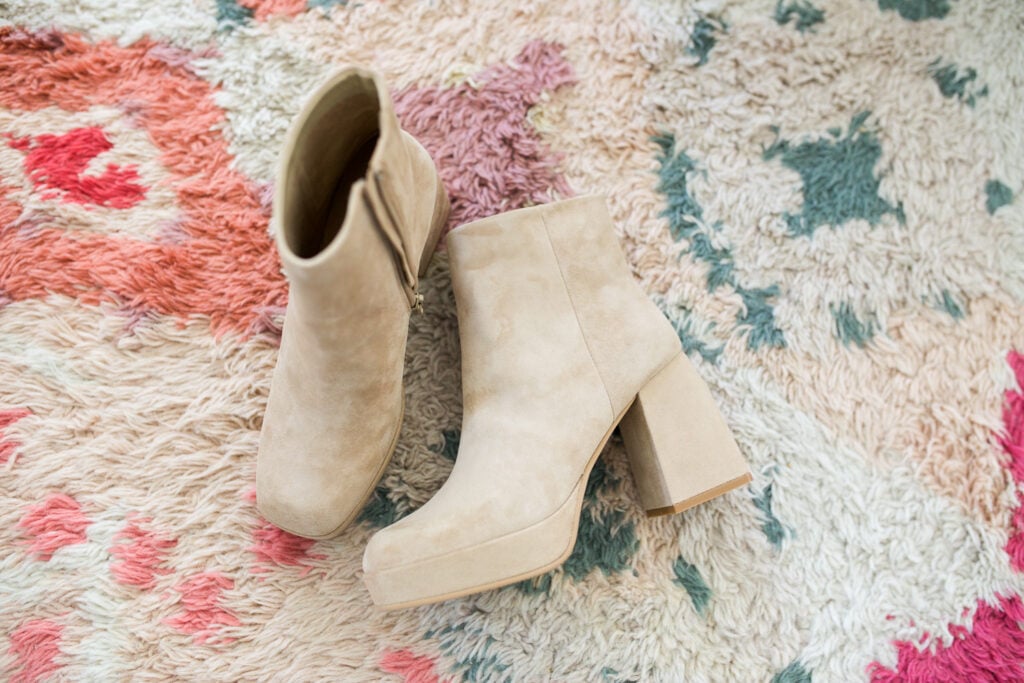 Sale: $129.99
After Sale: $200
Sale: $64.99
After Sale: $95
If you live in a cold weather state like me you know that boots are a fashion statement. These Sorels are not only functional but they're so cute!
These are a shoe I'm totally buying!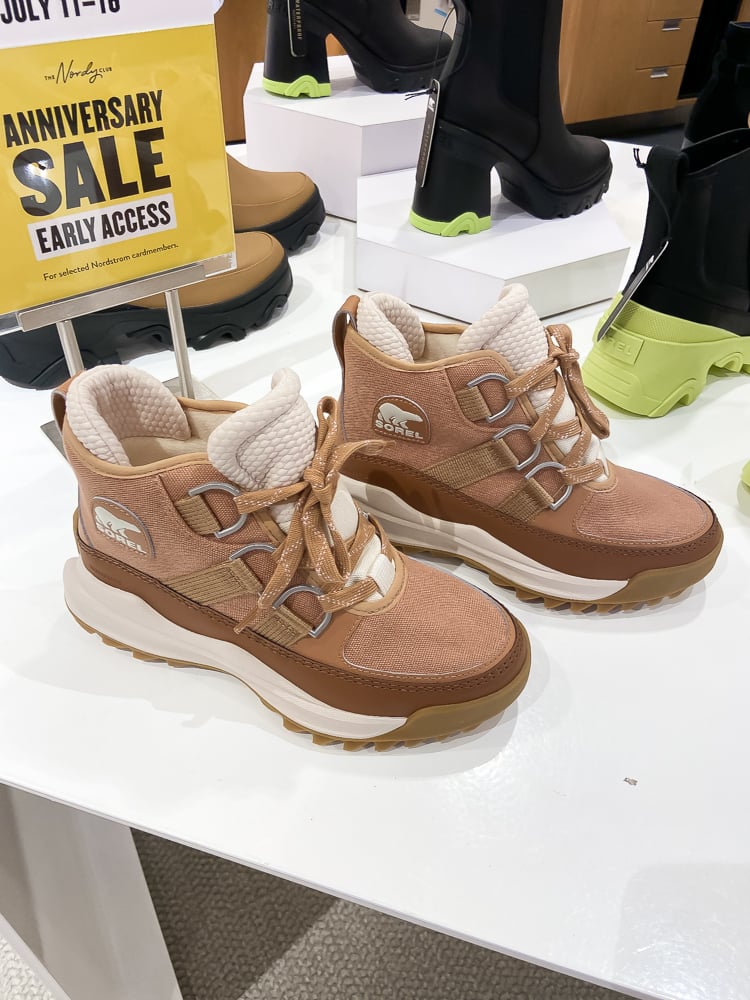 Sale: $159.99
After Sale: $269
I love a classic knee high boot. It's especially nice in cold MN winters to stay warmer when dressing up! These boots come in 3 different colors.
Sale: $159.99
After Sale: $239.95
If you want a knee high with a bigger heel, try the Blondo style! I love Blondo boots and have been buying them for years. I find that they run a bit narrow so size up a half size on these!
Sale: $89.99
After Sale: $150
These simple heels have a block heel and pointy toe frame. With a 3″ heel they're stylish and comfortable!
8. Katy Perry The Dellilah Pointed Toe Pump
Sale: $64.99
After Sale: $98
If you want a pump with a bit more style to it, these Katy Perry pumps do the trick! With a fun metallic, architectural heel, these shoes will make their own statement. Comes in 5 different colors.
Sale: $99.99
After Sale: $149.95
One final Blondo boot is these lug sole booties. They're waterproof making them great for all winter long and comes in 2 colors.
Flats + Sneakers + Sandals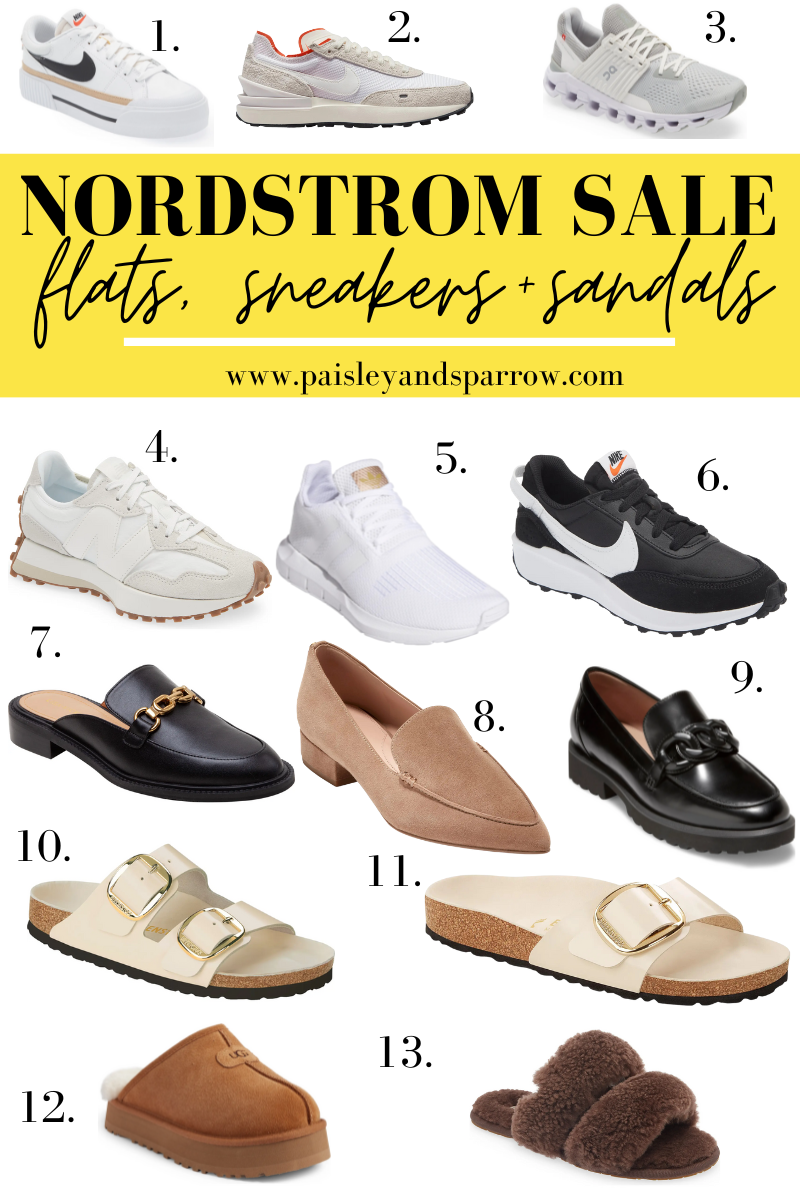 Sale: $72.99
After Sale: $90
You can't go anywhere without seeing these stunners. I tend to buy at least one pair of Nikes during the Nordstrom sale because I wear them all the time! They're tons of great options this year including these Court Legacy Lift Platform sneakers!
*These are currently sold out on Nordstrom but available through Nike!
Sale: $89.99
After Sale: $110
I bought these during the Nordstrom sale last year and wear them all the time! These Waffle Sneakers are so comfy and great for everyday wear and long walks!
*Nike is also running a sale right now with this shoe for $88!
Sale: $112.99
After Sale: $140
If you don't own a pair of On Cloud shoes you're missing out! They're a shoe that is 100% worth the hype. There's a few different styles on sale but they'll likely sell out!
Sale: $79.99
After Sale: $99
New Balance shoes are some of my favorite sneakers! These sneakers are so comfy, great for activity and come in 3 color waves. The only question is which one do you chose?
I personally love the vintage teal!
Sale: $64.99
After Sale: $95
These Adidas Swift Run Sneaker get amazing reviews and come in 2 different styles – this white as well as black. This has been a top seller for a few years!
They're currently out of stock at Nordstrom but available ON SALE on Amazon!
Sale: $64.99
After Sale: $95
I bought these shoes before my Disney trip this past spring and they were perfect! They were great for 11 miles of walking in one day and for wearing out to brunch with girlfriends when I got home!
Sale: $72.99
After Sale: $90
I've fallen in love with mules over the years and these are a perfect option for fall! They're simple yet unique with the chain lick hardware.
I own these in black but they come in 4 other colors! *I notice that Lisa Vicky runs on the smaller side so if you're in between sizes then size up!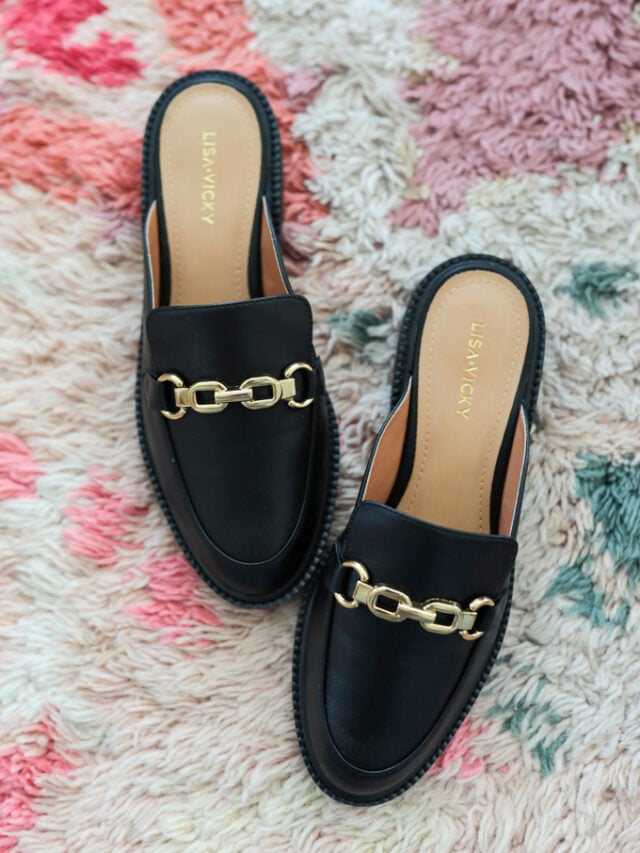 Sale: $99.99
After Sale: $150
One of the most popular items on this list are these Cole Haan flats! These leather flats have a pointy toe and low block heel and come in 4 different colors.
Sale: $99.99
After Sale: $150
If you love a chunky loafer, these are a fun version! They have a chunky wrapped chain on the top and come in 3 colors. I love the tan and white style!
Sale: $129.99
After Sale: $170
Get excited – Birkenstocks are included this year!! I bought my first pair of Birkenstock sandals 4 years ago and quickly fell in love. These will likely sell out so if you see them, snag them!
Sale: $129.99
After Sale: $170
If you want a single strap instead of a double strap, they have that available too!
Sale: $74.99
After Sale: $110
This plush, cozy slide is great for being comfortable inside or running errands. It has a 1″ platform and comes in 6 colors.
Sale: $69.99
After Sale: $100
This super soft slipper comes in 4 different colors, perfect for pairing with your favorite lounge set!
Complete List of Nordstrom Anniversary Sale Guides
---
---
---
---
---
---
---
---
---
---
---
---