The Nordstrom Sale is finally here! I know it can be super overwhelming to shop at so I'm doing all the hard work for you! If you're new to the NSale, you can find everything you need to know about the Nordstrom Anniversary Sale here.
This post is all about accessories and beauty products! I also have posts on shoes + boots, baby products, fashion and home to make things easier on all fronts!
I've done hours of research finding items I personally love and some that I plan to buy (or already own) so you don't have to!
The Best Nordstrom Sale Accessories and Beauty
Let's get to it!
Please note, I do make a small commission if you shop using my links. I am so appreciative when you shop through my blog because it helps me be able to put out even more content on this blog! So thank you in advance for using my links!!
Accessories
Y'all know I love my accessories! From earrings to bags, these are some of my favorites from the sale.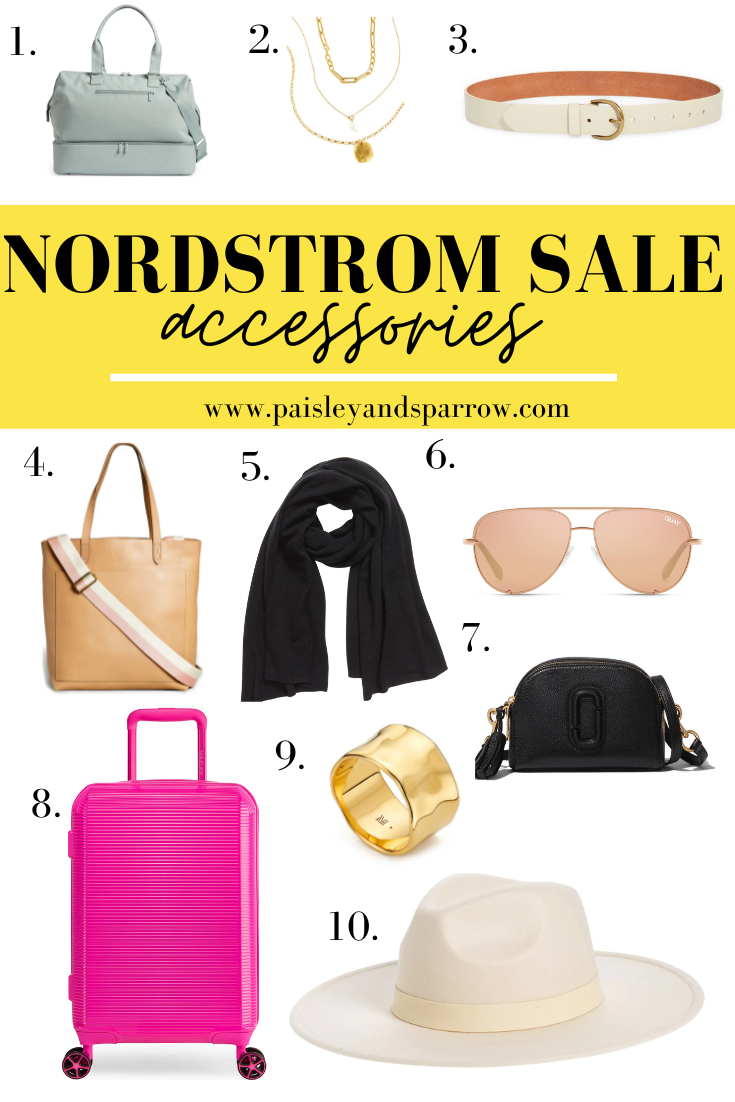 Sale Price: $80.90
After Sale: $108
This weekender duffle bag is perfect for a long weekend trip! It has a removable shoulder strap, padded laptop sleeve and plenty of pockets to keep you nice and organized.
Sale Price: $29.99
After Sale: $48
I love layered necklaces because it takes the work out of trying to find the perfectly paired necklace! This gorgeous Madewell Set of 3 Necklace is stunning and perfect for both everyday wear and date nights out!
Sale Price: $31.99
After Sale: $48
This soft Italian leather belt is the perfect completer piece to any outfit! This one comes in 2 different colors.
Sale Price: $124.99
After Sale: $188
This tote is one of Madewell's best selling bags! It has a two tone webbed strap that you can easily remove and big pockets inside and out.
Sale Price: $99.99
After Sale: $155
Get ready for cold weather with this gorgeous cashmere scarf! This one comes in 4 different colors.
Sale Price: $99.99
After Sale: $155
Nothing beats a good pair of sunglasses and Quay's are known for their amazing quality and style.
Sale Price: $199.99
After Sale: $335
The camera bag style is a huge hit right now! This bag is on massive sale!
It has a removable strap and 2 zip compartments.
Sale Price: $199.99
After Sale: $335
Never lose your bag again! This bright pink bag has four 360 degree double wheels for easy maneuvering, an integrated shoe pocket and a large compression pad.
Need a bit more space? Open up the expansion zipper for 2 more inches of depth!
Sale Price: $164.99
After Sale: $250
Looking for a bit of splurge? This stunning recycled 18-karat-gold ring is the perfect splurge gift for yourself!
It features a wavy effect that simulates sun dancing on the surface of the ocean. It also has a Butterfly Mark certification. This identifies luxury brands to adhere to social and environmental best practices.
Sale Price: $31.99
After Sale: $49
It's not the Nordstrom Sale without a great hat! I love a good hat for fall and this one is perfect! It comes in 4 different colors with a beautiful suede band around the crown.
Nordstrom Sale Beauty Items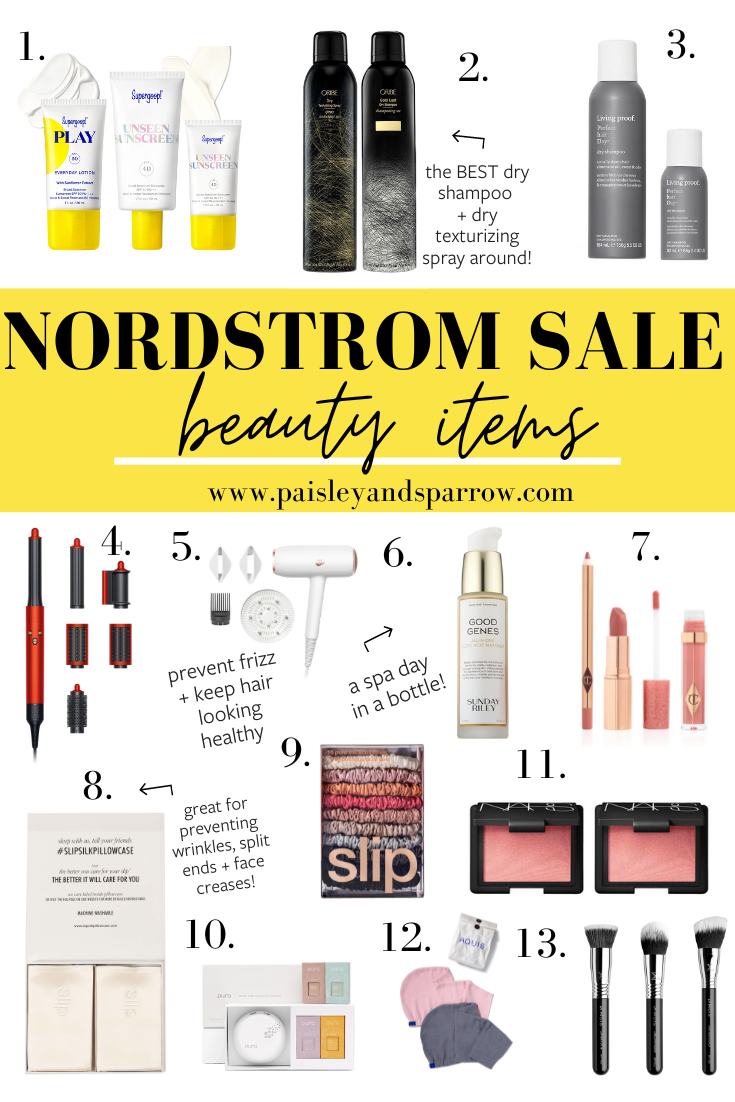 Sale Price: $52 (A $78 Value)
Supergoop is one of the best sunscreen brands especially if you have darker skin! My husband is Indian and most sunscreens aren't actually invisible. We tried numerous different options to find one that went on invisible and finally discovered Supergoop.
It actually does go on invisible but still has all the sun protection you need in a sunscreen!
Sale: $74 (A $98 value)
Oribe is my all time favorite product and this set is gold! The Oribe Magic Set will likely be sold out so quick but if you can get your hands on this buy a couple! (I'm not kidding – I bought 2 last year!!)
I swear by Oribe's dry texturizing spray (alone this typically costs $48), especially if you have fine hair. I spray it on after I curl my hair to add lift and volume and bit of grit to keep it looking amazing.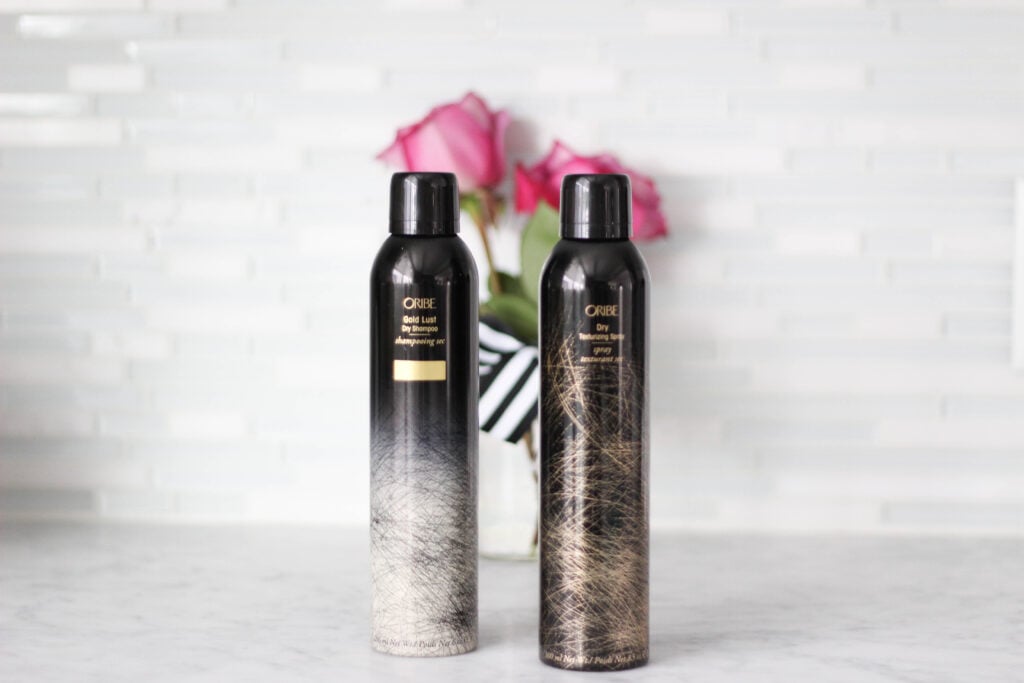 I started using this about 2 years ago and I swear my hair looks so amazing when I use it! It also is prefect for 2nd or 3rd day hair when you need a refresh. Just spray it onto the length of your hair and go!
Paired with the dry shampoo (also regular price is $48) and your dirty hair will always look amazing. Spray the dry shampoo into your scalp, let it sit for a few minutes and then rub it in with the pads of your fingers. This helps clear out the oil and freshen up your roots!
Get this if:
Get this duo in your cart if you're a fan of dry shampoo (or haven't found a brand of dry shampoo that you love) or have thin, limp hair and want to give it some lift! This pair sells out QUICK so put it in your cart and check out as quick as possible!
Sale: $30
After Sale: $46
The best dry shampoo for really oily hair is Living Proof! While I love Oribe dry shampoo a ton, I feel like the Living Proof dry shampoo does the best job at really soaking up the oil.
Get this if:
You don't need a texturizing spray (if you do, I would get the Oribe set). If you have really oily hair this is the dry shampoo for you!
Sale: $599.99 (A $660 value)
The viral Dyson Airwrap is included in the Nordstrom Anniversary Sale! This is one of the absolute best hair tools on the market.
It curls, straightens, hides flyaways and so much more.
Sale: $133.99 (A $199.99 value)
Having healthier hair is something I've been focused on since the birth of our first born. I had such bad postpartum hair loss that I knew I needed to do everything possible to have healthier hair (hence the Slip Silk pillowcase purchase too!).
I bought the larger version of hair dryer two years ago and it was a huge update from my previous hair dryer (and it's still going strong!)! It helps dry your hair faster and fights frizz.
The less time your hair is under heat the better. I highly recommend this!
Get this if:
Get this hair dryer if you spend a lot of time drying your hair, your hair drier is on it's last legs or you deal with frizzy, unruly hair too often!
Sale: $185
(A $284 value)
I bought this Sunday Riley Good Genes Lactic Acid Treatment a few years ago as a splurge present to myself and it was amazing! I've heard so many people rave about it and it stood up to everything I've heard.
It made my feel look and feel hydrated and smooth (obviously it doesn't erase wrinkles but it definitely helps them not look so bad!) and it was a treat using it every evening!
I'm definitely splurging on this again since I loved it so much the first time I got it!
Get this if:
Get Sunday Riley Good Genes Lactic Acid Treatment if you're trying to prevent fine lines (or additional fine lines), you're looking to even out skin tone by brightening up dark spots and discoloration.
Sale: $62
(A $92 value)
You can't go wrong with the fan favorite Charlotte Tilbury Pillow Talk Lip hue! This is a 3 piece set including a full size Lip Cheat Lip Liner in Pillow Talk (this is waterproof formula that looks incredibly natural), a full size Matte Revolution Lipstick also in Pillow talk and a full size lip jewel lip gloss again in Pillow Talk.
Sale Price: $86
(A $128 Value)
If you're looking for a way to prevent wrinkles and help have healthier hair, I highly recommend Slip pillowcases! I have been wanting one of these for SO long and finally got one a few years ago during the Nordstrom sale!
They help with so many things – they're anti-aging, anti-sleep crease, anti-bed head – basically everything you need in a pillowcase. They come highly recommended by both dermatologists and hair stylists.
This pillowcase set comes with 6 pure silk scrunchies too!
Note: this is a pair of queen sized pillowcases. Also available in caramel.
Get this if:
You want to do what you can for less wrinkles (less wrinkles = less money on Botox in the future ha!), healthier hair (great for us postpartum moms) or you want to prevent those face creases for early morning zoom meetings!
Head here for exact instructions on how to wash silk pillowcases!
Sale: $45
(A $70 value)
Keep your hair healthy and beautiful with this pack of 8 hair ties and scrunchies.
Sale: $67.99
After Sale: $97
My sister picked up the Pura diffuser and loves it! She said the smells last so long in her home and it's totally worth the price!
Sale: $40
After Sale: $64
I've been using this blush for years and years and it's one that I always come back to! It's a beautiful shade of pink that's won tons of of awards.
This double pack will likely last you all year long!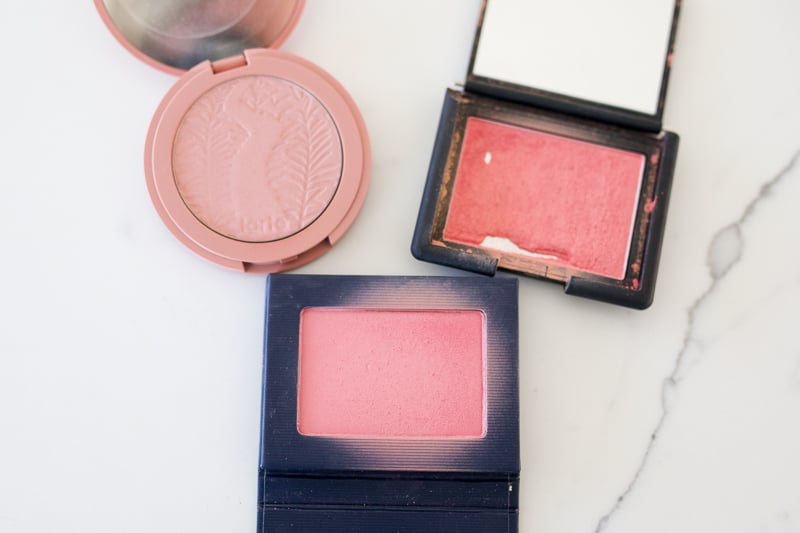 Get this if:
You need a new blush, haven't found a blush you love yet or are already a fan of Nars Orgasm Blush!
Sale: $68
After Sale: $100
Last year during the Nordstrom Sale they had one of these on sale – this year it's a set of two! I've been using this hair towel for years and love it and recently bought one for my daughter too!
It's great for both thin and thick hair and long or short. My daughter has a ton of long thick hair and it works great on her hair. It helps your hair dry quicker and helps keep your hair healthy.
Sale: $50
After Sale: $76
I bought my first Sigma brush a few years ago during the Nordstrom sale and I've never bought a different kind of brush since! Their brushes are so well made and make applying your makeup flawlessly so much easier.
This set of brushes is perfect for your everyday makeup looks.
Get this if:
You need to replace your brushes or are looking to expand your brush collection!
Thanks for shopping my Nordstrom Anniversary Sale Shoes, Accessories + Beauty picks! Now check out one of these guides for even more great sales!
Complete List of Nordstrom Anniversary Sale Guides
---
---
---
---
---
---
---
---
---
---
---
---