The Nordstrom Sale is finally here! This post is all about must have items for men! My husband picked every item below and did more than a little research for this! If he recommends it, chances are it's going to be good!
*New to the Nordstrom Sale? Check out my Nordstrom Anniversary Sale guide here.
Let's get to it!
Please note, I do make a small commission if you shop using my links. I am so appreciative when you shop through my blog because it helps me be able to put out even more content on this blog! So thank you in advance for using my links!!
Nordstrom Anniversary Sale Men
Some of my favorite men items from the sale!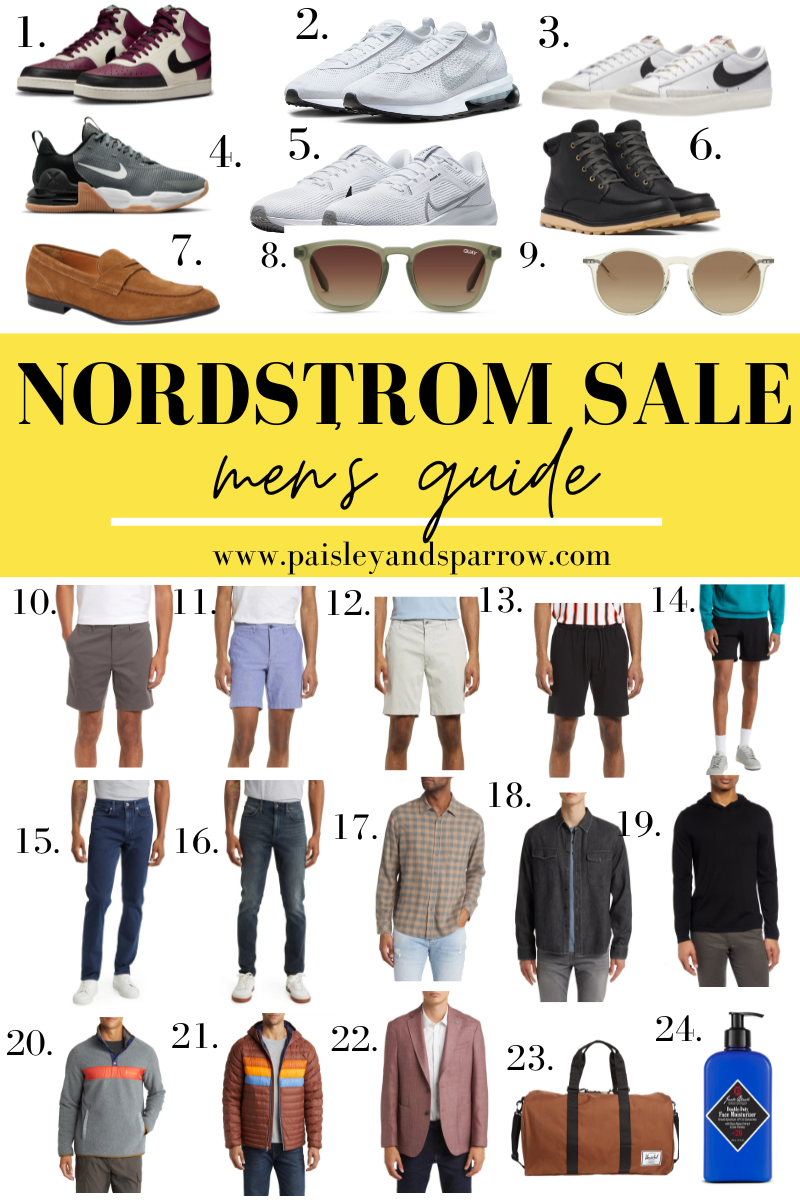 Sale: $69.99
After Sale: $85
I own a pair of Pandas that I love and these are a similar style. These are sure to be admired and complimented.
Sale: $124.99
After Sale: $160
I'm a huge fan of Flyknits. They're the most comfortable shoe on the market. I have a couple pairs of Flyknit 1s and wouldn't use them for lifting based on the sole construction, but I wear them everywhere else. Nordstrom also has a charcoal / black & white and anthracite black version.
Sale: $67.99
After Sale: $90
Retro vibe sneakers that go well with all outfits casual. A lot like the Killshot 2s I've been wearing for years, but less played out.
Sale: $xxx
After Sale: $xxx
My Alpha Trainer 4s have been my go to shoe for the gym for the past year+. They're great for lifting in the gym as well as cardio. Great stability and the mesh fabric upper provides breathability.
Sale: $99.99
After Sale: $130
Pegasus is my go to all purpose shoe designed for the impact of running, but comfortable and stylish enough to wear practically anywhere. Comes in blue as well.
Sale: $144.99
After Sale: $200
This is a stylish and sharp waterproof boot, making it a great cold weather and wet environment option. As you'd expect from Sorrel, these will keep your feet warm even in sub-zero temps. A comfortable, durable, yet stylish choice.
Sale: $199.99
After Sale: $298
I've never regretted buying a pair of Bruno Maglis. The Italian craftsmanship is stunning and they're comfortable to wear. These penny loafers are versatile; you'll get a lot of use out of them. Also comes in navy and a more muted brown.
Sale: $49.99
After Sale: $75
I love my Quays. They're affordable, stylish, and hold up well. A great pair of sunglasses you won't break the bank replacing if something unfortunate happens. Note this style is on the smaller size.
Sale: $212.99
After Sale: $319
Add a statement piece to your eyewear collection with these Giorgio Armani spectacle shaped clear framed sunglasses. An easy way to bring some style to any outfit.
Sale: $79.99
After Sale: $120
These are relaxed but refined shorts that make for a perfect summer staple. I like the length of these. Not too short, not too long. Comes in a variety of colors.
Sale: $39.99
After Sale: $59.50
Chambray shorts should be a part of every man's wardrobe for versatile summer wear. At 8″, the inseam isn't overly short; the model pictured must be very tall. Comes in 3 colors (above + light gray / white and burgundy).
Sale: $89.99
After Sale: $135
A lot of shorts have gone light weight, but I prefer poplin for a more refined feel. These have a worn in look and can be dressed up or down. Comes in a variety of colors.
Sale: $35.99
After Sale: $55
A go anywhere do anything lightweight short. I like the length of these as they hit well above the knee, yet aren't too short. Elastic plus exterior drawstring for a comfortable fit. Also comes in peach.
Sale: $18.99
After Sale: $29
Very comfortable shorts with side pockets and 2 back pockets. Fleece lining for extra comfort. I live in shorts like these during the summer.
Sale: $149.99
After Sale: $235
I've never owned a better pair of jeans than my rag & bones and jump on the opportunity to buy them on sale. This cut in particular suits me better than Fit 1s (below), given they're slightly roomier than the Fit 1s, which are a true skinny. They also come in gray.
Sale: $149.99
After Sale: $255
If you're looking for a classic skinny jean, you can't go wrong with these. I love rag & bone jeans.
Sale: $89.99
After Sale: $138
This is a great flannel shirt that's not so lumbersexual. Great for a casual night out.
Sale: $229.99
After Sale: $350
Add some dimension to your closet with this effortlessly cool option that works both day and night. Fairly lightweight and breathable.
Sale: $244.99
After Sale: $365
A cashmere hoodie has been a splurge staple in my wardrobe and the above is a great option. Nothing compares to cashmere's lightweight warmth and feel. This is an elevated casual hoodie if there ever was one. Comes in a variety of colors.
Sale: $205.99
After Sale: $275
I've been something like my Patagonia puffer with a little more flair. This is a great option. Bonus, it comes with a hood.
Sale: $74.99
After Sale: $100
A great light weight option that manages to keep me surprisingly warm. A perfect layering piece that looks and feel great.
Sale: $499.99
After Sale: $748
Everyone should have at least one properly fitting sport coat in their closet. I've fallen ion love with every Ted Baker piece I've bought. This is a great option to stand out a bit from the crowd. Goes great with some dark jeans or dressed up. This is a slim fit cut.
Sale: $69.99
After Sale: $100
This is a great weekender or gym bag featuring a side shoe compartment, which keeps your shoes separate and accessible. The handles are reinforced and the shoulder strap is removable. The size is on the larger end at 42.5L volume, or ~11 gallons.
Sale: $72
After Sale: $145
I've been a fan of Jack Black products for many years. This is a great daily moisturizer with some SPF protection. Jumbo size to last you a long while.
Complete List of Nordstrom Anniversary Sale Guides
---
---
---
---
---
---
---
---
---
---
---
---