The Nordstrom Sale is almost here! Today let's talk about some of my favorite Nordstrom Anniversary Sale Baby products!
Baby items can be so hard to find on sale – especially ones like the Uppababy Vista Stroller and Nuna car seats!! Below are some of my favorite Nordstrom Anniversary Sale Baby that I own (or are similar to ones I own) or know people who own them.
I highly recommend getting these now while you can get them at a price so low!
Quick note: right now it shows the Trip Trapp high chair is out of stock. When I created this post on 7/3 it showed in stock so I'm hopeful it will show in stock again when the sale opens up on the 7th!
Many of these items sell super quick. Always remember that Nordstrom has a very generous return policy. It's better to buy it on sale and return it then to miss out!
*New to the Nordstrom Sale? Head here to find everything you need to know about this sale.
I've done hours of research finding items I personally love and some that I plan to buy (or already own) so you don't have to!
Let's get to it!
Please note, I do make a small commission if you shop using my links. I am so appreciative when you shop through my blog because it helps me be able to put out even more content on this blog! So thank you in advance for using my links!!
Nordstrom Anniversary Sale Baby Gear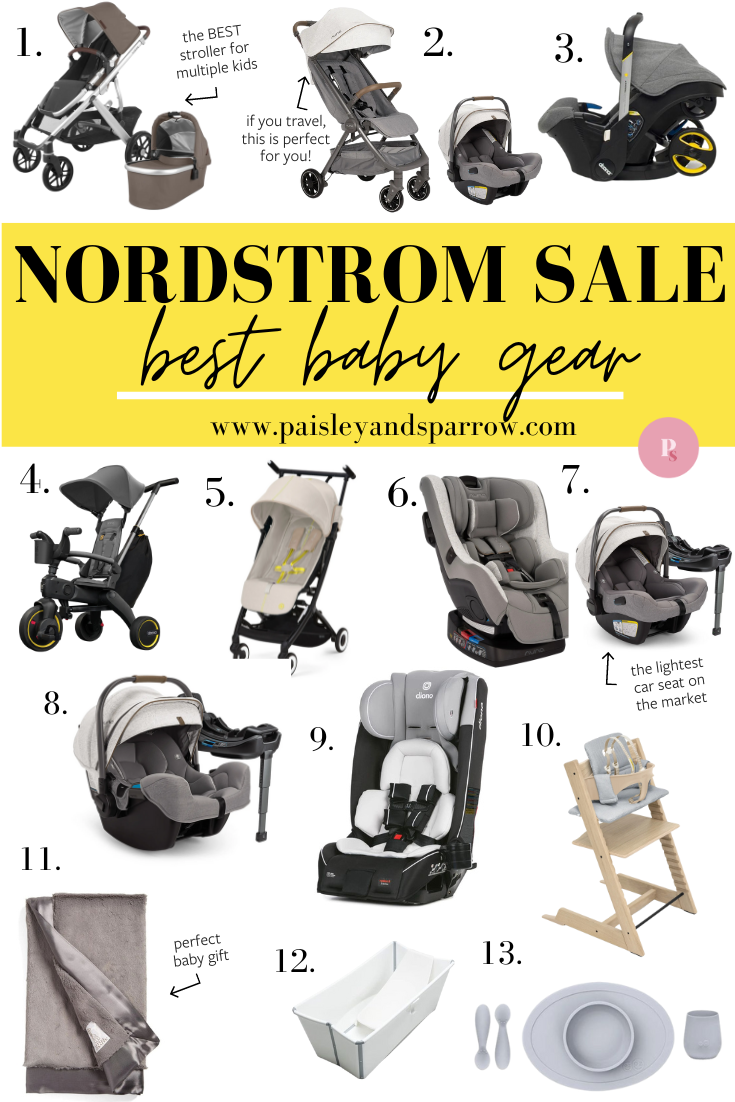 This post contains affiliate links.
Sale: $749.99
After Sale: $999.99
I know, I know, this is a crazy amount of money to spend on a stroller. And if you only plan on having one baby I don't think it's entirely necessary. However, if you at all plan on having more than one child especially if you plan on having them close together – this is worth every single penny!!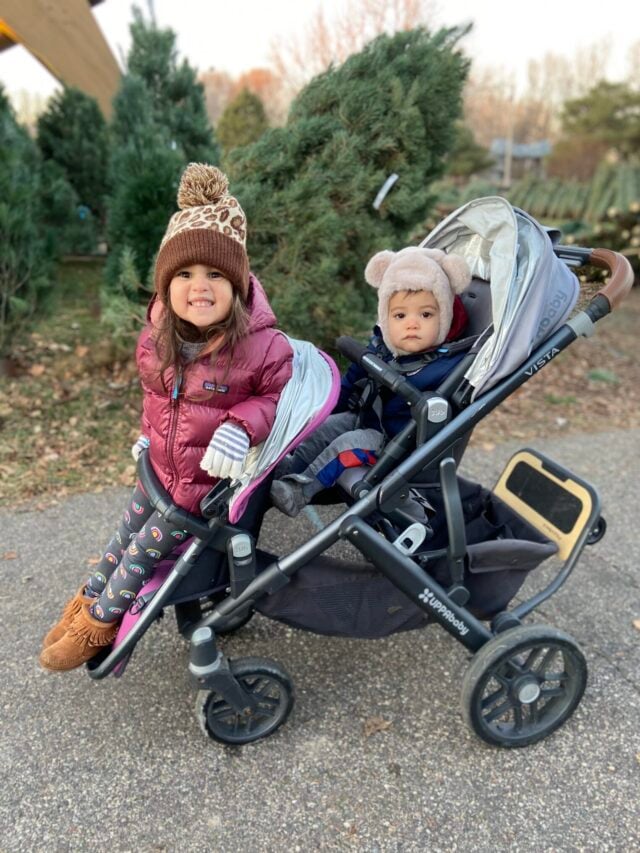 We went back and forth between the UppaBaby Vista V2 Stella Stroller with Bassinet and another popular less expensive option and eventually landed on this one for the sole reason that if we had more than one child you can easily add additional chairs or a kickboard for your kids. We've had 3 kids riding on this stroller more times than I can count!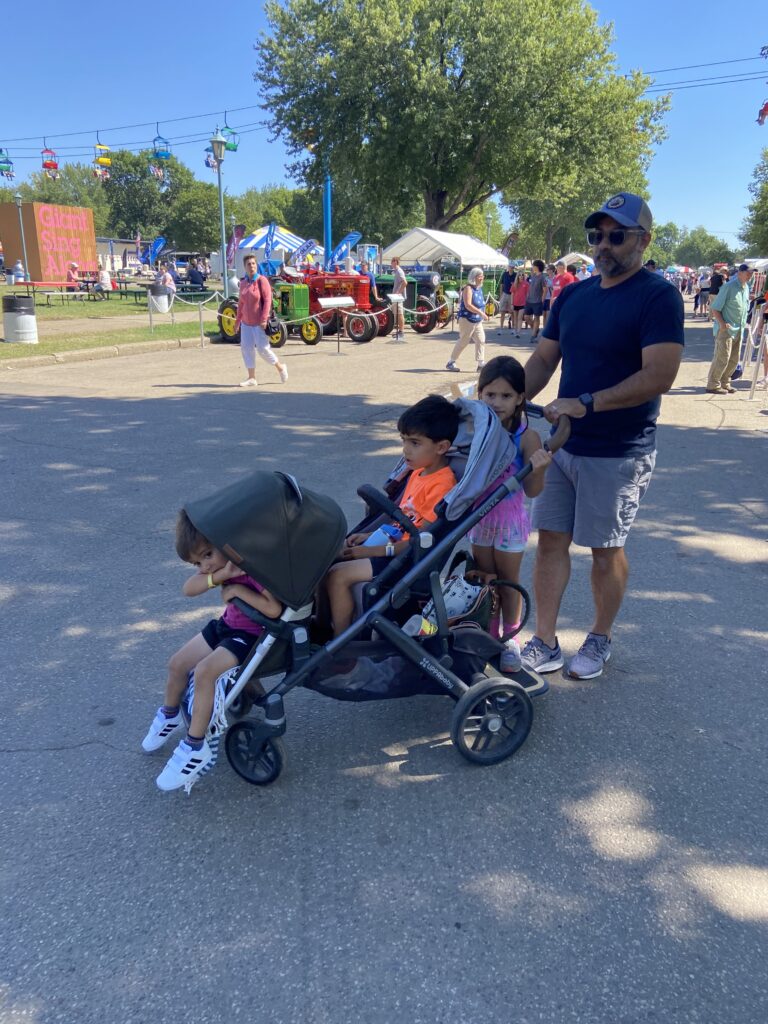 And having 2 rounds of 2 kids under 2 made this 100% worth it's money. It's easy to fold up to put in your car, super easy to travel with (we bought the airport bag) and we're huge fans of this stroller 6+ years later!
Sale: $629.99
After Sale: $900
If you don't need the added bonus of being able to push multiple kids or you need something that's a bit easier to travel with, the Nuna Pipa urbn + TRVL Stroll ernad Car Seat Travel System MIXX next Refined Collection Stroller is a great option!
Nuna is another well known baby brand that makes incredibly safe and easy to use baby gear. We've owned multiple Nuna car seats and have loved every one!
This Pipa urbn car seat is the only infant carseat that is baseless making it incredibly easy to travel with! It's super easy to install (in just 2 seconds!) and only weights 7 pounds.
The travel stroller is a self fold stroller that only weighs 13.6 pounds. If you're a family on the go, this is a great option for you!
Sale: $411.99
After Sale: $550.00
If you travel a lot you are going to LOVE this stroller! Not only is it an infant car seta but it turns into a stroller without having to get your little one out of their car seat!
This car seat/stroller is certified for air travel and makes moving through a busy airport and getting your baby situated on a plane so much easier.
Sale: $186.99
After Sale: $250.00
Sale: $229.99
After Sale: $329.95
One super cool thing about this stroller is that it easily folds into an ultra-compact package that fits in overhead storage!
This one has an adjustable leg rest and extendable UPF 50+ protection canopy with a multi-position adjustable recline on the chair.
Sale: 429.99
After Sale: $575.00
All 3 of the Nuna Pipas (the lite, RX and regular) are amazing! They are so easy to install in to a car making it not only easy for us to use but also for grandparents, babysitters and aunts/uncles.
It's also one of the lightest car seats that you can buy. When you factor in just how much you'll be carrying your baby IN their car seat you'll appreciate a car seat that's light!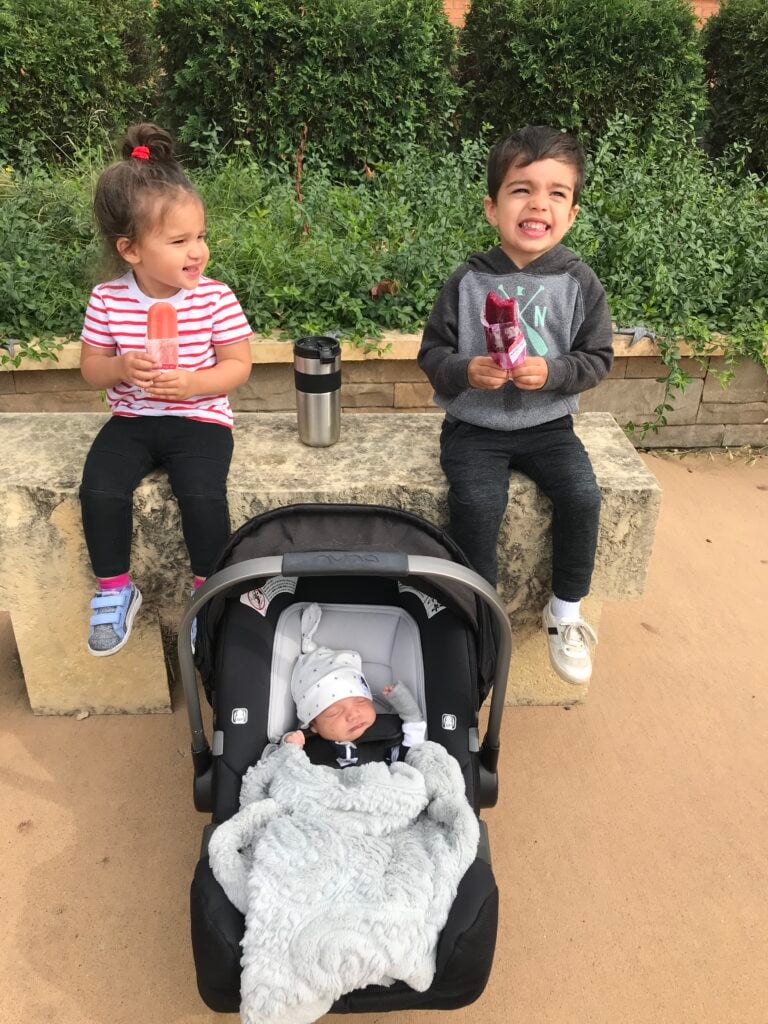 Sale: $318.99
After Sale: $425.00
If you want that same safe Nuna design but want something that can go anywhere in almost any for of transit than the Nuna Pipa RX is a good option. It can be used with or without the base!
This one is slight heavier than the Nuna Pipa Lite but has many of the same features. It's also less expensive!
Sale: $399.99
After Sale: $550.00
When our kids outgrow the Nuna Pipa, we put them in the Nuna Rava. I'm obsessed with these carseats.
They're so easy to put in and out of the car and easy to get the kids in and out of their seats. This is a major selling point! I can easily take out and put in these carseats by my self (and I'm not a handy person!).
This one is an exclusive color for Nordstrom. While I typically prefer black for carseats to hide the yuck, I would bypass that to get this deal! We've never seen this carseat discounted this much!
These are ones that I highly recommend to get especially during the Nordstrom Sale!
Sale: $299.99
After Sale: $399.99
If you have three kids (or plan on having three kids), you'll love knowing that this car seat is slim enough to fit three across in most car's back seats.
As a family of 3 kids we know this can be a huge issue depending on your car! These are slim yet still comfortable and safe for your kids.
Sale: $298.99
After Sale $399
One of the most important things to invest in after a stroller is a good high chair! It sounds silly but we've used ours for over 5 years (and counting…) so you want one that not only fits your aesthetic but will also last!
The Stokke Trip Trapp high chair is perfect because it not only fits babies but also big kids – or adults!! It's one baby item that will last for years, not just a short season.
Sale: $63.99
After Sale: $96
One of the best baby gifts that gets incredible reviews is the Little Giraffe Baby Blanket! It comes in a variety of colors and is perfect for tummy time when they're little to snuggling up with when they're older.
Sale: $62.99
After Sale $85.00
This foldable bath tub is genius! Not only does it fold up nice and compact for easy storage but you can use it from birth through age four.
It has a support insert for newborns that can be removed as they outgrow it. There's also a temperature sensitive plug to ensure that the water is safe for your little one.
Sale: $24.99
After Sale $37.49
When something gets over 2,300 reviews you know it has to be good!! This set has a cup, two spoons and a bowl all made to help mealtime be a bit more fun and whole less stressful!
Nordstrom Sale Baby Clothes & Accessories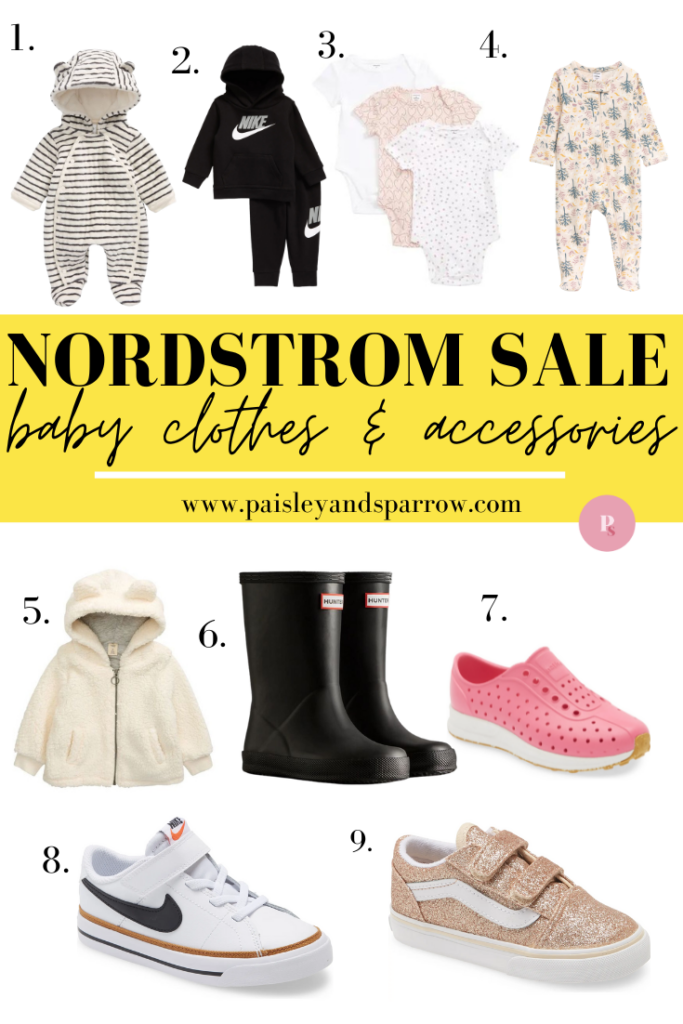 Now that we have all the baby gear we need, let's move on to more fun things like clothes and accessories! Here's some of the best baby clothes from the Nordstrom Sale.
Sale: $29.90
After Sale: $49
If you live where it's cold you're going to need some cozy outfits to keep your little one warm! This adorable bunting comes complete with hood, fold-over hand mitts and a snap up front.
Sale: $31.99
After Sale: $48.00
Get your little one started on their love for Nike young! This adorable set comes in black, grey, blue, cream and green and will have your baby looking extra sporty!
Sale: $18.99
After Sale: $29.00
A 3 pack of lightweight cotton onesies that are great for newborn to 12 months. They're 100% cotton and super soft!
Sale: $24.99
After Sale: $39
Cozy and cute, what more could you want? The hoods on this jacket have adorable ears which will make you smile every time you see them!
Comes in 2 colors!
Sale: $15.99
After Sale: $24
You can never have too many pajamas, especially ones this cute! these zip front footie pajamas are made from soft cotton jersey and come in a cute pink forest print.
Sale: $19.99
After Sale: $30
Hunter boots aren't just cute – they're functional! There's few things better than kids jumping in puddles so give them the right boots to do so!
These come in baby, toddler and kids sizes.
Sale: $31.99
After Sale: $45
I've been buying Native shoes for years for my kids! They're great for summer since they can easily go from the pool to the playground without needing to swap shoes.
These have a grippy bottom and come in a tons of great colors for boys and girls!
Sale: $52.99
After Sale: $70
Match your little with these cute Nikes! Easy on and off and come in both white or black and white.
Sale: $52.99
After Sale: $70
Glittery Vans…what more could you want? These adorable classics have velcro straps for easy off and on and a fun sparkle to them!
Keep checking back for more Nordstrom baby products, kids clothes and more from the Nordstrom Anniversary Sale Baby selection!
Thanks for shopping my Nordstrom Anniversary Sale Shoes, Accessories + Beauty picks! Now check out one of these guides for even more great sales!
Nordstrom Anniversary Sale 2023 Baby Deals FAQs
Complete List of Nordstrom Anniversary Sale Guides
---
---
---
---
---
---
---
---
---
---
---
---