I'm sure you've seen Levi's ribcage jeans everywhere from Amazon to Instagram. You're intrigued by them but maybe you're not so sure if they're right for you!
You could be someone who loves your skinny jeans or maybe you're always reaching for straight leg jeans but not ones that are high rise.
I purchased my first pair of Levi's ribcage jeans over 6 months ago and quickly became obsessed. From their flattering button fly to their slim straight fit throughout the hip and thigh to their high waisted nature, they became my go to straight jeans quickly!
Here's what you need to know.
Levi's Ribcage Jeans Sizing
Paisley + Sparrow is a participant in the Amazon Services LLC Associates Program. This post may include affiliate links which means I may earn a small commission if you shop using the links below at no additional cost to you.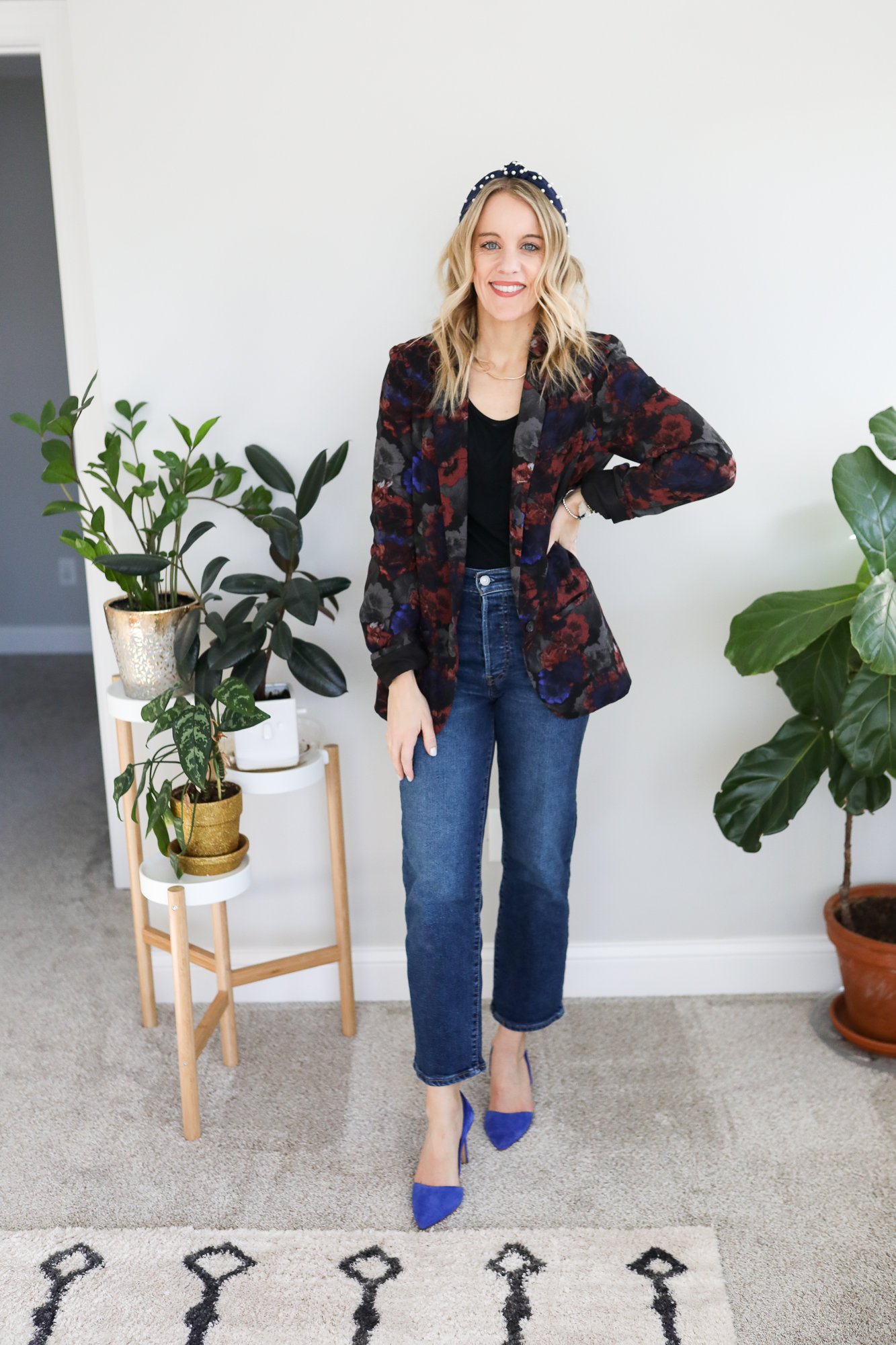 Shop the look: Jeans | T-shirt | Blazer (sold out similar here and here) | Heels (sold out, similar here)
First up, let's chat through their sizing.
For reference, I'm 5'3″ and weigh around 110.
I'm typically around at size 24/25 depending on the jeans and where they sit on my waist along with how much stretch they have. I originally purchased the size 25 in these jeans and they were a bit too loose. Knowing that most jeans break and stretch a bit as you wear them, I returned the size 25 and got the size 24.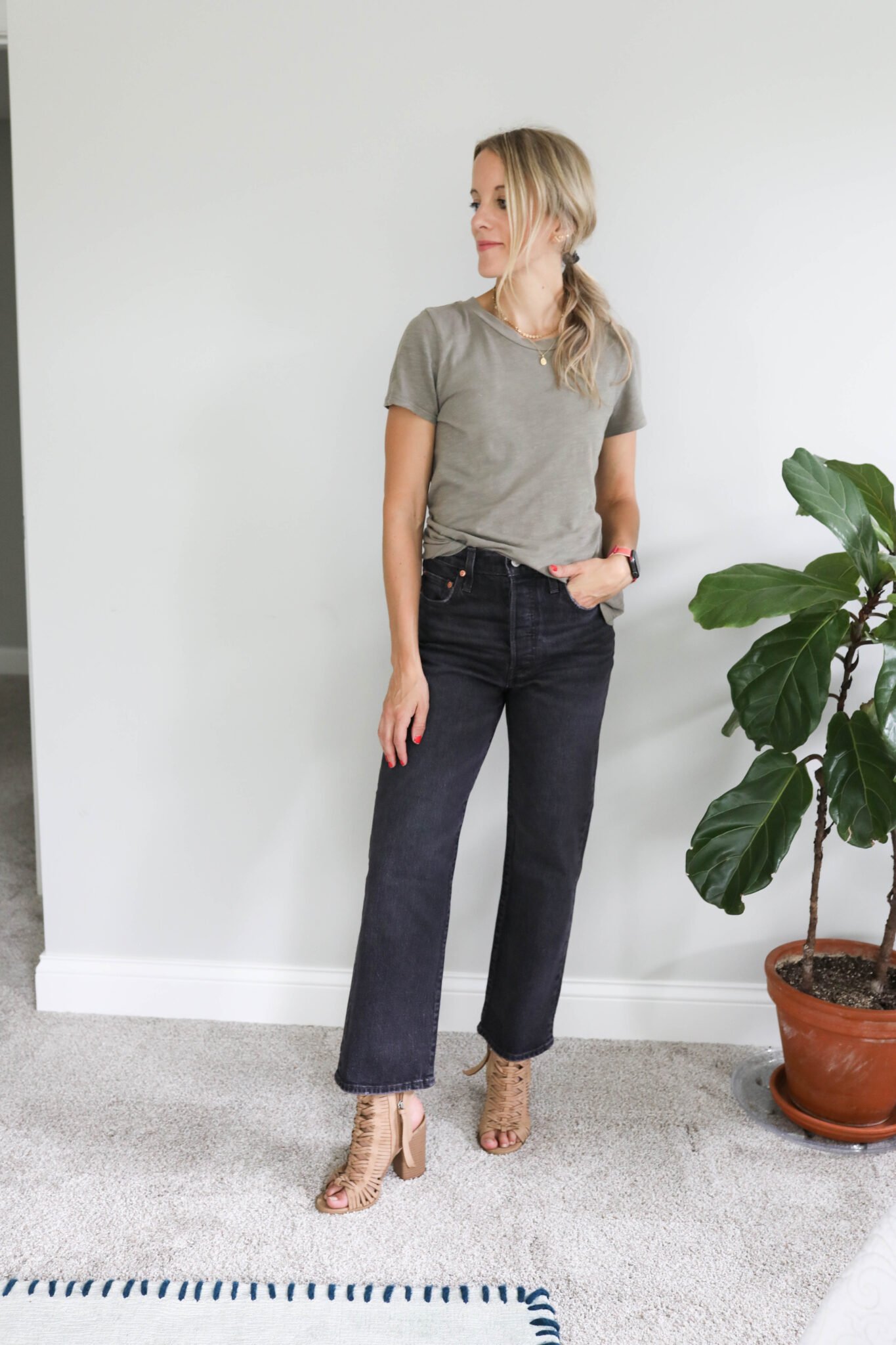 Shop this look: Jeans | T-shirt (sold out – similar here) | Heels (sold out – similar here and here)
The size 24 were slightly tight fit when I first pulled them on. Honestly I debated going back and getting the 25s but that seemed like a lot of work. I also assumed they would break in after a few wears.
And I was right. After a few wears they quickly molded to my body and fit like a glove.
These jeans come in sizes 24-44.
The Fit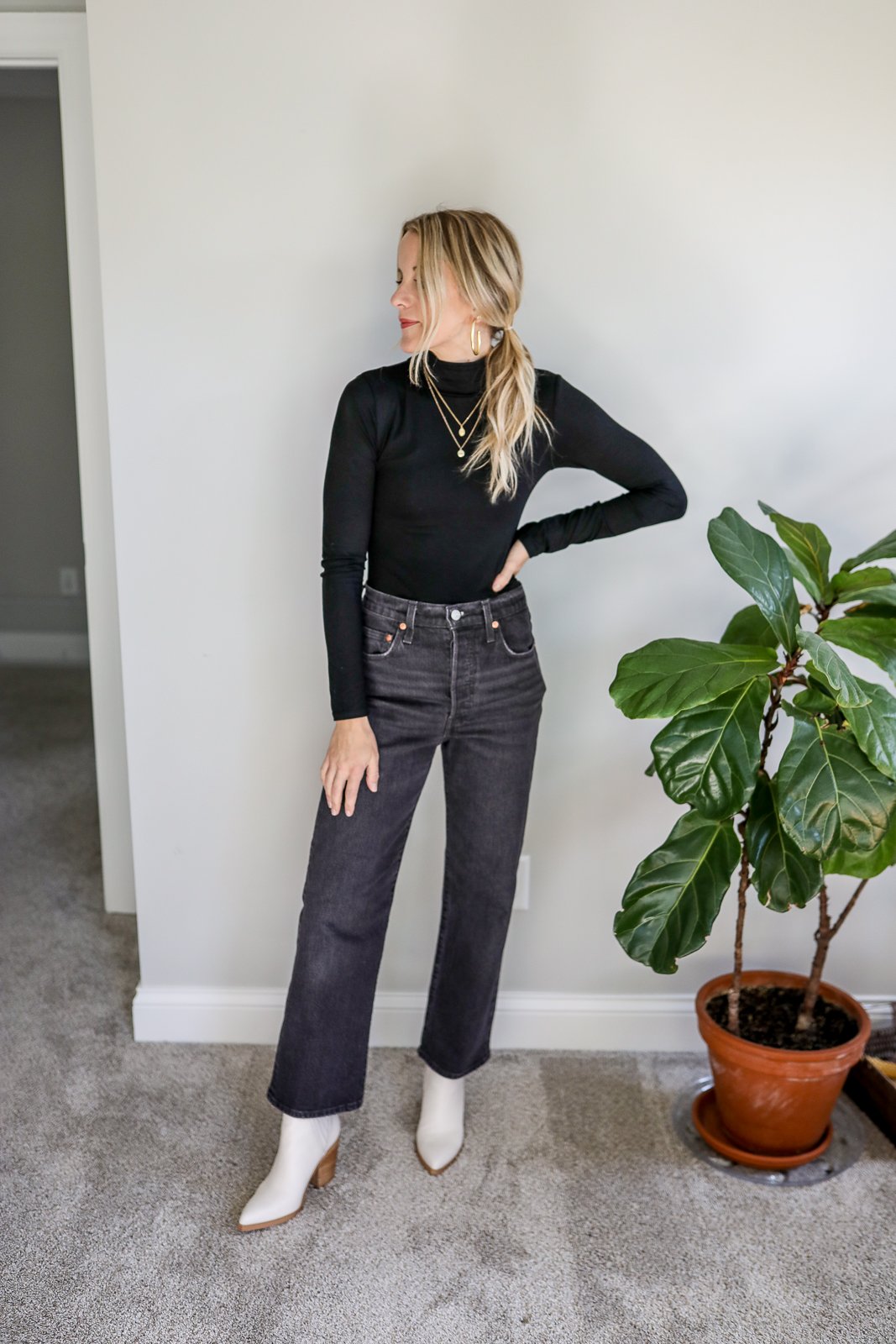 Let's chat about the fit of these. How well these fit on you will depend mostly on your body type and also your personal preferences. They have a super high rise (12 1/8″ rise) meaning the sit nice and high past your belly button. They're called a ribcage style for a reason!
I personally love a high waisted jean. I find that it helps suck in my tummy and just gives me more confidence.
I had my sister try them on and she's not a big fan of the super high waist so she didn't love these as much as I did. If you love high rise jeans, try these!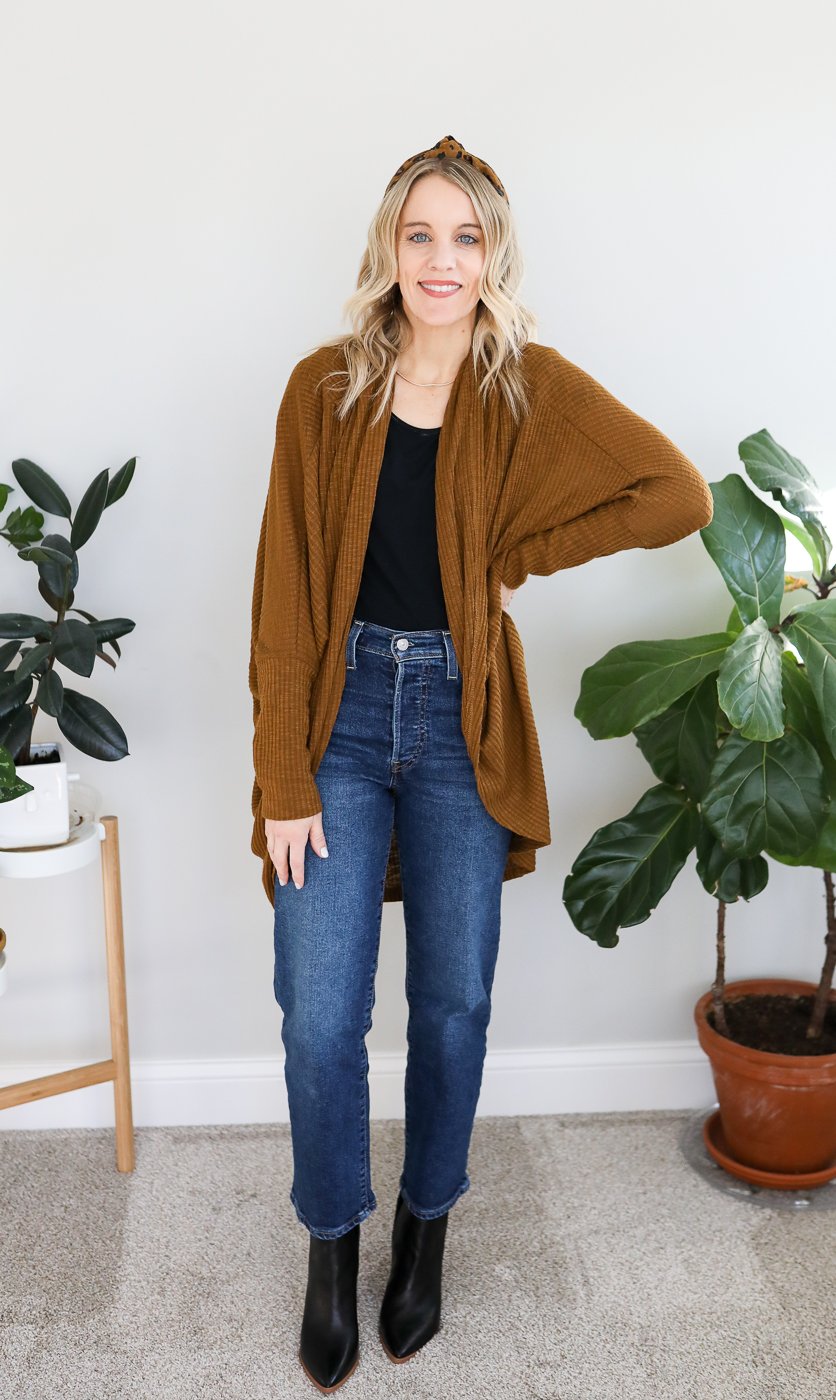 Shop the look: Jeans | T-shirt | Cardigan (sold out – similar here) | Boots
This pair of jeans also have a slight stretch to them given the fact that they have 1% elastane in them. We all know the story of buying the perfect jean only to have them be completley stretched out and unwearable 6 months later.
Well since these jeans only have 1% elastane, it gives it the perfect amount of stretch that won't ruin them.
These jeans are also a classic straight leg silhouette and will actually look like a straight leg jean on you! These are a bit wider than some of my other straight leg jeans but regardless, I love them.
They also come a bit cropped which one me is perfect. I'm short so I typically need to get my jeans hemmed. Often times cropped jeans fit me awkwardly but not these Levi's jeans! They fit absolutely perfect.
For reference, the inseam of these is 27″.
The Wash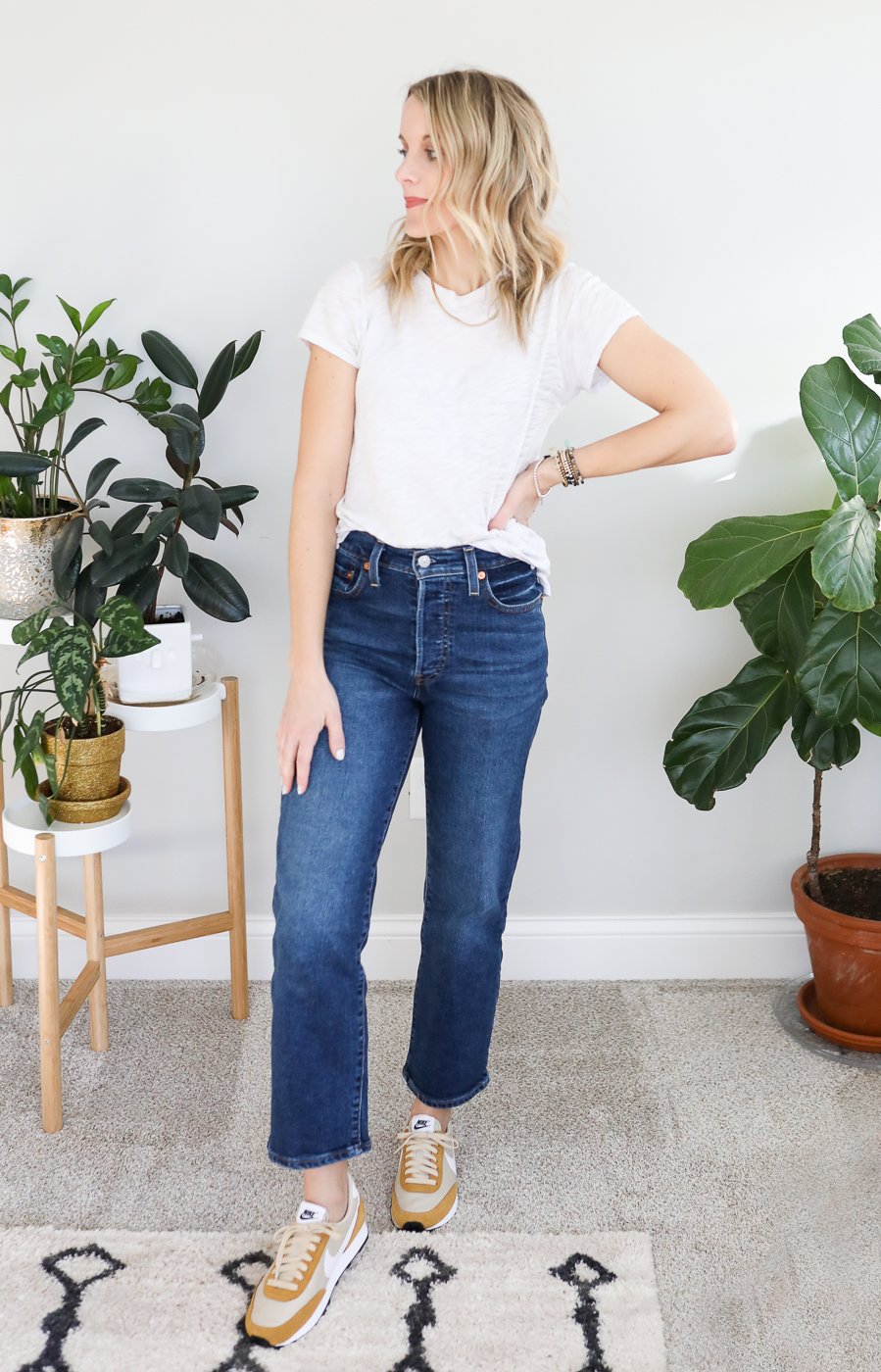 Shop the look: Jeans | T-shirt | Sneakers (sold out, similar here)
One thing I love about Levi's ribcage straight ankle jeans is the fact that they come in a variety of washes and styles. I have them in 2 different styles. I have them in a classic jean color and a dark grey color.
They also come in white, light blue, black and more! There's distressed options too if you like that.
Review
Honestly, I can say that I love these jeans. I find myself reaching for them over and over again both in winter months and in summer. The higher raise makes it super cute to wear with a crop top and not show off too much skin which I love.
As far as outfit ideas, you can easily pair them with a white tee and booties for a casual fall look or throw on a tank and sneakers for a summer look or even an oversized sweater tucked into the front for winter.
I am someone who has no problem spending more money on a pair of good quality jeans because I know that they last so to find jeans that are all around or under $100 is a win!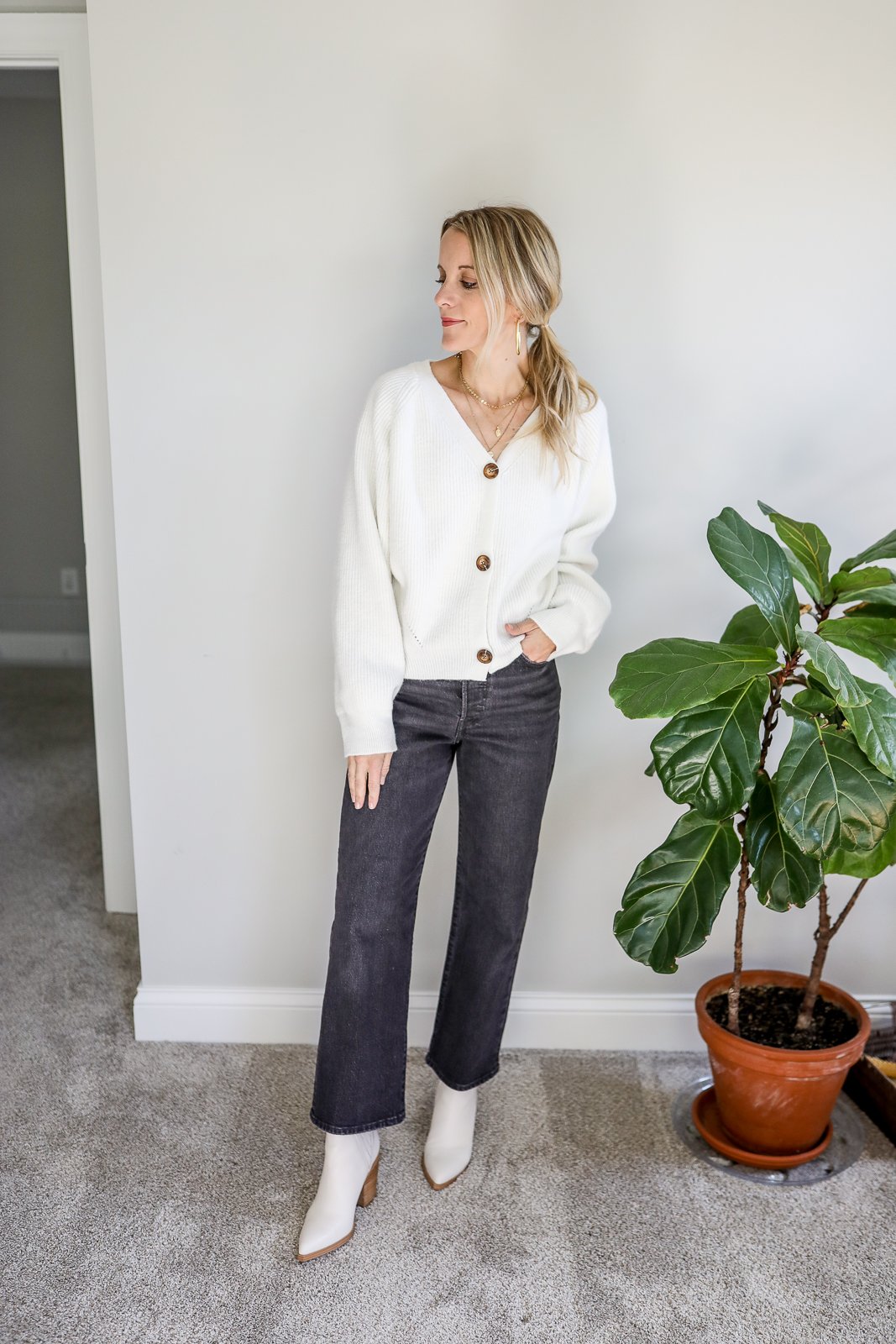 Pros
Inexpensive
Won't stretch out
Washes well (I have 3 kids and wash mine often and they hold their form and color perfectly!)
Versatile
Flattering
Cons
Incredibly high waited – if you don't like high waisted jeans you won't like these.
Shop this look: Jeans | Cardigan | Boots (sold out, similar here and here and here)
Where to Find Levi's Ribcage Jeans
Overall, I would say if you like high waisted jeans, you need to try these! They're super flattering, incredibly comfortable and worth every penny.
If you want more fashion posts and ideas on how to get more use out of your clothes, check out one of these!