Denim never goes out of style and can easily be dressed up or down. Investing in a good pair of jeans that you can wear for years to come is definitely worth considering.
Many designer jeans brands have great quality jeans that are well worth the price. Here are 29 designer jeans brands that are all wonderful options!
29 Top Designer Jeans Brands List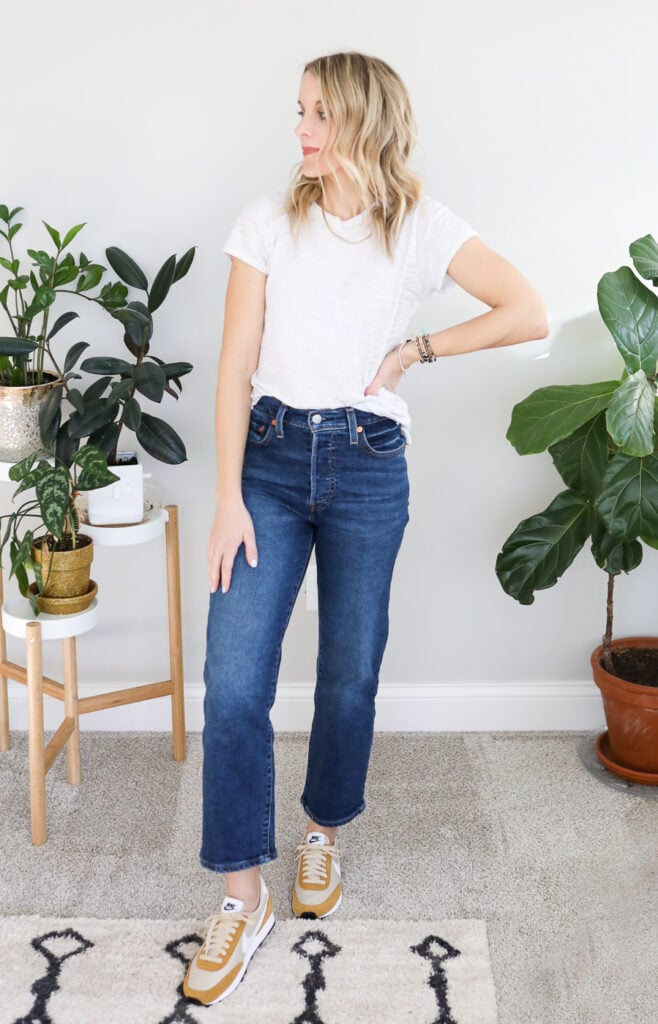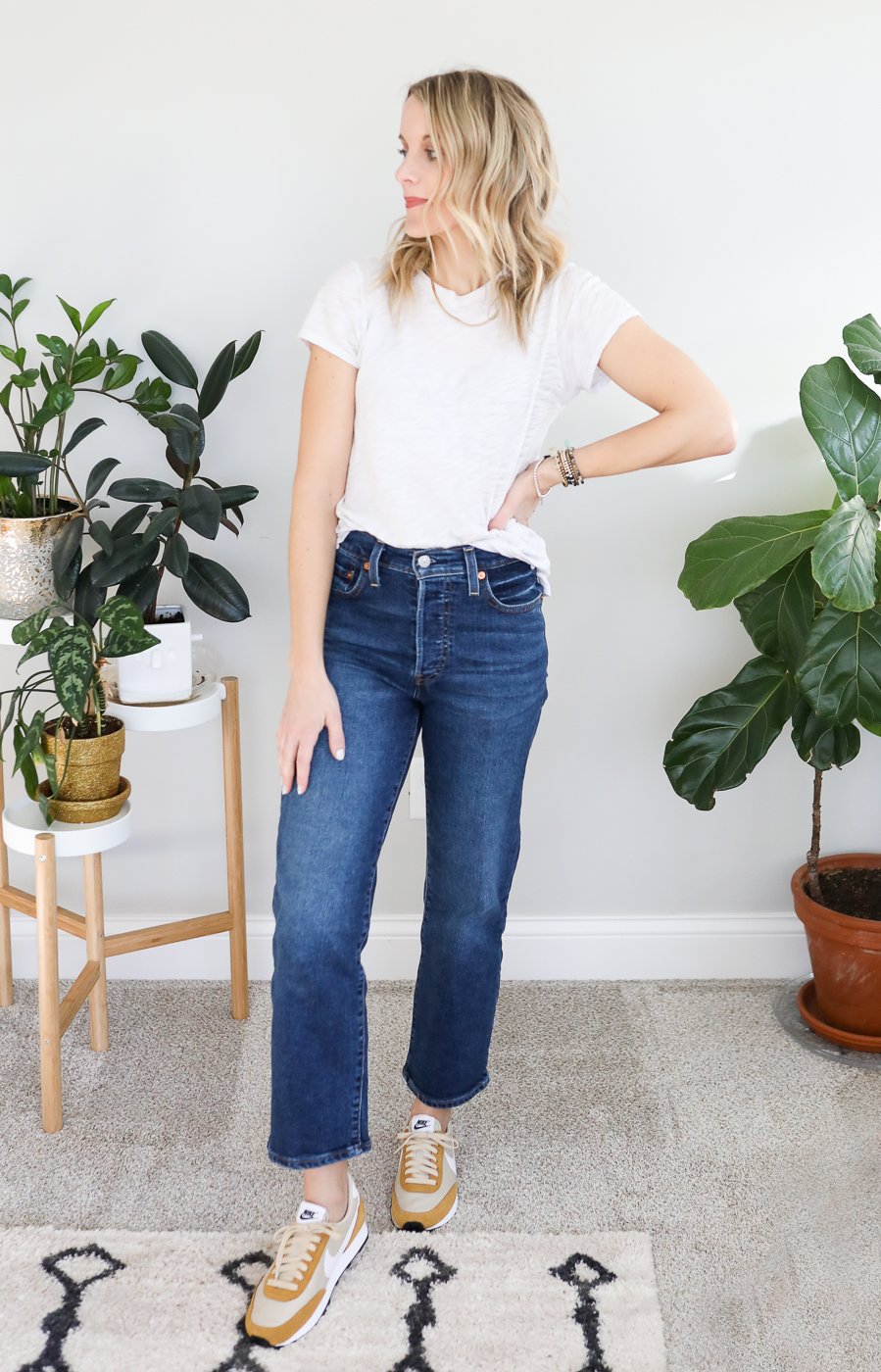 This post contains affiliate links.
Here are some of the best denim brands to find the perfect pair of women's jeans! These made the list because you'll find lots of fans that consider these the best jeans brands, with high-quality jeans that offer the perfect fit. See if you can find your new favorites below!
Citizens of Humanity offers many pairs of timeless denim jeans that will quickly become your favorite pair of jeans! Great care is taken during production to create a quality pair of jeans. In fact, they pass through the hands of more than 40 craftsmen before they belong to you.
This LA-based brand has been operating since 2003 and has developed a strong production team with thought behind the designs and a care for its global footprint. Citizens of Humanity jeans have been spotted on Rihanna, Chrissy Teigen, and Emma Roberts.
Jean Recommendations: The Emery Crop Relaxed Straight is a great classic pair of blue jeans. Another fantastic pick is the Emerson, which is available in mid rise relaxed and long slim boyfriend.
A well-known brand and celebrity favorite (think Bella Hadid, Kendall Jenner, and Selena Gomez), these jeans are a top designer pick.
They take an interesting spin on designer jeans by upcycling vintage jeans and landfill garments into luxury jeans. Find great quality jeans while also doing your part to help the environment. 
Jeans Recommendations: The Comfort Stretch High Rise Stove Pipe are straight-leg jeans that are available in six different washes. You could also go with their 90s Boyfriend Jean for another classic pair for everyday wear.
Good American has a pair of jeans for everyone. Ranging from sizes 00 to 32 plus, every body type will be able to find a pair of designer jeans that is flattering. Designed with high quality fabric, you'll also feel comfortable, which is just as important and will make this brand a wardrobe staple for sure!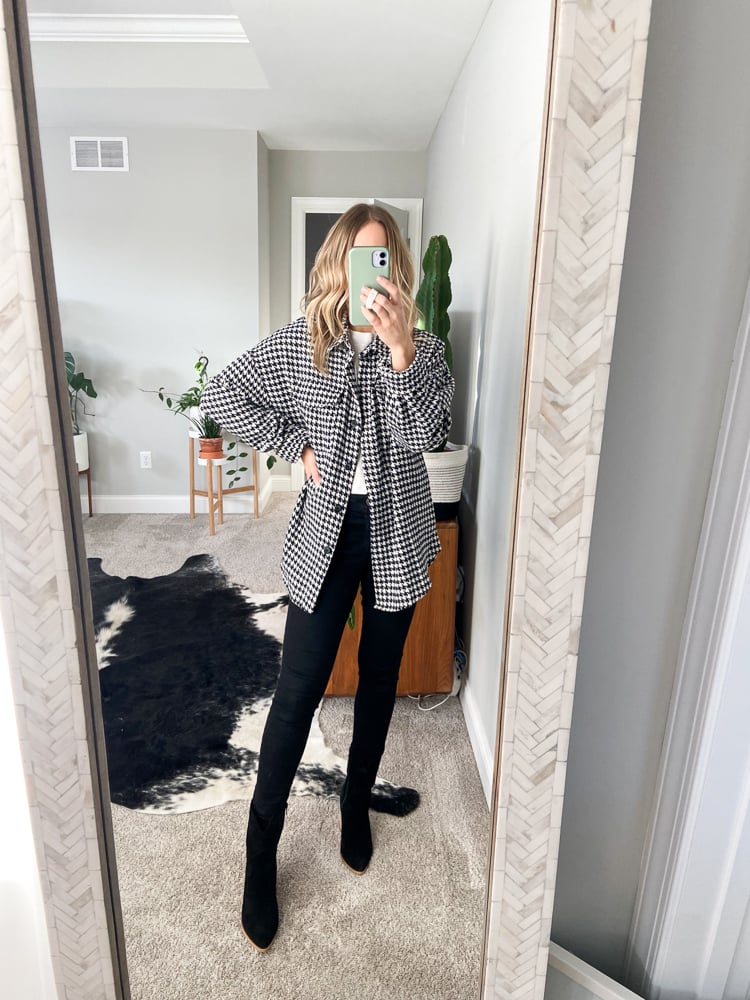 Khloe Kardashian is also a co-founder of the brand and behind the vision of female empowerment and body confidence. It's no question that this brand is loved by Kylie Jenner, Bella Hadid, and Celine Dion.
Jeans Recommendations: If you're looking for a best seller, the Good Curve Straight Jeans or Always Fits Good Legs Straight Jeans fit the bill!
Jeans that fit your body shape perfectly no matter what are a gold mine. Paige denim is washed and wear-tested before it is put on sale.
Their jeans will be ones you'll fall in love with and wear forever and ever. You'll join celebrities such as Lucy Hale, Mindy Kaling, and Charli D'Amelio that have been seen wearing Paige.
Jeans Recommendations: Current bestsellers are the Mayslie Straight Ankle, High Rise Laurel Canyon 32", and Skyline Straight.
Khaite jeans are classic, luxurious, and well detailed. Their jeans are designed to bring a balance of opposing elements to create a piece you will cherish. A relative newcomer on the scene, Khaite was founded in 2016.
But the brand has quickly taken off and become loved by celebrities. In fact, Kendall Jenner and Sophie Turner have both been spotted wearing the Khaite Danielle Straight Leg Jeans!
Jeans Recommendations: The Khaite Kyle Relaxed Straight Leg Jeans and Khaite Kerrie Straight Leg Jeans are also great pairs of jeans along with the Danielle!
Everyone's heard of Levi's. The company has been making denim since the 1870s, so they have a reputation. They're one of my favorites!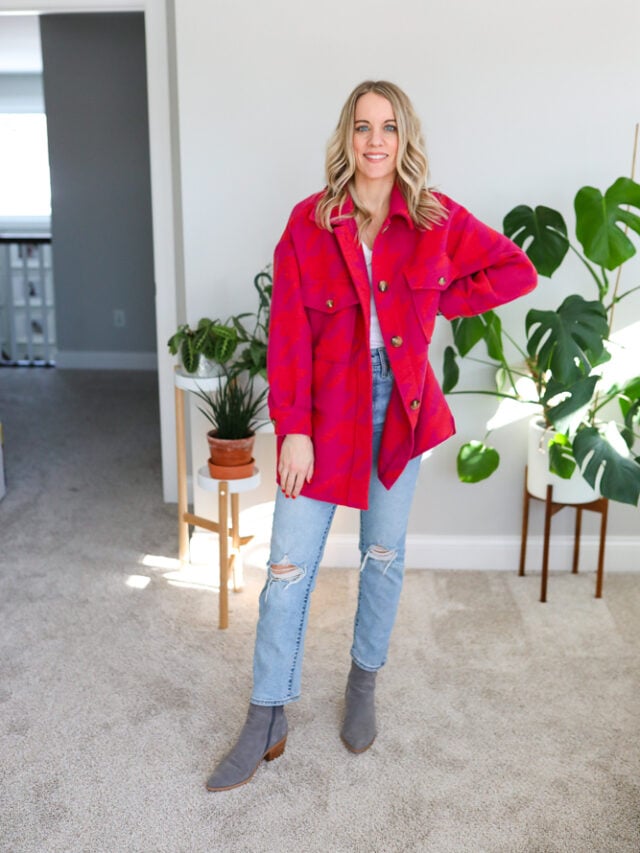 With a wide range of fit and styles, Levi's are a brand you can trust for a good pair of jeans. Originally created for the workforce, these jeans have now been worn and loved by everyday people to presidents to rock stars to celebrities like Selena Gomez, Olivia Wilde, and Hilary Duff.
Jeans Recommendations: 501 High Waist Straight Leg Jeans, Wedgie High Waist Crop Straight Leg Jeans, and Wedgie Icon Fit Tapered Jeans
True Religion brings all kinds of fits and washes for the perfect pair of streetwear jeans. Formed in 2002 in Los Angeles, True Religion offers a great selection of every day jeans from True Religion. These jeans have been worn by Britney Spears, Jessica Simpson, and Mila Kunis.
Jeans Recommendations: Billie Straight Leg
Browse Calvin Klein's straight, 90s fit, and skinny jeans to find the style that you prefer. With a name you can trust, you know you'll find a quality pair of jeans from Calvin Klein.
Celebrities love this brand. Dua Lipa has been seen rocking the Calvin Klein 90s Straight Jeans!
Jean Recommendations: Original Straight Jeans, High Rise Mom Jeans
This Stockholm-based brand offers great straight leg, loose fit, and skinny jeans. Browse their collection of denim and fall in love with Acne Studios just like celebrities like Hailey Baldwin have.
Jeans Recommendations: Regular Fit Jeans 1977 and Regular Fit Jeans Mece
Another well known name, Ralph Lauren also has some great denim options if you're looking for a classic style! They come in a good variety of washes and fits. They are durable but still have a feminine touch.
Jeans Recommendations: High Rise Relaxed Straight Crop Jean and Carrot Jean
Giorgio Armani makes luxury clothes, so you can imagine their jeans are no different. While they have a small selection of jeans, you'll be able to find a few white, black, gray, and blue denim options that are very versatile.
Jeans Recommendations: Denim Collection Five Pocket Trousers in Stretch Cotton Denim
If the 70s are your vibe, look into Mother Denim. Their jeans offer an indie, playful spirit, while still having a variety of styles for all kinds of people. This American-made denim is a favorite of Jennifer Garner, Meghan Markle, and Olivia Wilde.
Jeans Recommendations: The Rambler and The Mid Rise
With all kinds of styles and washes, Frame has a pair of jeans for everyone. This brand has become a fan favorite among celebrities (Hailey Bieber, Gigi Hadid, and Karlie Kloss to name a few) and is growing in popularity.
Jeans Recommendations: Le Jane Crop and Le High Straight
These quality jeans are made to last a long time (if not a lifetime!). With different fits, styles, and rises, you can easily find the perfect pair of Rag & Bone jeans for you! It's easy to see why celebrities like Ivanka Trump, Jennifer Lopez, and Kendall Jenner are wearing Rag & Bone!
Jeans Recommendations: Harlow Straight and Wren Straight
These luxury jeans are also reliable, flattering, and sustainable. Their wide range of styles are ones that will easily become a favorite in your wardrobe.
Plenty of celebrities have worn these jeans, like Emma Stone, Jessica Alba, Jennifer Lawrence, and Kim Kardashian– just to name a few!
Jeans Recommendations: Kimmie Straight and High Waist Cropped Straight
If you're seeking a designer brand that also values sustainability, AGOLDE is the brand for you. They also take time to craft their jeans, focusing on detail and practicality. Chrissy Teigen, Taylor Swift, and Whitney Port have worn AGOLDE jeans.
Jeans Recommendations: Riley High Rise Straight, Parker Jean, and 90's Pinch Waist High Rise
Reformation has a mission to create sustainable fashion. They have a factory in Los Angeles where they value good working conditions.
In an effort to be less wasteful, Reformation puts out weekly limited edition collections. Not only is this beneficial to the environment, but also to you! You'll feel like you have an exclusive pair of jeans.
Jeans Recommendations: Cynthia Stretch High Rise Straight Jeans and Elan Ultra High Rise Straight Leg Jeans
These light-wash jeans are the definition of cool. GRLFRND has many different styles, including some patchwork, cargo, and colored denim looks.
Celebrities like Hailey Baldwin, Bella Hadid, and Victoria Justice have been seen sporting denim from GRLFRND.
Jeans Recommendations: Karolina High Rise Straight Crop and Cassidy Mid Rise Straight
This Australian denim company has been working to create styles that blend fashion and street style since 1999. They also have a strong commitment to sustainability and ethical manufacturing in Melbourne. These jeans have been spotted on celebrities like Blake Lively, Margot Robbie, Rihanna, and Miranda Kerr.
Jeans Recommendations: Hardy Jean Stretch and Evelyn Jean
This denim company was founded in 2005 and reimagined in 2017. They have a simplified range of jeans that are high enough quality to last a lifetime.
They produce everything in small batches, allowing every pair to have attention to detail during the creation process. Celebrities such as Pippa Middleton, Rachel Bilson, and Kate Hudson have worn GOLDSIGN.
Jeans Recommendations: Lennon Relaxed Straight Leg Jeans and Lawler High Waist Slim Straight Leg Jeans
American fashion meets Paris chic with Eve Denim. Adelaide Bourbon, who was born in Paris and is based in Los Angeles, created the brand in 2015.
These romantic, yet personal, feeling jeans get better over time and are a great investment piece. They are made with premium denim and meant to last a lifetime.
Jeans Recommendations: Juliette Jean and Charlotte Jean
This L.A. brand makes denim that brings together the old and the new. They use the highest quality materials to make jeans that will last. Bella Hadid, Irina Shayk, and Karlie Kloss love this brand.
Jeans Recommendations: Virginia Slim, London, and Hero
Lee has over 125 years of experience with making jeans. Beginning in 1912 as a garment factory to create overalls, the company has a long history of making jeans that serve its consumers.
In 1954, production shifted from overalls and workwear to fashionable denim. Now, these classic jeans are affordable and you can wear them over and over again.
Jeans Recommendations: Women's Original Relaxed Fit Straight Leg Jeans and Women's 100% Cotton Relaxed Fit Straight Leg Jean
R13 is a company based out of New York. You'll find cool denim pieces that have a rustic edge to them. However, they'll keep their hold for years to come! Celebrities like Gwyneth Paltrow, Katy Perry, and Taylor Swift have styled R13 denim with their outfits.
Jeans Recommendations: Boy Straight and Tailored Drop
This company combines Southern California with Parisian sensibility. That right there tells you how perfect these jeans are. You can easily dress L'Agence jeans up or down to fit whatever the day (or night!) has in store for you.
Find everything from classic denim washes to fun, bold colors. They even have stylish maternity jeans! Jennifer Lopez, Kristin Cavallari, Sarah Jessica Parker, and Megan Fox wear these jeans.
Jeans Recommendations: Sada Jean and Ruth Jean
From the Silicon Valley, Soul of Nomad designs jeans that are great for travelers. Their jeans are infused with modern technology that are made to last throughout your life.
Created in 2015, the brand started out making custom jeans for tech entrepreneurs and executives that were traveling and always on the go. Now, these jeans are available to anyone that needs a great piece of denim in their busy life.
Jeans Recommendations: Women's Akira Jeans
Stella McCartney has countless fashion achievements, so it's a no brainer that her jeans are the real deal. Find your everyday favorite fits like straight legs, crops, and high rise, or branch out 70s style flares or distressed denim.
Celebrities like Katy Perry and Rita Ora have styled a pair of Stella McCartney jeans.
Jeans Recommendations: Falabella Slim Leg Jeans and S-Wave Vintage Wash Wide Leg Jeans
Everlane is a brand that values ethical factories and good materials. With this in mind, they work to create pieces that will last.
They have a great selection of jeans that are classic styles and meant to last no matter the style trend. Meghan Markle, Jennifer Lawrence, and Emma Roberts have worn these jeans.
Jeans Recommendations: The Way High Jean and The Super Soft Relaxed Jean
What began in 2011 as a denim brand created by three siblings, Triarchy evolved into an eco-friendly brand. The siblings stopped production in 2016 to research how to make their brand better for the environment. After three years, the company returned to create even better jeans.
Today, their jeans are plastic-free and biodegrade in two years. Along with using natural rubber to create a stretch in the jeans, Triarchy makes its jeans with organic and recycled cotton.
Jeans Recommendations: Ms. Triarchy V-High Rise Straight Leg Jean and Ms. Hawn High Rise Crop Loose Skinny
FAQ
Are you looking for more style suggestions? Read how to style leather shorts, my favorite cropped jeans looks, and affordable alternatives to Golden Goose sneakers.