My reel with the Levi's Wedgie Straight went wild (over 2 million views!) and with some many eyes I wanted to give you some ways to style them!
While I don't wear these when the temperatures drop crazy lows (I do live in MN after all and don't show my knees when the temps are so cold), I do wear them year round.
Here's some ways to style them!
How to Style Levi's Wedgie Straight Jeans
This post contains affiliate links.
1. Bright Color Shacket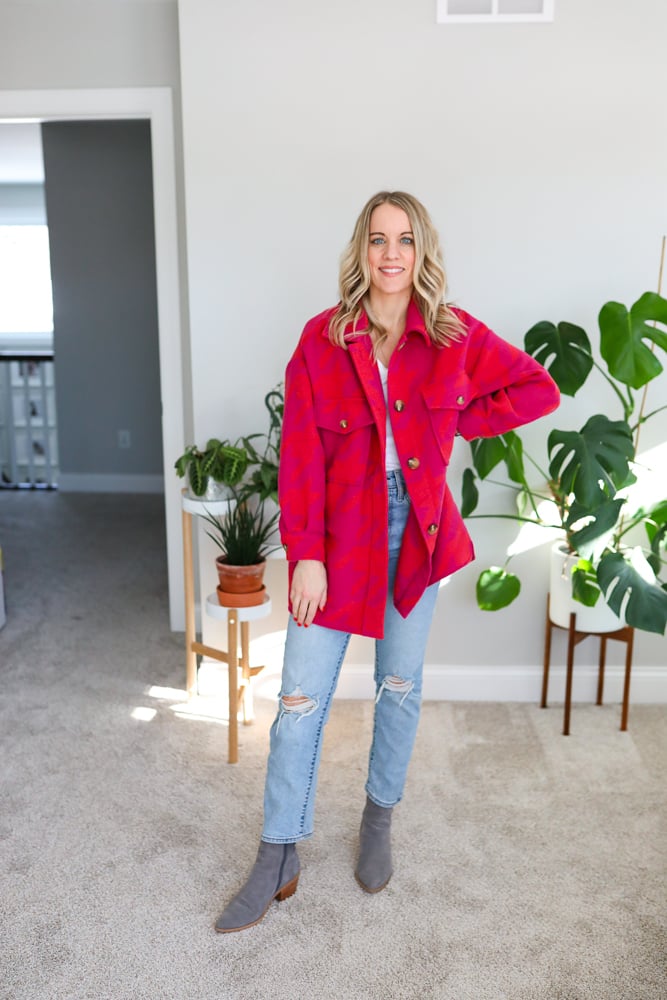 Shop the Look: Straight Leg Jeans | White T-shirt | Pink Shacket | Boots |
My best tip for paring boots with these jeans are to make sure the shaft of the boots end just above the bottom of the jeans to help elongate my legs instead of shortening them.
The bright color of the shacket combined with the neutrals of the rest of the look really make this outfit a statement!
2. Red Sweater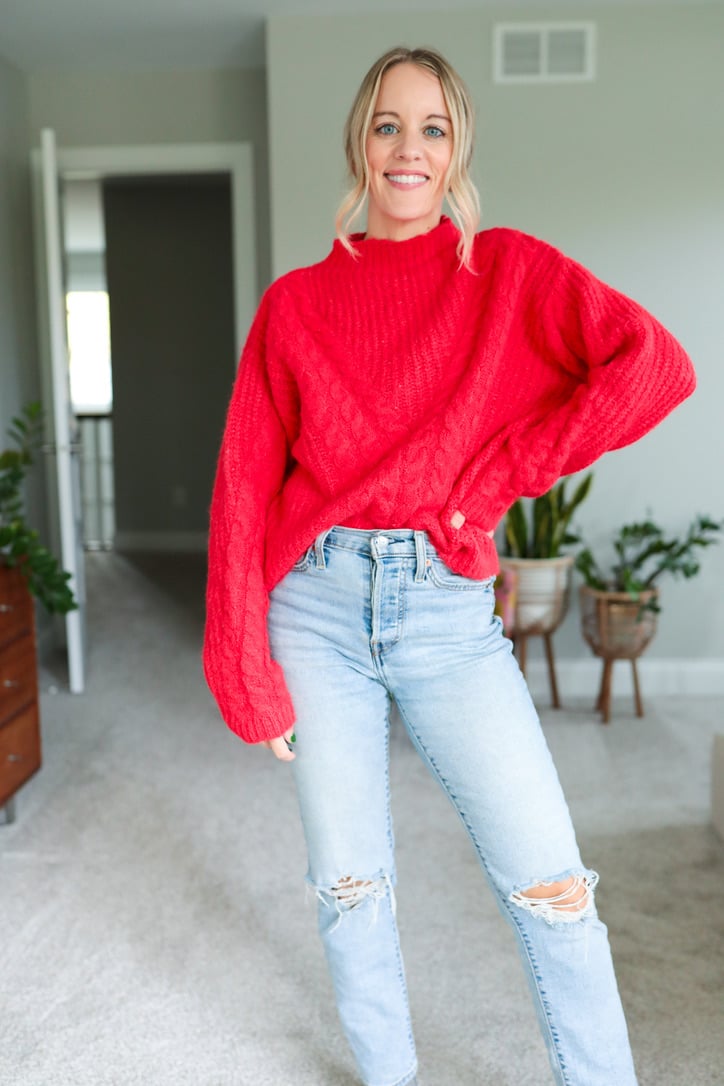 Shop the Outfit: Red Sweater | Straight Leg Jeans
Go simple with a pop of red! Red is a perfect color for fall and winter and goes great with these Levi's Wedgie Straight jeans!
3. Casual Sweatshirt and New Balances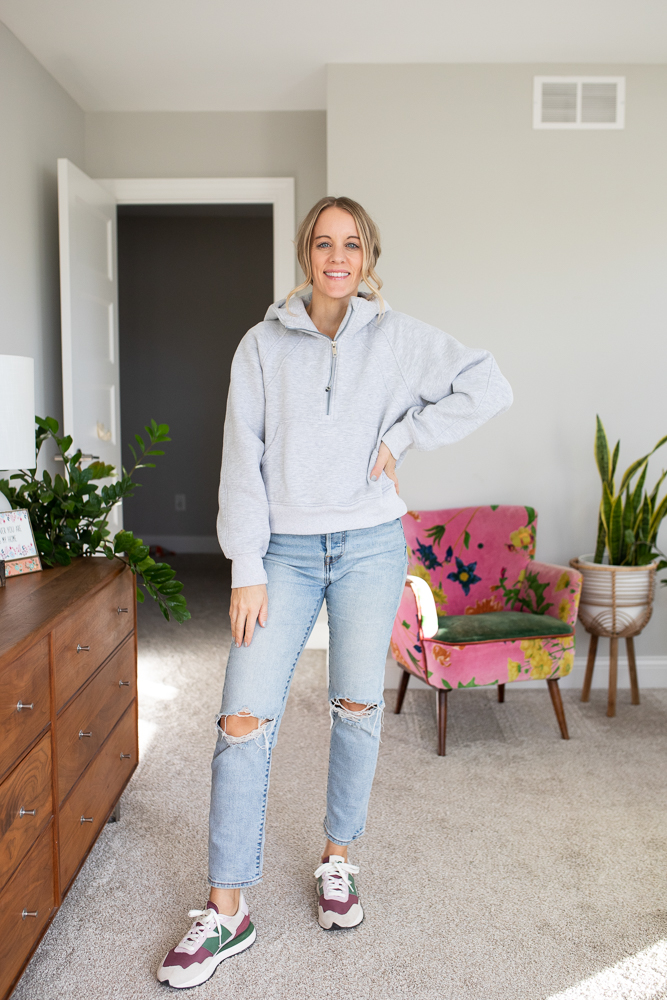 Shop the Look: Sweatshirt | New Balance | Straight Leg Jeans
The distressed look is perfect for a casual feel! This Lululemon lookalike sweatshirt is much less expensive than the real deal and the New Balances complete the look.
4. Cowboy Boots and Crocheted Top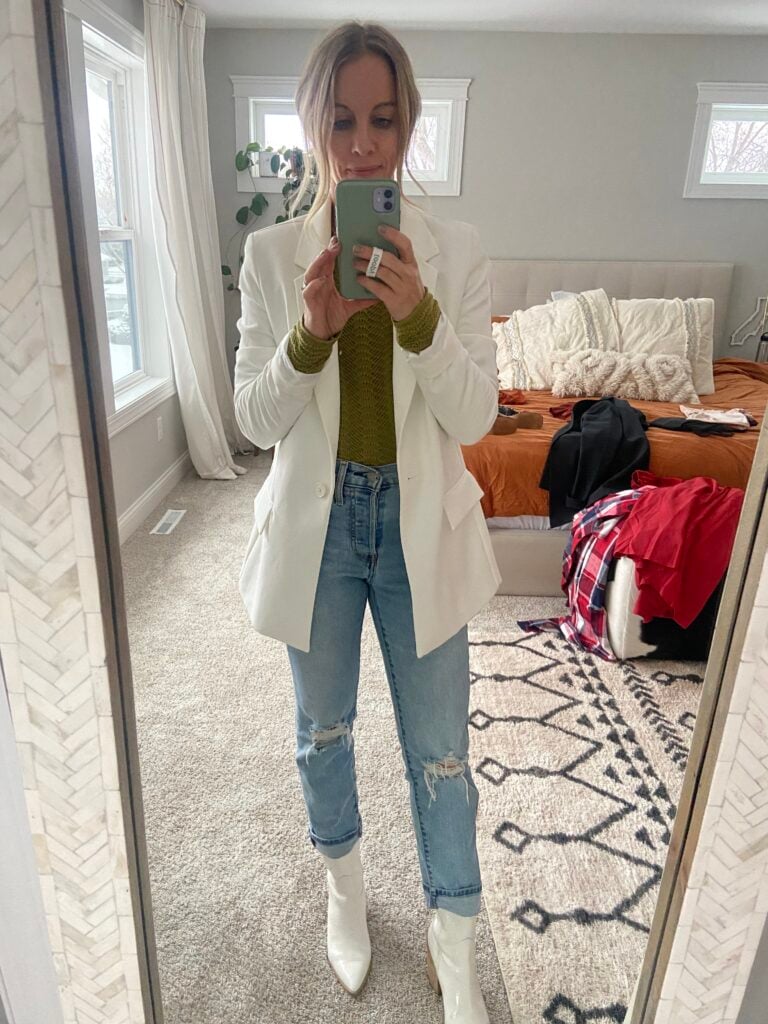 Shop the Look: Jeans | Blazer | Crochet Top | Boots
Mixing textures is one of my favorite ways to look and feel more styled and this one is so fun! The leather texture of the boots with the crochet top and distressing on the jeans are all fun textures to mix together.
It's works well because the white boots tie in the white blazer and the fun color of the long sleeve base peeks through ever so slightly.
5. Long Cardigan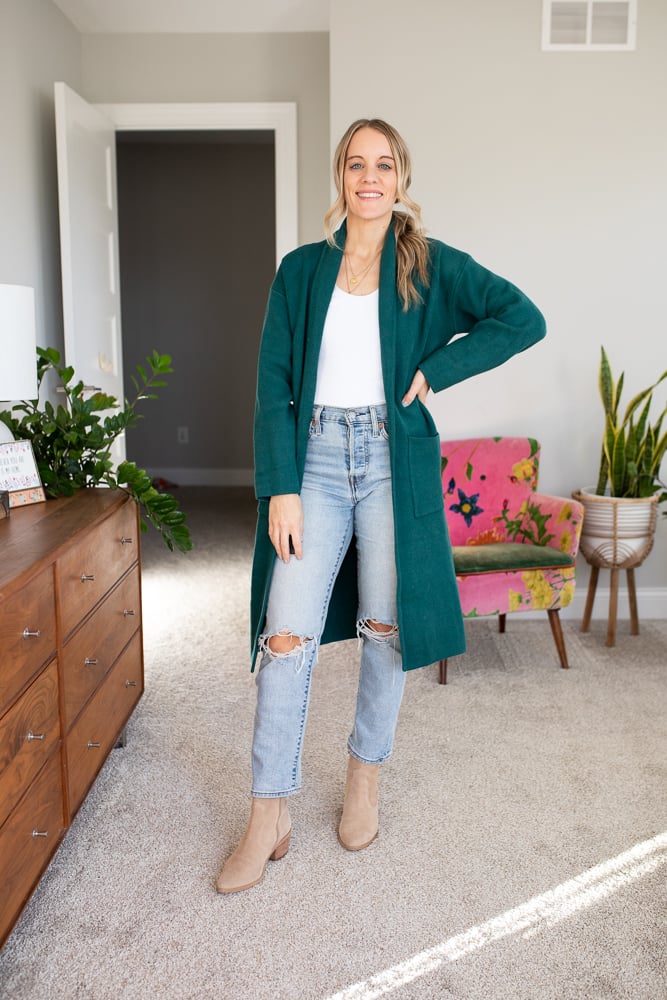 Shop the Look: Jeans | Tank | Long Cardigan | Boots
Long coatigan cardigans are a perfect transition piece for fall and great for staying cozy in winter. This one elevates the outfit and gives you a polished look, even with distressed jeans.
6. Blazer and Sweater Combo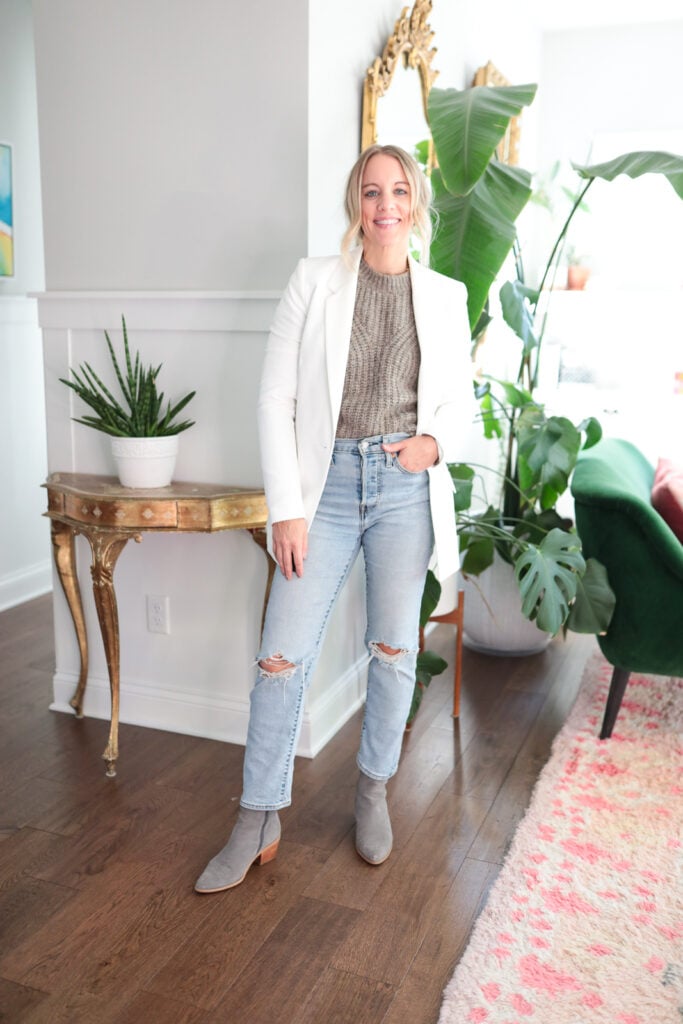 Shop the Look: Jeans | Blazer | Sweater (old from Abercrombie) | Boots
On those really cold days, try layering a blazer over the top of a sweater! You'll either want a looser blazer or a thinner sweater to make sure you're not too stiff but you can definitely make this work!
The little front tuck on this sweater keeps my waist defined to not make me look heavier than I am which could definitely happen with this type of outfit.
7. Casual Chic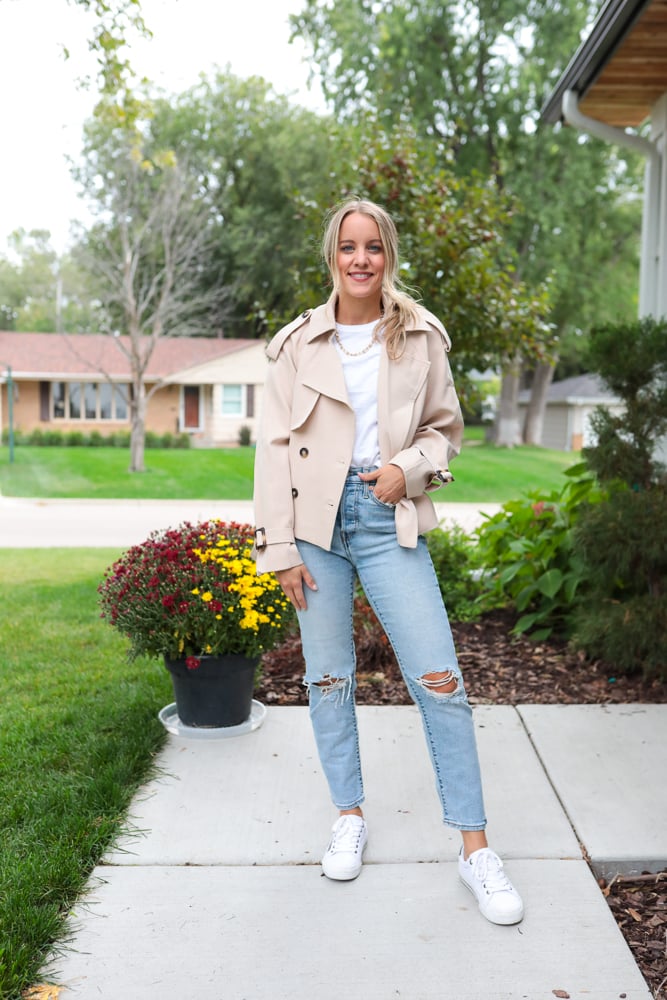 Shop the Look: Jeans | T-Shirt | Trench Coat | Sneakers
Want a chic and trendy outfit? Pair your Levi Wedgie Straights with a cropped trench jacket, classic white tee, and white sneakers. It works for so many occasions!
8. Sweater and Shacket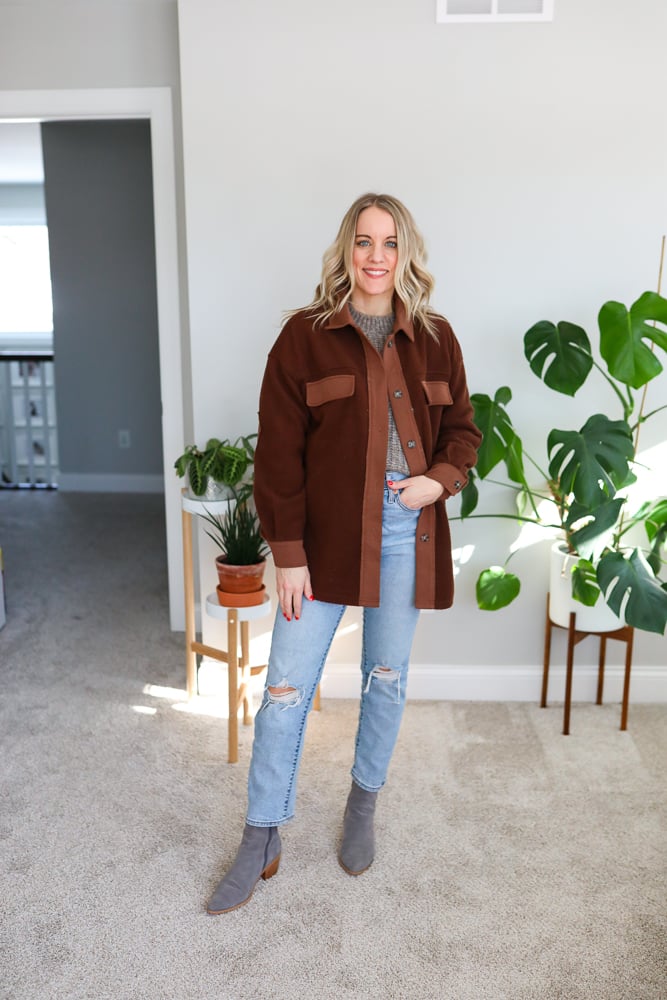 Shop the Look: Straight Leg Jeans | Sweater | Fleece Shacket | Boots |
When you need an extra layer over a sweater whether it's a bitter cold winter day or it's your outer layer for a cool fall day but don't want to wear a blazer, this look is perfect!
This casual look combines distressed straight leg jeans, a cozy sweater and a flannel shacket over the top. Throw on a pair of booties and you're good to go!
Find other easy ways to wear ankle boots here!
9. Off The Shoulder Top and Heels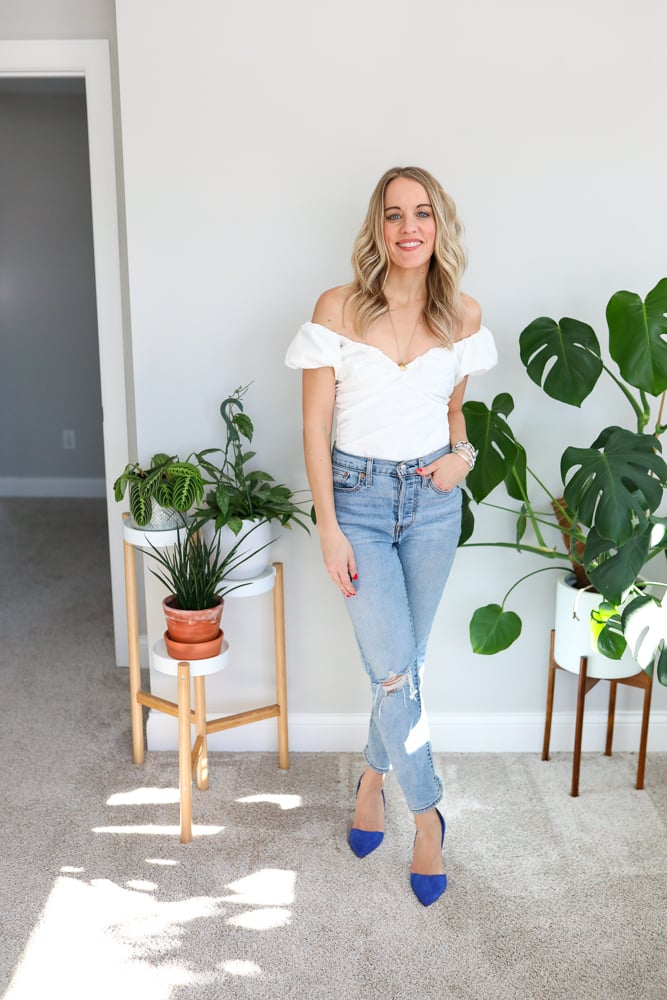 Shop the Look: Off-the-Shoulder Bodysuit | Jeans | Heels (sold out, similar here)
Getting ready for a girls night out or date night? This is when you put on your sexy bodysuits and straight leg jeans! This cool-girl outfit is the perfect combo of casual (distressed mom jeans) chic (off the shoulder body suit and heels).
The fun color heels really complete the look and give it the pop of color it needs!
10. Edgy Black Look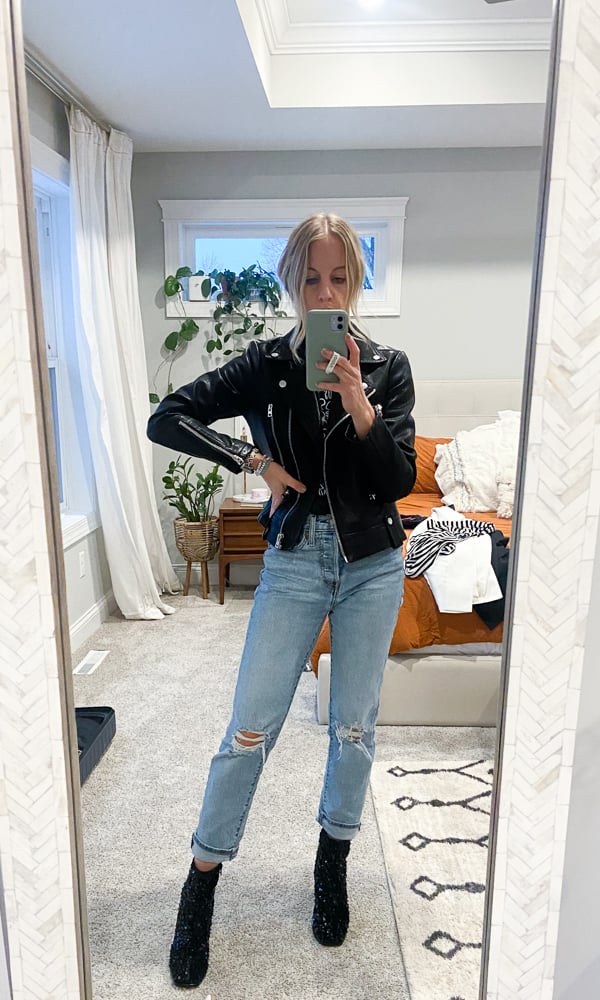 You can wear these jeans and still be edgy! These fun sequin boots are perfect for a night on the town and a black faux leather jacket completes the look.
11. Oversized Sweater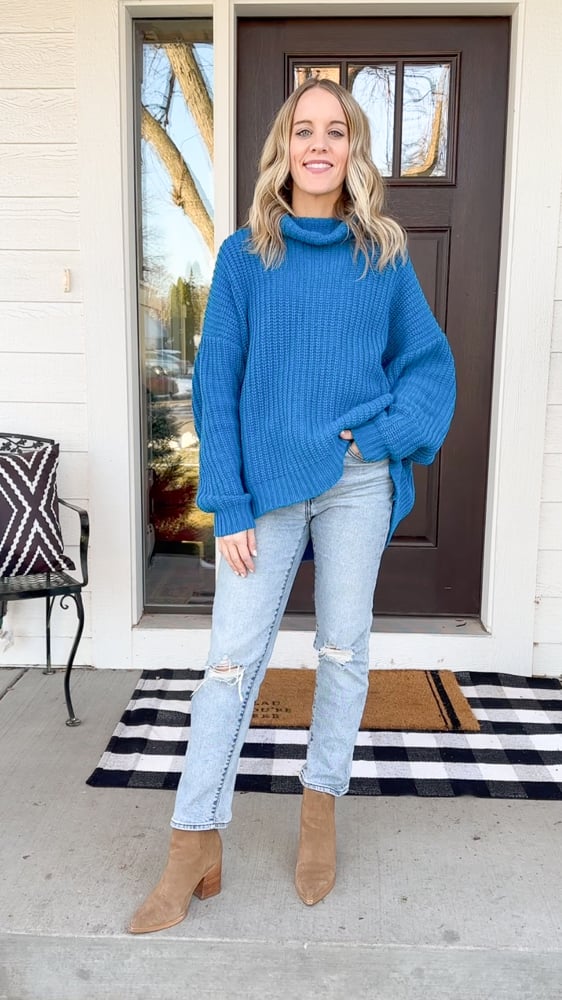 Shop the Look: Jeans | Sweater and Boots are old and sold out!
If you wear an oversized sweater try pairing it with a heeled boot! This will elongate your legs and make an oversized tip work so well.
12. Cropped Cardigan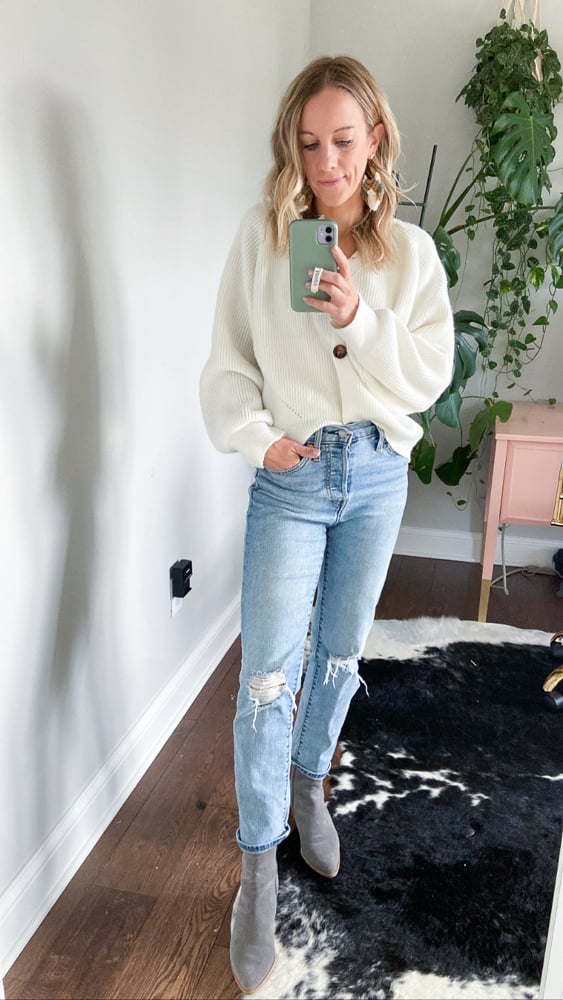 Shop the Look: Jeans | Cardigan | Boots
This outfit is simple and classic. Put on a cropped neutral cardigan – a cropped one can allow you to do a front tuck without adding a ton of fabric in the front. Complete the look with a neutral bootie (mine are on major sale!). Easy Peasy!
I hope this helps you know how to style your Levi's Wedgie Straight jeans!