If you're looking for a boot that can be worn in just about any way, with just about any outfit, look no further than Chelsea boots! Not only are Chelsea boots timeless, they're incredibly comfortable and so versatile.
If you're unfamiliar with them, here's what you need to know. Chelsea boots are close fitting, ankle high boots with an elastic side panel to easily pull them on and take them off. Most have pull tabs in the back of the boot (some also have them in the front) to help you get them on even easier.
Here's a fun fact for you – they've been around since the Victorian era when Queen Victoria's shoemaker Joseph Sparkes Hall created them for the queen to do her daily walks in. If they're great option for a queen, I'm thinking they're a great option enough for me and you! 😉
They grew in popularity in the 1950s and 60s in the UK. They're were associated with King's Road (a street in Chelsea) which is how they got their name. Everyone from the Beatles to the Rolling Stones to model Jean Shrimpton were wearing them!
The most popular color are black Chelsea boots but the come in a ton of different colors You'll see brown Chelsea boots, white Chelsea boots, even deep green one!
If you want a pair of Chelsea boots and are stumped on how to wear them or just need a refresh on ideas with how to style yours, I'm here for you! Today I'm going to share a variety of different outfits wearing black classic Chelsea boots to help inspire your next outfit.
14 Ways to Wear Chelsea Boots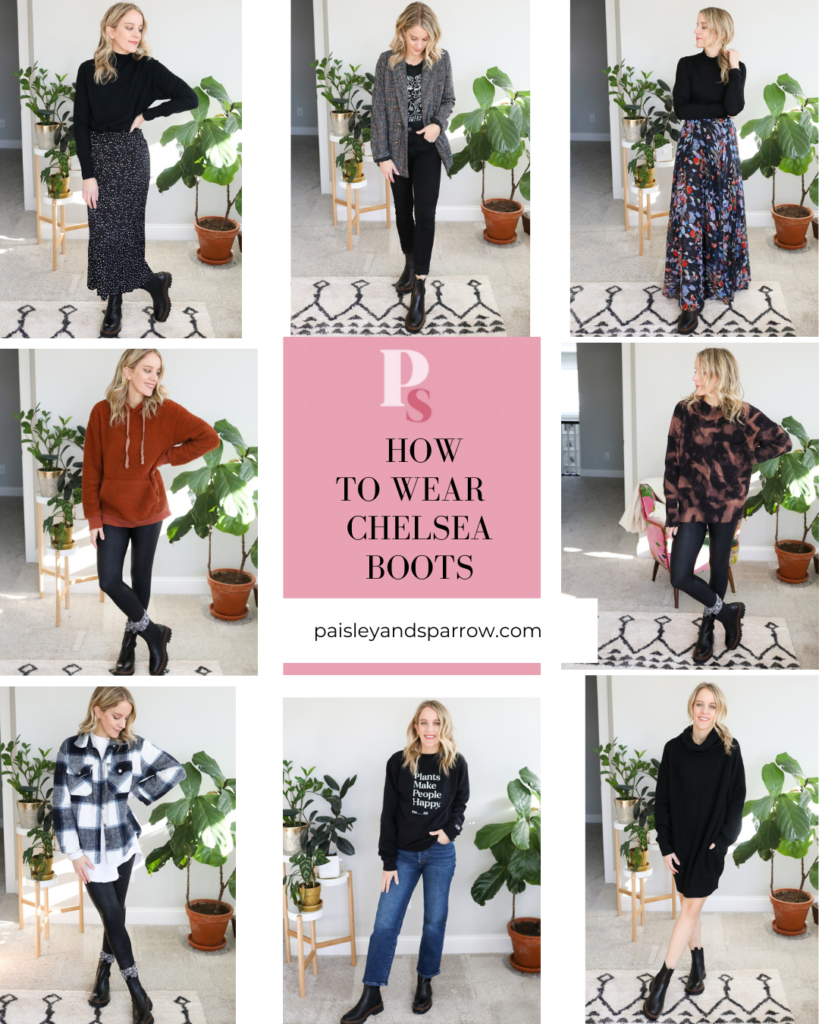 This post contains affiliate links.
From casual outfits to dressier outfits, here's some fun new ways to wear your Chelsea boots.
1. All Black : Black Leggings and a Black Sweater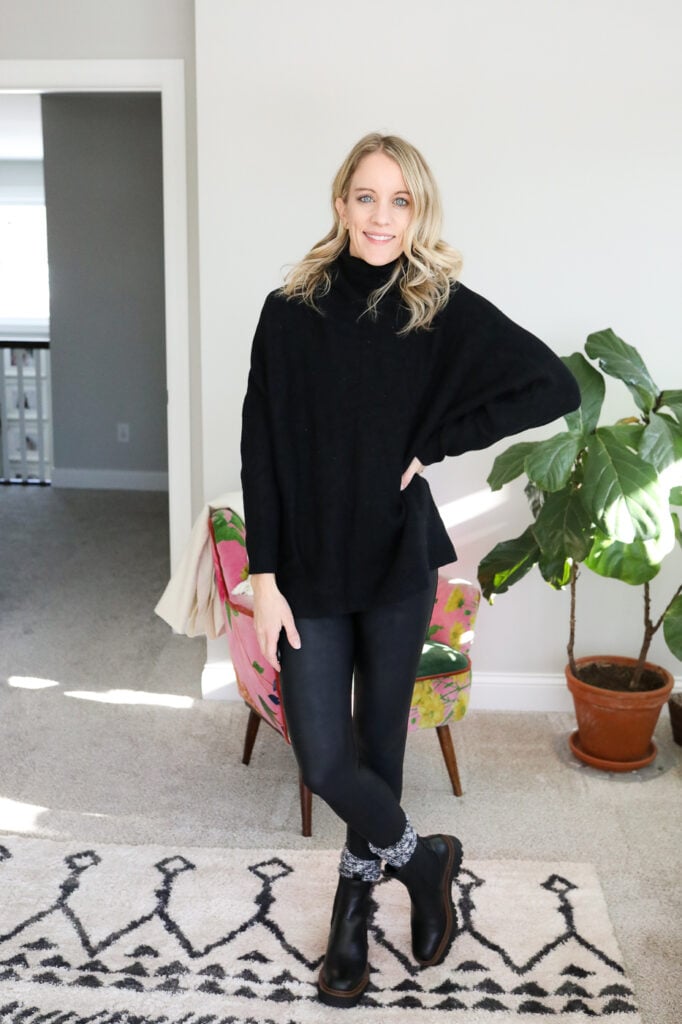 Shop this outfit: Sweater | Leggings | Socks (similar here) | Boots
When in doubt, go black! One of the most classic and easy ways to wear Chelsea boots is black on black on black! I love this simple look of leggings and an oversized sweater! It's easy to wear and you'll always look chic!
Love leggings? Here's more faux leather leggings outfits!
2. Grey Jeans and a Denim Jacket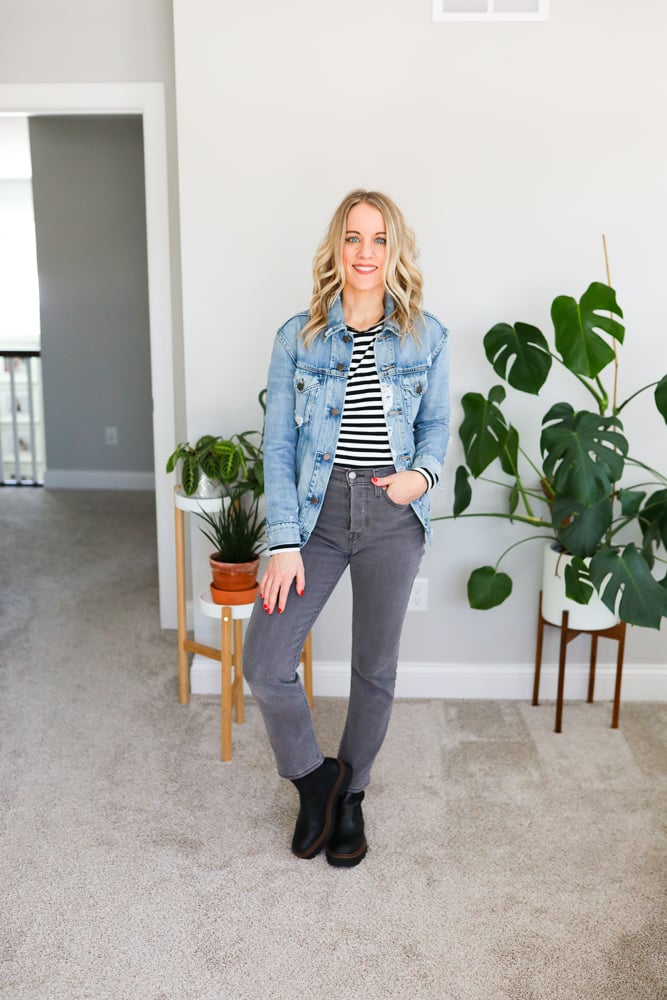 Shop the Look: Jeans | Stripe Shirt | Jacket | Chelsea Boots
Denim jackets with grey jeans are always a great option! On days when it may still be a little chilly outside, throw a denim jacket over a long sleeve t-shirt and you're good to go! This look compliments grey jeans perfectly.
Check out other denim jacket looks here!
3. Leggings and a Shacket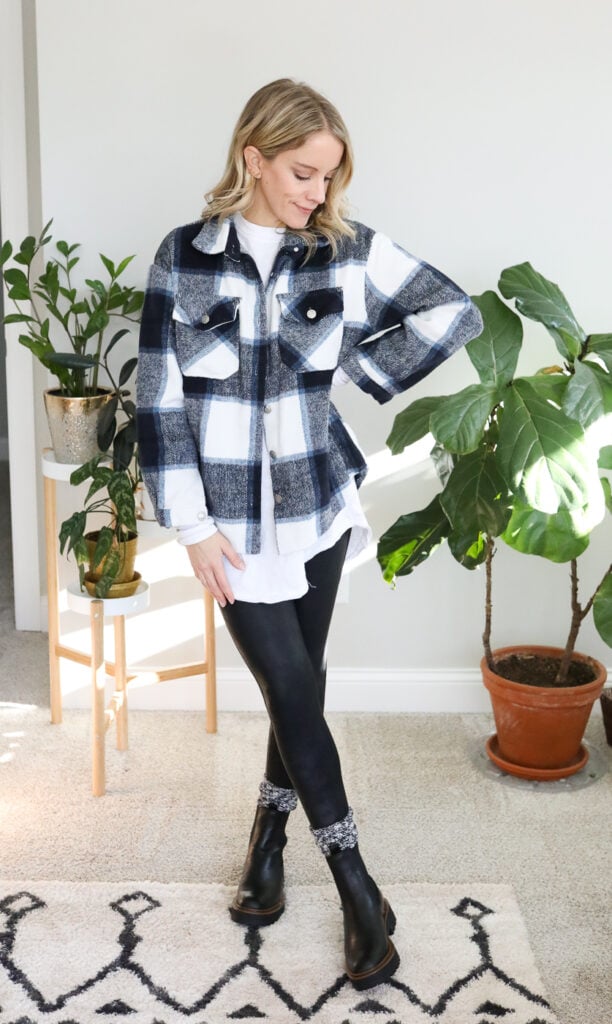 Shop this outfit: Long Sleeve | Shacket | Leggings | Socks (similar here) | Boots
Love an oversized shacket? Leggings and a shacket are the perfect combo for fall and winter. Add in cozy socks pulled slightly over your leggings to complete the look!
Want more shacket fun? Head to this post all about shackets.
4. Leggings and a Sherpa Sweatshirt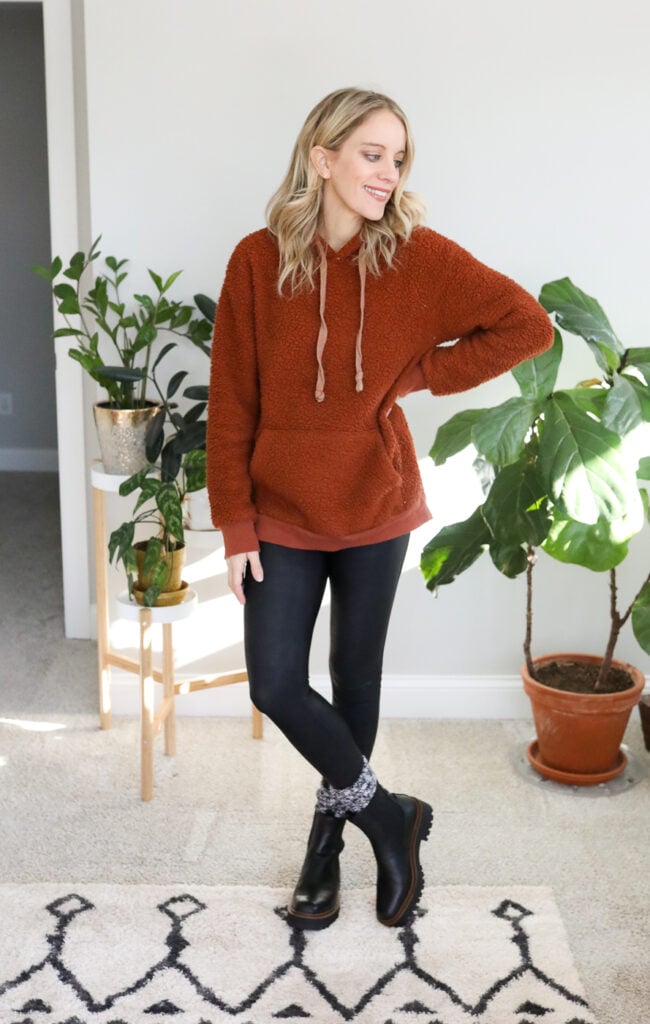 Shop this outfit: Fleece Sweatshirt | Leggings | Socks (similar here) | Boots
When the temperatures start to drop in the colder months, chances are you'll be reaching for things a bit more cozy and comfy. This sherpa style hooded sweatshirt softens up the tough looking vibe of the Chelsea boot.
This outfit is perfect for running errands or a walk around the neighborhood!
5. Black Leggings and an Oversized Sweater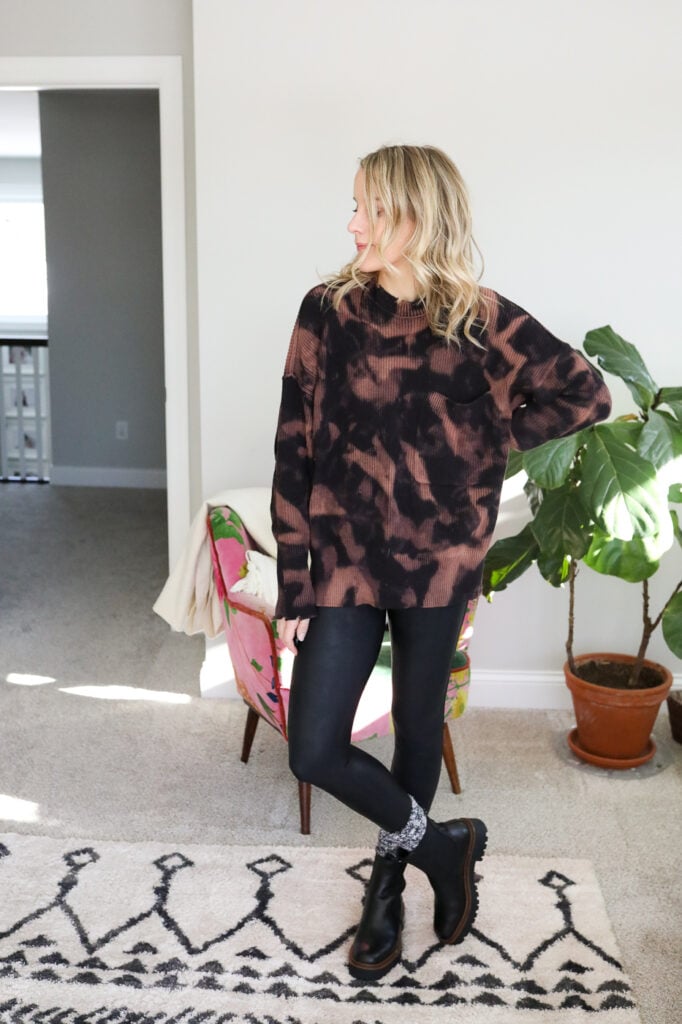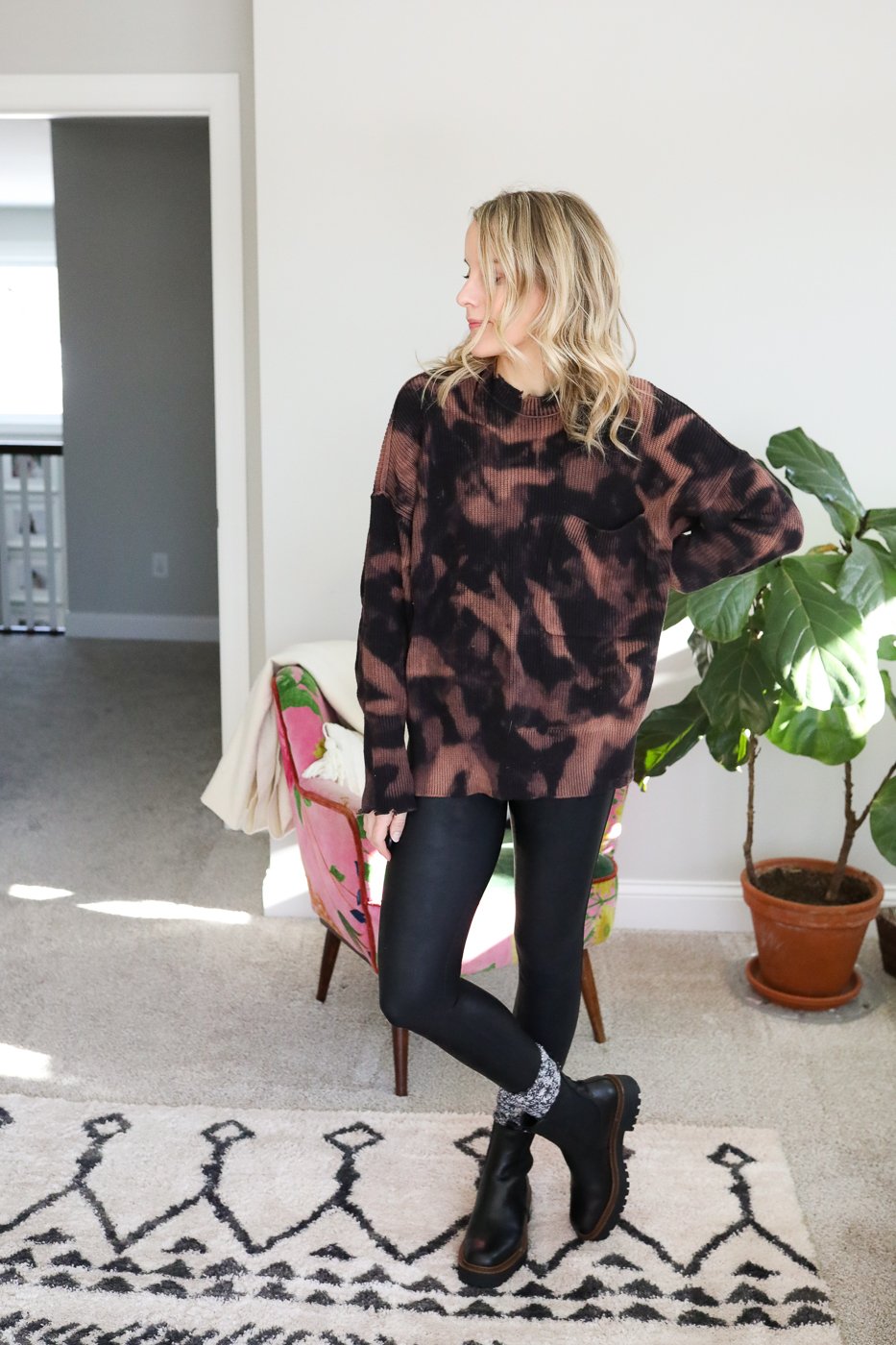 Shop this outfit: Leggings | Socks (similar here) | Boots
Have an oversized sweater you love? Throw it on with leggings and your Chelsea boots! If you like a little bit of extra length, add a longer tee or tank underneath (this Free People Long Sleeve is my fav).
Cozy socks pulled over your leggings give this an extra cozy vibe!
Check out other faux leather legging outfit inspiration here!
6. Midi Skirt and Bodysuit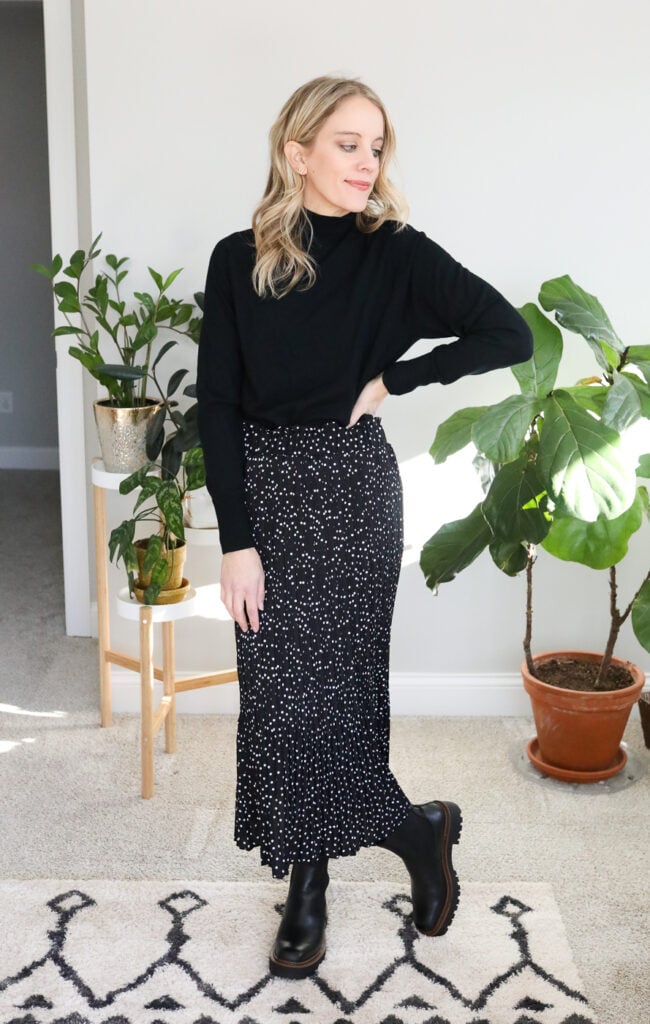 Shop this outfit: Bodysuit | Skirt | Boots
Yes, your Chelsea boots can be worn to the office! This outfit proves that! Keep things sophisticated and professional by pulling on a neutral colored midi skirt over a black bodysuit.
If you've never tried a bodysuit under a skirt you are missing out! They give you a completely seamless look. No shirts coming untucked in the middle of a meeting or looking sloppy – they're magic!
Pull on your ankle boots over fun sheer socks, low socks or even higher cozy socks. This is a great way to look professional yet chic at the same time.
7. Midi Skirt and Graphic Tee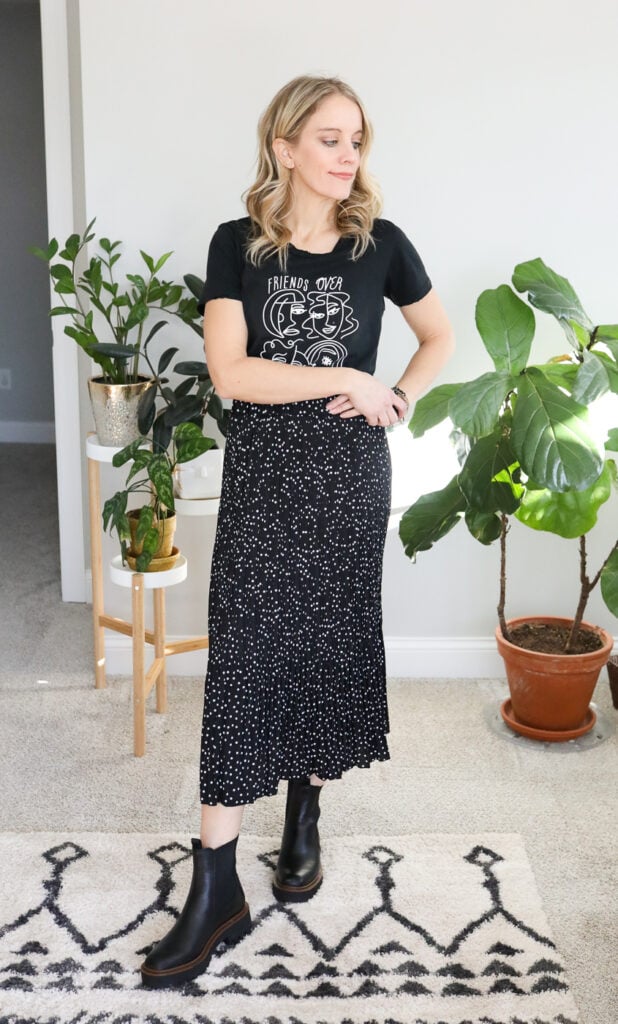 Shop this outfit: Graphic Tee (code PANDS for a discount!) | Skirt | Boots
Heading out for drinks after work? I've got you. Swap the sleek bodysuit for a fun graphic tee! A super easy way to make a midi skirt less professional and more fun is to simply swap a neutral top for a more fun top like this graphic tee.
You can even pull the midi skirt up a bit on your waist to reveal a bit more of your black boots and those fun leather soles and your ready for happy hour!
8. Sweater Dress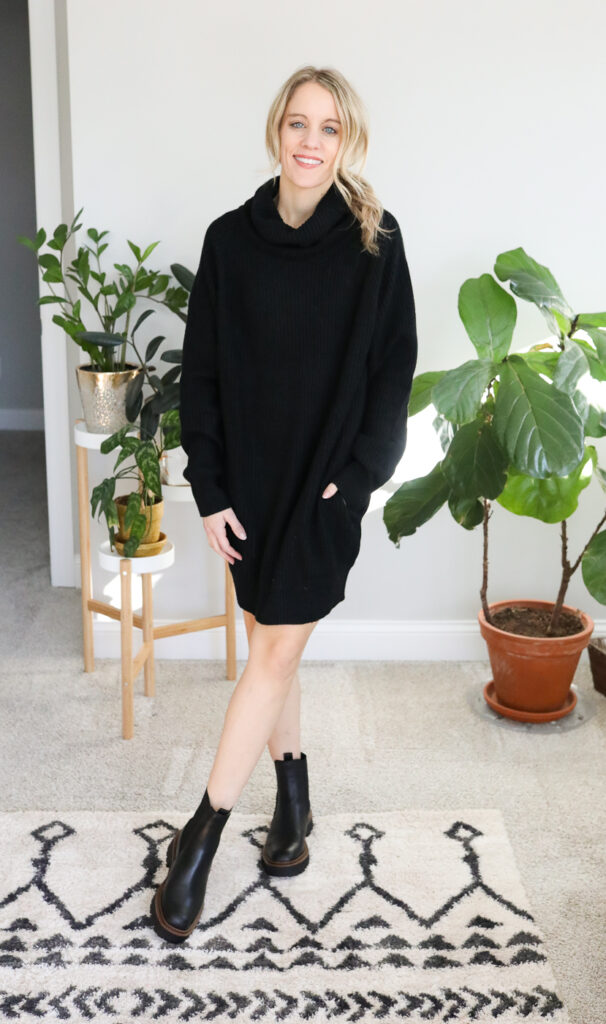 Shop this outfit: Sweater Dress | Boots
I love sweater dress (I even have a whole post with ideas on how to wear them) and they look so fun with your black leather boots! Pull on a pair of textured or patterned black tights for those extra cold days.
9. Maxi Skirt and Black Bodysuit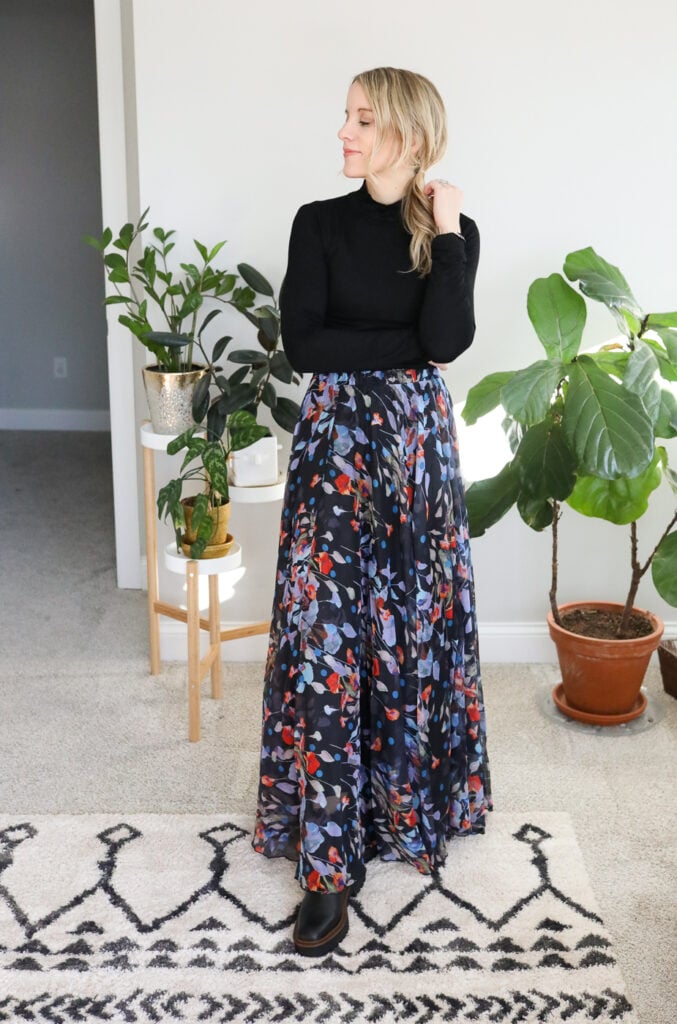 Shop this outfit: Bodysuit | Skirt | Boots
This maxi skirt may be my favorite skirt for year round wear! During cooler months, you can easily pull off this skirt by pairing it with a slim cut black shirt (again, like this bodysuit) and your Chelsea boots.
This is also a great option if you needed more of a dress shoe since just a bit of your boot will be peeking out from under the skirt!
I love this skirt from Chicwish – check out my Chicwish Review here!
10. Black Jeans and White Cardigan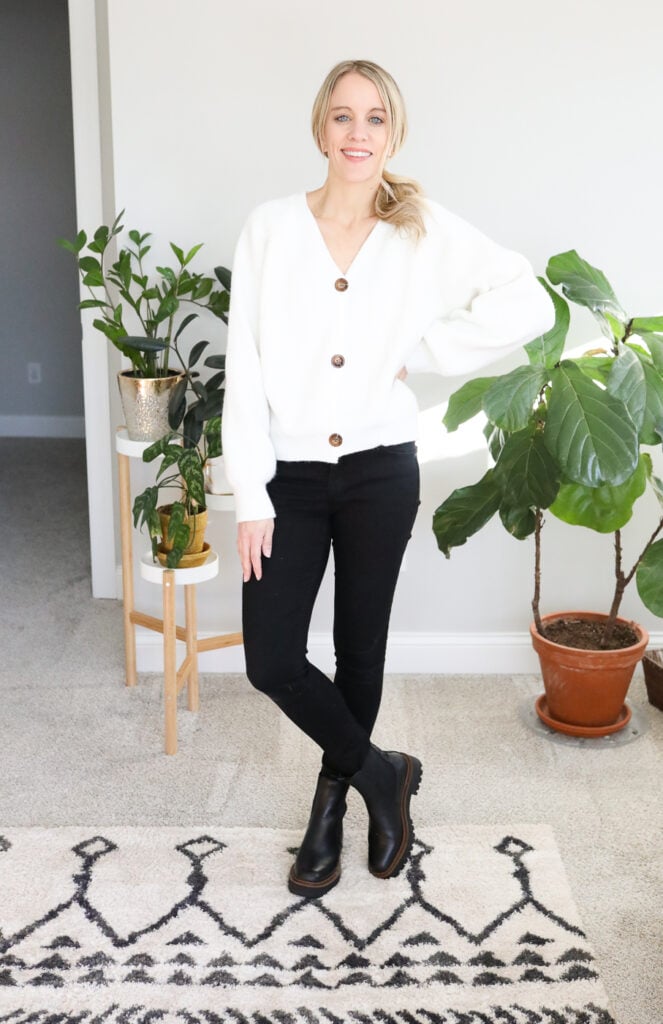 Shop this outfit: Cardigan Sweater | Pants | Boots
One of the simplest and most classic way to wear your black leather Chelsea boots is with black jeans! This white button down cardigan goes with just about everything and I love it paired with a pair of skinny jeans and a pair of boots!
Depending on your own personal style, you can fold your jeans up so they hit right at the top of the boots or add a pair of cozy socks and pull them up over your pants!
11. Black Skinny Jeans and a Blazer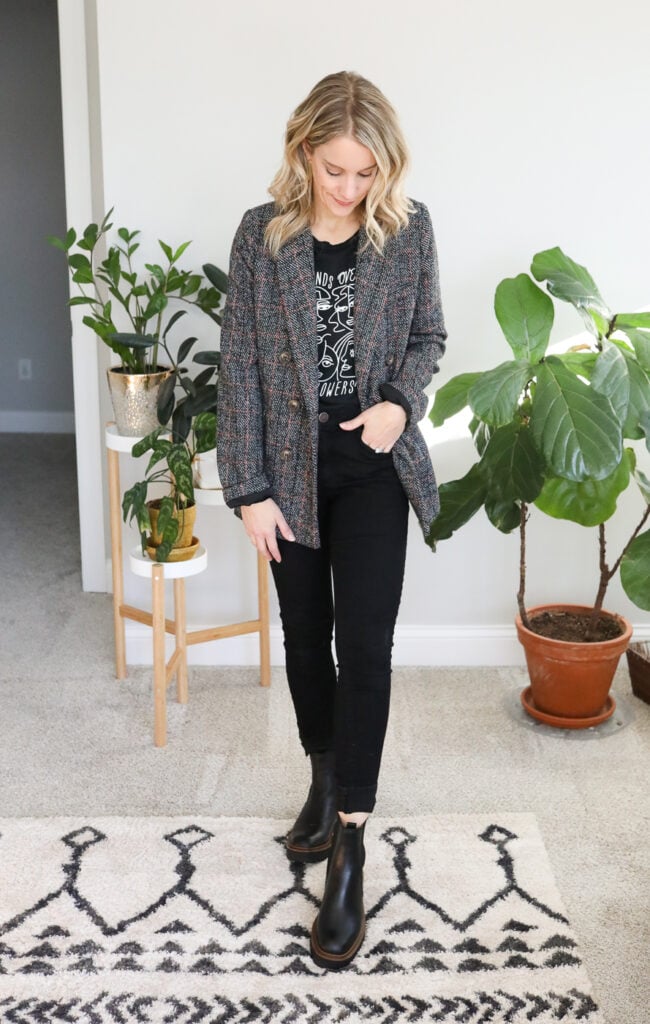 Shop this outfit: Blazer (sold out, similar here and here) | Graphic Tee | Pants | Boots
Blazers are a modern look that's back in full force. Pair it with a graphic tee like me for date night or drinks with girlfriends or swap the graphic tee for a simple white t-shirt for a cool casual look.
Need to go to the office and can't wear jeans? Simply swap the jeans for work pants and away you go!
12. Cropped Jeans and a Denim Jacket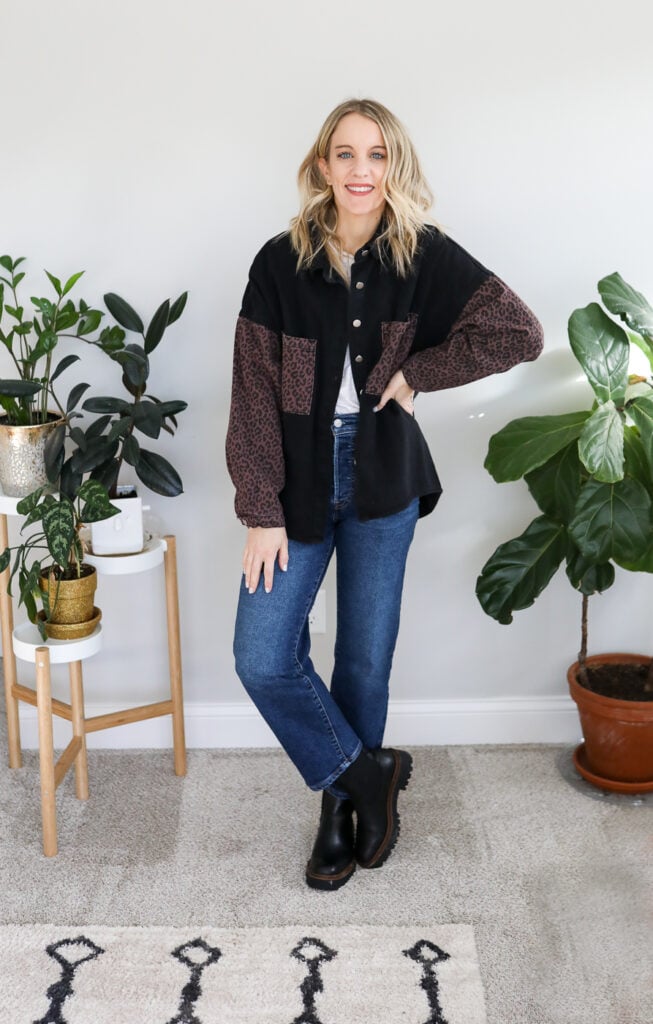 Shop this outfit: Denim Jacket | White Tee | Pants | Boots
Want an every more on trend look? Swap the skinnies for cropped straight leg jeans! These cropped jeans look fantastic with a printed denim jacket with a simple white t-shirt under it.
*Find more cropped jeans outfit ideas here
13. Jeans and a Sweatshirt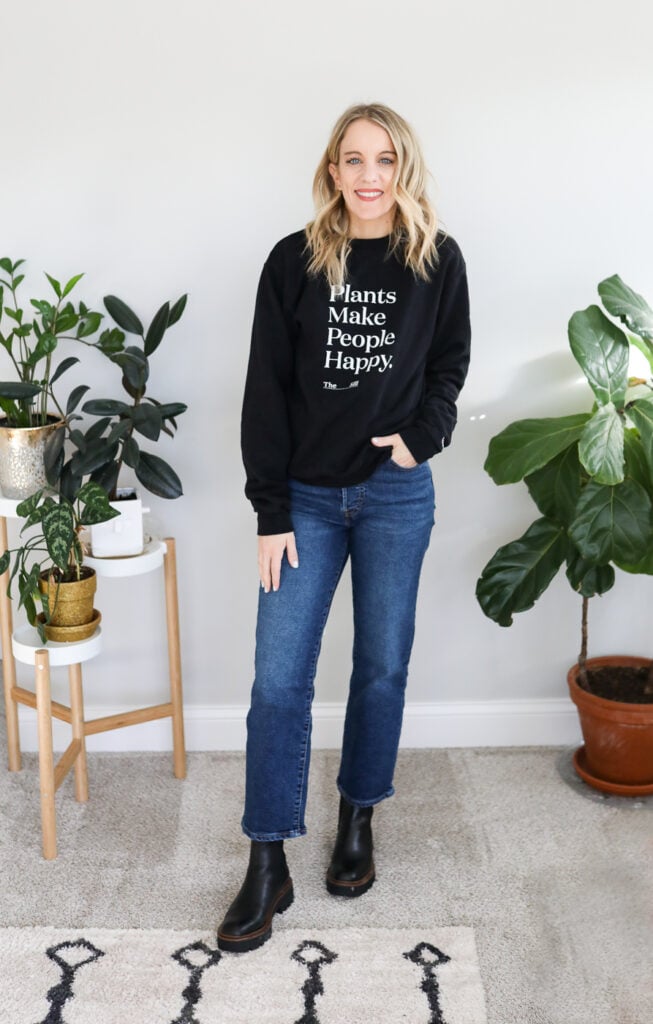 Shop this outfit: Sweatshirt | Jeans | Boots
For everyday wear, throw on a sweatshirt with your copped jeans! This relaxed appearance still looks effortlessly chic with the perfect pair of Chelsea boots and cropped blue jeans.
14. Moto Jacket and Grey Jeans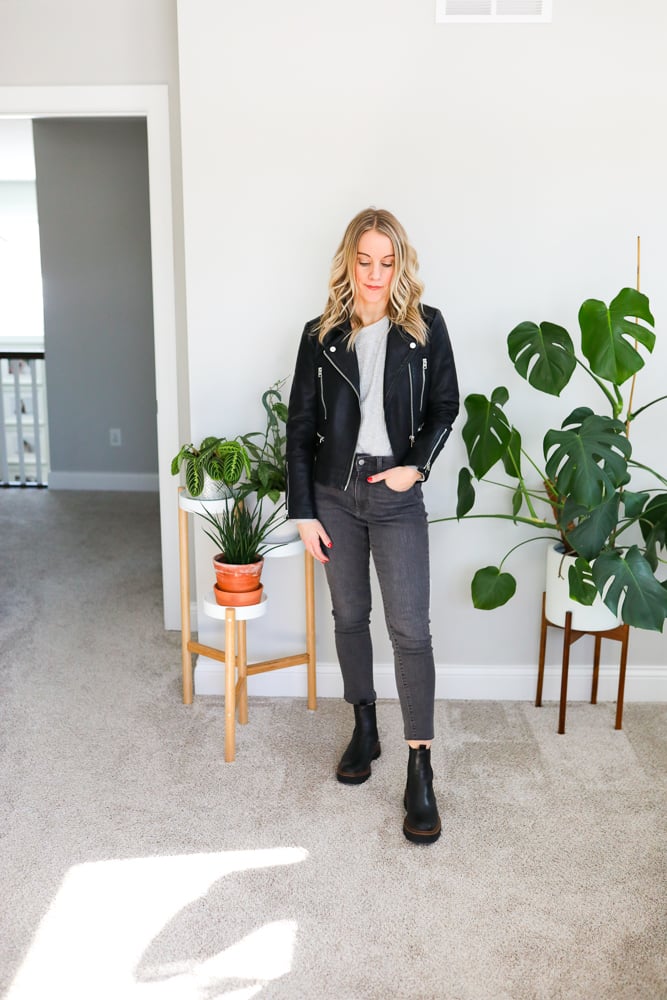 Shop the Look: Jeans | Moto Jacket (sold out – similar moto jacket here) | Chelsea Boots
Moto jackets and leather jackets are the perfect compliment to a good pair of grey jeans. Throw on a grey shirt in a lighter color for a more monochromatic look and add some matching Chelsea boots to complete this edgy look.
*Check out other ways how to wear grey jeans here!
15. Grey Jeans, Blazer, and Graphic Shirt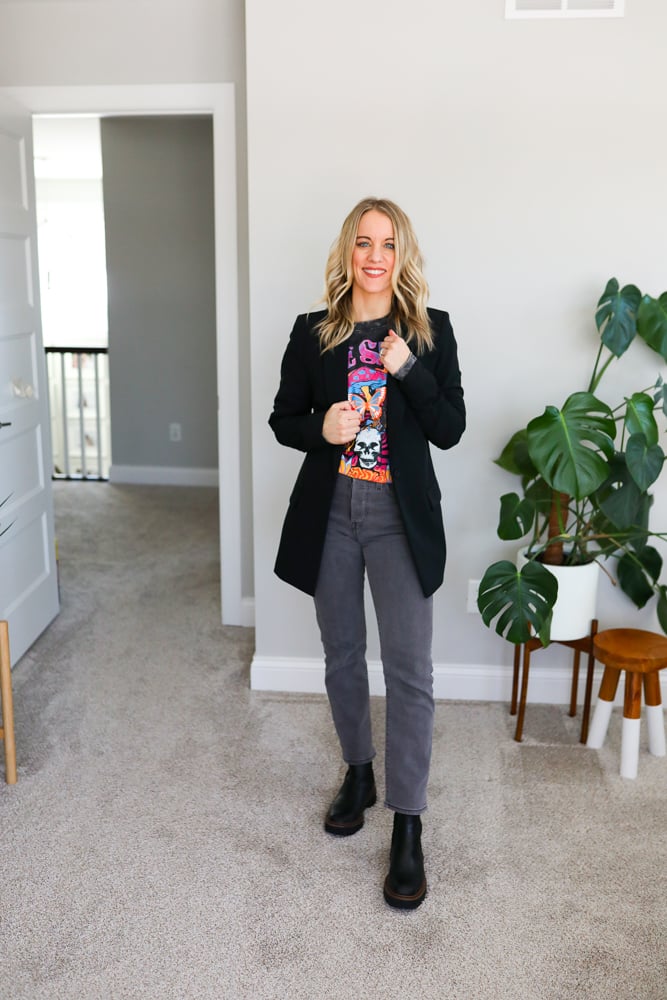 Shop the Look: Jeans | Graphic Sweatshirt | Blazer | Chelsea Boots
This sleek autumn look is simple to achieve. Wear a classic black blazer over your favorite tee shirt, and wear a belt bag (otherwise known as a fanny pack) over your grey jeans.
Find more ways to wear a blazer here!
16. Oversized Vest and Sneakers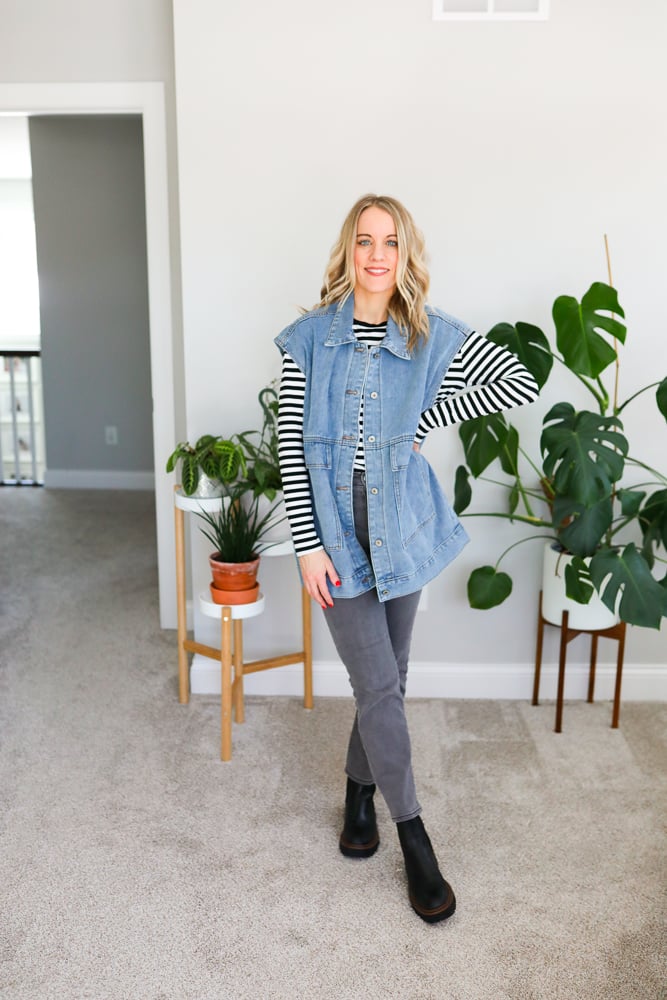 Shop the Look: Jeans | Stripe Shirt | Vest | Chelsea Boots
As the weather starts to warm up, skip the full denim jacket and opt for an oversized denim vest! Pair it with a long sleeve with black and white stripes shirt and straight leg jeans, throw on some black shoes and you'll have the perfect spring day look.
17. Midi Skirt and Henley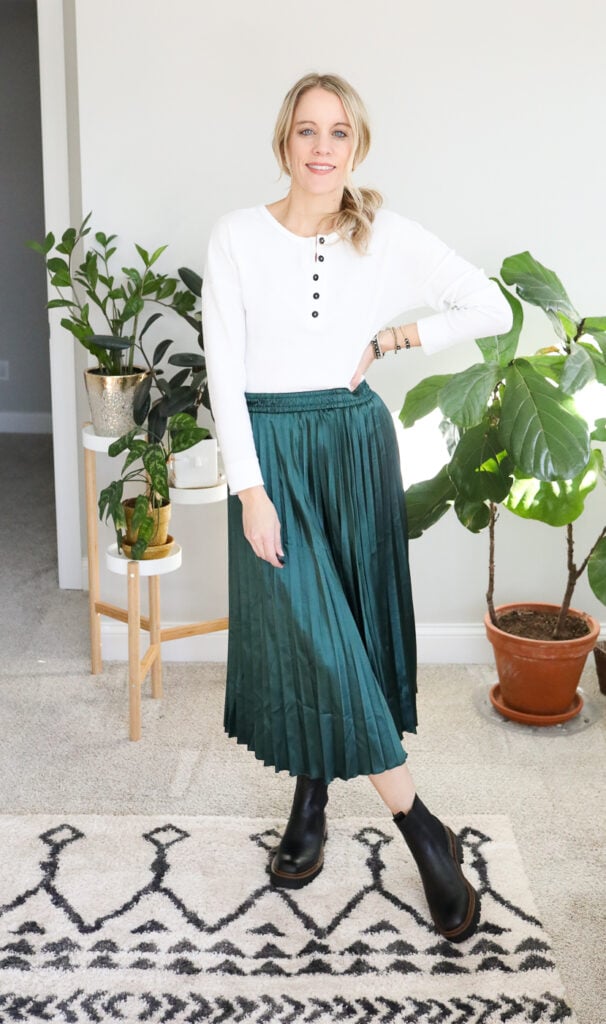 Shop this outfit: Henley | Skirt | Boots
I love a good pleated maxi skirt and this green one is no different! The metallic vibe of it pairs nicely with the leather boots and the casual look of the Henley is great for heading to coffee or running errands!
Love black boots? Here's some fresh new ways to wear black boots!
18. Midi Skirt and Black Bodysuit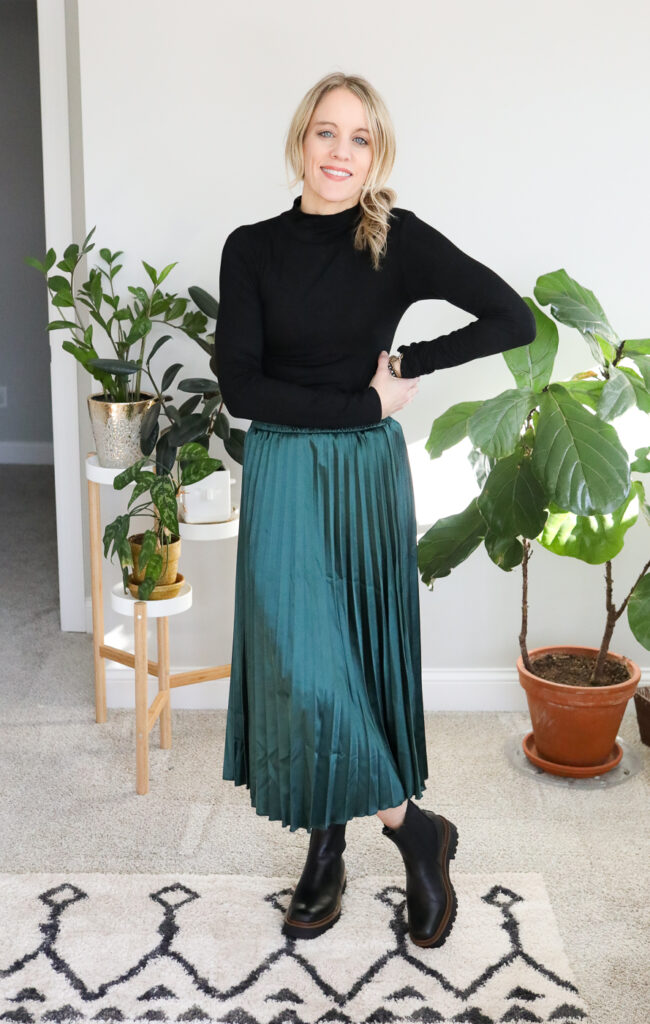 Shop this outfit: Bodysuit | Skirt | Boots
Take that pleated maxi and dress it up a bit! I'm again wearing the same bodysuit from the previous outfit and it completely changes the look and feel of this outfit. A fitted seamless top gives this top a look that perfect for business meetings or dinner out!
If you still don't own a pair of Chelsea Boots, here's a few to check out!
11 Amazing Chelsea Boots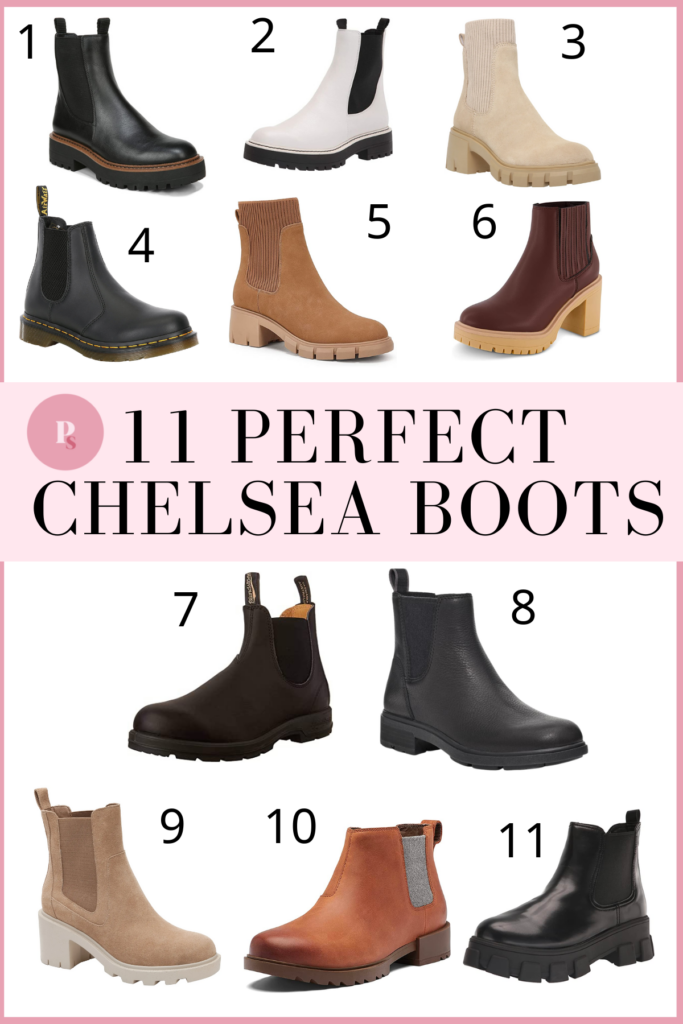 I hope this post gives you the confidence to try out your Chelsea boots in a new way or inspires you to purchase your first pair of Chelsea boots!
I waited so long to get my first pair and have worn them non-stop ever since they arrived on my front step.
If you want even more outfit inspiration, check out one of these posts!