The white boot trend is everywhere! From runways to Target, I'm sure you've seen a beautiful outfit complete with white booties lately.
And maybe you've been eyeing up a pair of white boots yourself but you're not quite sure how to wear them! It's easy to create outfits with brown boots or black booties but sometimes a white boot can be hard to know how to style!
You can't go wrong with any type of white boot whether it's a pair of white leather boots, white ankle boots or white knee-high boots. Today I'm going to share 15 different outfits to try out with your boots!
Just a note before we begin. Everyone has their own personal style and things they like to wear. Use these outfits as inspiration and a launch pad to discover new and different ways to wear your own white boots!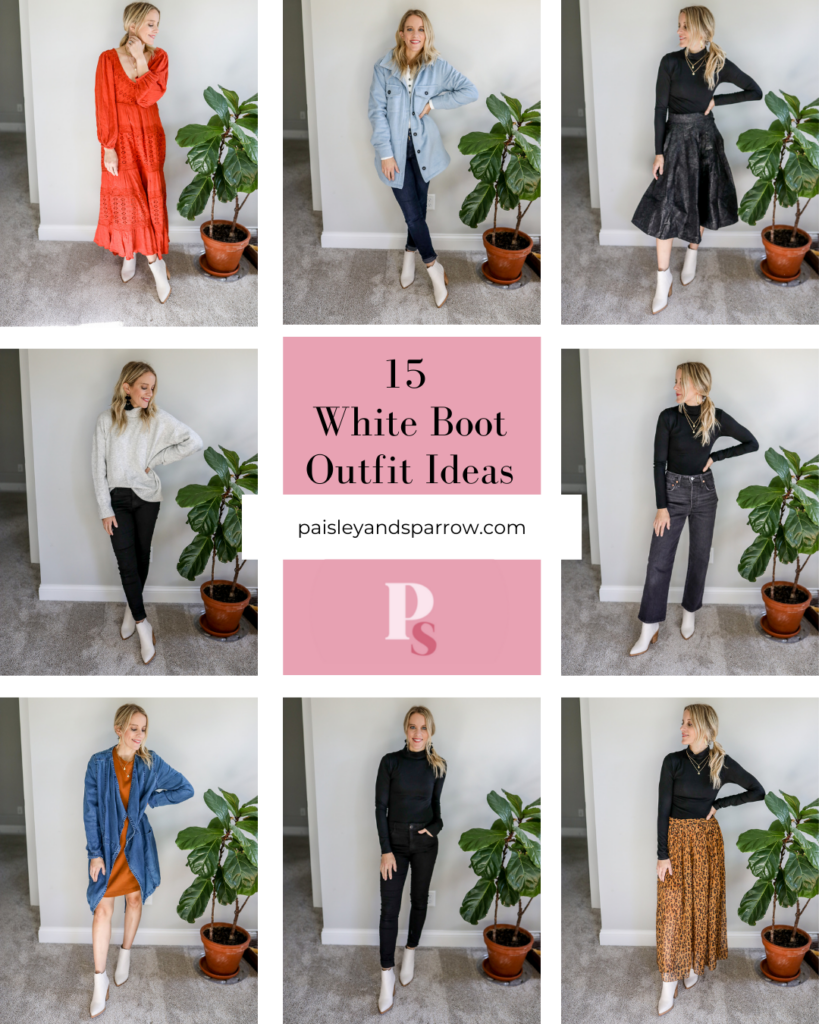 Paisley + Sparrow is a participant in the Amazon Services LLC Associates Program. This post may include affiliate links which means I may earn a small commission if you shop using the links below at no additional cost to you.
One other thing to mention. I tried to use the same pieces in each outfit a couple times so you'll see dresses worn a couple different ways, jeans styled a few ways, etc. I'm someone who wants you to get the most use of out of your clothes so the more options I can give you the better!
Here's a few fun white boots that I found recently if you don't already have a pair. The ones I own are starting to sell out quickly so I wanted to give you other options!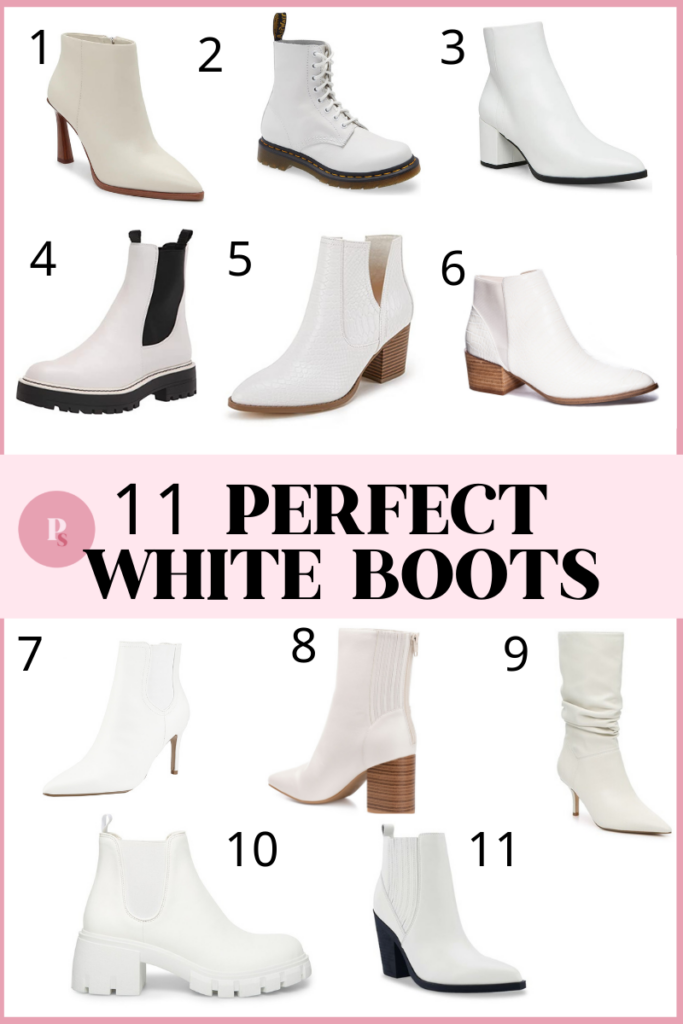 Vince Camuto Pentlee Bootie | 2. Dr. Martens 1460 Pascal | 3. Madden Girl Dafni Bootie | 4. Sam Edelman Laguna Chelsea Boot | 5. Huiyuzhia Cutout Pointed Toe | 6. Chinese Laundry Women's Finn Ankle Bootie | 7. Dream Pairs Pointed Toe Stiletto | 8. Journee Maize Bootie | 9. Marc Fisher Mandee 2 Boot | 10. Steve Madden Women's Howler Fashion Boot | 11. Marc Fisher Carves Boot
Let's get started!
15 White Boot Outfit Ideas
1. A Shift Dress + Sweater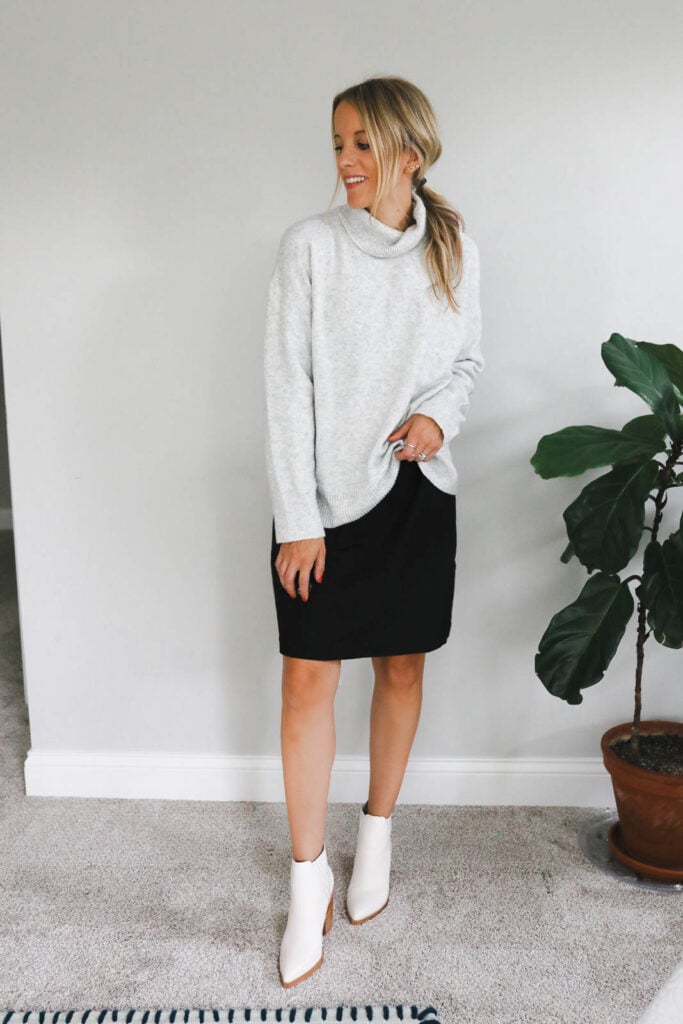 Dress | Sweater | Boots (Macys / Nordstrom)
This simple outfit is a chic look to wear to the office! The ruffles on the long sleeve give the simplicity of the shift dress a playful vibe and the white boots give the look a fun vibe.
Add black tights for really cold days and you can wear this outfit from fall through spring!
2. Shift Dress + Long Sleeve Shirt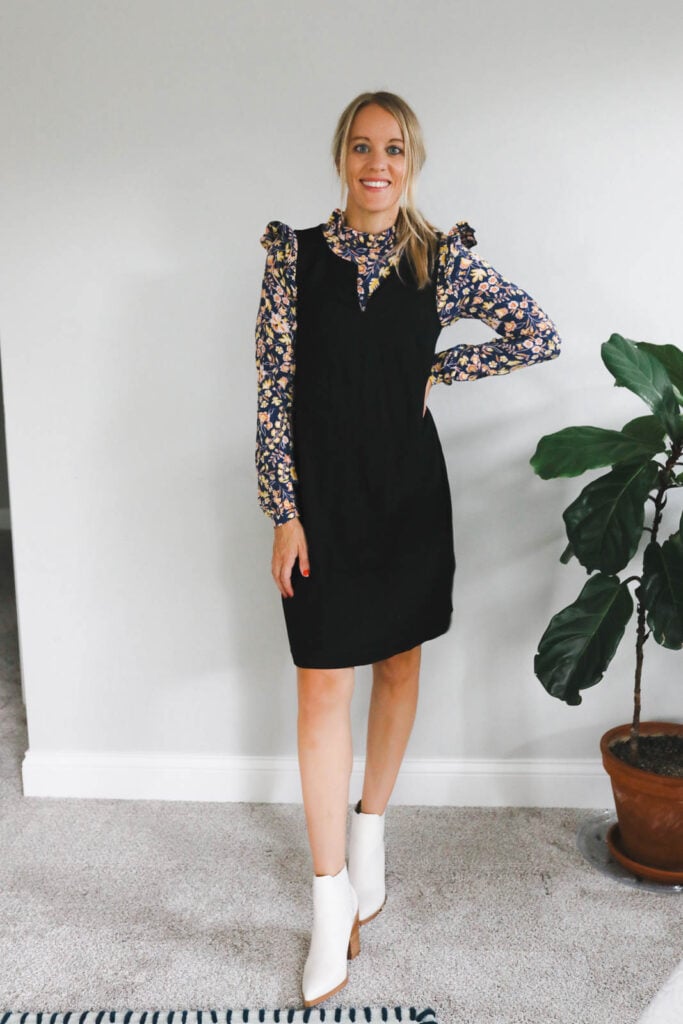 Dress | Long Sleeve Shirt | Boots
On those really cold days during the winter seasons when a sweater is needed, why not try putting it on over your dress! Another great outfit for work, you'll stay cozy but look on trend with your pair of bright white boots completing the outfit.
3. Blue Jeans + Henley + Blue Jacket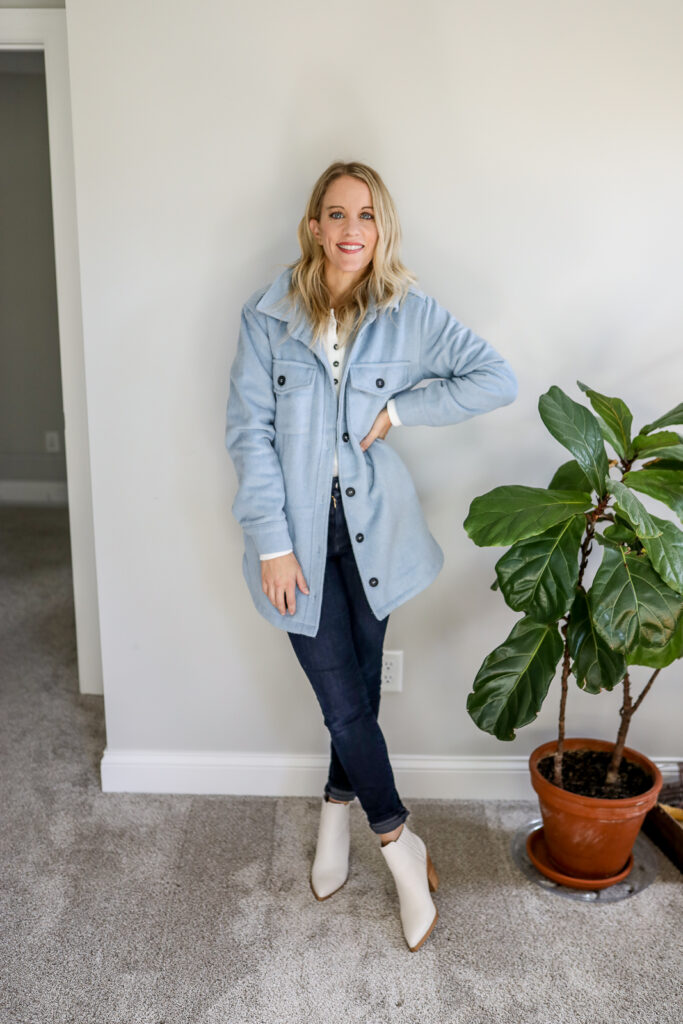 Denim | Henley | Shacket (similar here and here)
An outfit I wear on a daily basis is this one! Throw on a pair of dark denim, add a white thermal long sleeve and add an oversized blazer or shacket (like mine!). This is a great way to look amazing yet stay comfortable for running errands or heading out for coffee.
4. White Henley + Blue Jeans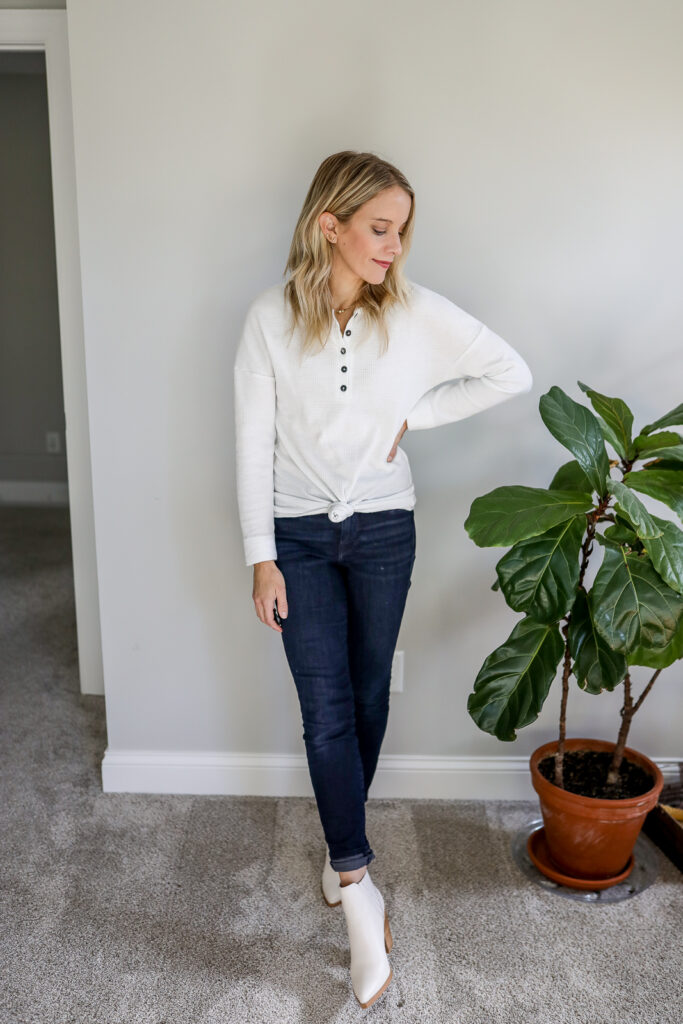 As warmer weather arrives, take off the jacket! A white shirt paired with white boots is a simple, yet great outfit to wear out and about!
5. Black Jeans + Oversized Sweater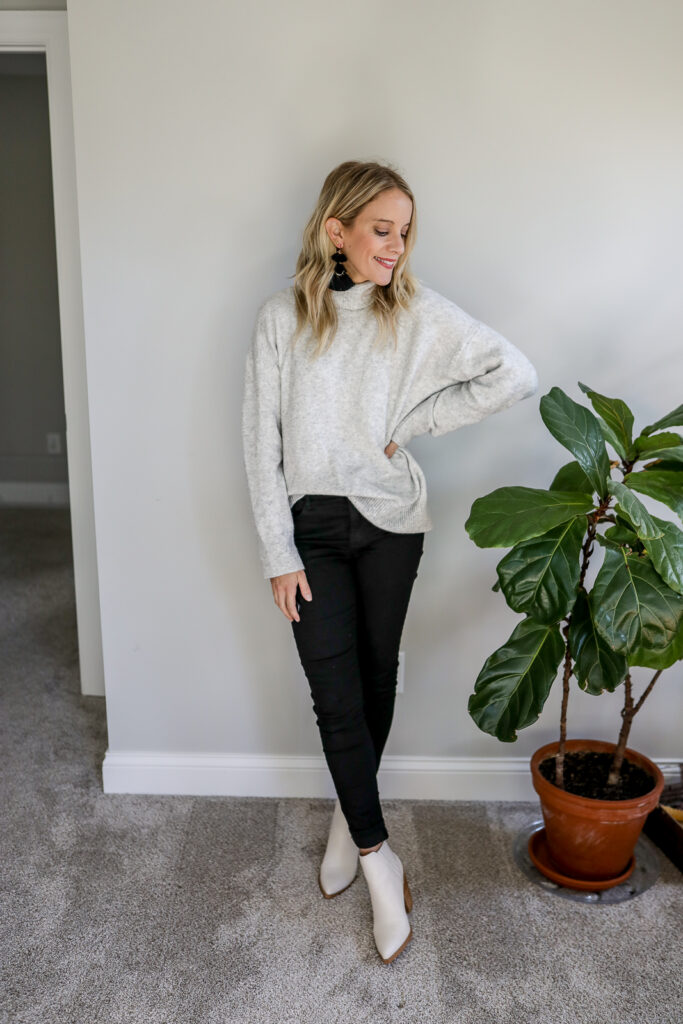 Black Jeans | Sweater (similar here)
If you're looking for more minimal outfits, this is a perfect one! Black jeans and an oversized sweater in just about any color is a great base for adding in the white detail of a white bootie.
6. Black Jeans + Black Top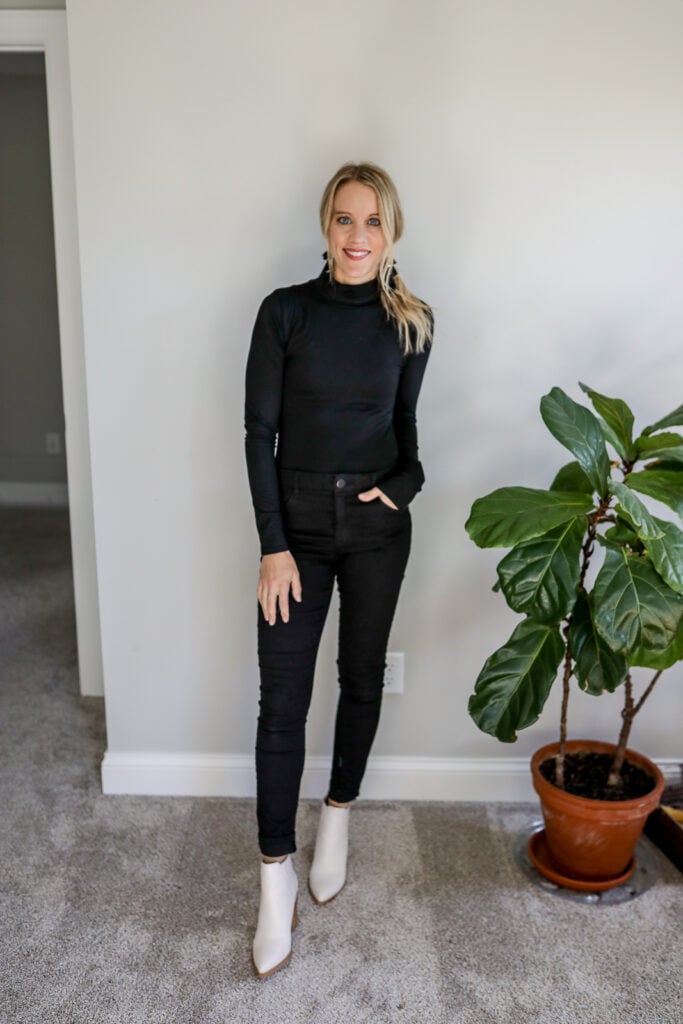 If you want a more monochromatic look , try black on black! In my opinion, black on black is one of the best options you have to try out a new trend! All black is simple and classic and a great start for adding in a white boot too whether they're a classic ankle boot or more of a tall shaft bootie like mine.
7. Wide Leg Cropped Jeans + Black Top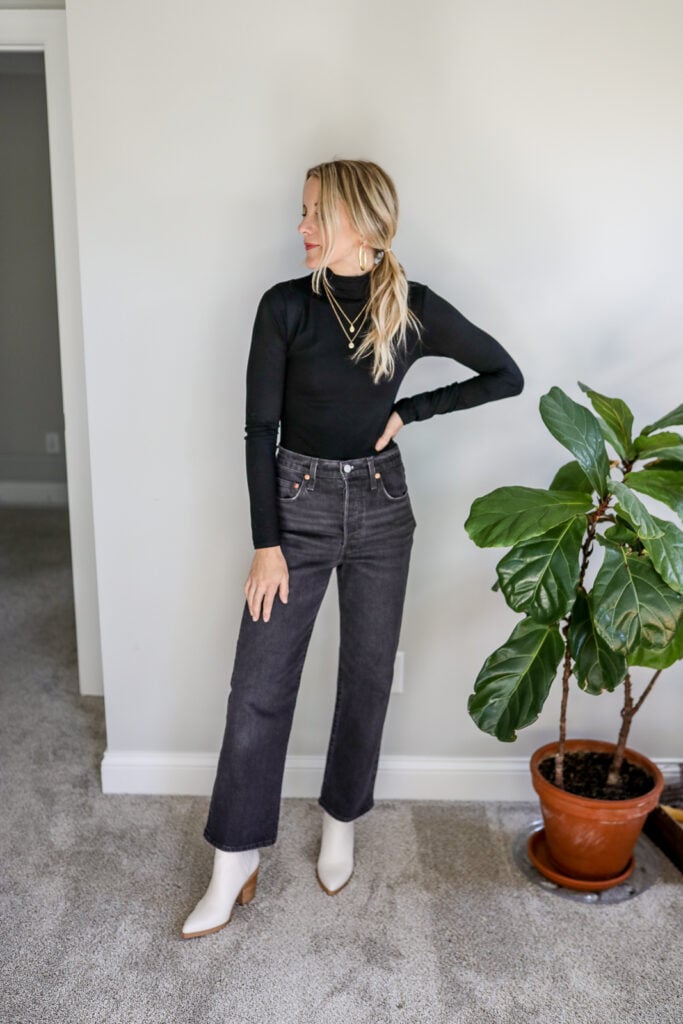 Maybe you love the wide leg cropped jean trend, maybe you hate it! If you're on board with it, try out a neutral pair of jeans with a black top to make your white boots pop under the pant leg. You could also try a boot with a stiletto heel!
8. Wide Leg Cropped Jeans + White Cardigan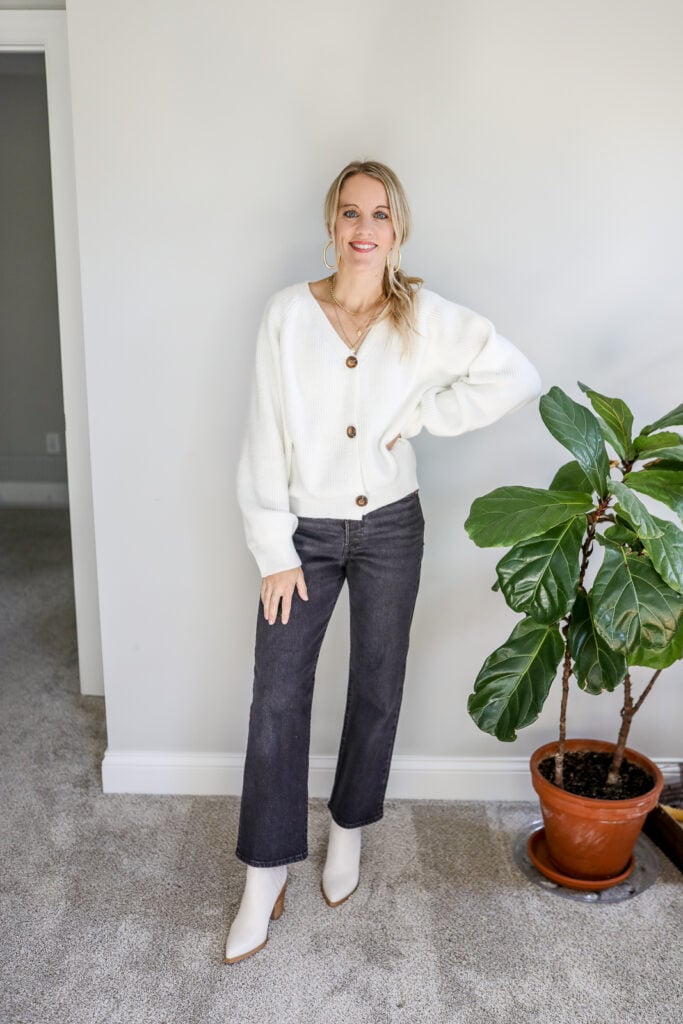 Keeping with the mom jeans trend, this outfit combines a few different fashion trends! When you wear boots with cropped jeans, give it a polished look by ensuring the shaft of the boot goes completely under your pant leg so you don't have a tiny sliver of skin popping out.
Pointed toe shoes will help elongate your legs so they don't look short when we're a cropped wide leg.
9. T-shirt Dress + Long Denim Jacket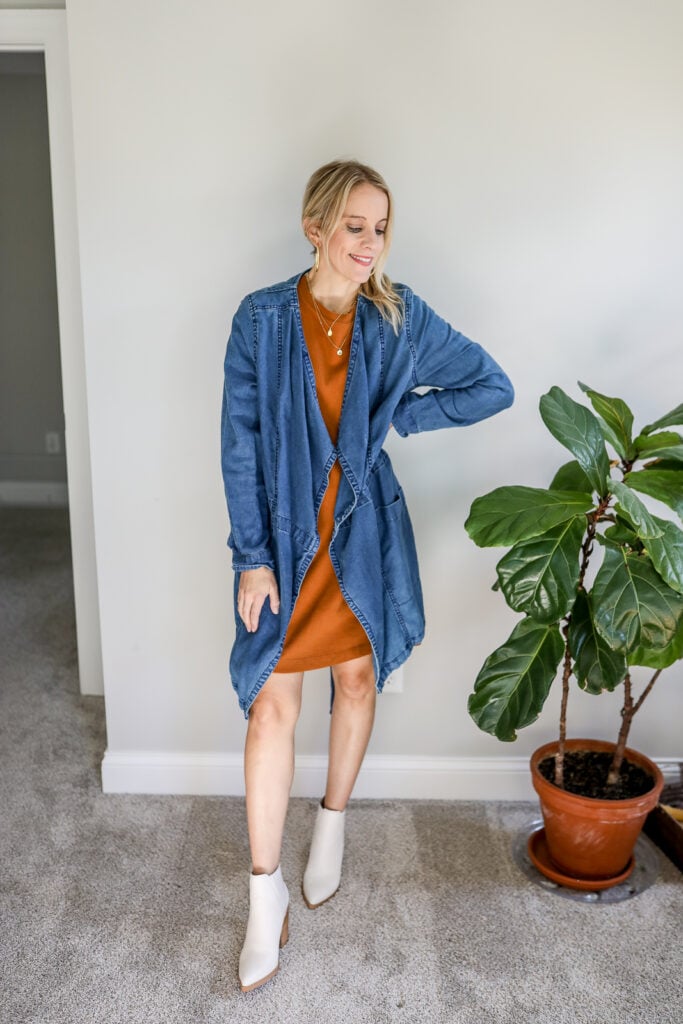 Dress | Long Denim Jacket (similar here and here)
T-shirt dresses are so comfy and a great pick for every body shape! Add a long chambray cardigan over the top for cooler weather.
10. Maxi Skirt + Henley Shirt + Denim Jacket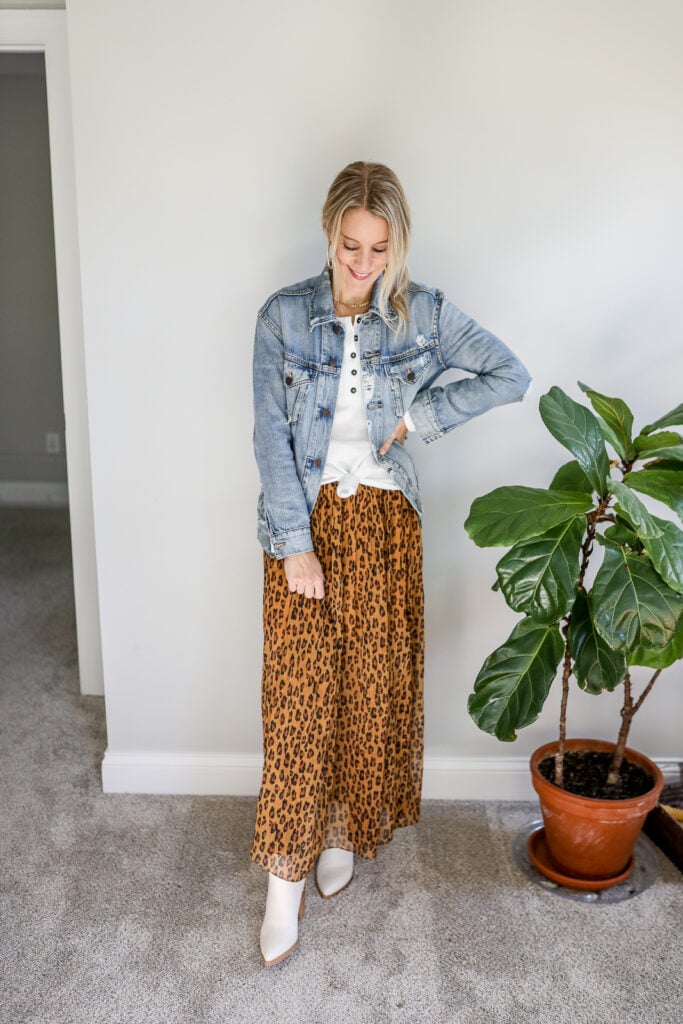 Skirt ( Similar here and here) | Henley | Jacket
If you want a more casual vibe on a maxi skirt outfit try this one! Easily dress down a flowy maxi and white boots is by keeping the top casual. A henley shirt knotted at the front gives some definition to your waist and a distressed denim jacket keeps you warm in colder months.
11. Maxi Skirt + Black Bodysuit + Denim Jacket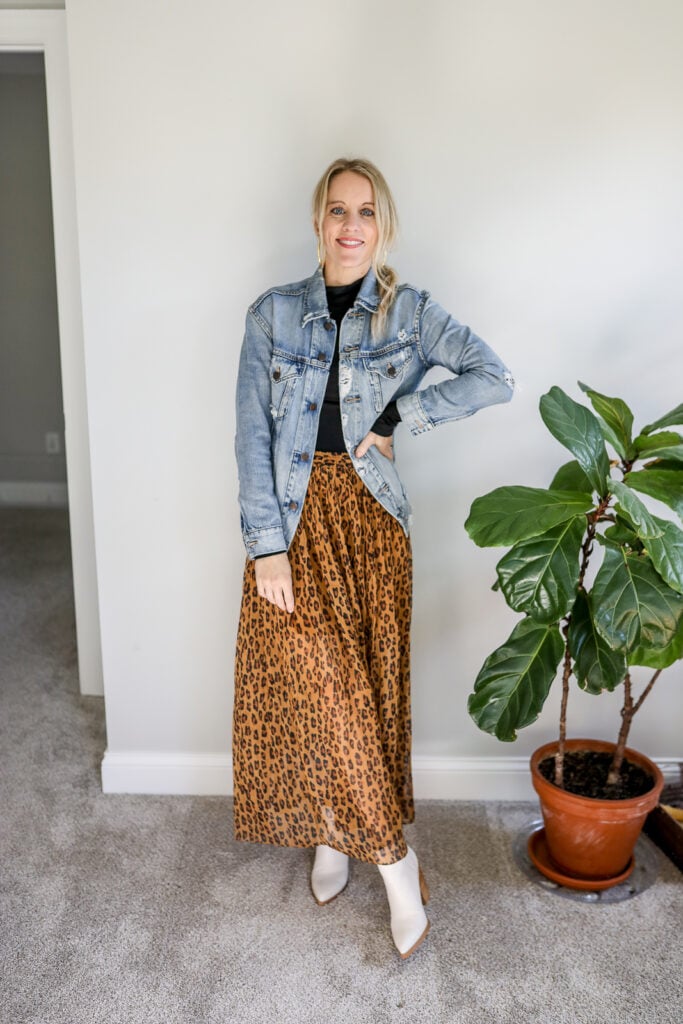 Skirt ( Similar here and here) | Bodysuit | Jacket
Change the entire look of the previous outfit by swapping the white tee for a black bodysuit! Perfect for going from day to day, the black top gives this outfit an entirely new look and feel.
12. Maxi Dress + Black Bodysuit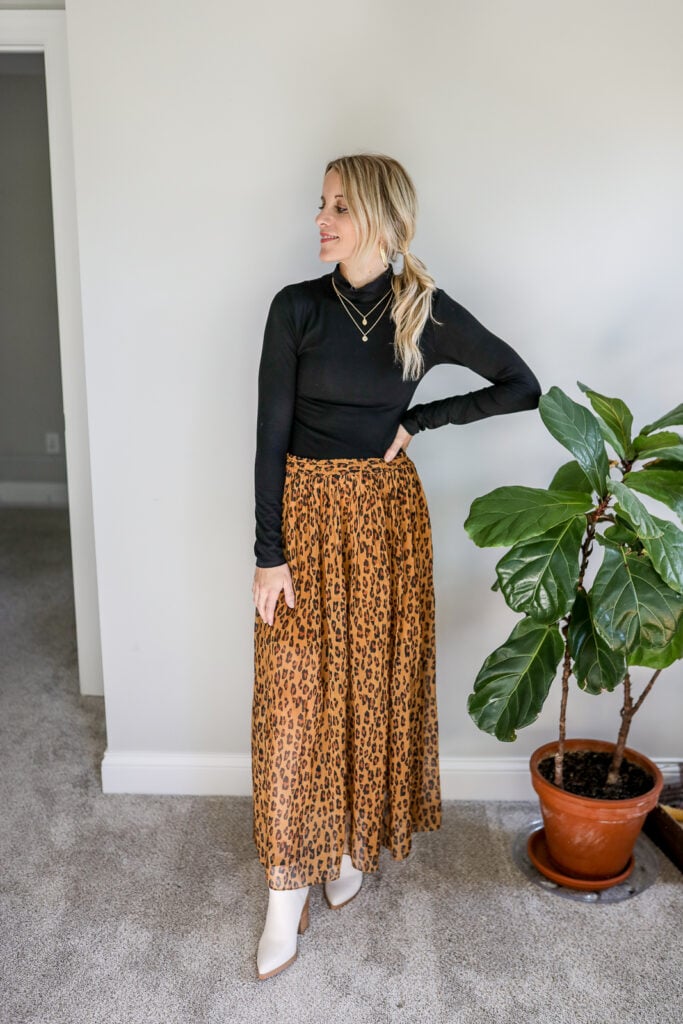 Skirt ( Similar here and here) | Bodysuit
Lose the denim jacket from the outfit above and again, the entire look of this outfit completely changes! This gives off a more sexy look with its fitted bodysuit and sheer look of the skirt.
13. Midi Skirt + Black Bodysuit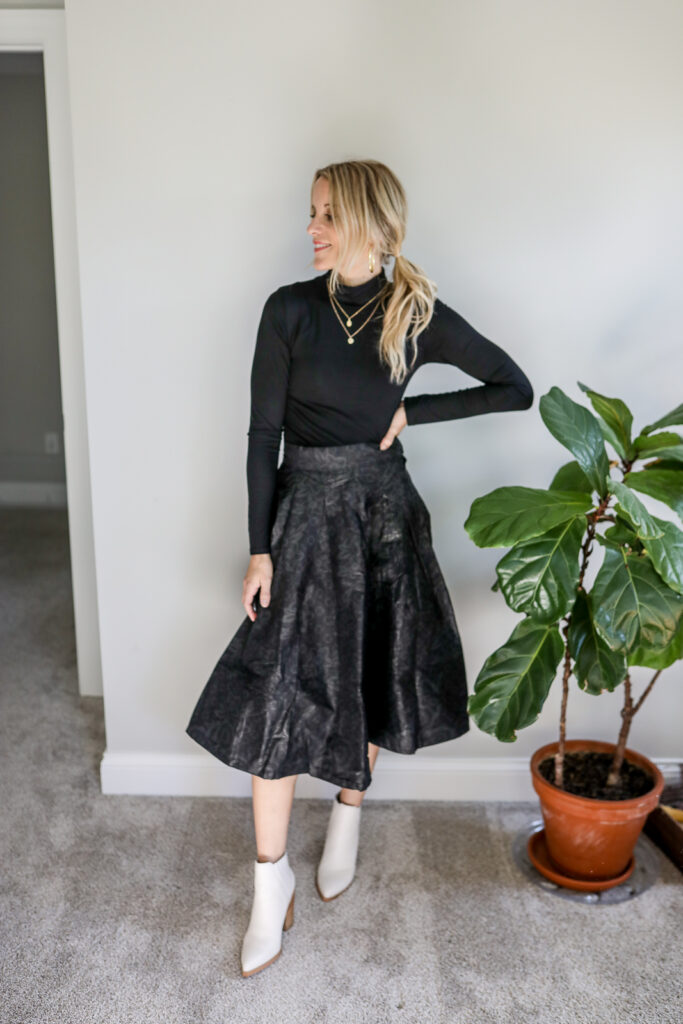 Heading to a party? This is a great option! A beautiful midi skirt that fitted at the waist paired with a black bodysuit is a great ensemble for a party. Add in your best white boots and you're read to make an entrance!
14. Colorful Midi Dress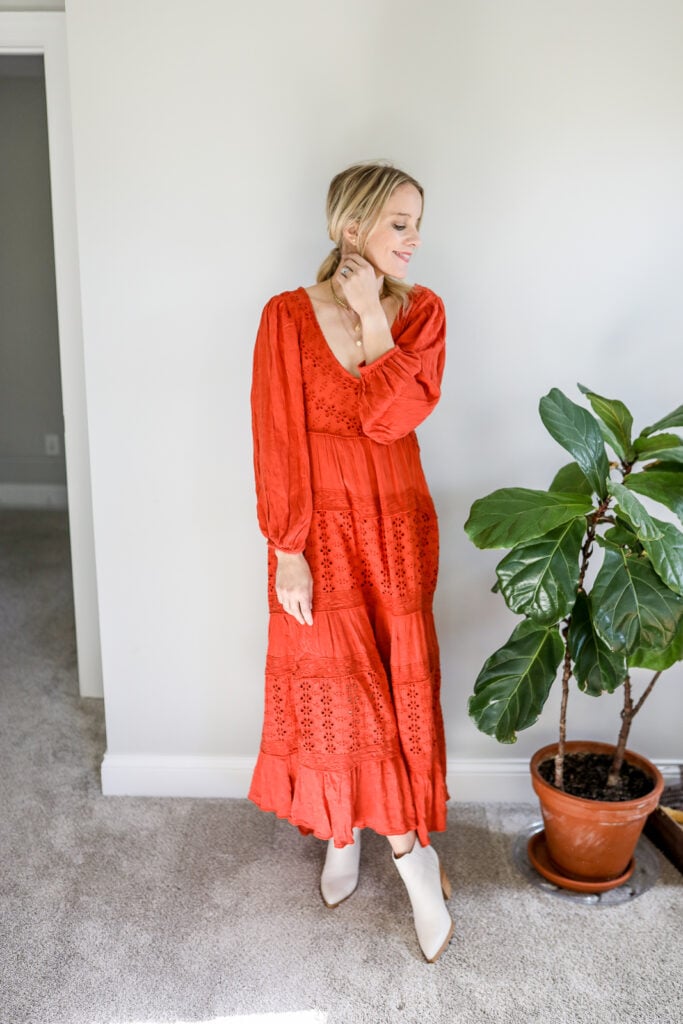 Probably one of my favorite outfits in this collection is this fun dress. White boots are one of the perfect things to wear with a bright and colorful dress! You could even swap the bright colors for a simple white dress and and a full white outfit. That would look beautiful as well!
15. Midi Dress + Denim Jacket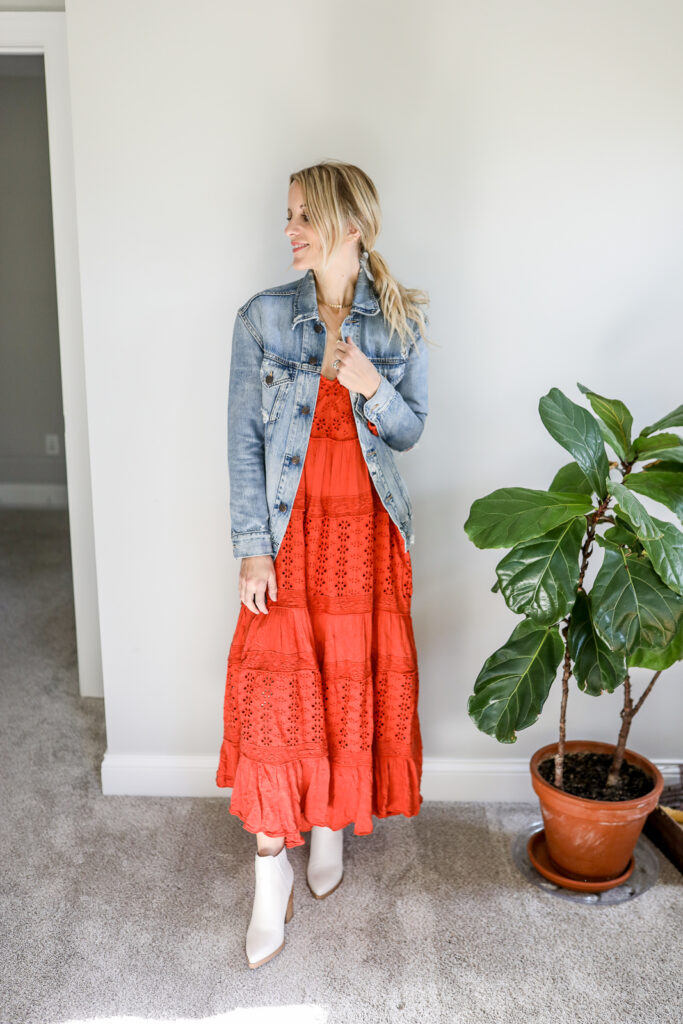 Lastly, take the outfit above and throw on a denim jacket! Perfect for the fall season as things to start cool off but it's not quite winter jacket weather yet.
I hope this helps give you some ideas on how to wear your white booties! Which one was your favorite? Share in the comments!
If you want more outfit inspiration, check out different ways to wear a shift dress or leggings outfits ideas!