Leather shorts are a super chic option for an outfit in both fall and summer. They're super easy to dress up or down and are a great transition piece as the weather get cold. If you need to how to style leather shorts, keep reading!
There's also tons of different styles when it comes to leather shorts! You can choose paper bag style ones (like the ones in this post), mini short styles or wide leg styles for a classier look.
Which one you choose will depend a bit on your body shape. I am shorter (5'3″) with a short torso. Because of that the wide leg high waisted shorts looked good on my body.
It will also depend a bit on where you plan to wear leather shorts! If you want them for a more professional place the wide leg shorts are a better option.
Before we get further, here's our top 3 picks for leather shorts!
Need some chic ways to wear faux leather shorts? Here's 9 different ways to wear them!
How to Style Leather Shorts 9 Different Ways
This post contains affiliate links.
1. Black Leather Shorts, Black Bodysuit and Red Bandana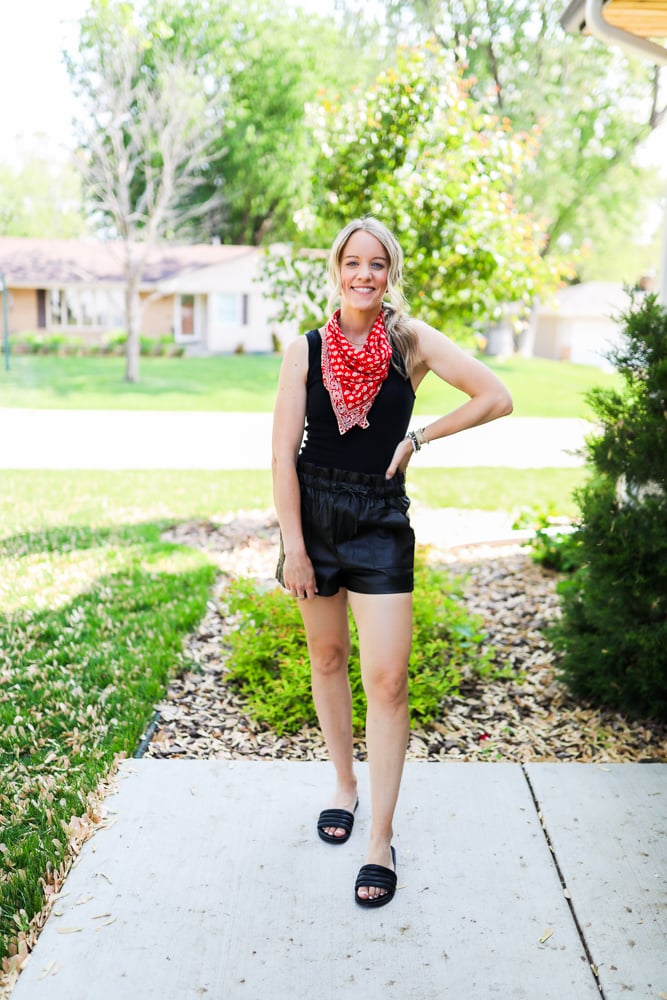 Looking for a chic outfit for the summer season? When in doubt, go black! This outfit is simple yet chic and can be dressed up or down based on your accessories.
The black fitted top is a bodysuit which is perfect for these shorts since you don't have to deal with your shirt coming untucked or bunched up.
Swap the sandals for heels for a classier look! Not into bandanas? Switch it out for a few layered necklaces for a stylish look.
2. Faux Leather Shorts and Classic White Tee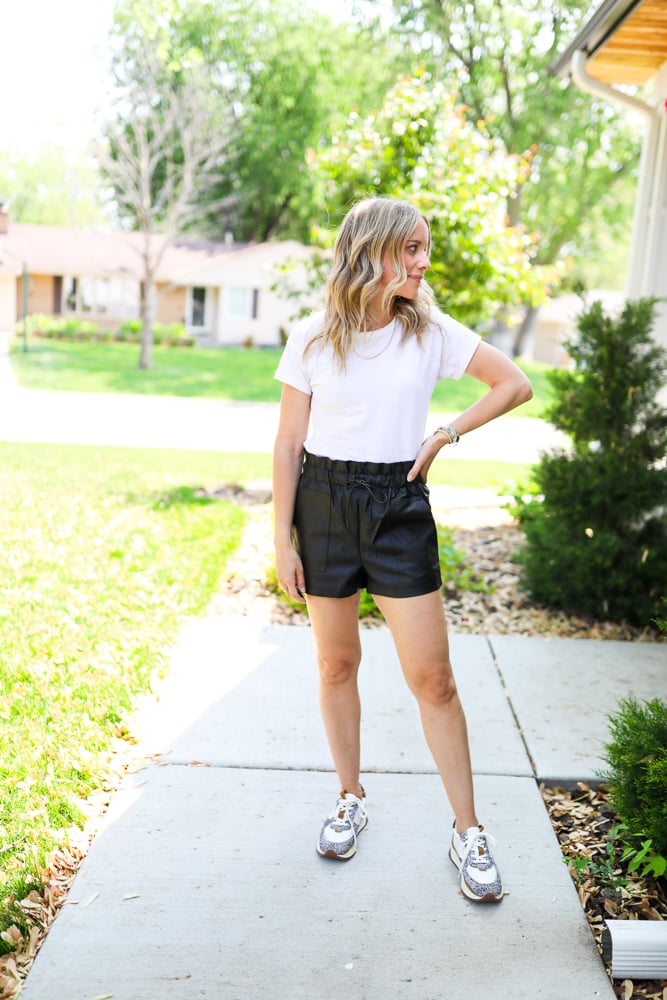 Shop the look: faux leather shorts | white tee | shoes
Need a casual wear outfit for every day during warm weather? You can never go wrong with a classic white shirt! This simple look is great for just about anything – coffee with friends, running errands or even school drop off!
The chic sneakers are a great way to give it a stylish vibe while the basic t-shirt and black shorts makes it classic and flawless.
3. Faux Leather Shorts & Chambray Top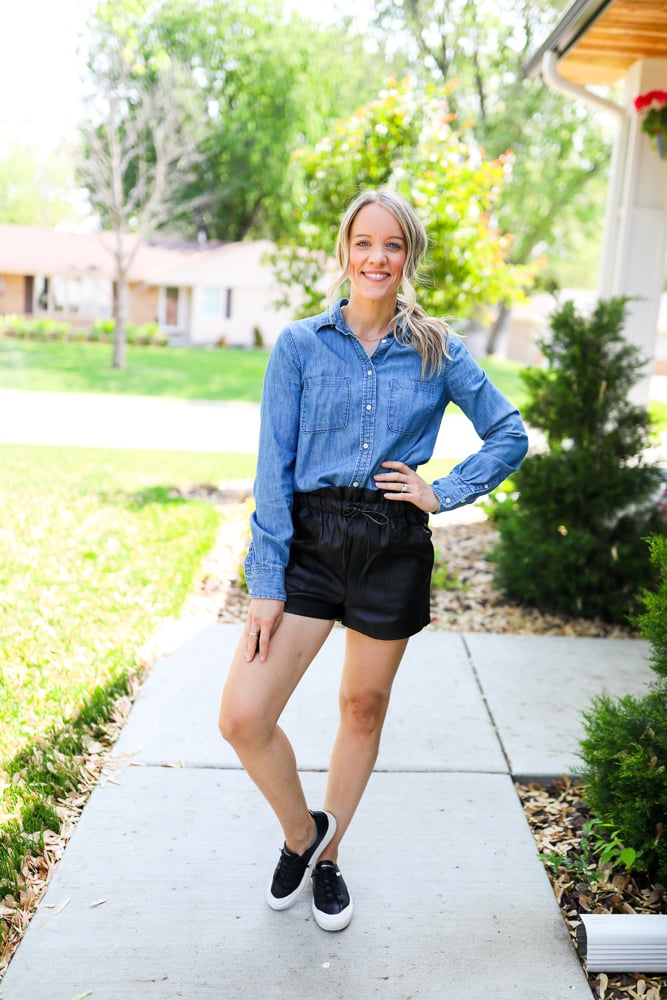 Shop the look: faux leather shorts | chambray shirt (sold out – similar here)
A chambray button-down shirt is one of the most versatile items in your closet and a perfect choice for faux leather shorts! As the days get chillier, throw on a long sleeve denim shirt, tuck it in to define your waist and throw on a pair of sneakers to tie it all together.
4. Faux Leather Shorts and Plain Sweatshirt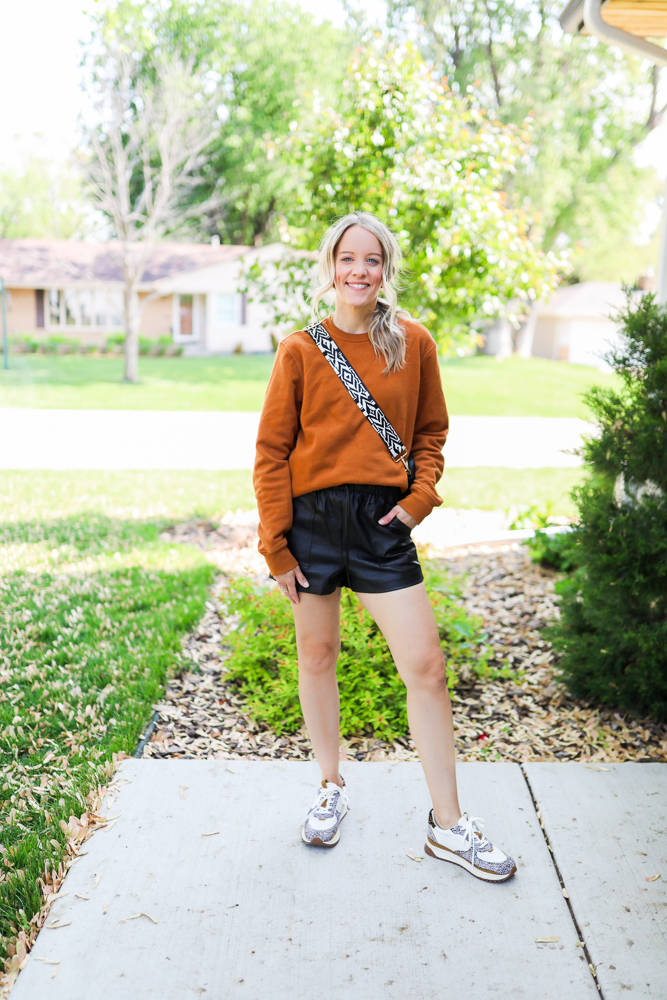 Shop the look: faux leather shorts | sweatshirt | shoes | bag + strap
If you want a more casual look, try this! A long sleeve sweatshirt looks great with a front tuck and will keep you warm as fall hits.
Sporty chic shoes give this casual day look a stylish vibe and a simple crossbody helps you carry all your essentials with ease.
5. Faux Leather Shorts and Long Sleeve Bodysuit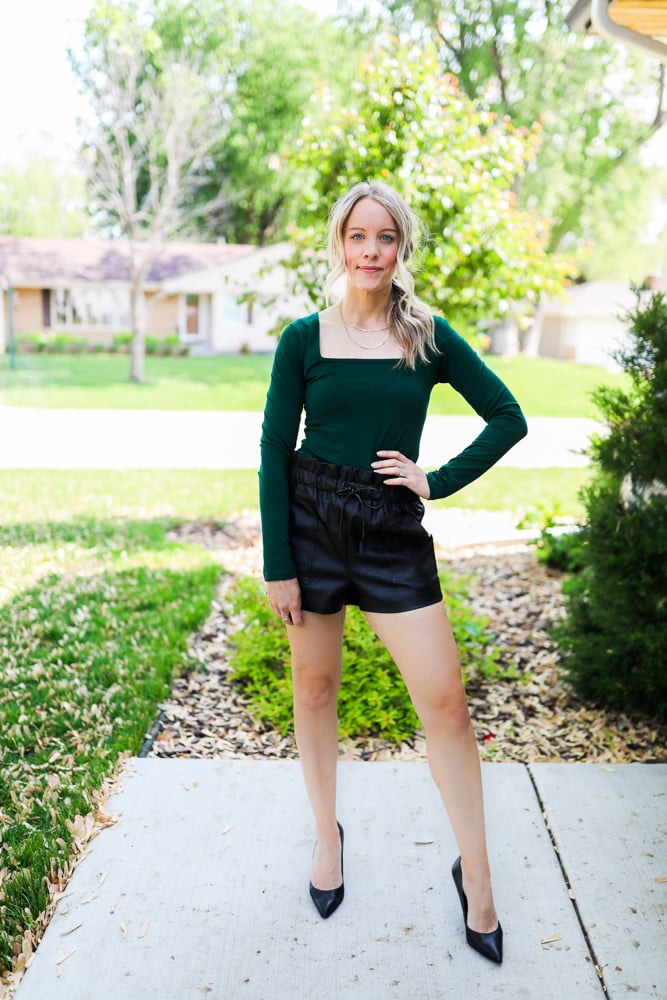 Shop the look: faux leather shorts | long sleeve bodysuit |
Need a date night chic look! We've got you covered! This long sleeve bodysuit will keep everything tucked in where they need to be. The unique square neckline gives this look a fun vibe.
Bodysuits are a great option with shorts like this because it gives you that perfect tucked look without having to fix it all the time.
Top it off with a pair of classic black high heels and away you go!
6. Sequin Top with Faux Leather Shorts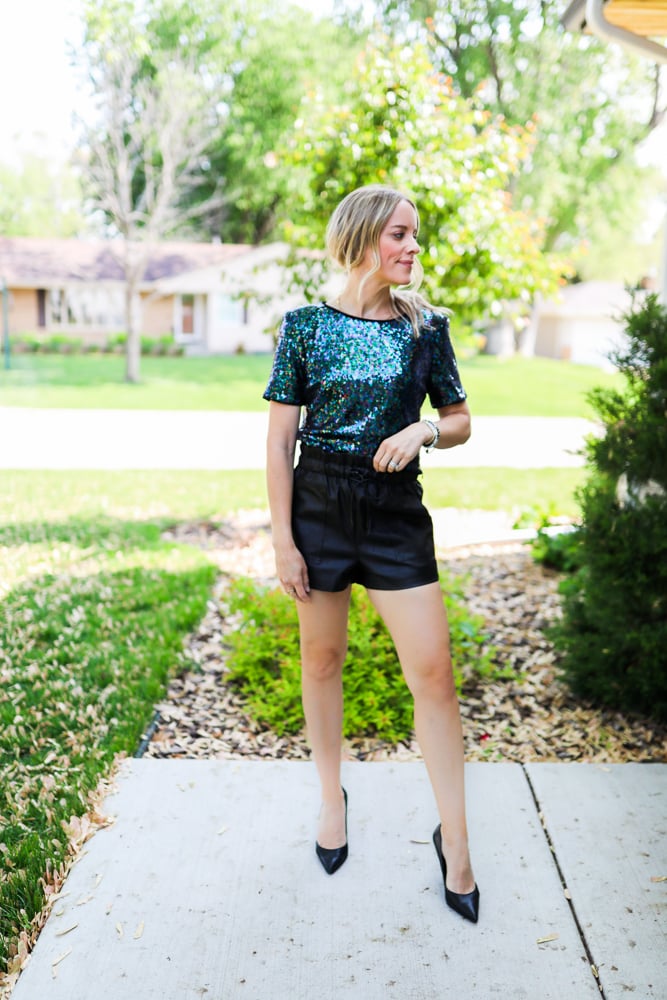 Shop the look: faux leather shorts | sequin top – (sold out similar here)
Whether it's a Taylor Swift concert, NYE or just a fancy night out, this black leather shorts outfit will give you the award for best outfit. Keep the shoes neutral to balance out the fun top.
If your sequin top isn't a crop top, be sure to tuck it into your shorts to define your waist!
7. Cropped Cardigan and Leather Shorts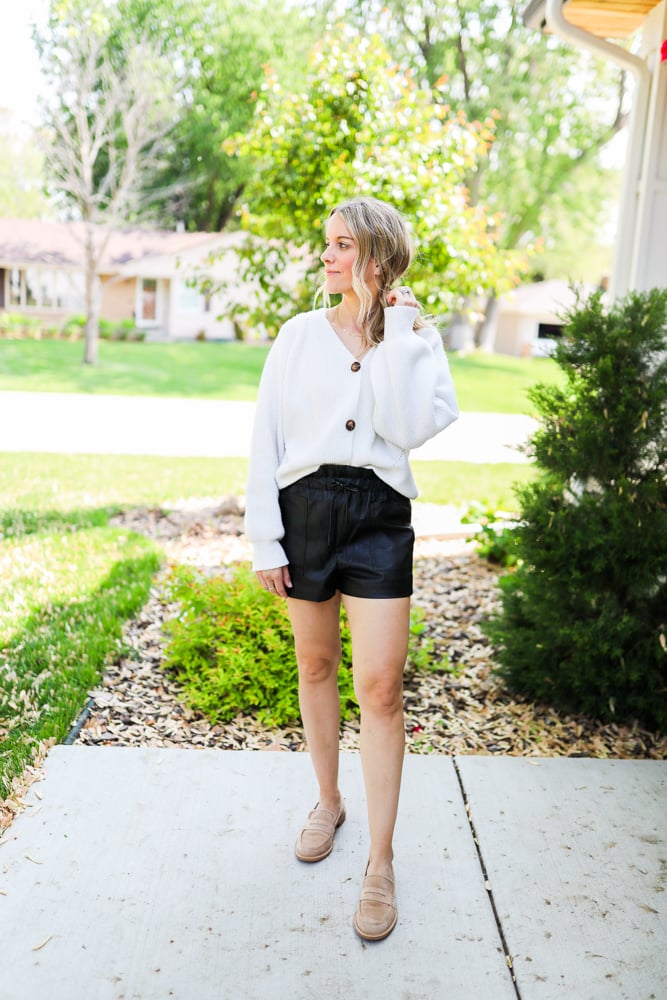 Shop the look: faux leather shorts | cardigan | loafers
Yes, you CAN mix fabrics, just keep them all a neutral color! I love the combo of suede shoes, (faux) leather shorts and the soft knit cardigan. All together it gives you a super stylish outfit that's great way to transition to fall.
Tuck in the oversized sweater into the front of your shorts to help give your waist some definition!
You can also turn this outfit into a great outfit for the winter months! Add some black tights under the tights and a pair of ankle boots or knee-high boots in place of the loafers.
8. Faux Leather Joggers, Black Blazer and Cowboy Boots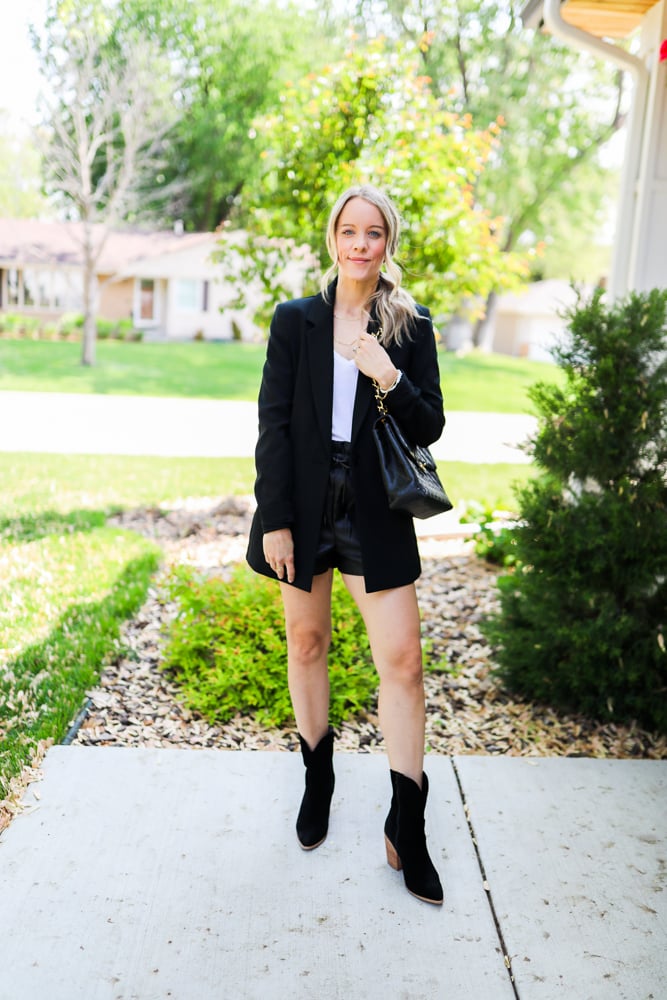 Shop the look: faux leather shorts | blazer | boots
Cowboy boots are in baby, especially during the cooler months! If you want more of an edgy look while wearing your cowboy boots, try it with a pair of leather shorts! Wear a white tank top if the weather gets warm and a trendy black long blazer to keep warm in cooler weather.
Not into blazers? A leather jacket will keep it even edgier or a denim jacket will give it some real Yellowstone vibes.
9. Faux Leather Shorts with Black Blazer and White Sneakers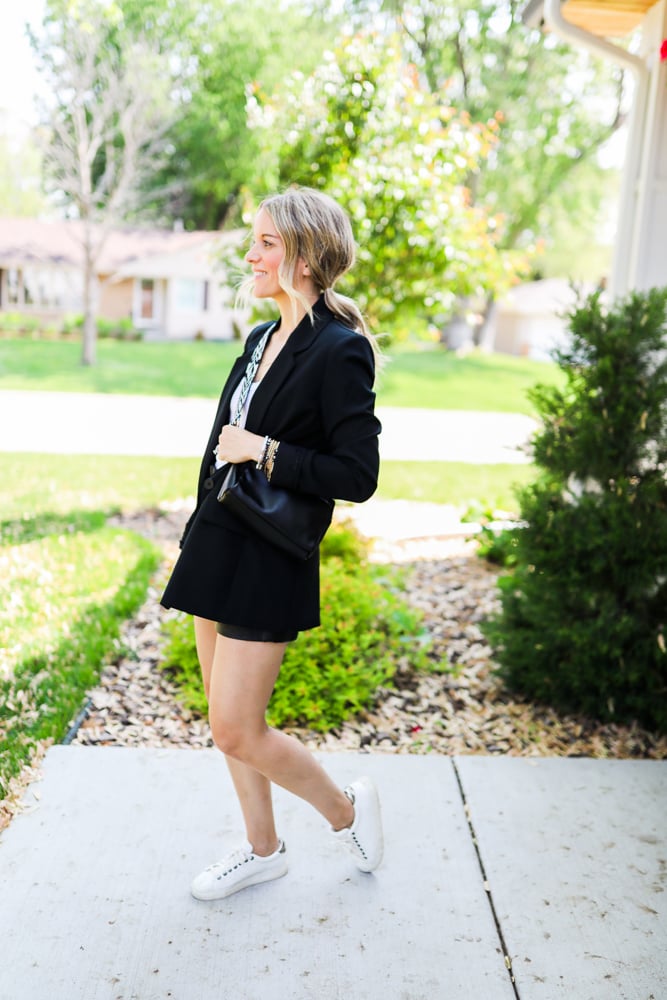 Shop the look: faux leather shorts | blazer | bag + strap
Last but not least, this look is a casual outfit for your blazer and shorts! White sneakers ground the look while the blazer gives it an on trend feel. Top it off with a crossbody bag and you're ready for the day!
I hope this helped you with knowing how to style leather shorts whether you're going out with the gals or just running some errands. They're a fun trendy piece to add to your closet that you'll reach for again and again!
If the weather is getting too cold for leather shorts, try out some leather pants! Here's a great post with ideas on how to wear faux leather joggers!